8 Best Explainer Video Software
Explainer videos are a great way to convey information in an interesting, engaging way. However, explainer videos are more than just fun and engaging. They can do wonders for your video marketing strategy. Did you know that they improve page conversion rates by 80%? That's a serious improvement! In fact, one of the most famous success stories is MailChimp.
For those who are not familiar with explainer video software, here is a brief introduction.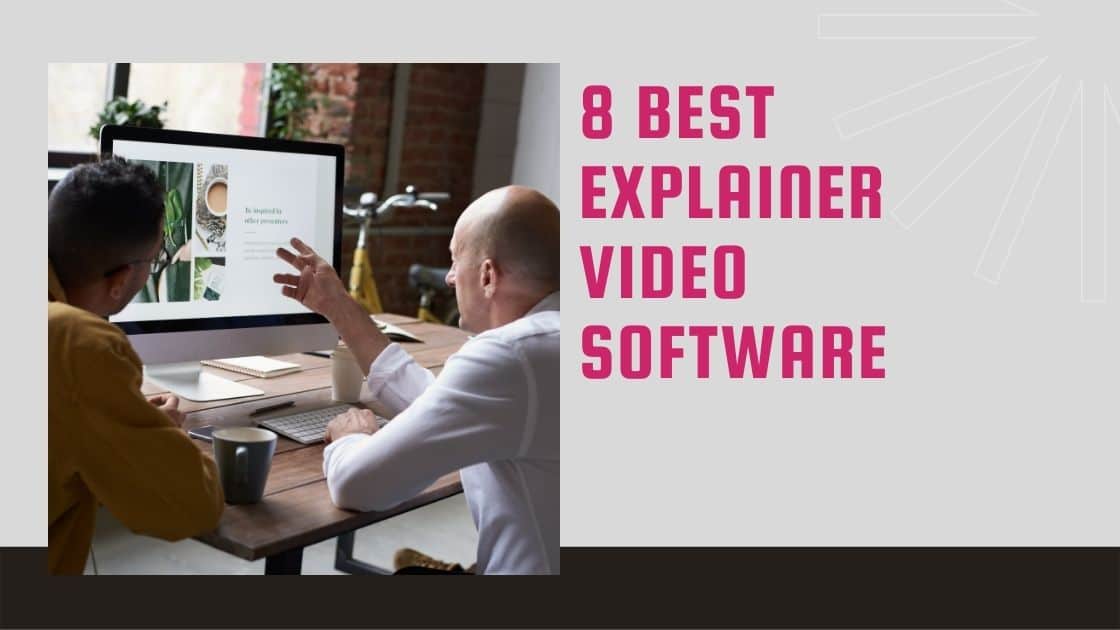 What Is An Explainer Video?
An explainer video is a short and effective way of accessing information about a new product, service, or idea. While some explainer video software have animated characters that tell a story, other explainer videos use a combination of 2D animated graphics and live-action footage.
There are different explainer videos software for different purposes. Here are a few of the most common types:
Text Explainers
Text explainers are made up entirely of text slides. This is a great option for anyone who wants to create an idea-based video fast! Also, they can be easily shared on social media sites like LinkedIn and YouTube.
2D Animated Characters
2D animated characters are effective for storytelling, and they can be a lot of fun too! They can help you create a memorable character that will stick in the audience's mind after watching your video.
If you want to get more technical with your explainer videos, consider using 3D animation video software. It's excellent for those who want to create high-quality, high-tech explainer videos.
3D Animated Explainer Videos
If you want to get more technical with your explainer videos, consider using 3D animation video software. It's excellent for those who want to create high-quality, high-tech explainer videos.
Live Action Videos
Live-action explainer videos are just like TV commercials, and they can be both professional and effective! They're a great option if you want to use people instead of animated characters, and they can really bring your explainer video to the next level.
So, but let us start with our list of the top best explainer video software:
Vyond is a cloud-based explainer video maker that lets you easily create studio-quality, high-definition animated videos.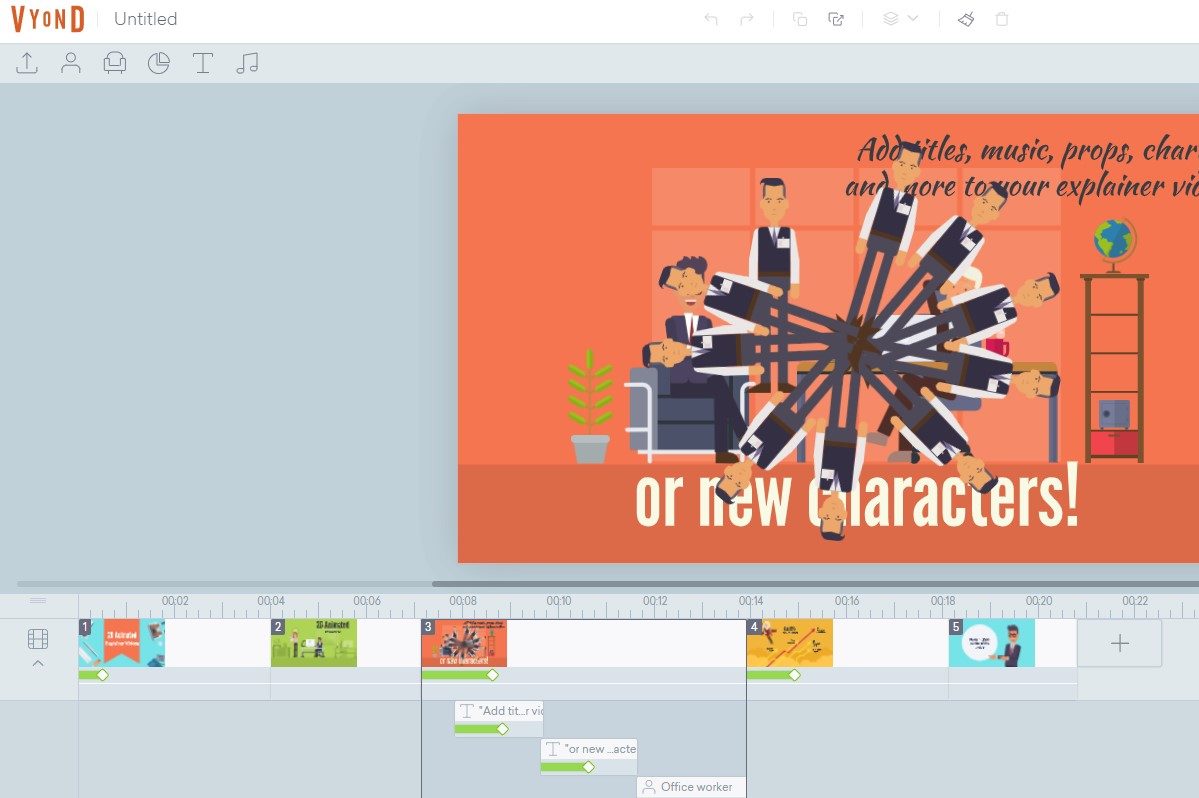 Vyond lets you choose from dozens of animated characters and scenes, and the software even lets you import or upload your own assets. You can create simple text-based explainer videos with Vyond's drag-and-drop interface, or you could dive in deeper and create a stunning 2D character animated video.
Add props to your scene, change character size, choose from different scene transitions and even add a generated voice to your video.
I haven't had much experience working with Vyond. I went a little deeper with this explainer video software and experimented on my own. This is what I came up within about half an hour, including signing up for Vyond. Working with Vyond is a lot of fun; everything feels smooth, there are thousands of options for everything, and the explainer video looks professional straight out of the box.
Vyond Example
When To Use
If you are looking for 2D animated character explainer videos, Vyond is your get-go as your explainer video app.
Pricing
Vyond's pricing starts at $25 per month. They offer a 14-day trial to get a feeling for their tool.
Create Studio is an all-round explainer video maker. From 2D character to 3D animation, from Doodle sketch to live action. They have thousands of characters, objects, scenes, and backgrounds to use in your video project.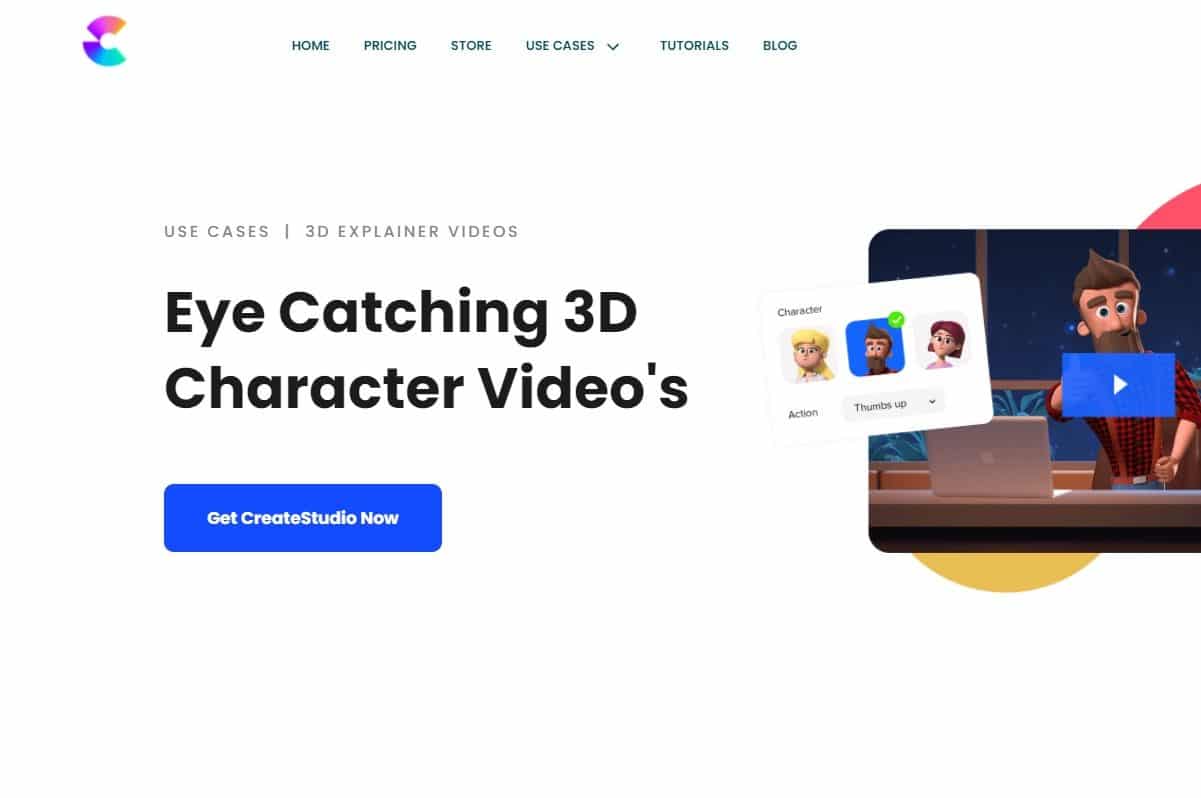 They offer a marketplace with tons of templates, characters, and audio files to buy for a small fee. Choose from 4 different hands to create your Doodle sketches, 8 fully animated 3D characters, 20 fully animated 2D characters, and over 50 templates to kickstart your explainer video production.
They bring regularly new updates, new characters, scenes, and templates. It never gets boring with CreateStudio! Create a professional video in a matter of minutes.
CreateStudio Example
When To Use
If you are looking for high-quality video software or any kind of 3D animated explainer video, we can highly recommend CreateStudio.
Pricing
They don't offer a free trial or a free plan. They have, however, a 30-day money-back guarantee. As CreateStudio partners, we offer a 33% discount coupon for you, which you can get by clicking the link below. Instead of the $99 one-time cost, you simply pay $67 and can use CreateStudio indefinitely.
Renderforest has thousands of templates for 2D and 3D animated explainer videos. Choose from hundreds of characters, thousands of fonts and props, add your own music, or choose from their audio library to add to your video.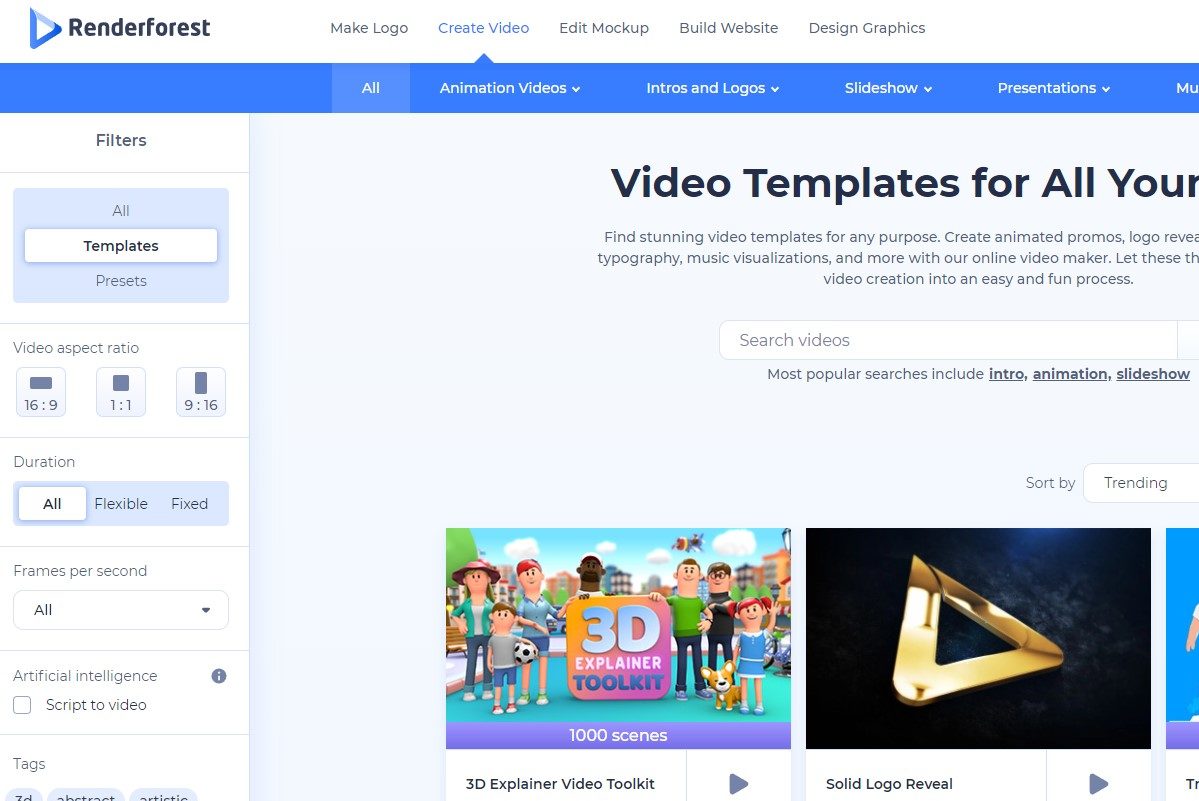 They offer a whole 3D explainer toolkit with over a thousand scenes to add. Create your explainer video in minutes using all of the different scenes and templates, then add your text, color, and see your 3D animated character come to life.
We went a step further with Renderforest and made our own 3D explainer video:
Renderforest Example
When To Use
Since Renderforest is so versatile, we can only recommend it. Text explainer, character animation, even 3D explainer videos, Renderforest hast everything you need.
Pricing
Renderforest has a free forever plan. The first paid plan starts quite affordable at $6 per month.
Visme is strong in building text explainer videos. So, either you are promoting a product or service or want to explain your thoughts engagingly, Visme will get the job done.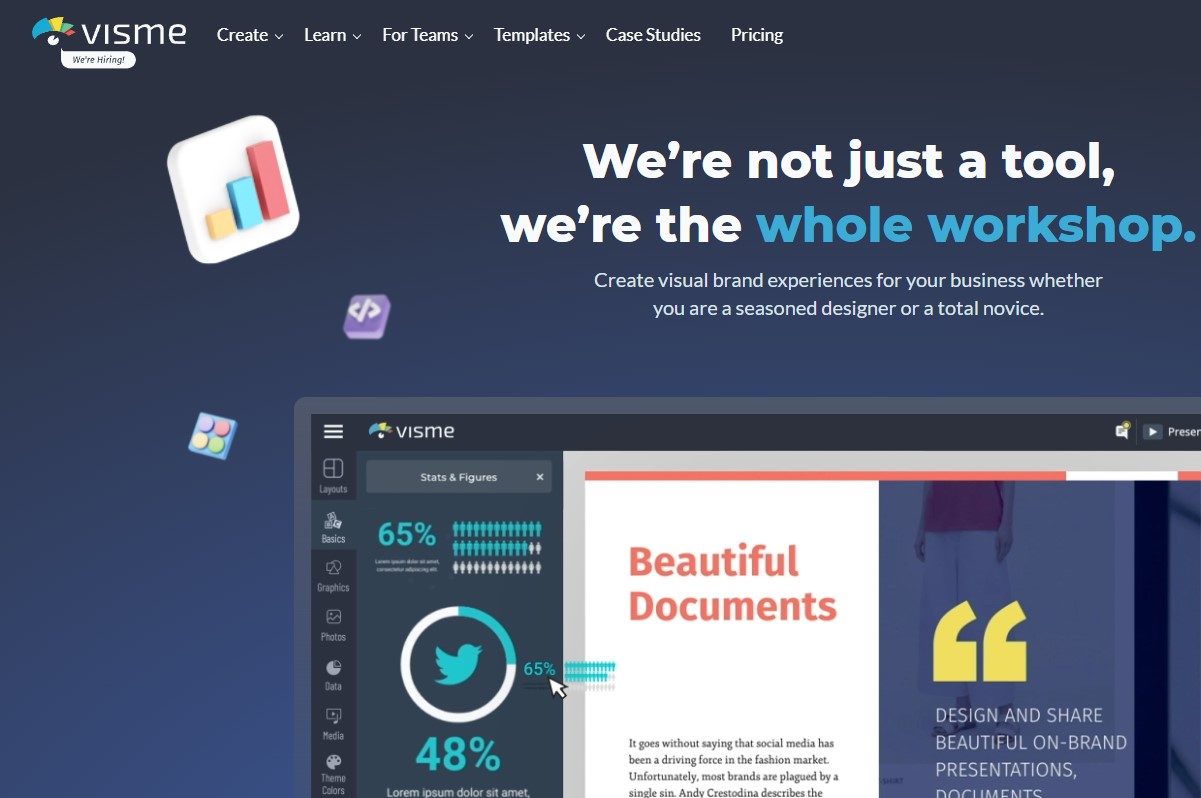 The stock library from visme is gigantic. As a result, you never run out of images or videos to use in your explainer videos. A complete branding kit and real-time collaboration features with your team are some of the key elements of Visme. Visme is easy to use and provides a drag-and-drop interface. Add images, videos, text to create your own explainer video.
Visme Example
When To Use
Visme as a explainer video software has a bit of everything in one package. They are not the best for 2D or 3D animated explainer videos, but they do include numerous features that you can combine to produce compelling text explainer videos for a variety of genres and purposes.
We have a full in-depth review about Visme, you can read it here: https://zaided.com/visme-review/
Pricing
Visme comes with a free plan forever with some limitations. However, if you want to export your explainer videos, you have to go with the business plan, starting at $29 per month.
Animaker is an amazing tool with the main focus on creating 2D animated explainer videos. Their drag-and-drop interface makes it easy to create explainer videos without any previous knowledge of video editing software.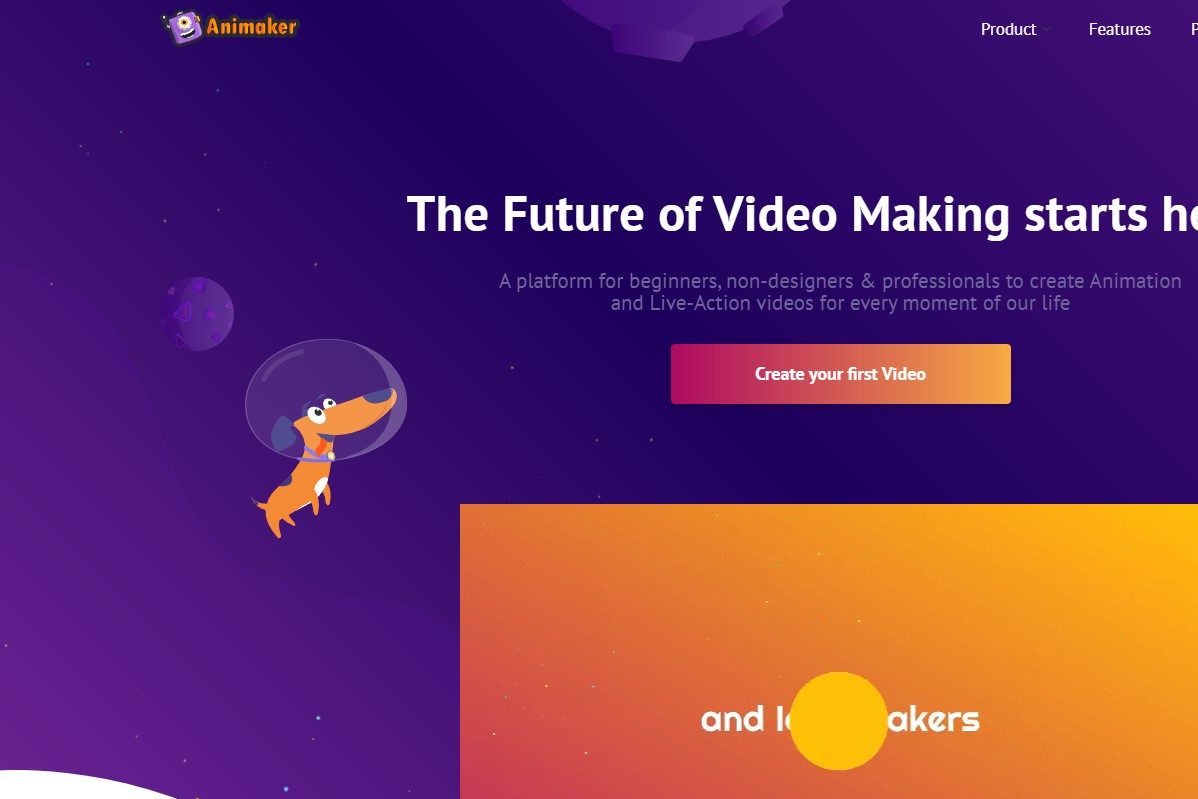 Beautifully designed characters with dozens of accessories to add, over 20 facial expressions, auto lip-sync, and more to create your own unique animated character. Animaker offers also a toolbox for live video editing. Cut and edit your live video with Animaker! Choose from a library of songs or add your own tracks to your project. Then, use their handy text-to-speech function and add a voice-over in seconds to create your explainer videos.
Animaker Example
When To Use
Animaker is a popular tool for making 2D animated explainer video of any kind. They have lots of possibilities for customizing your character and situations, plus they have access to over 100 million stock photos and movies to utilize in your explainer video.
Pricing
Animaker offers a free plan with some limitations. The first plan without restrictions starts at $10 per month.
Not as large as the other video explainer companies, but definitely not bad. Toonly offers almost 100 characters to choose from, 30 character animations, over 2000 prop images to enhance your scenes, over 100 scene transitions, and more. Add a voice to your videos or choose from their audio library to add a finishing touch. Video creation made easy!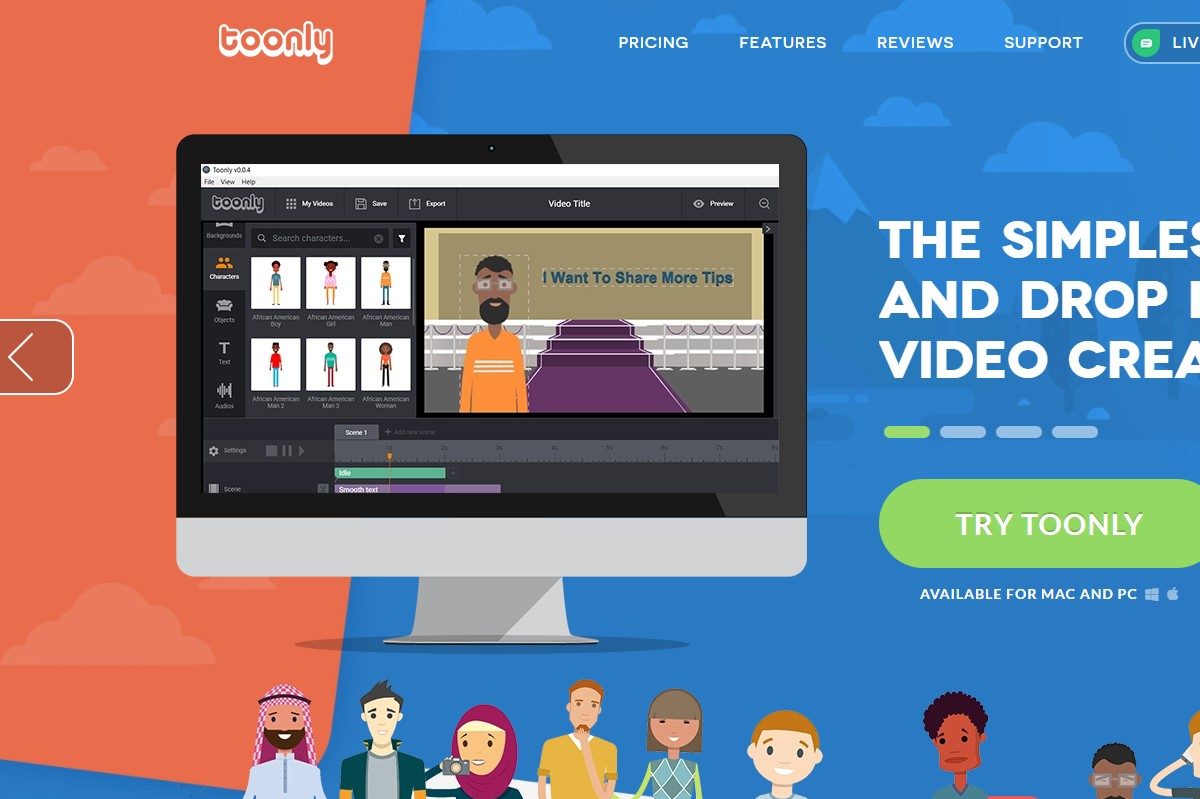 Toonly is a simple but effective 2D character animation tool to create highly effective explainer videos, video ads, and more. Toonly is praised for how simple it is to utilize this video explainer software. The reviews speak for itselve.
Toonly Example
When To Use
Toonly sets it focus on 2D animated explainer videos. If you are looking for a simple but powerful tool to create videos, don't hesitate to give this awesome explainer video creator a try.
Pricing
Toonly has only a paid plan, starting at $20 per month. However, they offer a full 30-day money-back guarantee if you are not satisfied. So you have no risk to try it out and see for yourself what Toonly has to offer.
To stand out from the crowd, Biteable focuses on short, powerful explainer videos. This explainer video software places a high value on graphics and beautiful imagery. Biteable's editing tool is simple to use, and no prior expertise of film production or video editing is required. All you need is something you want to explain and a few minutes to do so.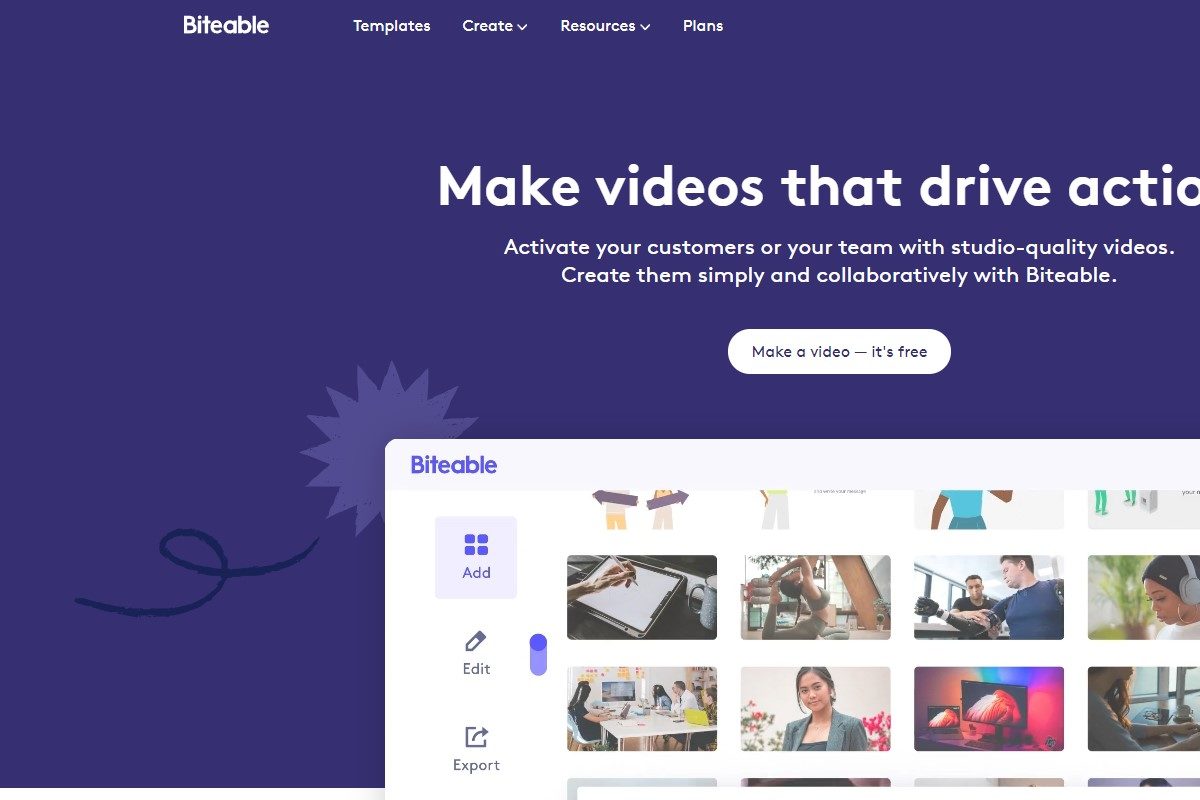 Biteable offers many templates to get started with your video explanation. Then, export your created videos straight to your social media accounts without hassle. An increasing number of Fortune 500 organizations, including Google, are using Biteable as an explainer video software solution. So, if you choose Biteable, you are not making any mistake.
Biteable Example
When To Use
Biteable doesn't offer 3D animated explainer videos. However, they are strong in text-explainer videos, live-action videos, and 2D animated videos. So, if that's it what you are looking in a explainer video software, gibt Biteable a try.
Pricing
A free everlasting plan is included with Biteable. The Biteable watermark appears on all of your videos in the free version. The first plan to get rid of the watermarks, and have access to more features starts at $19 per month.
Powtoon is a strong contender in the explainer video software industry. From 2D animated characters to cartoon creation or even whiteboard animation, Powtoon has you covered.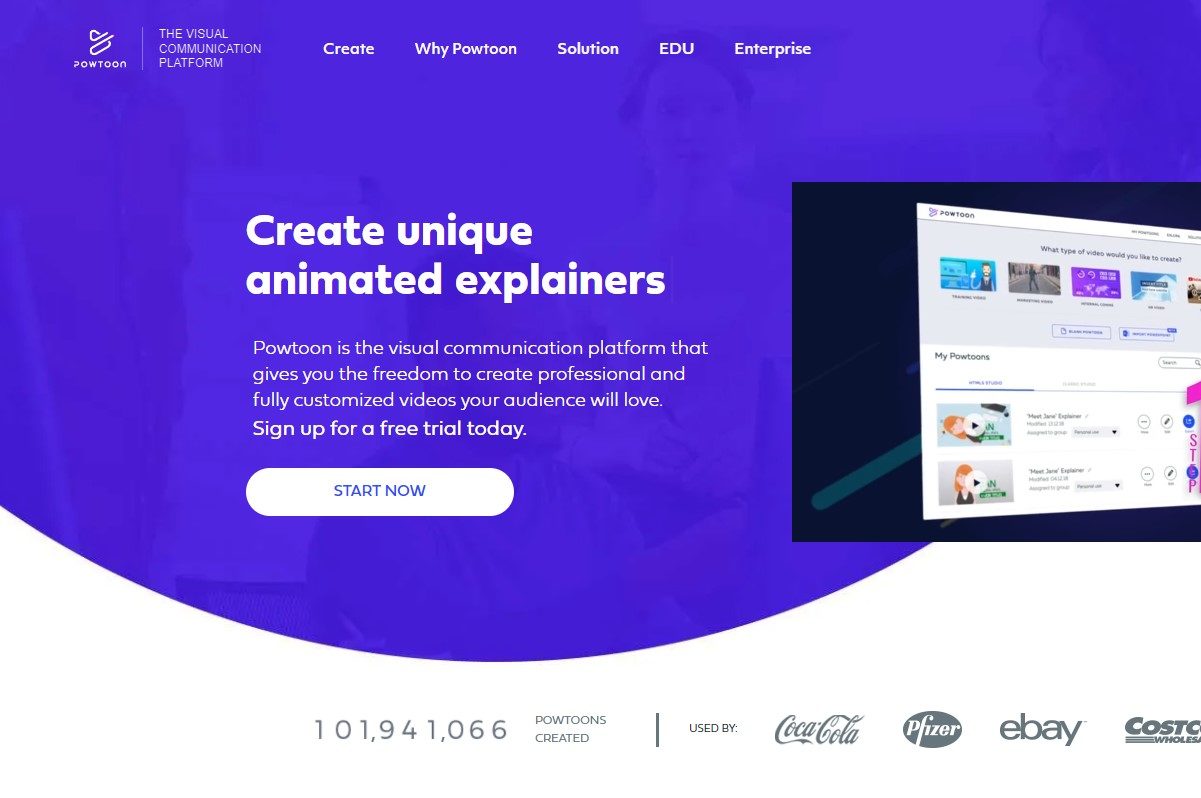 Choose from thousands of characters, music, scenes, images, and more for your animated videos. In addition, Powtoon offers many templates to get started with your explainer video fast. They have scenes for almost any sort of niche, so it's never been easier to start your explainer video journey.
Powtoon Example
When To Use
If you are looking to create highly-professional 2D animated explainer videos, text explainer videos or live-action videos, give Powtoon a shot.
Pricing
Powtoon comes with a free version and the first paid plan starts at $19 per month.
In our perspective, these are the best eight explainer video software products. We tried all of them and found them to be the best at what they do. What you'll need for your type of business is greatly influenced by the audience you wish to reach. Consider the persona you wish to reach. What exactly does your target audience want to hear?
After that, choose the type of video explainer software you wish to use. Spend a few hours getting to know your new explainer video maker before making your decision. Try a few different tools until you find the one that works best for you. Looking for more? Try this Quora entry for more answers: https://www.quora.com/What-is-the-best-software-to-make-an-explainer-video-for-my-startup
Thanks for reading! Best,
Kylie
Share with your Friends: