5 Best Lyric Video Makers
A lyric video is a fantastic way to show off your creativity while also sharing your favorite song with the world. It's also a great way to interact with other fans on the internet. Furthermore, lyric videos have become a popular way for up-and-coming artists to promote their new releases.
In this article, we'll look at the best free online lyric video makers. We put each one to the test and hand-picked our five best lyric video makers.
We spent a few hours with each tool, creating our own lyric video. Some of the examples will be shown later in the article. Looking for lyrics for your favorite song? Check out lyrics.com.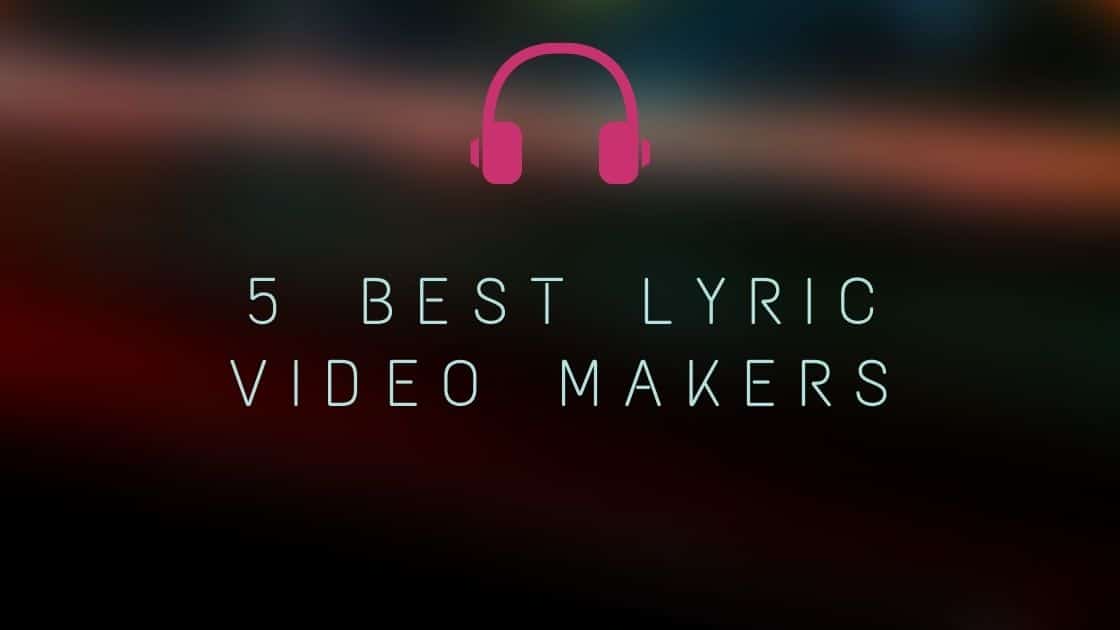 We are by no means lyric video creator experts (as you will see when you watch our examples :P). Still, we're confident that these 5 best lyric video makers will assist you in quickly creating a fantastic lyric video.
Are you ready to be inspired? Let's get started!
Specterr is the first in our list of the five best lyric video makers. Specterr is a music visualizer and lyric video maker app that you can use online. To make your lyric video, choose from 25 high-quality pre-made templates.
Upload your audio, logo, and colors, then start writing your lyrics! Specterr has an easy-to-use online editor that allows anyone to make a fantastic lyric video. It's also great for making dance mixes and music visualizers. However, because Specterr is so simple to use, you don't have as much flexibility in creating fancy text animations.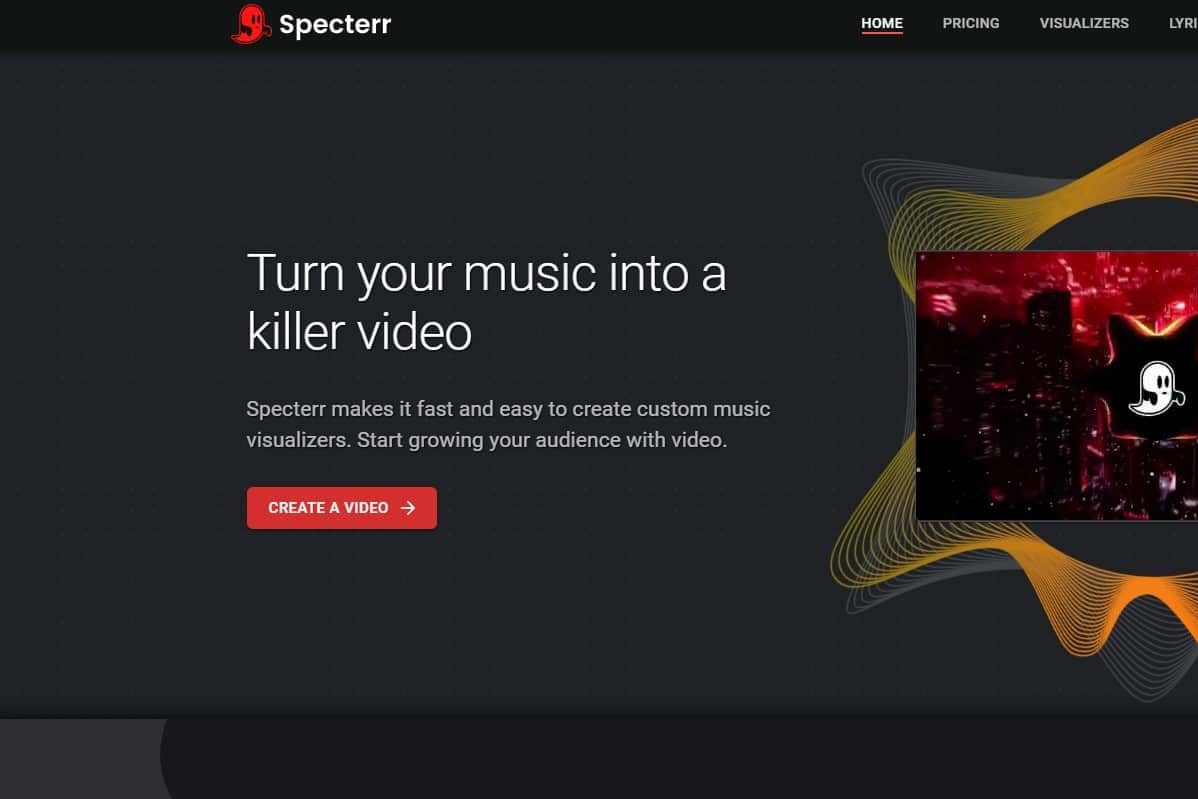 When you sign up for the free plan, you'll get unlimited storage and fast cloud rendering once your lyric video is finished. In addition, after you've finished and exported your lyric video, you can edit it at any time and re-export it. So don't worry if you're not satisfied with your lyric video after you've exported it; you'll be able to make changes at any time!
What's really cool about specterr is that you can make a music visualizer video and then layer your lyrics on top of it without needing an entire video clip or any other type of stock video.
Specterr Example
When To Use Specterr
Give Specterr a try if you're looking for a simple and easy-to-use free online lyric video maker. You'll have your lyric video in no time once your song is uploaded; it's that simple!
Specterr Pricing
A free forever plan is included with Specterr. Export two 720p videos per day, which is a pretty good deal! If you choose the free method, however, your videos will carry the Specterr watermark.
The first paid subscription costs $25 per month and allows you to export up to four 1080p videos per month. If you don't want to sign up for a subscription, you can buy a single video for $20.
Flixier is a quick and straightforward way to create a lyric video. It's also a lot of fun to use, and it only takes 3 minutes to get started. They have an extensive stock library of images and videos to choose from, as well as over 1000 fonts and motion graphics to put your text on the screen. In addition, over 50 transitions, 1000 fonts, colors, font sizes, and more are available. Flixier is a simple tool for making your first lyric video.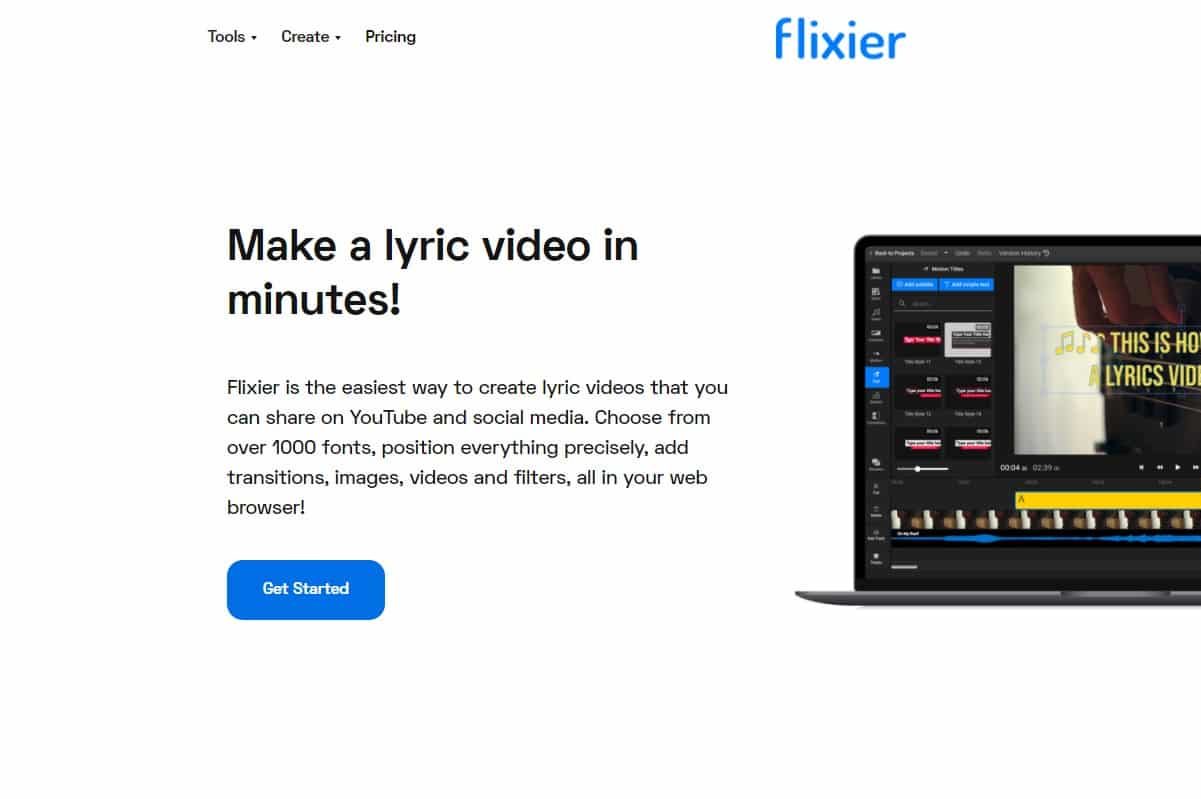 Flixier is great because it allows you to layer multiple texts, images, shapes, and other graphics. For more advanced lyric videos, you can combine several phrases at once.
With the powerful drag and drop builder, you can place your lyrics in real-time, exactly when you want them to appear on your video. In addition, Flixier comes with a full-featured video editor. You don't need any other video editing software to trim, cut, and crop your images and videos in this free lyric video maker.
Flixier Example
When To Use Flixier
Give Flixier a try if you want lyric video software with many video editing features and a lot of flexibility in your lyric video creation. Making your first animated lyric video with Flixier is quick and straightforward.
Flixier Pricing
Flixier offers a free unlimited plan that allows you to upload up to 2GB of media files, which is plenty. In addition, you can export your video in 1080p, but it will include the Flixier watermark. The first paid plan starts at $10 per month and allows you to download unlimited lyric videos and access all of the features.
Promo is the next item on our list when it comes to choosing the best video editing software. Promo is well-known for the powerful video advertisements that can be created with this content creation tool. In addition, Promo has a massive stock library full of images, photos, and music that you can use for your lyric videos.
Create your lyric videos with an easy-to-use drag-and-drop builder and hundreds of text animations, fonts, colors, shapes, and more. Then, upload your brand's logo, color scheme, fonts, and anything else you need to use in your lyric videos for quick access.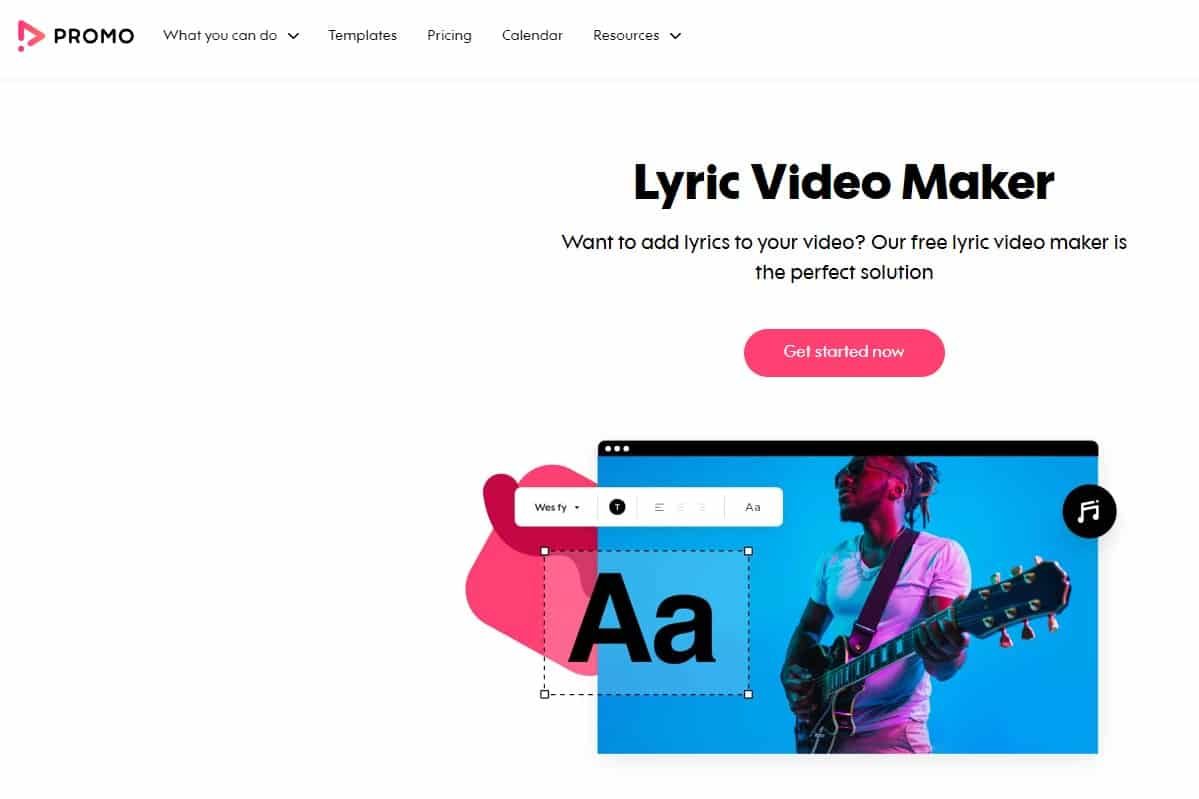 Promo has extremely smooth animations and motion graphics that will make your lyric videos look fantastic in no time. However, there were a few issues I ran into while creating lyric videos with Promo. Only one text can be layered at a time. Furthermore, if the duration to show the text is less than 4 or 5 seconds, the text does not have its fancy motion graphics. As a result, you can't do quick text animation transitions in Promo.
Promo Example
When To Use Promo
If you want to make animated lyric videos beautifully, I recommend Promo. Promo is probably not what you're looking for if you're going to make a more complex lyric video. However, all of the animations are very nice and smooth. Promo appears to be a high-quality animated lyric video maker. In a matter of minutes, your lyrics video is looking great.
Promo Pricing
You can try Promo for free and have unlimited access to everything, but you cannot download your video. So you can thoroughly test Promo first and see if everything meets your requirements for creating a lyric video. If everything meets your needs, sign up for their plan, which starts at $18 per month, and get started.
It is possible to create beautifully designed animated lyric videos using FlexClip as a lyric video maker. For your lyric videos, they have millions of stock images and videos to choose from, as well as thousands of templates to get you started quickly and easily.
To make your lyric video, you can choose from thousands of fonts, colors, and transitions. In addition, they have an extensive library of animated text elements that look great in a lyric video. Finally, the drag and drop builder is simple to use and includes all of the tools you need to cut, trim, and resize your videos and photos.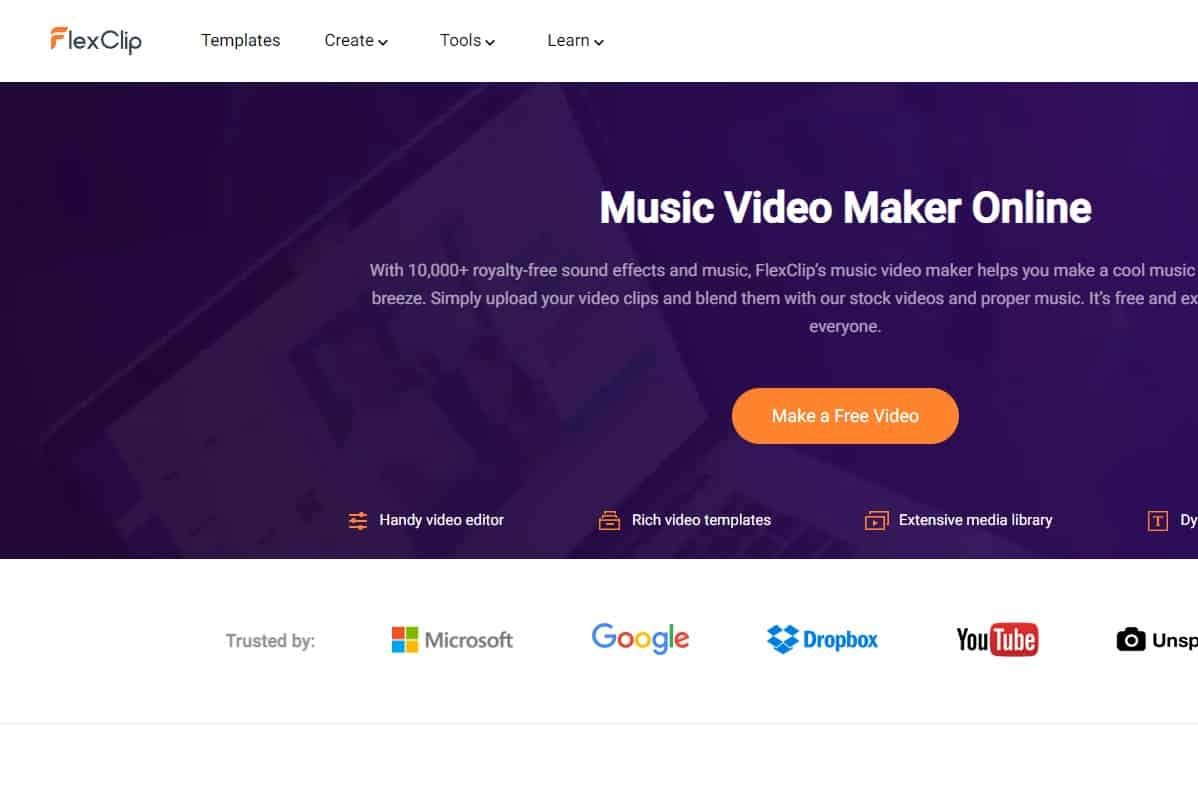 Add elements to the video, change the background, add overlays, or add your own watermark. FlexClip has a lot to offer.
FlexClip is a full-featured online video editor that caters to all of your lyric video needs. Add layers to your video, graphics, text, and other elements. Put the text exactly where you want it on the screen and add various animations. FlexClip is a fantastic lyric video maker app.
FlexClip Example
When To Use FlexClip
FlexClip allows you to make really cool lyric videos. It's a bit of a hassle that you can't layer the text. However, once you've mastered the technique, you'll be able to create really beautiful and nicely animated lyric videos. I can only recommend FlexClip as your new online lyric video maker.
FlexClip Pricing
FlexClip provides a free plan with no limitations, no watermarks, and high-quality export. However, if you export your lyric video in the free version, you must show a quick 5-second ad from FlexClip. The first paid plan costs $10 per month.
Animaker is our final but not least choice in our list of the five best lyric video makers. Animaker is well-known for his animated characters and stories. However, because Animaker provides so much, you can easily create a lyric video.
You have a lot of control over the entire process, including camera movement, text transitions, color, different fonts, and more. You can layer your text and add text exactly where you want it. To make an even more engaging lyrics video, decide which animation the text should enter and leave.
Animaker offers thousands of templates, millions of stock images and videos, and, of course, all the animated characters you could need for your lyric video. It's more challenging to get into the tool because you have so much control over every detail. It took about an hour for us to get a sense of Animaker. However, it is a pleasure to work with this online lyric video maker.
Animaker Example
When To Use Animaker
The text animation is all nice and smooth. The entire setup evokes a playful charm. Give Animaker a try if you're looking for a cute touch or want control over nearly everything that's going on. Because Animaker gives you so much control, I only recommend it if you're willing to put in the time to learn how it works. If you want something more straightforward, I recommend using Specterr as your free lyric video maker.
Animaker Pricing
There is a free version of Animaker with some restrictions. For example, the stock library is limited, and not all text animations are available. However, you can download your video in full HD quality with the Animaker watermark. Go with the first paid plan, which starts at $20 per month, to get around all restrictions.
How To Make Awesome Lyric Videos
It takes time to create professional-looking lyric videos. Choose which tool provides you with everything you require, and then experiment with your new online lyric video creator to get a feel for it. Finally, draw a layout of which seconds you want to show the text animation. This is gonna make things much easier when you begin your lyric video.
Examine some lyric videos on YouTube and be inspired by them. If you have any further questions about using your online lyric video maker or what to do with all of the tools it provides, please send us an email, and we will gladly assist you. We hope this article has helped you decide which online lyric video maker is best for you.
Have fun creating your own lyric videos! And thanks for reading,
Kylie
Sources:
Share with your Friends: