10 Best Visual Content Creation Tools
These are the 10 best visual content creation tools! Are you looking for a way to make Youtube videos, create graphics, social media posts, presentations, infographics, Youtube intros, Youtube outros, posters, flyers, ebooks, charts and more?
Many marketers know that visual content marketing is becoming more important day by day. In fact, in 2020, 89% of social media posts were actually images! We've handpicked the 10 best free visual content creation tools for you in this article. So let's start!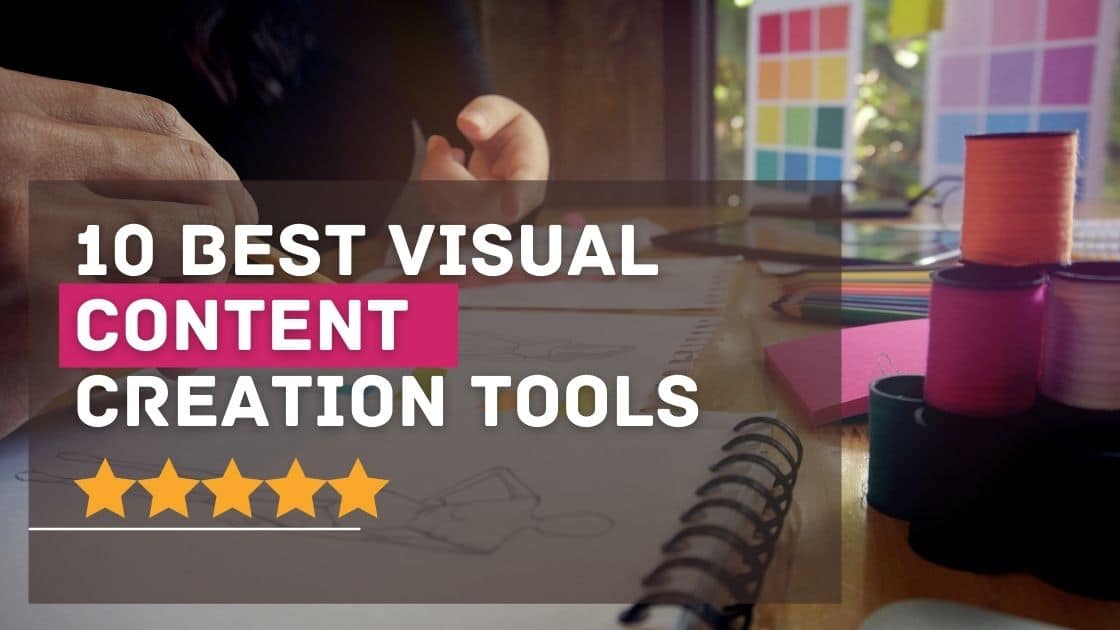 The first on our list for creating visual content is Visme. Visme is a web-based visualization platform that allows you to generate engaging content such as presentations, infographics, brochures, videos, banners, social media posts, and more. Visme has over 10 million active users in 133 countries and is utilized by major corporations like IBM, the Golden State Warriors, Penske, and Duke Energy.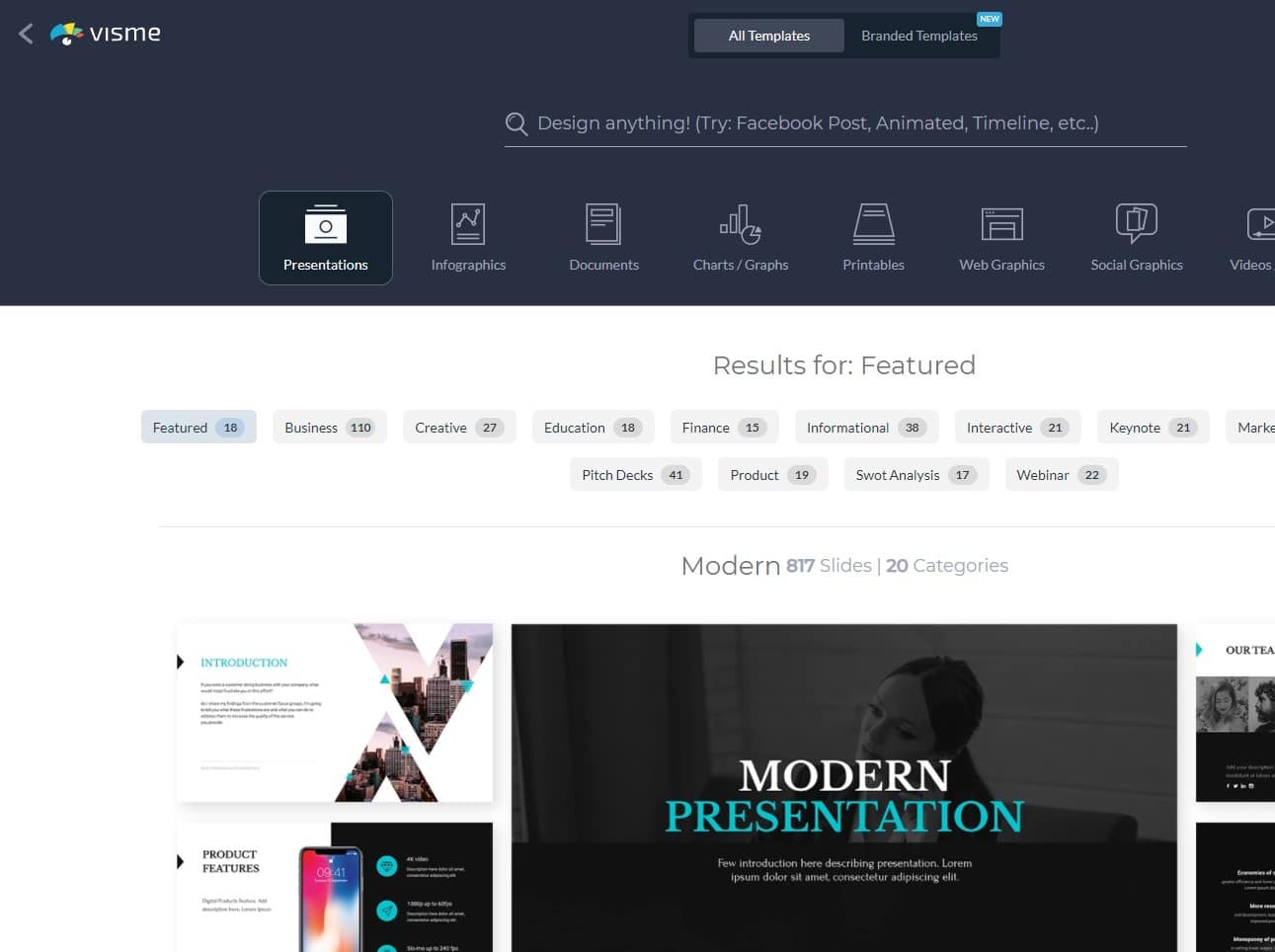 Who Uses Visme?
Large and small businesses commonly use Visme, non-profit organizations, and educational institutions. Visme is a great tool for creating content for your business. Both small and large companies widely use Visme because it provides a variety of collaboration features.
Visme – Key Features
Over 1000 templates ranging from presentations to YouTube intros.
Video lessons, downloadable ebooks, live webinars, and free online courses for Visme
Discounts are available for students, educators, and non-profit organizations.
Create infographics, charts, maps, and presentations
Team collaboration made easy
Visme Pricing
Visme provides a free lifetime edition with restricted capabilities. The initial premium edition, which includes full access to everything, costs $15 per month. In addition, student and educator discounts start at $5 per month.
Visme In-Depth Review
We created an entire blog post based on a Visme review. If you like, you can read it here: https://zaided.com/visme-review/
Promo.com a tool for creating one-of-a-kind customized premium video clips. Promo belongs to the category of video creation tools and helps you create next-generation video content. They have collaborated with Getty Images and Shutterstock to deliver over 100 million quality photographs and videos for use in your content. Large corporations such as Disney, Hilton, and Bose use Promo.com.
Who Uses Promo?
Because it comes with so many layouts, promotion is heavily used in almost every niche in digital marketing. As a result, Promo serves everyone, from marketing professionals to personal YouTube channels.
Promo – Key Features
Over 100 millions of stock images and videos
Over 5000 templates in every niche to chose from
Fully licensed audio library to use in your clips
Create professional video ads
Promo Pricing
Promo.com is free to use, but it has limited capabilities. The free edition is ideal for getting a taste of the platform. However, we recommend upgrading to the paid version if you are serious about generating high-quality videos. These plans start at $12 a month.
Next on our list with the best content creation tools is Invideo. Invideo is valued for how easily and quickly powerful videos can be generated. Invideo has over 5000 video templates and over 50 text-to-video templates with a versatile drag-and-drop editor for further customizing your videos.
It lets you create appealing visual content for your social media platforms or your blog post. In addition, Invideo has a content library of stock photos and movies and an audio library. Bring your visual content creation to the next level with this free tool.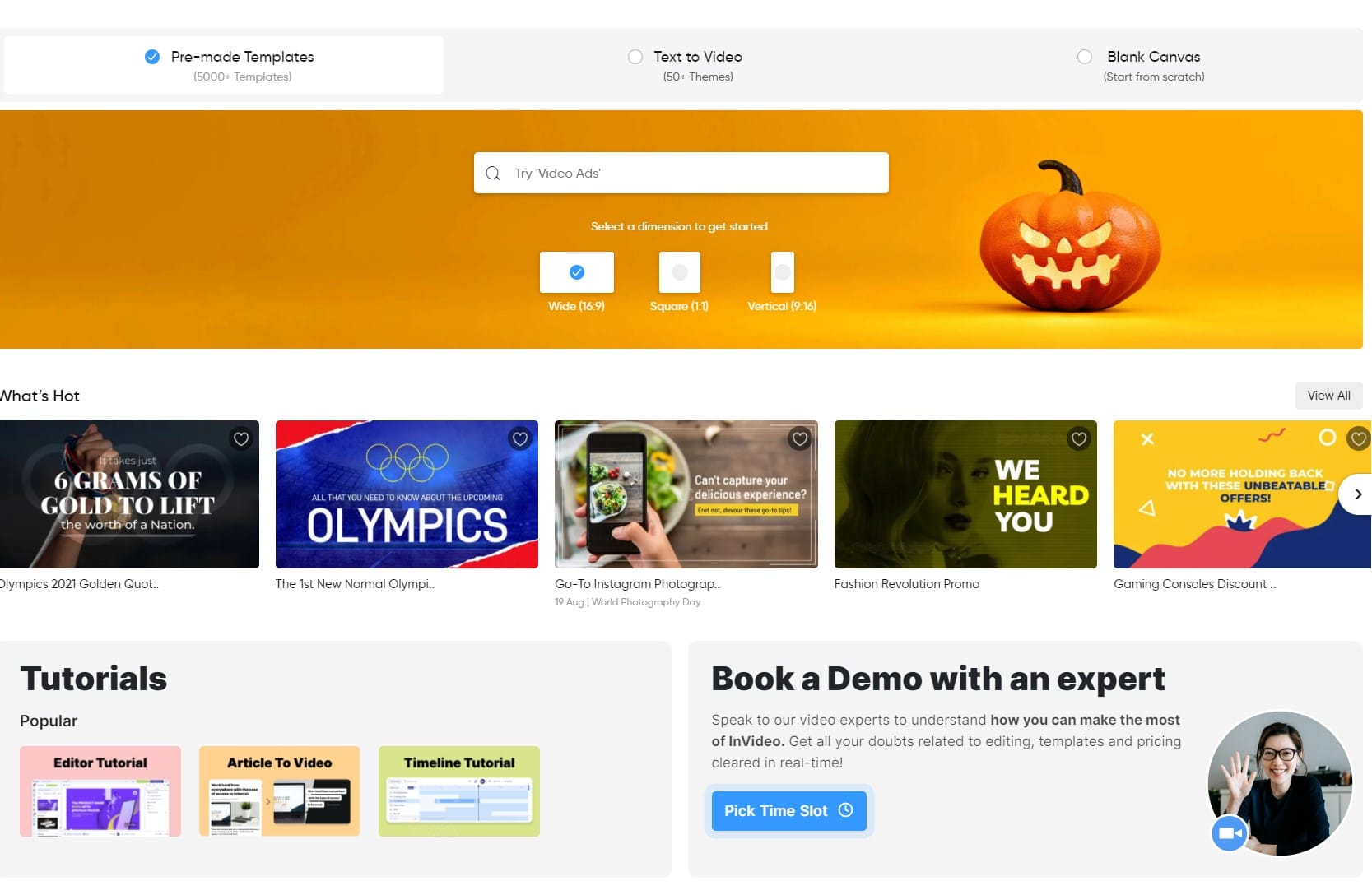 Who Uses Invideo?
Invideo works with companies of all sizes. Marketing, event planning, promotions, branding, Instagram stories, youtube intros, and more services are available. If you're looking for an easy way to create powerful videos, go no further than Invideo.
Invideo – Key Features
Simple, fast, and powerful drag and drop builder
Over 5000 templates in every niche to choose from
Fully licensed audio library to use in your clips
It comes with a lot of tutorials for Invideo
Invideo Pricing
Invideo has a free plan that does not require a credit card to use. However, every video export includes a watermark, and only 720p can be exported.
Invideo's Business plan starts at $15 per month. This package includes no watermarks, 1080p outputs, and access to over 1 million premium media files.
Canva is probably the most significant player on this list and deserves its place in the best content creation tools out there. There are over 250'000 templates to pick from and hundreds of thousands of images in the free edition. Alternatively, you can upload your own photos and images to use in your projects. In addition, Canva allows you to create content for your social media platforms easily.
Canva is used to create stunning visuals, from YouTube intros to videos, YouTube shorts, presentations, infographics, and all sorts of social media graphics.
Who Uses Canva?
Canva serves everyone, from experts to hobbyists – anyone can use Canva's simple drag-and-drop creator to produce high-quality material. It is not as complicated as the other tools, but it provides a lot. Canva made it simple to share projects and ideas with friends and colleagues.
Canva – Key Features
Over 250'000 templates in the free version
Templates for all kinds of social media posts
No watermark in the free version
Visual content marketing made easy
Photo editing tools at your disposal
Create visual content in a matter of minutes
Canva Pricing
Canva's free plan includes over 250'000 templates, high-quality export, and no watermark. Canva's pro plan starts at $10 per month and consists of a variety of features. There are over 100 million premium stock pictures, videos, audio files, and graphics available. They have 610'000 premium templates and create new ones on a daily basis.
The fifth in our list with the best visual content creation tools is CreateStudio. It has excellent ratings on numerous review sites. The average user experience is 4.8 out of 5 stars.
CreateStudio is all about making videos. Videos that take your breath away. If you're looking for a new visual content strategy, try CreateStudios' powerful explainer videos or their unique 3D Pixar-style character animation videos.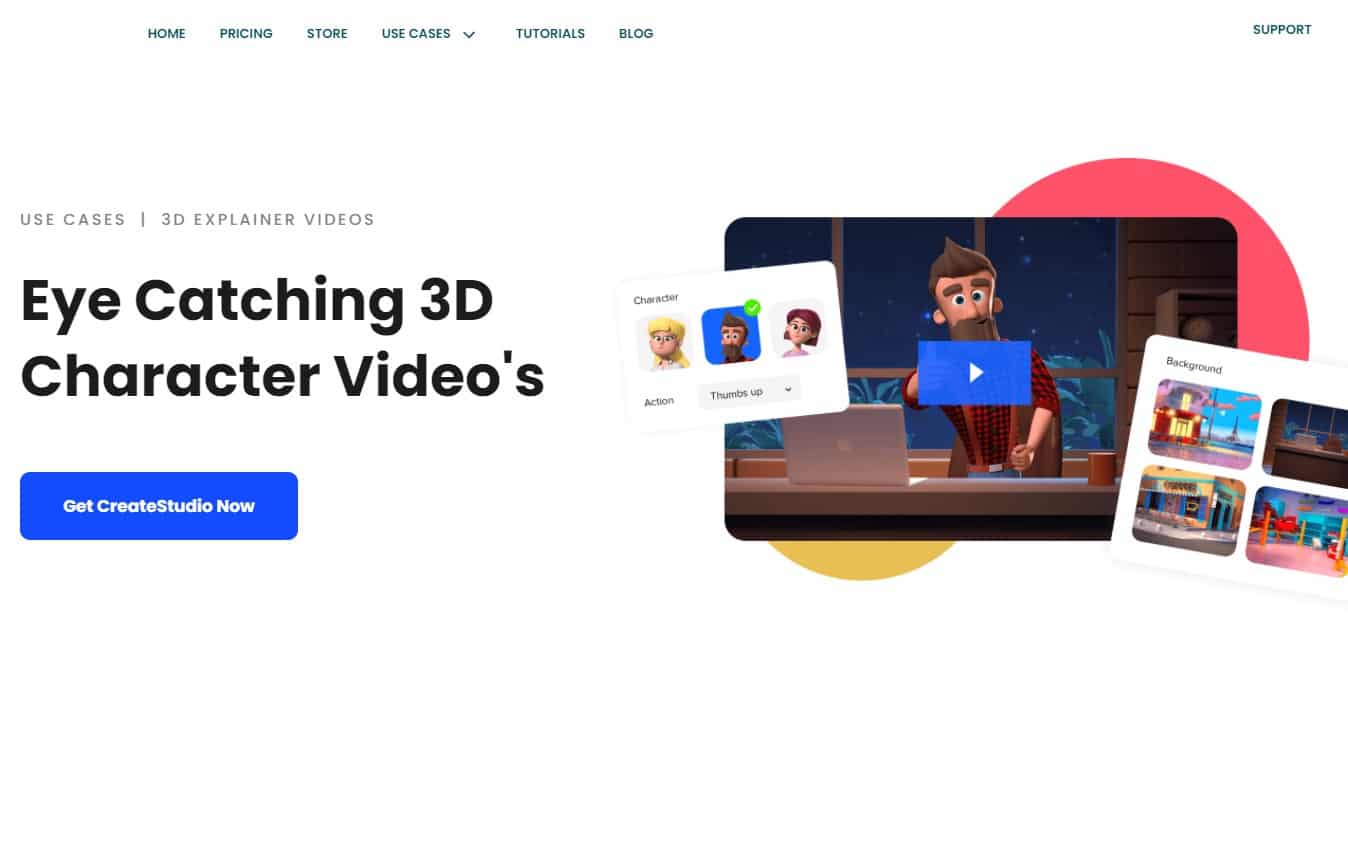 Who Uses CreateStudio?
CreateStudio is for experienced and complete beginners in the video creator segment. If you want to make animated videos, explainer videos with 2D and 3D characters, or video advertisements for your business – this software makes virtually any video easily.
CreateStudio – Key Features
Text animation in an easy way! Choose different hands for the animation
2D and 3D characters to animate in your videos
3D Pixar-style videos
50 templates included
CreateStudio Pricing
There is no free plan for CreateStudio. It starts at $99 for lifetime access, which includes all features. There is, however, a little more expensive option for $299 a year that grants you access to a marketplace with an extensive template library and more characters to utilize in your videos.
We have a unique offer for you: 33% off the $99-lifetime access! Grab it here:
Renderforest is a one-of-a-kind graphic design tool that allows you to quickly and easily produce high-quality visual content like films, logos, mockups, youtube intros and outros, and even websites.
Renderforest has over 10 million creators who have completed over 30 million projects. Make promotional videos, adverts for your social media presence, slideshows, presentations, and even music visualization if you are a music producer.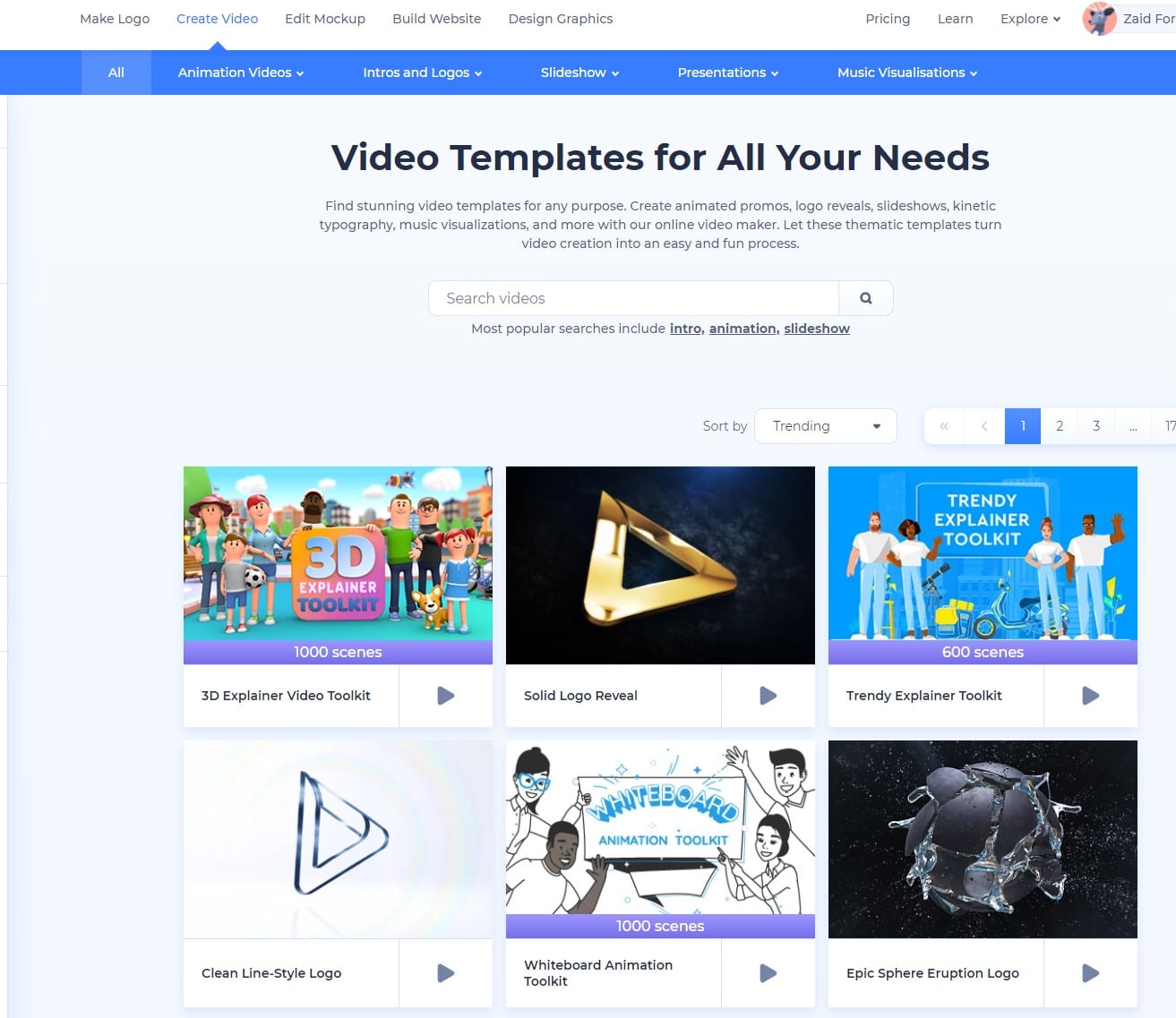 Who Uses Renderforest?
People all throughout the world use Renderforest in a variety of marketing niches. In a matter of minutes, you can create logos, product mockups, explainer videos, and infographics. Try this one if you want to expand your online presence.
Renderforest – Key Features
Video templates for all purposes
over 200'000 stock images to access in the free version
Visual content creation for almost anything
Create multiple video types like animated videos, explainer videos, or music videos
Free version has a watermark and only 360p export
Create visual content quickly
Renderforest Pricing
Renderforest has a free version. However, you can only export 360p videos, and they include watermarks.
The first paid edition, which includes 1080p films, costs $10 per month. You can purchase single products, such as a video or a logo, for a one-time fee of $10, which can be pretty beneficial.
Venngage focuses on producing high-quality infographics and other presentation tools. You may also do menu plans, posters, flyers, postcards, and much more because they continuously bring a lot of improvements. Venngage is used by major companies such as Google, Airbnb, and Hubspot. They feature a simple and powerful drag-and-drop builder for building your content.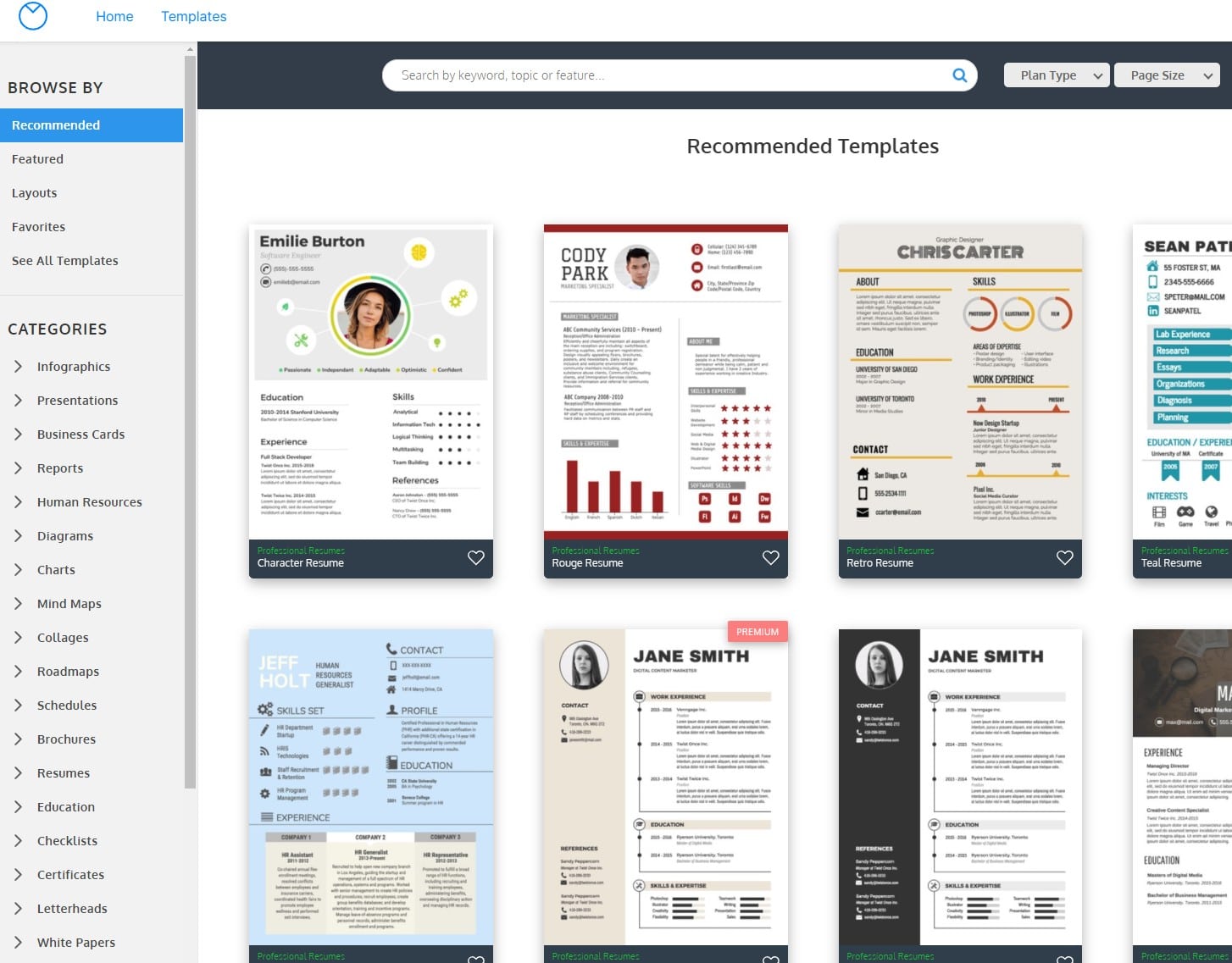 Who Uses Venngage?
Because Venngage allows for the creation of virtually any type of material, its use is open to everybody. So, for example, if you are a video creator for YouTube or Instagram, or a content marketer developing presentations and roadmaps, Venngage will be very useful to you.
Key benefits of using Venngage
Library with high-quality stock photos
Over 10'000 templates to choose from
Create everything in a few clicks, from ebooks to menu plans, posters, infographics, certificates, roadmaps, and much more.
High-quality content creation tool
Create infographics, presentations, maps, charts, and other business utilities
Venngage Pricing
Venngage comes with a fully functional free version. It's a little limited, but it's plenty to get a feel for the tool. If you opt to go with Venngage, their plans start at $16 per month.
Number eight in our list with the best visual content creation tools is WeVideo. WeVideo is a powerful video creation tool that runs in the cloud. So far, nearly 30 million accounts have been generated. It includes over a million stock photos and movies to utilize. Visual content is straightforward, really fast, and flexibly generated with this tool. Google, Dropbox, and Microsoft are just a few of the big names that use WeVideo.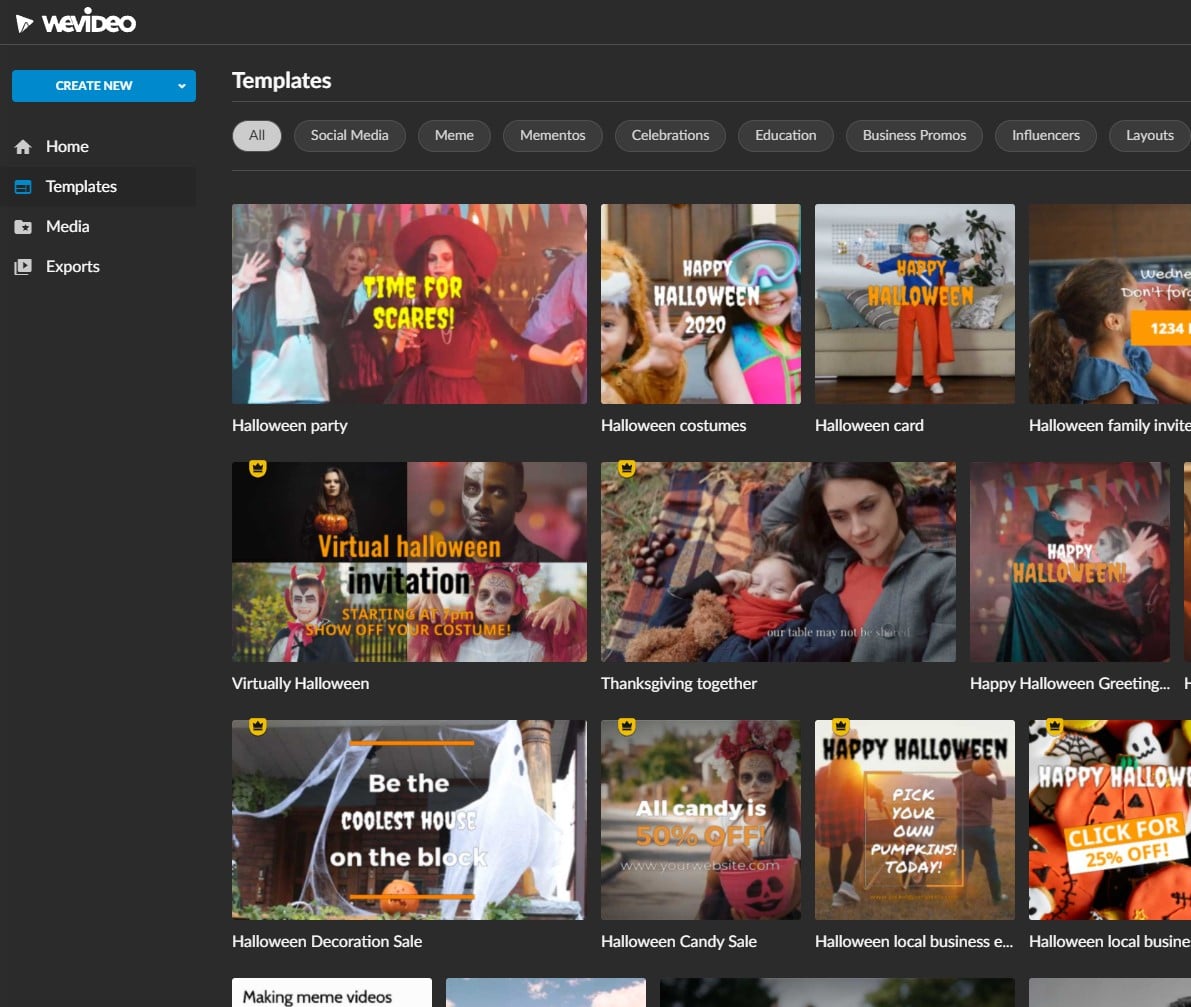 Who Uses WeVideo?
WeVideo enables professionals and beginners to create spectacular visual content in minutes, whether for education, capturing memories in everyday life, or for your business to develop high-quality commercials or other social material.
WeVideo – Key Features
Over 1 million stock photos and images to use
Fast and easy to use
Affordable to go with
Special prices for students and teachers
WeVideo Pricing
There is a free plan of WeVideo available. It has various limitations, such as the presence of a watermark on exported videos. However, it's quite affordable to go with WeVideo. The cheapest monthly package starts at $5.
If your content marketing strategy does not include Adobe Spark, you should consider giving it a shot. This fantastic visual content creation tool enables you to quickly create graphics, web pages, and video content of any type.
Adobe is a major player in the content and visual marketing industries, as you are well aware. You don't have to subscribe to the entire creative cloud – you may access Adobe Spark without the other Adobe technologies.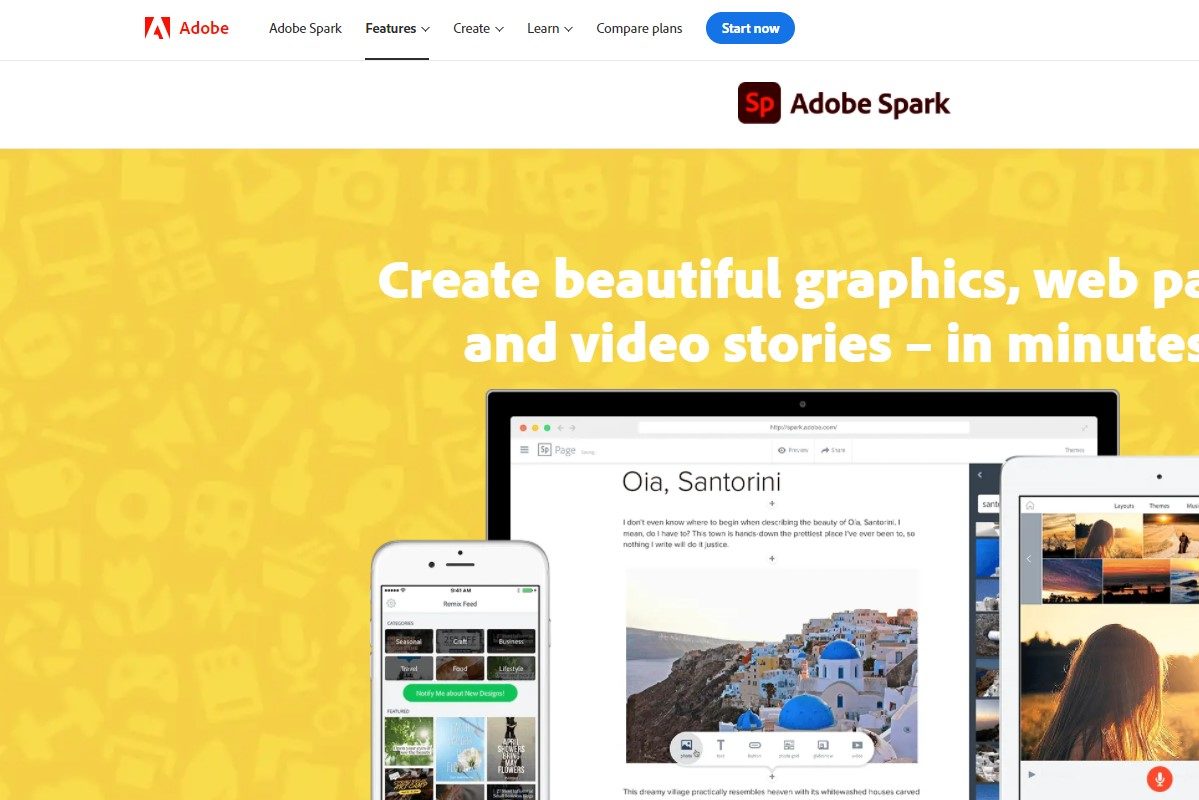 Who Uses Adobe Spark?
Adobe Spark is used by graphic designers and social media content creators all over the world. It is a well-known product in the digital marketing world due to its intuitive and powerful drag and drop builder, the ease of creating animations, and the extensive library of templates and stock images.
Adobe Spark – Key Features
Use on a desktop computer or a mobile phone
With a single click, you can crop, trim, merge, or resize your videos
Convert videos to animated GIFs
Create content for your social media presence fast and professional
Access Adobe Spark without subscribing to Adobe's entire creative cloud
Adobe Spark Pricing
Adobe Spark is a free application with certain limits. The premium version, which includes all features, starts at $10 per month. They provide a 30-day trial period to thoroughly evaluate all of the features before subscribing to their plan.
Pixelied is not as large as the other visual content creation tools on this list, but certainly not bad. Pixelied offers a comprehensive set of design editing tools for social media marketing. Collaborate with your team and work together on your designs. To build your visual content, choose from thousands of designs from over 25+ social media formats.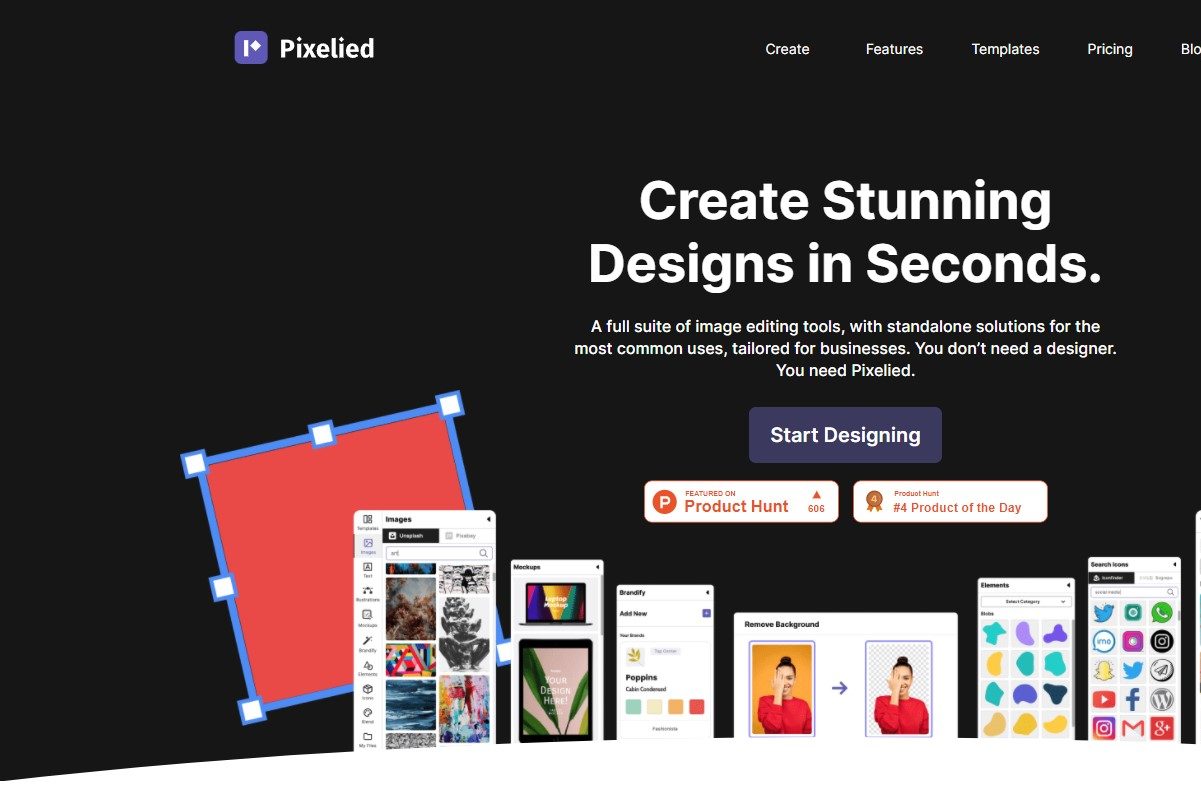 Who Uses Pixelied?
Pixelied is commonly used by social media marketers, small and large companies who need to create new content on a daily basis. But of course, this tool suits everyone who wants to create social media content professionally and with minimal effort.
Pixelied – Key Features
Full suite of graphic design tools
Thousands of templates
Over 25+ social media formats to choose from
Create branded designs for your blog post or your webpage
Pixelied Pricing
Pixelied has a free plan that allows you to access some of the templates and the essential Pixelied tools to create social media content. However, if you choose the premium plan, you will pay a one-time $97 to use Pixelied indefinitely. Great deal!
Creating Visual Content – Conclusion
Don't let the technology intimidate you. Creating visual content is not difficult, but it does require some planning ahead of time. There are many content creation tools, apps, and platforms on the web to help you with this task. It all boils down to what type of visual content you need for your business or content strategy.
If you choose some of the tools I have listed in this article as a starting point, you will be fast on your way to creating some top-quality visual content that will drive traffic to your site and engage audiences! You surely need no more excuses, so why not try it out? So, those are the 10 best visual content creation tools out there.
Want to know more about content marketing? Read this article on Forbes: https://www.forbes.com/sites/joshsteimle/2014/09/19/what-is-content-marketing/?sh=74cad86210b9
Thank you for reading! Best,
Kylie
Share with your Friends: