19 Incredible Boho Color Palettes For Inspiration
If you are thinking about adding extra color to your digital art so that you can explore exciting ways to express color, pick up some Boho color palette options. When it is about creating unique visual art, nothing is better than color palettes. However, finding a good Boho color scheme can be challenging. To make things easy for you, this post includes everything from premium palette options to free Bohemian color palettes for you to choose from.
Boho color palettes can be very inspiring, can convey emotion, and can be the reason why your art gets more attention. That is why working with various color palettes during your creative process is so important. At the same time, it is not a bad idea to use specific color palettes during your final project.
It can be a good choice because it can help you stay organized and avoid confusion. Another great thing about color palettes is that they can be used by anyone. So even if color palettes aren't your favorite, they can help you stay organized during your creative process.
The Best Boho Color Palettes:
Check out these boho color palettes for Procreate that are available right now.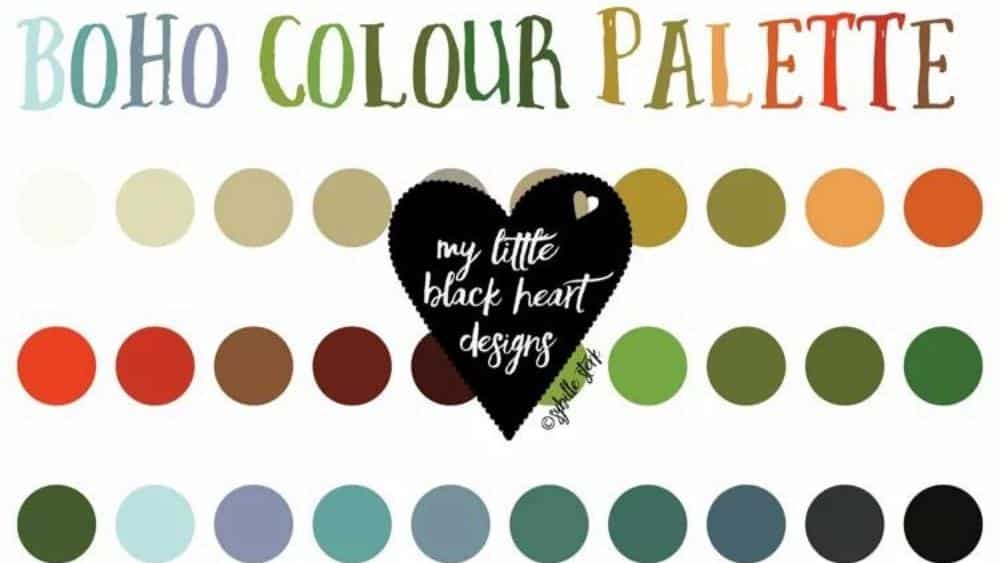 Starting the list of incredible boho color palettes is the pack of thirty colors that are carefully chosen to work together. It gives you the perfect combination that makes your drawing project stand out. In short, it gives you the perfect authentic boho feel that you are looking for in your drawings. From soft sunsets to deep burns, you can take control of your project in style. The accents of blues give you the perfect neutral mix for your design.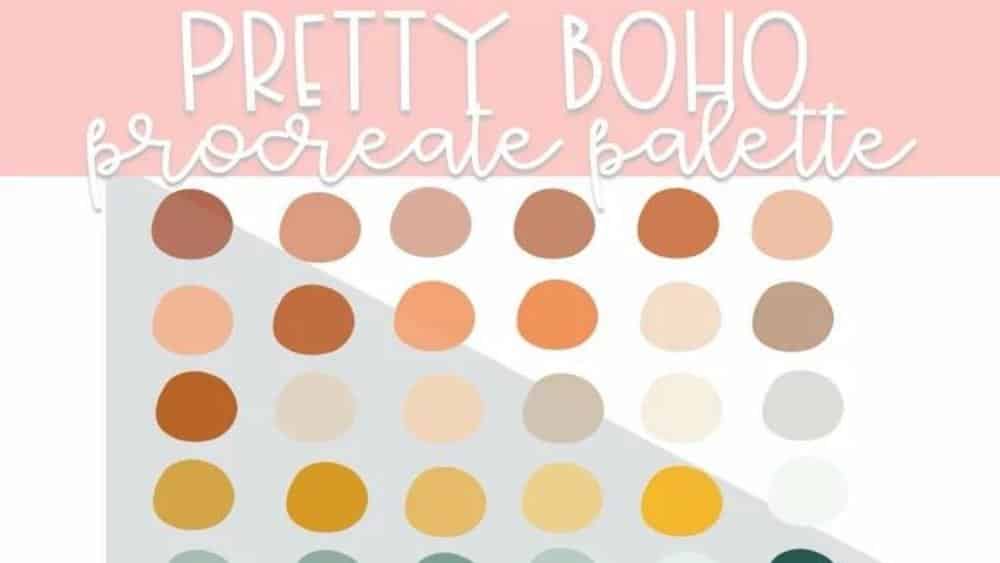 If you are looking for an extensive boho color palette that provides you with a bit of everything, this Procreate boho color palette should make your dream a reality. Besides, if you are a beginner, it is good to start with this package. The pack contains 30 custom, beautiful boho color palettes that give your Procreate app the necessary boost. Moreover, the thirty beautiful boho colors are easy to use after downloading.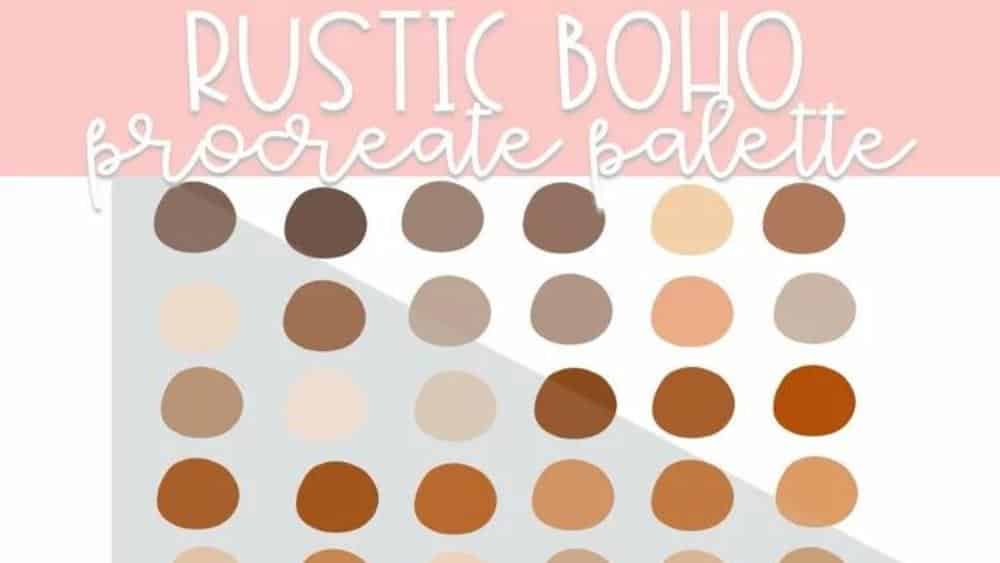 There is no denying that nature's colors are more captivating than others. So, if you are looking for a gorgeous boho color palette for your Procreate app, your search ends here. This color scheme gives your digital art a new direction with a great selection of fall elements. With thirty different bohemian colors to choose from, you won't run short of options. It is a must-have boho color palette for your digital drawings.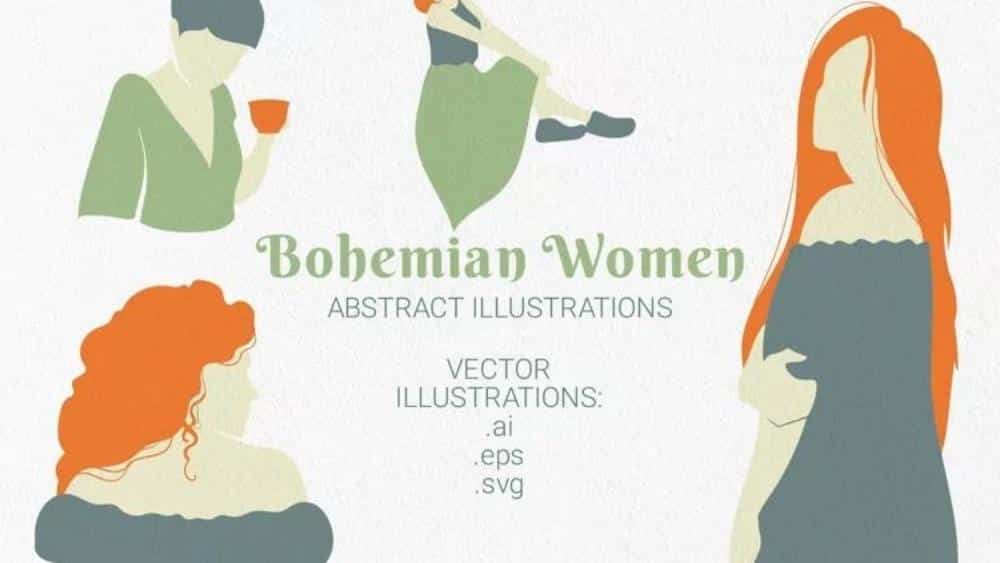 Add realistic patterns to your digital canvas with this gorgeous women's abstract bohemian color palette. This is an excellent package for outlines and vector illustrations. The pack comes with eleven illustrations to bring out the creativity in your paintings. Even the outline illustrations work well when creating something unique based on women's paintings. These are the kinds of images that you want to have on your Procreate app.
This pack contains a new design set that includes individual color elements and gives your art a seamless pattern. The modern-day abstract art style looks beautiful on certain items such as rooms, product packaging, wrapping paper, textile, and so on.
In addition, the pack helps you create unique and more beautiful images. The collection includes 8 digital pieces of paper, 18 flower elements, 4 flower cards, 8 bouquets, and 8 seamless patterns. You can find the right one for your needs with so many options. Whether you like to draw or color a living room or other decor, this earthy bohemian color palette gives you all the textures you need.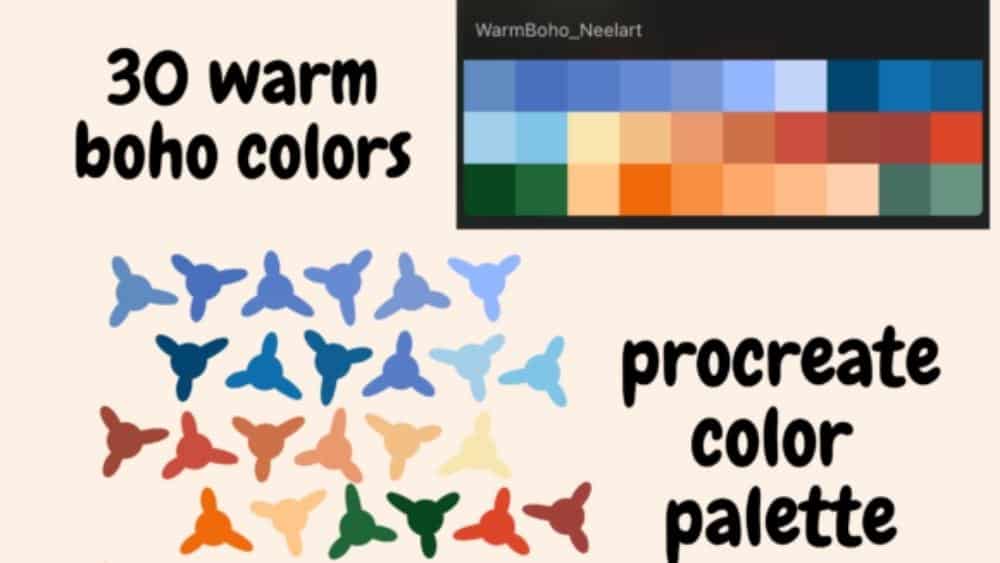 Carefully handpicked by the developer, this warm boho color scheme brings fresh colors to your work. This boho color palette pack is all you need to get started with impressive digital art. With thirty colors to choose from, you won't be struggling hard to produce an intuitive style for your project. Besides, the thirty colors are ready to install and easy to use on your Procreate app.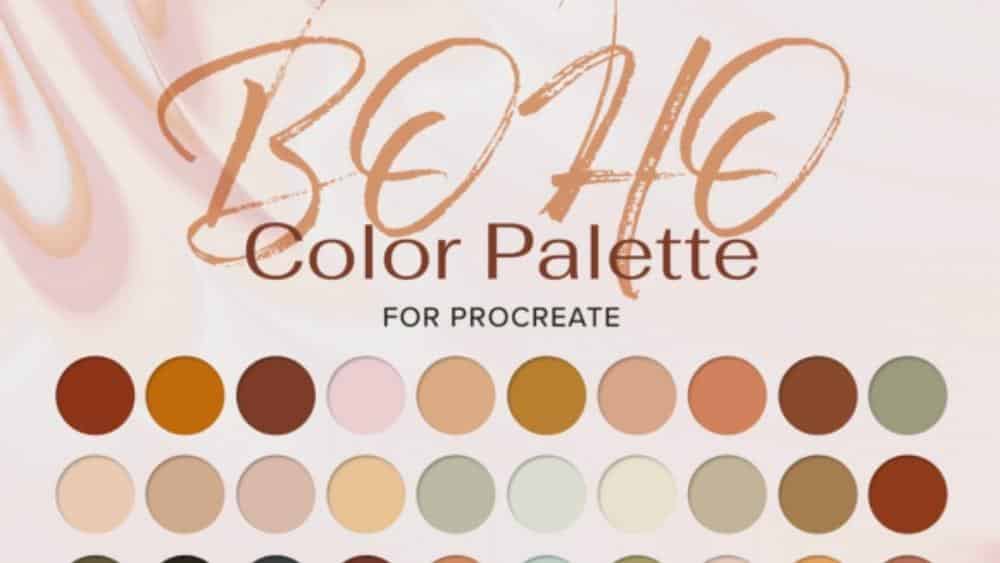 Nothing is more captivating and beautiful than a modern boho color palette, and this pack is no different. These thirty-color swatches are handpicked and ready to use in your Procreate app. From light green to orange and gold, this boho color palette gives you a mix of boho earth and green colors.
The pack includes warm, cool tones that give your digital art a modern-day touch. With this incredible collection, you have almost everything you need to start your artwork. Therefore, go ahead and use this wonderful earth bohemian color palette without hesitation.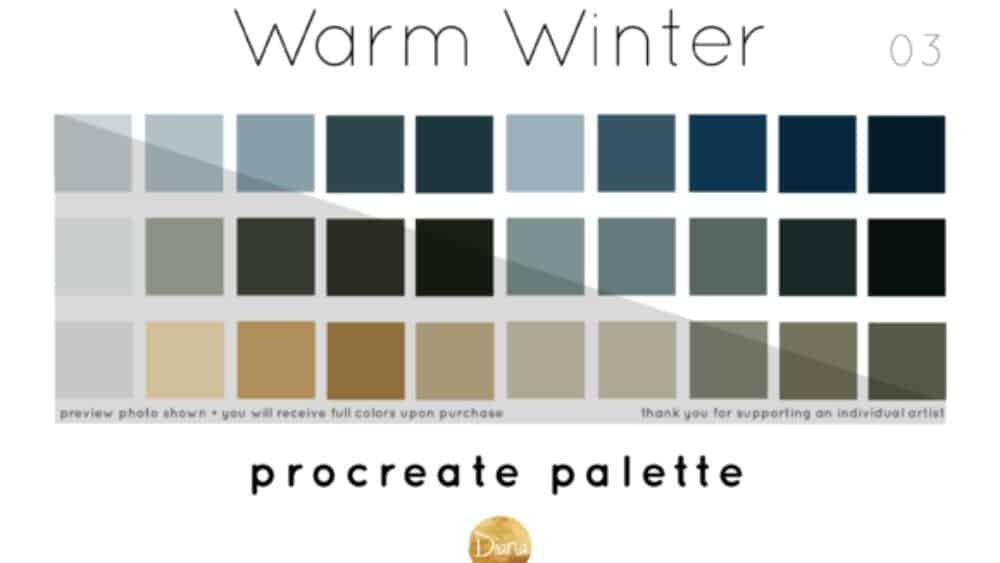 Introduce harmonious hues to your canvas with this beautiful collection of Procreate warm winter boho color palettes. The simplistic art paints you create with these boho color palettes are captivating and soothing.
Moreover, you can use these orange and earthy shades when working on greeting card designs, surface pattern designs, or self-care notes. Or to decorate your living room and give them a unique style. The pack contains thirty custom swatches that are easy to extract on your Procreate app.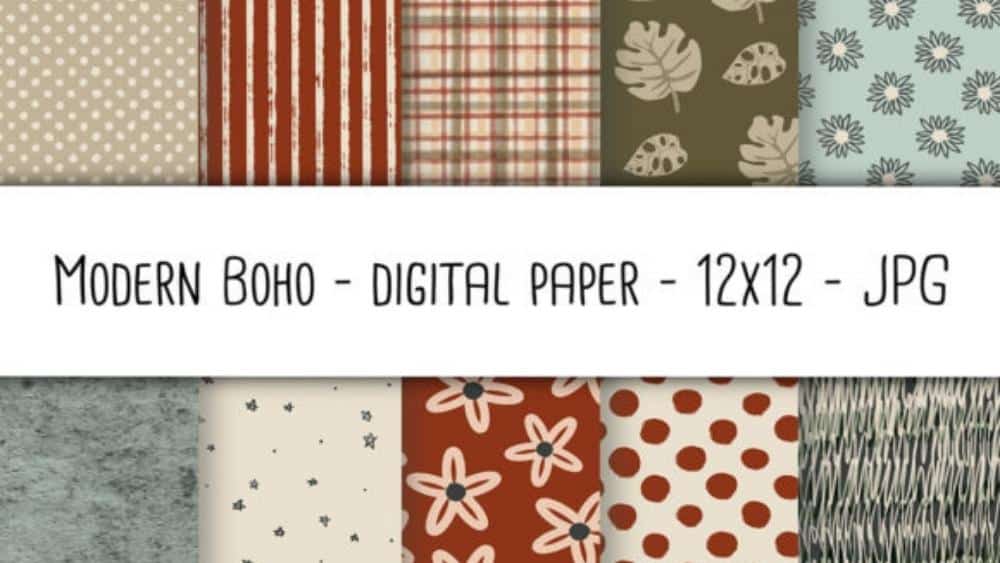 Suppose you are looking for a trendy and modern-day soft boho color palette for your project. In that case, it is the perfect package for your requirement. The best part about this earth boho color palette is that it is ideal for any project, whether it is about scrapbooking, home décor, textiles, greeting cards, or other forms of creative digital creation. It has sixteen unique digital papers that bring an element of color to your paintings.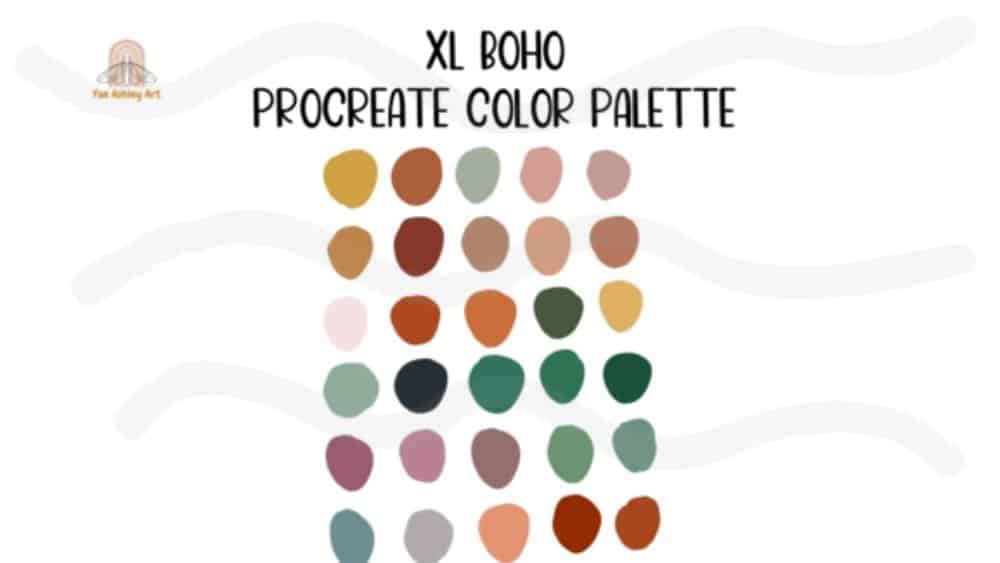 With thirty different colors in this unique set, it is time for you to get equipped with powerful boho color palettes that help you create amazing pieces in no time. This Procreate collection contains brushes and swatches that allow you to make the most beautiful pieces.
Therefore, whether you use these boho color palettes for lettering, decoration, or even for teaching purposes, this should be the right package for you to buy. It's perfect for adding light green to your interior or adding orange or gold and brightening up your room.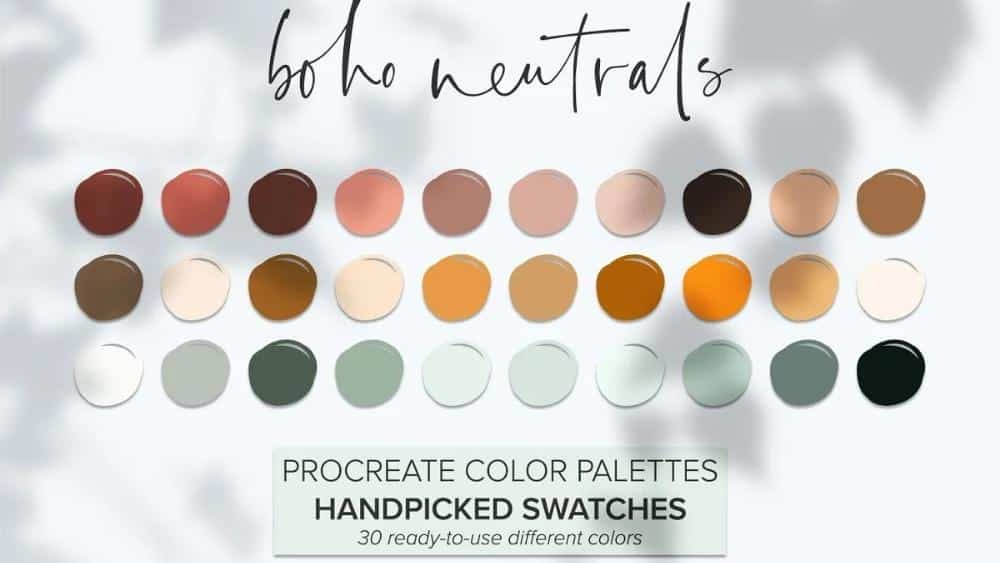 Are you looking for the perfect color combination for your digital artwork? If so, your search is over. This boho color palette full of neutrals is perfect. However, suppose you wish to fill your digital art with unique and beautiful color combinations. In that case, this one is the right boho color palette you need. The package comprises thirty ready-to-use colors to paint gorgeous images. Included are soft shades of green, orange, and gold.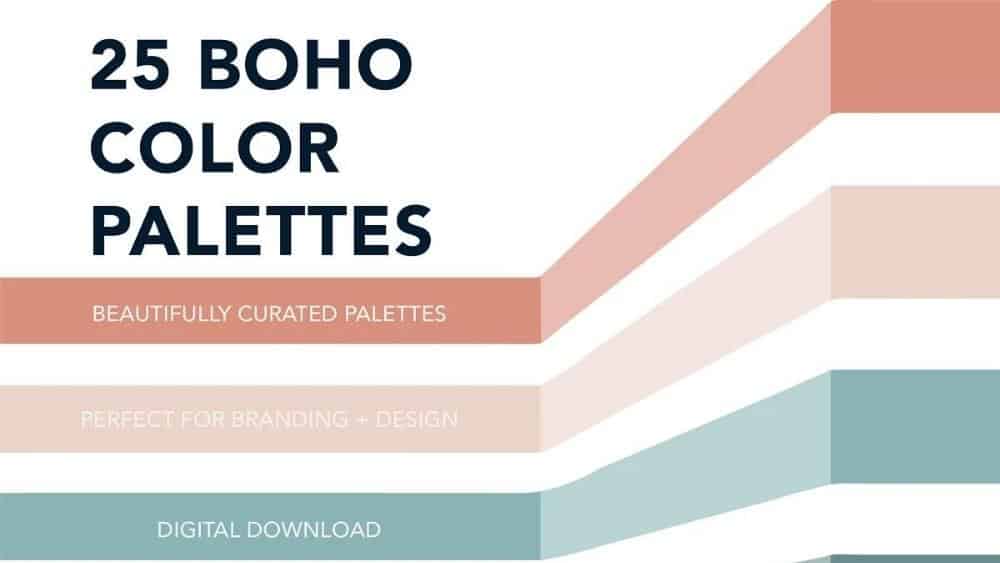 Improve your design and branding with these boho-inspired color palettes. The colors are created using six balanced colors to make your digital artwork look beautiful. It is perfect for digital artists, designers, photographers, illustrators, influencers, wedding planners, and interior designers.
With these twenty-five different modern boho color palettes, you can take your design to the next level. From soft blues to accents of pink and green, this bohemian color palette has colors for you to try.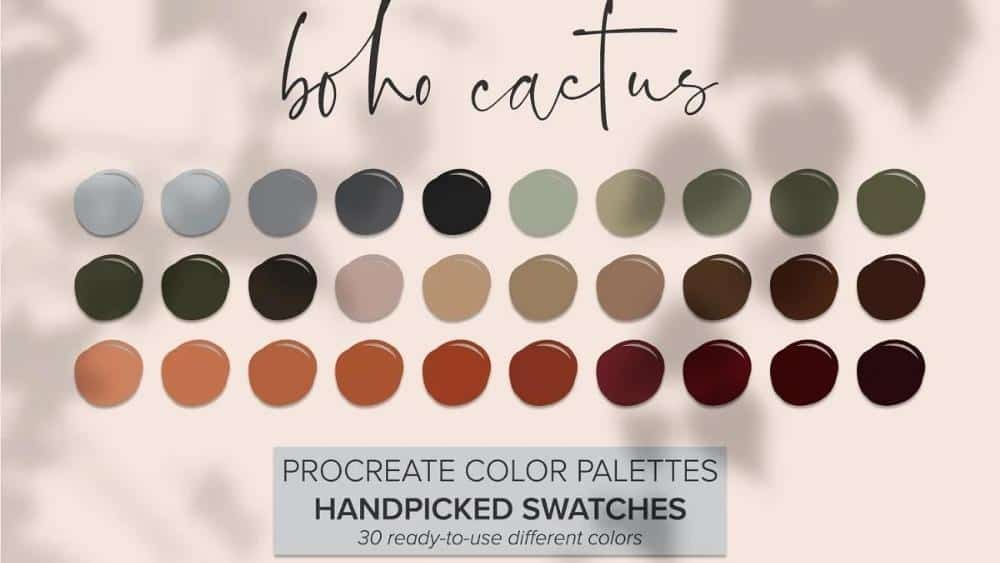 The natural tones you find in these colors draw inspiration from the boho vibes you see in the desert during sunset, and it often reminds me of wood textures. Rays of light falling on the cactus creates a mesmerizing scene.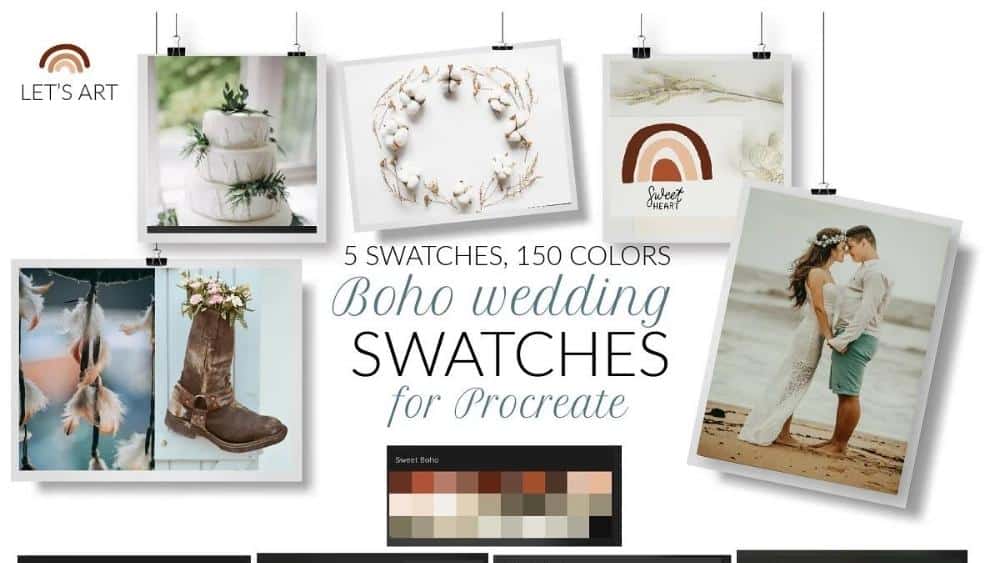 The boho wedding color palette is another great package with lots of colors and brushes for you to experience something different when drawing. With 150 colors and 5 swatches, this package helps you create realistic masterpieces on canvas.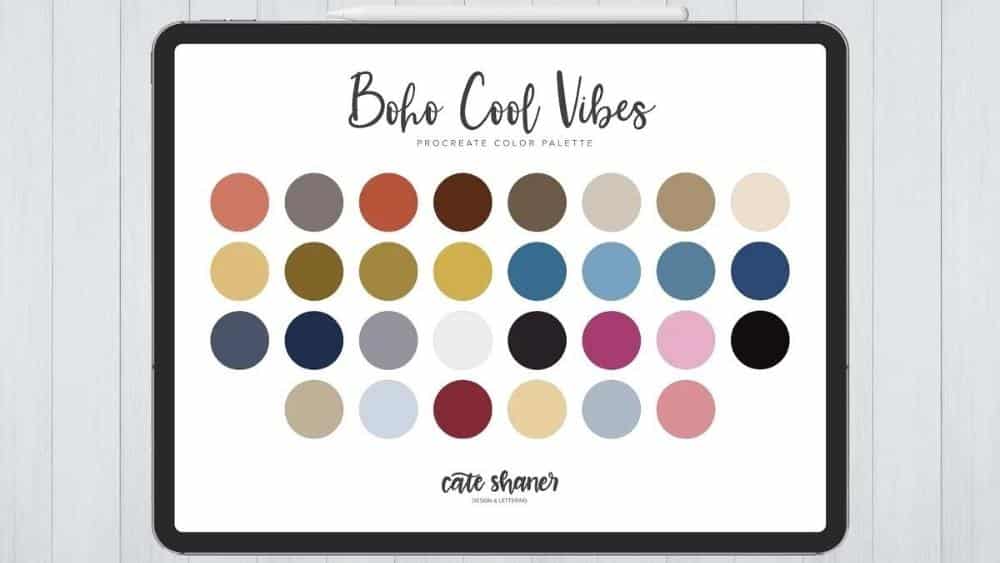 With this fantastic boho color palette, you can personalize your designs with the exact color tone you have been visualizing for some time. When you have the right color palette ready at your fingertips, the overall process of designing becomes an easy affair.
Therefore, gone are the days when you must spend many hours finding the right boho color palette for your needs. The pack contains thirty boho color palettes to color your interior, walls, wood, and more. It is a popular choice in 2022.
The Best Free Boho Color Palettes:
Now that you know some of the best boho premium bohemian color palettes check out these free ones that are worth your attention. Soft shades and accents are included in every free boho color palette. So be sure to check the style out!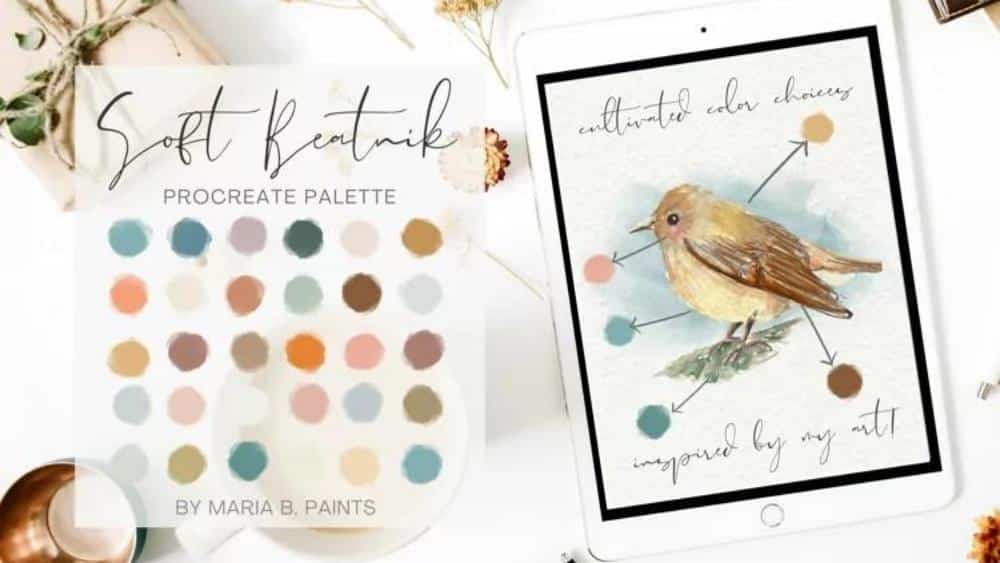 If your digital art projects demand soft and subtle pastel tints, perhaps this boho-chic color palette should be the right option for you. The best part about this pack is its trendy color palettes that make your drawing stand out from the rest.
In short, these boho color palettes compliments each other when you put them on your digital paintings. Besides, it is a free product that you can download right away. So mix, design, and decorate a new space with these colors!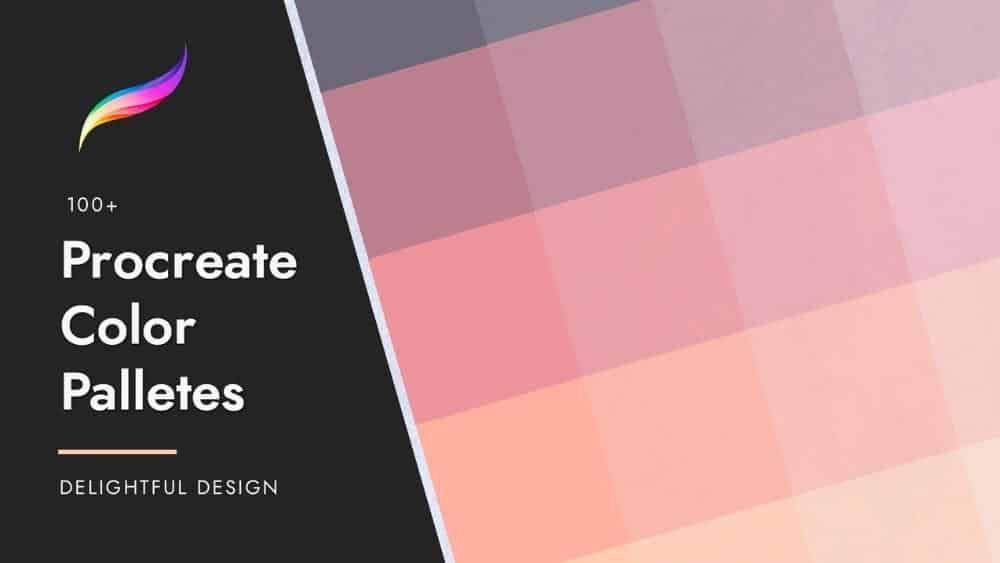 Are you looking to expand your digital art toolkit? If so, you must pick up this massive collection of more than 200 boho color palettes. You can save time and effort while leveling up your color game. These are curated color palettes that you should have in your arsenal. Available for free, you can use them immediately.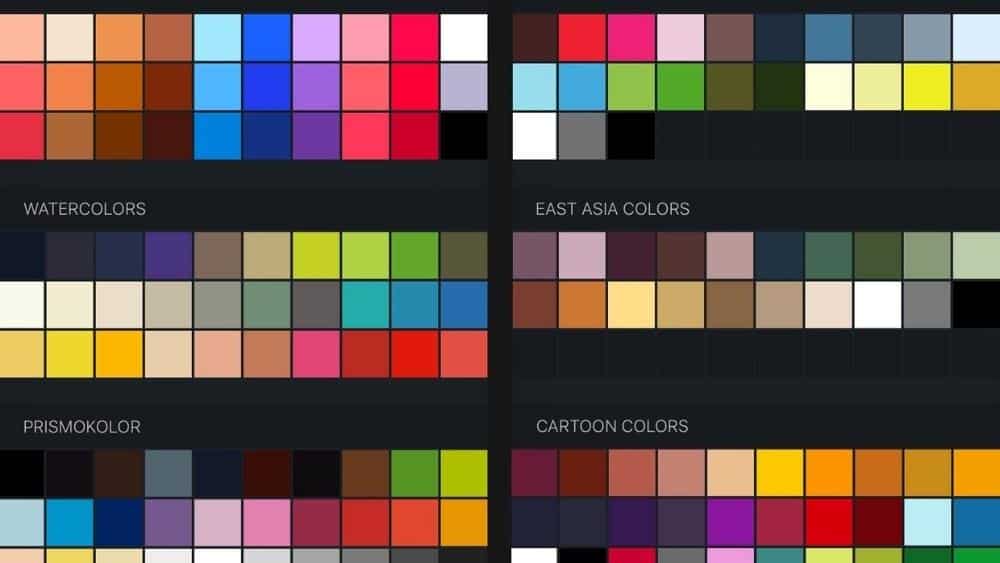 It is another great pack that includes a bohemian color scheme as well. This pack comes with more than 35 different color palettes that you can use on Procreate and create stunning drawings. Besides, they are easy to use, and you will enjoy them.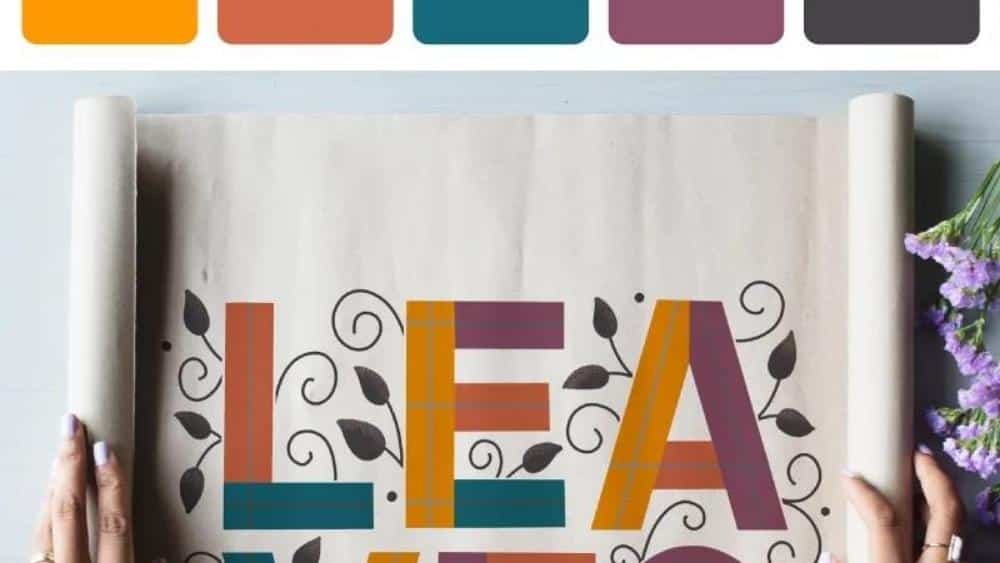 This pack is another hard-to-miss choice that brings a lot of goodness to your digital art. Filled with rich colors, it is sure to grab your attention. If you have ever thought of getting a bit of autumn to your drawings, this pack should be the right choice for you. It includes a stunning boho color palette that brings gorgeous color to your canvas. To add a soft touch of earthy colors to your digital art!
Final Words
Today, we have looked at the top-notch boho color palettes that will add a touch of elegance and class to your digital art.
These color palettes will help you create a variety of different artworks. You can select one palette that suits your mood and use it to create various other types of art. For example, you can create a piece of digital art, sketch, add text or make a collage. The sky is the limit when creating art using these boho coloring palettes. These boho color palettes are sure to inspire you when creating your own digital art.
Now is the time to get creative and experiment with different shades of boho colors. Use these tips to find success and create beautiful boho color palettes. These tips will help you create stunning digital art with ease. So stay creative, experiment with new ideas, and stay inspired to create your own boho color palettes that reflect your own mood. From retro to modern style, you will find the perfect match for your needs in this list.
So, happy painting with these boho color palettes! Thanks for reading,
Lilly-Mai
Share with your Friends: