Canva vs Adobe Spark – Two Titans Ranked And Compared
Canva and Adobe Spark are the two most widely used design tools. Both have advantages and disadvantages, but one may be better suited to certain situations than the other. The features of both of these tools and the differences between
Canva and Adobe Spark will be discussed in the following article about Canva vs Adobe Spark. So let the battle of Canva vs. Spark begin!
Pressed for time? Read our one-sentence verdict:
Both instruments were put through their paces with meticulous attention to detail. Ultimately, we recommend using Canva.
Continue reading to gain a comprehensive understanding of this head-to-head comparison of the two titans.
What Are Graphic Design Tools?
To create or enhance digital images, graphic design tools are used. They can be used for various things, including online marketing, website design, and social media posts. Visual design tools that are user-friendly and affordable have flooded the market in recent years. Canva and Adobe Spark are two of the most popular tools to create stunning graphics.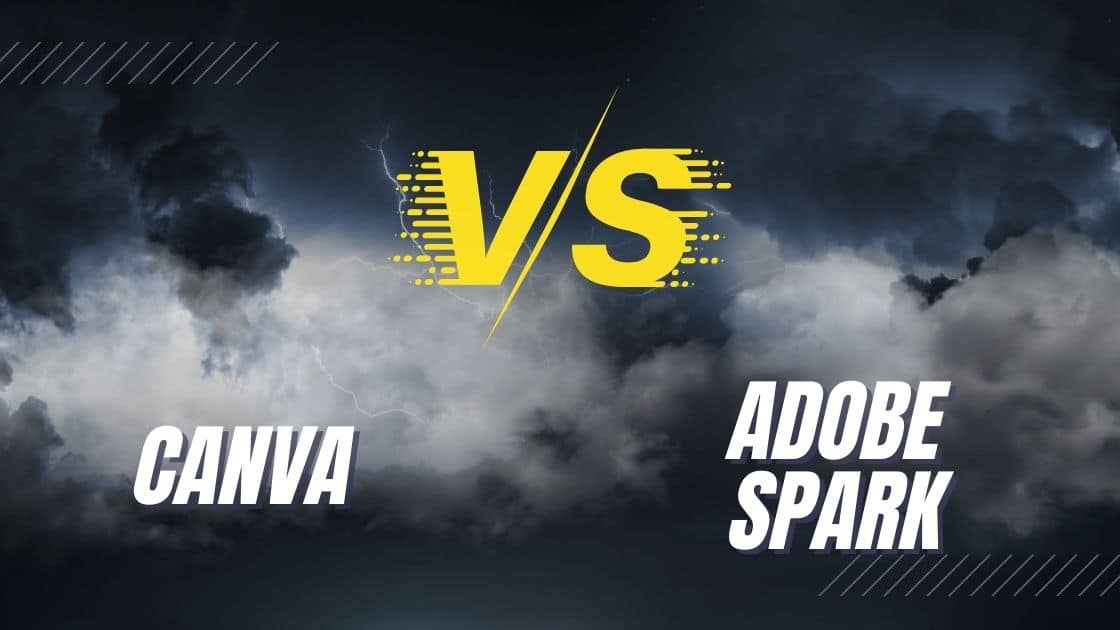 What is Canva?
Canva is a free online design tool that allows anyone to create beautiful graphics. Thanks to a library of built-in templates and simple drag-and-drop tools, it's ideal for creating stunning social media graphics, presentations, posters, and more. It's easy to use, and sharing your finished designs with the rest of the world is even easier.
Canva is a popular choice for creating visual design elements for social media platforms.
What is Adobe Spark?
You can create beautiful designs in minutes with Adobe Spark without learning complex design software. Simply pick a template, customize it with your own text and images, and you're ready to go. Adobe Spark is a part of Adobe's Creative Cloud, so it has a lot of integrations with other tools. With Adobe Spark Page, you can even create web pages.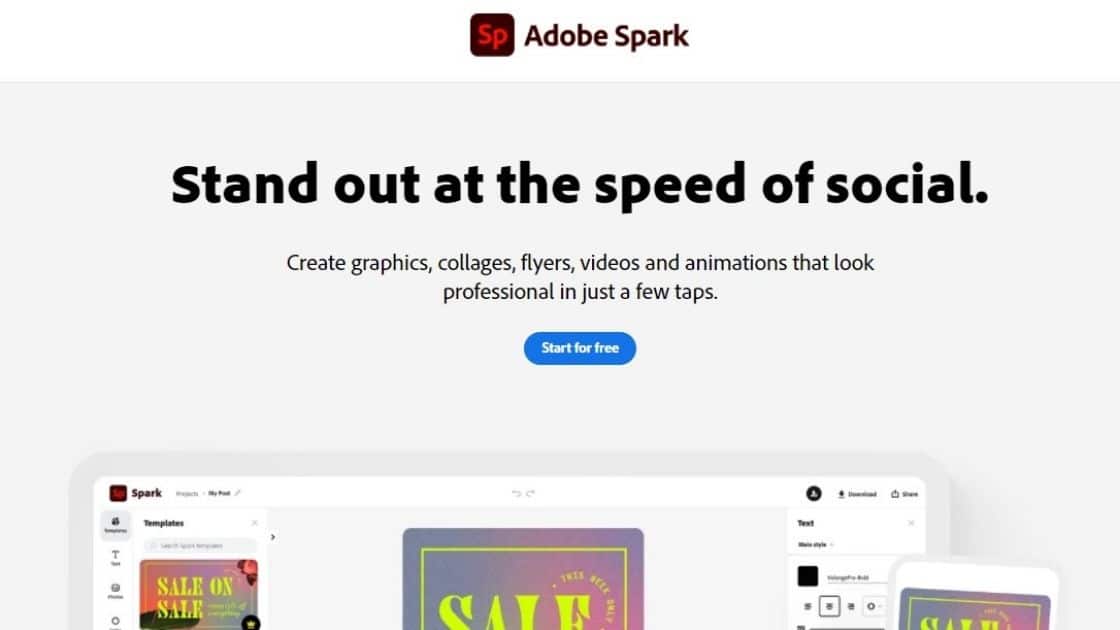 Key Features
Both tools have a long list of features, but we'll focus on the most important ones in this Canva vs Adobe Spark showdown:
Canva Features
Canva offers a wide range of different features. Some of the most notable include:
Free stock videos
Canva Live (Run a live session directly in Canva while presenting)
Image editor
Text animation
Team collaboration
Photo Effects
Canva Background Remover
Canva Branding Kit
650'000+ Canva Templates for almost anything
Tutorials to masters Canva
Schedule social media content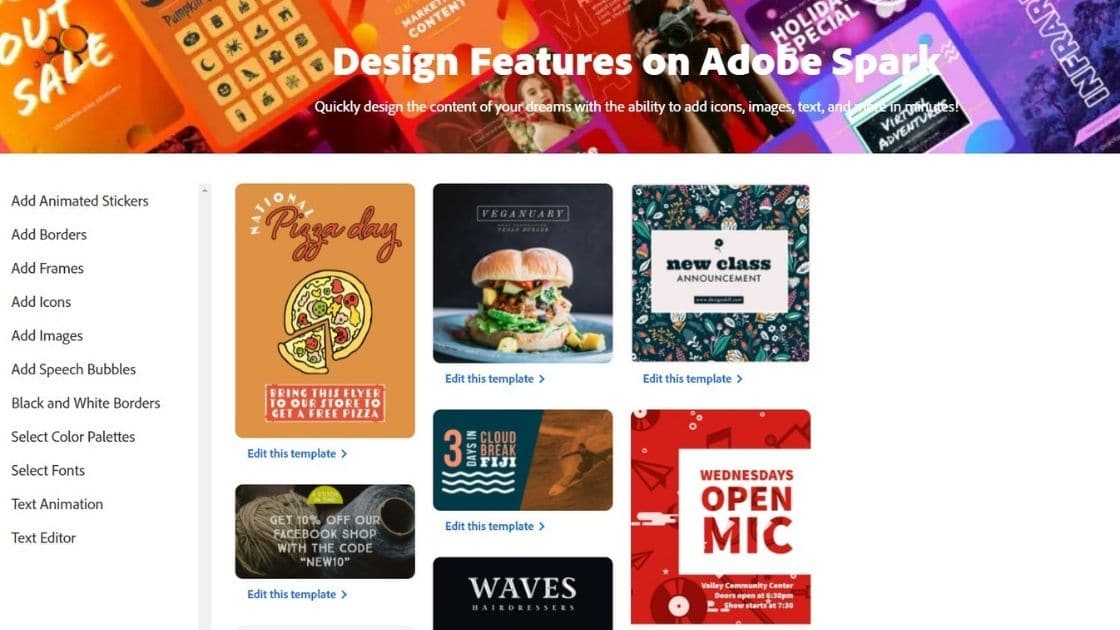 Adobe Spark Features
Adobe Spark offers a wide range of different features. Some of the most notable include:
Adobe Stock library
Over 1000 fonts from Adobe
Adobe Spark Branding Kit
Part of the Creative Cloud
Video Editor
Image Editor
Adobe Spark Background Remover
50'000+ Adobe Spark Templates
Tutorials to master Adobe Spark
In a nutshell, Canva and Adobe Spark have many features in common. So, let's take a closer look at the features and how they differ between Canva versus Adobe Spark.
Stock Photos
Canva vs Adobe Spark; both provide free stock images, free photos, and videos that you can use in your projects. However, there are some distinctions.
Canva Stock Photos
Canva has millions of high-quality free and premium photos to create beautiful designs. In addition, there are a lot of Canva stock photos to choose from, even in the free version.
Adobe Spark Stock Photos
To choose free images for your project, Adobe Spark is directly integrated with Pixabay. Pixabay is one of the most popular sites for finding free stock photos. If the Adobe Spark free images library isn't enough, Adobe Spark also has an Adobe Stock integration.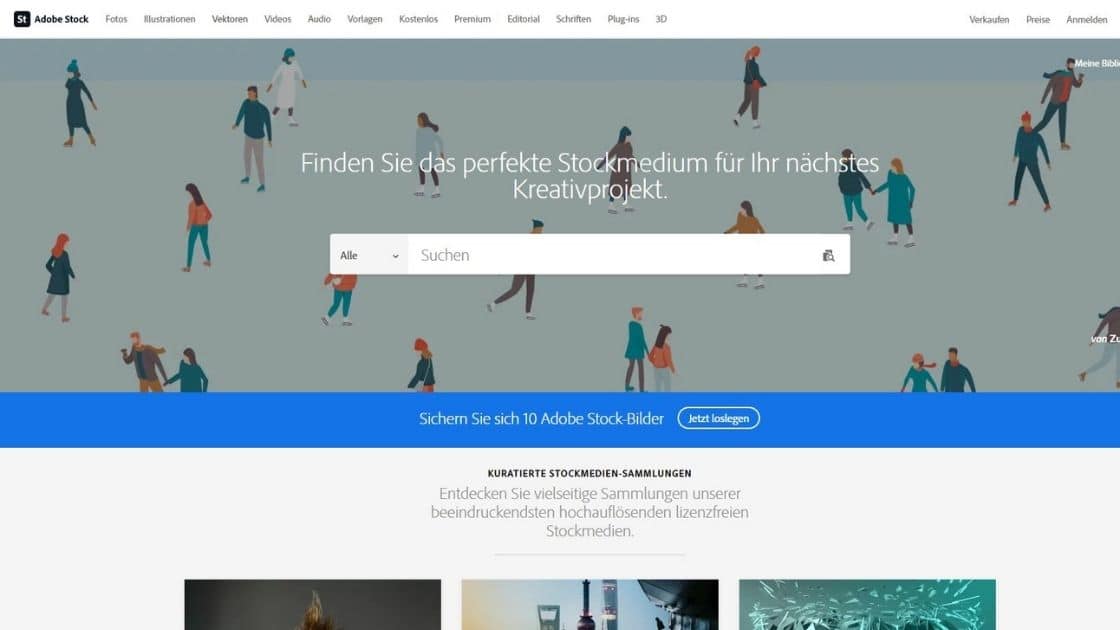 Choose from millions of high-resolution images and videos available on the internet. This, however, comes at a cost. Adobe Stocks costs $29 per month for ten stock illustrations. Use this link to get the first ten images for free when you sign up for Adobe Spark -> Adobe Stock Offer
Video Editor
Video editing is an effective tool for creating more engaging content. Both tools have a video editor to add text, music, and visual effects to make your videos more engaging. Let's look at both of them more closely:
Canva Video Editor
With Canva, you can make beautiful videos, add text, images, and graphics, and much more. Canva, on the other hand, doesn't have much to offer in terms of video editing. Only the most basic features, such as trimming and resizing the video, are available.
Canva allows you to choose from tens of thousands of free stock videos to use in your videos or presentations. Floating texts, animations, graphics, and more can be added to your video at any time. In addition, there are dozens of animation effects to choose from.
Adobe Spark Video Editor
After selecting a video template in Adobe Spark, you'll create your videos in Spark Video. Unfortunately, after putting Spark Video through its paces, we were a little disappointed. The number of features is disappointingly low. Adobe Spark, for example, does not allow you to choose stock videos for your projects directly.
Additionally, the only video editing feature is the ability to resize your video. It does, however, allow you to add text, text animations, music, and other elements to your videos. Still, only one text per image or video is permitted, and you don't have complete control over where your text appears.
In this Canva vs Adobe Spark comparison, Canva is the winner for video creation and editing.
Image Editor
We all know that both tools allow us to edit images. And while both Adobe Spark and Canva offer a robust image editor, how do they differ?
Both tools allow you to remove the background from an image, and they both perform admirably. But first, let's compare the two image editors.
Canva Image Editor
Canva allows you to edit photos with various effects and filters, crop them, and add graphics or text to your free images. In addition, your photo's brightness, saturation, and contrast can all be tweaked.
Add shadows to your text, hollow it out, curve it, or play around with glitch and neon effects with your fonts. Add different shadows to your photo, add frames, or layer special effects like mosaic style, pixelated, or color mix to create a whole new feeling with the image once you've dragged it into the editor.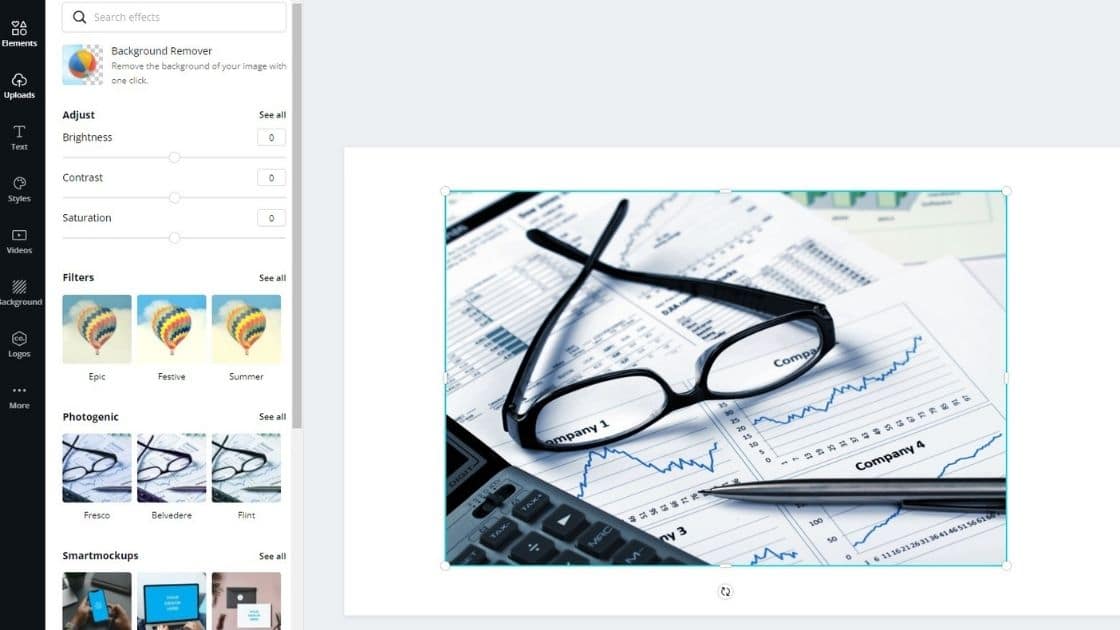 Tablets, desktops, cards, phones, and other devices can all be used with smart mockups. There are over 200 different mockup images to choose from, not to mention 28 different phone mockups.
Adobe Spark Image Editor
Adobe Spark has all of the essential tools you'll need to make minor changes to your photos and images. For example, you can apply various filters to your photos to make them gray, lighten, colorize, and darken.
Crop, resize, flip, and reshape your photos. Transparent them or make them blend in with your background. Change the contrast, brightness, saturation, warmth, and other aspects of your photos, or apply a blur effect. All of the image editing features appear to be very professional.
Templates
Both tools provide templates for you to work with when creating your designs. In addition, these graphic design tools come in a wide range of options.
Canva Templates
So, when it comes to templates, Canva is unmatched. Canva has over 650'000 templates to choose from. You can find templates in almost any niche you can think of.
Canva has hundreds of pre-made formats, including thumbnails for YouTube videos, business cards, flyers, and email headers. The possibilities and options are limitless. Create a custom-size canvas and start from scratch if you can't find what you're looking for.
Adobe Spark Templates
Adobe Spark includes a variety of templates for a variety of uses, including social media posts, video stories, invitations, and more. You can pick a template and then customize almost every aspect of it to make it your own.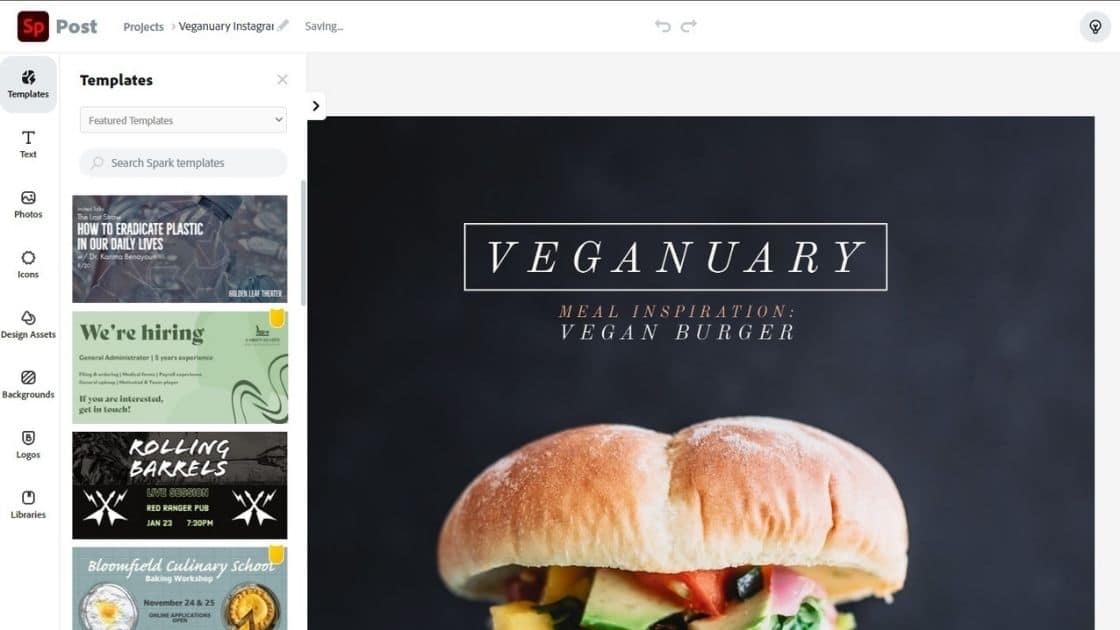 To get started on your project, pick one of the 50'000 pre-designed templates. Then, depending on what you want to create, you can choose from various layouts and purposes. If you can't find the size you need, Adobe Spark allows you to create a blank canvas with your dimensions.
Ease Of Use
When you're just getting started with your design, it's critical to have a graphic design tool that is intuitive and simple to use. You'll quickly lose interest if you have to read two hours of material before you can begin creating your visual content.
So, let's see how easy these two tools are to use.
Canva Ease Of Use
Canva's ease of use has been praised by various rating tools such as g2 and capterra. You don't need any design experience to get started with Canva. Because everything is drag and drop, you can begin designing your designs right away after signing up.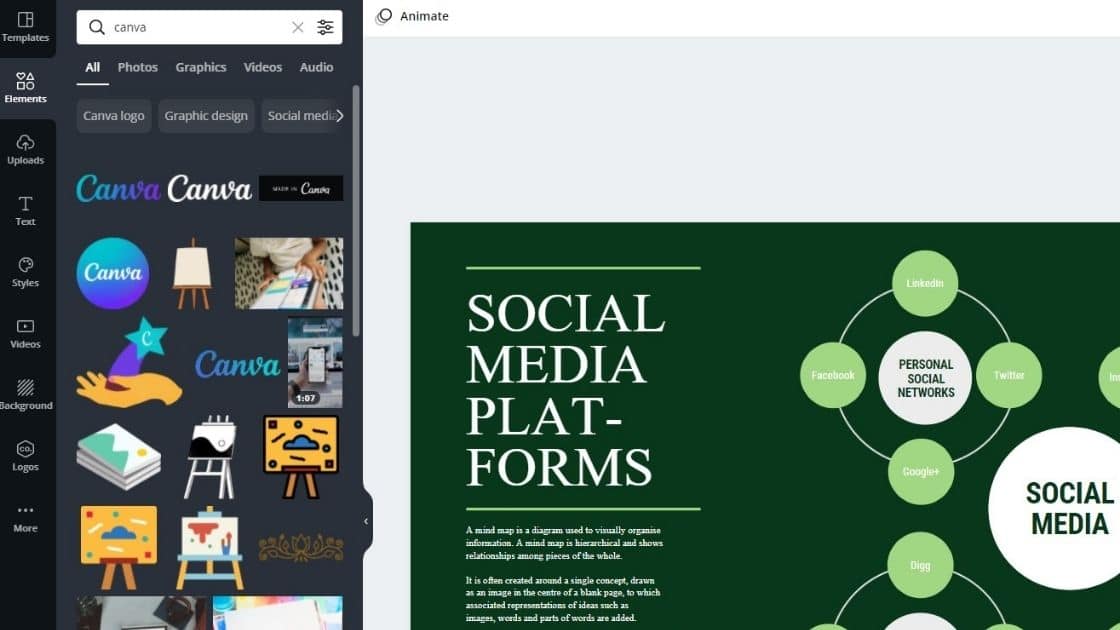 Everything is easily accessible, and the interface is user-friendly. You can look for specific templates or simply browse the various categories. It's as simple as clicking a button to add text or graphics to your design.
Adobe Spark Ease Of Use
Adobe Spark is also praised for its simplicity. When getting started with Adobe Spark, a beginner graphic designer should have no problems. Everything appears to be professional, and the menu bar on the left side of the screen makes it simple to find what you're looking for.
You can either start from scratch or use one of Adobe Spark's many templates. It's simple to add text, images, and videos, and you can personalize everything to make it your own.
Pricing
It's critical to know how much a graphic design tool costs. If you're just getting started, you may not want to spend too much money on a tool you won't use very often. Fortunately, both tools offer a free plan to get started, as well as a 30-day trial to try out all of the premium features. But first, let's look at the Canva cost and Adobe Spark price:
Adobe Spark Pricing
Adobe Spark is a part of Adobe's well-known Creative Cloud. However, you can get an Adobe Spark subscription without paying for all of the other tools. The cost of Adobe Spark is $10 per month, but you can try all of the premium features for free for the first 30 days.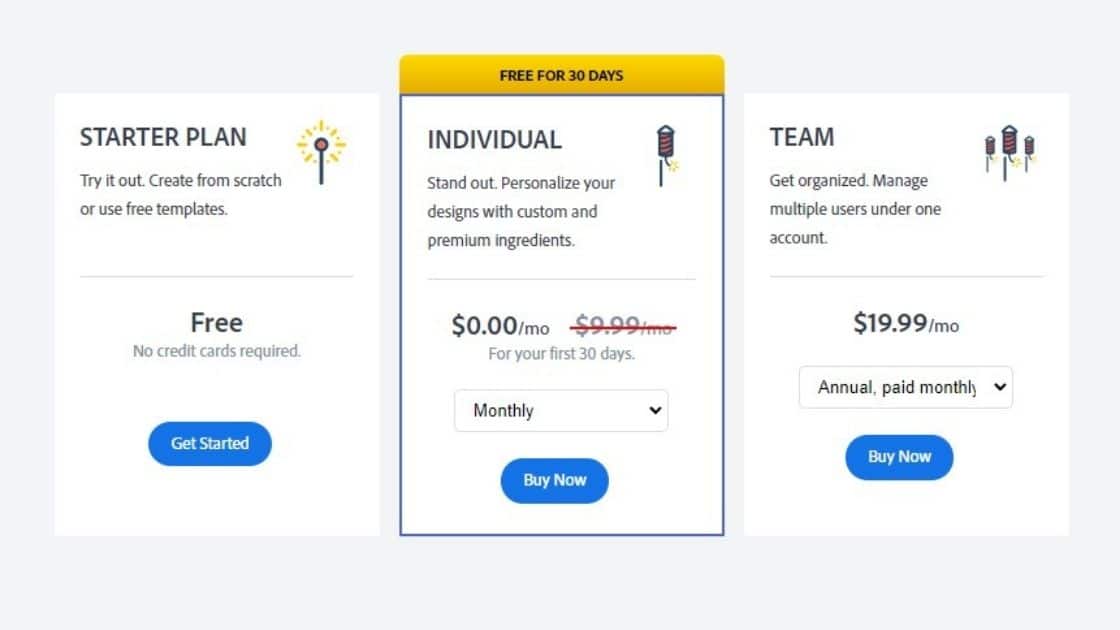 A free version of Adobe Spark is available. This is, however, extremely limited. You'll see the Adobe watermark on every export you make, and you won't have access to many of Adobe Spark's premium templates and features. Premium templates, branded templates, sharing features, and other parts are all missing.
Canva Pricing
The pricing structure of Canva is similar to that of Adobe Spark. Canva's free version, on the other hand, makes it superior in this regard. Canva's free version has a lot to offer. There are nearly 200'000 templates available for you to choose from. When you download your visual elements, there is no Canva watermark. Canva's free version has many features that make it a helpful tool.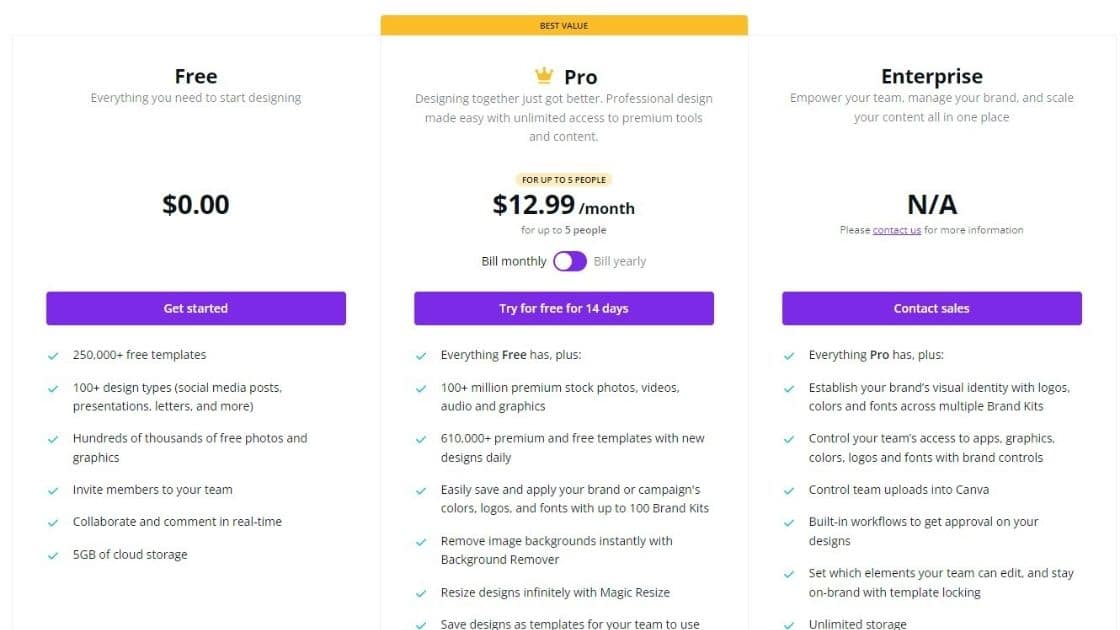 Canva starts at $13 per month if you want to upgrade to the paid version. Canva's premium version gives you access to more features, such as the branding kit, a resize feature, over 600,000 templates, a background remover, and more free stock images to use.
Collaboration And Teamwork
When it comes to graphic design, collaboration and teamwork are essential. If you're working on a project with another person, you'll want to be able to share your thoughts and designs easily.
Canva Team Collaboration
It's simple to invite others to collaborate on your design with Canva. You can share a link to the design or simply copy and paste the link into an email. Your coworkers can then immediately begin editing the design. You can also add comments to the design so that everyone is aware of what's going on.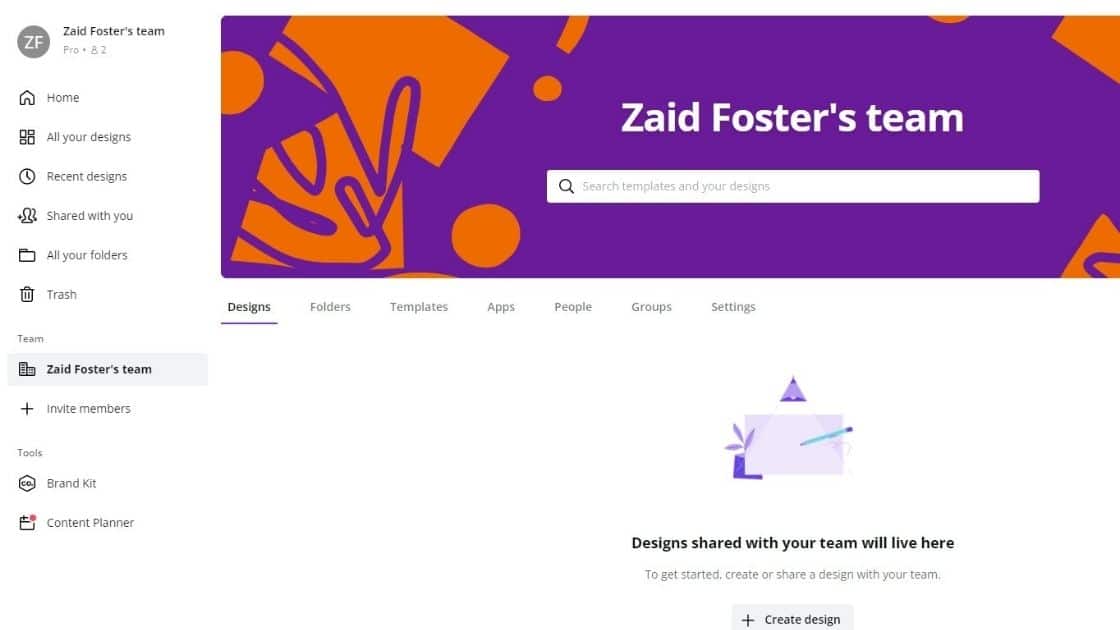 Canva also allows you to have up to 5 seats on one account for no extra charge. The free version of Canva also allows you to collaborate with your team.
Adobe Spark Team Collaboration
On Adobe Spark, you can also invite others to collaborate with you. You can send your current project to your team members with a single click. They can then get right to work on the project. To keep everyone informed, you can also leave comments on the project. Unfortunately, the free version of Adobe Spark does not allow you to share your work with your team.
Mobile App
An excellent mobile app is essential in our digital world, where smartphones are becoming increasingly important. You'd like to be able to design on the go, rather than to sit in front of your computer.
Canva Mobile App
Canva also has a great mobile app that you can get for free (iOS and Android). The app has almost all the same features as Canva's web version. This makes designing on the go a breeze. You can also take pictures of your designs with your camera and edit them right away in the app.
Adobe Spark Mobile App
Adobe Spark also has a fantastic iOS and Android mobile app (free). The app was created to create graphics while on the go quickly. You can take pictures of your designs with your phone's camera and begin working on them right away. The app also includes several pre-designed layouts to assist you in getting started quickly.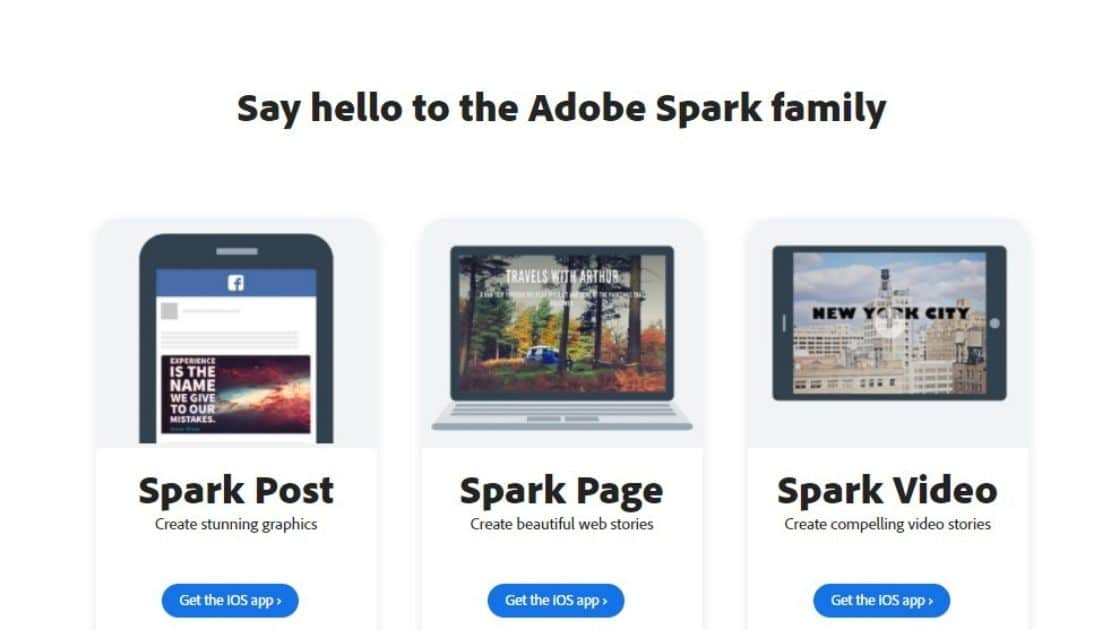 Main Differences Between Canva And Adobe Spark
That concludes the most important aspects of both apps. So let's look at the key differences between Canva and Adobe Spark now.
Free Plan
First and foremost, there are significant differences between the two apps when it comes to free plans. While Adobe Spark has just enough features for beginners, Canva has a lot more for free. Canva is therefore the ideal tool for those who want to get started right away.
Templates
Furthermore, Canva has a more extensive library of templates. You can quickly locate templates that meet your requirements.
Collaboration
Canva's free plan also includes team collaboration capabilities, whereas Adobe Spark's free plan does not. So if you're working on a project with others, Canva's collaboration features are superior to Adobe Spark.
Mobile Version
Canva is compatible with iOS and Android devices, whereas Adobe Spark is not. The Adobe Posts app is the only one of the three Adobe Spark apps available for Android. With an Android phone, you will not create pages or videos.
Video and Image editing
When it comes to video and image editing, Canva has the upper hand. It has more features and is more user-friendly.
Commonly Asked Questions
We respond to some of the most frequently asked questions right now. So let's start with the first question.
Is Adobe Spark good for graphic design?
Yes, Adobe Spark is a fantastic graphic design tool. It has a lot of features that can help you make beautiful graphics. However, when it comes to video production, we cannot recommend it.
Is Canva similar to Adobe Spark?
Yes, both apps have a lot of the same features. For example, they're ideal for creating graphics for social media. However, Canva has more features than Adobe Spark and is more user-friendly.
Does Adobe Spark cost money?
No, Adobe Spark is free to use in its basic version, but Adobe Spark cost money to use all the premium features.
Does Adobe Spark have a watermark?
In the free version of Adobe Spark, there is a watermark. However, there is no longer an Adobe Spark watermark if you upgrade to the paid plan.
Are Canva images copyright-free?
Yes, you can use all of Canva's images without paying a fee. The Premium Canva plan, which costs $13 per month, has even more features.
Does Adobe Spark offer a brand kit?
Adobe Spark does have a brand kit. It can be used to create brand assets such as logos, but it's only available in Adobe Spark's premium plan.
Pros And Cons
Canva Pros And Cons
Pros:
Has a very user-friendly interface
Offers a lot of free templates
Has an excellent mobile app
You can use frames to make your design more interesting
It's easier to find the perfect template
Supports many different image formats
Lots of features for free plan
No watermark in the free version
Cons:
Not many video editing features
Limited fonts in the free plan
Adobe Spark Pros And Cons
Pros:
Offers a lot of free templates
It's available for Android and iOS devices
Direct access to the Adobe Stock library
Good for branding
A lot of image editing tools
Supports many different image formats
Cons:
No team collaboration features in the free plan
More difficult to use than Canva
Watermark in the free version
Adobe Spark Alternatives And Canva Alternatives
Now that we've covered all of the bases with Adobe Spark and Canva, it's time to consider some alternatives. There are numerous options to choose from when it comes to an Adobe Spark alternative. Apps like Adobe Spark and Canva are:
Visme
Invideo
Renderforest
Venngage
Placeit
We have an entire article about the 7 best Canva alternatives. We also have an article about the 10 best visual content creation tools.
Final Verdict
Both tools were put to the test with great care and attention to detail. At the end of the day, we recommend Canva. Canva has many more features, is a lot easier to use, and works on Android devices. Adobe Spark is a great tool, but compared to Canva, it lacks some features. Canva's free version is far superior to Adobe Spark's free version.
Canva allows you to create almost any type of design, including social media posts, flyers, and even logos. Adobe Spark has fewer features, but it does include a brand kit, which can be very useful for businesses. Canva has an easy-to-use interface, a short learning curve, an almost infinite number of templates, team features, a large stock library, and much more.
If you already have an Adobe Creative Cloud subscription, we recommend giving Adobe Spark a try. However, if you're just getting started and need some visual content creation tools, then we highly recommend Canva.
So, have fun with Canva and Adobe Spark! And thanks for reading,
Kylie
Sources:
Share with your Friends: