How To Create An Ebook In Canva (+ Free Templates)
Canva is the world's best free design app for creating quick, beautiful graphics. With just a few clicks of the mouse, you can create stunning designs in minutes, even if you have no design experience. It also provides access to over a million images, graphics, and templates.
So it's no surprise that Canva is the ideal tool for creating an ebook design — you don't need any graphic design experience, and you can use this guide to create a high-quality book cover in minutes (and for free!). This article will show you how to create an ebook in Canva step by step.
What's the best part about how to write an ebook with Canva? The fact that it is extremely simple to get started. Save yourself time searching for beautiful layouts or complicated design elements, avoid hiring a designer who will take days (or even weeks) to put something together for you, and let Canva do all of the heavy lifting.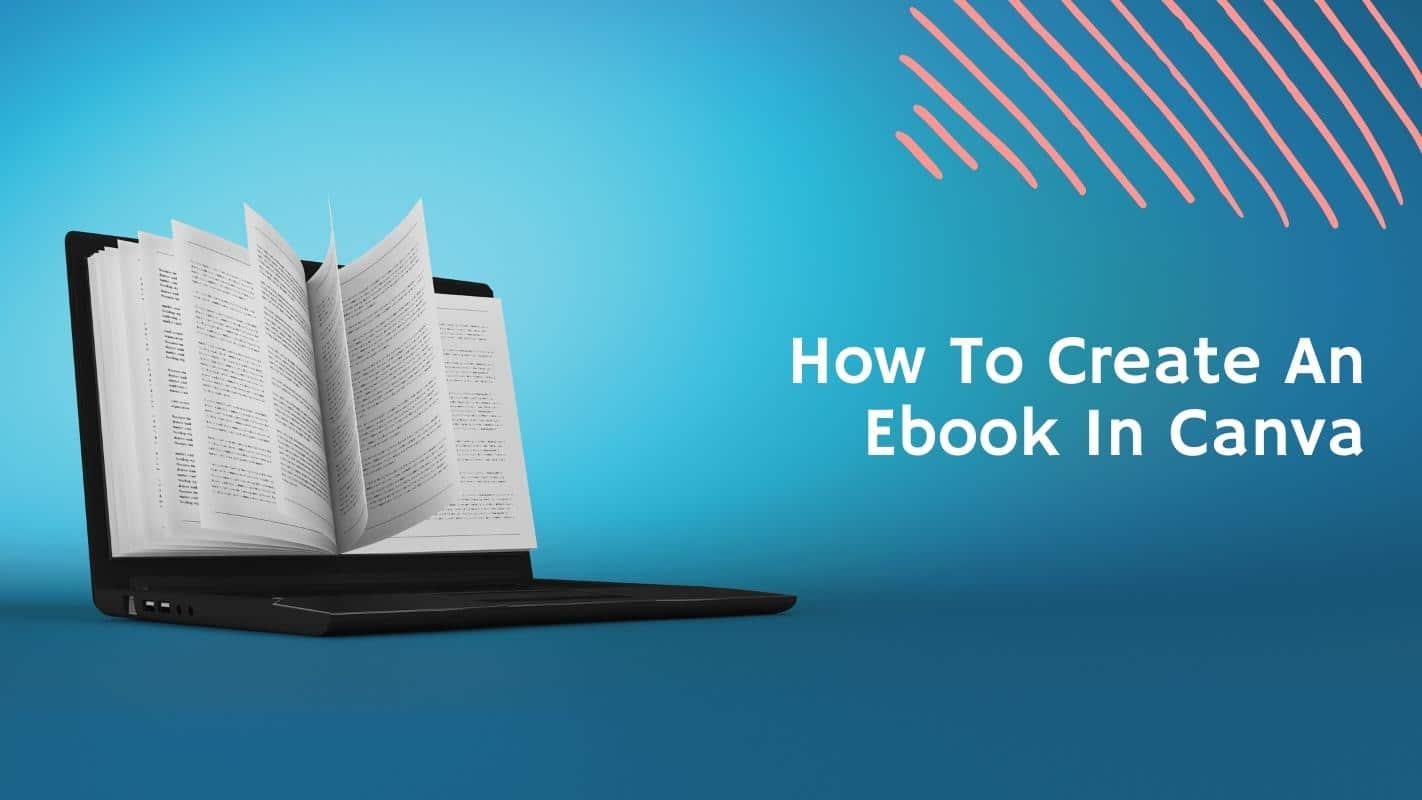 This article will show you how to make an ebook using Canva. Then, we'll show you five Canva ebook cover templates that you can use right away.
How To Make An Ebook On Canva
There are only a few steps involved in figuring out how to create an ebook in Canva:
Step1:
Launch Canva.com in your browser and sign in with your credentials.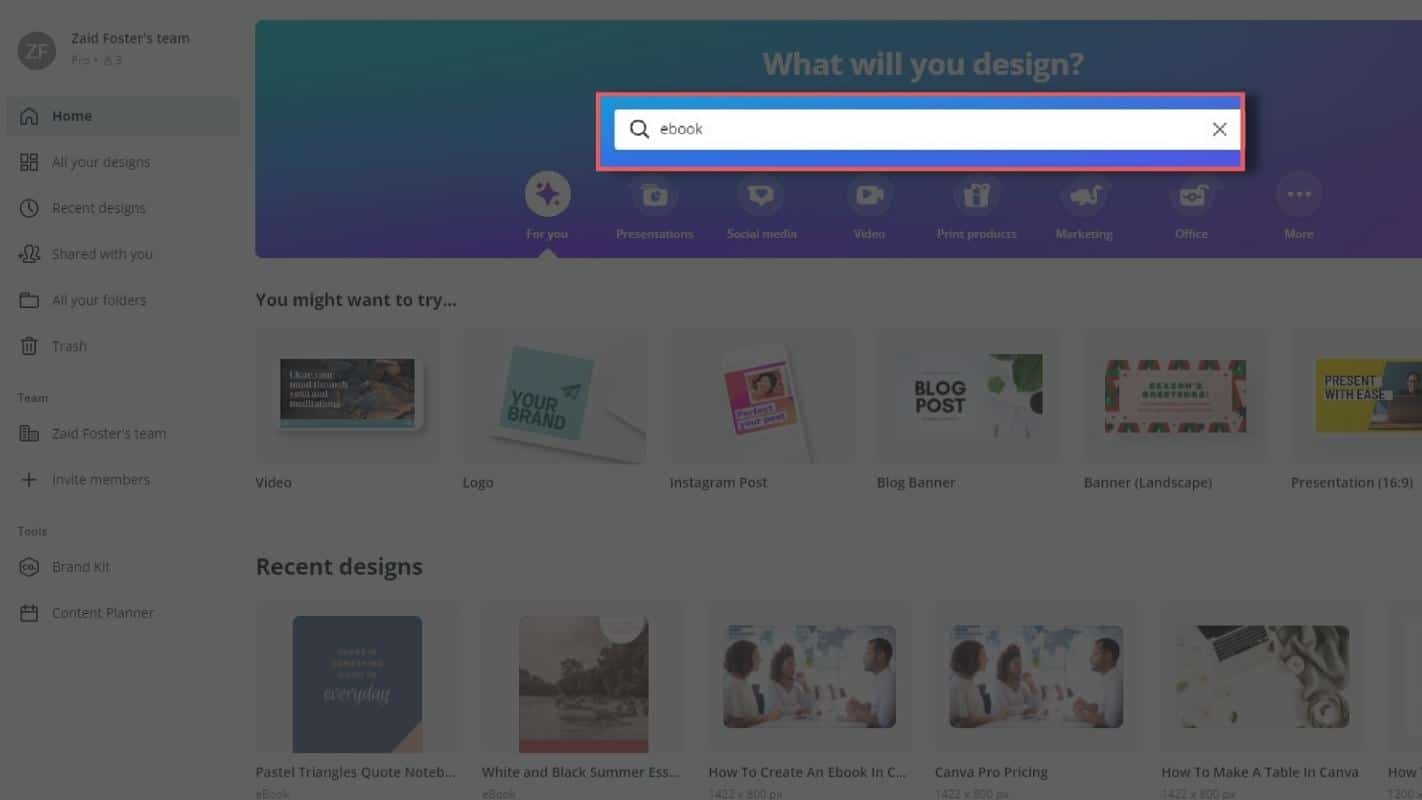 Step 2:
In the top search bar, type "ebook", "a4", or any other format you want your ebook to be in, and press enter.
Step 3:
Select your favorite template. Alternatively, choose "Create a Blank Document" or any template if that option is not available.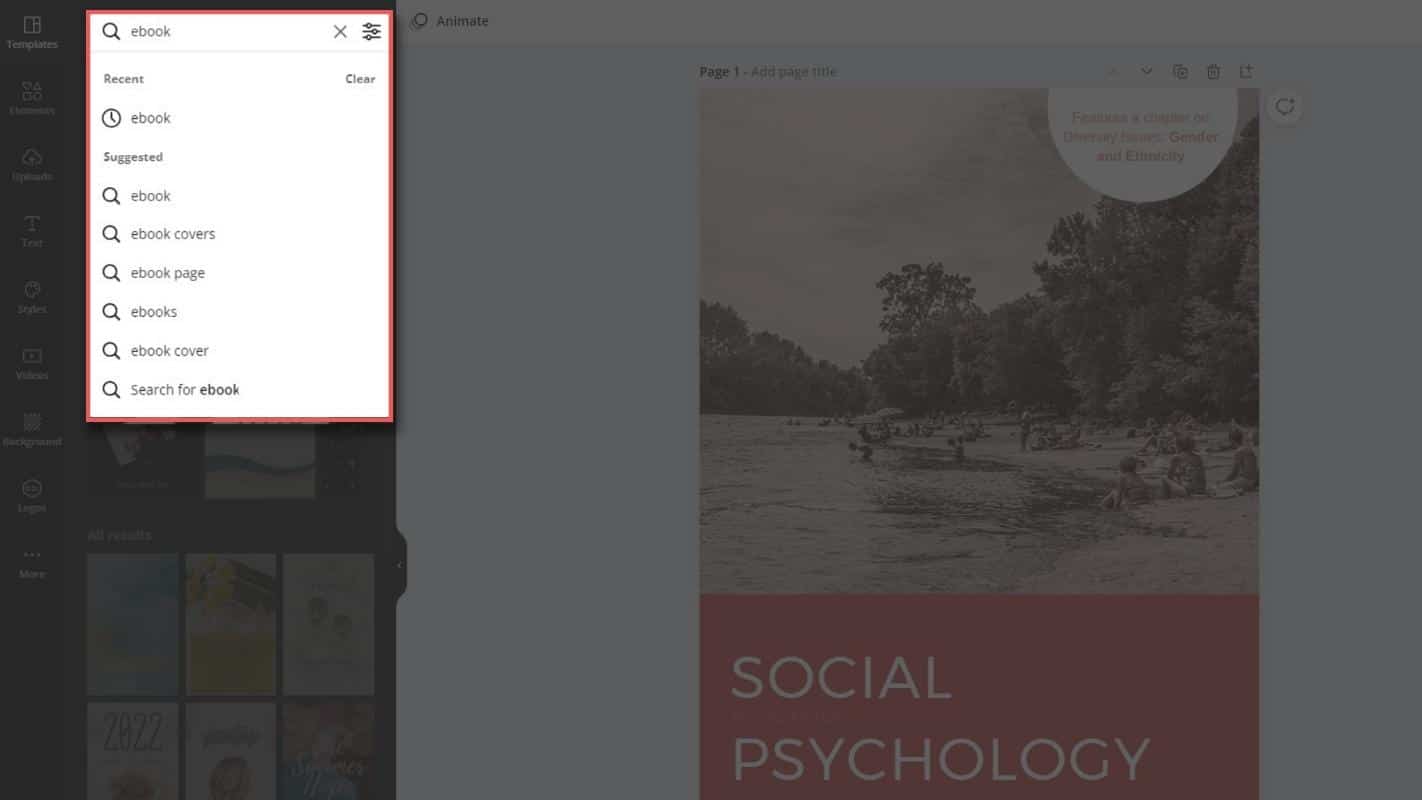 Step 4:
In the Canva editor, go to "Templates" on the left navigation bar and type "ebook" in the search bar. Canva provides you with even more template options. Instead of just the cover, I recommend using a template with multiple sites. Of course, it depends on what you require.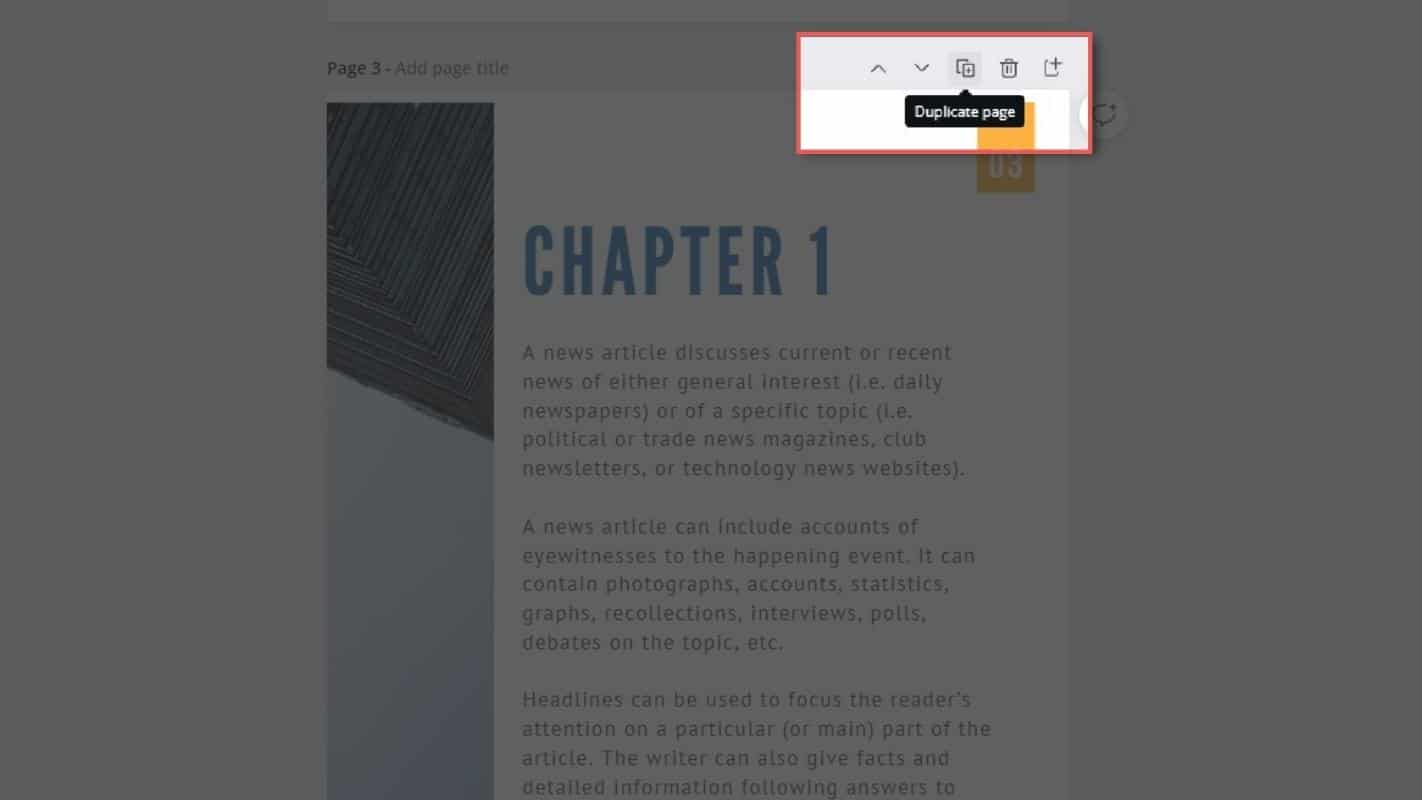 Step 5:
Once you've decided on a template, begin working on your ebook! Duplicate the pages you want and fill in the blanks with your text. Canva makes it simple to create an ebook. The most crucial aspect, of course, is what you intend to write about.
However, these are the steps in creating your complete ebook with Canva.
How To Make An Ebook Cover With Canva
Fortunately, because Canva is such a great design tool, this is one of Canva's strengths. Simply put, the first page of your Canva project is your ebook cover.
Alternatively, if you want to make your own, Canva has a plethora of templates for ebook covers.
1. On the Canva home screen, type "ebook covers" into the search box. Canva has an entire section of templates dedicated to this.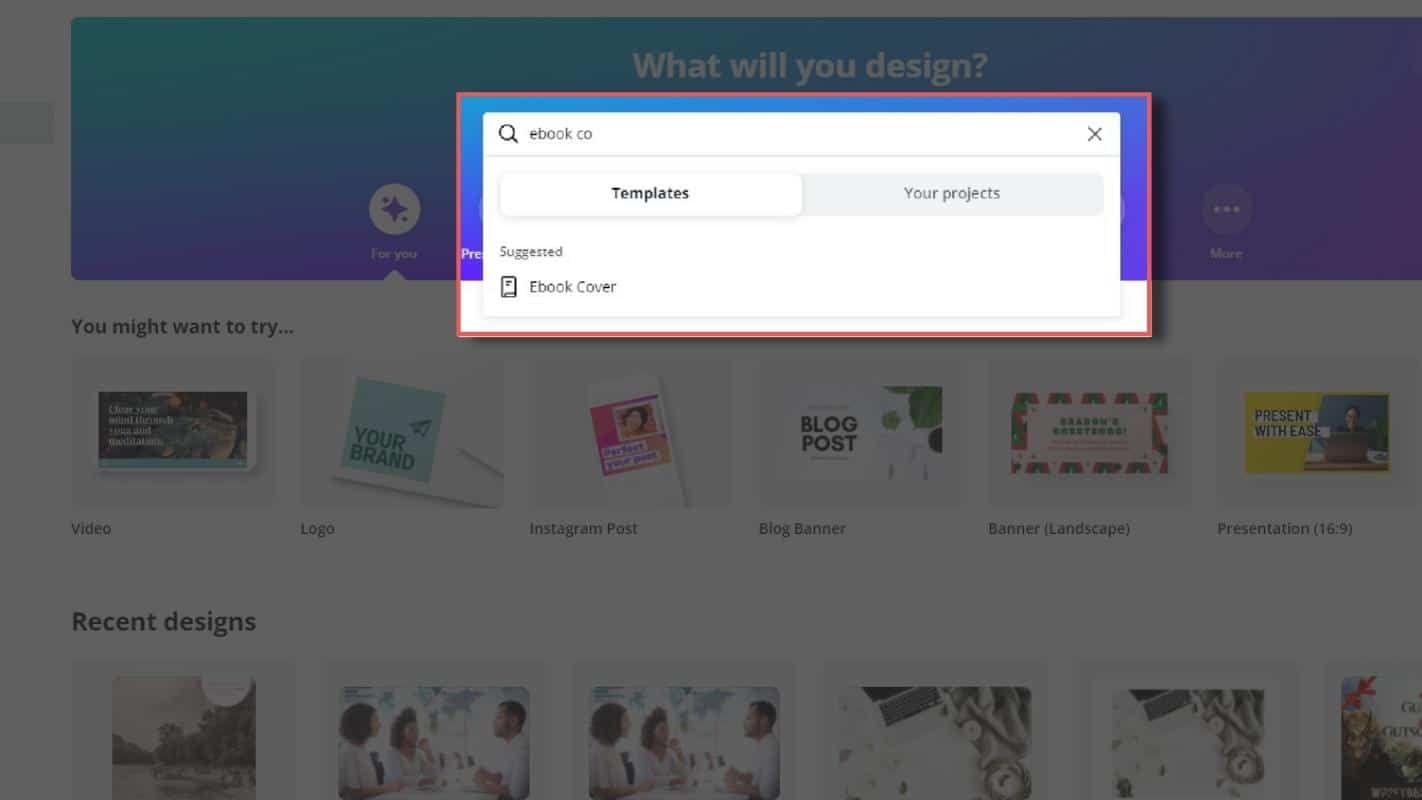 2. Select one of the thousands of Canva ebook covers for your story or ebook.
3. Add or edit elements on the cover to fine-tune it to your liking.
Best Canva Ebook Templates
We've compiled a list of the best and most useful ebook templates for you to use in your Canva project. All of the formats are A4 in size. If you have the Canva Pro version, you can resize them with a single click.
Template for ebooks with minimalist design
Template for recipes or cook ebooks
Template for business ebooks (only available for Canva Pro users)
Template for ebooks about self-improvement
Template for ebooks with a beautiful story
There are many more ebook templates to choose from, but these are our favorites. You can go through all of Canva's templates and inspect each one until you find the right one.
How Do I Make An Ebook On Canva Mobile?
The procedure for how to write an ebook on Canva on your mobile phone is similar to how to design an ebook in Canva on your desktop computer.
1. Type "ebook" or "A4" or any other format you want your ebook to the search bar. And then select your favorite template.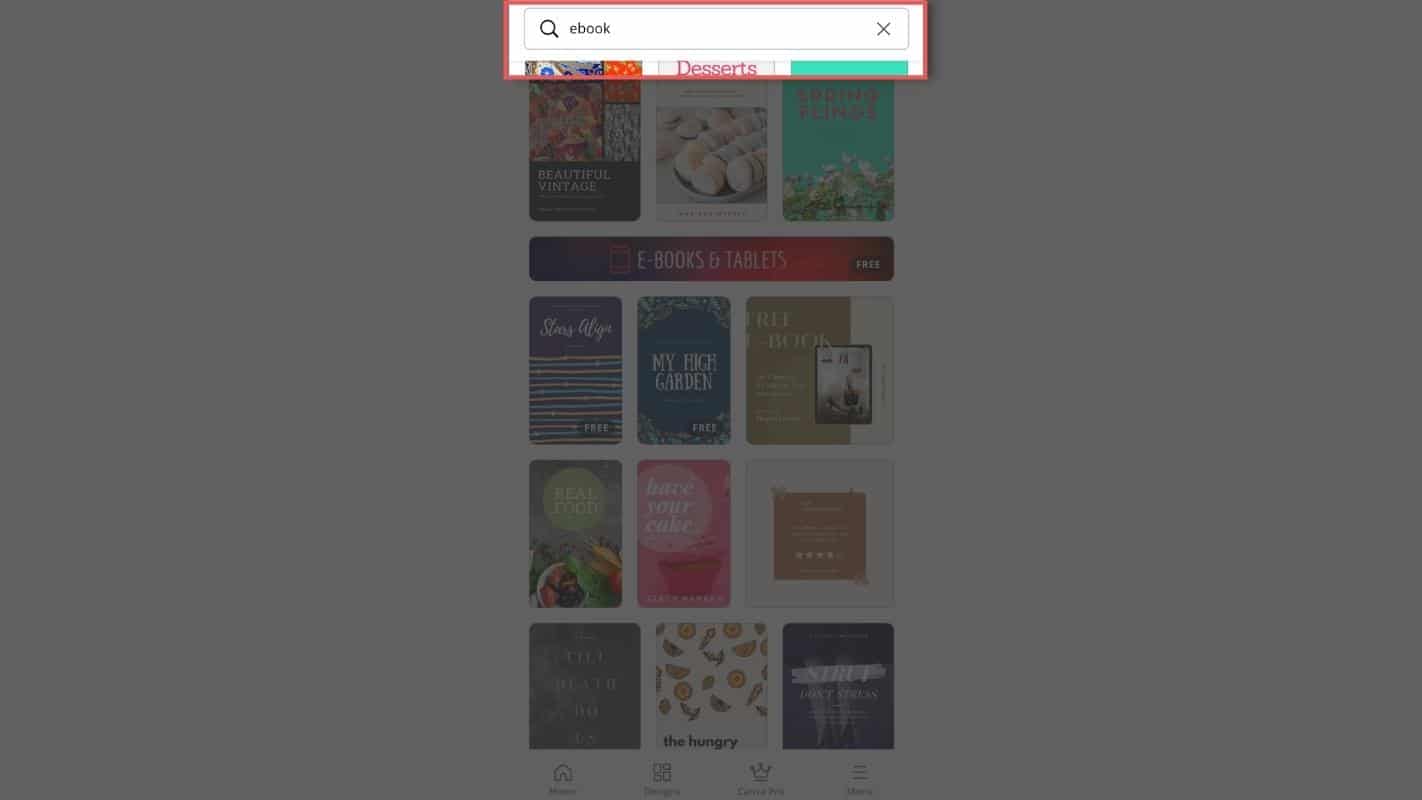 2. To change your template, click the large purple "+" button on the bottom left. Then, on the bottom navigation menu, select "Template," and then, on the top search bar, type "ebooks" or "ebook."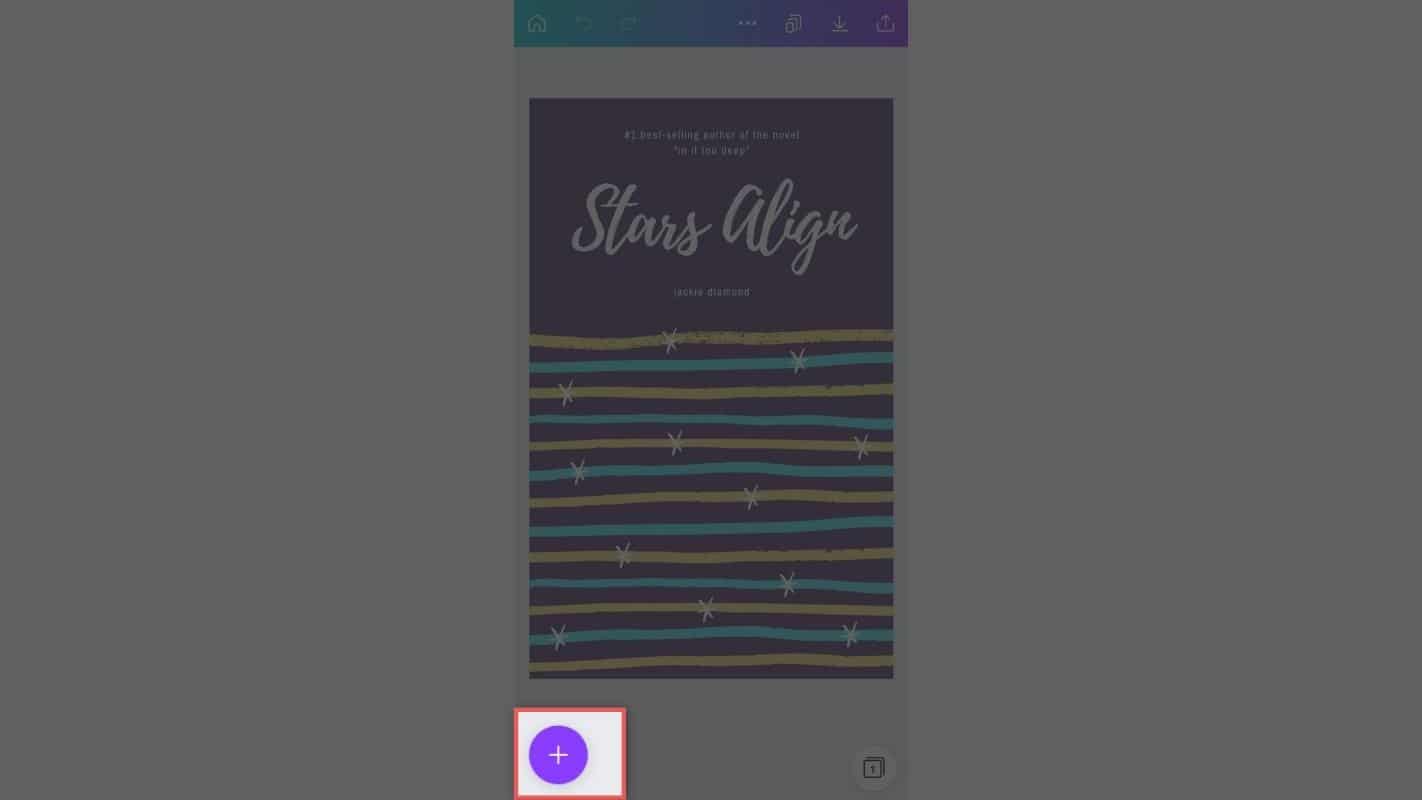 3. Select another template that you like and begin editing your ebook. Duplicate the pages you want again, add your personal story, text, recipe ideas, or whatever else you want to write about, and begin designing your nice ebook in Canva.
So that answers the question of how to make an ebook with Canva Mobile.
Things To Consider When Writing An Ebook
To get started with your ebook, you'll need to know more than just how to use Canva to create an ebook. It would be best if you had a specific goal in mind before you could begin working on your ebook. The first question that comes to mind is, "What size should your ebook be?"
The answer for most ebooks is A4, but the standard is not always the best. Because you don't want to go with a standard size, here are some things to think about when deciding on ebook dimensions:
1. Readability is the most important aspect of designing an ebook cover. As a result, make sure your design works on both large and small screens, as it will be used on various devices.
2. Check that you can read the text at a normal size. If you choose something too small, it may not be easy to understand, but if you prefer something too large, your ebook cover will become cluttered and impact the reader less.
3. A paperback book's standard dimensions are 5 inches wide by 8 inches high. This is the ideal size for an ebook cover, so select your dimensions accordingly to ensure that your design works well for both paperback and ebooks.
4. The standard font size for a paperback book is 11 pt, but you can go smaller if there is too much text or larger if there isn't much text.
5. The golden rule for ebook cover design is to have essential information at around half the height of your book, so if you have a lot of text, make sure this covers some of your design. You don't want to go over 100% because that will leave some parts out, and you don't want to go under 50% because that will result in too little information on the cover.
That concludes our tutorial on how to make an ebook in Canva.
Happy ebook creating! And thanks for reading,
Kylie
Sources:
Share with your Friends: