How To Make A Table In Canva (In The Best Way Possible)
You can improve the readability of your designs by including tables in them. Data can be presented in a visually appealing manner using tables. There are numerous inventive ways to make use of tables. So knowing how to make a table in Canva is a valuable skill.
As an example, they can be used to present data attractively. Tables can also be used as headers for the images on your design and organized information. In this tutorial, you will learn how to insert a table in Canva.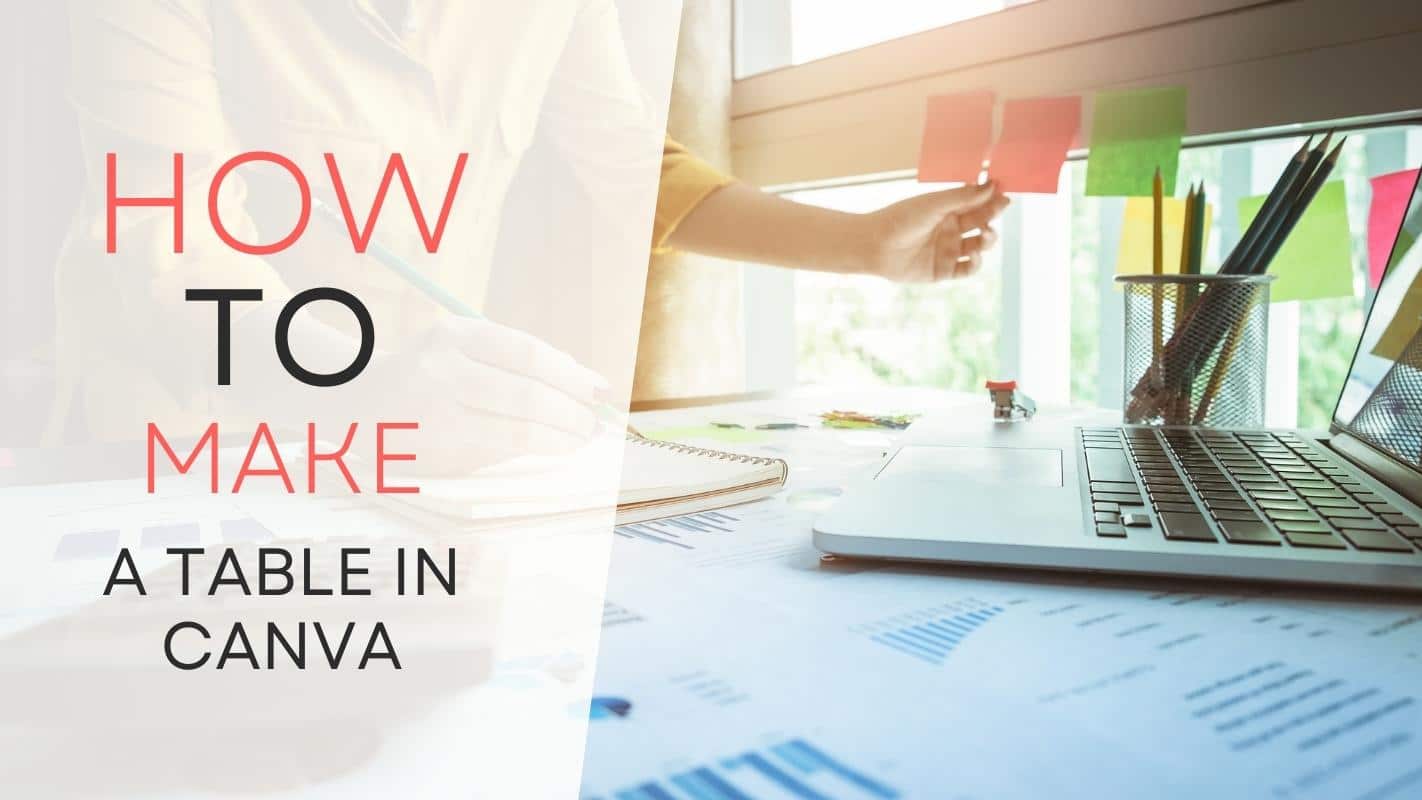 How to add a table in Canva is easy, but there isn't a one-click way to do it. So let's start with how to create a table in Canva:
How To Insert A Table In Canva – With Elements
There are many ways to insert a table on Canva, and each one is different. Let's start with the first option, with elements.
The first thing you need to do is sign in to your Canva.com account. Then, either create a new project or open up an old one in which you want to add a table.
Step 1:
Navigate to "Elements," then to "Lines & Shapes," and drag a square into your project. Proceed after adjusting the size to your liking. You are not required to use a simple square. Canva has a wide variety of squares to choose from. For example, with a 3D shadow, a bend in one of the corners, or rounded corners. You have a plethora of options for styling your table here!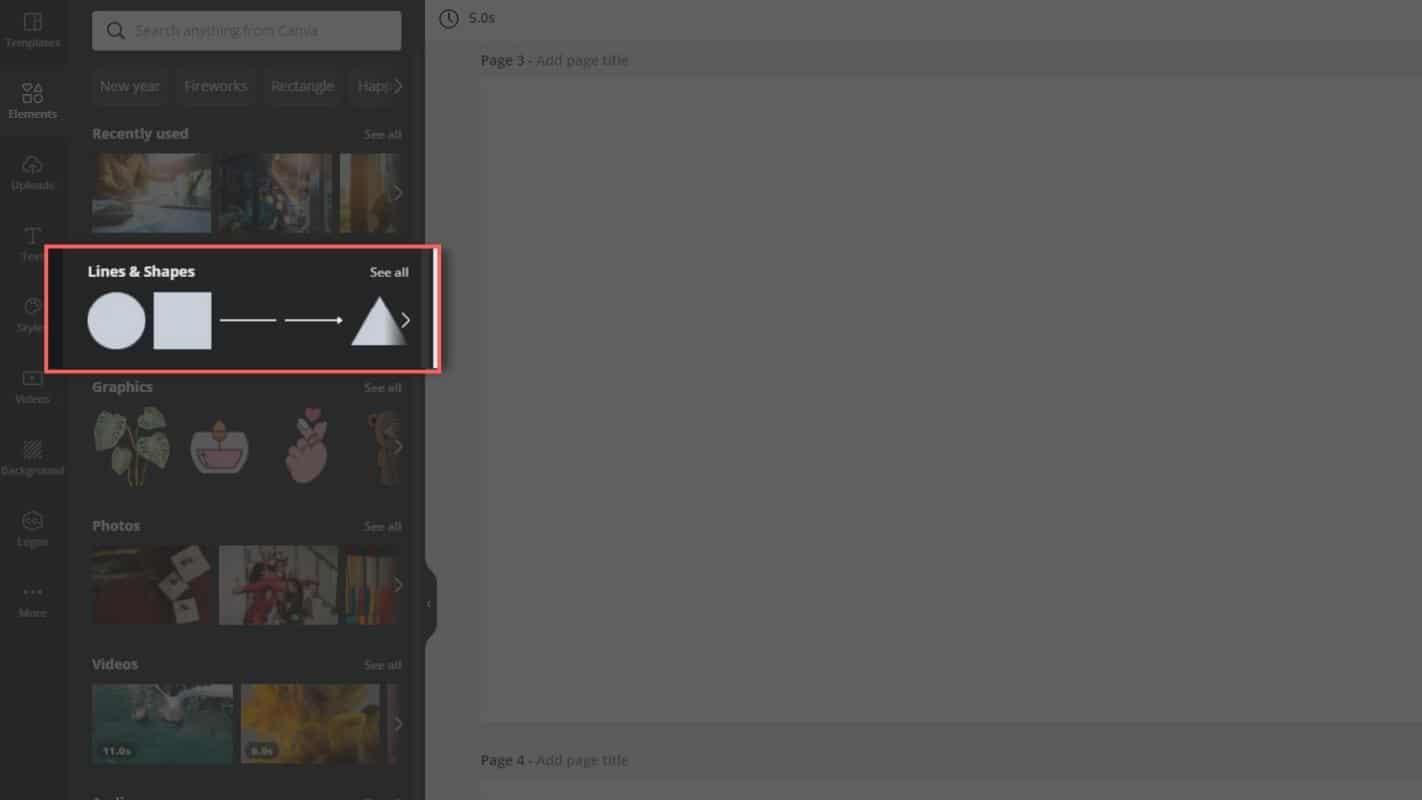 Step 2:
Copy and paste your table's chosen square. Either by right-clicking on your square and selecting copy and then pasting or using your keyword shortcuts. You can add as many columns as you want.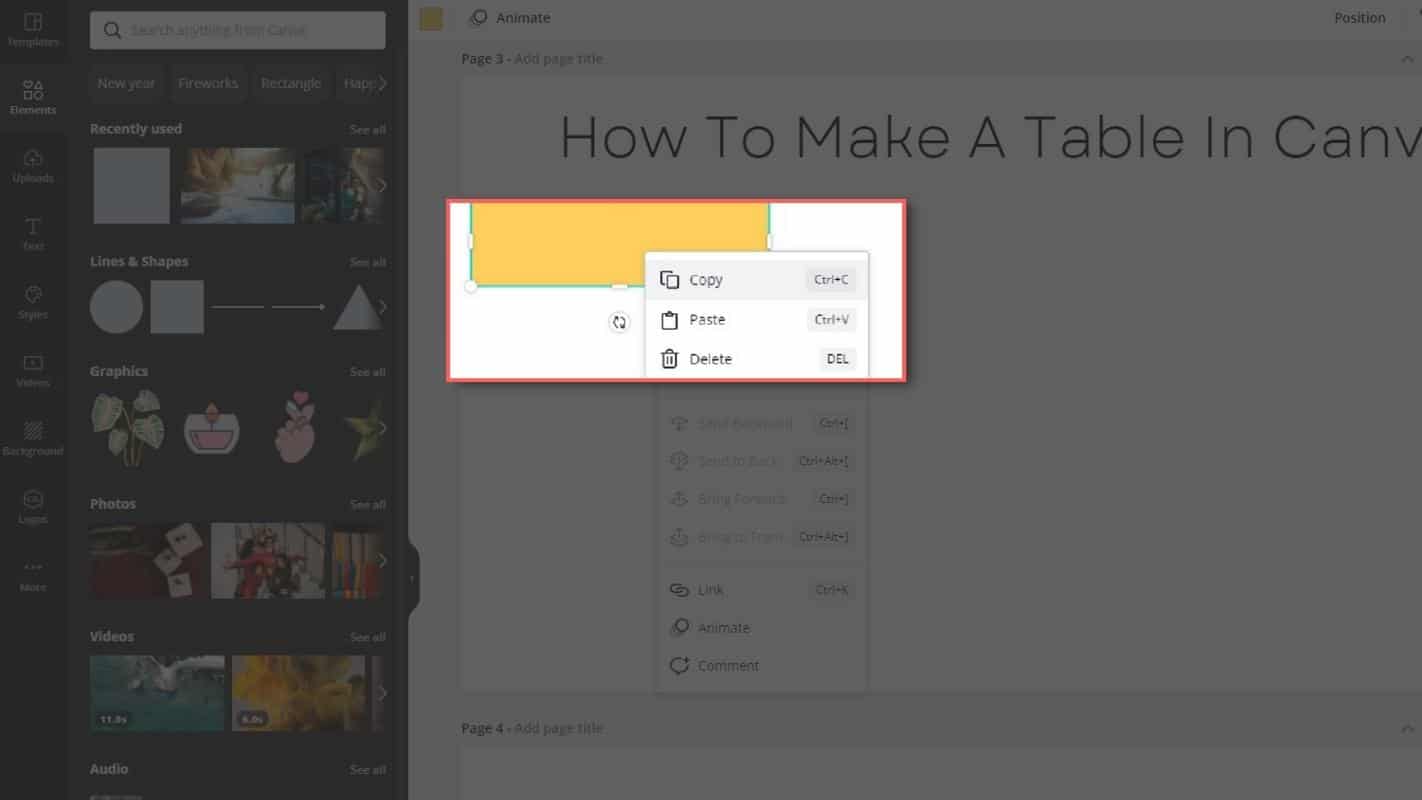 Step 3:
Make it look lovely by adjusting everything to the appropriate space in between:
3.1 Select all the elements in your columns.
3.2 Go to "Position".
3.3 Click "Tidy Up".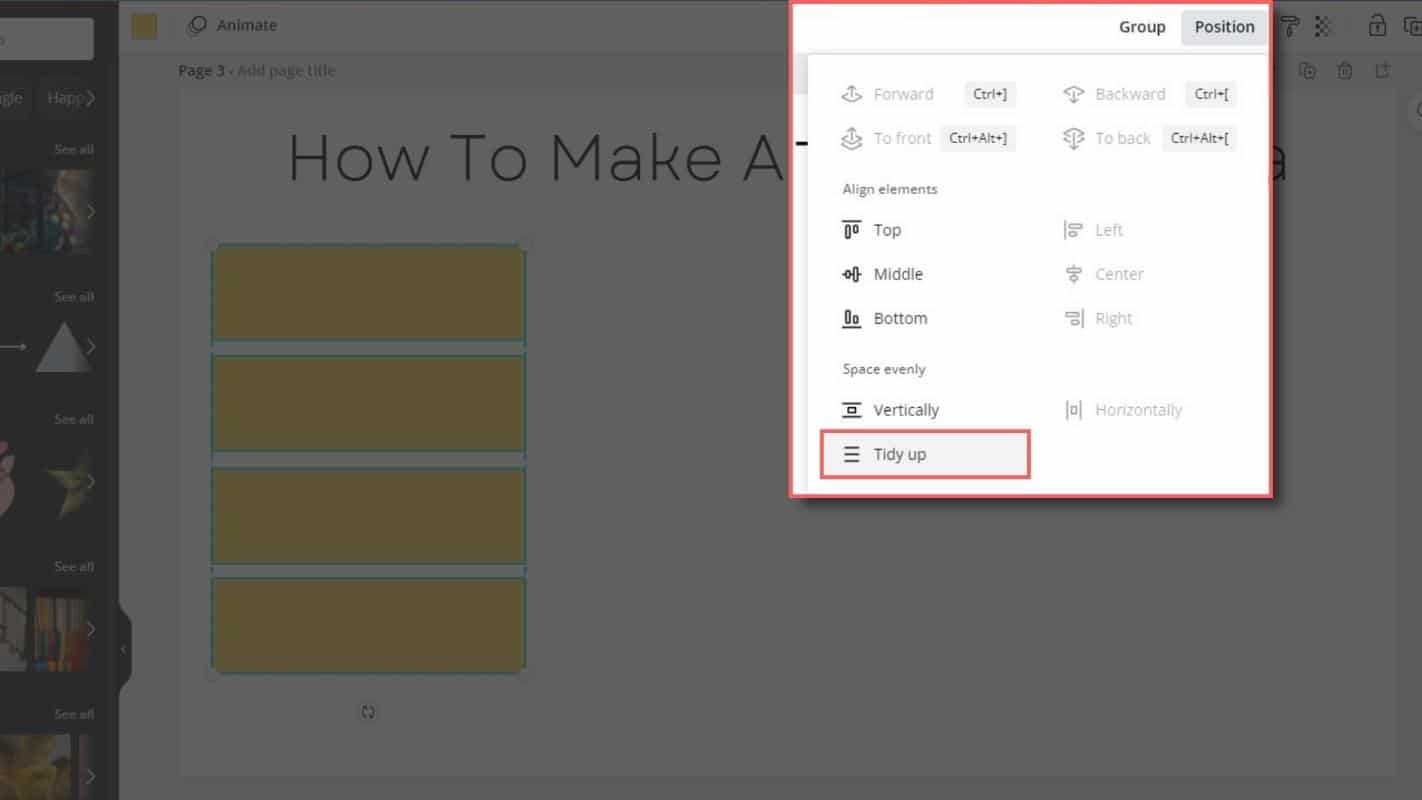 Each element in each column is separated by the same amount of space. It's looking great by now! Let us proceed.
Step 4:
To make some rows, copy and paste all of your columns. You can add as many as you want to your project. If necessary, adjust the size.
So you now have your basic raw table. Let us now enter some text into each of the Table cells.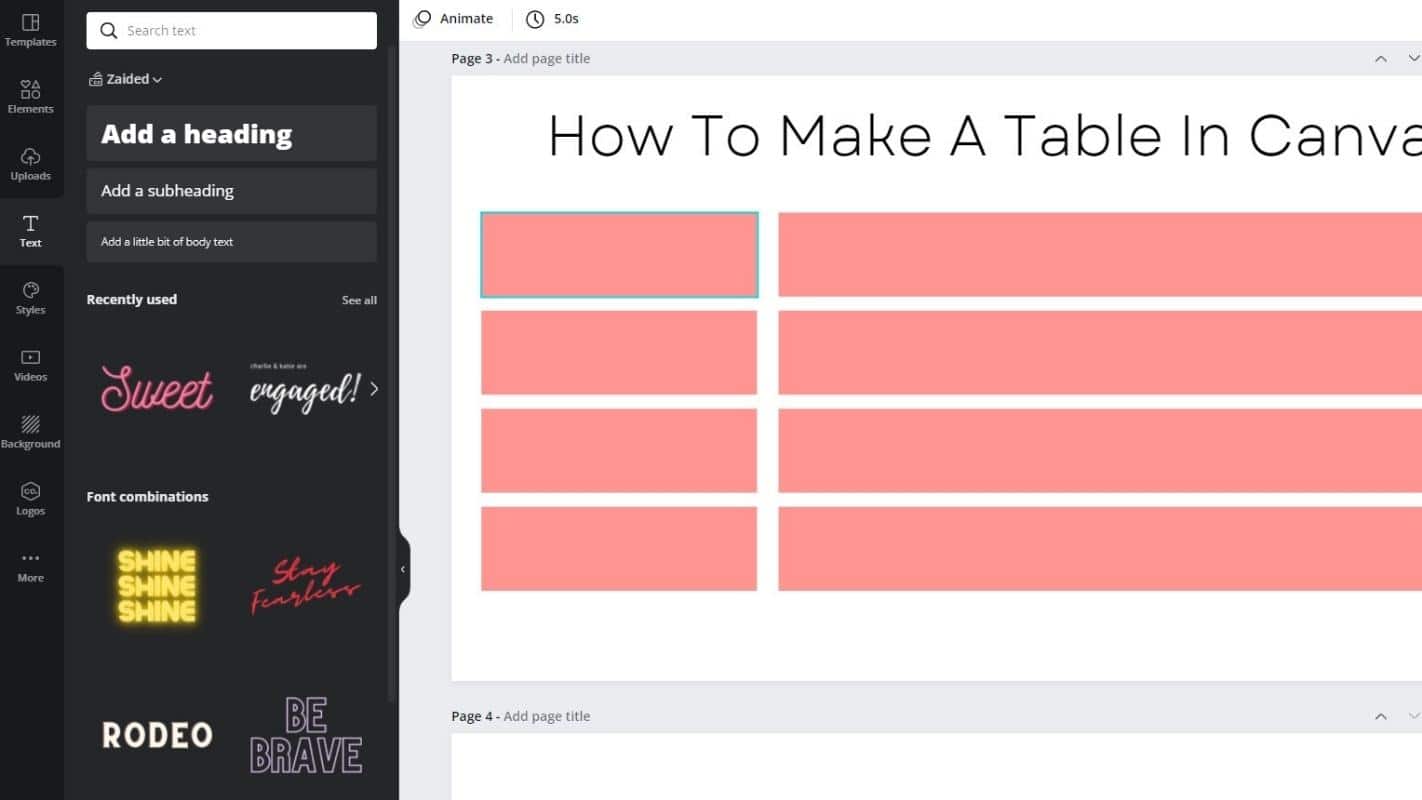 Step 5:
Navigate to the "Text" section on the left side panel. Drag a heading, subheading, or text anywhere in your project.
Step 6:
Drag your dragged text back up and place it over one of your elements. Canva has some helpful helplines for determining whether the text is aligned with your element in the background.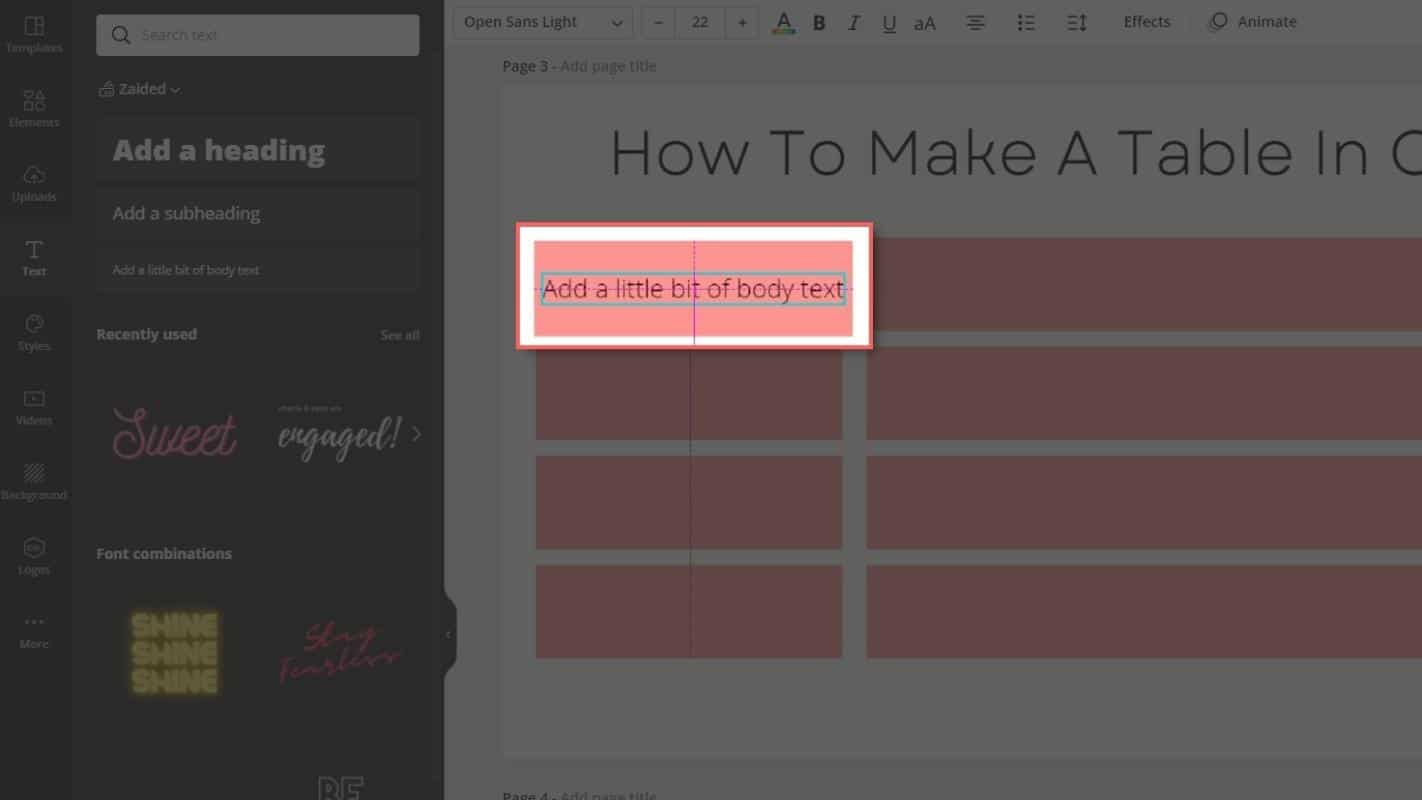 There is another way to align your text with your element. First, select both of your elements by dragging a square around them. Or selecting both manually while holding down "Shift" on your computer. Then, on the top bar, go to "Position" and select both "Middle" and "Center." Your text is now perfectly aligned in the center of the table cell. Of course, if you only want to change the text in the middle and don't want it to center, select "Middle."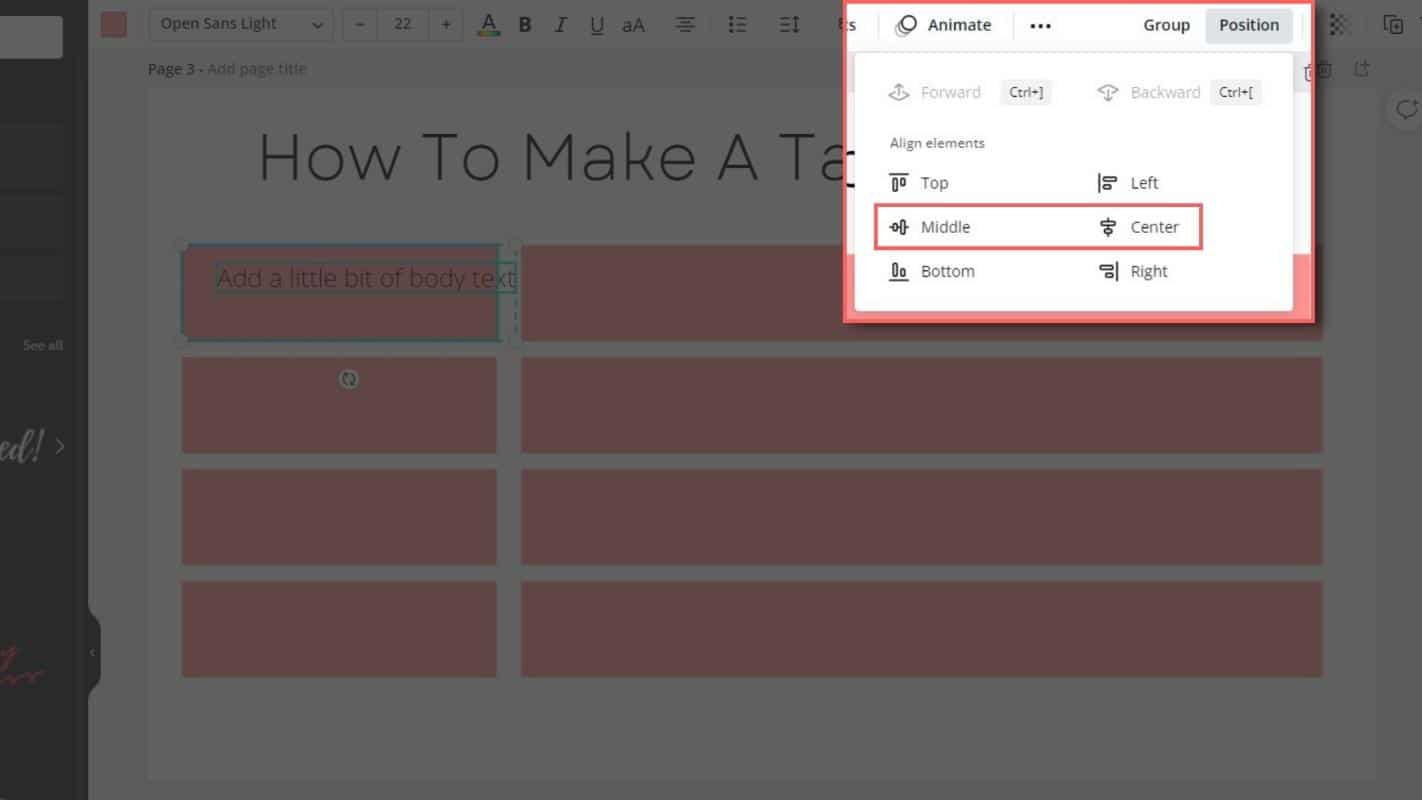 Step 7:
Repeat for each row and column to fill in the text in your table. Alternatively, you can leave it blank to use it as a Canva table template in the future.
How To Create A Table In Canva – With Lines
There are other ways on how to create a table on Canva. We've already looked into doing it with shapes and elements. It is also possible to do it with only a few lines.
Step 1:
Select "Elements" from the left sidebar. Click on the line element under "Lines & Shapes." Alternatively, when you click "See All," you can go crazy and add different lines to your project.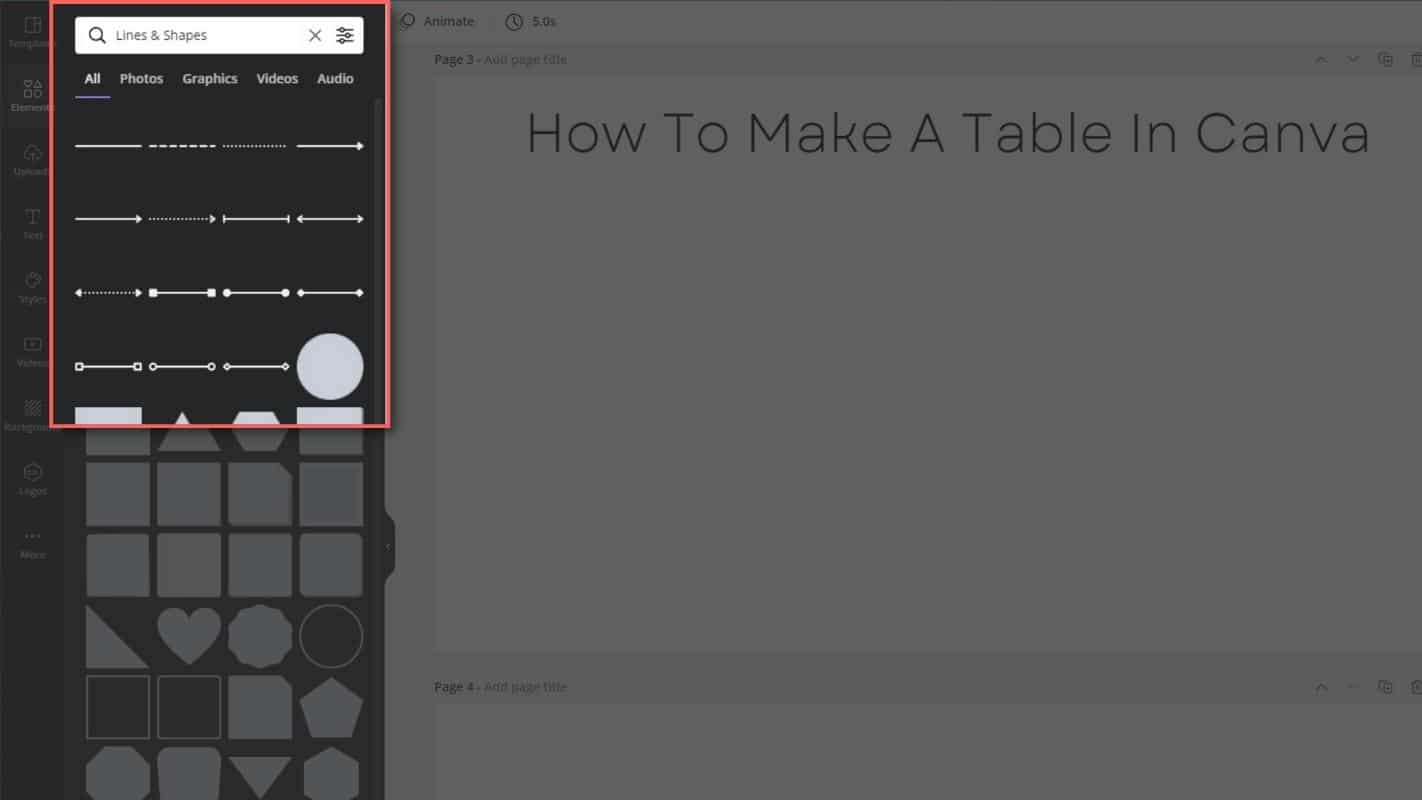 Step 2:
Change the width of your line to match the width of the table you want to add. Then, copy and paste this line and drag it to the bottom of the table to create its bottom line.
Step 3:
Insert a new line into your project or copy and paste an existing one. Take it and place it on the dot symbol at the end of the line, then manually adjust the size and make the line vertical. We are currently working on the left and right sides of your table.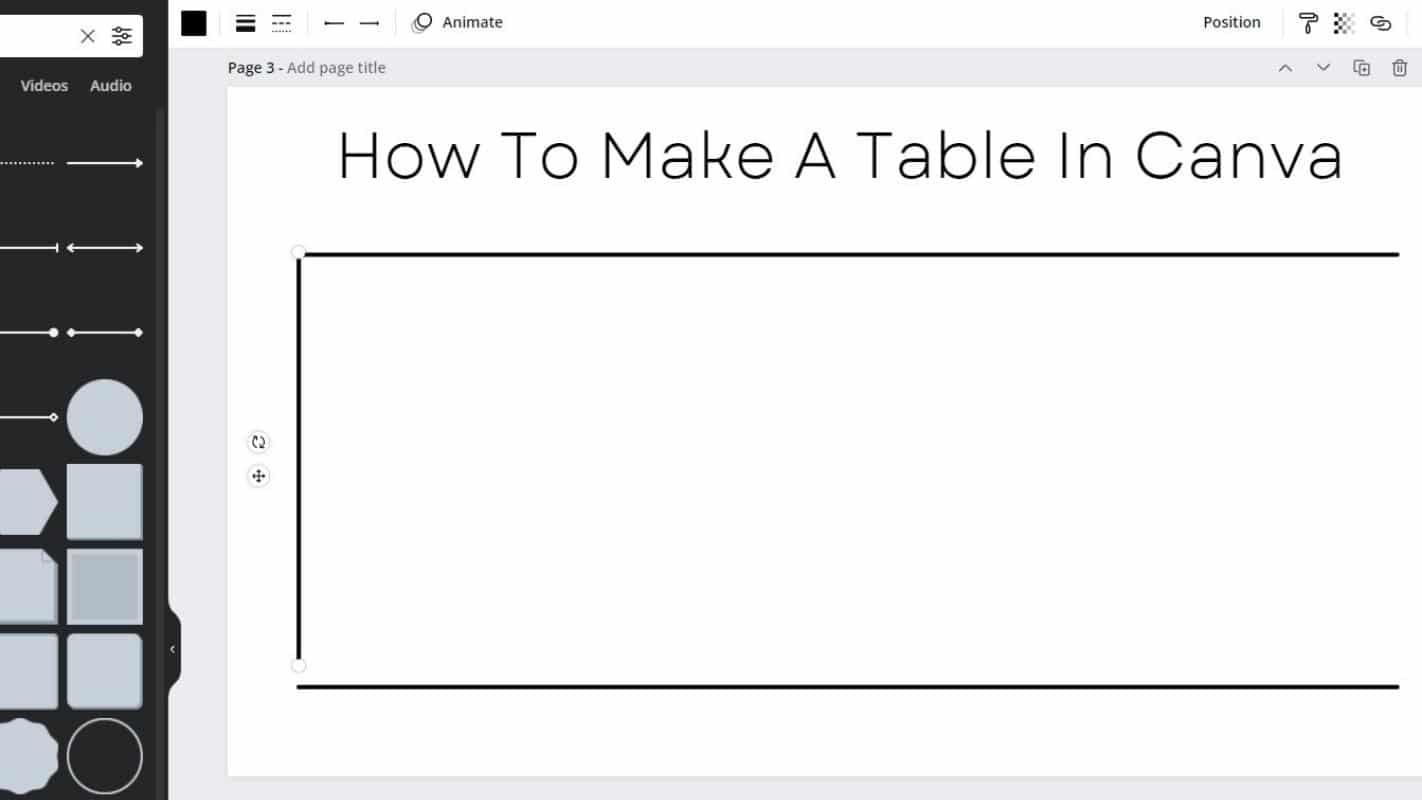 Step 4:
Copy and paste your table border to the left or right to create different columns in your table. As shown in the example below.
Step 5:
To make different rows for your table, copy and paste the top or bottom border.
Step 6:
There is no way to manually and visually adjust the lines to create the ideal space in between, but Canva has you covered. So, select all vertical lines, then go to "Position" and then "Tidy Up." Canva has you covered and adjusts all of your vertical lines perfectly. Then select all of the horizontal lines and repeat the process.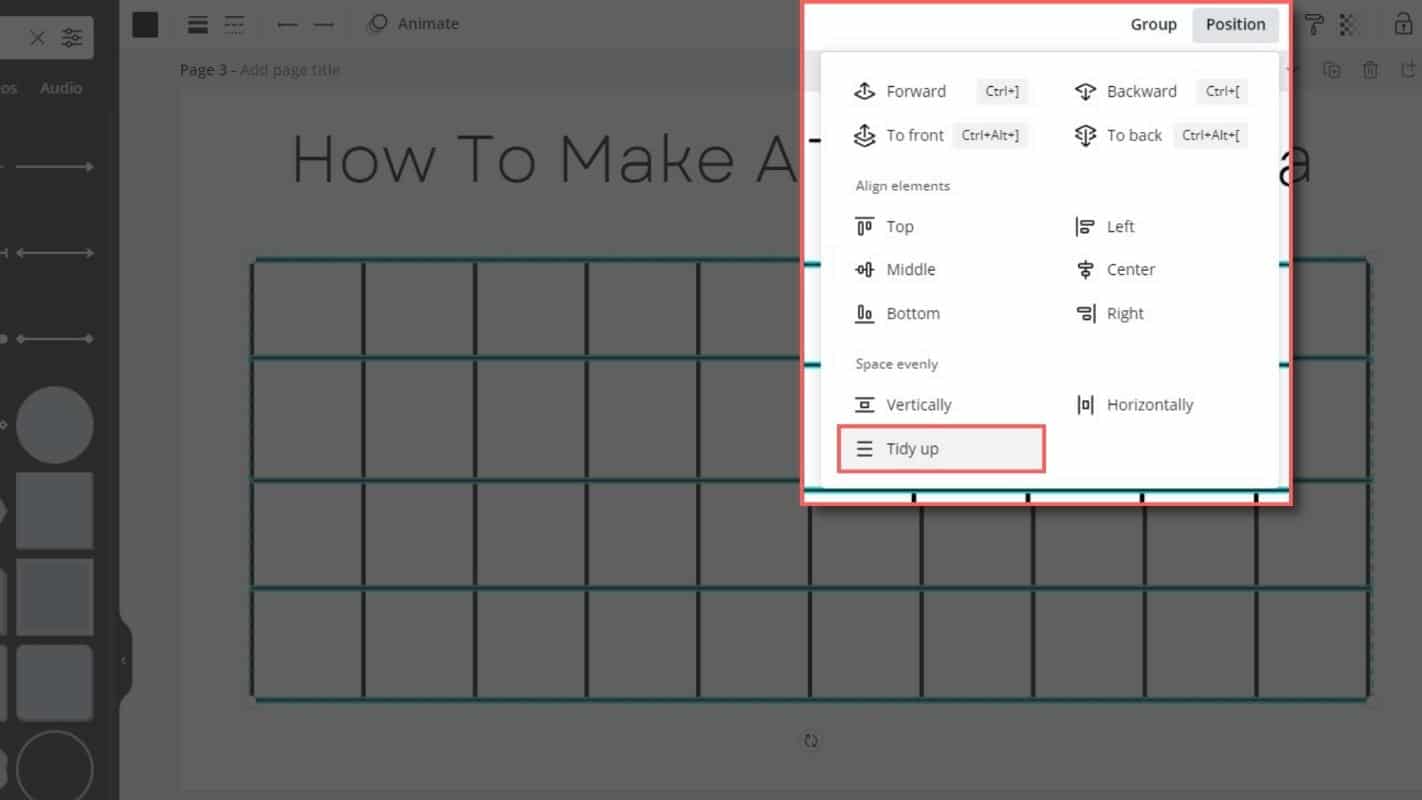 Finished! To add text to your table, repeat steps 5 and 6 from above. However, this method has no Canva adjustment button to perfectly fit your text into your table.
How To Make A Table On Canva – With Calendar Templates
So, the final option for inserting a table is to use a Canva calendar template. While doing it this way is simple, it can be time-consuming if you can't find a template that meets your needs. However, if you are lucky and find a perfect template, you will save time.
Step 1:
Navigate to "Templates" and search for "Calendar" in the search bar. Examine the templates and select the one that best meets your requirements. Or click this link to search in Canva for calendar templates: https://www.canva.com/search/templates?q=calendar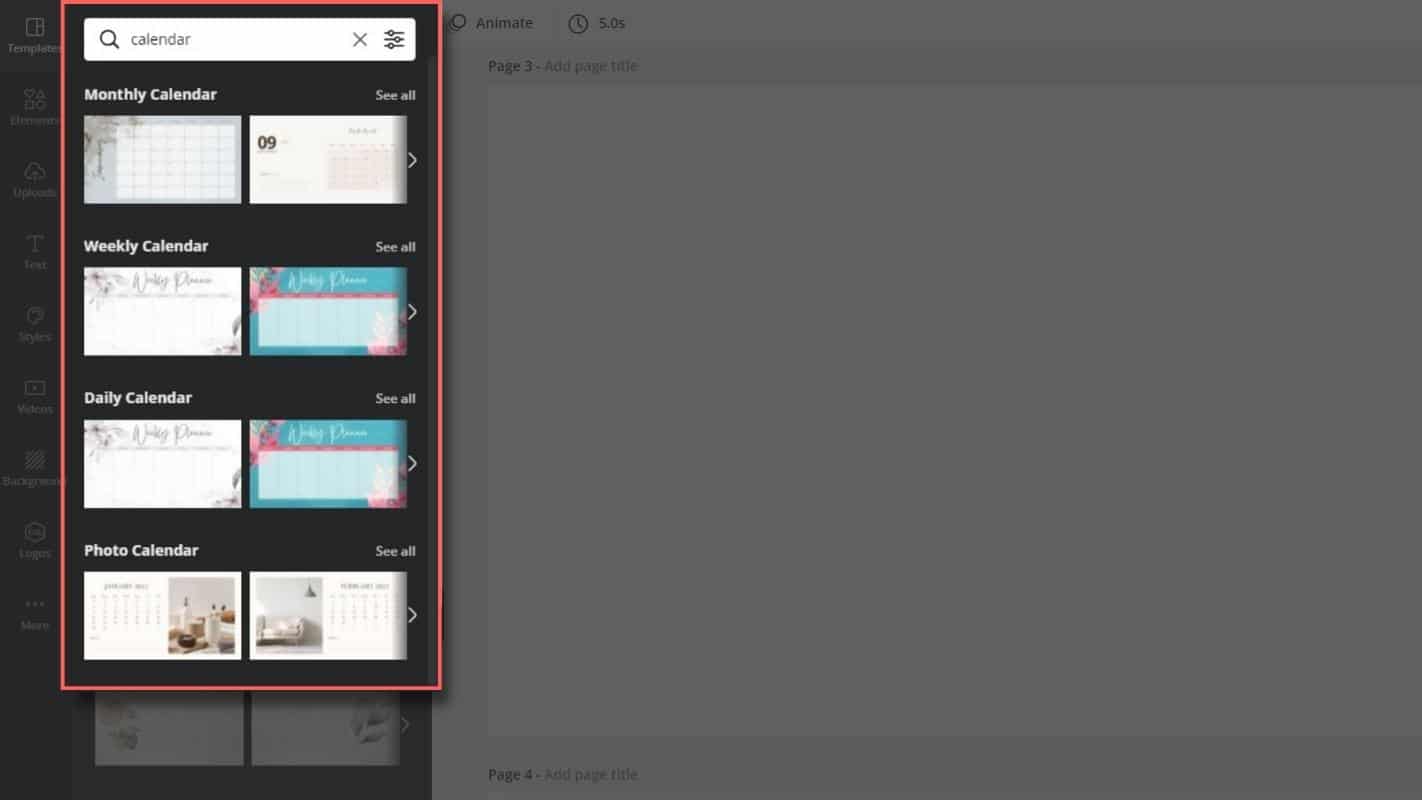 Step 2:
When you've found the ideal template, click on it. Make any necessary adjustments.
Step 3:
Insert some text into your newly created table using a text box.
And you're done!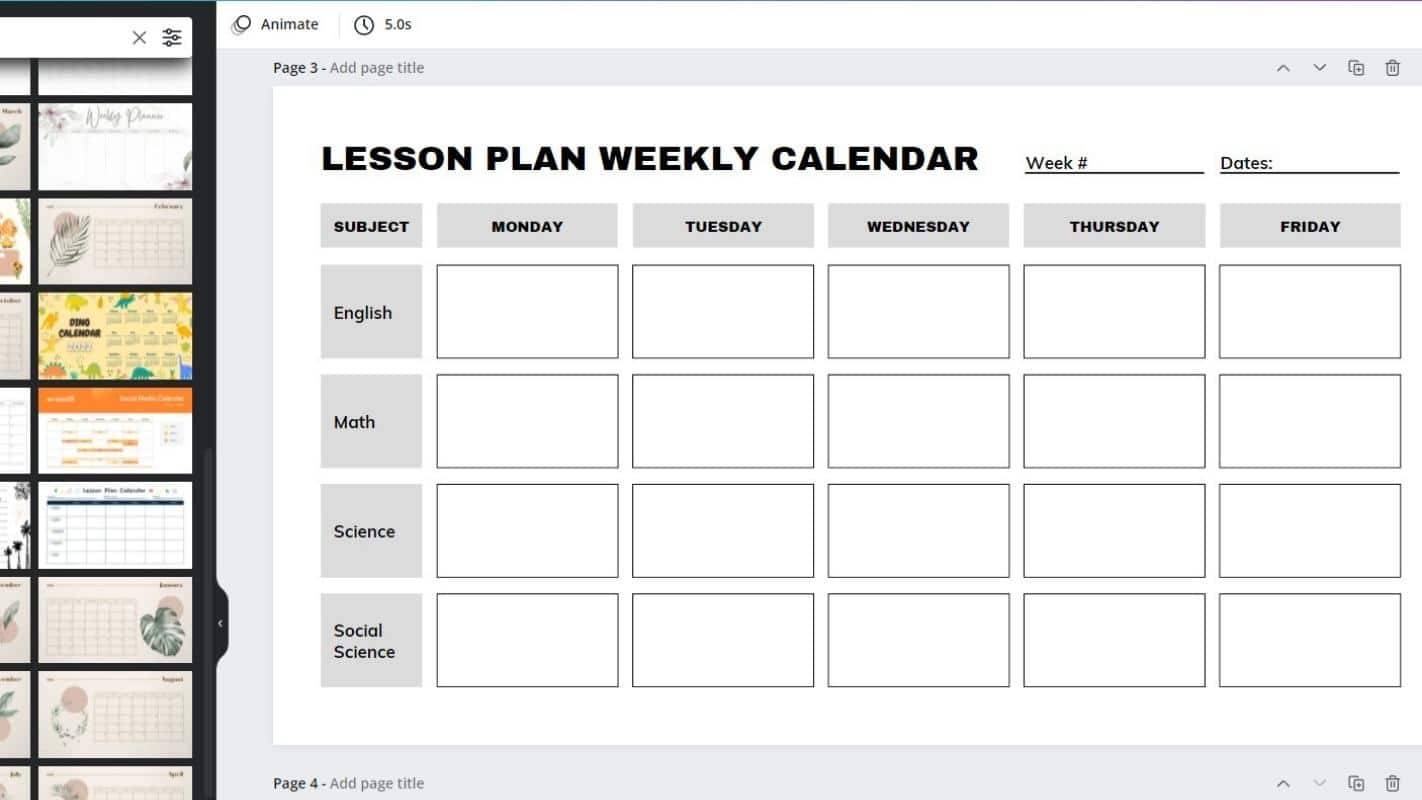 As previously stated, making significant changes to your table with this method may take longer than creating one from scratch. But for now, just play around and see what Canva has to offer.
How To Make A Time Table In Canva
There are numerous applications for using a table on Canva. One of them is making use of them as a time table. So, how do you create a time table in Canva?
The procedure is similar to that of creating a table in Canva. You can adjust the fields for a timetable by repeating the process described in the previous topics "How To Insert A Table In Canva – With Elements" and "How To Create A Table In Canva – With Lines."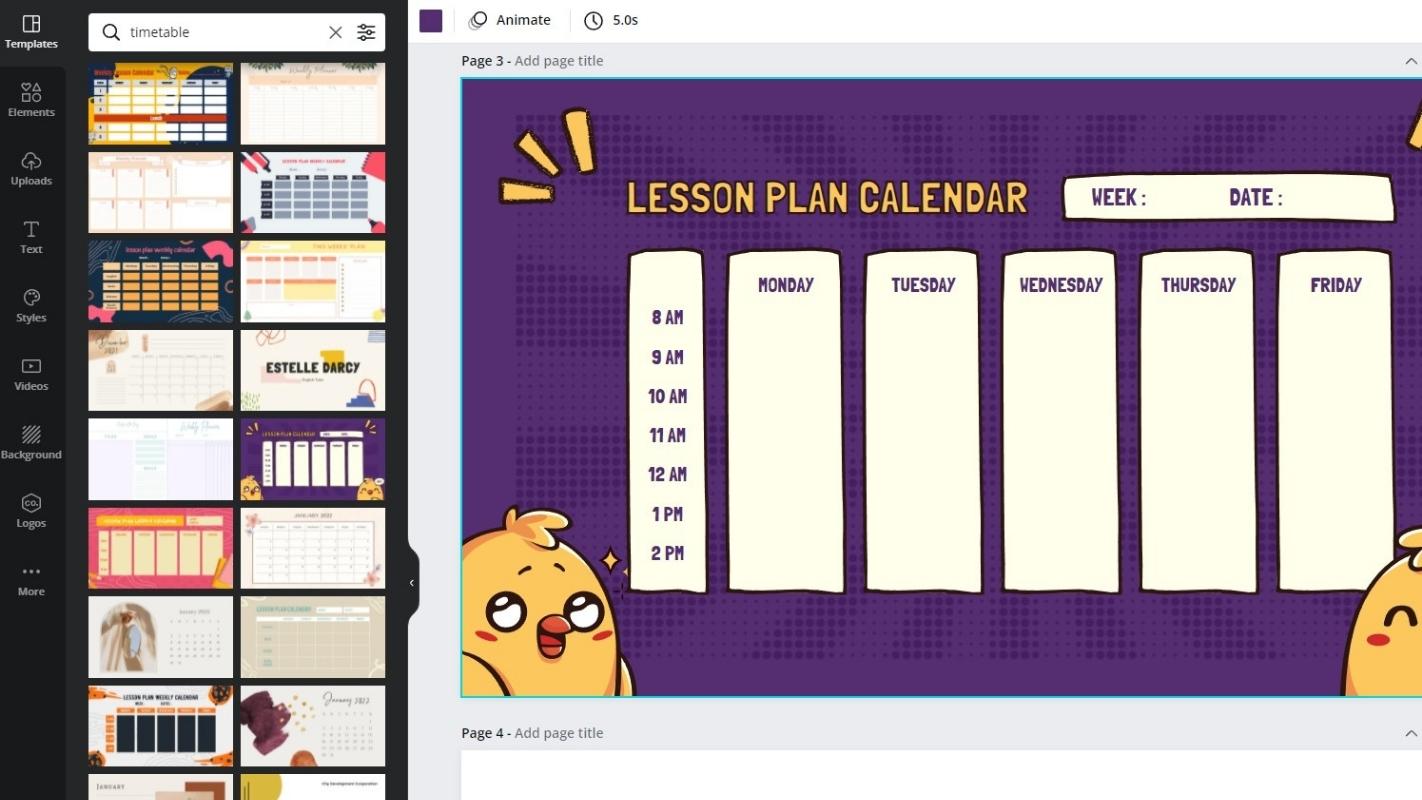 However, before you begin working on your time table from scratch, take a look at the canvas time table templates. Canva has a plethora of timetable templates. So just type in "time table" and you'll find a wide range of ready-to-use templates!
Happy table creating! And thanks for reading,
Kylie
Share with your Friends: