Shopify Competitors: 15 Best Alternatives To Shopify
Shopify is more than just an eCommerce platform; it makes it easier to track the success of your marketing campaigns, improve your eCommerce solutions, and generate more leads. As a result, Shopify has captured the attention of countless entrepreneurs as one of the fastest-growing SaaS providers for online enterprises.
There are numerous Shopify competitors. However, just because Shopify is one of the most popular eCommerce platform solutions doesn't imply it'll be the best fit for everyone. We live in a fast-changing digital world where businesses must constantly adapt and alter to meet the demands of their customers.
While Shopify's accessibility, efficiency, and legacy are sure to appeal to many people, other businesses will require a different alternative. This article will enumerate the best Shopify competitors and alternatives you can try out.
15 Best Shopify Alternatives & Competitors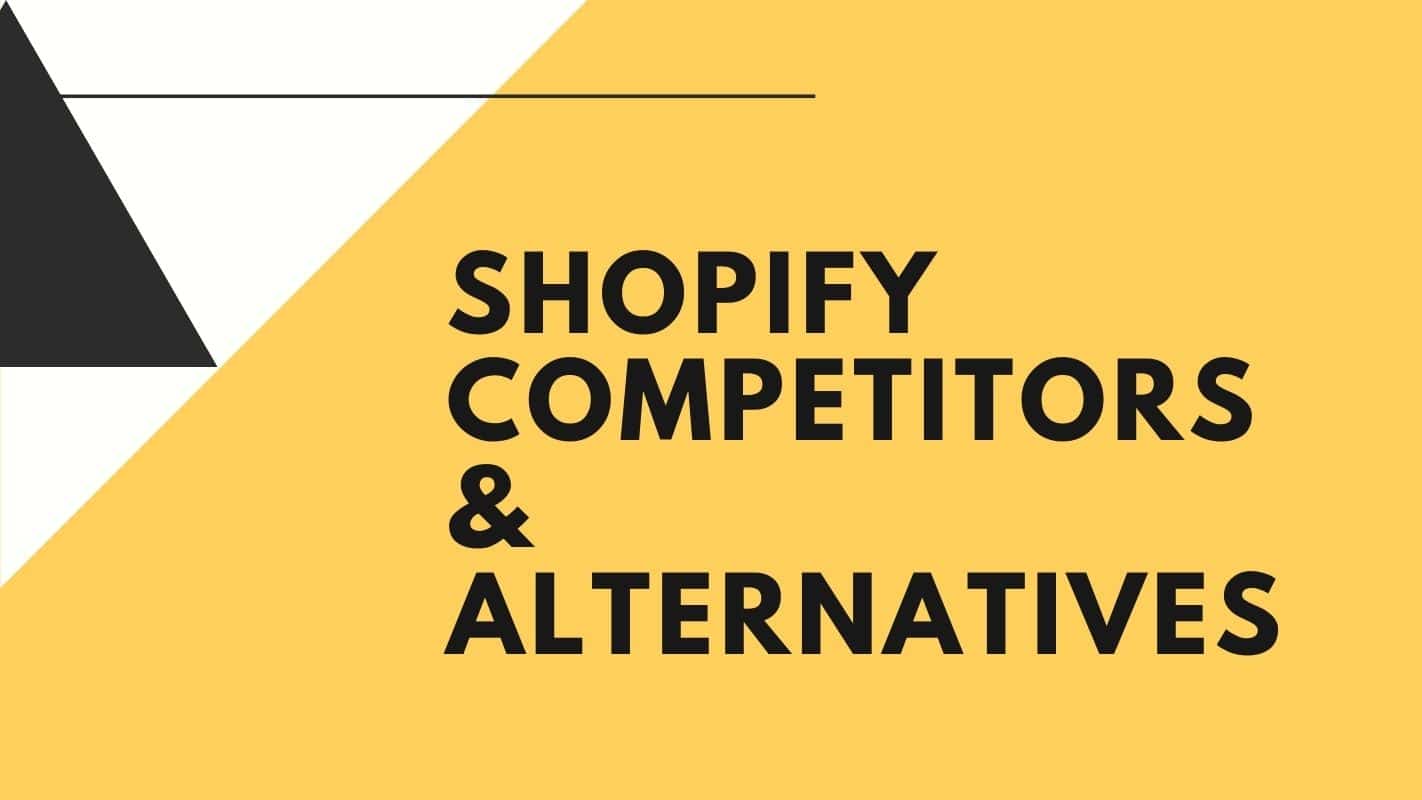 This article discusses the 15 biggest alternatives & competitors to Shopify. Let us start:
Webflow is an eCommerce software that features more customizable template designs. Although Shopify's templates are professional and modern, Webflow takes the crown because of its beautifully designed and feature-rich themes. You may also build a store that truly reflects your brand because of the level of personalization available.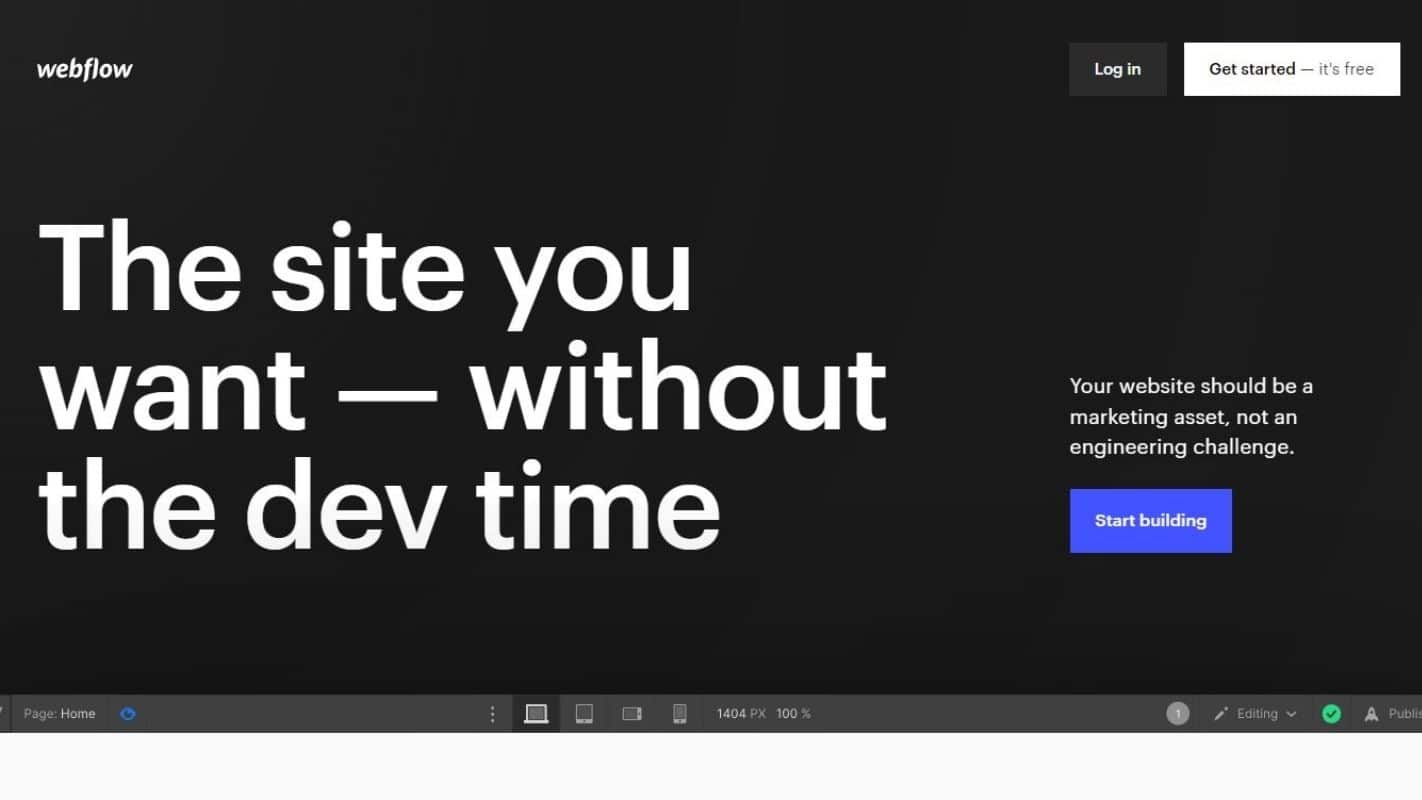 Webflow's templates are responsive, which means they automatically adjust to different screen sizes based on the device your site's users are using to browse. Webflow has some excellent courses and guidelines, but the level of personal support leaves much to be desired. Webflow University, the company's help center, is an online resource. You can get guides on everything from using the platform to how specific integrations operate.
Pros
Outstanding creative control. Users have near-complete creative flexibility because of the powerful editor and ability to code your modifications.
Stunning Templates in a Variety of Styles. Webflow's templates are all beautifully designed.
Excellent Help Center. Webflow University is one of the top digital help centers, with many articles, courses, and forums to assist you.
Cons
Analytical Foundations Unless you use Google Metrics, Webflow's built-in analytics are mediocre.
It is challenging to work with an editor. Webflow has a steep learning curve, and its features can be intimidating at first.
There are few options for assistance and support. Webflow only provides email and phone assistance, making it difficult to get a quick response.
Ecwid is a serious Shopify competitor and is extremely simple to use and ideal for beginners — all you need to do is connect it with your existing website. There is no need for you to worry about coding, updating, hosting, or even installing anything. Ecwid and Shopify provide value in many ways. Ecwid offers a free plan and a low beginning price of $15 per month, making it ideal for people on a tight budget who require tiny, straightforward stores.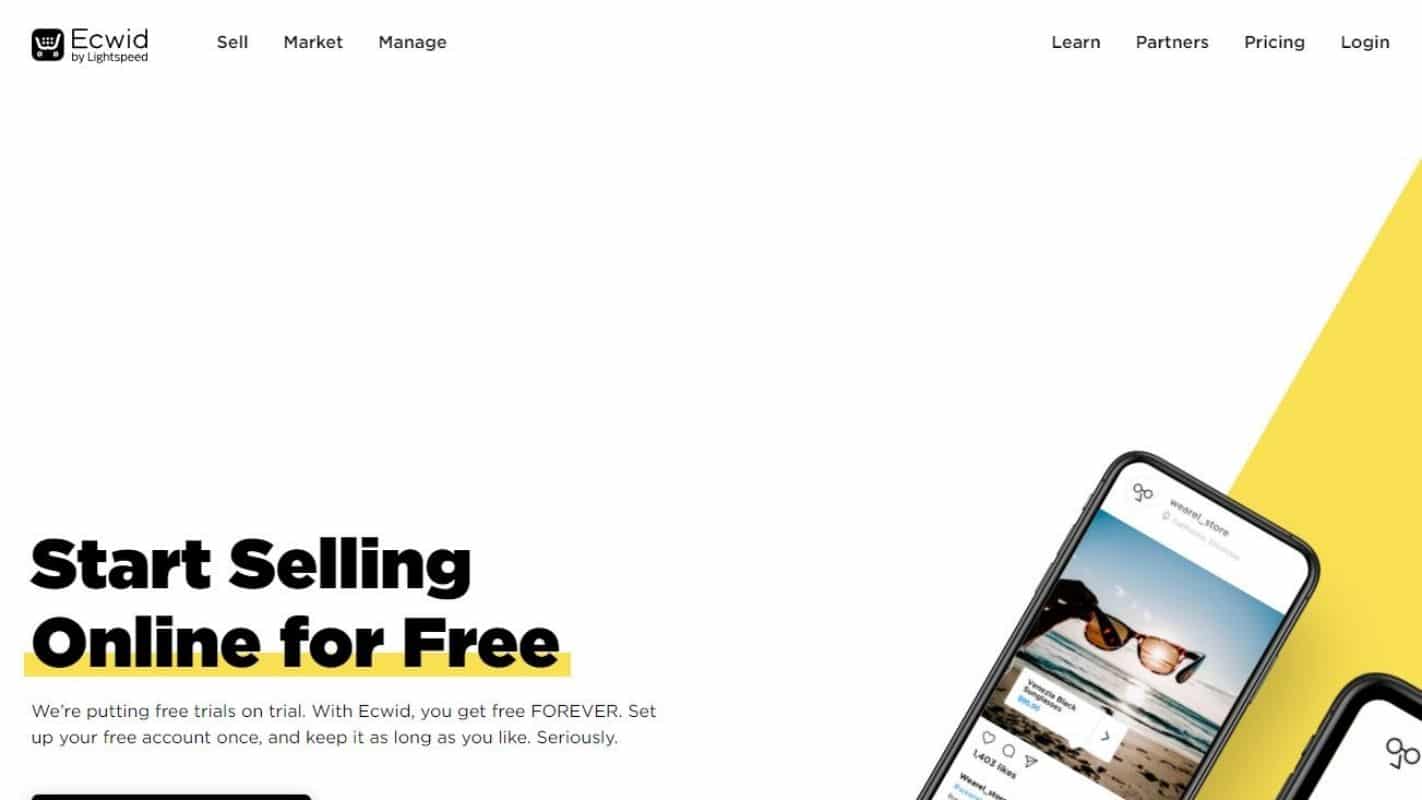 Shopify's $29 per month basic package is an excellent deal for anyone looking to expand their online business with more complex eCommerce tools. Ecwid does not impose transaction fees on any of your sales. However, it only offers around half the payment alternatives that Shopify does. Unless you use Shopify Payments, which unlocks 0% transaction fees and competitive processing rates, Shopify does charge transaction fees.
Pros
Convert an existing asset into an online store.
Use the website creation system with which you are currently familiar.
Sell via many channels (including social media)
For beginners, enjoy an easy-to-use experience.
There is no restriction on the number of product possibilities.
There are 45 languages to choose from.
There is also a mobile app for your store.
Cons
Design options are limited.
Not ideal for expanding businesses.
It does not compute shipping charges for you.
The fundamental free plan (not much functionality)
There are no AMP pages.
Square Online stores are easy to use and easy to set up. Square Online is definitely one of the biggest competitors directly to Shopify. With Square Online, you can get your first store online in minutes—no coding required. Then, build on your store design with a powerful yet simple online store builder. Square Online is free to use. However, they have paid plans, which include, for example, a custom domain, accepting PayPal, or lower processing fees.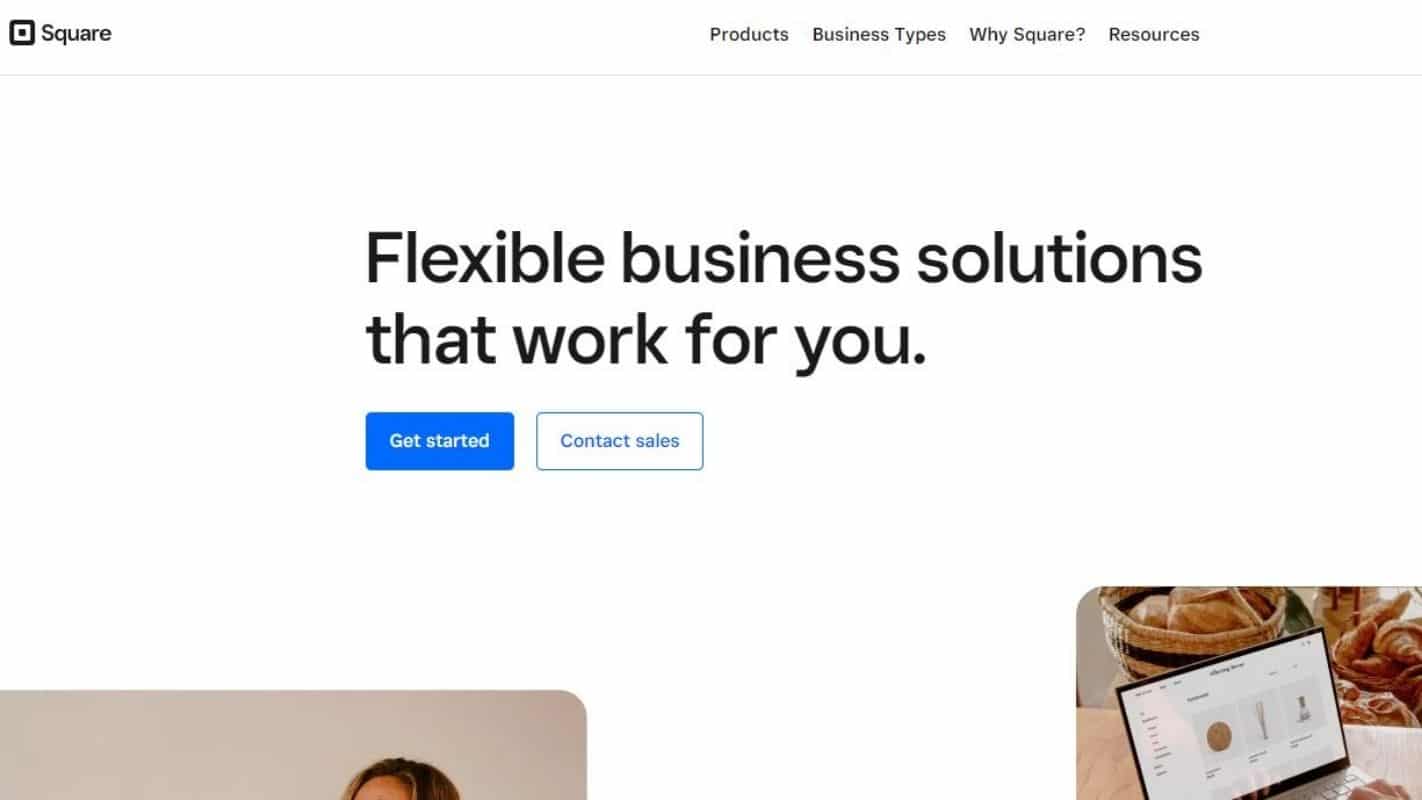 Square Online is well-known for its integrated POS systems. Square offers solutions such as Square for Retail, Square Appointments, and Square for Restaurant, to name a few. Square Online allows you to make various payments without worrying about a complicated setup. For example, with Square Payments, you can accept payments in minutes. However, if you don't use Square Payments, you'll have to pay processing fees.
Pros:
Simple to setup
Powerful Point of Sale Solutions
Square Payments for an easy solution to accept all kinds of payments
Free forever plan available
No coding knowledge is required to set up stores
Best for when you're looking for an easy way to set up an online store
Abandoned Cart Recovery on higher plans
Shopify alternative for free
Cons:
Less freedom for customization than Shopify
Higher transaction fees when you don't use Square Payments
Limited features for advanced inventory management
Next on our list with the best Shopify competitors is Shift4Shop. You can improve your eCommerce website for SEO with both Shift4Shop and Shopify. For example, you can change the product descriptions, meta tags, and headlines and enable Google product reviews. Furthermore, both companies provide a sitemap for your store automatically. Additionally, Shift4Shop's product pages are Google-AMP-ready right out of the box.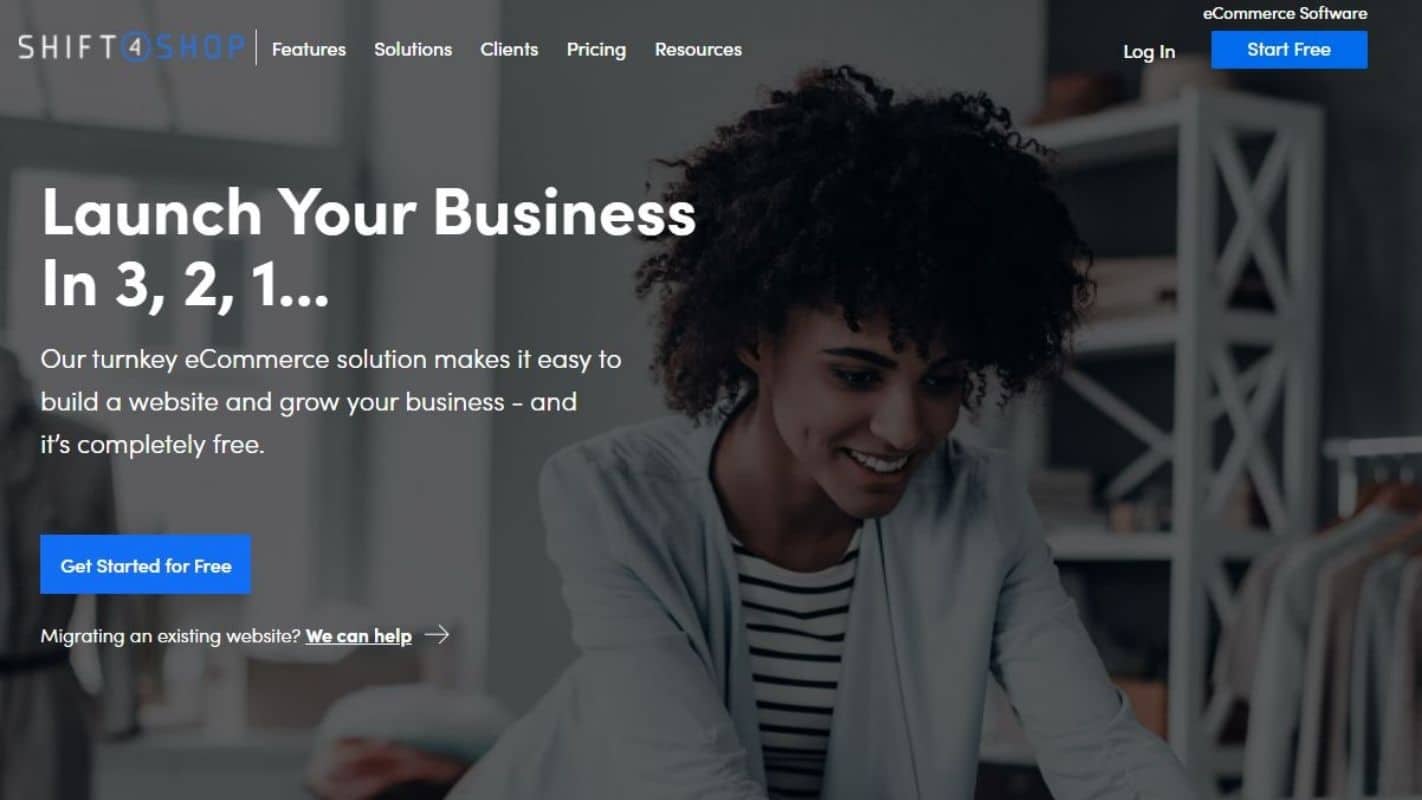 To achieve comparable results with Shopify, you'll need to download and install a plugin. Shift4Shop also allows you to personalize your URL structures; Shopify isn't quite as adaptable.
Pros
Excellent SEO optimization
You don't need any coding skills to set up an online business.
A variety of sales, store management, and marketing solutions are offered.
You may acquire plugins to increase the functionality of your online store from an app store.
When using Shift4Payments, businesses can develop and operate their stores for free.
You have access to technical help 24 hours a day, seven days a week.
Over 100 free themes are available for download.
Shift4Shop's free plan has various features right out of the box. However, its essential elements are far more extensive than Shopify's expensive subscriptions.
Cons
You'll need to rely on some apps to increase the functionality of your store, which will raise the overall cost.
Template designs can only be customized to a certain extent.
Shift4Shop, formerly known as 3Dcart, is still in its early stages and is undergoing numerous adjustments.
International suppliers are not eligible for Shift4Shop's free plan.
The online community for Shift4Shop isn't as active as Shopify's.
There is currently no mobile app available.
BigCommerce, founded in 2009, is a versatile and open SaaS e-commerce platform that allows businesses of all kinds to create and scale their online stores. BigCommerce is unquestionably one of Shopify's biggest competitors. While Shopify is incredible for getting started, BigCommerce is the best option if you want to build and scale your business. Compared to Shopify, BigCommerce provides a more comprehensive set of out-of-the-box features.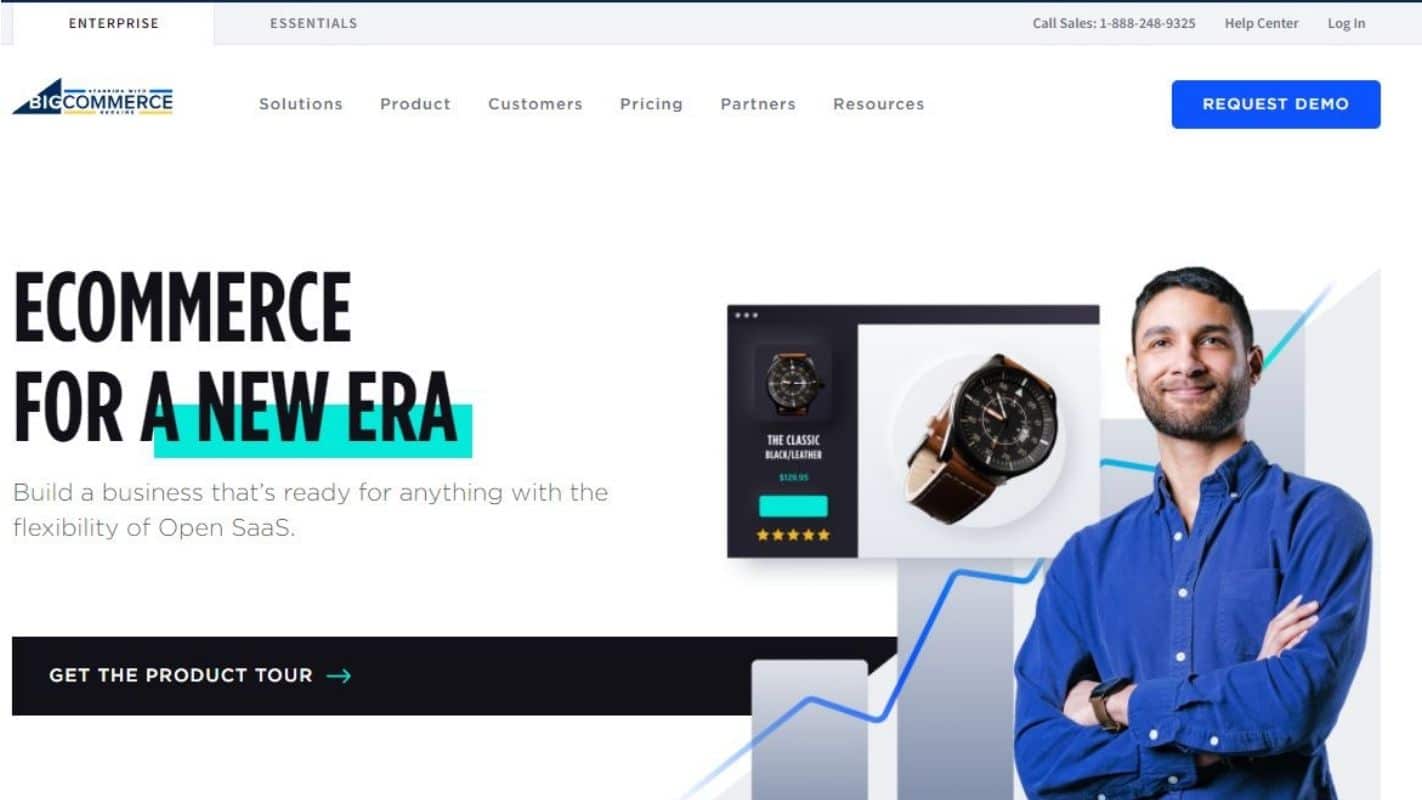 Although both platforms have nearly identical pricing plans, BigCommerce is worth considering even for its basic plan. Furthermore, unlike Shopify, it provides a variety of stunning and professional themes for free. Their customer service is considerably superior to that of Shopify. To get started, BigCommerce provides a 15-day free trial. The basic plan begins at $29 per month to grow your business with marketing tools ($79 per month) and optimize your online business ($249.95 per month).
Despite having far fewer active installs (55'000) than Shopify (4 Million), BigCommerce is the main competitor to Shopify. This is due to BigCommerce's nearly infinite scalability. In addition, BigCommerce integrates with almost anything because it is an open SaaS solution, making it an excellent choice for unlimited business scaling.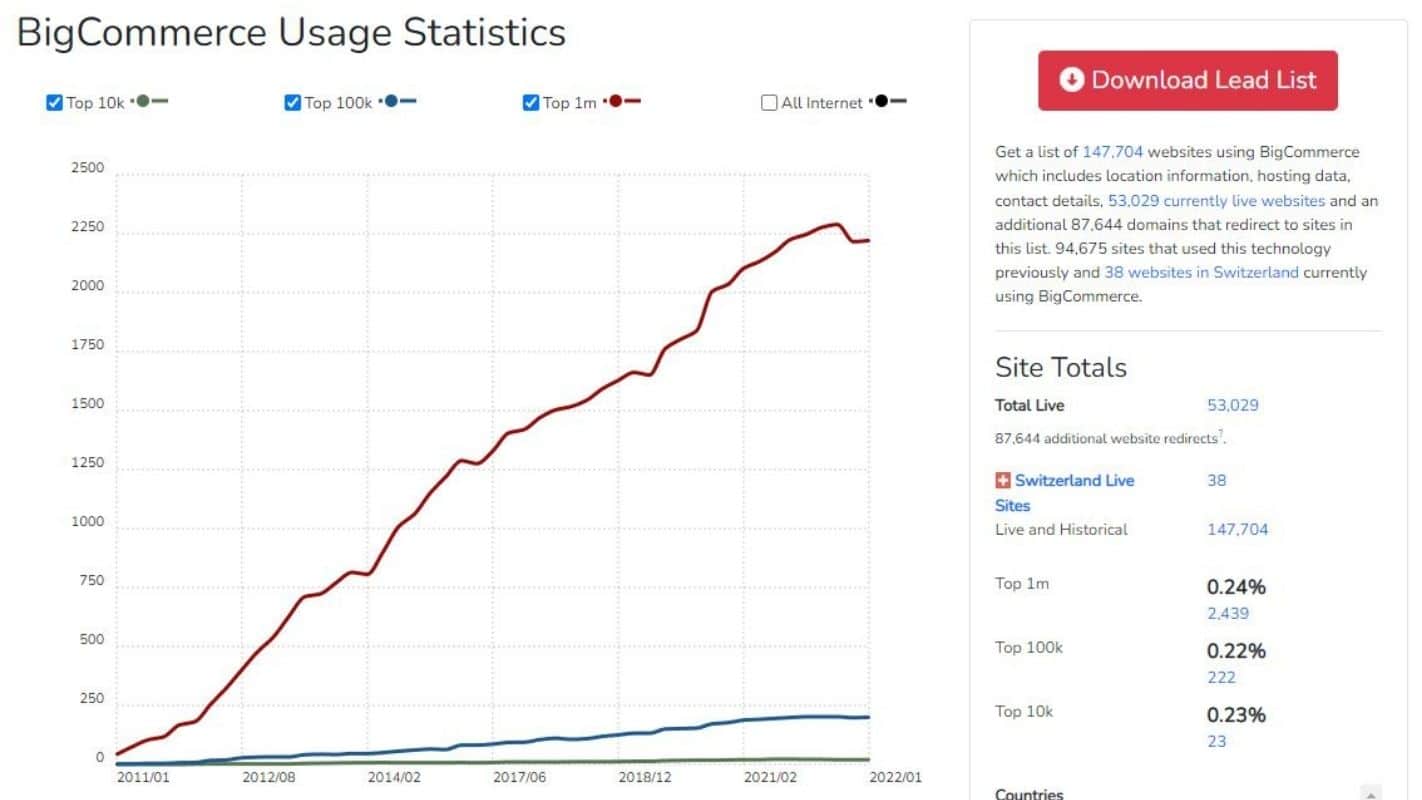 Pros
There are over 55 payment gateways supported, and there are no additional transaction costs.
Support is provided 24 hours a day, seven days a week, with over 85% of issues handled on the first call.
A broad ecosystem of technology and agency partners.
The drag-and-drop visual editor Page Builder doesn't require any coding skills.
Every plan has robust out-of-the-box features.
The ability to sell across several channels, including an in-app checkout for the social media network Instagram.
SEO options abound, including fully configurable URLs.
Abandoned Cart Recovery
Cons
There is a slight learning curve compared to Shopify because you get so many more out-of-the-box features.
While BigCommerce has many commercial themes, it only has five free themes compared to Shopify's nine.
Wix has excellent eCommerce solutions for customers with little or no expertise in creating websites. Wix makes it simple to create a store regardless of your web development ability, thanks to the powerful artificial design intelligence engine and a top-notch editor. As a result, Wix stands out as a premium editor and builder compared to Shopify.
Given Wix's position as an industry leader in customization and drag-and-drop versatility is understandable. Wix also exceeds Shopify in terms of template and theme design. Although Shopify has a few free and excellent paid themes, Wix has over 500 designer themes. You can even tweak each theme to the point where it's no longer identifiable and make your designs.
According to builtwith.com, Wix has been installed 7 million times. Compared to Shopify's stats of 4 Million installs, Wix is the biggest Shopify competitor. Remember that Wix was built first and foremost as a blogging engine and not for eCommerce. They added eCommerce features later on.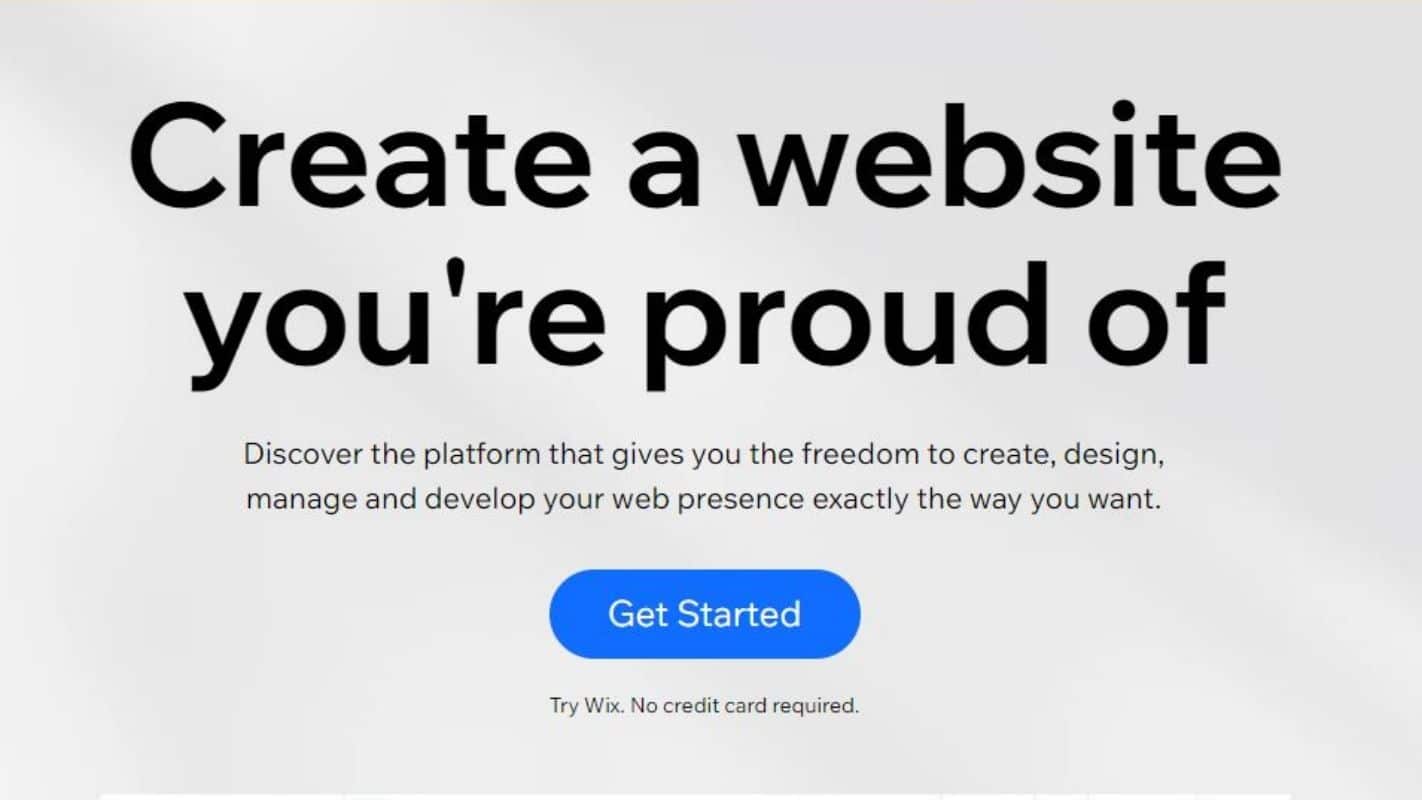 Pros
There are hundreds of templates to choose from.
The drag-and-drop website builder is excellent.
A less expensive alternative to Shopify
Cons
It's challenging to scale.
Wix has fewer eCommerce features compared to Shopify.
Squarespace started as a website builder for creatives and small enterprises, so expanding into the eCommerce market feels natural. It is an alternative to Shopify for those willing to set aside complex functionality for an essential, aesthetic website experience.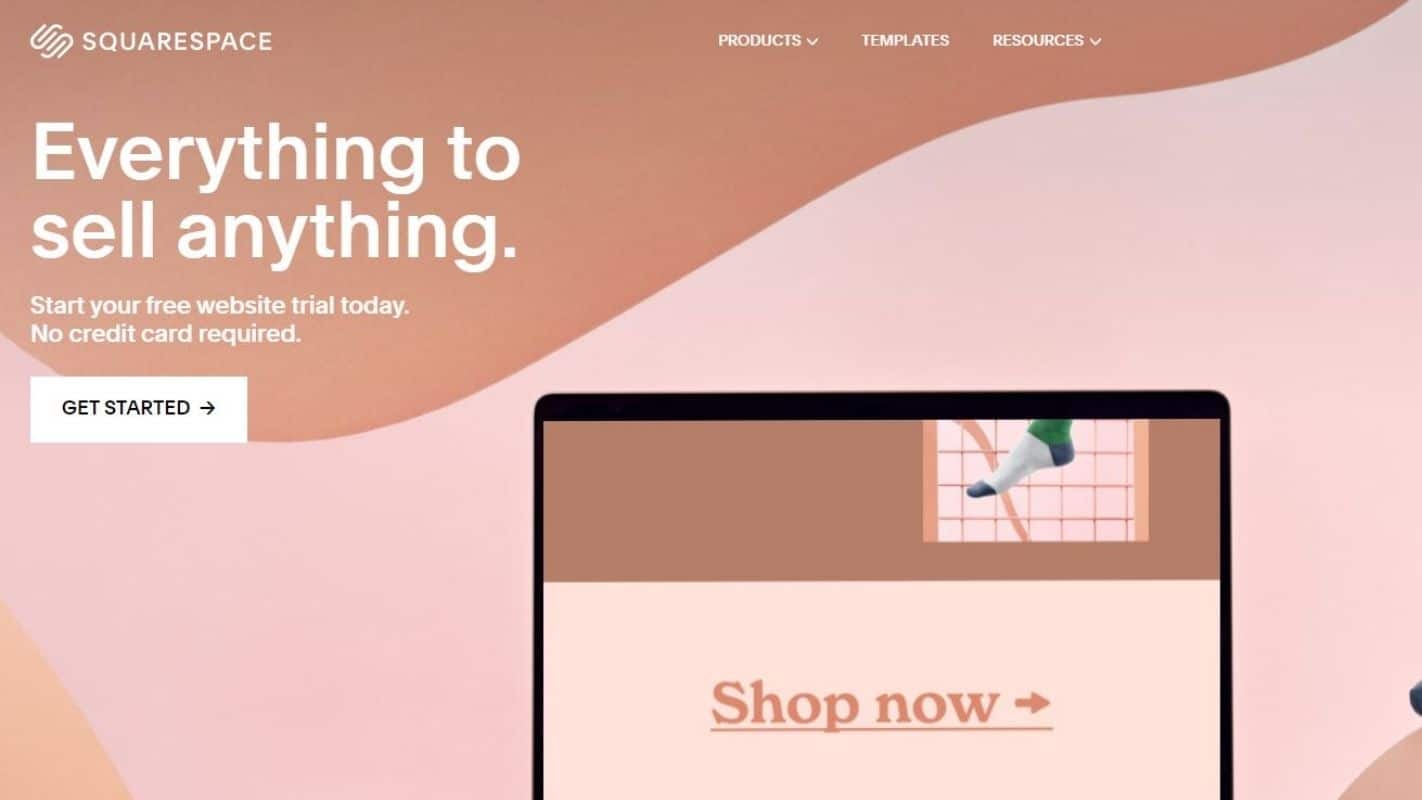 However, when it comes to the design of your online store, Squarespace is similar to Shopify. Sites appear lovely, but they all have the same aesthetic, which detracts from the uniqueness of your company. Squarespace is also a heavily used eCommerce solution, making it also one of the top competitors to Shopify.
Pros
A wide variety of appealing templates are available.
Content marketing can benefit from simple blogging functionality.
More possibilities for appearance and customization than other options.
Cheaper alternative to Shopify
Cons
Automatic taxation is only available in the United States with an extension.
The number of subfolders within menus is limited, which impacts website navigation.
Moving components with the drag-and-drop editor can be time-consuming.
OpenCart themes are available from a variety of online platforms. The numbers are growing because of the global community of independent designers and developers that have always supported OpenCart. Shopify is widely regarded as an eCommerce platform that can be customized. But, let's be honest. Shopify can't compete with an open-source platform like OpenCart.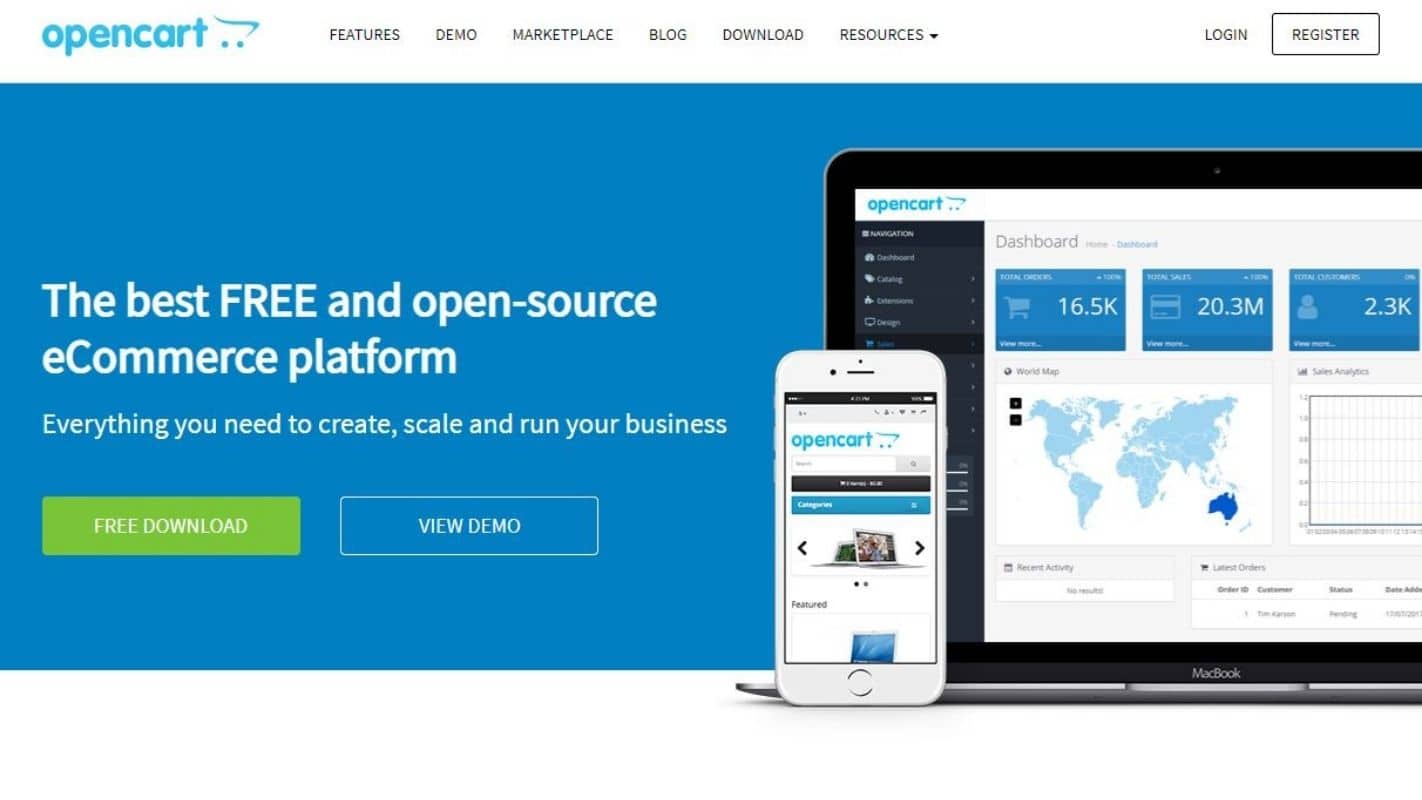 As long as you have a skilled developer, your customization options are limitless. And in case you don't, it offers thousands of plug-and-play modules that are also holistically customizable. As a result, despite a valiant effort by Shopify, OpenCart takes the customization crown.
Pros
Access to meta tags makes it search engine friendly.
Templates and themes that have been pre-designed, as well as over 6000 extensions
You can customize it however you like because it is entirely open-source.
Multi-store functionality is supported.
Languages and currencies are supported.
Customization options are available for almost everything.
It is entirely free to download and use.
Open-source Shopify competitor
Cons
More challenging to learn than Shopify
There is no direct customer service for bugs and concerns.
It necessitates a large number of add-ons and additional functionality.
For enterprises on a tight budget, Prestashop is a reasonable solution, and it's probably the biggest Shopify competitor in Europe. Prestashop is developed & maintained in France. You might claim it's free, but it's close to Magento if you pay for web hosting and a name. In addition, Prestashop doesn't have as many themes and templates as Shopify. Still, its usability is as excellent as expected from a free platform.
It also has no additional transaction costs, supports 25 languages and different currencies, international sales, an unlimited number of goods and features, and details on abandoned carts. The number of free modules is limited, but the premium ones allow you to improve your site significantly.
And, if you hire a developer or take the time to read the various manuals and courses available for PrestaShop users, you may construct a respectable online store with low initial expenditure.
Pros
Self-hosted for free (as well as paid hosting options)
There are no additional transaction fees.
Multilingual, international sales support
Has a large number of features (advanced ones are premium)
Open-source Shopify competitor
Cons
Few free themes & layouts
Technical abilities are required.
Shopify does not have as many features.
WooCommerce is one of the most widely used eCommerce platforms today. WooCommerce has a broader extension library, which gives it greater flexibility. It is run on top of WordPress and can be used as a blog and a company website. Compatible with a variety of email services, including Mailchimp and Constant Contact.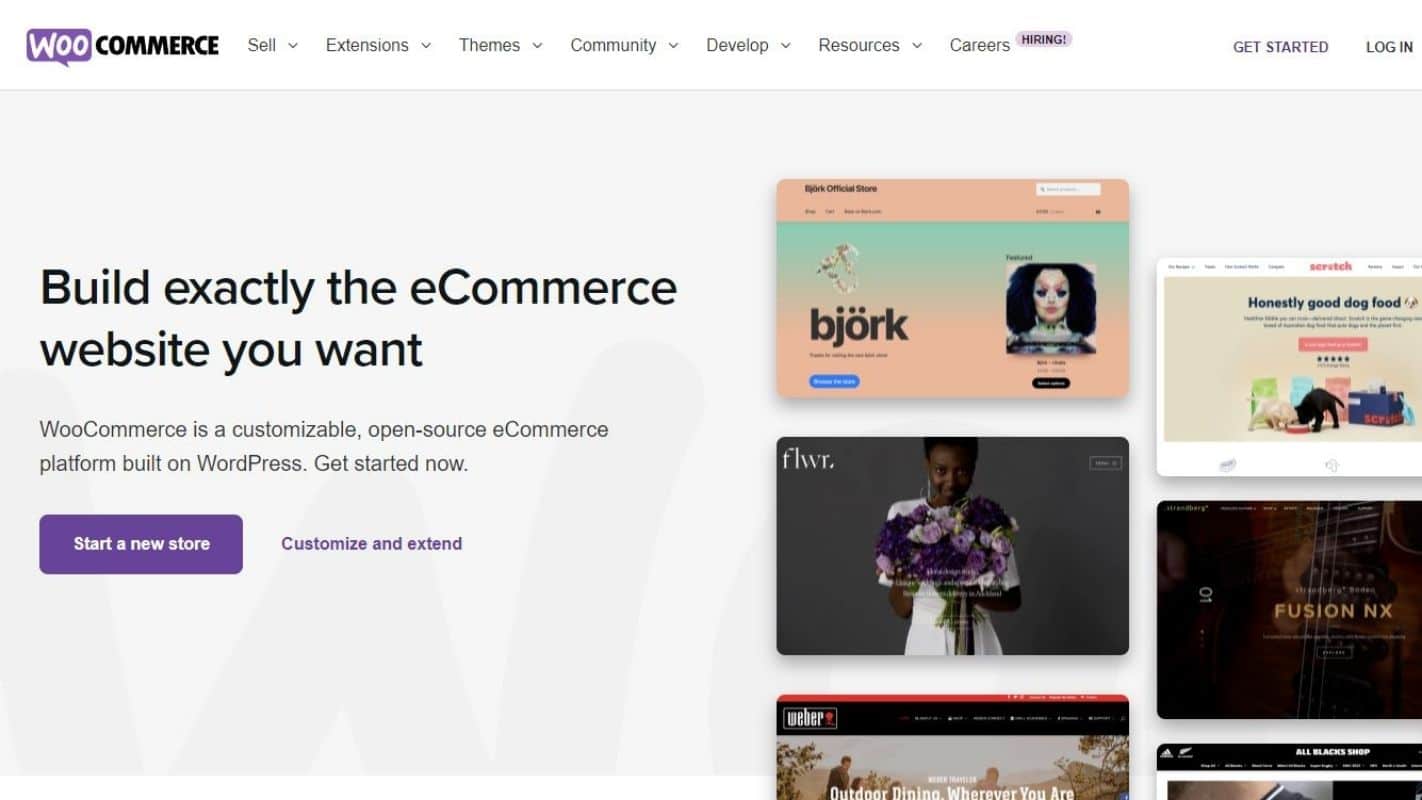 Using SEO plugins such as All in One SEO or Yoast SEO, you can simply improve your website. With the free WordPress.org theme store, you can access even more WooCommerce themes. You can quickly implement tools to increase conversions and significantly reclaim abandoned carts.
Pros
It's adaptable. WooCommerce's incredible versatility allows you to realize your eCommerce goals.
Customization options are endless. You can use code to build your store to your heart's content since it's an open-source platform.
Excellent price/quality ratio. It's easy to set up, and the extensions are often inexpensive, allowing you to expand your store's functionality at a bit of cost.
Cons
It is not beginner-friendly. Unlike Shopify, you'll struggle to create the web store you desire unless you have any coding skills.
It has additional expenses. While WooCommerce is free to download and install, some extensions may require payment for your site to function at its full potential.
Weebly is an excellent choice for anyone looking for simplicity right out of the gate. Weebly is a simple-to-use website builder that provides easy access to everything from Google Analytics to social media plugins and payment processing tools. In addition, Weebly is one of the more affordable solutions on the market today.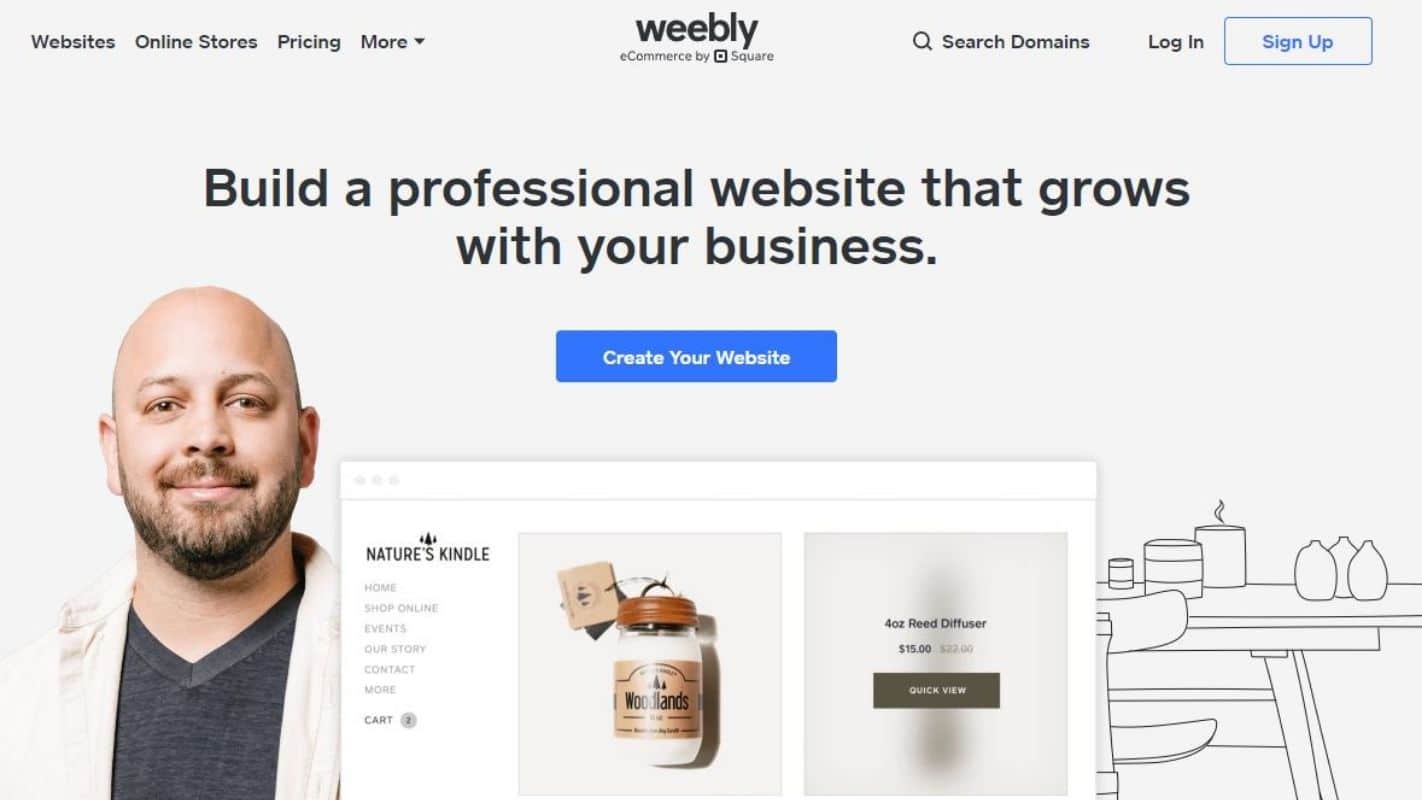 It is an integrated eCommerce platform ideal for any business that needs assistance getting started online. If you're looking for an essential service that will help you get started quickly, Weebly might be what you're looking for. There's also a free trial to let you try out your Shopify alternative before investing.
Pros
There are numerous responsive theme alternatives to select from.
Excellent for beginners and one of the essential tools available.
There is a large number of apps to choose from.
Areas for team collaboration and membership
Pricing is reasonable, and there is a free tier.
Cons
Not the best options for checkout
Unsuitable for foreign retailers
Some regions have limited customizing options.
SamCart has become a well-known shopping cart application for individuals who are not proficient in coding. You do not require technical support to set up an account and sell your stuff. The interface of SamCart is simple; it is not flashy or complex.
The design options of SamCart are significantly more complicated and varied than those of Shopify, which is not surprising given that this is specialized shopping cart software. However, while Shopify's shopping cart design is not as up-to-date as SamCart's, it is adequate for producing quick, high-converting checkout pages that you can customize.
SamCart costs $199 a month and includes all of the advanced features you'll need to grow your business. If you prefer more customized support, you can upgrade to the "Enterprise" option, including white-glove service. In addition, SamCart supports several payment gateways, including Stripe, PayPal, and Authorize.net.
Pros
It provides advanced statistical reports like Lifetime Value.
It provides a very user-friendly platform for selling digital or physical goods online.
SamCart provides sales funnel features such as order bumps and one-click up-sells that improve order value.
Coupon codes are simple to make.
It has an excellent Knowledgebase.
On the checkout page, SamCart supports cart abandonment.
A cart abandonment feature is available on the checkout page of SamCart.
It offers several payment options, including subscriptions, one-time payments, trials, and payment plans.
On the landing page, A/B split testing can be used.
It has a built-in Dunning System, and the checkout pages contain a Drag-Drop Editor.
Cons
It only accepts Stripe and PayPal.
The monthly price starts at $49 per month.
There are no built-in digital sales tax calculations.
The Affiliate system does not include tracking IDs that affiliates can utilize.
Zyro is a simple builder, and one of its strengths is its simplicity. A grid format will be accessible as a guide while editing your website in Zyro's drag-and-drop builder. In addition, it makes arranging different content elements extremely easy because they snap precisely into place as you move them.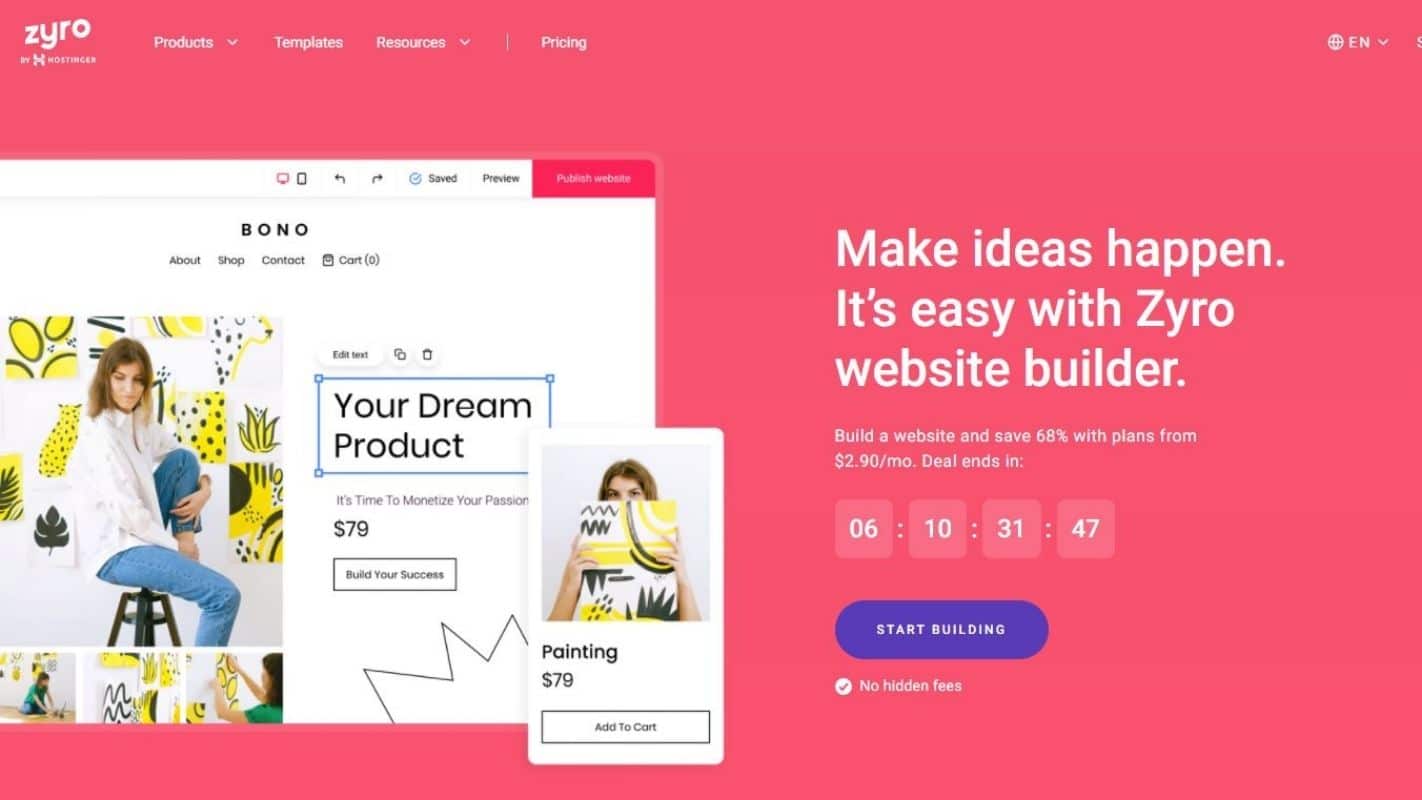 If you're thinking if you should develop a traditional website using Zyro or Shopify, you should always choose Zyro. Zyro is excellent for running "traditional" websites, whereas Shopify is not suited.
Pros
AI-powered branding tools. Allow Zyro to handle the creative legwork for you.
Free of charge commission. You are entitled to keep 100% of the revenue generated by your sales.
Simple template design. A grid system combined with a drag-and-drop builder results in a straightforward website construction process.
Cons
You won't be able to change templates once your site is live. Likewise, you won't be able to change the layout of your website once you've made a decision.
Information overload. It can be challenging to add helpful information while posting products.
Sellfy is another simple Shopify alternative for people looking for a solution that caters to makers and artists. Sellfy is a safe and straightforward platform best suited for people who want to primarily sell digital services and a few physical products.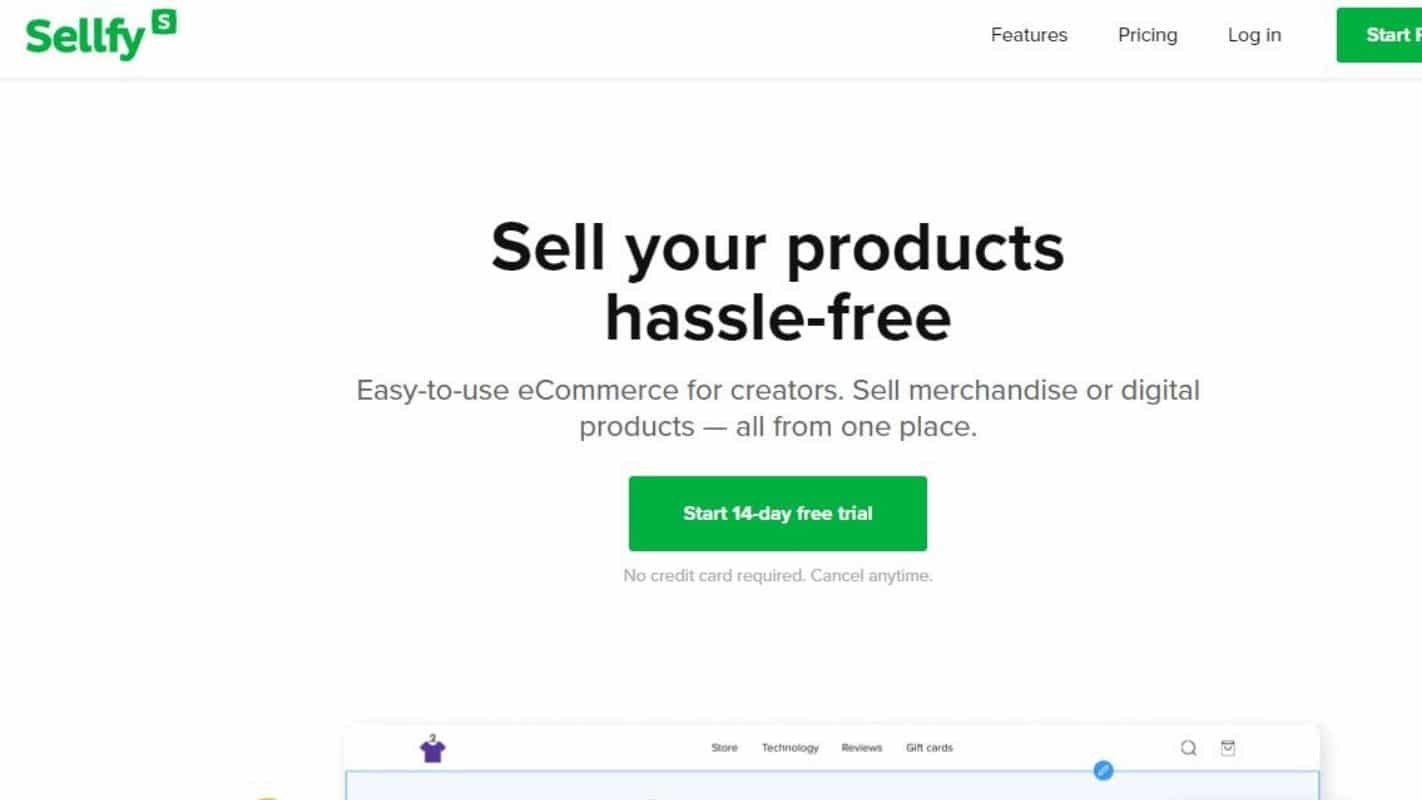 You may also use Sellfy to access a variety of automation and print-on-demand services without the need for add-ons. In addition, it is a highly beginner-friendly option thanks to step-by-step tutorials on everything from store setup to digital marketing. The beginning package costs $19 per month, only covers up to $10,000 in annual sales, and includes only the most basic features.
To use email marketing, you must subscribe to the business plan, which costs $39 a month and covers up to $50,000 in annual revenue. Third-party solutions begin at 2.9 percent and $0.3 per transaction.
Pros
Availability of marketing services
A smartphone app makes it simple to manage your store.
Consolidation of all physical and digital items
There are numerous product alternatives to pick from.
For beginners, it is straightforward to use.
Print-on-demand services are integrated within the store.
Security features for files
Multiple taxes and VAT tools are simple to use.
Cons
The free plan is limited.
Some restrictions on storefront templates
Branding is not removed until you upgrade to the $49 monthly package.
Magento outperforms Shopify in terms of SEO. It has a broader set of SEO features, such as SEO prompts and the option to change URLs. With Shopify, you'll need to look for and install applications to meet a large number of your SEO desires and requirements.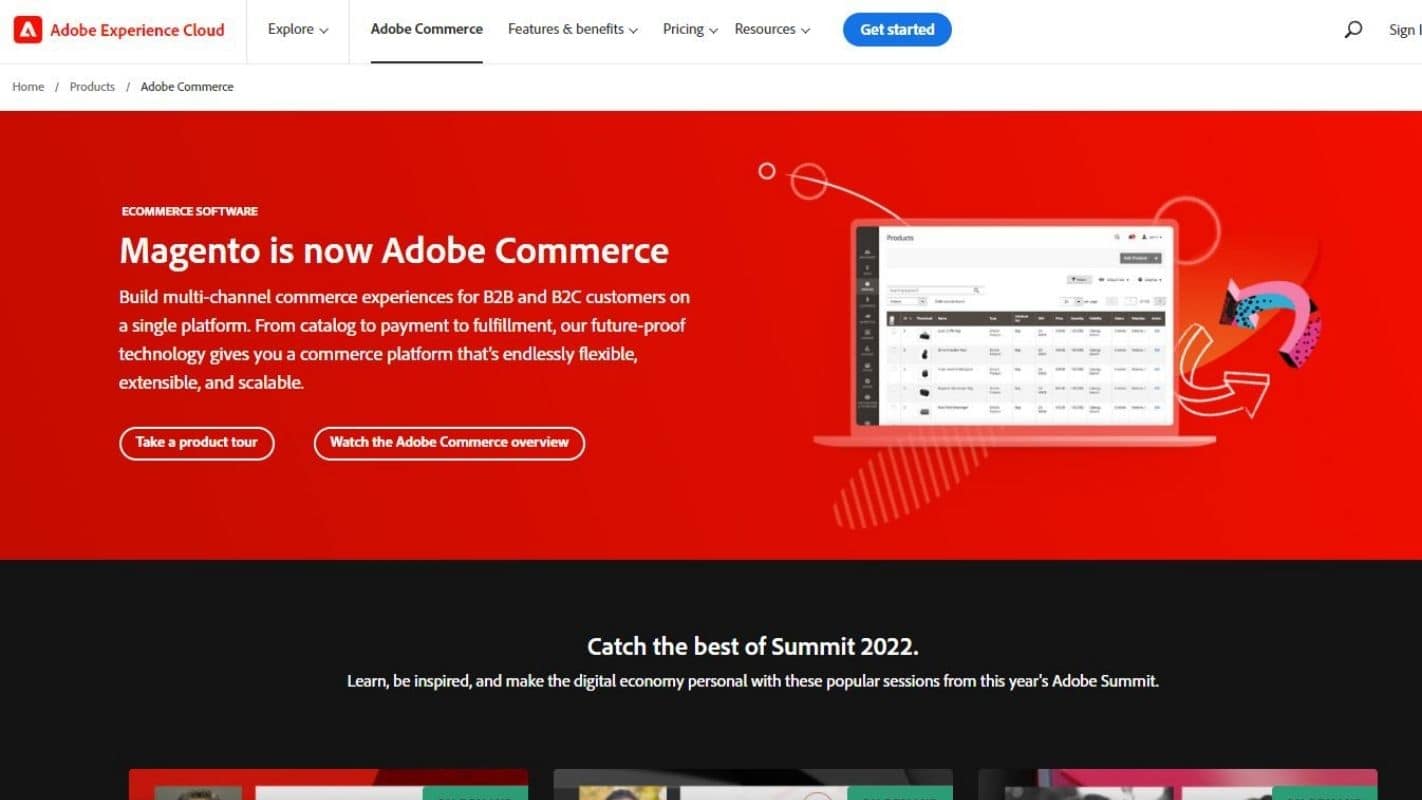 Magento is designed for skilled web developers; hence the quality of its user instructions is exceptionally excellent. You'll also have access to SiteGround's excellent customer service. On the other hand, Shopify has excellent customer service options but lacks the amount of experience that Magento and SiteGround provide.
Magento has a broader range of payment processors than Shopify. Shopify offers fewer payment gateway options. It charges transaction fees unless you use Shopify Payments, which can be pretty restrictive. The almost unlimited possibility to scale your eCommerce business makes Magento Shopify's biggest competitor.
Pros
Large user community – the Magento Forum gives a complete solution for almost anything.
Very versatile platform – there are no restrictions on how you can design your store as long as you know how to code
It is ideally suited to mid to large businesses – a complex platform appropriate for enterprises with in-house web development teams or the resources to hire a developer.
The biggest open-source competitor to Shopify
Cons
It is difficult to install – Unlike other open-source software, finding a hosting company that will support Magento is more complicated.
Unsuitable for newcomers – you'll need to know how to code. The software employs web developer language that isn't particularly user-friendly.
FAQ
Q: What is comparable to Shopify?
A: When starting a new online store, there are numerous usecases to consider, and each eCommerce platform has its own set of strengths and weaknesses. Pick one or two eCommerce solutions from this list and give them a shot.
Q: Are Square and Shopify competitors?
A: Square and Shopify are both hosted eCommerce solutions. So yes, Square is a direct competitor to Shopify.
Q: Who is Shopify's biggest competitor?
A: This is a difficult question. It all depends on what you want to accomplish. BigCommerce is the leader in terms of scalability. In terms of customization, every open-source solution is available. However, according to statistics and paper, Wix has the most users.
Q: Who are Shopify competitors?
A: Shopify has a lot of alternatives and competitors. Our list has a handpicket collection of 15 competitors.
Q: Is Shopify still profitable?
A: Absolutely yes. In the last 7 years, Shopify has grown by more than 400%. Additionally, Shopify employs 7000 people worldwide. Shopify has a lot of potential and manpower.
Wrap Up
Although Shopify is the most well-known eCommerce solution available, there are other Shopify alternatives to consider if you want to set up an online store. This article has discussed some of the best Shopify competitors and options, describing their strong and weak points.
Finally, the best eCommerce solution for you will be determined by your needs. Some customers will prefer a Shopify competitor, like Wix or Weebly, which provides a strong website builder with eCommerce capabilities. Remember that your business strategy and situation will determine the functionality you require. There is no "best" eCommerce system that works for everyone, so conduct your research and make an informed decision.
Happy Shopify comparing! And thanks for reading,
Zaid
Sources:
Share with your Friends: