13 Best Shopify Email Marketing Apps
Your sales page is finished, your product page is polished, and you've written some compelling content. However, before you begin driving traffic to your website, you must first set up an email marketing campaign. So you can keep in touch with your customers long after they've made their first purchase.
How To Send Emails To Shopify Customers?
There are many different email marketing services available that allow you to send emails to Shopify customers. It can be challenging to understand all of the potential benefits of each service if you're new to Shopify email marketing. So what is the best Shopify email marketing service for you and your business?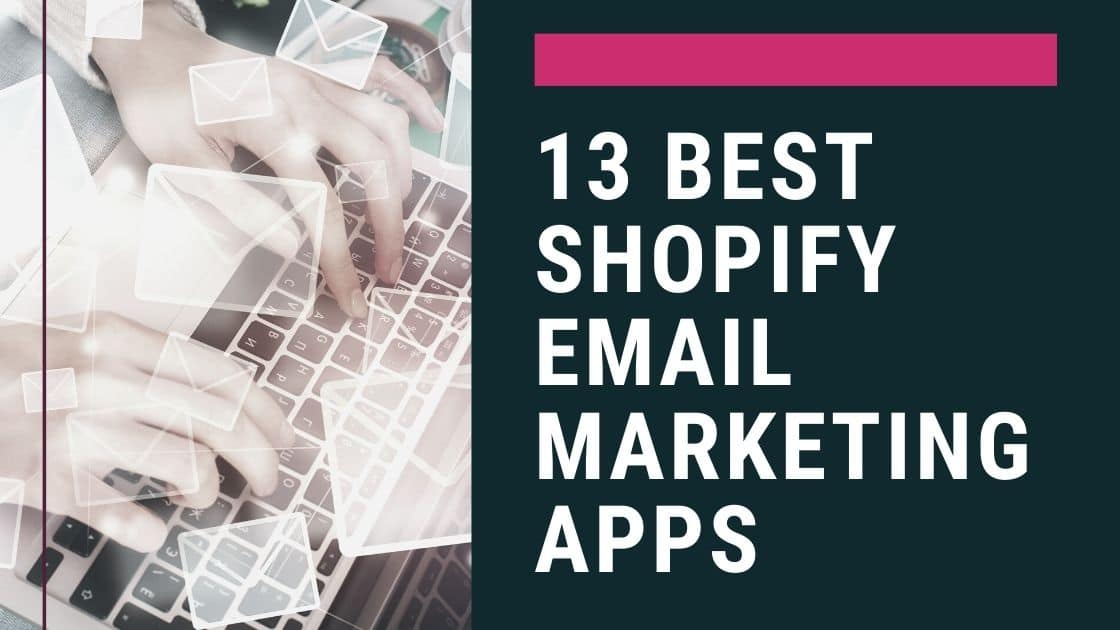 Don't worry; we'll go over the best Shopify email marketing apps in this article. After reading this detailed comparison of the best email marketing services, you know exactly which one to pick. Additionally, every one of them can be installed directly from the Shopify app store, so no complicated setup is required.
So, let us start with the best Shopify email marketing tools:
Shopify Email is made by Shopify. Everything happens inside your Shopify account, and you have access to all of the other Shopify email automation, such as abandoned cart campaigns, product retargeting, and more. Create a basic Shopify newsletter or more complex Shopify email campaigns, depending on your requirements.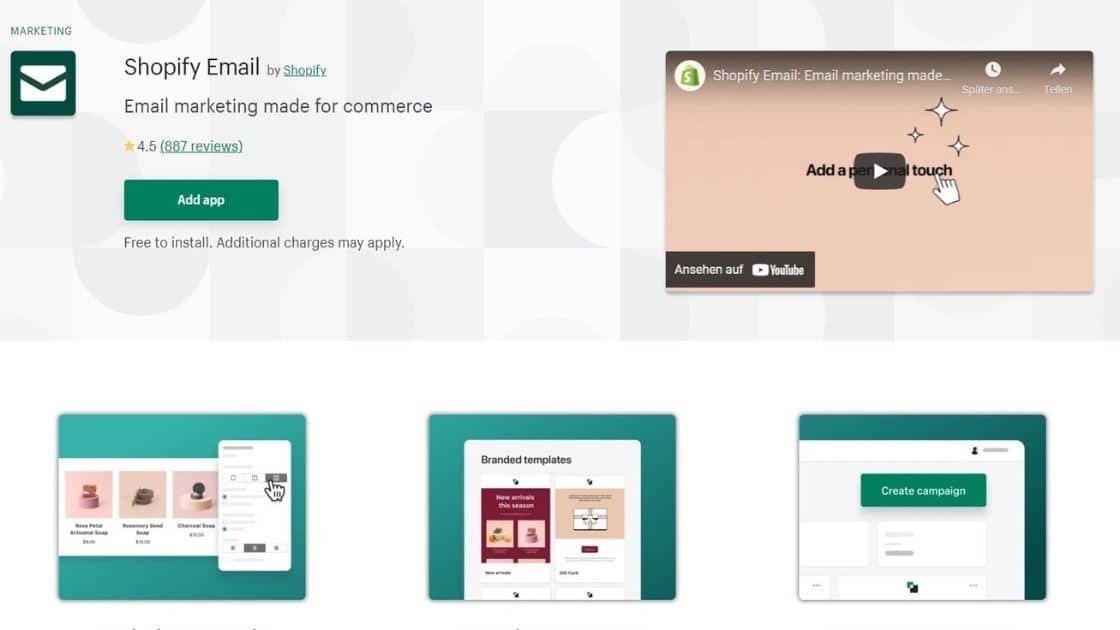 Because Shopify Email is provided by Shopify, it's simple to set up and integrate with other Shopify features. In addition, it can be used without any prior coding knowledge. You can choose from various pre-built Shopify email templates, including Black Friday templates, holiday shipping, upcoming events, and more.
To customize your email campaigns, this email marketing app provides a simple drag-and-drop builder. Change the colors, fonts, and other elements to make the email uniquely yours.
You can set up entire campaigns in Shopify Email that will automatically trigger when something happens. So if a customer abandons their cart, for example, set everything up to automatically send this customer an email. Or send customers an email as soon as a product is restocked.
Shopify Email Pricing
Shopify email is a free app that can be downloaded from the Shopify app store. Sending the first 2500 emails per month is free. Following that, Shopify will charge you $1 for every 1000 emails you send. As a result, this is a fantastic deal! Especially if you've only recently launched your new online store.
Shopify Email Features
Send branded emails
Huge collection of templates, ranging from abandoned cart emails, product restock, sales, holiday, events, and more
Customize your emails
Duplicate emails
Emails can be scheduled to be prepared and sent at a later time
Segment customers into groups to target them more specific
Full analytics and tracking functionality available
One of the more simple Shopify email marketing apps
Send Shopify order confirmation email
Shopify email newsletters
Omnisend, as a Shopify email marketing tool, is a compelling all-in-one e-commerce marketing solution for your Shopify store. Set up a simple Shopify newsletter or choose one from over 20 different email marketing automation available in this email marketing app. Everything is automated based on your own triggers, such as cart abandonment, customer behavior (new vs. returning customers), and other factors.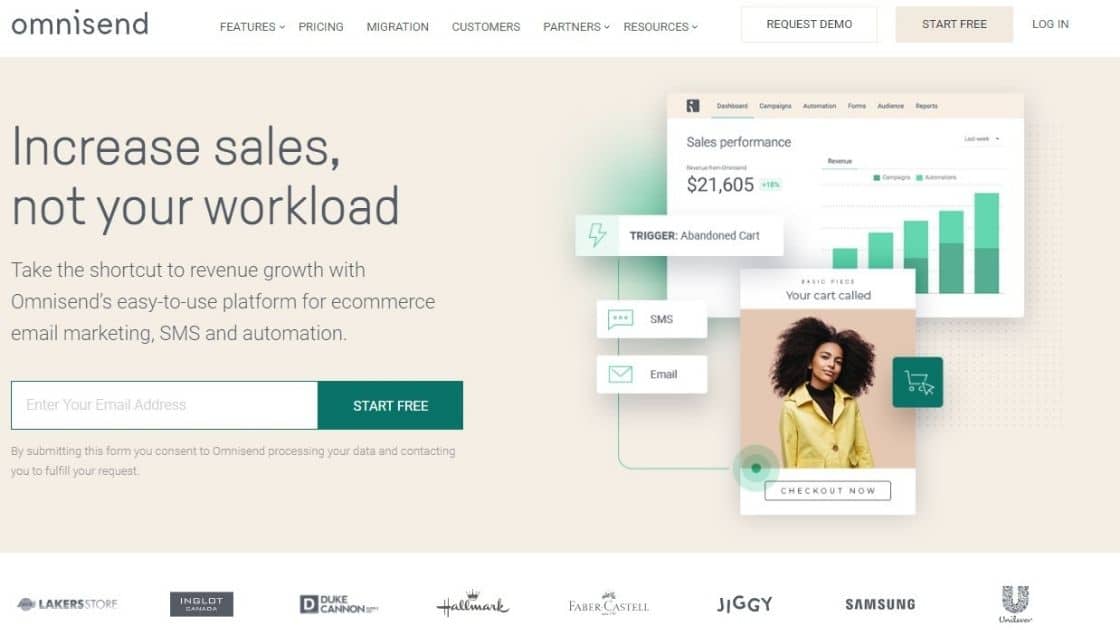 By including dynamic content in your campaign, Omnisend allows you to create highly personalized emails. For example, you can display specific information about the email recipient, such as their first name or previous purchase history. In addition, Omnisend provides many list segments that you can use in your campaign to target specific groups of customers in a more personalized way.
Omnisend provides SMS marketing services that include everything you require. For example, you can send order confirmations, recipient lists (to notify them of new products or discounts), and more via SMS. In addition, they have a number of pre-built SMS automation workflows that you can use right away.
Omnisend includes a complete automation builder that allows you to customize every aspect of your automation workflow. Set a time delay, decide what happens if the customer doesn't open the previous email, and more. Set up automation for almost anything you can think of and tweak them.
Omnisend Pricing
Omnisend offers a free plan that allows you to send unlimited emails to up to 250 people. Upgrade your plan to reach up to 500 customers for $16 per month as soon as you grow.
Omnisend Features
Pre-built automation and workflows, like Shopify abandoned cart email, product abandonment, welcome emails, customer feedback, product review, and more
Drag and drop builder to customize your templates
Pop-ups & sing up forms
A/B Testing to improve your Shopify email marketing campaigns
SMS and text marketing available with templates
Dynamic coupons
Complete statistics available, analyze everything that happens with your emails
Sendinblue is a German-based email marketing app used by some of the larger companies in the industry. Sendinblue has earned a spot among the best Shopify email marketing apps in the world.
Sendinblue is an email marketing platform that integrates with Shopify, allowing you to create beautiful emails directly from your store. To use Sendinblue, you must first create an account at their website and then link it to your Shopify account.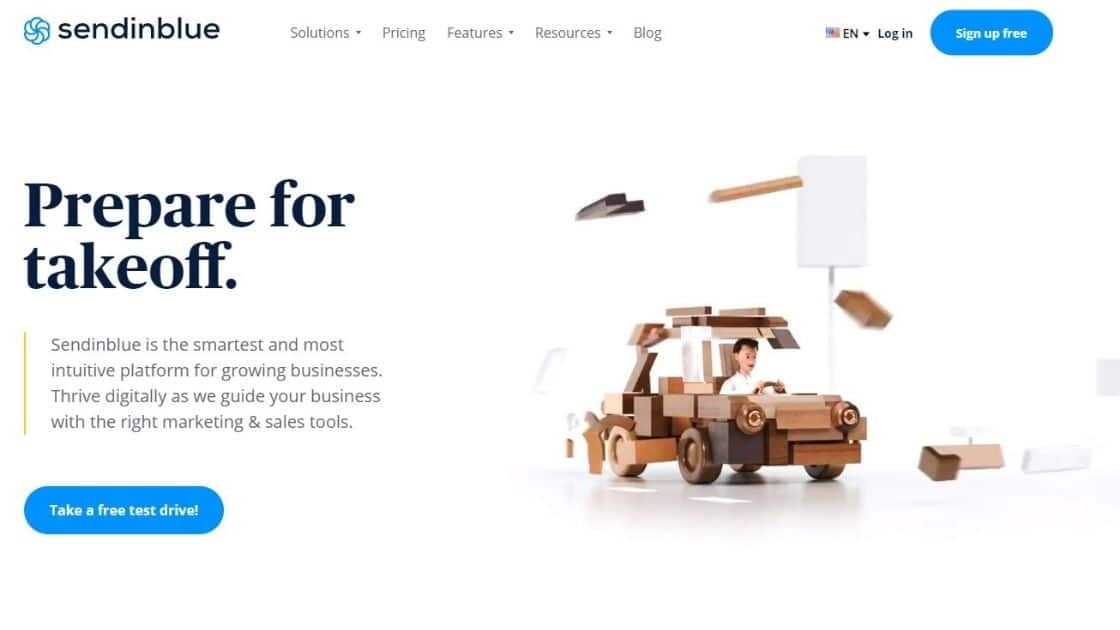 Sendinblue has a drag-and-drop newsletter editor that allows you to change the look of your email template without touching any code. In addition, the program provides real-time previews of everything you're working on, as well as customizable options for each template you create.
There's a simple dashboard with all the analytics after you've set up your email campaign. For example, see links that your customers click, as well as the number of times the templates have been opened or unsubscribed. This can be a valuable tool for improving your future email marketing campaigns.
For your emails, Sendinblue has built-in A/B testing. You can test different variations of your template to see which ones work best with your customer base. This allows you to create the most effective email possible.
Sendinblue Pricing
Sendinblue has a free plan that allows you to have an unlimited number of contacts. However, you are limited to sending 300 emails per day. After that, you must advance to the next tier level. The next plan costs $25 per month and allows you to send up to 10,000 emails per month.
Sendinblue Features
On-Site chat feature for your customers
SMS marketing and email marketing
Marketing automation with a lot of pre-built templates
Segment your customers and target your Shopify mailing list more specific
Signup form builder
Full statistics, open & click-through reports, real-time statistics, and send time optimization
A/B testing to improve your email marketing campaigns
GDPR compatible
ActiveCampaign is probably the most significant player in this article, with the best Shopify email marketing apps. ActiveCampaign is a full-featured email marketing platform with automation capabilities. You can easily create pre-made automation, maintain complete control over everything that happens with your customers, and target specific groups of people interested in various products.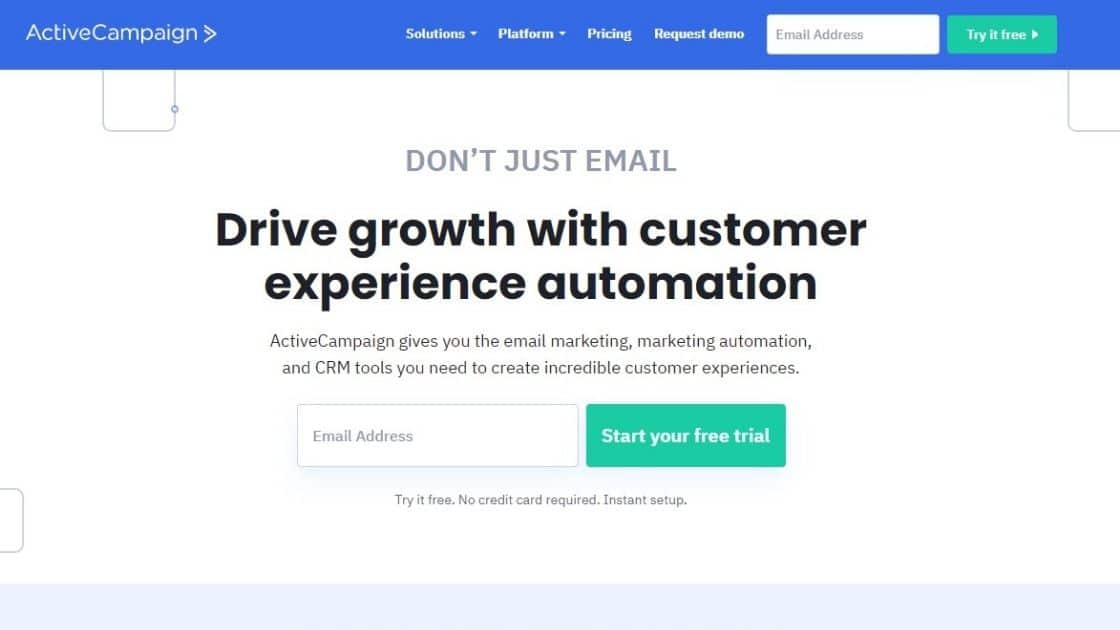 With this Shopify email marketing app, you can send a single email to all customers who subscribe to your newsletter using the segmentation features. Then, within the same campaign, you could create a separate automated workflow for other customers. For example, someone who recently joined your email list to inform them of special discounts.
ActiveCampaign emails are clean and professional. You can choose from an endless library of email templates or build your own using the drag-and-drop builder. ActiveCampaign also allows you to manage personalization. For example, you'll be able to insert your customer's name directly into the email body using their templating system.
This will help the email stand out in a sea of other emails by making it feel more personalized.
ActiveCampaign Pricing
There is no free version of ActiveCampaign. The free version allows you to store up to 500 contacts and costs $9 per month. ActiveCampaign is more expensive than other Shopify email marketing software. However, for this price, it provides a lot. It is also regarded as one of the best Shopify email marketing tools available.
ActiveCampaign Features
Change the look and feel of your emails with their built-in designer
Segment your customers based on specific criteria
Target your customers based on demographics & location
Use the drag-and-drop automation builder to create personalized email automation
A/B test your emails
Track clicks, conversions, unsubscribed, and spam reports
Send SMS marketing campaigns
GDPR compliant
Visual automation maps for a better workflow view
Constant Contact, a well-known platform among e-commerce businesses, has many features that can help you boost your sales. They have attractive email templates suitable for any product category that you can use for your Shopify newsletters or promotional emails.
Constant Contact has a design library from which you can choose if you don't want to create the design yourself.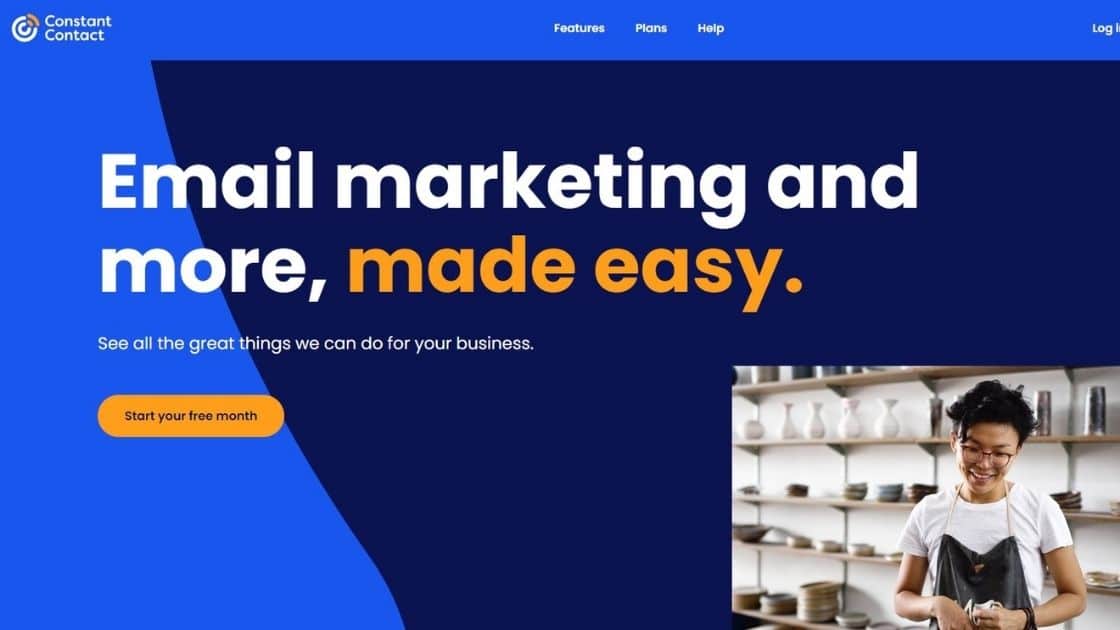 You have complete control over the content of your emails. This includes which buttons to display and when, as well as what product information is revealed. In addition, you can choose whether a customer sees a pop-up or an overlay on their screen the first time they visit your website or after a few visits.
These features are excellent for increasing conversion rates, but what about automation? Since Constant Contact has earned its place in the best Shopify email marketing apps, Constant Contact offers in-depth automation features.
Users of Shopify can create marketing campaigns that are triggered when someone performs a specific action. When someone abandons their cart or purchases a product, for example, you can send an automated message. You'll have a better chance of getting them back this way.
Constant Contact Pricing
Constant Contact is an email marketing service with so many features that there isn't enough room to list them all here. So instead, visit their website or sign up for a free 30-day trial. After the 30-day free trial, the first paid plan starts at $20 per month, which may increase as your mailing list grows.
Constant Contact Features
Welcome emails and list building tools
workflow automation when customers don't open the previous email
A/B split testing
List segmentation to further target specific groups
Detailed tracking and reporting
Customizable templates
Unlimited monthly emails
Image library to use for free for your marketing campaigns
One of the best Shopify email marketing services available
Mailerlite is a more basic email marketing app that has fewer features but is easier to use. Simply download it in the Shopify app store and create quick and attractive Shopify newsletters. In addition, Mailerlite allows you to send simple email automation to your customers, such as welcome emails or birthday greetings. It is, however, a straightforward way to create professional-looking emails for your products in a matter of minutes.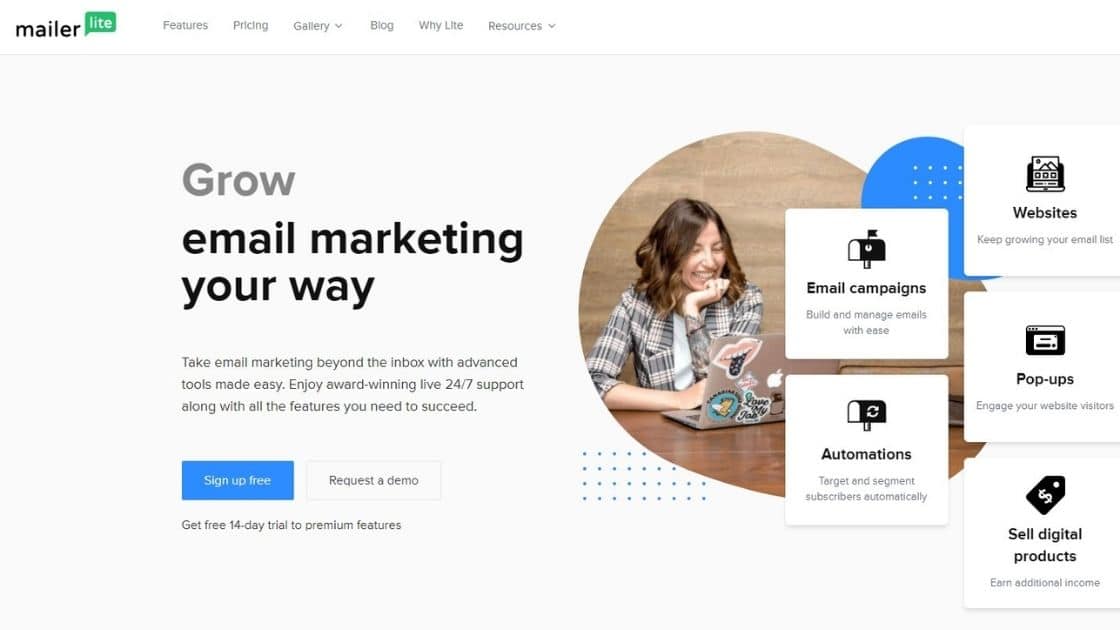 Your customers can read the emails on their Android or iOS devices because the design is responsive and mobile-friendly.
You can create an unlimited number of lists and use them to send emails to all of your customers or specific groups of customers. A/B testing, which is a great way to increase conversion rates, is also available through Mailerlite.
Mailerlite is an email marketing platform that includes link tracking features that allow you to see which websites your customers are visiting. So you can decide where to focus your marketing efforts the most in your email marketing campaigns.
Mailerlite Pricing
Mailerlite is entirely free to use for up to 1000 contacts and up to 12000 emails sent per month. That's a fantastic deal. After you've accumulated 1000 subscribers, you can upgrade to the next plan, which costs $15 per month and allows you to have 2500 customers in your database.
Mailerlite Features
Rich drag and drop builder and custom HTML editor
Pop-ups and embedded forms to collect email leads
Simple workflow automation like welcome emails and abandoned cart emails
personalize each email with the name
Edit your photos directly in Mailerlite, no need for third-party software to tweak your images
A/B Split testing
Deliver by time zone, deliver your email to the best time possible in every country
Belongs to the Shopify email marketing apps that are more basic
Klaviyo is a specific Shopify email marketing app. Klaviyo comes with all of the features you'll need to run successful email campaigns. Abandoned cart campaigns, triggered emails based on behavior or purchase history, automated list segmentation, and Facebook retargeting are all included in one platform.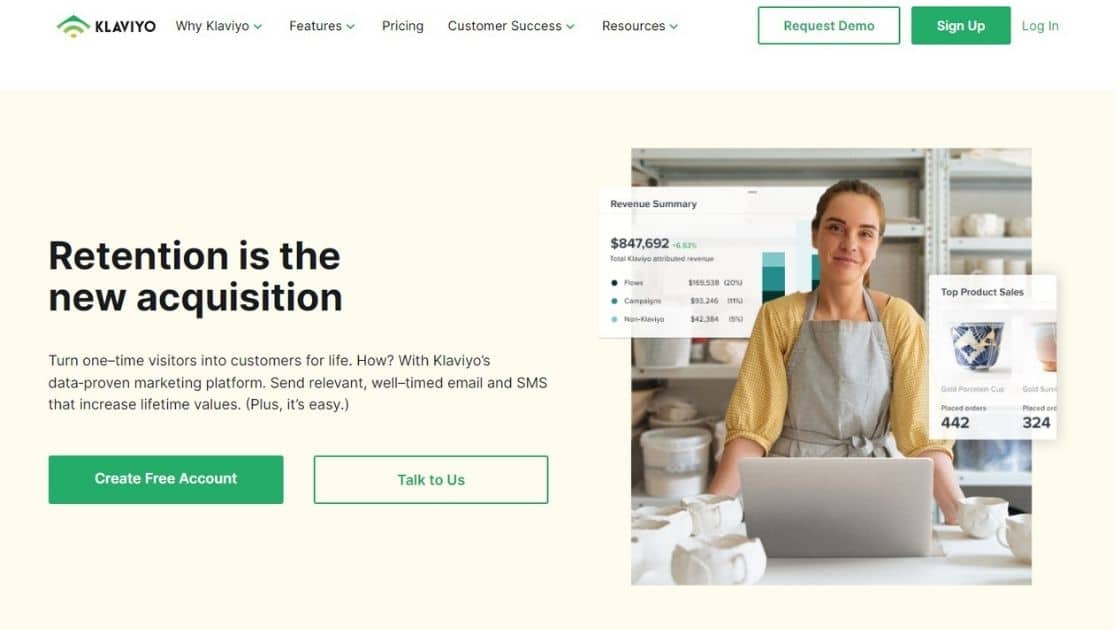 Klaviyo integrates seamlessly with Shopify, allowing you to manage all of your email campaigns from one place. It's simple to use and doesn't require any coding. In addition, Klaviyo has many pre-built email automation, such as sending welcome emails and sending back-in-stock notifications.
Klaviyo provides your customers with a full-featured SMS marketing service. You can send any type of message to your customers to inform or remind them about anything.
Klaviyo Pricing
Klaviyo is entirely free to use if your email list has less than 250 subscribers. Following that, you pay as your list grows, starting at $20 per month for 500 customers.
Klaviyo Features
Pre-built integrations for over 100 tools, like Facebook, ShipStation, and Smile
Free to use up to 250 contacts
Pre-built templates and automation
Segment your customers to do targeted email campaigns
SMS marketing tools
Send your customers personalized product recommendations
Dynamic coupons
Full sync of historical data
Personalize every detail in your template and campaign
Privy is a Shopify email marketing automation platform that collects customer email addresses and creates targeted Shopify mailing lists. To use Privy with Shopify, you must first create an account at their website and then link it to your Shopify account.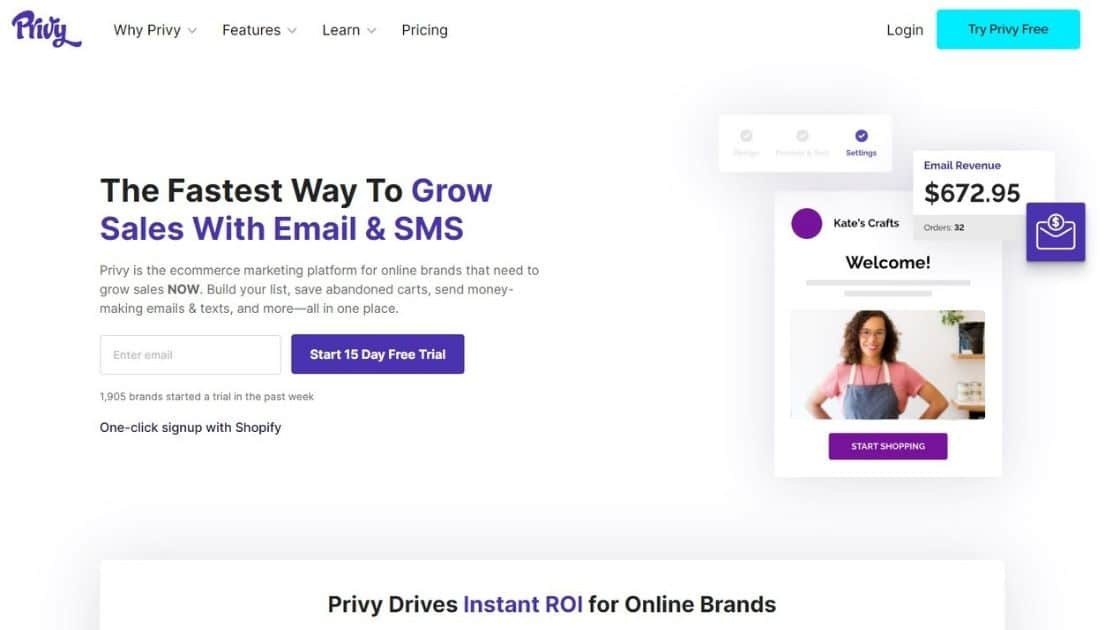 Privy also provides other pop-up forms that you can use on your website to collect customer information such as name, address, and phone number. This Shopify email marketing app will allow you to segment your customers based on any information they provided once you've collected all of their data. This will enable you to better target them with future advertising or marketing campaigns.
For example, privy's A/B testing software allows you to test different pop-ups and designs to see which ones work best with your audience. You can even tailor the pop-up to your website's or audience's needs.
Privy Pricing
Privy provides a free plan for up to 100 email subscribers. After that, you'll need to upgrade to a paid plan, which starts at $15 per month and allows you to keep your mailing list up to 250 contacts.
Privy Features
Over 100 professional-looking templates available for you
Create simple Shopify newsletter or complex Shopify automation
Massive variety of pop-ups and exit pop-ups
Abandoned cart campaigns
Automation flow to win back your customers
Text message marketing for your e-commerce store
Use your Shopify products directly in your email campaigns
Dynamic coupons
Full statistics and analytic tools available to grow your business
Free onboarding session after joining Privy
Seguno is a Shopify-integrated cloud-based email marketing automation platform. You can use all of Seguno's features without creating an account on their website. This Shopify email marketing platform is specifically built for Shopify.
You can use any of Seguno's pre-made email templates or create a custom template from scratch once you've installed it on your Shopify store. In addition, the editor includes a built-in WYSIWYG editor and allows you to fully customize emails for your customers.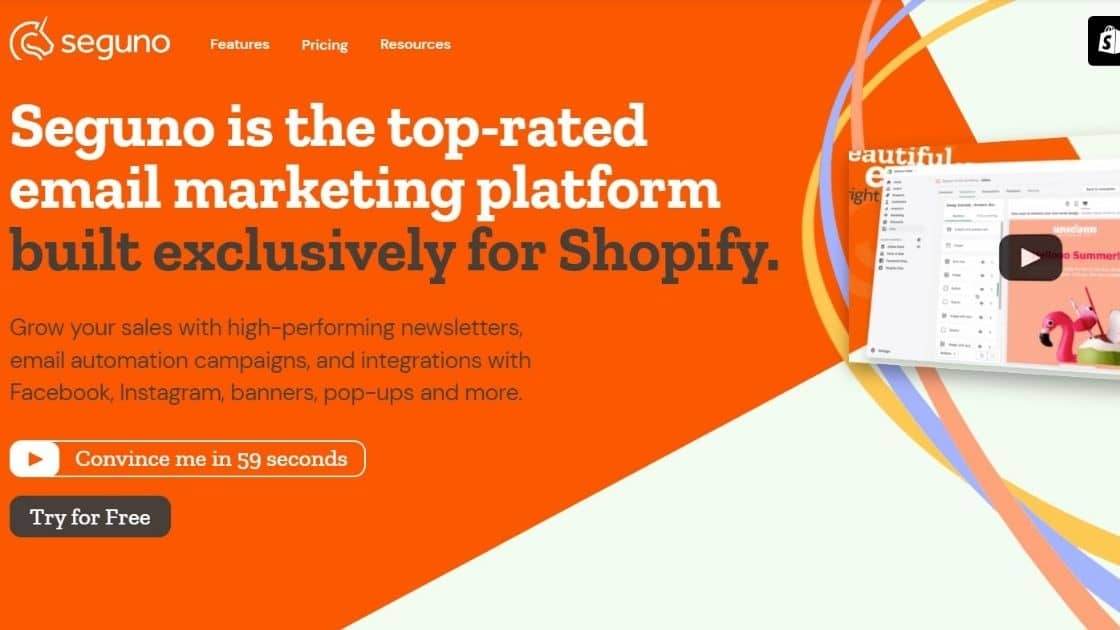 When sending an email to a customer, Seguno provides several options for improving the effectiveness of your message. You have complete control over the frequency, time intervals between emails, text content, and even when the email is delivered to your recipient.
This Shopify email marketing app keeps track of how many subscribers open your emails, click on the links in them, and which recipients delete them right away. This allows you to further improve your email campaigns.
Seguno Pricing
Seguno is a free email marketing service that lets you send up to 250 emails per month. After that, you'll need to upgrade to a paid plan, which starts at $10 per month and allows you to reach up to 1000 email subscribers.
Seguno Features
Exclusively built for Shopify; it's seamlessly integrated
Multi-email automation – send welcome emails, discount reminders, mails to repeated purchasers, when someone left a review, and much more
Huge library of templates to pick
Live countdown to special events or discounts
Never leave Shopify to send Shopify newsletters
Design with Canva inside Seguno
Lot of analytics data to use
Dynamic discount codes
Automizely is a Shopify-integrated all-in-one marketing automation platform and counts to the best Shopify email marketing apps. To fully utilize Automizely's features, you must first create an account on their website. Then download the email marketing app in the Shopify app store and link it to your Shopify store.
Automizely has attractive email templates to choose from, and if you want more control, you can also use custom HTML code. You have the option to change the text or the behavior of your pop-up forms.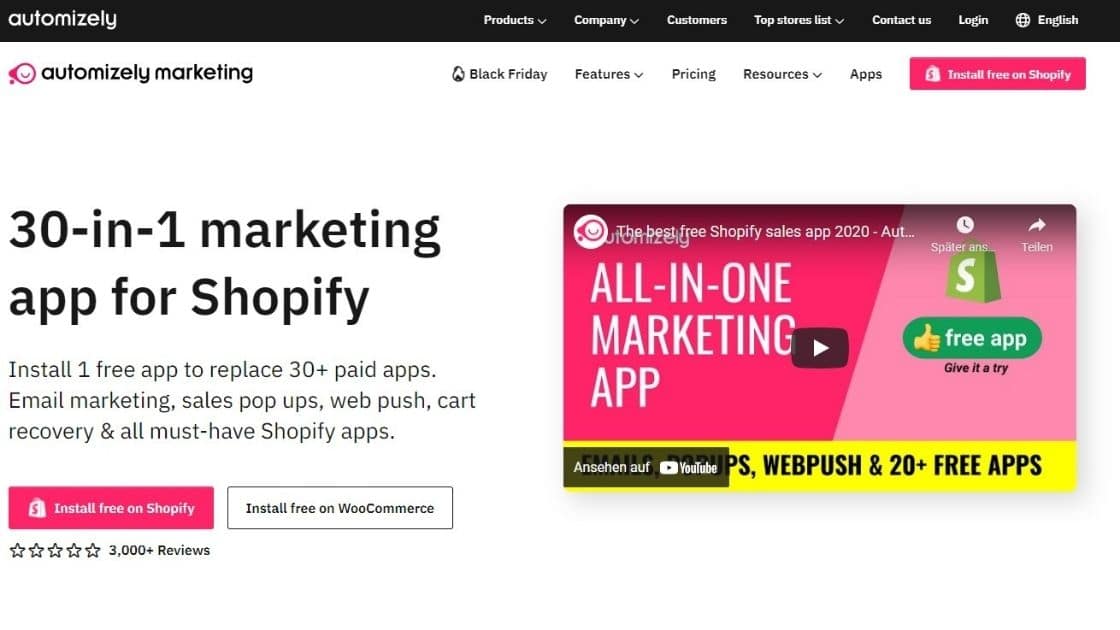 Automizely will provide you with a wealth of information when you send automated messages to your customers, such as which recipients opened the message and which ones immediately deleted it. They also provide real-time statistics and data on the effectiveness of your email marketing campaigns.
You can set up different triggers for each campaign, such as when someone abandons their cart, makes a purchase, or leaves a review. As a result, this email marketing service will detect your customers' behavior and take pre-determined actions when certain events occur.
A/B testing for your email marketing campaigns is one of the best features Automizely offers; this allows you to compare different versions and see which one performs better.
Automizely Pricing
For up to 300 contacts in your mailing list, Automizely is free to use. The first paid plan costs $11 per month and allows you to store up to 600 contacts. Without having to pay extra, Automizely will enable you to send an unlimited number of emails.
Automizely Features
Email Newsletter with easy drag and drop features
Pop-ups & forms
Email marketing automation, send automated workflow when your customer abandon the shopping cart, when some views a product but don't buy, or thank them after a purchase, and more
Choose from several pre-made templates for your campaigns
Statistics about the click-through rate, open rate, and more
Coupon management
Web push notifications
Countdown timers
Mailchimp is a Shopify email newsletter service that is widely used. Mailchimp is a one-stop-shop for both novices and experts. It's simple to use, inexpensive, and powerful. By dragging and dropping the content you want into the template of your choice, you can have your campaign ready in less than five minutes.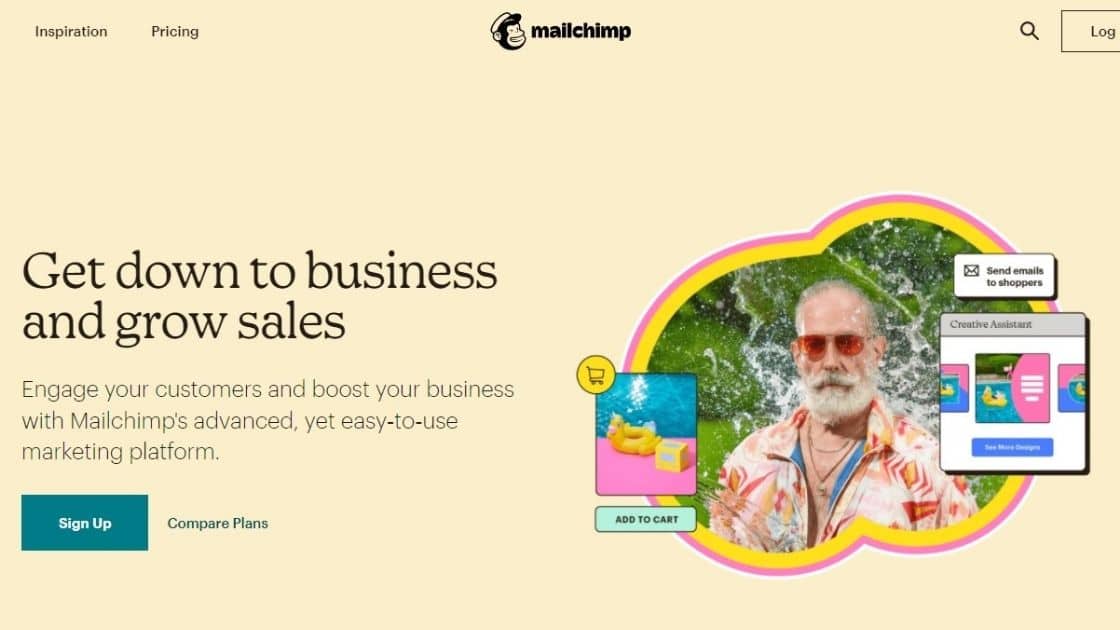 Mailchimp's support team is beneficial and will walk you through all of the steps necessary to have your newsletter ready in no time. The service also integrates with other platforms, saving you time by avoiding changing your workflow.
Mailchimp Pricing
The cost is determined by the number of subscribers you have and the number of campaigns you send out. It's free for up to 2000 contacts, but you can't get rid of the Mailchimp watermark. After you've accumulated 2000 contacts, you can upgrade to the Essential plan, which starts at $9 per month.
Mailchimp Features
Drag and drop editor for accessible design and content management
Mobile friendly, your subscribers can read your campaigns on any device
Unlimited email automation like welcome emails or abandoned cart emails
Connect to social media and automate your marketing campaigns even more (customizable)
Send and track to groups, create a personalized message for specific contacts inside your mailing list
Create beautiful newsletters within minutes with the drag and drop editor
A/B split testing to increase your conversion rate
Real-time analytics, track the results of each campaign for further improvement
Connect to more than 500+ apps with Mailchimp native integration or their API
Workflow automation, almost any process can be automated in Mailchimp with less time wasted
Unlimited members, unlimited emails sent per month
Basic plan is free forever to create email lists with up to 2,000 subscribers on your list
One of the most widely used Shopify email marketing apps
Avada is an excellent Shopify email marketing app for building email lists, newsletters, and marketing automation campaigns. If you're looking for a one-stop-shop to manage your entire marketing campaign, Avada is the way to go. The drag-and-drop interface makes creating your own Shopify newsletter or a single email with the content you want a breeze.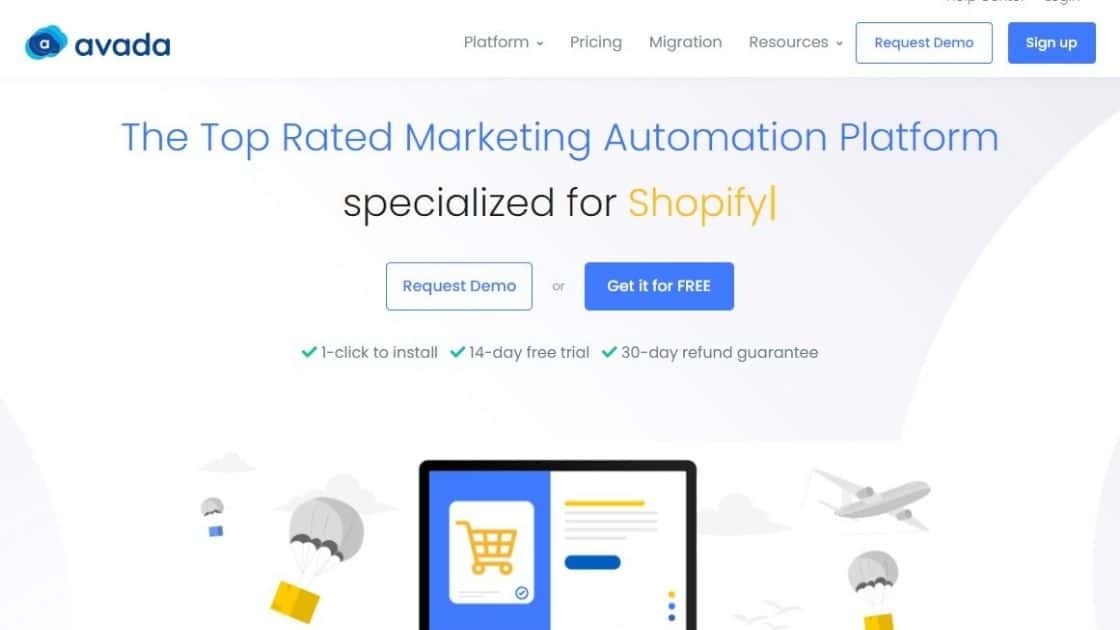 The service also comes with several tools for automating your marketing campaigns. For example, you can create abandoned cart emails, a welcome email, or simply send a newsletter at your desired frequency.
The customer service team is constructive and will walk you through each step of the process. You can also include a discount code in a personalized email for your fans or subscribers.
You can also use this Shopify email marketing service to create various types of templates for your campaign. You will discover the ideal template, which is perfectly compatible with the design you desire for your newsletter.
Avada Pricing
The starter plan is free, but you can upgrade to the pro version for a fee. 500 contacts and 15000 emails per month are included in the free version. The paid plan is the way to go once you've reached this limit. This plan starts at $9 per month.
You can also use Shopify text marketing campaigns with Avada. They charge you a flat fee of $0.015, regardless of how many SMS you send. They also provide workflow automation for the entire SMS marketing Shopify process.
Avada Features
Drag and drop editor for easy design and content management
Integrated full responsive, looks great on any device
A/B Split testing to constantly improve your open rate or conversion rate of your emails
Unlimited email automation like welcome messages or abandoned cart emails
Send unlimited newsletters with support for HTML, including video, images, and rich content
SMS marketing automation like sending personalized messages to your audience (customizable)
Relates to the more superficial Shopify email marketing apps
Flowio is an easy-to-use Shopify email marketing platform for creating, tracking and optimizing email marketing campaigns. It lets you build an email list for your company and provide them with marketing automation tools such as welcome emails and abandoned cart reminders.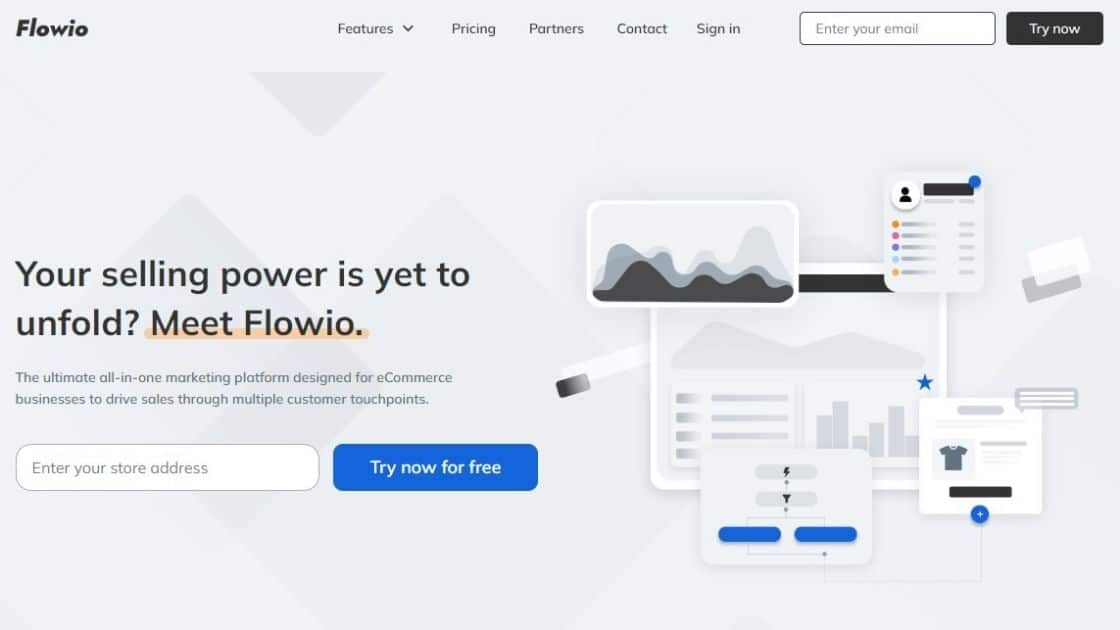 The drag-and-drop editor makes it simple to create your own email template or select from various options. In addition, there are several free templates available with multiple color schemes, allowing you to choose the best choice for your company.
You can use the same template as the email campaign with Flowio's SMS marketing automation. They also provide a simple signup form where your fans or subscribers can enter their name and email address.
With Flowio's email marketing service, you can connect any business. They provide handy data, particularly for companies that are new to the industry. They also have a real-time analytics dashboard that shows you everything you need to know about your campaign or list.
Flowio Pricing
The service provides a free plan that allows you to send up to 20000 emails per month; after that, you will be charged $1.50 for every 1000 additional emails.
Flowio Features
Drag & drop email builder that will help you create any template you want
Create automated email automation like welcome emails, abandoned cart reminder, and even birthday messages to your customers
20000 free monthly emails
Pay just $1,5 per 1000 extra unique monthly emails that you send
Shopify SMS marketing campaign by using the same template as your email marketing campaign
Connect any business with Flowio and start growing their email list in no time
Track everything about your own email marketing campaigns and see the results immediately
The Basics Of Building Your Email List
It's critical to understand what it takes to get started with email marketing for your store. Email marketing is based on a single premise; collecting your customers' contact information with an email marketing tool so you can contact them later. This has two significant implications: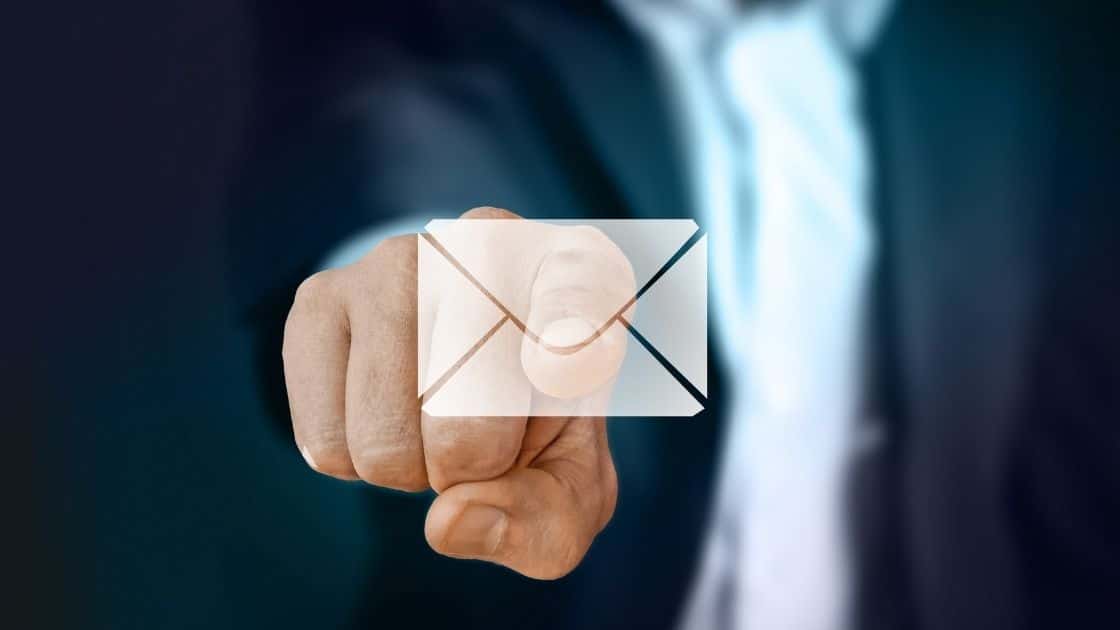 Before they receive marketing emails from you, your potential customers must opt-in. This means they've agreed to receive information from you about your store, products, and sales.
Bulk email is not the same as email marketing. For example, using an opt-in list to collect potential customers' contact information will not result in spam complaints or ISP blacklisting. However, you don't want to send promotional emails to people who haven't signed up for your list.
When customers buy something from you, they will almost certainly fill out a form with their name and email address. This data can be used to start compiling a list of potential customers who might be interested in your products.
It's critical how you approach someone after they've made a purchase; if they feel like they're being sold something before the transaction is complete, you'll lose them for good.
Give them something in exchange for their email address after they purchase. You'll be able to thank them for their business and start building a relationship. Emails can be used to recover abandoned carts or to notify customers about new promotions in your store.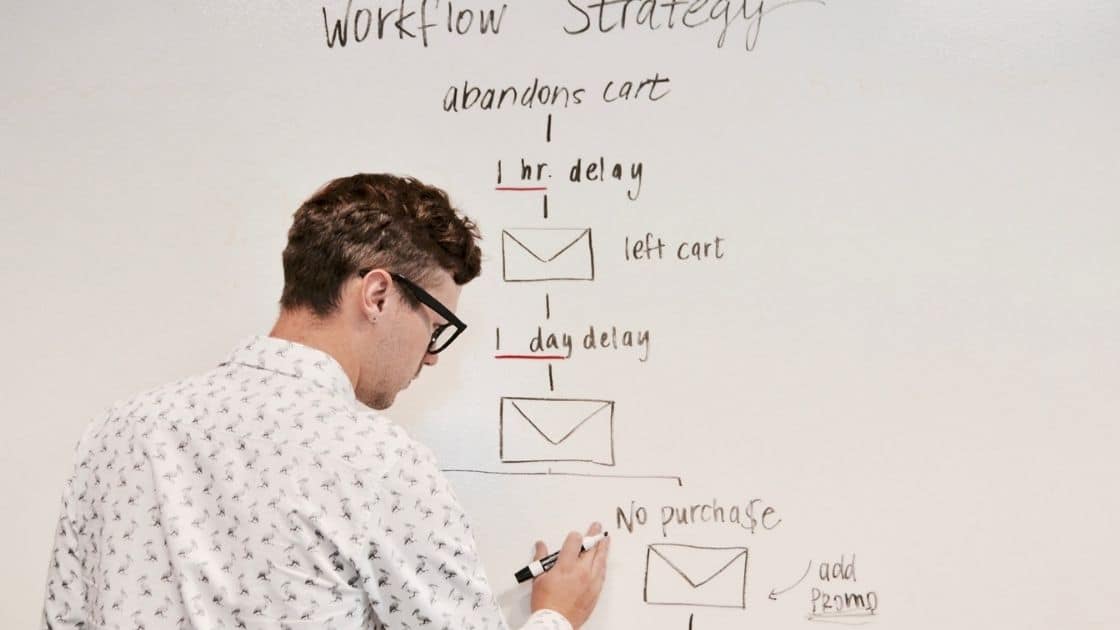 It's critical to manage the emails you send out, in addition to creating an email list. You'll want to schedule campaigns regularly and track their results, as well as ensure that you're following email design best practices.
You can use various tools; we've covered the best Shopify email marketing services in this article.
Conclusion
Email marketing is a fantastic opportunity that every company should pursue. In this guide, you'll learn about the best email marketing automation platforms and how to use them.
You must remember one thing: for your campaigns to be more effective, you must use your own creativity. The best way to learn everything there is to know about email marketing is to create a campaign, test it, and tweak it until you get the results you want.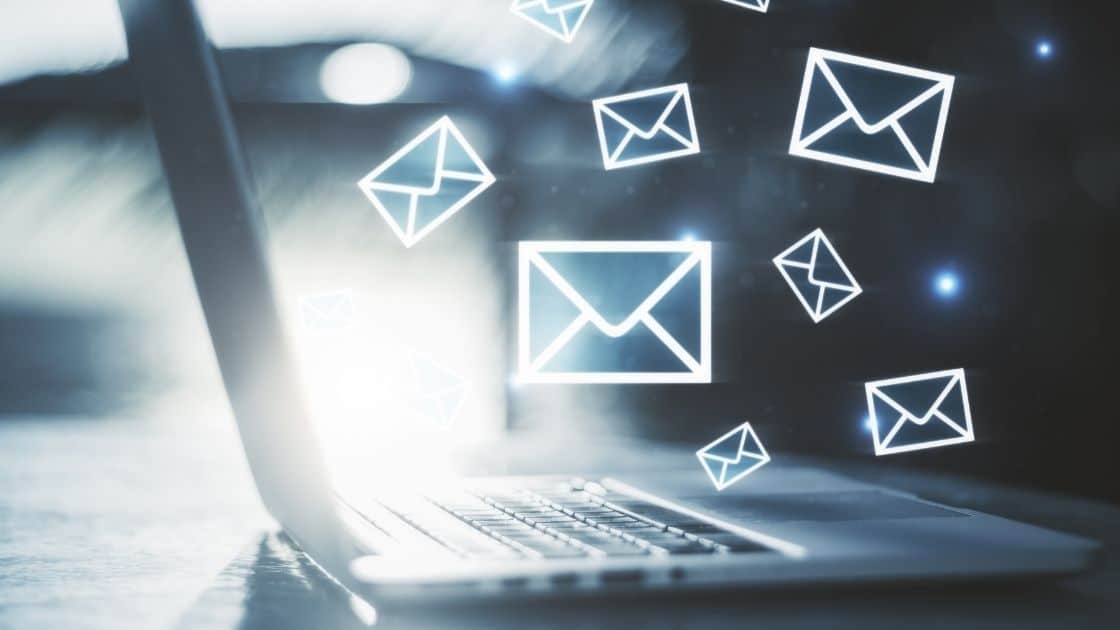 Don't forget to optimize your campaigns after you get the results to be more effective in the future. There are many different email automation tools available. Still, they all have the same goal: to assist you in creating an effective marketing campaign that will help your company grow.
So don't waste any more time and give one of the services listed in this article a shot. They all have something to offer and I'm confident you'll make the right choice.
Have fun sending Shopify emails! Hear from you soon,
Zaid
Share with your Friends: