8 Best Shopify Image Resizer Apps In 2022
Your Shopify store is more than just a store where you can sell products. It's also the face of your company, so it needs to look good. Images are one of the factors that can make or break a website. We cover the best Shopify image resizer apps in this article.
Good images enhance everything, whereas low-quality photos detract from a well-designed website. However, suppose you're selling products online. In that case, you're likely to be short on high-resolution product photos. Therefore, you need to optimize or change the image's aspect ratio before uploading them.
Fortunately for us, we can use various product image resize apps to optimize images and reduce the image size. So we won't have to spend hours on this task when we don't usually have the time, but we still want our online store to look great!
Does Shopify Automatically Resize Images?
No, Shopify does not automatically resize the aspect ratio of your image. But on the other hand, resizing photos takes up 27% of the total time spent on average browsing an e-commerce site, making it a critical task to complete. Fortunately, there are multiple Shopify product image resize apps available to assist you in automating this process and ensuring that your product photos look their best.
Why Should I Resize Photos In My Store?
Before uploading product pictures to your Shopify store, you should resize them for various reasons. Here are a few examples: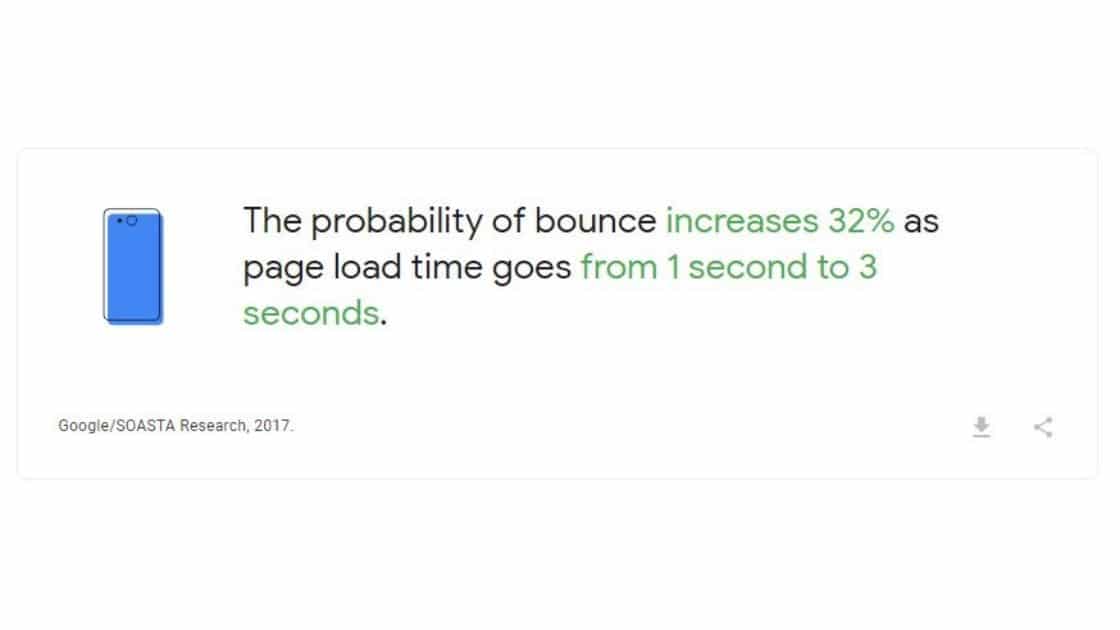 1. Page load times: Page load times are more important than you might think in e-commerce stores. According to a recent survey conducted by Google and Morae, 47% of consumers expect a website to load in under 2 seconds, with 40% abandoning the purchasing process if pages take longer than 3 seconds to load.
As a result, if your product image sizes are too large or unclear, the page will load slower, and you may lose sales.
2. Different device sizes: We've all experienced the disappointment of purchasing something that does not meet our expectations once it arrives. Because different screen resolutions can cause unexpected changes in image quality on other devices or display resolutions. It will help optimize the image's aspect ratio on your pictures before uploading them to your store.
3. More design control: If you have a specific design in mind for your Shopify store, you'll want to make sure everything fits perfectly. You can always have more control over what appears on your site and where it's positioned by resizing images ahead of time using an online photo resizer tool or Photoshop, rather than going back into the image editor every time.
4. Improve your SEO: Your online store's images are often the first thing people see when deciding whether to stay or leave, so make sure they look good! In addition, the quality of your site's content can be improved by adequately resized photos, which is a ranking signal that search engines look for.
5. Increase conversions: Visitors want to be confident in their purchases, so if they can't see what they're buying from a photo on your page, they're likely to leave without making one. A properly adjusted image aspect ratio can increase sales by encouraging visitors who might otherwise be confused to purchase your products instead.
Now that we know why we should resize images in our Shopify store let's look at the various tools we can use. Consider using a Shopify image resizer tool to speed up the process of resizing images for your Shopify store. Here are some of the best Shopify product image resizer apps:
The Best Shopify Image Resizer
TinyIMG is a Shopify resize app and optimizer that is available for free. After installing the plugin, it integrates directly with your Shopify store, allowing you to quickly add image optimization to any of your sales channels. It has some image editor features as well.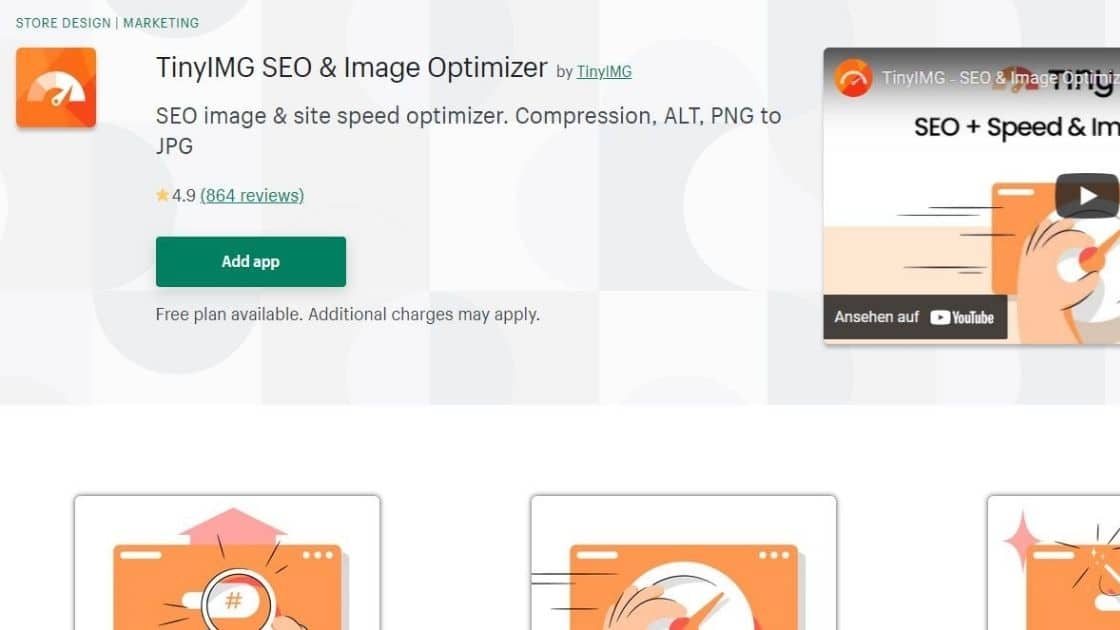 TinyIMG automatically resizes and compresses original images when they're uploaded. So, it allows you to reduce your image file size but keeps the same aspect ratio of all the photos. Additionally, you can optimize your SEO metadata with TinyIMG. This is crucial for search engines like Google.
TinyIMG is free to use for up to 50 images per month, so this is quite handy if you have just started out. However, if you need more than 50 images resized and compressed per month, TinyIMG offers affordable prices for all their plans.
Features:
Compresses your image size without losing image quality
Resizes your original photo
Edit Alt tags (Alt texts) and filenames
Fix technical SEO & speed issues
Optimize search engine optimization (SEO) metadata
JSON LD
Broken link redirect
Automatic SEO booster
Bulk edit images
Automatic PageFly, LayoutHub images optimization (manual for Shogun, GemPages, icons, badges, pics)
Best Shopify Image Resizer
Another great Shopify product image resize app is Photo Resize by Pixc. With this helpful photo resize app, you can compress images in bulk and save time. Photo Resize resizes all the images you upload to your Shopify store automatically. After you've uploaded your pictures, there's nothing else you need to do. All of the hard work is done for you by Photo Resize.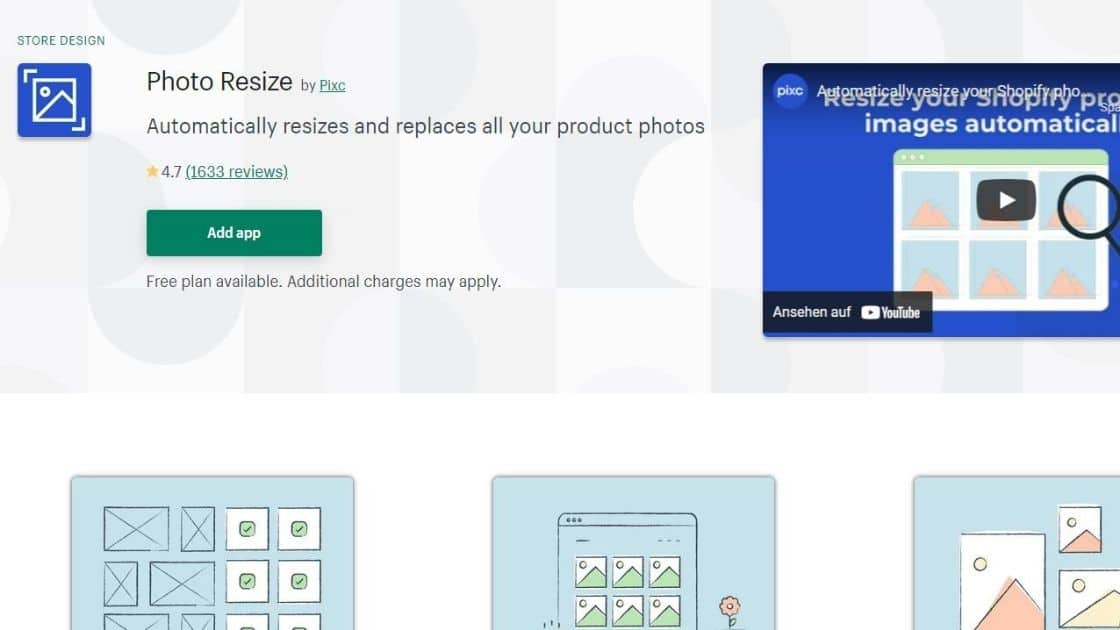 You can control your image's size using the rules you create. For example, if you want to upload all product images with a width of 600 pixels and a height of 400 pixels, you can use the image sizing settings to do so. This ensures you have the perfect size for all your images. Additionally, you have faster loading times with Pixc in no time.
Photo Resize by Pixc is free for up to 50 images after installing it in your Shopify store. After that, the first monthly plan starts from $4.
Features:
Automate the resize process of all your original images
Runs in the background and compresses the image size as you upload them without losing image quality
Clean and fast user interface
Choose a background color of the images you resize and compress
Free and affordable plans
Best Shopify Image Resizer
Crush Pics is a Shopify image optimizer that works automatically. It's intended to help you save bandwidth by optimizing images before uploading them to your store. In other words, Crush Pics ensures that the aspect ratio of your images is appropriate for your store's theme.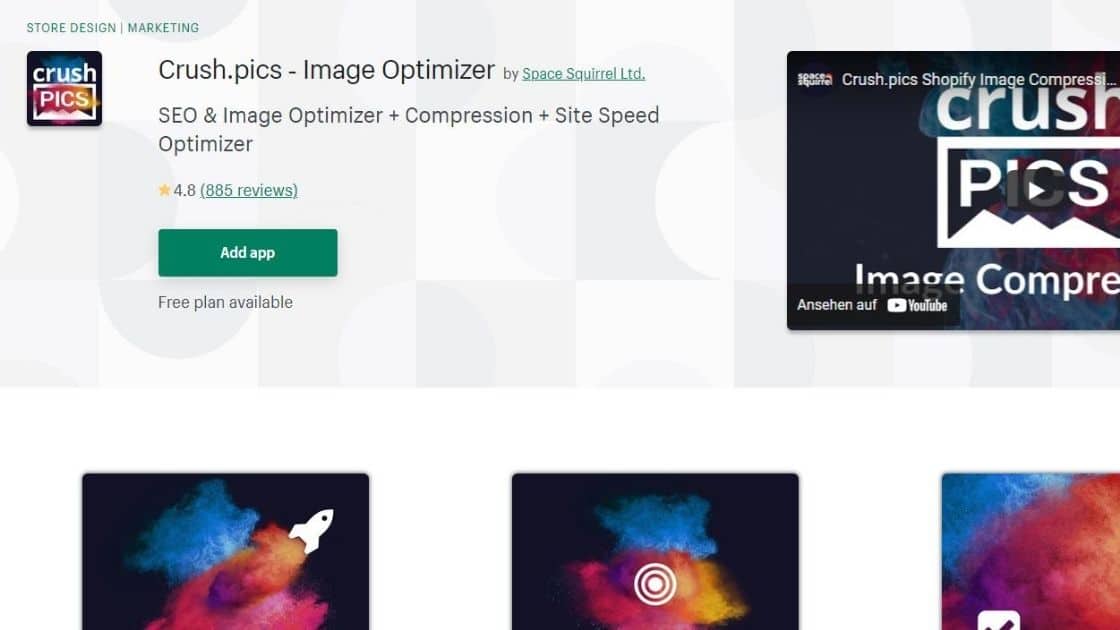 Crush Pics will optimize your images after uploading them from your computer or a third-party tool. It also works with any Shopify theme, so no changes are required. In addition, Crush Pics allows you to rename your SEO Alt tags for your images on the fly. These tags aid in increasing your visibility on Google's ranking system.
Crush Pics reduces the first 25MB of data for free. After that, you'll need to upgrade to a paid plan, which starts at $5 per month. You can compress up to 500MB per month with this plan. The next plan costs $10 per month and allows you to resize images up to 2GB in size. Finally, the most expensive plan, which costs $20, compresses up to 5GB of photos.
Features:
Choose the level of compression and optimization for your images
Fully automated: Crush Pics runs in the background while you upload images
SEO features: Rename ALT tags on the fly
Once this online image resizer has compressed your image, the original photo is saved too
Compresses product images, collection images, and any other digital images on your Shopify store
Best Shopify Image Resizer
Shopify store owners have access to the free Shopify image resizer. It's an online image resizer by Shopify. It allows you to upload a high-resolution image and convert it to a web-friendly version.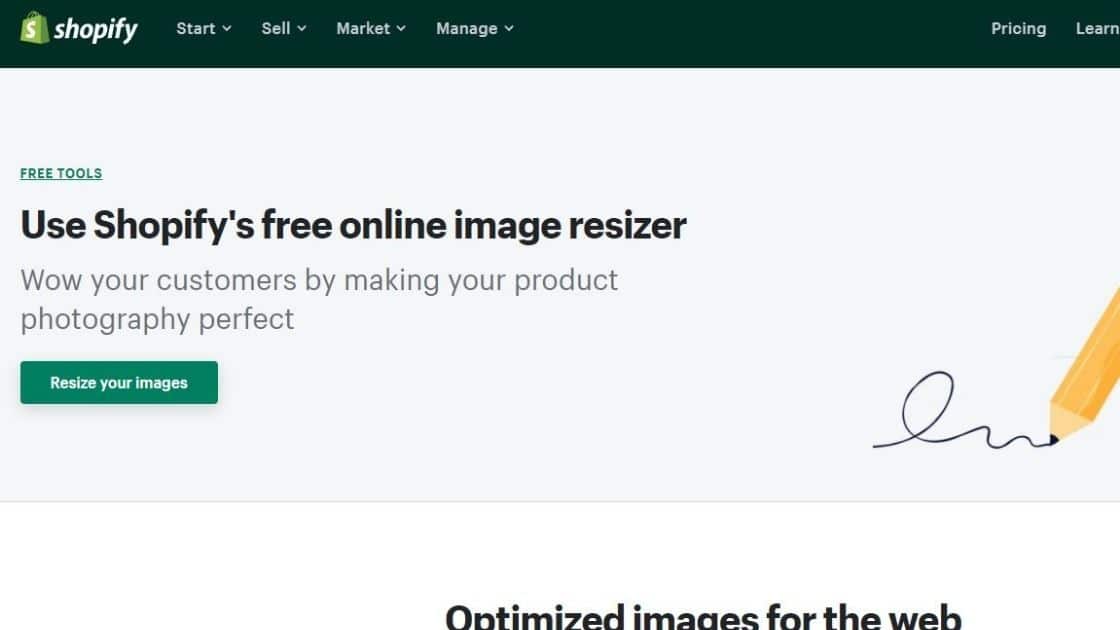 You can upload multiple images at once (up to six) and have them resized using Shopify's free resizer, which supports bulk uploads. If you're dealing with eCommerce products with multiple images or want to resize several images without using Photoshop, this is a great tool.
Remember that the Shopify Image Resizer does not automatically resize your images. Instead, you must upload your pictures to this free tool on your own, resize them, and then re-upload the images to your products or homepage.
Features:
Made by Shopify
Free Shopify image resizer
Only for most basic image compression and resizing
Does not automatically resize images
Bulk image resizer (up to 6)
PixPix is an image editor that you can use in your Shopify store. Pixpix has several built-in editing tools, including changing the image's color, lighting, and orientation. PixPix has a user interface that is both simple and lightweight. You can make changes quickly and easily using the built-in editing tools. You can also use their computer to upload images.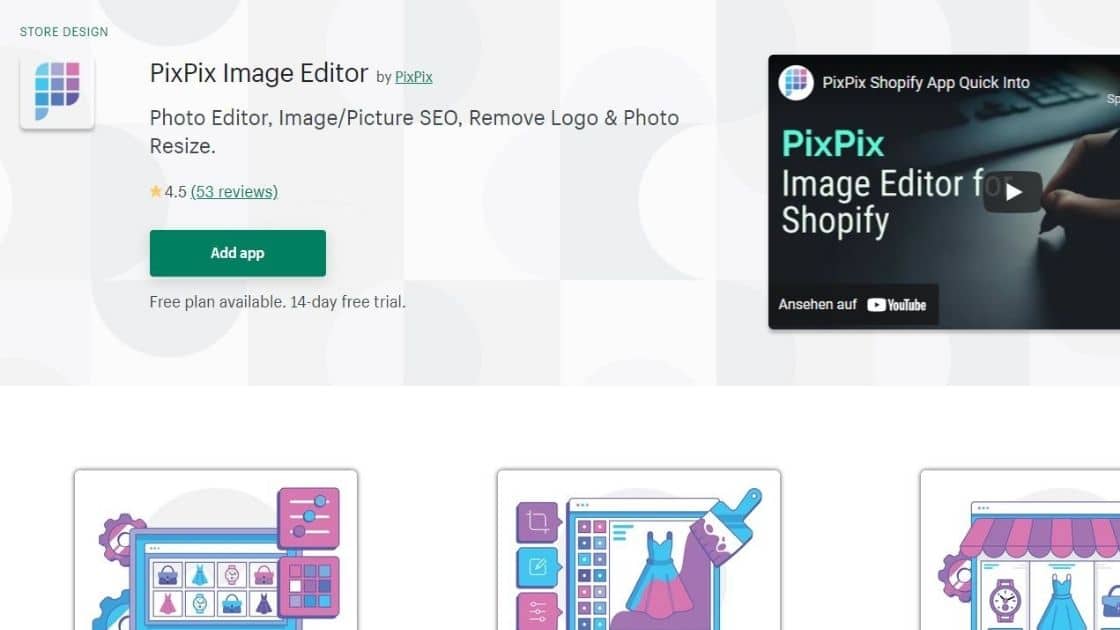 You can bulk image edit all your original images and compress and resize them simultaneously. As a result, you can save a lot of time and effort. PixPix is a free app available on the Shopify App Store that allows you to edit images indefinitely. 
PixPix offers a free forever plan with some restrictions. So, for example, you don't have access to the bulk image optimization feature. However, with only $10 per month, you have access to this handy feature and no limitation on how many images you resize in Shopify.
Features:
Shopify image resizer tool and a toolbox to edit your images
Free forever plan
Bulk edit images
Edit images on your blogs, pages, and collections fast and easy
Affordable pricing plan
Choose image orientation
Change image color and lightning of your product photos
Bulk Image Edit – Image SEO is a highly rated Shopify product image resizing app. With over 2000 reviews and an overall rating of 4.8, this is one of the best-rated online image compressors for Shopify. This product image resizer is made by Hextom and offers a lot. 
So you can, for example, bulk edit images, change the ALT text, and other necessary search engine optimization metadata. In addition, you can compress and resize all your original photos on the fly or add a watermark to protect your images in your Shopify store.
All your original photos are stored for up to 180 days. So if something goes wrong, you have access to the original images for this period.
Try this excellent Shopify photo resizer app for free with 50 images per month. If you need more, go with a paid plan. However, the price is slightly higher than other Shopify image resizers in this list, but it is definitely worth it.
Features:
Best Shopify image resize app
Bulk image optimization
Edit ALT tags and other important SEO data
Add a watermark to protect your images
Original photos are stored for up to 180 days
Resize, crop, frame, or trim your product images
SEO Image Optimizer & Resizer is a product image resize app to optimize your product images for SEO to get higher conversion rates. It comes with three powerful tools, eliminating the need to use multiple apps for image editing, resizing, and compression.
Photo resizer and image compressor
Image alt text optimizer
SEO Image Optimizer & Resizer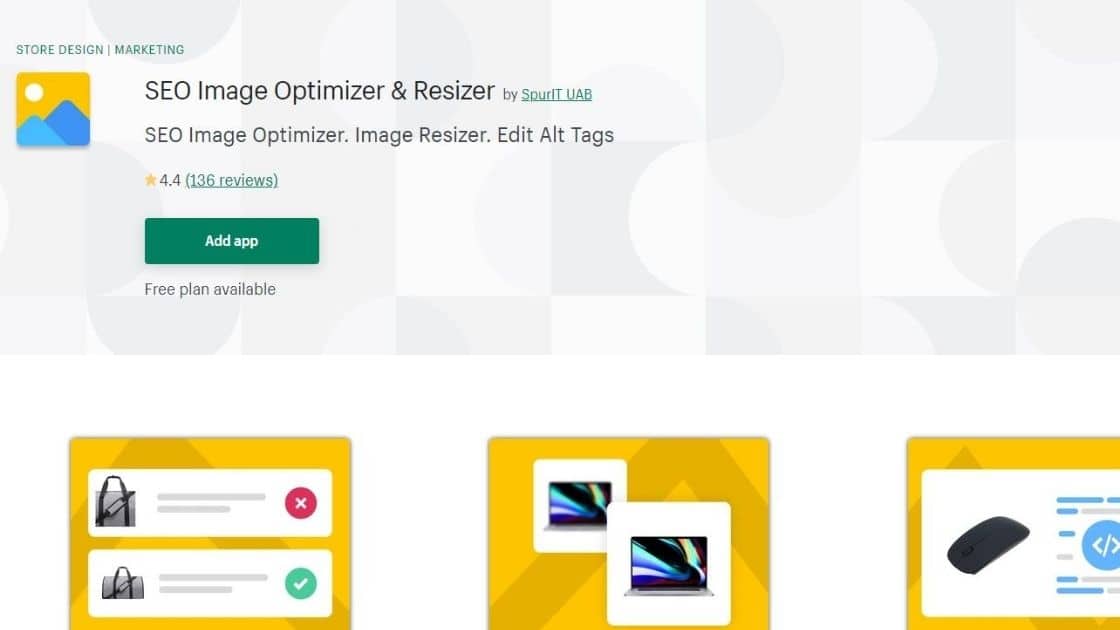 You can use the image optimizer to ensure that all of your product images are resized and optimized for SEO, social media, and conversion optimization. The app also allows you to edit alt tags on your photos, which can help you rank higher in Google's organic search results by giving Google a better idea of what's in each image when they crawl it.
Features:
Bulk image resizer
Compare results of optimization with a preview option
Automatic photo editor for new images
Add custom image alt tags for any products
Restore optimized images to original
No quality loss when you compress images or edit photos
Rename images right before optimization
The last on our list is an entirely free Shopify image resizer. They launched in November 2021 and are pretty new in the market. But the reviews for this photo resizer speak for themselves. A whopping 4.9 out of the 5-star review.
Image Bulk Resize & Optimize is developed by ValueFly, and this image optimizer offers a lot. So, there is, of course, the bulk image editing feature. In addition, every change you make has a preview function, so you never miss when something goes wrong.
You can add a watermark or even stickers to your images. It's a Shopify image resizer and compresses and a small toolbox for image editing. You can change your pictures with a real-time preview and make changes on the fly.
Features:
Free Forever, no paid plan
Bulk edit images in a real-time preview
Rename your picture on the fly
Resizes and compresses your product images
Conclusion
These tools simplify optimizing your product images, blog images, or collection images. Change the aspect ratio, resize, compress, and edit photos so that they're optimized for search engine indexing and conversions. Try out a few of these product image resizer apps to see which one best suits your store's requirements.
So, happy Shopify image resizing! And thanks for reading,
Zaid
Sources:
Share with your Friends: