11 Best Shopify Invoice Apps That Make Your Life Easier
When you're starting a business, you inevitably need to purchase and sell products to fulfill your customers' wishes. However, this also comes with another foreseeable dilemma: invoicing and tracking payments.
Thankfully, the world of e-commerce has created invoice apps that can take the pain out of these burdensome tasks. But with over 150 apps to choose from, finding the best Shopify invoice app can sometimes be challenging. Here are the top eleven Shopify apps to try.
Best Shopify PDF Invoice Apps
Sufio is a free app that lets you create and design invoices for your business. You can have a branded invoice with your logo and colors that makes an impression on your customers. This app is one of the top-rated Shopify apps, with over 3,000 app reviews and 4.8 stars out of 5.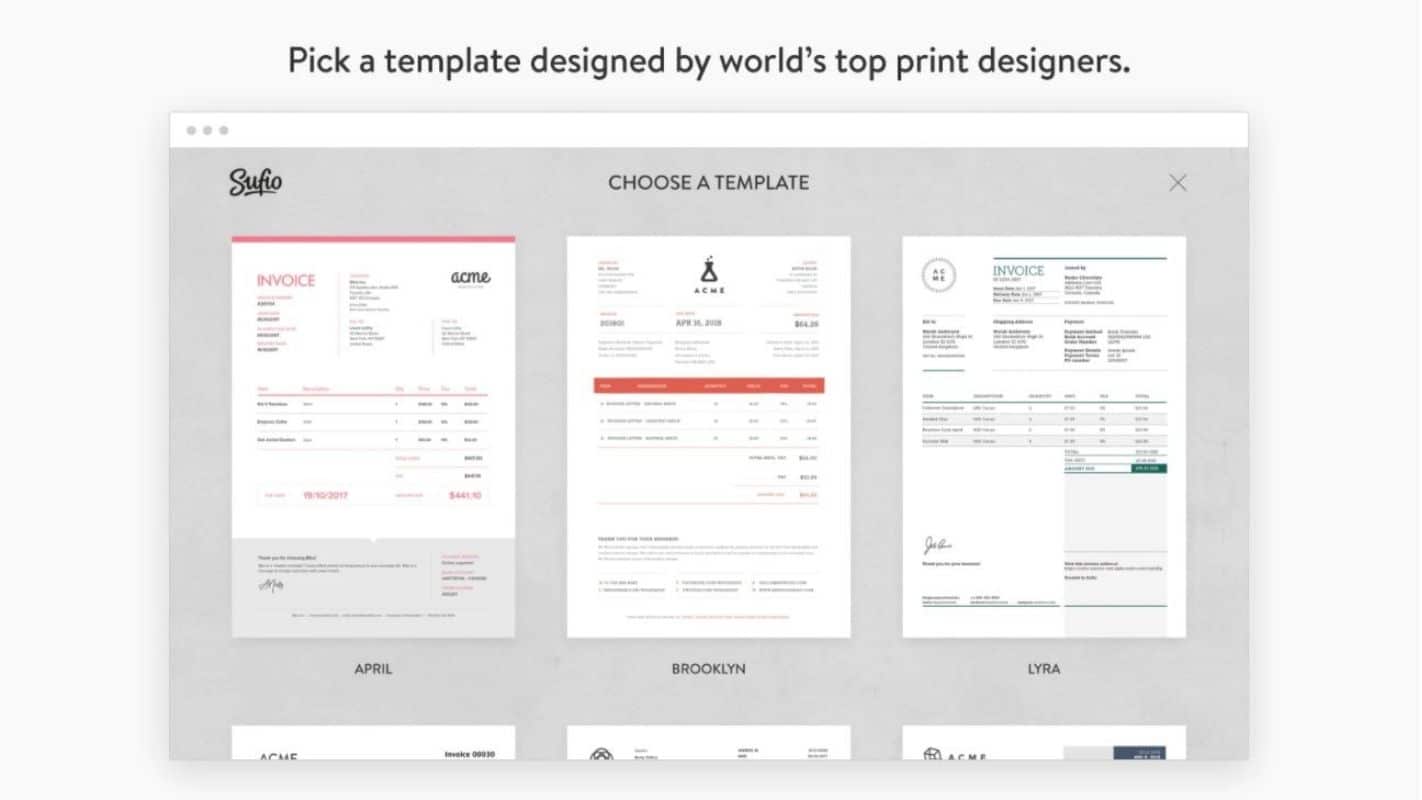 The other great feature of this app is that it automatically generates invoices for every purchase made. So you don't have to create an invoice for each order in Shopify manually.
Sufio also automates sending invoices to customers by email when they purchase your store. It also integrates with accounting apps like Xero and Quickbooks, so you can manage your bookkeeping easily without having to keep track of multiple software platforms.
Key features:
Brand invoices that match your store's look and feel
Automatically send invoices to customers upon payment (auto-generated invoices)
Create beautiful PDFs that are optimized for printing, archiving, and emailing
Save your time – Shopify automatically fills in all the necessary fields
14-Day free trial
Create delivery notes, packaging slips, proforma invoices, clients quotes, and more
Order Printer Pro is a Shopify invoice app that helps you customize your email receipts and print invoices, packing slips, labels, etc.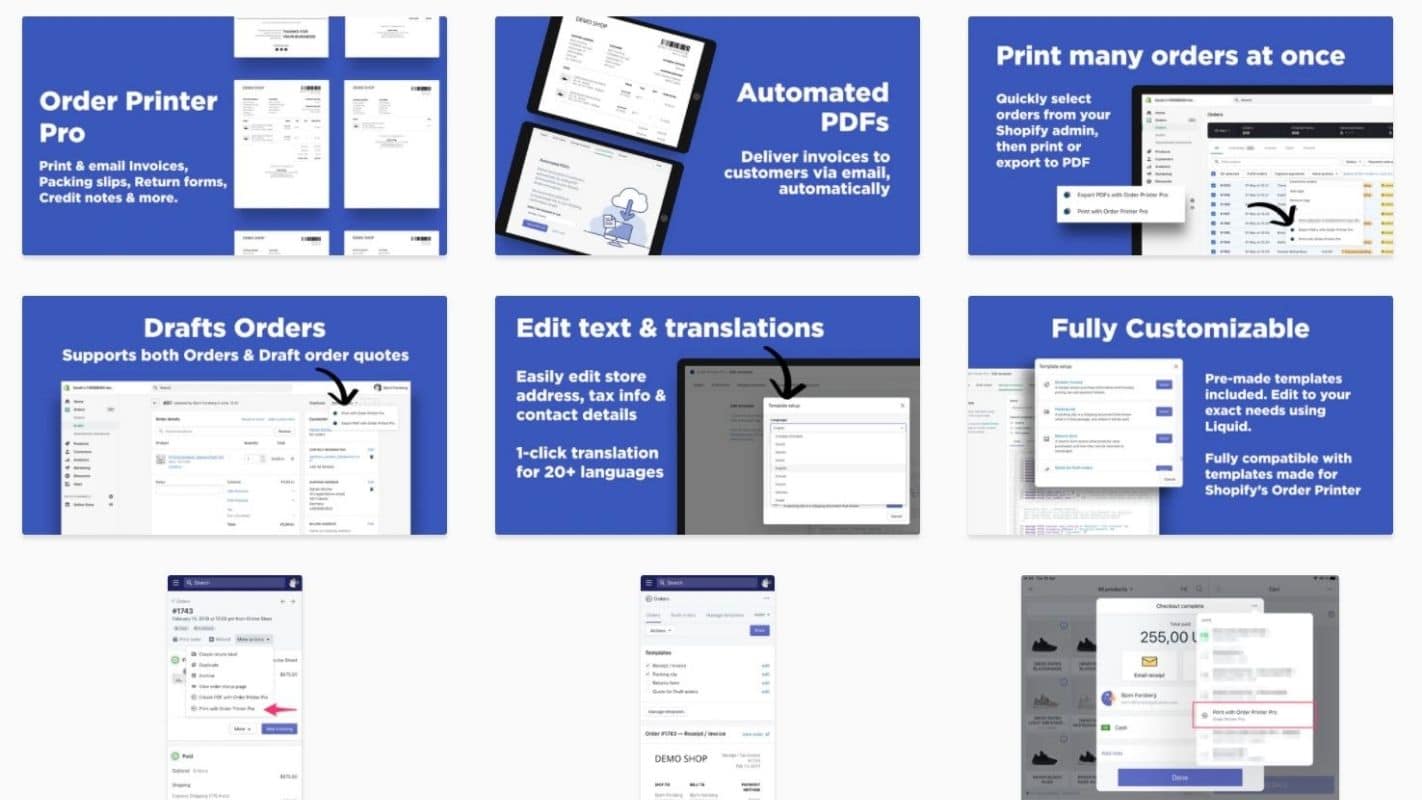 This Shopify app is handy for creating custom receipts that match your brand and make it easy for customers to find essential information like order numbers, shipping addresses, and payment information. On top of this, you can also use Order Printer Pro to generate barcodes that you can put on your invoices. These barcodes will allow you to scan orders at the point of sale or while packing an order.
Order Printer Pro is one of the most popular and full-featured Shopify invoice apps. Not only can you customize your invoices and receipts, but you can also use the app to create custom packing slips, shipping labels, pick lists, and more. You can create a fully customized invoice design in minutes directly from your Shopify admin. With Order Printer Pro, you can:
Select a template or design your layout by adding your logo, changing fonts and colors, moving elements around the page, and more
Include custom notes for customers on invoices and packing lists
Create barcode labels for tracking shipments with carriers like UPS and FedEx or using systems like ShipStation
Auto-Generated Invoices
Pull specific data from orders using Liquid markup.
Choose which orders will receive an invoice automatically based on certain conditions (like product type) using rules.
Free plan forever for stores with less than 50 orders per month
Beautiful invoices due to templates for invoices, receipt, packing slips, refund & credit, and more
Invoice Falcon is a free application that helps Shopify store owners generate invoices and estimates. It's a simple, easy-to-use tool that allows you to easily create invoices, email them to your customers, and track all the payments you receive.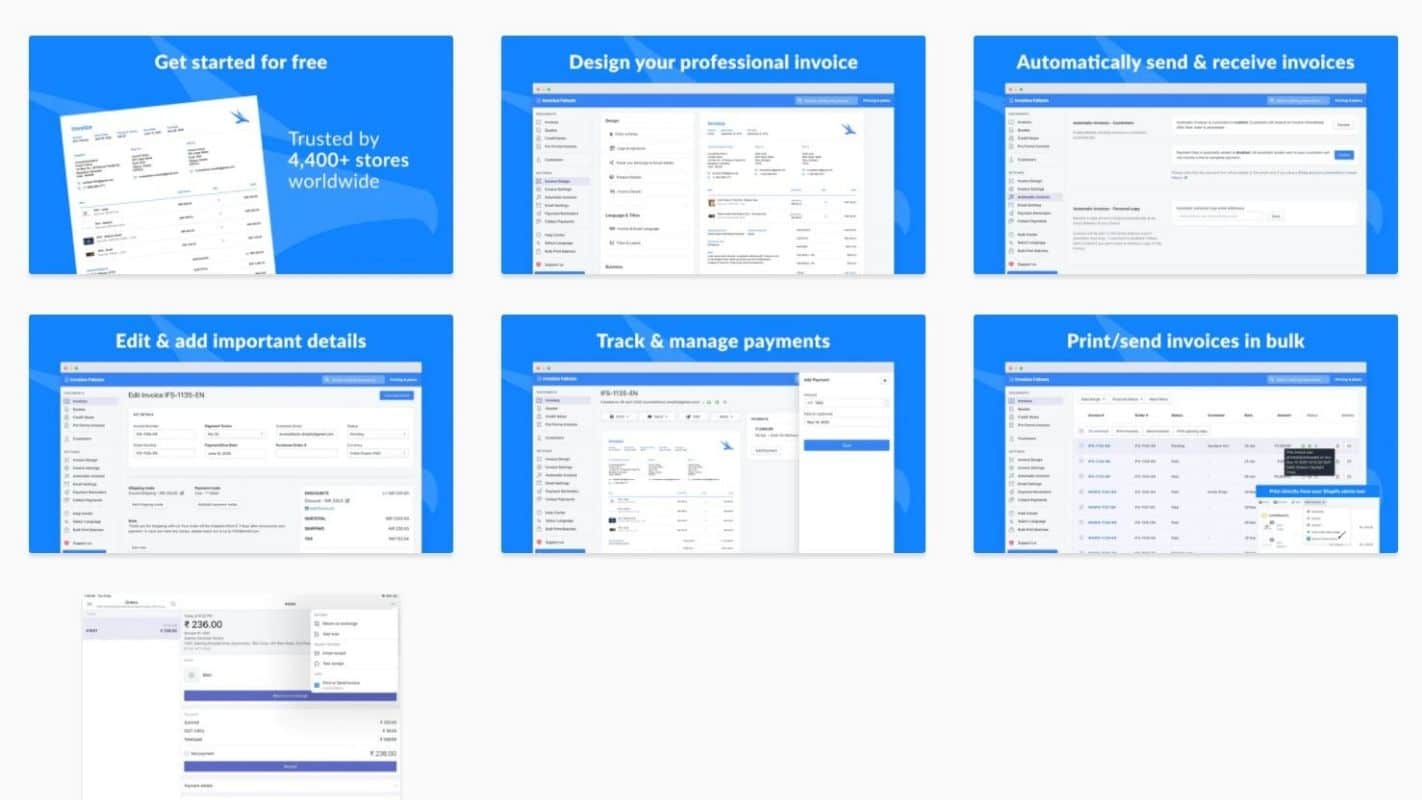 When it comes to creating estimates, Invoice Falcon makes it easy: enter the amount of your assessment and its due date, then select your currency. In addition to letting you track what you're owed, this app will also automatically send invoices to your customers. This way, you can stay on top of all the money you're owed without manually sending out invoices to each customer.
With Invoice Falcon, you can create professional-looking estimates with just a few clicks. The app will even let you add images or logos to your estimates for extra customization. And if there's anything else you need, Invoice Falcon has an integrated chat feature so that you can get help right away!
Key features include:
PDF invoice generator – send the invoice in PDF format
Supports multiple currencies
Can be customized as per your branding (logo, color scheme, etc.)
Automated invoice generation (Based on Shopify order status)
Integration with google drive and dropbox
7-Day free trial
Bulk print invoices
Ordersify is an easy-to-use, flexible app that lets you design and print all of your orders. They are the "most flexible" app in the Shopify App Store. They support practically every single Order Printer template and let you use various layouts for your orders.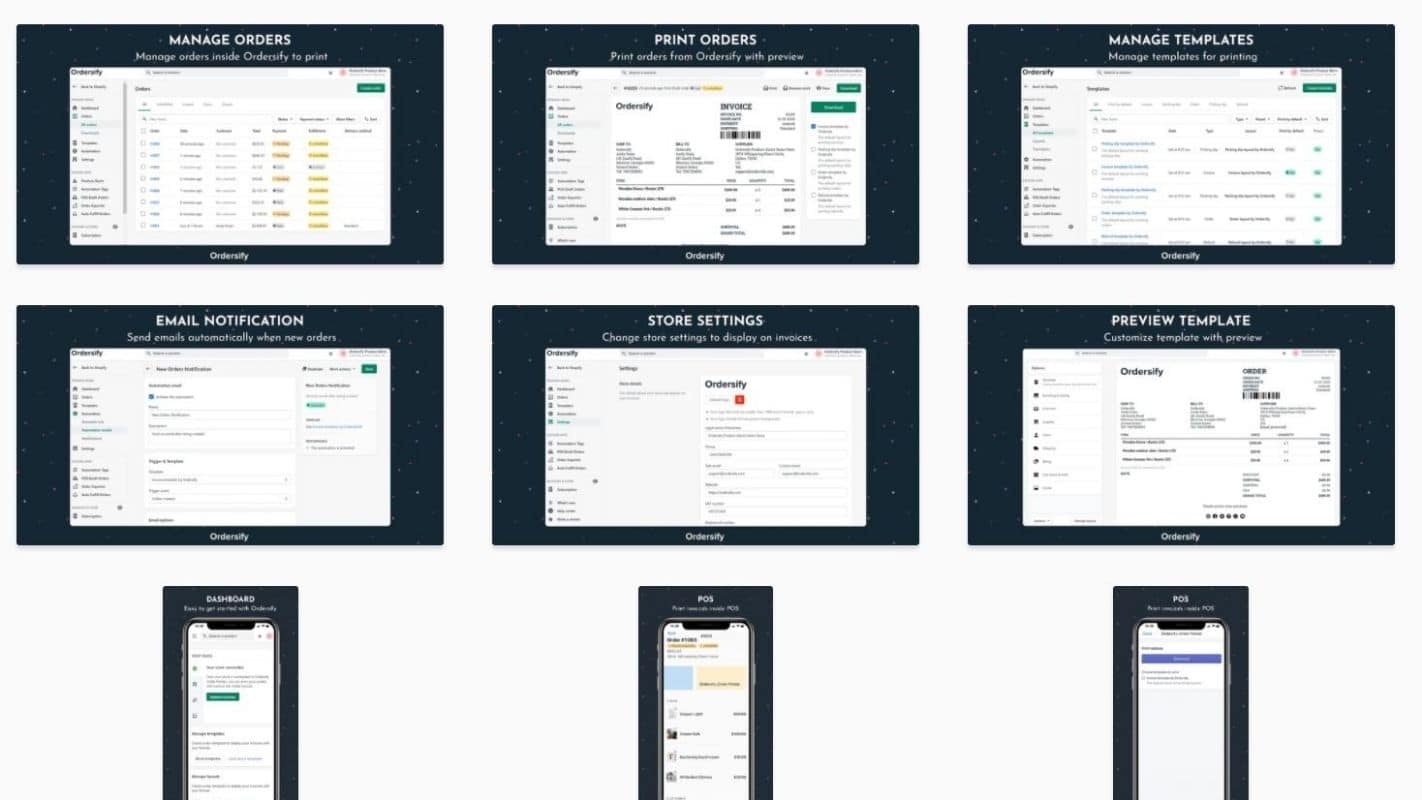 The app also includes a simple drag and drop interface to let you quickly reorder your order fields and provides the ability to add custom names to your order fields so that you can easily find what you need in an organized fashion. You can also create custom product filter options to allow you to hide or show certain products based on their status or price.
In addition, this app has been designed with speed in mind—it's optimized for both Shopify Web and Mobile platforms to access your orders quickly even if you have a slow internet connection. If you are looking for a simple way to organize your orders, this app is worth checking out!
Key features:
Customize your shipping documents to include anything from the order information to barcodes and QR codes
Include your logo on all documents
Choose between black and white or color printing
Include a message on your invoices about how to contact you for returns
The first 5000 print order invoices are free, after that 7-Day free trial for the Professional Plan
If you're looking for a professional, easy-to-use app to create invoices that convert, it's hard to go wrong with PDF Invoice Pro. PDF Invoice Pro lets you customize your invoices to fit your business, including different fonts and colors, images, and other information. You can also add custom payment methods and labels (e.g., if you're offering partial refunds), and there are options for multi-currency, multiple shipping addresses, and more.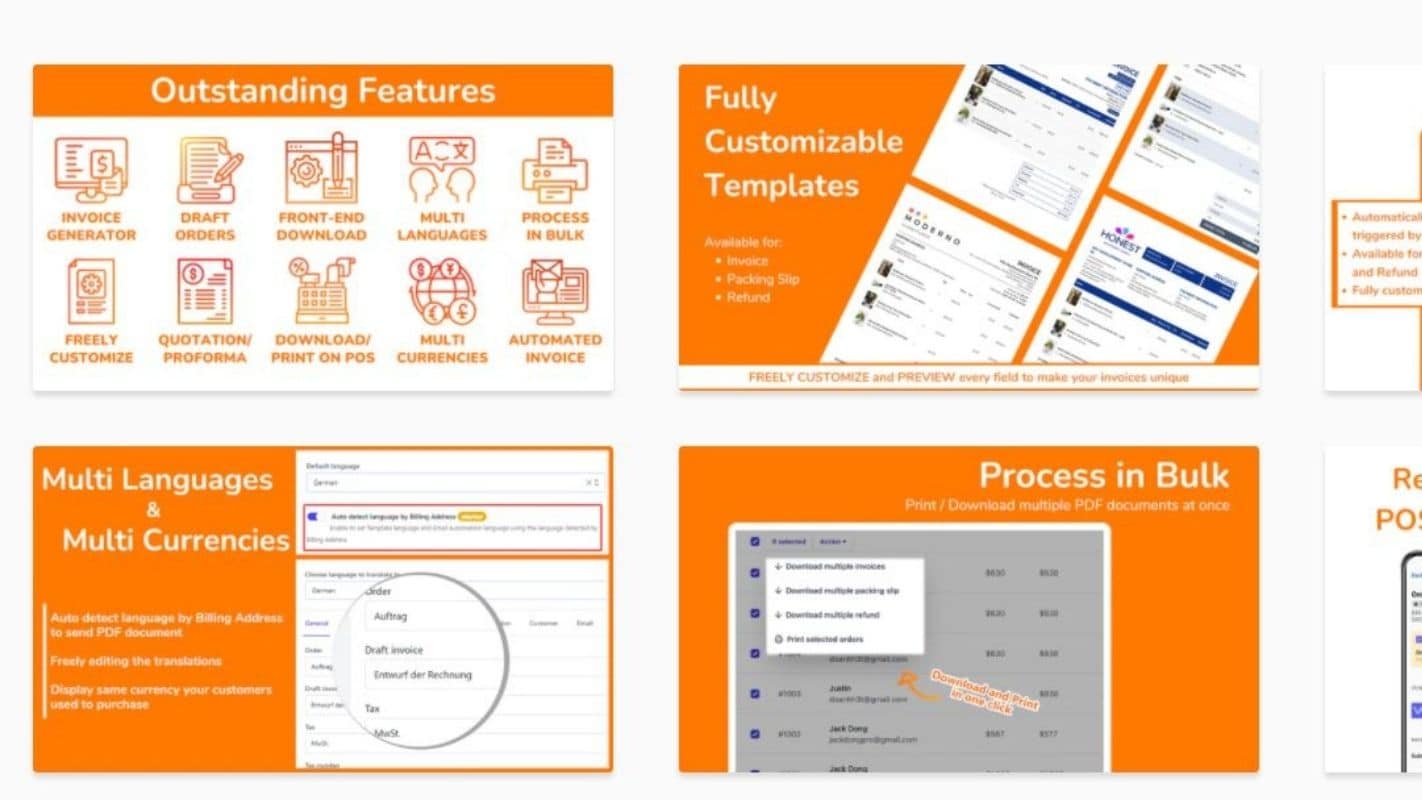 The app integrates seamlessly with Shopify to send invoices from your store directly to customers' inboxes or through the app itself. It also includes an option for adding a unique ID to each invoice to track them in your records. With its simple interface, customization options, and ability to integrate with Shopify apps like ReCharge and others, it's no wonder that PDF Invoice Pro is one of the top reviewed invoice apps on Shopify!
Key features
It allows you to generate, customize, and send PDF invoices in bulk.
It includes customization options like adding company logos, adjusting fonts, and changing your color scheme.
It lets you automate the invoicing process by automatically sending invoices via email to customers.
It works offline and allows you to manage your inventory and sales data even with no internet connection.
It syncs with other platforms like Xero, QuickBooks Online, and Sage Accounting for a seamless accounting experience.
It offers an intelligent search feature that lets you filter through orders by keyword or SKU.
14-Day free trial
AVADA PDF Invoice is the best Shopify invoice app because it lets you create and customize professional invoices for your customers.
AVADA PDF Invoice allows you to easily customize the design of your invoice per month without any coding. With over ten templates to choose from, you can ensure that your invoice is as unique as your brand. You can also upload your logo, change the text and font, and add a message to create a one-of-a-kind experience for your customers.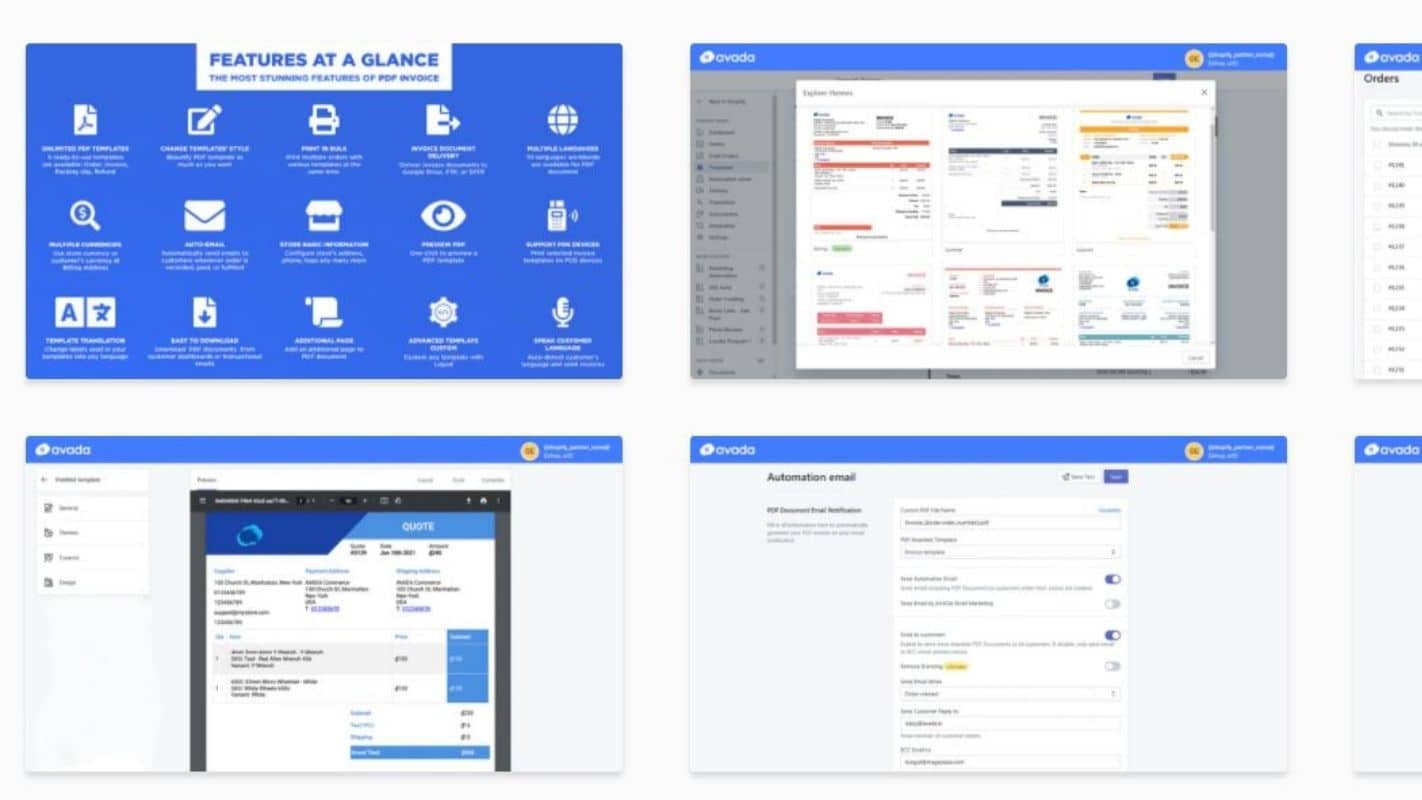 The app supports multiple languages, including English, German, French, Italian, Spanish, etc. It is also compatible with major payment gateways like PayPal and Stripe. Additionally, you can use this app to generate gift certificates and send them to customers on special occasions.
Key features
This app is free to download and use.
Customize the invoice's header, footer, body, and more
Create unlimited custom templates with your Store Logo and Header Banner.
Automatically send invoices to your customers when they place an order.
Automatically send invoices to your customer when their product has been shipped.
Manually send invoices to your customer whenever you want.
View all invoices on one page in a table format where you can filter, search and sort to find what you need quickly.
View an individual invoice as a PDF file or print it directly from your browser.
Generate bulk invoices for multiple orders at once.
Invoice Hero is a Shopify app that allows you to create and send professional-looking invoices to clients. Invoice Hero makes it easy for you to save time when sending invoices by automating the process. You can use the app to create professional-looking invoices and send them to customers with just a few clicks.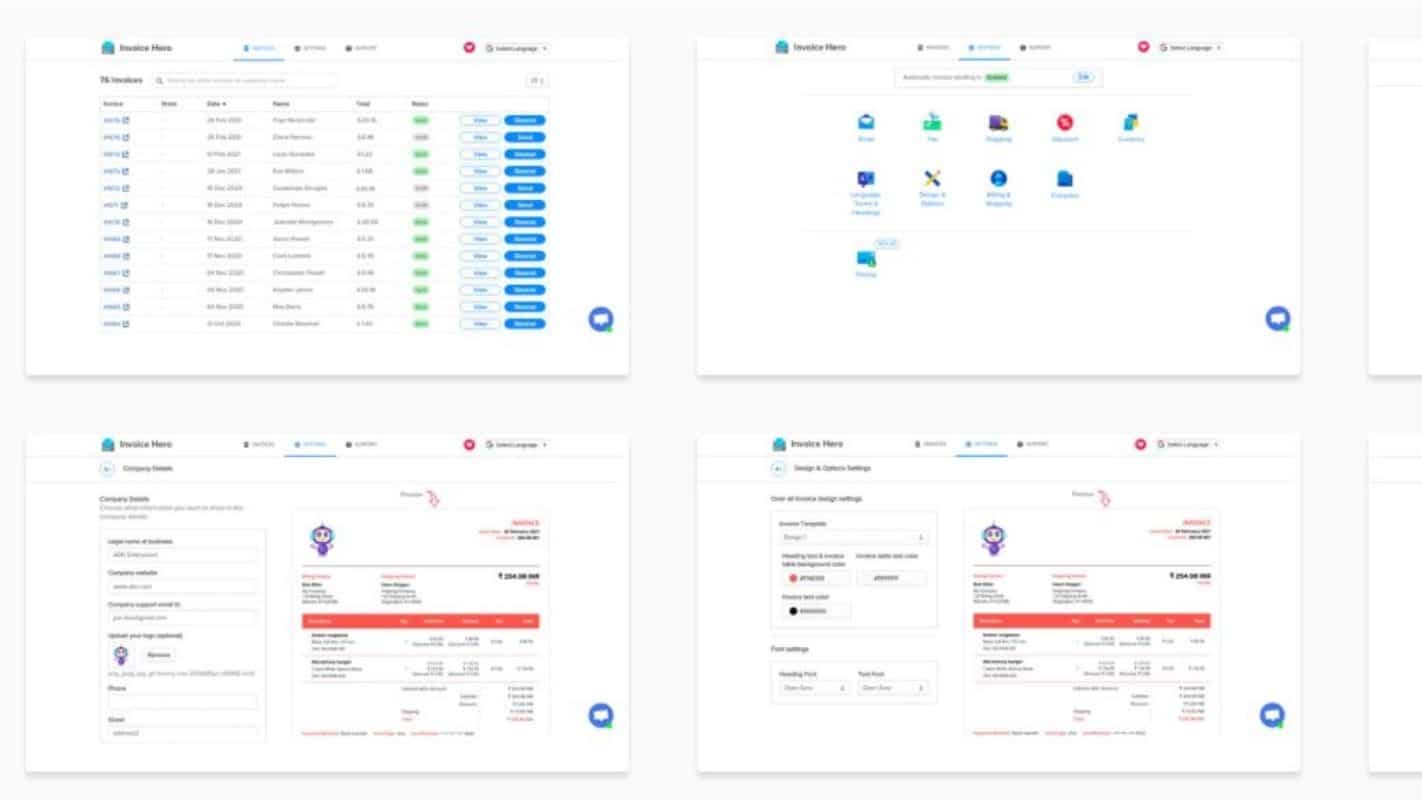 The app has a free plan, and it's available in multiple languages so that you don't have to worry about being unable to communicate with your customers in their native tongue. And if your customers live outside of the United States or Canada, Invoice Hero can even handle international currencies!
Simple, intuitive user interface
Automatic invoices on orders (with or without tracking numbers)
Customizable invoices with your logo and colors
Elegant payment link sent to your customers
Email notification when your customer views or pays their invoice
View all invoices in one place, searchable by status and customer name
Advanced features like recurring invoices, batch invoicing, and more
If you need a simple, straightforward invoice app that won't overcomplicate things or bog down your Shopify store, then Invoice Browse is for you. This app allows you to create invoices for your clients quickly, and it provides several different options for how to send those invoices.
The app automatically creates a separate section for invoices in your admin panel when you install it. Once you're there, creating an invoice only takes a few clicks. You can select the products from your store that you want to include on the invoice (including multiple products), add a custom text area, and preview and send the invoice to your client. You can also choose how many days after purchase your client has before receiving the invoice.
Key features:
Fully customizable invoice templates
Automatic generation and management of invoices
No monthly transaction fees
Create and send unlimited invoices with your Shopify store
Supports multiple currencies, taxes, and languages
Manage your store's finances all in one place
Invoice Wizard is one of the best Shopify invoice apps for professionals who want to maintain a high level of consistency in their billing without the hassle of setting up a complicated system. Using this app, you can create professional-looking invoices, estimates, and receipts online quickly and easily.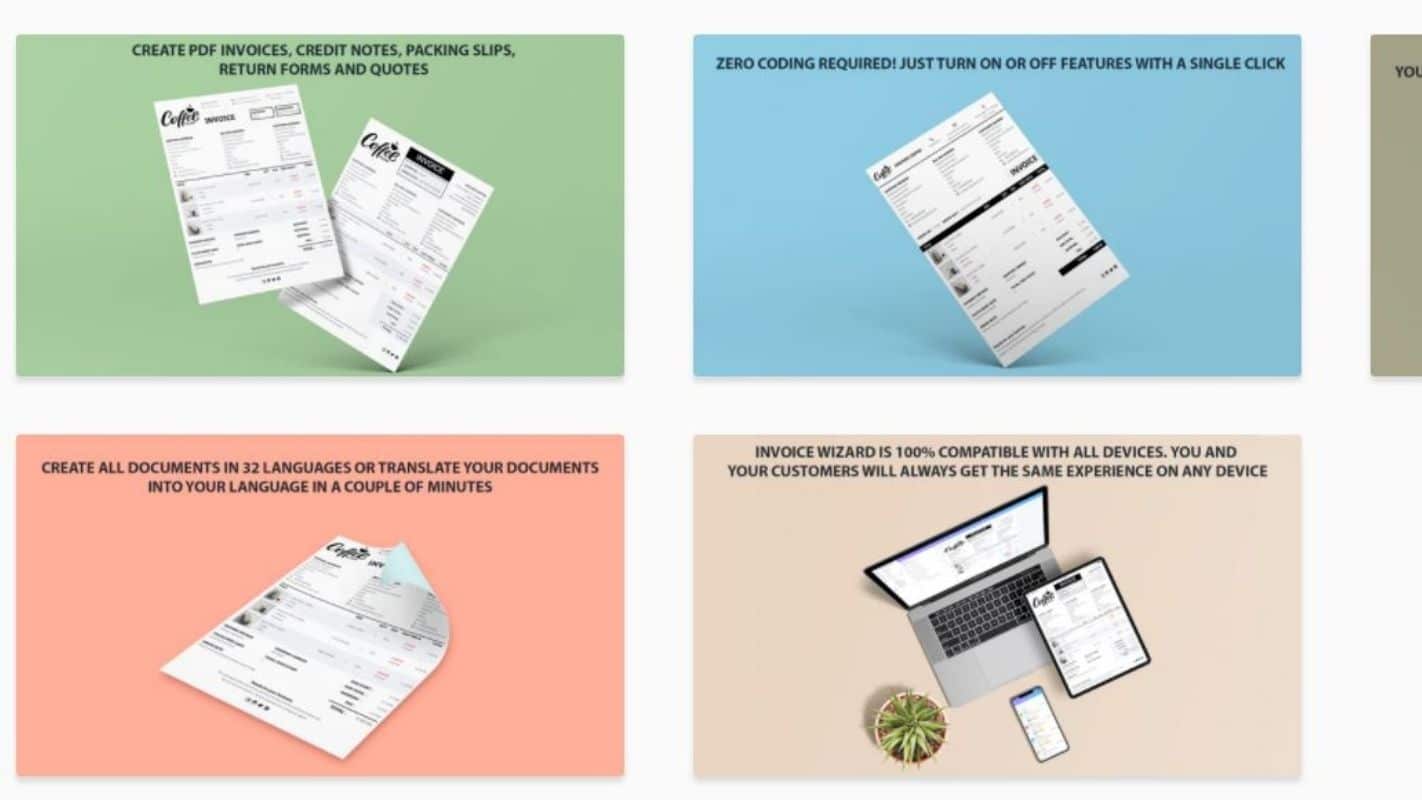 This app comes with an intuitive interface that allows you to create invoices, estimates, or receipts in just a few clicks. You can add your logo, change the color scheme and styling, including payment information and other details, and send the document to your client through email. It even allows you to set up recurring invoices to bill your clients automatically.
Invoice Wizard comes with a free trial period and affordable pricing plans available on both their website and the Shopify app store. The app is easy to use and has excellent features that make it simple for users to create professional-looking invoices without coding knowledge or experience.
Key features:
Create a packing slip and send PDF invoices
Automatically send invoice emails to your customers
Manage orders and payments
Unlimited design options – customize the look of your invoice template
Integrate with QuickBooks, Xero, and other accounting software
Capture signatures
Shipping automation
FREE Shopify PDF invoice App
PDF Invoices by Supro is a Shopify invoicing app that helps you create and send digital invoices to your customers. This Shopify invoicing app is powerful, simple, and easy to use. Supro PDF Invoices is a fully-featured invoicing app that allows you to customize your invoices, manage them from the web, and send them directly to customers.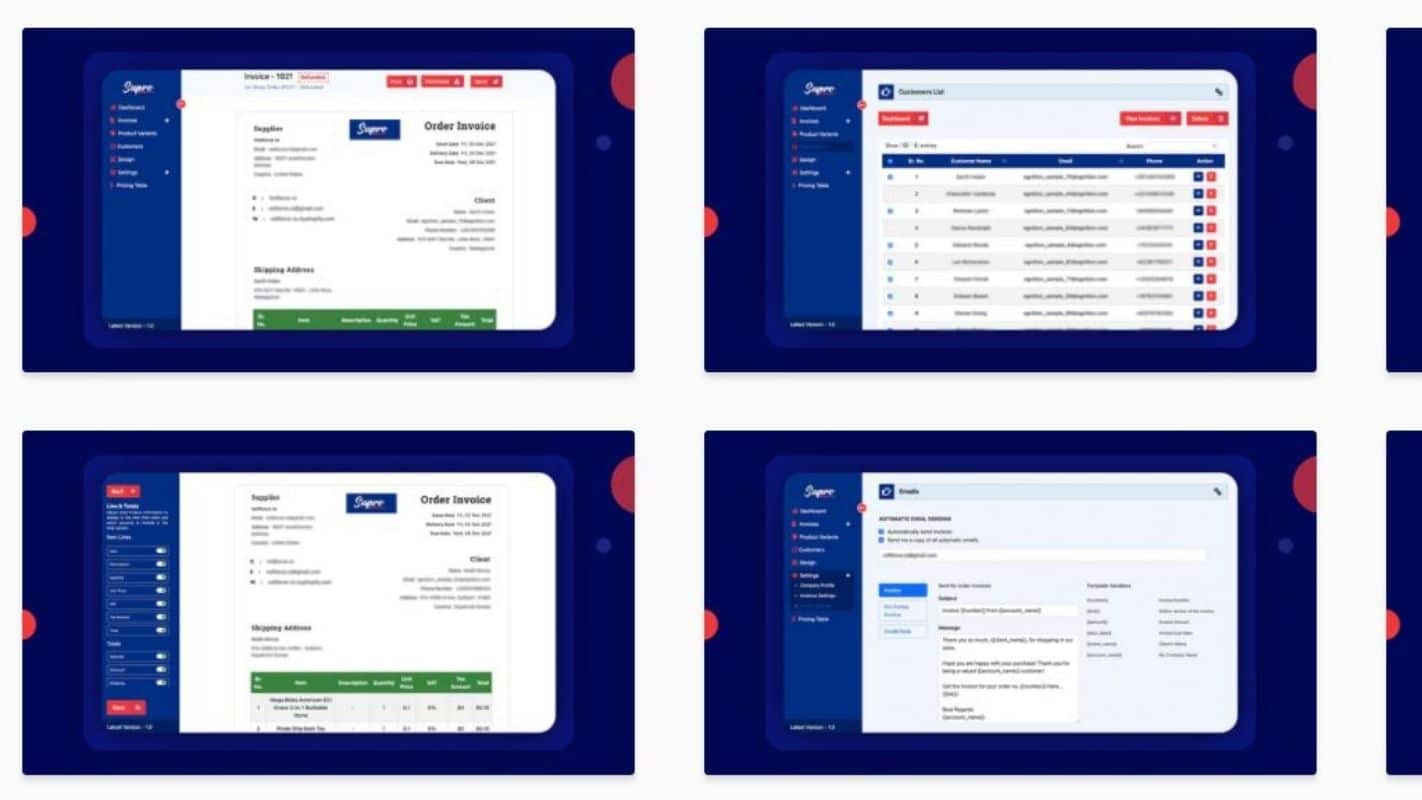 It's simple to use, affordable and offers plenty of features that make it a great choice for small businesses looking for an easy way to create clean, professional-looking invoices.
Some of our favorite features include:
The ability to create customized templates for your business
The ability to create and store multiple templates so you can switch between them as needed
A simple dashboard interface that allows you to view all your invoices in one place and search by status (draft/sent/paid) or customer name
The ability to export data as CSV files so you can import it into other applications like QuickBooks or Excel
The ability to automatically convert currency based on your location
A mobile app that lets you access your invoices from anywhere!
Shopify's Simple Invoice app is custom-designed to be an easy-to-use invoicing tool for small business owners. The app helps you create professional, customizable invoices for your store's orders. The app is straightforward to use and can be downloaded for mobile use. The app also has a built-in expense tracker and allows you to upload images and PDFs with your invoices.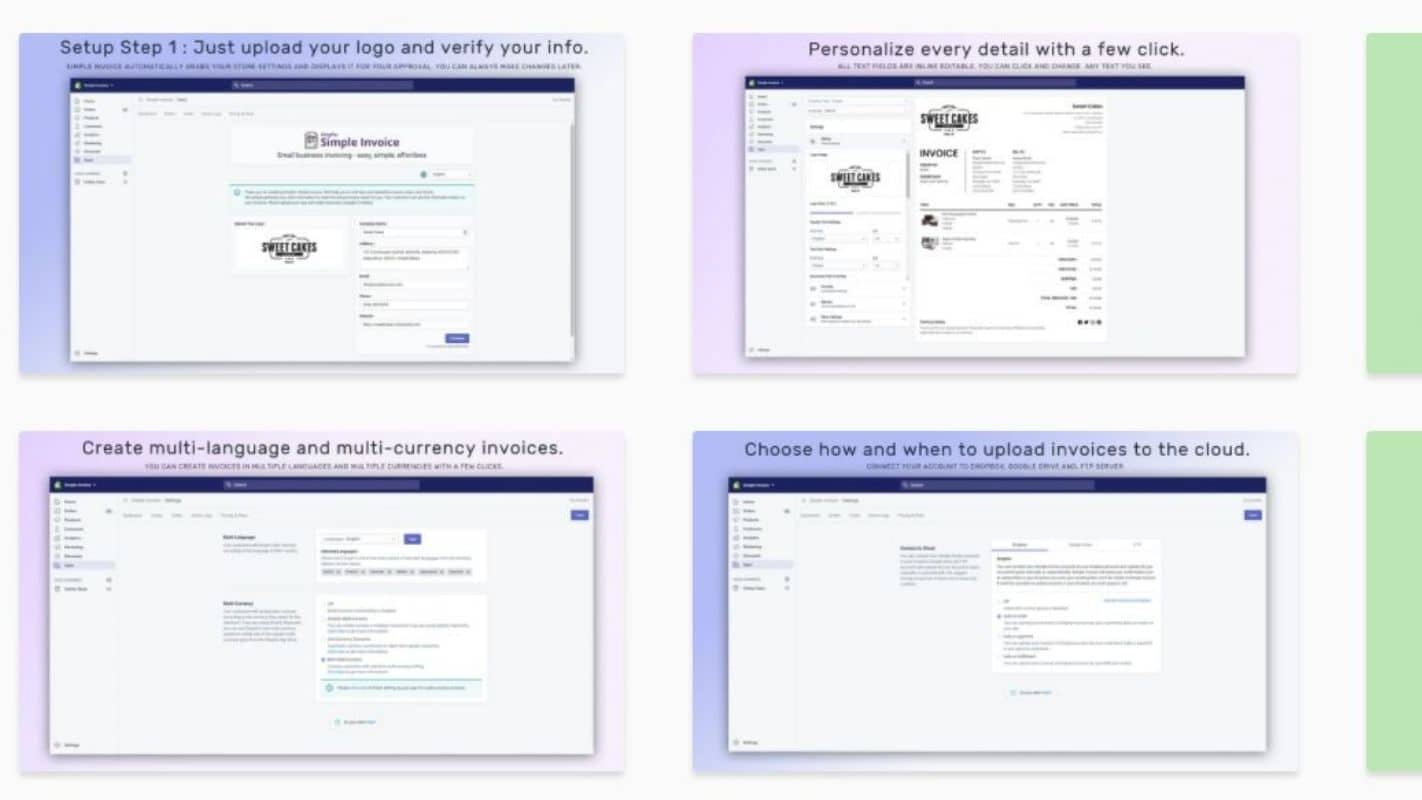 Simple invoice offers a free version of the app and two paid subscription levels. Users who opt for a paid subscription can unlock additional capabilities, including recurring and partial invoice options, the ability to manage more than 50 clients, and send up to 100 invoices per month.
Key features:
Create an unlimited number of invoices for free. There's no limit to the number of documents you can send out per month.
Create simple or recurring invoices.
Download your invoices in PDF format to make them easy to email or print. View customer billing history on one screen for easy access at any time.
Easily issue refunds with the integrated credit card scanner.
Send notification emails when you receive payments on outstanding invoices with this feature, so you won't have to manually send them yourself! The app also includes templates for creating professional-looking quotes quickly and easily!
So, happy Shopify invoicing! And thanks for reading,
Zaid
Share with your Friends: