11 Best Shopify Loyalty Programs – Make Customers Come Back
As an online store owner, you are always looking for effective strategies to improve your business. One of the most effective ways is to motivate customers to stay with your store longer. You can integrate a loyalty rewards program as your solution.
Shopify loyalty programs can help increase customer engagement, increase conversion rates, encourage repeat purchases and drive more sales by offering discounts and incentives on your products.
But without the best Shopify reward program apps, this project will take forever to complete. So, turn your store into an amazing customer loyalty program, and here are the best Shopify loyalty program apps to do this:
Best Shopify Loyalty Program Apps
If you're looking for the best Shopify loyalty program apps, then Marsello is one to consider.
Marsello is a Shopify app that helps merchants create and manage loyalty and rewards programs. Marsello's attractive loyalty programs are highly customizable, allowing merchants to generate reward campaigns and loyalty points systems to suit their business needs.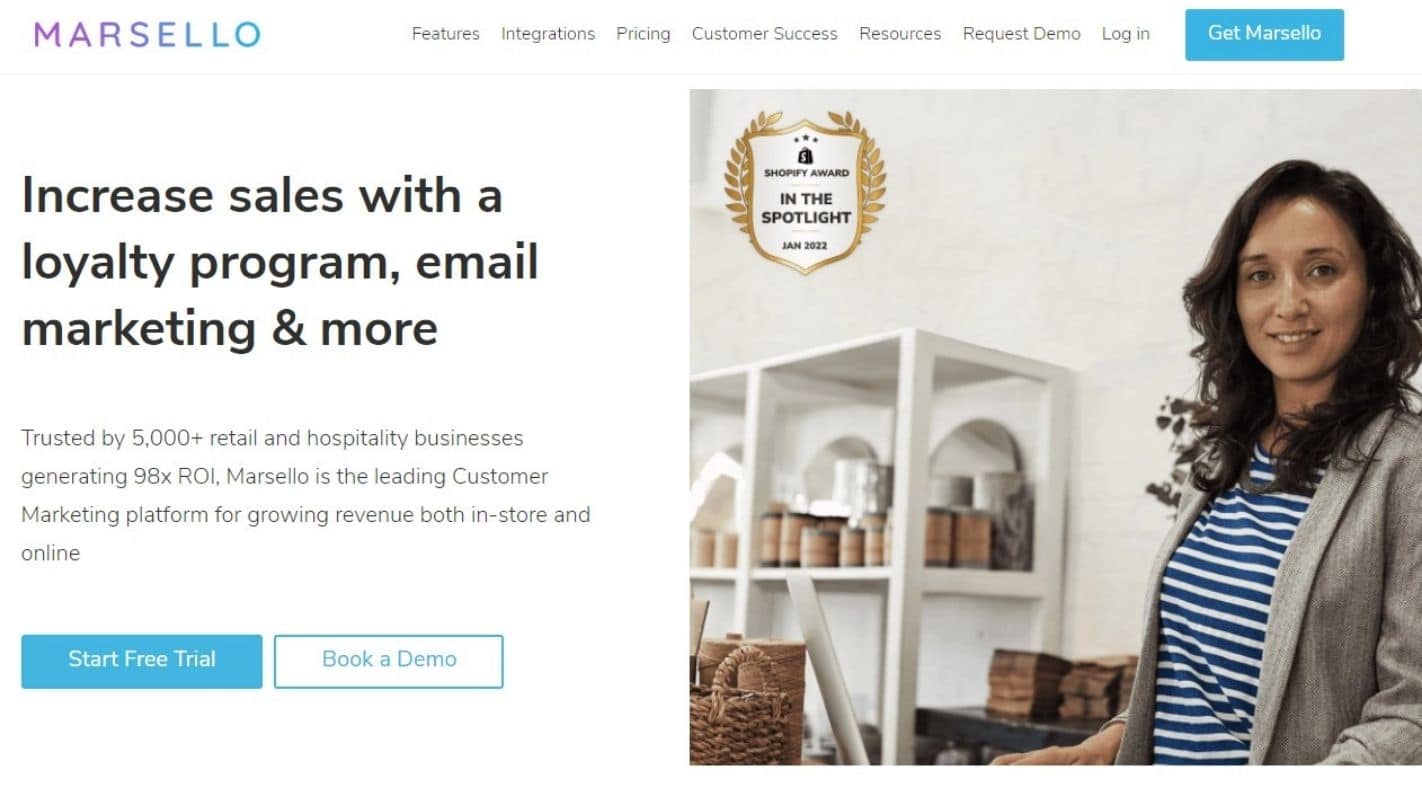 When customers make a purchase, they automatically earn points that they can redeem for discounts on future purchases. Points are awarded based on the amount spent, which the merchant can customize.
Besides, if you're looking for a loyalty program that's easy to set up, straightforward to use, increases your conversion rate, and will catch your customers' attention, Marsello is an excellent option. With Marsello, you can create an account in less than five minutes. In addition, the company uses artificial intelligence to make personalized suggestions and recommendations based on how customers interact with your business.
You can create custom campaigns, such as double points on a specific weekend and more if you want to go even further!
You'll also be able to access a range of reports designed to help you understand how your loyalty program is performing. For example, Marsello lets you know which of your content pieces are driving the most engagement and which products bring in the most revenue.
Marsello provides you with a 14-day free trial period. After that, you can test every feature of this fantastic App in your online shop. After that, the cost starts at $99 per month.
Some of the key features that Marsello offers are:
Customizable reward types: Choose from discounts, gift cards, free products, shipping vouchers, etc. You can also give any combination of these.
Built-in referral program: Customers receive a unique referral link they can share with friends and family. When someone uses their link to make a purchase, both the referrer and referred customer earn points.
Loyalty Emails: When a customer reaches a certain point threshold or joins your loyalty program, you can send them personalized emails to notify them of their progress and show them how they can redeem their points.
Customizable messages: You can customize the name of your reward program, reward types, and messages on your store's site to suit your business and brand.
Gameball is a Shopify loyalty program app that helps you create a seamless, game-like experience for your customers, where every single action they take adds points to their progress. It's like being able to turn your entire store into one giant, impressive loyalty program!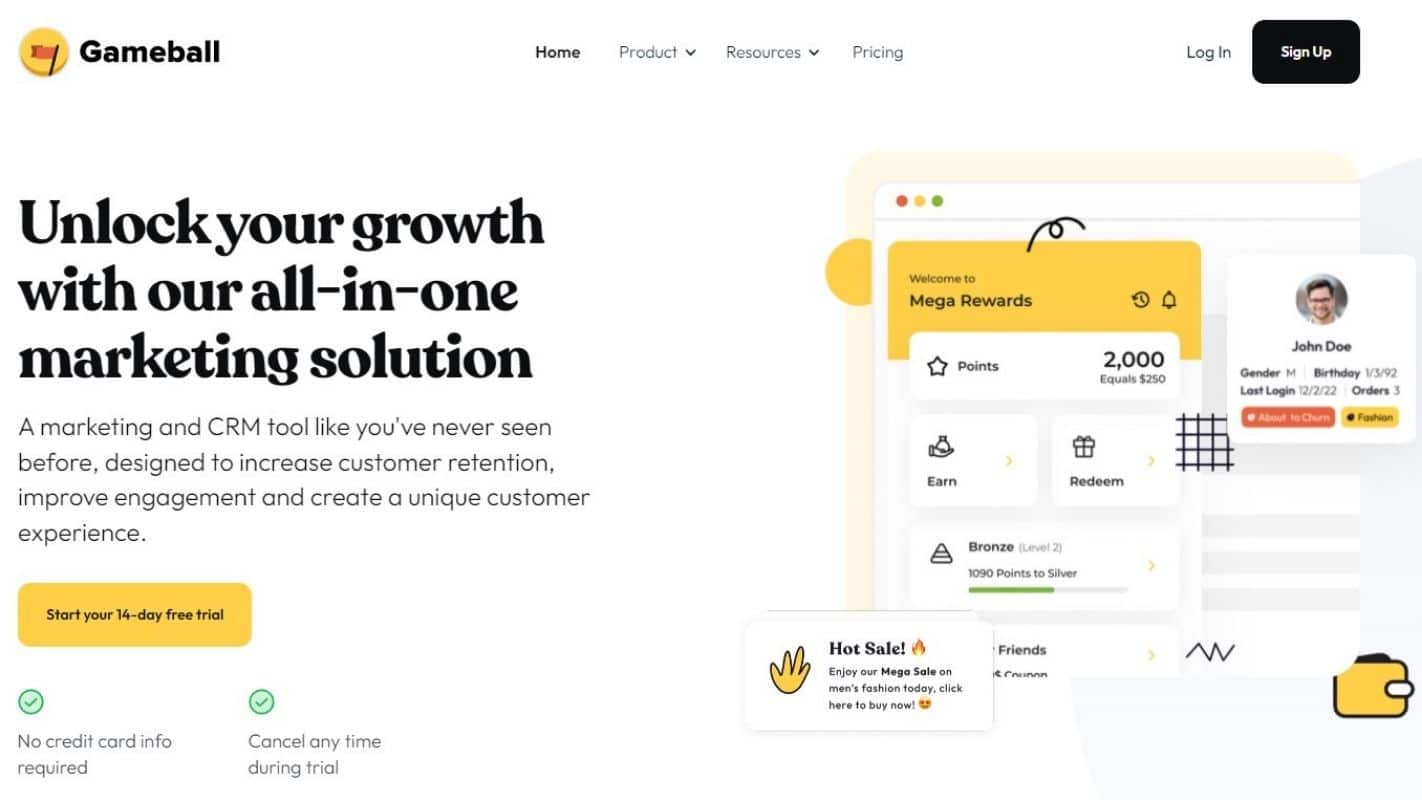 How does it work? Gameball integrates with your email marketing platform and lets you send personalized offers and rewards announcements to each customer. But the real fun begins when you set up custom challenges for them. (Think: "Get 20 points by sharing our store on Facebook!") You can even set up challenges that involve activities outside of your store (such as "show us how you use our products in a video" or "tell us why you love shopping with us").
And don't worry about the challenges becoming overwhelming—you can set up progress bars so that customers can see exactly how much more they need to do for each goal to earn more points toward their next reward.
Gameball comes with a free forever plan with no costs at all. However, there are some restrictions on the free plan. To access all the features, like VIP tiers, double points campaigns, and more, sign up for the Pro plan, which costs $99 per month.
Gameball is a revolutionary reward program that's perfect for Shopify, with tons of features such as:
Smart points: Customers earn points based on their activity. The more they purchase, review and refer friends, the more points they earn.
Real-time rewards: Customers get notified immediately of the rewards they have earned. They can also redeem rewards instantly.
Gamification: The engaging game experience helps customers keep coming back for more rewards.
Virtual currency & in-app economy: Introducing your coins and items in your App creates an in-app economy and adds a layer of fun for your users.
Stamped.io is a Customer Loyalty & Reward Software that helps you connect with your customers and reward them for doing business with you on Shopify Store. The software is designed to help you boost the number of repeat customers, increase average order value, and improve customer lifetime value by collecting and showcasing verified customer reviews on your website, Facebook page, Google search page, etc.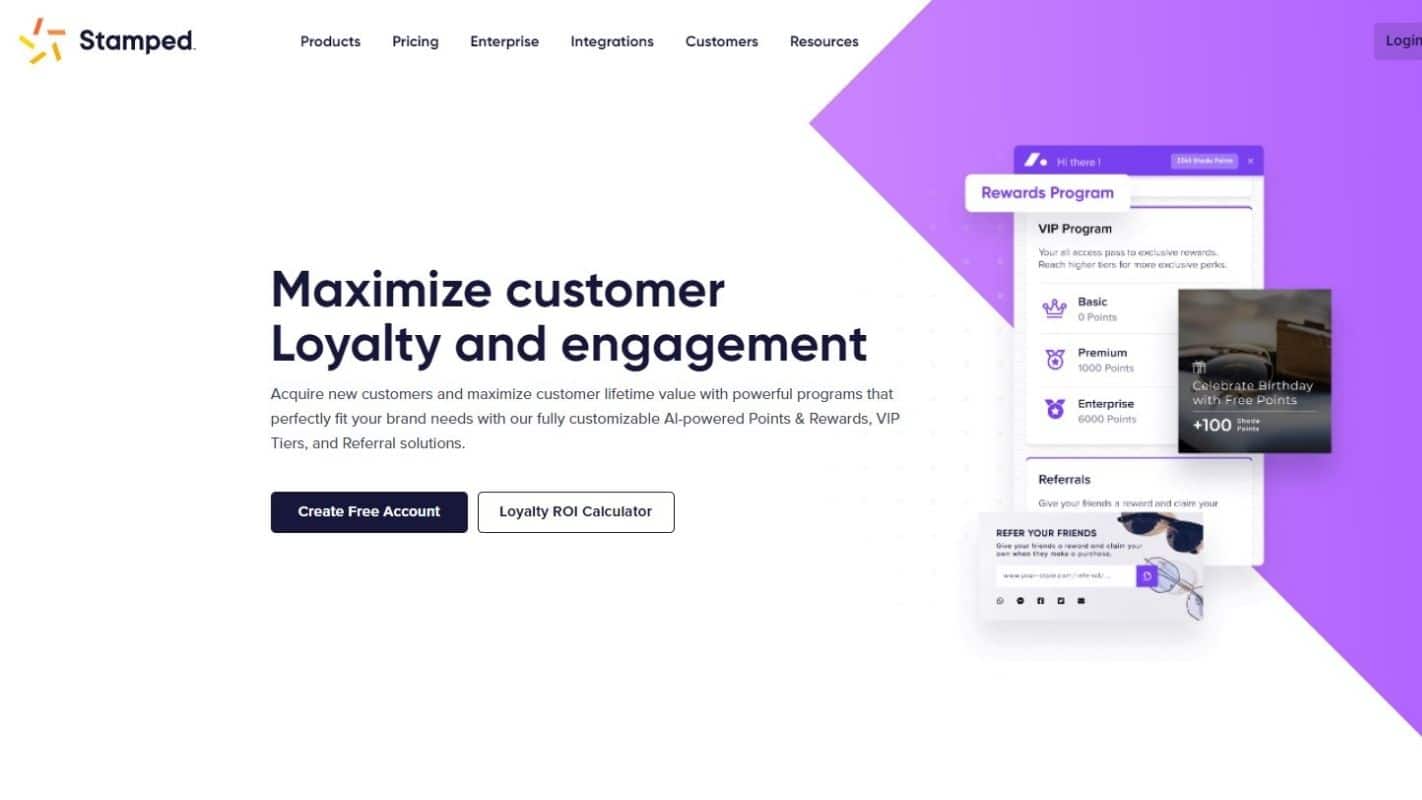 It offers a flexible platform that allows you to create a customer loyalty program that fits your business needs. It also enables you to deploy a referral program and reward customers for spreading the word about their positive experiences with your brand.
Stamped.io comes with a free forever plan, including a point system and a referral program. However, to access all the features, including a VIP program, the pricing starts at $479 per month.
Stamped.io's key features include:
Attractive Loyalty Programs: Create your loyalty program, complete with points and rewards
Referral Program: Set up a referral program so that your customers can earn referral incentives for referring new customers to you
Customer reviews: Collect reviews from satisfied customers, then showcase them on your storefront
Loyalty program analytics: Track the progress of your loyalty program with analytics tools that provide critical data about how many people are participating
Social sharing: Enable social sharing so that your customers can share their thoughts about products with friends directly from the Stamped.io platform
Creating UGC: The App also enables merchants to collect user-generated content (UGC), such as product photos and videos, and display them on product pages. These features help shoppers make informed buying decisions, increasing revenue for the merchant.
Rivo is a customer rewards program app that helps you increase sales, conversions, and customer retention. This point-based program offers a great way to build a relationship between merchants and customers by encouraging people to return to your Shopify store. Rivo allows you to boost your sales by offering rewards points, cashback, coupons, and more.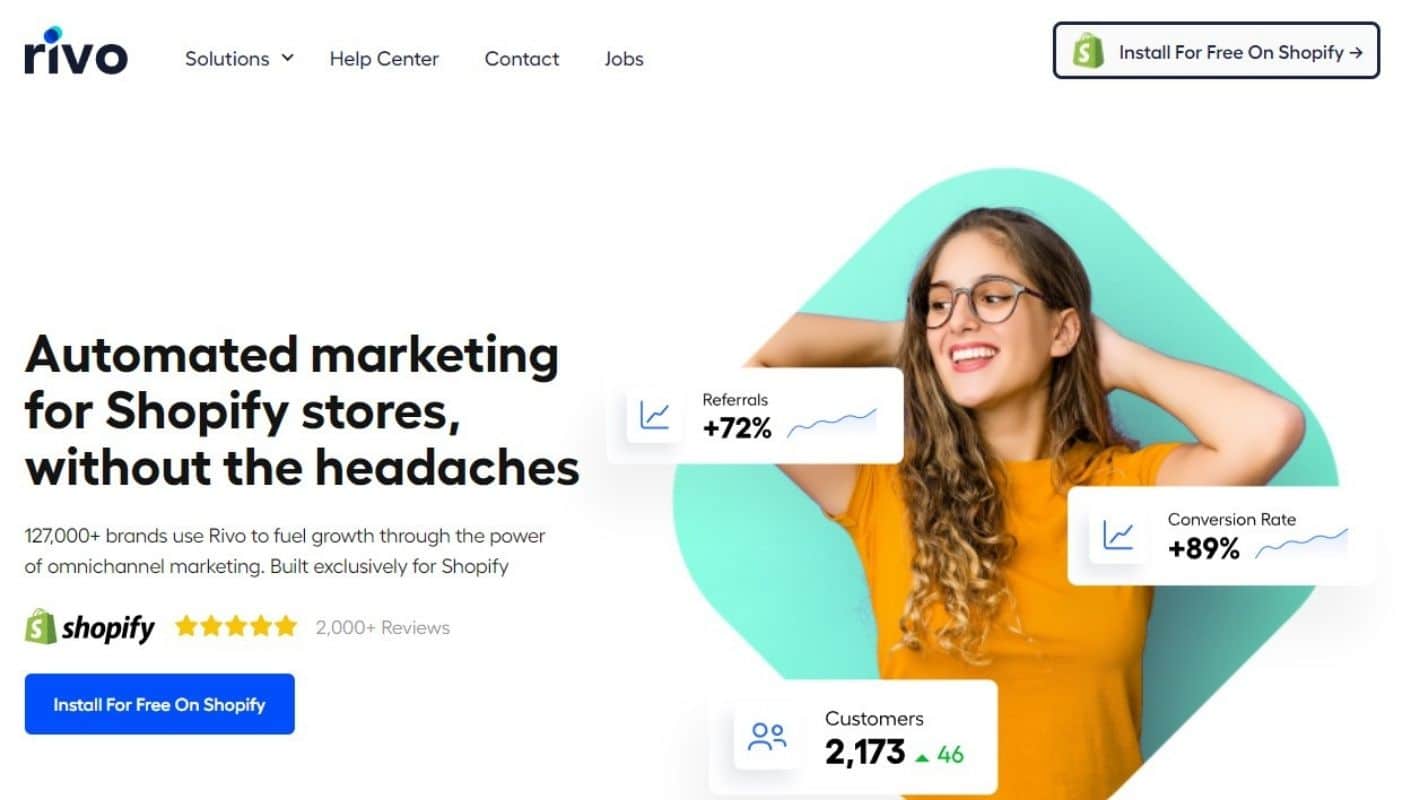 Rivo allows you to provide instant rewards for actions such as purchases, social media engagement, newsletter sign-ups, account creation, and birthdays. In addition, you can offer points for any product or category in your Shopify store, and reward points will be automatically added after the order has been completed.
For only $99 in the premium plan, Rivo allows you to have loyalty tiers, birthday points, advanced rewards like free products, discounts on products, and much more. Test every feature in the convenient 7-day free trial.
Customers can spend their reward points on any product or category in your Shopify store. They can also redeem their points for coupons that can be used on any item in your Shopify store. In addition, Rivo has several features to help you manage your loyalty program, including:
Point-based loyalty programs: Rivo calculates and adds points to a customer's account automatically when they make a purchase. You can set the number of points they receive per dollar spent and how much it costs to redeem them. You can also add bonus points for specific products or collections to reward your most loyal customers.
Notifications: You can choose to send a notification to your customers with every point earned. This helps them keep track of their points balance so they don't forget about your program and encourage them to spend their points at your store. If you have the Rivo App, you can also send notifications when their point balance changes (for example, when they use their points to get a discount).
User-friendly dashboard: The Rivo dashboard is straightforward. You can see your customers' profiles at once or search by name or email address if you're looking for someone specific. There's also an easy way to view each customer's complete purchase history, including their loyalty transactions, making it easy to check on how much they've spent with you over time. It even shows you which orders were paid in full with loyalty points!
Rise is a customer loyalty program designed for Shopify, and it's famous for its loyalty and gift card program. It works by offering customers points for every dollar they spend in your store. These points can then be redeemed for discounts and incentives that encourage customers to return to your store. In addition, Rise offers free marketing materials and branding options to make the program more enticing to customers.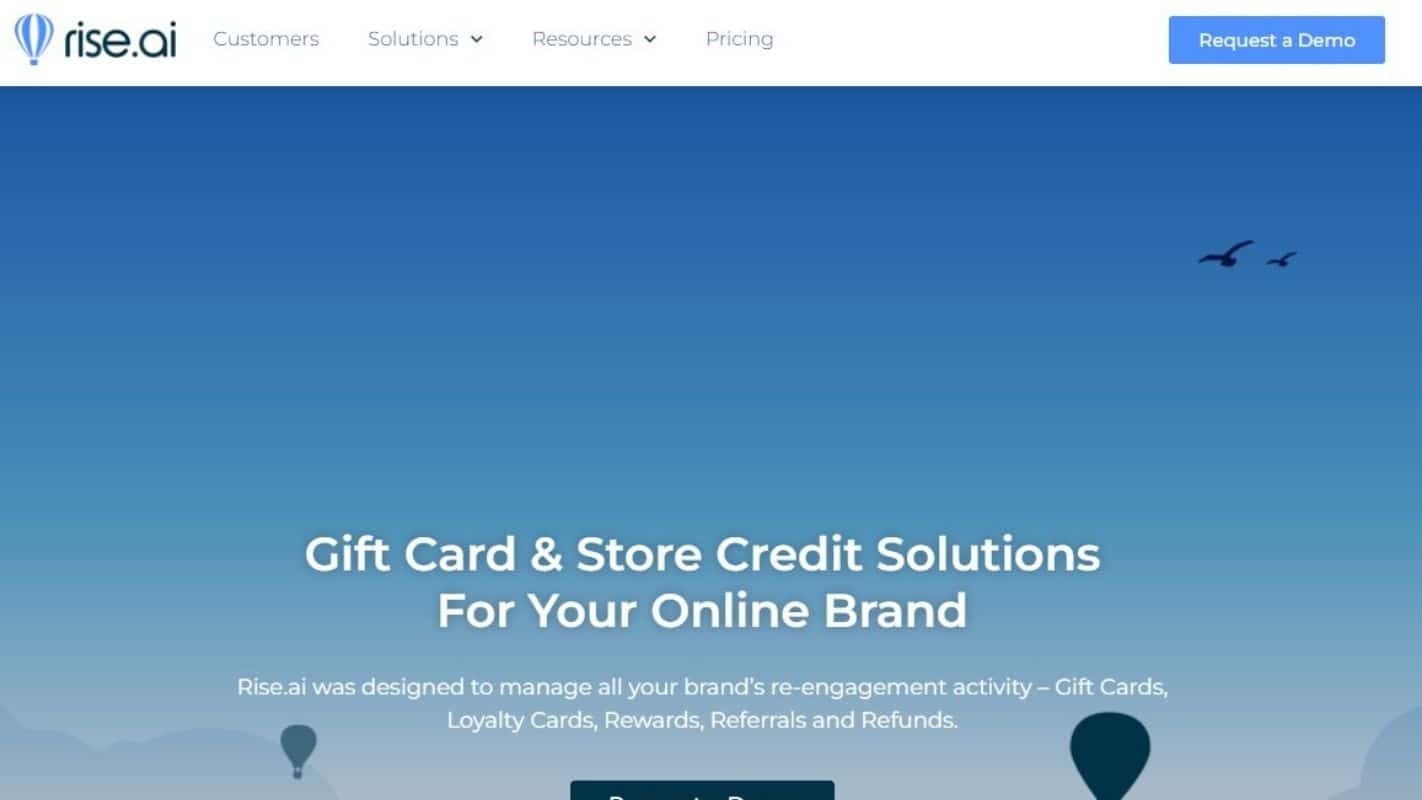 Clients can create their loyalty and rewards program within the Rise interface or use an existing one they already set up elsewhere. Clients can also customize their reward structure and add rewards as needed without having to make changes on the backend of their website. The App will automatically update with any new incentives you want to offer customers, such as double points days or special promotions that start at select times throughout the year (for example, during Black Friday sales).
This Shopify loyalty program app is an excellent option for businesses looking to grow their customer base and keep them coming back for more! It's easy enough for beginners but powerful enough for experienced users. In addition, there are plenty of features available here, so users can customize their experience without being overwhelmed by the options available in other apps.
Rise.ai offers the following features:
Reward points: Reward customers for shopping, sharing, referring friends, and more with custom gifts, free products, or a free shipping voucher.
Bulk gift cards: Easy-to-use gift cards that work in-store and online. Send bulk gift cards and set up bulk discount campaigns. Rise.ai lets you directly add store credit to a customer account. As a result, there are no more complicated refunds.
Many ways for customers to earn points: Customers can earn points when they sign up, refer friends, and share on social media. They can also earn points on their birthday or when they reach certain milestones in their purchase history.
Gamification: Add fun elements like leaderboards where top customers compete to win prizes based on their earned points!
Growave is a Shopify rewards & loyalty program app that allows you to customize your loyalty program to best fit your company's needs. It makes it easy to engage with your audience, collect valuable customer data and reward customers for their engagement. Growave Loyalty has a 14-day free trial to test every feature before using a paid plan.
Growave is an all-in-one marketing platform for more high-level engagement in your online store:
Wishlists: This feature helps your customers save products they love and share them with friends & family, which can translate into more sales.
Reviews: This feature allows customers to share their opinions about the products they've purchased in your store, increasing sales by providing social proof.
Rewards: The reward system helps you retain more customers by allowing them to earn points for their interactions with your store and redeem their points for rewards like discounts or gift cards. Set up tier-based loyalty programs and reward offers like free products, shipping vouchers, or discounts.
Referral functionality: Growave has an automated referral system so your customers can easily refer others to join in on the fun! Keep track of the activities directly from your dashboard.
Personalized coupons: Customers can redeem customized coupons based on their purchase history and shopping behavior, like free products, free shipping vouchers, and more.
Social login: Make it easy for customers to sign up for your loyalty program by allowing them to sign in with their Facebook, Twitter, Google, or Instagram accounts. This makes it easier for them to create an account and reduces the time it takes them to register.
User-generated content: Social proof builds trust, resulting in higher conversions. With Growave, you can encourage your customers to share their photos with your products on Instagram or Facebook by offering them rewards. Also, you can easily import all the photos of real customers with your products to your website and use them as visual marketing tools.
BON is a loyalty program app for Shopify. It's designed to create and automate your store's loyalty program so that you can focus on the rest of your business. It gives you an easy way to set up a points-based rewards program that encourages repeat purchases. It lets you reward customers with points based on their purchase amount or even just for signing up for your newsletter.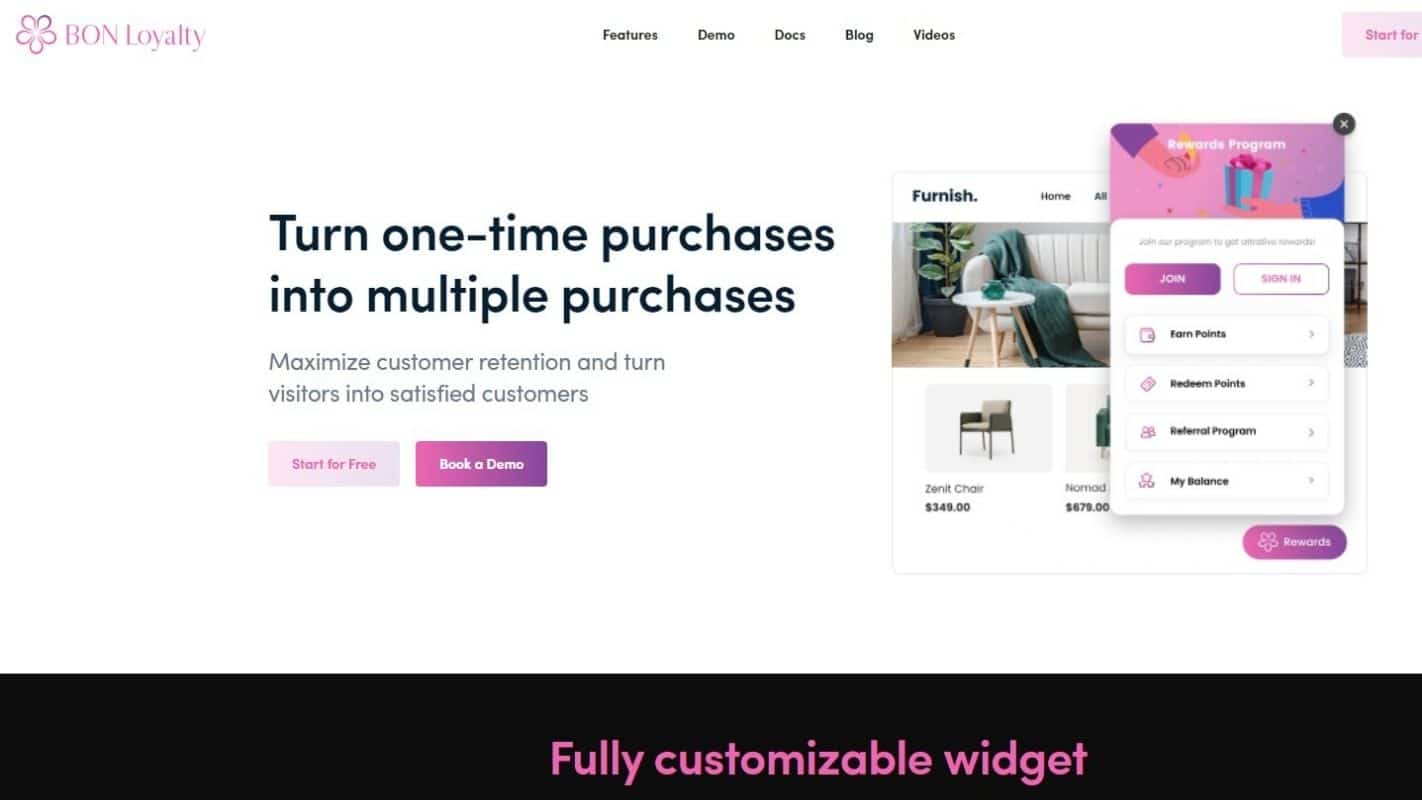 You can then redeem those points in your store by offering them a percentage of the customer's next order or by applying them directly to their purchase as a discount. You can also use BON to provide free shipping to customers who've spent a certain amount in your store over time, or you can give them a discount when they reach a specific spending level.
BON is the most comprehensive and flexible loyalty app for Shopify, offering numerous actions and features such as:
Customizable rewards: You decide how many points you want to grant each time a customer makes a purchase or how much money they need to spend to earn points. You also choose how many points a customer needs to get a dollar off their next order.
Automated referral rewards: Whenever one of your customers refers a friend who makes a purchase, both customers are rewarded with points! You choose how many points to award for referrals.
Gift cards & discount codes: If you offer gift cards or discount codes through your Shopify store, BON automatically recognizes when orders use these payment methods and doesn't apply the usual point rewards.
Joy is a customer loyalty and referral program that helps collect more customer reviews, increase customer retention, and drive word-of-mouth sales.
The App lets you reward customers with points that they can redeem for discounts on future purchases, so they're incentivized to make repeat purchases. You can also create rewards for referring friends that help facilitate viral growth.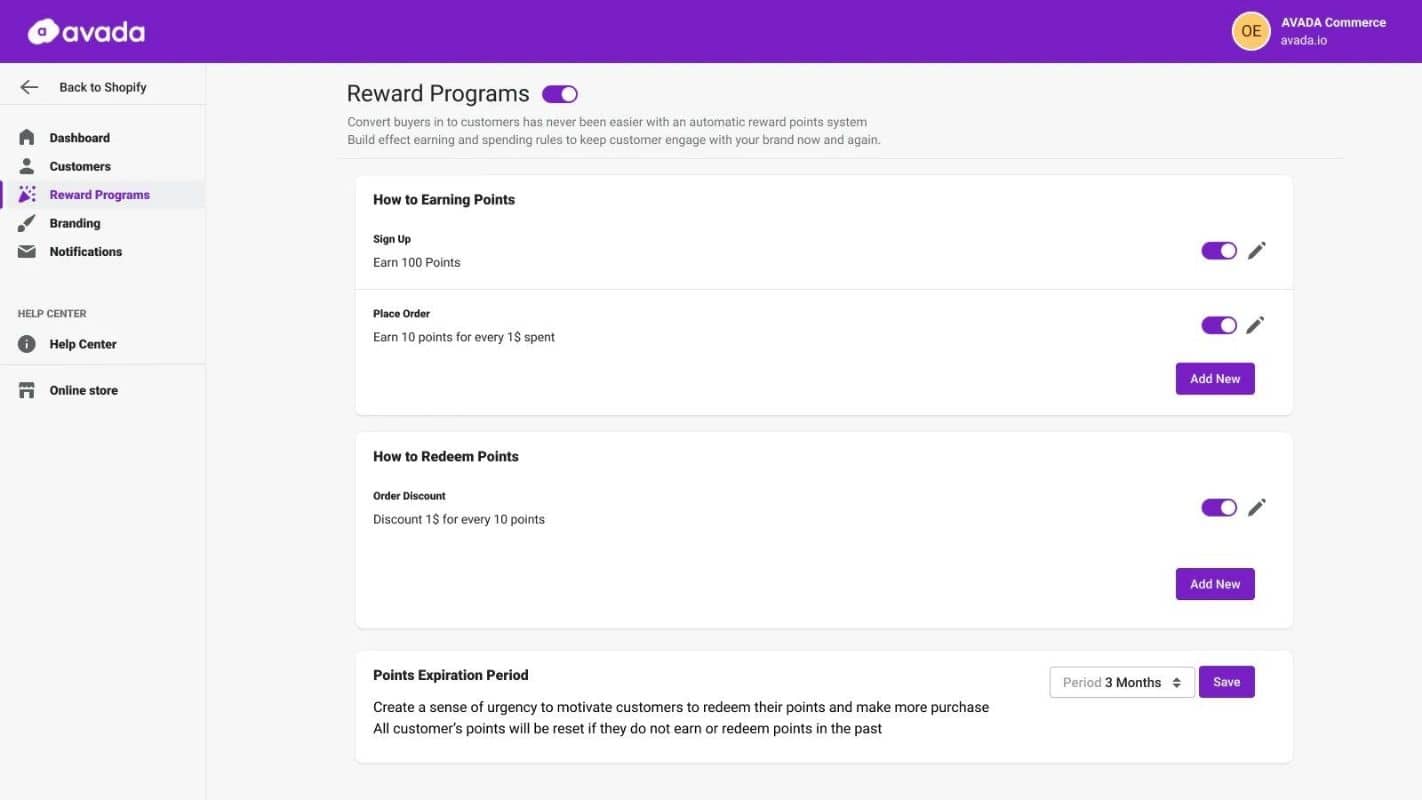 The App has a beautiful interface that's fully customizable—you can control the text and color scheme and even add your logo and product images. It integrates seamlessly with your existing theme, so it's easy to install. As a result, you won't have any problems keeping up with changes to your website or marketing strategies. In addition, you'll have access to a dashboard to see all of your data in one place—including top referrers, conversion rates, and prize redemptions.
The platform offers four key features:
Points system: Customers earn points whenever they shop at your store or refer a friend. You can choose how many points customers will accumulate with each purchase and how many they'll need to redeem a discount.
Referrals: When customers refer their friends, they get bonus points. Friends get an incentive to buy, like a discount on their first purchase or free shipping.
Rewards gallery: You can use this tool to create custom email templates and landing pages, so your rewards program is on-brand and appealing.
Dynamic popups: Use this feature to create alerts on your store's pages and offer rewards for signing up or making purchases.
Smile offers a powerful loyalty program with advanced customization options. Smile has over 4000 app reviews in the Shopify App Store. With Smile, you can set up intuitive rewards & loyalty campaigns that let you turn existing customers into brand ambassadors.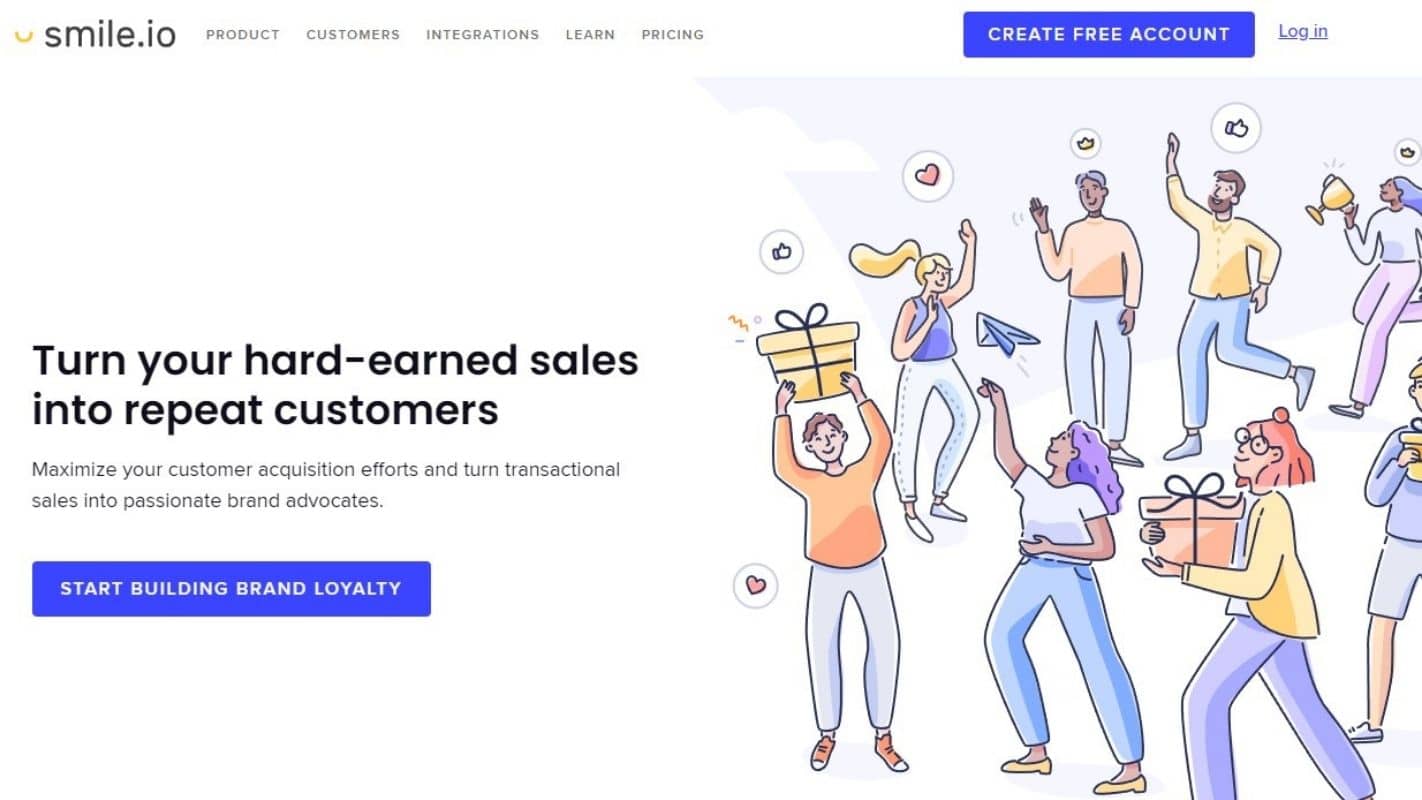 Set up complex campaigns to attract new customers by rewarding them when referring friends to your online store. The App also allows you to give discounts to your most loyal customers without worrying about abandoned carts or coupon frauds.
Key features of Smile
Smile offers a variety of features you can use to build customer loyalty and encourage repeat purchases. Some of its key features include:
Gamification: Instead of just offering discounts, Smile lets you give away points for every purchase made on your eCommerce store. This helps encourage repeat purchases since customers can use their points like cash for future purchases. You can even allow them to earn points from activities such as product reviews and social media shares.
Referral marketing: Offering points for referrals is another great way to reward loyal customers for helping spread the word about your business. It also enables you to reach out to new potential customers who may become loyal clients.
Frequent buyer: Customers earn points every time they buy something from your store. After a set number of purchases, they get a reward—usually money off their purchase or free shipping.
Coverage-based reward: A coverage-based reward is where customers earn rewards when they leave reviews after each purchase, so long as they meet specific criteria.
When you're trying to build a loyal customer base, you have to get creative. How do you keep customers coming back? What kind of program will best suit your business—and your customers?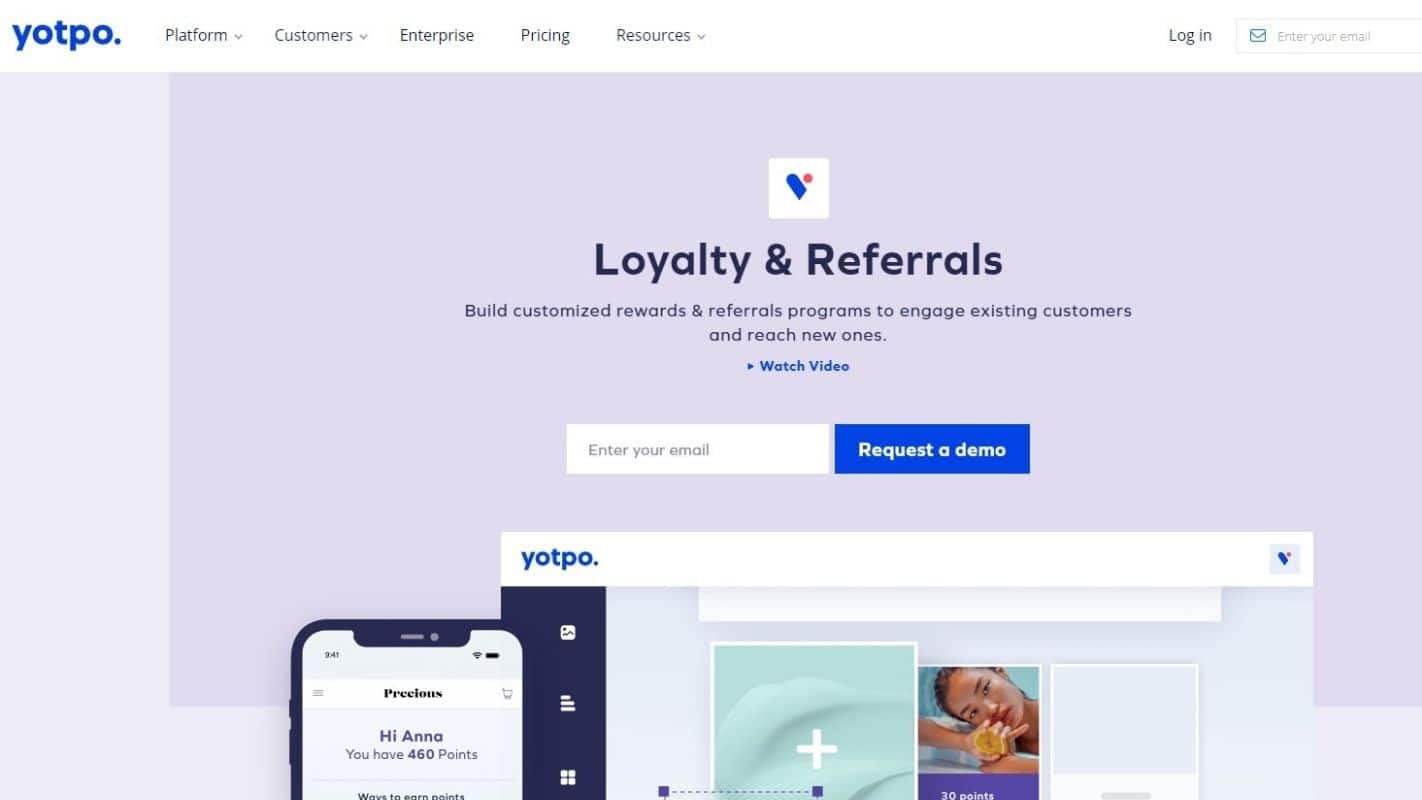 With Yotpo Loyalty & Rewards, you don't have to answer those questions alone. Instead, Yotpo provides tools that help businesses like yours understand what makes your customers tick—and helps build programs that will keep them wanting more of what you have to offer.
Key features of the Yotpo Loyalty & Rewards app:
Point collection and spending: With Yotpo Loyalty & Rewards, you can set up a points-based loyalty program for customers who complete actions like making purchases or writing reviews. You can also set how many points customers will receive for each activity completed and the number of points required to redeem rewards.
Referral functionality: Yotpo gives you the tools to run referral campaigns, which allow your customers to refer their friends and family to your business in exchange for rewards like discounts, gift cards, or free products. You can even sync these campaigns with Facebook and Instagram.
Customizable popups: Add a rewards popup to your site to show customers how much they have spent and how many points they have earned towards their next reward.
Loyalty tier programs: Set up your own VIP tiers to reward your customers even more and improve the overall customer experience on your online shop.
SMS & Loyalty: Go a step deeper and send your customers an SMS as soon as they reach specific actions. Yotpo integrates with other Shopify Apps to reach out directly via SMS to your customers.
Loyalty Lion is a loyalty & rewards program for merchants on Shopify, which allows you to reward your customers and increase the overall customer retention rate. The App helps you set up a customer rewards program based on your customers' specific actions, like referring friends or making repeat purchases. It even offers a built-in referral program!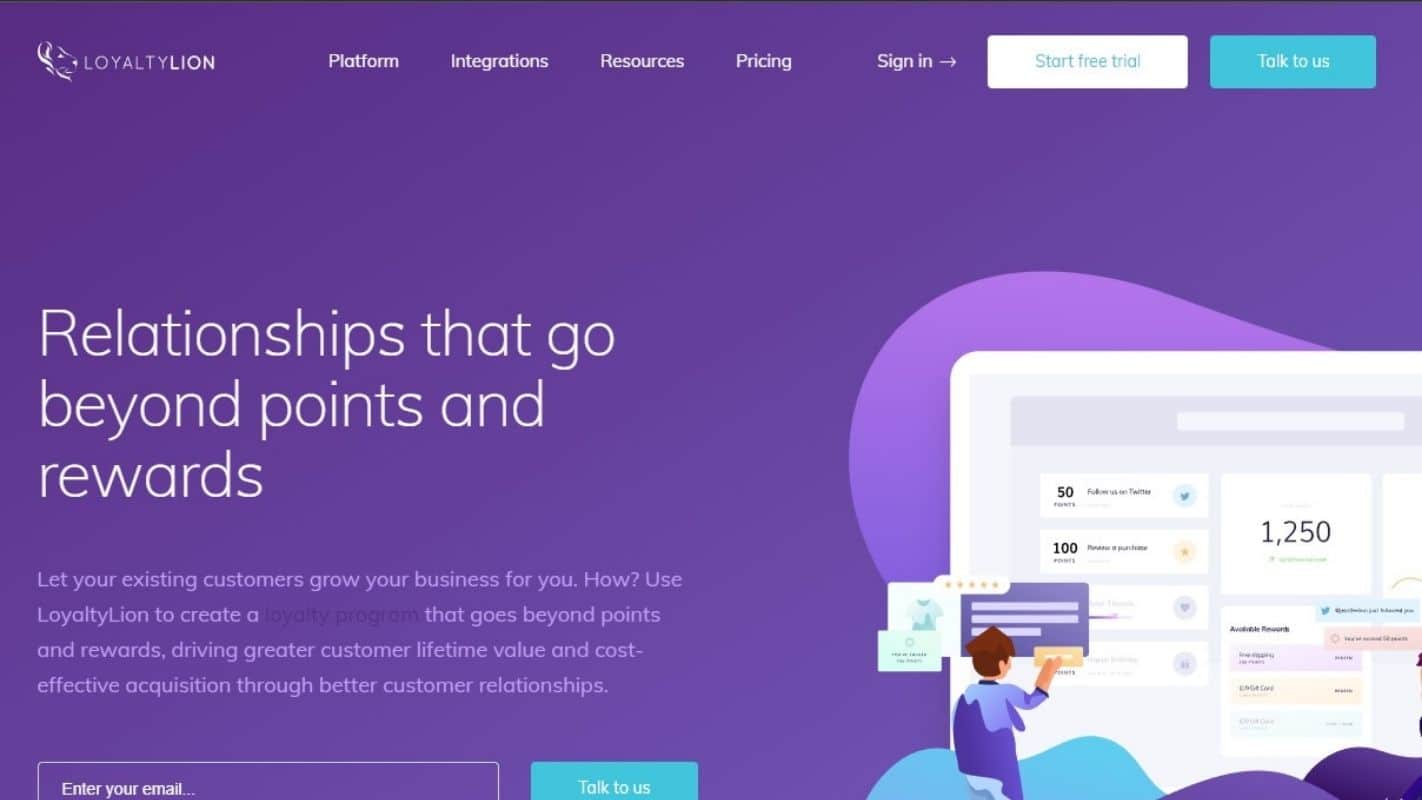 The best part about Loyalty Lion is that it's super easy and quick to set up. You can customize the way you want your loyalty program to look in your online store—choose an awesome design, add your logo, and pick the colors you want. Then, get everything running and start rewarding your customers with points they can redeem for discounts and free shipping!
Features:
The key features of Loyalty Lion are:
Automatic rewards: Automatically offer your customers points for making purchases and writing reviews. You can also set up the App to reward points for birthdays, social actions, and more.
Custom rewards: Create custom rewards for special events or any other reason you'd like.
Points multiplier: Engage your most loyal customers with a points multiplier, which can be increased based on the number of purchases they make or their spending.
Referrals: You can reward them with a fixed number of points or give them points equal to their friend's money on their first purchase.
Final Word
If you're looking for apps to maximize customer engagement on your Shopify store, here's a list of the scoop for you. It includes some of the best loyalty program apps available. From this blog post, you'll discover how to increase conversions, get more repeat business, and make more profit from your eCommerce store!
So, happy Shopify rewarding! And thanks for reading,
Zaid
Share with your Friends: