8 Best Shopify Subscription Apps To Get Recurring Revenue
The subscription model has been one of the most successful online business strategies. They provide a consistent income for services or products sold on your website. The best Shopify subscription applications allow you to regularly charge your customers for products or services.
According to the Subscription Trade Association, the worldwide subscription commerce economy grows at a compound annual growth rate (CAGR) of 17.33%. As a result, this demonstrates the thriving and profitable nature of subscription categories in commerce.
Customers and store owners love the subscription business model because of its flexibility and efficiency. While it allows customers to simplify routine purchases, it also provides store owners with a source of recurrent income. However, you're a busy entrepreneur running an eCommerce business. Finding the best subscription apps for growing your Shopify store takes time. As a result, we've taken the liberty of completing the legwork for you.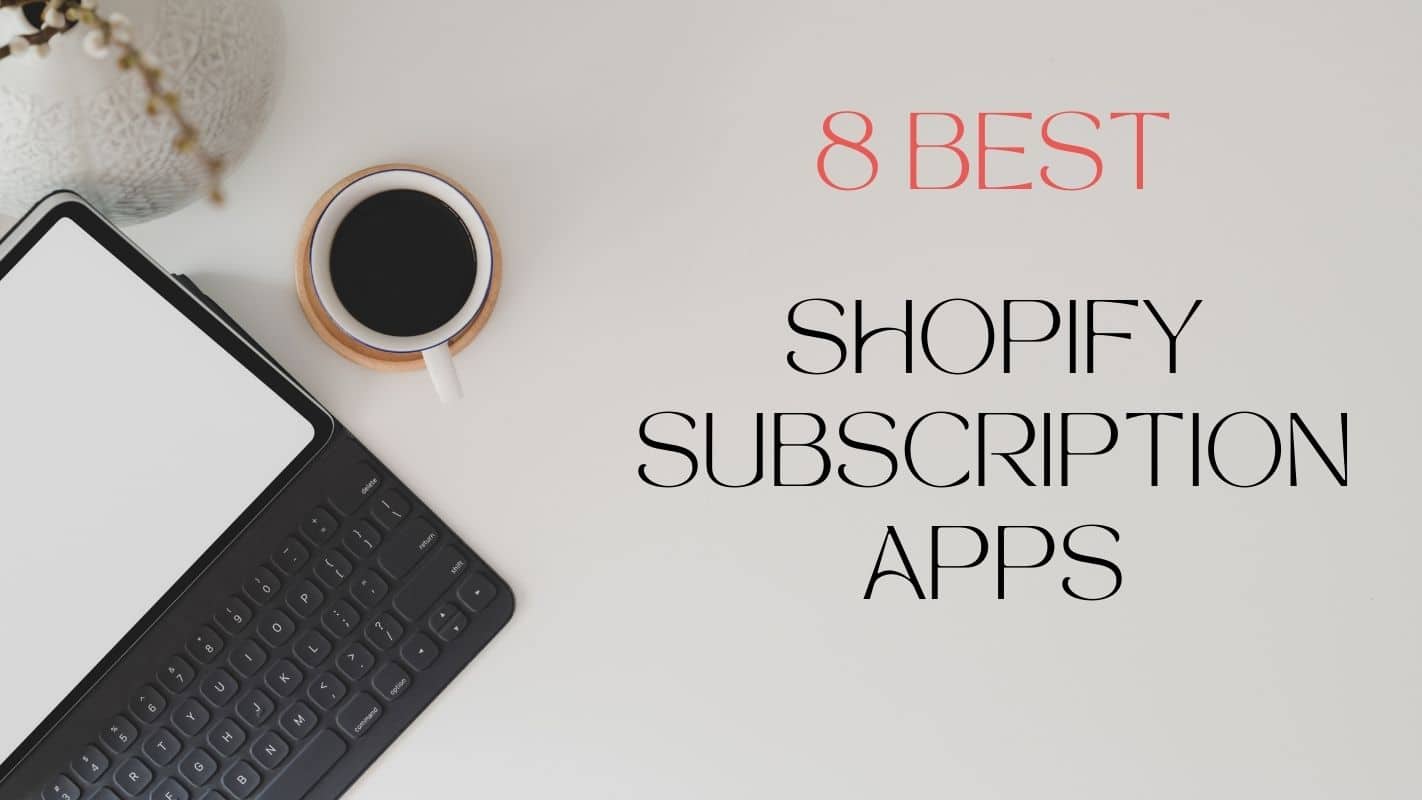 These apps can help you create recurring revenue while also providing significant value to your customers by regularly delivering the goods they want. This article will go through some of the best Shopify Subscription apps for creating subscriptions on your store.
Best Shopify Subscription Apps
You probably don't want to deal with complicated payment transactions if you're a consumer, right? Your customers will feel the same way. The Bold Subscription from Bold Commerce is the key to ensuring your clients' delight at the checkout. The Bold Subscription's inclusion on this list is no accident. It has gained a lot of trust and user feedback in optimizing the payment process.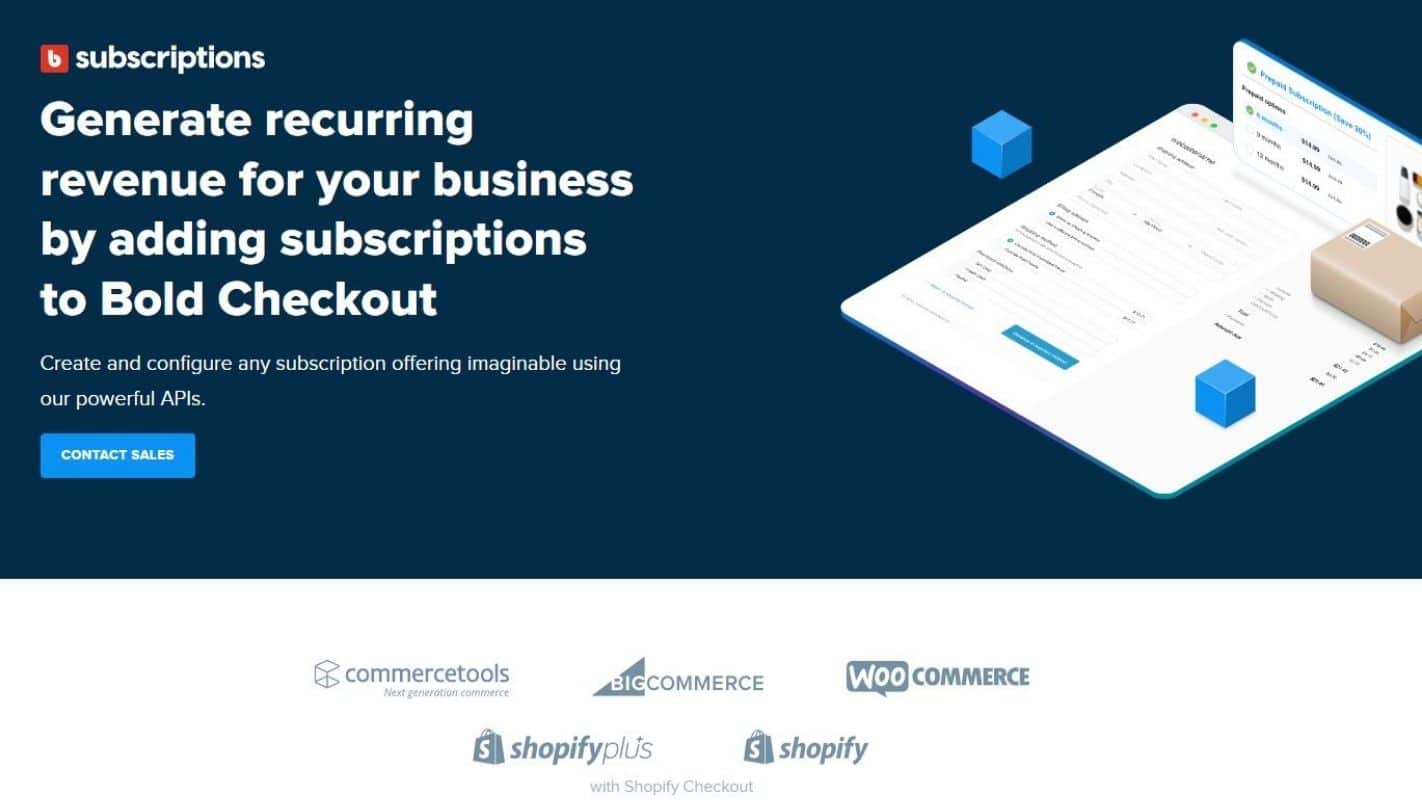 This application lessens the time it takes during the checkout process. With the most well-known payment options, your customers can quickly choose the payment gateway they want and make a payment. Additionally, it lets your clients make their accounts, view their purchase history, and update their information. Your store can check the client's product orientation and shopping trends based on their data.
Features
SMS subscription administration
All leading Shopify apps are integrated.
Native Shopify app for customer portal and account management
Accept recurrent payments to generate recurring revenue.
Orders can be paused, skipped, or edited.
Recover lost or stolen credit card transactions
APIs and developer tools
Regular payments on a schedule
Personalize subscription offers
60-Day free trial. After that, $50 per month + charges of 1% of orders containing subscription products
Appstle℠ Subscriptions is a full-service subscription management system for your Shopify store. Subscriptions can be created and managed via the product description pages in Shopify Admin or Appstle℠ Subscriptions' merchant interface.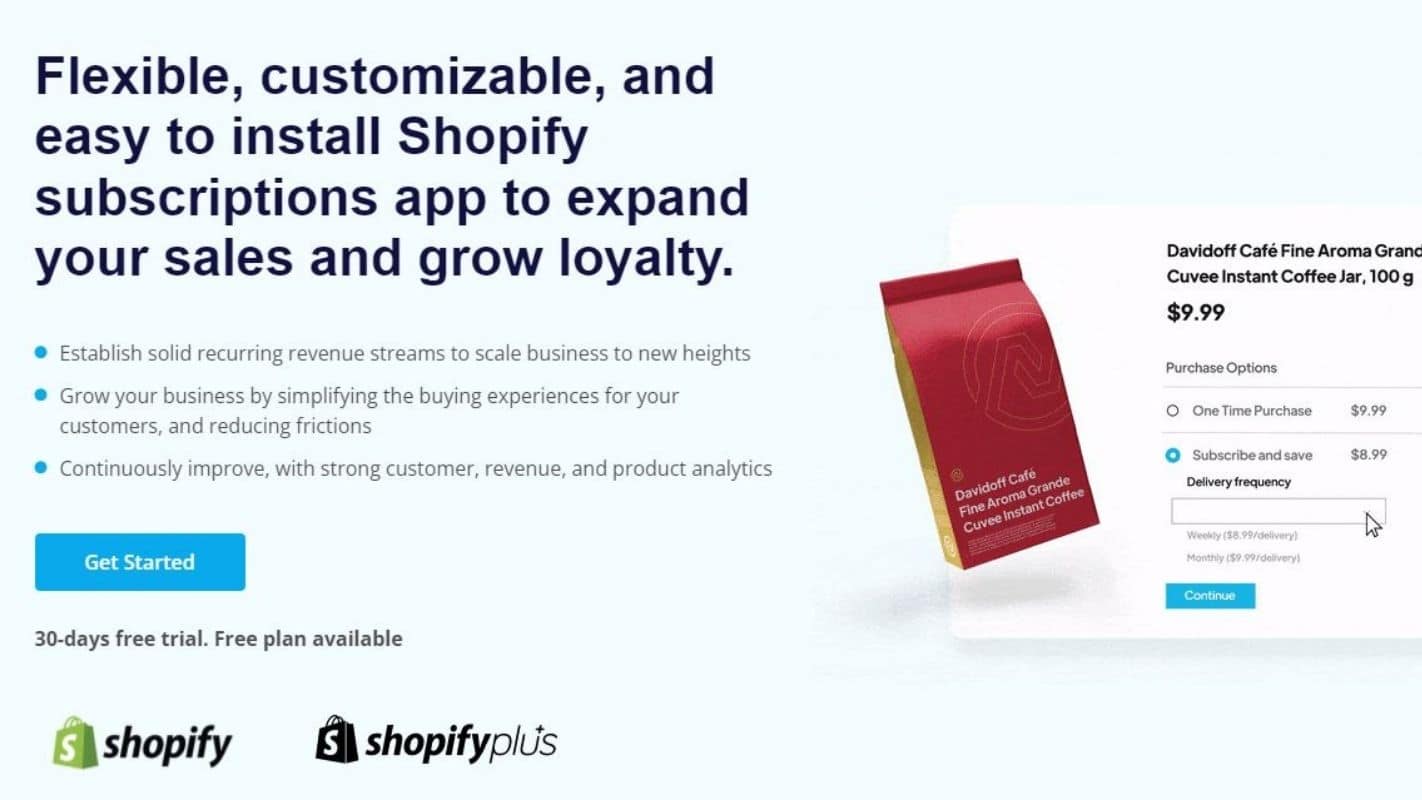 Customers may self-manage their subscriptions, including the ability to swap/add/delete products, delay or skip deliveries, and adjust their delivery intervals and dates. In addition, subscribers can use Shopify's checkout procedure and payment channel to purchase one-time and subscription products.
The subscribed clients will also not need to create an account because a magic link will be provided. With over 300 reviews, Apostle Subscriptions now has an excellent five stars in the Shopify App Store. Appstle℠ Subscriptions has four options, the first of which is free. For premium plans, they also provide a 2-week free trial. Their plans have no transaction fees, but the quantity of subscribers and services available varies based on your selected plan.
Features
Shopify's original checkout method and payment gateway
Various subscription choices and frequency
Customers can manage their subscriptions without registering. Custom CSS Email notifications that are personalized and automated
Customers can subscribe to real-time data and reports.
It works with Loyalty Lion, Klaviyo, and Zapier.
Checkout with a mixed cart that includes both one-time and subscription products
0% transaction fees on every pricing plan
The free plan allows up to 50 subscriptions per month
One of the most valuable features of the Subscription & Recurring Order by the SpurIT app is managing and creating subscriptions. It is a unique app since it does not require users to log in or set up an account to finish the registration process. Additionally, clients can unsubscribe via the email link, making the registration procedure quick and straightforward.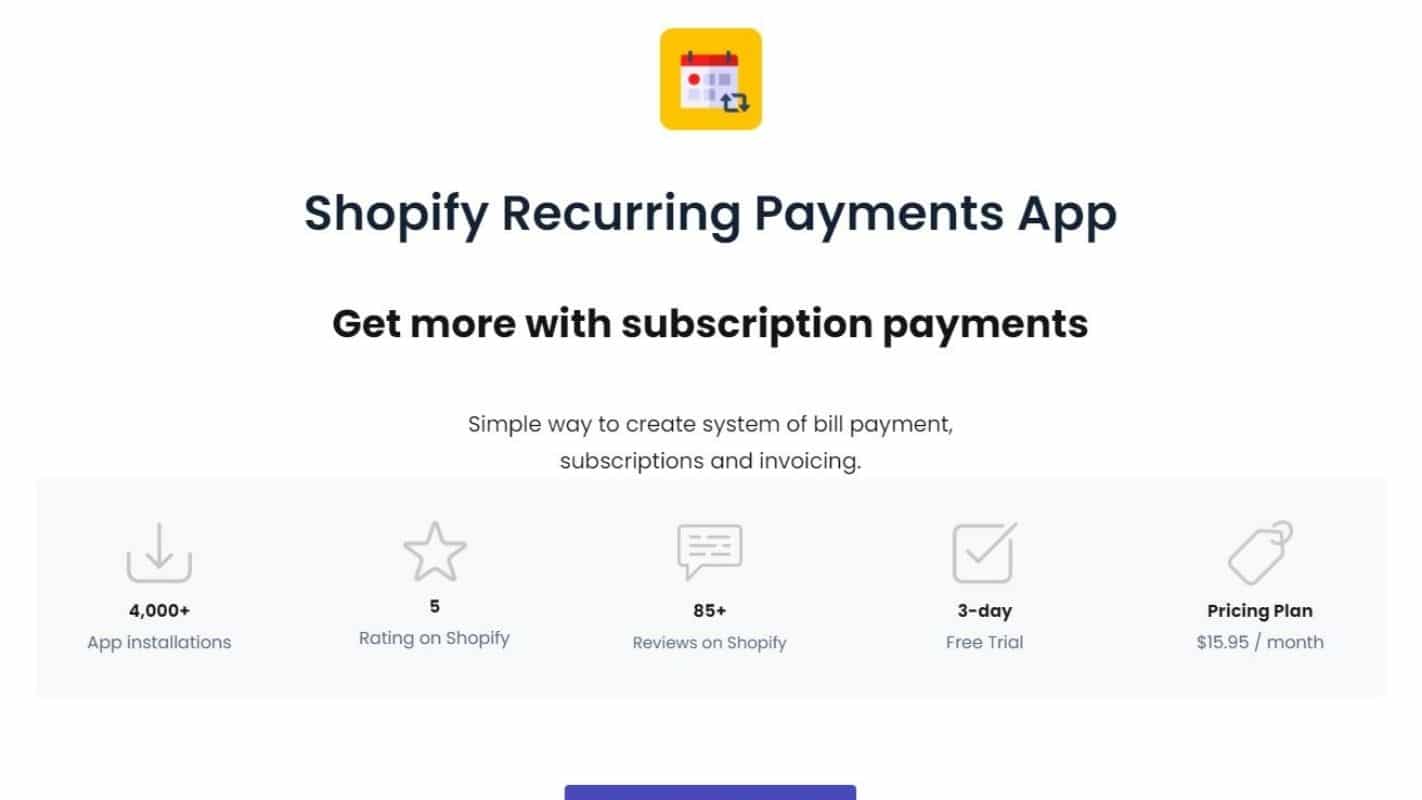 The application generates automatic invoices rather than billing, which is convenient for customers because they can pay at any time and through any payment method. In addition, instead of providing dozens of new confusing options, the best fees and taxes are automatically applied throughout the checkout process.
The app also enables you to register immediately on the product page, adjacent to the add to cart button, to boost the number of subscriptions in your online store. Furthermore, it enables you to automatically send payment emails with payment links to over 100 payment channels on Shopify.
Features
Customers are sent invoices regularly.
Invoices can be generated automatically on demand.
There are no costs for recurring items.
Provide the best subscription creation and management capabilities.
Simple to set up and use recurring billing.
Customers should be able to sign up for weekly/monthly subscriptions.
Provide several customization possibilities.
Allow subscriptions from different carts.
FREE to use, no hidden fees, no transaction fees, no app usage charges, and unlimited products per month
PayWhirl is a versatile subscription payment program that enables clients to manage recurring billing cycles. Subscriptions, payment plans, pre-orders, and other services are included. It works seamlessly with other industry-leading tools and platforms like Shopify, Bigcommerce, PayPal, Braintree, Stripe, and Zapier. It is effortless to set up and allows users to incorporate a customer portal directly into their websites. Customers only need to log in to begin controlling their subscriptions.
The automatic payment scheduling can quickly charge customers and take payments from anywhere globally. Moreover, it guarantees that cash flows remain consistent. Users can even chain several billing plans to build customized schedules tailored to their business models. Another noteworthy aspect of the tool is its highly responsive customer care. Smart shopping carts, embedded payment widgets, checkout, and customizable emails and bills are among the other significant features.
Features
Subscriptions and payments can be easily created and managed
Customers' payment information is securely stored.
Customers can set up payment plans that allow them to spread out the cost of their orders over a more extended time.
Subscriptions are paid on a recurrent basis.
Recurring billing has been automated.
Numerous customization options are available to help your subscriptions blend in with your brand.
Your clients can easily manage their regular orders.
Transaction fees are based on the monthly subscription plan, ranging from a 3% transaction fee in the free plan to a 0.5% transaction fee in the Ultimate Plan for $249 per month
Seal Subscriptions can help you launch a subscription business and increase revenue through recurring orders. A subscription is simple to set up. Install the app, add your first subscription rule, and you're ready to start generating recurring cash. Seal Subscriptions allows you to create two different types of subscription plans. Most people are familiar with the first option is auto-charge; clients are automatically charged for recurrent orders.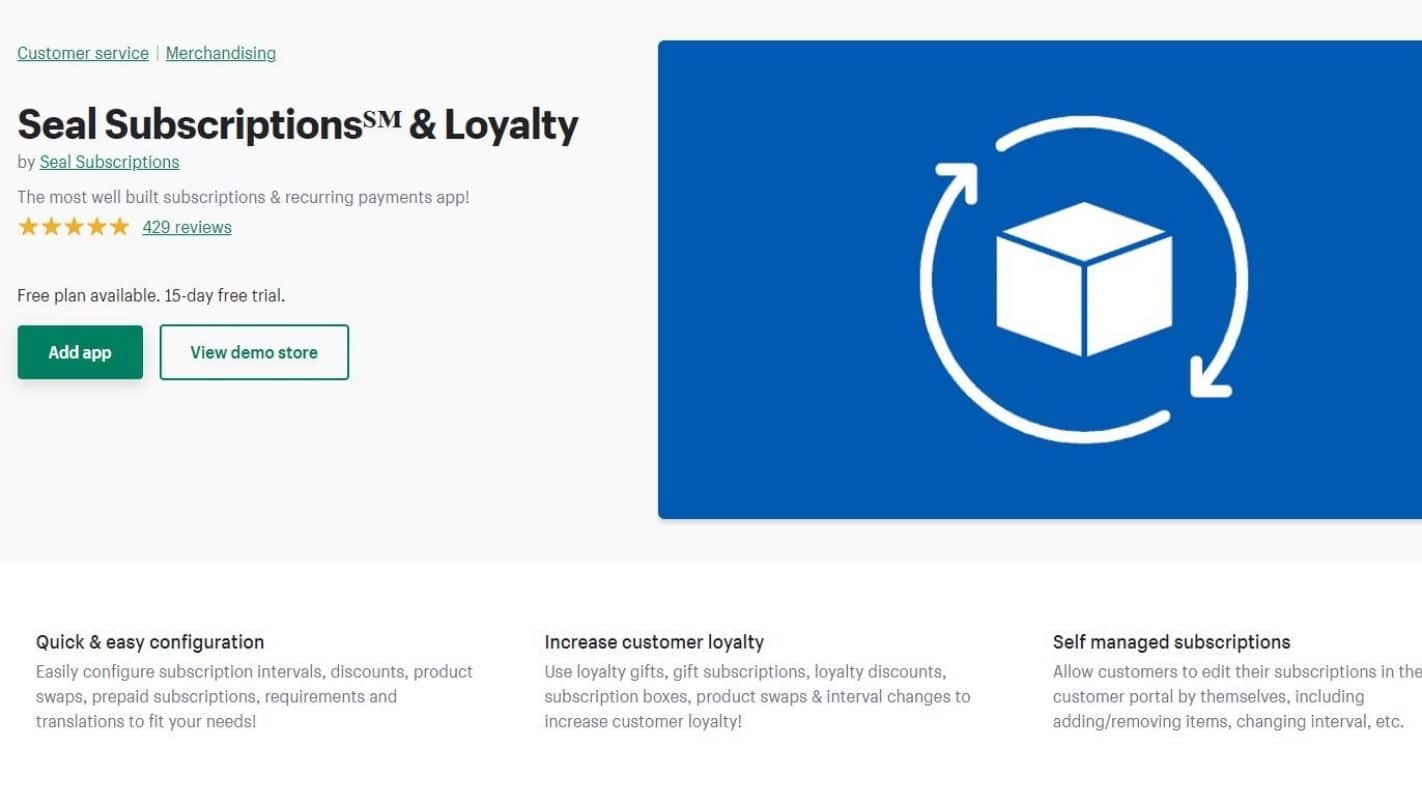 The other option of a subscription plan is the recurring invoice mode. Customers receive invoices with a checkout link when it is time to pay for the next recurring order. Customers will go through a familiar checkout page with Shopify's payment processing because this app utilizes Shopify's checkout system.
When the clients subscribe and their next subscription order is processed, the app will immediately email them an invoice with a checkout link. Clients will be able to place orders at any time. In addition, customers can quickly cancel or view their recurring subscriptions using the magic link sent in an email. The Seal Subscriptions app also has a feature that lets store owners create Shopify subscriptions manually.
Features
Deeply connected with Shopify: The software delivers automated invoices rather than directly billing clients.
The subscription widget is next to the Add to Cart button.
The Shopify checkout process.
Expand your revenue by using coupons to increase your earnings by obtaining recurring income from your clients.
Automatic invoicing that allows clients to pay at their leisure.
Discounts on first-time subscription purchases. Registration is not required: You do not need to register Your clients for them to access Your subscriptions.
Swap products feature
Free plan available for up to 150 active subscribers
ReCharge Subscriptions offers a complete solution to help you set up a sustainable subscription management system. It provides several features to help customers have a more exciting experience. With this software, you can easily create subscription offers and show them on your website.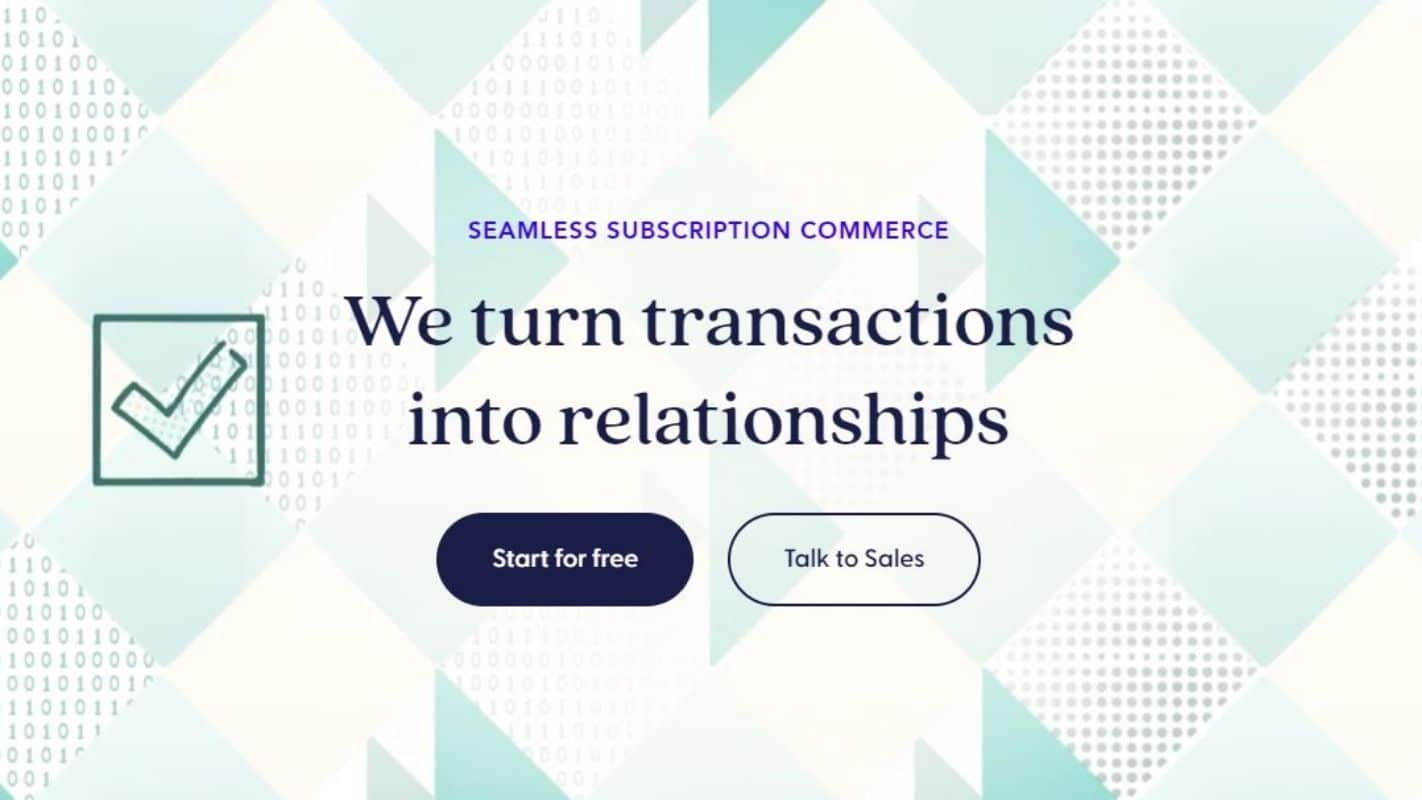 Furthermore, the app features special measures to ensure the most remarkable results while building your subscription business model. It also features several user-friendly interfaces for customers and store administrators to manage subscription data.
Customers can change their subscriptions by SMS or the built-in customer site, and merchants can deliver suitable product upsells to loyal customers. Unlike many subscription apps that require customers to place a single order for recurring purchases, Recharge maintains the same checkout experience. It prides itself in providing a smooth customer experience that enables customers to cancel subscriptions, rearrange delivery, and adjust the frequency of their orders with only a few clicks.
Features
Integrates with leading commerce solutions such as Klaviyo, Gorgias, Yotpo, LoyaltyLion, etc.
Allows you to increase AOV through upsells, such as introducing one-time products.
Customers can switch items and customize their subscriptions.
Option to select subscription frequency, such as monthly or weekly.
It enables users to manage every aspect of their subscriptions (through the customer portal, email, and SMS)
You can use the ReCharge API to develop custom workflows to address complex subscription requirements.
Provides detailed information on customers, revenue, and subscriptions.
Loop Subscriptions is a new app, but its efficiency is equivalent to the top Shopify subscription apps. To market subscriptions on Shopify, the software compensates subscribers by offering tiered discounts on subsequent or initial orders, allowing you to utilize expenses and work. In addition, the app includes over 20 notifications to reduce subscription cancellations, including failed payments, payment reminders, skipped orders, etc.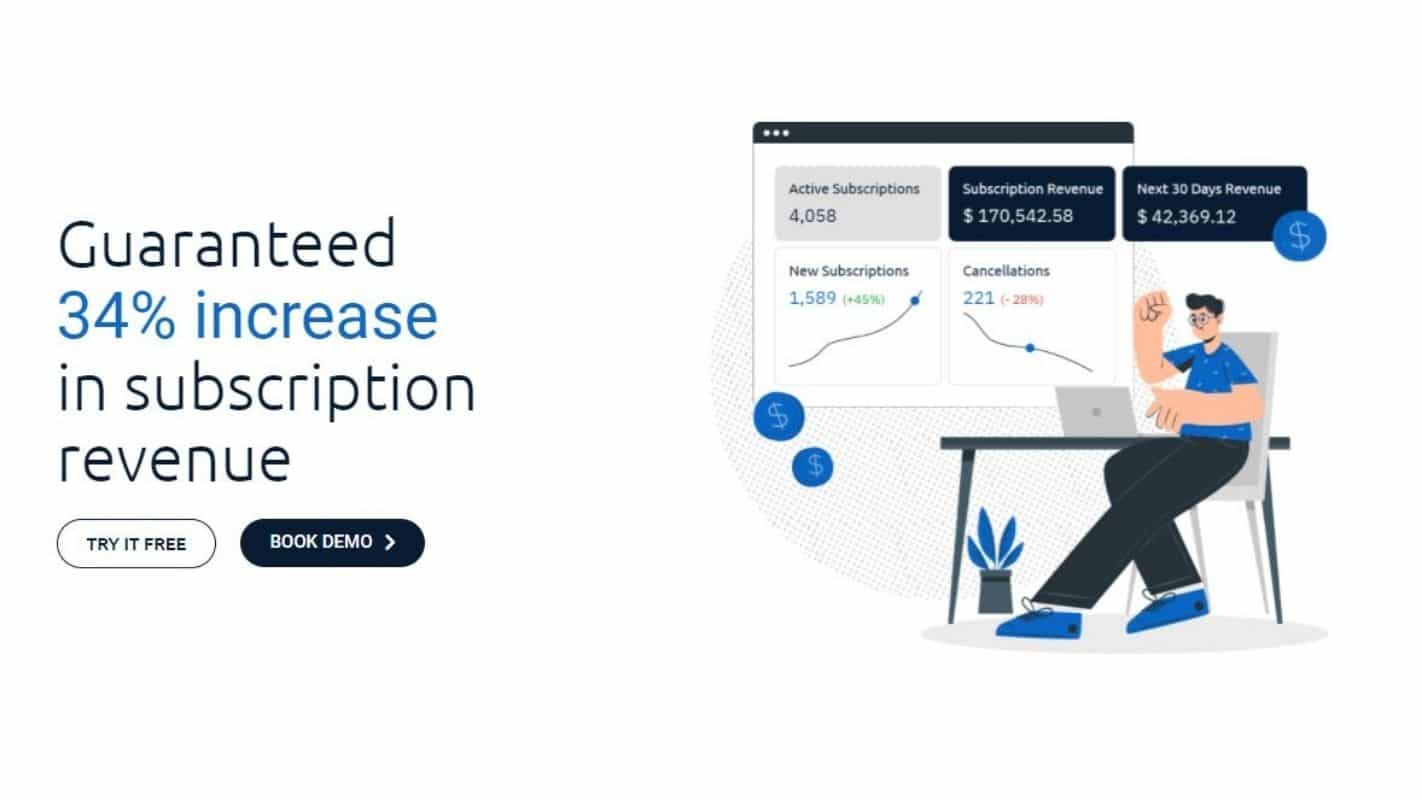 Also, recommend retrying failed transactions caused by denied or expired cards automatically. Furthermore, the ordering choices are a must-have element for any membership program. Loop gives your consumers control over their subscriptions by allowing them to postpone, skip, and change the billing date of future orders.
Features
Set maximum and minimum order limits for subscription orders; sell some things, such as memberships, monthly boxes, and so on, as subscriptions exclusively.
Multiple subscriptions and one-time transactions are both accessible at a single checkout.
Premium and ultimate plans include a customized subscription widget and customer portal support.
Customizations can be made using APIs and webhooks.
Capable of building complex subscription processes like adding trial products for future upselling and auto-changing goods.
Ongoing helps you create simple recurring subscriptions and track orders easily with unique features. Allow for recurring charges to boost revenue and simplify the billing process. Ongoing enables you to provide and accept recurring payments for your items. First, you select a product you want to subscribe. Then you establish subscription plans with various delivery options, such as monthly, quarterly, or annually yearly (or a mix of options).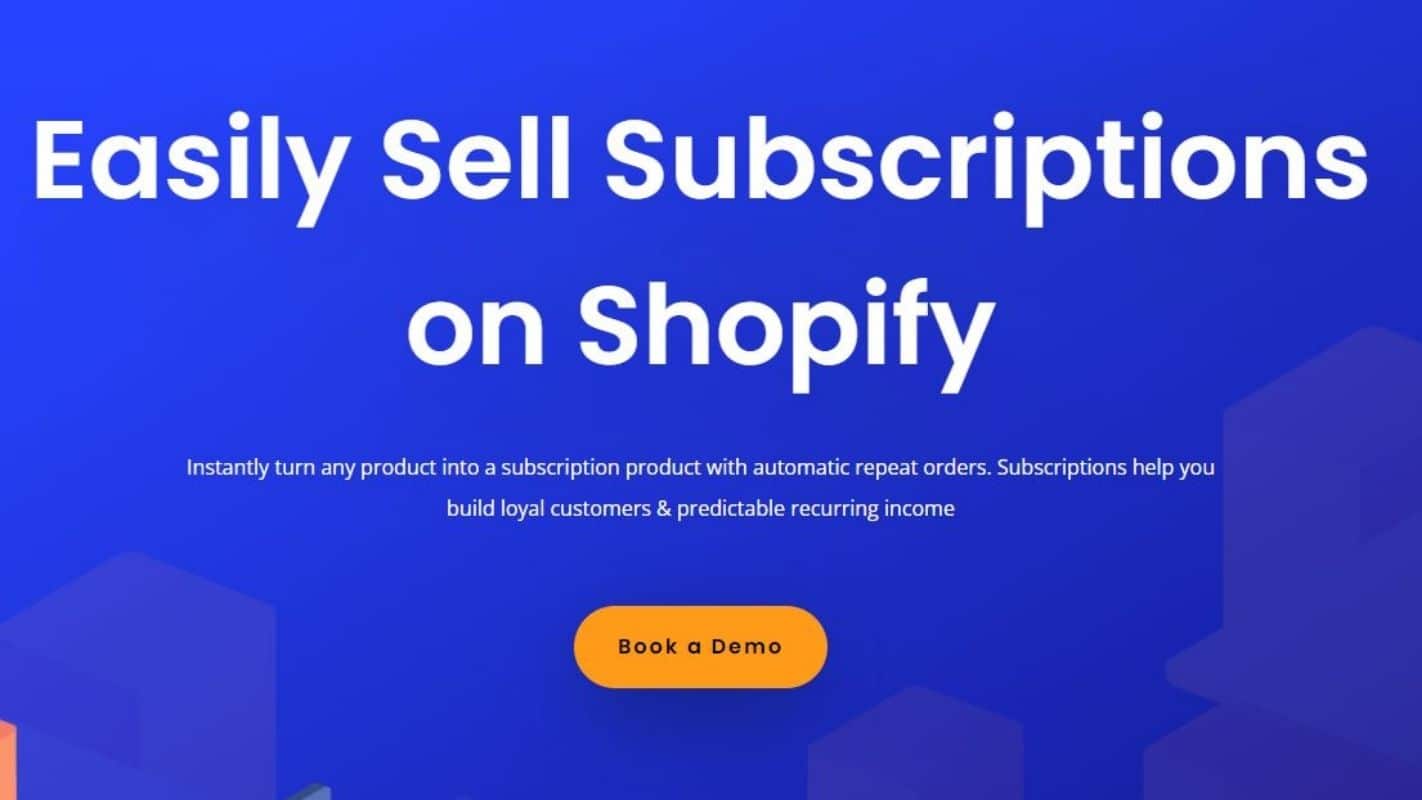 Increase your revenue by engaging customers, offering discounts for repeat orders, and gaining insights into order reports. Ongoing is a MUST-HAVE Shopify subscriptions software that includes frequent discounts, automatic repeating payments, and valuable data. Ongoing boosts your revenue by persuading customers to do repeat orders with discounts on products they love. With Ongoing, you can convert ANY product into a subscription, allowing customers to order it repeatedly.
Features
It applies to any product or subscription box
Beautiful Subscription Widget
Beautiful Subscription Widget Automatic Recurring Payments
Make a subscription plan for any product you choose.
Revenue statements: Take a look at what your subscription app has earned you.
Customers can select from a variety of delivery options and billing cycles.
History of subscription orders and management
PCI and GDPR compliance
Automatic Recurring Billing
Subscription discounts are used to incentivize pricing.
Powerful merchant portal
Conclusion
Due to the immense success of Shopify subscription apps, there are now some Shopify recurring payments software options available to help you manage and run your subscriptions. Even though it comes down to your preference and selecting the app that fits your usage, there are a few key features you should look for in your Shopify subscription app of choice.
It's crucial to know that some subscription apps require a transaction fee; pick one of the best Shopify membership apps with a plan that works for you. It would be best to consider whether you want to provide discounts on your subscriptions. We understand how difficult it can be to select the best app. These are the best apps we discovered during our research, and we sincerely hope that one of them is a good fit for your store.
Happy Shopify subscription app testing! And thanks for reading,
Zaid
Sources:
Share with your Friends: