Shopify vs PrestaShop: Which Platform is Right for You?
Suppose you are getting into the eCommerce space. In that case, Shopify and PrestaShop are probably two website builders you might have come across. However, even though they both allow you to build your eCommerce site, they have distinctive features which make them ideal for different purposes.
This is why we have taken it upon ourselves to explain the difference between Shopify vs PrestaShop to help you make an informed decision for your eCommerce store.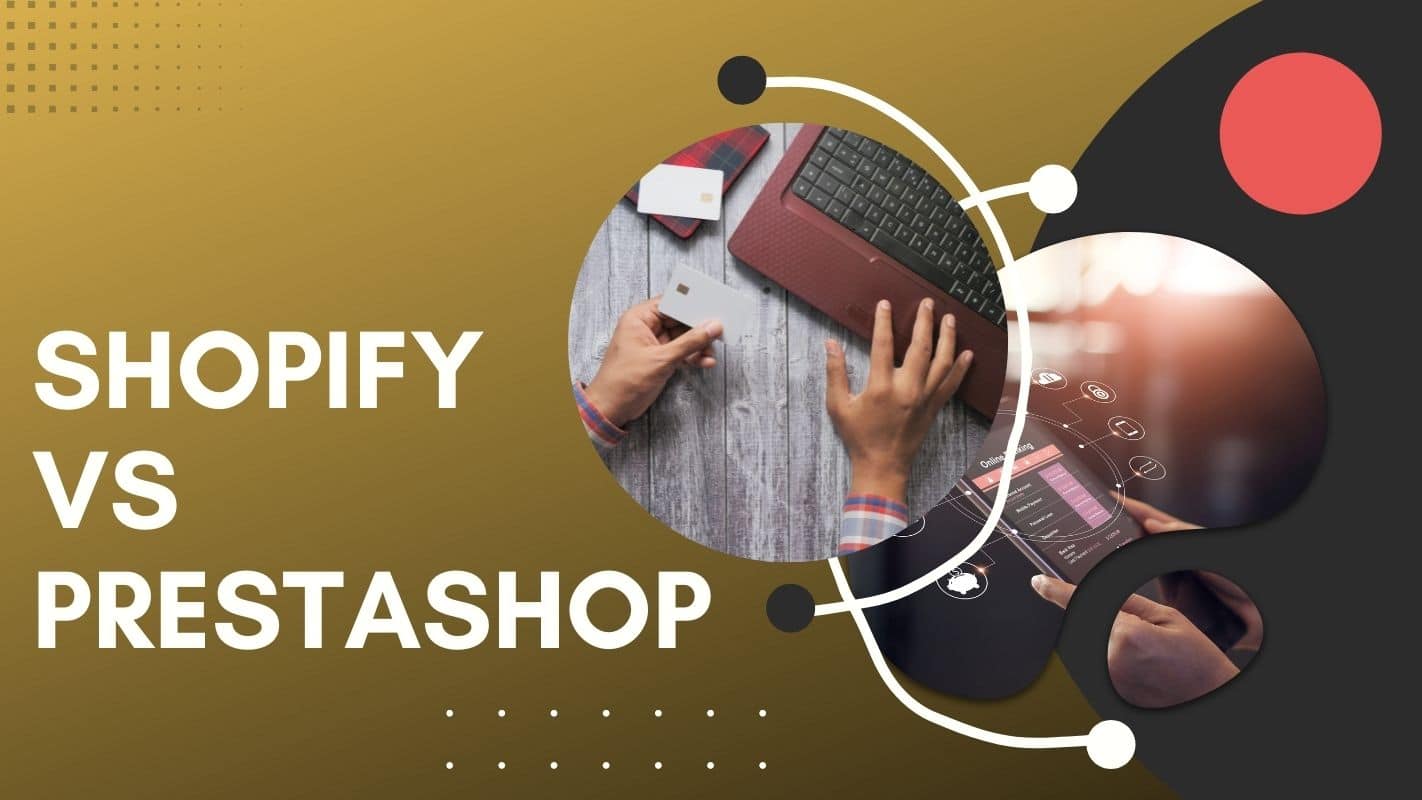 What Is PrestaShop?
Unlike most eCommerce platforms, PrestaShop is a free-to-use open-source eCommerce solution that you integrate into your website. This means you will have to find your hosting, domain, and have your website set up, then you download and integrate the PrestaShop add-on to your website.
What Is Shopify?
Contrary to what most people think, Shopify is not an online marketplace like Amazon or eBay. Shopify is another website builder that provides individuals with all-inclusive tools to help them build an eCommerce/online store. This means, once you create your website, you will be in charge of driving traffic to your website and handling all the sales processes.
Shopify vs PrestaShop Features
Visual Builder
To build a Shopify store, all you need to do is to use their drag and drop builder to edit your website and themes, making it easy to use for beginners and experts. In addition, all Shopify stores are optimized to work on mobile devices and PCs with no interruptions.
The visual builder of PrestaShop isn't the most beginner-friendly. Editing your theme requires that you have some technical knowledge in PHP, and those without such knowledge are limited on the designs and edits they want to make on their website. This point in our article PrestaShop vs Shopify goes clearly to Shopify.
Theme Design
Both platforms have their themes designed by professional designers. In addition, their themes are optimized for mobile and they are responsive.
Templates & Theme store
Shopify offers users a vast selection of free themes for your online store; however, you have the option of buying exquisite themes from their theme store. Their online store has over 70+ well-designed and optimized themes you can purchase.
Both their free and paid themes are designed by professional graphic designers that have been in the industry for ages. Currently, Shopify offers users only 8 out of the 70 themes available. Furthermore, the prices of these themes are on the high-end, and they can cost you $140 upwards.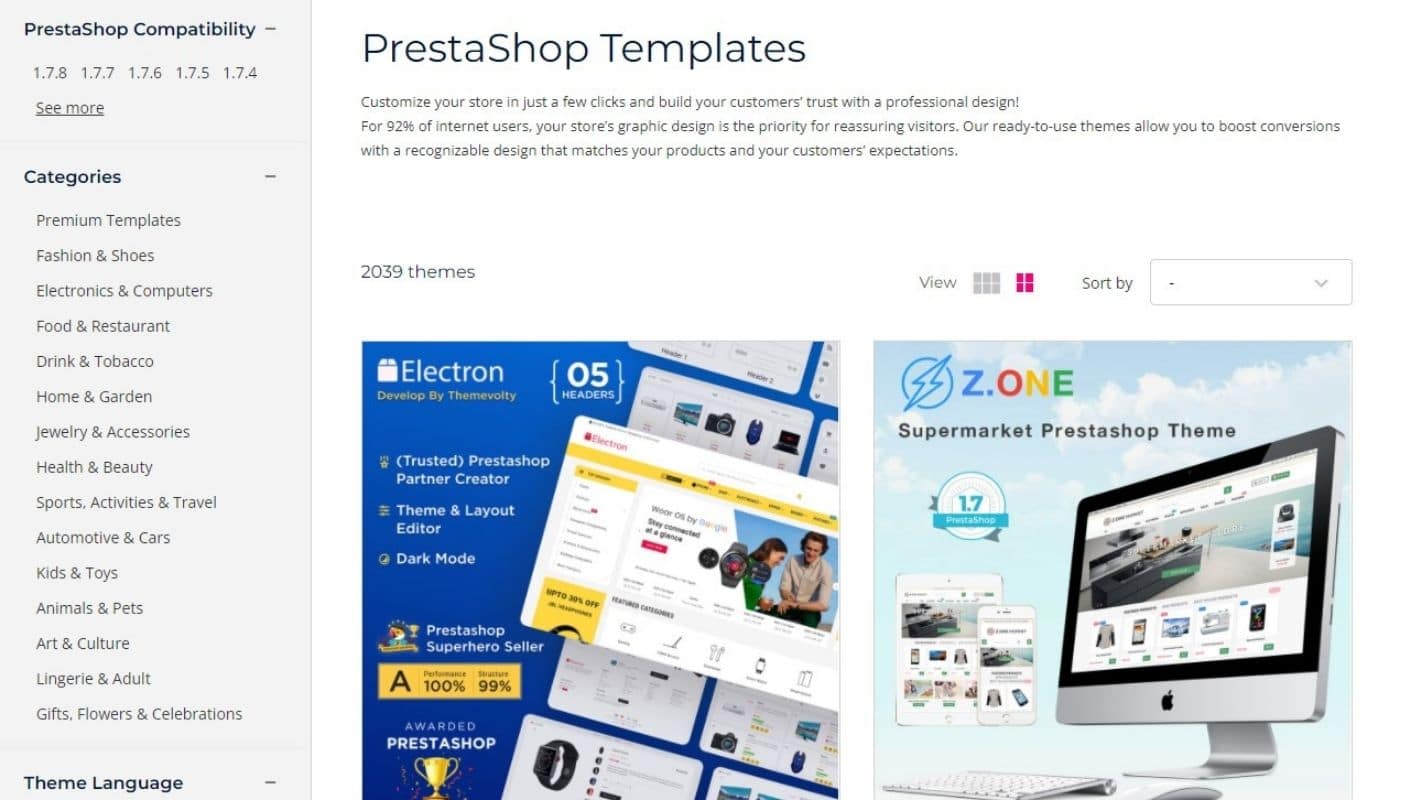 On the other hand, PrestaShop offers 1000s of professionally designed themes on their theme store. However, PrestaShop gives users only one free theme: their Classic Theme. And, you will have to pay to use any other theme. Furthermore, the prices of these themes start from $100 upwards. That being said, you can integrate third-party PrestaShop themes from other developers into your PrestaShop eCommerce site, and it should work perfectly.
Each theme and template from either site are responsive, optimized, and mobile-friendly; however, the difference between the themes of these two platforms is prominent in their customizations.
There isn't that much customization you can do with PrestaShop on your themes. Customizing a PrestaShop theme requires that you install modules and tweak these modules before you can edit your theme. Also, the editing process isn't streamlined since you will be taken to a different page (the Module Manager page) from the Theme manager to edit the modules. Finally, even with their advanced customization page, you will need to know HTML or CSS before you can utilize that customization option.
This makes editing a theme on PrestaShop not beginner-friendly and stressful, especially if you are a beginner who just wants to drag and drop simple items.
In contrast, Shopify makes it easy for you to edit your themes thanks to their OS 2.0 upgrade, which was a game-changer for Shopify. This new upgrade makes it possible for Shopify merchants to edit more than their home page. With the OS 2.0, you can edit your homepage, cart, products page, collections page, and so on.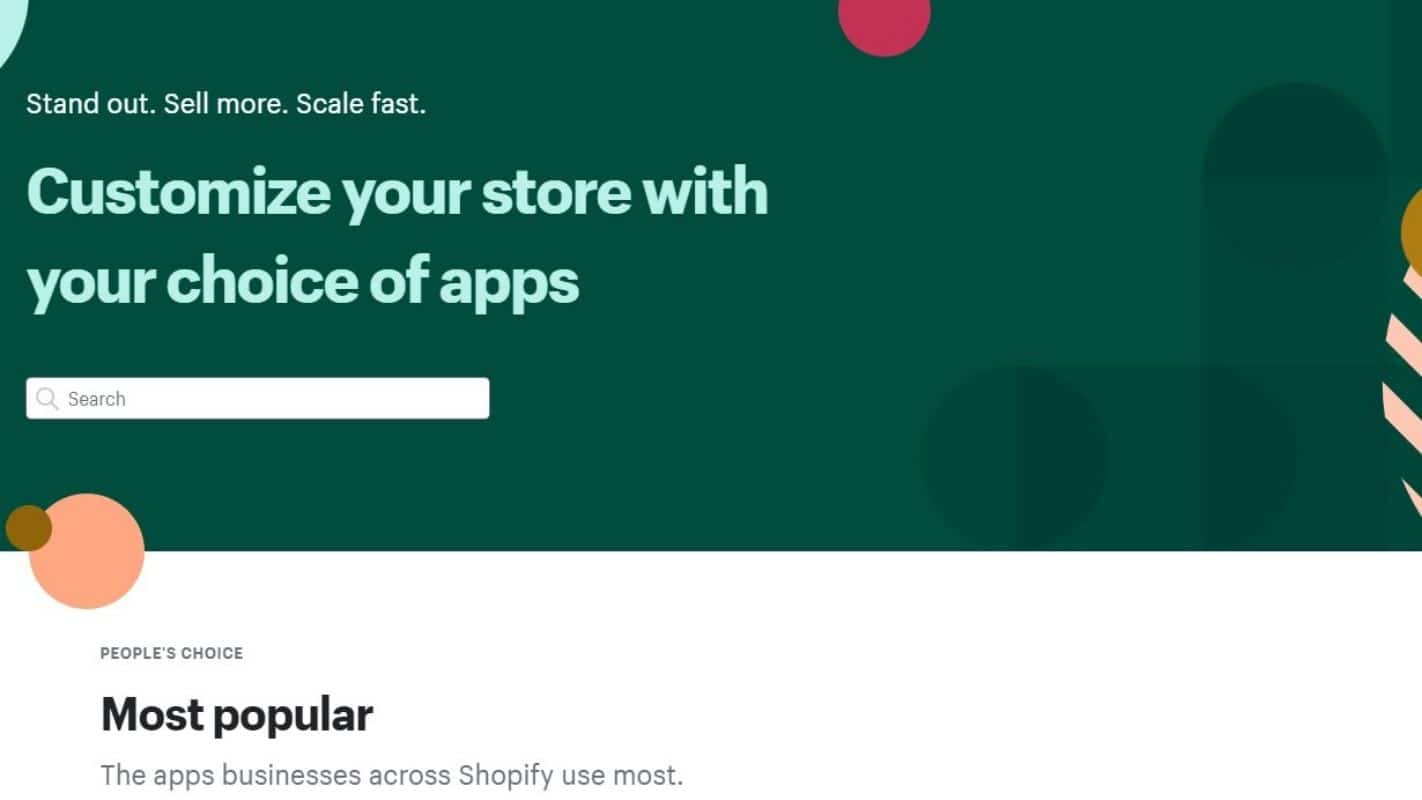 To customize your theme on Shopify, all you need to do is select the customize tab to give you access to the Theme editor page. Shopify makes it easy for you to customize each section of your preferred page, selecting the section on the sidebar located on the left side of the screen.
The process is streamlined, and you get to stay on the Theme editor page without having to be redirected to another page. Shopify allows you to edit your image banner, rich text, collage, and much more to help you tweak your theme to match your business/personal goal.
In this section in our Shopify vs PrestaShop showdown, Shopify gets to win this because they offer more free themes and more customization options, giving you more control over what your site should look like to suit your business. In addition, Shopify's dashboard is well-organized, and you can find the most used tools you need quickly on the sidebar menu.
Inventory & Product Management
Inventory and product management are essential aspects of every eCommerce platform because most merchants spend their time; therefore, you need a platform to facilitate this process with ease and speed.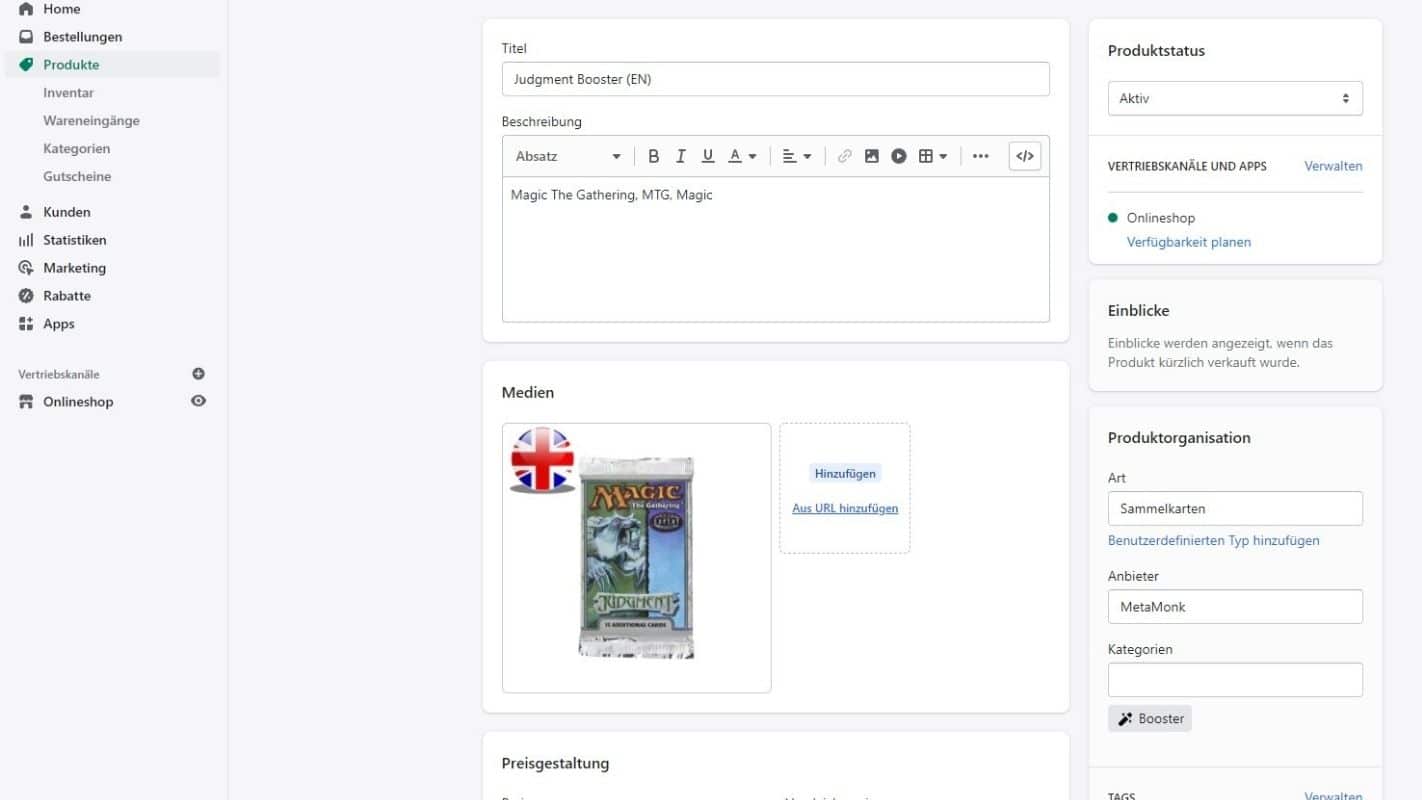 To add any new product to your online store on PrestaShop, all you need to do is to the "Catalog" tab on the sidebar, a drop-down menu should appear, and then click on "Products" and click on "New Product" to add a new product. Once you click on the "New Product" tab, it is pretty easy for you to input the details of your product. PrestaShop has laid out 6 major steps to help you list your product. These include:
Basic Settings: For adding images of the product, a description of the product, and a summary of what your product is about.

Quantities: This is to help you input information about your product stock and the quantities available.

Shipping: This is where you input information about the product weight and dimensions, the shipping fees, delivery time, and so on.

Pricing: This is where you input the pricing information of your product.

SEO: This tab allows you to input vital keywords related to your niche and product to help you rank better.
This makes it easy for newbies to navigate and set up their product listings without any hassle.
Categorizing your products is also relatively easy to do on PrestaShop. You can easily find the category tab on the Catalog drop-down menu. In addition, PrestaShop uses the parent and child category to help you create various hierarchies for your product. As a result, categorizing products on PrestaShop is quite easy.
One issue with PrestaShop is that you cannot bulk edit products. For example, if you want to change the shipping fee of a group of products, you will have to edit the shipping fee of each product, which can be tiring. In addition, to make bulk edits in PrestaShop, you have to work with exporting and importing.
Inventory management on Shopify is quite a breeze. This is because most of the edits you need to make have been compressed into a single page, making it time-efficient and easy to set up your product listings. Even though the page might seem simple, all the tools you need to set up your product are available on the page. That being said, the page has been sectioned into Shipping, Pricing, Product information, SEO, and all the sections you need to get your product listed.
Unlike PrestaShop, which uses a traditional parent and child category system, Shopify uses a collection system to help you categorize your products. You can categorize your product using either their automatic collection system or manual collection system. The automated collection system automatically adds products of the same features together, while with the manual option, you get to group products yourself.
Also, Shopify's bulk editor allows you to edit products under a category at a go. This makes it easy for you to change pricing, shipping fees, and other information among products of the same category in one click. This isn't the case with PrestaShop, where you have to do it with each product.
Order Management
We all love to receive orders in our shop, and the platform we use must make it easy for us to manage the orders we get without any hassle.
The only bulk order feature offered to help you with your orders is "change order status," which is quite limited compared to Shopify. However, PrestaShop allows you to print invoices for your customers; but also with this, the features are limited. For example, you can only change the dates for invoices with invoices, selecting the invoices you want to print per the order status. You can also do other things such as manage credit slips, delivery slips, and shopping carts.
You have all the tools you need to manage your orders with PrestaShop. However, the only thing we found bugging about PrestaShop is that it doesn't give you the option to print out slips for specific or individual orders; you can only print out slips for bulk orders within a specific date range.
That being, Shopify doesn't have much to offer when it comes to the management of orders as well. However, there is more to do when managing orders on Shopify than on PrestaShop. First off, Shopify gives you the ability to create Shipping labels, Capture payments, and Print packing slips for bulk orders, which is a feature PrestaShop doesn't offer. You can also print out and export your order information as PDF or CSV; however, you need to use a third such as the Order Printer app on the Shopify app.
SEO Optimization
Each platform allows you to optimize your website and product listing with ease. For example, you can add keywords and metatags when listing your products to have them rank better.
Both platforms also provide sections to optimize your web pages and website for SEO to ensure that you rank higher on Google. In addition, discounts, coupon codes, special offers, and free shipping are all marketing tactics you can create and manage using either platform.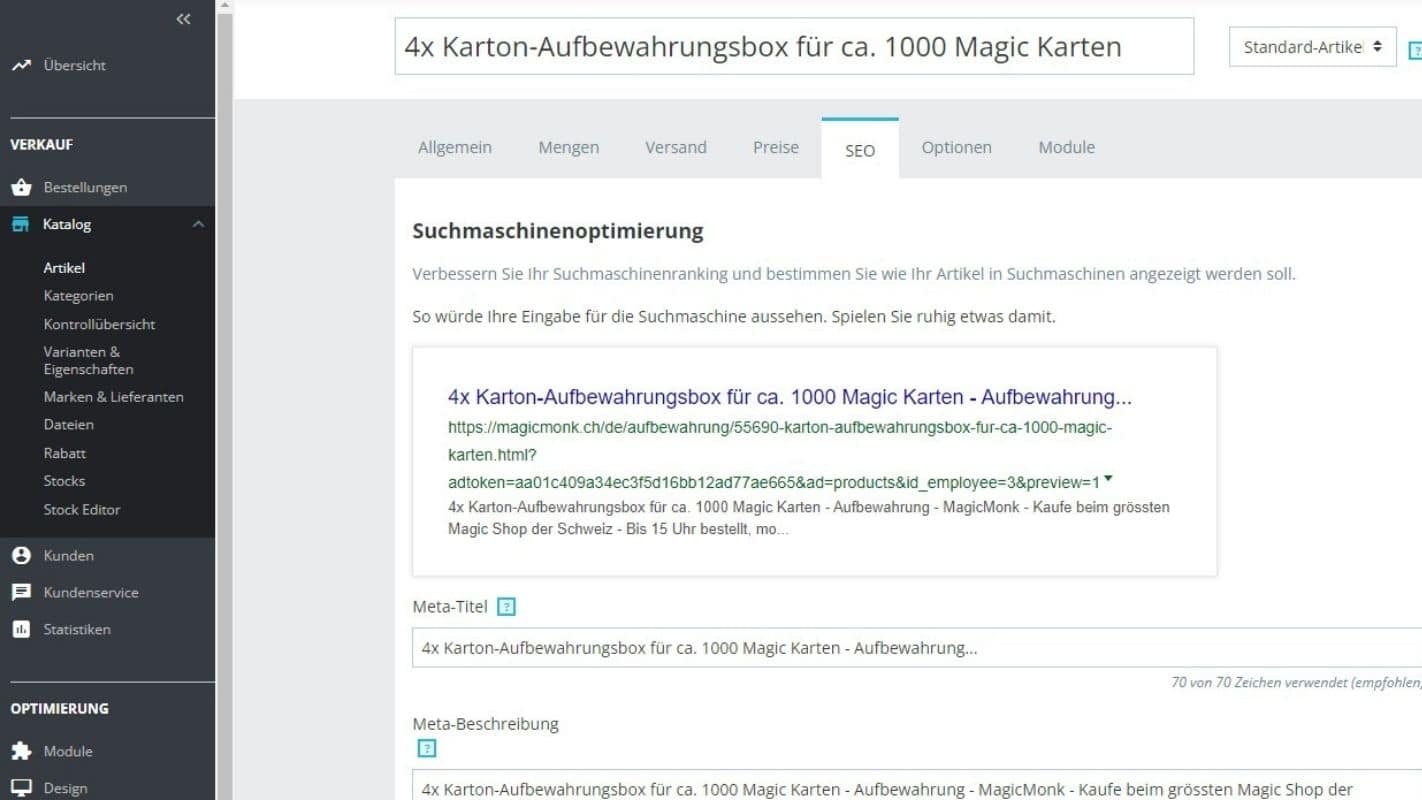 PrestaShop merchants can purchase and utilize various modules on the PrestaShop site, automatically handling most of your SEO tasks such as internal linking, SEO tags, and many more.
Shopify allows customers to leave reviews on your website, which helps boost your SEO rankings and your credibility to new customers. In addition, both platforms will enable you to connect your store to various social media sites such as Instagram and Facebook to help boost your shop's visibility and drive potential traffic to your online store.
On top of all that, you can also connect your store with your social media platforms. Needless to say, this works wonders for promoting your products, driving traffic, and boosting brand awareness.
Ease of use
Both platforms are quite easy to use; however, Shopify has the upper hand here regarding ease of use. First off, the layout and user interface are user-friendly, and you can easily find what you need when you are setting up your store or on your dashboard.
When it comes to setting up your store, Shopify provides a guide that walks you through all the procedures required to help you set up your store successfully. Also, the drag and drop feature of Shopify makes it easy for you to set up your store without needing any coding background. You can get your website set up and ready to be used within 40 mins to an hour. The sections feature of Shopify makes it easy for anyone to add any block of image or text to their homepage without any hassle.
In addition, Shopify allows programmers to create robust and sophisticated templates using their Liquid programming language. This makes Shopify a user-friendly and compatible platform for novices who do not know how to code and experts who can code to create an online store.
Due to the self-hosting nature of PrestaShop, most of the work involved in setting up your website, such as finding a web hosting, will depend on you. You will also have to integrate PrestaShop with your website. This might involve contacting your web hosting provider to help you with that. Just like with Shopify, all the tools you will need to run your store can be found on the sidebar on the dashboard.
One thing I like about PrestaShop is that they have a wizard that runs you through how to navigate and use the platform to make it easy for you to get started. However, with the OS 2.0 upgrade, Shopify has also upgraded to include a setup guide after installation to help you navigate the platform.
Payment Options
PrestaShop is compatible with various payment processors and gateways. You can integrate third-party payment processors to your website to make it compatible with multiple payment options with different customers around the globe. For example, merchants can use PrestaShop checkout to handle payments such as bank wire, check, credit cards, debit cards. And you can also use online payment processors like Stripe, Amazon pay, PayPal, Square, Klarna Payment, and so many more. These payment options are free; however, there are paid options.
Shopify also allows merchants to accept payments through in-house and third-party payment processors. These include cryptocurrency, PayPal, Facebook Pay, Amazon Pay, Apple Pay, and so many more.
So, when it comes to payment options in PrestaShop vs Shopify, both options are on top of their game.
Customer Support
There aren't many channels to contact customer support on PrestaShop; this is understandable since it's open-source. There are no live chat features or email options. You have to hire a third-party company or use the community forum to receive support. However, besides that, PrestaShop offers users other support options such as:
Paid technical support

Forums

A knowledge base

FAQs

And a PrestaShop community
Shopify gives its users multiple options to contact support. Their support team works around the clock to help users solve any issues they may have using the Shopify platform. With Shopify, you can contact support via live chat, email, or phone. Shopify also offers other forms of support, such as online community forums, blogs, and a channel log to help users navigate through the platform.
Performance & Speed
We found both stores to be fast and responsive for both mobile and computer. However, be cautious when using too many add-ons and apps on both systems. The speed of your website will be significantly slowed as a result of this.
With PrestaShop, getting a faster page speed can be a little more complicated. For example, Shopify automatically converts every image on your website into a.webp format. This significantly reduces the file size of your images, resulting in faster page loading times. In addition, Shopify's built-in image server (CDN) improves the speed of your website once more.
There are no such features in PrestaShop in the basic setup. Instead, you'll need to set up your own image servers for faster loading. Additionally, there are PrestaShop plugins that will convert all of your images to .webp format.
Appstore & Marketplace
For add-ons and integration, each platform is compatible with numerous third-party applications and themes on their AppStore and some third-party app stores.
Shopify offers merchants over 4000 applications to help them handle payments, manage inventory, manage customer base, send out email notifications, manage orders, and a whole lot. You can easily download these applications and integrate them into your Shopify store.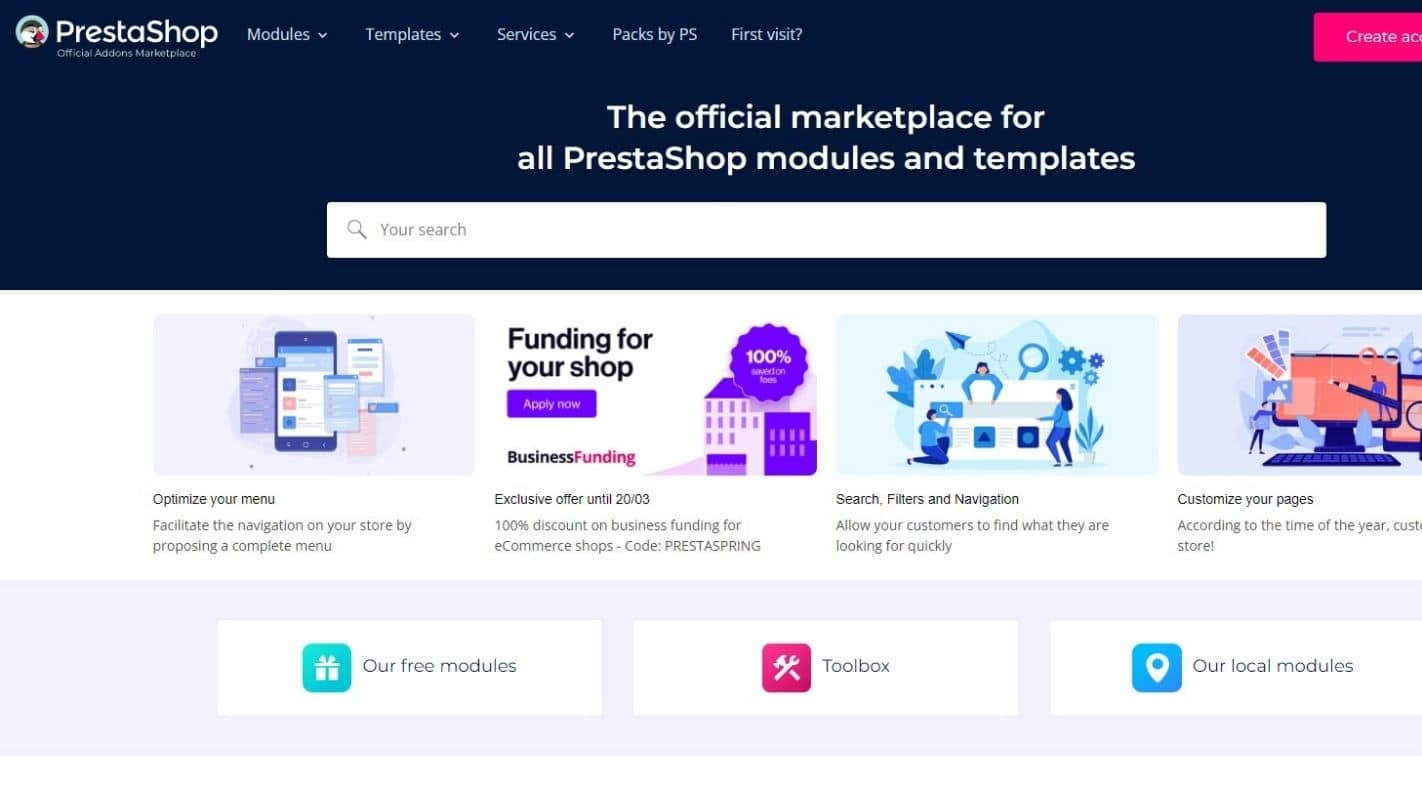 Since PrestaShop lacks most features, you can easily download various apps to help compensate for the features the platform lacks. Similar to Shopify, the PrestaShop AppStore has over 1000 apps you can download to facilitate your eCommerce business.
Reporting & Analytics
Shopify has an intuitive and user-friendly dashboard that is easy to read. The dashboard lays out critical reports data such as visits, products, key sales, and payment to give an overview of your shop's performance. The store also allows businesses to perform specific analytics to determine their KPI. Companies can perform certain analytical functions using the "Overview dashboard" such as generating AOVs, Shop behavior reports, customer metrics, sale metrics, and many more.
You can freely integrate Google Analytics on your Shopify store for an in-depth report and more analysis to gain insight into your business.
PrestaShop also provides merchants with various analytics and reports such as custom reports, General reports, and many more. So when it comes to analytics, both Shopify vs PrestaShop have some fantastic built-in features.
Language, Currency support & Possibility to Sell internationally
Both platforms enable the business to sell their product offshore and in the international market. You can translate your PrestaShop store into 75 different languages to allow buyers from different ethnic backgrounds to navigate your store. Similarly, Shopify will enable merchants to run their stores in over 20 languages.
These platforms allow you to set currencies to match that of various countries, making it easy to sell internationally.
Blog functionality
While Shopify comes with a built-in blog, PrestaShop requires that you integrate their blogging feature on your eCommerce website.
Shopify Vs PrestaShop: Pricing
PrestaShop Pricing
PrestaShop is free to download and install; however, you will have to pay for other expenses such as hosting services and a domain, since PrestaShop doesn't offer these.
PrestaShop can compensate for its free add-on by selling various modules and services to its users; nevertheless, you can still get tons of free applications and services via PrestaShop to boost your business.
Shopify Pricing
The first thing that is common among all of Shopify's pricing plans is that they do offer a 14-day free trial to get you used to the platform. However, Shopify offers three main plans: Basic Shopify plan, Shopify plan, and Advanced Shopify plan.
Basic Shopify Plan ($29/month)
This plan allows two users to manage the store at a time. In addition, users of this plan can access certain features such as a blog for your eCommerce store, abandoned cart recovery, listing digital products, gift cards, and many more. The basic plan is for those who might want to feel how Shopify works and want to sell a couple of items online.
Shopify Plan ($79/month)
The Shopify plan gives you access to all the basic plan features, including having 5 staff administrators, professional reports, international pricing, email support, and many more. The Shopify Plan is ideal for individuals who have gotten a feel of the Shopify platform and want to sell more items, and need more features to grow their business.
The Advanced Shopify Plan ($299/month)
The Advanced Shopify plan allows up to 15 administrators, real-time carrier shipping, advanced report builder, all features of the Shopify Plan, and many more. The Advanced Shopify plan will be ideal if you want to scale your business.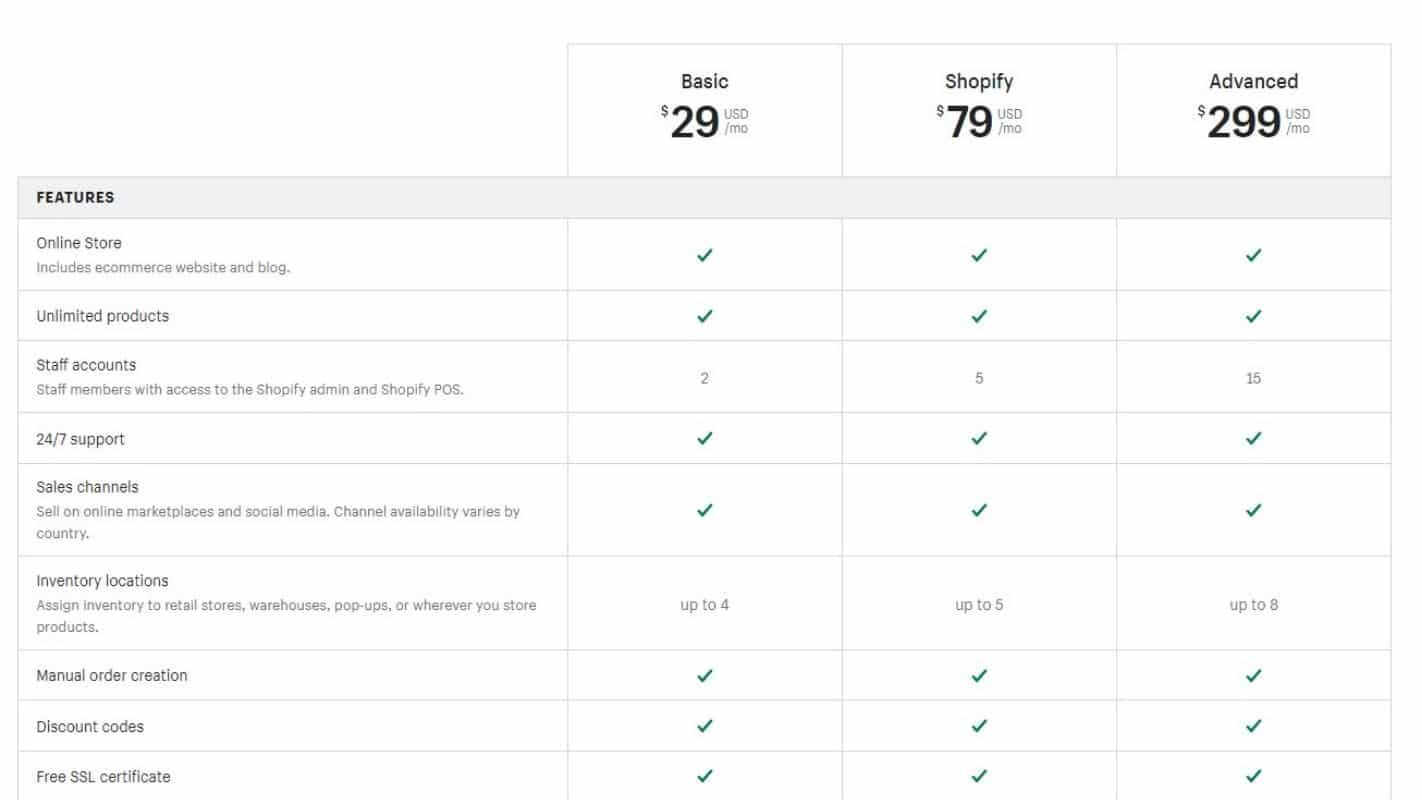 In terms of pricing, PrestaShop is a more affordable option than Shopify. Being free to use, PrestaShop allows beginners to access most of the features every beginner needs to successfully run an online store or website. However, when it comes to value for money, Shopify is the go-to option. In addition, Shopify's plans enable users to access tools that give them an upper hand over other website builders.
Shopify vs PrestaShop – These Are The Key Differences:
PrestaShop is free to install, while Shopify requires an upfront subscription before use.

Shopify provides hosting, domains, and an eCommerce store, while you have to manage everything on your self to use PrestaShop

Shopify has an easy-to-use interface, using all the features on the interface of PrestaShop requires that you have some technical knowledge
Shopify vs PrestaShop – These Are The Key Similarities:
They both offer add-ons

Compatible with various languages and currencies

Offer various payment options

SEO functionality

Offer in-depth and insightful reports and analytics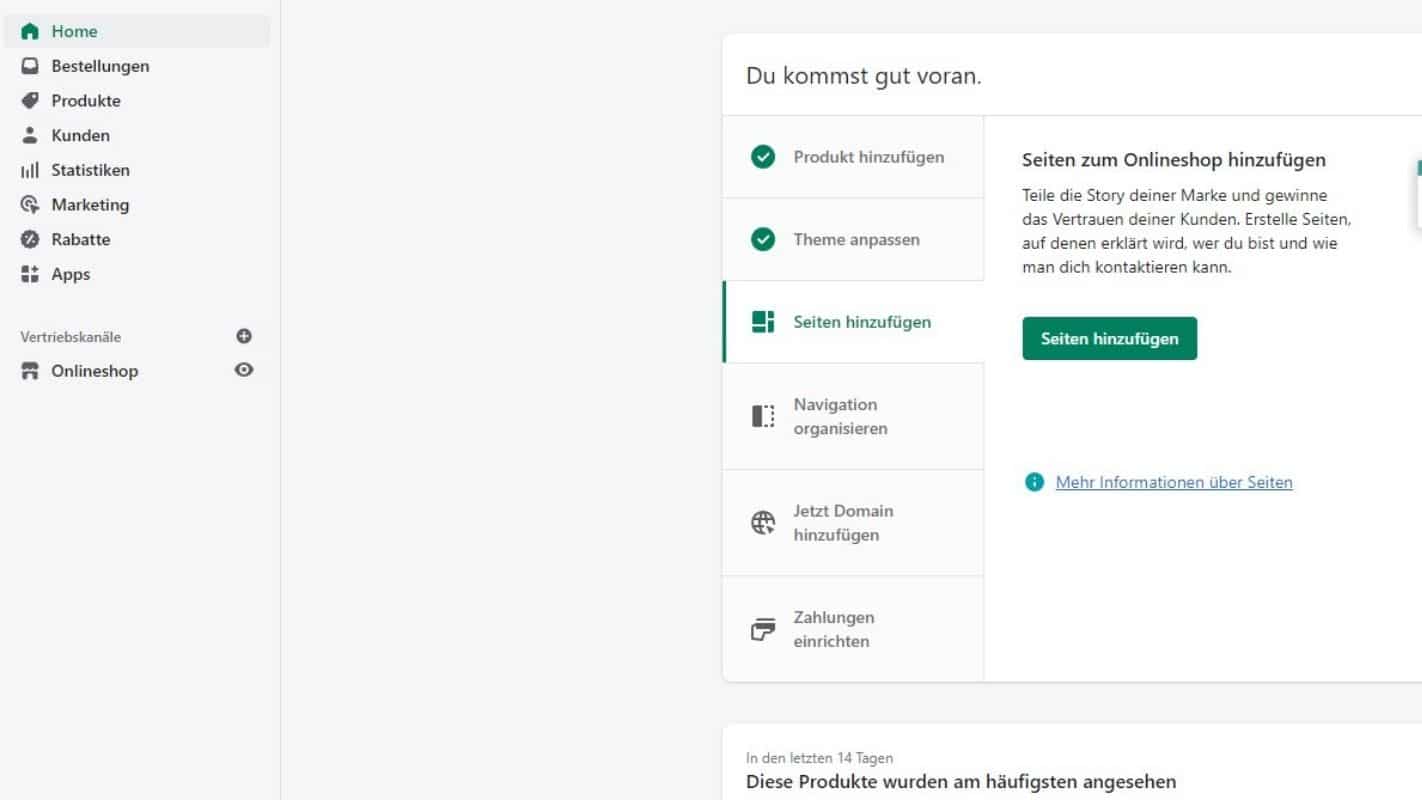 Conclusion – Which One is Best For Me?
Choose Shopify When:
Shopify is compatible with everyone– from novice to expert. It provides eCommerce solutions for all types of businesses, from small to large. However, you will be required to have some cash upfront to use the platform.
Choose PrestaShop When:
Even though PrestaShop can execute most eCommerce functionality and isn't the most beginner-friendly application out there, we found that it is compatible with tech-savvy individuals. It is best suited for small businesses that do not have much investment to make upfront.
So, that's our in-depth comparison of Shopify vs Prestashop. Happy eCommerce testing! And thanks for reading,
Zaid
Sources:
Share with your Friends: