Shopify vs SamCart: Which Is Better For Your Business?
Choosing which eCommerce platform to use for your business can be difficult, especially if you're on a budget or in the early stages of your business. You might have heard that Shopify and Samcart are two of the best, but you're not sure which one would be best for your specific needs and circumstances.
Both of these platforms have pros and cons, but which one will ultimately be better for your business? Keep reading our Shopify vs SamCart to find out!
What is eCommerce?
In its simplest form, eCommerce is simply selling goods and services over a computer network (like you are on right now). But that definition does not do justice to an industry so massive and full of possibilities.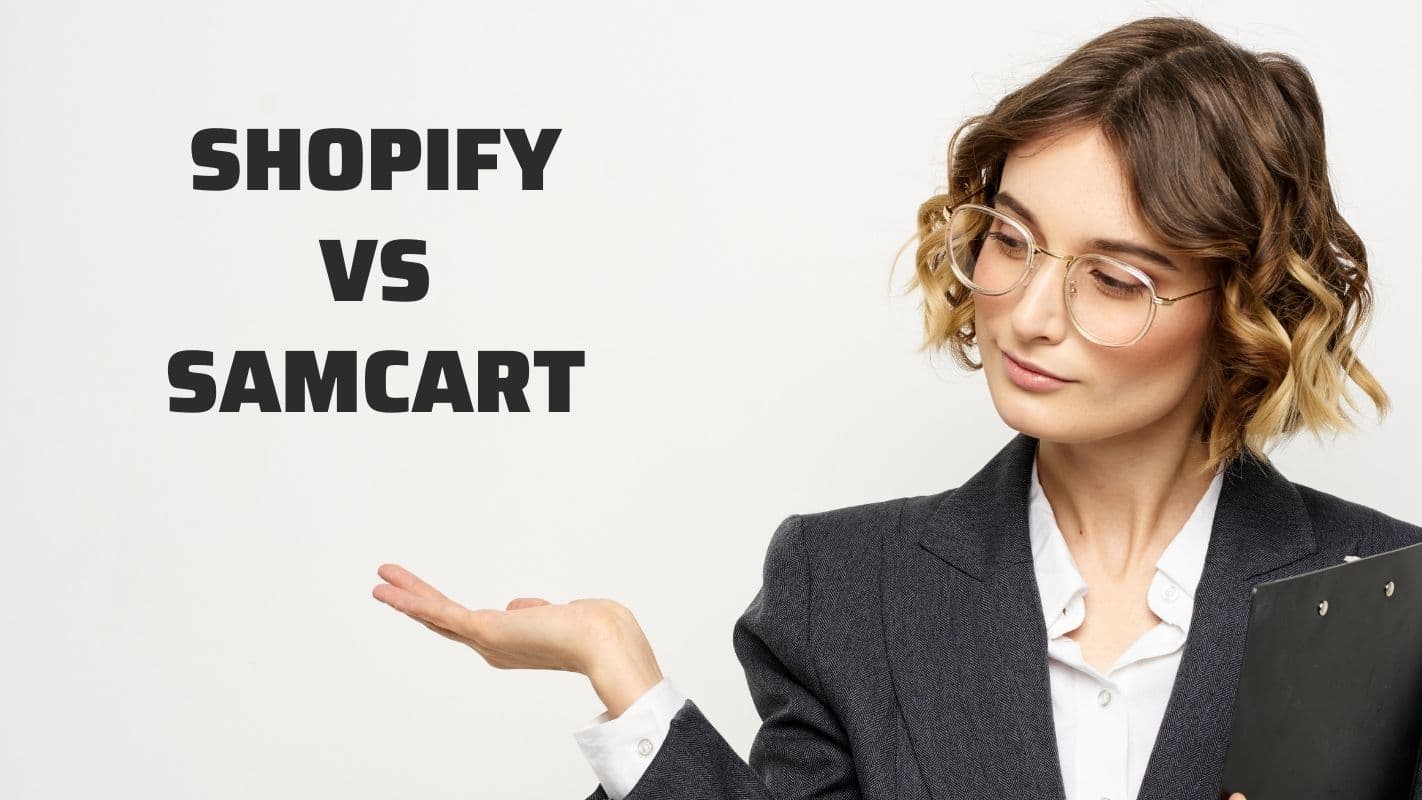 ECommerce can be applied to a website that sells your hand-made jewelry creations online. Or simply selling your used books online through sites like Amazon or eBay. The Internet has made it possible for anyone to buy and sell goods without a physical presence in any particular location. That's created exciting opportunities for individuals worldwide who may never have had access to customers otherwise.
What is Shopify?
Shopify provides a way to create an online store that allows you to sell products using your own domain. It comes with a sleek design, a fully hosted eCommerce solution, and business management tools necessary for creating and managing your own online store.
Shopify is known as one of the best eCommerce solutions because it's an easy-to-use, scalable and feature-rich platform that helps you build an online store in no time.
What is SamCart?
SamCart is an e-commerce platform that allows you to create an online store, manage orders, and process payments. The software integrates with third-party solutions such as Facebook, PayPal, and eBay.
This platform has a wide range of customization options and supports multiple payment methods worldwide. An all-inclusive package also features marketing tools and other functionalities that help merchants engage with their customers.
So, let us start with our showdown of the two eCommerce platforms – SamCart vs Shopify.
Shopify Features
We start this off with our Shopify features. Here are some of the benefits of using Shopify. Shopify may be the perfect eCommerce platform for your small business, no matter what stage you're at in your company's growth.
Easy to set up
One of Shopify's biggest draws is its simplicity. Entrepreneurs looking to start a business quickly and without hassle will appreciate that setting up a store takes just minutes and requires no programming skills or experience.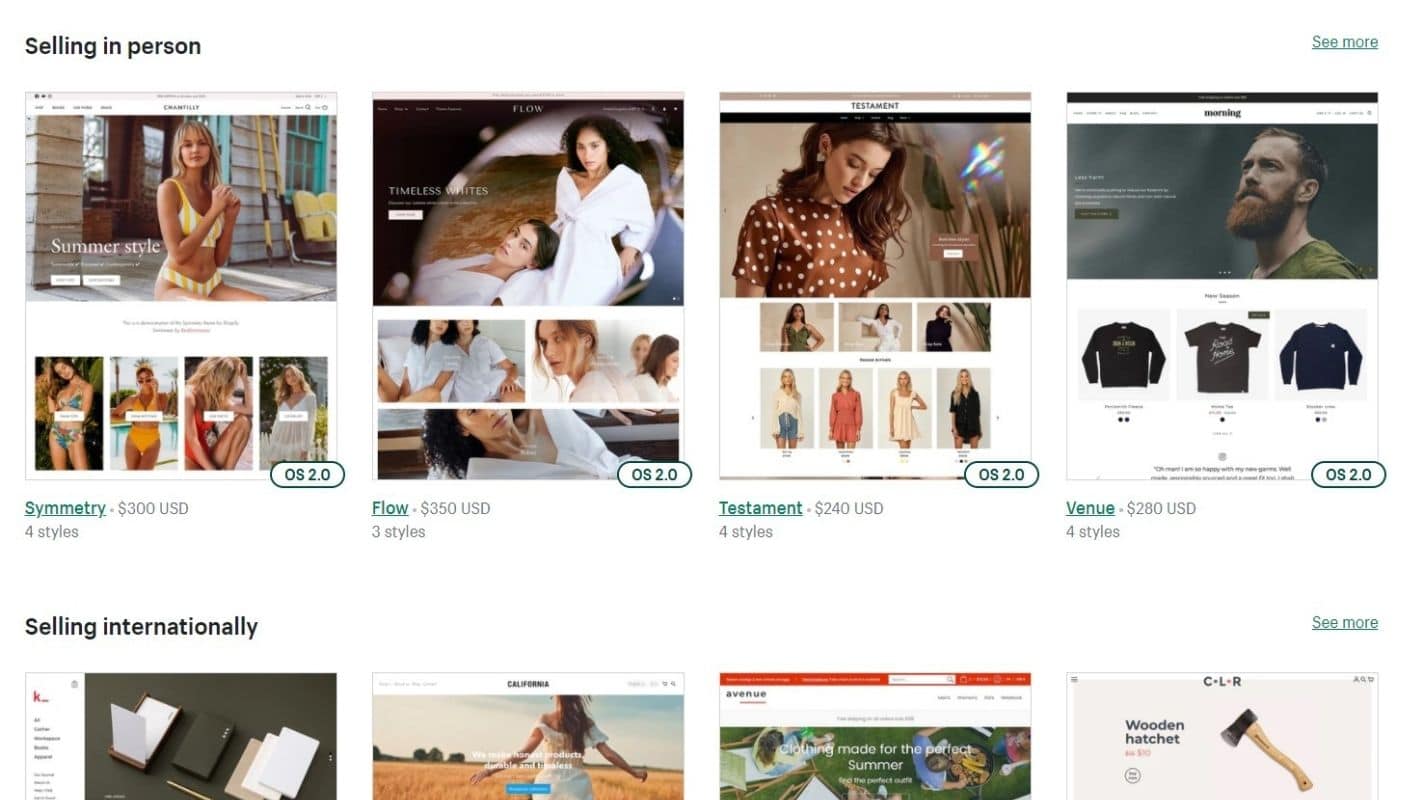 All you need is a domain name, hosting account, and merchant bank account to get started. No IT or web design expertise is necessary! The software does all the heavy lifting for you.
It's genuinely one-click simple —, and it doesn't cost anything to set up your store. If you run into any problems, there are plenty of free resources on help pages and in video tutorials that are easy to follow along with.
Easy to access apps
The custom app store on Shopify makes it easy to access all kinds of business-boosting features. So whether you want to integrate with social media, add your own shopping cart options, find payment processing or boost e-commerce capabilities in any way, you'll be able to do so with a click.
You can also create your own apps, so if you need something specific, chances are it's out there somewhere. In fact, if you don't see what you need as an existing app in their ecosystem yet — like anything related to women's fashion — then creating your own is just one more benefit that can be used repeatedly.
Accept payments instantly
Once you've set up a payment gateway and accepted your first payments, you'll be able to accept transactions from anyone, anywhere in nearly any currency. And suppose you want to give your customers the option to pay via credit card, PayPal, or bank transfer. In that case, Shopify Payments makes it possible for you.
You can create multiple checkout options for different customers and help grow your business with a global reach in just a few clicks. It doesn't matter if they live next door or across an ocean—you can now receive their orders quickly and easily.
That also means that there are no merchant accounts involved; even accounting is done automatically so that all you have to do is sit back and watch your business grow!
Shipping Calculator
Shopify offers a shipping calculator that allows you to quickly determine how much your order will cost for your customers. This is especially important for businesses that sell products and ship them to customers. However, it can be challenging to determine exactly how much shipping should cost in each case.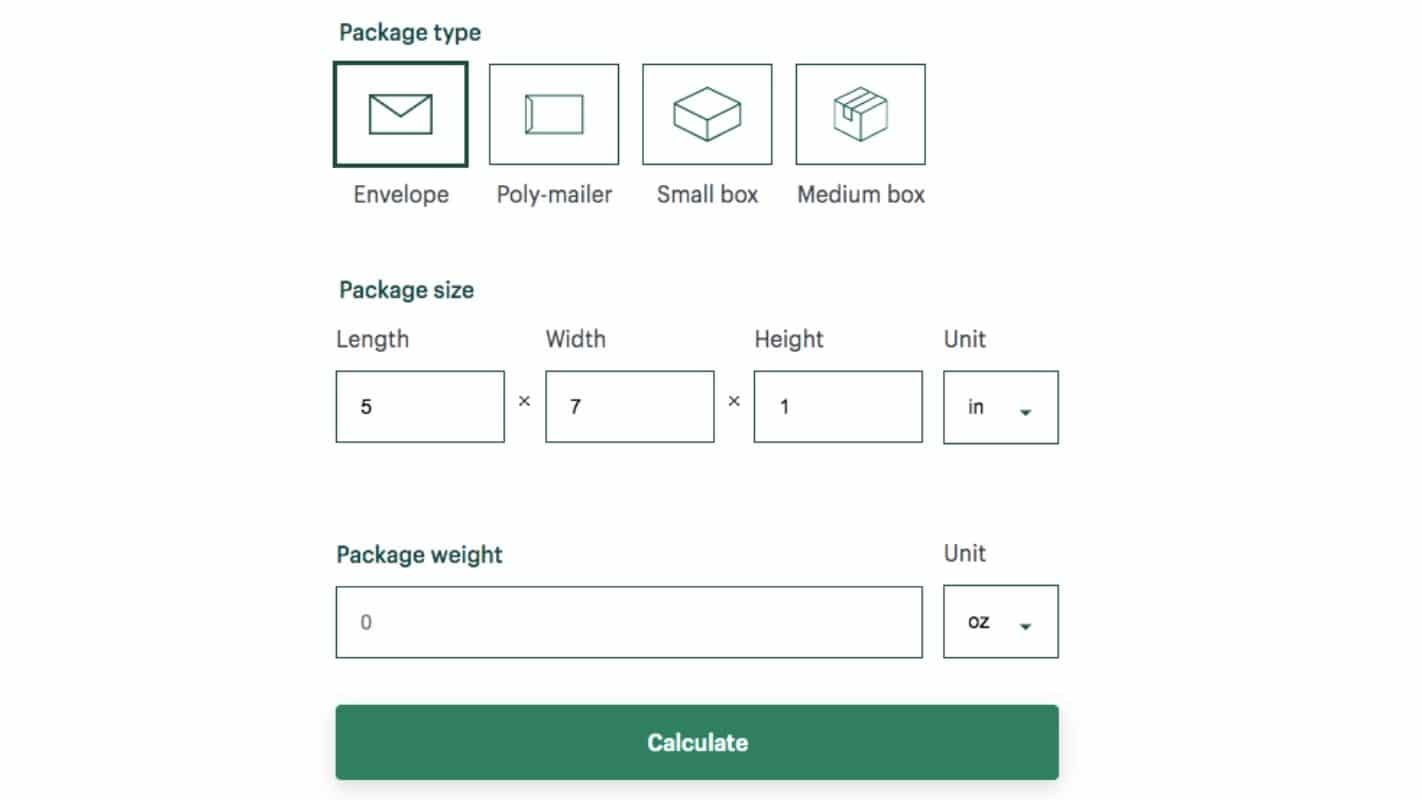 To use, head to Settings > Shipping. You'll see a button called Add Shipping Calculator—it's set as Default Shipping Calculator by default. Still, you can edit it to create a new shipping rule for your store or product.
Easy returns policy
Not only will a liberal returns policy keep your customers happy and coming back for more, but it can also help you avoid lost sales. For example, suppose someone buys an item but decides they don't want it. In that case, returns are likely to result in either a sale or a repeat customer.
If you aren't equipped to take them back—or worse yet, won't accept returns at all—you might lose out on those potential future dollars. Make sure that you set clear policies and clearly communicate them; your customers should know where they stand from day one.
Integrated Customer Service
The platform allows you to integrate your email service provider (e.g., Gmail, Outlook, Hotmail) and social accounts into your store so that customers can communicate with you directly in a centralized location. This integration makes customer service easier because instead of checking multiple inboxes, all you have to do is log into one site.
Advanced fraud protection
If your store gets attacked by fraudsters, there is no need to worry. Shopify's advanced fraud detection algorithms will warn you about any suspicious activity and help you prevent any loss.
Plus, if a sale turns out to be fraudulent, your money is not on the line: Most payment processors cover fraudulent orders.
Samcart Features
Next in our Shopify vs SamCart comparison is SamCart. Many internet companies have discovered and embraced Samcart as an effective, affordable option that can be integrated into any e-commerce store.
Easy to customize
One of our favorite things about SamCart is that you have complete control over every aspect of your online store. Create product descriptions, prices, and add-ons to fit your brand exactly how you'd like to represent it.
There's no limitation on how flexible or unique you can make your eCommerce site! Plus, all updates are seamless; there's no need to contact us for help. We want to make sure that starting a new business is as stress-free as possible—and we believe that begins with offering flexible customization options from day one.
Mobile responsive design
With all kinds of devices hitting both markets and our pockets, it's essential to make sure your customers view your content optimally. That means a mobile-responsive design that displays seamlessly on any device, whether from a smartphone or desktop computer.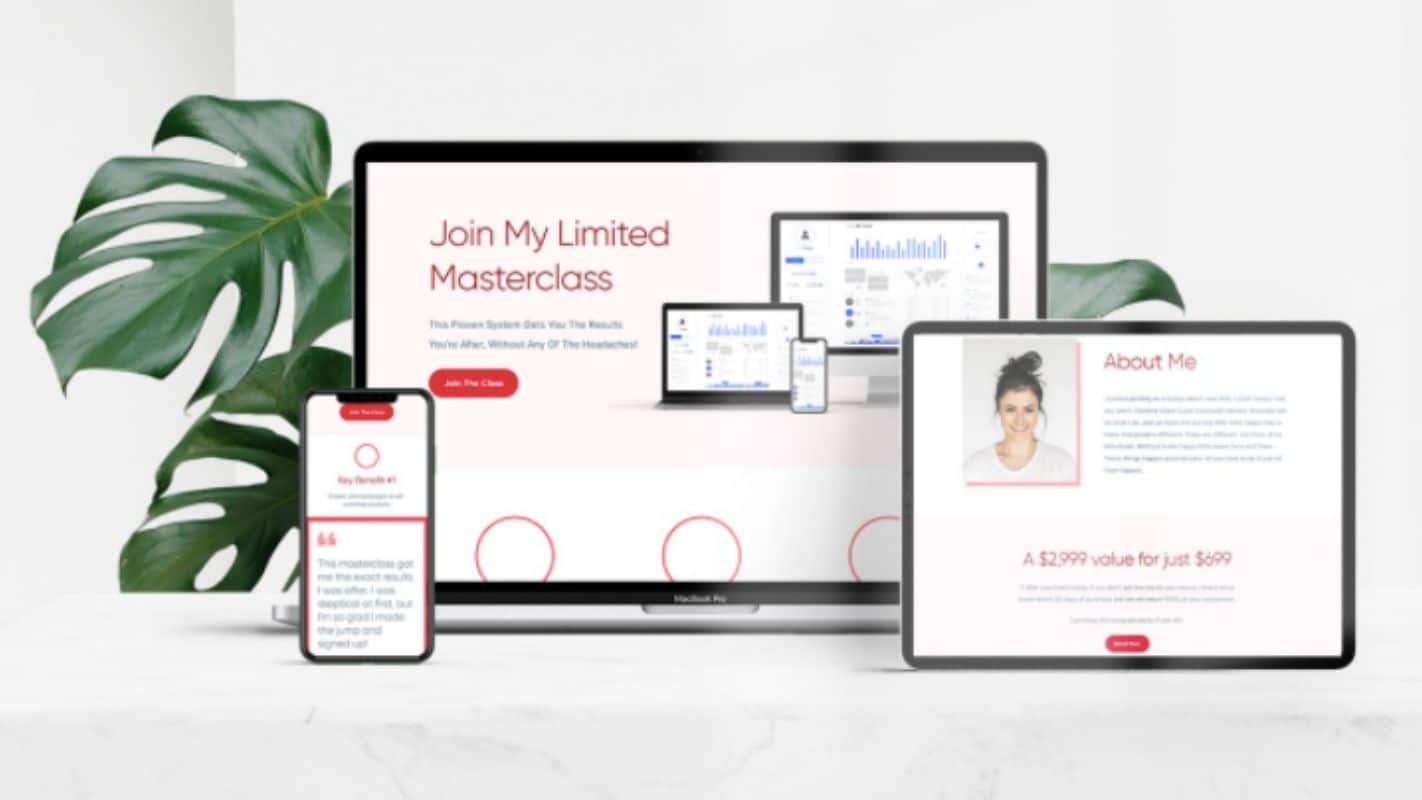 And don't think that just because you have enough traffic, you can get away with not being mobile-friendly: 35% of Americans now own smartphones—and nearly 60% of all web browsing happens on them. So don't be caught out by offering less than optimal experiences to those browsing through their phones. Instead, go ahead and spend some money to get things right now rather than losing business over it later.
Works with most themes
Unlike many other solutions, SamCart can be seamlessly integrated into almost any WordPress site regardless of theme or design. That means that your customers won't have to see a separate, ugly payment page!
When users check out, they'll feel like they're on your website — not some other companies. In addition, they'll never have to leave your site to make the purchase.
That way, no matter what you choose for your site's color scheme, theme, or layout, it will look great with its plugin.
All integrations are free
One of the best features of using SamCart is that all of your eCommerce integrations are absolutely free. There are no hidden costs, no additional fees for doing business with other companies.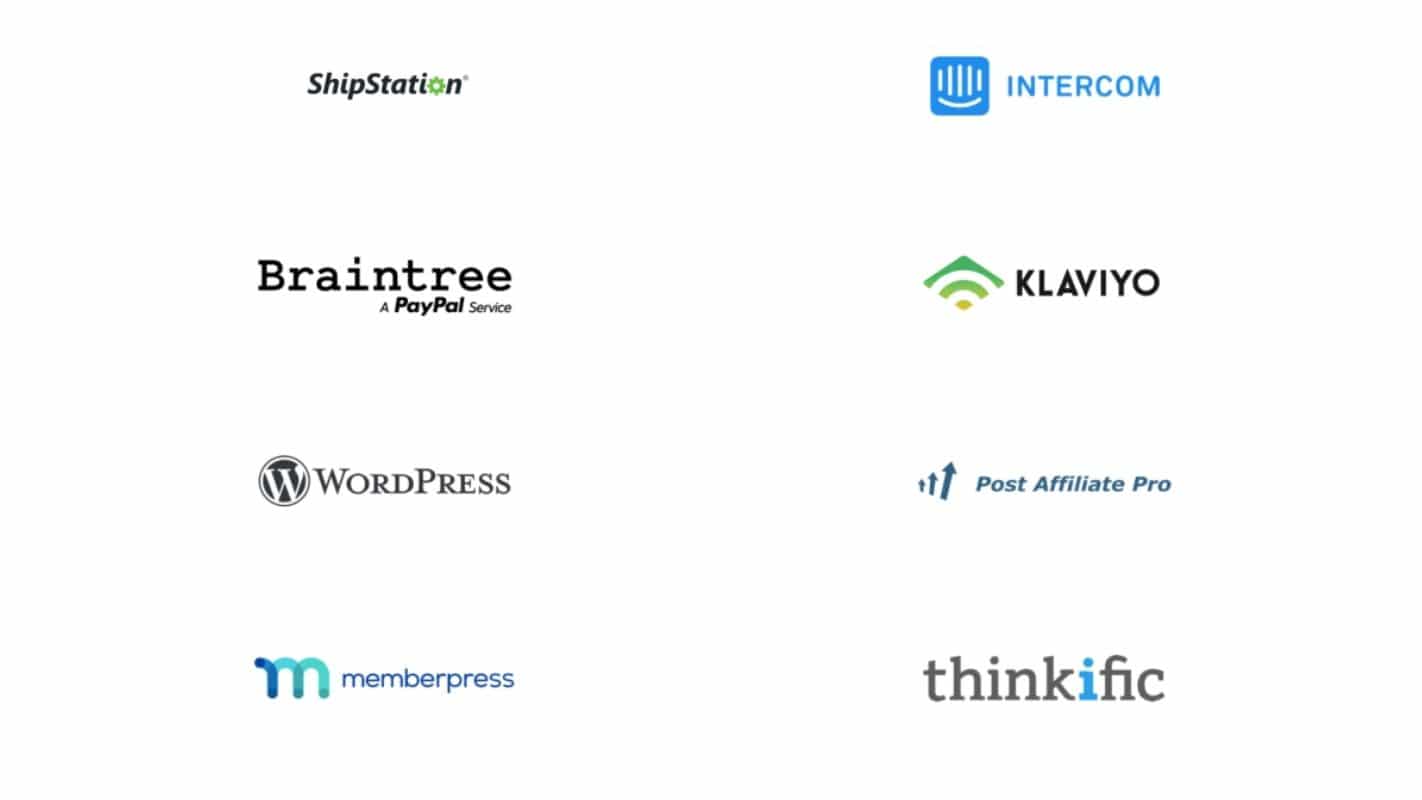 They've integrated with other services to simplify your life, rather than complicate it, so you can focus on growing your business and increasing sales instead of wasting time dealing with technical issues. So whether you choose to integrate with popular platforms like Stripe or MailChimp, they've got you covered.
0% Transaction Fees
Unlike other payment gateways, Samcart doesn't charge you a transaction fee. There are no hidden fees either. That feature sets them apart from their competitors and puts more money in your pocket.
Affordable pricing plans
They've tried to make it as easy as possible for our users by creating affordable, customizable plans that offer flexibility and a variety of features. There are currently three price tiers available: Launch, Grow, and Scale.
Depending on your needs and budget, you can choose a plan that fits your business best—and you only pay for what you need. So whether you sell one product or several thousand each month, they have a plan that fits your needs.
Free 24/7 support
SamCart offers 24/7 support to all Scale users. However, Launch and Grow users will have to wait a day to receive support.
Frequent upgrades and improvements
They put a lot of effort into new features, expansions, and improvements. These new upgrades are created with user input and feature requests as they listen to what customers say.
It also means that every time you launch an online store with us, you'll be up-to-date on all of their latest tools and resources.
SamCart Vs Shopify Pricing
SamCart and Shopify have different pricing structures that can make things a little difficult to choose which one to get started with. For example, SamCart's base level plan is more expensive than Shopify's base level plan. Still, SamCart's base-level plan offers way more than Shopify's does.
SamCart has 0% transaction fees for all of their plans which is a huge advantage over Shopify. Shopify charges a transaction fee for every plan regardless of how much you're already paying them.
Shopify gives access to most of their features in the lower tiers, then adds more on top of those features in the higher tiers. Likewise, SamCart gradually offers more and more features the higher the tiers go.
Shopify Pricing
There are a variety of pricing plans to choose from, starting with a Shopify lite plan that offers a platform that integrates with an existing website and 24/7 support.
The basic plan includes an entire online store that you can use as a home for your website. The main difference between the basic and the lite plan is that the basic plan allows you to build a website for your store and the lite plan integrates with an existing website.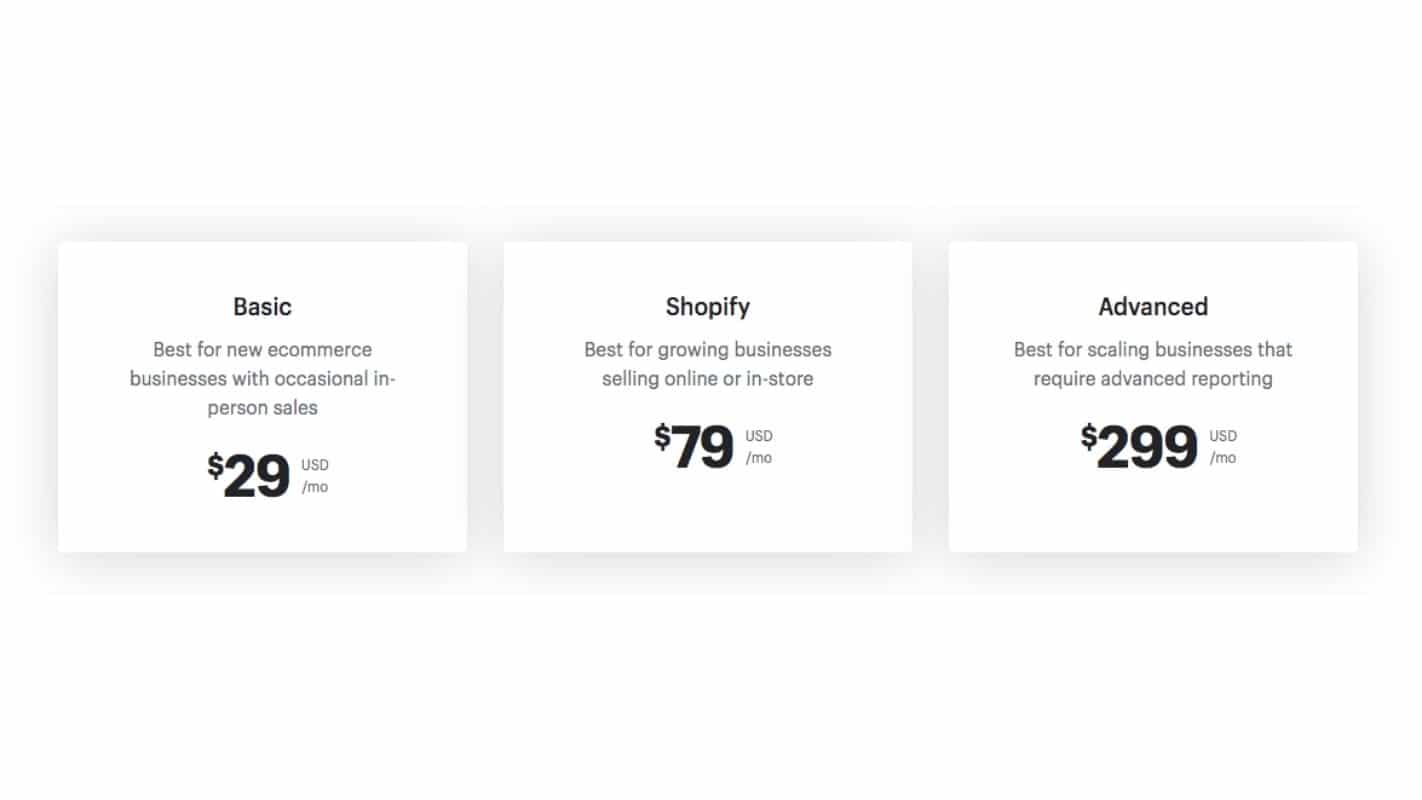 The Shopify tier allows up to 5 staff members and inventory locations. If you have multiple products that ship from different places worldwide, this would be the best option for you.
The Advanced tier allows up to 15 staff members and 8 inventory locations. In addition, it will enable more advanced tools for international imports and shipping.
There's also a Shopify Plus Plan for businesses with a high volume that offers completely automated sales campaigns, discounts, and other complex processes.
Each plan comes with a 14-day free trial.
Here's a breakdown of all the costs of Shopify associated with each plan:
Shopify Lite:
Plan Cost: $9/month

Transaction fees: 2.9% + 30¢ USD
Shopify Basic:
Plan Cost: $29/month

Transaction fees: 2.9% + 30¢ USD
Shopify Plan:
Plan Cost: $79/month

Transaction Fees: 2.6% + 30¢ USD
Shopify Advanced:
Plan Cost: $299/month

Transaction Fees: 2.4% + 30¢ USD
Shopify Pro:
Plan Cost: $2,000+/month

Transaction Fees: Varies by location
SamCart Pricing
SamCart has 4 different plans starting with a Launch plan that includes unlimited products, a website builder, and unlimited eCommerce courses.
The Grow plan adds customized emails for transactions, custom thank you pages for when a customer places an order, and integrations into other websites such as eBay.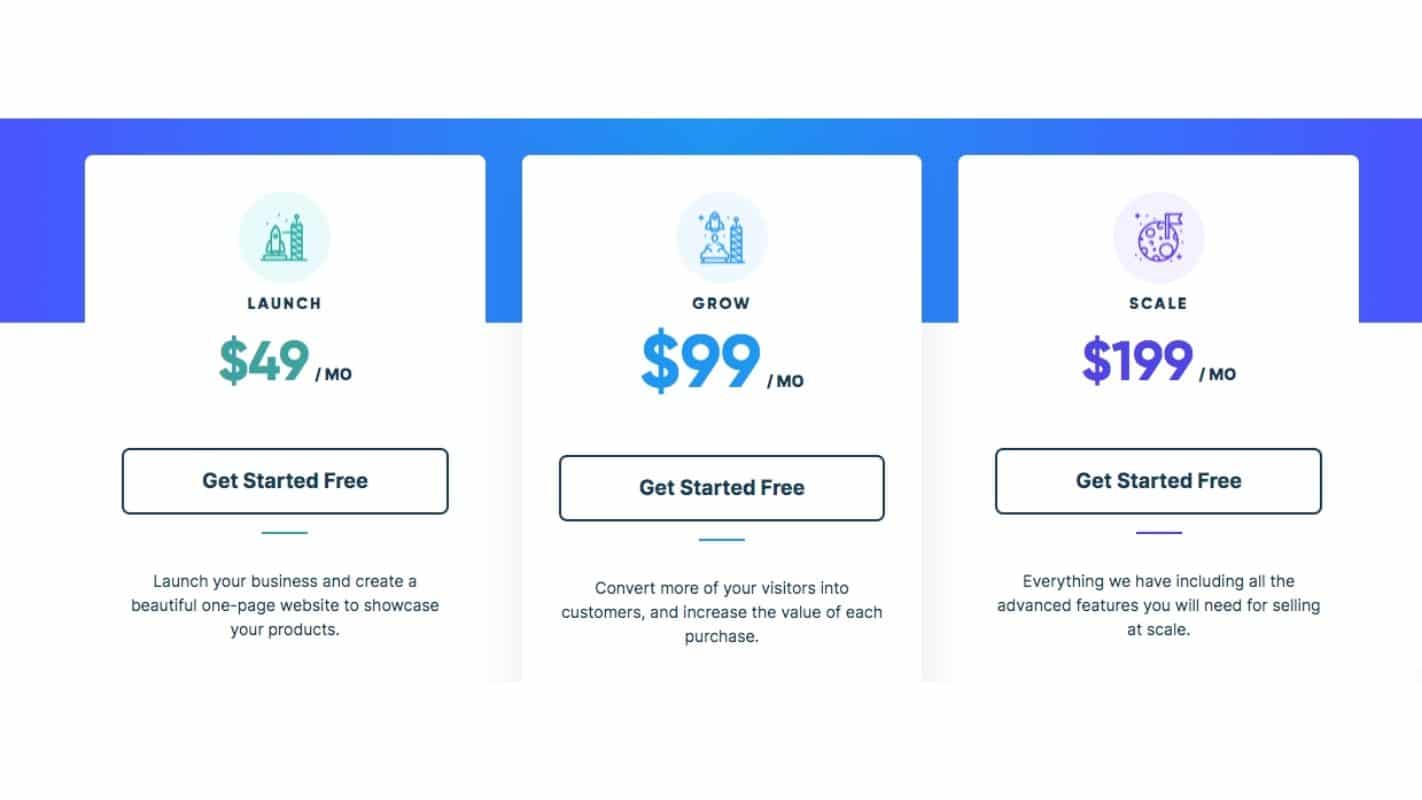 The Scale plan adds the ability to email customers if they leave your site with items still in their cart. The Scale plan also has customized integrations into other websites and A/B testing. A/B testing allows you to show different landing pages to customers to see which one works best.
The Enterprise plan gives you the ability to export detailed reports of customer activity on your website, a dedicated account manager, and a dedicated technical support team to help you design your site exactly how you want it.
There's also a 14 day free trial with each plan.
Here's a breakdown of the costs for each SamCart Plan:
SamCart Launch:
Plan Cost: $39/month if paid annually

$49/month if paid monthly

Transaction Fees: 0%
SamCart Grow:
Plan Cost: $79/month if paid annually

$99/month if paid monthly

Transaction Fees: 0%
SamCart Scale:
Plan Cost: $159/month if paid annually

$199/month if paid monthly

Transaction Fees: 0%
SamCart Enterprise:
Plan Cost: $399+ per month

Transaction Fees: 0%
Shopify Vs SamCart – These Are the Key Differences
There are a few key differences between Shopify and SamCart. First, Shopify is a much bigger platform, making it easier for beginners to start with and open their store. SamCart focuses more on products than stores. They are more geared toward selling one digital product than a ton of various products in the store.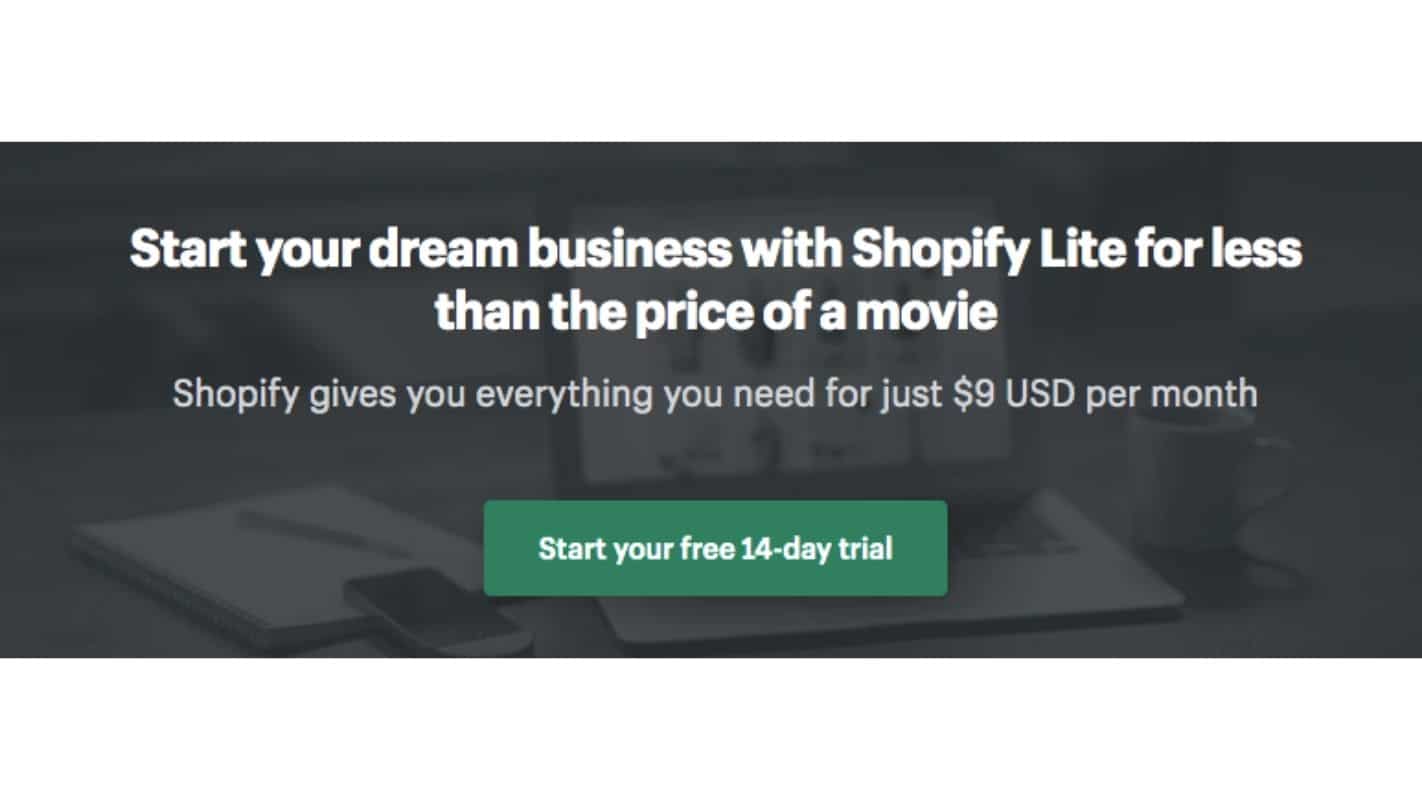 If you are selling a digital product, SamCart is going to shine here. If you are selling multiple products, Shopify will be the best choice as they have more tools and features for selling a wide variety of products.
SamCart Vs Shopify – These Are the Key Similarities
There are a lot of similarities here, as you can probably tell from what you have read in this article so far. Both are eCommerce platforms that everyday people can use to start their own business and sell products.
Both help you to set up your own online web presence. Both have multiple pricing plans for different types of users. They both are fairly easy to use and get started with.
Both Shopify and SamCart can be integrated into other apps and websites. In addition, they both offer a ton of customization over their platform.
Conclusion – Which One is Best For Me?
To conclude our Shopify vs SamCart debate, we'll give a brief rundown on which will be better for you, but the bottom line is that they are both great platforms that you'll get a ton of value from. Choosing the best one for you will be a matter of what your long-term goals are and what types of features you are going to need to achieve those.
You Should Use SamCart When…
You just want a shopping cart to help sell your product, and you're creating content and doing marketing through other channels

You have just 1 or 2 products and a few upsells

You have digital products to sell, such as online courses, eBooks, etc.
You Should Use Shopify When…
You're 100% doing eCommerce and have a bunch of physical products to sell

You want more than just a shopping cart. You want your store to be the main hub of all of your marketing efforts

You want more tools to scale as your business grows more prominent and you get more products and customers
So there you have it: our detailed comparison of Shopify vs SamCart. Happy eCommerce testing! And thanks for reading,
Zaid
Sources:
Share with your Friends: