Shopify vs Sellfy: Which Ecommerce Platform Is Better?
At first, it can be hard to choose between Shopify and Sellfy. These products are meant to help you start a business on the internet. Shopify and Sellfy are also known for being simple, easy to use, and full of options for customizing their interfaces.
However, there are always particular distinctions between eCommerce website-building tools that should be considered while comparing them. Therefore, you should thoroughly investigate both products before deciding on which service you will employ to establish your business.
Shopify vs Sellfy
Shopify is likely the most well-known eCommerce platform globally, allowing business owners to create highly customized stores with ease – and with only rudimentary web development abilities. Besides that, Shopify offers access to a wide range of tools and integrations to make your life easier.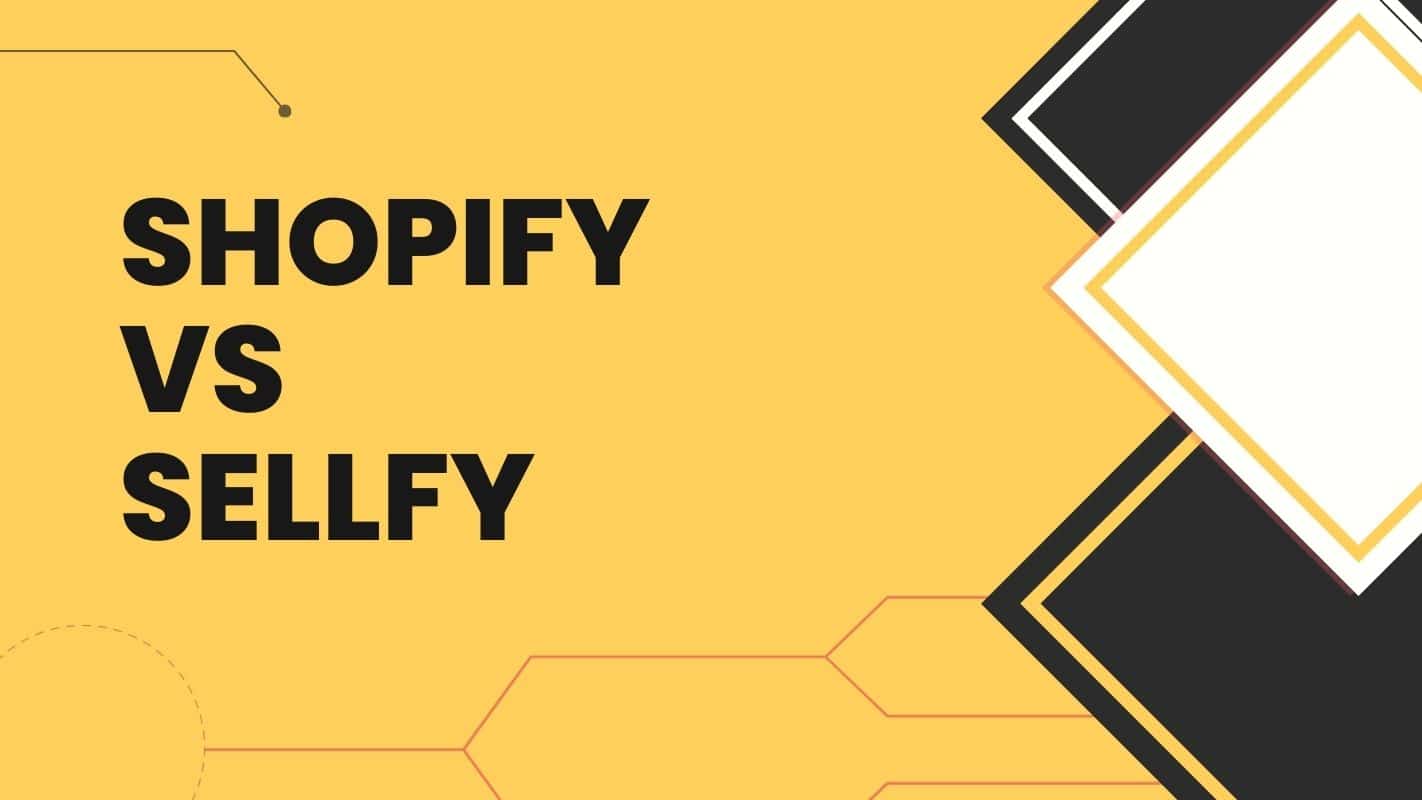 The Sellfy platform, on the other hand, is a less well-known eCommerce platform but one that is gaining ground in the digital marketplace. Selling on Sellfy allows users to create stores directly on the forum or integrate sales capabilities into their current websites.
Let's have a look at both alternatives in this comprehensive Shopify vs Sellfy comparison article.
Shopify vs Sellfy: Advantages and Disadvantages
Both Shopify and Sellfy have a plethora of advantages that they can provide independently. Shopify and Sellfy are terrific tools for newbies in the digital realm since they offer a great deal of guidance to walk you through the basics of setting up your business from the ground up. With its broad app market and extensible design, Shopify, on the other hand, offers significantly more freedom than the other two providers.
Sellfy is a straightforward and safe platform best suited for people who want to mainly sell digital services with a few material things thrown in for good measure. With Sellfy, you can also take advantage of a variety of automation and print-on-demand services without the need to purchase additional add-ons.
Shopify's Pros & Cons
Pros
A fantastic selection of powerful features has been assembled
Several options to accommodate a variety of budgets
Backend environment that is simple to utilize
A large number of fans are eager to lend a hand
There are numerous alternatives for inventory management
Support for the sale of goods through several channels
There are numerous design and theme options
Customer service of the highest caliber
Unlimited products
Custom domain
14-day free trial
Cons
There are specific challenges with scalability for larger organizations
It isn't easy to move between templates
Transaction costs have the potential to eat into profits
Sellfy's Pros & Cons
Pros
For beginners, it is straightforward to use
All physical and digital products are gathered together
There are a lot of products to choose from
Tools for printing on-demand that are incorporated into the store
File-protection features are included
Numerous tax and VAT tools are easy to use
Obtaining marketing services is possible
It is simple to administer your store from a mobile application
14-day free trial
Cons
There are several restrictions on the templates for storefronts
The free plan is minimal
Branding isn't erased until you upgrade to the $49 per month plan
Shopify vs Sellfy: About The Company
Let's start with a high-level overview of both of these technologies. The digital tools Sellfy and Shopify are both meant to assist you in maintaining your online store's uptime and profitability. Shopify, which began operations in 2006 and has its headquarters in Ottawa, Canada, is one of the world's most prominent eCommerce companies, with revenues exceeding $1 billion in 2015. This system makes sales of all types of physical and digital products possible.
Shopify
When it comes to online shops, Shopify is known for its ease of use, customization options, and access to a wide range of integrations and add-ons. These things are meant to help you build the store that best fits your needs. In addition, Shopify also includes particular add-ons for various selling tactics, such as Oberlo, explicitly designed for dropshipping businesses.
Sellfy
Sellfy is quite similar to Shopify in many ways. However, it primarily focuses on assisting creators who want to generate money online through merchandising and content subscriptions. In addition, you may offer a wide range of digital and physical products targeted at a specific online community on your website.
Sellfy, unlike most eCommerce systems, has a print-on-demand platform that comes with the service. There is no need to look for an app to show off your products after being sold. However, if you run your store, you may have to do some work yourself. Sellfy has made it so that there are many options for automating things so that you can keep track of things and stay on budget.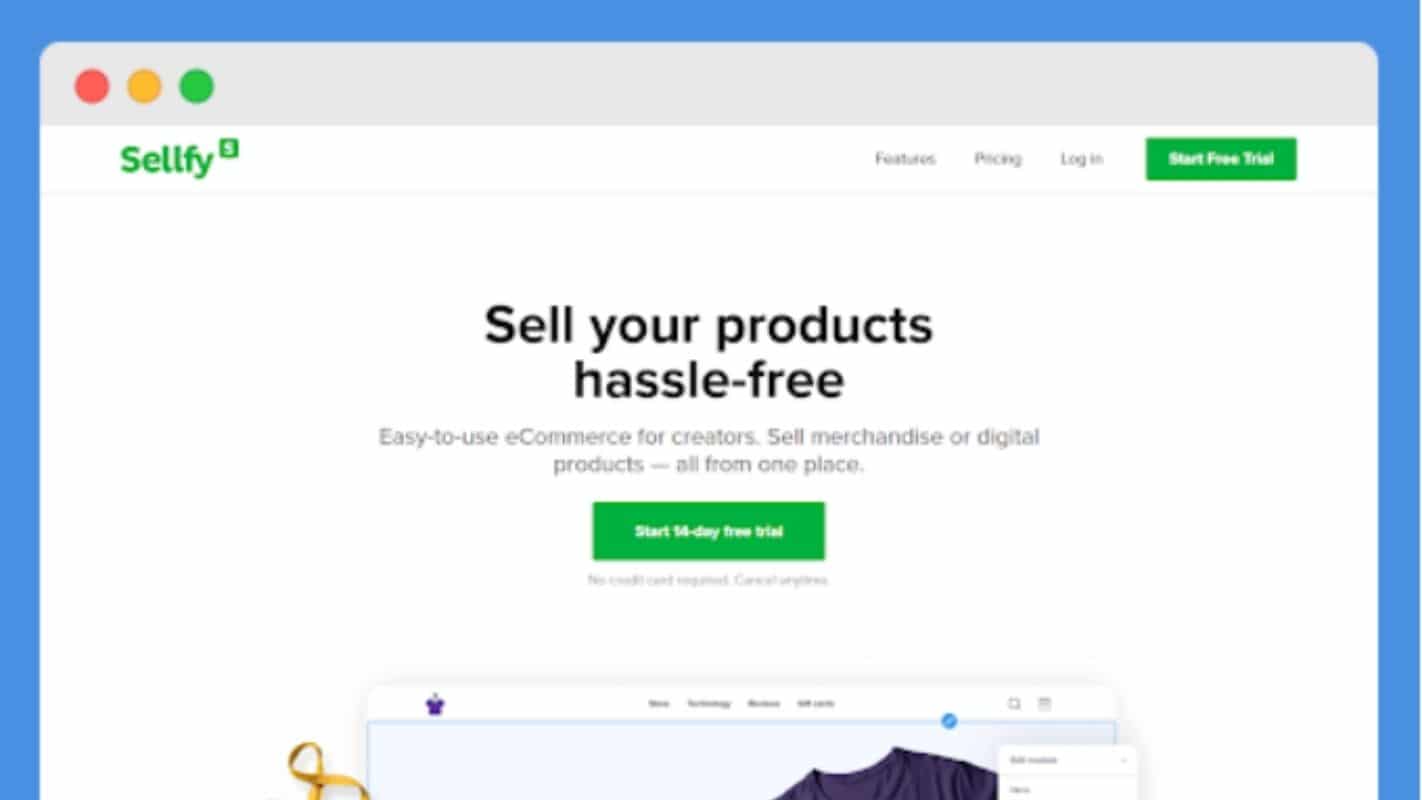 Shopify vs Sellfy: The Fundamental Differences
Because Sellfy and Shopify are both platforms for online selling, there is a great deal of overlap between their respective capabilities. For example, both platforms enable you to sell online assets in the form of digital and physical products. In addition, both provide access to various tools for different types of sales, such as print-on-demand and dropshipping, among other features. Some of the fundamental characteristics of both devices are as follows:
Functionality
Both Shopify and Sellfy include all of the features you'd expect from a platform for managing an online business. You may customize your store's appearance with themes, and there are a variety of checkout and payment alternatives to choose from with each platform.
Customizing
Your storefront can be customized using both software alternatives, and you'll be able to sell both physical and digital things through it. However, in comparison to Squarespace, Shopify does provide a few more themes and customization options.
Inventory Management
Both programs provide the most fundamental inventory management solutions for digital and physical goods. Sellfy also offers specialized solutions to help you protect the digital files you sell and prevent them from being resold after being purchased.
Shipping Calculations
Sellfy and Shopify may calculate the shipping rates, and they can also provide advice on topics like tax and VAT.
Integrations
While you can access connectors for both Sellfy and Shopify, the integration choices are far wider through Shopify. It is incredibly advanced, with hundreds of options to pick from, and the app market is no exception. On the other hand, Sellfy's network is considerably more limited.
Sellfy has fewer third-party connectors than Shopify. Not to mention that its app store contains almost 2000 apps.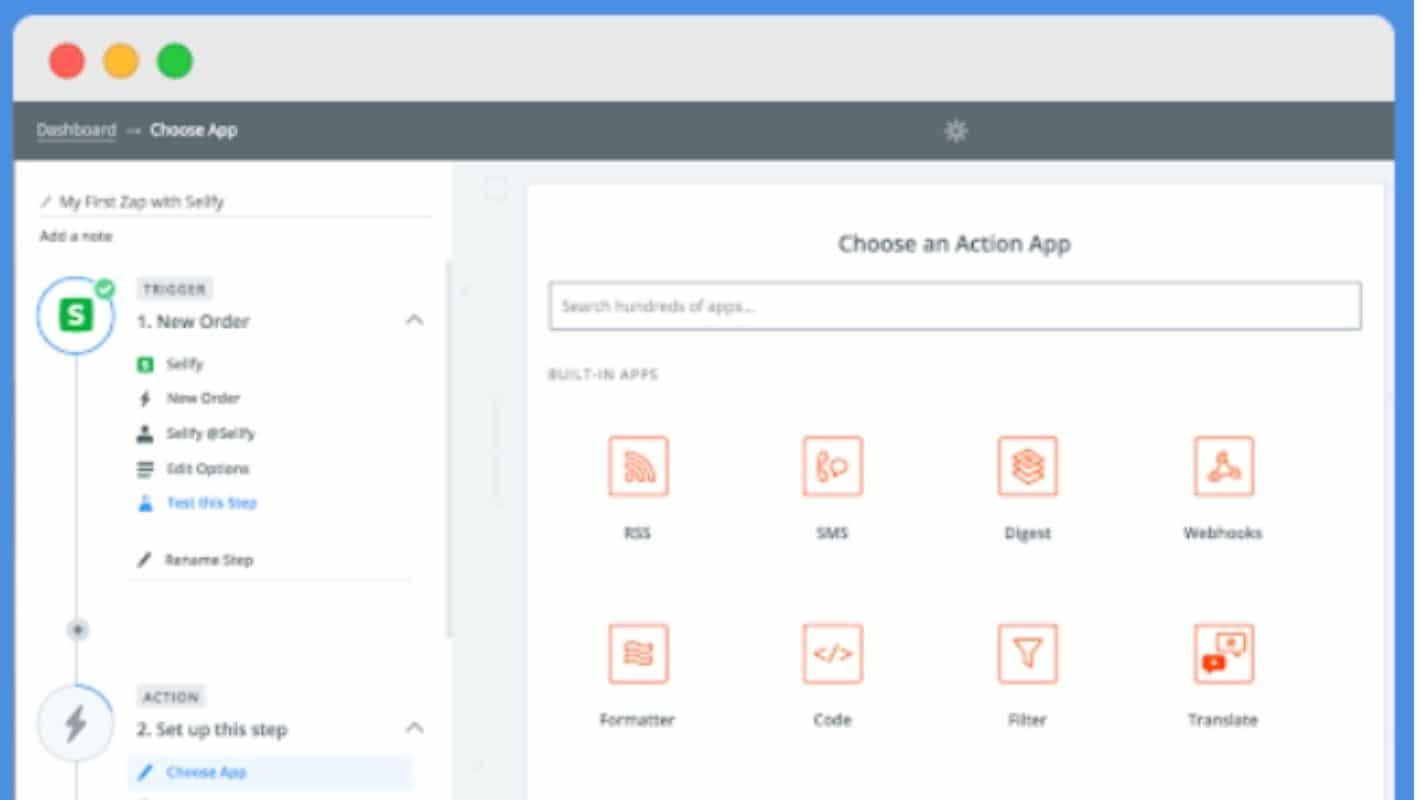 Buy Buttons
Sellfy and Shopify both provide solutions that allow you to integrate selling capabilities into an existing website or online store. This will enable you to start selling products as soon as possible, without starting over from the beginning of the process.
Payments
PayPal and Stripe are the primary payment methods accepted by Sellfy. As a result, you can receive payment from your clients almost immediately. Shopify offers a greater variety of payment choices (over 100 payment gateways), but all of them will incur transaction costs, except the specialized Shopify Payments option.
Security
To keep your store safe, dedicated security solutions are offered from both applications. For example, with Sellfy, you can protect your digital assets and restrict access to numerous products and services. In addition, Shopify and Sellfy both have mechanisms in place for encryption, PCI compliance, and payment processing.
User-friendly on mobile devices
Keeping your store mobile-friendly is becoming more and more critical. Shopify and Sellfy make sure that your store works just as well on a mobile device as it does on a desktop computer.
Dropshipping
While Shopify offers interfaces with dropshipping solutions like Oberlo, Spocket, and other similar services, Sellfy has the technology built-in from the start.
Shopify vs Sellfy: Customization
Both Sellfy and Shopify will ensure that you can modify your store to make it unique and visually appealing. With Shopify, on the other hand, your options are significantly more diverse. As a result, Sellfy appears to be more of an essential solution for print on demand and drop shipping – rather than a complete eCommerce platform – than a comprehensive eCommerce platform.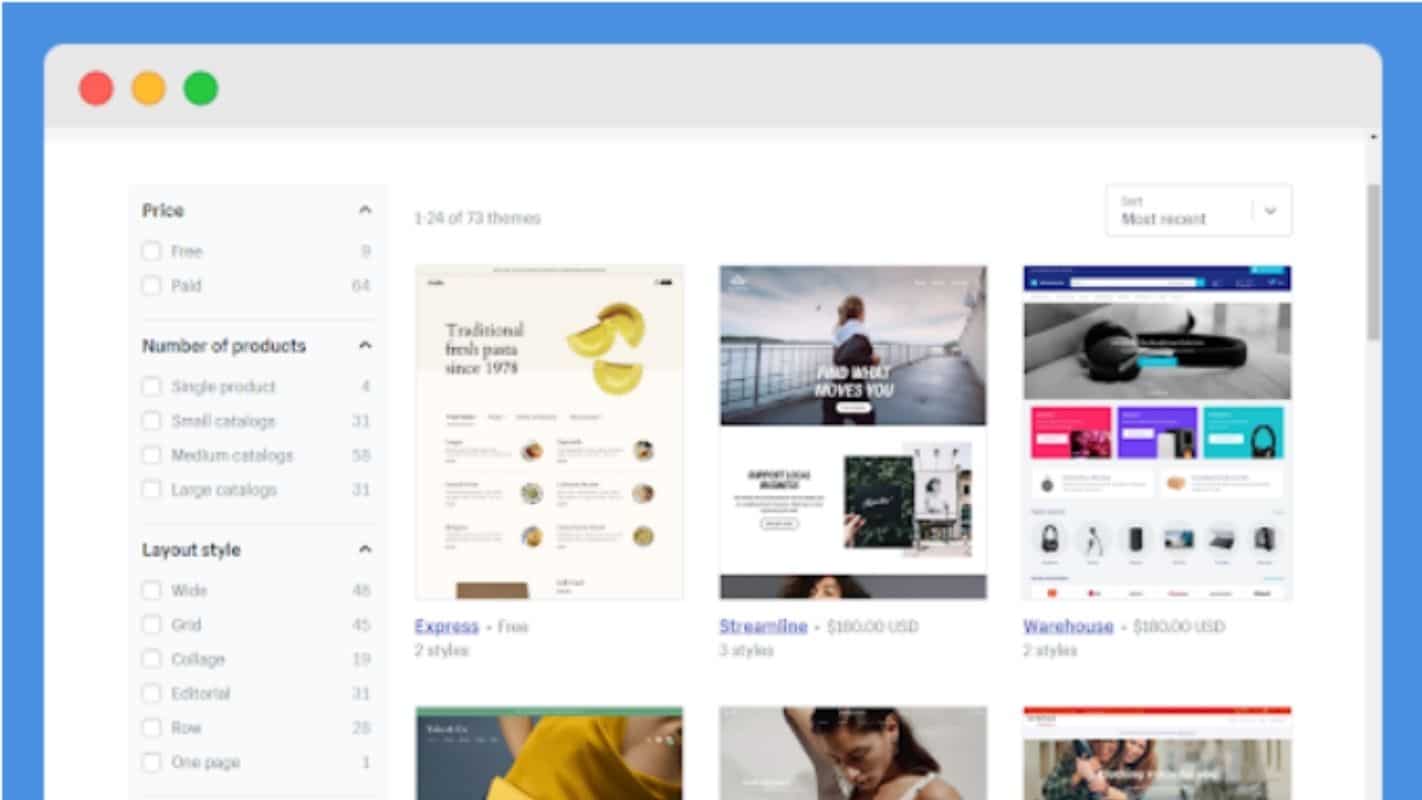 However, Shopify is a cutting-edge site builder that comes with many tools that can help you make your online store look and feel better. There are a lot of fully customizable professional templates to choose from, and you can use a drag-and-drop tool to make changes to them.
Sellfy's store builder is significantly more straightforward. Even though the primary store builder is specific, customization is limited to making a few minor modifications to the shop's colors and designs. There are no professionally designed, ready-to-use templates available to help you make your store appear fantastic.
Notably, a large part of what makes Shopify so appealing from the customization standpoint is the comprehensive application market that is available as a part of the service. Shopify's app market means that you never have to compromise on functionality, even if you can get a complete experience for your online store without any downloads from the Shopify website.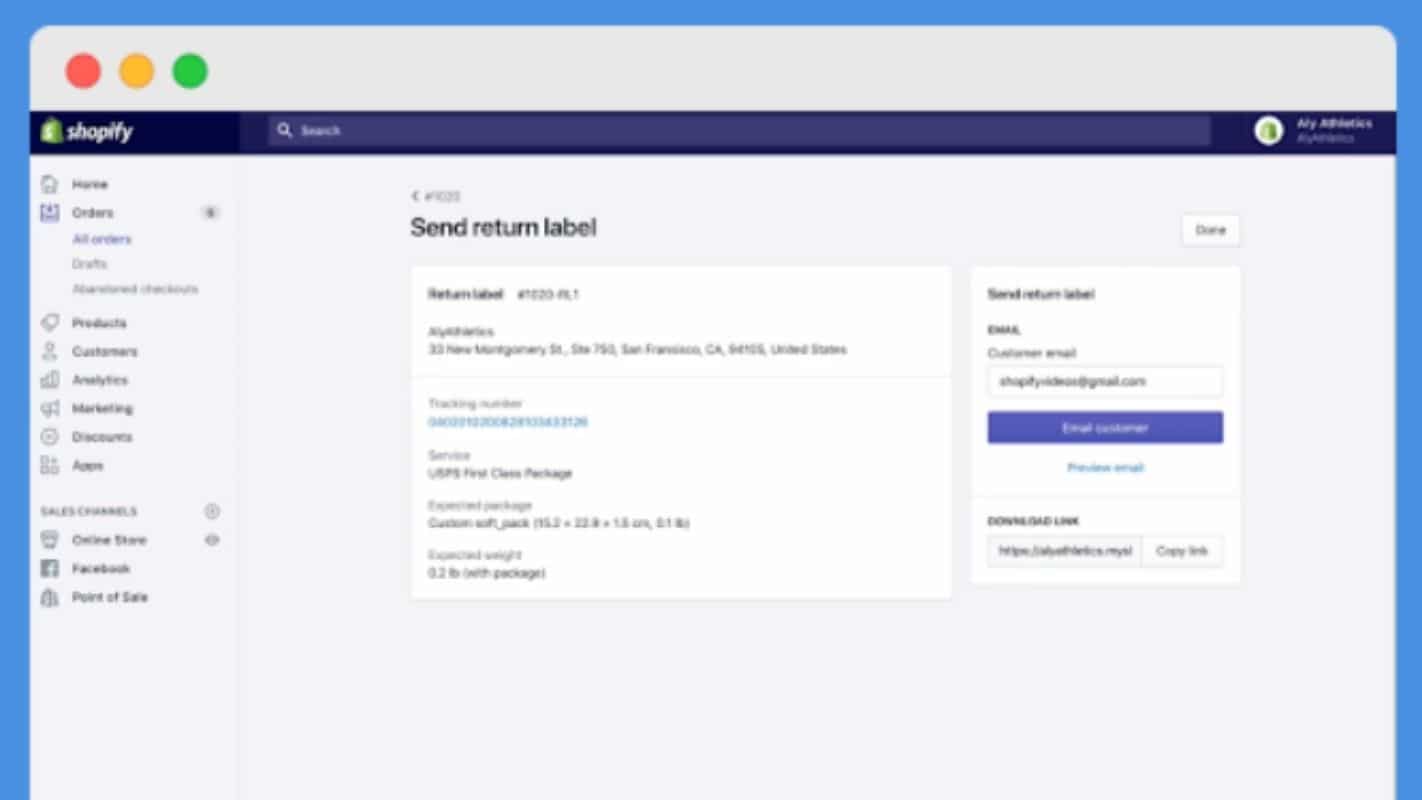 In addition to having access to everything from email marketing and social media advertising tools to applications that assist with SEO, Shopify's app market is one of the largest. Additionally, Shopify's app market is home to one of the largest selections of apps.
It is possible to link your website to Amazon or eBay and get access to many features without writing any code like you would with a different eCommerce solution.
Sellfy, on the other hand, does offer some integration and third-party alternatives, although it is more similar to BigCommerce than Amazon in terms of the number of add-on tools it provides. Sellfy assumes that you already have most of the functionality you require from a commerce platform. As a result, you will not have the same level of control that you would have with entire app markets.
Shopify vs Sellfy: Payments
Selling on Sellfy or Shopify is relatively simple, which is fantastic news for anyone interested in creating a website. Both platforms will allow you to accept payments in various ways. You may receive payments from both services through Stripe and PayPal, but Shopify offers many built-in features and possibilities.
Sellfy provides you with immediate credit as soon as a customer completes a transaction, but only a few payment choices are available to you.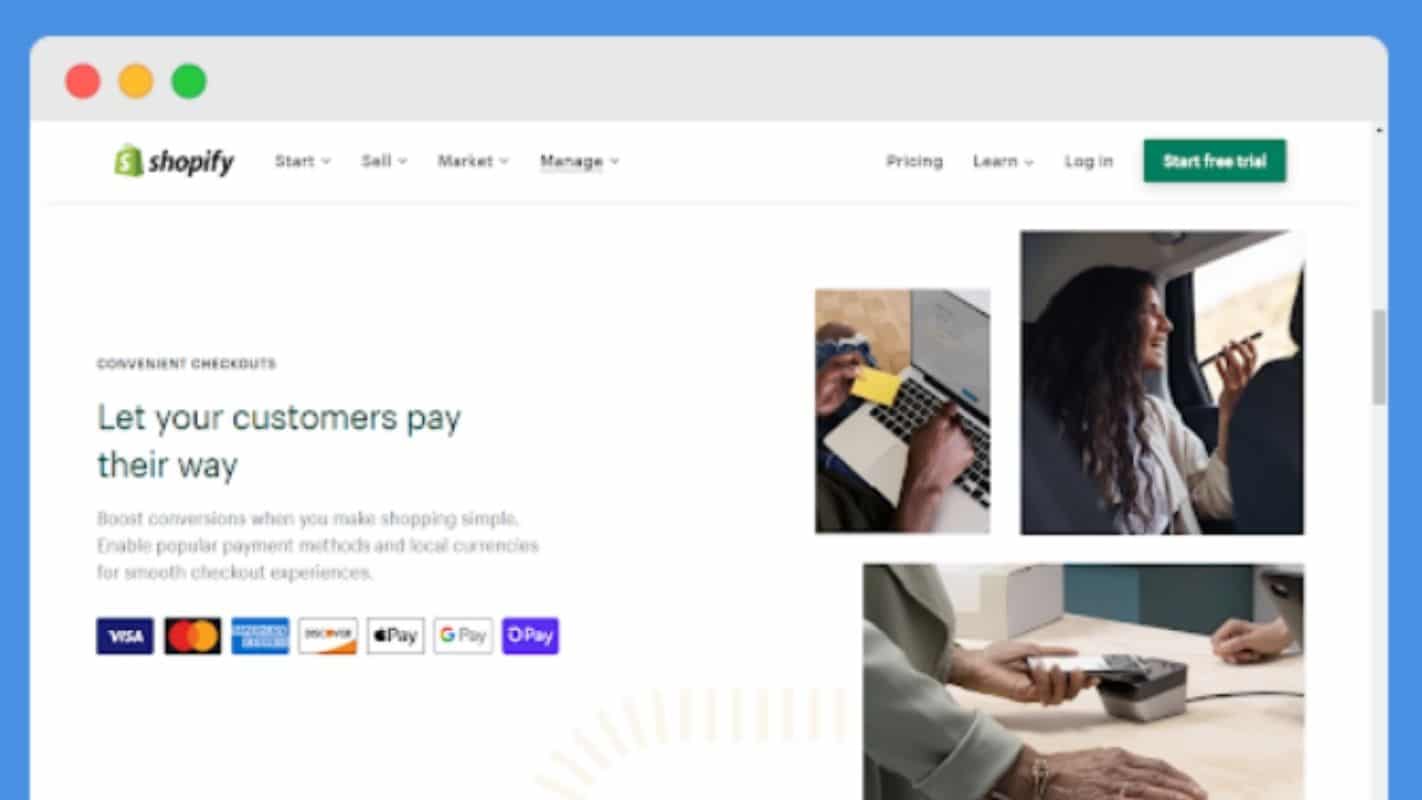 Instead, Shopify works with various third-party payment methods, such as debit cards and payment processing networks. This means that by providing clients with the types of purchasing experiences they desire, your small business will be able to thrive.
If you want to use a secure cart for different currencies without paying transaction fees, Shopify Payments is another option you could look into. This payment platform called Shopify Payments lets you accept bitcoin and other cryptocurrencies from people who want to buy things on your site.
Shipping and delivery are two significant differences between Shopify and Sellfy.
To keep your customers happy, you need to give them more than just gift cards and high-quality goods. It's also essential to have shipping and fulfillment that are of good quality, too.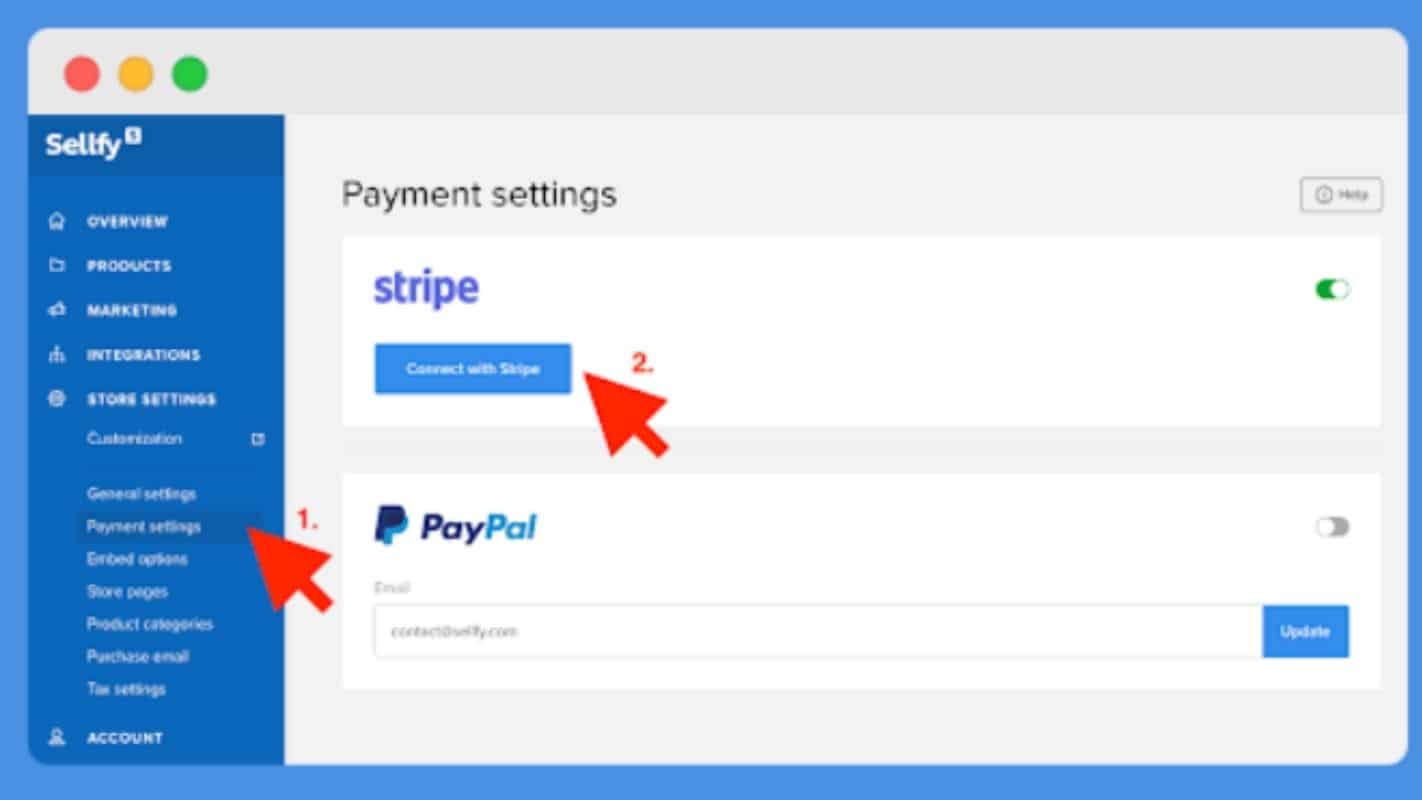 The majority of Sellfy's users are digital product developers. Thus there isn't much need for product tracking features in this context. However, selling your merchandise and custom-printed items through Sellfy allows you to send tracking numbers to customers, making customer administration more accessible and efficient.
"Shopify Shipping" is a service provided by Shopify that provides your customers with an automatic tracking number that they can use on your website to track their goods. There will also be a wide choice of shipping and inventory management solutions available through the Shopify app marketplace.
Set your shipping region to Worldwide by default when you sign up for Sellfy. Shopify takes care of the math for you when it comes to shipping. It also has connections to many different shipping companies, like UPS, FedEx, DHL, and a lot more. Shopify also ensures that you can keep track of your goods in one convenient location. In addition, you can link to numerous sales channels if you want.
Shopify vs Sellfy: Reporting and Analytics
It doesn't matter what kind of eCommerce software you use to ensure that you get the best possible return on your investment. Analytics and reporting are needed no matter what. Fortunately, both Shopify and Sellfy let you see what is happening behind the scenes in your store.
The information displayed on your Sellfy dashboard includes everything from subscribers to subscription items and store visitors to purchases and conversion rates for each of your sales channels. The metrics are reasonably comparable to what you would expect from a website builder such as Wix in terms of functionality. Your reports' time range will also be customizable. However, they will only look at the previous 30 days of data collected by default.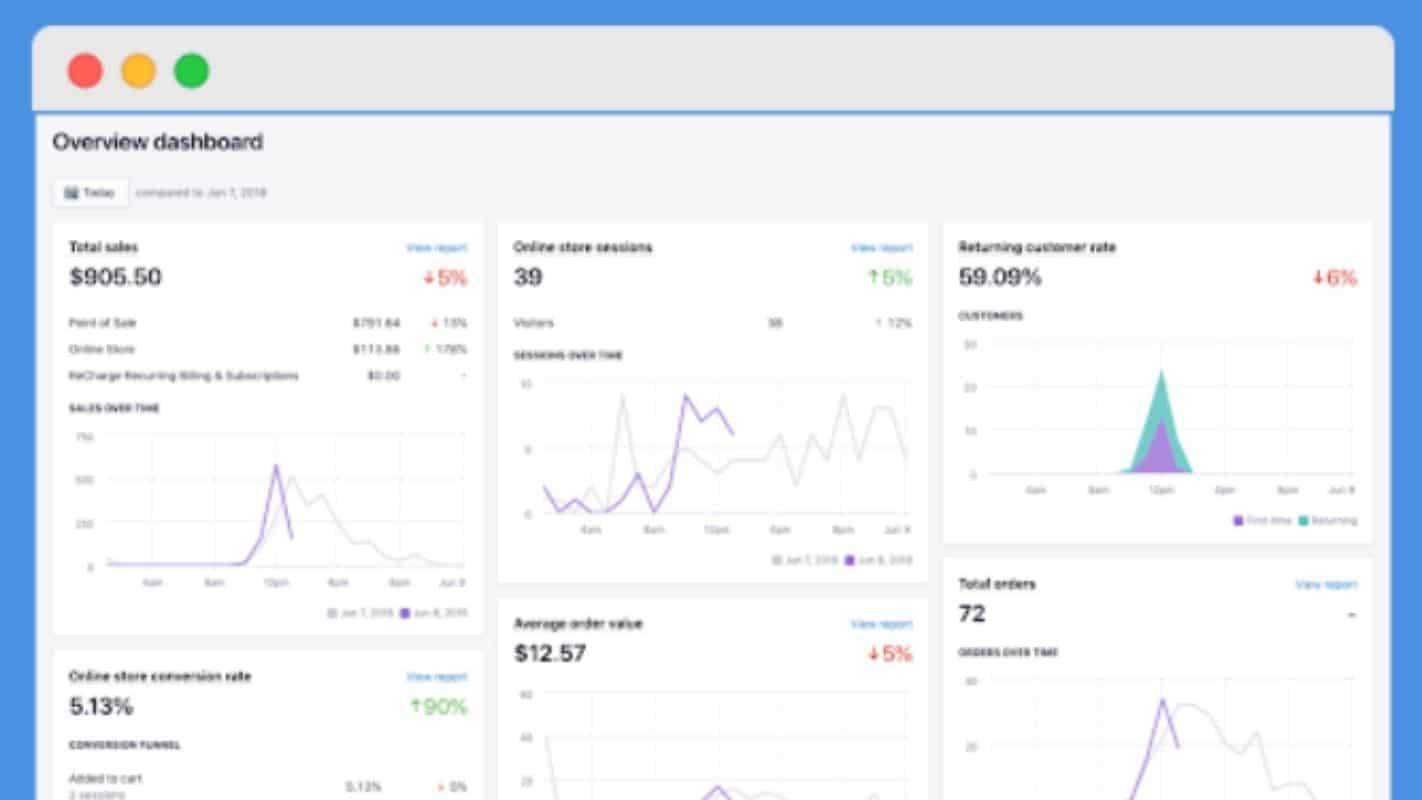 You can connect Google Analytics with your Sellfy account without relying on third-party solutions such as Zapier, as you do with WordPress and other popular websites. This provides you with a more thorough picture of the buyer's experience.
According to your Shopify subscription, the level of reporting and analytics you will receive will vary depending on your business. Using the Analytics dashboard, you can track the number of visitors, traffic sources, top products, top pages, and other important metrics for your website.
Using the Shopify Premium subscription, on the other hand, will provide you with access to more comprehensive eCommerce software insights and analysis. If you wish to gain further insights into your Shopify business, you can always access external third-party apps through the app store. For example, when you use Shopify or Sellfy, you can connect them to Google Analytics, building more complex workflows for everything from cart recovery to retargeting.
Sellfy vs Shopify: Customer Support
Selling things online with any eCommerce shop builder and marketing tools may be complicated to learn and master. When you need help, many people use Sellfy and Shopify. They want to help you when you need it! Learning new software takes a lot of time at first.
To contact the Sellfy support team, you can do so by live chat or email, or you can visit the Sellfy Help Center, which has articles and instructions that can be used as self-service help. Using the knowledge base, you may learn about everything from SSL certifications to downloading troubles that your users are experiencing.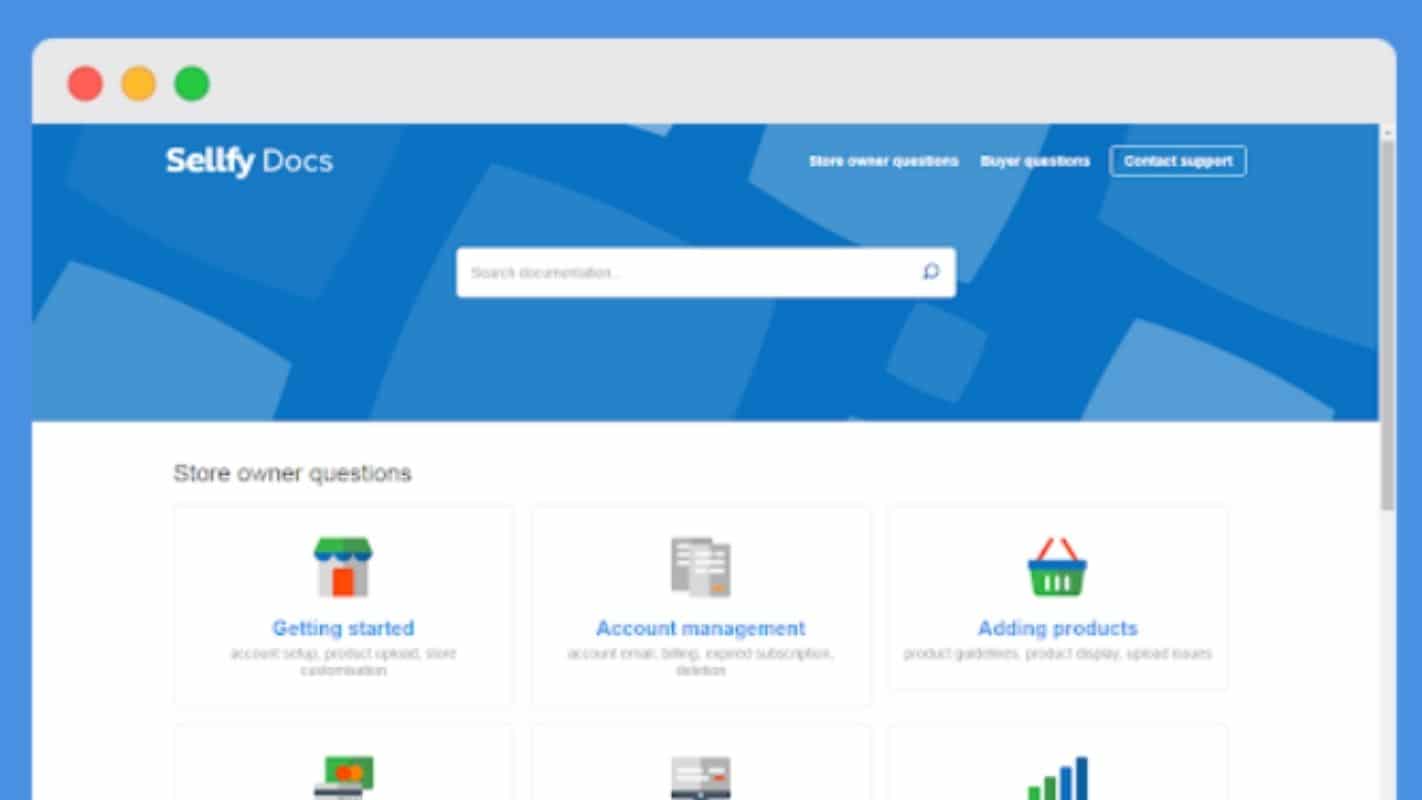 Shopify also includes a comprehensive help section, which contains information on setting up, managing, and extending your store. In addition, there are numerous documents available on how to use Shopify applications and themes, and you can even contact a large community of Shopify aficionados for more assistance.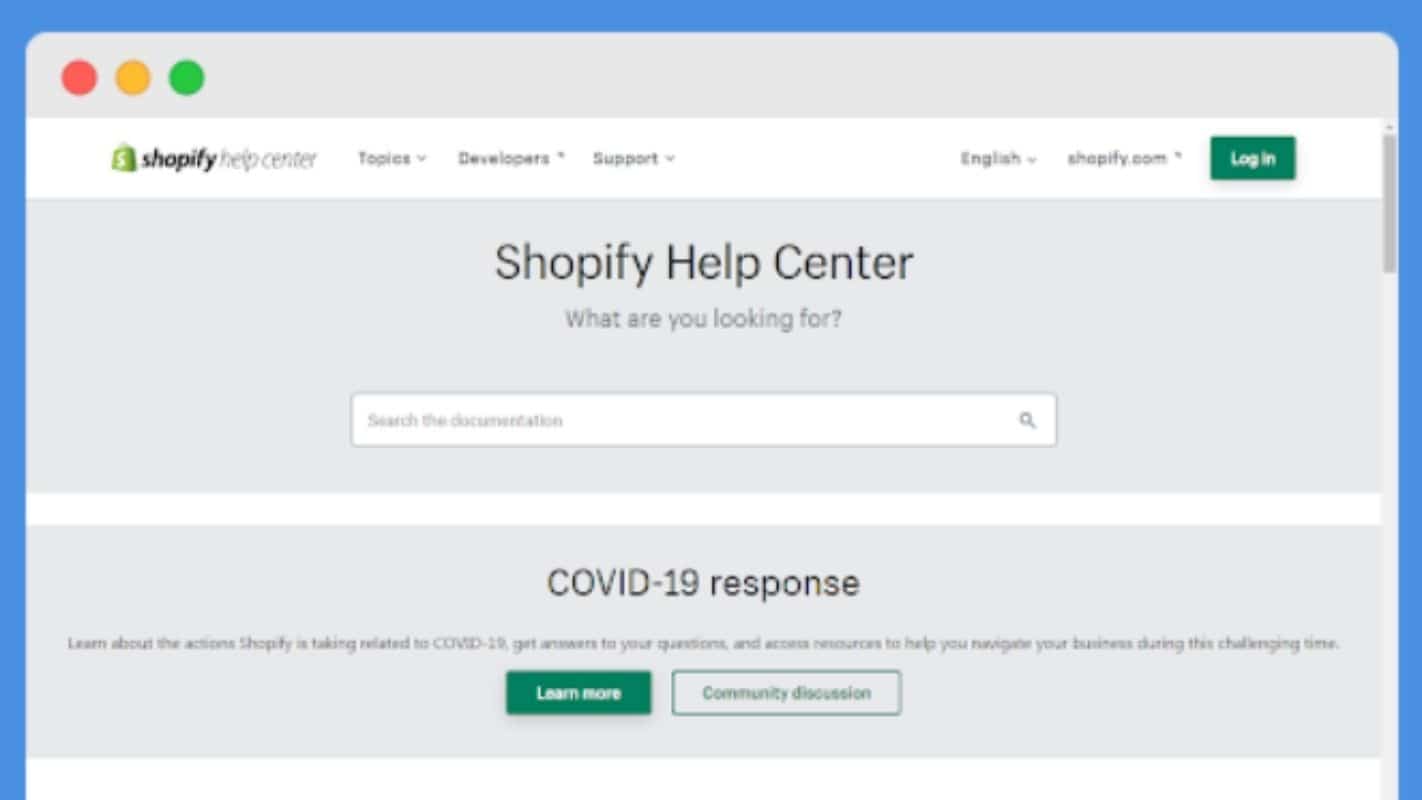 It would be best if you were connected to your Shopify account to receive more support from the Shopify team. You can also communicate with the Shopify team through the many social media platforms that the firm maintains. In terms of customer support, Sellfy and Shopify are very similar. However, Shopify provides somewhat more tools to assist you in understanding and growing your store than Sellfy.
Sellfy vs Shopify: Comparison of Prices and Cost
One of the most significant distinctions between Sellfy and Shopify is the cost. Both systems offer an outstanding 14-day trial period that allows consumers to evaluate the system before making a final decision thoroughly. You may start with the demo and then determine where you want to go from there if you like. Let's begin by taking a look at Shopify's pricing options.
Shopify Pricing
The first plan available is "Shopify Lite," which allows you to add sales capability to an existing website or blog for a monthly fee of $9. This package is the most affordable. To use this option, you will be able to take credit card payments, but you won't be able to make your website. Among the other things:
Basic Shopify
For $29 per month, you may gain access to a site-building solution that includes two staff accounts, four locations, and a Shopify POS system, this is Shopify's basic plan. There is, however, a 2 percent transaction fee associated with this service if you go with your own payment solution and don't use Shopify payments.
Shopify
Shopify's monthly subscription of $79 includes up to five staff accounts and locations and a cheaper transaction fee of just 1 percent.
Advanced Shopify
Will reduce your transaction charge to 0.5 percent, and you'll have access to 8 locations and 15 staff accounts for $299 per month.
In addition, Shopify Plus is available for businesses looking for enterprise-level capability. The starting price for Shopify Plus is $2000.
Sellfy Pricing
The "free forever" option offered by Sellfy is perhaps the most enticing aspect of the service. The bundle supports an infinite number of sales per year for a maximum of ten products. You can sell both physical and printed goods if you have a website. You can also make your shop unique, add discount codes, and choose VAT/Tax options that work for you. However, there isn't a way to select a different address on this page. Other things: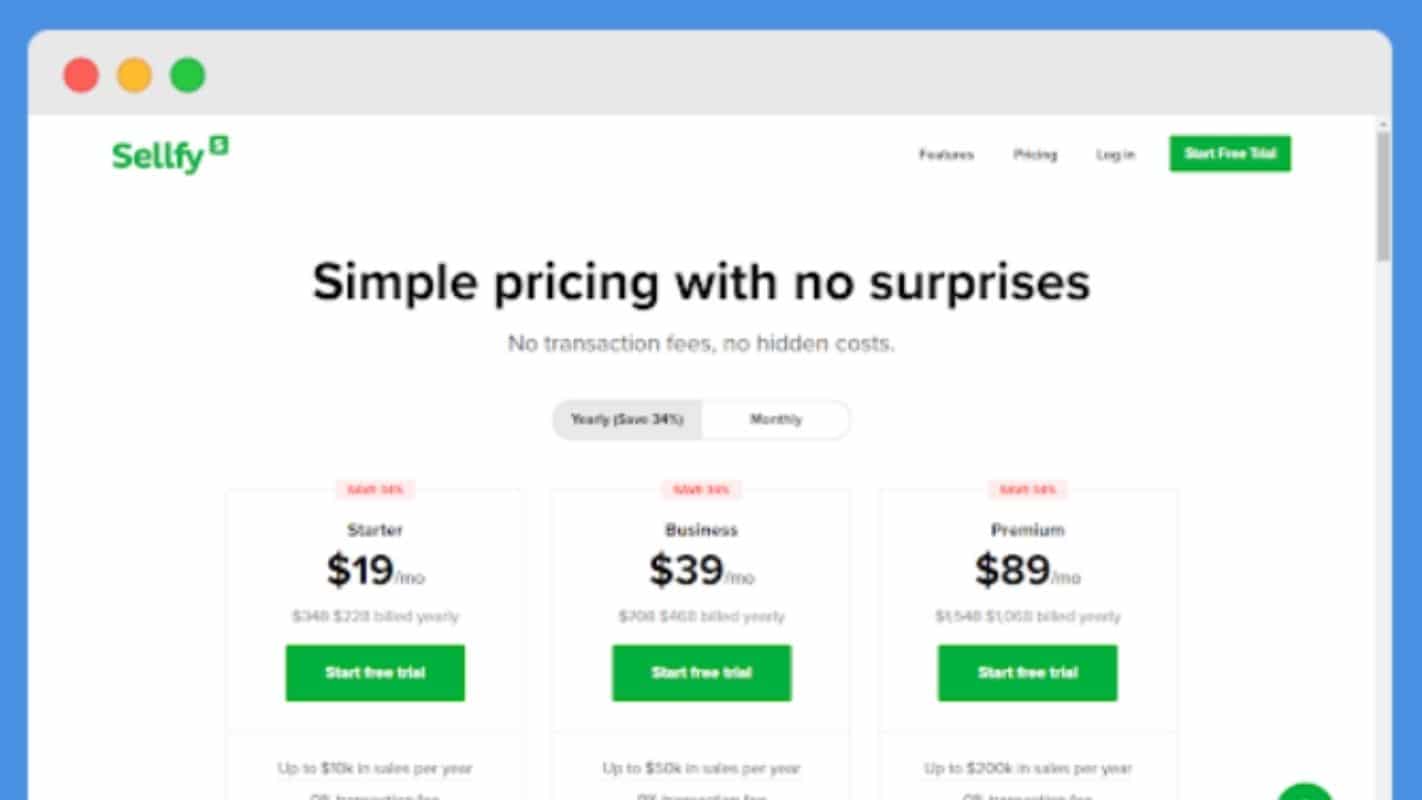 Starter Plan
With no transaction fees, unlimited items, and 2000 email credits, you can make up to $10k in sales each year. So if you pay $19 a month, you can get all this. To make things even better, you'll be able to connect your domain to the app.
Business Plan
You may sell up to $50,000 per year for as little as $49 per month, and you get full shop customization, 10,000 email credits, product migration, upselling, and cart abandonment options, among other things. Additionally, the Sellfy branding has been removed from this package.
Premium Plan
If you pay $99 each month, you can generate up to $200 000 in sales per year, access 50,000 email credits, and receive priority service.
The Sellfy team can help you if you sell more than $200k worth of goods a year. In addition, they can help you find out about a special deal for high-volume sellers.
Sellfy vs Shopify: Similarities
Shopify and Sellfy are both online selling systems, so they inevitably have some aspects in common. For example, consider that both Shopify and Sellfy have their shopping cart feature, which includes tools to compute shipping prices automatically. In addition, Sellfy and Shopify both provide basic store capabilities, while Shopify is usually considered a better platform for selling than Sellfy.
Both Sellfy and Shopify offer a wide range of customer support services to help businesses get started. These include live chat, ticketing systems, and phone support for those who need more help. The number of publications and recommendations on using Shopify has grown tremendously in recent years.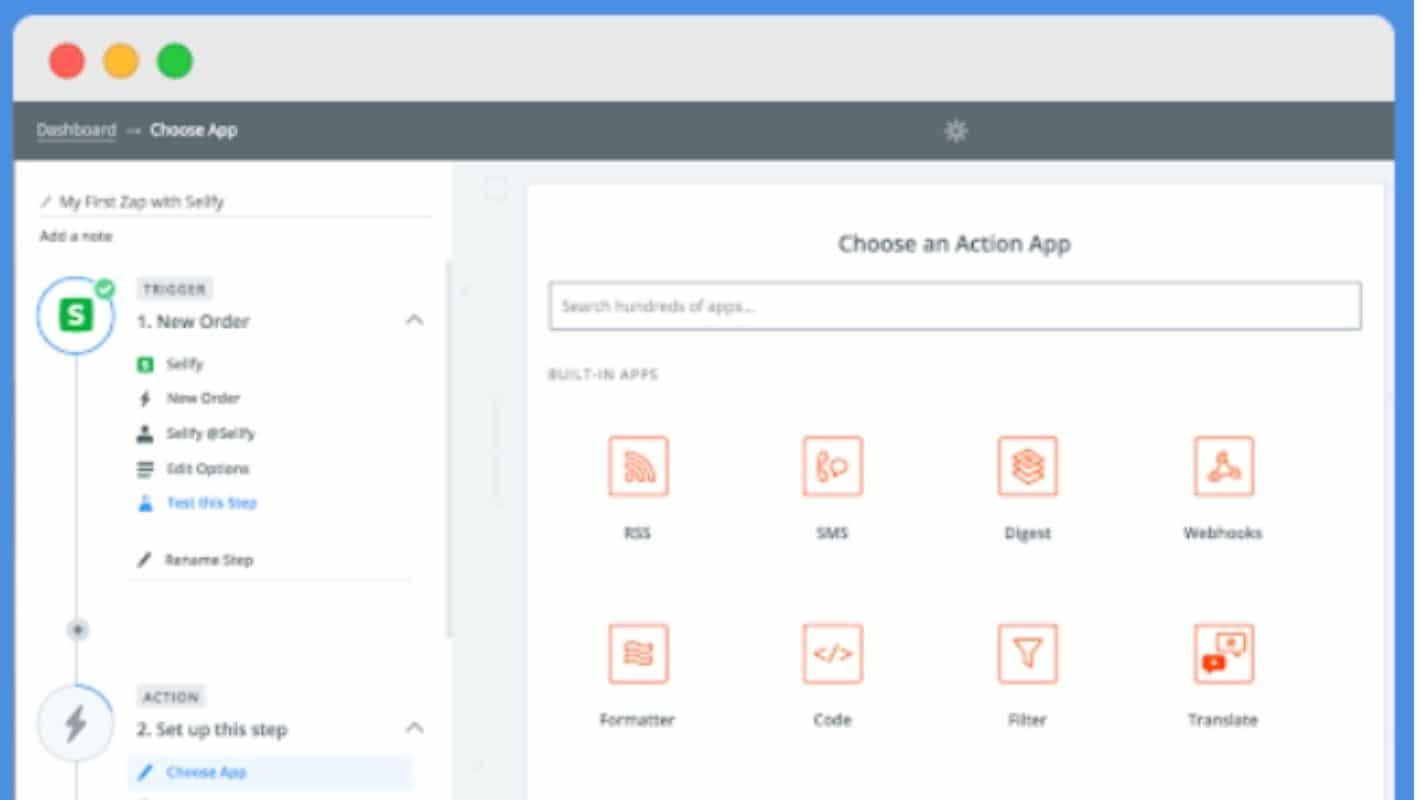 An additional area in which these two solutions are very similar is their reporting capabilities. Both systems feature built-in analytics capabilities, allowing you to track which products perform the best and keep track of orders. Detailed analytics and reporting pages are available on Shopify and access to a system that automatically generates reports on your behalf.
With Sellfy's integration with multiple tools, like Google Analytics, you can keep track of everything happening in your business.
Sellfy vs Shopify: Which Is the Better Option?
Shopify and Sellfy are both fantastic eCommerce platforms that are meant to assist entrepreneurs in running their businesses more efficiently and effectively online. Both solutions have numerous great features that allow business owners to expand their operations on the internet. They do, however, adopt completely diverse approaches to achieving success.
Sellfy is a beautiful platform to use if you're just getting started in the internet world and want to offer custom-made products or subscription services. However, for those looking for a more flexible environment for advanced eCommerce selling, Shopify is the best option. In addition, Shopify can scale more easily with your company.
Both platforms may offer print-on-demand capabilities, but Sellfy includes this functionality by default, while Shopify makes it available through plugins and integrations.
We urge that you carefully consider both of your options and take the time to experiment with all of your available alternatives before making a final decision on whether to use Sellfy or Shopify. Remember that while each of these products has its advantages, they are by no means the only eCommerce tools available on the market. You can also select from a wide range of other alternatives.
Finally, both of these tools are, on the whole, pretty simple to operate. Sellfy and Shopify strive to make their platforms as convenient and straightforward as possible for their users. The signup process for both platforms is quick and precise, and the dashboard is likewise plain and clear to navigate through. For both Sellfy and Shopify, one of the best things about them is that they are both free to use.
There is no requirement for coding experience to get started, and there is a minimal learning curve, even with all of the features available through a platform like Shopify, to get up and run.
Happy eCommerce choosing! And thanks for reading,
Zaid
Sources:
Share with your Friends: