Shopify vs Weebly: Which is the Best E-Commerce Platform?
The number of opportunities available in eCommerce spaces is constantly growing. With the advent of the digital era, many businesses have made the transition to the online world. This is especially true now that there are many platforms available for patronage in the market. Furthermore, consumers now prefer eCommerce's convenience, prompting many companies to invest heavily in their online assets and social branding.
eCommerce is the term used to describe online transactions over the internet. This is made possible by the efficient use of mobile devices, tablets, laptops, and even computers when purchasing goods, services, or products. eCommerce comes in various forms, depending on the type and technicality. Business-to-Consumer, Business-to-Business, Consumer-to-Consumer, and Consumer-to-Business are examples of these types of transactions.
The success of this industry can be attributed to its low customer acquisition costs and adaptability. But on the other hand, these factors merely pave the way for new ideas critical to a company's growth and success.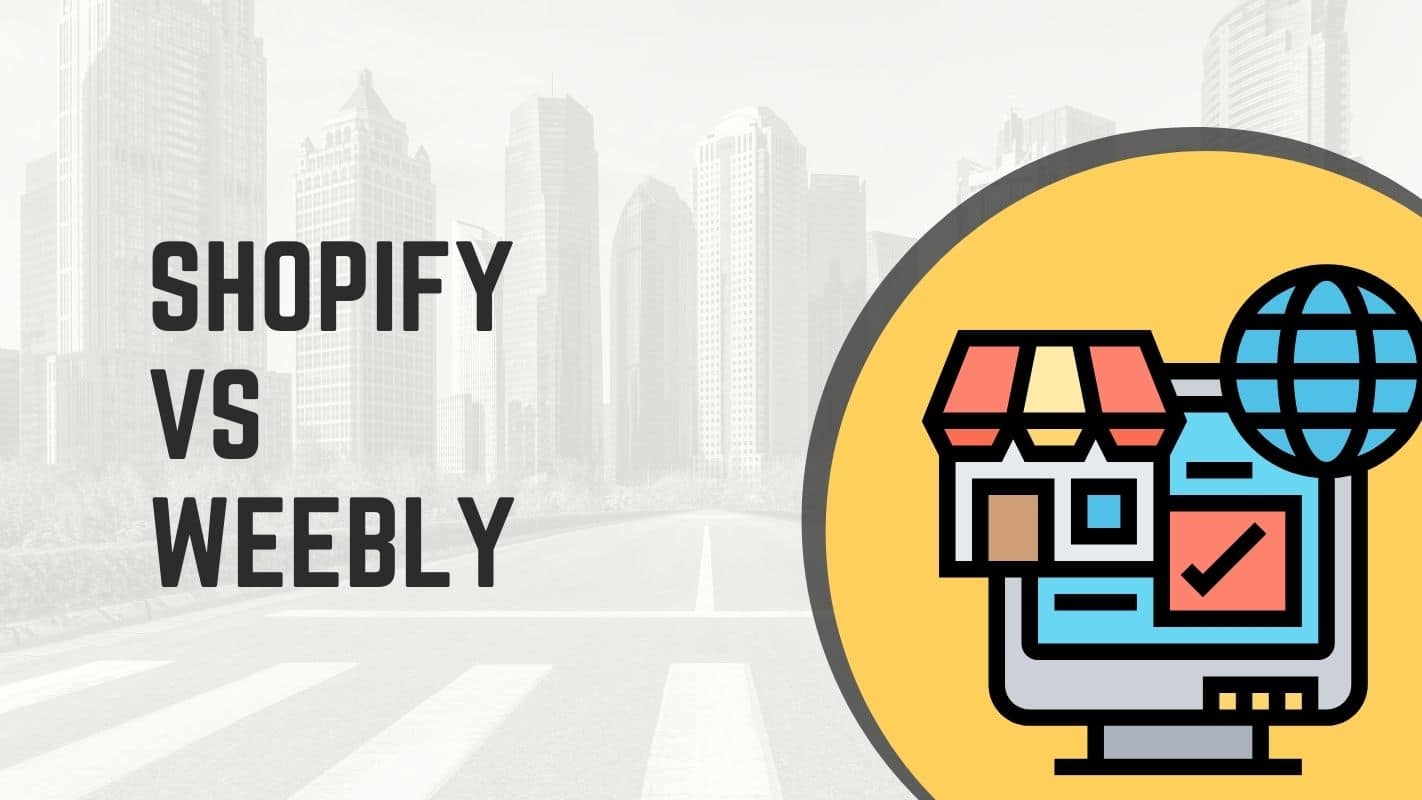 This article will compare and contrast two prominent eCommerce players: Shopify vs Weebly. In addition, this article will compare and determine the differences, benefits, and features of two of the most popular online stores among entrepreneurs.
Shopify Vs Weebly
What is Shopify?
Shopify is a multibillion-dollar Canadian corporation best known for its eCommerce platform. Users of Shopify gain access to a variety of web hosting services for their expanding businesses. At the same time, it enables you to conduct business without visiting a physical store.
Users can freely manage and market their stores while maintaining complete control over revenue generation and sales. Furthermore, Shopify is a comprehensive eCommerce platform. As a result, customers can browse Shopify's targeted stores quickly and easily online, easily converting engagements into sales.
What is Weebly?
Users can use Weebly to create, publish, and design online stores, websites, and blogs. In this platform, users can use the available templates, color hues, and themes to best represent their brand aesthetic. This Weebly feature allows entrepreneurs and businesses to communicate more effectively with their online market through a strong brand image. However, it's worth noting that the presence of a third-party provider allows users to get the most out of Weebly's eCommerce capabilities.
Weebly allows users to attract customers to their brand or product by using powerful built-in tools easily accessible to the owner. Users can use these tools to build an eCommerce website from the ground up, filling it with data and information for their store or online products.
Shopify Vs Weebly Features
Language Support
Shopify supports a variety of languages to provide a more user-friendly experience. Furthermore, various plugins and add-ons enable you to translate into other languages. Weebly, like Shopify, has the same capabilities and features, making it simple for both platforms to sell internationally.
Ease of Use
It can be challenging to navigate your way around an unfamiliar site for the first time. Nonetheless, both platforms allow for easy access to media and built-in features. Furthermore, you do not need to be technologically savvy to begin either side of your business. Shopify and Weebly have well-structured and seamless ways of assisting you in creating your store, making it simple to grasp for newcomers.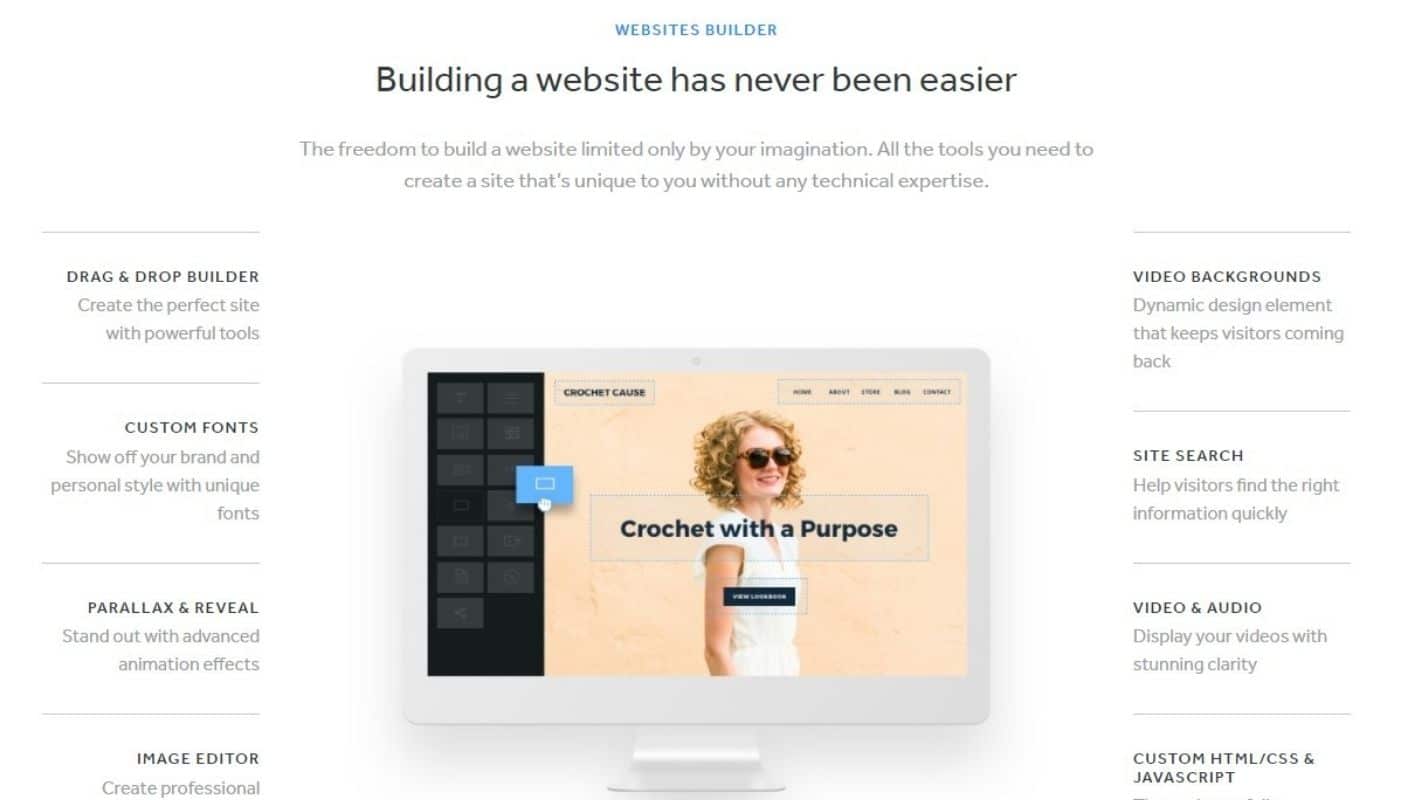 Shopify's interface is more straightforward and clean, making the user experience more accessible. It also includes simple-to-use tools and other editors that anyone can use right away. As a result, even if the user is a neophyte in starting an online store, site navigation is smooth and considered a breeze.
Weebly is intuitive, but it takes a few practices runs for the user to get used to it. Therefore, its use does not necessarily imply that the platform is challenging. However, this simply means that there will be some hiccups on Weebly's back-end site from time to time.
In general, creating an eCommerce store in Shopify is more accessible due to the site's structured approach to assisting users in creating their online businesses. On the other hand, Weebly offers drag-and-drop tools that include functional and interchangeable templates, widgets, and other devices that can be combined into one page.
Theme Designs and Theme Store
Weebly is a free website builder with a limited number of themes. It's also primarily interchangeable and can be used in both the website and eCommerce. You can also use the available widgets and point-and-click tools to arrange your website's theme and overall design, depending on your preferences.
Meanwhile, Shopify offers users more consistent themes and complimentary premium themes. Of course, to get these extra features for your site, you'll have to pay first. However, as an eCommerce platform, it comes with various templates and themes that you can access and choose from.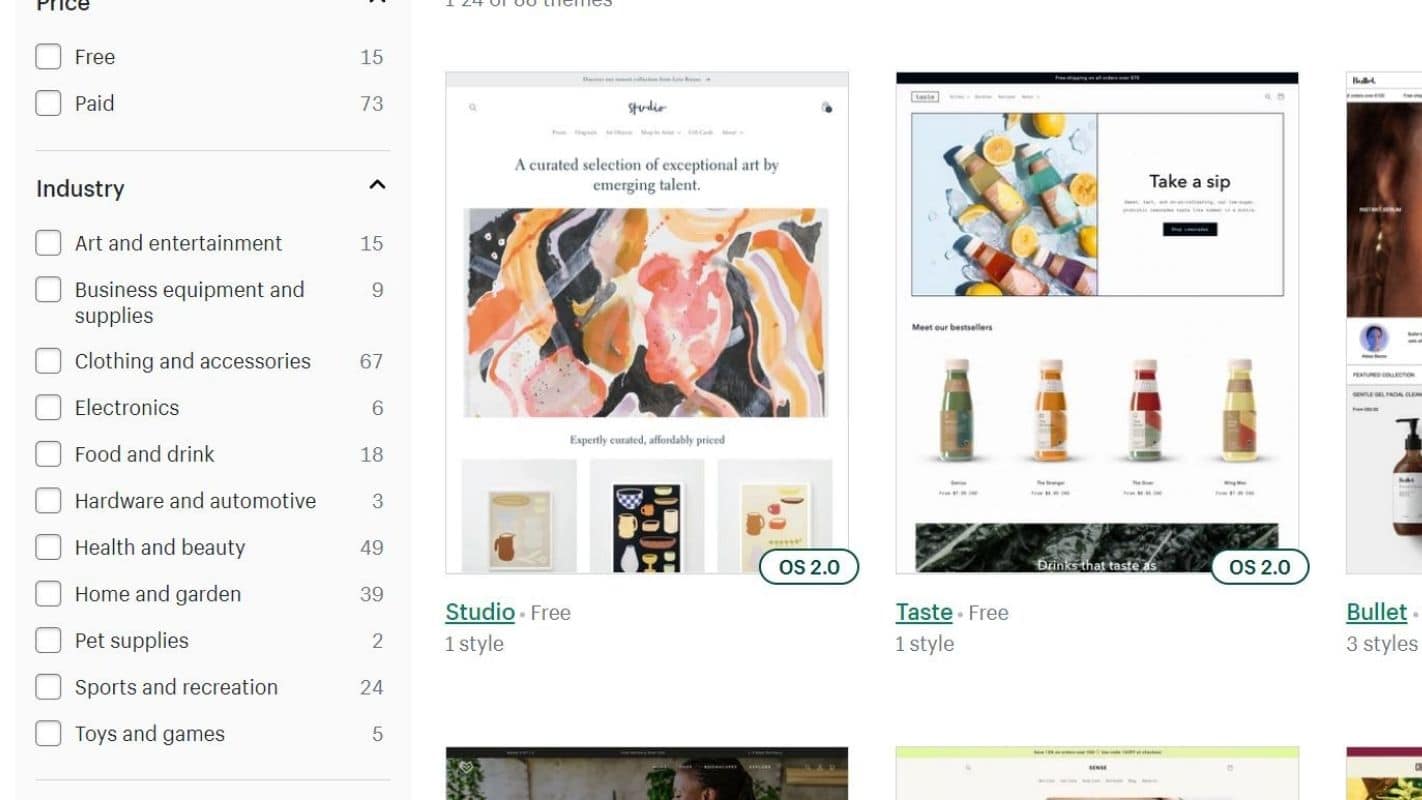 Nonetheless, in the dashboard area, both platforms stick to a more general yet interactive theme for the user and provide various design options. Both, for instance, provide Drag-and-Drop Builders and form builders.
Payment Options
Shopify's users and customers have a variety of payment options. Shopify Payment accepts the most popular and widely used payment methods, including Facebook Pay, Paypal, Apple Pay, and Amazon Pay. In addition, this platform accepts cryptocurrency as well.
Additionally, the site allows users to securely save payment information for automatic payout and charging when purchasing a product.
Only a few payment processing options are available through Weebly: Square, Stripe, and Paypal. However, depending on how the user chooses to pay, this platform provides a variety of experiences.
Shopify tends to have more accessible and uncomplicated payment transactions due to its extensive coverage of various payment options. Furthermore, Shopify allows users to accept payments from multiple demographics in ten major international currencies.
On the other hand, Weebly has global access through Stripe, a payment option that is also available on the site. In addition, the site accepts credit card payments in real-time.
Performance and Speed: General User Experience
In terms of lags or buffering, Shopify and Weebly are on par. Any instances of slow site performance are determined by the top source or hosting connectivity on the internet. Whether you're connected via wireless or cable, both platforms provide a satisfactory user experience in terms of capability by today's standards.
Remember that the more add-ons and plugins you use for your shop, the slower it will respond.
Marketing Tools
Shopify recently released Shopify Email, a personalization app that allows for better audience retargeting. Users can fine-tune their campaigns and advertising to appeal to a market that can be converted into sales. Additionally, Shopify's email platform allows for customized email marketing campaigns that include social media marketing.
Visual templates are used by Shopify Email to appeal to and pique the interest of their target audience. Furthermore, Shopify Emails allows you to send unlimited emails (up to 2,500) at no cost or additional fees. This is a fantastic e-commerce feature.
Shopify allows you to create automated cart emails for abandoned cart recovery. Set a timer for when the email should be sent, and you're ready to go for cart recovery.
On the other hand, Weebly users can take advantage of the readily available templated emails. For example, promoting a new item for the store or sending out holiday discounts is easier with these ready-made email templates. Weebly also has a lot of clout with its Newsletters feature, which is crucial for attracting new customers. You can advertise your services here by creating Newsletters to send to your target audience. Both platforms, as a result, provide marketing tools for sending newsletters and emails.
Availability of Partner Apps for the Platform
Weebly's platform includes compatible and simple-to-use in-store apps. You can choose from over 400 different applications here. In addition, users can choose to purchase or partner with their desired app based on their current subscription plan and business needs.
Users on Shopify, on the other hand, can choose from 6,000 options. It also supports all business-related dealings and offers Weebly three times the functionality.
Overall, Shopify is the most popular app platform due to its wide range of eCommerce solutions. Not only that, but the apps are licensed, have quick upload capabilities, and are incredibly user-friendly. Both apps and connections are available for a variety of social media integrations.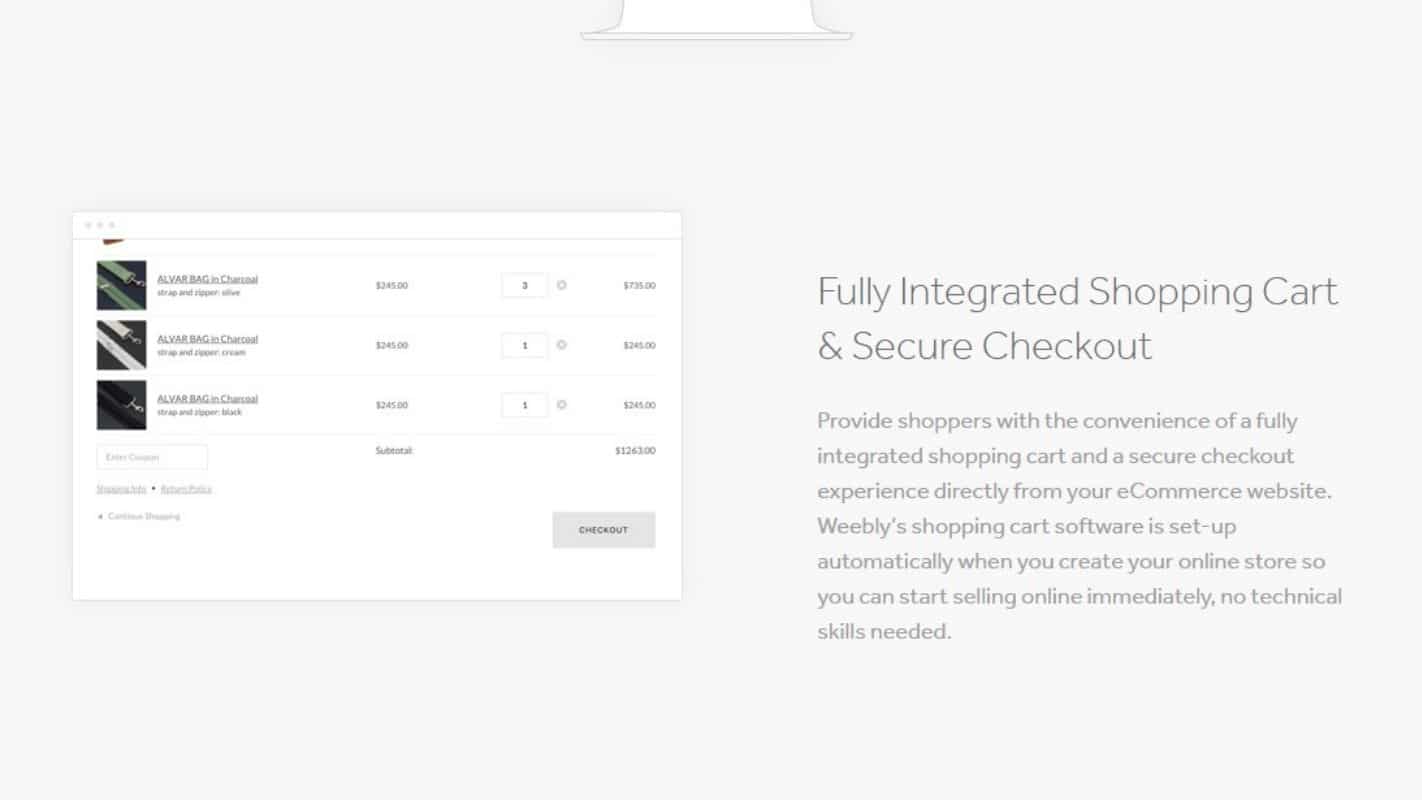 Blog and Portfolio Functionality
Weebly was just a website builder when Shopify first launched as an eCommerce platform. Since then, Shopify's main strength has been its eCommerce platform's efficiency, which is not the case with Weebly.
On the other hand, Weebly has the upper hand when it comes to prominent marketing features like blogging capabilities or functions and offers more blogging features. For example, Weebly allows you to easily install and feature blogs on your site. Here, you can improve your store's brand awareness and its products and services.
Portfolios can also be helpful for marketing and promoting your website. Weebly, for example, caters to a more niche audience and has a more limited offering. On the other hand, Shopify has a more extensive portfolio entry that caters to a broader audience and offers more in-depth filtering for both consumers and businesses.
Customer Support
Customer service is available via email, phone, and live chat 24 hours a day, seven days a week on Shopify. Weebly is the same way, providing support and responding to customer concerns. The difference is that you can usually contact customer service representatives via email with the latter. Only during specific business hours are phone and live chat services available.
However, if users want to solve their problems independently, they can use the platform's online self-help guide. At the same time, they can use this self-help document to guide them while they wait for a representative to contact them.
Both platforms also have an active discussion forum. You should go to the community forum for help if you need it. If you require additional assistance, you can always hire a Shopify Expert.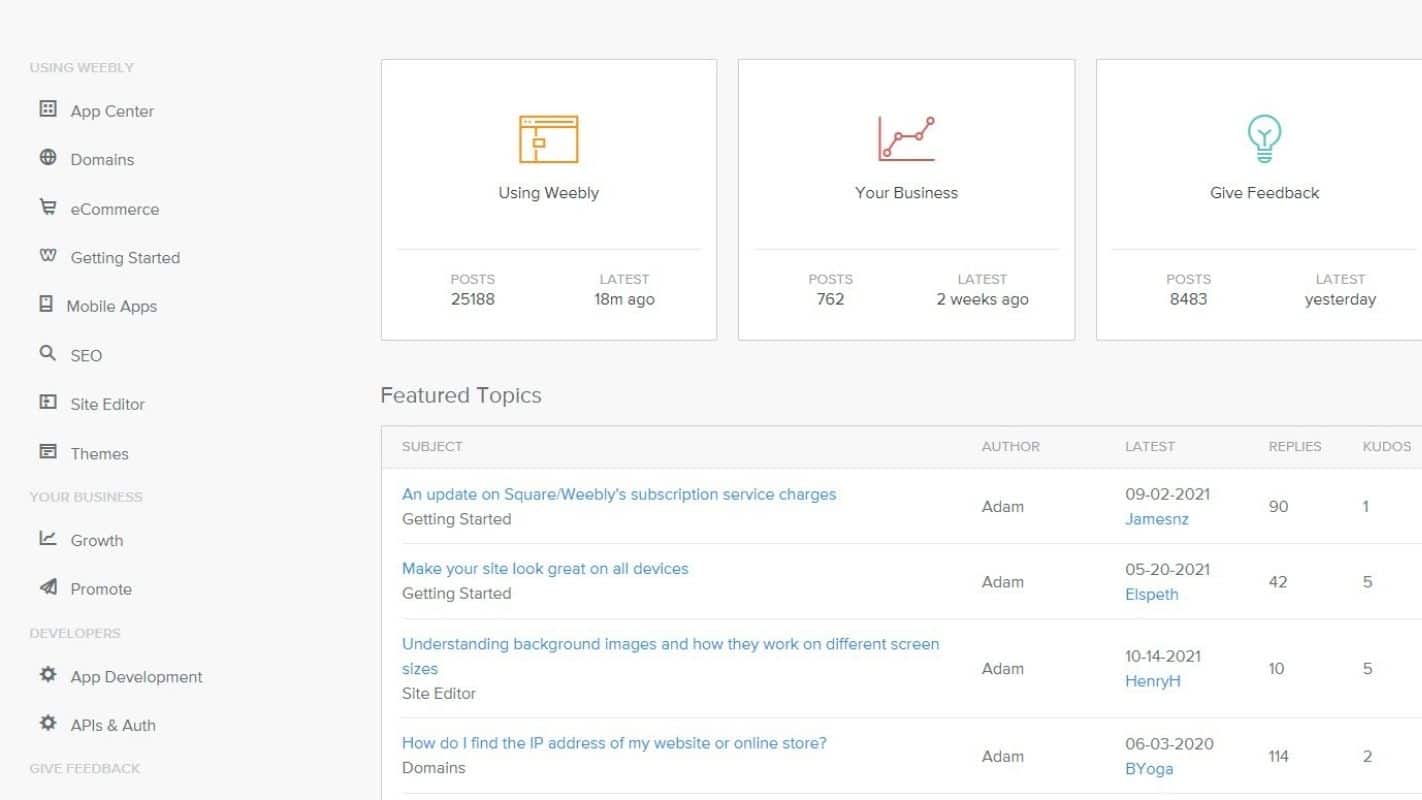 Ability for Customization
Shopify takes pride in its platform's hosting capabilities and customization flexibility. Unfortunately, Weebly does not have much customization ability or freedom for users, despite having built-in drag-and-drop tools.
Inventory and Store Management
Entrepreneurs must keep track of their products and inventory when running an eCommerce store.
If you're an online seller in the digital world, you need to be able to navigate easily. You must always be aware of the available products in your inventory. This must be precise to determine what is available for sale and what products must be restocked. The Inventory and Store Management feature is critical in this Shopify vs Weebly comparison to ensure that your online business operations smoothly.
Inventory management and tracking are available through Weebly. Furthermore, the taxes and shipping costs are calculated automatically.
Because Shopify integrates the point of sale into the user's dashboard, it has a more concrete inventory and store management. Filters are also available on the platform, allowing you to easily organize lists by type and category. Finally, both tools can create an unlimited number of products.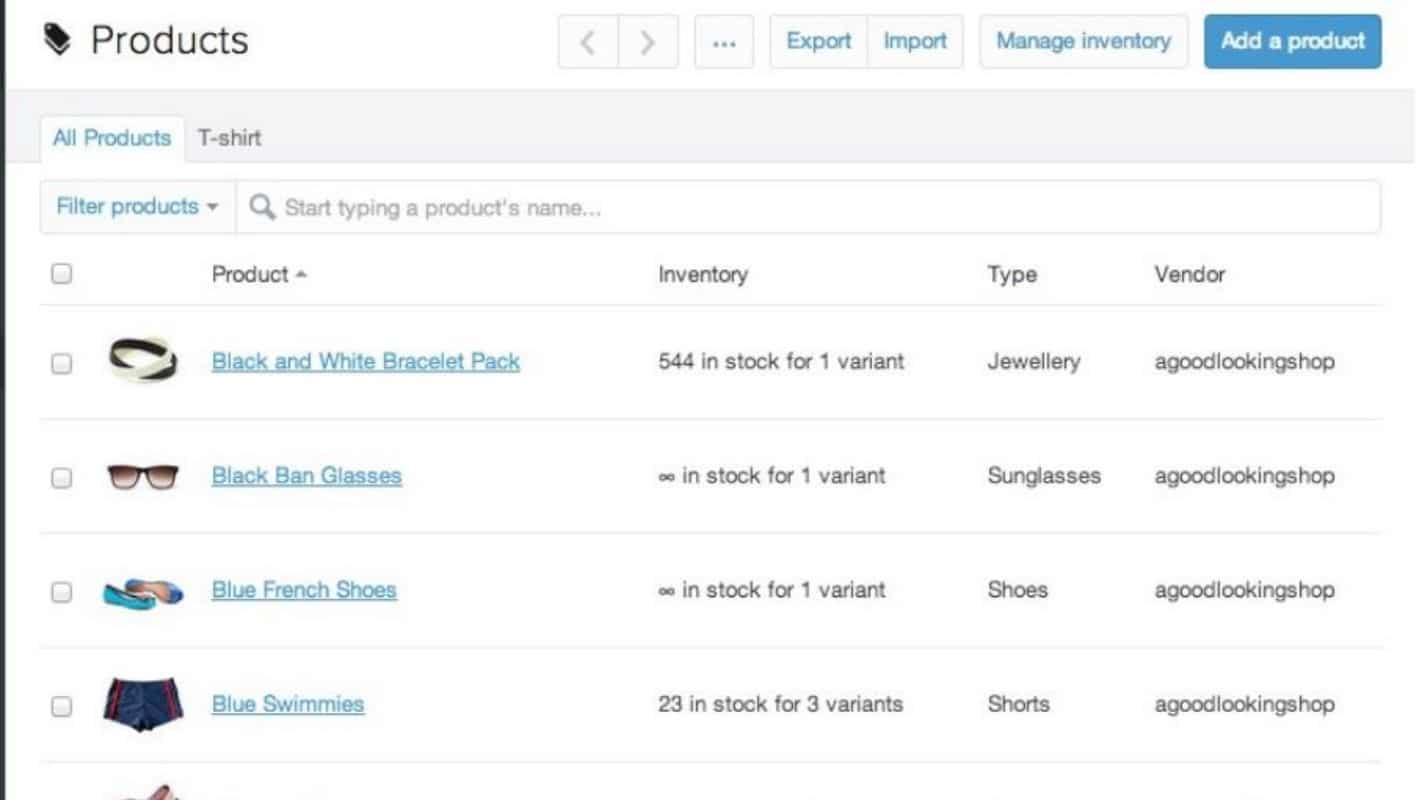 Shipping Options
Shipping considerations are another critical factor to consider when selling online, whether locally or internationally. You must think about which shipping terms and partners are best for your business. When it comes to drop-shipping businesses or selling internationally, Shopify is the most significant player.
DHL, UPS, and Canadian/US Postal Services have partnered with Shopify to handle their shipping needs. Furthermore, the site provides options to assist the seller and user in determining the best package types and sizes for the product to be shipped. They can also see real-time shipping rates thanks to a shipping calculator feature.
Weebly is similar; however, you must have the highest level tier plan to use the shipping cost calculator.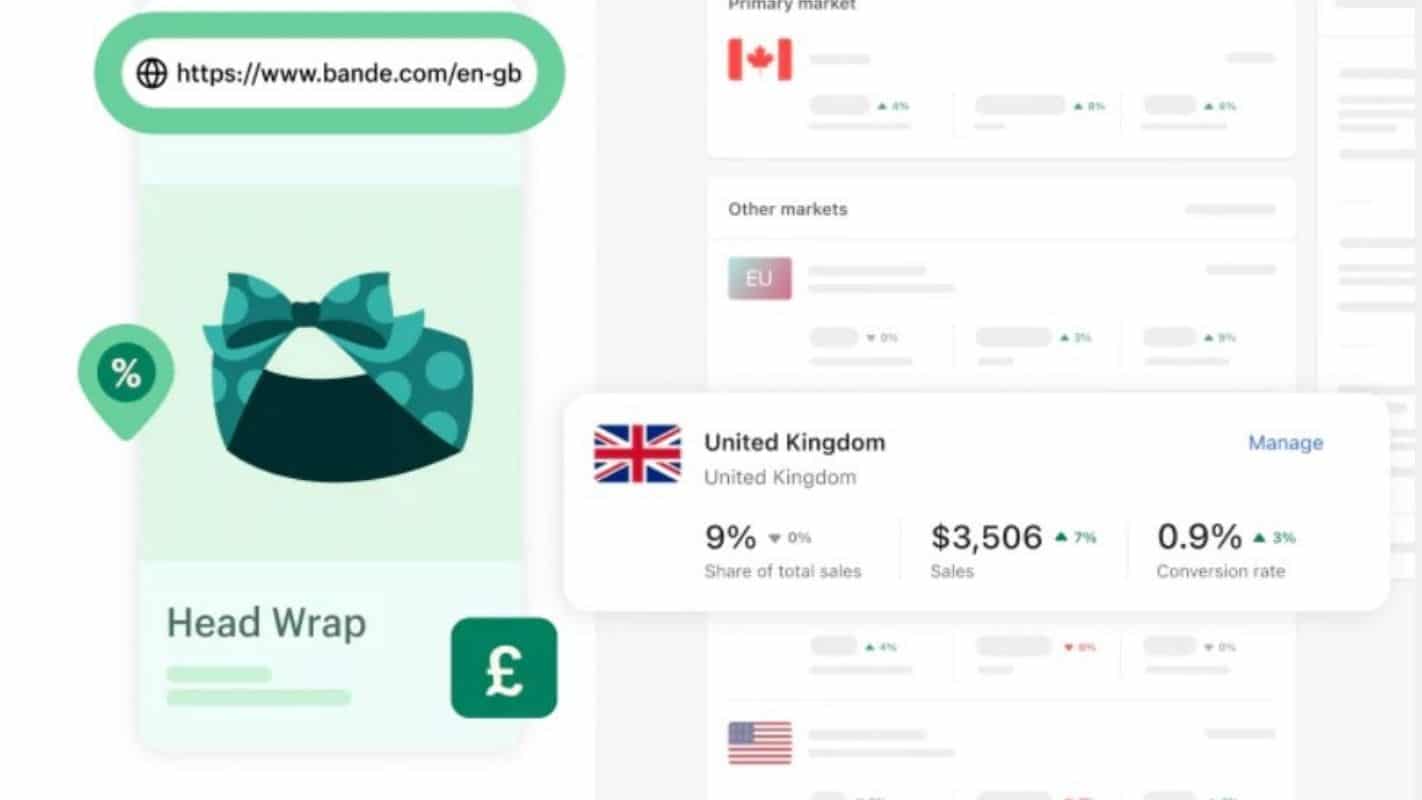 Onboarding for Users
On the Shopify site, short and quick surveys are seen at the start of the store-building process. Although a little difficult to navigate, it only highlights Shopify's total eCommerce platform solution, which allows users to monitor their back-end store management, inventory, and point-of-sale integration from a single dashboard.
Weebly does not provide immediate or quick surveys or questionnaires because their retargeting algorithm and marketing awareness does not require them.
Pricing: Shopify Vs Weebly
Before doing anything else, one must consider their budgets and financing options before relying solely on either platform to maximize their benefits. Planning ahead of time to determine which subscription plan is best for you is a helpful tip for users to determine what is best.
These two platforms also strategically provide the market with various plans and options. As a result, you can choose from multiple plans and subscriptions on both platforms.
Shopify Pricing
Shopify's subscription plans offer users more flexible and creative payment and pricing options. Several plans are available, with prices ranging from $29 for the Shopify Basic Plan to $300 for the Advanced Shopify Plan. However, keep in mind that if you don't use Shopify's built-in Shopify Payments solution to accept payments, you'll be charged a transaction fee. The transaction fees vary between 0.15 percent and 2 percent.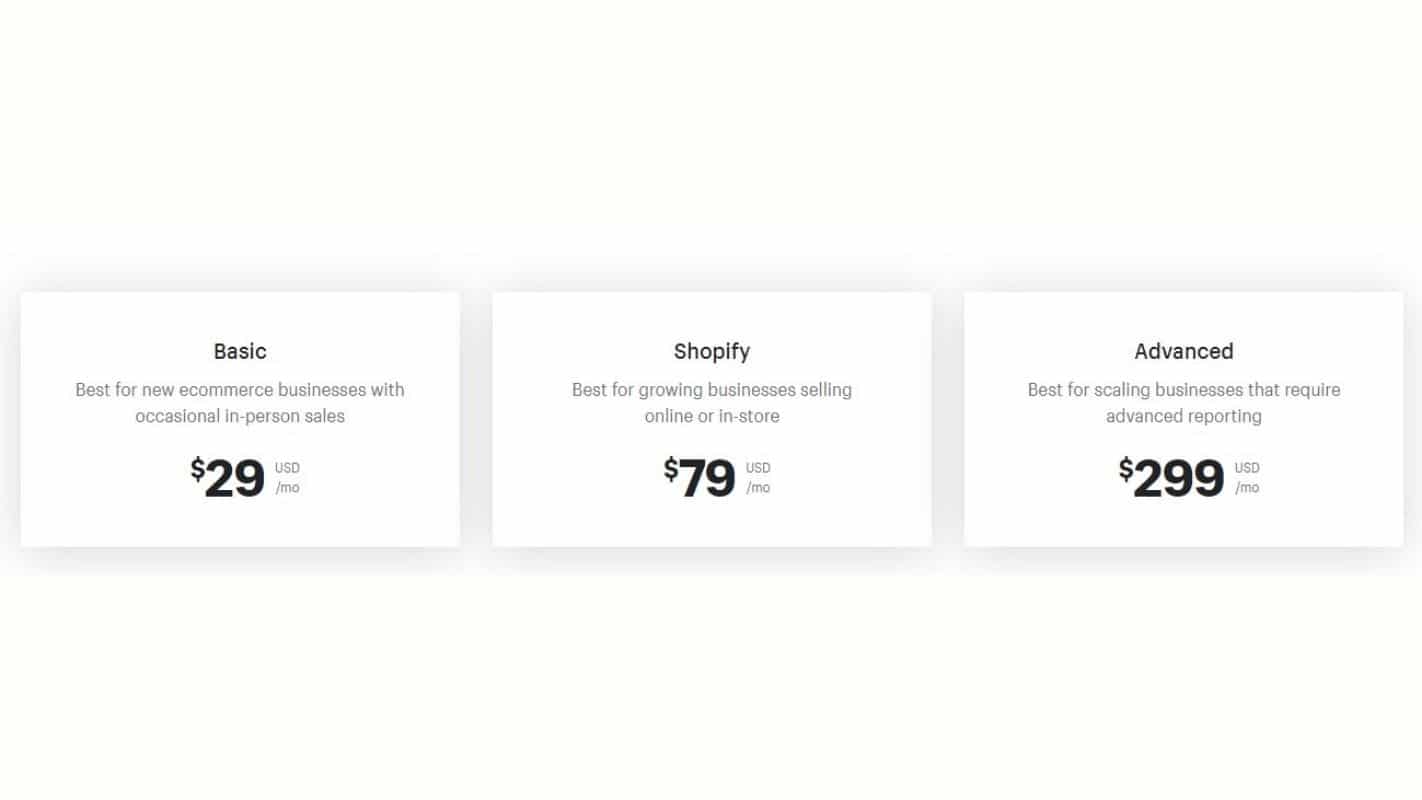 A Shopify Plus plan is also available. The Plus typically costs $2,000 per month. On the other hand, this subscription already has a lot to offer and is designed for larger businesses. Additionally, Shopify provides a $9 per month Lite version called Shopify Lite. This gives you a Buy Button that you can use to sell on other websites.
Weebly Pricing
There are 4 available options for pricing and payment for the Weebly platform.
Free Plan: Try Weebly for free with this plan
Personal: 6 US Dollars per month when the plan is paid monthly
Professional: 12 USD per month when the plan is paid monthly
Performance: 26 USD per month when the plan is paid monthly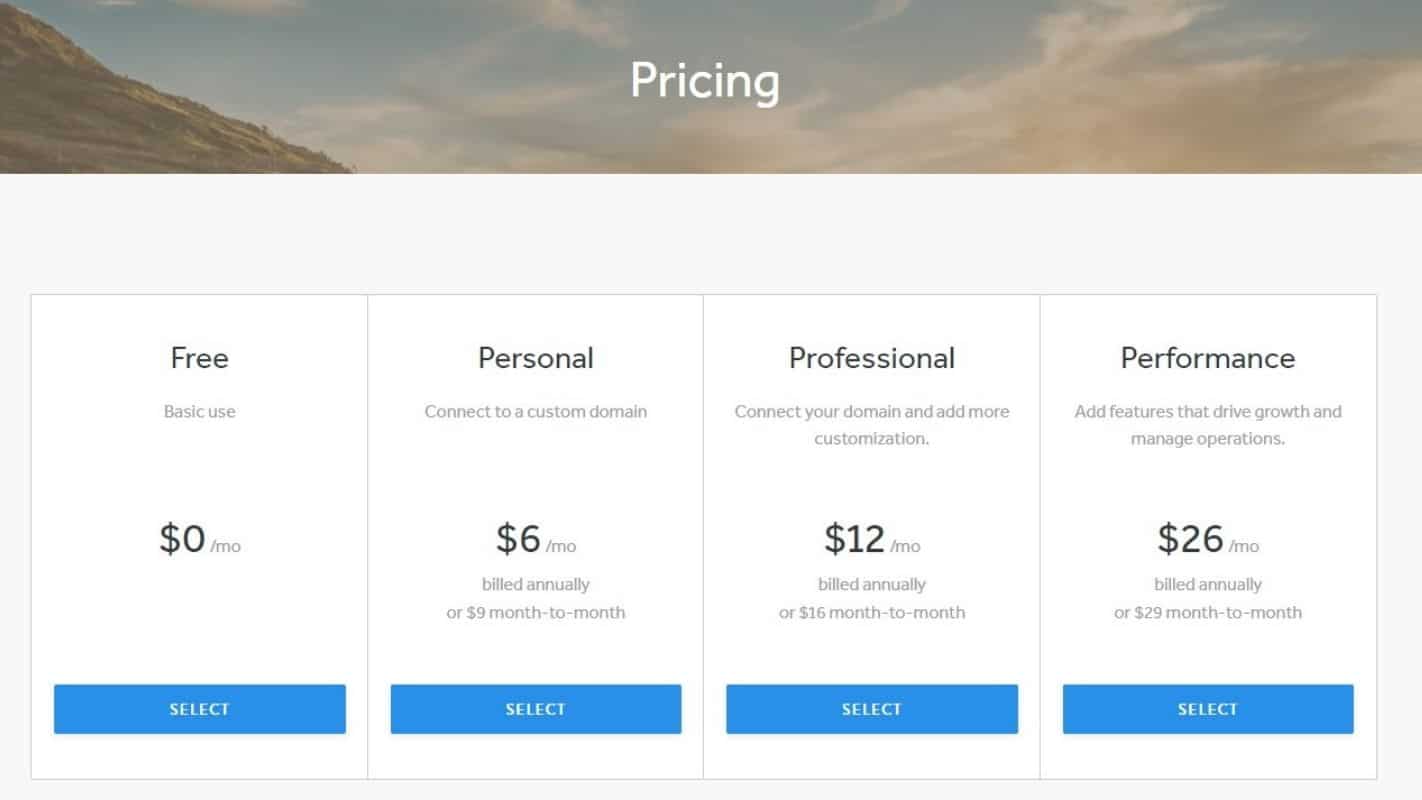 When you choose the Performance Plan, Weebly gives you access to all eCommerce features. The plans listed below have a limited number of features. On the other hand, Weebly is significantly less expensive than Shopify, making it an excellent eCommerce platform for those on a tight budget.
The Difference: Weebly Vs Shopify
When looking for an eCommerce platform and a website, it's always important to weigh both the advantages and disadvantages offered by both options.
For this, here are some quick features in the platforms that outline both platforms' differences in general:
Ecommerce solution and a website builder
Inventory management and store
Marketing features and portfolio
Payment plans and options
Abandoned Cart Check-outs
Shopify: Main Difference
Shopify is the best platform to use if you want a complete eCommerce solution with customizability. In addition, the site is integrated with a powerful marketing solution for campaigns and emails that can help your company grow and reach a wider audience.
Weebly: Main Difference
Weebly, on the other hand, is primarily a website builder. Users can use the platform to create blogs and even their own websites using only the presets and features available. On the other hand, Weebly is a simple website-building platform that doesn't have much to offer as an eCommerce platform.
The Similarities: Weebly Vs Shopify
Both of these eCommerce platforms offer web-hosting sites for selling products online. Here are some similarities between the two sites:
The general website for hosting services
Freedom in designing according to brand aesthetic
Allows e-payments through Paypal
Provides interactive dashboard and functional widgets or tools
Offers online website pages
Create and customize gift cards
In-depth SEO features
Sell digital products
Conclusion
Both platforms are solid because they have so much to offer. It all comes down to a matter of perspective and need, though. It's also important to keep in mind that you may encounter issues. It is difficult to open a new store. You can always ask for help in the community forum or hire an expert to assist you in achieving your objectives.
These platforms allow for integrating marketing levels such as branding, awareness, campaigns, and email. However, your subscription plan primarily determines access to additional tools, features, or services.
Although both provide hosting, adaptivity, and ease of use, specific aspects must be considered if you want a better user experience and strategic program for the platform itself.
The most significant distinction between the two is that Shopify focuses on users' concerns about online and eCommerce store operations. At the same time, Weebly demonstrates its strength in the creation and customization of websites regularly.
Choose Weebly For:
Website Building. The Weebly platform is a user's best bet for website creation, as everything else is considered an add-on for this site. Weebly is a more definite and solid, intuitive tool for creating a website page for any purpose.
Straightforward Selling. Weebly doesn't have much to offer regarding technology because it's primarily a good website builder for the general public. It is, however, more concerned with making selling more accessible and more straightforward. It's also aimed at people who are new to the eCommerce industry. Therefore, Weebly is the best option for a brand that needs a simple way to sell and post products.
Budget-Friendly Pricing Options. Weebly's cost-effective pricing plans make it a good choice for new businesses. You already have a lot to work with for only a few dollars. In addition, Weebly provides its users with an available, customizable website and a content marketing blog.
Choose Shopify For:
Solid Ecommerce Solutions. Shopify is the way to go if you want a reliable eCommerce platform with the freedom to choose the best templates and themes. As one of the most well-known eCommerce platforms on the market, Shopify only demonstrates that it is a far superior option to its competitors.
Ready-made templates and themes. One of Shopify's most vital features is the availability of ready-made themes and templates for your eCommerce store. You can target more advanced users through integrated eCommerce solutions and additional marketing campaign features.
Strong market foundation. If you need a solid marketing foundation, Shopify is the way. When it comes to building an online store, Shopify has everything you need in support, product portfolios, marketing campaigns, product management, order management, and more.
So, that's our in-depth blog about Weebly vs Shopify. Happy eCommerce testing! And thanks for reading,
Zaid
Sources:
Share with your Friends: