Visme vs. Canva Comparison – Which Design Tool Is Best For You?
Visme vs. Canva Comparison – Which design tool is best for you? Whether you're a professional designer or just getting started, you've most likely heard about both tools. They're great at creating social media graphics, photo editing, and making professional presentations. Both of them are excellent design tools, and they have a lot to offer, so comparing them isn't easy. Nevertheless, we thoroughly analyzed both, and this is the subject of this post. So let's get started.
Professional designers and visual content marketers need a design tool. It enables them to produce high-quality work in less time. The software should be simple to use while letting them make sophisticated designs. Vimse and Canva are both excellent tools. The user reviews are self-evident. Both open up a world of possibilities for creating social media graphics, presentations, infographics, and more. These two apps potentially eliminate the need for multiple graphic design software. Canva vs. Visme? Who Wins?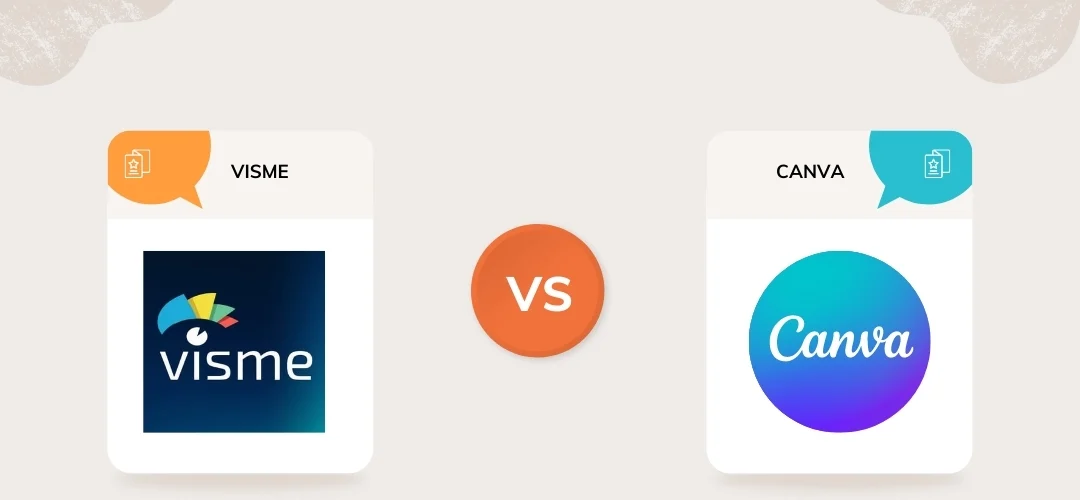 What Is Visme And Canva?
These platforms intend to assist you in your visual content creation. Is it for videos ads, create social media graphics, photo editing or other types of assets? Both design tools allow you to generate these types of marketing materials.And, as evidenced by the reviews above, they both do it exceptionally well. However, they each have their distinct characteristics.
What Visme And Canva Have In Common
Canva vs. Visme. What do these design tools have in common? Both Apps serve the same purpose: to assist you in create graphics and produce more engaging content like social media images. So here's what they both have in common:
1. Powerful Editors
Visme and Canva both have a strong drag-and-drop builder. As a result, you can quickly create new content in a matter of seconds. Choose from lines, shapes, graphics, and an extensive stock library of pictures and videos. Save time and add your content faster to your social media platforms thanks to these powerful editors.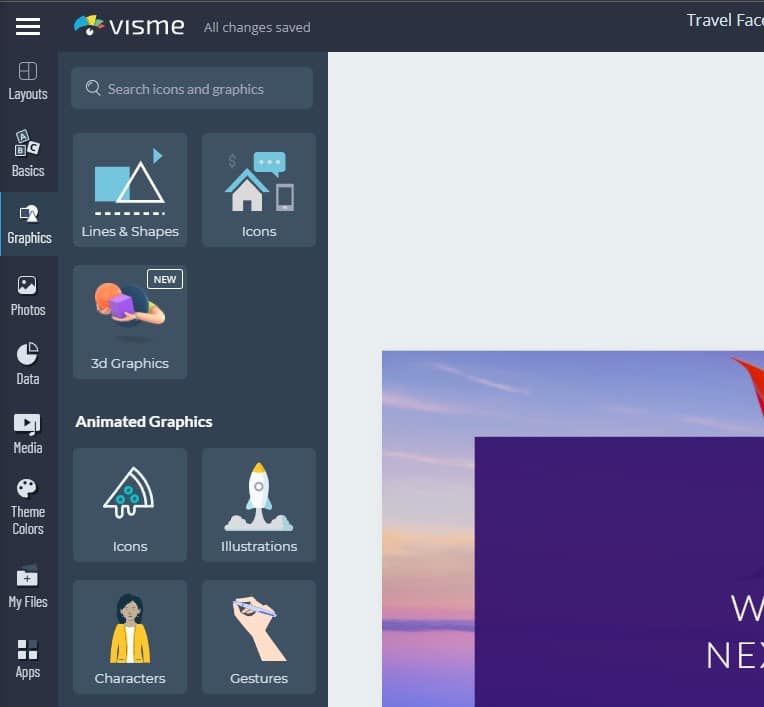 Visme Editor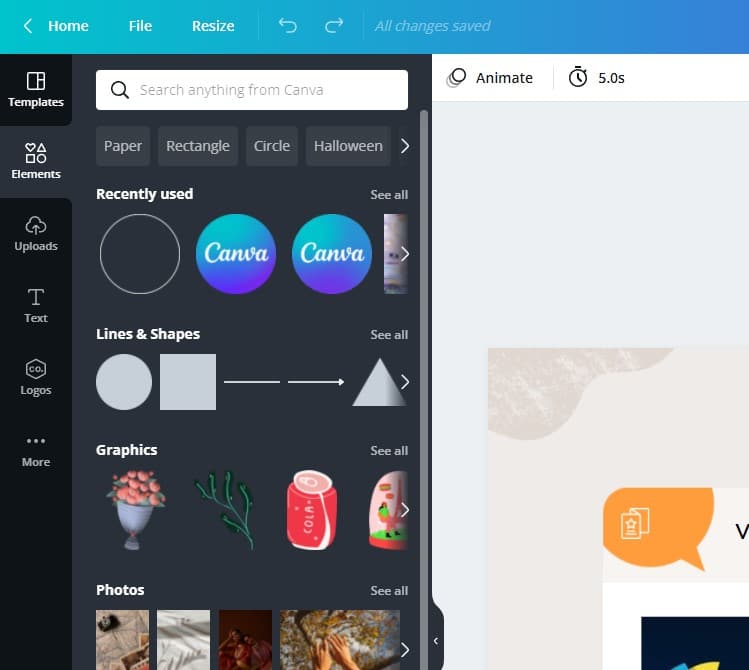 Canva Editor
2. Variety Of Templates
In both software, you can choose from a massive library of templates. They have a niche for everything — templates for infographics, videos, and Instagram and Facebook postings. Search for what you require, and you will discover a template for it.
Visme Templates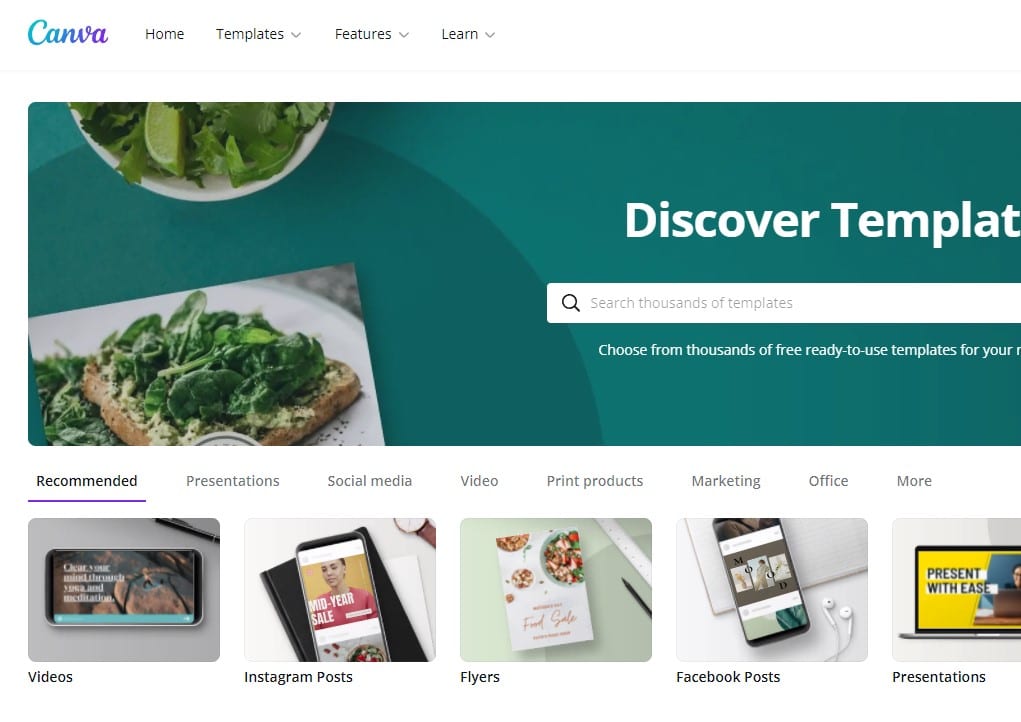 Canva Templates
3. Free Versions Available
Visme and Canva both have a free version. Therefore, you do not have to pay to use these apps. However, if you are serious about making high-quality content, I recommend purchasing one of the plans. The cost is shown later in the article.
4. Official Tutorials And Courses
Visme and Canva both provide free tutorials and courses to help you grasp these tools. You are taken by the hand and guided step by step until you achieve mastery.
5. Do Your Own Branding
You can save your logos and color palettes for quick access whenever you need them.
Main Differences
They can both make videos, graphics, social media posts, and other things. Both tools are cloud-based, available for Android and Apple on your mobile phone. So you go to their website and begin working on your content. There is no need to download anything to start working.
Visme
5'000 + templates
Harder to masters – but more professional outcomes
More business applications include making presentations, charts, and maps, as well as advertising videos
Create beautiful videos with Visme in a few clicks
High rated support via e-mail, chat and phone
Limited free plan
Canva
Over 250'000 templates for nearly everything
Simple to use – new content is easily and fast created
More use for making social media postings, such as on Facebook and Pinterest
Can produce videos, but not as professionally as Visme
Only e-mail support
Versatile free plan
Visme vs. Canva – Pricing Plans
Visme and Canva both provide a free forever plan. However, the Visme plan is more limited than the Canva free plan. So, even with the free version, you can remove the Canva watermark. It's not possible to remove the watermark in the free version of Visme.
Visme Pricing
starting at: $15/mo
1 million high-quality stock photos and videos
5000+ premium assets & templates
Create custom colors, templates, upload own fonts, and set color themes specific to your brand and maintain brand consistency
250MB of cloud storage
Canva Pricing
starting at: $12.99/mo
100+ million premium stock photos, videos, audio and graphics
610'000+ premium and free templates
Easily save and apply your brand or campaign's colors, logos and fonts
100GB of cloud storage
Visme vs. Canva – Pros & Cons
Both tools have different strengths and weaknesses. Let's break them down:
Visme Pros & Cons
Pros:
Powerful video creator
Large stock library
Discounts on their plans are available for students, teachers, and non-profit organizations.
Create professional presentations, charts, roadmaps and more for your business
High quality support
Full brand kit
Cons:
Harder to master than other tools
Free version has limitations
Canva Pros & Cons
Pros:
Incredibly many templates
Huge stock library
Easy-to-use
Powerful free version
Template for almost every social media platform
Image Editing
Cons:
Video creator is not so powerful
Only basic support via e-mail
Visme And Canva Alternatives
Are you looking for substitutes for these tools? There are numerous tools for creating visual content available. We've compiled a list of the top ten, read the article here:
If you need more reviews or alternatives, take a look on g2.com and capterra.com.
Conclusion – Final Toughts
If you want to produce amazing movies, animated and interactive infographics, charts, roadmaps, and other tools for your business. Visme is a good option if this is what you're looking for.If you want to add more visual content to your social media platforms such as Pinterest pins, Facebook posts, or YouTube thumbnails, I recommend Canva.
If you have any questions, feel free to contact me.
Best,
Kylie
Share with your Friends: