What Does GIF Stand For (And How To Pronounce)
What does GIF stand for? What does GIF mean? We are here to solve the mystery!
GIF stands for Graphics Interchange Format and it is pronounced "jif", with a soft "g", like in "giant".
It is possible to make simple graphics using basic colors and forms using the Graphics Interchange Format (often known as GIF). Since web browsers don't have to parse any complicated code to show GIFs, their simplicity makes them compatible with a wide range of operating systems and browsers. This simplicity also has made it one of the most preferred formats for photos during the past two decades. Why is this?Well…GIFs are Animated Images!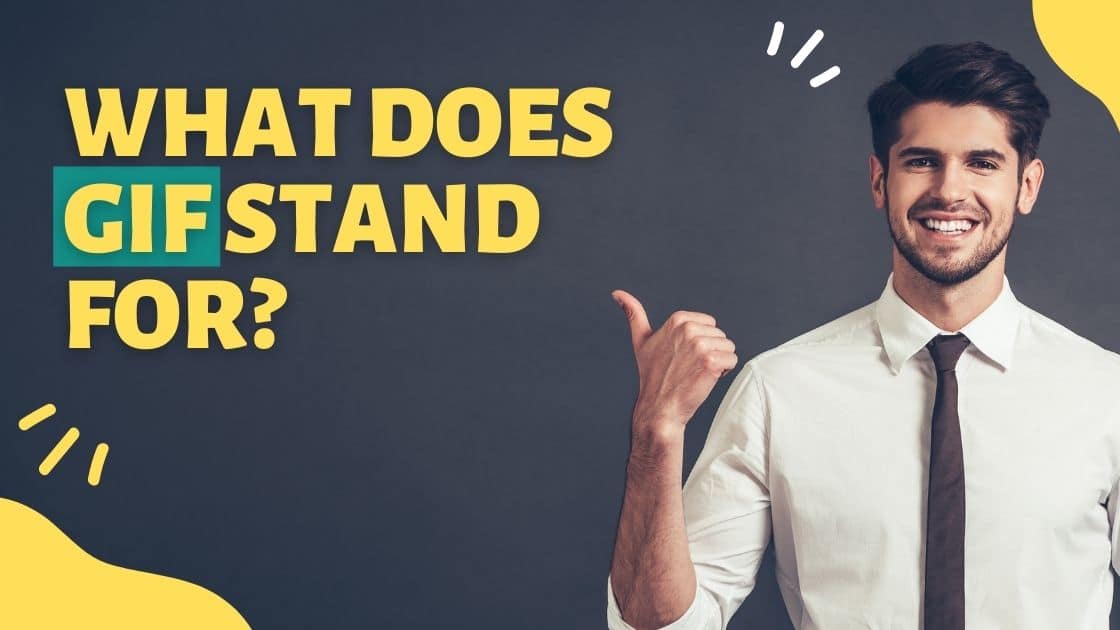 One of the things that made GIFs so famous was the fact they could move or animate. This GIF format is what some people call an "animated image" since it can create several images that are then played one after another in a loop throughout time. As a result, GIFs have evolved into everything from memes to jokes to even music videos. No one knows how long this format will remain popular because it is easy to develop and works on many different platforms. Others believe that as newer formats emerge, the classic GIF format will become obsolete.
How To Pronounce GIF?
Is it GIF like "gift" or GIF like "giant"? For years now, people have battled back and forth about that same subject. Still, due to Steve Wilhite during the 2013 Oxford University Press Blog-a-Thon for New Words, we now know exactly what Mr. Wilhite thinks. His five-second explanation? "JIF," he says, referring to the technology: "Both pronunciations are accepted by the Oxford English Dictionary. They are wrong. The tone is a soft 'G,' and it is pronounced 'jif.'Wilhite invented the GIF and is therefore considered an expert on all things GIF-related by pretty much everyone in the entire world. So, there you have it: How to Pronounce GIF. You heard it here first!
The Origin Of The Graphics Interchange Format
In the late 1980s, CompuServe was one of the major online commercial services in North America. In those days, each web service had its own format for images. With so many formats, it made things exceedingly challenging for designers and users alike as they'd have to download code particular to each system just to view images. CompuServe's Vice President of Advanced Technology, Steve Wilhite, thought he needed to take action. So he designed a new picture format that would allow all the online services to connect and serve up photos independently of what service was viewing them.
As a preliminary step, Mr. Wilhite investigated which picture formats were currently in use. His search revealed more than two dozen distinct image formats, but none of them met his needs. So he decided to create his own format from scratch with all the features of what we know as GIFs today.
Thanks to its capacity to animate images over time, Mr. Wilhite's brand-new format soon became popular. Of course, animated GIFs are still commonly used on the internet nowadays. But Mr. Wilhite always thought that "animation" was simply one little function. Of the many functions that could be done with his new image format, so he never thought of it as the fundamental reason for its popularity.
In fact, he didn't even think of it as a reason at all! Instead, he believed animated GIFs would be a passing trend rather than the ubiquitous image format they have become.
Ten years later…
In September 1995, Netscape Navigator 2.0 enabled the ability for animated GIFs to loop. A new feature allowed users to generate their own animated GIFs directly within the application. Everyone anticipated that the format would soar in popularity due to the widespread use of animated graphics among internet users. After that, Netscape Navigator 3.0 only supported static GIFs and no more animation across time… Is the GIF format on its way out?
A reporter once asked Steve Wilhite at a press conference about the future of GIFs. Wilhite responded, in part, as follows: "If this story is true, the headline is going to be "The Death of GIF," and there will be a funeral. It's been a wonderful experience, but it's time to go forward."
That, however, did not occur. In fact, the opposite happened. Instead, animated GIFs skyrocketed in popularity, with social networking sites like Tumblr, Reddit, Facebook, and Imgur leading the charge. Since then, there has been no sign of a slowing for GIFs.
The Future of GIFs?
Regardless of what people might have anticipated or believed about the format's death back in 2004, it's now over 20 years later, and there's no sign of it going anywhere. In fact, its future seems to be increasing brighter thanks to the advent of GIF stickers and animations on social media platforms. In fact, according to Business Insider, more than half of all the images shared on Imgur are now animated GIFs.
So there you have it: What does GIF stand for and how to pronounce it!
Why not try to make your own animated GIF for free? We have an article about the best GIF creators out there. Read it here if you like to try it:
Or you have already a GIF and want to add some text to it? We have you covered! Read this article for more details about adding text to a GIF: https://zaided.com/add-text-to-gif/Happy GIF creation! And thanks for reading,
Zaid
Sources:
Share with your Friends: