52 Mindfulness Journal Prompts For A Stress-Free Life
In today's fast-paced world, finding time to slow down and focus on self-care can be a challenge. But what if there was a simple way to enhance your mental health while fostering personal growth? Enter mindfulness journaling, an easy yet powerful tool that combines writing and mindfulness practices for improved emotional well-being.
In this blog post, we'll explore 52 unique prompts designed to help you establish a mindful journaling habit that fits effortlessly into your daily life.
Key Takeaways
Mindfulness journaling is a powerful tool that combines writing and mindfulness practices for improved emotional well-being.
The article provides 52 unique prompts divided into four categories – gratitude, self-reflection, present moment, and creative – to help establish a mindful journaling habit.
Setting a routine, writing without judgment, and experimenting with different prompts are recommended tips for using mindfulness journal prompt effectively.
Incorporating regular mindfulness journaling practice can reduce stress levels, promote emotional health, and allow for deeper levels of self-awareness.
52 Mindfulness Journal Prompts
In this section, we will provide 52 different mindfulness journal prompts that are divided into four categories, including gratitude prompts, self-reflection prompts, present moment prompts, and creative prompts.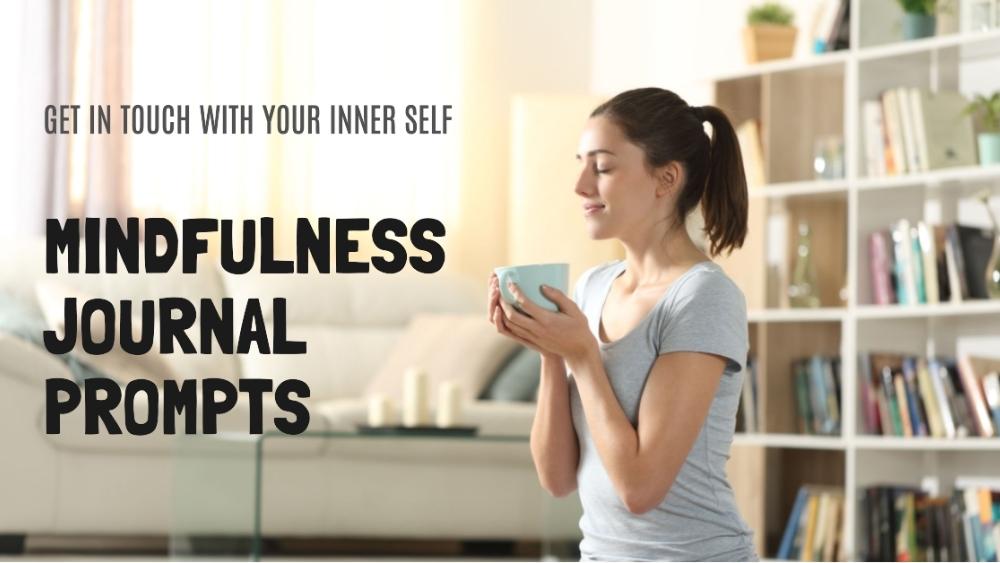 13 Gratitude Prompts
Cultivating thankfulness and mindfulness through journaling can lead to better health, happiness, and success. Here's a list of 13 gratitude prompts to help you get started on your mindfulness journey:
Write down three things you are grateful for today and why.
Describe a person who has positively impacted your life and what you admire about them.
Reflect on a recent encounter or experience that made you feel grateful.
List five accomplishments or milestones in your life that you're proud of achieving.
Write a letter of gratitude to someone who has supported or inspired you throughout your life.
Recall a time when someone expressed gratitude toward you and how it made you feel.
Identify three aspects of your physical health for which you are thankful.
Consider a challenging situation in your past and how it brought about positive change or growth in your life.
Acknowledge the benefits that have come from cultivating gratitude practices, such as research showing that weekly practices can be more effective than daily ones.
Set an intention to focus on the positive aspects of a current challenge or obstacle in your life, exploring what there is to be grateful for within those circumstances.
Reflect on how expressing gratitude towards others can improve relationships and overall well-being.
Describe the environment where you feel most content (e.g., home, nature), noting details that bring tranquility and peace to your mind
Create a list of simple pleasures that bring joy to your everyday life.
Using these prompts as part of the 52 mindfulness journal prompts mentioned earlier will help deepen your sense of self-awareness, appreciation, and connection with others while supporting personal growth and development in the process.
Cultivating thankfulness and mindfulness through journaling can lead to better health, happiness, and success.
12 Self-Reflection Prompts
As we journey through personal growth and development, self-reflection is an essential aspect to enhance our self-awareness. Here are 12 thought-provoking self-reflection prompts that can help you explore your inner depths and gain valuable insights about yourself:
What are my core values, and how do they influence my decision-making process?
What aspects of my personality bring out the best in me and others around me?
How have I grown or changed over the past five years, both personally and professionally?
What are some areas of my life where I need to set boundaries for healthy relationships?
Reflect on a recent challenging experience; what did I learn from it, and how can I apply these lessons moving forward?
In moments of frustration or anger, what coping mechanisms do I use to manage my emotions effectively?
How does my relationship with food reflect my emotional health, and how can I practice mindful eating habits daily?
Which activities or hobbies genuinely bring me joy, relaxation, or a sense of accomplishment?
Are there any recurring patterns or themes in the things that tend to stress me out? How can I address these issues proactively?
How do I maintain a balance between taking care of myself physically (exercise, sleep) while also focusing on mental health (meditation, journaling)?
What strengths do I have that make me proud? Can these strengths help others in any way? If yes, how?
Describe an ideal day in which all essential aspects of my life align: personal goals, relationships with loved ones, career aspirations – everything coming together harmoniously.
By incorporating these self-reflection prompts into your mindfulness journaling practice regularly, you'll gain invaluable insights into your inner workings and cultivate a more profound understanding of yourself as you walk the path toward personal growth and development.
14 Present Moment Prompts
Living in the present moment can be a powerful tool for personal growth and development. I've compiled a list of 14 mindfulness journal prompts to help you focus on self-awareness, embrace the present moment, and cultivate gratitude: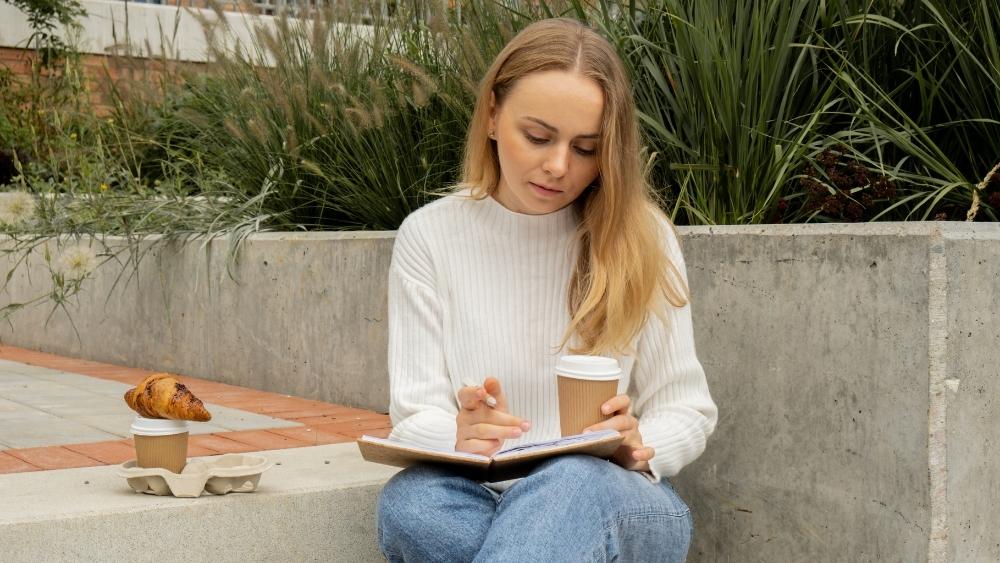 Describe your current surroundings in as much detail as possible.
List five emotions you are experiencing right now.
Write down any physical sensations or tensions you're feeling at this moment.
Reflect on how today's weather affects your mood or energy levels.
Choose one sound around you that brings comfort or joy and expound on why it appeals to you.
Examine your current relationship with food and engage in mindful eating today.
Write about one unexpected lesson learned from a daily event that surprised you.
Pay attention to how different parts of your body feel when engaged in various everyday activities, such as walking or typing.
Practice mindful breathing for a few minutes; then describe any changes in your mood or mental state after the exercise.
Explore which activities make you lose track of time and feel fully immersed in the present moment.
Observe the natural world around you – whether it's plants, animals, or weather – and describe what captures your attention most profoundly.
Reflect on how practicing mindfulness has affected your stress levels over time consistently.
Contemplate any challenging situations recently faced and describe if being present helped to navigate them effectively.
With these 14 present-moment prompts, engaging with life consciously can become easier by developing awareness of our feelings, thoughts, and reactions while building strong relationships with ourselves through mindfulness techniques centered on living more intentionally every day+.
13 Creative Prompts
Whether you're feeling stuck creatively or just want to explore your imagination, these 13 mindful journal prompts will help unlock your creativity:
Write about a childhood memory that sparks joy.
Imagine you're a character in your favorite book. What would you do differently than the original character?
Draw or describe an imaginary place that you wish you could visit.
Write a letter to your future self, giving advice on what to do in difficult times.
Create a mind map of all the things that bring you happiness and try to incorporate more of them into your daily routine.
Write about a time when you had to make a tough decision, and how it affected your life.
Draw or write about the person who inspires you the most and why.
List three skills or talents that you would like to learn in the next year and make a plan for how to achieve them.
Describe an object in detail and create a story around its history and significance.
Create a vision board with images and words that represent your dreams and goals for the future.
Write a short story based on something that happened in your day, but add an unexpected twist at the end.
Make a list of things that challenge or frustrate you, then brainstorm ways to overcome them one by one.
Choose a song or piece of music, close your eyes, listen deeply and jot down any thoughts or emotions that come up.
Use these creative prompts as tools for exploring different parts of yourself, cultivating self-awareness and ultimately finding greater satisfaction in life through embracing creativity as part of daily mindfulness practice.
Tips For Using Mindfulness Journal Prompts
To make the most out of your mindfulness journaling practice, set a routine and experiment with different prompts that resonate with you. Write without judgment and reflect on your writing to gain deeper insight into yourself.
Set A Routine
Setting a routine for mindfulness journaling is essential if you want to make it a habit. It's easy to overlook the importance of consistency when we're busy, but that's precisely when practicing mindfulness can be most beneficial.
So, pick a time during your day or week that works best for you and commit to it.
For instance, if you're more of an evening person like me, try making it part of your bedtime routine as a way to wind down after your day. When I'm feeling anxious or overwhelmed by the events of my day, taking 10-15 minutes with my journal helps me feel more centered and calm before sleep.
Remember that there is no one right way; what works for someone else may not work for you – experiment until you find what feels best.
Write Without Judgment
One of the keys to successful mindfulness journaling is to write without judgment. This means allowing yourself to express your thoughts and emotions freely, without worrying about whether they are "right" or "wrong".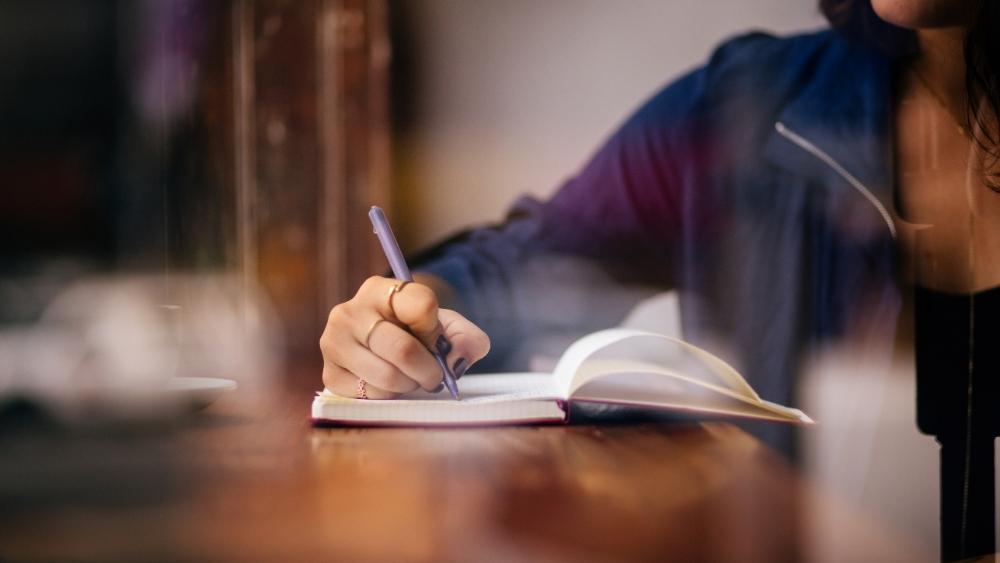 When using mindfulness journal prompts, it's important to remember that there are no right or wrong answers. Your responses should be authentic and reflective of your current state of mind.
For instance, if a prompt asks you to reflect on a moment when you felt grateful, don't worry if the event seems insignificant – what matters is how it made you feel at the time.
Experiment With Different Prompts
One way to make the most of your mindfulness journaling journey is to experiment with different prompts to find the ones that resonate with you the most. Below is a table containing various prompts across four categories – Gratitude, Self-Reflection, Present Moment, and Creative – that you can try out in your journaling practice.
| Gratitude Prompts | Self-Reflection Prompts | Present Moment Prompts | Creative Prompts |
| --- | --- | --- | --- |
| 1. List three things you're grateful for today. | 1. Describe a recent challenge you faced and how you overcame it. | 1. Focus on your current surroundings and describe them in detail. | 1. Write a short story about a character who discovers a new sense. |
| 2. Write about someone who has made a positive impact on your life. | 2. Reflect on a past decision you made and its consequences. | 2. Describe the sensations you feel in your body right now. | 2. Create a list of 10 unusual inventions or ideas. |
| 3. Write a thank-you letter to yourself for your achievements. | 3. Analyze your current strengths and areas for growth. | 3. Describe the present moment as if you were a narrator in a book. | 3. Invent a new word and write a definition for it. |
| 4. List the things you love most about your current living situation. | 4. Write about a lesson you recently learned. | 4. Observe your breathing and write about how it changes as you focus on it. | 4. Write a dialogue between two inanimate objects. |
| 5. Describe the last compliment you received and how it made you feel. | 5. Share your thoughts on the concept of success and what it means to you. | 5. Write about the sounds you hear around you right now. | 5. Create a menu for an imaginary restaurant. |
Feel free to mix and match these prompts or even create your own based on your interests and needs. Remember, the goal is to find what works best for you in your mindfulness journaling practice. Don't be afraid to explore different topics and styles to help you connect more deeply with your thoughts and emotions.
One way to make the most of your mindfulness journaling journey is to experiment with different prompts to find the ones that resonate with you the most.
Reflect On Your Writing
One of the most important aspects of using mindfulness journal prompts is reflecting on your writing. This means taking time to read and contemplate what you have written, without judgment or criticism.
Reflecting on your writing can help you gain insights into your thought patterns, emotions, and behaviors.
Reflecting on your writing doesn't have to be a daunting task. Simply set aside some time each day or week to review what you've written. Ask yourself questions like "What did I learn from this?" or "How can I apply these insights in my everyday life?" Remember that reflection is an ongoing process; it takes time and practice to develop this skillfully.
FAQs:
1. What is mindfulness, and how can journaling help with it?
Mindfulness is the practice of being present and fully engaged in the current moment without judgment or distraction. Journaling can help with mindfulness by providing a space to reflect on thoughts, feelings, and experiences in a non-judgmental way.
2. How do I choose which mindfulness journal prompts to use?
Choosing which prompts to use depends on personal preference and what you want to focus on improving in your life. Some people prefer to randomly select prompts each day, while others choose specific themes such as gratitude or self-reflection.
3. How often should I journal using these prompts?
There is no set rule for how often you should use these prompts – it's entirely up to you! Some people prefer to journal daily, while others may only write once a week or when they feel like they need some extra guidance.
4. Can I use these mindfulness journal prompts even if I've never journaled before?
Absolutely! These prompts are designed for both beginner and experienced journalists alike. They offer a starting point for those who may be unsure of where to begin with their writing practice and provide new perspectives for seasoned writers looking for fresh ideas.
Conclusion
Incorporating mindfulness journaling into your daily practice can be an excellent tool for personal growth and self-improvement. With 52 different prompts, you can commit to taking time for yourself each week to reflect on gratitude, self-reflection, the present moment, and even creative expression.
Through regular practice, mindfulness journaling can help reduce stress levels, promote emotional health, and allow you to discover deeper levels of self-awareness.
I wish you the best! Fabian.
Share with your Friends: