35+ Best Procreate Color Palettes For Every Purpose
Whether you want to draw hair, skins, gold, or pastel, you'll need professional Procreate color palettes sooner or later. Using premade Procreate palettes expedites your artistic work and adds a professional touch to it. It also saves time because you don't have to look for the colors.
Procreate has a plethora of color palettes, but which should you choose? We've gathered some Procreate color palettes that are worth your time! Additionally, we discuss some of the best free Procreate color palettes.
This is a comprehensive guide to Procreate color palettes for every purpose. So if you're looking for some new ideas or don't know where to begin, you've come to the right place.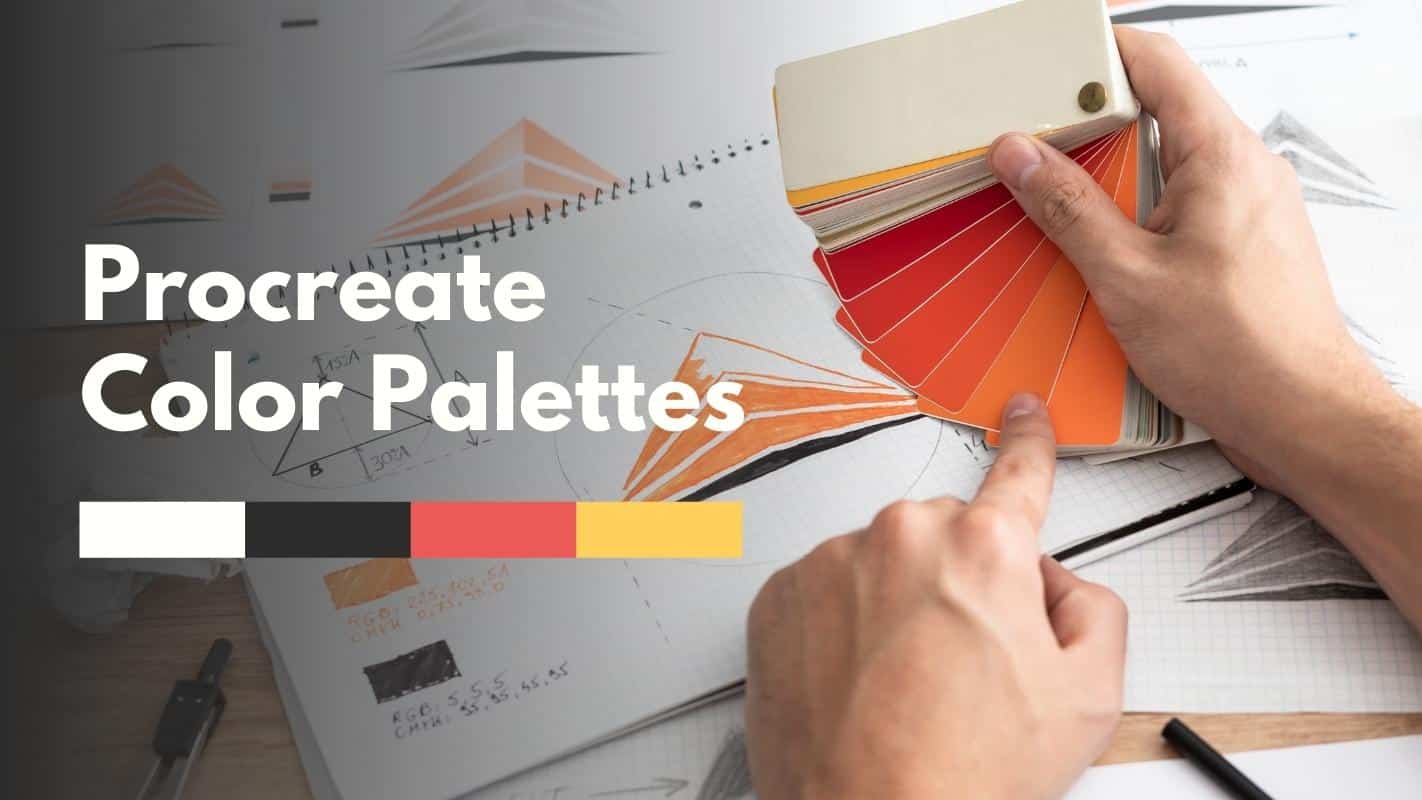 The benefit of Procreate palettes is that they are inexpensive, usually costing less than a dollar, and provide you with professionally selected colors. So you don't have to make all color selections work yourself. As a result, you can concentrate solely on your digital drawing skills without learning the entire color theory.
All the Procreate color palettes listed below are in no particular order. However, I use all of them and really enjoy them. So grab your Apple Pencil, open your Procreate App, and let's get started with the best Procreate color palettes for your iPad.
Bundle Color Palettes Procreate
A bundle pack is a good option if you just want some color palettes in your Procreate arsenal. They have a wide range of colors for you to choose from. When compared to purchasing purpose-specific color palettes, they are also relatively inexpensive for what you get.
Bundle color palettes are all-purpose colors giving you beautiful shades for every occasion.
The creator of this insanely large Procreate mega pack bundle, Aure Design Co, takes a color palette pack to new heights. This color pack includes a total of 1920 different colors in 64 different swatches. This color palette bundle costs a one-time fee of $50 for personal use, but you will never have to worry about stains again after that.
Aure Design Co has over ten years of experience with color theory and makes a living using her knowledge of colors. So, one thing is sure: she knows what she's talking about. In addition, the color palettes were carefully chosen, making it the best aesthetic Procreate palette.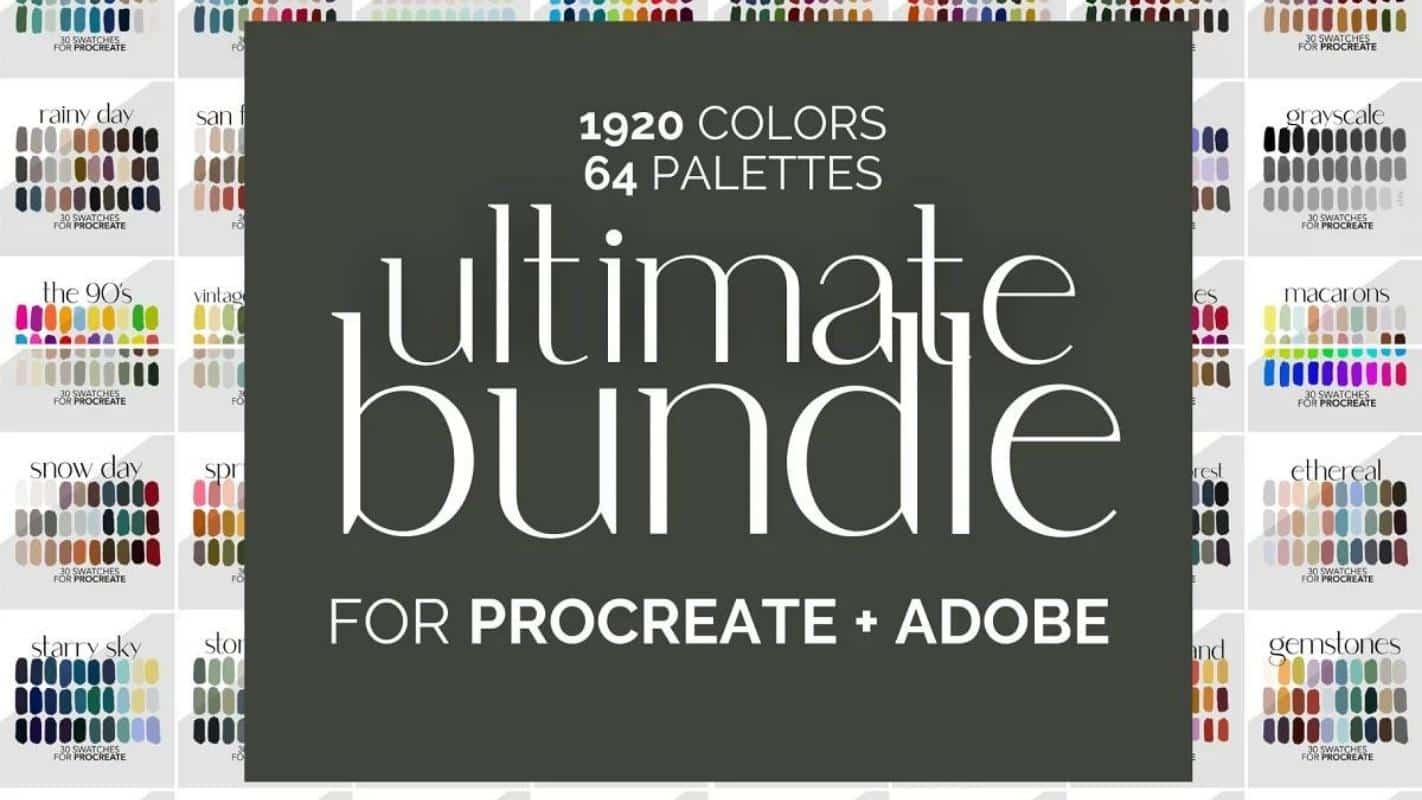 Included are Procreate pastel palette, boho Procreate palettes, jewel tones, grayscale palette Procreate, a galaxy Procreate palette, vintage and 70's, a rainbow Procreate color palette, and much more. There are 64 different swatches to choose from. This is enormous.
The list goes on. If you like drawing seasons, all of them, you're being well served here. It offers several winter color palettes, fall color palettes for Procreate, several summer Procreate color palettes, and of course, some of the best autumn color palettes.
If you only want to spend money once, I recommend getting this Procreate color palette.
This package is also quite large. It includes 1200 different color palettes that can be used for various purposes. The author is from Hungary and earns a living through his knowledge of colors. So, if you use this color scheme, you're not making a mistake.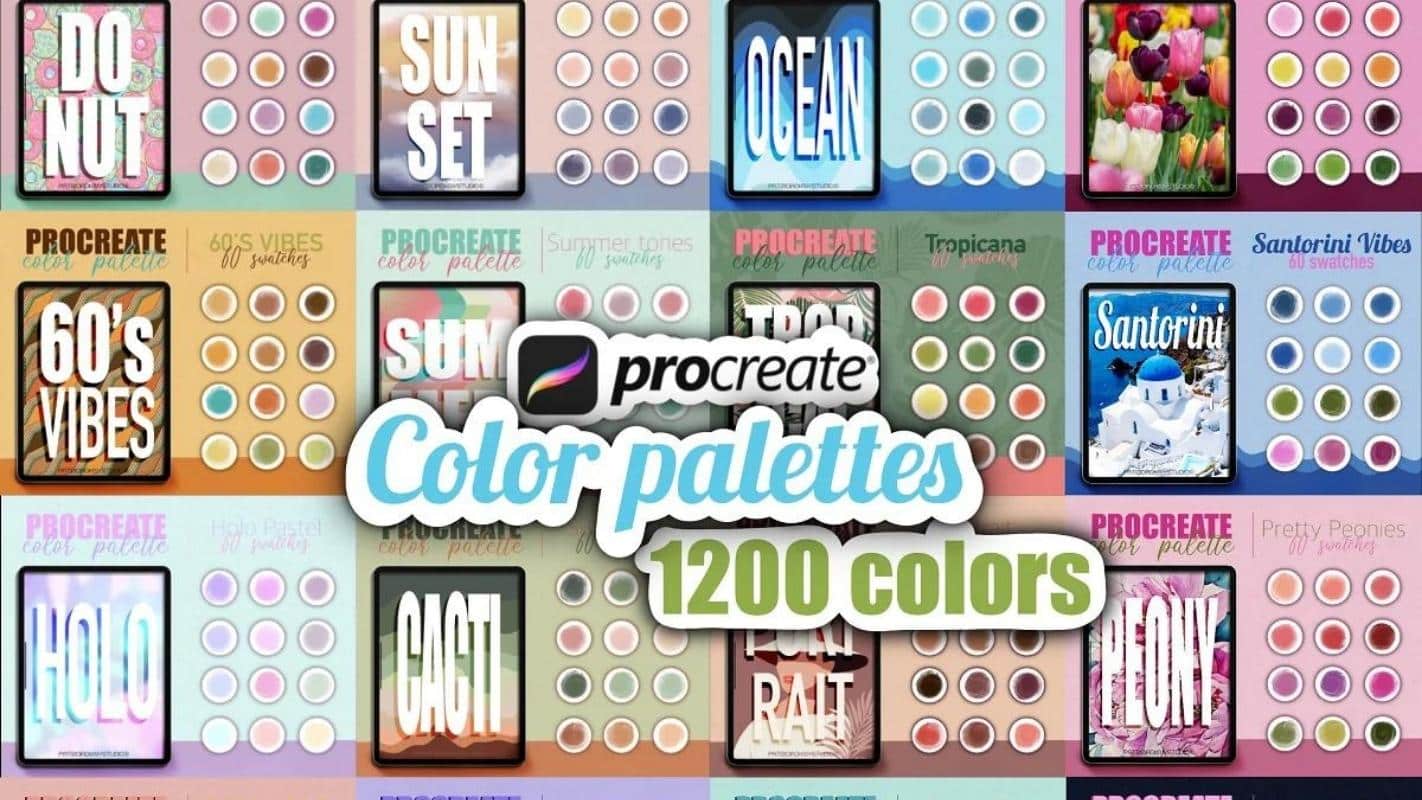 It includes a pastel palette for Procreate, a rose gold color palette for Procreate, and a color palette in all primary colors, such as blue, red, green, purple, brown, and even pink. A boho color palette is also included. All colors have been expertly chosen and are simply stunning right out of the box.
Choose this bundle color palette for Procreate if you want to expand your swatches library collection without spending too much money. All of this is available for the unbelievable price of only $9.
Hair Color Palettes Procreate
A professional Procreate hair color palette saves you a lot of hassle and time when drawing hair in Procreate. Hair is an essential aspect of the portrait, and your chosen color palette will make a significant difference. We use the following hair color palettes: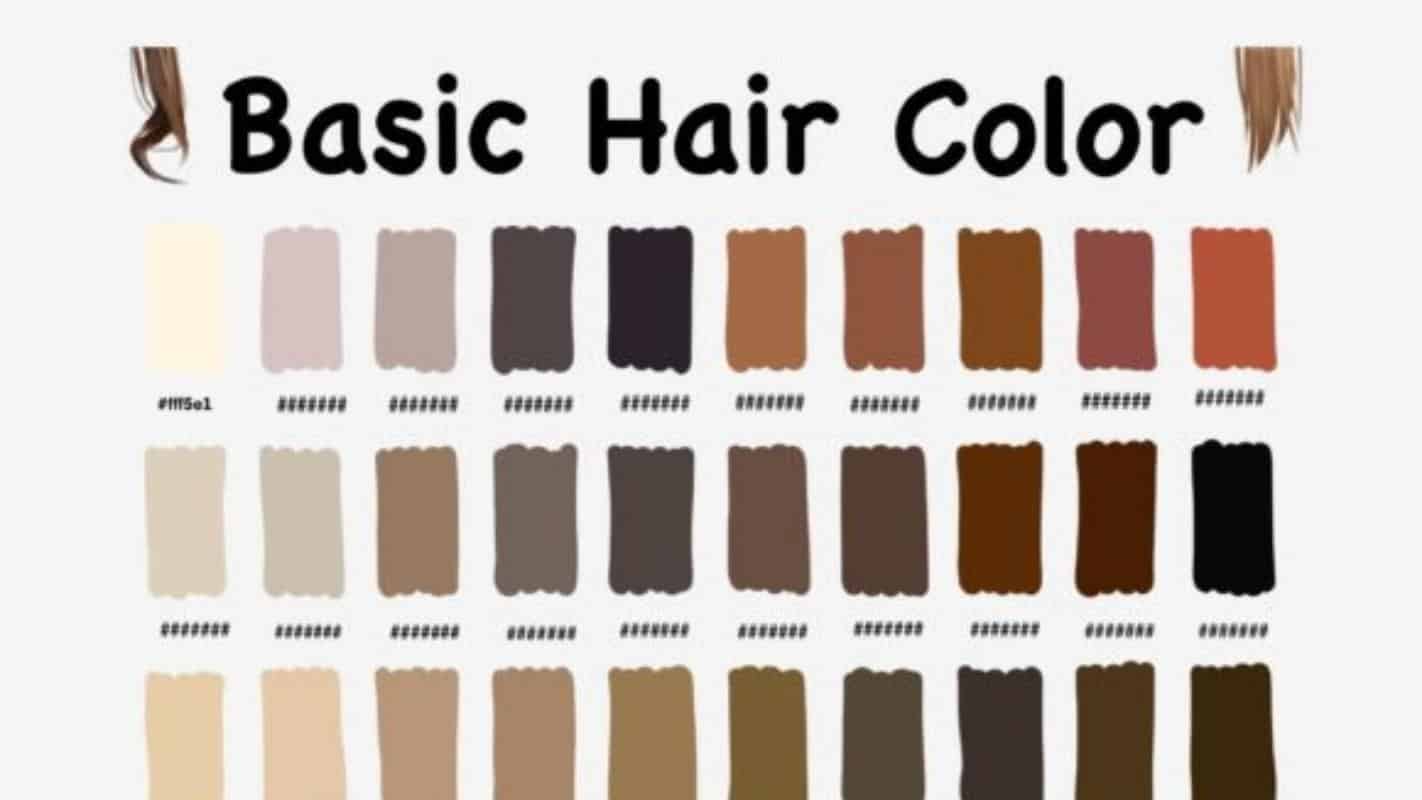 This Procreate hair color palette is stunning. The end result is very realistic and clean. Colors in this palette include ash blonde, dark chocolate, and light brown. In addition, this Procreate hair color palette is designed for both male and female portraiture. With this Procreate color palette, you've created a great starting point for your hair drawings!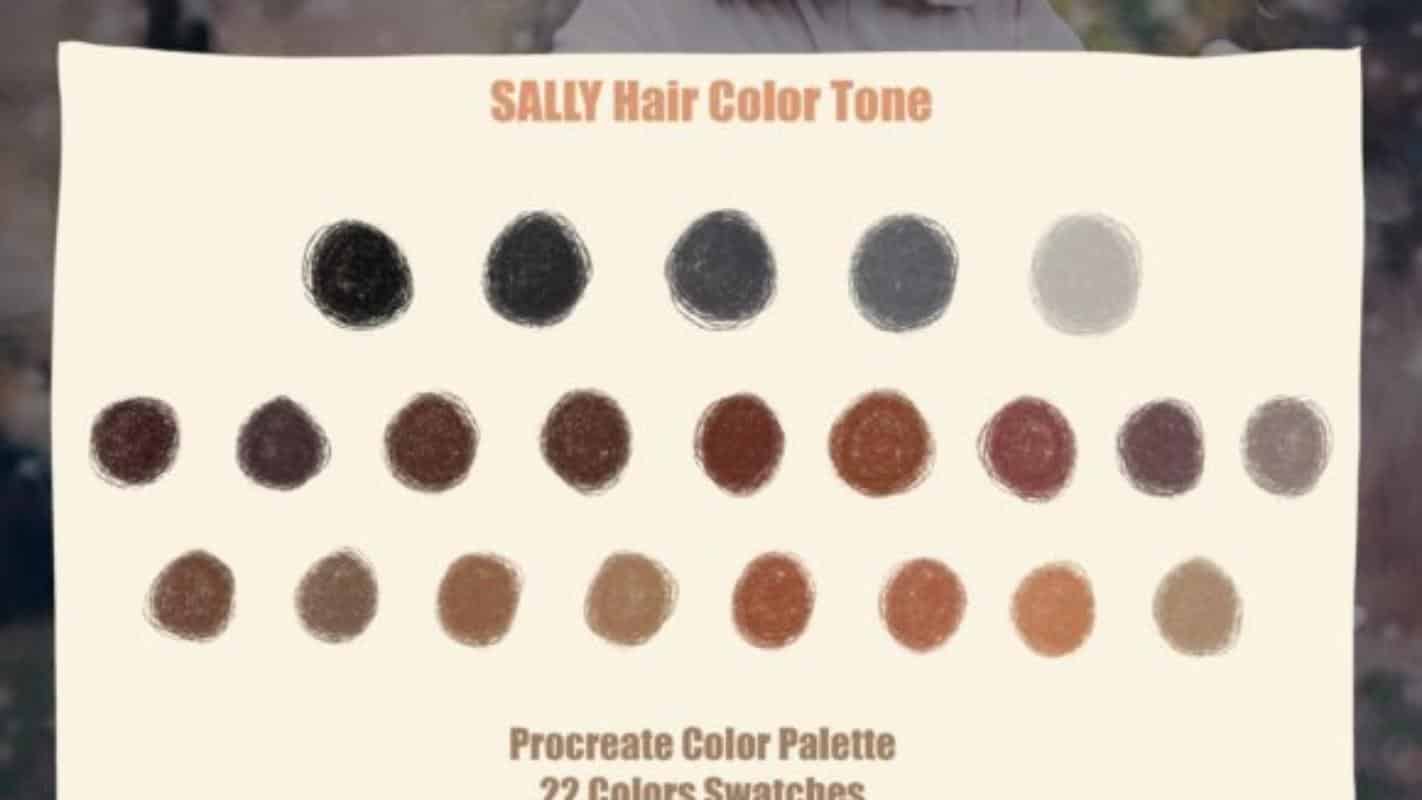 The following article in our Procreate color palette series is another hair color palette. This Procreate hair color palette appeals to us because of its photorealistic appearance. It includes 22 Procreate hair color swatches that complement each other perfectly. These Procreate colors can paint a portrait or a fashion drawing.
The best part is that it is also available in a bundle explicitly designed for drawing characters, people, and portraits. A skin tone color palette and an eye color palette are also included in this bundle. Check it out here: Portrait Bundle
Eye Color Palettes Procreate
If you intend to create portraits, characters, or people, you may require an eye color palette for your digital arts. A Procreate eye color palette is a valuable tool to have in your Procreate library. We put together a list of Procreate eye color palettes that we use and enjoy: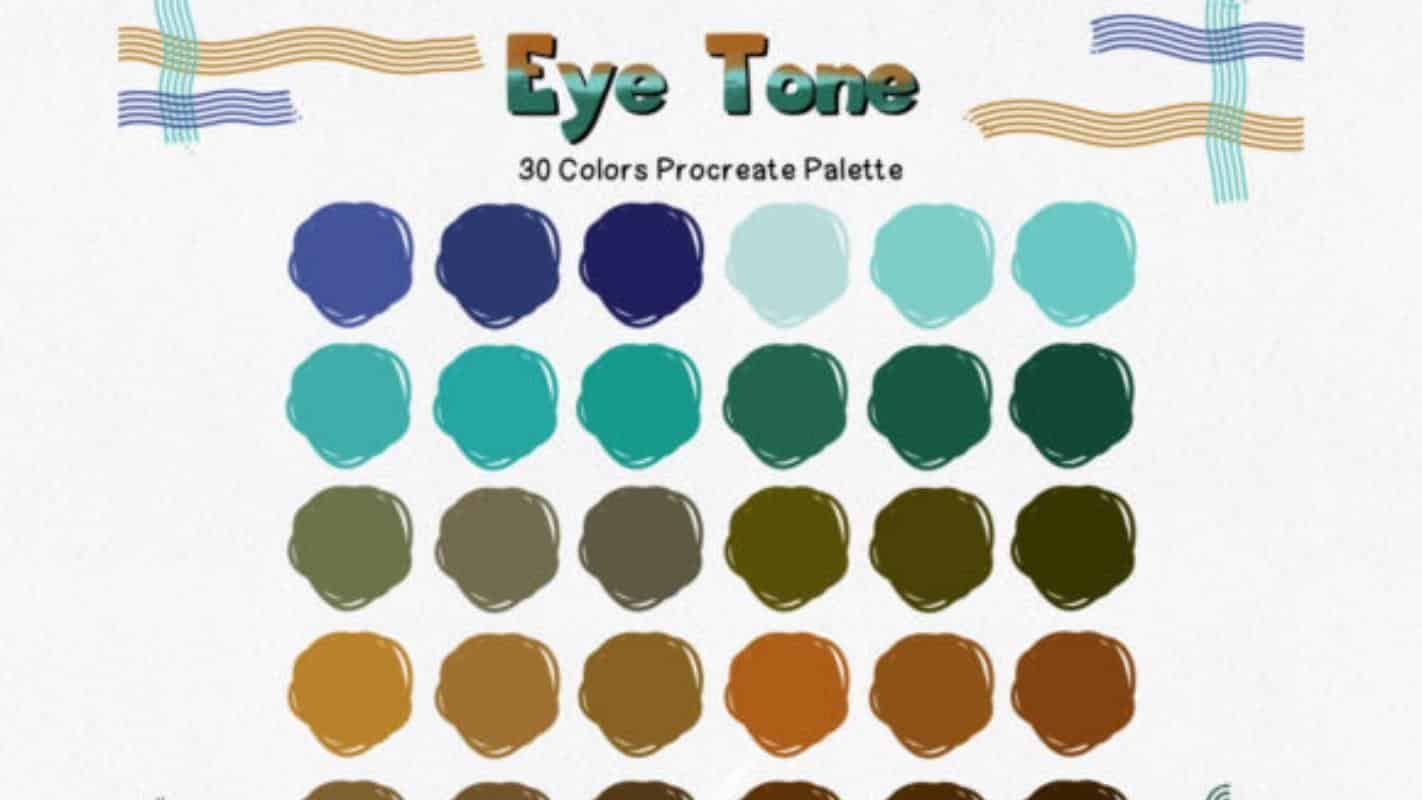 This eye-tone Procreate color palette leaves nothing to the imagination. This Procreate palette has everything from sweet blue to beautiful green to realistic brown eye colors. This Procreate eye color pack is ideal for painting male and female portraits. It includes 30 Procreate eye swatches to help you improve your digital portrait art.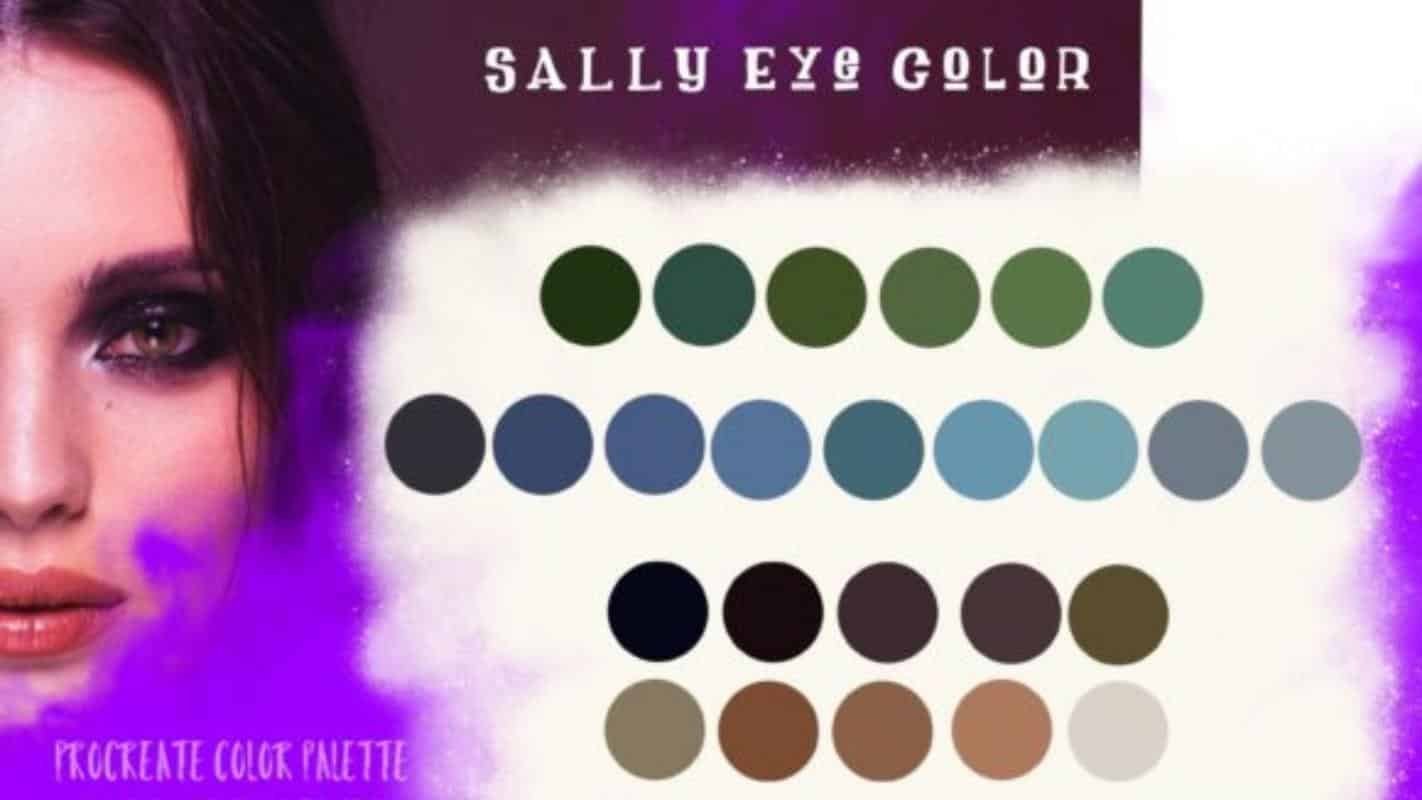 This color palette was explicitly created for drawing beautiful eyes in Procreate. All colors have been carefully chosen to produce the most realistic effect in your portrait art. This eye Procreate color palette contains 25 Procreate colors and is one of Creative Fabrica's best-selling eye color schemes.
The best part is that it's also available in a bundle explicitly designed for drawing characters, people, and portraits. This bundle includes the previously mentioned hair Procreate color palette and a skin tone palette. Check it out here: Portrait Bundle
Skin Color Palette Procreate
It's challenging to draw realistic skin in Procreate, especially if you've never done it before. Therefore, skin tones and drawing characters and portraits are hotly discussed. Because this is such a frequently requested topic, we wrote an entire article about the best Procreate skin color palettes. You can read about it here: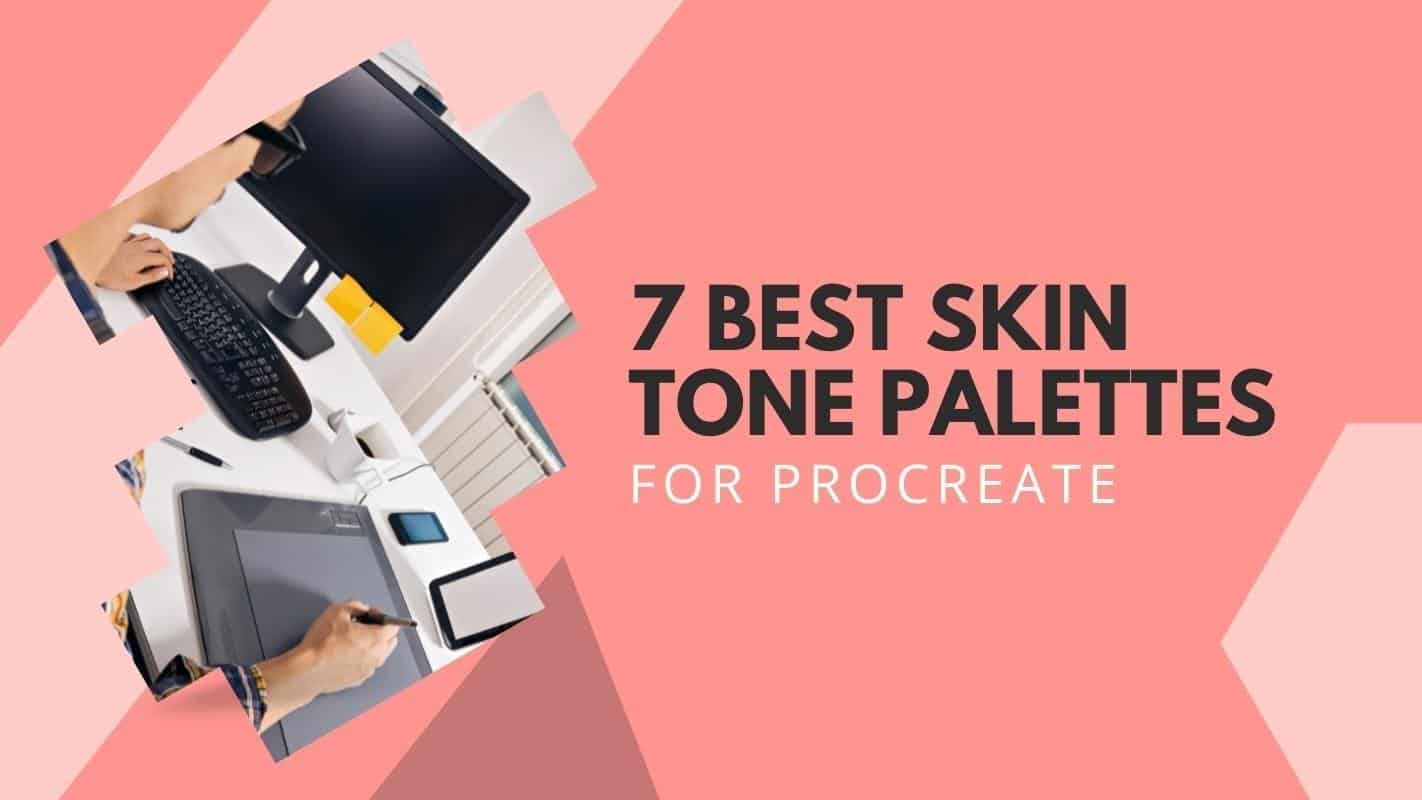 Some free skin tone color palettes are also included for you to experiment with.
Pastel Color Palettes Procreate
Pastel colors are a type of color that is soft and light. They are frequently used to soften the look of drawings and paintings. Pink, blue, yellow, and green are standard pastel colors. Pastel colors were introduced in the 17th century and quickly became popular. Because Procreate has a large selection of pastel color palettes, we've compiled a list of the best of them for you: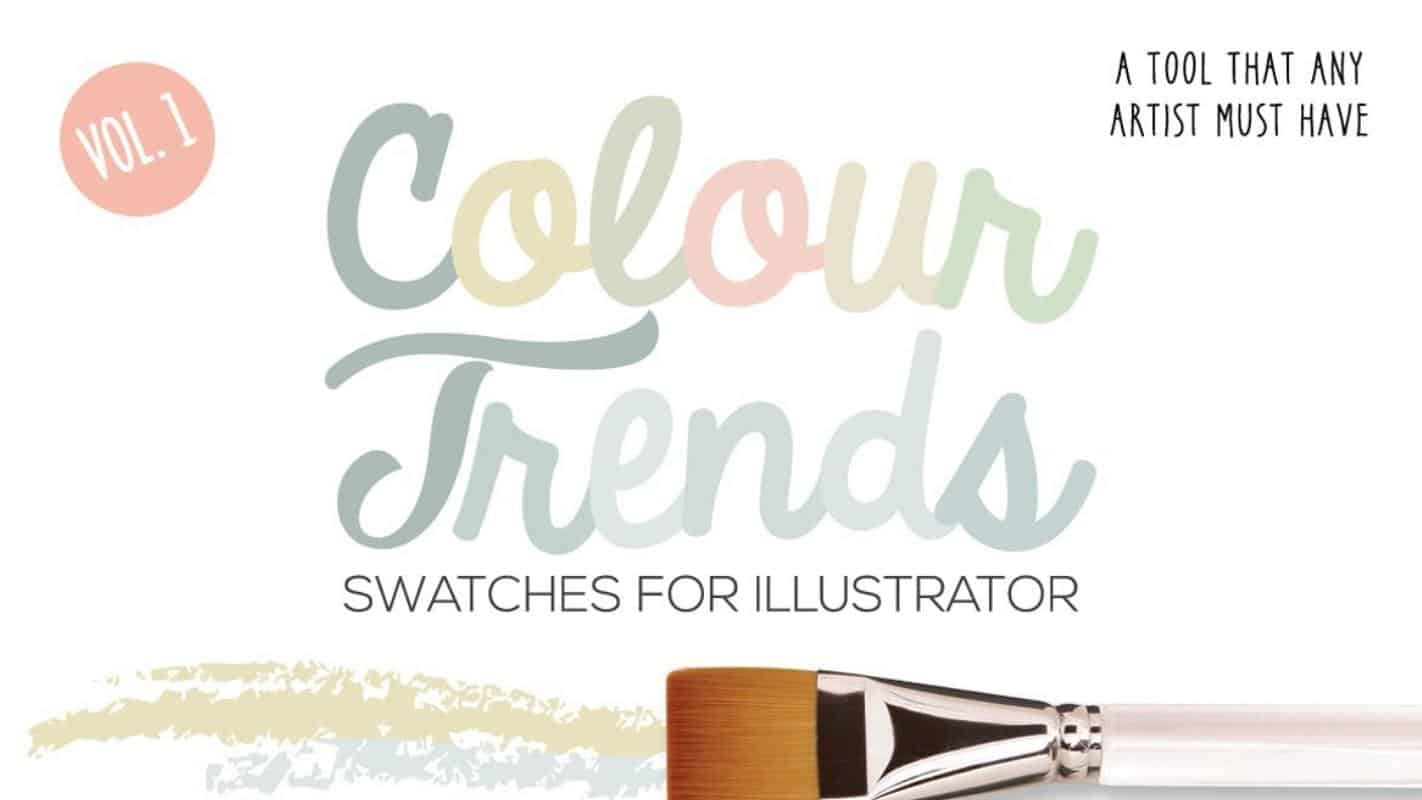 These Procreate pastel color palettes are a cute swatch library with 30 different colors. Whether you're creating home decor, a shop or branding kit, or using it for brushes or lettering, these colors look great on your digital art every time.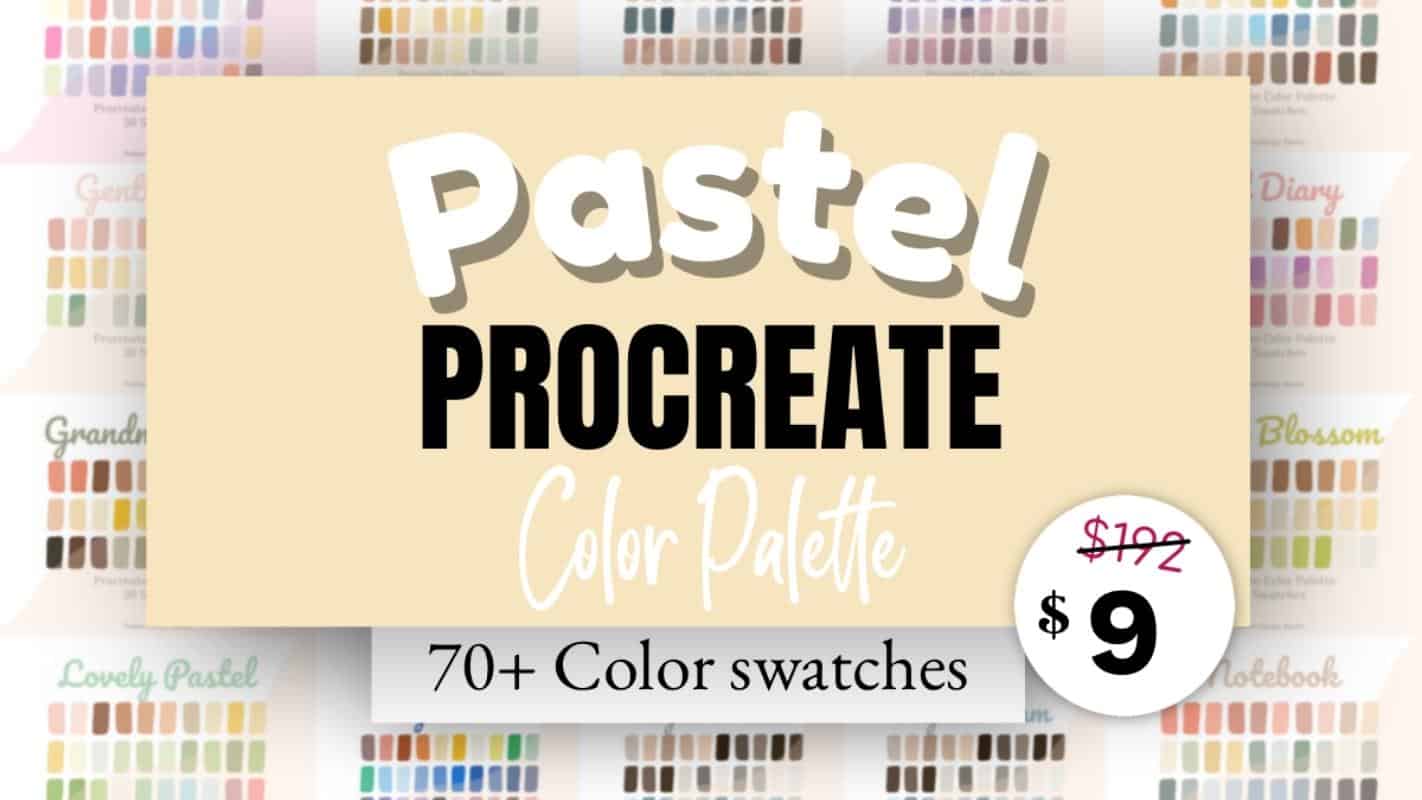 This pastel color bundle contains more than 70 color swatches. Everything is in a pastel color scheme and is suitable for any occasion. This equates to a total of 2100 different colors for only $9, which is enormous.
This set includes a pastel color palette for everything you'll ever draw. From sea coral to autumn day, vintage flower, girl dairy, fun, berry, chilling, and many other themes. There are different colors for different things.
Gold Color Palettes Procreate
Some golden colors are always required when creating digital art, especially if you need a particular shine or glow on your digital painting. For example, make a lovely sun, gold-plated armor, or a golden background for your portrait art. It's always a good idea to keep some gold color palettes in your swatch library; they'll find their way into your artwork without a doubt.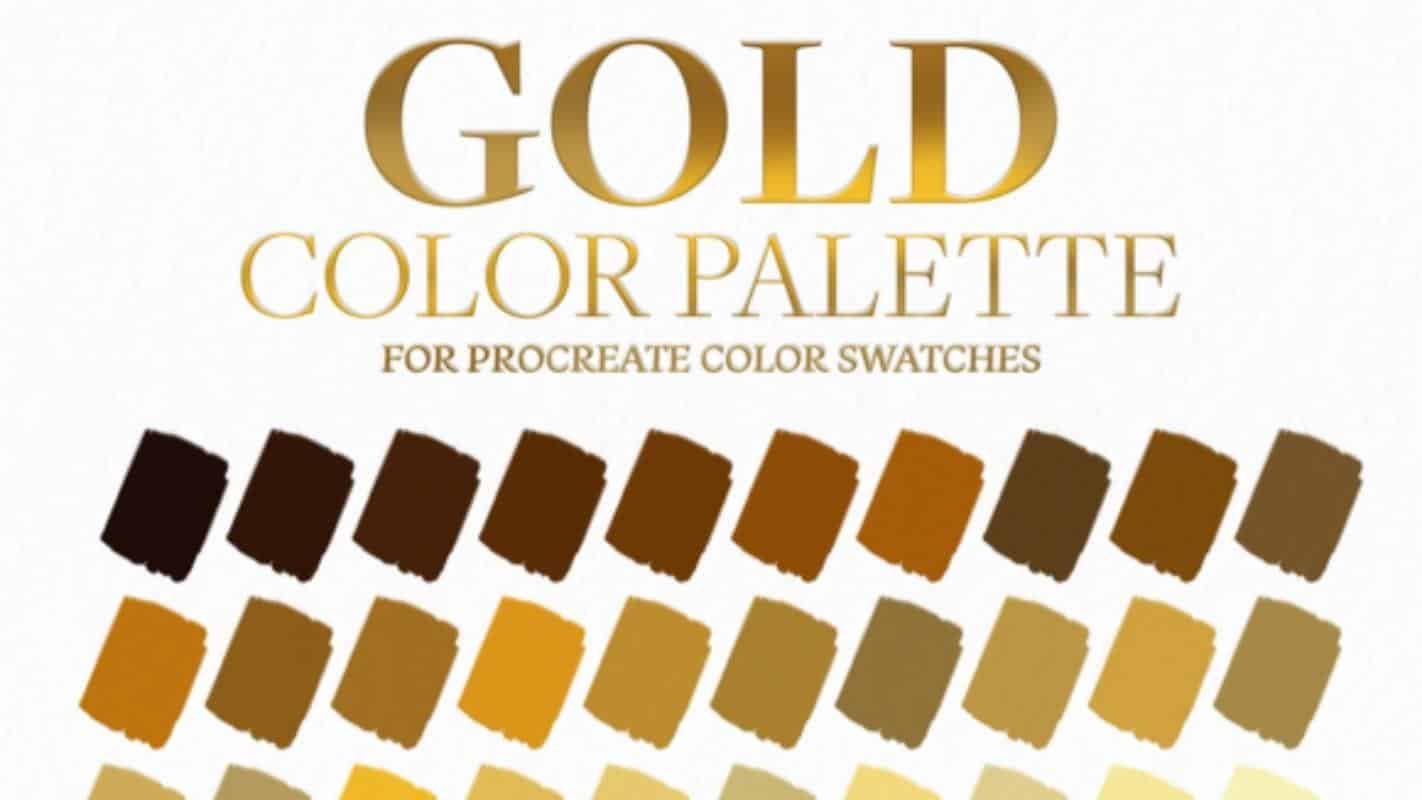 This gold Procreate color palette contains 30 different colors. These colors are one-of-a-kind and ideal for creating jewelry, gold flowers, or even a golden poster. These colors cover warm and cool tones while also adding a modern touch.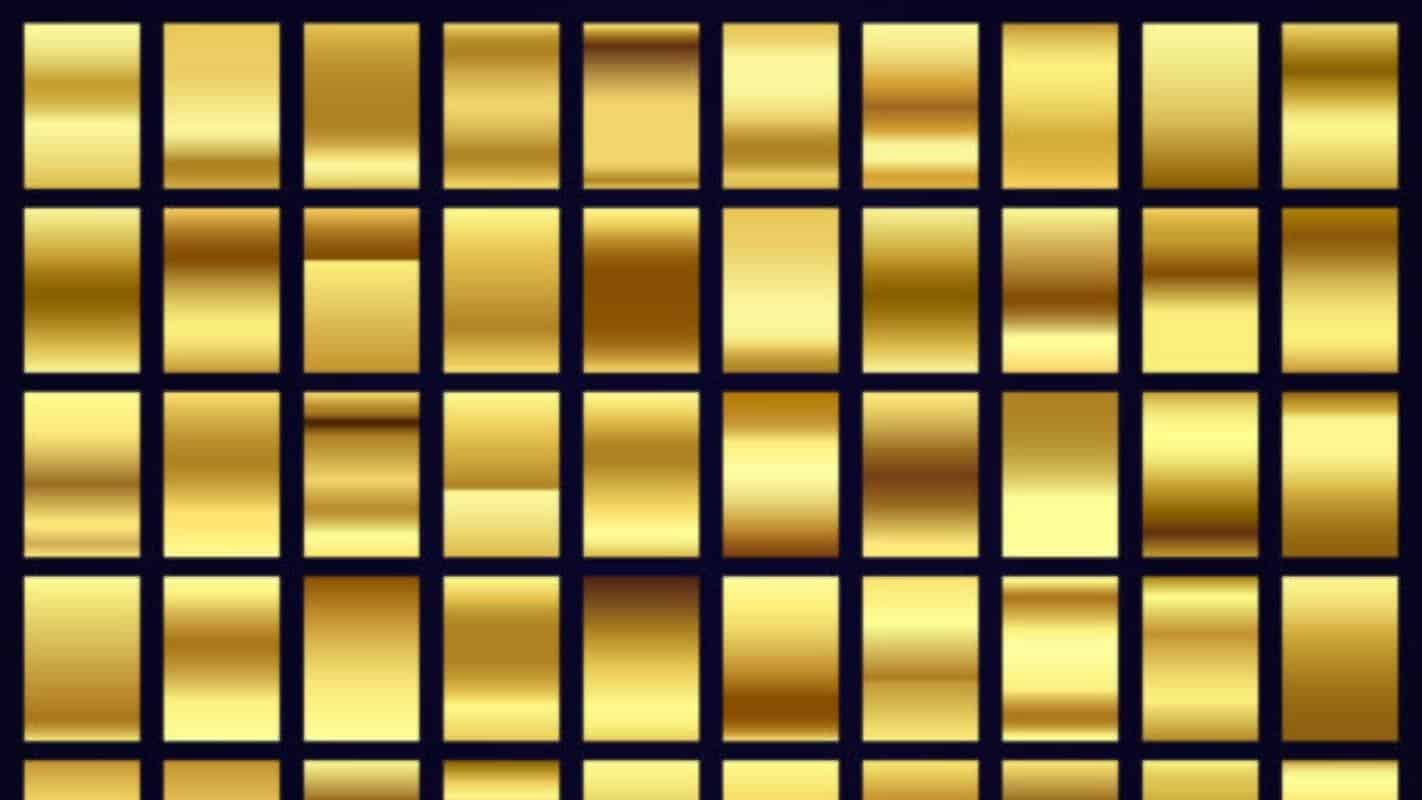 This Procreate gold color collection is a little out of the ordinary. It includes 50 distinct gold color gradients for use in digital art. It's a color gradient palette that's modern, elegant, and cheerful. The colors have a lovely gradient between them, making it simple to add a gleaming finish to any of your artwork.
Sunset Color Palettes Procreate
I enjoy drawing sunsets a lot. Sunsets from all over the world. Winter sunsets, tropical sunsets, desert sunsets, hills, and everywhere in between. The good news is that color palettes for every imaginable sunset are available. And the sunset Procreate color palettes are fantastic. I'm particularly fond of the following: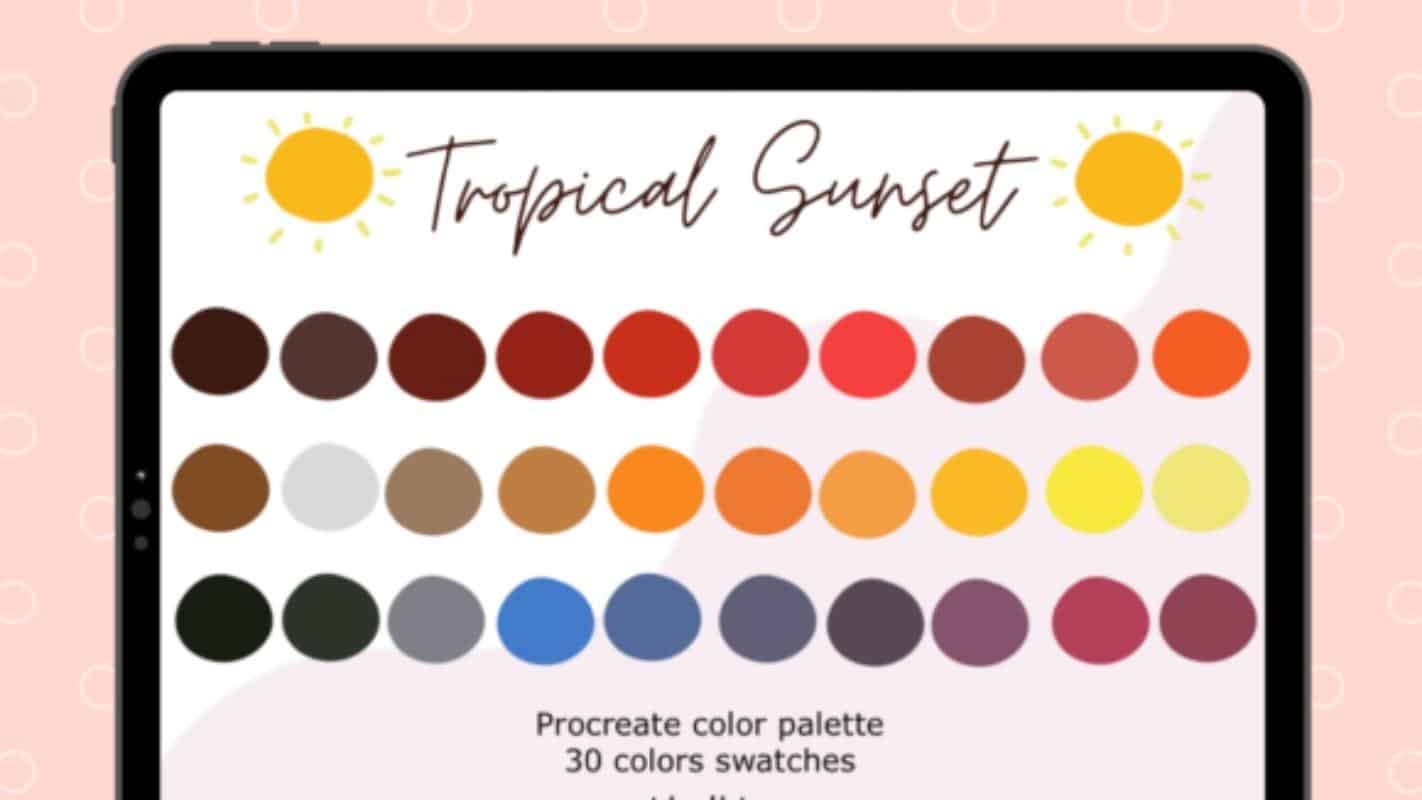 This sunset color palette allows you to create stunningly realistic tropical sunsets. Assume you're in the Caribbean, watching a beautiful sunset with a cool drink in your hand. Then, when drawing your sunset, you can immediately dive into this warm, and cozy feeling with this sunset Procreate color palette.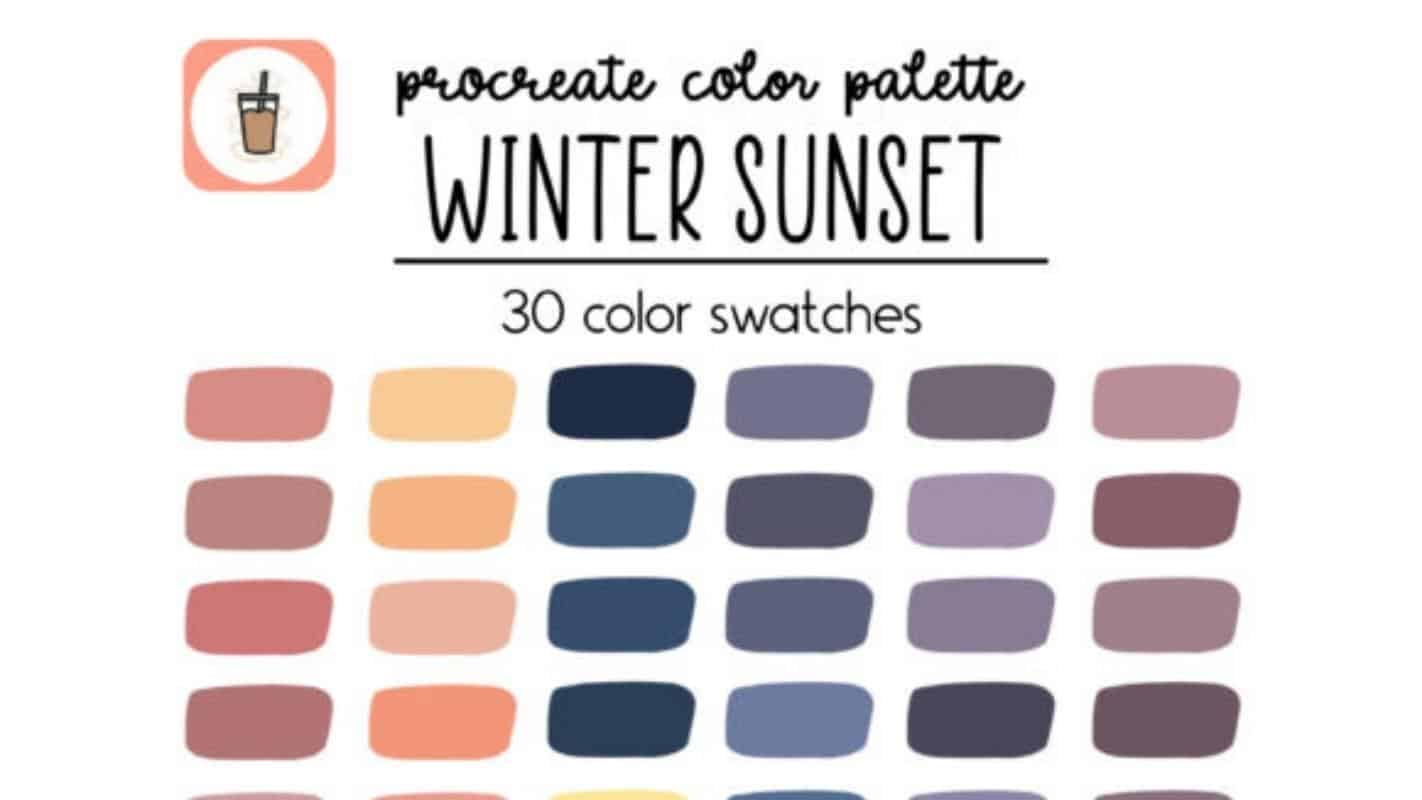 Straight from the Caribbean into a warm and inviting winter evening. There is snow everywhere, and you are warmed by the fire in your house's fireplace. The sun is gradually setting, leaving behind a yellowish shimmer. Blue color tones are also reflected on the snow surface. Cuddle up in your blanket and take in the winter sunset with this Procreate color palette.
Blue Color Palettes Procreate
Blue color palettes can be used to draw a variety of things. You can draw the ocean, the sky, or birds; the possibilities are limitless. Blue colors can also be used to create a relaxed and calming mood in your artwork. In your digital painting, use the blue Procreate color palette to convey the mood you want to bring to your audience.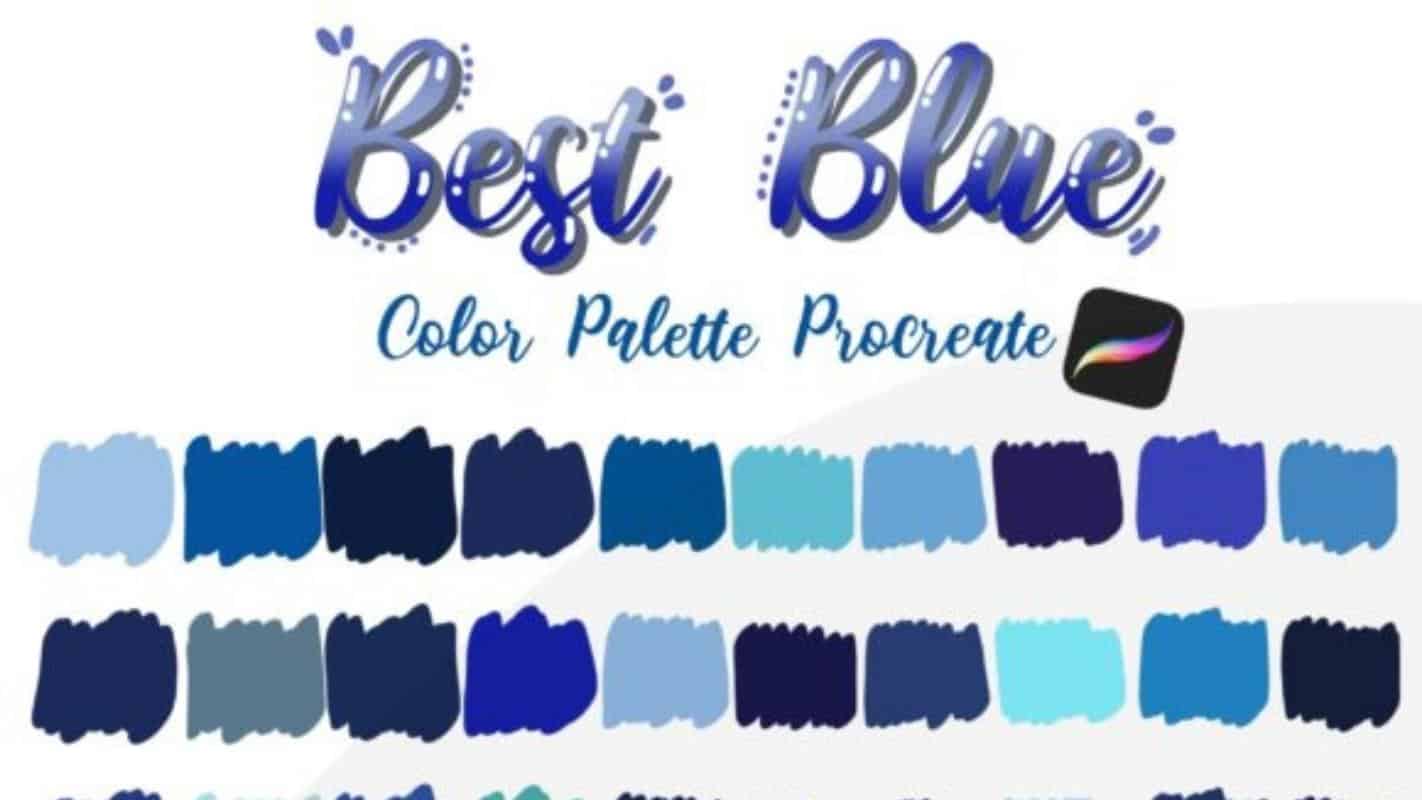 This blue color palette for Procreate includes blue base tones and various blue shadings. The blue color has a clear and clean feel, making it ideal for drawing anything that provides blue colors. If you don't have any other blue palette in Procreate, you can just use this one.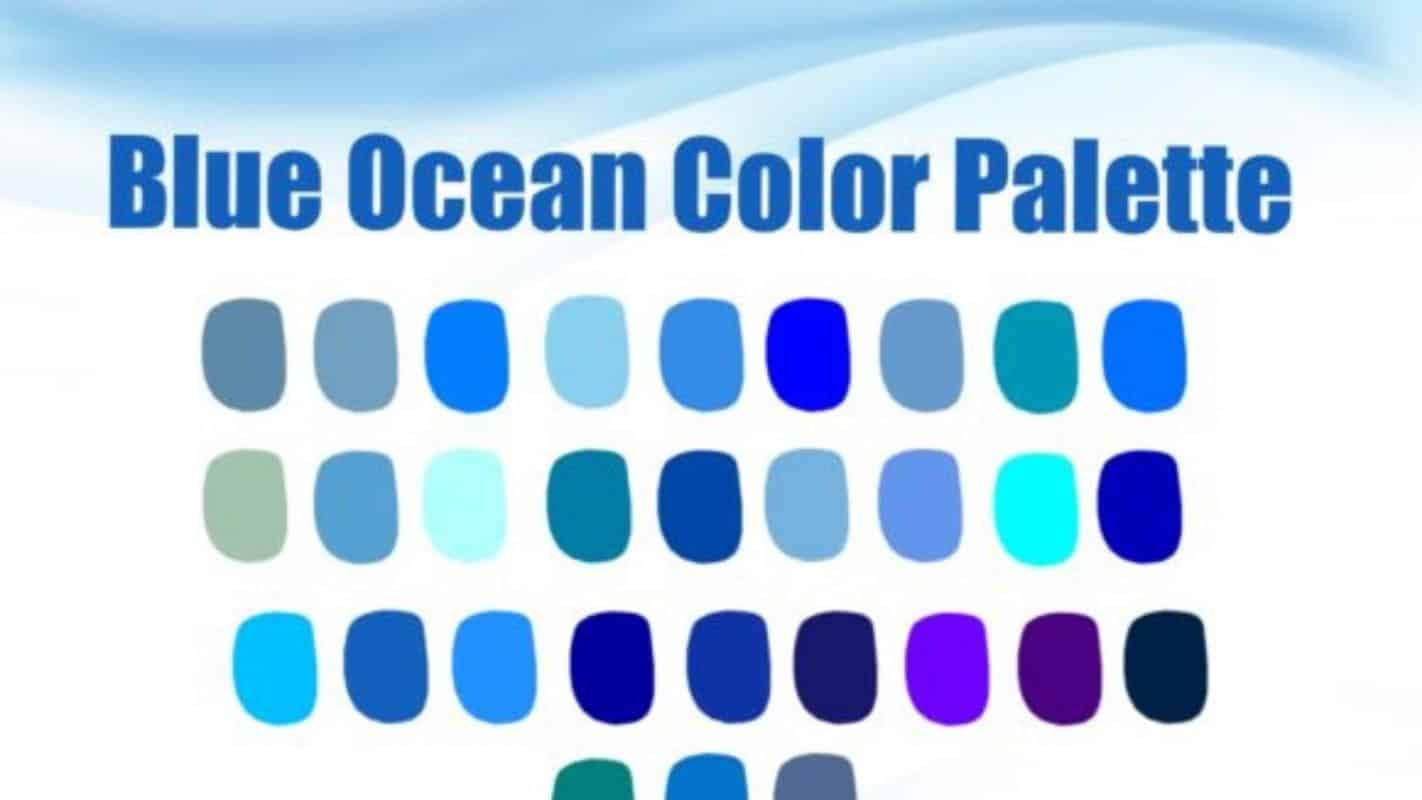 This Procreate blue color palette was explicitly created for drawing beautiful oceans. But, of course, a lovely warm blue can be used for various things. For example, the sky will look fantastic if you draw a sunny landscape with these blue colors.
Red Color Palettes Procreate
A red color palette can represent passion, energy, love, or anger. It can also be used to create a warm and inviting atmosphere. Alternatively, use red Procreate color palettes to create valentines cards or a cozy fire in a fireplace. There are numerous applications for red colors. And having some in your color library is unquestionably beneficial.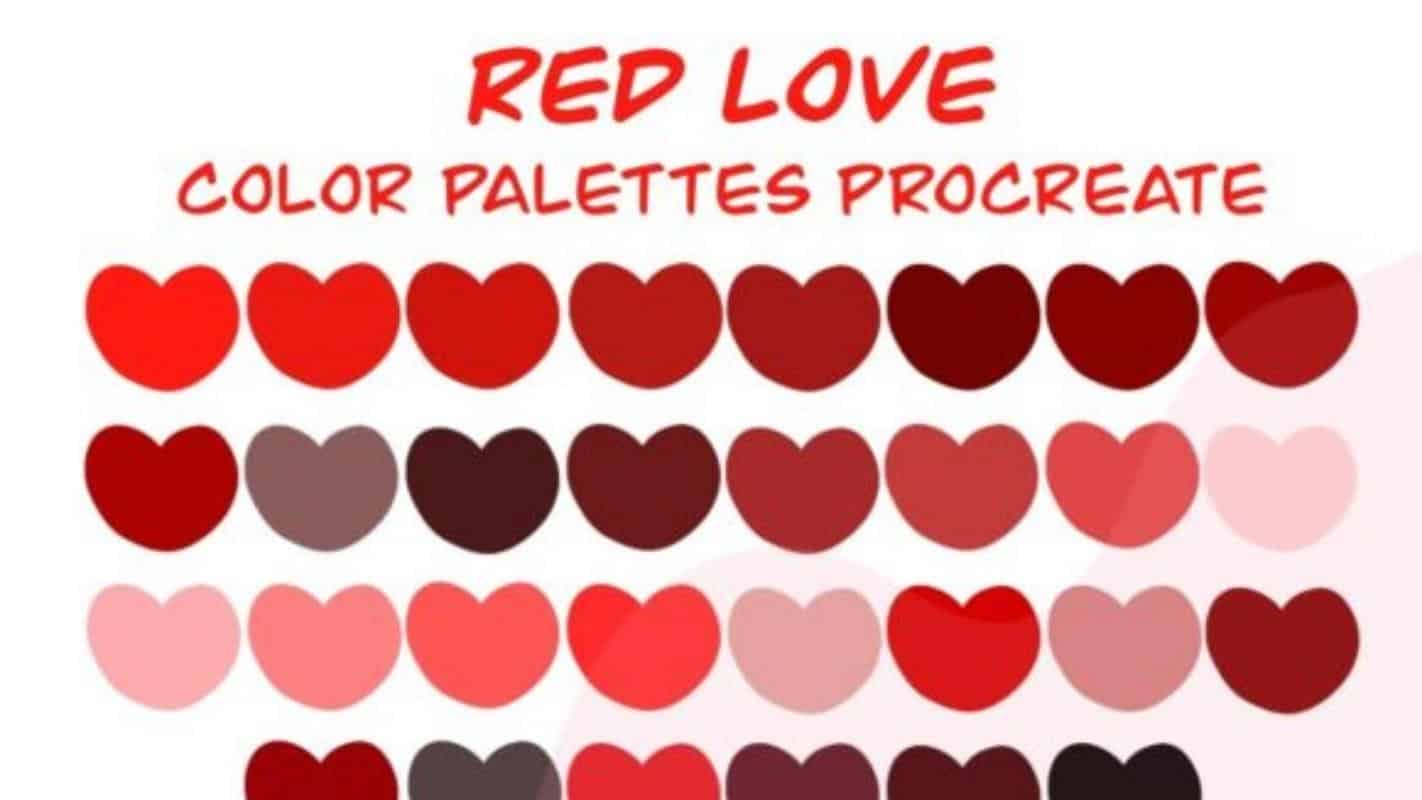 The author of this red Procreate color palette named it "Red Love" and contains 30 red tones. They range in color from bright red to deep rose. This red Procreate palette is ideal for drawing roses, hearts, love-related drawings, and other cute artwork.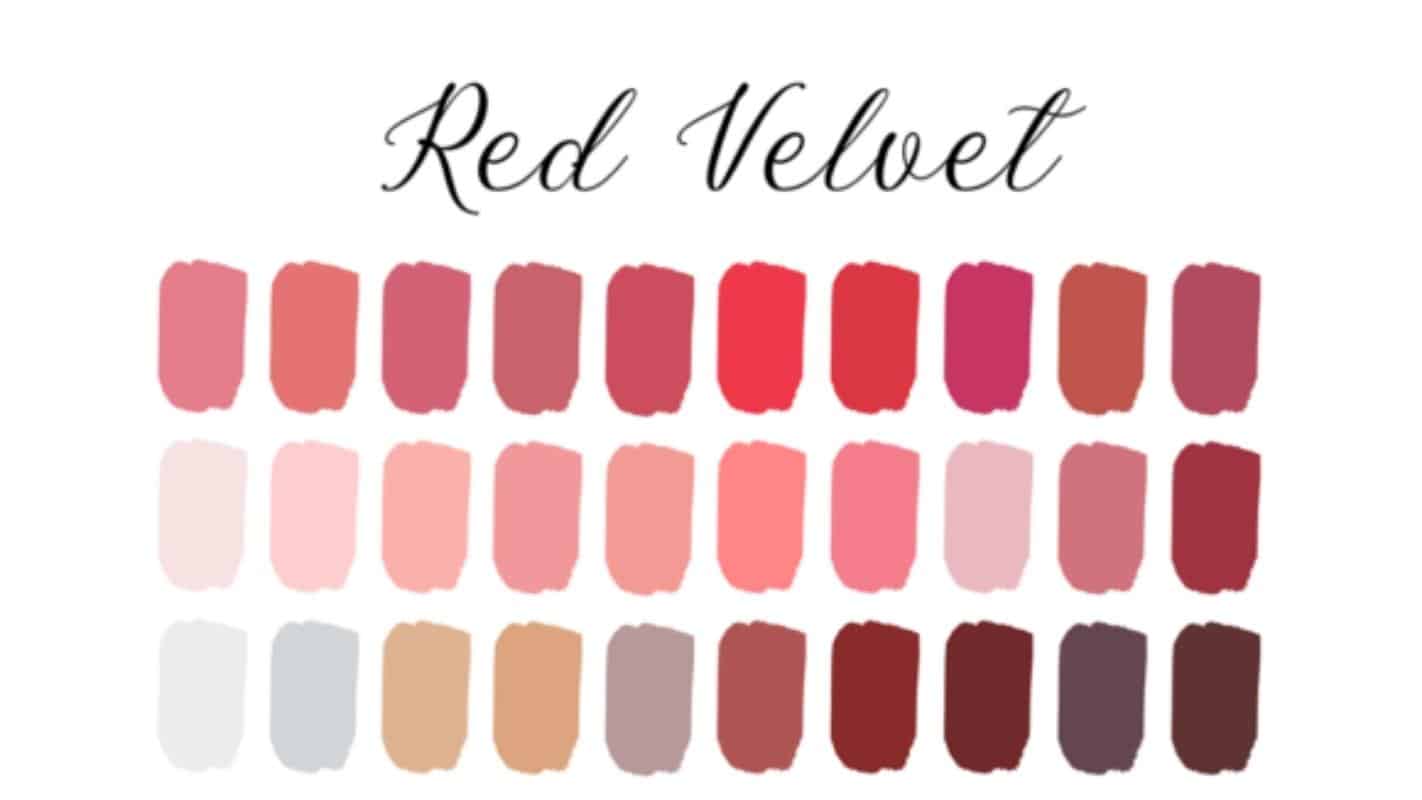 This red color scheme has a slight pastel undertone. As a result, it's ideal for drawing roses, apples, or hearts. It also works really well with watercolors and will give your artwork an excellent finish.
Yellow Color Palettes Procreate
Flowers, suns, and rainbows are examples of things to draw in Procreate with a yellow color palette. On the other hand, having some lovely, bright yellows in your swatch library is a must. Here are some of the best yellow Procreate color palettes for iPad.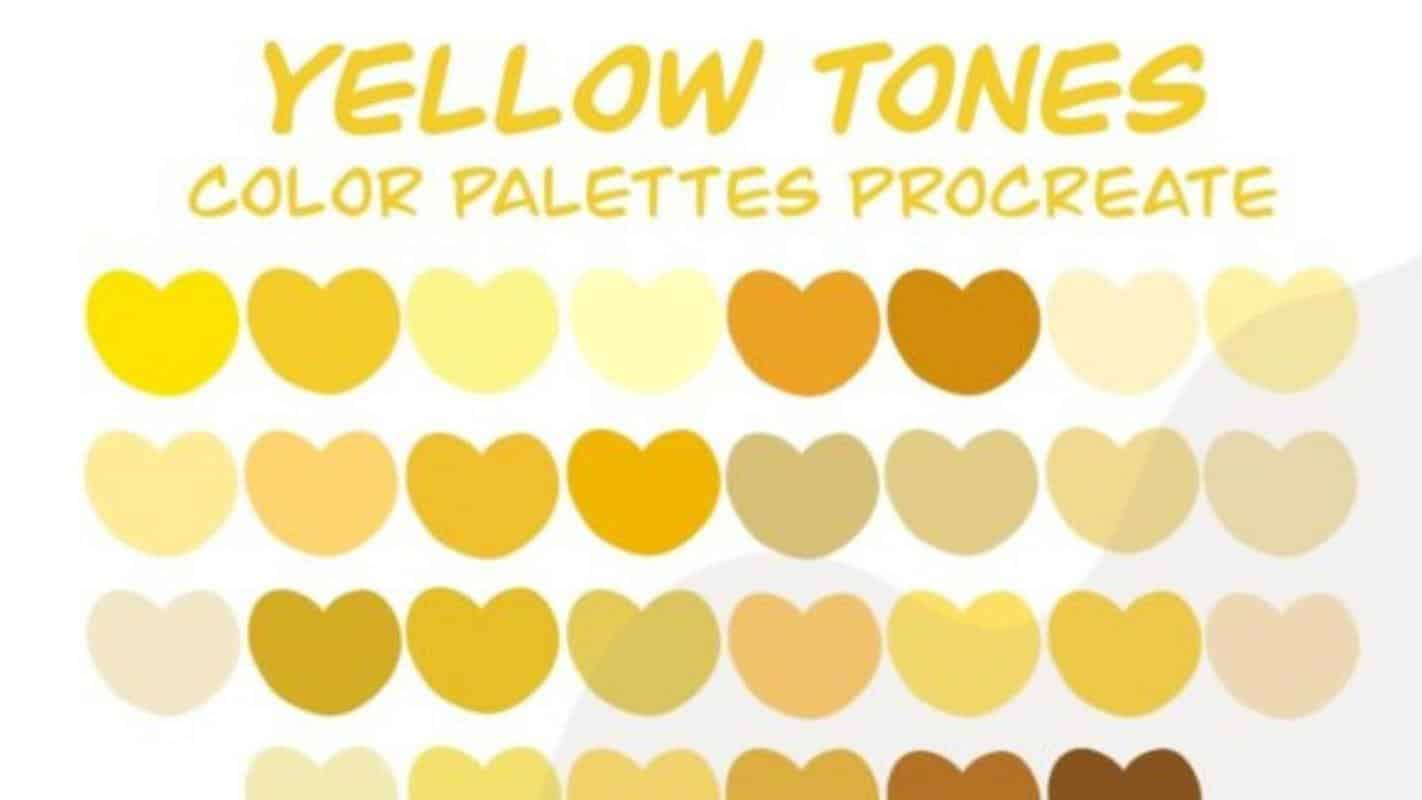 This yellow Procreate color palette, by the same author as the Red Love color palette, is the only yellow color palette you'll ever need. It comes in various vibrant color shades, including highlights and deeper tones, to give you more options. In addition, it includes 30 different yellow tones for use in digital art.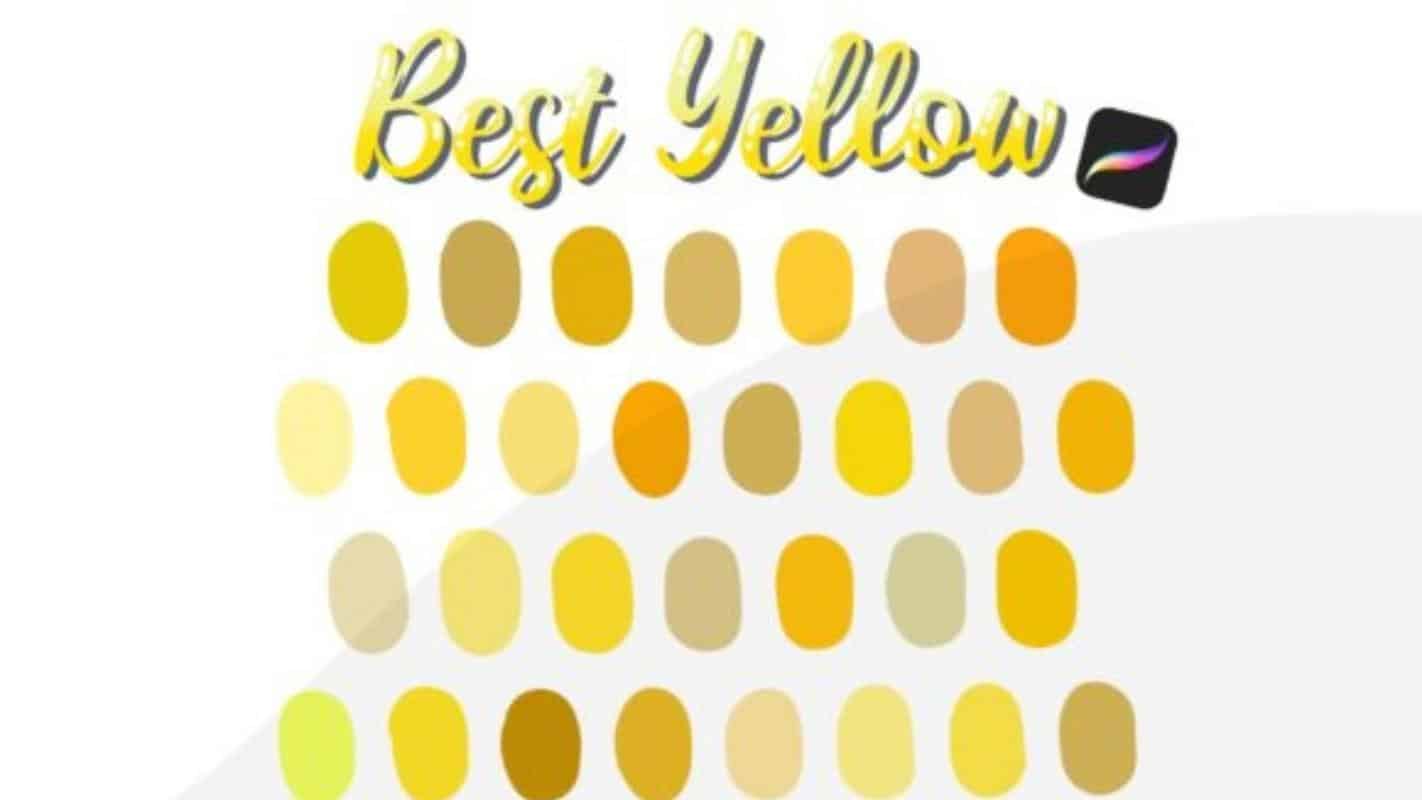 Last week, I saw some amusing drawings of Pikachu and the yellow bird from Angry Birds. So I decided to give it a shot on my own. So I went with this yellow color palette. The results were mixed, given that I had never drawn a Pokemon or an Angry Bird in my life. But, hey, it was a fun project! There are 30 different yellows in this color palette.
Green Color Palettes Procreate
Green color Procreate color palettes are a must-have in your swatch library. You'll need a color palette of different greens at some point in your career or as a digital art designer. Green is required when drawing a landscape, a garden, plants, snakes, and other animals.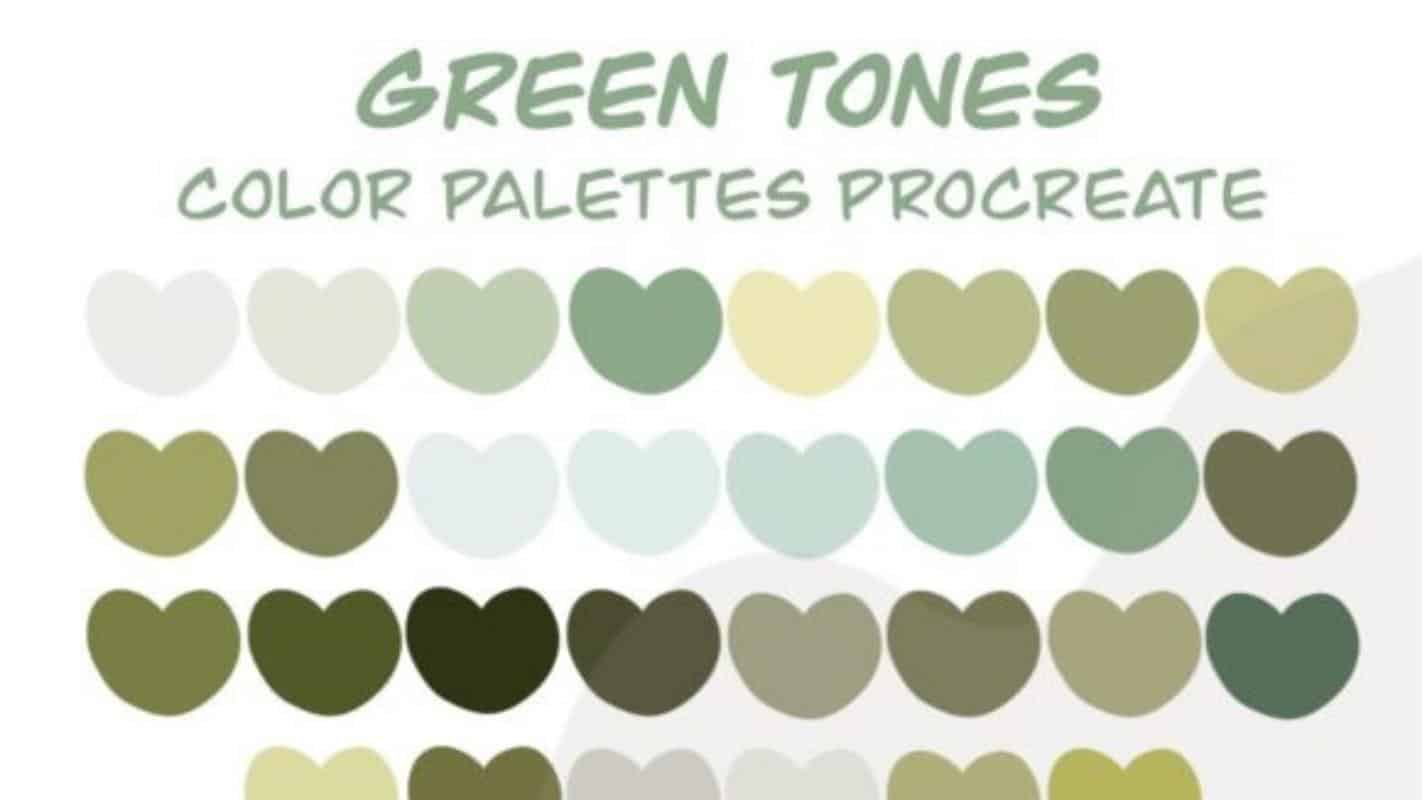 This Procreate green color palette contains 30 different green tones. This is a color palette of green tones handpicked for you to use in your work. All of the colors can be used for a variety of projects. You could, for example, use green colors to draw a landscape with grass and trees or design your own garden. You can also play with them in any way you want!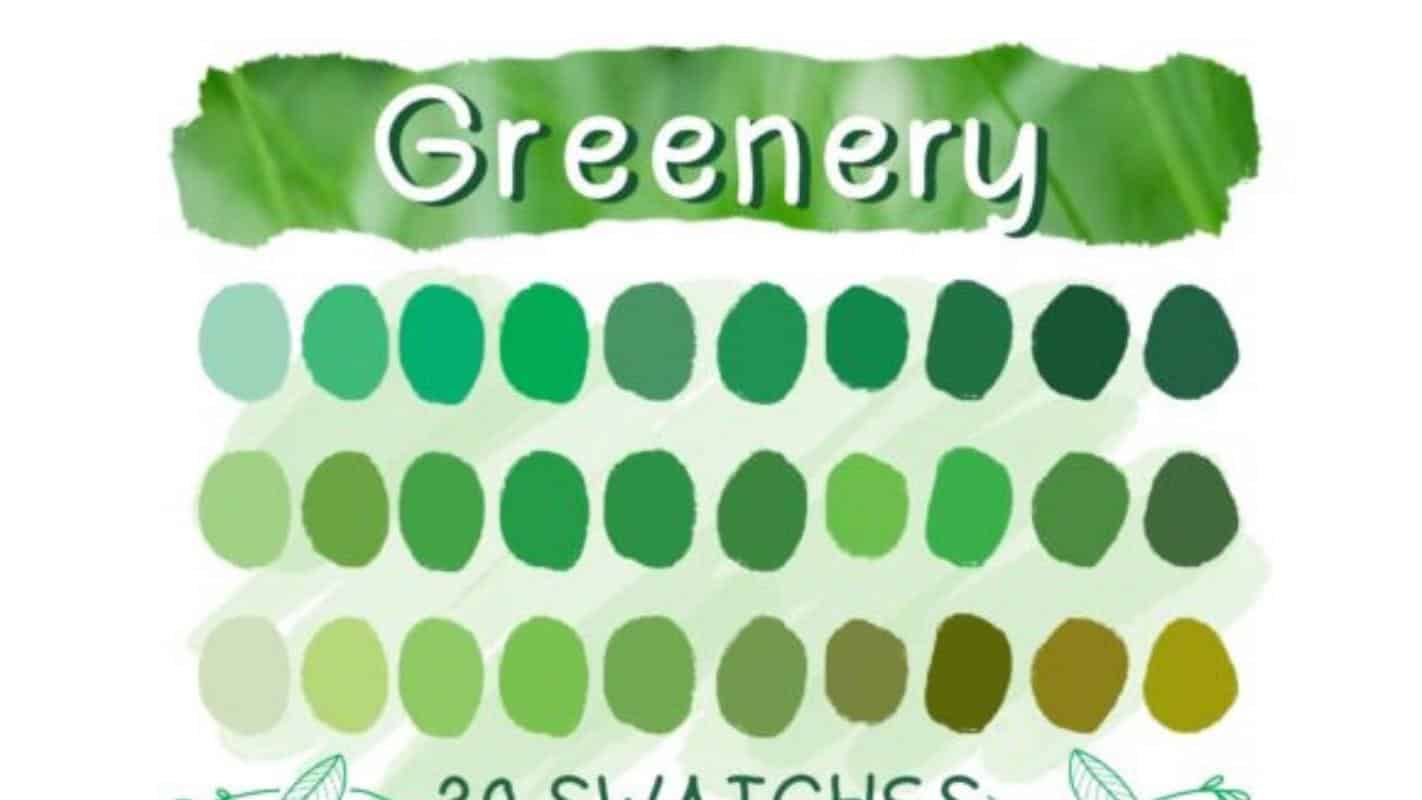 There are numerous applications for green colors, but one of them is unquestionably for greeneries. This carefully curated 30-color swatch library ranges from bright green to darker green. To use in your greenery projects, you can even get a slightly slimy yellow-green.
Grayscale Color Palettes Procreate
Procreate's grayscale color palette is used in a variety of scenarios and use-cases. For example, maybe you want to add a subtle shadow to your artwork, or you're using a pencil brush and need the gray pencil color, or perhaps you're a black and white artist who needs a professionally selected grayscale palette for Procreate.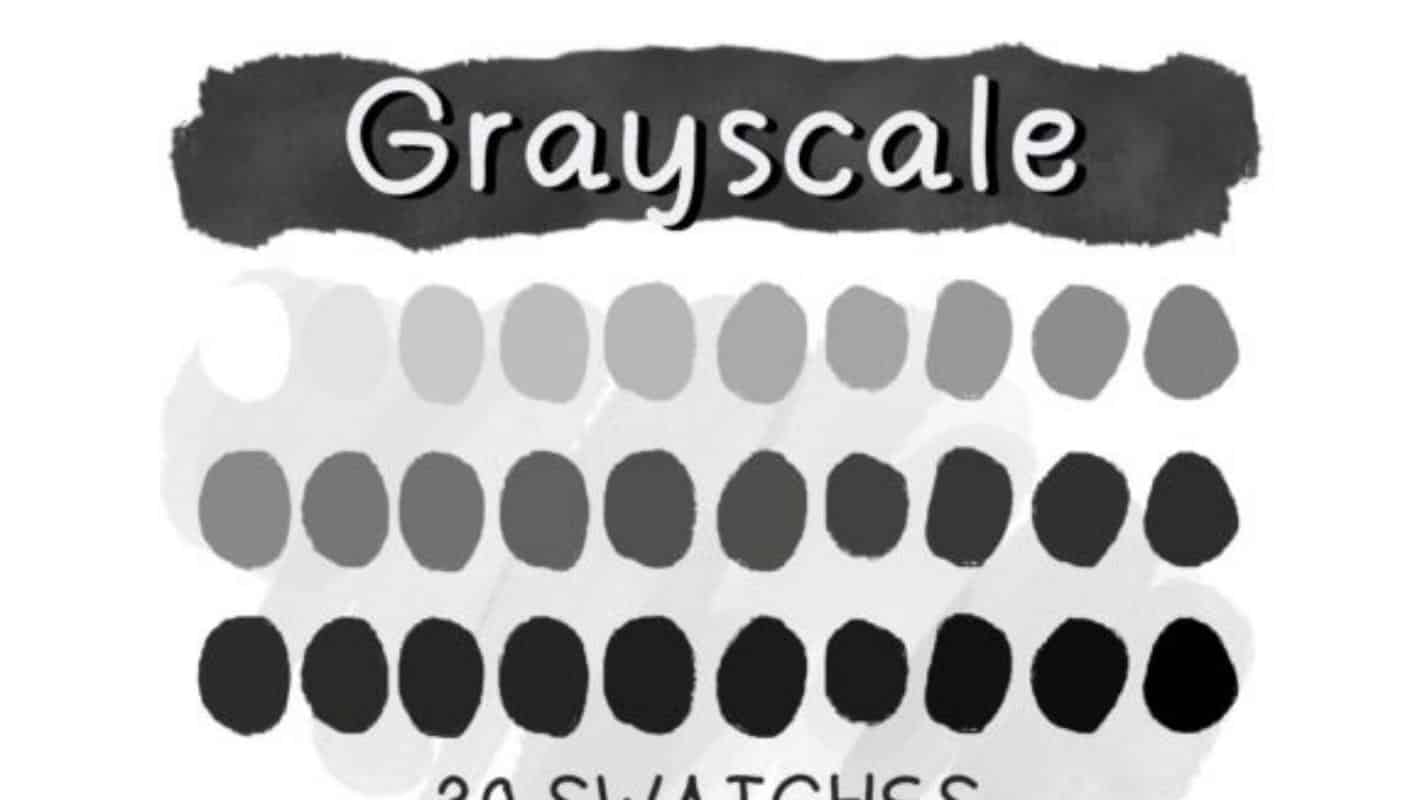 There are 30 different colors in this Procreate grayscale palette. This Procreate swatch includes pure white, pure black, and everything in between. Ideal for black and white drawings or adding shadow to digital art.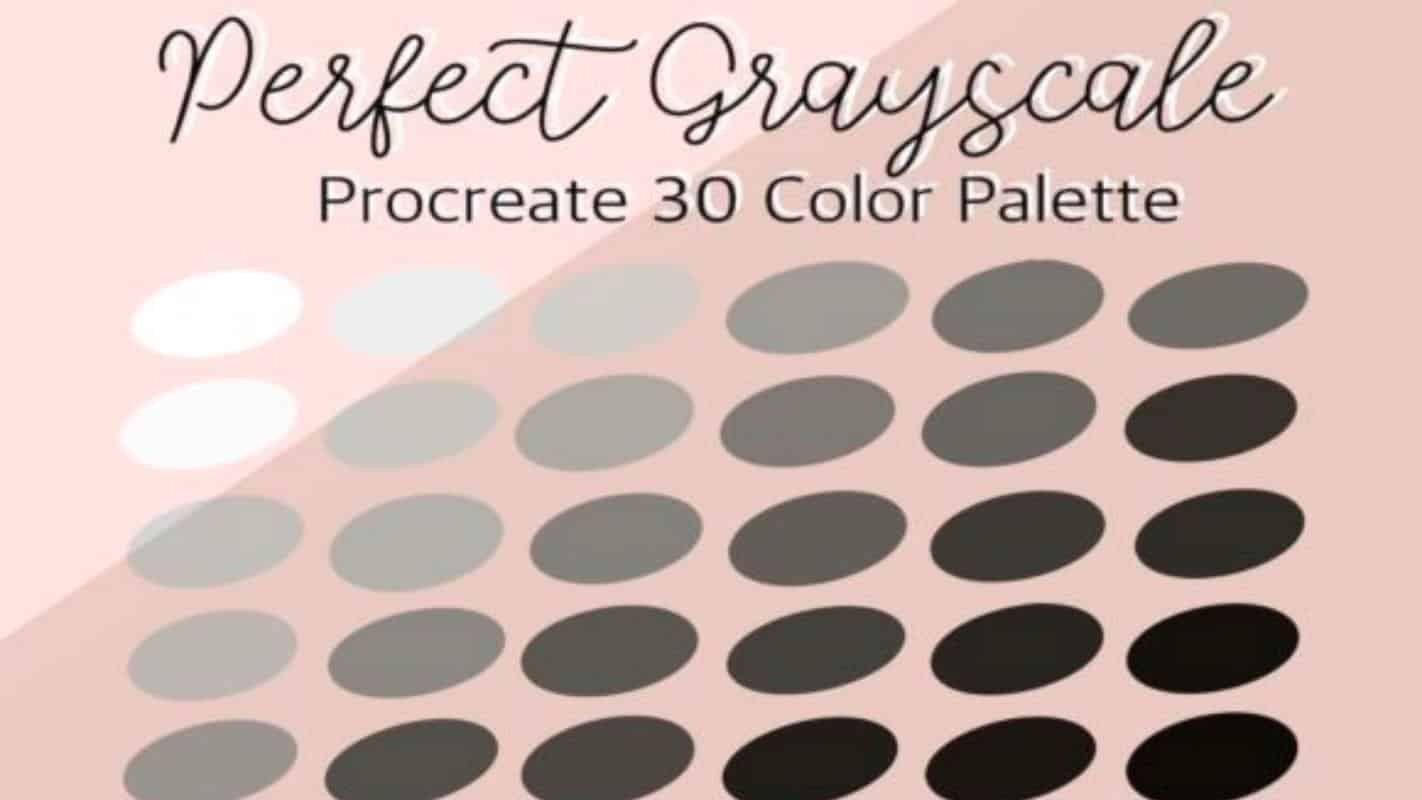 On the Creative Fabrica website, this grayscale palette is a fan favorite. This Procreate color palette includes 30 different black and white tones. So, this is the library for you if you are a black-and-white artist or want to experiment with grayscale colors.
Neon Color Palettes Procreate
Procreate Neon color palettes are vibrant colors, bright, and alive. They can turn your dull greyscale drawings into neon ones with a single tap. Neon colors are always fun to use, but they should be used sparingly sometimes.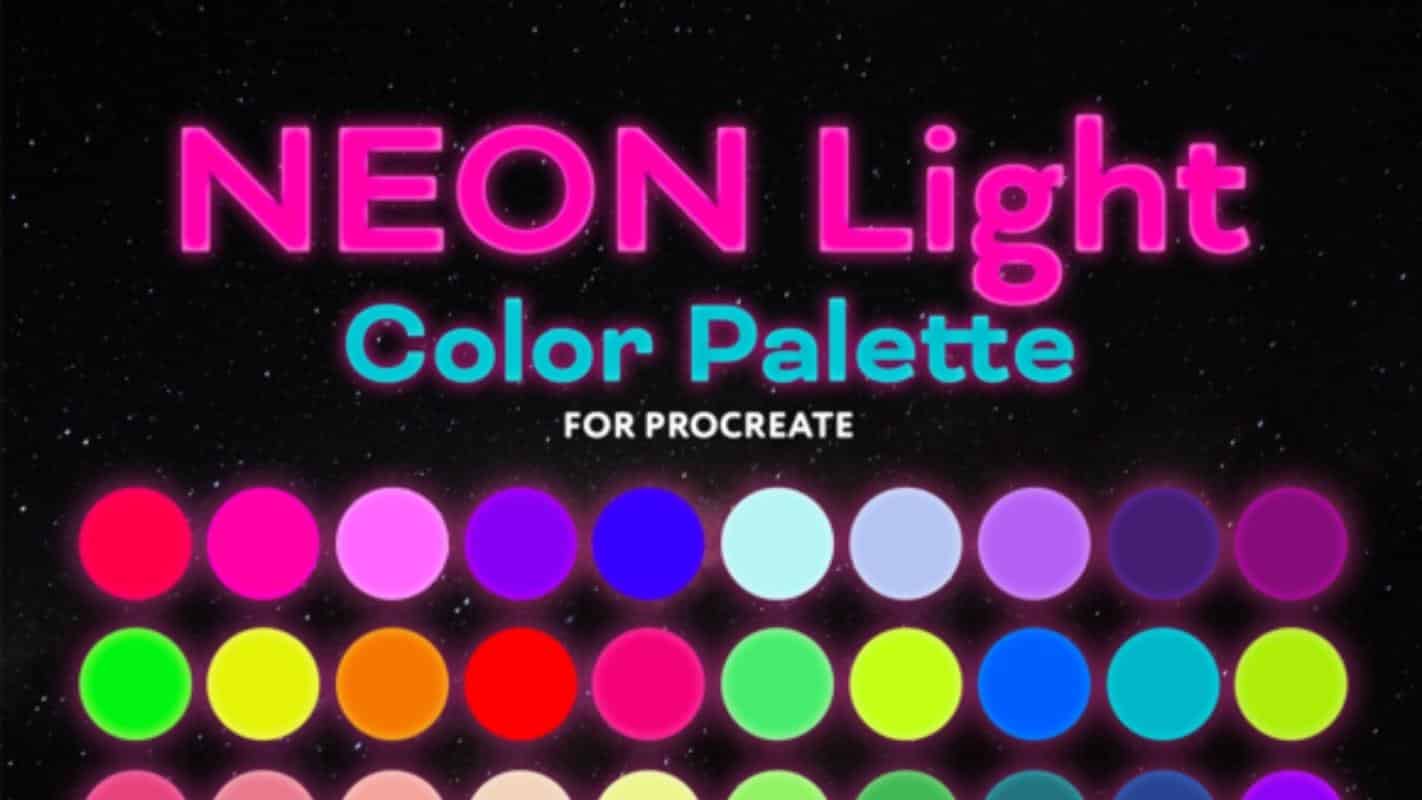 This hot neon color palette will add a layer of brightness and vibrancy to your digital drawings. With this meticulously handcrafted neon color palette for Procreate, you can amp up your CyberPunk Neon Light style even more.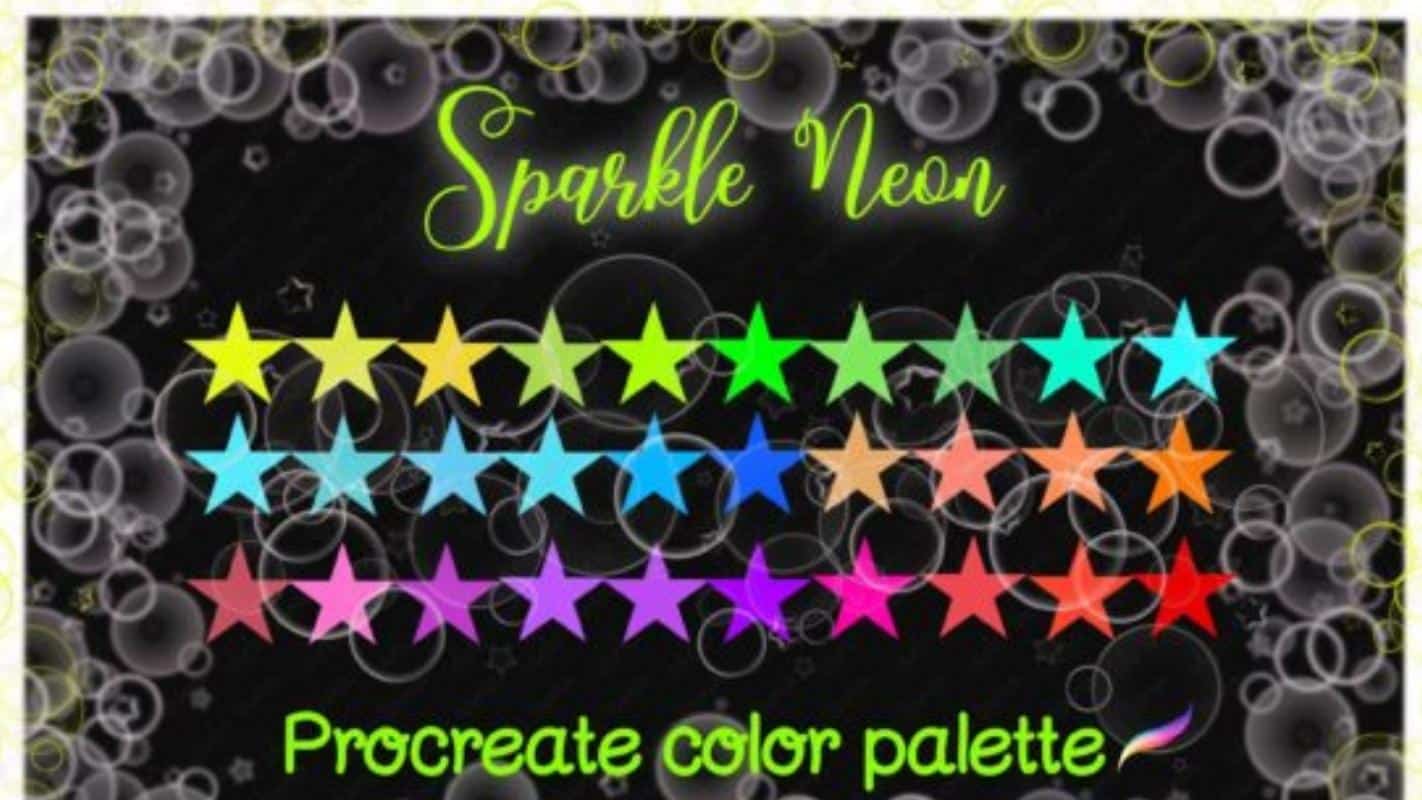 With this neon color palette for Procreate, you can add some sparkle and bright colors to your drawings. Perfect for any project that requires a splash of glitz and glam. All of the colors have been carefully chosen and are pleasing to the eye.
Rainbow Color Palettes Procreate
If you draw some amazing landscapes, you might want to add a lovely rainbow to them. A rainbow from a fairytale. Then a Procreate rainbow color palette comes in handy. Begin your rainbow work immediately by selecting the appropriate color swatch for Procreate. You can do so much more with Procreate rainbow color palettes; the possibilities are limitless!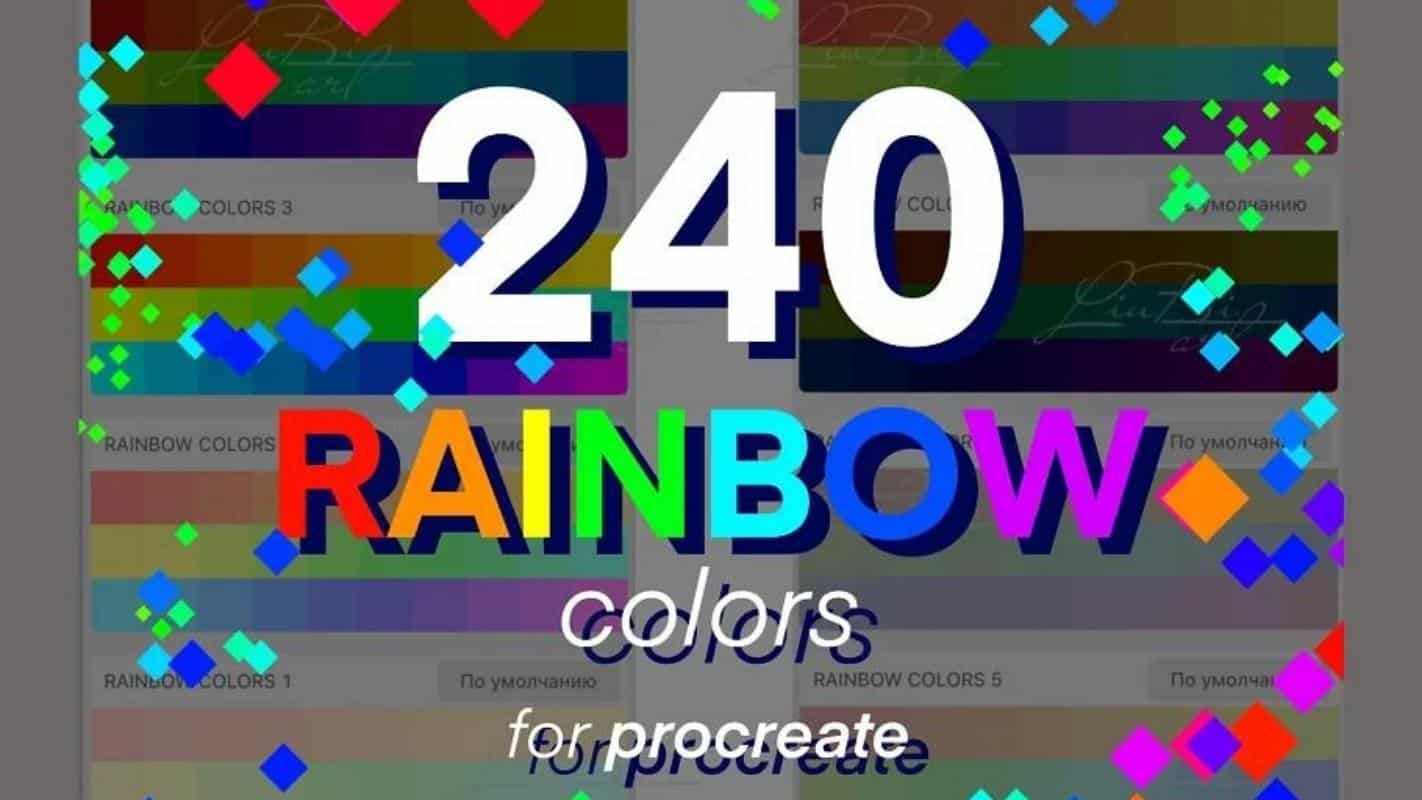 This is an entire rainbow color palette for Procreate. This package includes 240 colors. In a variety of color tones. From dim to bright to gleaming. And then there's the transition from pastel to more basic. This color palette contains rainbow colors for every occasion.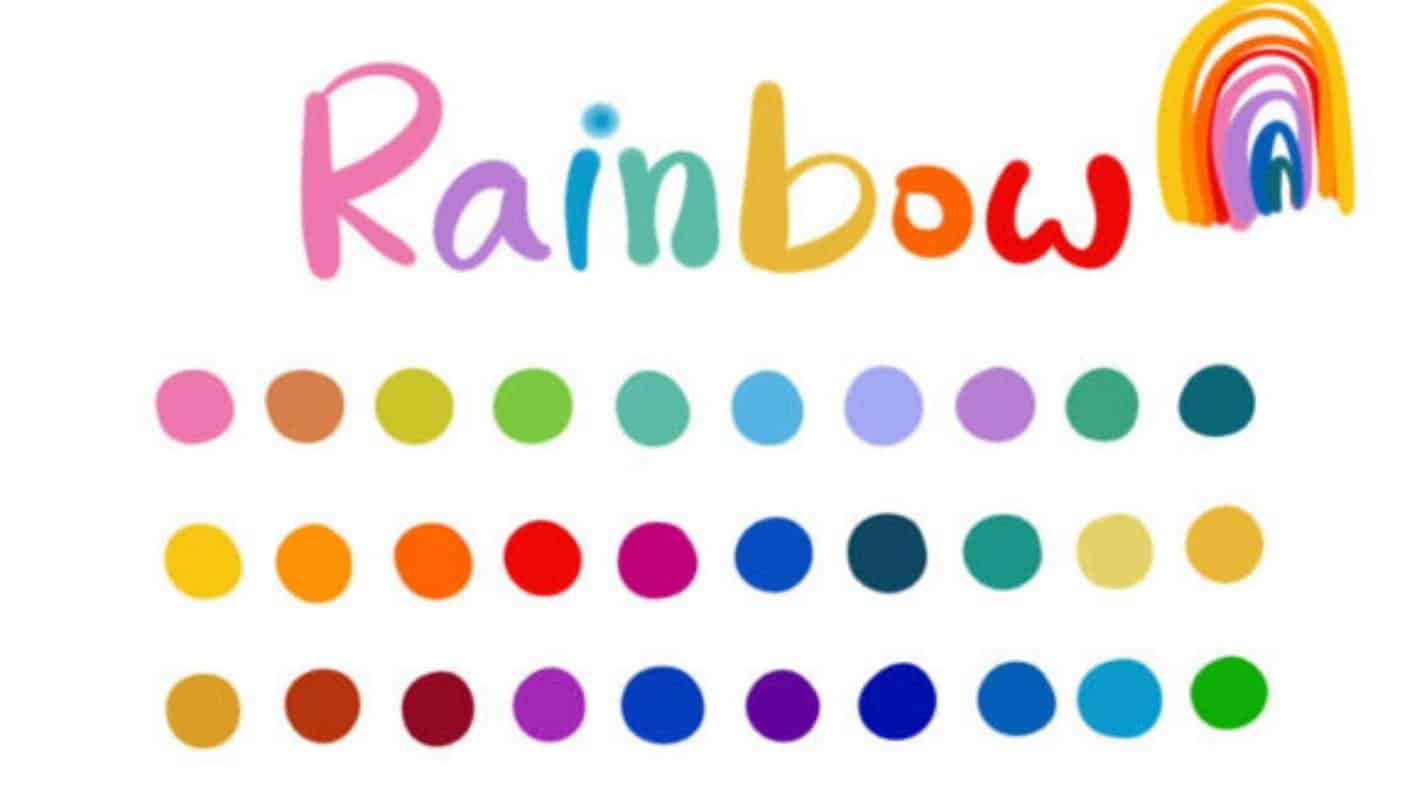 This fairytale rainbow color palette in Procreate is a must-have in many creative workspaces. It has 30 colors that have been handpicked in varying brightness and darkness. You can get the perfect color for any occasion, from subtle to bright, vibrant, or shiny rainbows.
Christmas Color Palettes For Procreate
We enjoy using colorful backgrounds and bright colors during the Christmas season. It makes us feel even more festive; finding the right color for your artwork can be difficult. Fortunately, there are numerous online resources available to assist you in locating the ideal Christmas Procreate color swatches.
This Christmas color palette leaves nothing to the imagination when drawing a cozy winter day or a landscape with a Christmas tree. Everything fits into the Christmas style with this Procreate color palette, from lovely blues to lovely greens, reds, and yellows. It comes with 90 ready-to-use colors divided into three color swatches.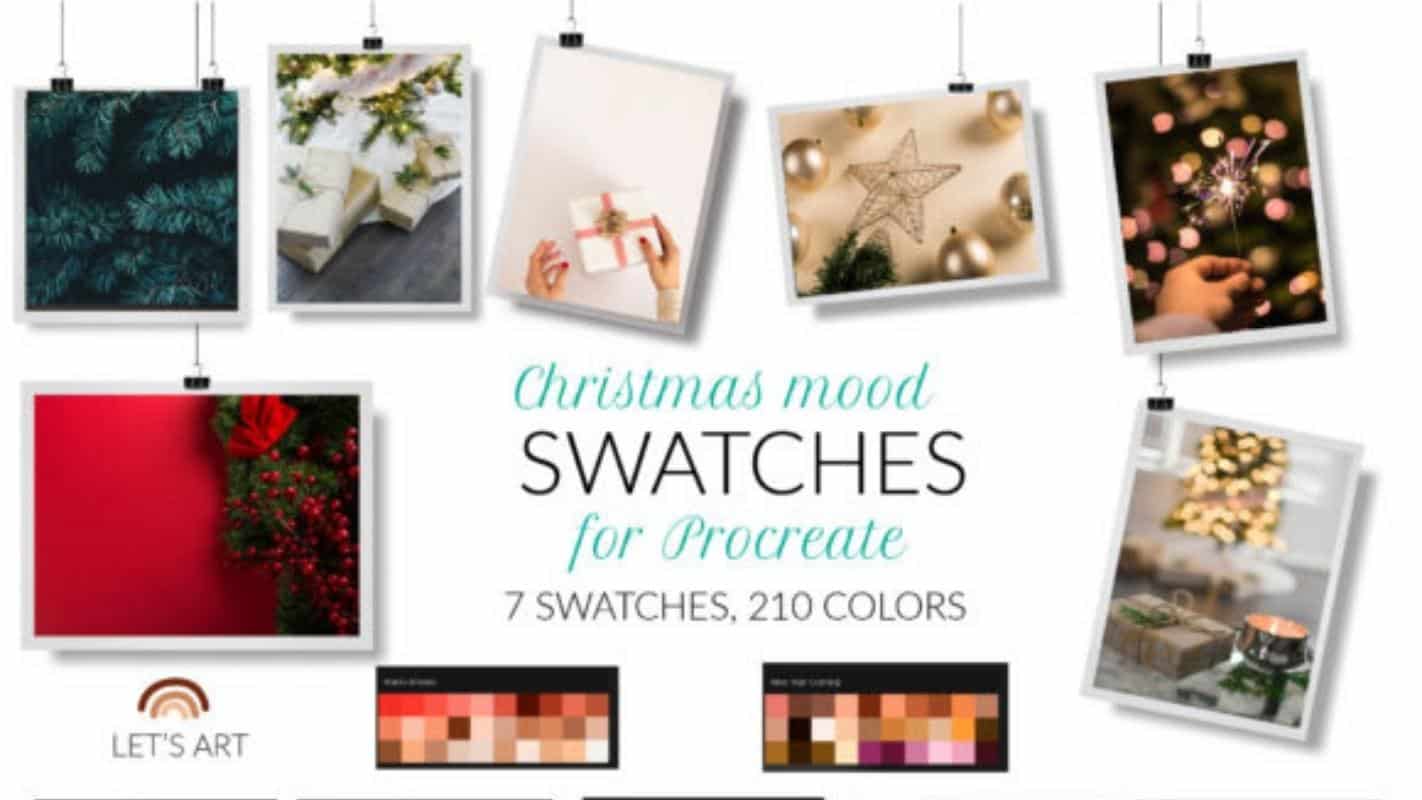 This Christmas color palette contains 210 colors in 7 Procreate swatches. It is the most effective way to obtain all the colors you require for your Christmas drawings. The swatches are simple to use. The color tones have been carefully chosen; all colors fit into a festive mood and the new year's evening.
Autumn Color Palettes Procreate
Autumn is a season of changing leaves, hot cups of coffee, and rich pumpkin lattes. It's also a great topic to draw in your Procreate project. So now is the time to be inspired and design a lovely autumn day landscape with an old mansion. These are the best Procreate autumn color palettes: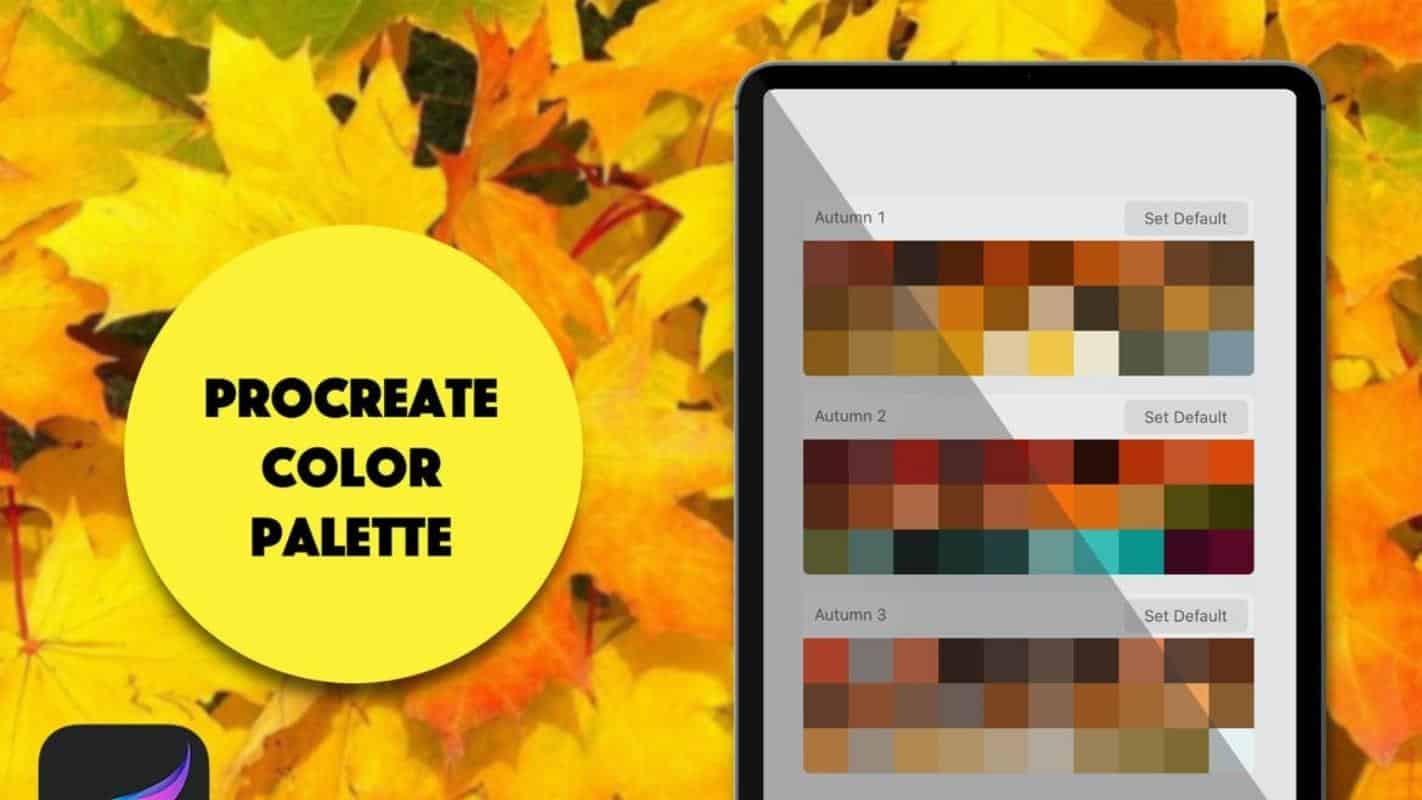 This is not your typical autumn color; instead, it is part of the dynamic autumn color palette. It includes 90 carefully chosen Procreate color swatches in various hues and saturation levels. Whether it's vibrant or dull, shiny or matte. Numerous color combinations are available to create beautiful autumn drawings for this package.
This color scheme can also be used for a fall color scheme. Create a lovely autumn scene with a lake, an old cabin, and towering trees in the background. These Procreate color palettes are stunning!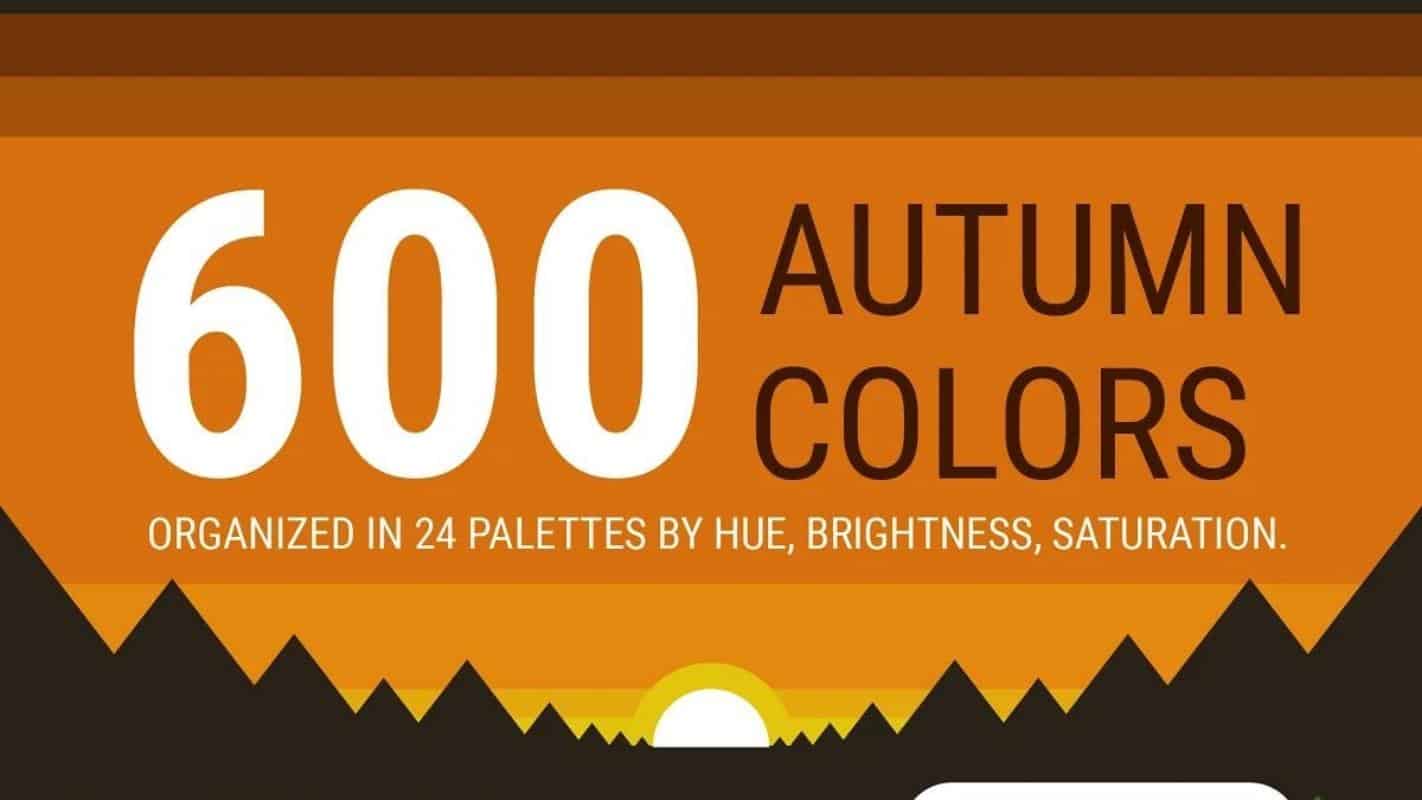 This vibrant and lively package is ideal for autumn drawings. It includes 270 color swatches in 24 color palettes in various reds, oranges, yellows, browns, greens, blacks, and whites. This is a great way to draw an autumn landscape or design something that fits the autumn mood.
Free Procreate Color Palettes
Except for the bundles, all colors listed above cost between $1 and $4 to buy. We list some of the best free palettes for Procreate from here on. This is a great way to build your swatch library and experiment with different colors if you're just starting.
These are the best Procreate free color palettes: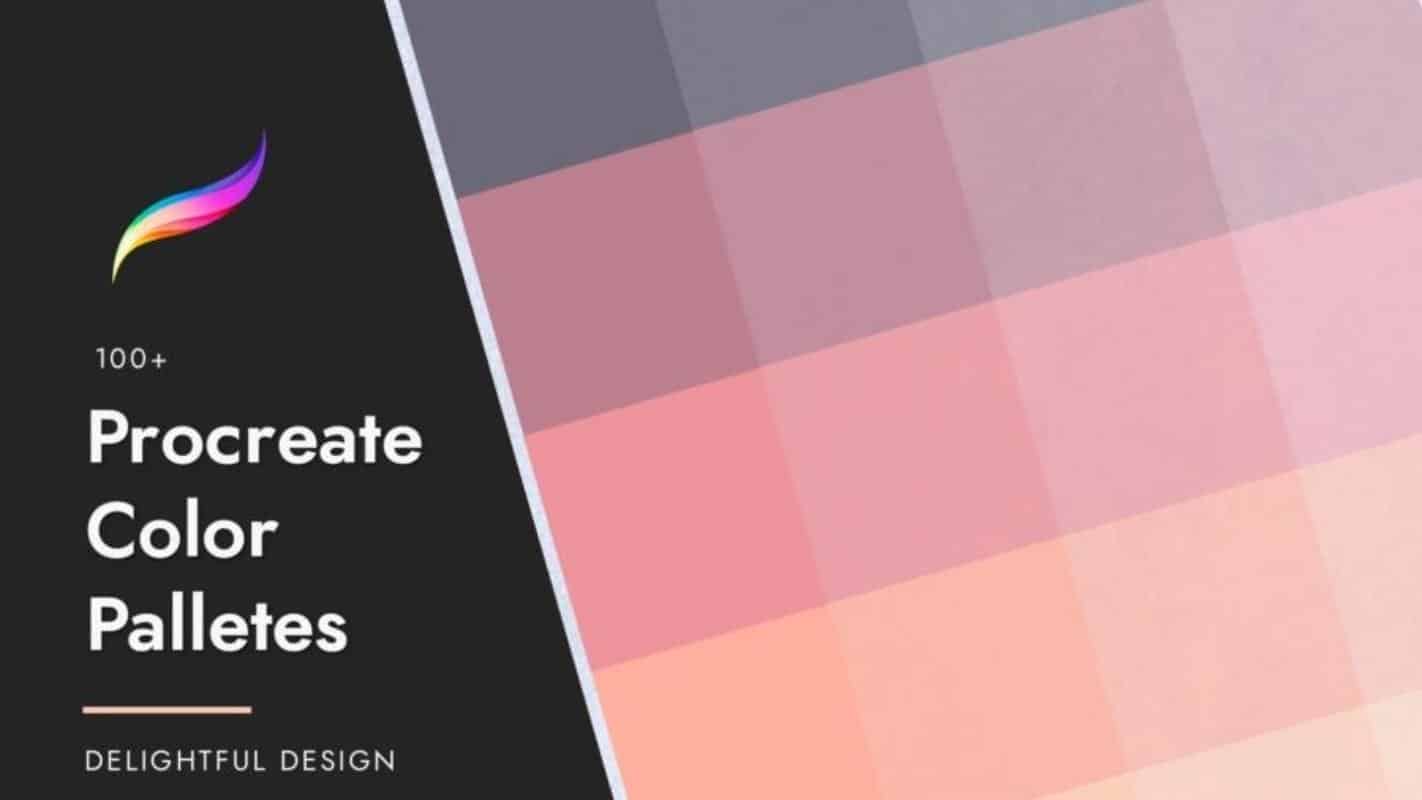 This bundle contains an extensive collection of Procreate colors that can be downloaded for free. This massive collection includes nearly 100 color swatches, each with 30 different color styles.
Everything is organized by genre and niche – landscapes, portraits, skin tones, Procreate metallic color palette for free, manga, cartoons, Procreate pastel color palette for free, and more. Simply give it a shot and download these Procreate free color palettes here: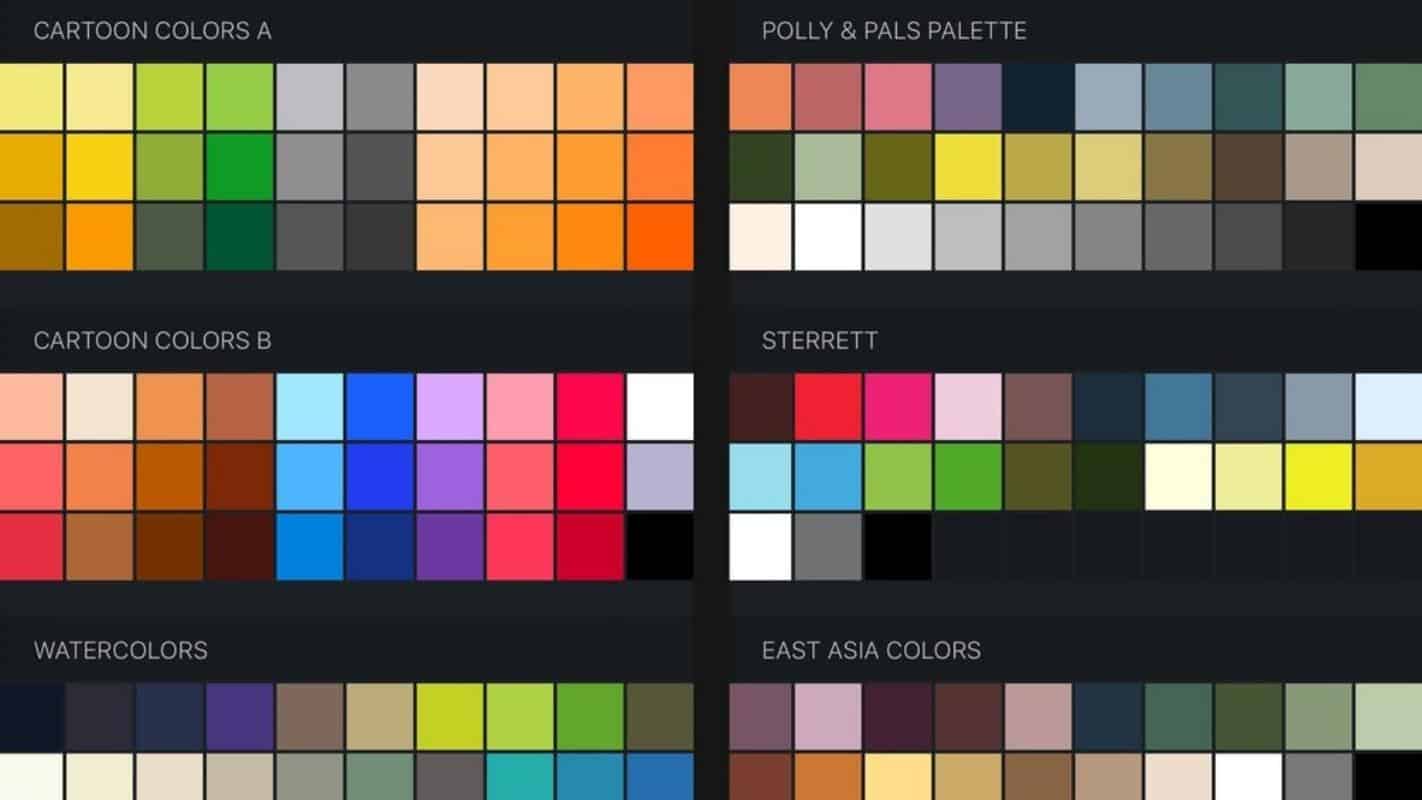 This is a sizable collection as well. This time, there are 42 free Procreate color palettes to choose from, each with a maximum of 30 colors per swatch. This massive set includes everything you need to start your digital art immediately, from cartoon colors to free pastel color palettes, metallics, sweet colors, warm colors, or simply some primary colors. The best part is: that these are free Procreate color palettes!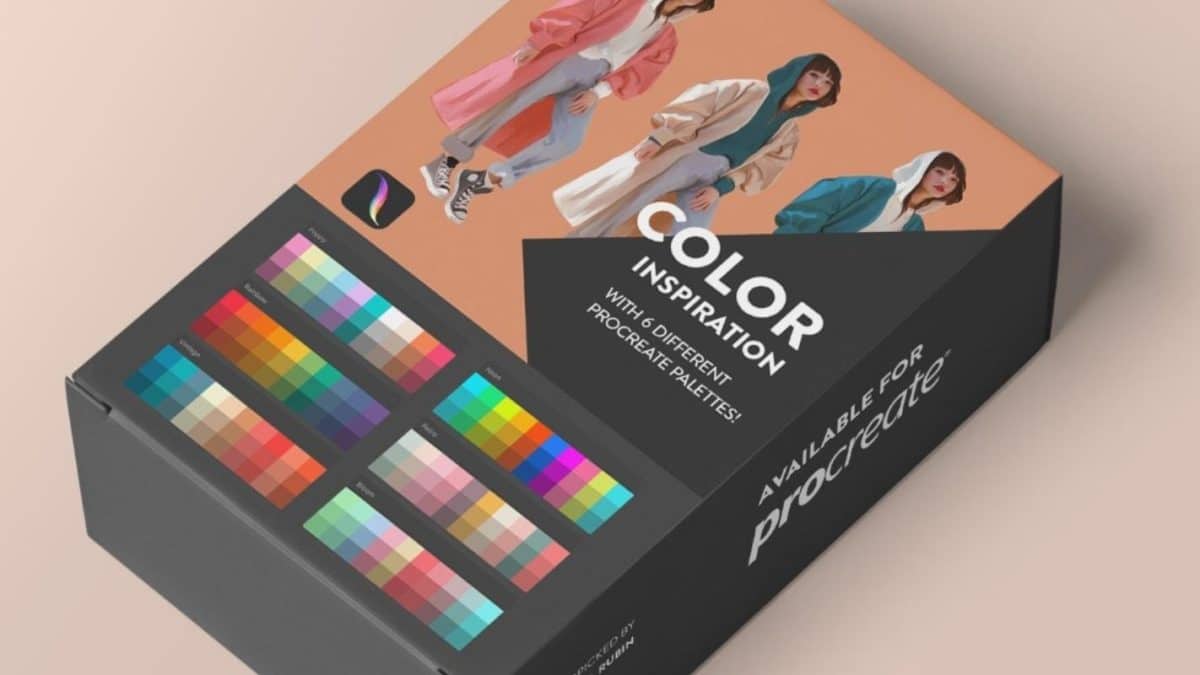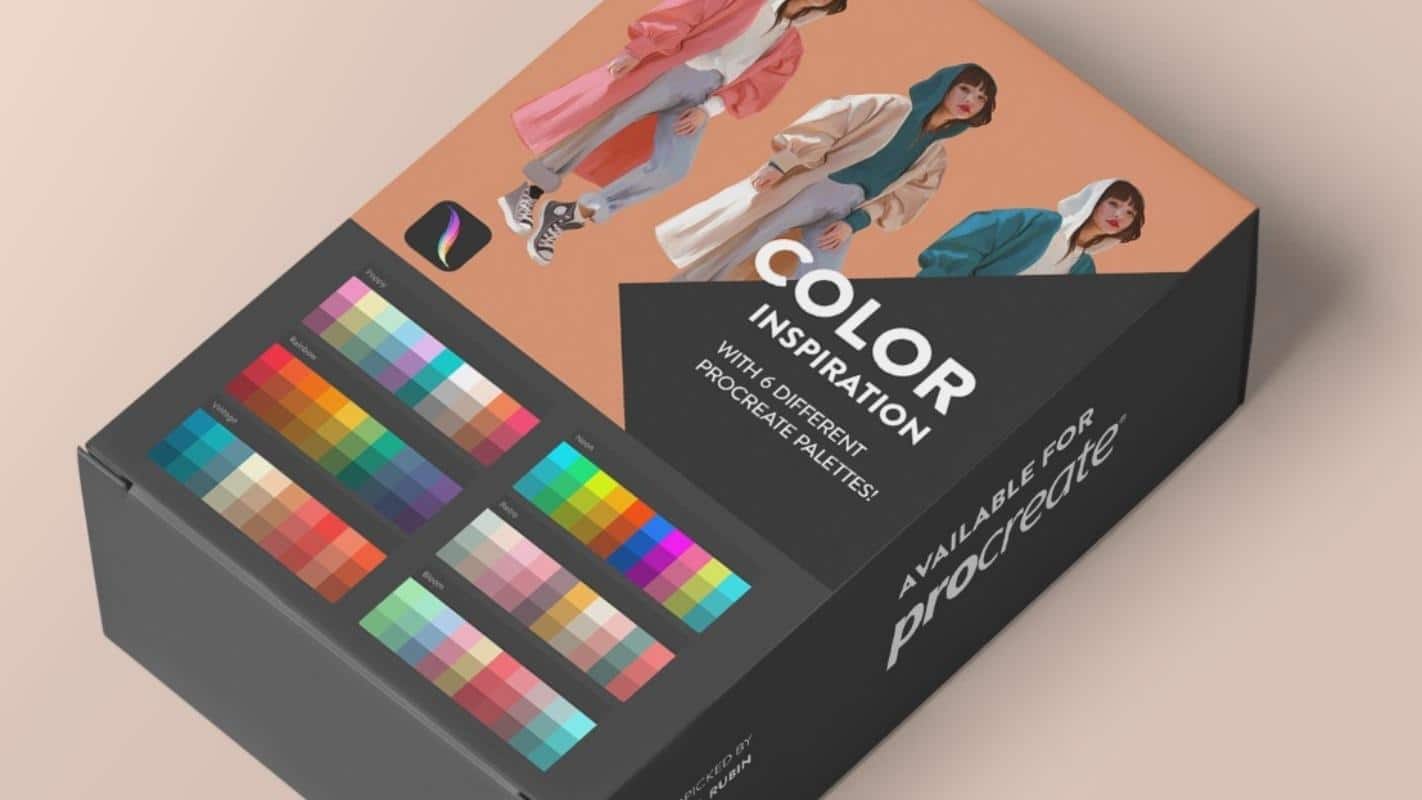 With these palettes, you can create stunning artwork and mood sketches. Also, you can use these Procreate color palettes as a creative inspiration. With these Procreate palettes, you can create any type of artwork, such as landscapes, portraits, landscapes, fantasy, or abstract art.
Every color palette has different colors, so you can experiment with them and create a variety of art. These color palettes are very helpful for newbies who are just learning how to use Procreate.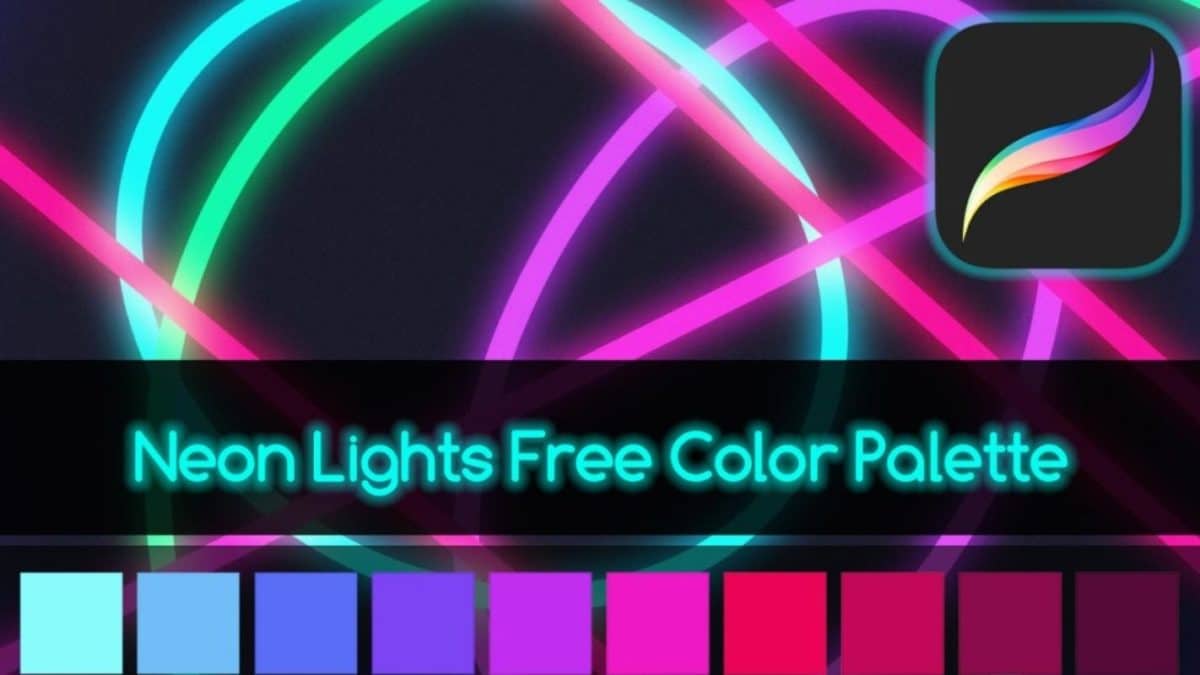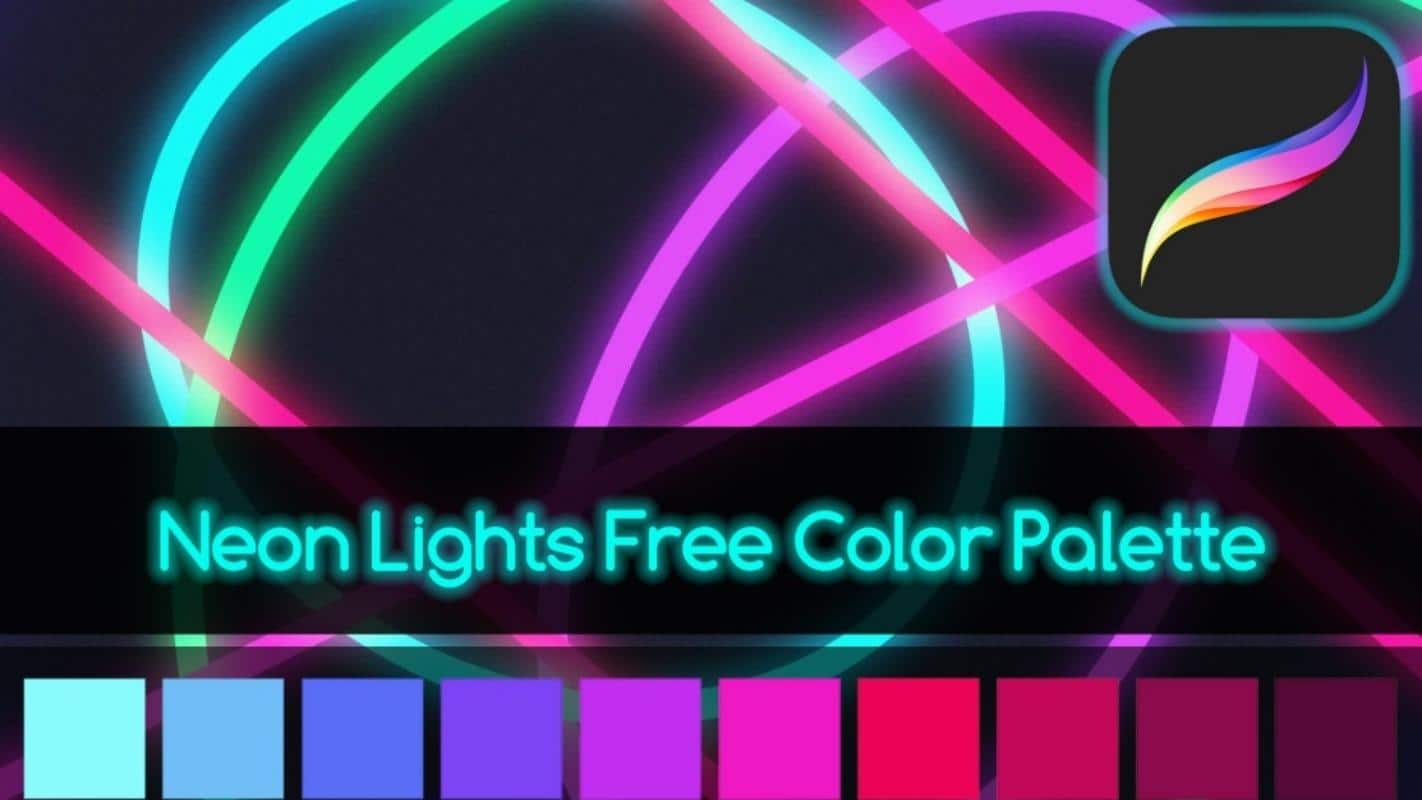 Download this swatches pack for free to add a burst of color to your next project. This neon color palette will look great on any background and will make your art stand out. Whether you're designing a flyer, website, or something else, these colors will look great.
These bright, bold colors add contrast and interest to your work. And if you want to add a splash of vibrancy to your current project, these vibrant free neon colors for Procreate are a great place to start.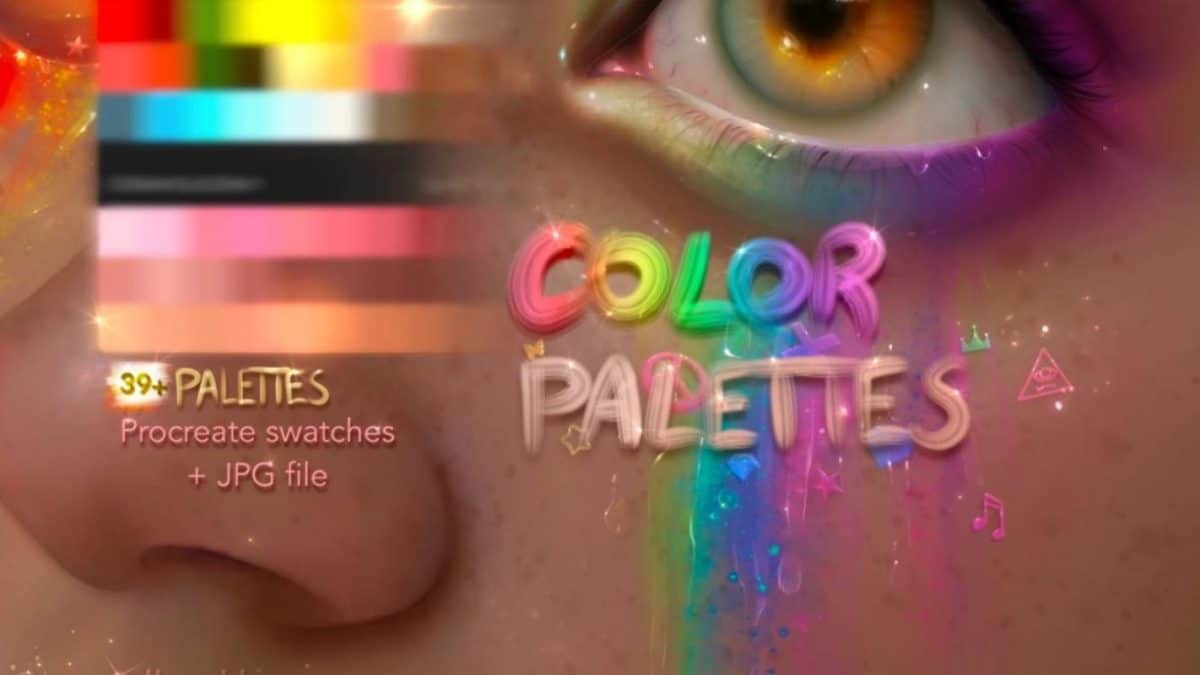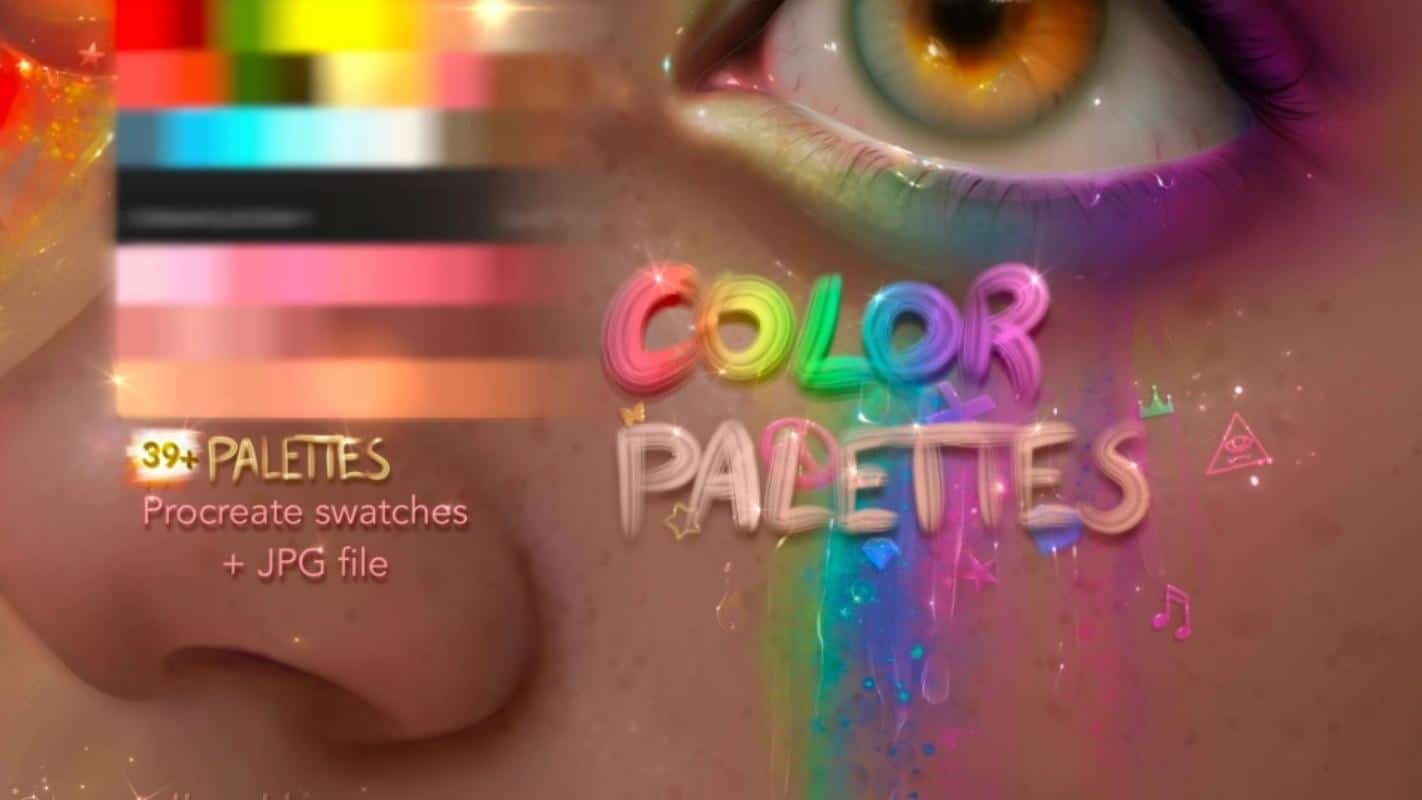 These palettes are perfect for creating art and illustrations. You will find a variety of warm and cool tones. Some palettes are monochromatic, while others are very colorful. The variety of palettes makes it easy to find the one that suits your creative mood.
The best is that this is a free Procreate color palette. So just download this for free, add it to your Procreate App, grab your Apple Pencil and start drawing your next masterpiece!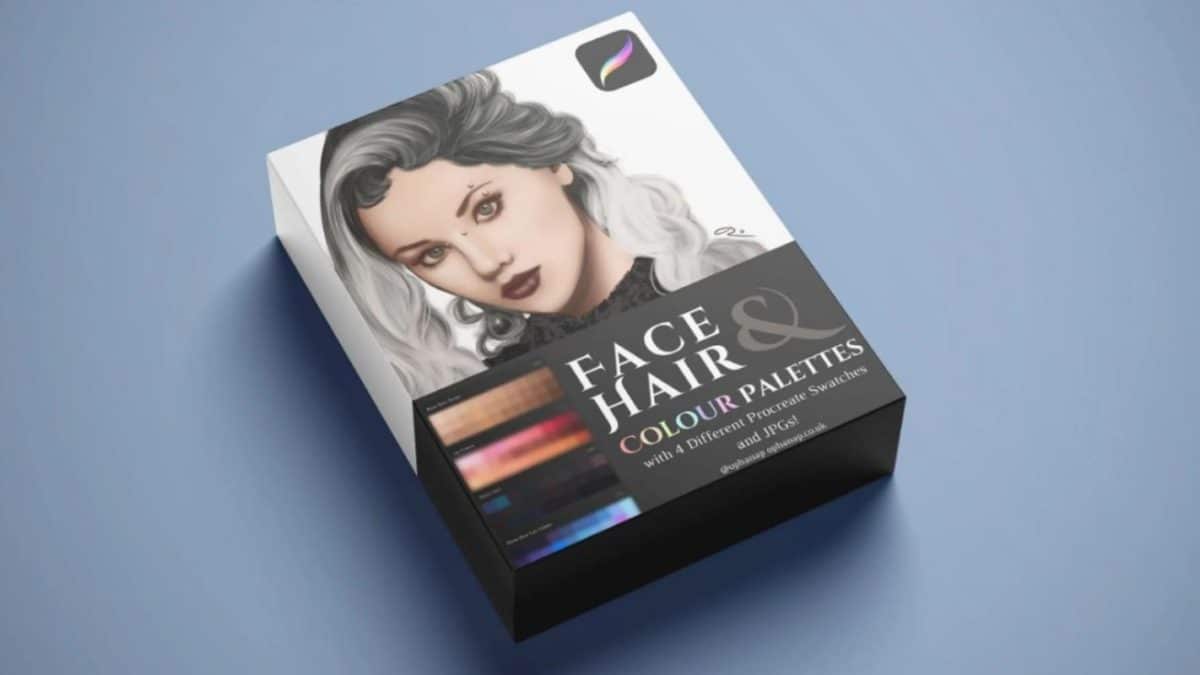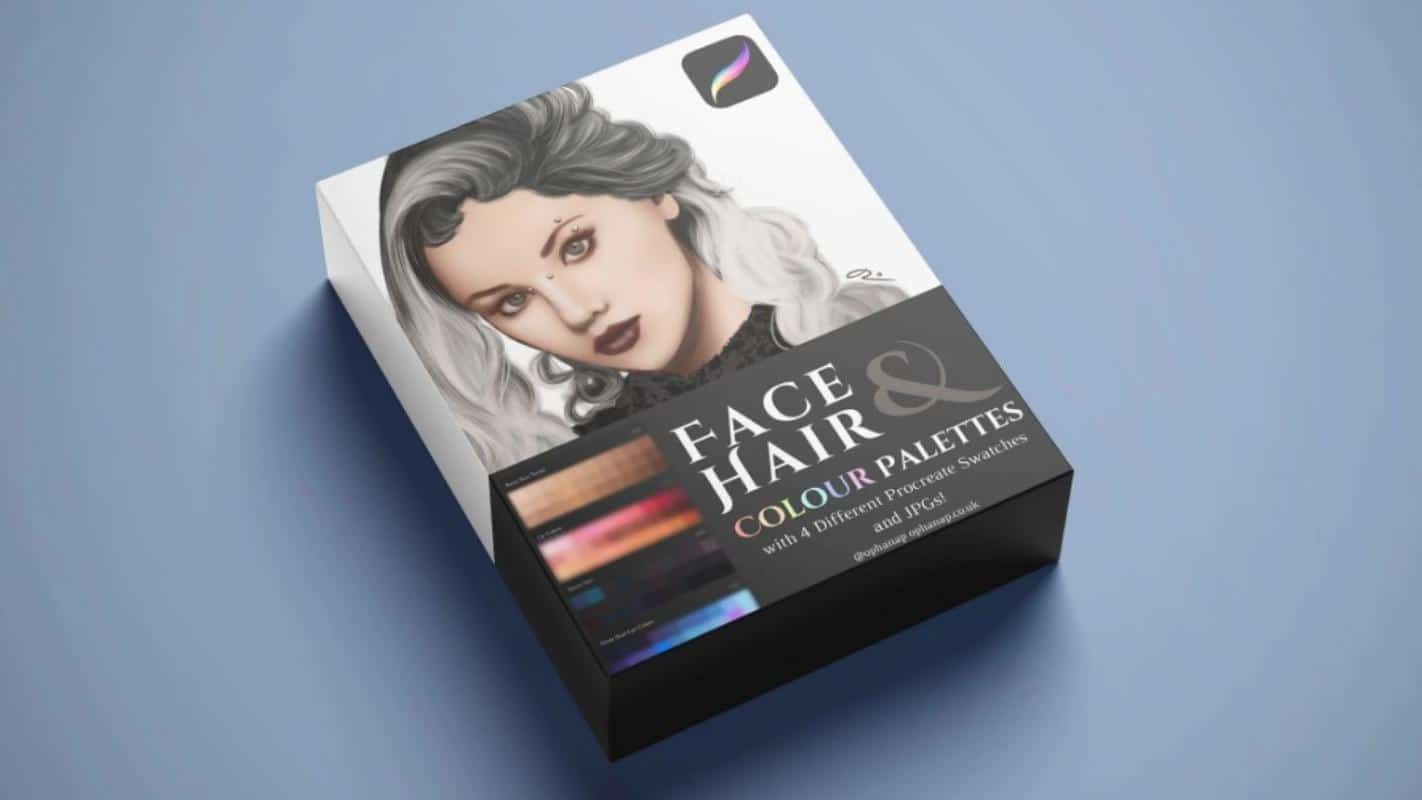 This kit includes everything you need to begin painting portraits, accelerate your workflow, and assist you in making design choices. You'll receive one color palette with base skin tones (30 colors total), one with black hair (30 colors), one with blue eyes (30 colors), and one with Lip Colours (30 colors).
Conclusion
There are numerous advantages to using a color palette in your art. First and foremost is that it frees up your time. Artists love to paint, especially when they get the opportunity to create masterpieces. But it's important to remember that there is a limit to the amount of time you can spend on a single piece.
If you want to get the most out of your artistic potential, you need to focus on a limited number of colors. This also has a positive effect on your concentration. When you have a limited color palette to work with, you can easily get lost in the moment while looking at your artwork. That's not going to help you create your masterpiece.
Another advantage to using a Procreate color palette in your art is that it gives the piece more depth and a more sophisticated look. Color palettes offer more possibilities for artistic expression. They can be used to create more artful and emotional pieces than you would otherwise be able to create. In short, color palettes are ideal for artworks that need a little more TLC.
So, that's it! Happy Procreate coloring with this huge list of Procreate color palettes! And thanks for reading,
Lilly-Mai
Share with your Friends: