25 Best Procreate Lettering Brushes (Free & Premium)
Using Procreate lettering brushes for designs is very popular these days. It's not just because it's beautiful; it can also be used to create a variety of design elements in your digital lettering with your Apple Pencil.
Procreate lettering brushes are one of the most effective tools for creating calligraphy in Procreate as an artist. When it comes to creating lettering in Procreate, the variety of brush styles available means countless possibilities.
Lettering brushes for Procreate come in various widths, shapes, and forms, giving you more control over the strokes you want to make. Unfortunately, this can be overwhelming, so we've compiled a list of the best and most beautiful Procreate brushes for lettering and calligraphy for your hand-writing.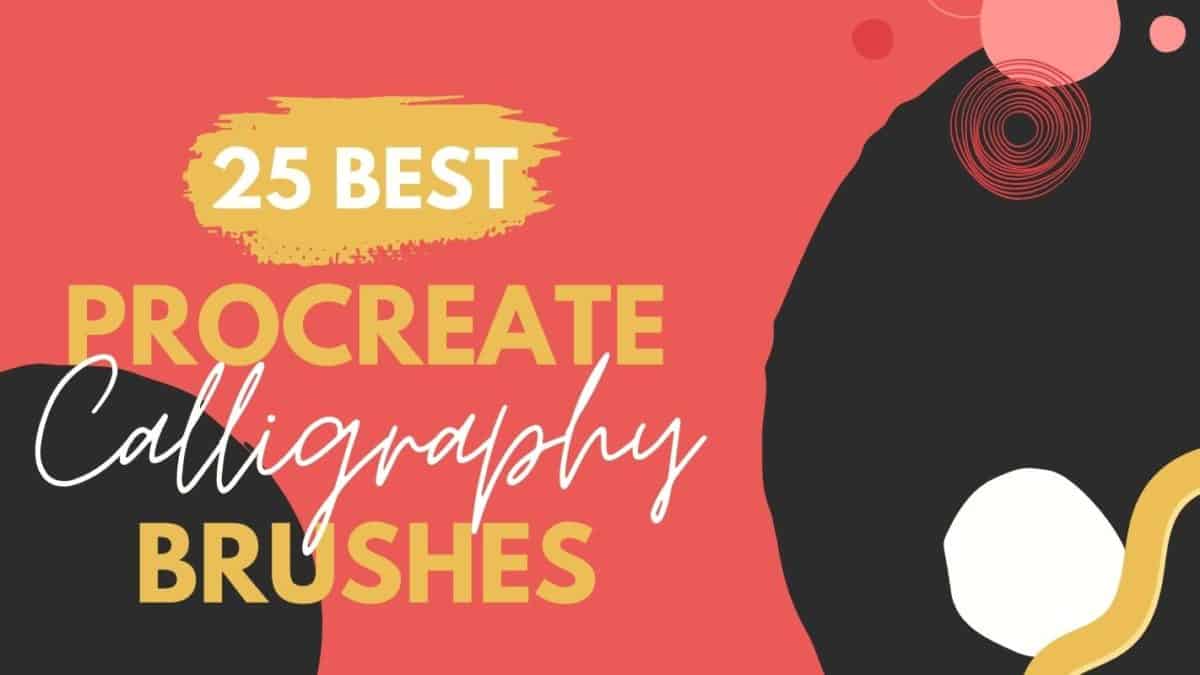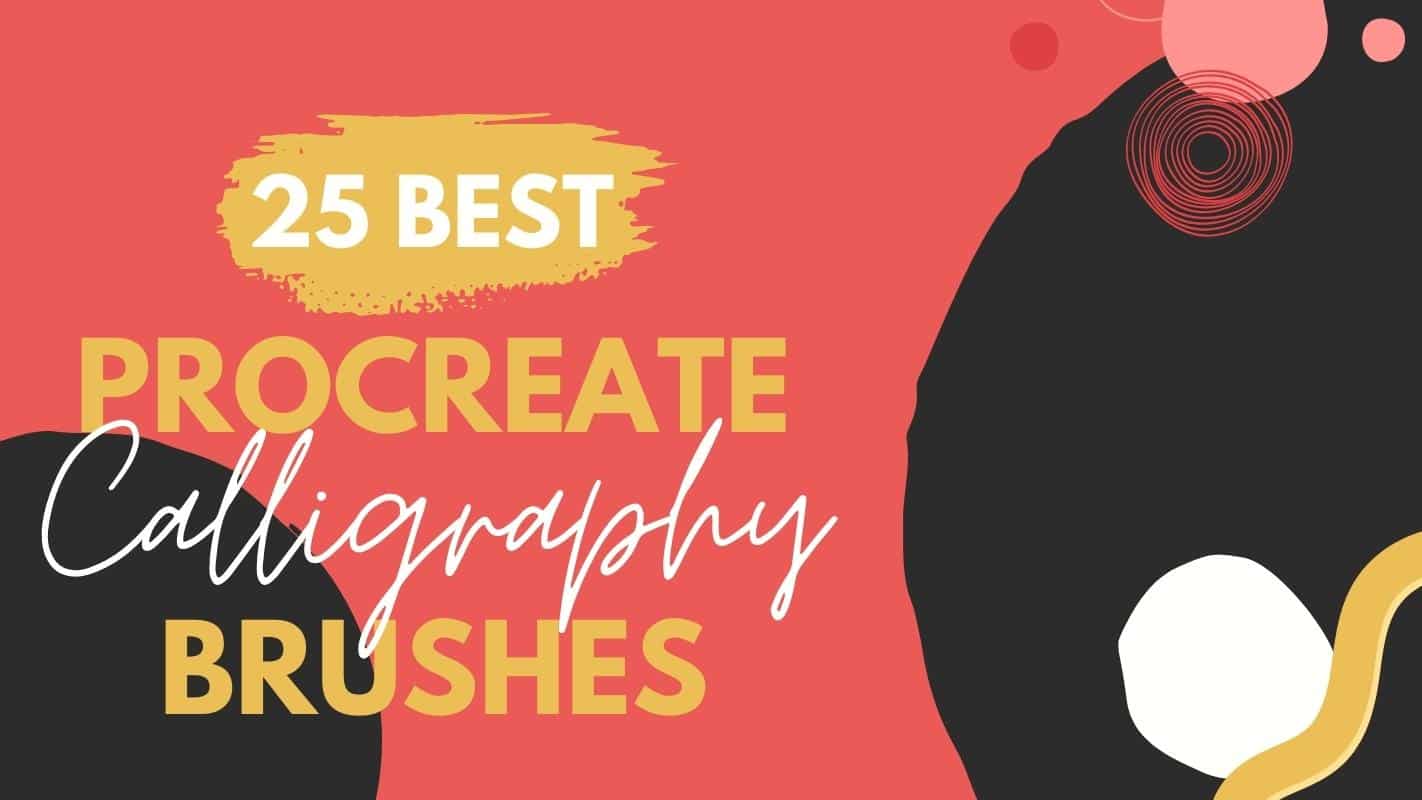 Whether you're looking for new styles or simply want to get more out of your existing lettering artwork, here are the best Procreate lettering brushes for calligraphy that you can try. Some calligraphy and lettering brushes are only premium downloads available for a small amount to buy. In contrast, others on the list are free lettering and calligraphy brushes for you to try.
The Top Procreate Lettering Brushes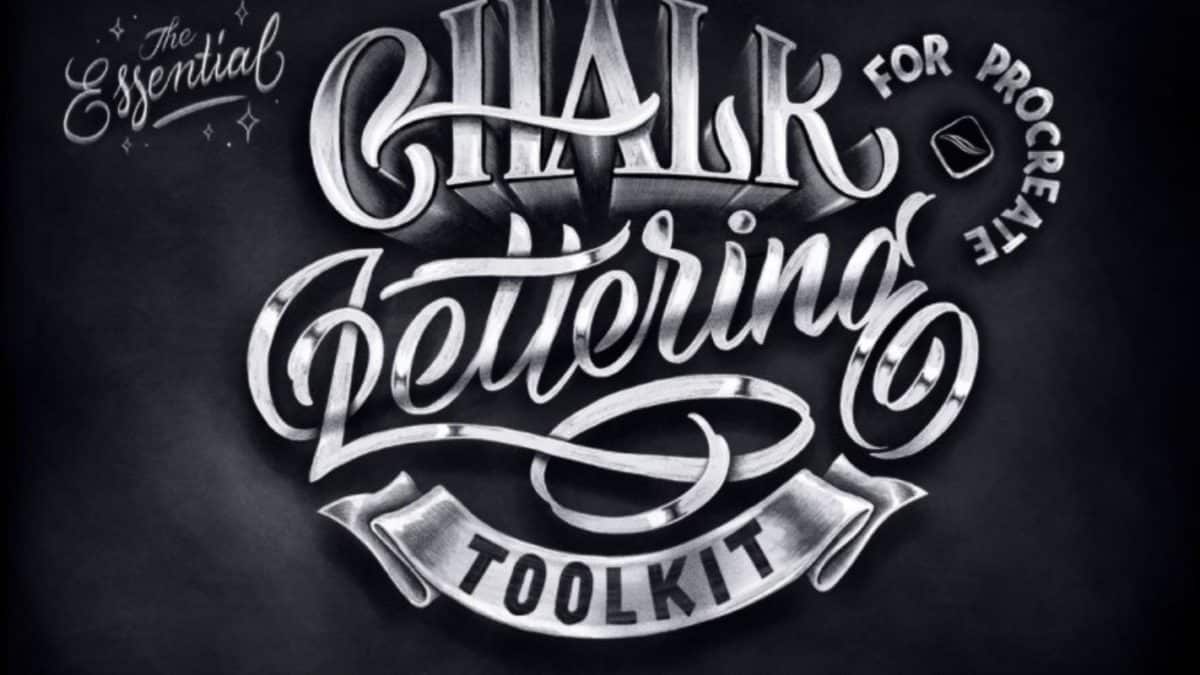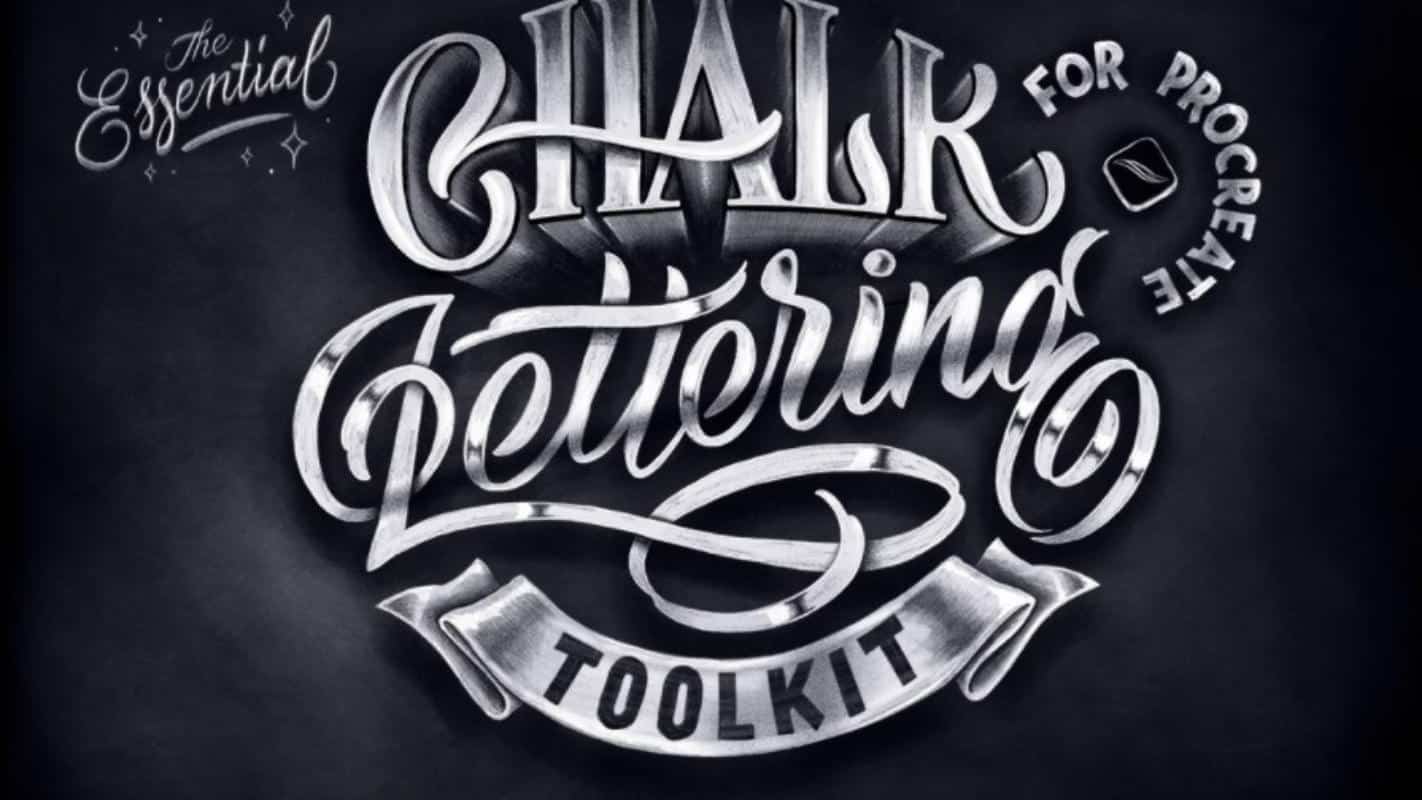 Chalk lettering is a Procreate calligraphy pen brush that creates the desired effect for your iPad lettering by using chalk. Because it has a more vintage appearance, this type of lettering is frequently used for designs and logos. The Chalk Lettering Toolkit perfectly imitates natural chalk on a blackboard.
This brush library includes everything you need to create a realistic and beautiful chalk art calligraphy style. It consists of a chalk brush set, six textures for use in your designs, three alphabets for reference, and one PDF document with all the instructions for installing the lettering brushes on your iPad.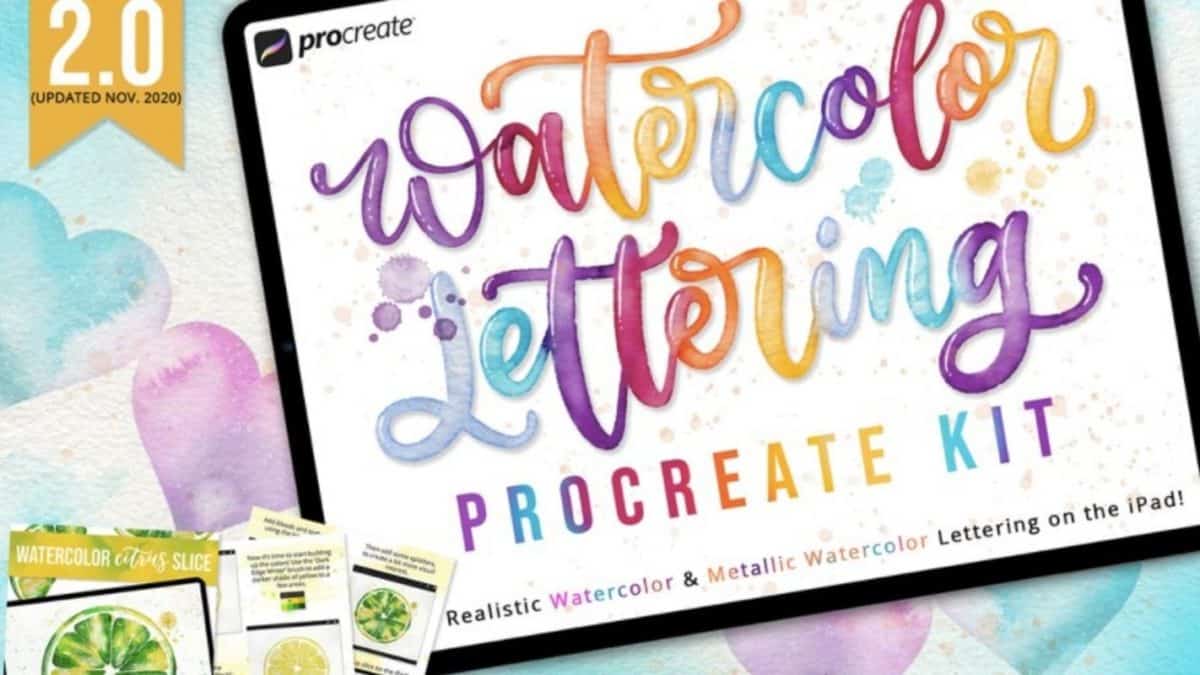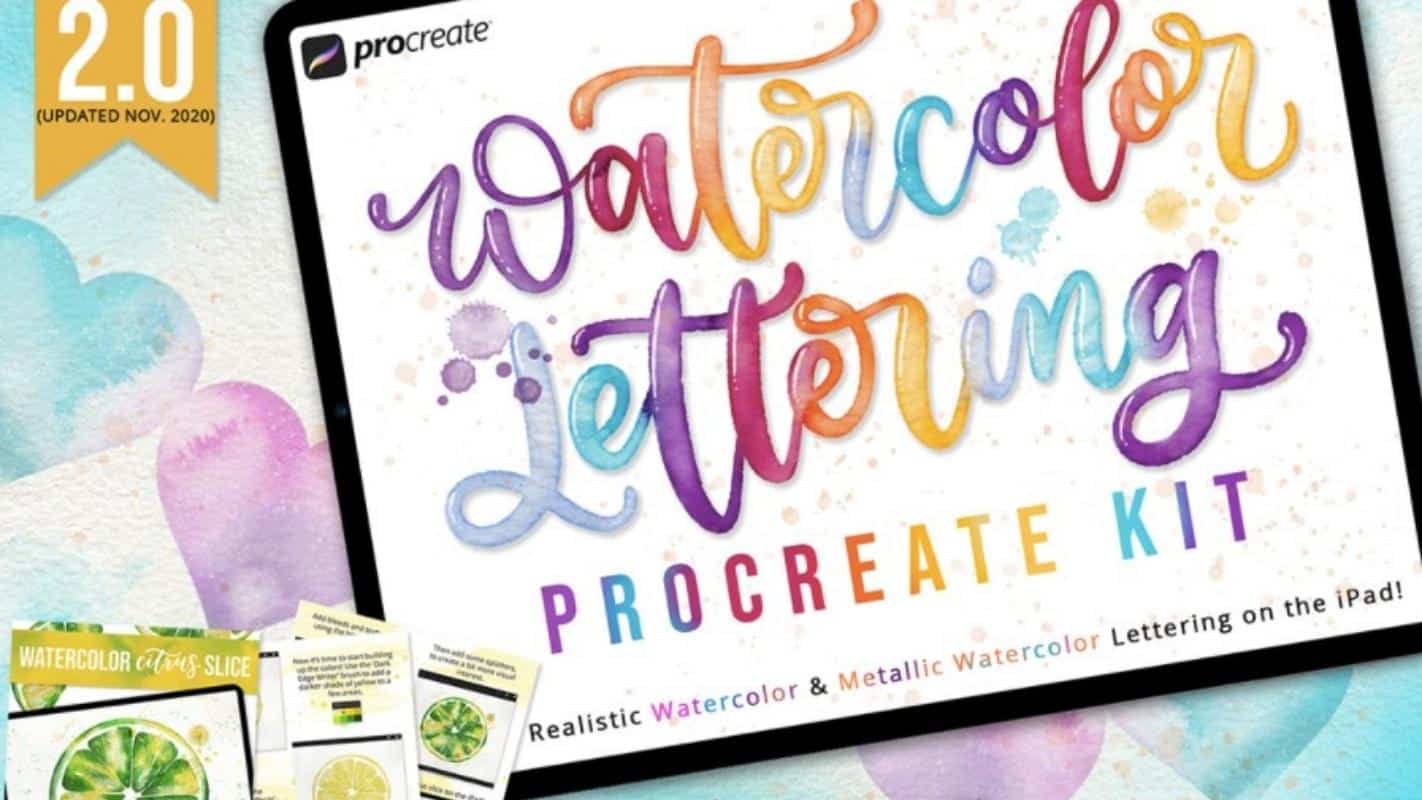 The Watercolor Lettering brush is a Procreate lettering brush pack that allows you to create beautiful and delicate lettering that appears to have been painted with watercolors. Its transparent and blended effects appear to be real painted watercolor.
This set includes four lettering brushes and four watercolor brushes, two pre-made .procreate files, eight mockup images, and other goodies. I love this set when it comes to watercolor lettering! It gives me a wide variety of calligraphy styles to try.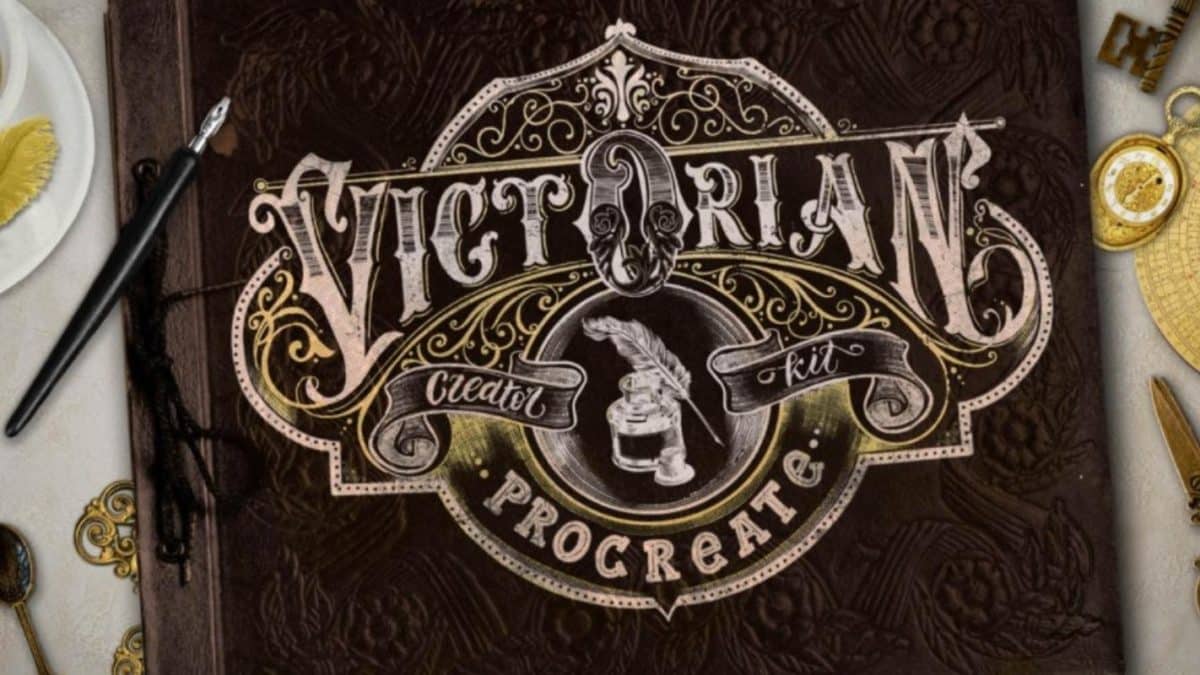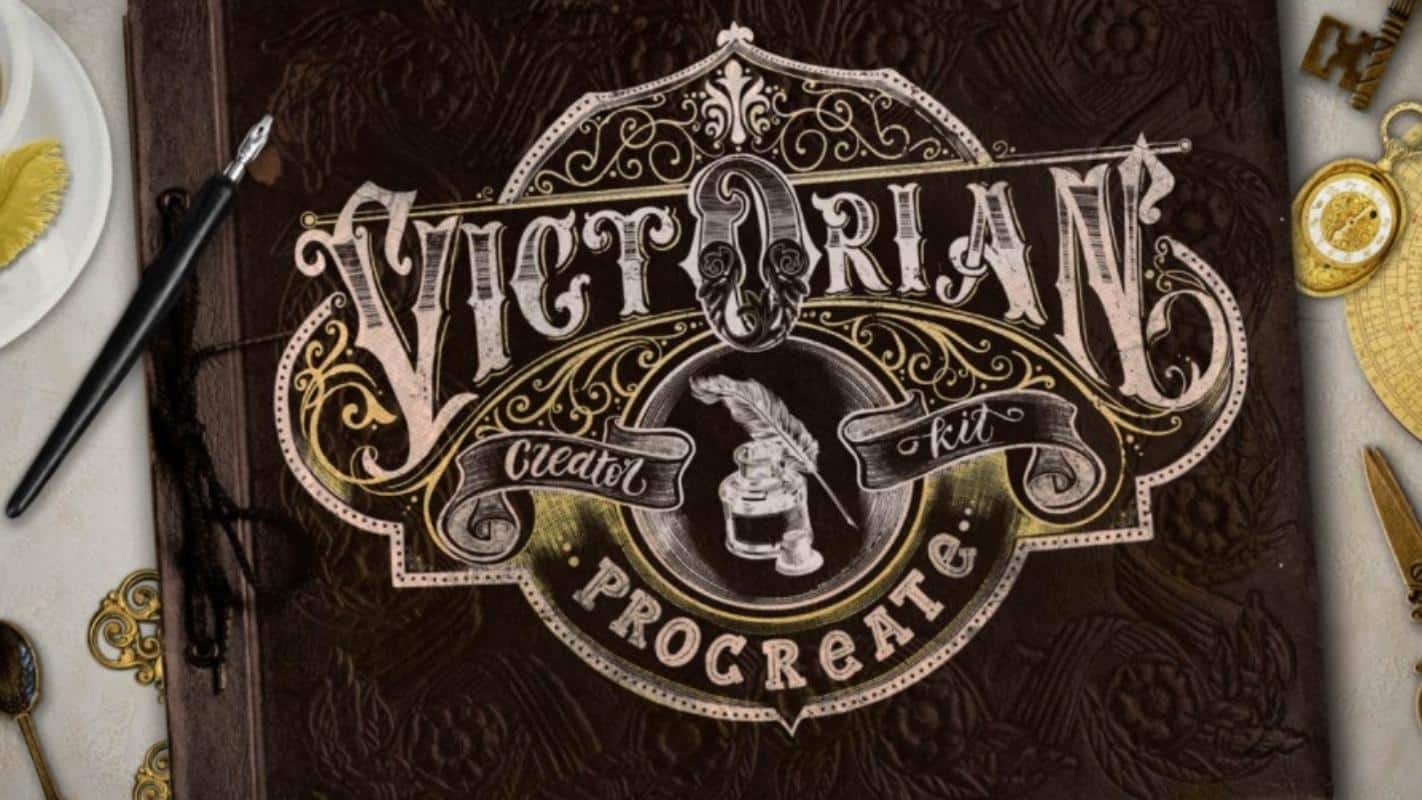 The Victorian Lettering Creator Kit is an elegant Procreate lettering brush set inspired by the 19th-century neoclassical period. This brush set is ideal for creating vintage-inspired designs with a modern twist. The design elements are ornate, whimsical, and visually appealing.
The kit includes 39 brushes, including 3 calligraphy brushes and 42 extra elements to make your work look more professional. In minutes, you can create authentic Victorian lettering compositions using this brush library.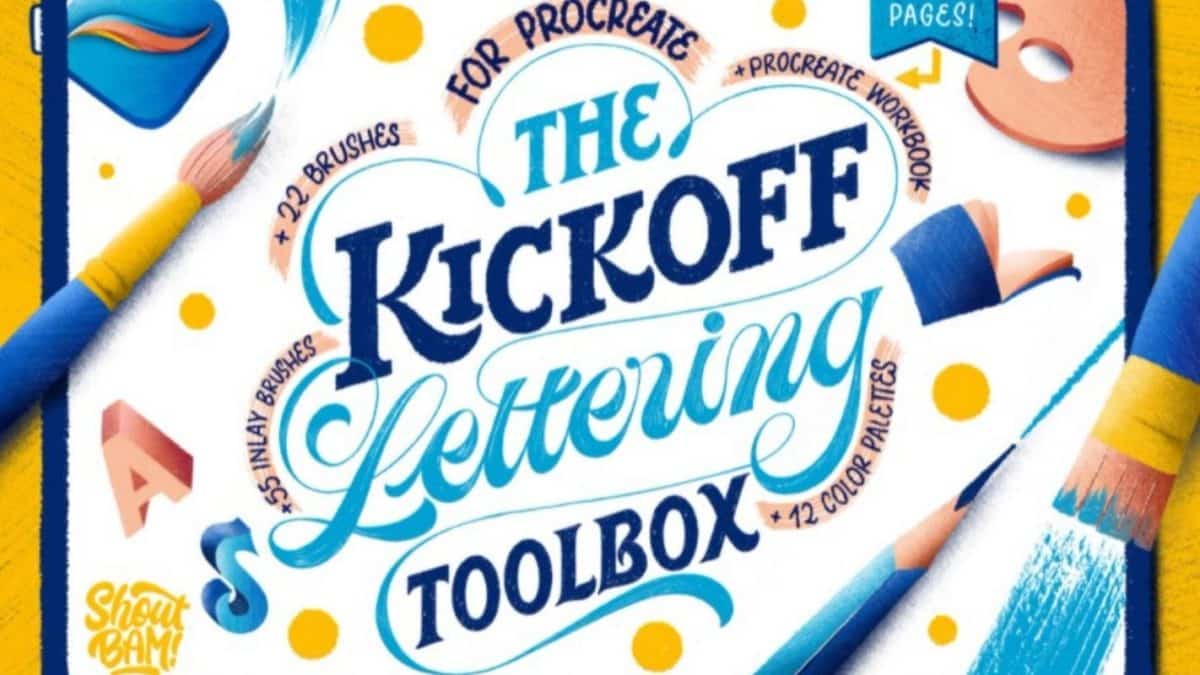 The Kickoff Lettering Toolbox includes every brush you'll need to get started creating professional-looking lettering and logos. The kit contains 22 high-quality Procreate lettering brushes, and also included is a Procreate Lettering Workbook with over 130 pages. This is a whole toolbox for your lettering artwork in one place.
There are also 12 Procreate color palettes, and an installation guide included. So whether you're new to Procreate lettering or want to experiment with different calligraphy brush styles, this kit is a great place to start your iPad calligraphy adventure.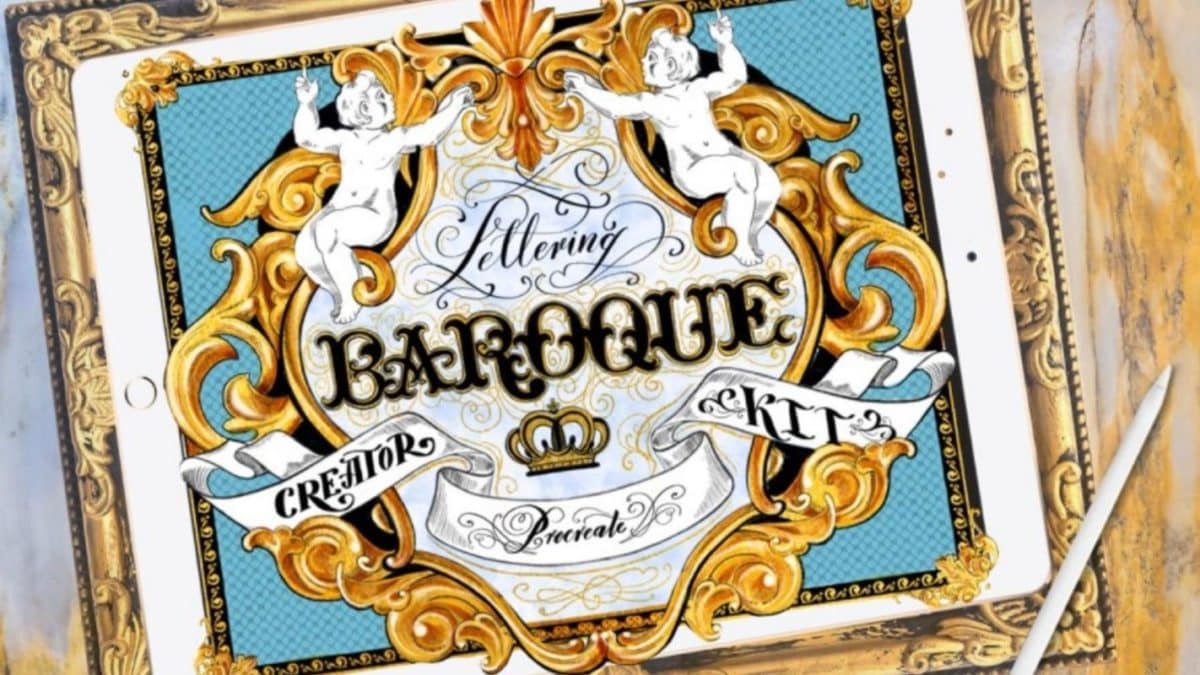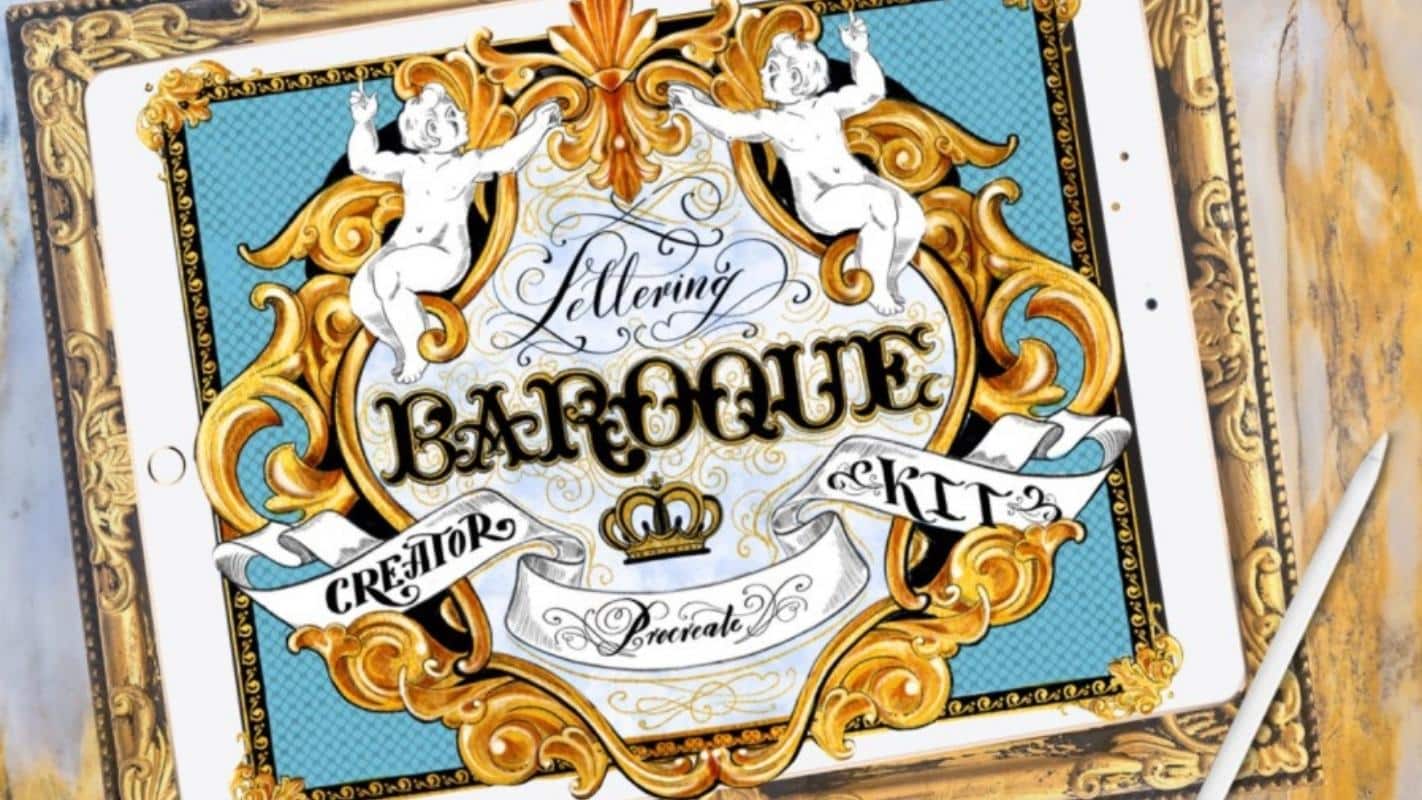 The Baroque Lettering Creator Kit includes a variety of lettering styles, making it the best choice for creating baroque-inspired lettering designs. To make your letters look more dramatic and classy, combine different elements in your digital lettering.
This set includes 26 hand-drawn elements to assist you in creating your own unique Procreate artworks. This kit can also be used to make furniture, household items, wallpaper, and other artistic elements.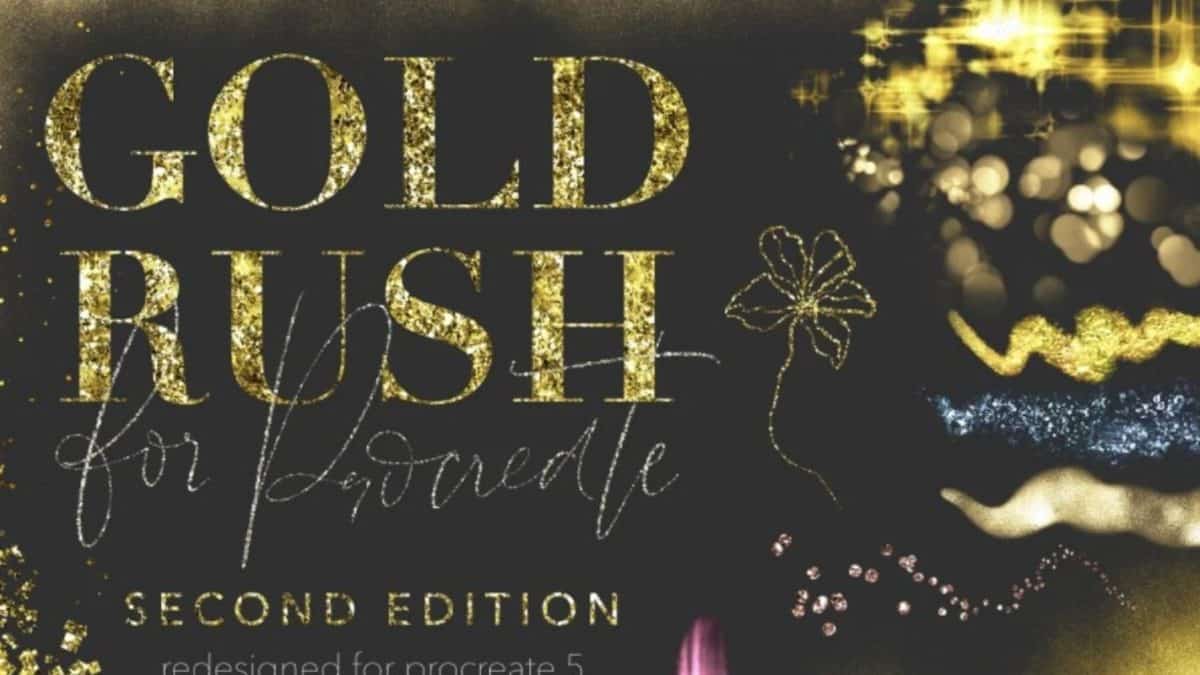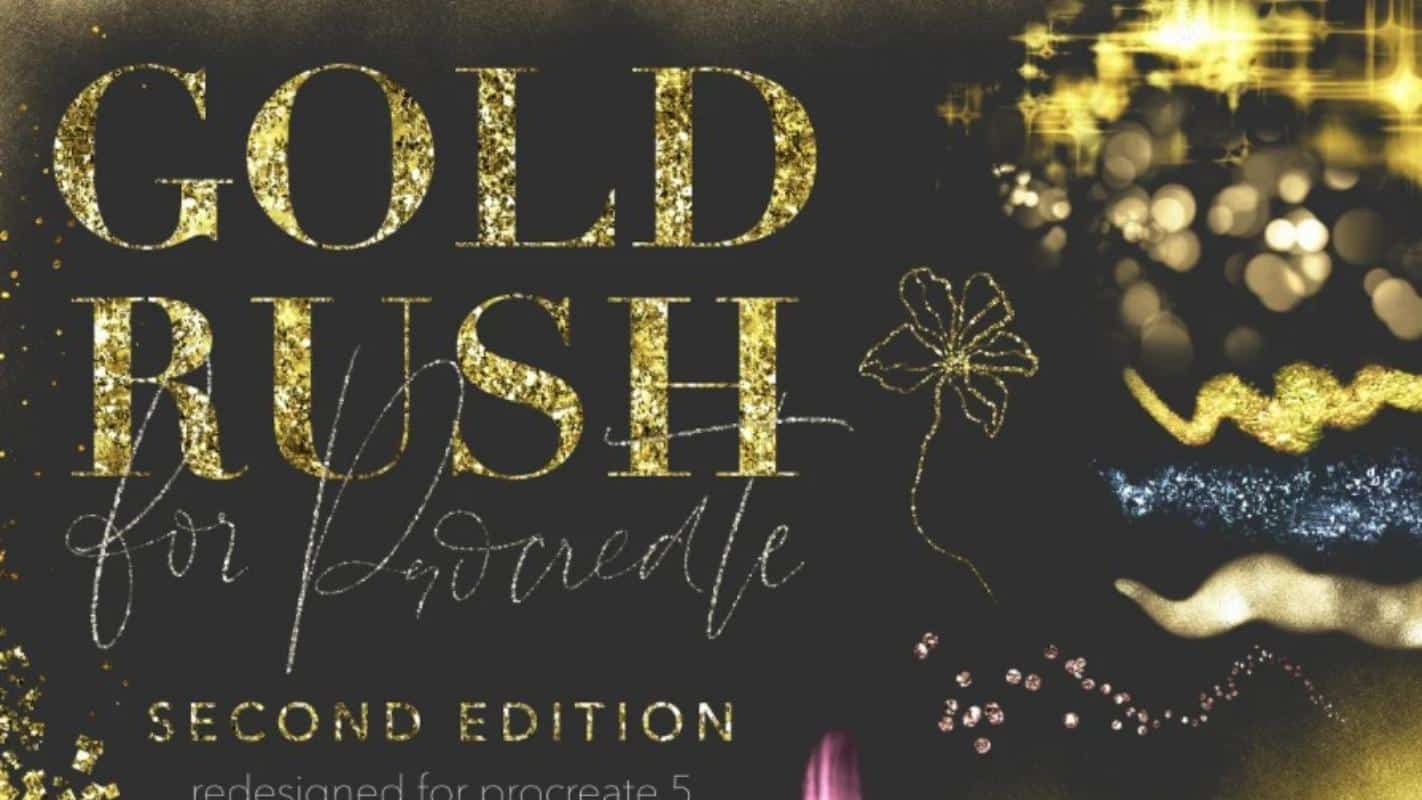 The Gold Rush Collection is ideal for creating lettering and logos with a gold theme. All of the new brushes were created with a thorough understanding of how the Apple Pencil can be used to create anything from thin and precise lines to bold and straight-up lines.
Thousands of artists and designers have loved this kit over the years, and this second edition has even more features. 6 Procreate lettering brushes are available, including foil, hot foil, scattered lettering, and more. There are also 228 metallic overlays in .jpg format to use in your designs.
Additionally, some bonus tips in the written form and on the video are also a part of this collection. This helps you get some more ideas on using this beautifully designed Procreate lettering set to create fantastic calligraphy styles.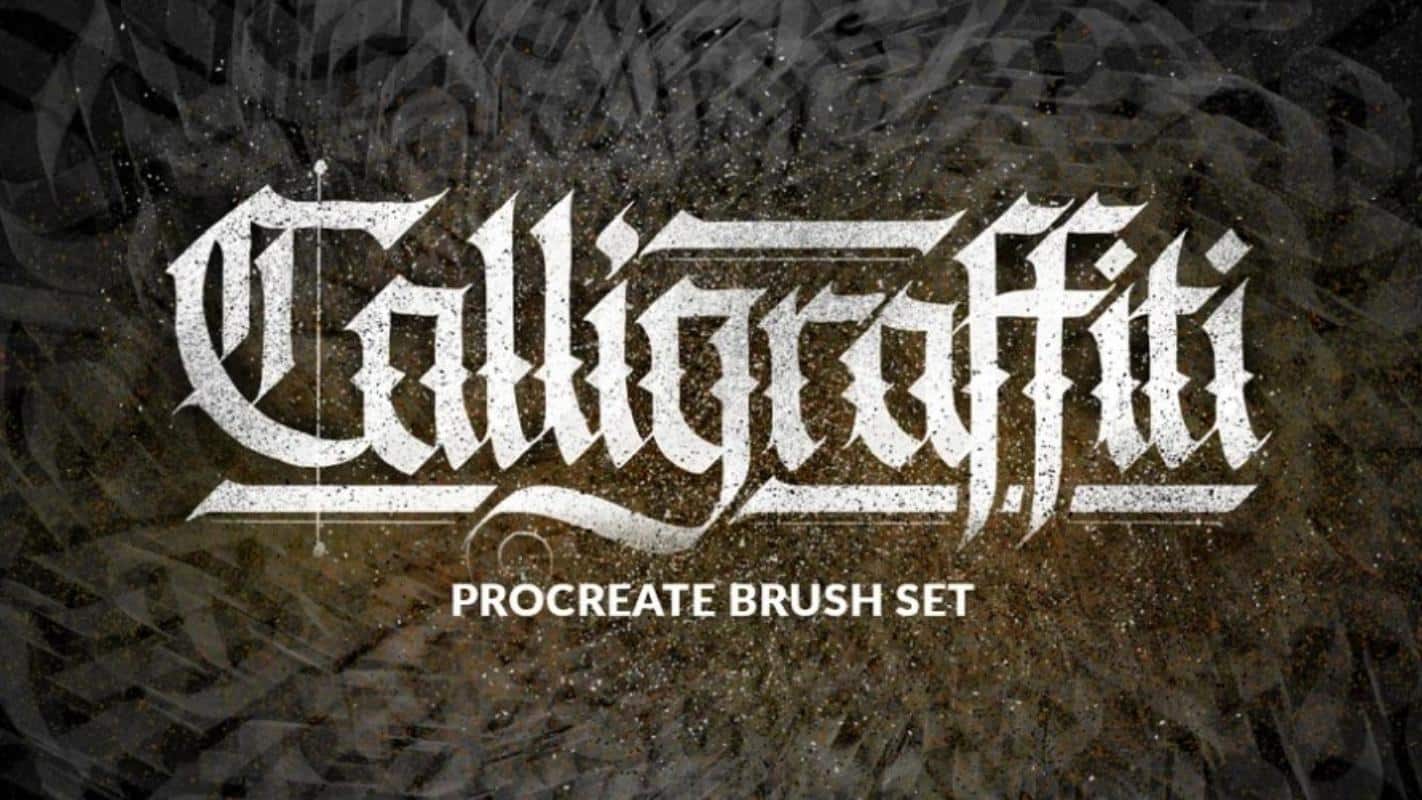 This Calligraffiti lettering set includes 27 Procreate calligraphic brushes to provide you with the tools you need to create unique, authentic graffiti letterings. These calligraphy brushes will help you achieve that special look that everyone is raving about, from tight and controlled letters to wild and dynamic drips.
This Procreate calligraphy lettering set includes six different chiseled brushes with varying angles. Each Calligraphy pen brush comes in textured, solid, and pressurized variations. There are also six different grunge brushes to add muddled textures to your designs.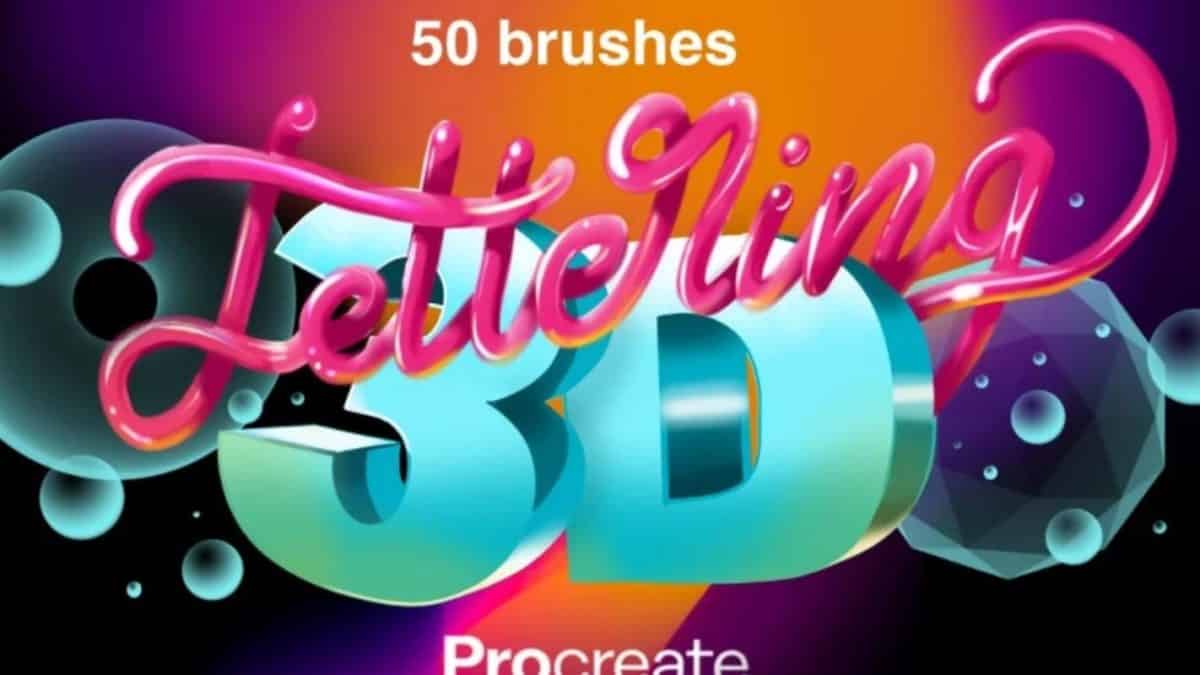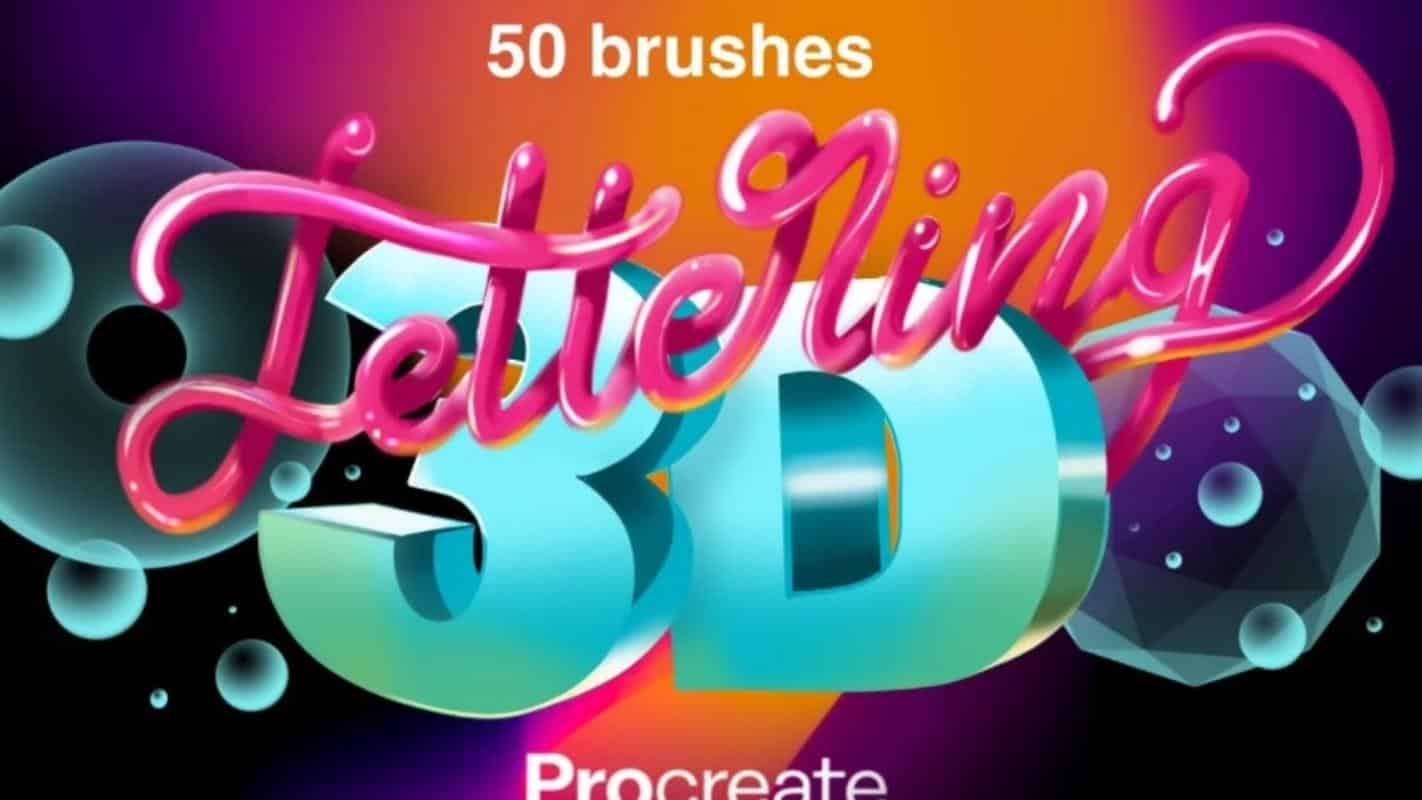 The Procreate 3D lettering bundle includes everything you need to start with 3D Procreate lettering designs. In addition, this collection contains 50 unique brushes that will help you create realistic 3D effects and perfect lettering compositions by combining styles, elements, and textures.
Eleven 3D lettering brushes in various styles and shapes are included for your digital lettering. These are in addition to 7 other 3D bubble brushes, 3 metallic brushes, 7 textured brushes, and more. Mix and match these brushes to create a plethora of Procreate lettering styles for your calligraphy artwork. Play with the pressure of your Apple Pencil with the brushstroke, grain, and colors, and make some fantastic calligraphy on your iPad.
I love this set for all my 3D lettering artwork.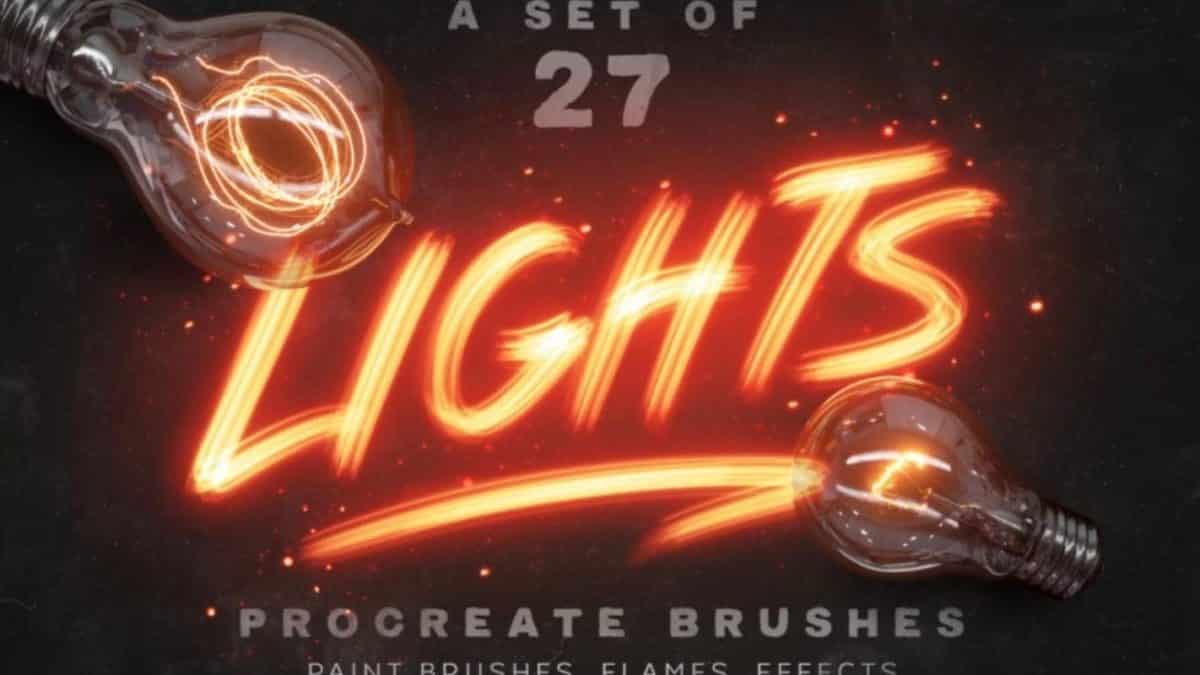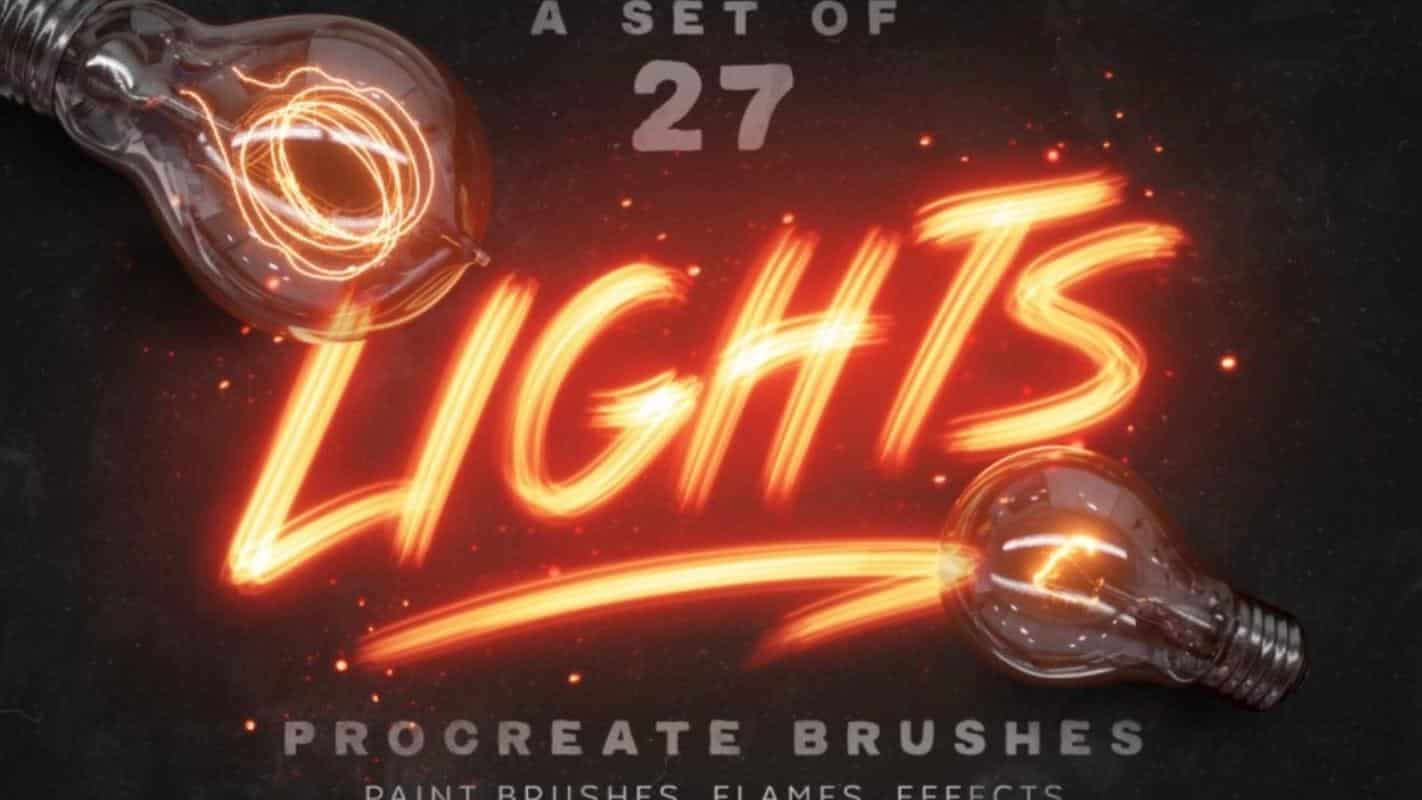 This Lights Procreate bundle includes 27 high-quality brushes that are ready to use. In addition, light pens for lettering and painting, flames, and effects are included in this Procreate calligraphy lettering brush library.
With these calligraphy brushes, you can create beautiful lettering and special effects. Each brush was designed from the ground up to give you complete control over the final results. With this hand lettering brush set, you can create neon signs, glowing letters, and special effects such as flames or blooms.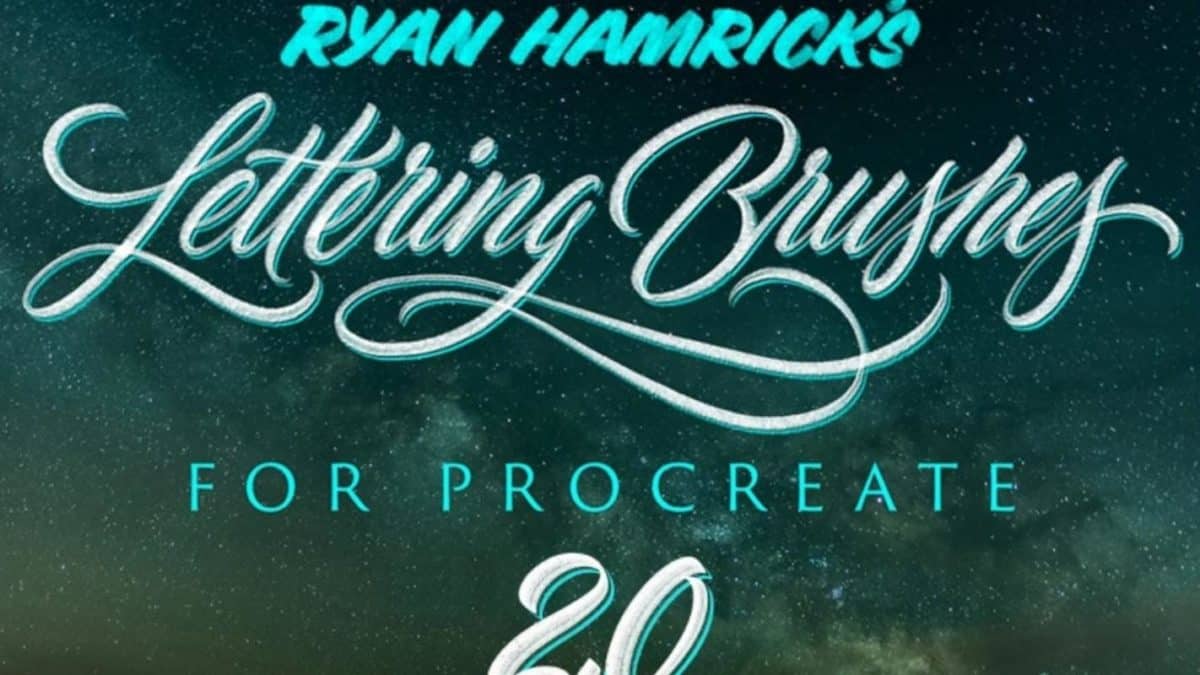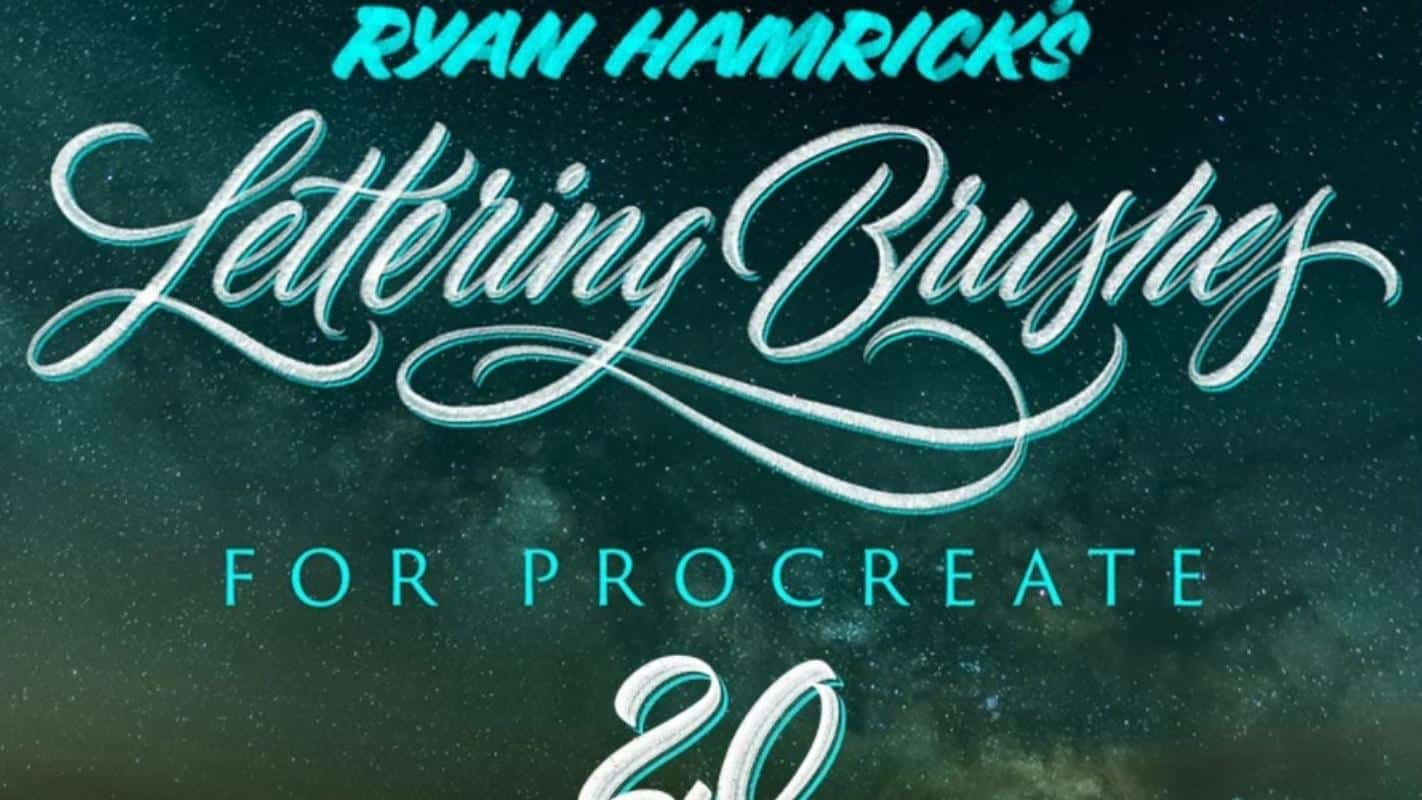 This Procreate Lettering brush set includes 14 unique calligraphy brushes. These brushes have been specifically designed to produce genuinely realistic brush strokes, simulating a variety of popular professional lettering tools.
The letters have a soft and warm feel, giving them a nice handwriting effect. You can also use these brushes in conjunction with any other lettering style to experiment with different lettering styles and create something entirely unique.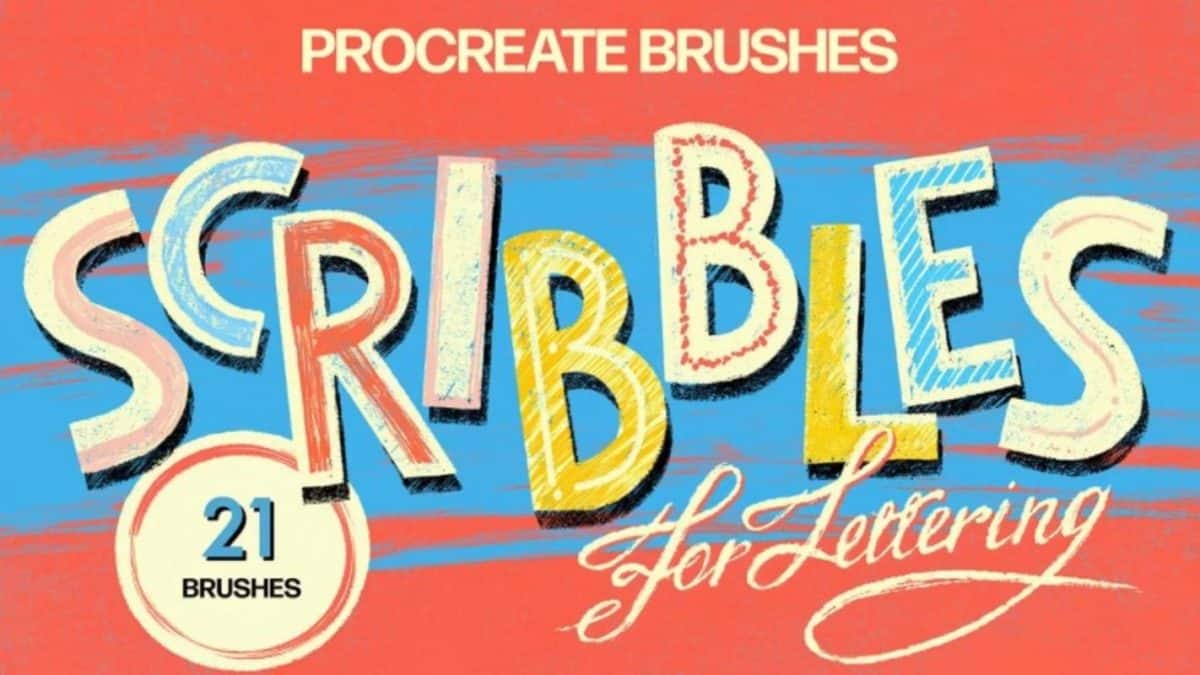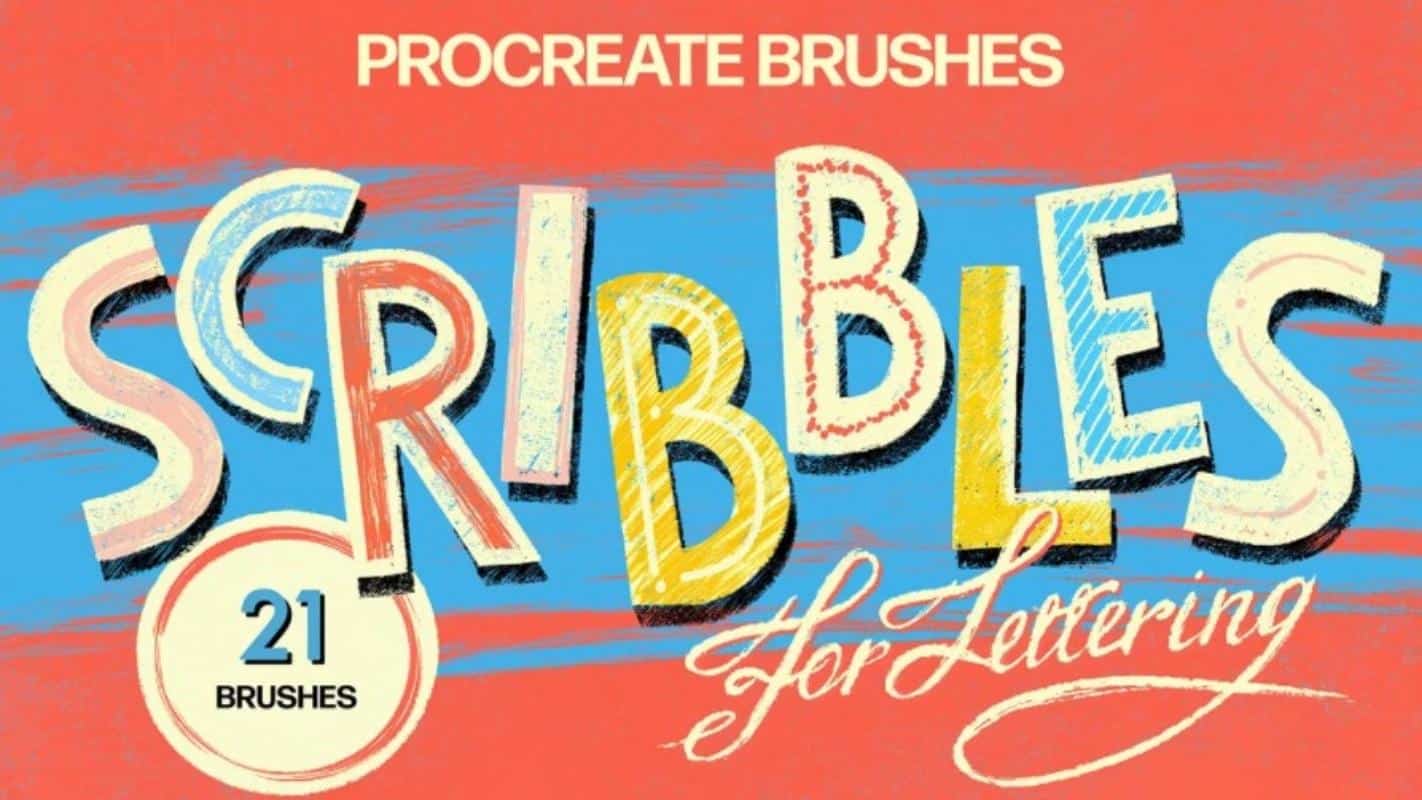 Scribbles Procreate, a set of doodles-inspired brushes for your Procreate lettering, transports you back to your childhood. These calligraphy brushes are the holy grail of all messy and cute things!
This set contains 21 comic-style Procreate lettering brushes to help you with your hand-lettering designs. The creator of this beautiful calligraphy brush library used colored pencil strokes, crayon doodles, paint smudges, and other materials to create these brushes.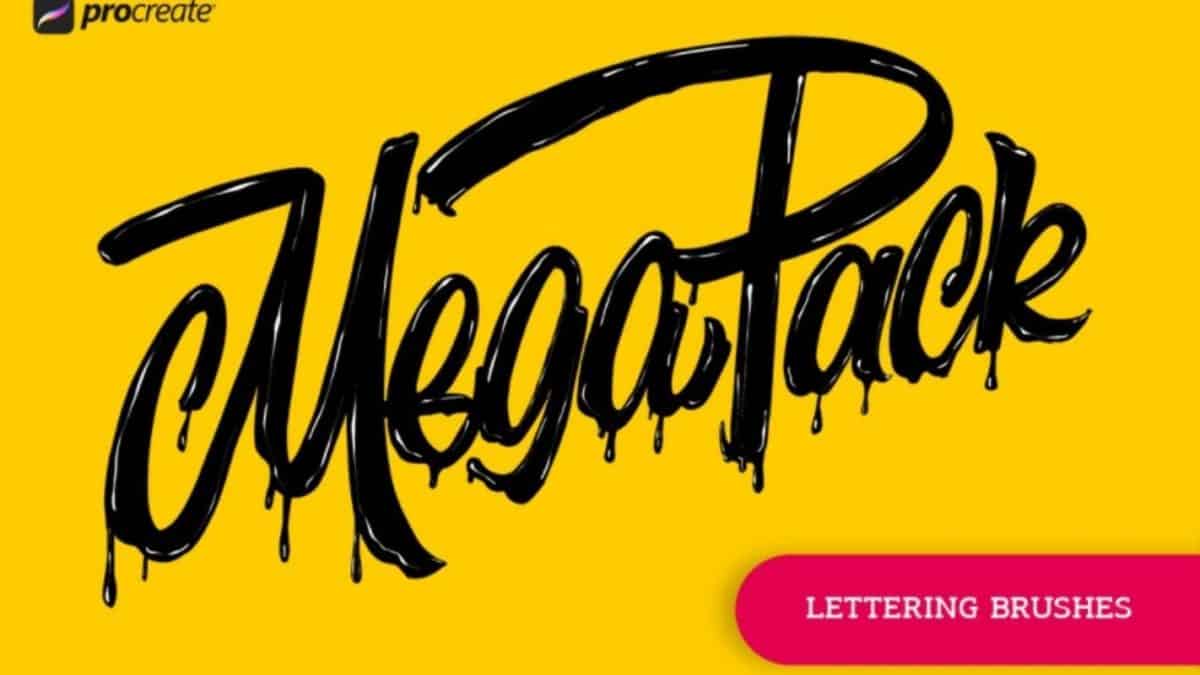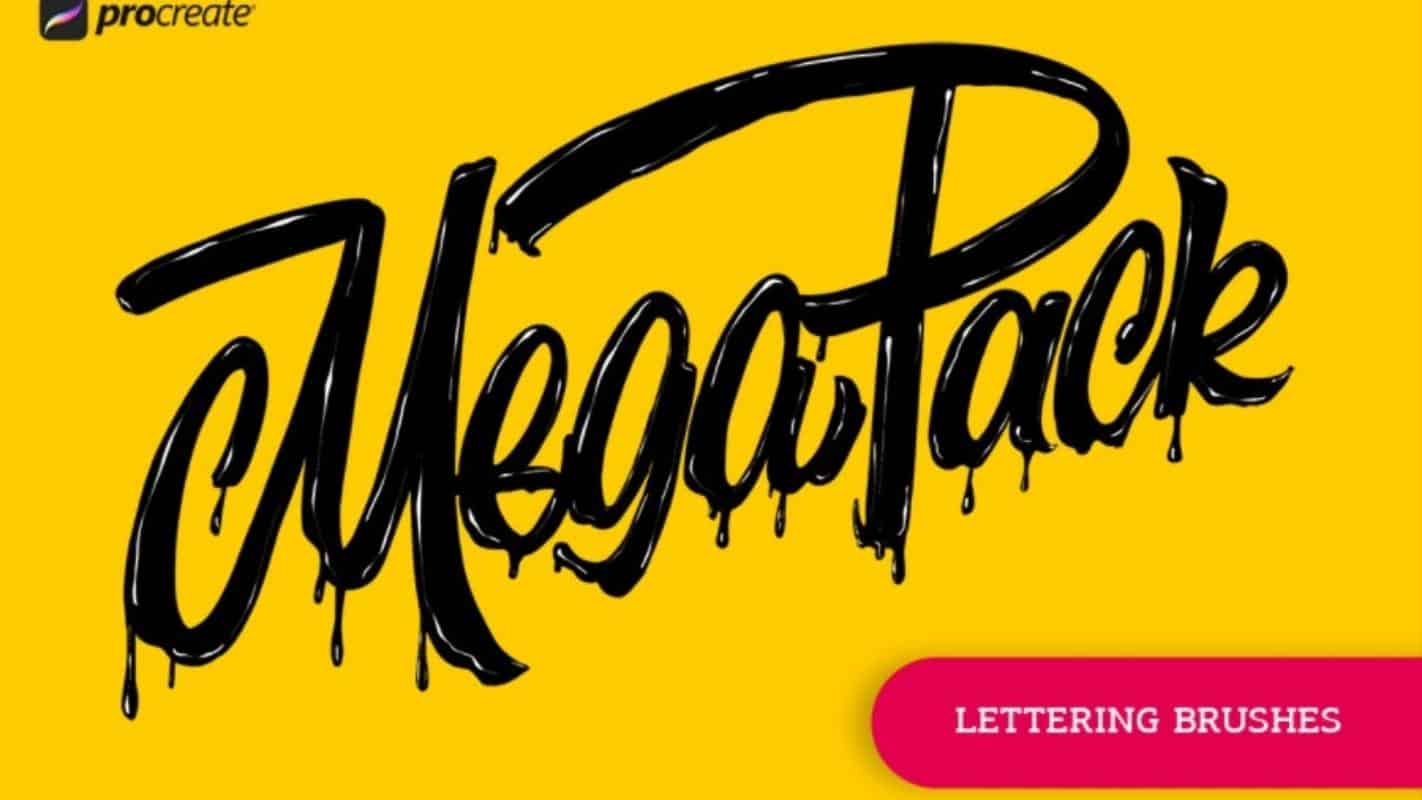 If you only want to try one lettering pack, look no further. This best Procreate brush lettering mega pack contains everything you need to improve your iPad lettering design skills. With this set, you can do a lot, and we use it a lot in our designs.
This set includes six full-featured lettering brushes. Blackletter brushes, sign painting brushes, zodiac brushes, pentel brushes, and new expressive calligraphy brushes are available. This set grants no wishes.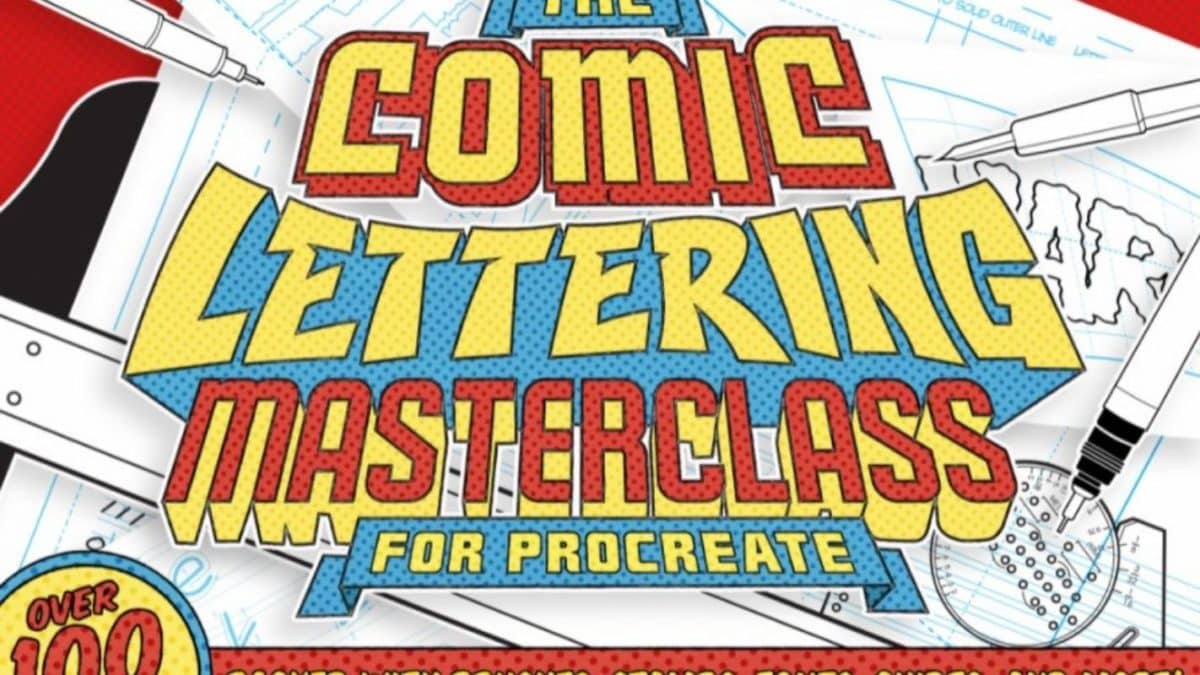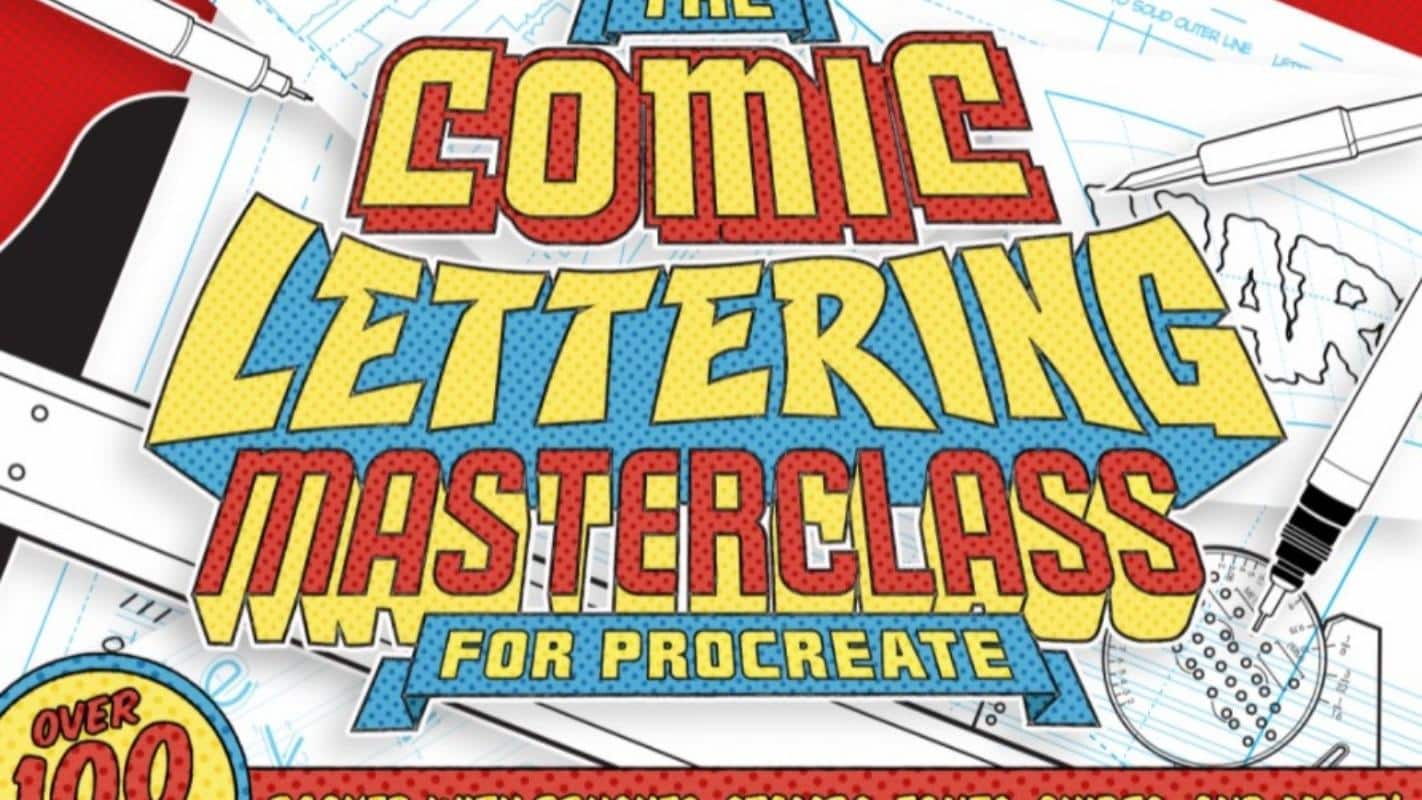 This Procreate lettering brush set is more than just a collection of calligraphy brushes. It's an entire masterclass on comic lettering. This is the most detailed masterclass on Comic lettering I've ever found, with a Procreate lettering course guide of over 100 pages. This comic lettering masterclass helped me create more beautiful calligraphy artwork. I really love this whole workshop.
There are 12 lettering brushes included for you to try and experiment with your digital lettering. As well as over 300 additional elements, stamps, and other features to choose from. Try your hand at comic lettering if you want to try something new!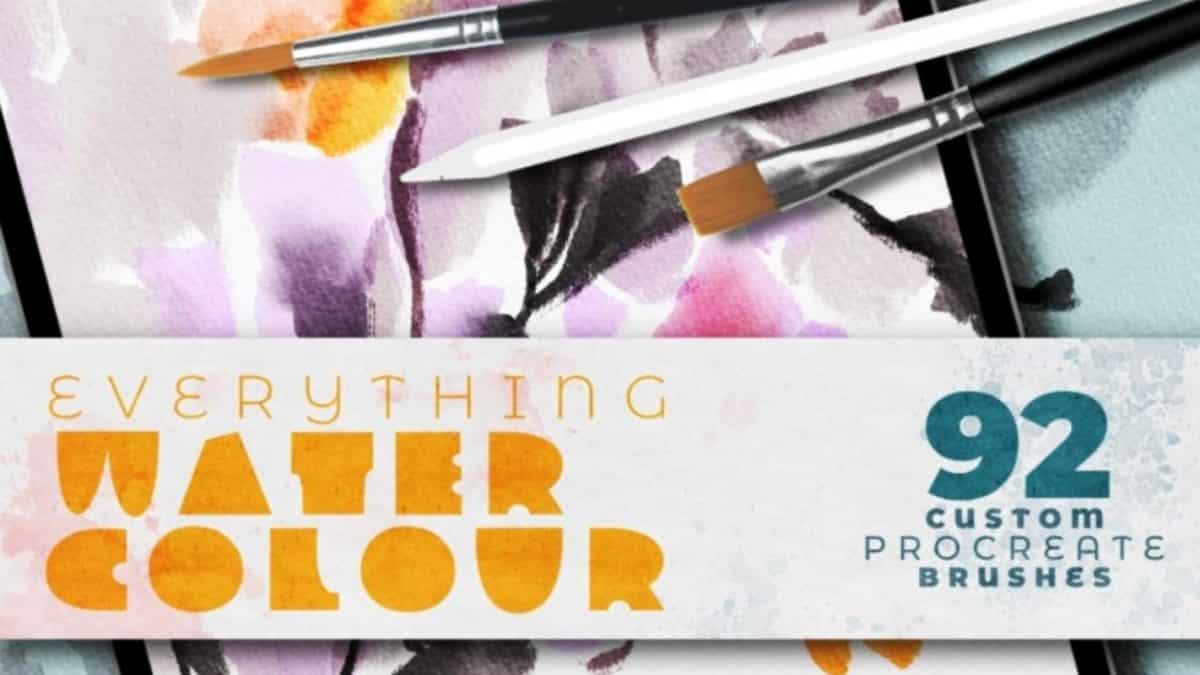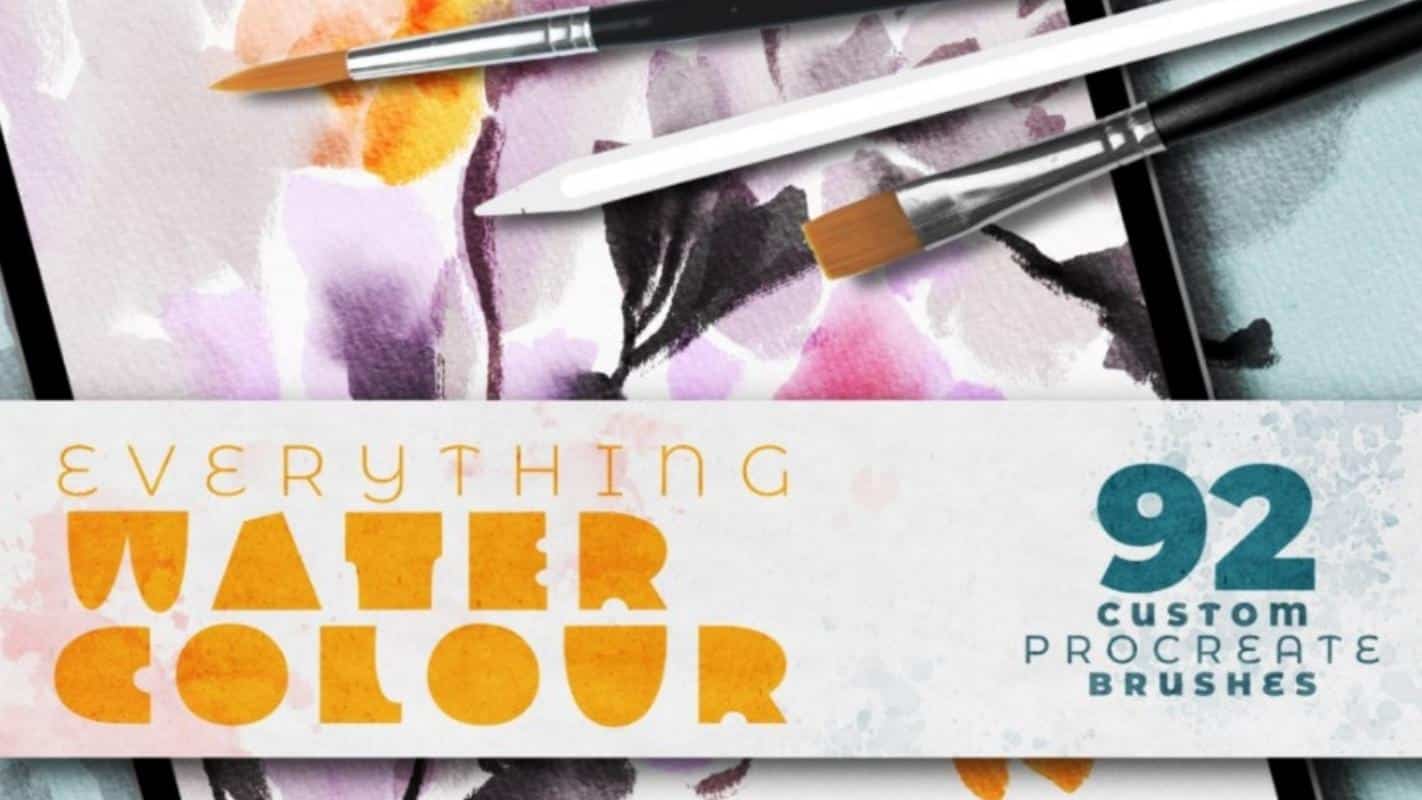 This is yet another watercolor lettering brush set for you to experiment with. This set leaves nothing to chance when it comes to watercolor Procreate lettering. This set allows you to easily and quickly recreate the look and feel of natural paint on paper.
Everything Watercolour includes two calligraphy brushes explicitly created for Procreate lettering. In addition, 8 effect brushes to enhance the realism of your lettering are included. Alternatively, you can add drops and splatters, paper texture, and other effects to your designs.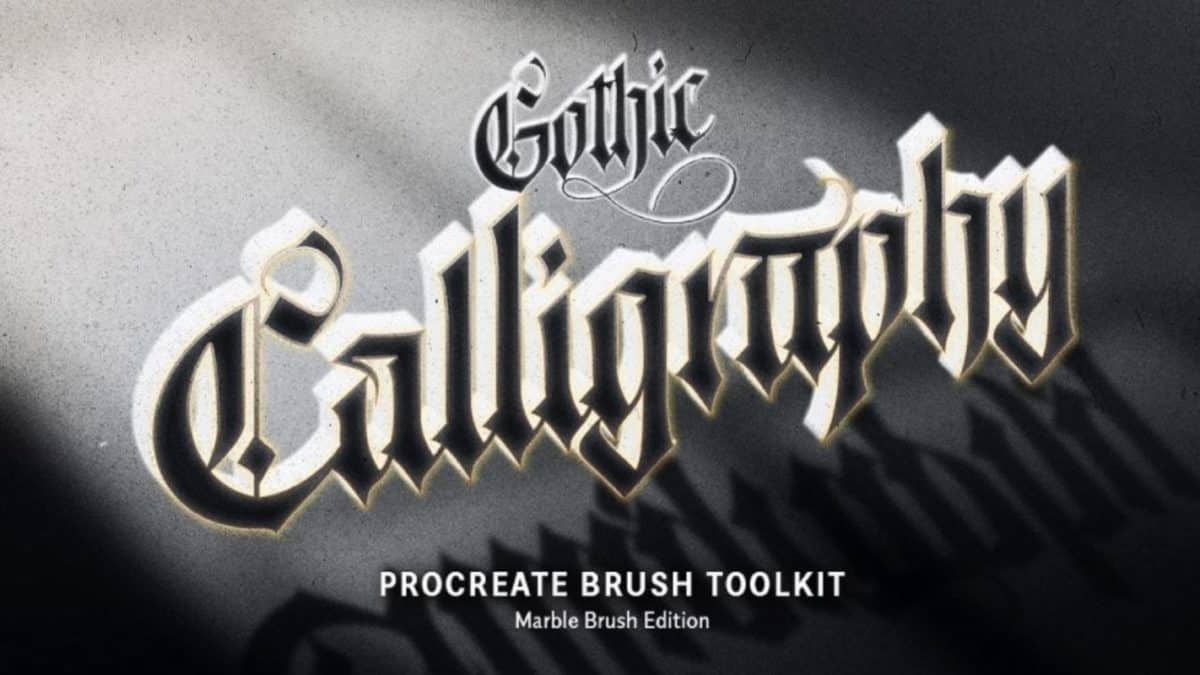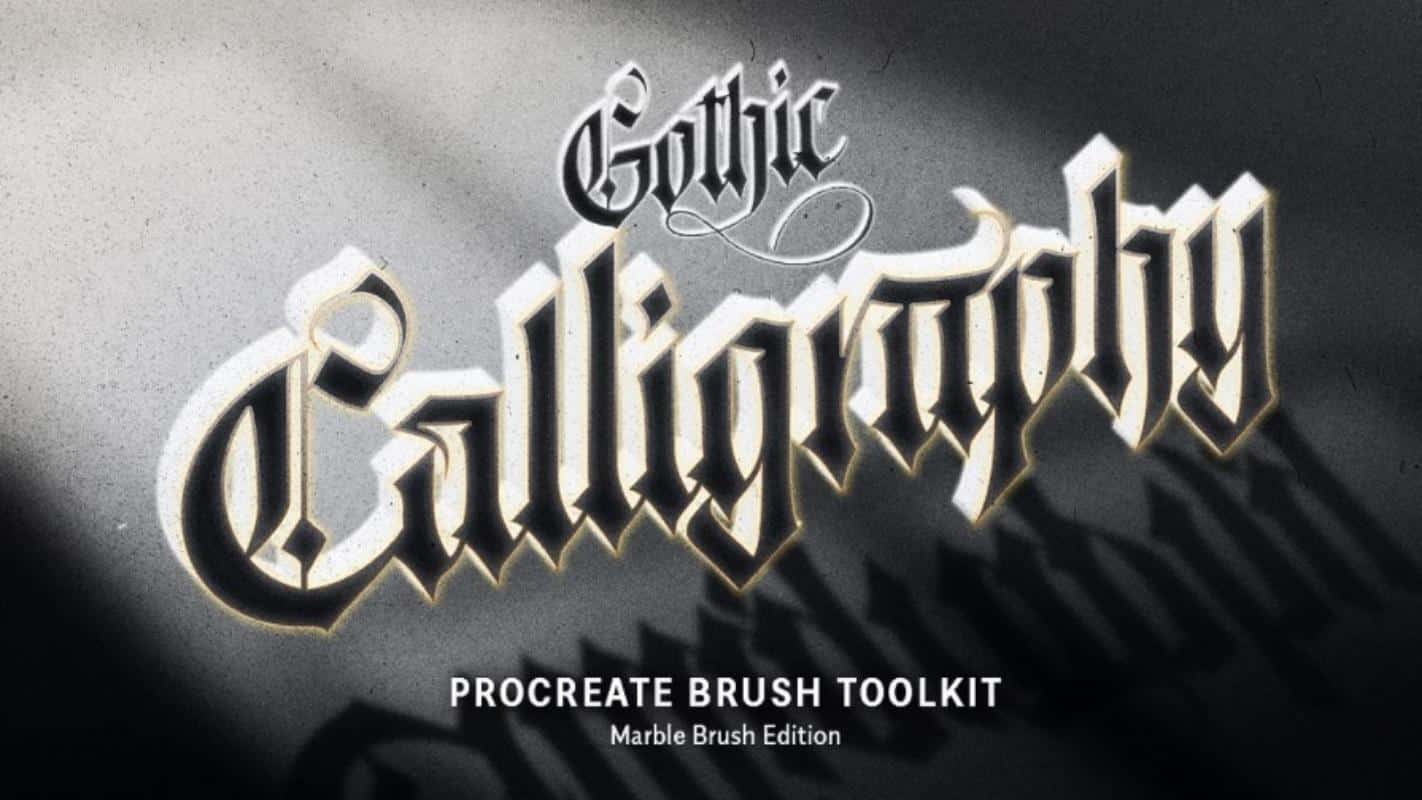 The Ultimate Gothic Calligraphy Brush Toolkit contains everything a calligrapher needs to create gothic lettering. This brush pack, designed for use on the iPad Pro and Apple's Pencil, allows you to experiment with different methods of creating stunning blackletter designs.
This Gothic Procreate lettering brush set includes four different-degree angle versions of each brush, allowing you to add more dynamic to your lettering. Marble textures, three grid brushes, five ink spray brushes, and other tools are also included.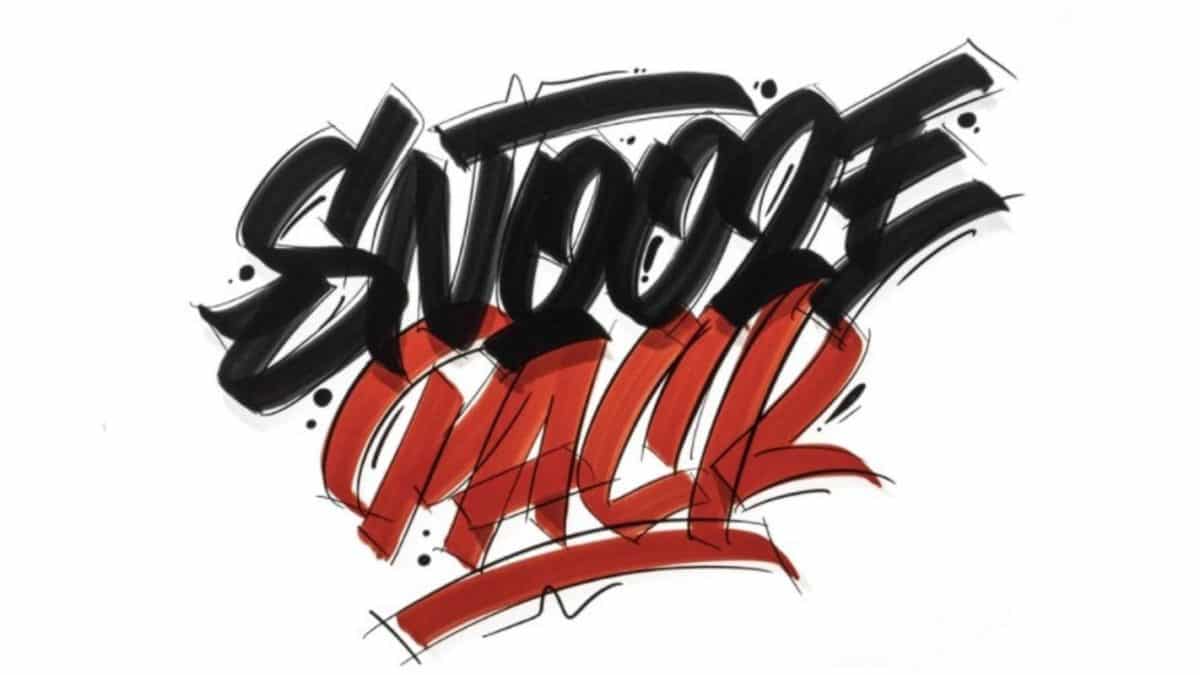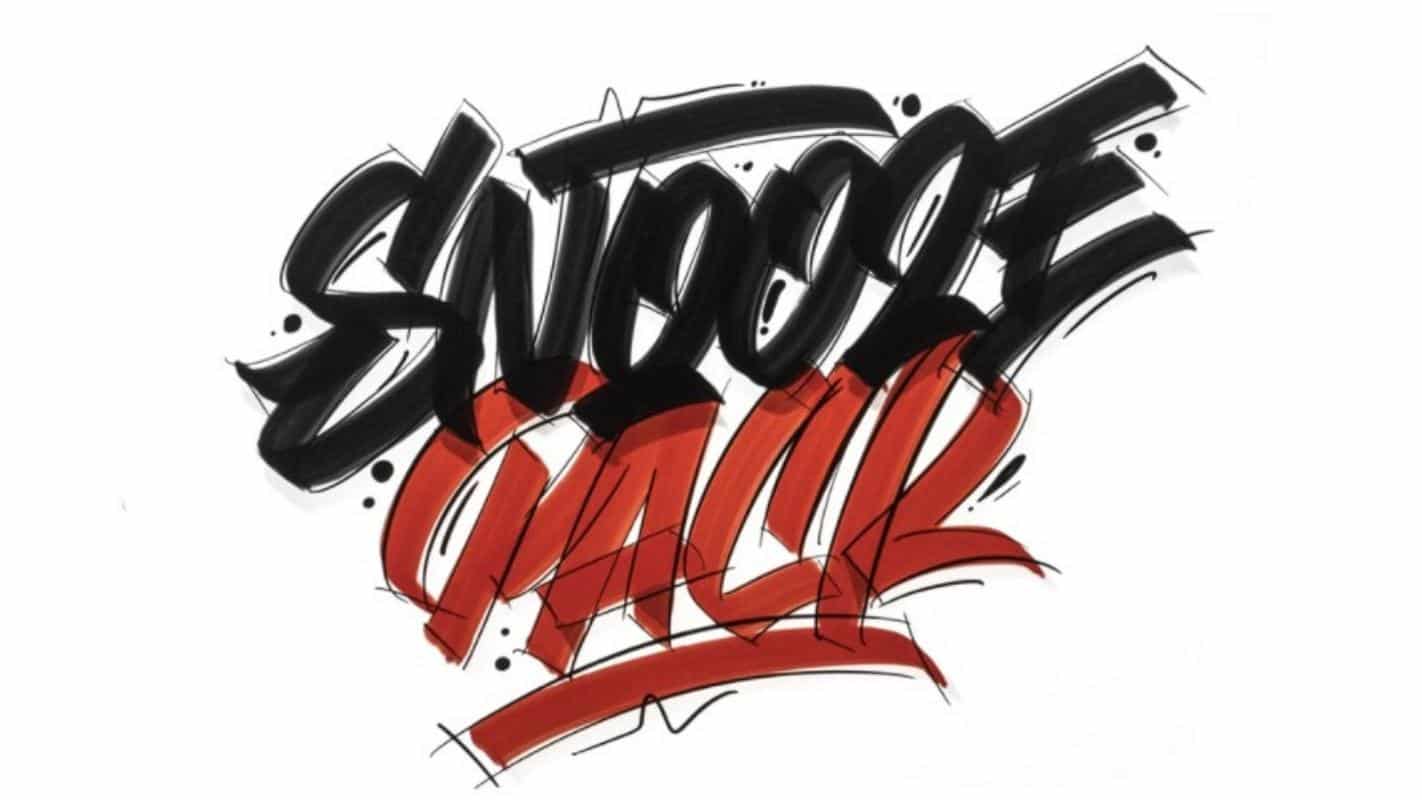 Try this set I recently discovered if you want to try something more simple but still beautiful. Snooze Pack is a Procreate brush and texture set. This set includes 20 brushes, each with its own distinct style, for use in your digital lettering designs.
There are 26 worksheets in total, with four different styles for each letter. There are also 5 mockups included for you to use in your designs.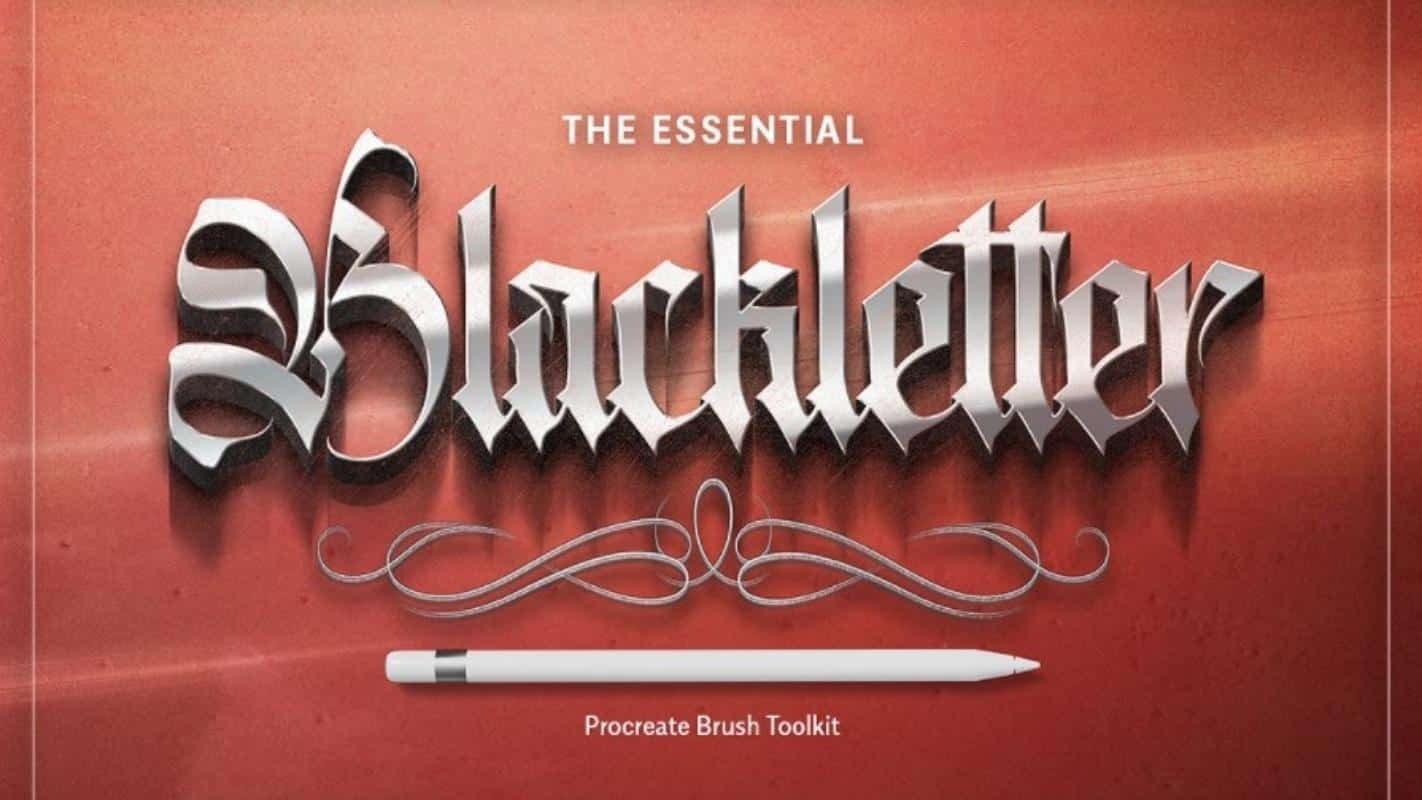 This Procreate lettering brush kit is similar to the Ultimate Gothic set, but it has its own unique twist. If you enjoyed this set but are looking for something a little different, give this one a shot.
This set includes four different-degree angle versions of each brush, allowing you to add more dynamic to your lettering. Marble textures, three grid brushes, five ink spray brushes, and other tools are also included.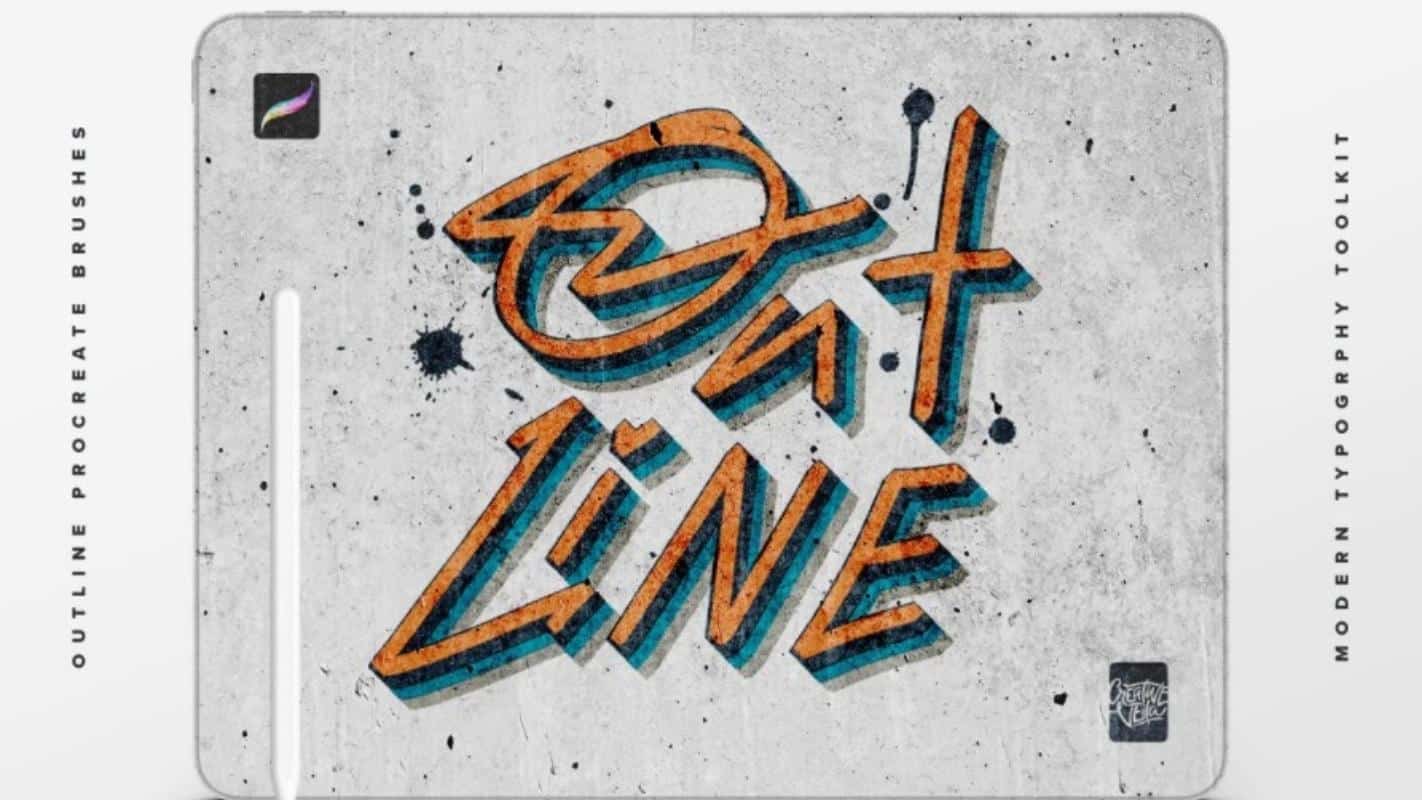 This is the first Procreate lettering set focusing solely on typography with outlines. The collection results from a lengthy and creative design process to create the feel and look of a high-quality and professional lettering brush set.
This comprehensive collection includes over 100 outline brushes for Procreate that are ideal for urban typography design, geometric and abstract art, and 3D lettering effects.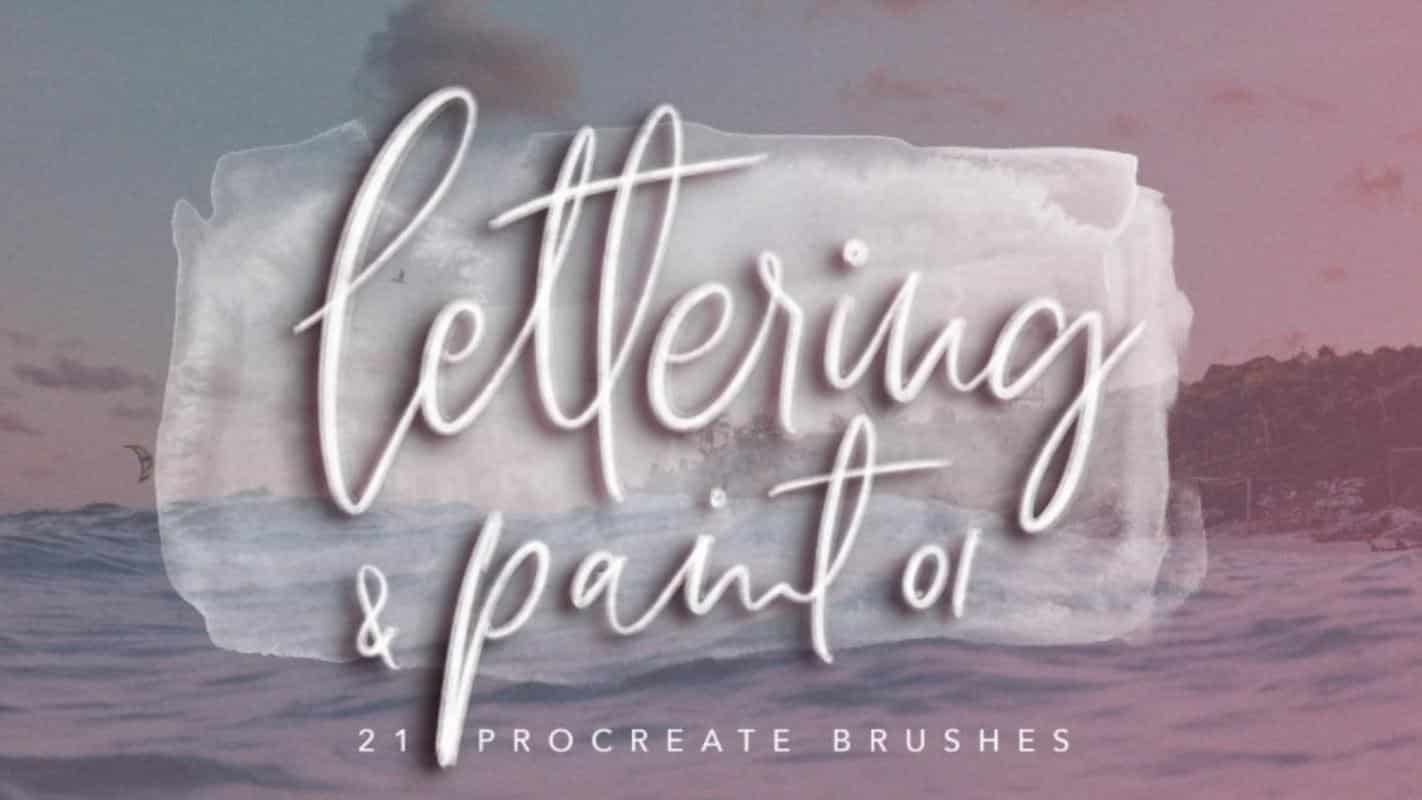 This Procreate lettering brush set is ideal for Procreate users who want to work with paintbrushes in their lettering designs. You'll be able to make stunning marks and textures and the perfect brushstrokes for your lettering.
There are 21 high-quality brush sets included for your hand-lettering projects. Each piece is made with a distinct look and feel.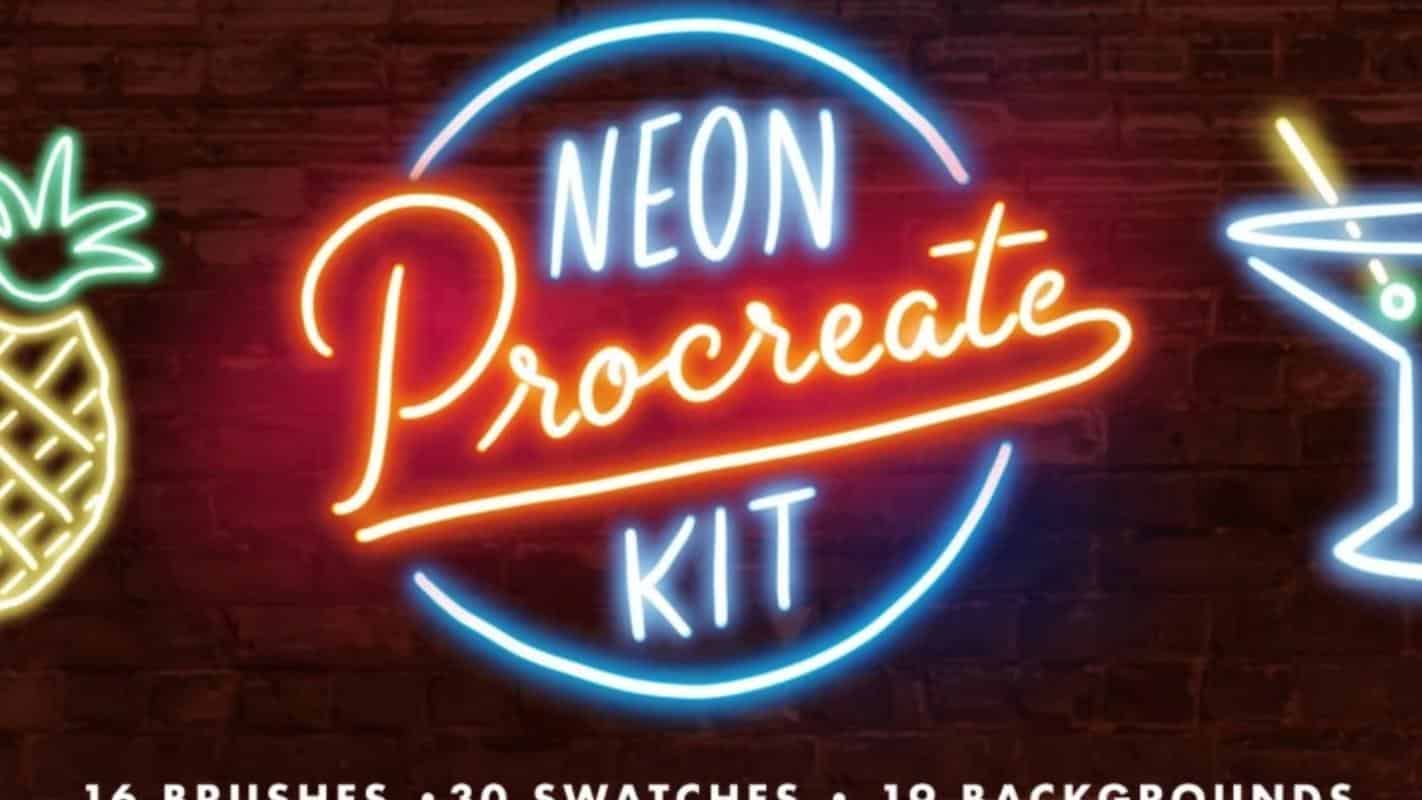 With this Neon Procreate Brush Kit, you can add a little glitz and glam to your Procreate calligraphy lettering! This set includes a fantastic assortment of neon brush pens for a fun and enthusiastic approach to the art of calligraphy.
This set includes 12 calligraphy brushes that look like real-life neon markers, 1 effect brush, 3 bonus light pen brushes, etc. This kit also contains 19 ready-to-use backgrounds.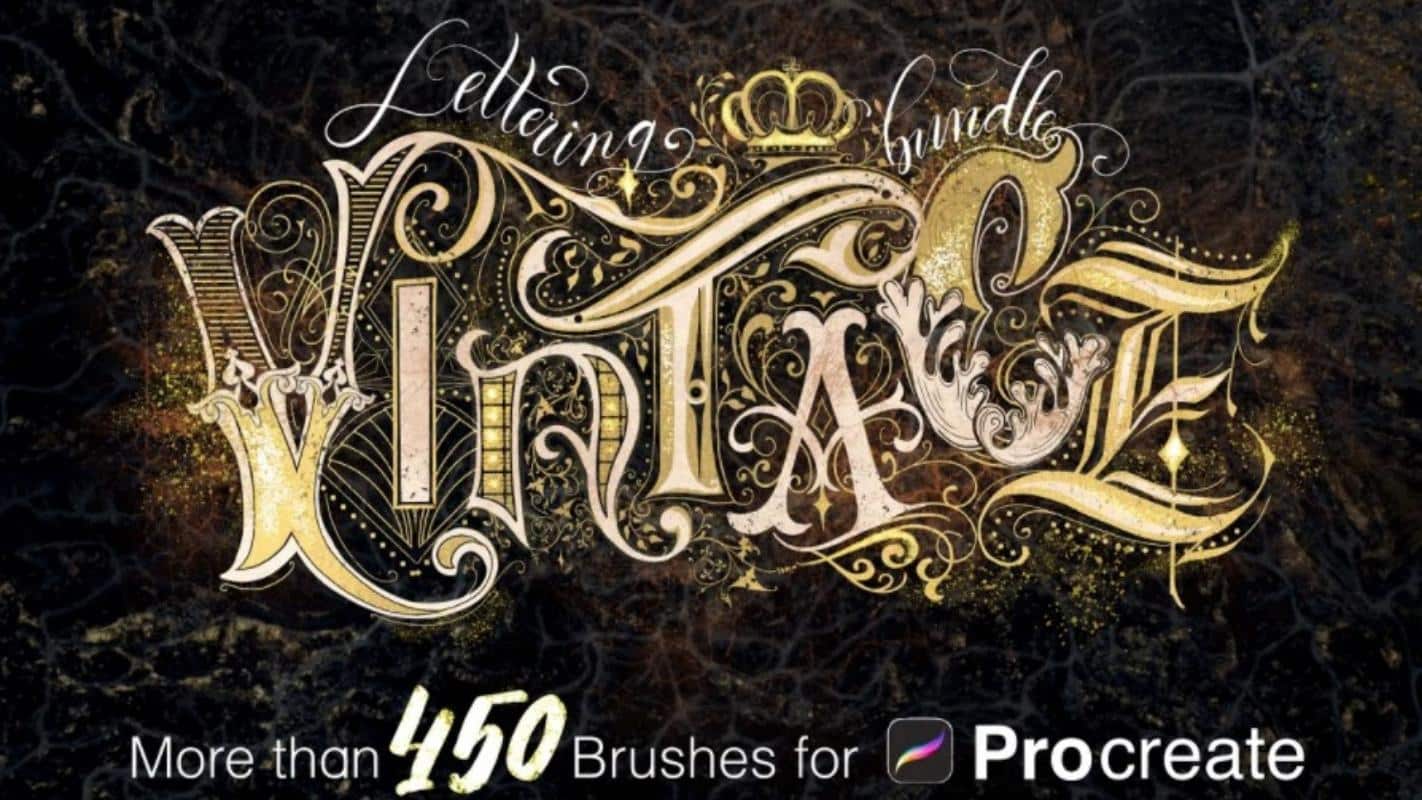 This set contains an extensive collection of vintage lettering brushes ideal for adding to your Procreate calligraphy kit. More than 450 brushes are included, all of which are designed to create authentic-looking lettering and are inspired by vintage letter styles.
This bundle is perfect for any calligrapher, graphic designer, or anyone looking to add some authentic handmade lettering to their work.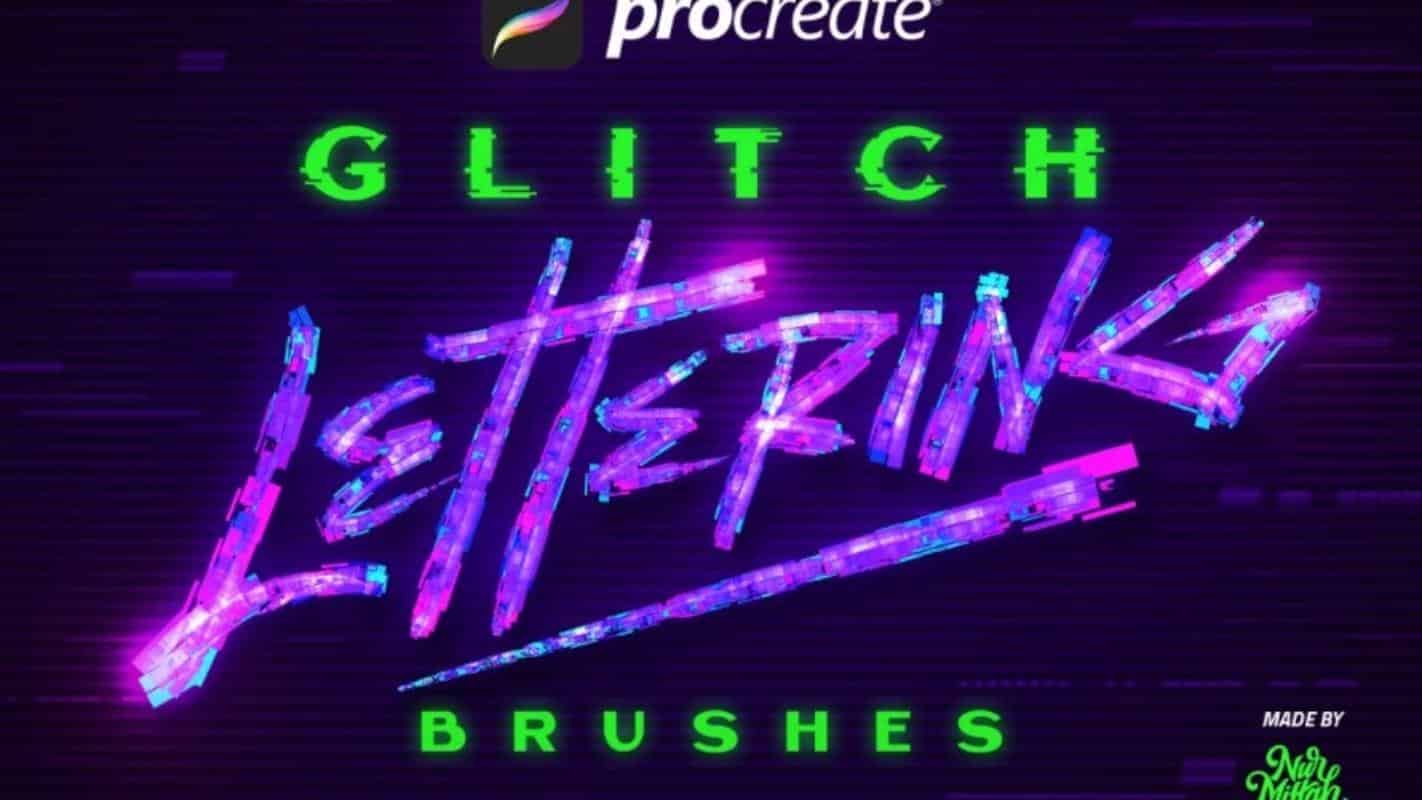 This brush set is another must-have for all Procreate users. Glitch lettering brushes are simple to use for both beginners and professionals. These brushes are useful for digital painting, lettering, photo editing, etc.
There are 20 glitch lettering brushes included, which will expand your options for creating unique designs!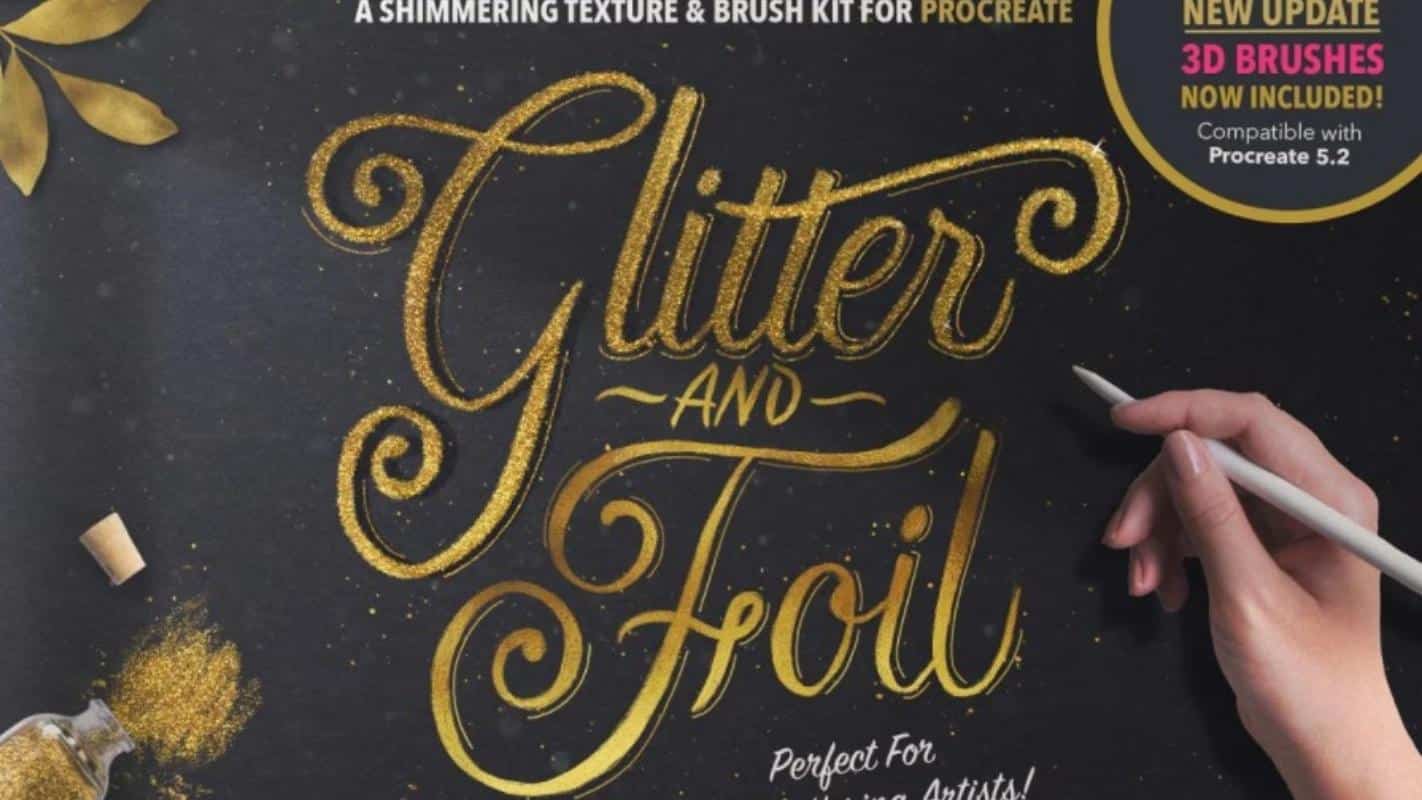 If you're looking for something bright, shiny, and glamorous, this set is an excellent addition to your Procreate lettering toolkit. This glitter and foil kit will add dimension to your designs, whether you're making a logo or lettering.
This collection contains over 85 brushes that can be used to create unique hand-lettering, lovely calligraphy artwork, gold foil effects, embossed writing, and much more. In addition, 33 high-resolution textures are ready to use in your projects.
Best Free Lettering Brushes For Procreate
Of course, there are some free calligraphy brushes available. I liked two of them the most of all I've tested, and these two free calligraphy brushes are in this article. In addition, you can download Procreate lettering brushes for free, and they are an excellent start for your first calligraphy artwork.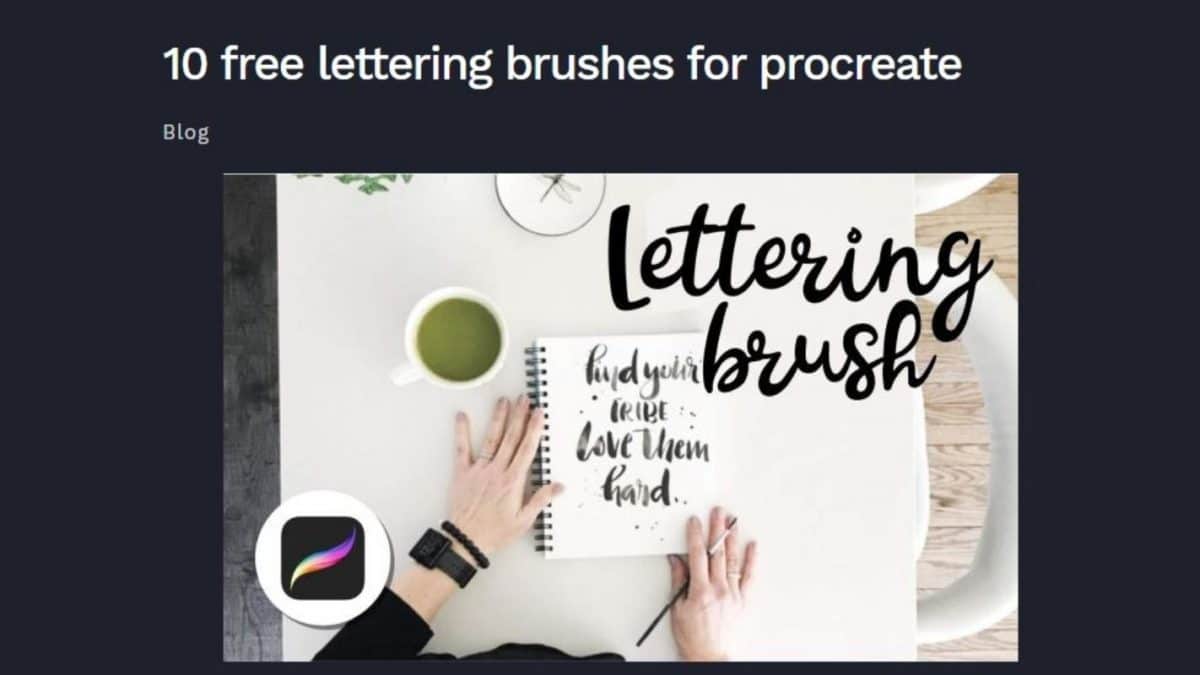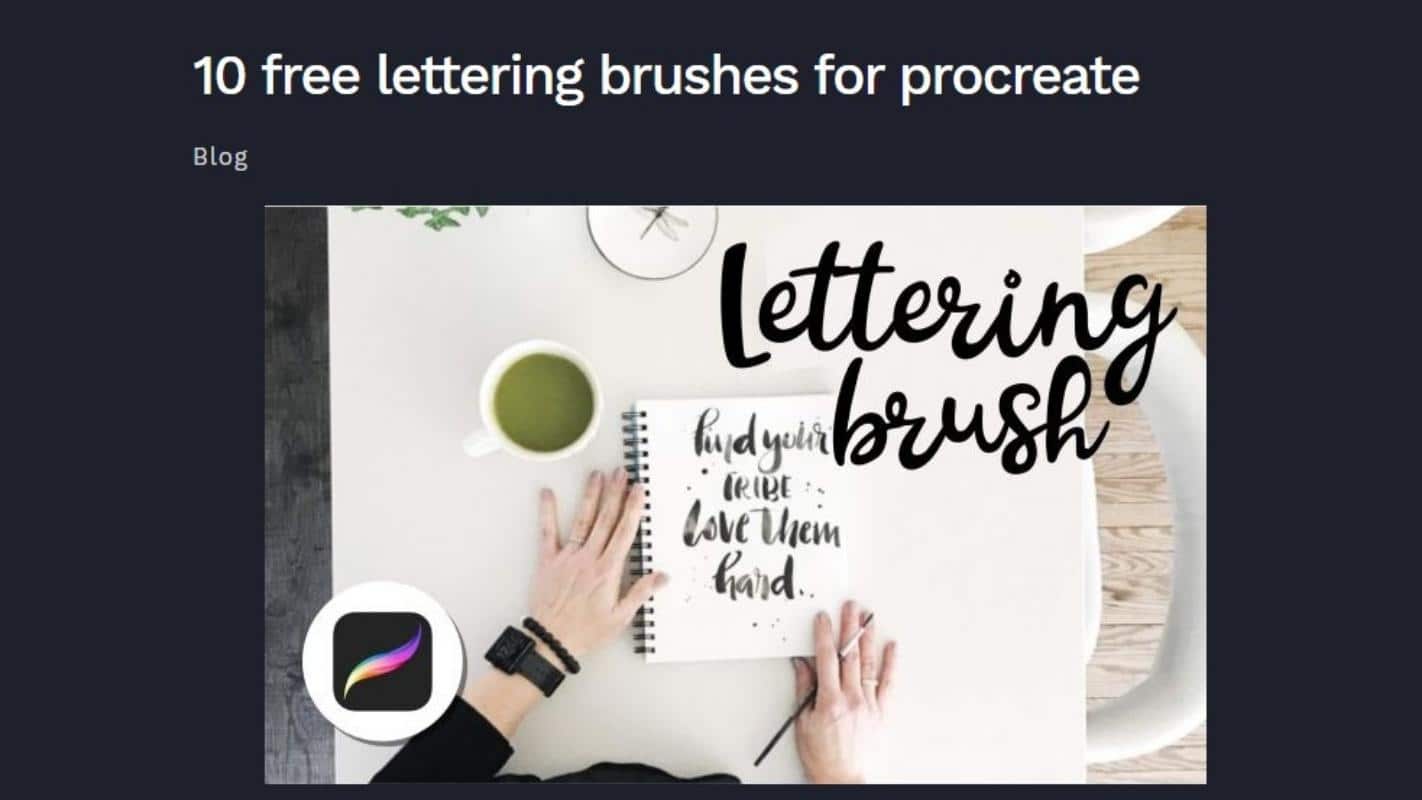 This set is a brush library of 10 free lettering brushes for Procreate. This is an excellent start for your first calligraphy art on your iPad. I've found this pack lacks diversity, but if you don't know where to start, choose these free calligraphy brushes.
A free graffiti brush pack, a free lettering guide stamp, free calligraphy brushes with shadows, and more. Check the link below to learn more and download the free Procreate lettering brushes.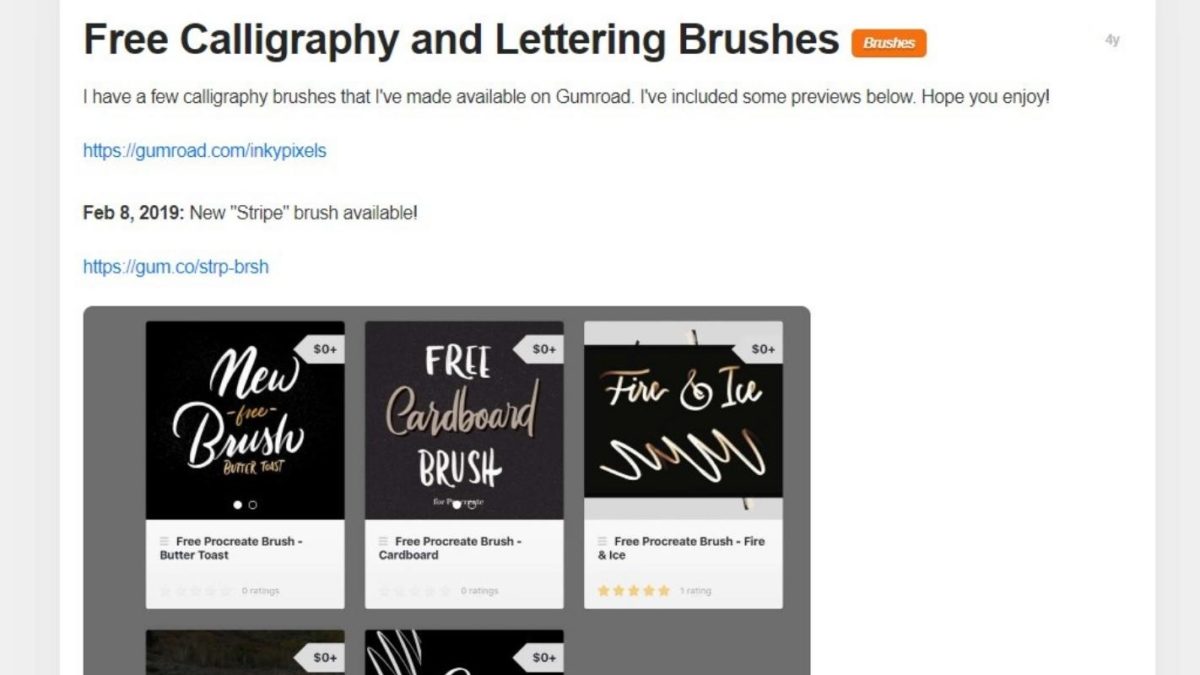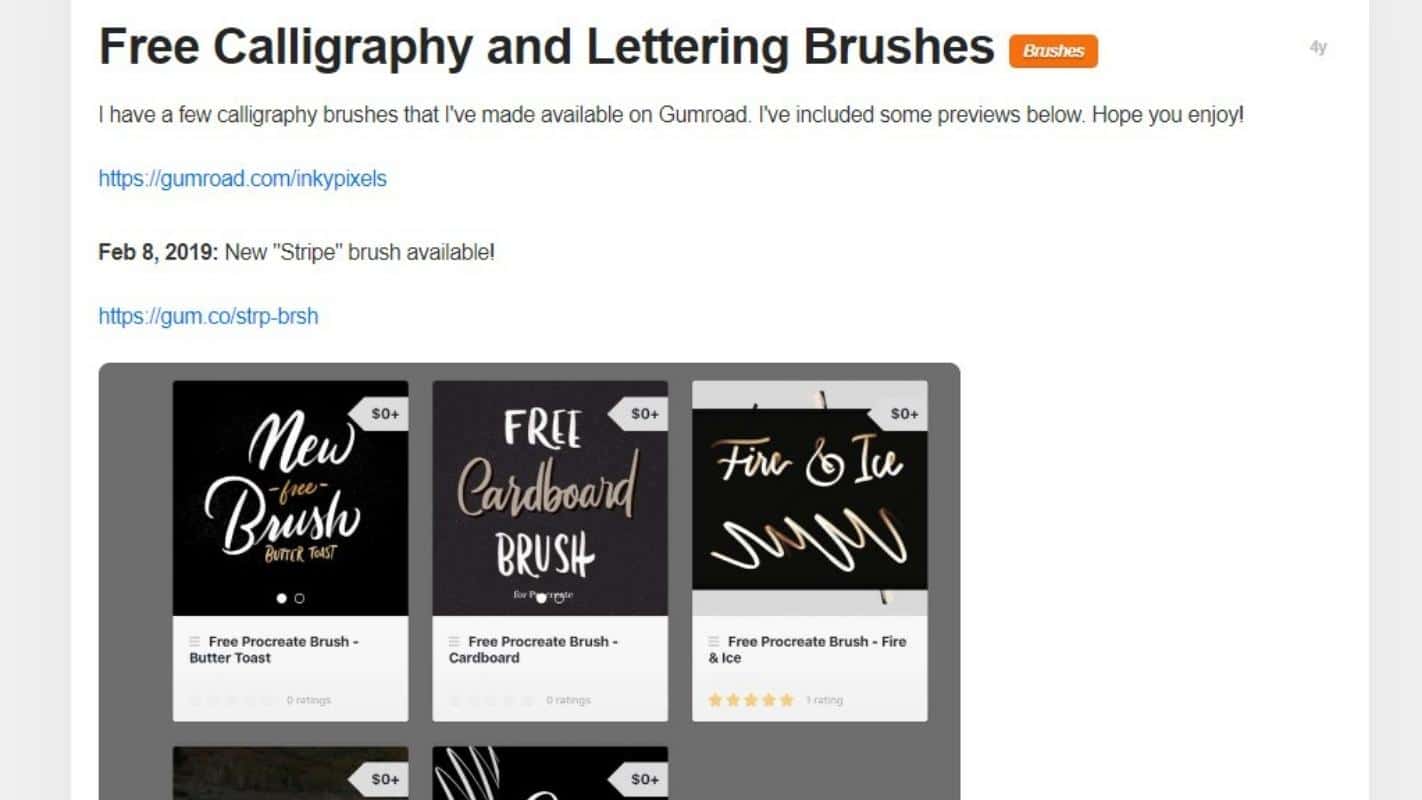 This free calligraphy brush library is a collection of 7 free calligraphy brushes available for free to download. They all give a different warm and beautiful feeling when drawing your lettering artwork. They are perfect for getting you started in the deep world of lettering in Procreate.
Play with the pressure of your Apple Pencil, try to draw different calligraphy styles, and get a feeling for lettering. And all this for free with this package. If you like lettering on your iPad, try more of the premium calligraphy brushes from above.
What Brush Should I Use For Calligraphy Lettering In Procreate?
As a beginner, you may be perplexed by the sheer number of Procreate brushes for calligraphy. And, of course, it's natural to feel overwhelmed by all of the options! So here are some quick tips and tricks for deciding which brush to buy for your Procreate lettering project:
1. Consider the type of calligraphy you want to create
You should first consider the kind of textured background effects you want to make with your chosen art tool. This will assist you in narrowing down your options and save you time in the long run.
For example, suppose you want to make some bubble-lettered designs or hand-lettering to go over a grungy background. In that case, you'll need to invest in dynamic brushes. On the other hand, if you're looking to create simple projects like logos and headers, the regular calligraphy pen brushes will suffice for the time being.
2. Consider your lettering design's layout and composition
Before purchasing any Procreate lettering brushes, you must first understand the structure and layout of your lettering design. This will assist you in selecting a brush set capable of producing those effects in seconds! For example, if you want to make large bubble letters for a poster or website header, you'll need to invest in a brush that can quickly create large lettering.
3. Make use of the proper pressure settings
Another thing to remember is that Procreate letters respond differently depending on the amount of pressure applied. The more pressure you use with your iPad stylus, the thicker your lines! So choose a brush that is compatible with the pressure settings on your Procreate app.
4. Take the time to practice your new calligraphy
Finally, you should be patient when working with any art tool, especially digital painting apps like Procreate. Never rush through the process of creating calligraphy designs because it can lead to disappointing results and waste time. So, when creating lettering designs, give yourself the luxury of time and be patient.
Happy lettering in Procreate with these Procreate lettering brushes! And thanks for reading,
Lilly-Mai
Share with your Friends: