11 Best Procreate Comic Brushes for Amazing Comic Art
Procreate comic Brushes play a big part in an artist's creative sessions. Therefore, this is where the most important factors will rely on. Specifically, these include the art's overall aesthetic quality, vibe, and theme. It will also affect the signature art style for which the artist will be known.
Hence, it's just right that you use a brush that fits your goal. For example, if you're aiming for realistic artwork, you need to use brushes designed to give the said illusion. On the flip side, if you plan on using Procreate for making comic graphic novels, you need to find Procreate comic brushes.
The Best Comic Brushes for Procreate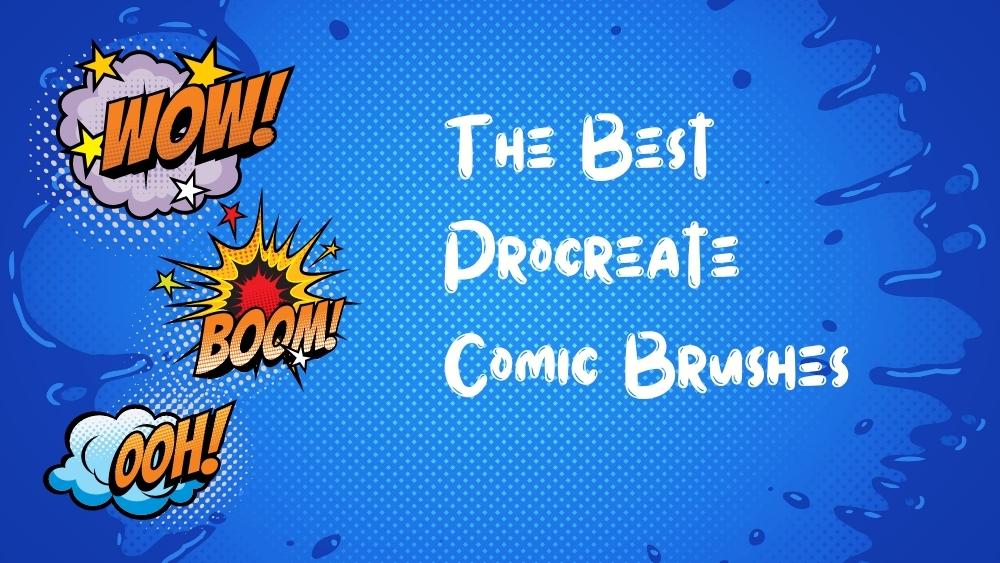 If you don't pay enough attention to this aspect, you won't get the desired results. You also have to take the features into account. Speaking of comic brushes, what are the best ones to check out today? This is what we'll talk about in this article. Here are the best Procreate comic brushes for you as a comic book artist: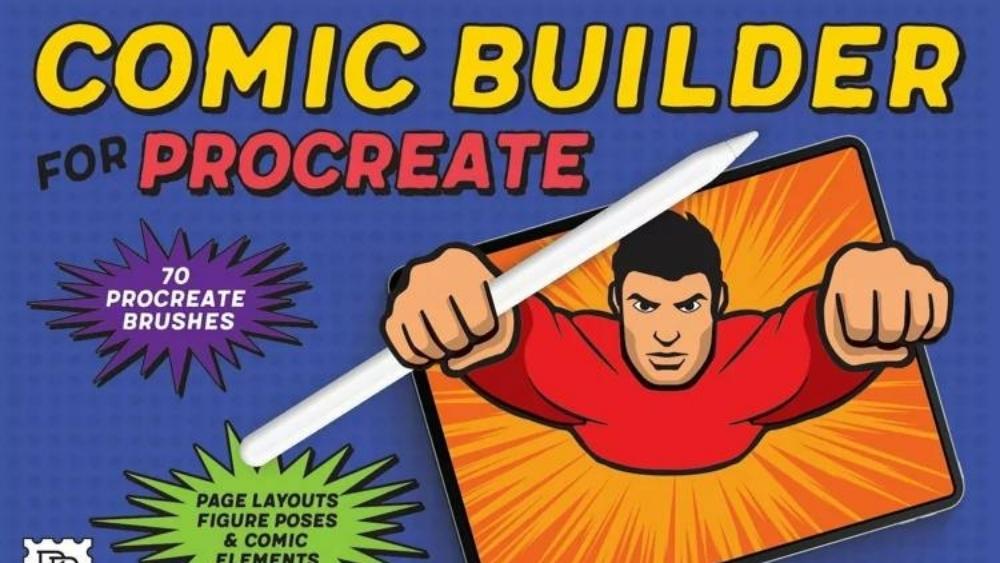 From the name itself, Comic Builder provides you with a complete set of tools to help you create your comic strip. Here, you can expect to get comic fonts, ready-made figure poses, speech bubbles, and layouts. It also includes several brush formats, such as PDF, Vector, PNG, and more.
I have tried using this Procreate comic brush set, and I can definitely testify to its great functionality! Because it's simple enough for a beginner to use yet still advanced in terms of features, it's easy to say that this will suit every artist's needs. It's also an efficient choice since almost everything you need to create a comic is pre-made.
For an overview, here are the main features of this awesome Procreate comic brush set:
70 Stamp Brushes (15 Page Layouts, 15 Figure Poses, 40 Comic Elements)
Multi-Format Brush Elements (PDF, Vector EPS, PNG, Affinity Designer)
Printable Layouts for Analog Art
Stackable Brush Styles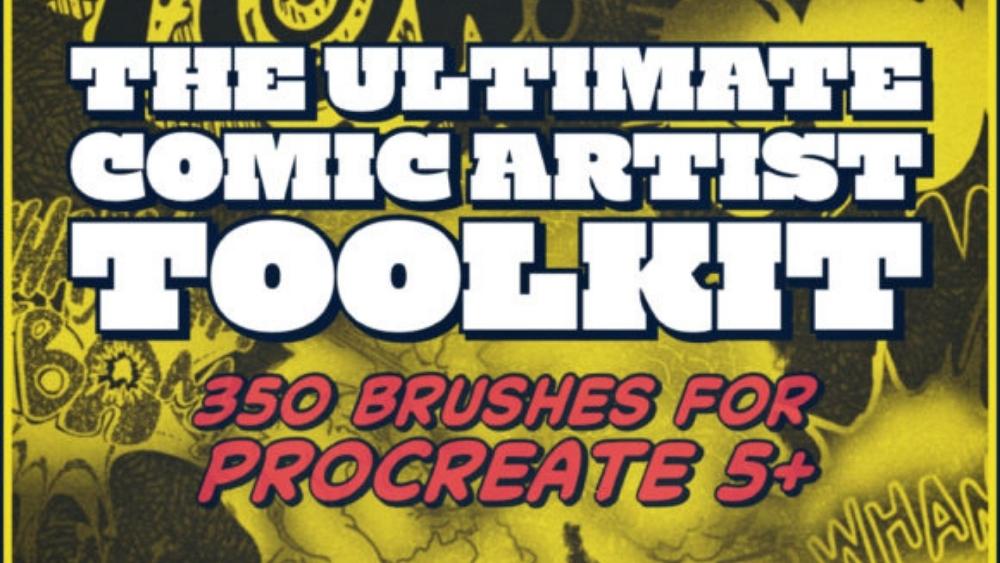 The Comic Artist Toolkit is best if you're looking for creative brushes. It is an all-time favorite of many comic book artists. This Procreate comic brush library is vast, with over 350 brushes spanning across 11 different brush sets.
It includes stamps, sound FX word stamps, characters stamps, scene stamps, and much more. You never run out of cool stuff to do with these comic brushes for Procreate!
Here is a short list of the best features of this amazing Procreate comic brush set:
137 Stamp Sets (62 Character Stamps, 31 Sound FX Word Stamps, 31 Scene Stamps, 11 Comic Panel Stamps, 2 Comic Stamp Sets)
56 Brush Sets (27 Distressed Texture Brushes, 26 Drawing Brushes, 3 Comic FX Brushes)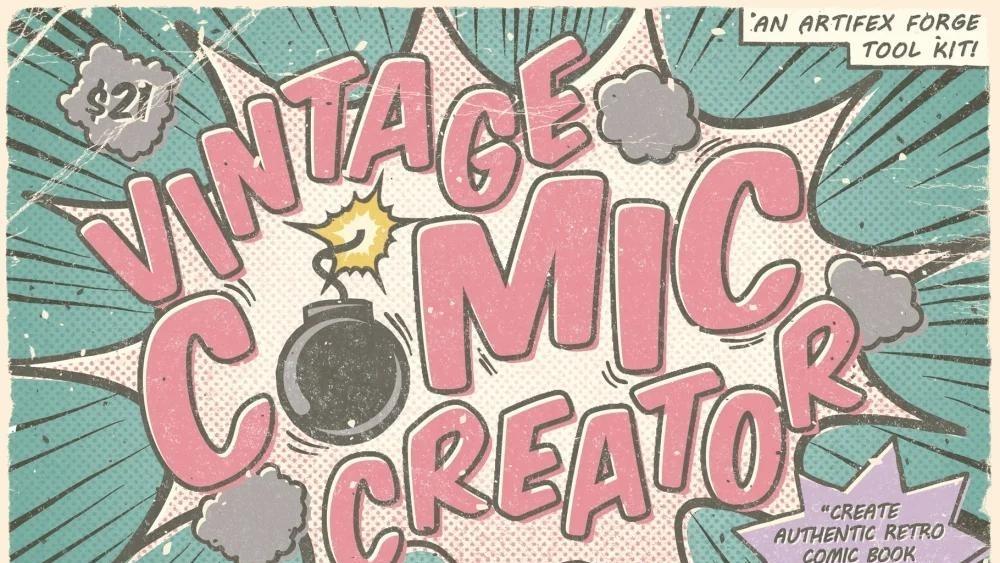 The brushes Vintage Comic Creator is best for comic artists aiming for a classic and old-style comic strip. This gives an authentic look to the artwork through the included textures, color palettes, SFX word sounds, word fonts, and likes.
This brush set is my go-to whenever I need to make vintage posters, design retro-based materials, and just classic and realistic comic strips in general.
Below are the top features that you can access from this comic brush set for Procreate:
Line Brushes (Authentic Ink Styles)
Textured Patterns
Graphic Overlays
Comic Stamp Brushes
PDF Brush Reference Guide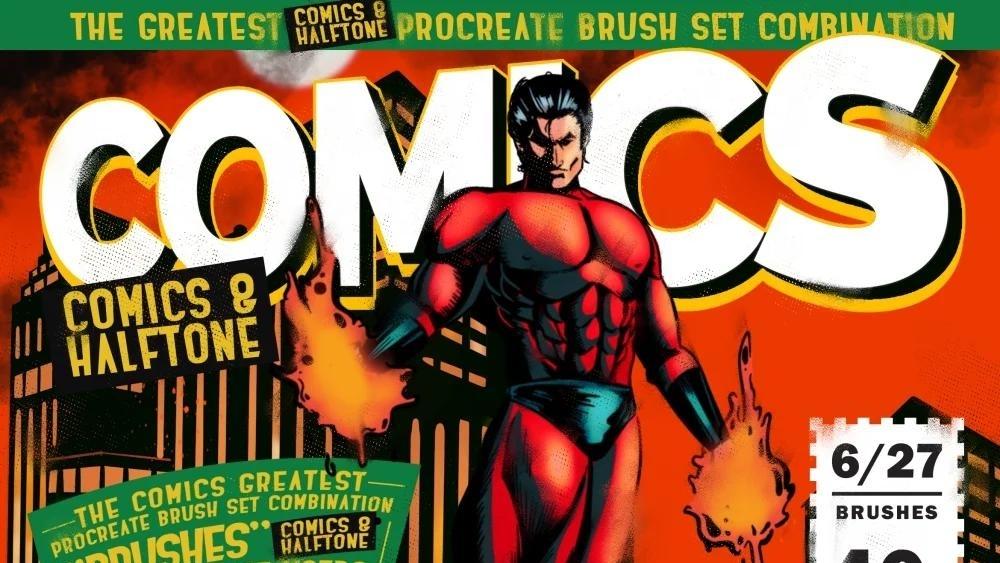 I personally think that if you're starting a comic project based mainly on retro graphics, this Comics & Halftone brush set is one of the best ones you should consider. This brush library includes both comics and halftone brushes. These give an aesthetically classic touch to any artwork because of the authentic graphics in each line.
The fully customizable tools make this Procreate comic brush library even better. The brushes, for example, can be adjusted to any stroke width and comic style, just like any regular brush at Procreate. This is a significant advantage, considering that other brush sets have fixed dimensions.
Here is a summary of the features that you can get from these Procreate comic brushes: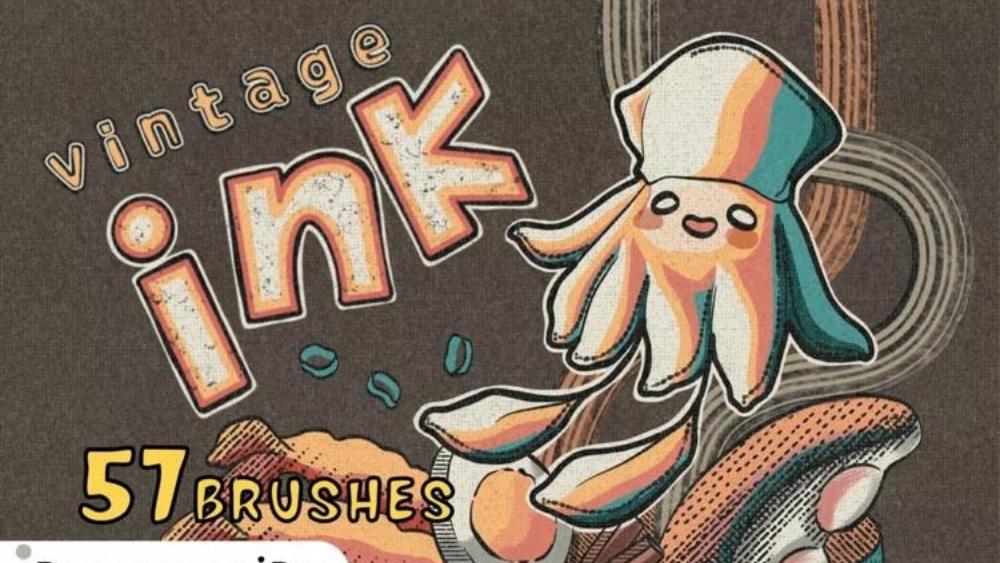 The fifth on our list is another vintage brush library, the Vintage Ink Comic Brushes. These come with a total of 57 comic brushes, one vintage color palette, and several textured brushes. You will also get textured overlays to add authenticity to your artworks.
Personally, this set offers more flexibility in terms of features. Hence, if you plan on making comic strips with advanced designs and elements, this Procreate comic brush set is one of the ideal choices.
To sum it up, here are the features that you will get from Vintage Ink Comic Brushes:
57 Vintage Comic Brushes (10 Vintage Ink, 4 Ink Painting, 5 Grainy, 3 Hatching, 3 Multi-Line, 3 Ink Dots, 2 Ink Drops, 6 Fixed Pattern, 15 Adjustable Style, 2 Old Paper Texture, Sketch Brushes, Ink Blooming)
Vintage Fine Liner
Ink Surface Overlay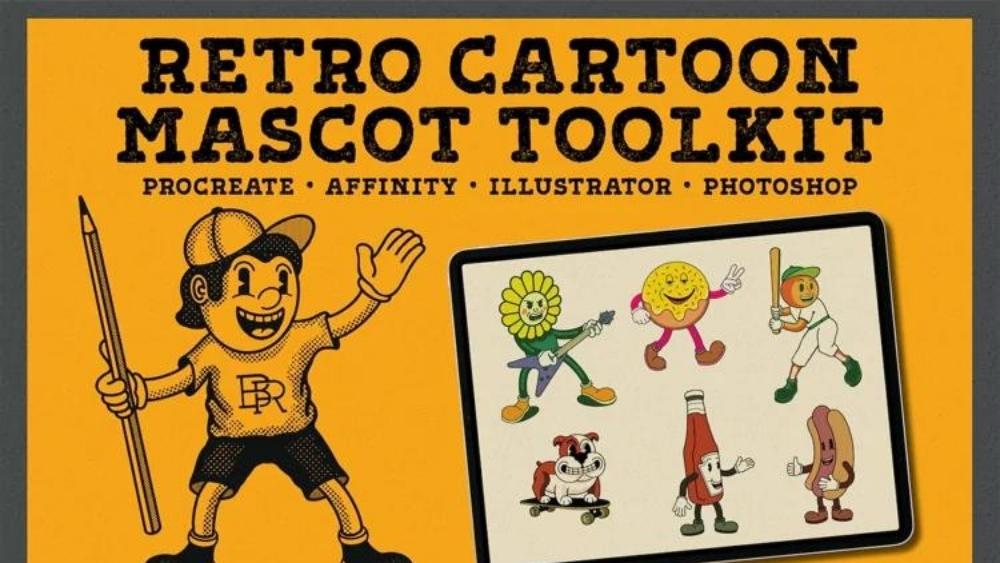 Designing comic strips is one thing. Creating well-thought-out cartoon avatars is another. If your goal is to make realistic and retro mascots for your comics, then you should check out this Retro Cartoon Mascot Toolkit.
With this comic brush set for Procreate, you can get different styles of ink brushes and stamp brush sets. You will also get the stamp brush designs in other file formats, such as Vector and PNG.
Below is the list of the primary features that the Retro Cartoon Mascot Toolkit consists of:
255 Brush Sets (250 Stamp Brushes, 5 Ink Brushes)
Included Asset Files for the Brushes
Separate File Formats for Brush Styles (PNG, Vector)
Included PDF Reference Guide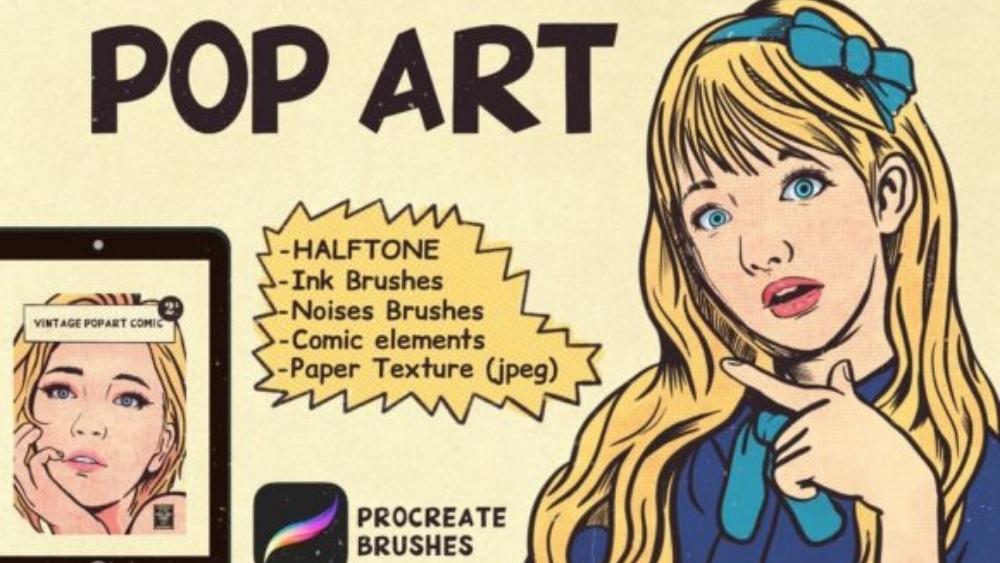 If you think fully vintage brushes won't exactly give you an exact look that you're aiming for, you may want to look into these Pop Art Comic Brushes. This emphasizes the retro vibes of vintage brushes instead of just the classic, oldies look.
By far, I think this is one of the best Procreate comic brushes available, especially if you want to add that aesthetic pop of color to your art. This also tops the ranks in terms of the combined aesthetic comic styles of vintage and pop art themes.
These are the features that you will get from this Procreate comic brush library:
40 Brushes (2 Basic Line Art, 7 Vintage Halftone, 28 Classic Halftone, 3 Noise Brushes)
5 Vintage Paper Texture Overlays
Included Guide for Resizing Brushes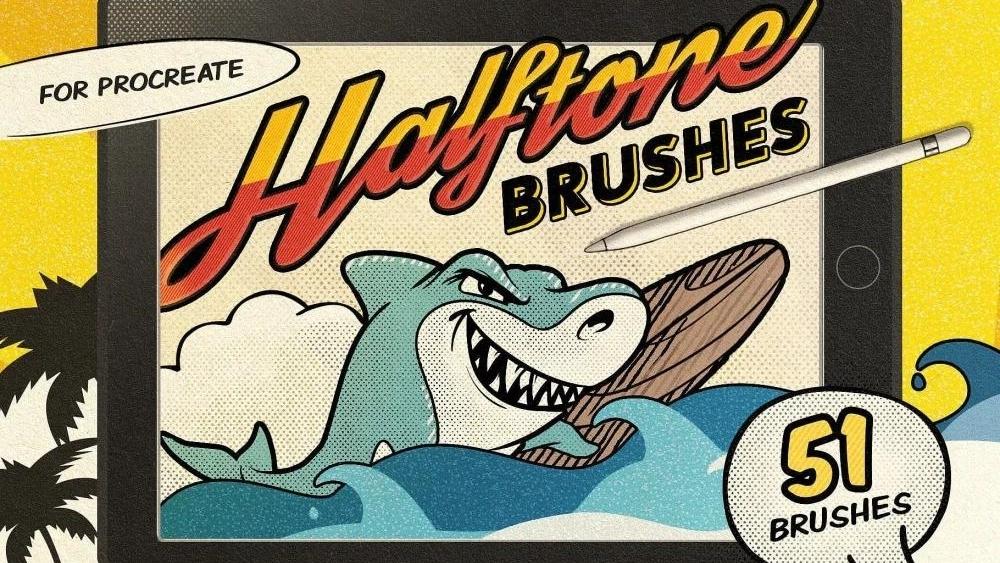 Vintage Comic Brushes is another vintage-focused brush library that will let you give your comic strips the classic halftone design. This doesn't have a lot of features, but its functionality still stays at the top. This is mainly because of the various brush styles included in the brush library.
This set is relatively affordable and comes in a smaller file size than others. Hence, if you're looking for a basic yet still aesthetic Procreate comic brush set, then this should definitely be on your list.
For reference, here are the features that you can get from Vintage Comic Brushes:
51 Brushes (Combination of Retro, Halftones, Line Arts, Dots, and Squares)
When it comes to adding authentic comic inks to my artworks, I won't let this list end without talking about Vintage Comic Ink Brushes.
This has just the right set of brush styles and overlays to give your comic strip the oldie comic book that you're looking for. This also includes textures and a separate set of finishing brushes for a more vintage result.
That said, below are the features included in the Vintage Comic Ink Brushes set:
Inker Brushes (6B, Vintage, Modern, Janson, Paper Grain)
Dry Brushes
Smooth Tech Pen-Based Brushes
Masking Palettes
Texture Overlays
The Best Free Comic Brushes for Procreate
It's always a good idea to try something out for free before investing money, and the next set of Procreate comic brushes are just that. First, you can try out some free comic brushes. Then, simply download these brushes, install them on your iPad, take out your Apple Pencil, and begin creating unique comic art!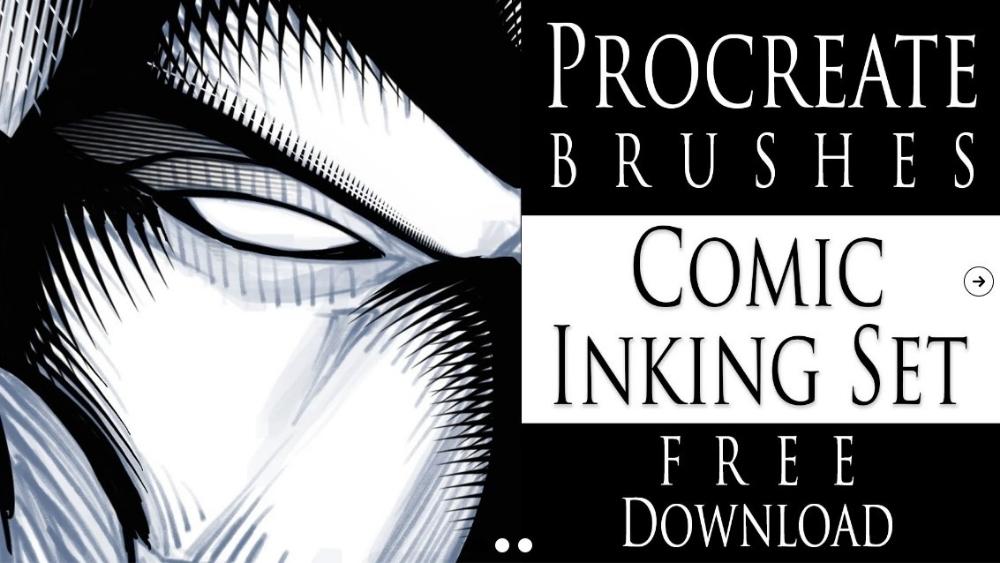 You don't always have to pay just to access a good set of Procreate brushes. If you're saving money, you should check out this Procreate Comic Inking Set. This consists of classic line brushes and inker-based ones that will give you a minimalistic look to your artwork.
Although a little limited, these free comic brushes for Procreate have the following features:
34 Various Brush Styles (The artist is still constantly updating the set)
Pre-Made Art Styles for Brush Testing
Free Procreate comic brushes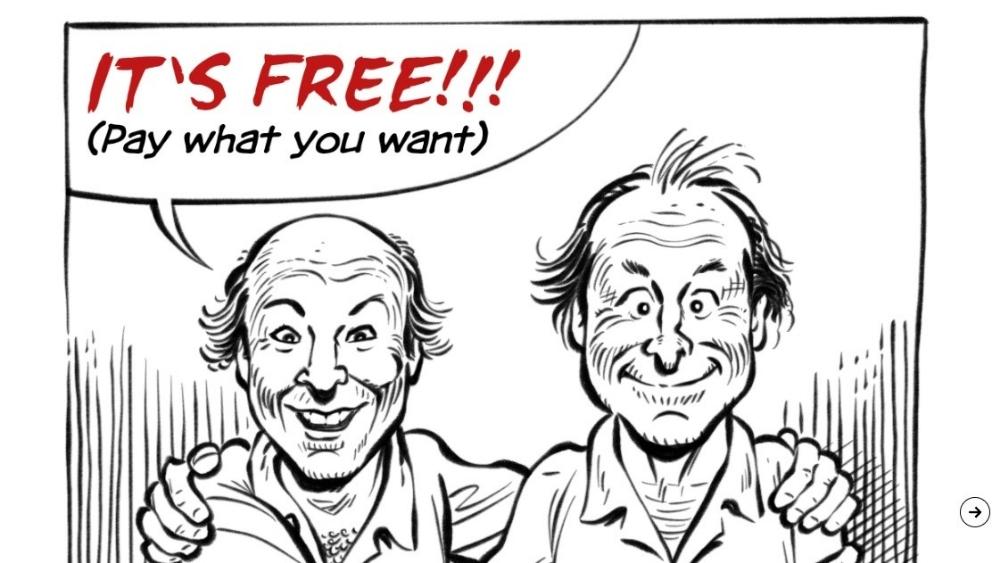 The Comic Ink Set is another free brush set you need to add to your Procreate dashboard. Again, this provides many options, which is advantageous given that this is a free set. At present, this includes more than 20 brush styles.
Feature-wise, here are the things that you should expect from this free Procreate comic brush set:
Sketch Brushes
Ink Brushes
Comic SFX Brushes
Line Art Brushes
Texture Brushes and Overlays
Free Procreate comic brush set
Conclusion
As you can see, you have a lot of choices when it comes to picking comic brushes in Procreate. This applies to both paid and free ones. You can even create awesome manga or anime art with these Procreate brushes.
Still, it's normal if you feel a little overwhelmed. If this happens, it's best if you base it mainly on the features offered. You should also consider the price if you want to opt for a paid one. Those who have the time to explore will probably have a better experience if you install each one and try them out separately. This will let you compare each style more accurately.
So, happy comic drawing with these Procreate comic brushes! And thanks for reading,
Lilly-Mai
Sources:
Share with your Friends: