10 Best Procreate Grass Brushes for the Perfect Natural Feel
Looking for the best Procreate grass brushes for your next great artwork? If the answer is yes I am here to present you some of the best options on the market. Every Procreate grass brush has been carefully handcrafted to provide a realistic look to your project. You can easily add the grass effect and create a realistic and original landscape.
From the individual strands of grass to the varying shades of green, you can add natural detail to your paintings with these Procreate nature brushes. You can also use them to create unique patterns. With these brushes, you have the ability to create stunning images that showcase the beauty of nature.
The Best Procreate Grass Brushes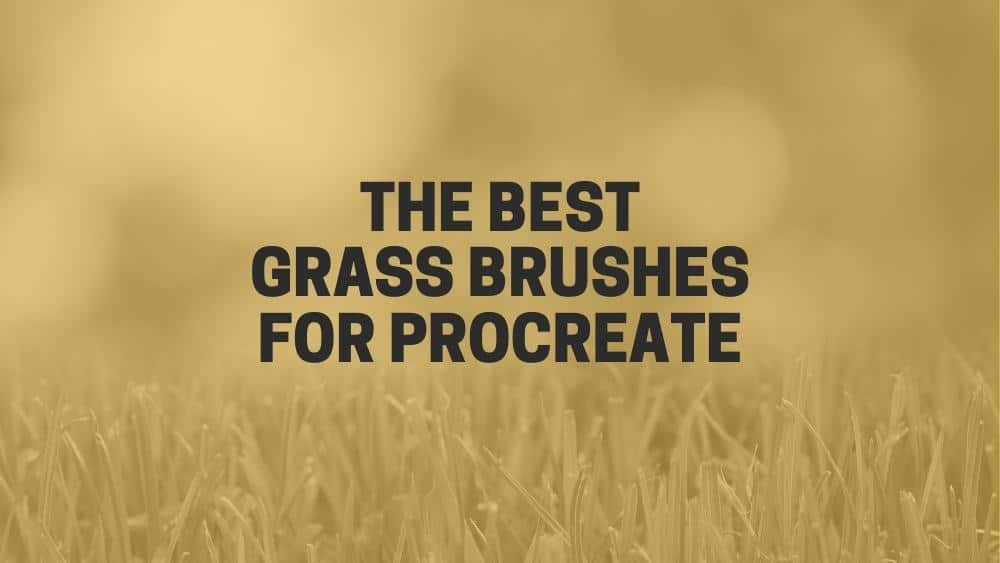 Most brushes have been designed by using photographs of real grass. They are not just overlaid design ideas. They are creative and original grass brushes you can use to develop some awesome paintings and artworks. Here is the list of the 10 best Procreate grass brush sets: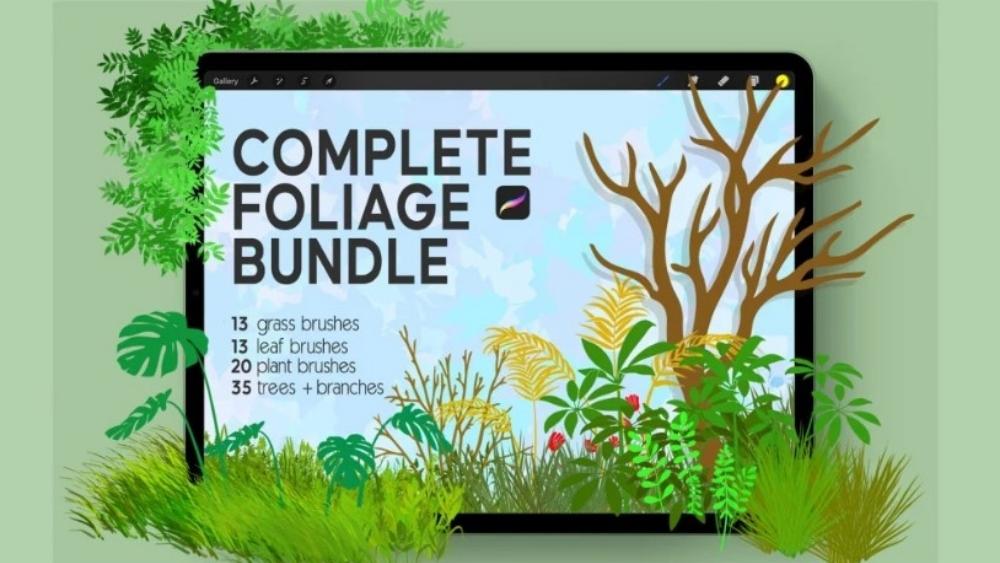 This is a set that has it all: 30 grass brushes, 20 plant brushes, 13 leaf brushes, and 35 trees are available in this set. As you can imagine, you can draw almost every type of landscape with this set. Whether you wish to add some type of grass, different kinds of plants, or leaves to your paintings, this set will cover all your needs.
This package is suitable for every lover of nature wishing to experiment with creating a magnificent landscape.
Features of this Procreate grass brush set:
Variety of available grass brushes
Great collection of leaves, plants, and trees
Bonus hints and tips
Perfect for creating layers and highlights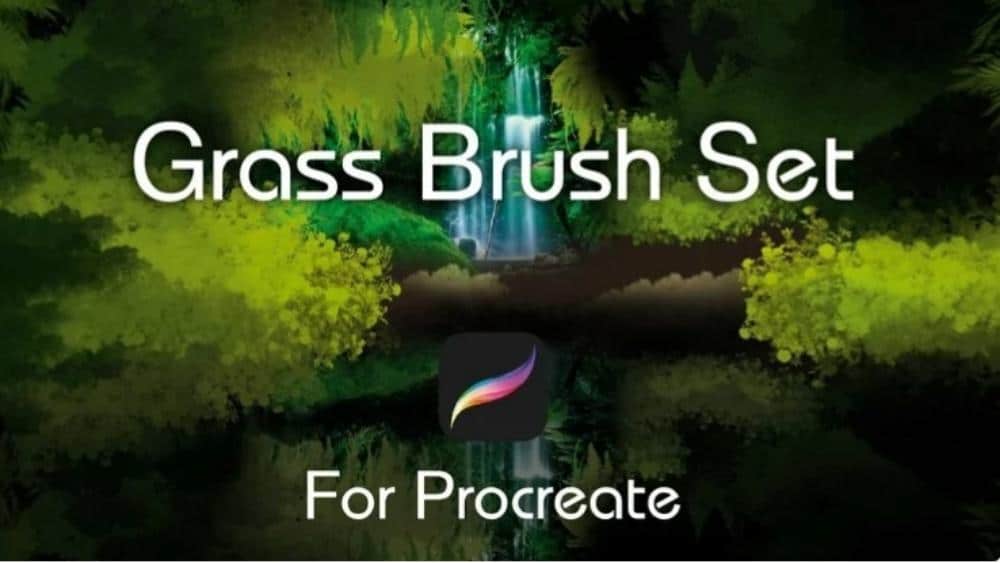 This is another great grass brush set that contains high-quality brush designs. It is perfect for professionals and beginners in the world of procreating. These Procreate grass brushes can give your artwork a realistic character, and the different silhouettes of the trees are just amazing. You can easily adjust the color density of the grass brush while using these brushes on your work.
Features of this Procreate grass brush set:
High-quality and realistic Procreate brushes
Perfect for beginners and professionals
Variety of color options
This is one of my favorite sets of grass brushes for Procreate. It is the perfect tool if you wish to paint a realistic forest in Procreate quickly. Apart from grass, you can also paint different types of leaves, plants, and other small details. The set includes 47 Procreate brushes, all of which are easy to use and very efficient.
Features of this Procreate grass brush set:
Large variety of grass brushes
Also includes Procreate brushes for other objects
Easy to use foliage brushes
Realistic landscape drawing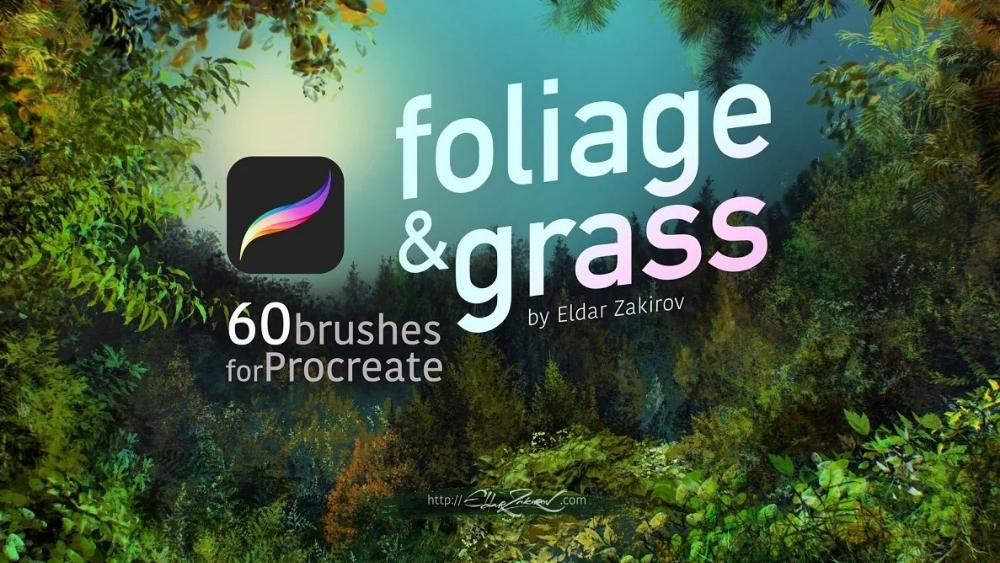 This is a great set of foliage and grass brushes if you want to give a grass-style look to your Procreate designs. Sixty high-resolution Procreate brushes are included in this set. That allows you to draw almost everything: different types of trees, on-ground foliage, and other elements of nature. The designer has also provided a memo image to help you choose the best Procreate brushes for your next landscape artwork.
Features of this Procreate grass brush set:
60 realistic brushes for drawing foliage and grass details
Suitable for every lover of nature, like digital painters, concept artists and designers
Bonus: memo image with useful tips
This set offers designers the magic number of 80 different Procreate brushes. They are all high-quality products, easy to use, and highly efficient. The greatest thing about this set is the fact that most grass brushes are color dynamic! That means you add dimension to your artwork without changing colors all the time.
Features of this Procreate grass brush set:
High-resolution foliage brushes for Procreate
Color dynamic effect
Procreate tree brushes are included
Suitable for creating ground brushes, leaf brushes and, floral as well
A simple, realistic, high-quality set of grass brushes is ideal for making botanical illustrations. The package contains 30 silhouette grass stamps you can paint in whatever color or texture you prefer. YuliArty grass stamps are preferred by lots of artists since they can be used for creating patterns, stickers, and prints, as well.
Features of this grass brush Procreate set:
Package of 30 different grass stamps
Ideal for making prints, stickers, patterns, and illustrations
Includes some of the most well-known types of plants and dandelions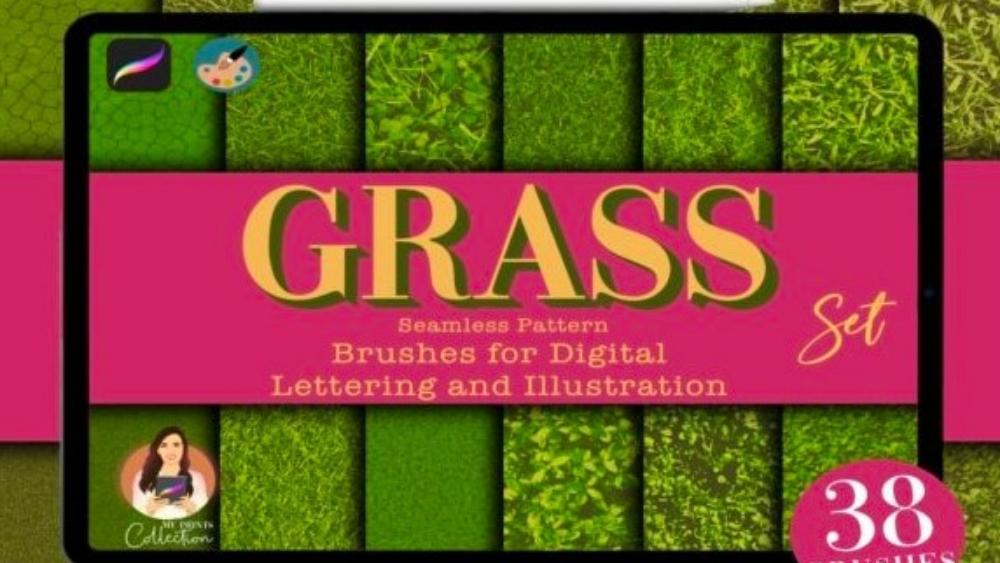 A simple, realistic, and efficient pack of Procreate grass brushes, this set is suitable for use in any personal, professional or commercial work. It includes 38 pattern brushes, which are ideal for illustration and lettering. You can easily control grain behavior or use the preferred texture with white or other color backgrounds.
Features of this grass brush Procreate set:
39 Procreate grass brushes and a color palette
Realistic illustrations and lettering
For professional and hobbyist illustrators
If you are into drawing trees, foliage, and leaves, you should try these grass brushes. It is a color-dynamic brush that can help you create perfect-looking elements of nature. This brush is easy to use and can help you speed up your workflow tremendously.
Features of this grass brush Procreate set:
Easy to use and quick result
Original design
Perfect for drawing a variety of landscapes
The Best Procreate Grass Brushes for Free
You don't have to spend much money to create the perfect canvas for your masterpiece. Plenty of free options will allow you to create stunning artwork easily. With the help of these free procreate grass brushes, you can turn your canvas on your iPad into a wonderful landscape masterwork.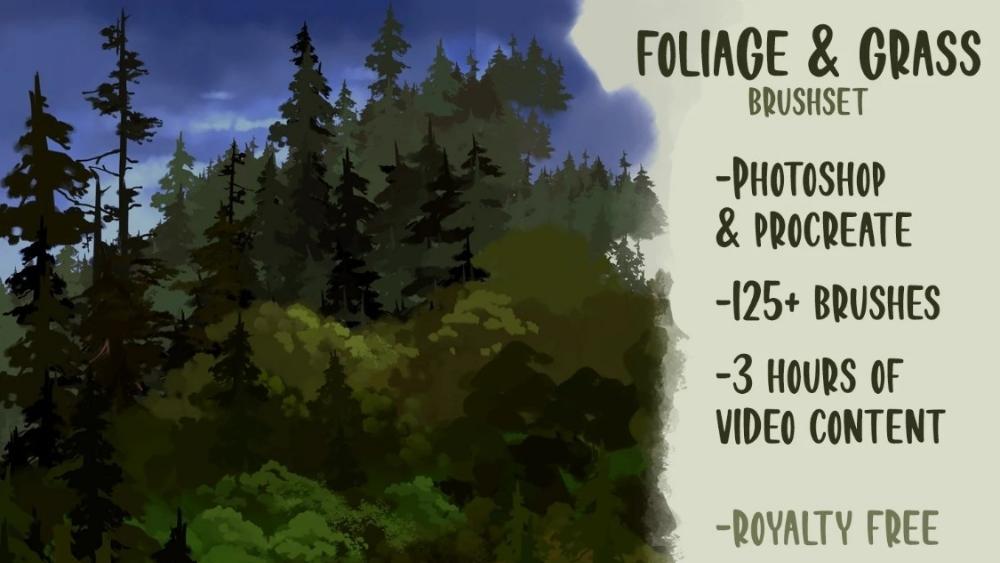 This is one of my favorite sets of grass brushes. When I started creating landscapes with Procreate, I wanted to experiment with a free set of grass brushes. In this set, you can find over 125 different brushes! But that's not all. If you are a beginner, you can hugely benefit from the 3-hour video content included in this package.
Features of this free grass brush Procreate set:
Over 125 free grass brushes for Procreate
Images with the brush tips are included
Suitable for any personal or professional work
Video content enriched with voiceover (containing tips and tricks)
Can be used as a Procreate brush settings framework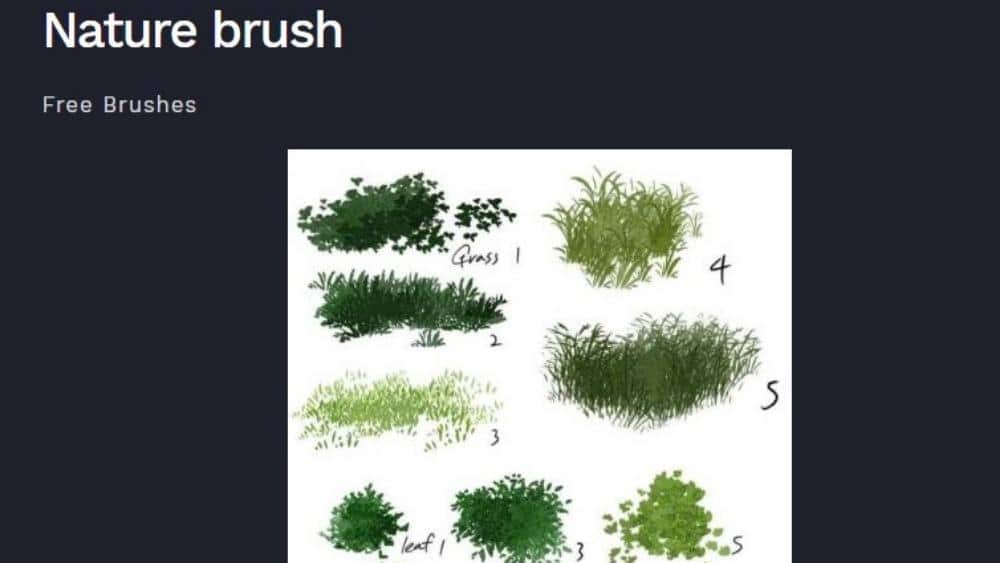 This nature brush created by Hollen Gray is dedicated to beginner illustrators. It is simple, easy to use, and efficient, as well. The great thing about this set of grass brushes is that you can fully understand how landscape painting works. If you are just starting your career, you can benefit greatly from this free set!
Features of this free Procreate grass brush set:
Free Procreate brush set of basic nature brushes
Easy to use and quick results
Perfect for beginner illustrators: simple and straightforward steps to painting
Conclusion
We are so lucky to be surrounded by amazing landscapes. The elements of nature are definitely an artist's dream. The lush green grass, the breathtaking tall trees, and the colorful plants bring magic into our lives. Those elements can be the best inspiration for digital illustrators. Procreate grass brushes can help you create the perfect landscape image. All of the brushes mentioned above are high-quality, trustworthy tools that are worth giving a try.
So, happy landscaping with these Procreate grass brushes! And thanks for reading,
Lilly-Mai
Share with your Friends: