15 Best Procreate Tree Brushes & Tree Stamps
Procreate tree brushes includes several brushes that can be used by both professional and amateur illustrators to create realistic landscapes and stunning scenery. Unfortunately, it's easy to become overwhelmed with so many online options.
However, we've compiled a list of the best free and premium Procreate tree brushes. Also included are Procreate tree stamps, also free and premium, to help you navigate the brush minefield with ease.
Express yourselves fluently and bring your incredible ideas to life using these Procreate tree brushes and tree stamp brushes.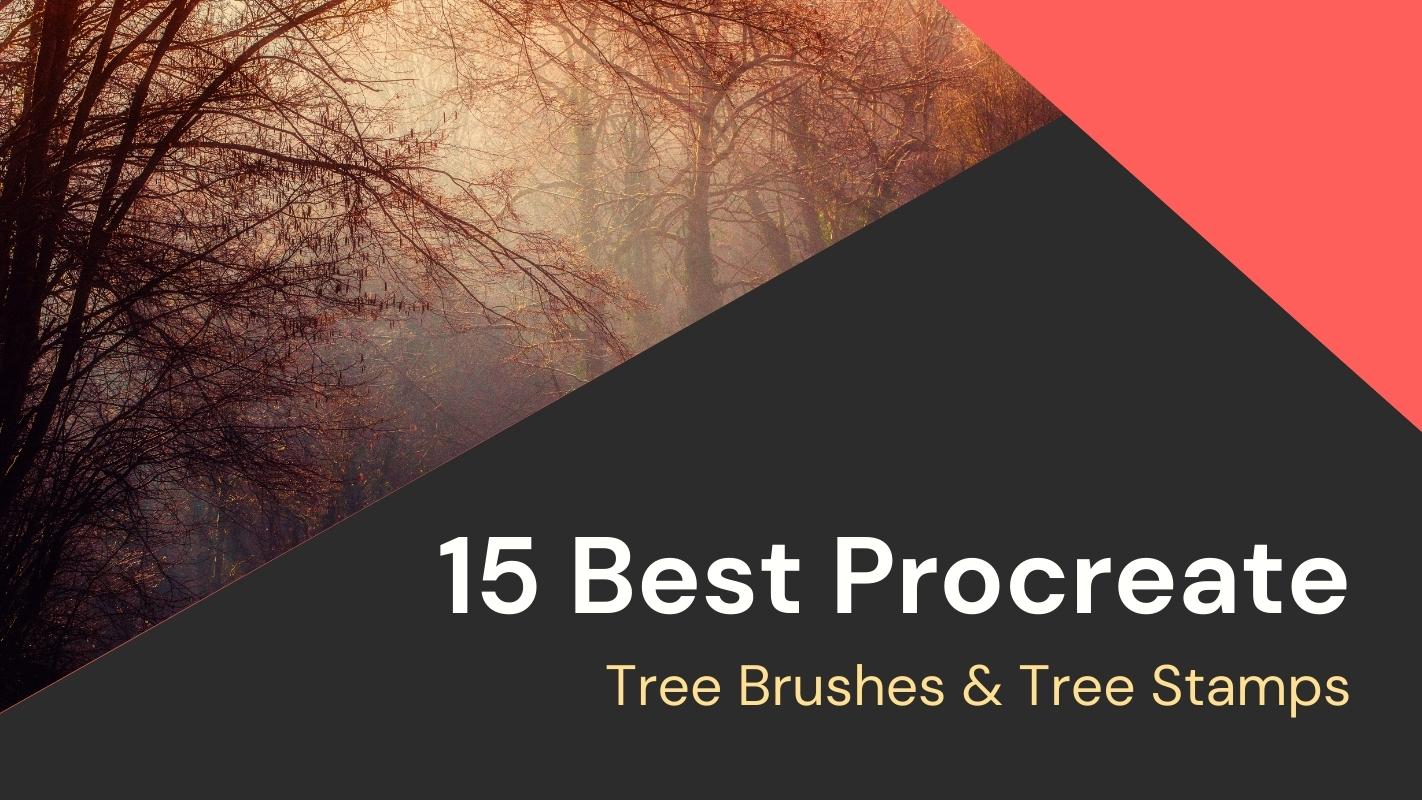 How To Identify Your Favorite Brush?
When working with Procreate, it is essential to have a good set of sketching brushes to guide you in creating breathtaking masterpieces. Having a collection of your favorite brushes is enjoyable and inspiring. Still, there is no doubt that an artist does not encounter any difficulty identifying and locating his favorite brushes.
Since Procreate does not allow you to save your favorite brushes, an organization is critical for quick identification. First, duplicate similar brushes and place them in a folder at the top of your Procreate brush list to achieve the same effect. After that, you can use QuickMenu to put extra brushes.
What Makes A Good Procreate Stamp?
A stamp is essentially a Procreate brush with a specific shape activated by tapping the pencil on the canvas. Because stamps do not require any dragging or drawing, many people regard them as a digital equivalent of real stamps. However, what distinguishes a good Procreate stamp is its versatility. As a result, good stamps should produce both decorative and functional shapes.
In addition, a good Procreate stamp should be easy to use. This is achieved by adjusting the stamp size and providing a clear stamp outline.
15 Best Procreate Tree Brushes & Tree Stamps
In this handpicked list of the 15 best tree brush stamps for Procreate, we cover everything from cherry blossom brushes to simple garden trees and tree texture brushes in general.
In addition, there are some Procreate flower brushes, grass brushes, tree stamps, and much more in this article. So let us start with the premium Procreate tree brushes first. After that, we cover the free Procreate tree brushes.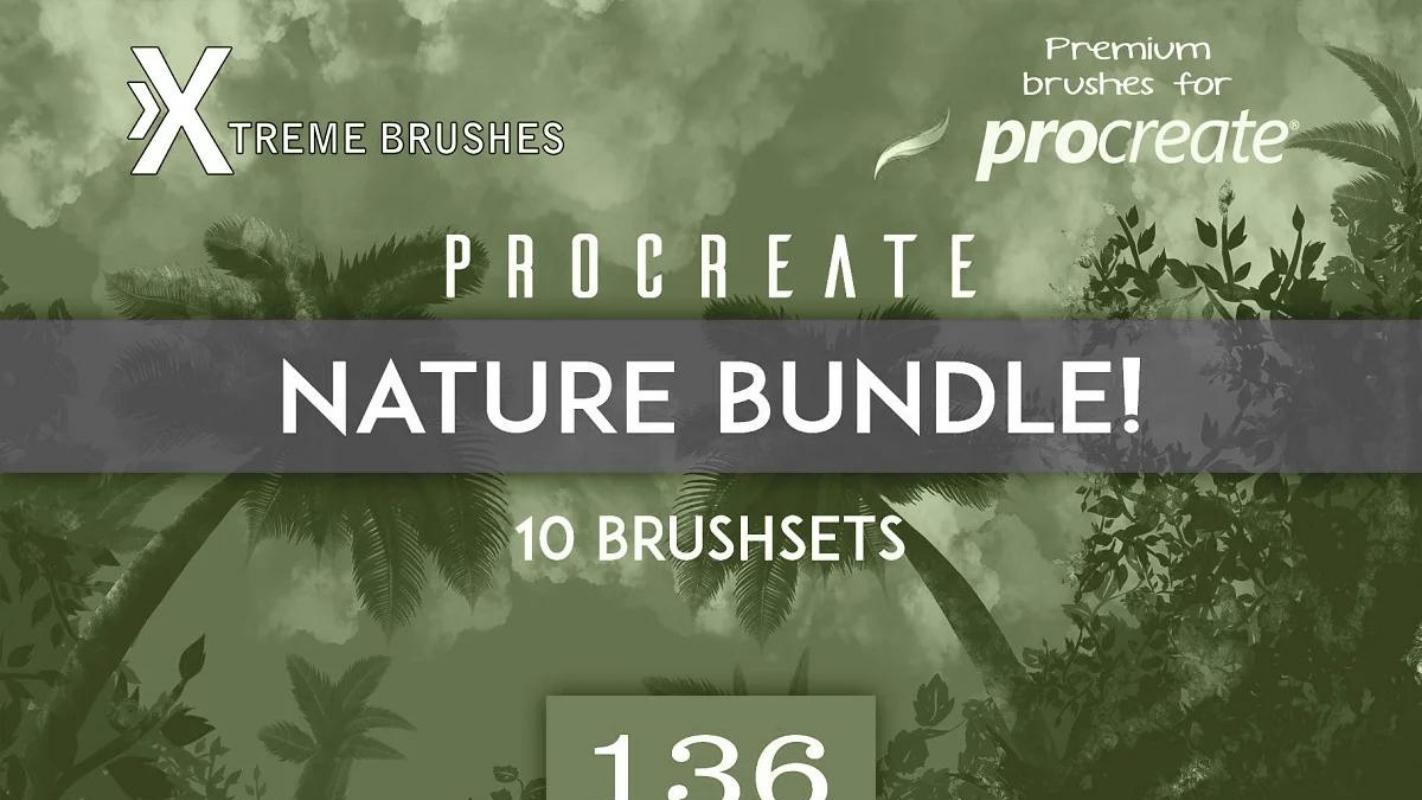 This product by Extreme Brushes is ideal for anyone interested in painting various natural landscapes. Specifically, this is a jam-packed kit for shading water, boulders, rocks, downpours, beam, haze, smoke, rain, winter, ripples, trees, and environments.
In addition, since this is a collection of nature-themed brushes, it will be more convenient to create atmospheric scenes such as meadow, tree trunks view, snow-covered environments, and other natural designs.
With 56 dollars, you can access and use 136 high-quality Procreate nature brushes, so it is a great deal. Aside from these brushes layer beautifully and creating dynamic shading effects, these are also simple to install. The company provided instructions through a video to guide the artists.
Pros and Advantages:
The company offers access to all bundles at a price that allows you to save 30 dollars.

There are more than a hundred brushes available.

This toolkit is easy to install.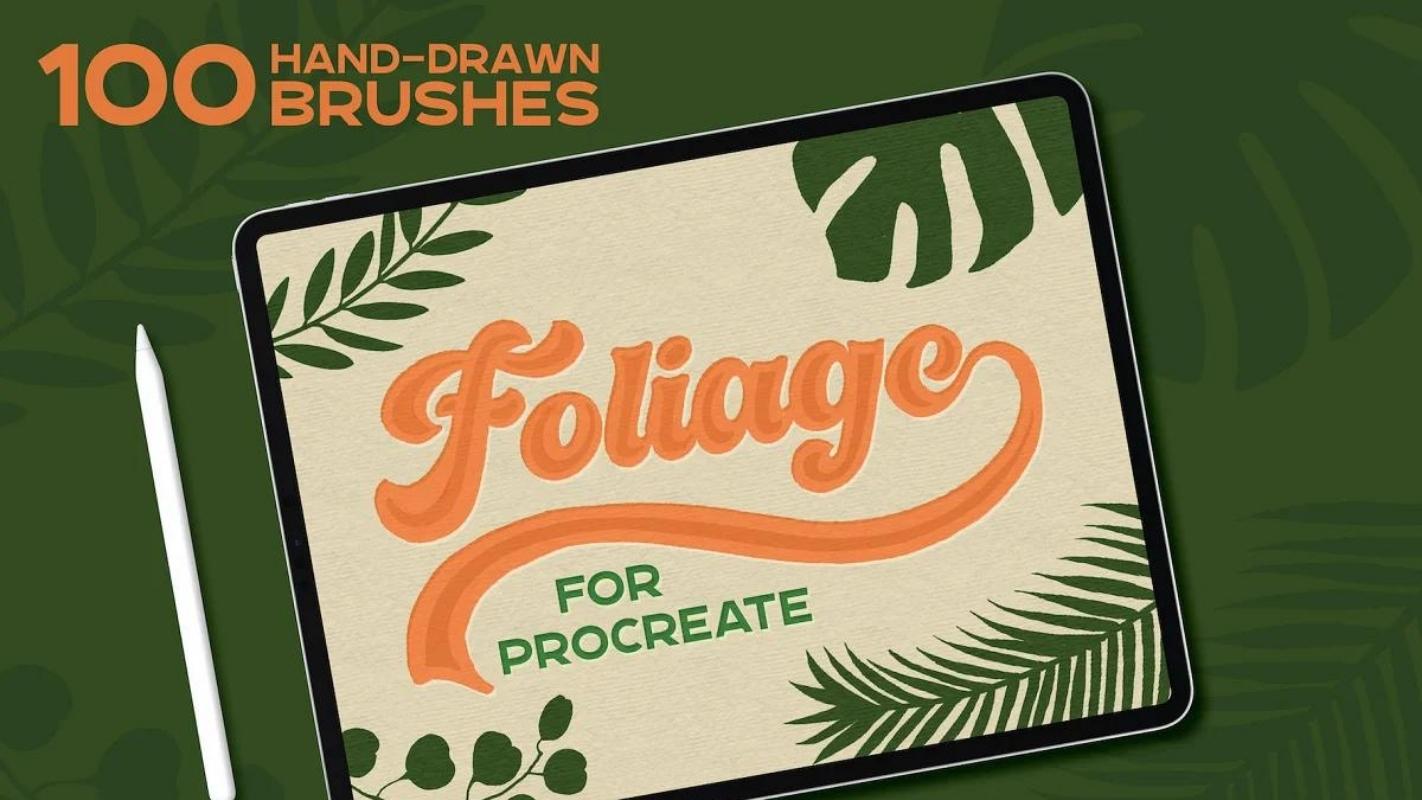 Foliage for Procreate by Brian Ritter is a fantastic set of 100 stamp tree brushes that enables the artist to create outstanding work arts. This collection primarily consists of trees, tree branches, leaves, garden trees, and plant brushes. Since there are 100 foliage objects, it is suitable for anyone who aspires to create breathtaking masterpieces.
It covers various graphics, invitations, brand logos, designs, and wall art applications. Apart from that, there are 6 Procreate color palettes, implying that your $15 is well spent.
Pros and Advantages:
This is jam-packed with a variety of brushes.

This is less expensive for its included features.

It is useful both for amateurs and professional artists.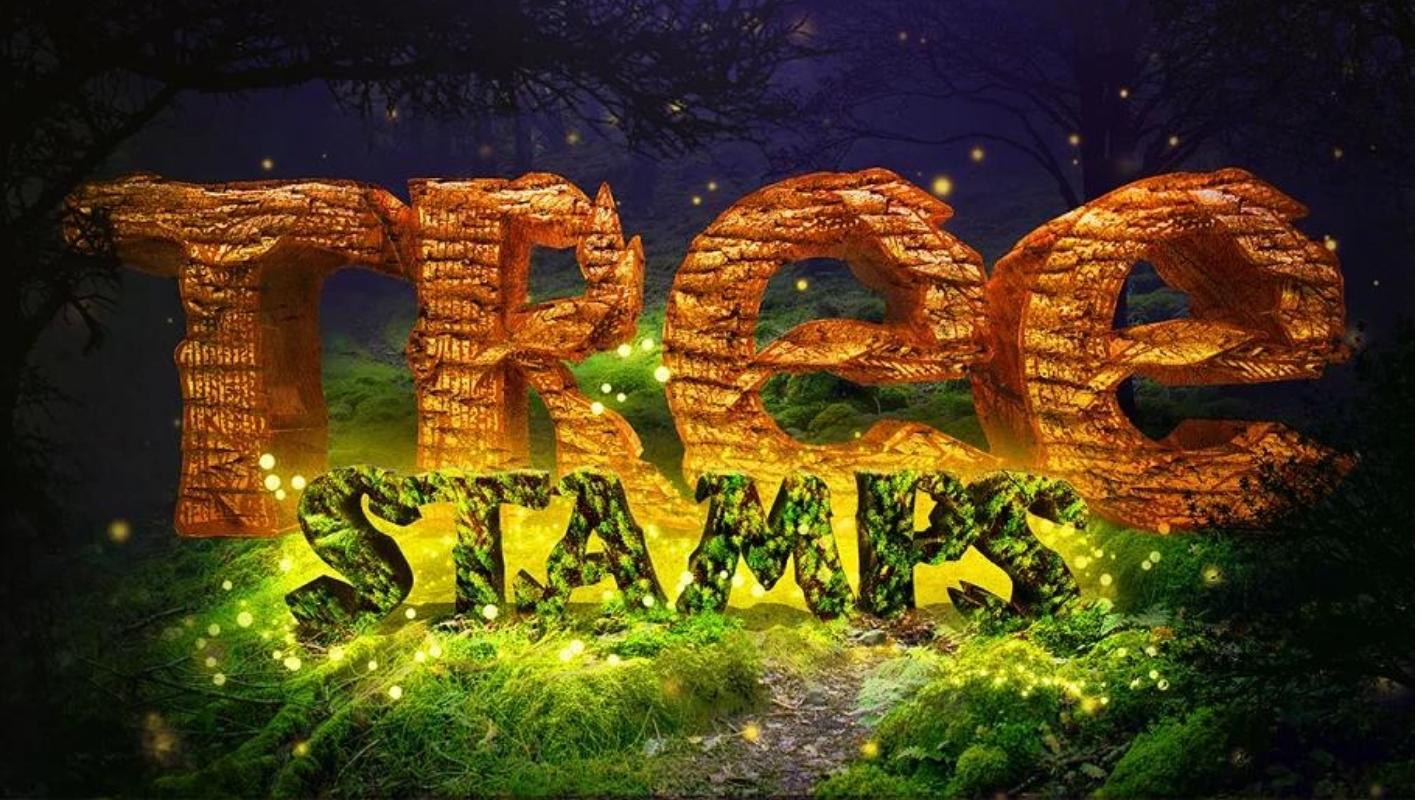 Endete Brushes has added 89 tree stamps and brushes to the Procreate app, giving virtual painters a diversified palette of special brushes and gorgeous environment-like stamps. Since this package is compatible and convenient to use, artists and amateurs can easily incorporate their imagination into real-life paintings and visuals.
There are no other drawbacks to this tree package. For only 14 dollars, anyone can choose their preferred stamps and combine several Procreate tree brushes to spice up their painting routine and journey.
Pros and Advantages:
These are several brushes at a lower price.

It is convenient and user-friendly.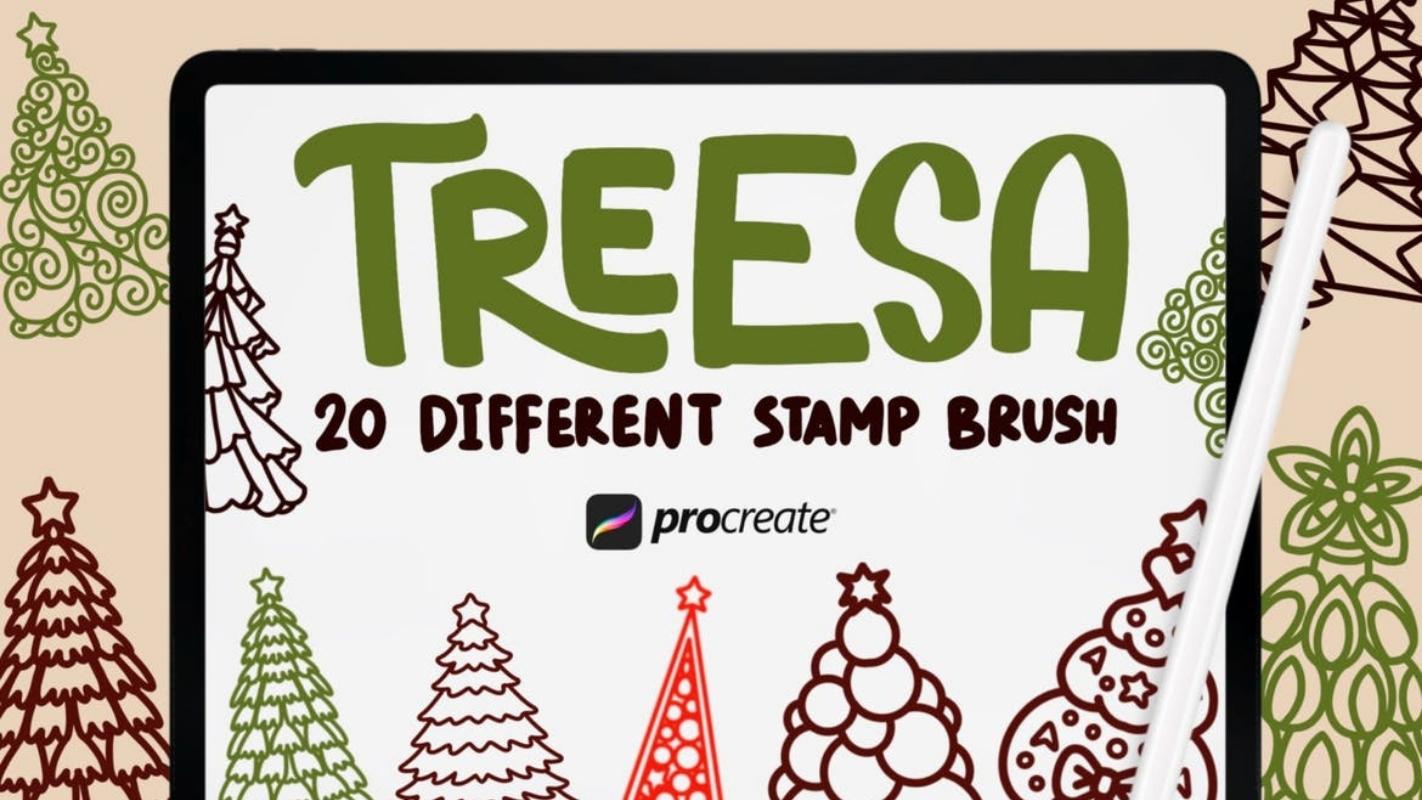 Treesa's Procreate set includes 20 stamp brushes for making models, drawings, and other design assets. Its designs are straightforward, but it has a unique nutritional content compared to others. You can use these brushes to make sure that all of your artwork is dynamic, inspiring, and visually appealing.
This also allows for the simple and easy extraction of brushes into Procreate, allowing for the use of products seamlessly. Furthermore, you can select the color you want with these kits and immediately place it on the canvas, indicating that their brushes are versatile.
Pros and Advantages:
These stamps come in several color palettes.

It is flexible and easy to blend when in use.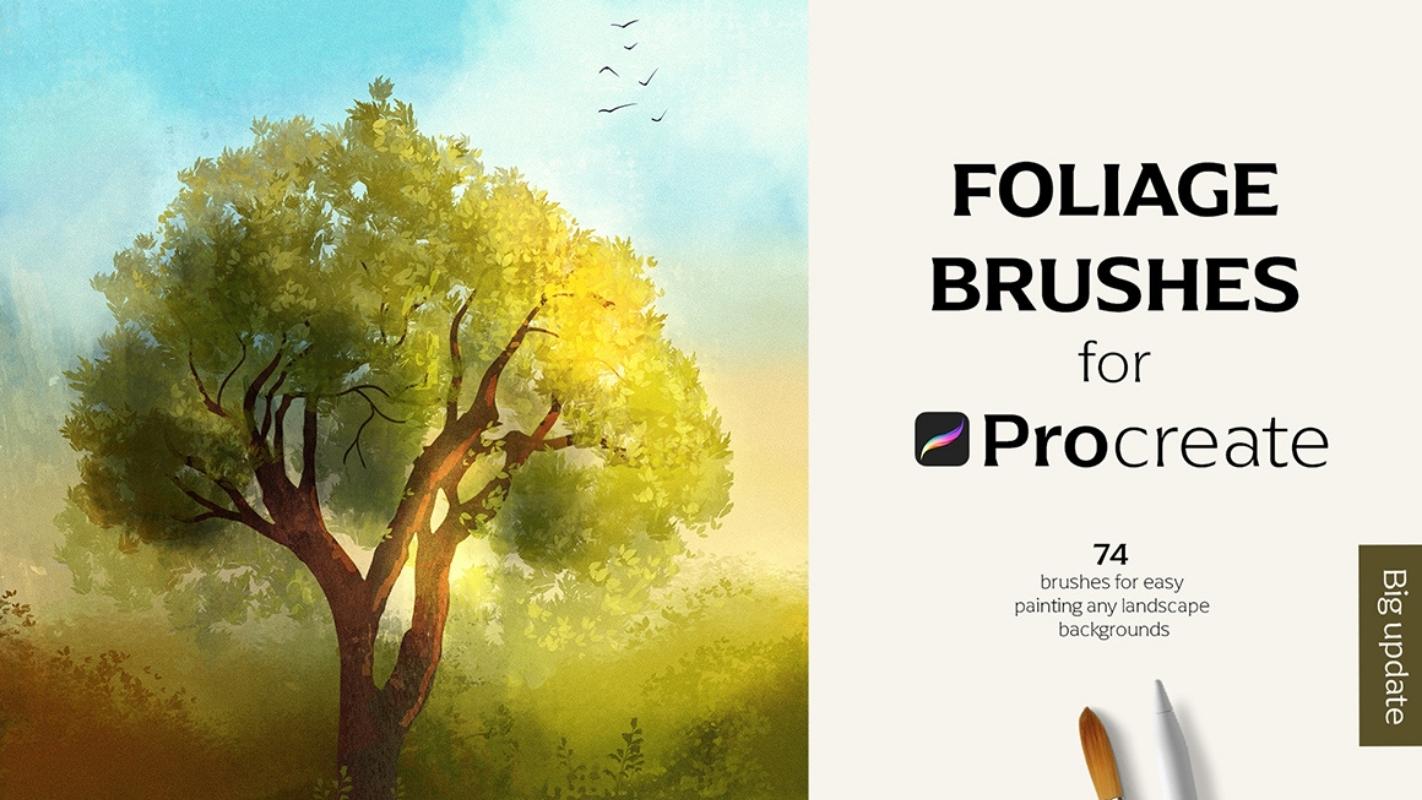 These brushes by Jenteva Art are designed primarily for foliage, skies, fir trees, grass, birds, and other subjects. This brush set is perfect for those who want to paint a feasible forest. Thus, it is also convenient for beginners since painting such in Procreate is simple with the use of proper brushes.
There are 74 brushes you can choose from, so you just need to select what you prefer, then choose a color, and begin painting. For 21 dollars, you can have this is a one-of-a-kind, unique and updated collection that works brilliantly. Rest assured that these brushes
produce not only beautiful but also high-resolution serene paintings. Your choice of brushes can make or break your work, but you can elevate your art to a higher level of realism with this set.
Pros and Advantages:
These are perfect for creating realistic sceneries.

Brushes are smooth, making them user-friendly to all artists.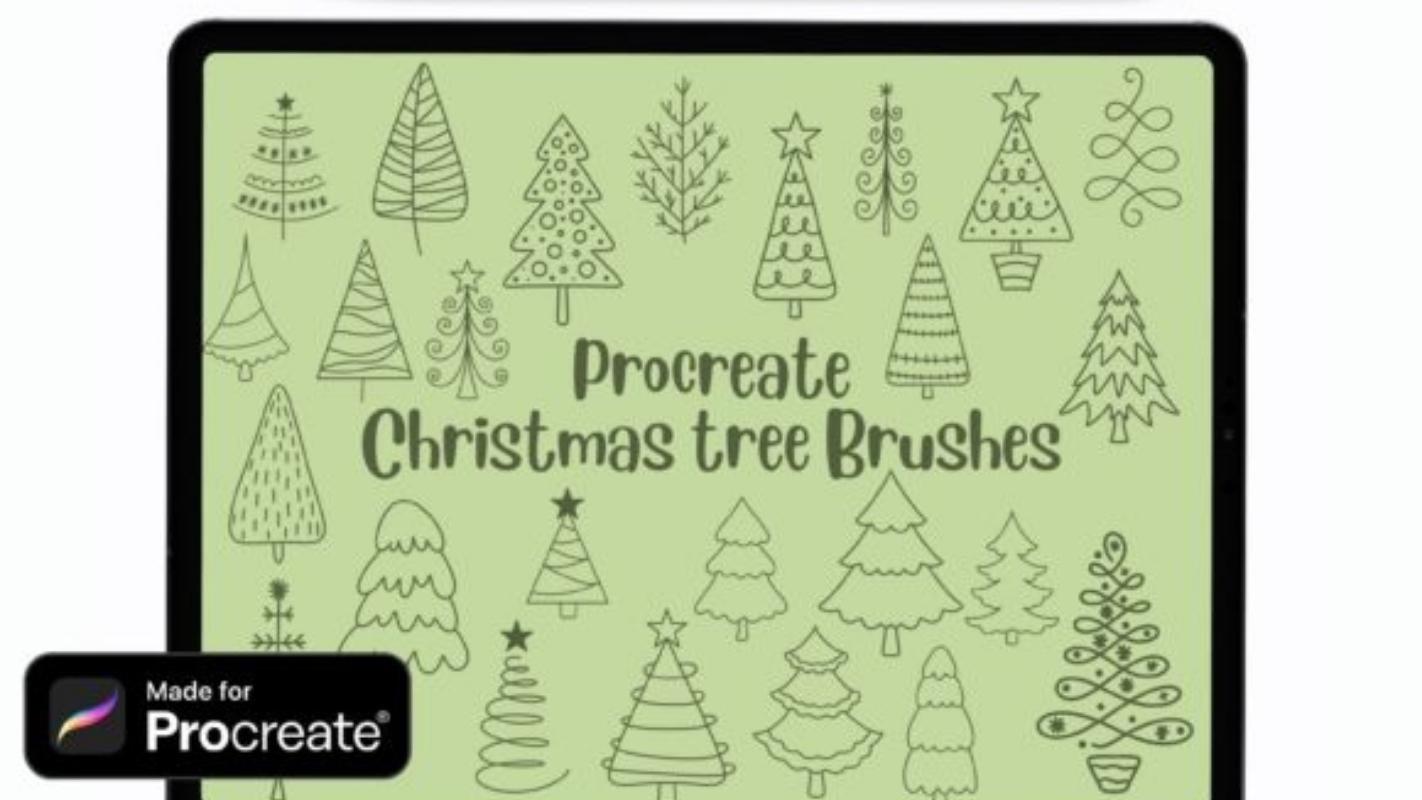 This set of 28 brushes by Drean Art Design is ideal for creating beautiful winter visuals, illustrations, and wallpapers. The fact that it can be used with your finger, as well as a third-party stylus, is what makes it stand out. In addition, this set allows for simple product importation into Procreate, making it ideal for beginners to add stunning winter tree backgrounds to their works of art.
Aside from these brushes, it also includes 34 incredibly detailed winter tree stamps to help people create stunning in-depth snow countryside backgrounds. These products are flexible and can be easily combined with a distinctly relaxed vibe, enhancing the aesthetic value of an artwork.
There is no doubt that you will appreciate the wide variety of different tree stamps available, as well as their ability to infuse whimsical effects into your artwork for only 5 dollars. Isn't it astounding?
Pros and Advantages:
This is ideal for incorporating winter trees into backgrounds.

It is simple to download products into Procreate.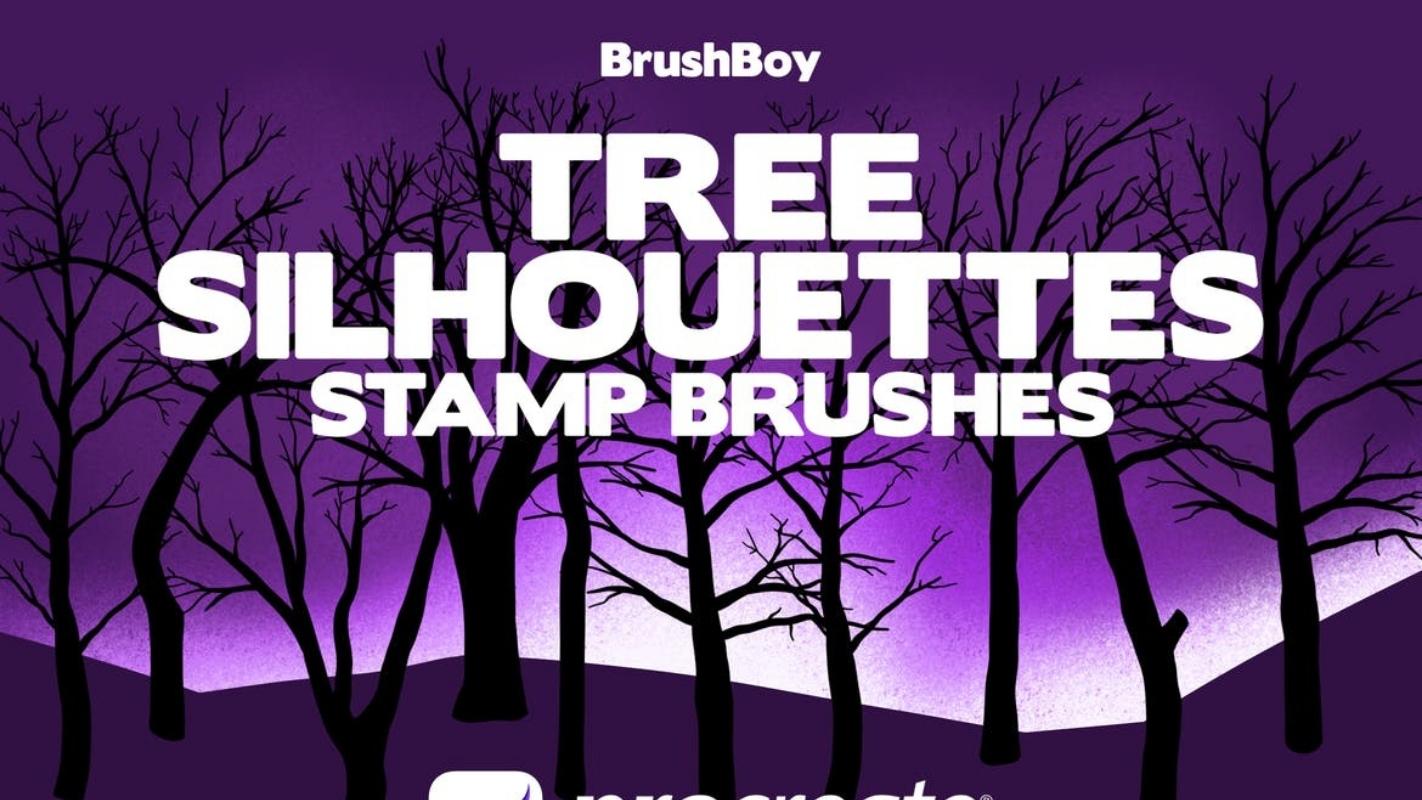 Brush Boy's Tree Silhouette Stamps are here to take your art to the next level. Whether experienced or novice, artists are aware that painting trees takes a long time.
Still, with these stamps, they can now incorporate beautiful pieces in a short amount of time. Furthermore, as it combines natural-looking elements once in a canvas, these ten stamps will foster the establishment of a chill and aesthetic forest scenery.
Investing in this collection set will significantly improve your workflow, allowing you to produce more high-quality work arts. This collection may be just what you need to help accentuate and add detail to your work. These are unquestionably several of the finest Procreate tree brushes available at the moment on the market.
Pros and Advantages:
This is cheaper compared to other kits offering 10 stamps.

It improves the journey in an instant.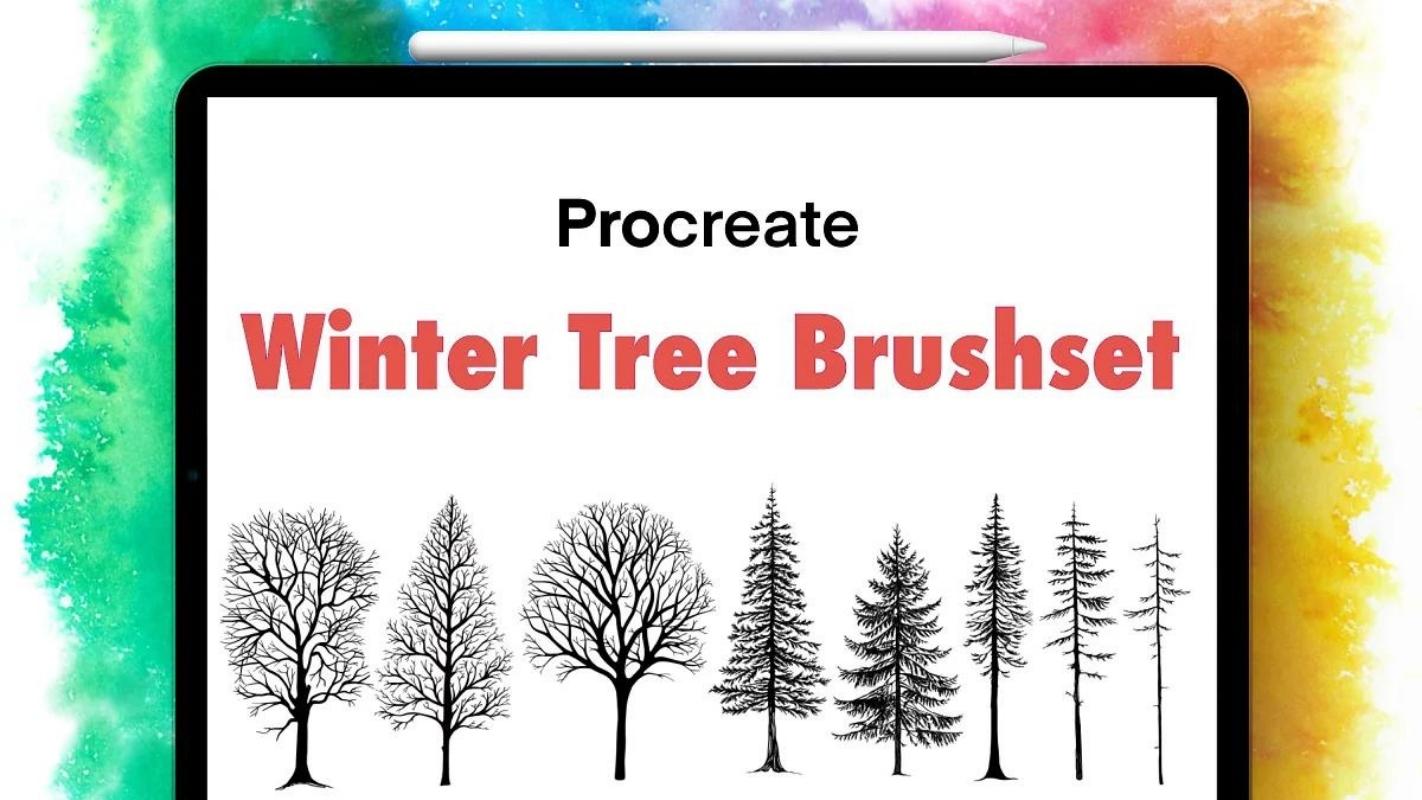 These 10 unique tree stamps by Bunte Galerie will allow you to create exceptional winter scenes effortlessly. With these stamps, you can paint an entire forest or even create minimalistic arts in just a small amount of time. These are adorable hand-drawn winter tree stamps that can be used for a variety of practical and creative projects.
This product distinguishes itself from the competition by allowing it to be used for basic and creative purposes. The designer of these stamps implies that these can also be used in calendars, letters, cards, and other illustrations since these are all adorable to see. Imagine spending just 14 dollars, and you can immediately start creating more versatile masterpieces.
Pros and Advantages:
These adorable winter trees stamps are less expensive.

Stamps can be used for a wide range of purposes.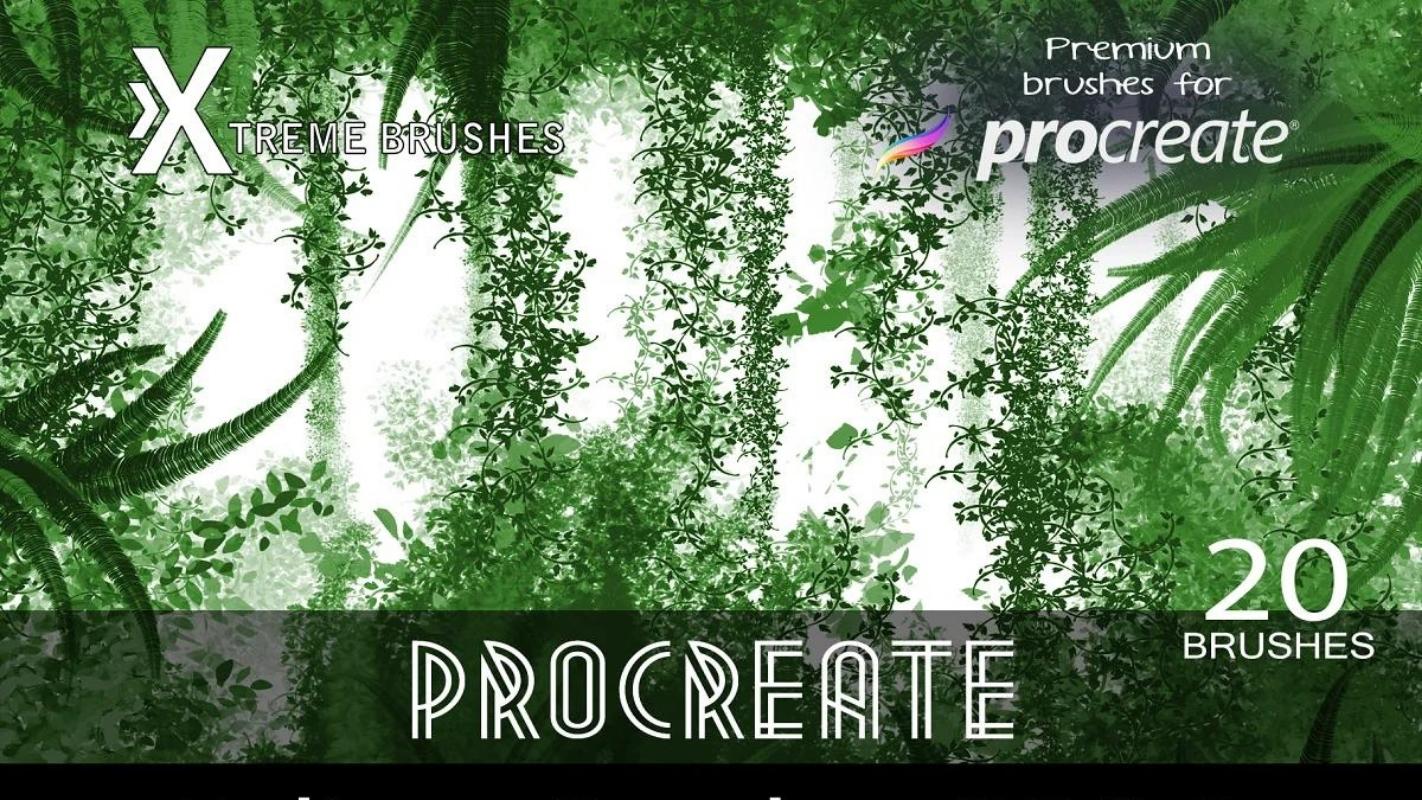 This palette works perfectly even at a lower price, so it would be essential for your asset library. In addition, this package includes 20 high-quality brushes for experienced artists to use in creating stunning foliage paintings. Using this set, the painters can make excellent, elevated serene paintings while saving a significant amount of time.
This pack is a significant investment if you want to improve your electronic drawing skills by using high-quality brushes. These are excellent layering brushes for achieving a wild and overgrown look.
Pros and Advantages:
It has a reasonably low price.

A comprehensive guide is provided upon investment.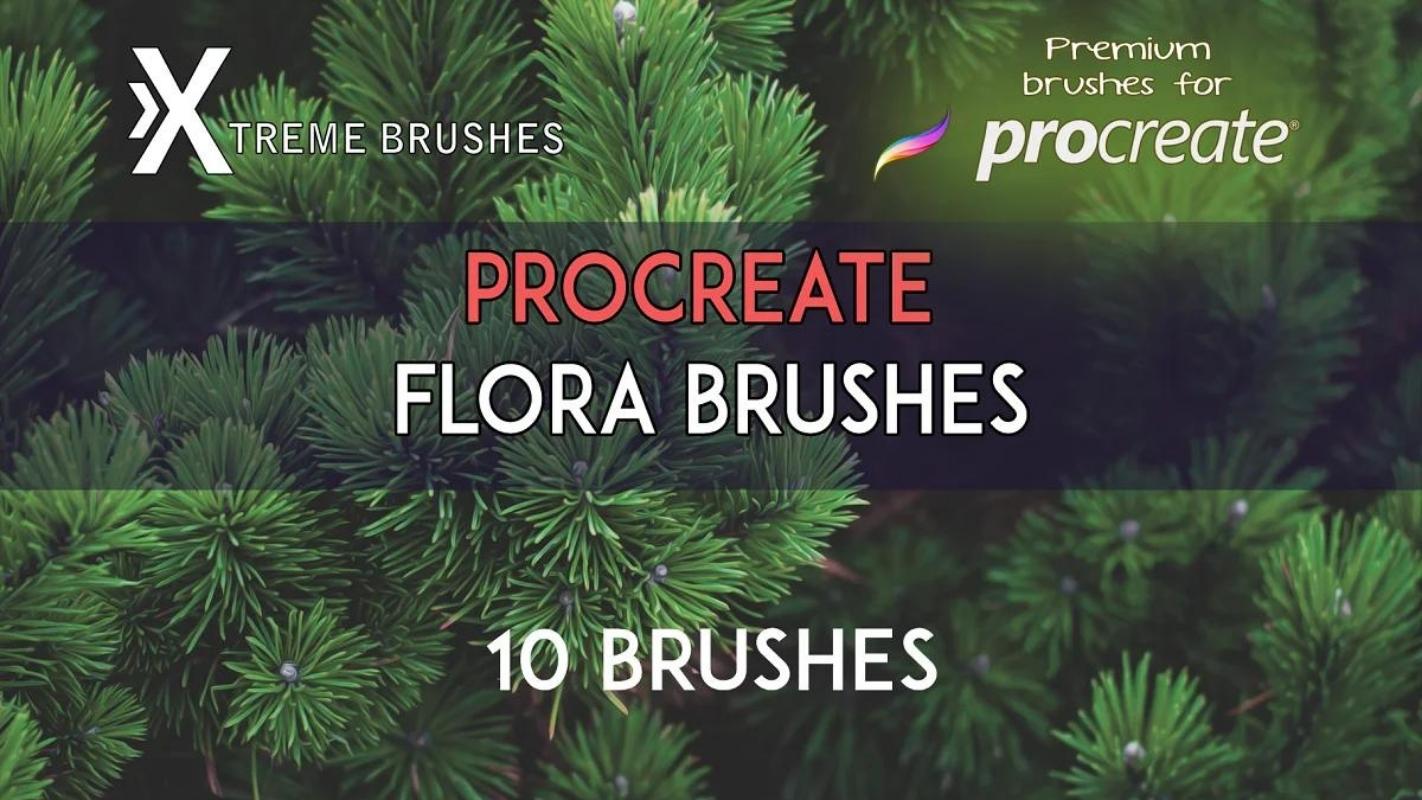 This set of ten brushes for painting mesmerizing trees is perfect for anyone who wants high-quality Procreate brushes at an affordable price to create amazing nature drawings. Smudging and blending are necessary steps in creating beautiful works of art. These brushes will make it easier for you to do so. For its ability to blend, it can completely change the appearance and mood of your piece.
This 5-star bundle by Extreme Brushes, which has received positive feedback from users, is available for only $14. With this kit, you're guaranteed to get brushes for everything, as well as some fine brushes for finishing touches. So what do you have to lose? Enjoy these ten extremely realistic brushes that can be used to create a variety of effects by changing the woodlands and boscages. This is outstanding because it fosters artists' ability to bring their imaginations to life.
Pros and Advantages:
The brush set is both cheap and professional.

Brushes are perfect for drawing attention to small details.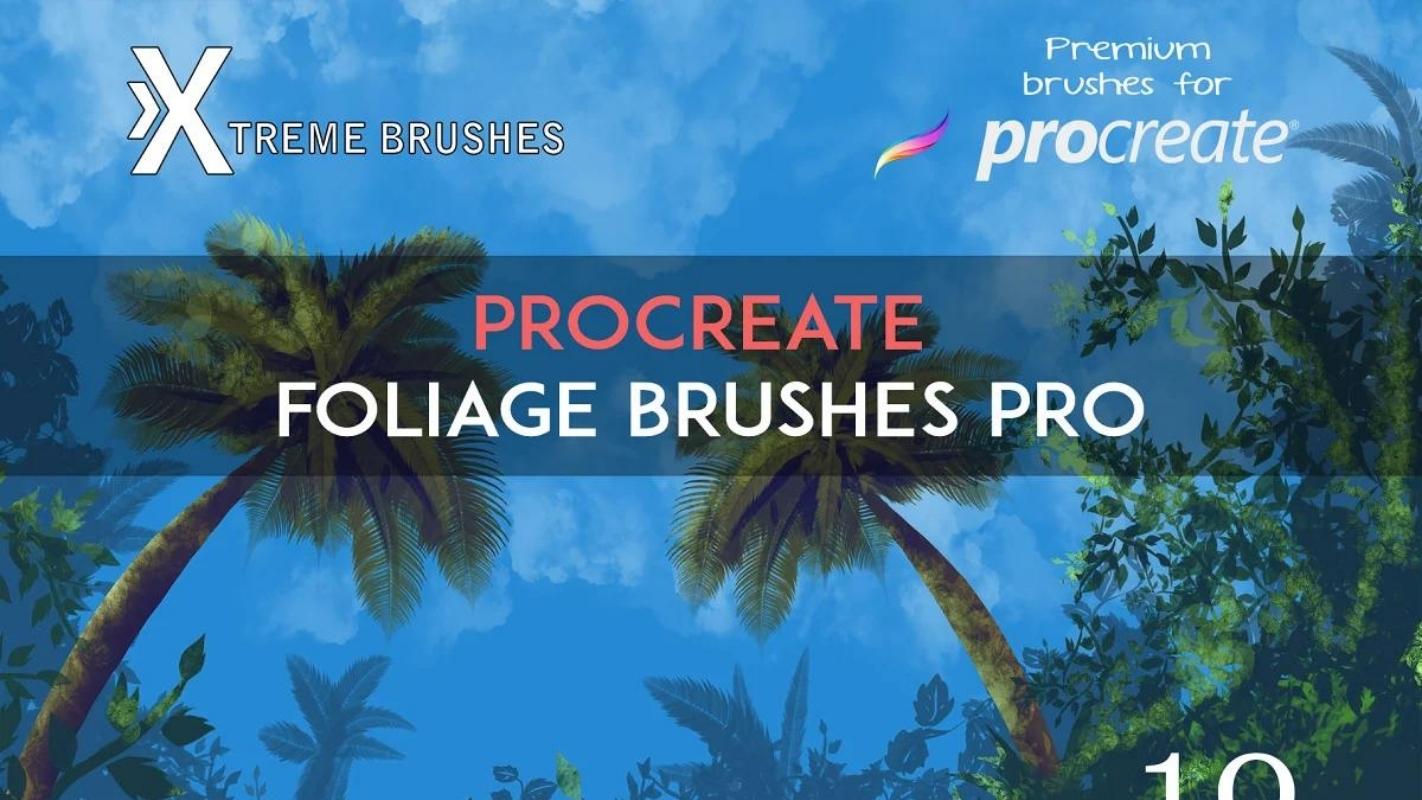 Extreme Brushes has done it again! This 14 dollar set is ideal for those who want to create beautiful landscapes. There are ten extremely realistic brushes included helping you create convincing branches, trees, palm trees, Procreate grass brushes, and other types of foliage. The goal of this pack is to create stunningly realistic landscapes and paintings.
It includes everything you'll need to build magnificent forests. What's more interesting is that they added an instructional video demonstrating how to install the pack to ensure that the artists can effortlessly use these brushes. It is no doubt that finding the right brushes is the key to creating exceptional artwork, and it is guaranteed that this set is unquestionably among them.
Pros and Advantages:
It provides users with several professional foliage brushes.

There is a comprehensive guide included in the package.
Free Procreate Tree Brushes And Free Stamps
Here you will find a selection of free procreate tree brushes that are available for download. These packs come with various textures, shapes, and sizes to add variety to your creations in the creative world of Procreate. You have to sign up for specific email lists on these sites to download these freebies.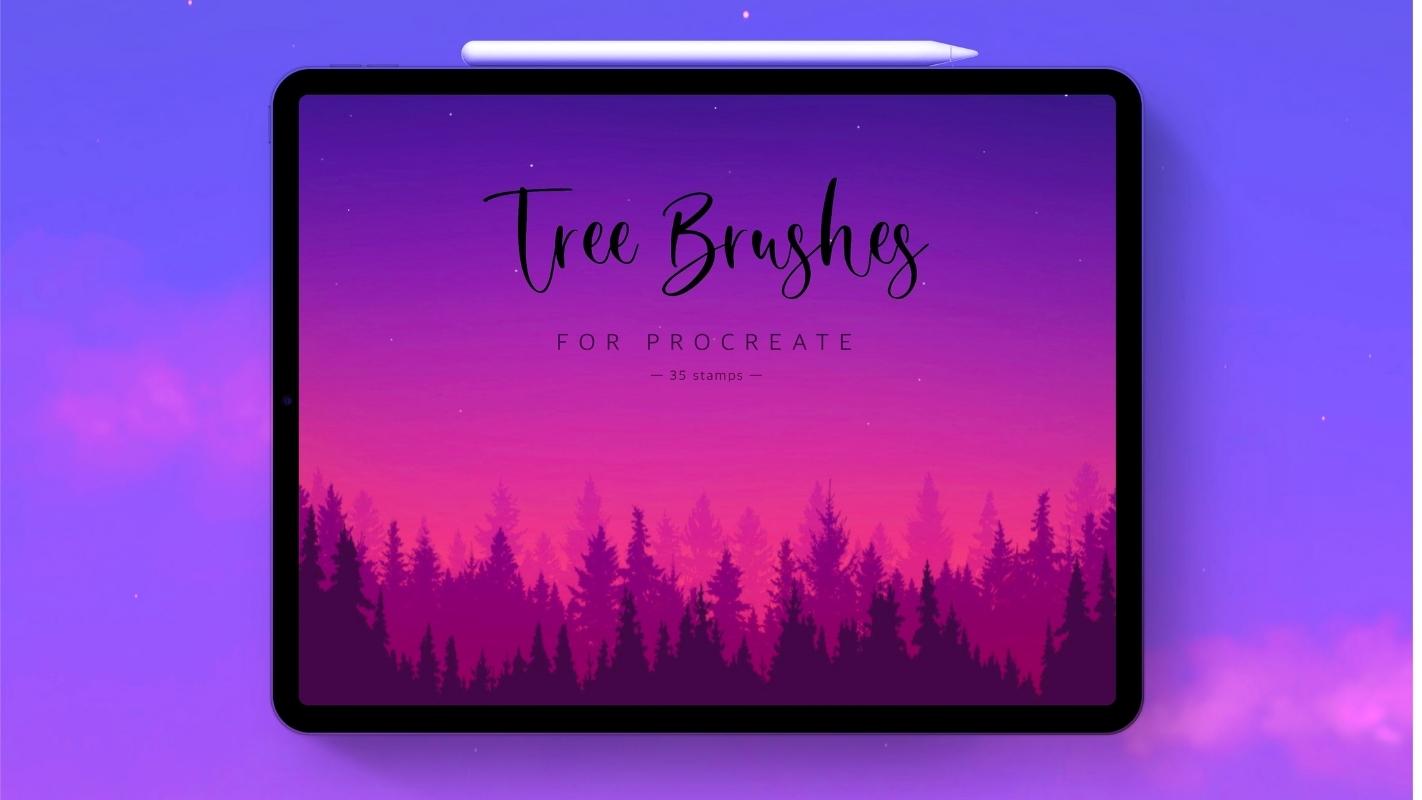 Tree Silhouette Stamps by Marla provides 35 free tree stamps that are useful and appropriate for beginners to use. This pack is simple to download and will allow you to draw trees without difficulty. In addition, since it comes with a variety of stamps, you can combine them in various creative ways to create a stunning art piece.
Although it is free, you can still select from a wide range of promising products in the industry. For example, suppose you want to collect beautiful stamps but don't have the money. In that case, this could be the perfect opportunity for you to digitally paint a variety of different-looking trees as well as the inevitable variety of natural landscapes.
Pros and Advantages:
The package is completely free.

There are 35 different tree stamps available.

As it's simple to use, it is appropriate for beginners.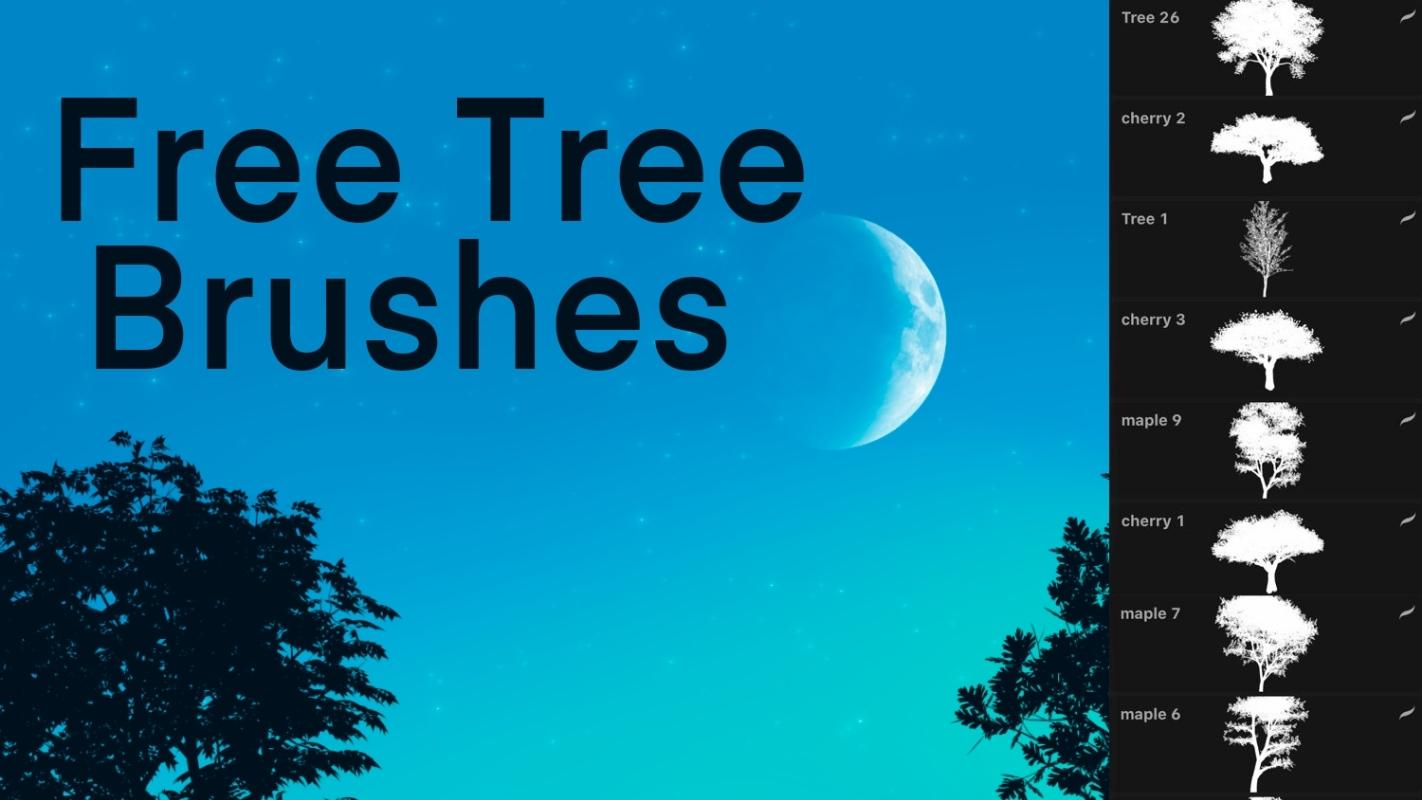 Gumroad's Procreate brush pack contains 12 brushes. This update for Procreate includes realistic and natural tree brushes. This incredible brush set aids in creating the most aesthetically pleasing yet lifelike forests and beautiful scenery. The most appealing aspect of these products is that they can be downloaded for free, allowing anyone to test them. Users and artists who used these brushes were blown away by how well they helped them improve and even stand out with their artworks.
Pros and Advantages:
This package is completely free.

It is suitable for beginners.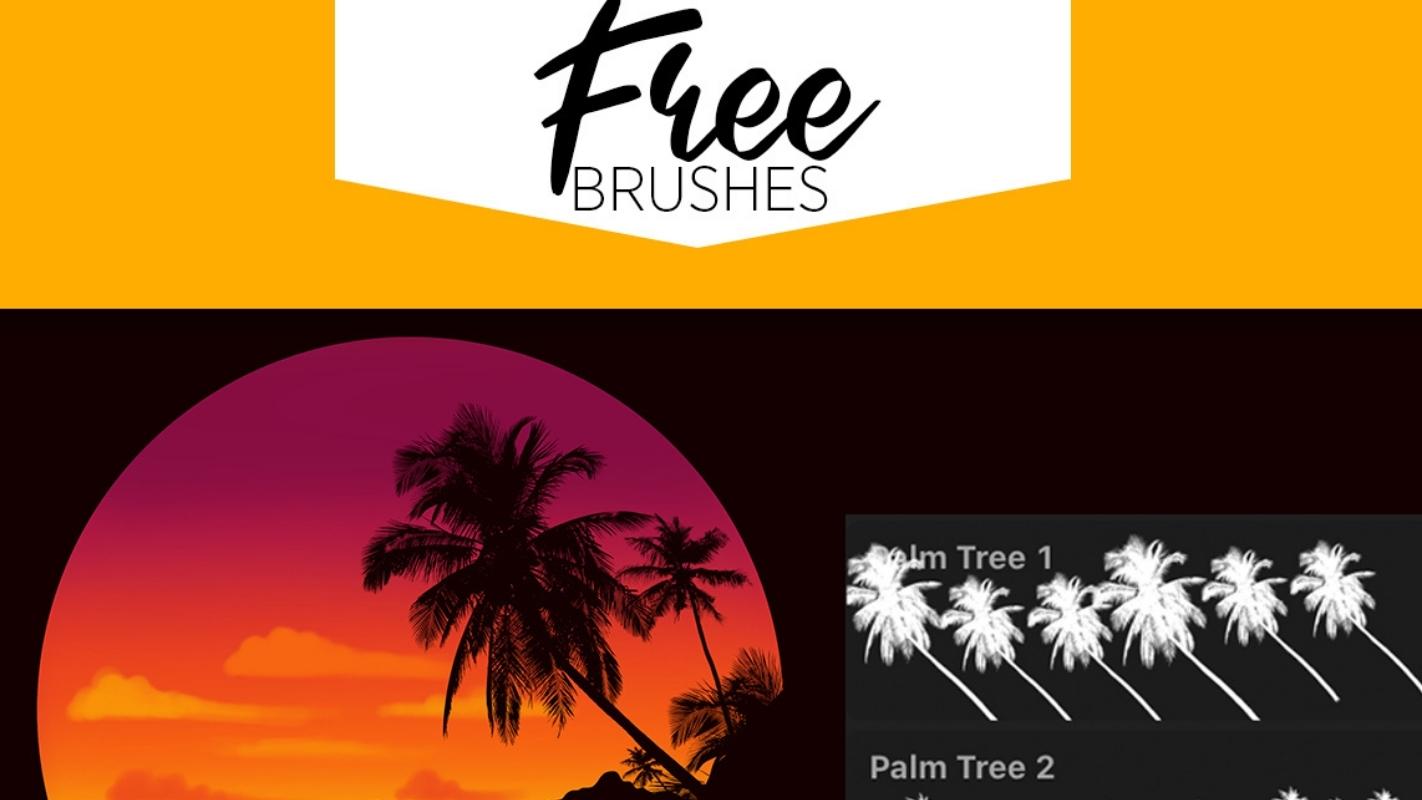 Here are two free palm tree brushes that will allow you to create stunningly realistic palm trees in a matter of seconds. These two brushes can be used in conjunction with others to enable you to be more creative when painting and coloring the canvas. You can use these brushes on various projects, such as cards, letters, and visuals, because they can be used immediately. Even though these are only two, you should not limit your creativity because there are numerous ways to improve your artwork using these.
Pros and Advantages:
You can get these for free.

You can expand and explore your creativity.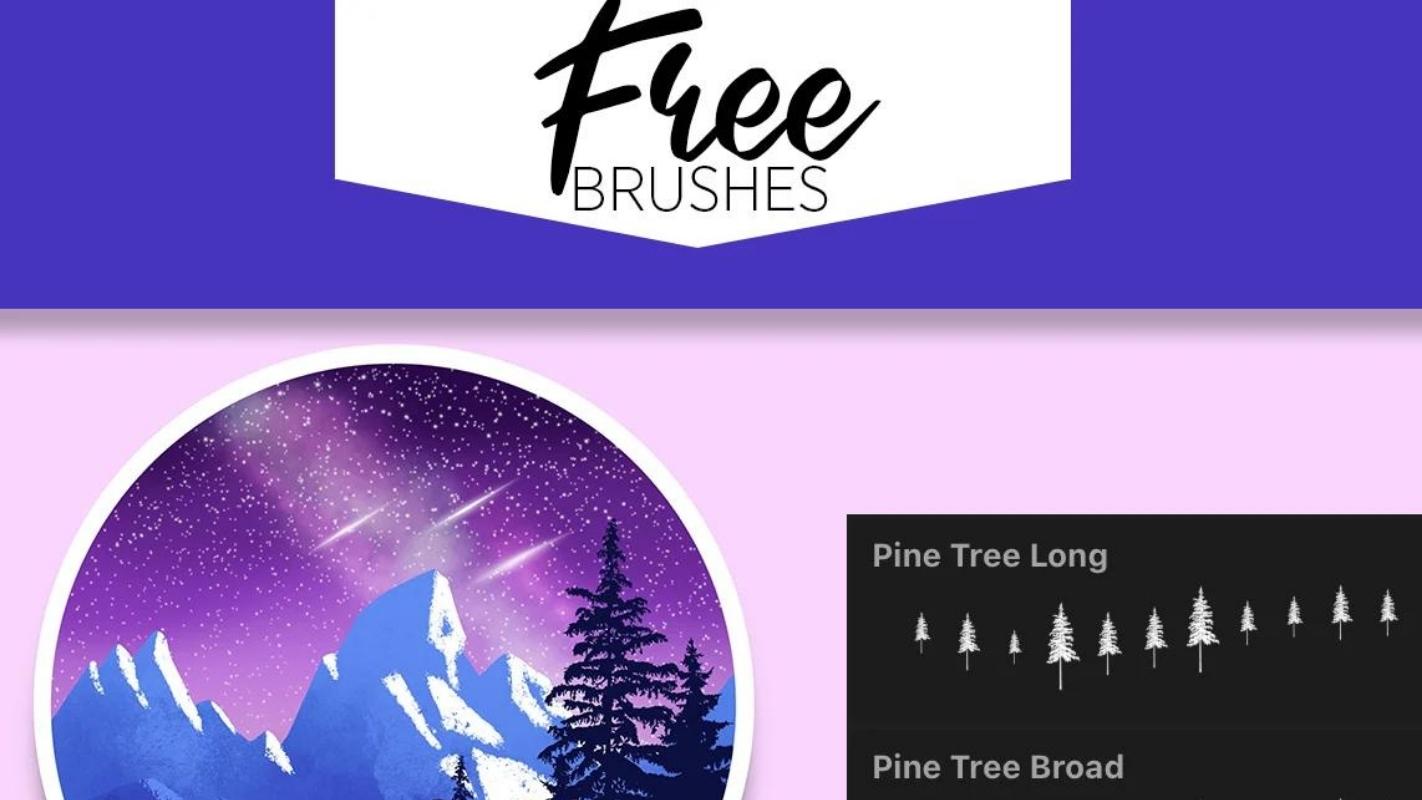 These brushes will assist painters and artists who enjoy drawing pine trees in creating a stunning one. This is available in a free package, so there's no reason to delay downloading it. In addition, these two brushes can be used to design materials such as scrapbooks and cards.
What's more surprising is that the designer of these brushes included a video tutorial on how an artist can be more creative in using and combining the brushes with others.
Pros and Advantages:
This comes with completely zero cost.

There is a tutorial video regarding the use of these brushes.
Which Brush Is Right For You?
The best brush for you will determine whether you prefer sketching, inking, lining, coloring, or shadowing. Numerous reviews and recommendations on their selected Procreate tree brushes enhance their creativity. You have to experiment with different brushes to find the right one.
Once you've seen it, make sure you can easily find your brushes so you can create outstanding masterpieces more conveniently and simply.
Conclusion
Finally, the Procreate tree brushes and Procreate tree stamps unquestionably enable artists to create exceptional designs and masterpieces. They are exploring the world of virtual art in this way, allowing them to recognize that there is an infinite amount of creativity.
Don't ever be afraid to express yourself and make your dreams a reality by painting them. Allow our selection of brushes and stamps to help you create stunning natural landscapes.
These are the best Procreate tree brushes! Thanks for reading,
Lilly-Mai
Sources:
Share with your Friends: