12 Best Procreate Tattoo Brushes (Free & Premium)
One of the benefits of using Procreate tattoo brushes is that they are easy to use. The user just needs to select a brush, pick a color, and start drawing. As a result, Procreate is the best app for creating great-looking tattoos. The brushes are also customizable, and the user can make their own by adding custom shapes and textures.
We have compiled a list of the 12 best Procreate tattoo brushes from different categories, such as tattoo brush sets and individual brushes. These brush sets come with various features, such as custom shapes, custom textures, and even watercolor paintbrushes.
We cover some of the best premia Procreate tattoo brushes, as well as some of the best free Procreate tattoo brushes. We also included some Procreate tattoo stamps. So make sure you stick till the end, so you don't miss any of these tattoo brushes for Procreate.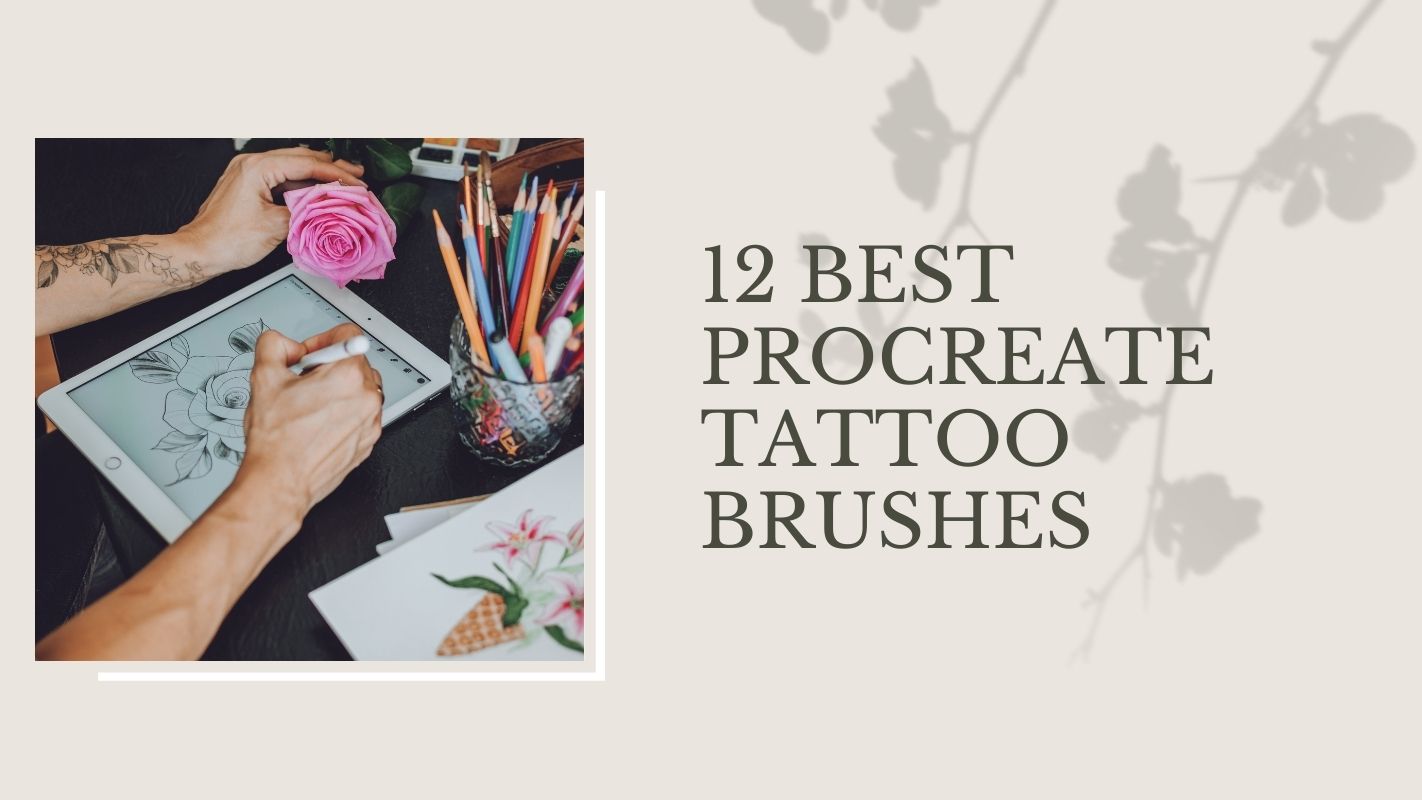 What Makes a Good Procreate Tattoo Brush
When drawing with Procreate, a good brush is essential. The right brush can make you feel like you're painting or drawing with actual paint. Good brushes are well known for imitating typical real-world brushes like oils, watercolor, and pencils. Tattoo brushes are specifically designed to mirror instruments used in the tattooing industry.
What Are the Different Types of Tattoo Brushes?
Usually, a typical set comes with stippled and line art brushes inspired by various tattoo artists. Sets also include line art brushes, shaders, and other tools often seen in tattoo art. Templates are also available to practice using your new tools to create unique pieces of tattoo art. But let us get started with this incredible list with the best tattoo brushes for Procreate.
12 Best Procreate Tattoo Brushes
Tattoo brushes for Procreate are a great way to bring your ideas in a visual form. If you are a tattoo designer, you save yourself a lot of time to create your tattoos digitally.
Our list of the 12 best Procreate tattoo brushes contains a lot of different styles, from realistic to cartoon. So whether you are a tattoo designer, a lettering artist, or a graphic designer, you will find the right brushes for you.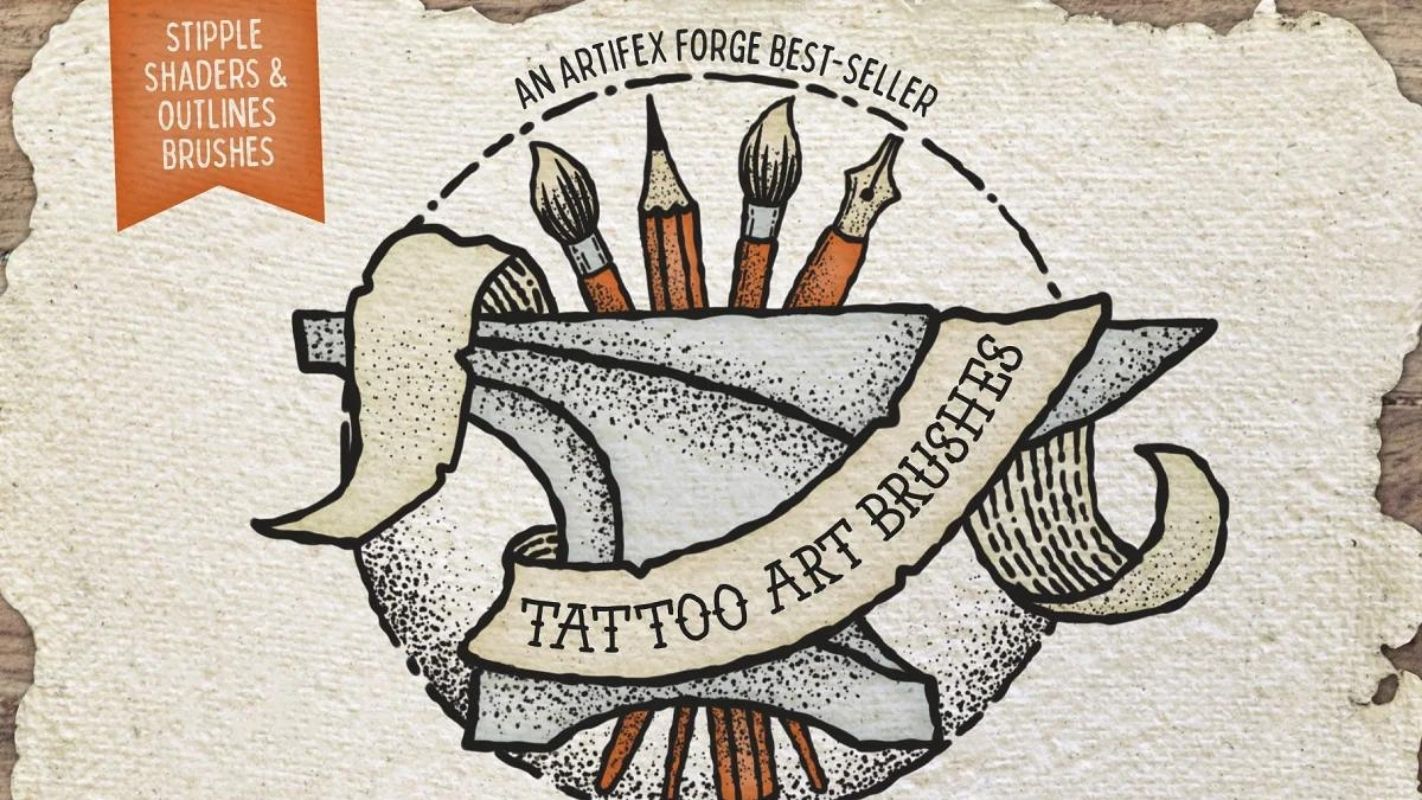 Tattoo Art Brushes are perfect for artists who want to create genuine stippled texture and ink outlines based on Jerry Sailor's art style. The brushes are compatible with Procreate 4.1 and higher and are built with various brushes for different textures. So whether you're looking for a brush to stipple or one to create an ink outline, Tattoo Art Brushes will give you the tools you need.
The set includes:
Gradient Stipple Shaders

Stipple Brushes

Various In Liners

One of the best tattoo brushes for Procreate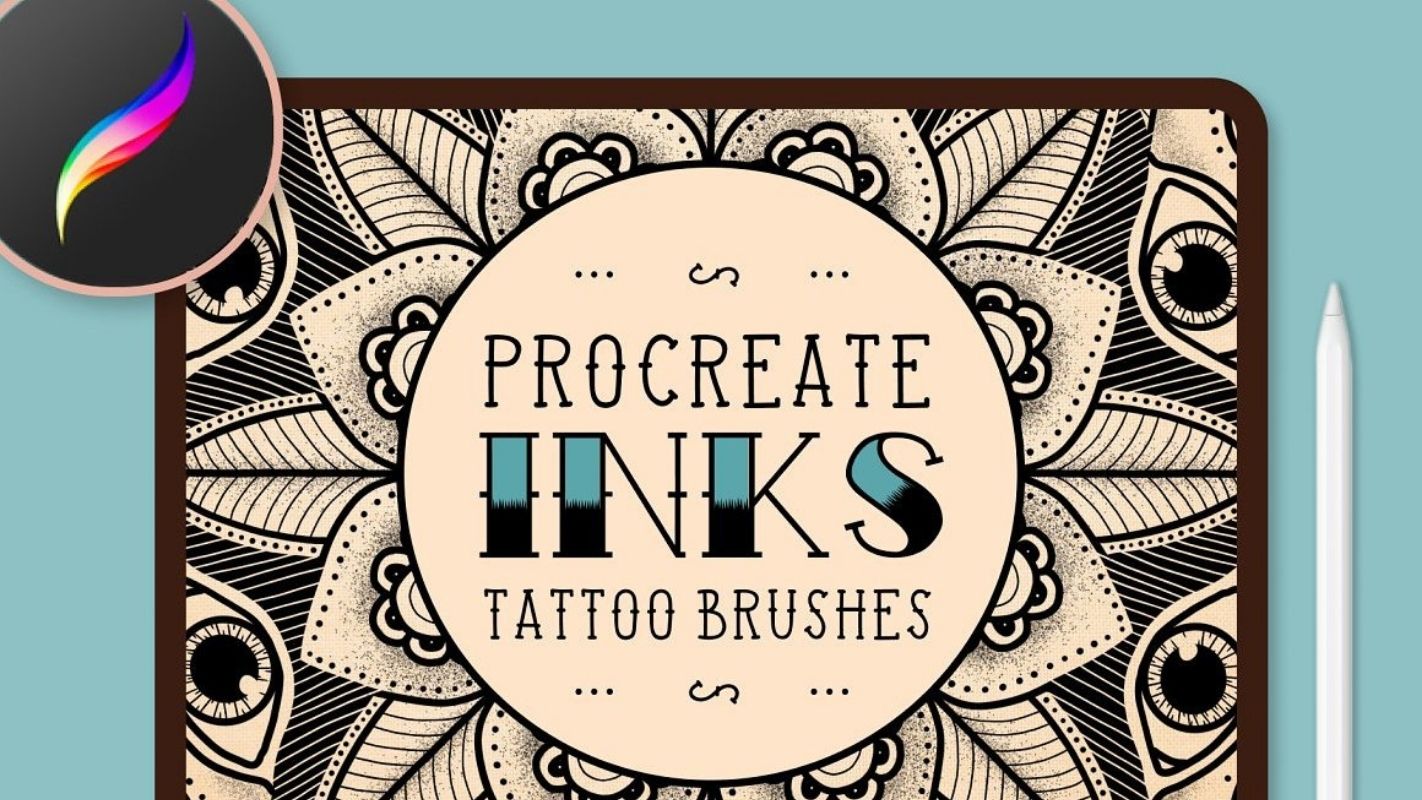 Procreate Inks Tattoo Brushes are a set of tattoo brushes for Procreate. They allow you to create real-life tattoo designs. The brushes are modeled on real tattooing tools giving you control over your designs. These brushes give you a realistic and authentic tattooing experience and let you design your dream tattoo.
The set includes:
Custom Brushes

Line Brushes

Shading Brushes

Dot Shading Brushes

Manual Shading Tool

Skin Textures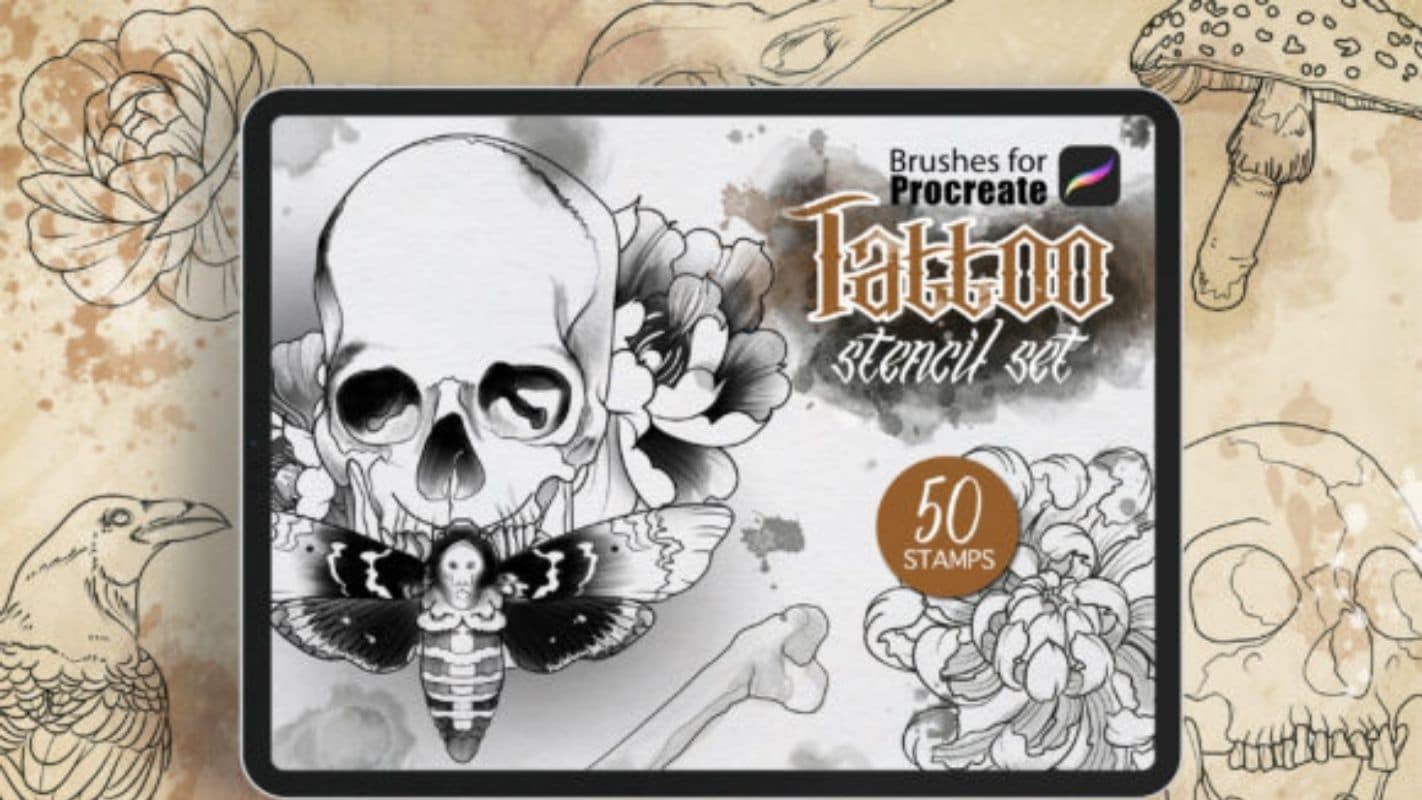 Procreate Tattoo Basic Stencil Set is the best way to start your own tattoo illustrations. You can create your own tattoos with high-quality stencils, brushes, and graphics. With over 4 million graphics and 50 brushes, you can make your art look like a pro.
The set includes:
Almost unlimited supply of graphics

Line Ink Brushes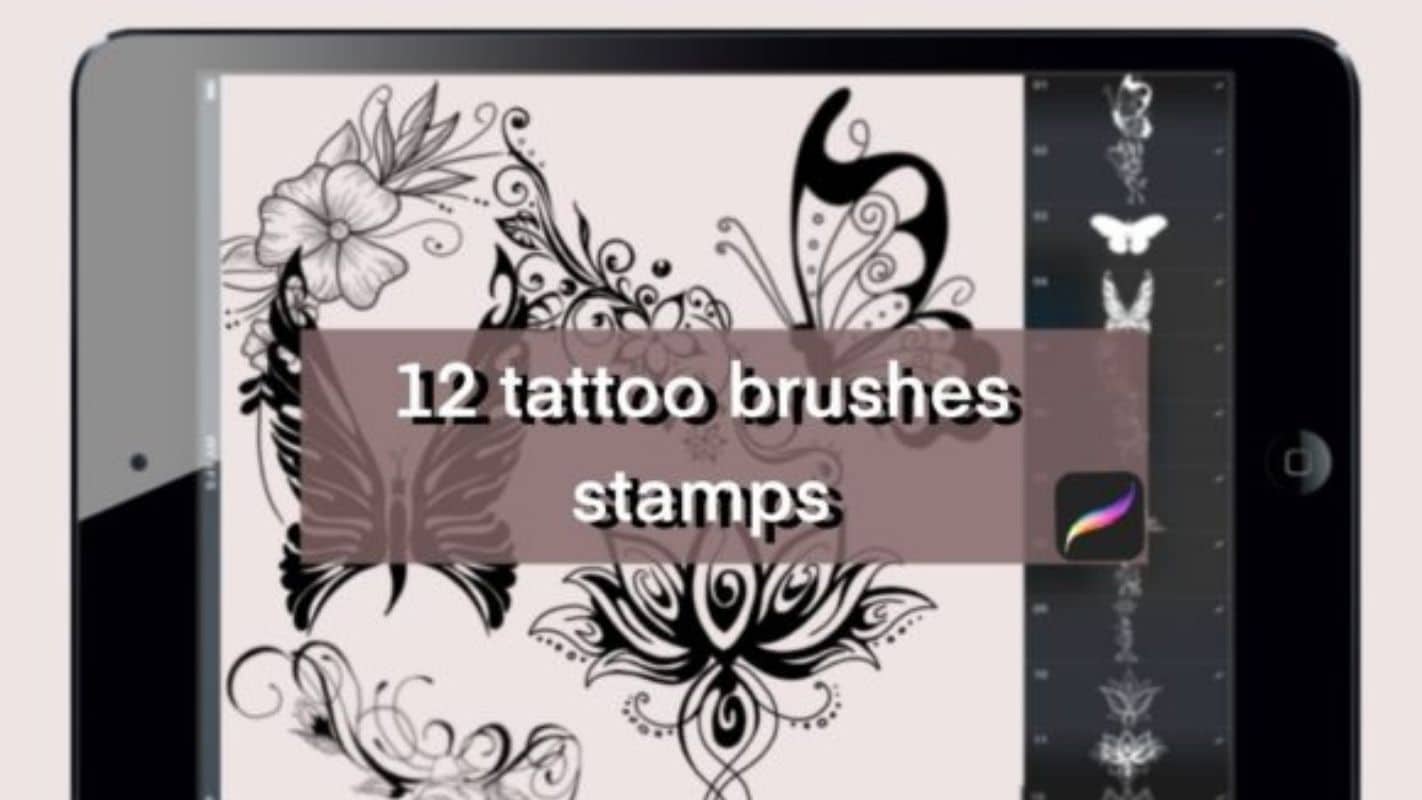 12 Brushes of Tattoo Stamps for Procreate is a set of 12 Procreate tattoo stamps depicting mainly butterflies and flower designs. These are perfect for use as templates or decorations for other paintings. You can create the perfect tattoo for your next masterpiece with this set.
The set includes:
12 Brush Stamps for Tattoo Art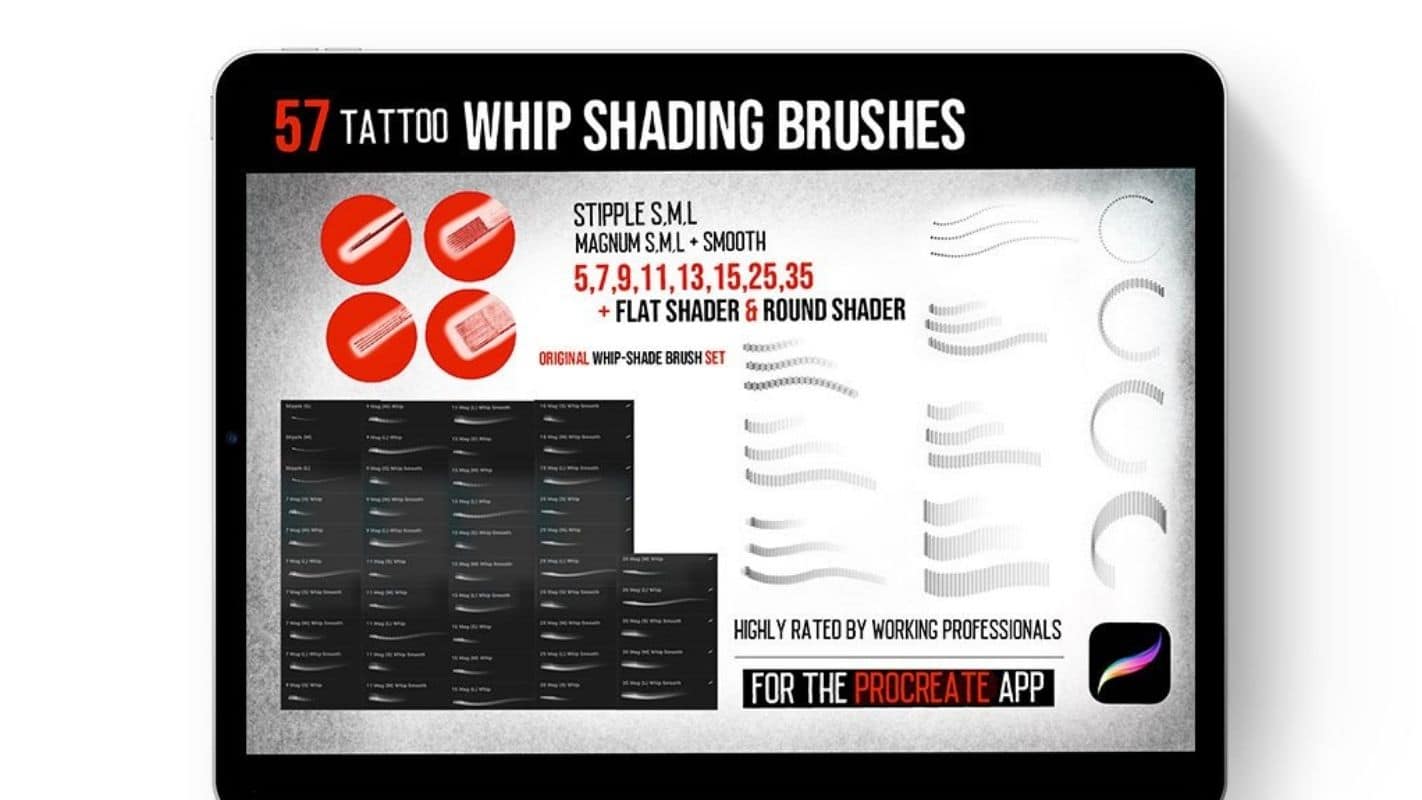 Procreate Tattoo Needle Whipshading Set is a set of 57 tattoo needle brushes for artists who love to use the whip-shade technique in their work. These Procreate tattoo brushes are intended for artists working within the Procreate app or for someone who wants to create artwork in this manner in digital form.
The set includes: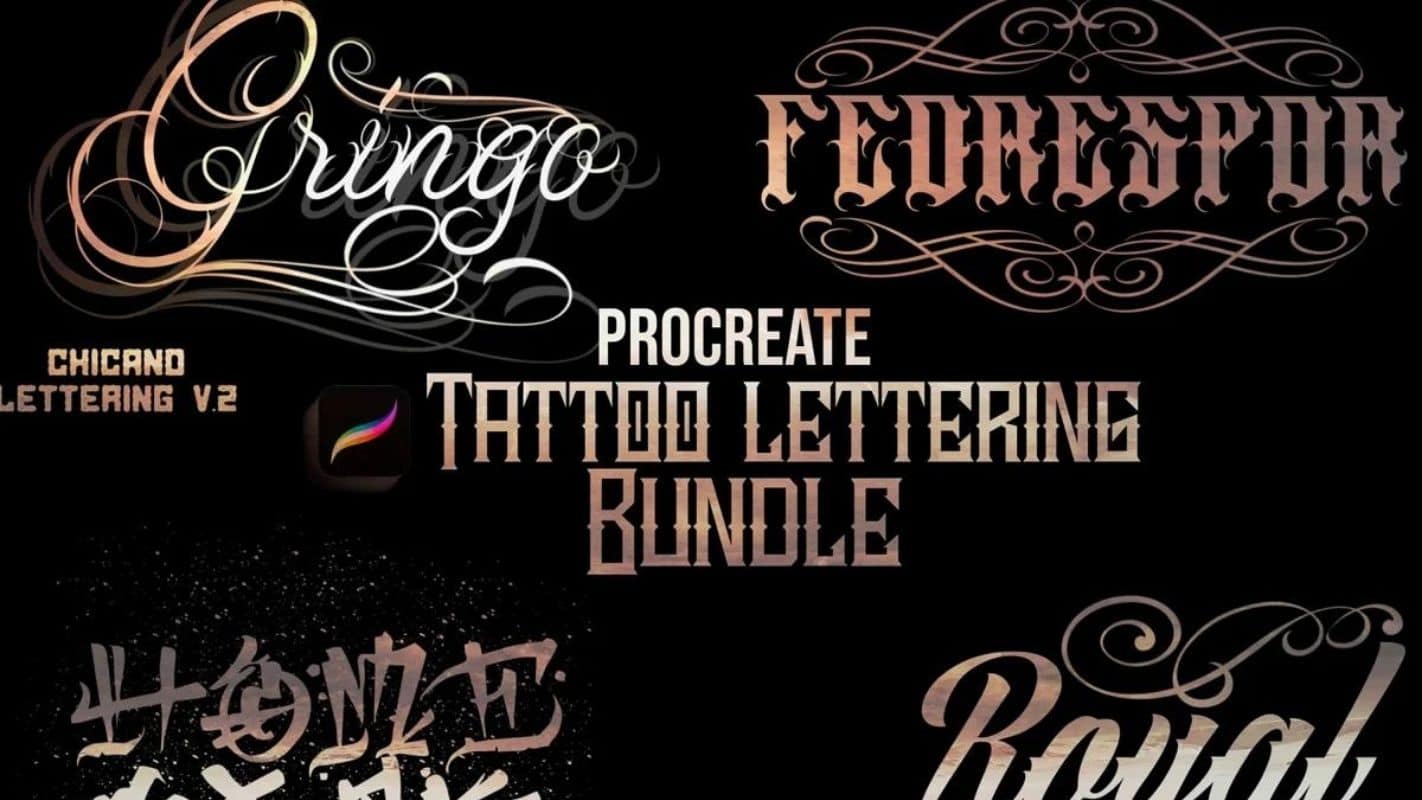 Procreate Tattoo Lettering is a bundle of 7 handmade tattoo style fonts for Procreate. It is sold as an add-on for the 370+ stamps brushes bundle, but you can buy the fonts separately. It's perfect for a professional tattoo lettering design.
The set includes:
7 Tattoo Style Fonts with Design Elements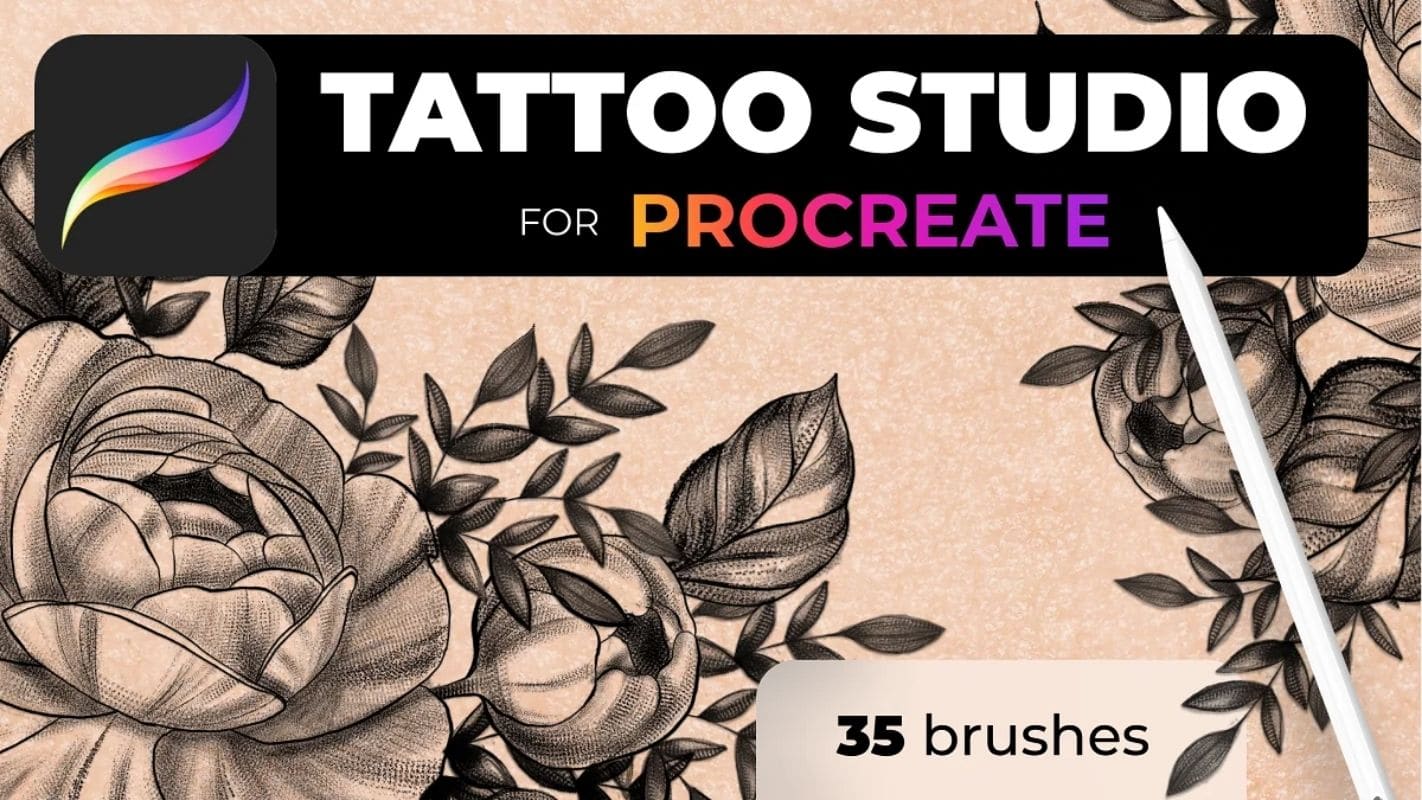 Tattoo Studio for Procreate has over 30 high-performance, real tattoo brushes. You can create a realistic tattoo in no time. Whether you're an artist or just want to practice, this app is perfect for you. You can also choose from various skin tones to get the perfect look. This set is are some great Procreate brushes for tattoo artists.
The set includes:
Plenty of Different Skin Types

35 Brushes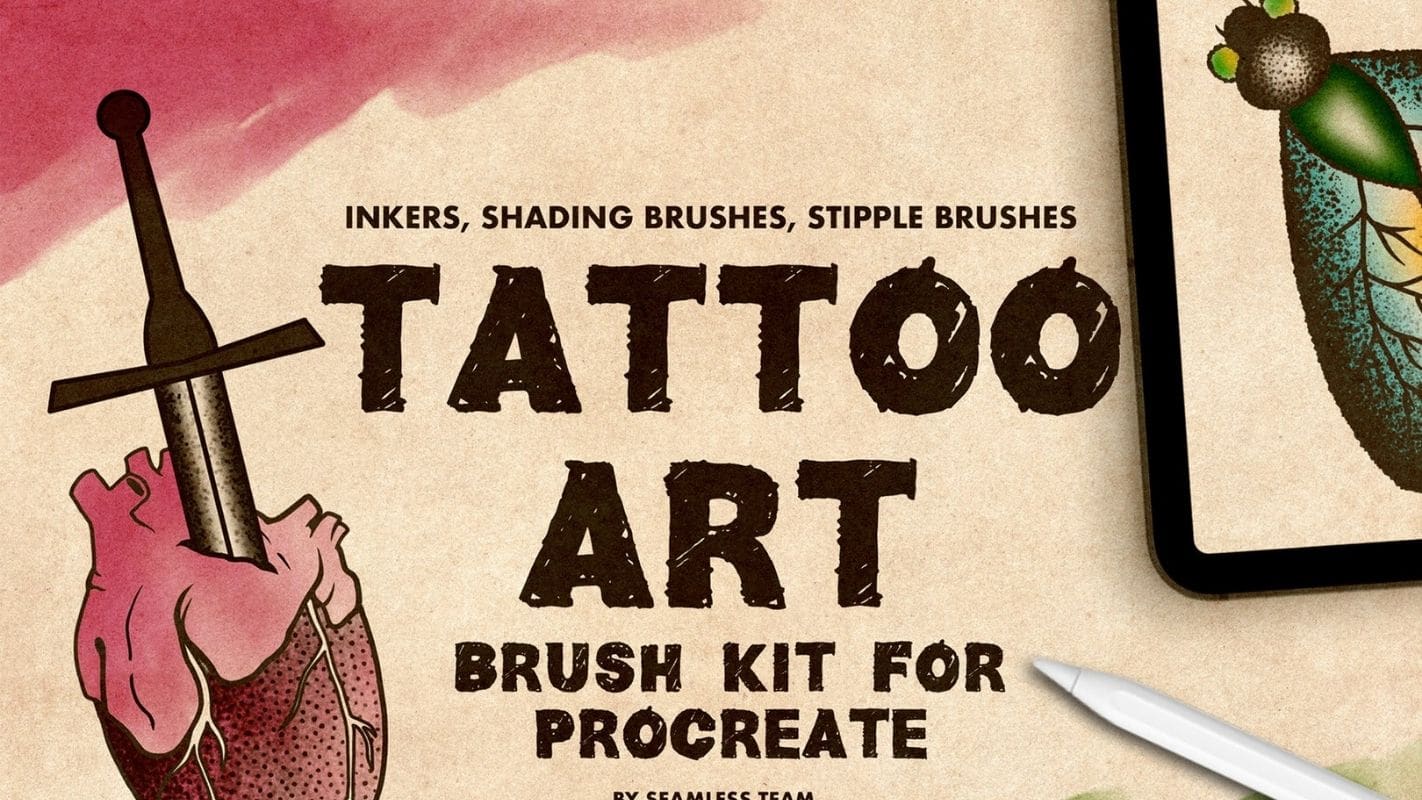 Tattoo Art Procreate Brush Kit is a complete set of brushes for drawing tattoos, traditional art, and vintage-style art. This set includes 32 tattoo brushes for Procreate that are perfect for drawing vintage-style art. These brushes are made to emulate the look of traditional tattoo art and drawing tattoos with a brush.
The set includes: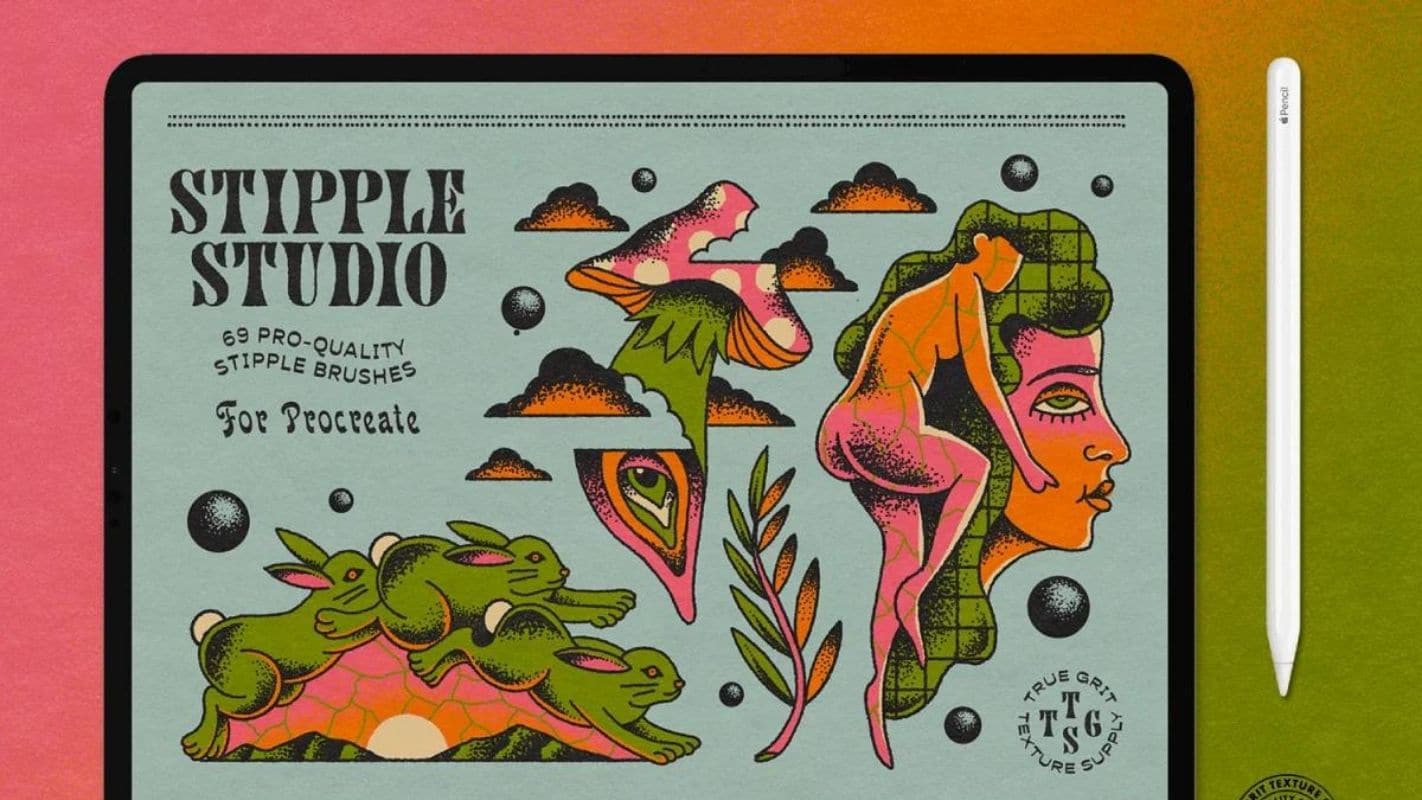 The Stipple Studio for Procreate app is a powerful and easy-to-use tool for creating stunning stippling artwork. You can develop realistic-looking textures and details in a matter of seconds. The four pen-tip styles contain over 40 brushes. In addition, the bleed settings ensure that no two dots are alike.
The set includes:
Plenty of Stipple Brushes

Liner Pens

Eraser Presets

Spray Brushes

Sketchbook Paper Template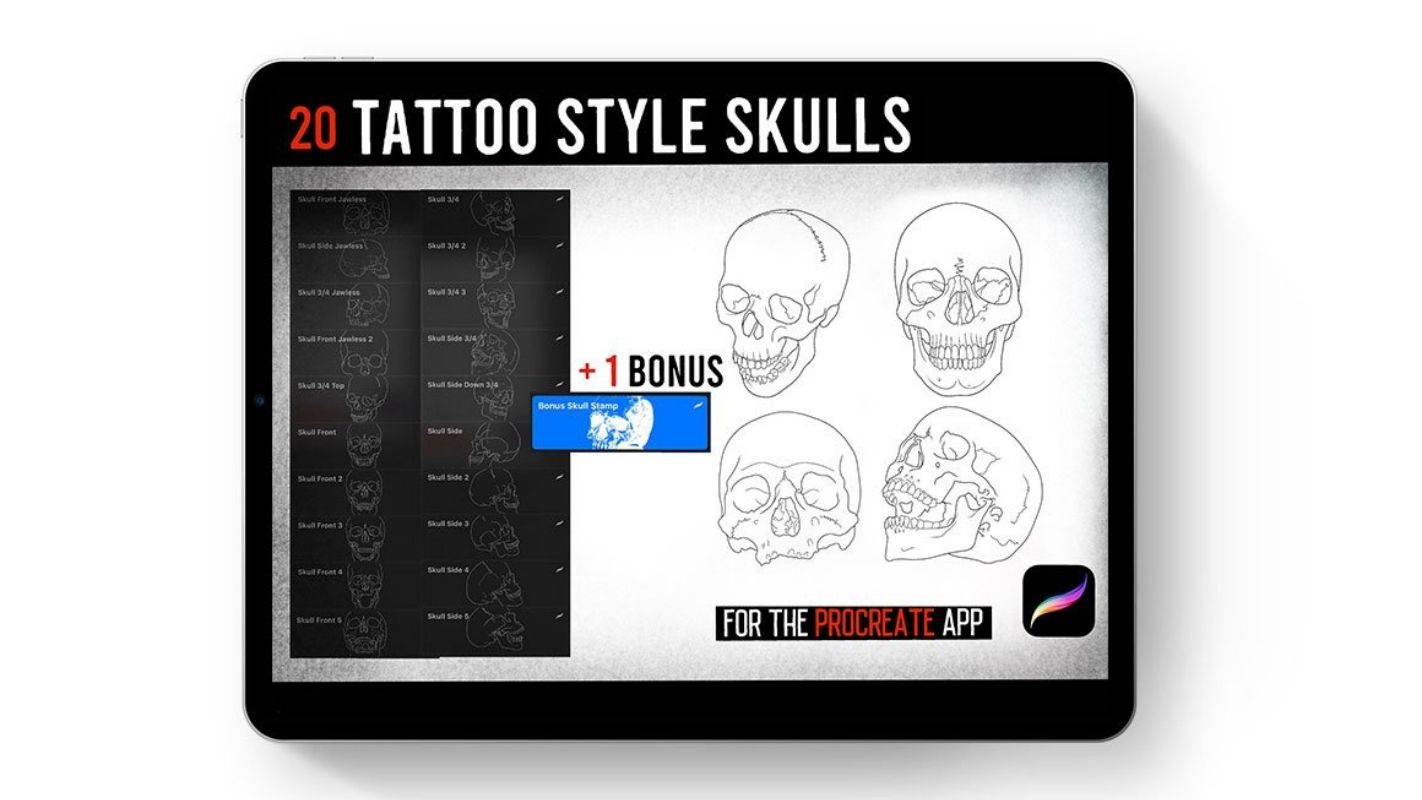 Create your own original skull tattoo art with Procreate Tattoo Ultimate Skull Pack. This set includes a variety of skull templates, all with different shapes and sizes. With these, you can create fantastic tattoo art with stunning detail.
In addition, you can practice color and shading without any worries. If you like these tattoo styles, this is undoubtedly one of the best Procreate brushes for tattoo artists.
The set includes:
20 Skull Templates

1 Bonus Skull Brush Stamp
Free Procreate Tattoo Brushes
Next on our list are some of the best free Procreate tattoo brushes. If you just want to try out some new brushes or are a beginner in this field, these brushes are perfect for you. You can use them to create some lovely lettering artworks, and they will help you get started. Once you get the hang of these, Procreate tattoo brushes for free. Make sure to check out the premiums.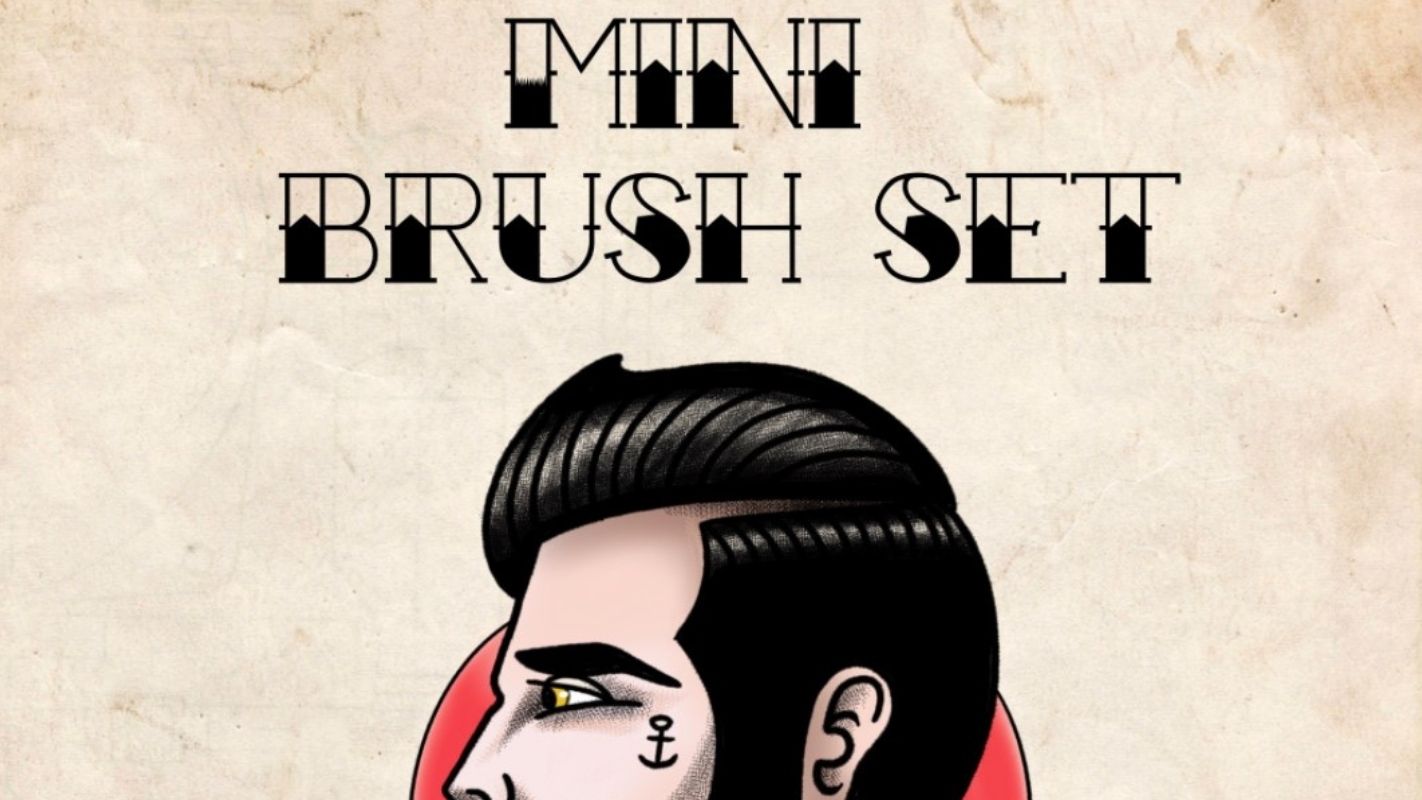 This mini set of free tattoo brushes for Procreate is perfect to create some lovely lettering artworks, or you can use them to create a tattoo design. The best thing about these brushes is that they are free. So if you are looking for some new tattoo brushes, but you don't want to spend any money, this is the perfect set for you.
The set includes:
free to use
perfect for beginners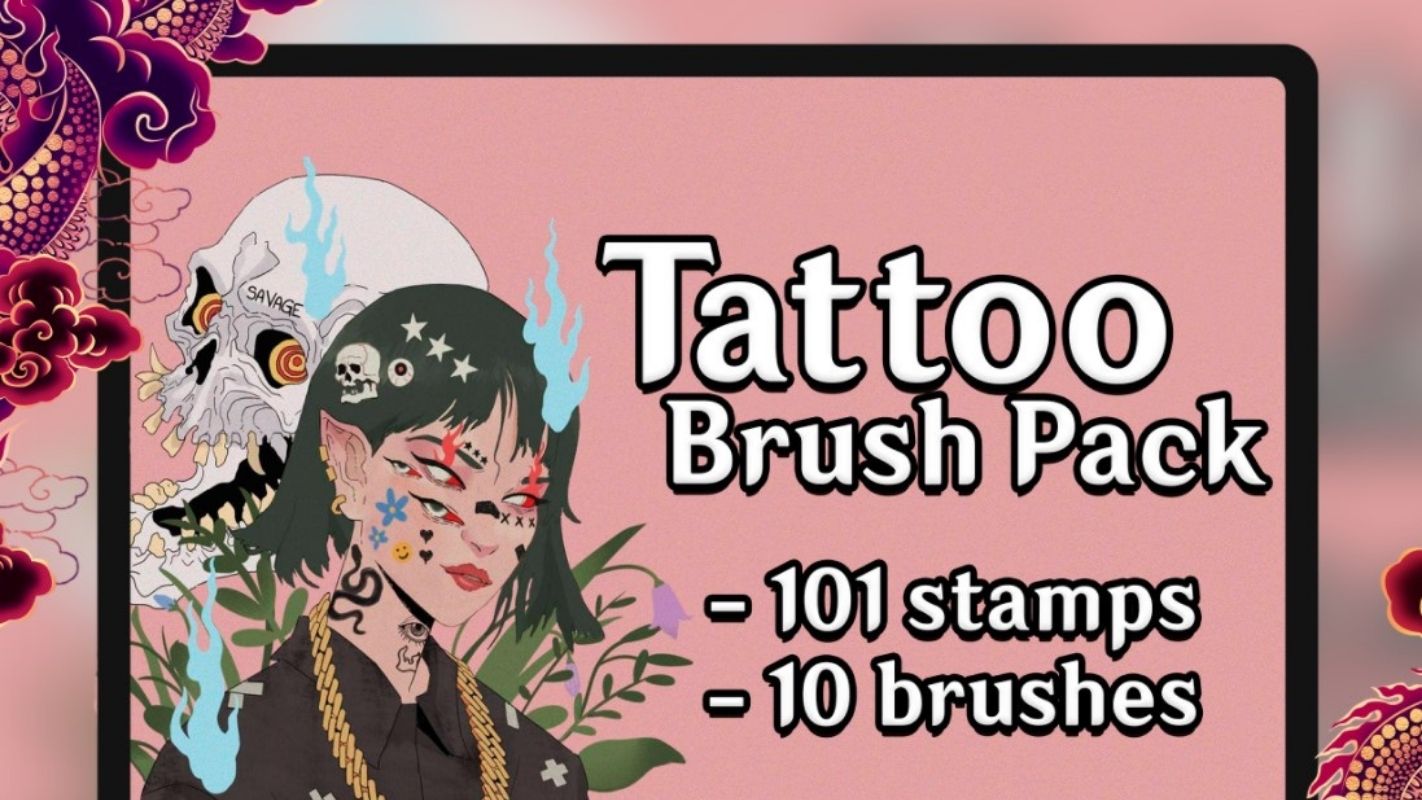 This free Procreate tattoo brush set contains 11 different brushes. It's a great set of brushes that you can use to create some excellent tattoo art. The best thing about this free Procreate tattoo brush set is that it contains a lot of different styles and shapes. So if you are looking for a wide variety of brushes, this is the perfect set for you.
This set includes:
Free tattoo brush pack to download
11 different brushes in different styles
Which Type Of Brush Should You Choose?
Whichever brush you choose depends heavily on your level and art style. Templates are perfect for beginners because they allow you to practice with various illustrations. However, if you are more creative, you can use different stippling tools to create your own artwork from scratch.
Some sets are even designed to give you a good selection of brushes and templates so you can experiment with different tools. But, of course, if you know what you want already, there are plenty of brushes to fit your needs.
Conclusion
Procreate offers a lot of brushes and tools to help you create your own tattoo art. The Stipple brush is one of the most popular brushes in the app. It can be used to create bold, stippled art that gives tattoos a more realistic look. It's also great for adding texture to your designs with rough edges and varied sizes.
There are so many other Procreate tattoo brushes you can use for your tattoo art. For example, liner pens are designed to create your own illustrations or designs, or you can buy a template set that features brushes that give you a predesigned illustration. The possibilities of Procreate tattoo art are endless.
Happy tattoo brushing with these awesome Procreate tattoo brushes! And thanks for reading,
Lilly-Mai
Sources:
Share with your Friends: