17 Best Procreate Glitter Brushes For Some Extra Sparkle
Are you looking to add some shimmer to your artwork with some Procreate glitter brushes? If so, the best brushes help you achieve unique pieces. I have tried many Procreate brushes to add glitter, sparkly, and foil effects to my paintings and use them regularly. And I am impressed with how smooth they are and what results they give me.
When you use these glitter brushes for Procreate, you can significantly improve your digital art on your iPad. Besides, you feel confident and draw inspiration from them. In short, these brushes are amazing. So, use these Procreate brushes to add fun, sparkly effects to your artwork.
Keep in mind that Procreate glitter brushes maximize your creativity. It helps you illustrate your designs effectively on a digital canvas. So, grab your iPad and your Apple Pencil, open your Procreate App, and get us started!
The 17 Best Glitter Brushes For Procreate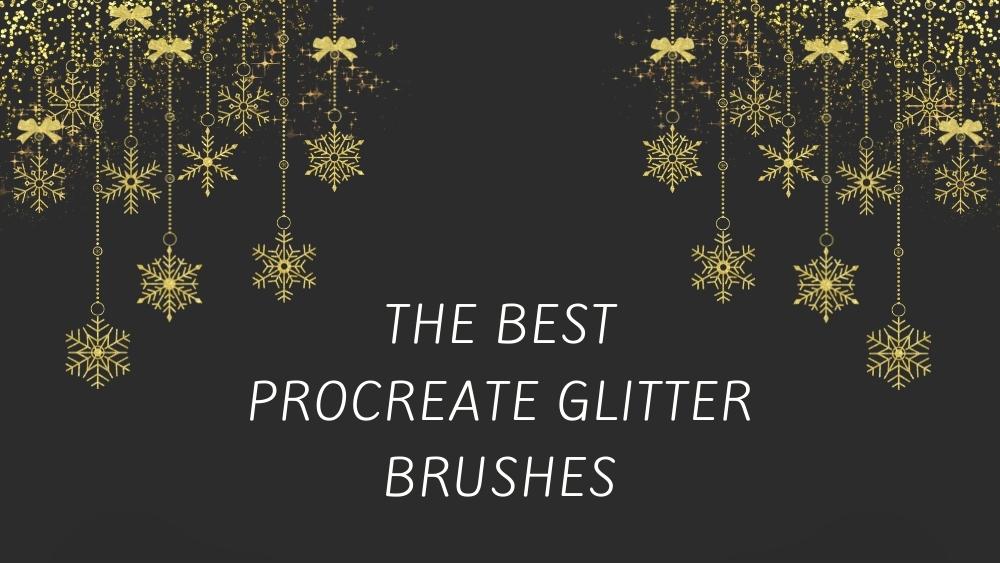 Finding the right glitter brush set is daunting. To help you out, I have compiled a list of the best 17 Procreate glitter brushes for you to get hands-on. Whether you are looking for some glitter lettering brushes, adding some make-up to your portraits, or you want to light up the night sky with some glimmer and glitter, I have the right Procreate brush for you in this article.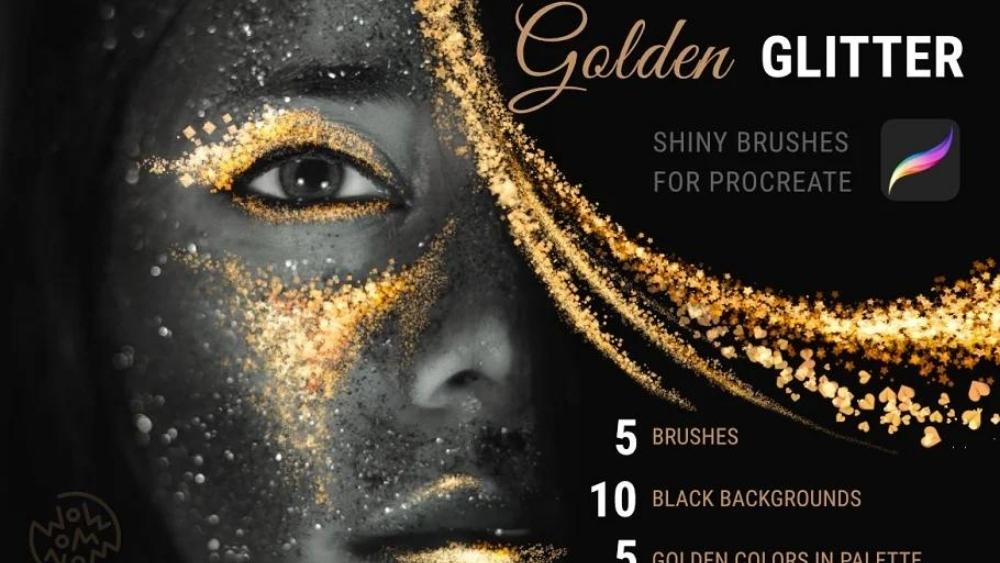 My top pick is this fantastic Procreate glitter brush set. It includes everything that you need to get started. In short, the set comes with five different glitter-style brushes. It has a collection of stamps, color palettes, textures, and brushes. From glitter art to calligraphy, this pack should be the right one for you.
Features of this Procreate brush set:
The pack includes ten black textured backgrounds
Five different golden color palette
Five Procreate glitter brushes
Excellent quality and great value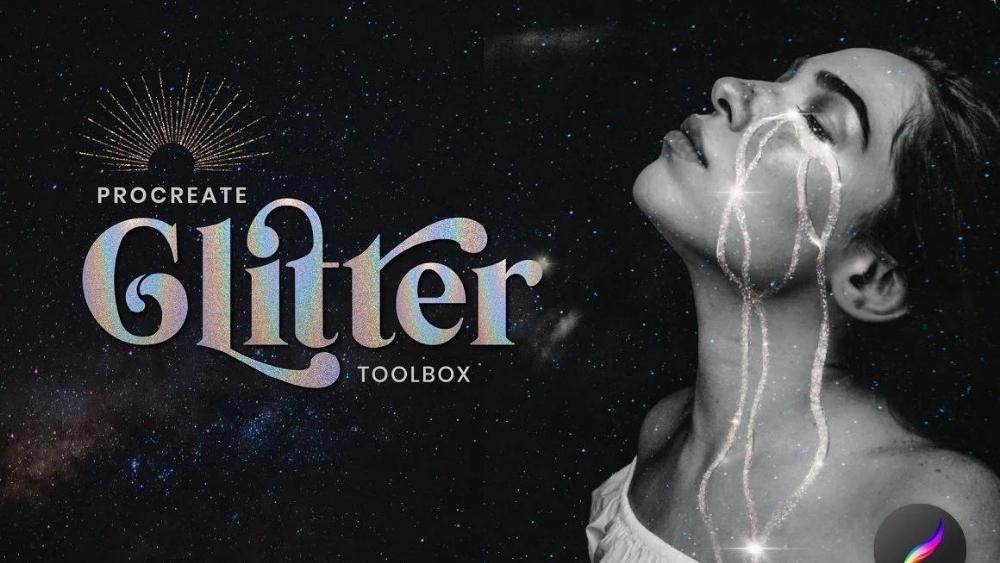 This sparkly kit is an excellent choice for people looking for that extra smooth touch on their artwork. Besides, it is one of my personal favorites as well. The best part of this Procreate glitter brush pack is that it makes your design glow. The set contains all the important tools to help you become a glitter and glam artist.
Features of this Procreate brush set:
Adds sparkle to your pieces
24 custom brushes for Procreate
3 metallic color palettes
12 stamp brushes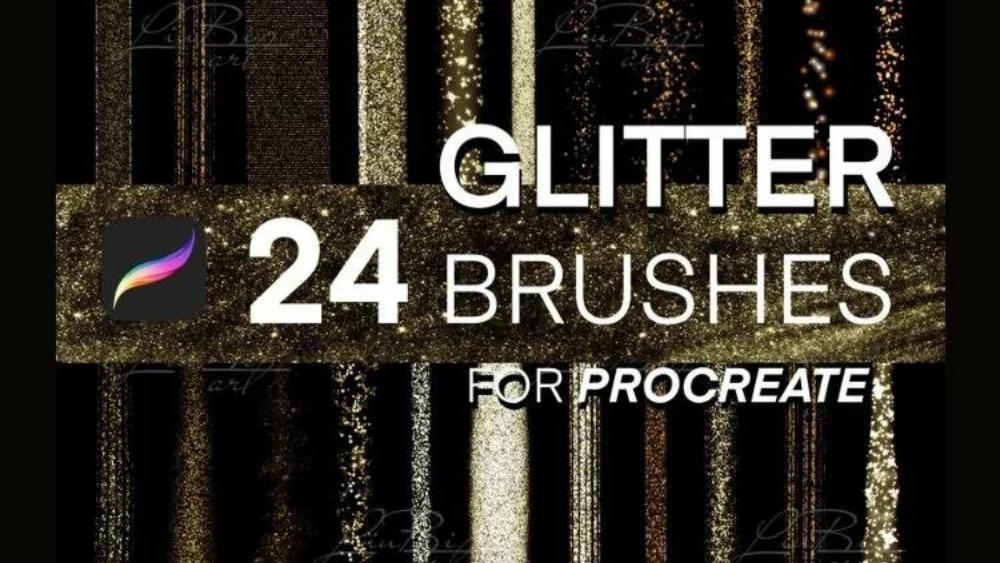 Third on my shimmery list of brushes is this amazing pack that includes 24 different glitter brushes. You can use these brushes in different colors to get sparkly effects on your artwork. What I like about this brush set is that it includes pressure sensitivity for illustration or calligraphy design.
Features of this Procreate brush set:
24 glitter brushes for your iPad
The textures are high-resolution
Trusted and highly praised creator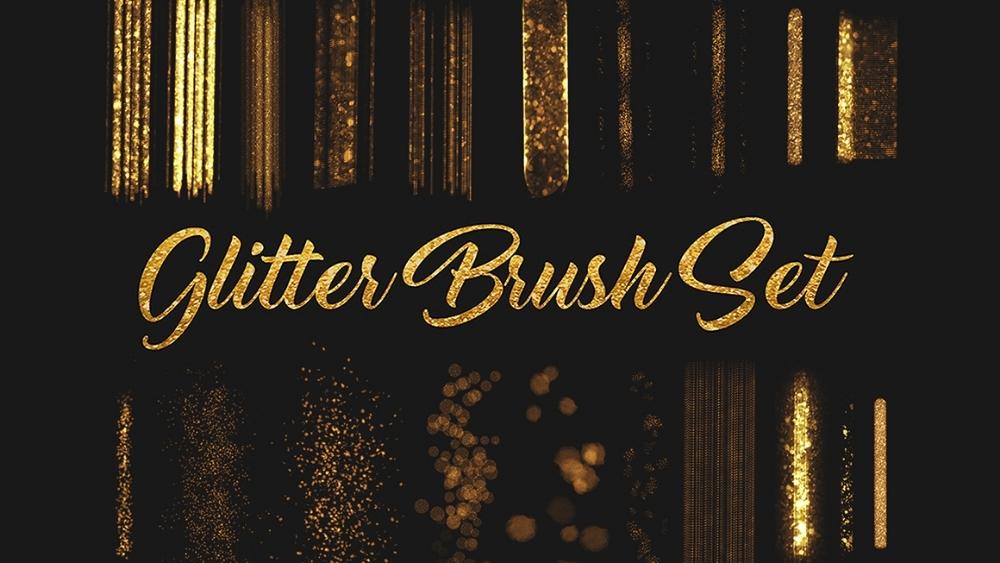 Are you looking for an amazing brush for your Procreate app that comes in different colors? If so, this bundle has 20 custom glitter brushes for Procreate that add realistic sparkly effects to your projects. When you set these brushes against a dark background, they glow brighter. As such, you get your desired golden shade.
Features of this Procreate brush set:
The set includes 20 custom Procreate glitter textures brushes
Helps you create twilight sparkle effects
Although limited, it offers a variety of colors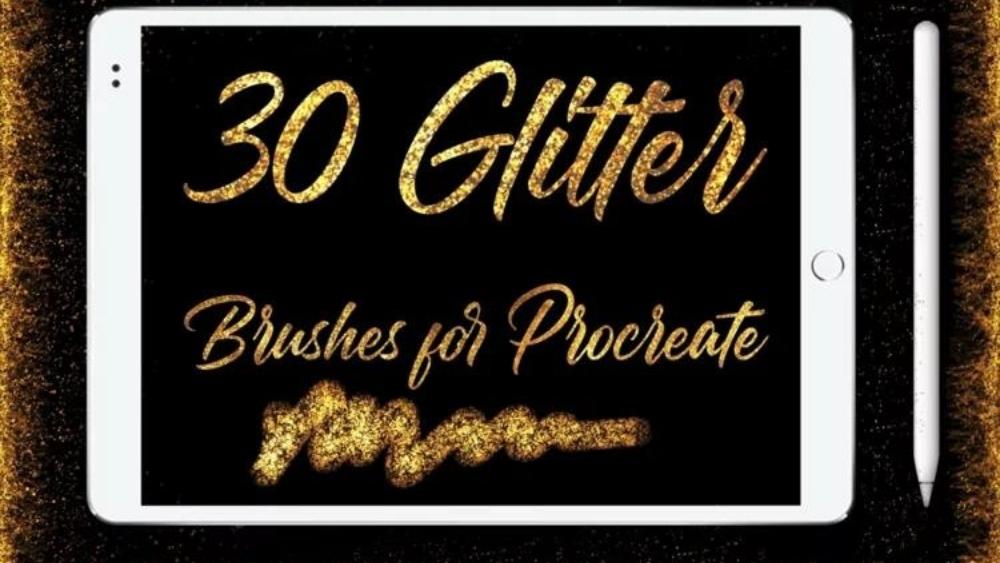 If you are looking for a brush set for lettering and painting, this pack might be the best option for you. It includes 12 glitter brushes with a nice glow effect to your lettering art. And 18 brushes for painting. So, you get 30 brushes to show your creativity. What impressed me is that they are easy to use.
Features of this Procreate brush set:
Lets you create art projects in different styles
The brushes are easy to use
5 out of 5-star ratings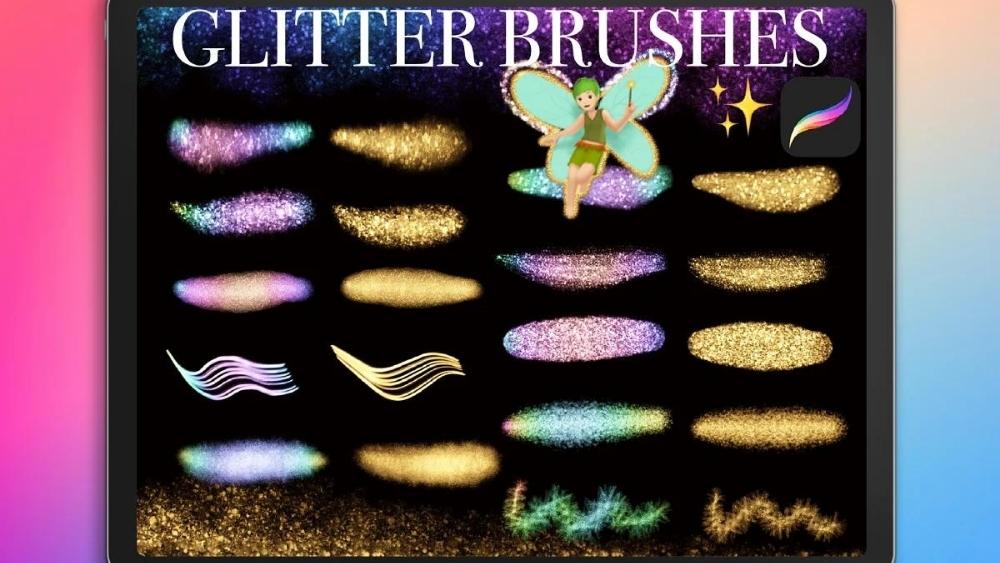 If you are up for some glitter therapy, perhaps this brush set might help you a lot. I use this brush set regularly. Hence, I can tell you that the brush set is very addictive. The set contains 24 glitter brushes for Procreate. In addition, the brushes work on both dark and light backgrounds.
Features of this Procreate brush set:
12 multicolor brushes
12 single-color Procreate brushes
2 glitter color palettes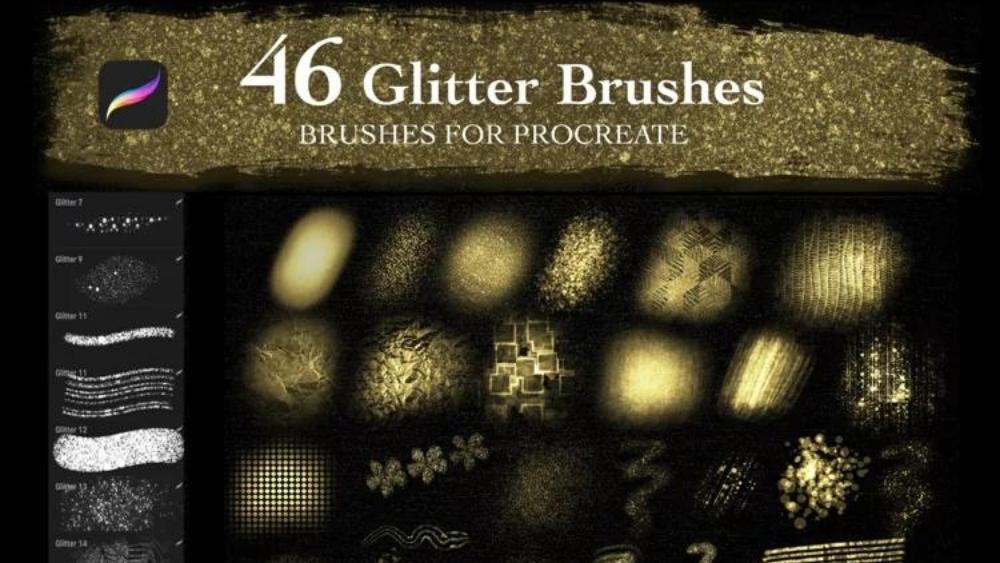 This is another remarkable glitter pack that comes with 46 brushes. With a variety of effects, each of these Procreate glitter brushes allows you to create incredible paintings. This pack is great for creating neon signs and glowing lettering. Besides, you can easily add amazing effects such as blooms and flames to your illustrations.
Features of this Procreate brush set:
Huge pack that contains 43 glitter brushes
The creator helps you how to use the brush the right way
Excellent addition to your collection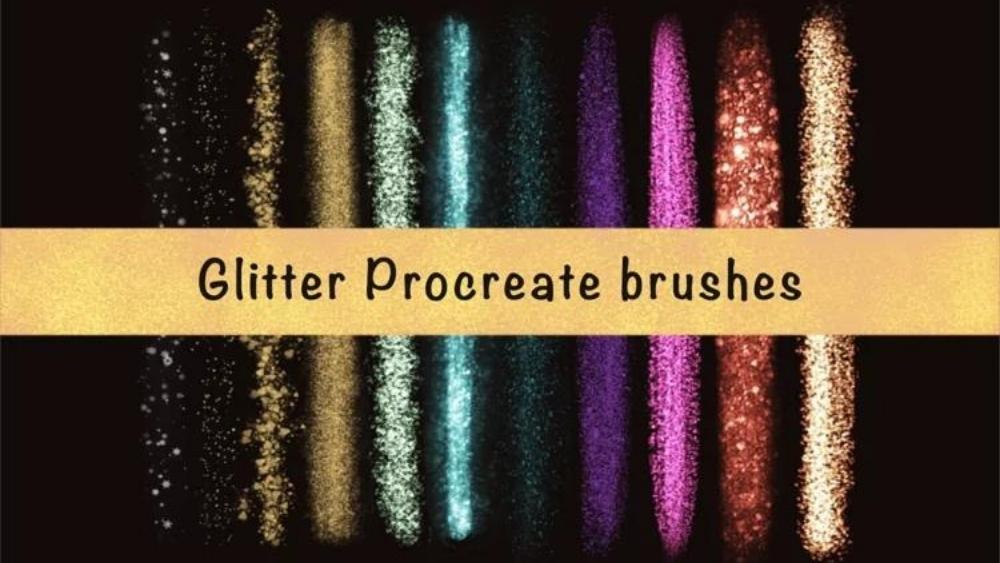 Up next on this magical sparkly list is another exclusive set of brushes. This freckles and glitter textures brush pack helps you create realistic textures for your digital art. That way, you can create a stylish portrait, makeup, and shiny effect on objects. Apart from that, you can also use these brushes to create beautiful lettering.
Features of this Procreate brush set:
21 Procreate brushes
Tools are resizable and adjustable
5 out of 5-star ratings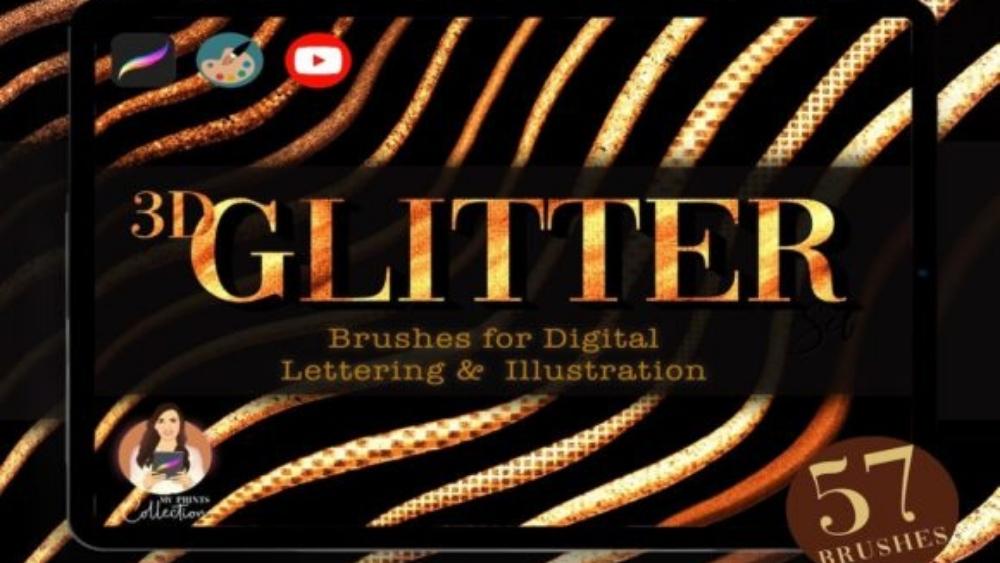 Enjoy these 57 Procreate glitter brushes that touch your digital art differently. This amazing Procreate glitter brush set allows you to add a metallic, glow, shimmer, glitter, sequin, foil, or sparkle effect to your creative artwork. The best part is that it includes a color palette as well.
Features of this Procreate brush set:
5 seamless Procreate brushes
1 color palette
The best glitter brush Procreate pack for beginners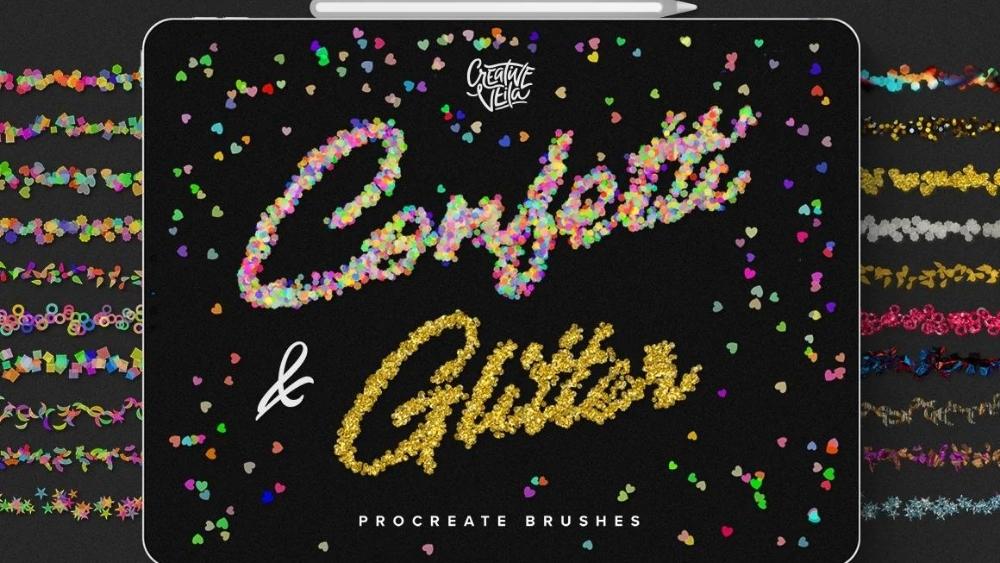 Coming in at number ten on the glam list is the Confetti & Glitter brushes pack. With these gorgeous textures, you can design whatever you want to. Whether it is about designing holiday invitations or congratulatory posts, get comfortable with these glitter brush sets for Procreate. Add joyful vibes to your graphic designs with these packs.
Features of this Procreate brush set:
12 Confetti Procreate brushes
16 high-resolution glitter textures
Multi-color brushes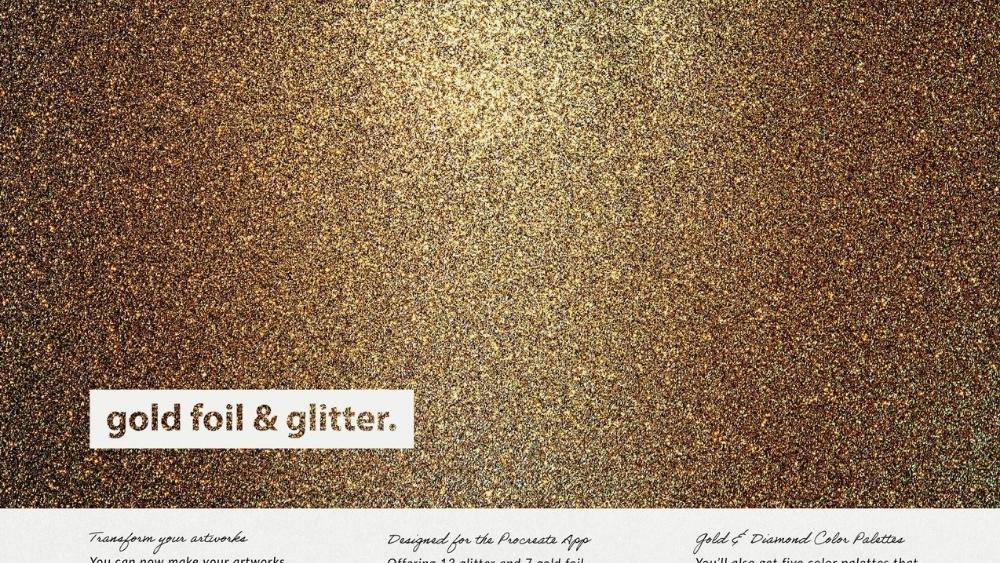 Next up on this list is a shimmering pack that you should add to your Procreate brushes collection. Foils and glitters unite in this sparkly set to produce an amazing kit that highlights your digital artwork. This is a must-have Procreate glitter brush set if you are a professional graphic designer or illustrator.
Features of this Procreate brush set:
Perfect for logo design, advertising, brochure design, and invitation cards
Includes a color palette
Each stroke results in a seamless effect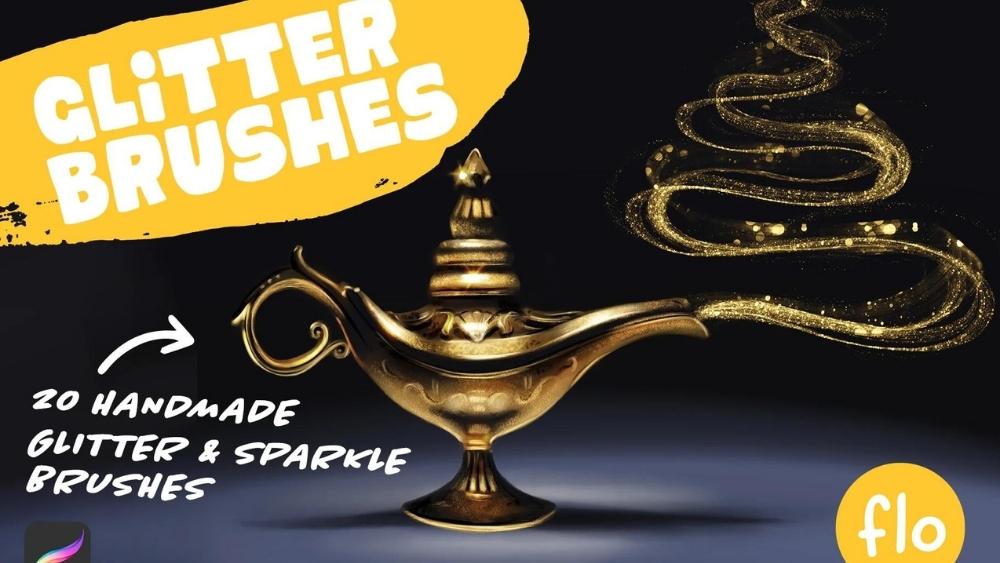 Adding glitters and sparkles to your artwork is made easy with this brush pack. You can use these brushes to add an extra touch to glittering objects. If you love painting portraits, the extra sparkle looks great on it. I use these brushes for digital designs such as personalized artwork or gift cards. So you can consider buying this wonderful glitter brush pack for Procreate.
Features of this Procreate brush set:
20 handmade brushes
40 glitter brushes
Perfect addition to shiny objects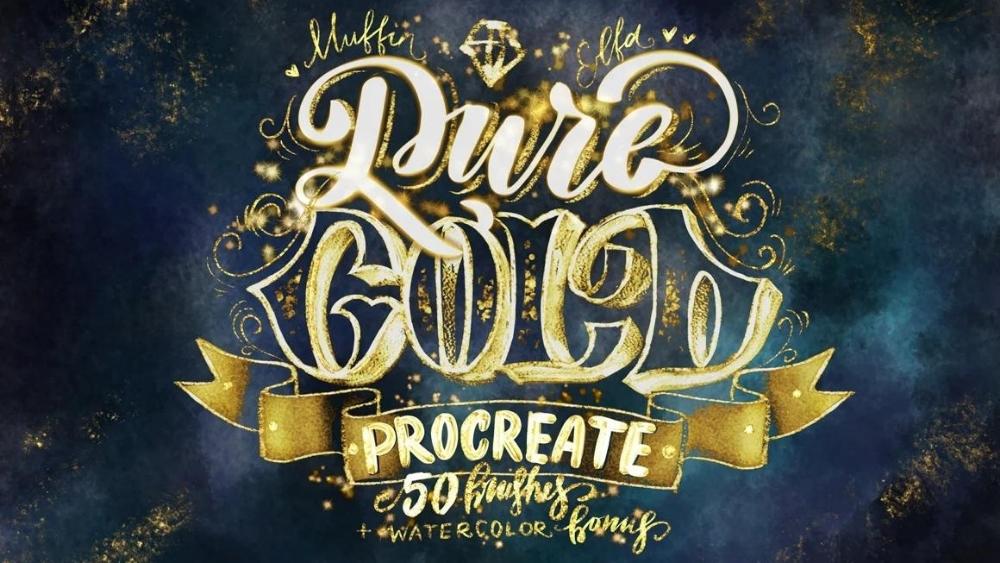 This is another beautiful Procreate glitter brush set that gives your artwork a grand sheen of gilt. With these brushes, you get the glow, luminosity, and shine that you need. Besides, the golden brushes look good on both light and dark backgrounds. Moreover, you can use the brushes for additional effects such as splatter and plating. Add a small amount of gold palette to the artwork for a touch of rich with this brush set.
Features of this Procreate brush set:
7 glow brushes
7 calligraphic brushes
11 glitter brushes
3D effect brushes and many more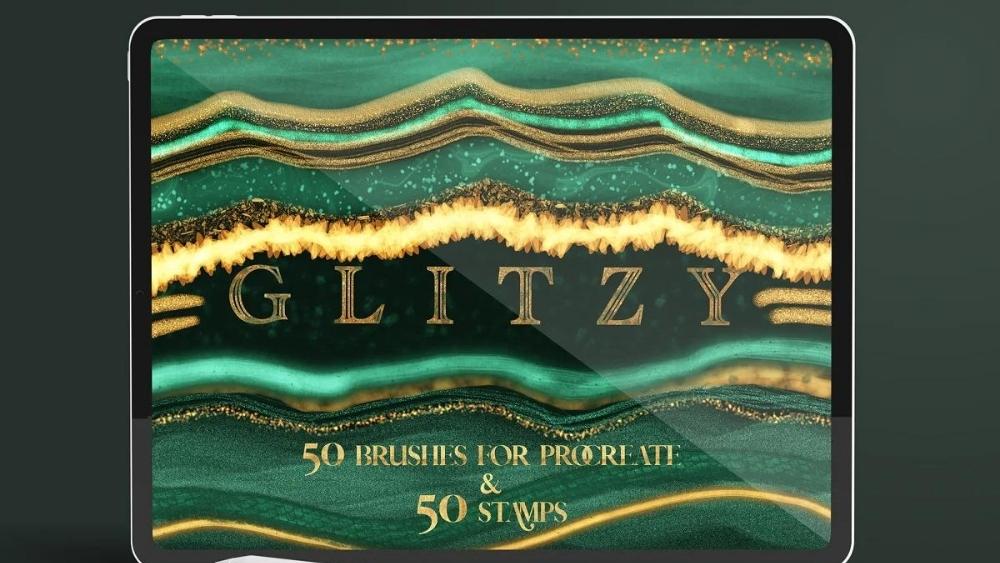 This easy-to-use collection gives your designs the most realistic shine that you want on your digital art. It consists of 50 brushes that you can use in various design projects. One of the exciting features I like most is that the shine becomes brightest when used against darker backgrounds. You can buy this brush set if you want glamour in your artwork.
Features of this Procreate brush set:
48 glitter brushes for Procreate
More than 50 stamp brushes
Metallic color palette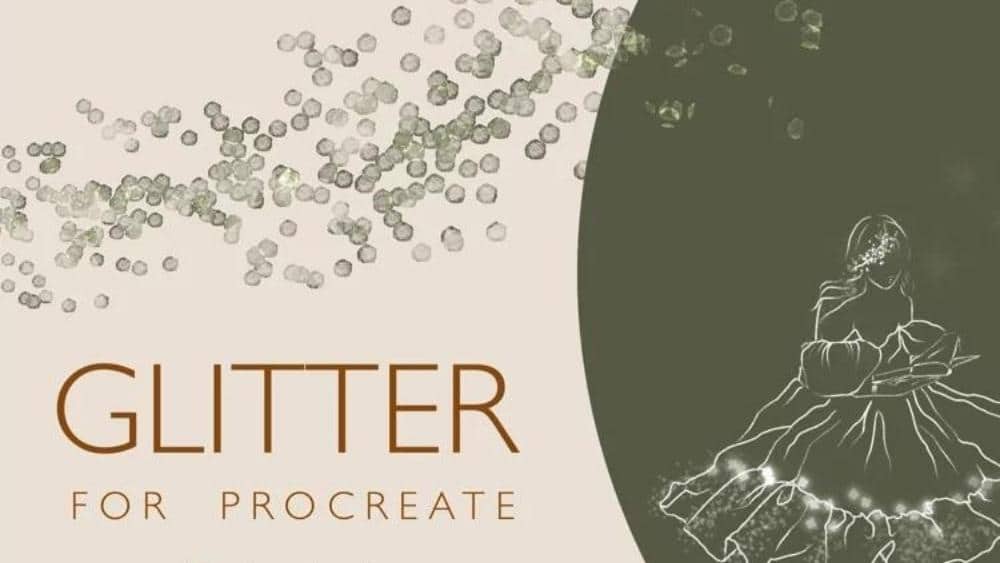 Consisting of 18 brushes, this Procreate glitter brush set helps you improve your designs with a swap of the pencil. The brushes come with a variation in distance and size. As such, it helps you cover a lot of space in your artwork. Besides, the glow brushes are denser and have an in-built light effect. No wonder you can create sparkly lighting effects with these brushes.
Features of this Procreate brush set:
18 Procreate glitter brushes
Support from the creator
Might be the best pack to get started
The Best Free Glitter Brushes for Procreate
It's always good to try something for free before spending any money, and I'm here to help. So, with these free glitter brushes for Procreate, you can try out some brushes before getting the premium ones. They are all high-quality, and some of them are quite popular. They offer you a solid start, and once you have used these free glitter brushes for Procreate, you can always go with a more advanced premium glitter brush pack.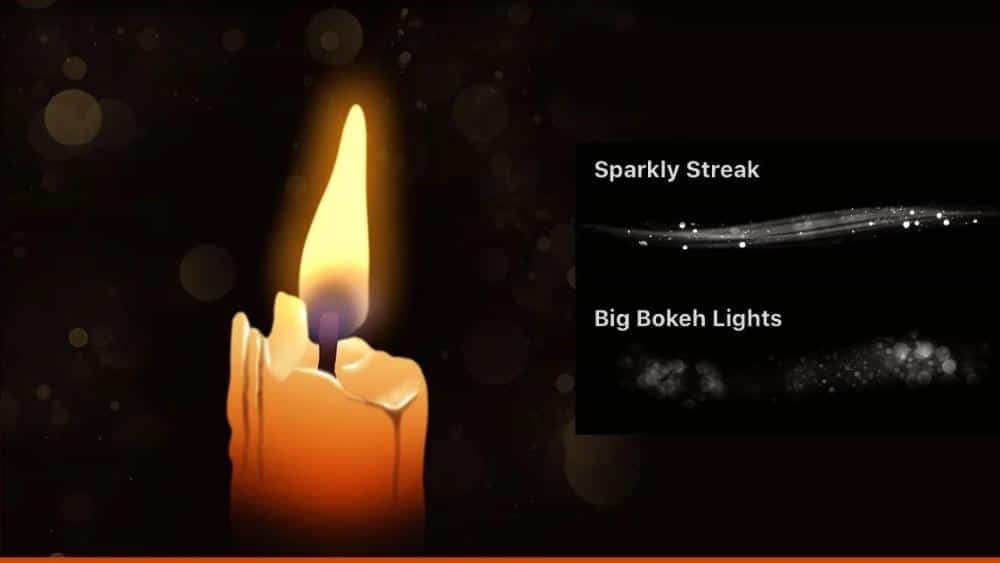 All the brushes mentioned above come with a price tag. However, this glitter brush pack doesn't cost you. But it includes free Procreate glitter brushes that help you create sparkle effects in your paintings. Apart from that, these brushes are handmade. So, add delicious texture with a stroke and take your creativity out with this pack.
Features of this free Procreate glitter brush set:
2 free glitter brushes for Procreate
Video tutorial to help you get started
Free Procreate glitter brushes and instant download
The last one on this list is the glitter Procreate free brush pack that helps you create stunning designs. Add sparkling shadows or outline your pieces with this free glitter brush pack. Don't hesitate to use this pack if you want to make your artwork natural, modern, sparkly, bright, or shiny.
Features of this free glitter brush Procreate set:
Includes 2 free glitter brushes for Procreate
Optimized for Procreate
Free for personal use
Different Types of Procreate Glitter Brushes
There are a lot of different types of glitter effects in Procreate. They have all kinds of purposes, like adding a little sparkle to your work or creating a realistic glitter pattern. You can use them for a beautiful night sky or add some glamour to one of your portraits. A solid glitter Procreate brush pack enhances nearly everything you do in Procreate.
I personally like drawing a beautiful night sky with glitter brushes. I like adding a little glitter to the moon, stars, or even clouds. It adds a special touch to my work.
Conclusion
So, that is all about the best glitter brushes for Procreate that you can consider buying. As said, I have used them and am impressed by the results. To make your workflow smooth, you need these brushes. Therefore, don't hesitate to buy these beautiful glitter brushes. That way, you can turn your digital art into masterpieces.
So, happy glittering with these Procreate glitter brushes! And thanks for reading,
Lilly-Mai
Share with your Friends: