12 Best Procreate Chain Brushes (Free & Premium)
This article about the 12 best Procreate chain brushes should help you unleash your full creativity. Luckily, the Procreate App makes it easy to import chain brushes for Procreate from other sources into its design space.
Procreate is a powerful app that anyone can use to create incredible digital artwork. This app is a must-have for artists, anyone interested in drawing, or someone who just wants to have fun creating art with their iPad.
Whether you like to draw necklaces, threads, pendants, shackles, strings, or anything else related to chains, this article helps you get the best available Procreate chain brushes for every purpose you want to draw.
What Makes a Good Chain Brush
The primary purpose of a chain brush in Procreate is to create natural-looking chain drawings. However, the best chain brushes for Procreate have a few features that set them apart from the rest. Here are 4 crucial elements to look for when buying a chain brush for Procreate:
A wide range of color options to choose from.
Ability to customize the pressure sensitivity for perspective effect.
Ability to customize for thickness or change the size of the lines so that you can have a really thick or thin outline/line art.
Speed effect allows you to create motion within an illustration, add movement to still images, and illustrate weapons.
The best chain brush for Procreate is one that offers these features. And the best part is that a high-quality Procreate brush doesn't cost much more than a low-quality one, so there's no excuse not to spend.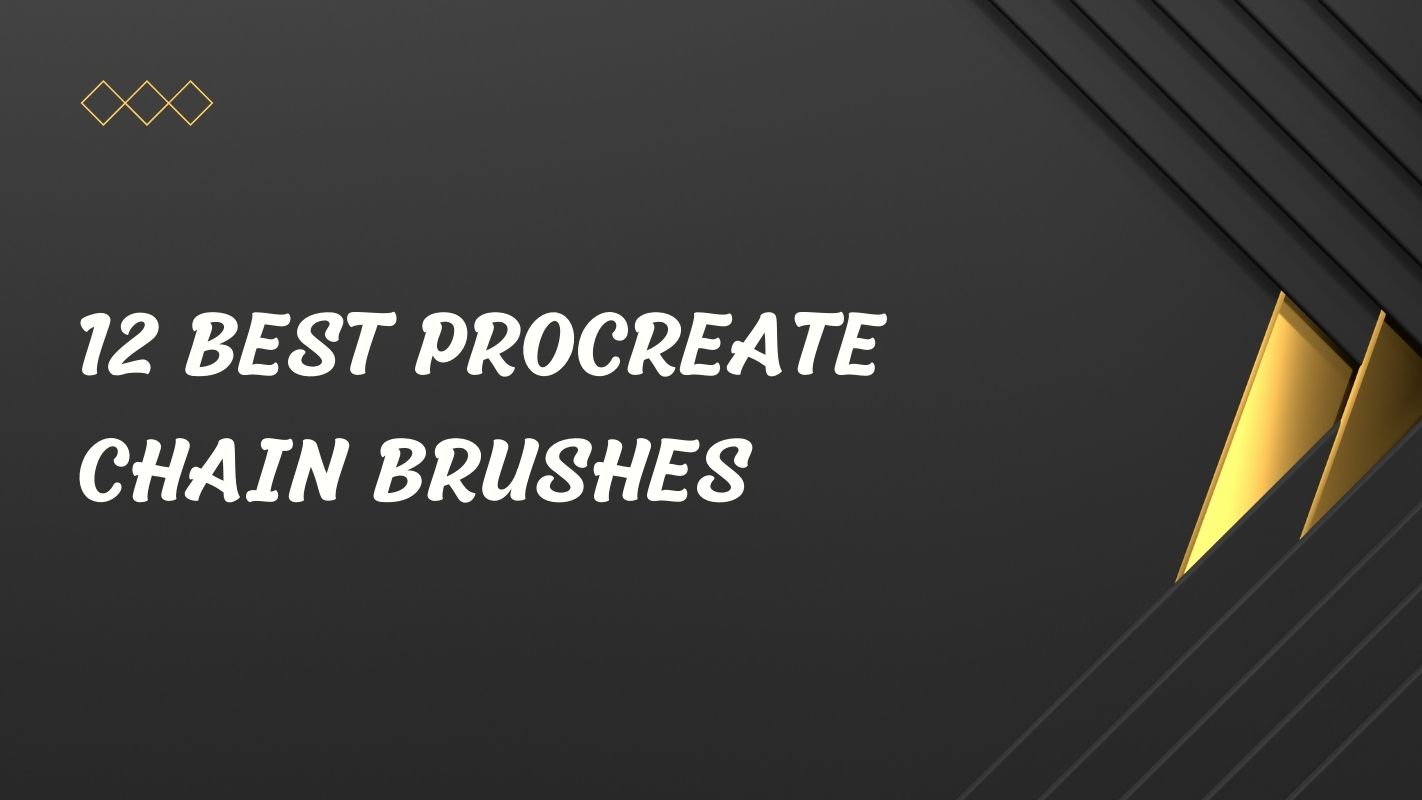 What Are the Different Types of Chain Brushes?
Chain Brushes for digital art are categorized according to size, shape, and style. Here are some examples of each category:
Style
Cable chain

Procreate

brush
Curb chain

Procreate

brush
Ball chain

Procreate

brush

Bead chain brush

Round Link chain brush

Round Decorative chain Procreate brush

Belcher chain brush

Zip chain brush
Size
Small chain brush

Big chain brush
Shape
Square chain brush

Round chain

Procreate

brush

Rectangle chain brush
It's important to remember that a chain brush in Procreate can be used in many different ways, depending on what you're drawing. If you want to improve your skills as an artist, you should try experimenting with different Procreate brushes and see which ones work best for the effect you're trying to create.
If you choose your chain brushes for Procreate correctly, they're undoubtedly a great way to create digital art in Procreate. However, with so many types of chain brushes for digital art in the market, it can be hard to know which ones are best suited for your Procreate project.
12 Best Procreate Chain Brushes
Luckily you've come to the right place, and this should be the least of your worries. Here's a list of some of the best Procreate chain brushes available and their benefits.
From chainmail brushes to chainlink brushes to necklace brushes or jewelry brushes, we cover everything in this article. So grab your iPad and your Apple pencil, open your Procreate App, and we'll start!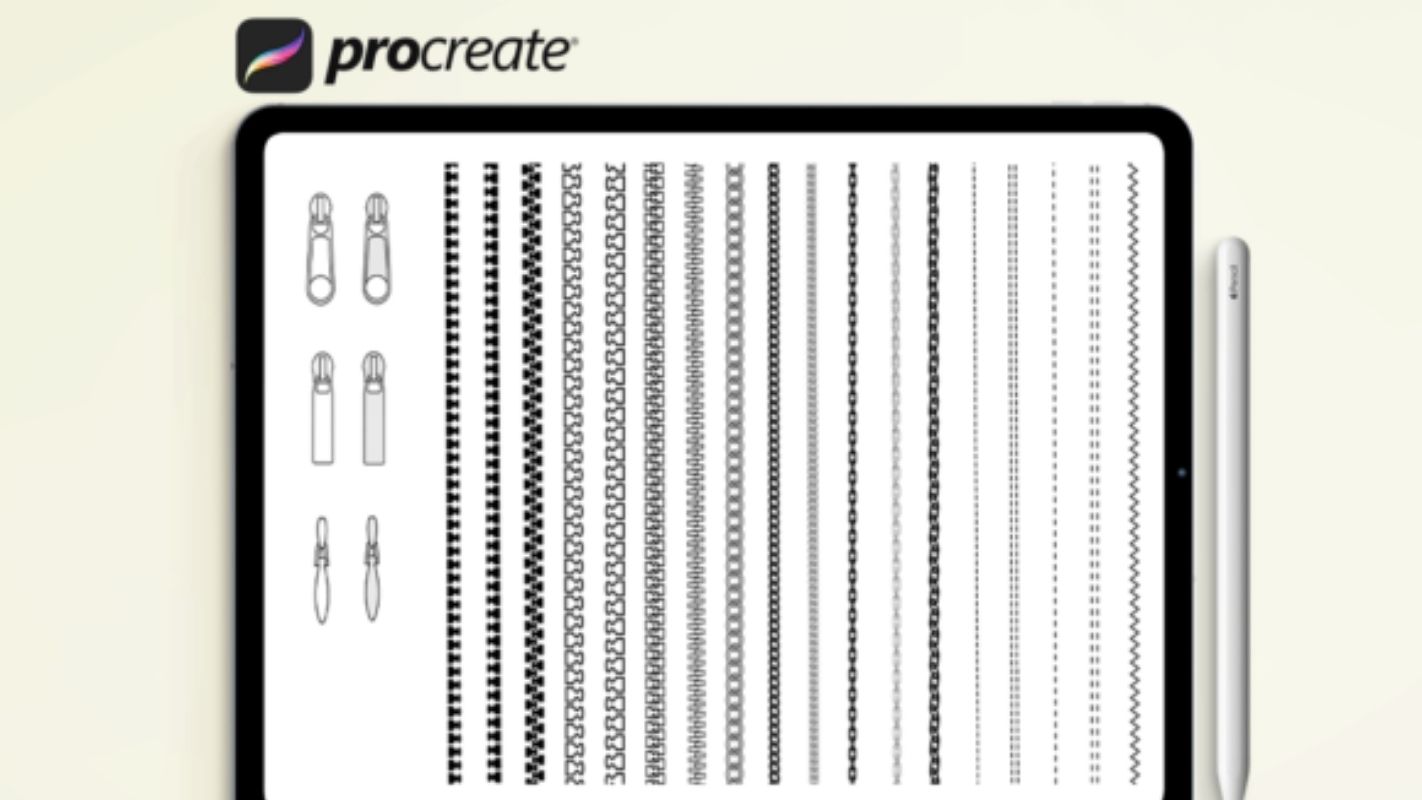 This stitch brush set by HYDNSTUDIO is the ultimate deal if you're looking to add a good value of chain brushes to your Procreate digital art kit. The set contains 32 Procreate brushes, all compatible with the Procreate App. With the set, you'll get 6 chain-type Procreate brushes that you can easily download and import into Procreate or install on your iPad.
Benefits
Superb quality

Highly optimized for Procreate

Fast and easy download

6 Procreate chain brush types to choose from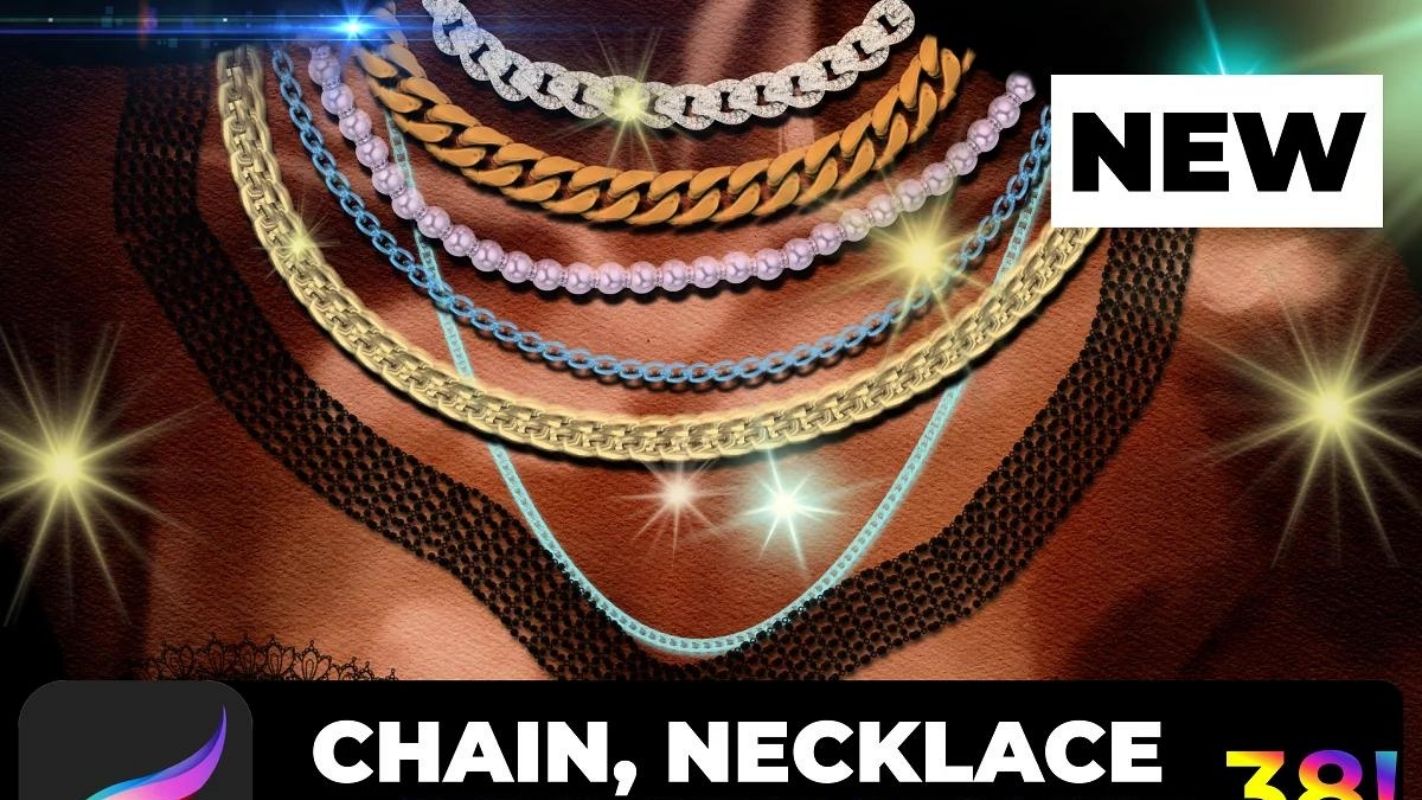 If you're looking to take your chain drawing and illustration to a new level, this is the Procreate chain brush set. Packed with 38 original chain and jewelry brushes for Procreate, you have everything you need to implement, even the most significant chain drawing ideas. You can choose from precious stones to aggressive ones, simple to complex ones– all you have to do is get the set!
Benefits
A wide variety of Procreate chain brushes to choose from

Unique and high-performance Procreate brushes

Seamlessly compatible with the Procreate

App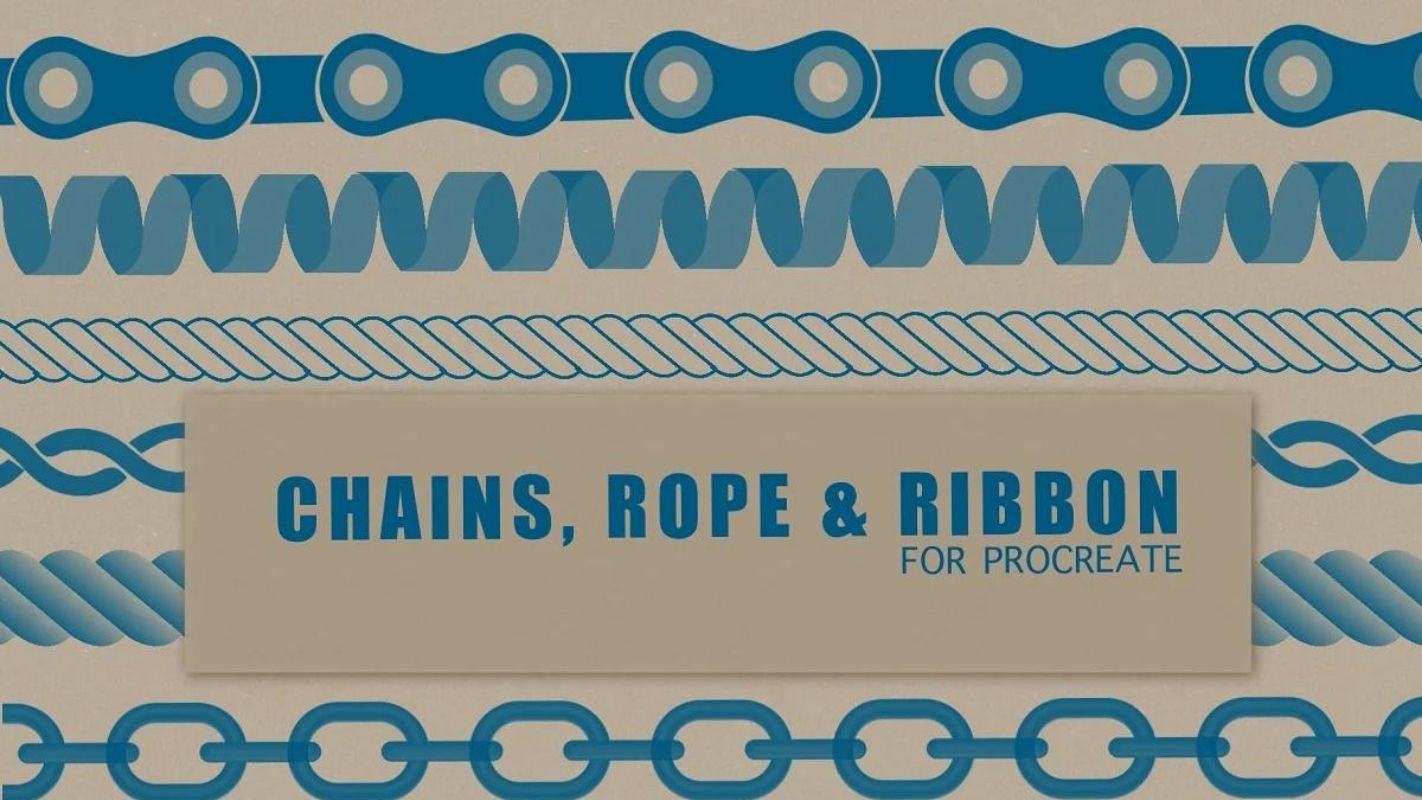 As the name suggests, this is a set of chains, rope, and ribbon brushes that you can use in the Procreate App. The Procreate brushes are created to be used as straight borders, stamps, or both. You can do some customizations to create a chain of your liking. If you, for example, need to create a curve, you just need to decrease the size of the brush.
Benefits
Superbly compatible with Procreate

Excellent quality

Customizable to any size
LiuBi Art's creation of 30 chain brushes for Procreate is one the most comprehensive package available for digital artists. Priced for as low as $17, you get 30 high-quality chain Procreate brushes that you can use for any chain drawing project on Procreate. The file size is 8.82MB, so downloading and importing is easy and fast.
Benefits
Competitively priced

A great number of Procreate brushes to choose form

Easy to use
Are you a digital artist looking for real brushes for Procreate? Then, this is the perfect option for you. With the set, you get 60 high-quality chains, beads, jewelry, and crystal Procreate brushes that you can use on your wedding and fashion designing Procreative projects. It's a great combination and one of the best creations by Graphics Resources.
Benefits
High-resolution imprints

Quick and easy installs

Nice combination of Procreate-compatible brushes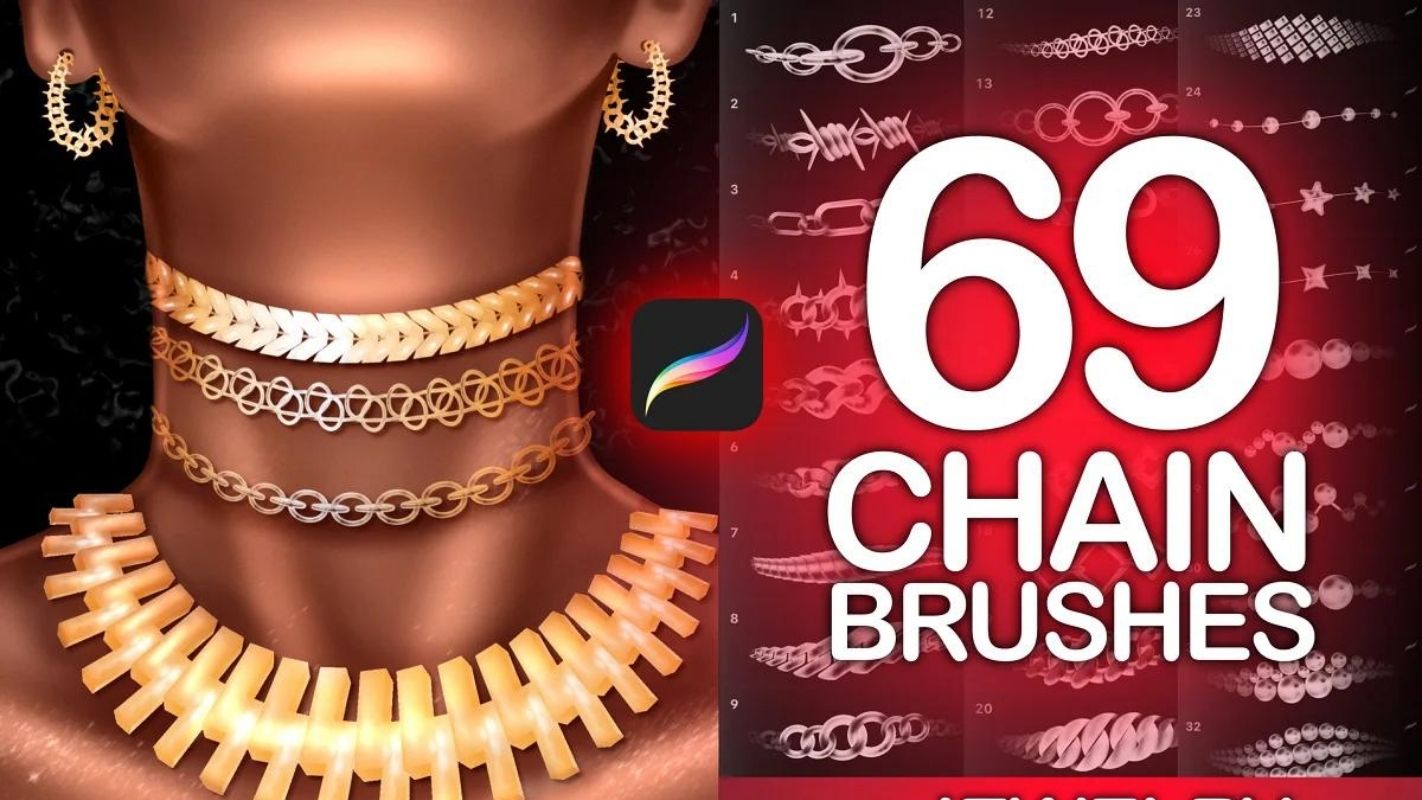 There are currently only a handful of chain brushes available to use in Procreate. Still, AppleinaJuice's 69 chain brushes are one of the largest collections. These modern chain Procreate brushes are made with one goal in mind– to help you express your full creativity in your digital art.
Benefits
Most comprehensive Procreate chain brush sets available

Works with any version of iPad

Can run on Procreate 5 or higher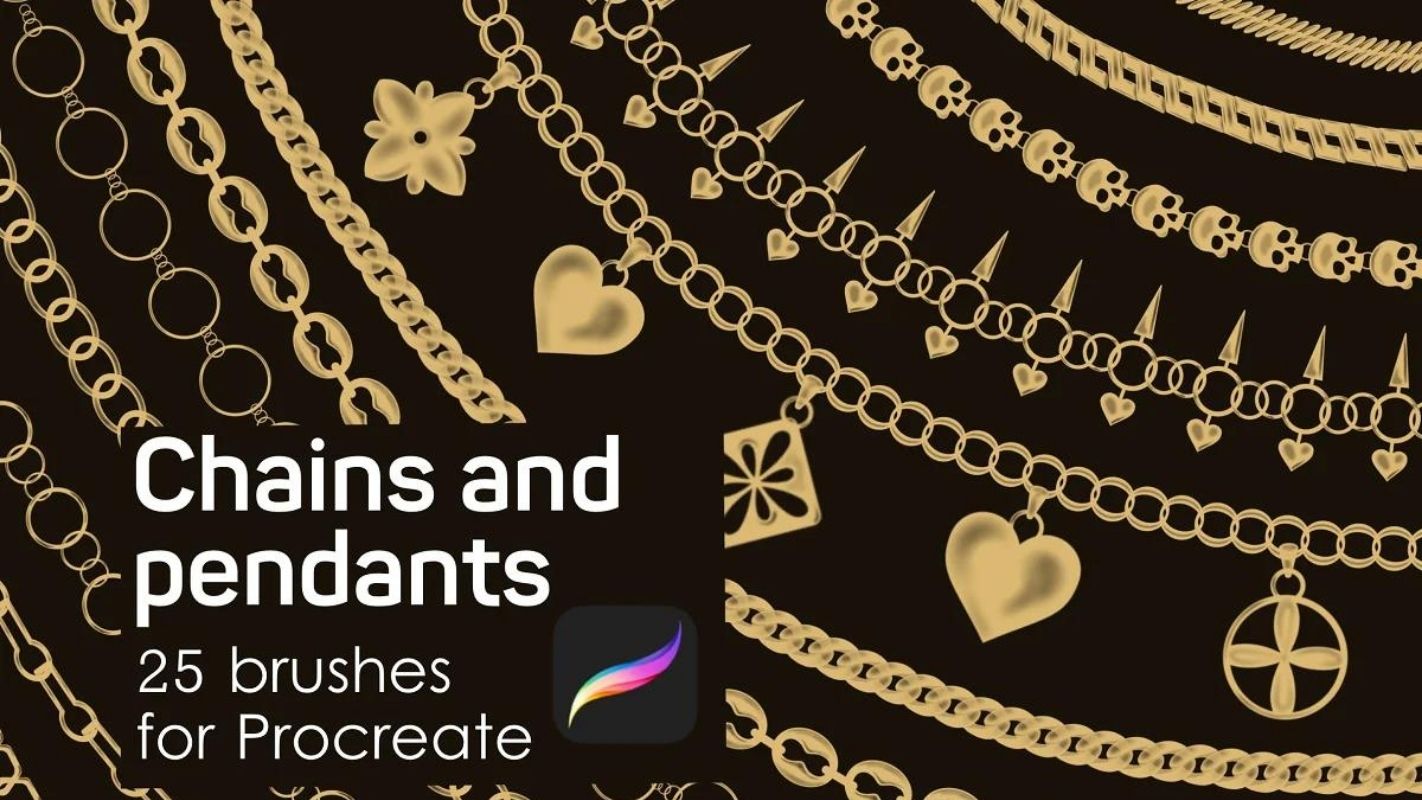 Do you want to create life-like chain drawings but don't have time to draw every detail? With a set of 25 Procreate brushes, you can make any realistic chain drawings you want on Procreate. This Procreate chain brush set by Veronika Gotovceva can be used to create prints on T-shirts, fashion portraits, business cards, postcards, etc.
Benefits
Made for detailing and showing realism

Reasonably priced

Fully compatible with Procreate 5 or higher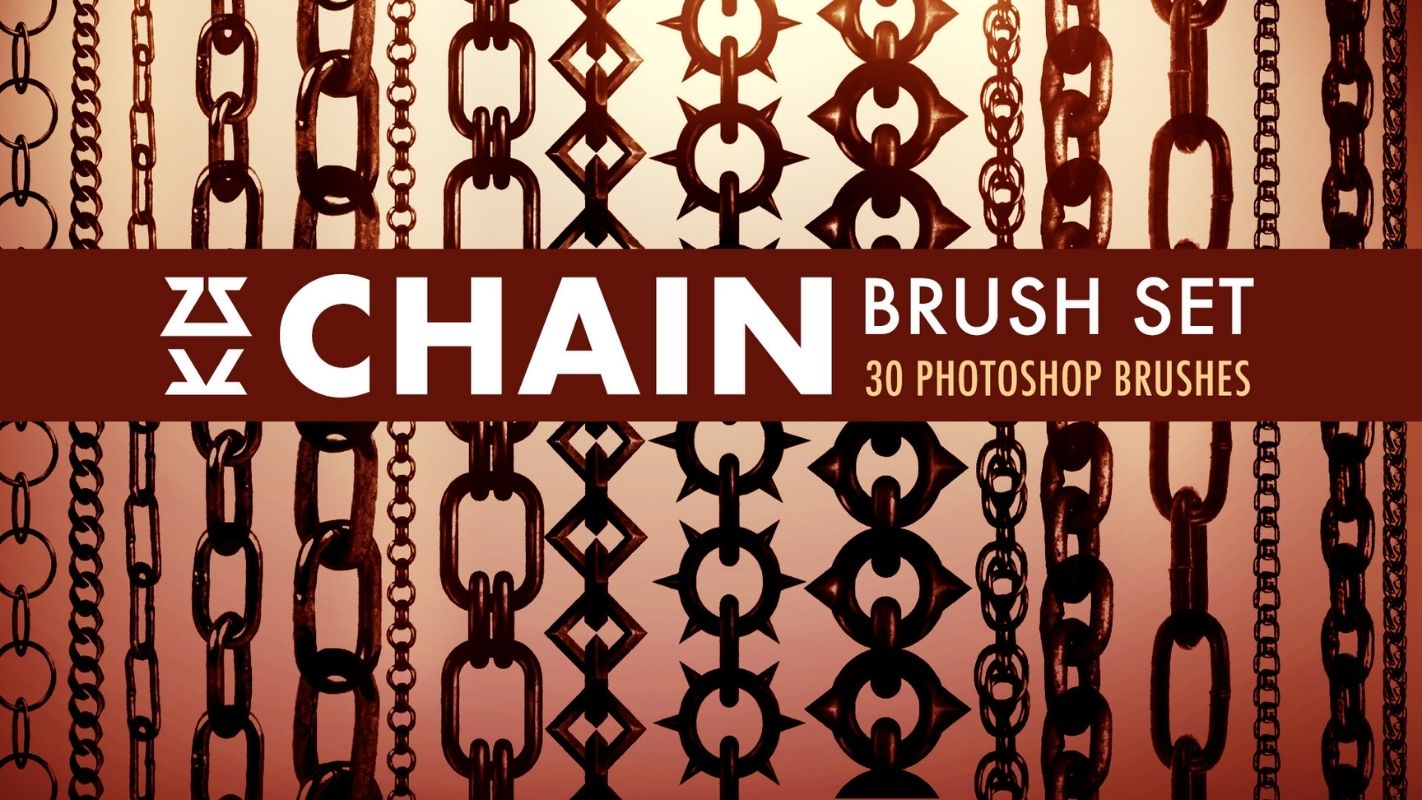 This is a set of 30 Procreate-compatible chain brushes created by Zsolt Kosa. If you're working on a personal project, you'll only have to pay $5. For commercial projects, you will pay $12.50 for the set. This set is ideal for sketching, matte painting, concept art, and as a base for illustrations.
Benefits
Also compatible with Photoshop CC+

A variety of styles to choose from

Superb price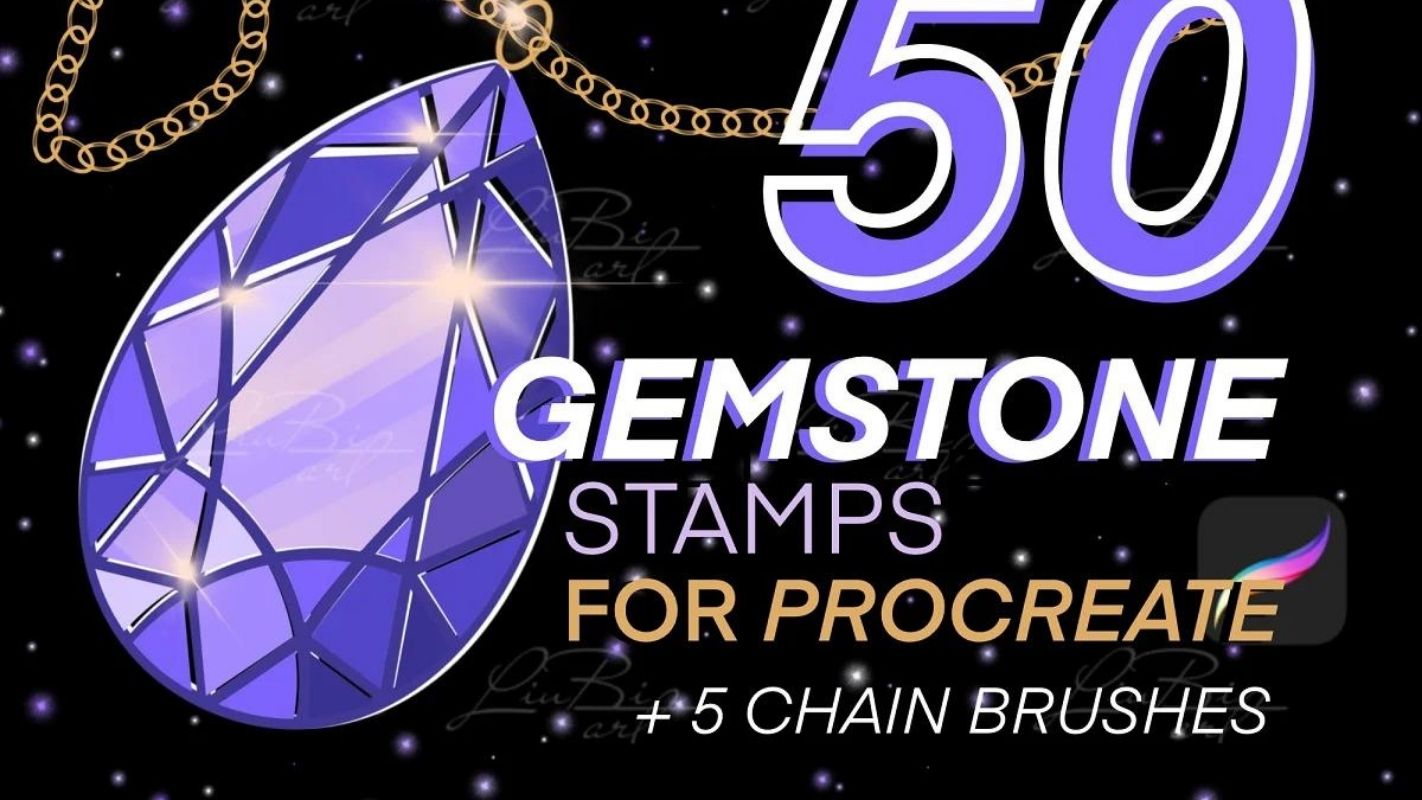 This is a set of 50 gemstone stamps fully compatible with Procreate. You'll definitely pay for the gemstone stamps, but you get 5 chain brushes for Procreate as a bonus. The Procreate brushes files are easy to download with your iPad. Installation is even easier as you just have to choose to open them with Procreate, and they'll be imported.
Benefits
Easy to download

You can automatically import the set

You get 5 chain brushes as a bonus
Flo made a set of 10 brushes for Procreate to simplify your chain drawing on your iPad. This Procreate chain brush is perfect for drawing jewelry such as necklaces and bracelets. You can use these Procreate brushes for commercial purposes, but you're not allowed to resell them.
Benefits
Good quality chain brushes

for Procreate

Super easy to use

Small size file (1.31MB) that's easy to download and install

You choose your own price above $4.5
Free Chain Brushes For Procreate
Next, we listed a few free Procreate chain brushes for you to download and install in the app. These high-quality Procreate brushes are perfect for beginners and expert artists alike. Now, let's take a look at a few of the free best Procreate chain brushes available on the market.
We listed these free chain brushes for Procreate based on their popularity and valuable for artists of all skill levels. Let's start with the free Procreate chain brush list!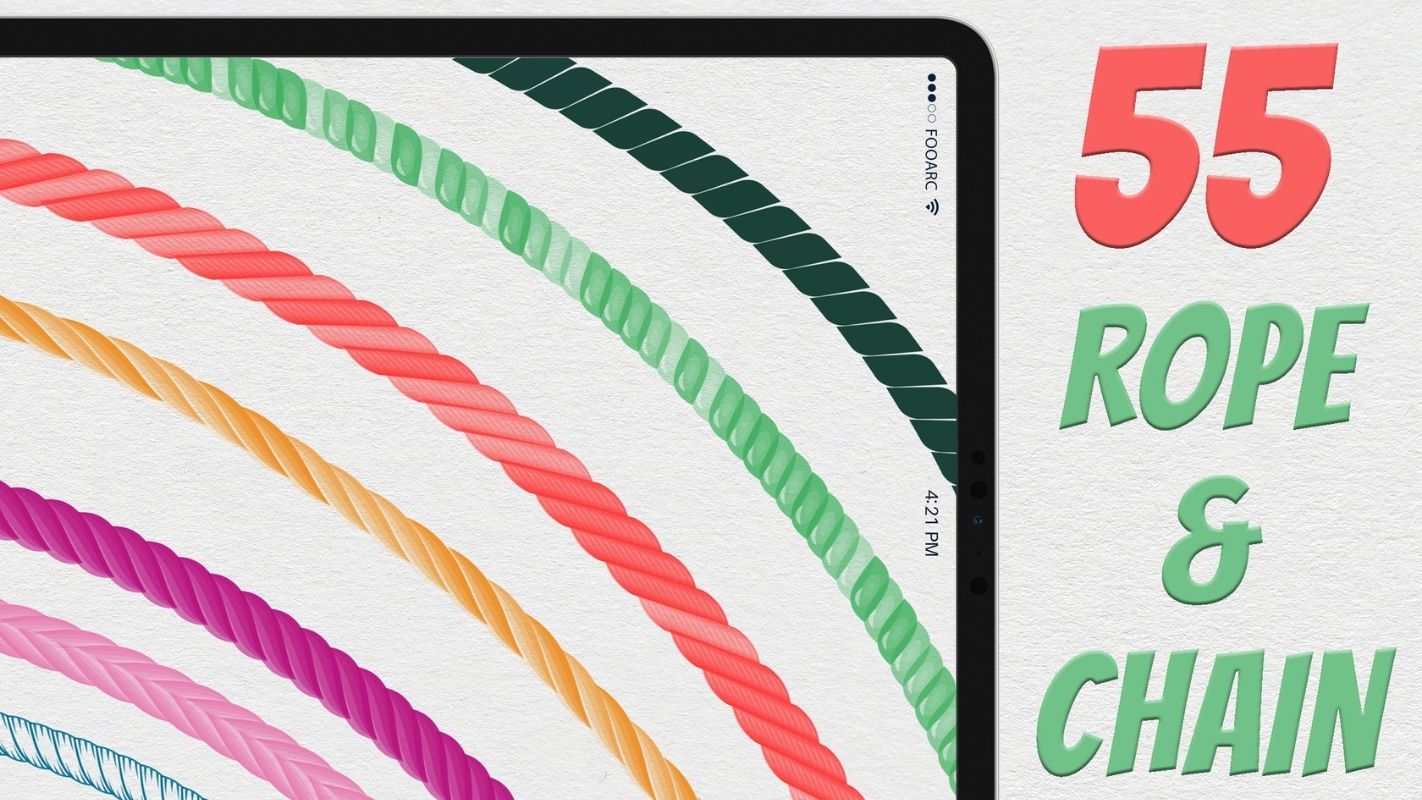 Do you have some personal projects that require you to use chain brushes for Procreate? Then, why not get your hands on this superb deal of 55 chain and rope brushes by FOOARC and save up to 75%. It's free to use in your personal projects, and to use the brush set commercially, you just need to pay $4.99.
Benefits
Great saving on a high-quality set

So many different chain styles to choose from

Free to use in your personal projects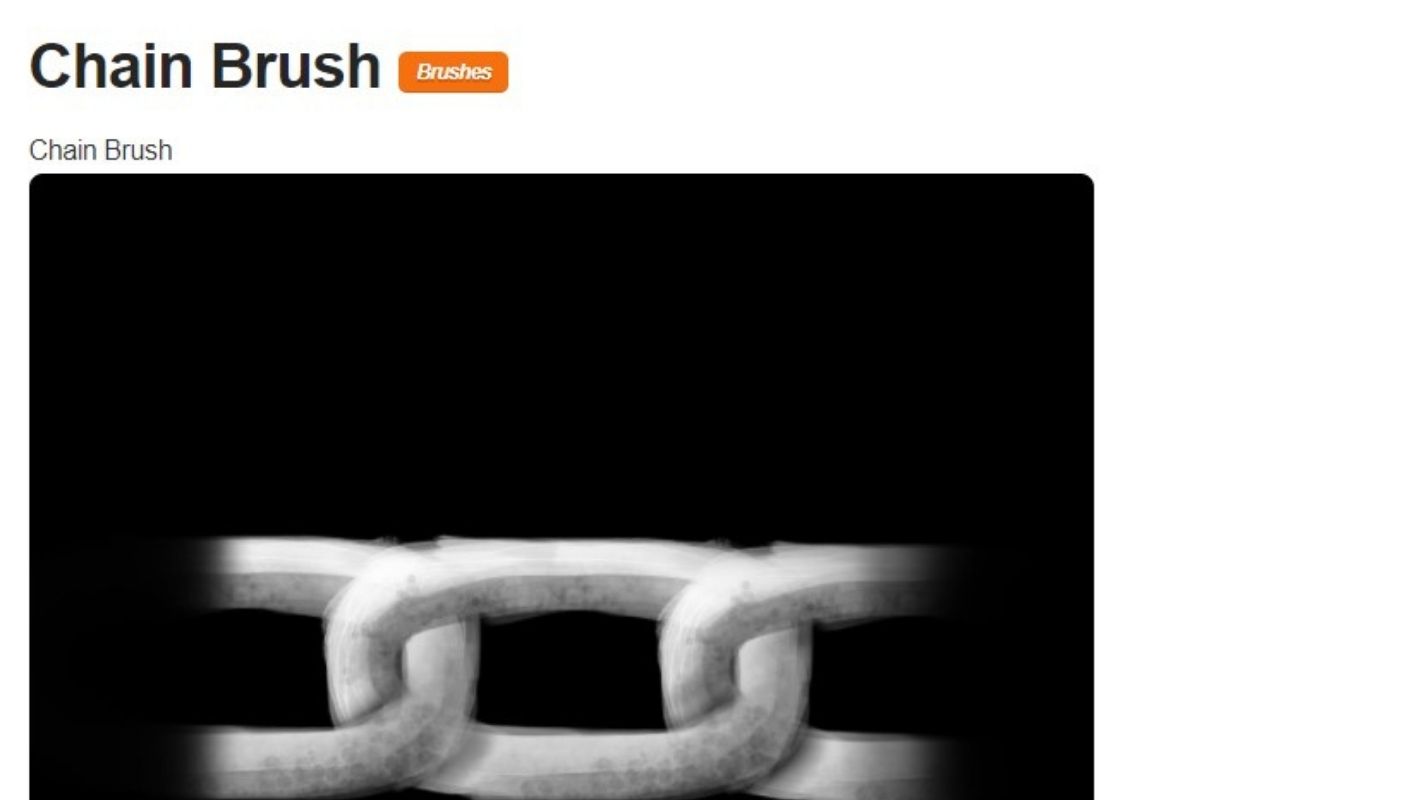 Are you just starting with Procreate and want a dedicated chain brush that you can download for free? This creation by uoji is the real deal. It's a great brush with some cool effects, but it could use minor edits once rendered.
Benefits
Unique chain effect

in the Procreate App

Totally free to download

Quick to install
Why You Need Chain Brushes In Procreate
Procreate is a beautiful app for drawing, but it doesn't have an easy way to create chain drawings. Chain drawing is crucial for artists who want to design borders of images and periphery of objects. In addition, the technique comes in handy in fashion design and forms the basis of illustrations.
Fortunately, there's an easy way to do this using a chain brush. This brush will generate a drawing closely resembling a chain with just a few strokes. With a Procreate chain brush, you can get a quick sketch and finish it with detail in the Procreate App. Alternatively, you can try drawing, for example, chainmail on your own with basic Procreate brushes.
Or, there are tons of sites with tips & tricks on how to use Procreate chain brushes. You can try to gather some inputs there to enhance your skills further when drawing jewelry, chain mail, threads, necklaces, shackles, and more in your Procreate App.
Conclusion
Procreate chain brushes are a great way to add an extra flair to your digital illustrations and sketches. We've provided you with a good list of free and paid chain brush sets for Procreate.
Add these to your digital art kit and use them when designing your next digital art project! Before making a final decision, check out each chain brush to see how it looks on different backgrounds with different colors and sizes.
Happy art drawing with these awesome Procreate chain brushes! And thanks for reading,
Lilly-Mai
Share with your Friends: