The 5 Best iPad For Procreate In 2022 (September Update)
Procreate is a dream tool for many of us who love to create digital art. However, the wrong device can make a massive difference to the quality of our work, our ability to use the app to its full potential, and our overall enjoyment.
So, having the best iPad for Procreate in your arsenal is essential. Mobile tech can help by offering excellent touchscreen capabilities, portability for creating art away from home, and much more. But, not all tablets are made equally.
Understandably, many digital artists will turn towards Apple and their iPads when looking for the best tablet for Procreate. This is because the brand has many models stretching back over decades, and the tech has only improved with time. Still, knowing which option is best for the app and your personal needs as a digital artist can be tricky. So, which is the best iPad for Procreate?
Even though Procreate Pocket is also available for iPhones, this article is only about the best iPads for Procreate. So let us get started!
Finding The Best Procreate iPad For You
In this guide, you will learn more about some of the best iPad models and how they are well-suited to those of us that love Procreate. In addition, there is an outline for our top iPad choices and reasons in five specific categories.
Beyond that, you can read the full reviews for their features and performance details. This should offer a helpful comparison between the tech so that you can make the best possible choice.
You will also find a section on the best accessories for iPads when using Procreate. These should help you improve your drawing sessions and take care of your device. Finally, there are a few quick FAQs before our final thoughts. First, let's look at some basic features to watch out for.
What To Look Out For The Best iPad For Procreate?
You need to keep certain factors in mind when choosing the best iPad for Procreate. These aspects helped determine the best models for the categories below, whether it is an iPad Air, an iPad Pro, or an iPad Mini. In addition, look out for the following.
The size of the screen
A large screen makes it easier to see what you are doing and work on details without pinching and zooming all the time in Procreate. But, the larger the device, the less portable it is.
The quality of the display
Many of the best Apple iPad models have Liquid Retina displays now with True Tone Tech. This means a high-resolution image that shows artworks and photos off at their best. But, not all iPads have this, so double-check.
The storage and memory
It helps to have a lot of RAM and storage to handle your work as a digital artist and store your art safely. Some Apple iPad models have a lot more GB on offer than others. More, in general, is better to have when working in Procreate.
The compatibility with a pencil
The Apple Pencil is an excellent tool for drawing, but check if the device is compatible with the 1st or 2nd-generation Apple Pencil. So has the iPad Pro, for example, the 2nd gen Apple Pencil support, which is incredible when drawing lovely artwork in Procreate.
Cameras
Cameras are great for artistically-minded users if you want to snap some reference photos to work with. The better the megapixels on the cameras, the better the images. Also, you should look out for wide-angle cameras.
Another helpful tech for peace of mind
Other great features to look at when choosing the best iPad for Procreate are things like: security features, Face ID, as well as Apple Pay, 5G connectivity, a long battery life, and more.
It is a good idea to compare these devices' specifications in detail before choosing one. Some finer details about processors and chips may not mean a whole lot. But, you can see which has the better performance for your needs. You can also compare color options and prices.
What Are The 5 Best iPad Models For Procreate?
Below are reviews of the five best iPads for Procreate. Each has a specific benefit, so you can decide which option is best for your needs. The first of these is the best overall iPad for Procreate users. In this case, we chose the 12.9-inch iPad Pro model.
The simple reason for this is that, as you will see below, it does everything you could want to create beautiful images easily. It is also a great modern device. The downside, however, is the higher cost, which is why we know it isn't going to be for everyone.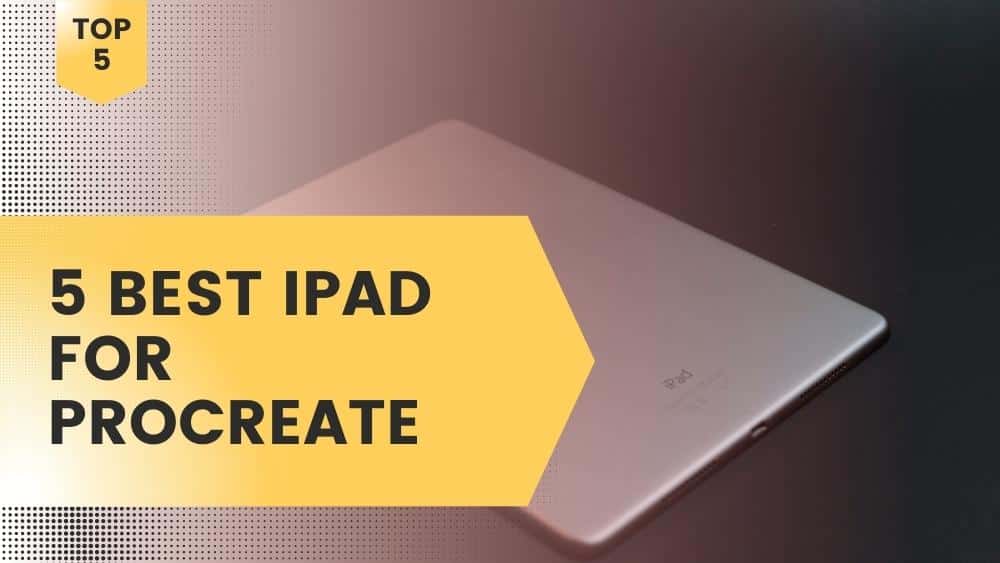 That is why our next option is the best value iPad for Procreate. What we mean by value is a device that provides a lot of brilliant tech and opportunities for creativity without the hefty price tag of the top model. That is why we chose the similar but smaller and more affordable iPad Pro 11-inch model.
On the surface, there are many similarities, and you can easily get your work done. But be aware that there is the potential for some features to be missing. Therefore, we urge you to double-check the specifications of all these devices in full before committing to getting one.
Next up is the best budget iPad for Procreate. Here, we wanted to focus on a different kind of monetary value. This one is much cheaper and designed for those struggling to budget for any high-tech and expensive tech right now.
The good news here is that there are other models of iPads that are much more affordable. Our choice, the iPad Air, lacks a few of the same features as the iPad Pro models, but not too many. Also, the price makes more than makes up for this. It isn't perfect, but it will do more than enough.
From there, we have the best portable iPad for Procreate. Naturally, portability means something small enough to carry in your bag and use anywhere you want to go. The larger iPad Pro model might not be the best choice, whereas the smaller iPad Mini is perfect. Again, there will be aspects to the tablet that isn't as good as the products above. But, you can still get a great experience using Procreate on the go with an iPad Mini.
Finally, we wanted to offer an option for the best beginner iPad for Procreate users. If you are new to working with Apple devices, it makes sense to go for an older, cheaper version that isn't overwhelming. This way, you don't risk ending up with buyer's remorse when something doesn't run the way you hoped.
The original iPad models are a great place to start, and the iPad 9th generation version has a lot going for it. You can easily get started here, get a feel for how Procreate runs on an iOS system, and then upgrade your Apple iPad later.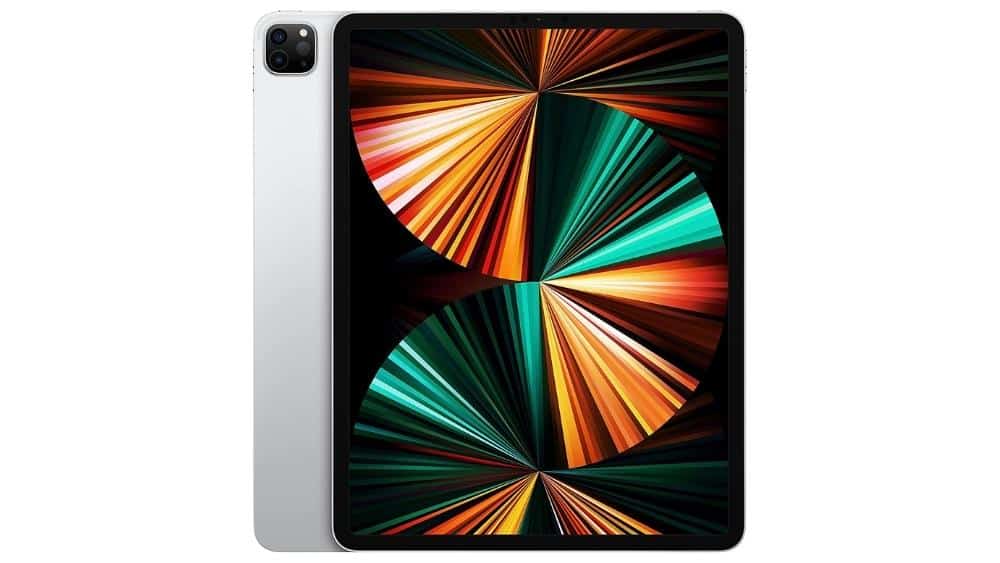 Display: 12.9-inch Liquid Retina XDR (2732 x 2048) | Processor: Apple M1 | RAM: 8GB | Storage: Up to 2TB | Battery Life: Up to 10 Hours | Weight: 1.50 pounds (685 grams)
The iPad Pro 12.9-inch model is a top-of-the-line 5th-generation device that many swear by. But, of course, the main selling point here is the larger screen and the high power it delivers. This is highly appealing to all those looking to create grander works of art with Procreate.
That extra surface area doesn't look significant until you get into those finer details and layers. However, it is certainly noticeable when you place this against one of the older models or the iPad Mini. The color and tone on the iPad Pro 12.9-inch screen are excellent, thanks to the Liquid Retina XDR display and True Tone Tech.
Of course, this means that while the iPad Mini is a great portable option, this one will be harder to carry around. Those looking to use this at school or anywhere else away from home should invest in a suitable bag with a dedicated tablet sleeve.
Procreate users will also appreciate the useful Apple M1 chip, the remarkable 128GB (or up to 2TB) storage capacity, 8GB RAM, and the compatibility with an Apple Pencil 2nd generation. Away from the specific features for Procreate users, there are also the benefits of the 5G connectivity, the USB-C charging port, 10-hour battery life, a 12MP wide camera, and a 10MP ultra-wide camera. You can also easily use Apple Pay for coffee on the go as you get inspired for your next creation.
It is easy to see why this iPad Pro 12.9-inch top model is our pick for the best overall Procreate iPad because of the high-end specs and user experience. However, that doesn't mean it is the best value option or perfect for your specific needs. So, let's look at why the smaller Apple iPad Pro 11 inch makes be a better value solution.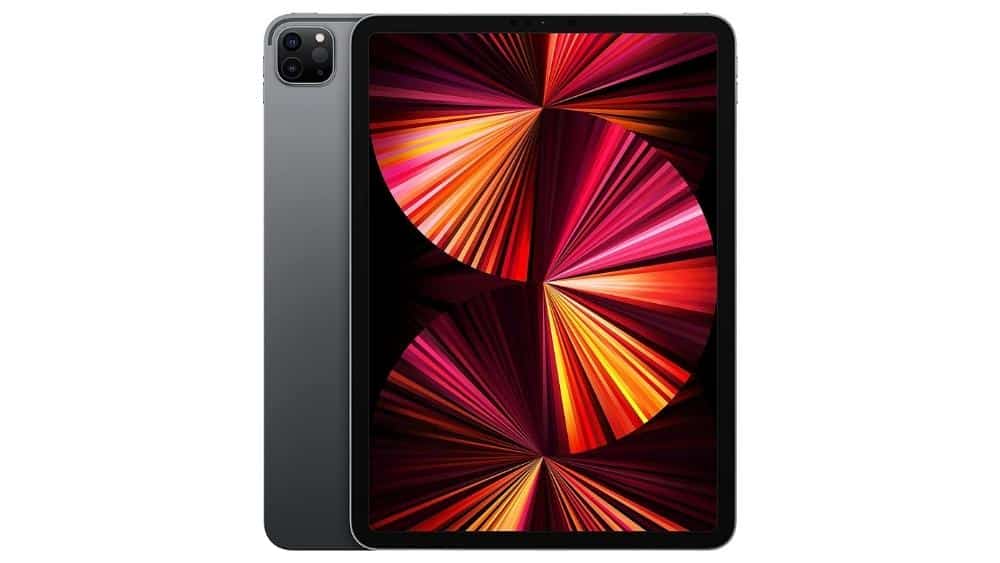 Display: 11-inch Liquid Retina (2388 x 1668) | Processor: Apple M1 | RAM: 8GB | Storage: Up to 2TB | Battery Life: Up to 10 Hours | Weight: 1.03 pounds (466 grams)
There are many similarities between the iPad Pro 12.9 and this 11-inch 3rd generation option. Much of the helpful tech remains the same, and you should get the same sort of responses and experience as with the 12.9-inch version. For example, even though you lose a couple of inches in the screen size, you still get that excellent Liquid Retina Display with the same ProMotion and True Tone Tech.
There is also the same compatibility with the Apple Pencil 2nd generation, battery life, smart Apple M1 chip, plenty of camera options, and the same memory with 8GB RAM and 128GB storage capacity. In fact, it would be easy to assume that this is the exact same model that's shrunk a little. Because of this, there is little to say against the iPad Pro 11-inch model.
Because this is a smaller and older Apple iPad Pro model, there is a significant cost reduction. Of course, we are all meant to want to rush out and get the 5th generation version because it's the shiny new one. But do you really need to unless that extra large screen size is a deciding factor?
You can still use Procreate with ease on this 11-inch version without worrying about it becoming less easy to use. You can still create an image to the same standard and enjoy the other convenient tech features. So, it is up to you whether you pay out for the flashier iPad Pro 12.9 inch, stick with this better-value solution, or perhaps go down another route entirely, for example, the iPad Air.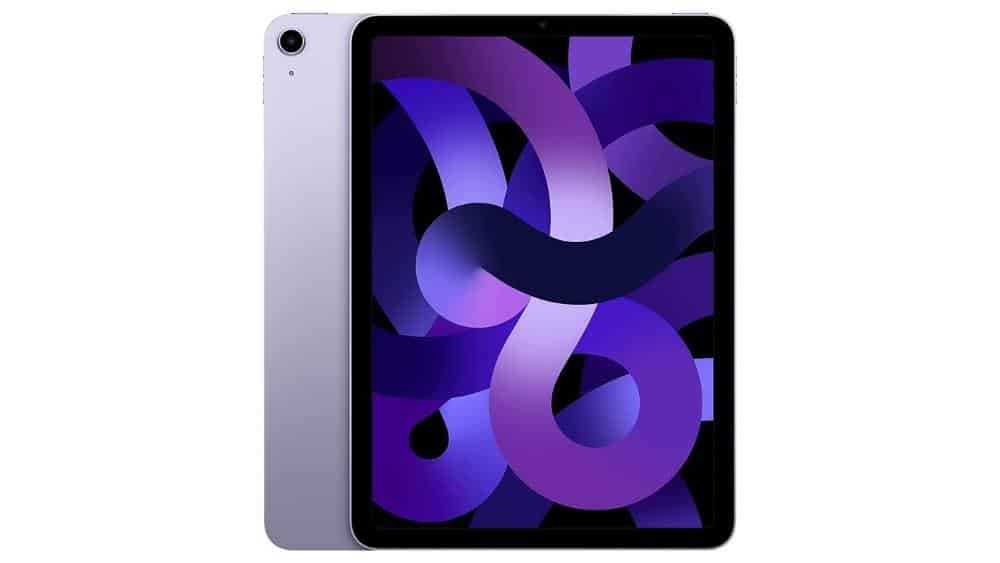 Display: 10.9-inch Liquid Retina (2360 x 1640) | Processor: Apple M1 | RAM: 4GB | Storage: Up to 256GB | Battery Life: Up to 10 Hours | Weight: 1 pound (458 grams)
To provide value, devices must have a good blend of high-end tech and a fair price tag. Therefore, when looking for a budget model, we are a little happier to forgo some features seen in the "better" models if it means a low price. That is the case with the iPad Air.
Let's clarify – there is very little wrong with this 5th generation iPad Air model. Many users are more than happy with the features and performance. This is our budget option because it is much more affordable, but it doesn't do quite as much.
The screen isn't too different from the 3rd generation iPad Pro. The screen size is 10.9-inches and has a Liquid Retina Display with True Tone capabilities. The camera capabilities aren't too bad here either, with the 12MP wide front camera and 4K video capture. This could make the Apple iPad Air a good choice for creatives on the go.
You also get a lot of the same helpful tech with the 5G connectivity, Apple M1 chip, and compatibility with the Apple Pencil. However, you don't get the same USB connector as the previous option, nor the Face ID security system. The storage capacity is also lower at 256GB, with just 4GB of RAM. These features could be deciding factors when choosing the best iPad for Procreate. If you value storage more, pay more for a better option.
Ultimately, you need to decide if little touches like this will make enough of a difference. If you can live without them, this budget option could be a great alternative to the pricier iPad Pro models. With that said, other models are cheaper again. But, while there are more budget-friendly, they might not offer all you need for drawing great artwork in Procreate.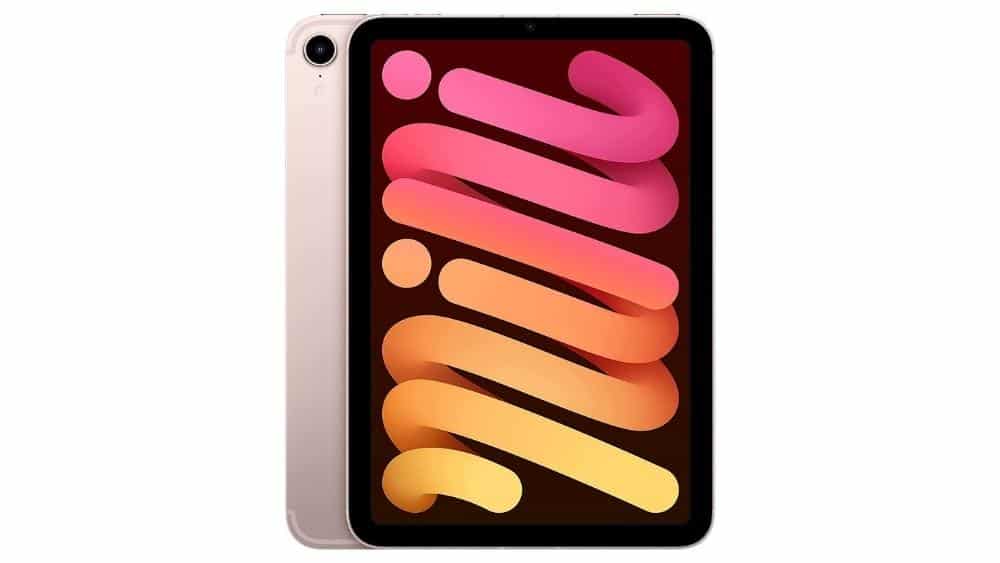 Display: 8.3-inch Liquid Retina (2266 x 1488) | Processor: A15 Bionic | RAM: 4GB | Storage: Up to 256GB | Battery Life: Up to 10 Hours | Weight: 0.65 pounds (293 grams)
As you can see, we are working our way down through iPad models regarding cost, screen size, and generation. So, we have the iPad Mini as our choice of the best portable iPad for Procreate. It isn't hard to see why this one is so appealing for artists on the move.
The 8.3-inch screen size and lightweight body make this easy to carry around, especially if you can find a fun compatible case and still get that long 10-hour battery life. The smaller screen has its pros and cons.
You get the same quality with the Liquid Retina Display, and everything you make in Procreate looks excellent. However, it is harder to see your image at its best and get into all the details and layers. In addition, there's going to be a lot of pinching and zooming here. So, if you don't have the patience for all that, you might get too frustrated with this portable Apple iPad option.
Still, there are additional benefits with the compatibility with the 2nd gen Apple Pencil, the same great cameras front and back, and the Apple Pay connection. It is also a prettier device with purple, pink, and starlight options rather than just the usual space grey. Of course, this doesn't make a big difference, but it is a nice touch.
Just be aware that this one doesn't have Face ID either. The chip is the A15 Bionic chip. Also, the memory means just 4GB RAM and 64 GB of storage capacity. The pros and cons of this smaller device indicate that it is also a good option for beginners that don't want anything too large or powerful. But, there is also another model that might be better suited for first-time Procreate users.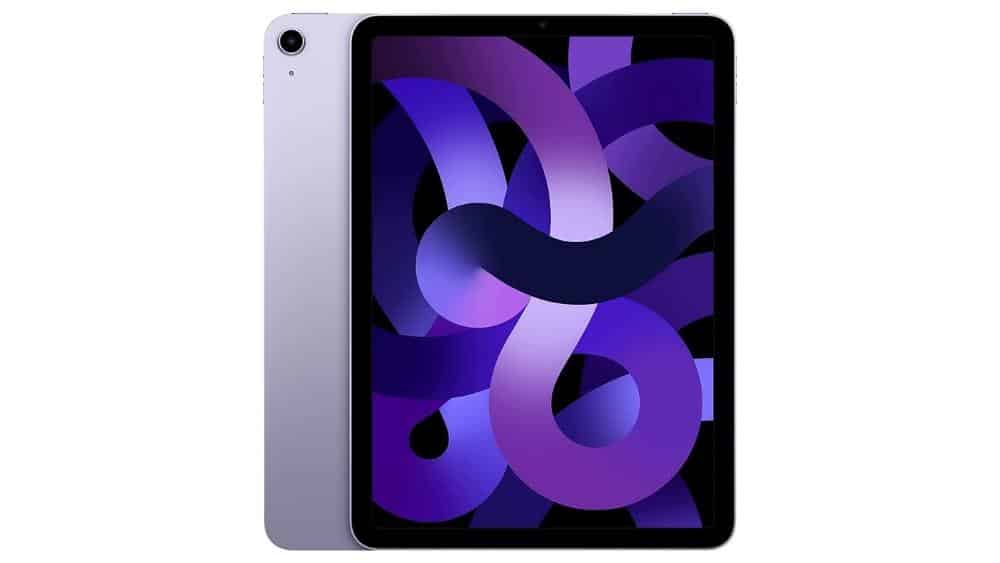 Display: 10.2-inch Retina display (2160 x 1620) | Processor: A13 Bionic | RAM: 3GB | Storage: Up to 256GB | Battery Life: Up to 10 Hours | Weight: 1.07 pounds (487 grams)
Finally, let's take a closer look at our choice for beginners in Procreate. Before there were all those clever variations like the Pro and Air, we had the standard iPad. This device still exists and is in its 9th generation now. You can probably still find early models for sale somewhere, but Apple offers this more recent version for an affordable price.
This is an excellent way to get to grips with Apple tech and see how Procreate looks on a tablet. The 10.2-inch screen is a good size and not too much smaller than the iPad Air. However, it is an older Retina display rather than the modern Liquid Retina one. This could make a difference in the presentation of your work. This might not matter too much if you have no previous experience and little to compare it.
You can also use this model to test out tablet cameras, with a 12MP ultra-wide front option and just an 8MP wide one on the back. However, this lower-grade camera has a few drawbacks here, as there is also a lower-grade A13 Bionic chip, an older lightning connector, and compatibility with the older Apple Pencil.
The memory isn't ideal either, with 3GB RAM and 64GB of storage. Still, you also get touch ID, Apple Pay, a 10-hour battery life, and the option to connect a Bluetooth keyboard for helpful shortcuts.
We shouldn't expect this Apple iPad to do that much because of the line. All the best tech and ideas tend to end up with the fancier iPad Pro models now because that's where people spend their money. So there is a real sense that you get what you pay for with this product, which might not be wrong when starting.
Finding The Best iPad Accessories
There are plenty of accessories that you can get to enhance your digital art experience on the best iPad For Procreate. It is a good idea to get hold of some of the following to make life a little easier when working on essential projects in Procreate or to make things more enjoyable.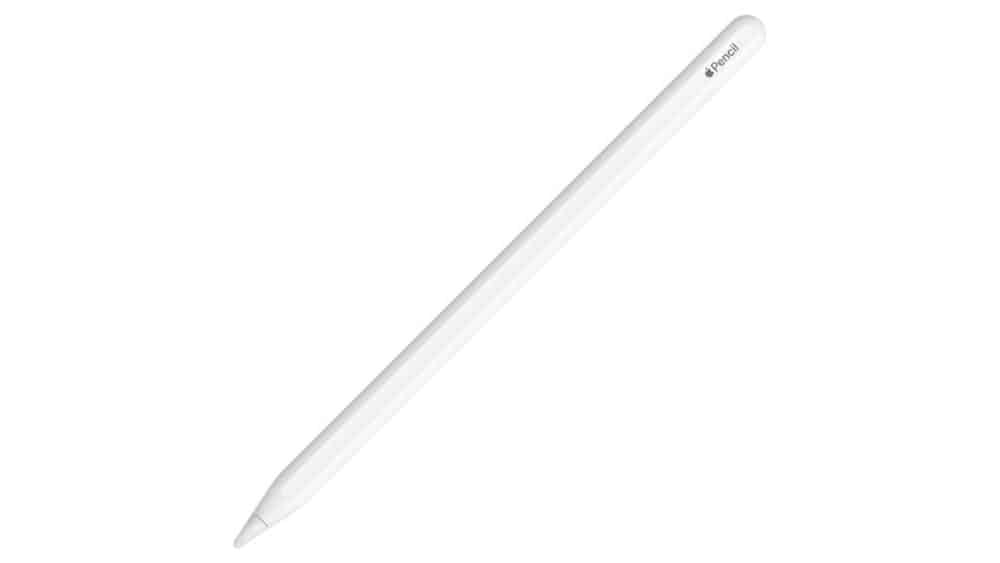 You will have seen this mentioned quite a lot already in this guide. But, you can't enjoy the iPad Procreate experience without a good stylus. It may just look like a white stick, but it helps.
The Apple Pencil is a stylus. Compatible with iOS devices, that allows for more precise lines when drawing. There are different versions out there, and the Apple Pencil 2nd generation model is the one currently in use with the iPad Pro and iPad Air models. However, there may be a new version in the future.
The best way to use the Apple Pencil with complete control and penmanship is with a grip. Grips make the tool much more ergonomic, so getting the strokes and lines you are looking for is much easier. In addition, the molded rubber fits nicely against the finger to reduce the risk of pain and fatigue while drawing in Procreate. The best designs aren't too bulky or difficult to apply to the Apple Pencil.
Once your new grip is in place, you should consider adding some tips. The basic point of the stylus is fine for drawing onto the tablet display, but it is a little hard and doesn't allow for many variations. A removable tip for your Apple Pencil changes the feel on the screen and can qualify for a different response. You can try out other effects if you find a good set.
Look out for these alternative covers for Apple iPad screens. Screen protectors are great at the best of times because they have the potential to protect your device from scratches. However, those little stylus pencils can wear that surface down and make it less responsive and pretty over time.
The difference with the matte protector is the texture. You get something with a bit of resistance to it that feels like drawing on paper texture in Procreate. So, you end up with a more realistic feel that is great for drawing.
If this is entirely new to you, don't worry. The idea of digital artists wearing gloves when using a stylus has pros and cons. On the one hand, you can add a little more comfort to your fingers for longer sessions. But, on the other hand, you can also protect the screen from sweat and oils as you keep pinching and swiping the touch screen.
On the other hand, it can be challenging to use the Apple Pencil with gloves on. Just try writing with your winter gloves on and see how it feels, impossible! That is where these drawing gloves help. You get an excellent soft cover for the ring and little finger – providing that comfort and protection as they swipe. The other fingers and thumb are uncovered, so you can easily hold them with the Apple Pencil.
Even if you do use a glove like this to avoid the worst of any dirt and smudges, you still run that risk. However, a simple microfibre cleaning cloth is all you need to buff out the marks and keep the screen of your iPad looking its best at all times.
Artistically-minded iPad users will also appreciate the chance to use a cute carry case with a fun design. There are lots of brands that dig into trends and fandoms to provide an artistic flair. Make sure that the case for your Apple iPad has an excellent protective lining and secure zipper and is the right size.
iPad stands are a fantastic way to get the most out of your device and ensure you get the most out of your experience in Procreate. There are many different benefits that you will be able to enjoy when you are using a stand. One of the most significant benefits is convenience.
You won't have to hold your iPad anymore, and it will be easier to use. You can also position your iPad at a better angle, making it easier to view and operate.
You can also get a keyboard and mouse compatible with iPads for more straightforward navigation and shortcuts. This can help you save time, for example, when browsing new best Procreate brushes or installing new ones in Procreate.
But, you need to make sure they are suitable for your model. If you go for a cheaper beginner iPad in an older generation, they might not work.
Of course, you can add these accessories to your standard setup to make things easier. These aren't just for Procreate use but for general day-to-day iPad use.
The Best iPad For Procreate FAQs
Will Procreate Run On Any iPad?
Getting the Procreate App to run on your device shouldn't be a problem if you get one of the models in this list. All modern iPads and Apple Pencils devices are compatible with Procreate 5.2. and should be for future versions. However, there may be an issue with really old iPad products, as Procreate needs PadOS 14.4 or something more recent.
Can I Use Procreate On A Refurbished iPad?
This isn't a bad idea if you are one of those looking for a budget model without compromising on the best tech. A refurbished iPad tablet has had a second chance at life with a few repairs and patches. It might not be pristine when you get it, but it should have the factory tech in working order. So, if you decide you want Procreate on an iPad Pro – but for less – lookup sites with refurbished options.
Is Procreate Free With An iPad?
This is a common question. There is the assumption that if you decide to get a fancy iPad for your digital art needs, Procreate will come as part of the deal. Unfortunately, this isn't the case – even with the fancier iPad Pro models. Apple doesn't own Procreate. So, you still need to download Procreate for $9.99 once you get the tablet set up. Thankfully, this is easy to do, and you only have to deal with this one-time payment.
Is Procreate 10 Dollars A Month?
No, Procreate is available in the Apple Store as a one-time payment. You only have to pay one time the $9.99, and you can use Procreate as long as you wish. There are no monthly fees. You can get Procreate here in the Apple Store.
How To Transfer Procreate Files To A New iPad?
It's simplest to transfer your entire Procreate library using a cloud storage platform like iCloud, Google Drive, Dropbox, or OneDrive. Of course, I'm assuming you already use iCloud since you're an Apple user.
If not, you can sign up for a free account and get 5GB of storage to start. This way, you only have to log in on your new iPad and access all your data, Procreate brushes, and more.
Which Is The Best iPad For Procreate?
To summarize, there are different options depending on your needs. For example, if you want something with the very best tech and the biggest screen, you need to pay a little more for the 12.9-inch iPad Pro. On the other hand, if you are happy with something a little smaller, the 11-inch iPad Pro offers better value for money.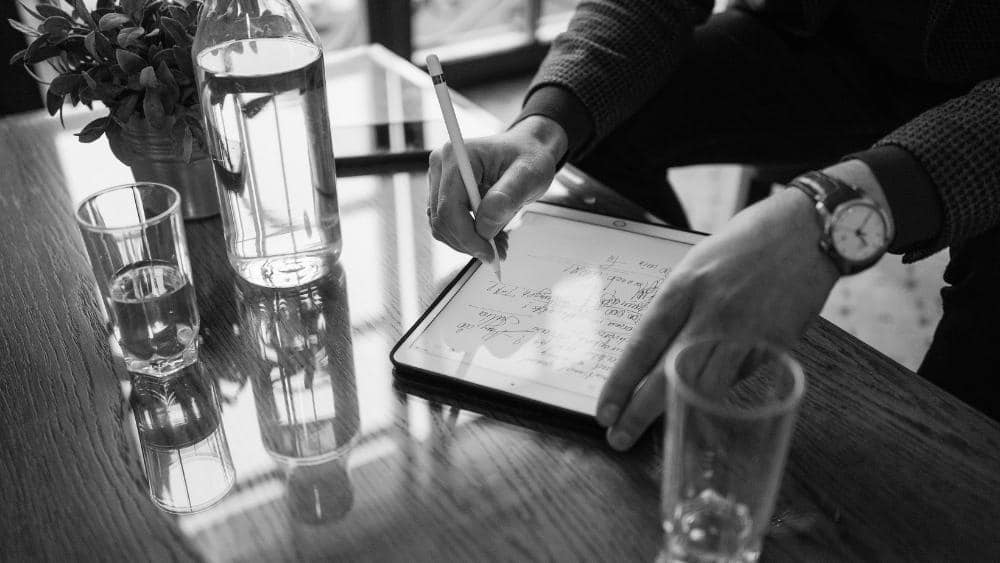 The iPad Air is great for those on a tighter budget, but the screen size is also smaller. Those looking for something even more portable can benefit from the iPad Mini, although it isn't the easiest to use. Finally, don't forget about the cheap little 9th generation iPad. It might not be the best in terms of tech, but it is beginner-friendly and doesn't cost much.
One of these tablets is sure to be an excellent fit for your needs when working with Procreate. Compare the specifications carefully and find what works for you. Then, you can download the Procreate App, get some helpful accessories, and have a lot of fun creating beautiful artwork. Procreate was made for use with iPad tech, and you will soon see why.
So, have fun choosing your best iPad for Procreate! And thanks for reading,
Lilly-Mai
Share with your Friends: