12 Best Procreate Watercolor Brushes (Free & Premium)
The iPad has spawned a whole new generation of digital artists and painters during its wake, searching for the best Procreate watercolor brushes. This is causing a significant number of drawing and painting apps to be launched and marketed for these gadgets.
However, of all these apps, Procreate has stood its ground as one of the best of its kind on the iPad's ecosystem, and, along with it, a plethora of Procreate watercolor brushes and brush kits have been specifically tailored for it.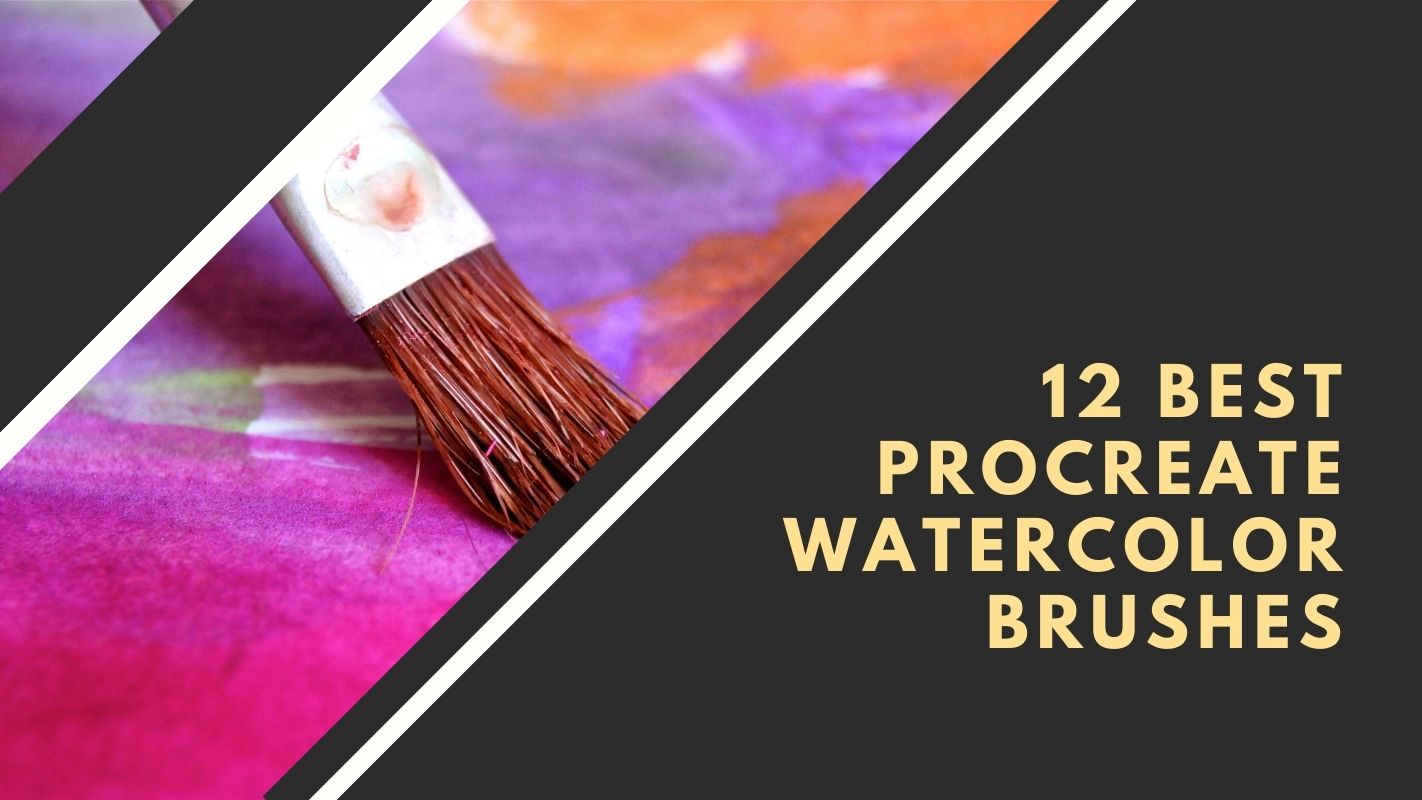 The Different Types Of Watercolor Brushes
There is a wide variety of watercolor brushes in the material world that are devised for different purposes. Brushes are just as essential as the surface and the colors themselves. The brush you use will help enhance the accuracy of your strokes, depending on the effects you wish to convey on the canvas.
Information about the types of brushes available for artists can be a bit overwhelming and intimidating. For illustration purposes (no pun intended), you have: The common round brush, the mop brush (for washes), the flat brush (for linear strokes), the wash brush (for large washes), the angled brush (for curved strokes and edges), the cat's tongue brush (a flat brush with a pointy tip), and so on!
We'll unpack our selection of the 12 best Procreate watercolor brushes without further ado.
12 Best Procreate Watercolor Brushes
For this selection, we went ahead and chose 3 free Procreate watercolor brushes, and 9 premium Procreate watercolor brushes (we'll disclose which is which in the respective titles). So let's start with our first pick:
The Realistic Watercolor Toolkit for Procreate tries to mimic the properties and perks of real watercolor. It includes 60+ brushes and four "paper" canvases that are supposed to bring true-to-life watercolor paintings. In our experience, for $18, it does a great job imitating the "feel" of old-school watercolor painting.
This watercolor brush pack includes:
A .BRUSHSET file containing 60+ custom brushes (blenders, washes, textures, and blenders)

4 "Paper" watercolor textures that are ready for use. You can choose between Regular Paper, Satin Paper, Coldpress Paper, and Rough Paper.
This brush set by Nathan Brown has been created using an almost handcrafted approach, trying to bridge the gap between the digital and the real world for a realistic painting experience.
It features:
66 watercolor brushes for drawing and shading.

31 splatter brushes for more freestyle painting jobs.

39 washes and runs, perfect for tackling large textures and bleeds.

6 water brushes for fades and blends.

3 high-resolution paper-like textures.

A PDF guide for using the set, with a detailed explanation of each brush. Additionally, you get 5 PDFs with tutorials on how to paint a Fox, a Macaw, and a few other tips.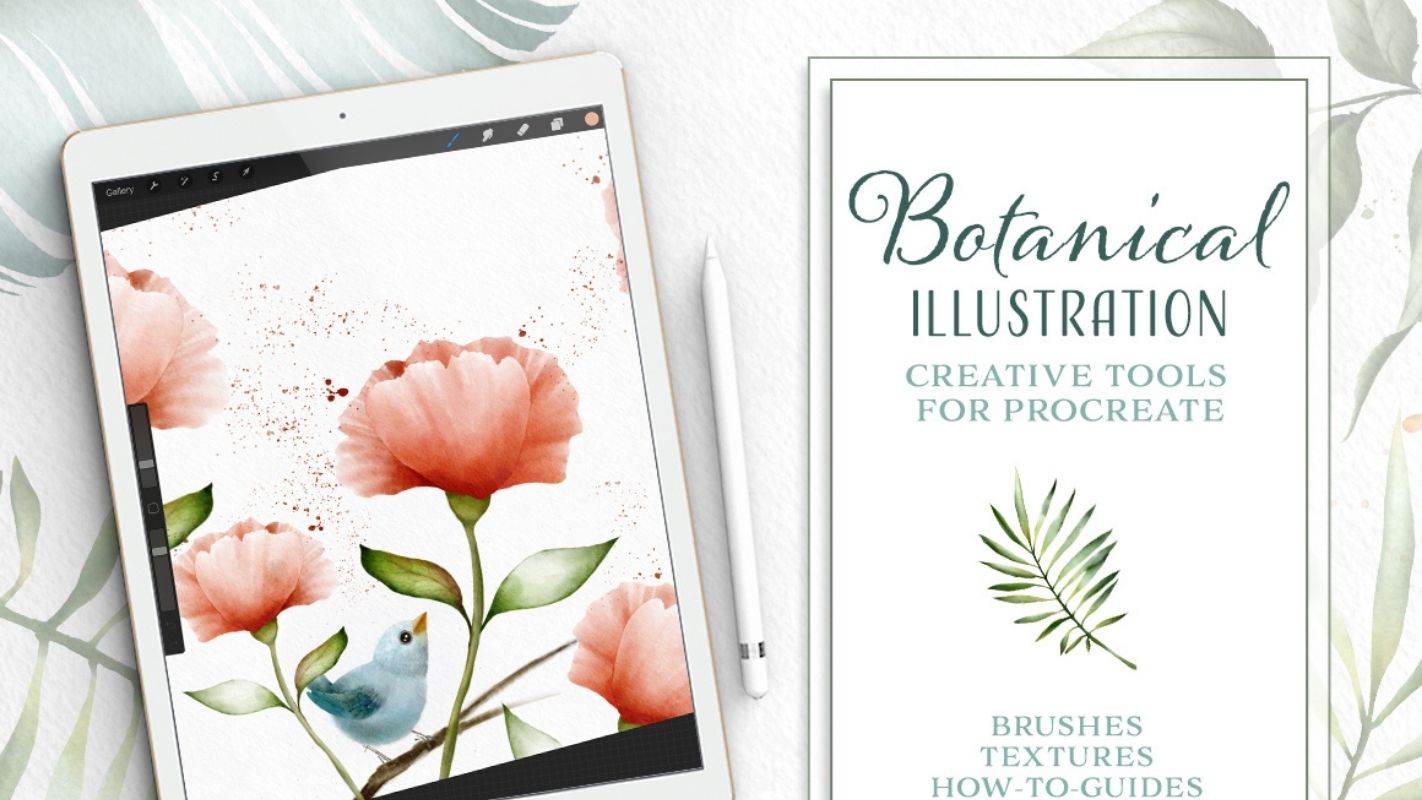 As its name may give out, this toolkit was designed with plants and flowers in mind. The strokes are all designed to paint many botanical and floral figures. This kit is compatible with Procreate 4.1
Featured in this set:
36 illustration tools for watercolor, ink, special effects, and pencil.

8 textures for custom canvases.

5 ready-to-use canvas templates.

48 photos of a wide array of plants as references.

Guides for the various techniques and features you may employ with the kit.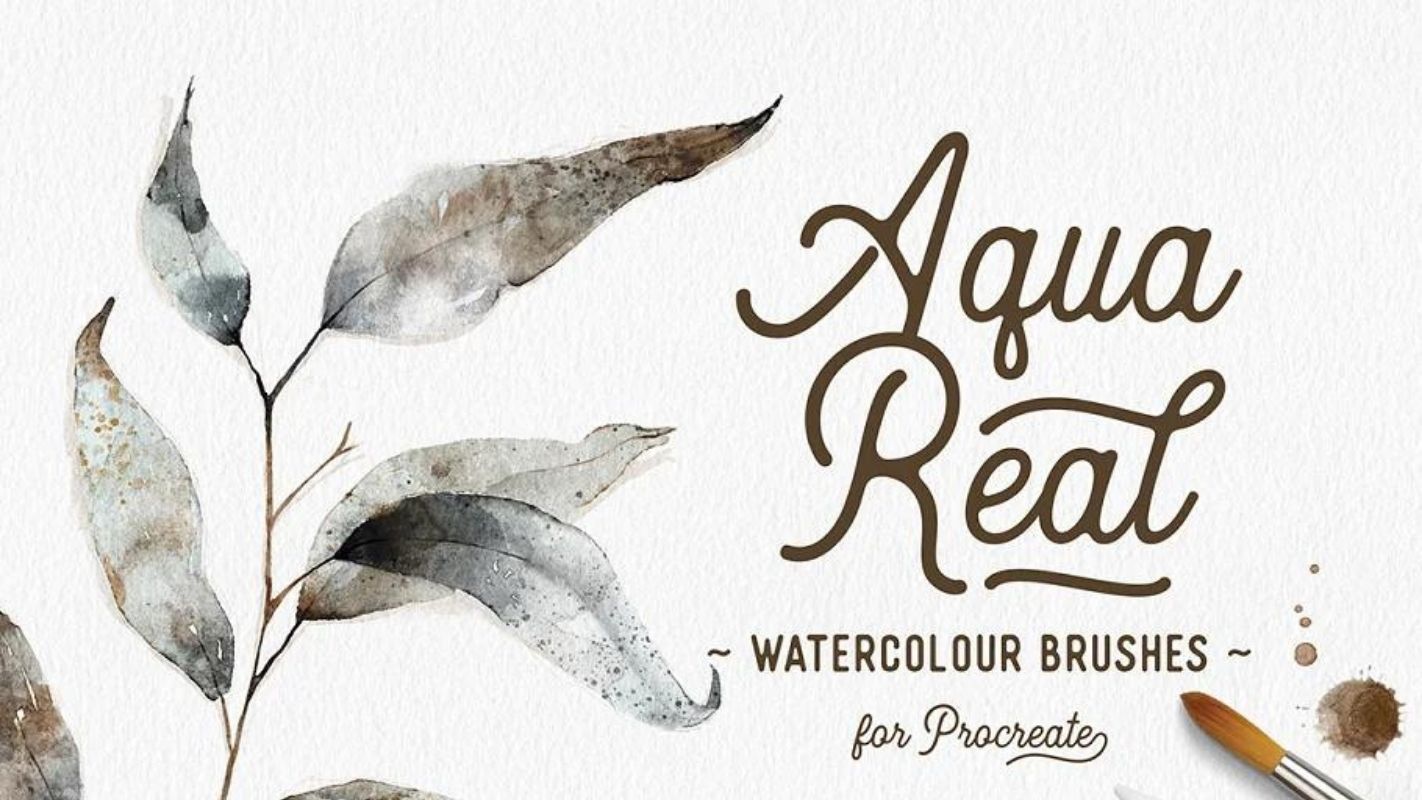 The AquaReal Watercolor Set is not exactly the most varied toolkit. Still, it does come with handy stamps for quick and beautiful illustrations.
You should receive:
29 stamps with real pigment blooms, sprays, and large spots.

3 paper-like textures.

8 brushes for painting and blending.

A soft sketch brush for great watercolor finishes.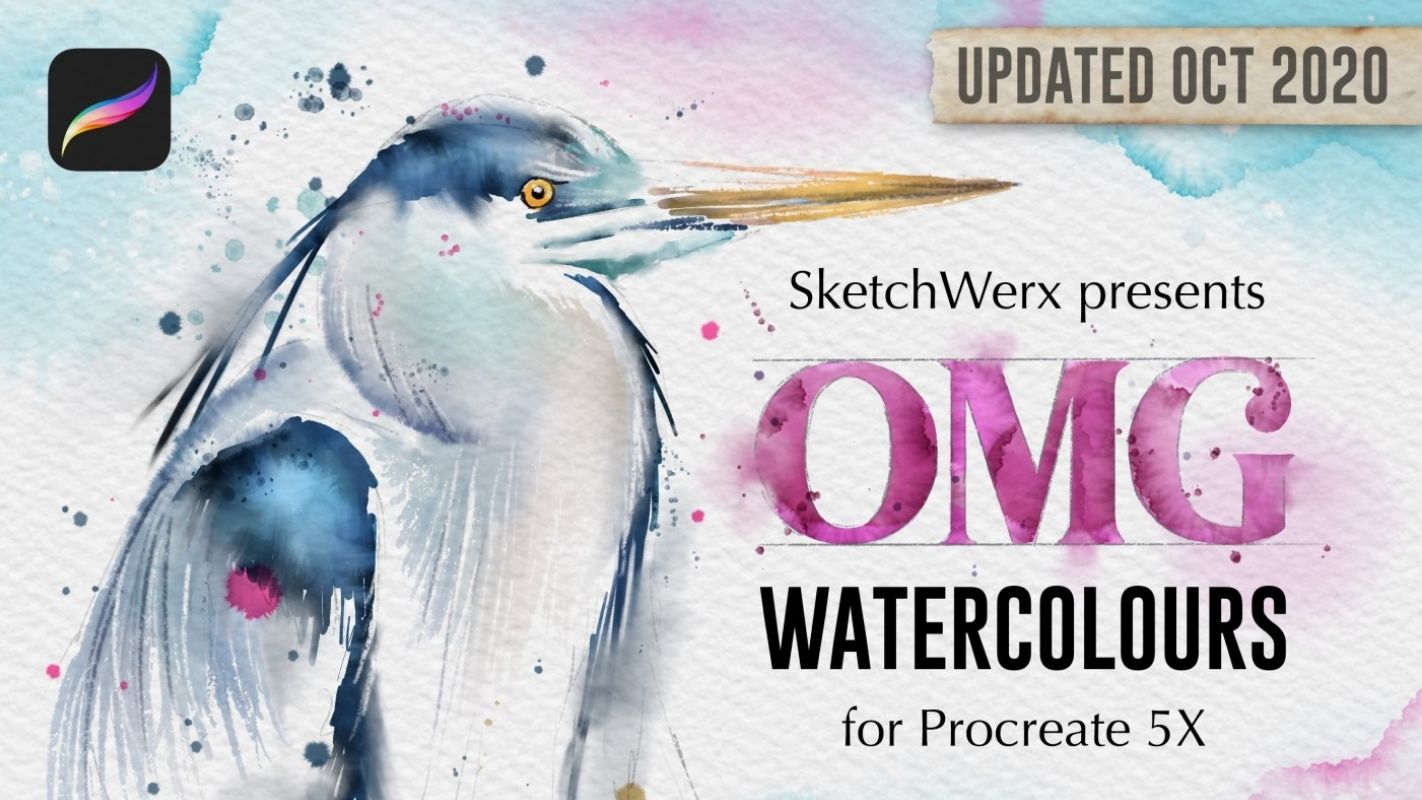 These watercolor brushes are designed to work perfectly in tandem with pressure sensitivity. The author (SketchWerx) and you will find a thorough tutorial on her product description and her website.
Some of the OMG features include:
More than 21 brushes.

2 blenders.

8 background washes that can likewise be employed as small brushes.

6 stamps with paper-like texture.
This pack is marketed for those who want a bit more personality in their calligraphy. The brushes are made out of real handcrafted brush shapes for more genuine watercolor writing, and the pricing is quite affordable.
The pack comprises:
25 watercolor brushes.

17 textured brushes.

5 "dark edge" brushes.

A pencil, edge darkener, and blender for realistic finishes.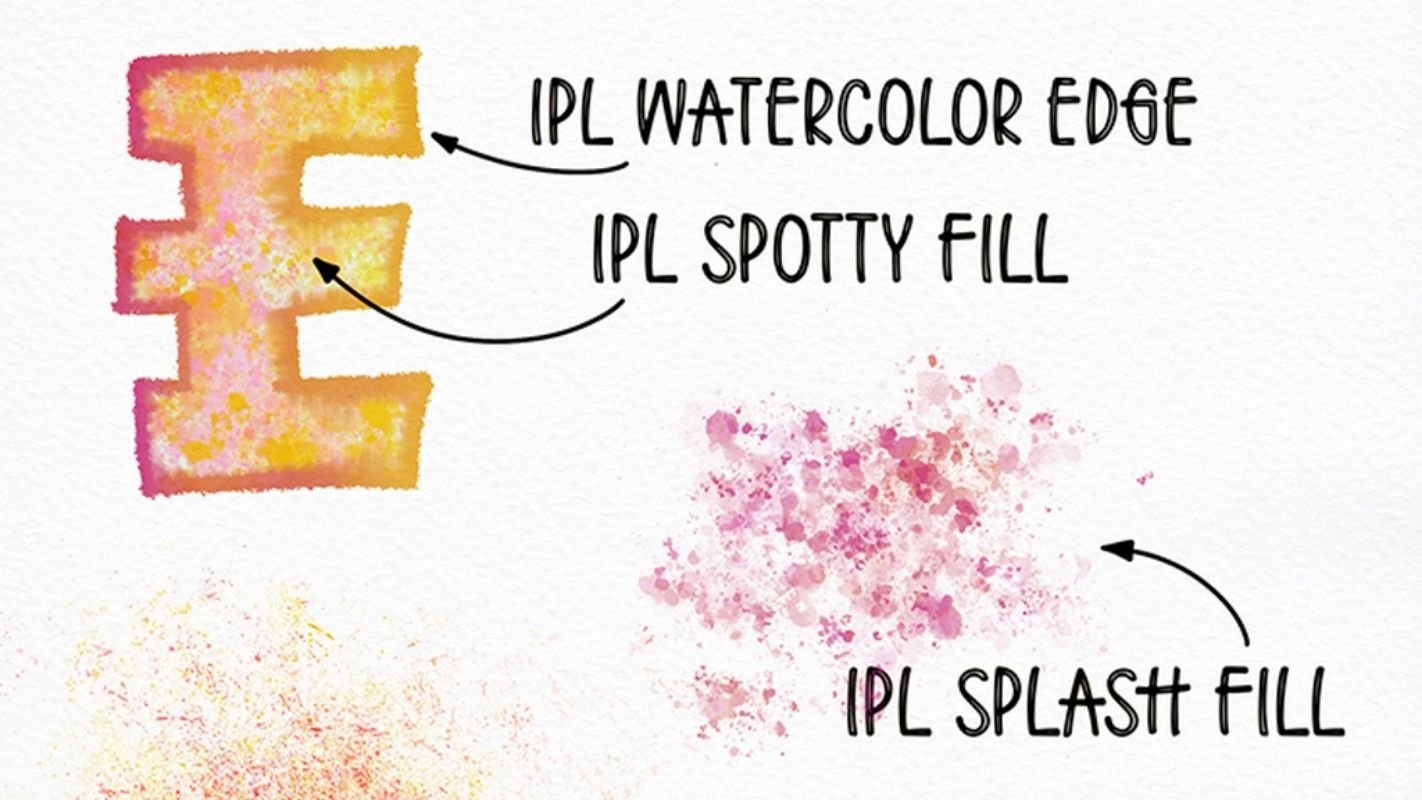 Another set for lettering. This one has a heftier price tag than the Watercolor Calligraphy Brushes set that we covered earlier but still has some excellent features in it that you may want to try out.
The kit includes:
Around 20 individual brushes (including soft wash, fine dots, gradients, and wet paint).

1 textured template with optional grid lines for guidance.

An instructional PDF.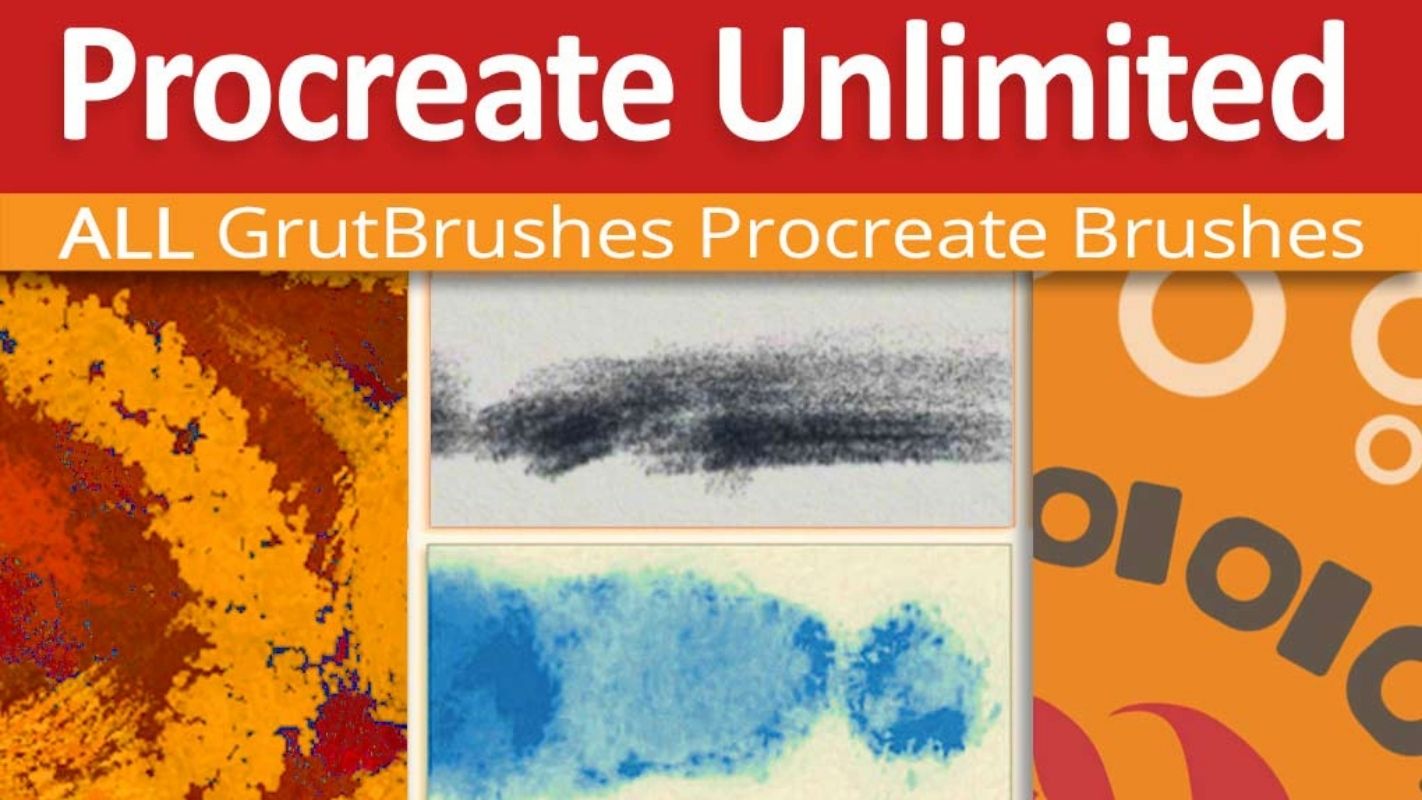 GrutBrushes initially catered to Photoshop users, but they've recently launched a Procreate version. While it's still not as feature-packed as the Photoshop version, the Procreate brushes do a decent job.
These are the available Procreate features:
Oil brushes

Pencils.

More than 160 brushes, including impasto brushes.

Free Procreate brushes, including watercolor imitations.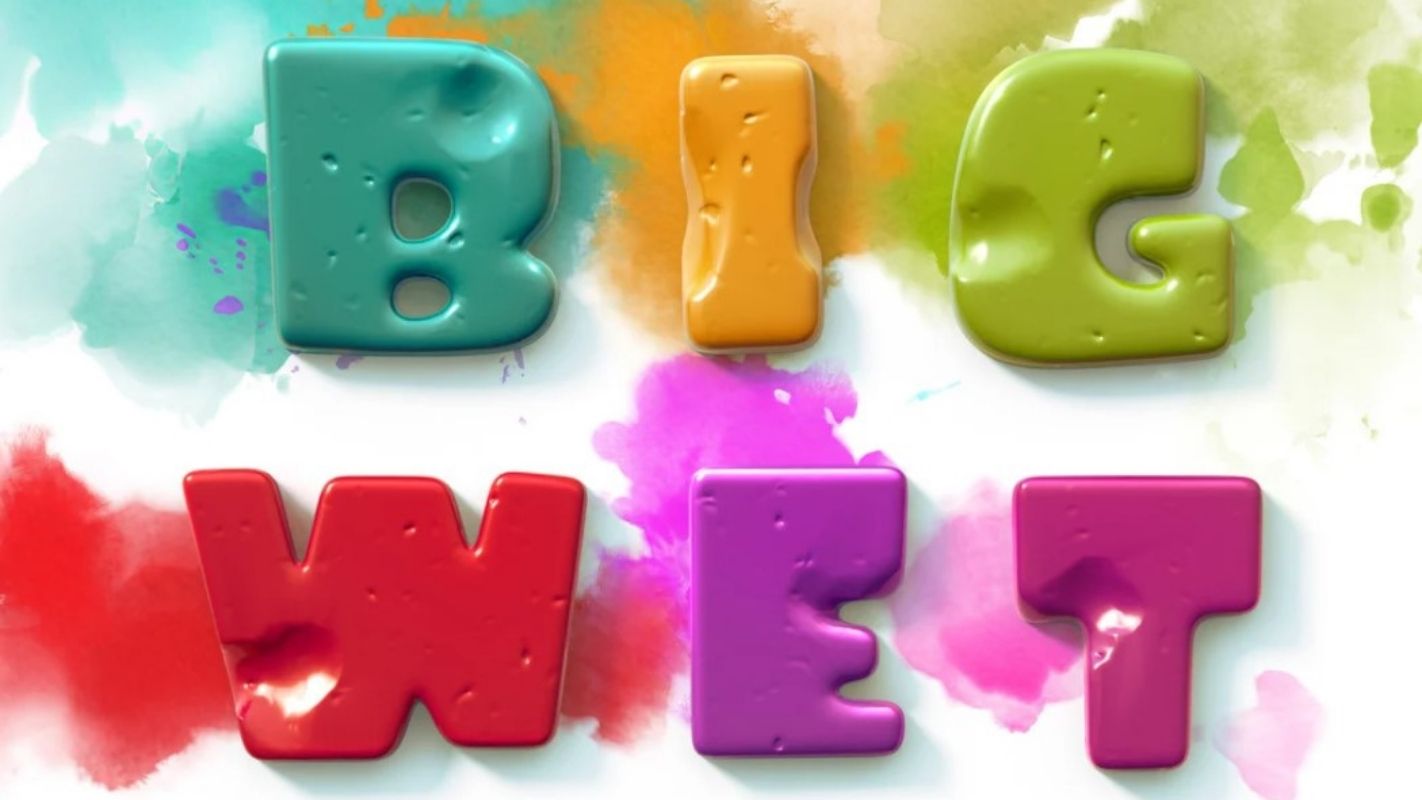 This watercolor brush set is packed with lots of options. You'll find a perfect variety of gouache and ink brushes for your Procreate illustrations. In addition, it capitalizes on the improvements in the Procreate brush engine for v5, bringing you dual brushes for more outstanding painting capabilities.
This fantastic package includes:
More than 100 water-based brushes for washes and lines.

19 specialty brushes for wet mixing, spot texture infilling, and punchy wet edges.

39 additional special liners for enhancing the water effects.

Sponges and rag brushes that allow for broader strokes.

15-page PDF readme with a beginner-friendly explanation of how it all works.

10 watercolor paper images can be used as an overlay (bonus).
Free Procreate Watercolor Brushes
Following that, we've compiled a list of the best free Procreate watercolor brushes. All of them are free, but you must join a mailing list to receive them. Sign up, download everything, and then unsubscribe from the mailing list. However, if you enjoy the content, stay subscribed to receive all of the site's helpful hints.
So, to begin, here's the list: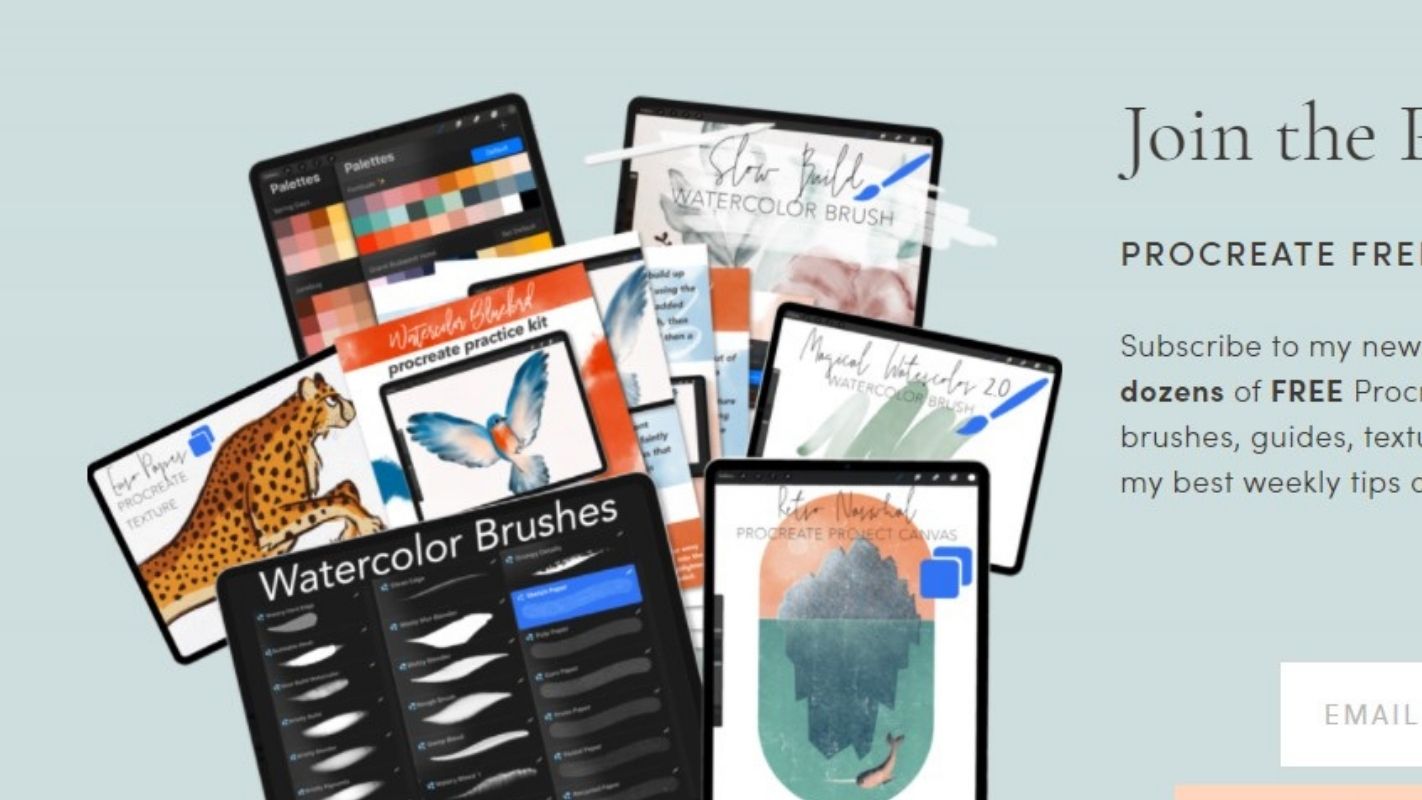 This set works perfectly in Procreate 5X. It's not as varied in its features as most others on this list. Still, you can receive some fantastic brushes and papers for free when you subscribe to Wooly Pronto's email list. You get watercolor practice kits, learn how to draw beautiful animals, birds, and more!
Below is a summarized list of what you should expect to find in this pack:
25 brushes.

3 watercolor paper textures.

2 PDFs with easy-to-read guides.

13 Watercolor practice kits

A Procreate color palette to kickstart your watercolor journey.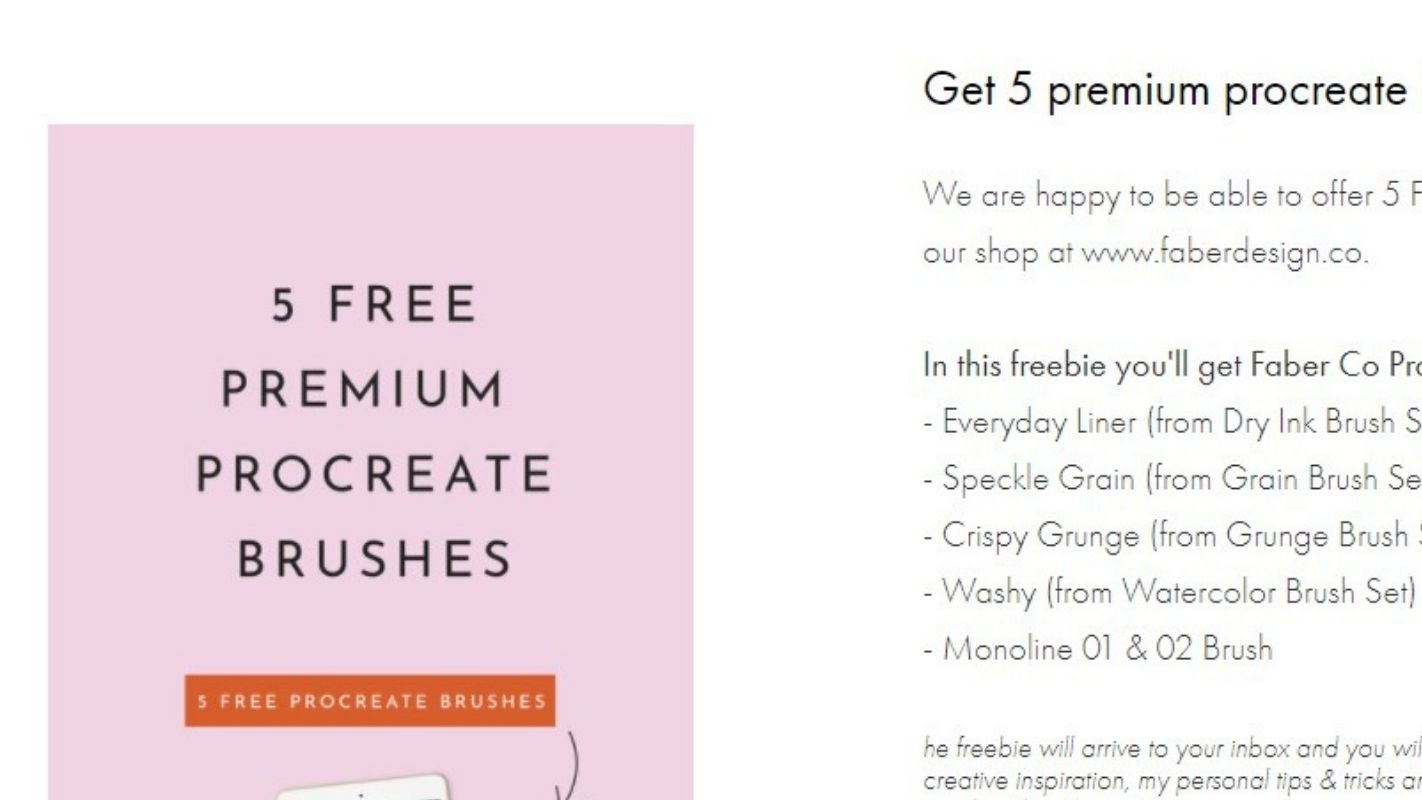 This brush pack is fundamental but will probably work for those not aiming for realistic illustrations and just want to have some watercolor fun on the go.
It only includes:
Dry Ink 01.

Grunge 04.

Monoline 01 and 02.

Watercolor 04.

Grain 01.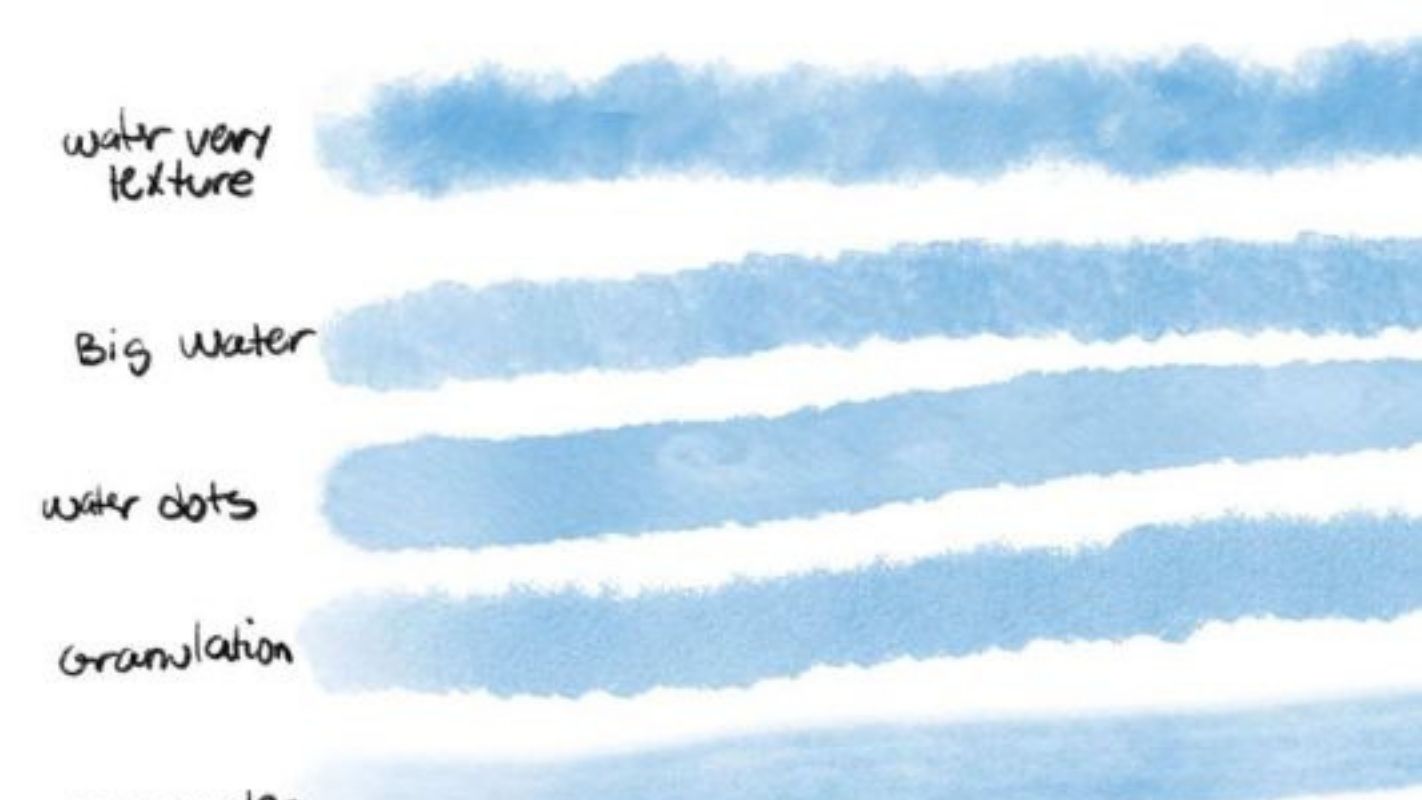 These are also free, meaning you shouldn't expect an all-encompassing painting experience with these brushes. But, if you want to use a specific watercolor brush for Procreate, you can't go wrong with this option. These brushes were made by a Procreate user (Rowwenic) and are designed to do simple painting work, mainly focused on watercolor.
The brush pack includes:
Water dots brush,

Big water brush.

Granulation brush.

"More Water" brush

"Even More Water" brush

"Water Very Texture" brush
Tips For Using The Procreate Watercolor Brushes
The first thing you should do is pick the appropriate watercolor brushes pack. You must have only the features you really need at arm's reach so that you don't get lost trying to find the brush you want for a given effect.

Choose your canvas or texture files. You can import them by using the iCloud Drive app and dragging and dropping the files you want into Procreate. You can add texture layers to the canvas by cropping them or resizing the texture group.

Use a thin sketching and detail pencil for laying out the frame over which you will apply the watercolor brush or tool. You can keep the Apple Pencil down for more regular shapes until the form you drew snaps and turns more uniform.

Select the appropriate brush type and size to render the "texture" of the shape. You would want to work with the slightest brush possible for more fine-tuning, but you may also apply washes. You could also use pencils and smudges to give the illustration both consistency and detail. If you aim for a more stylized or "cartoonish" approach, you may drag and drop the color sample on the shape instead for color filling.
Conclusion
Hopefully, we've been able to walk you through some of the best Procreate brush sets available as of this writing. You may have noticed that we've chosen mostly premium sets.
Still, you don't have to necessarily pay money to enjoy several features offered by a handful of these packs. Still, the premium brushes will naturally deliver much better results for those who perform watercolor painting on a professional level.
Happy painting with these Procreate watercolor brushes! And thanks for reading,
Lilly-Mai
Sources:
Share with your Friends: