17 Best Procreate Oil Brushes To Create Realistic Oil Paintings
For centuries, oil paint has been the most common medium for artists, and artists are looking for the best Procreate oil brushes all over the world. The major drawback is that oil requires a lot of time to dry. Nowadays, with the development of Procreate, artists can use digital oil to create their artwork. In order to create realistic oil work, it is important to choose the best Procreate oil brushes.
The Best Procreate Oil Brushes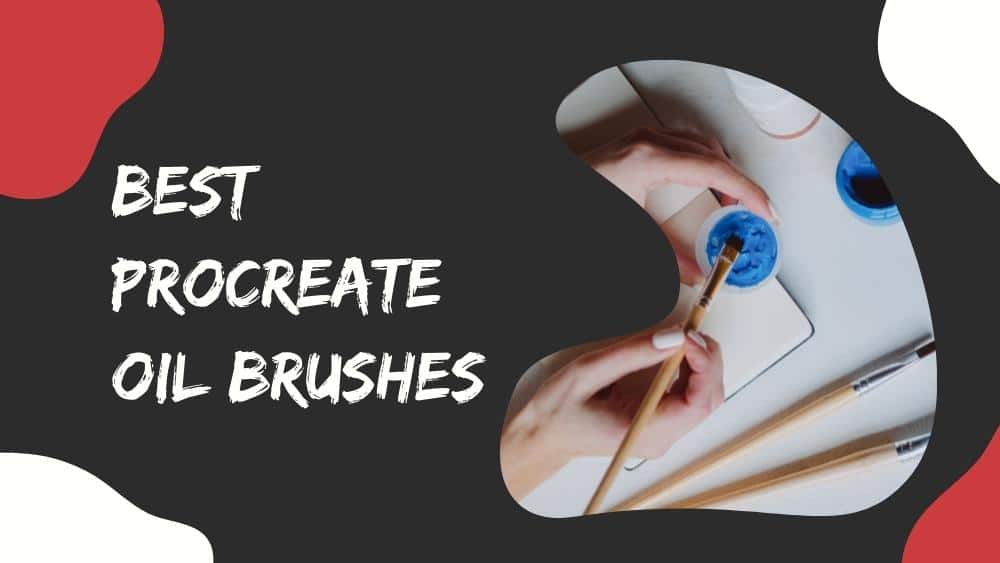 There are a lot of oil brushes available on the market. I am here to present to you the 17 best Procreate oil brushes. They are all high-quality tools, easy to use, and very efficient. Working with Procreate illustration app has never been easier with these brushes! Let's have a closer look at the different options.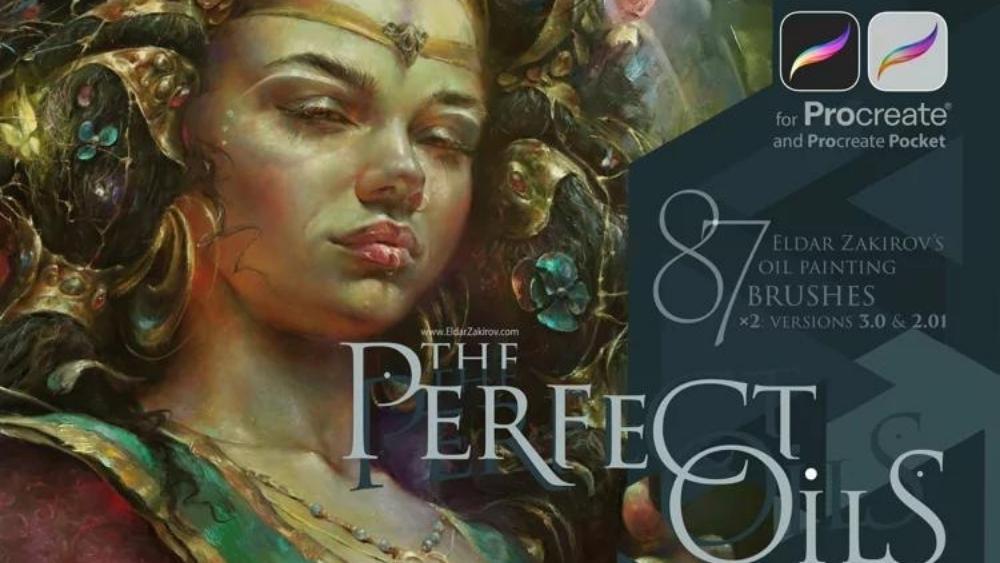 A whole package of 87 brushes is available by Eldar Zakirov. These oil brushes for Procreate cover every artist's oil painting needs. It is perfect for textured painting, imprimatur, color sketches, and realistic illustrations. The artist's chest also includes a separate file full of tips and painting hints. A tutorial explaining how to get more impasto on your final image is also a bonus.
This Procreate oil brush set includes:
87 different and unique oil brushes for Procreate
Perfect for every type of illustrator (newbies and professionals)
Variety of oil paint results
Extra bonuses: free tutorial and file with wonderful tips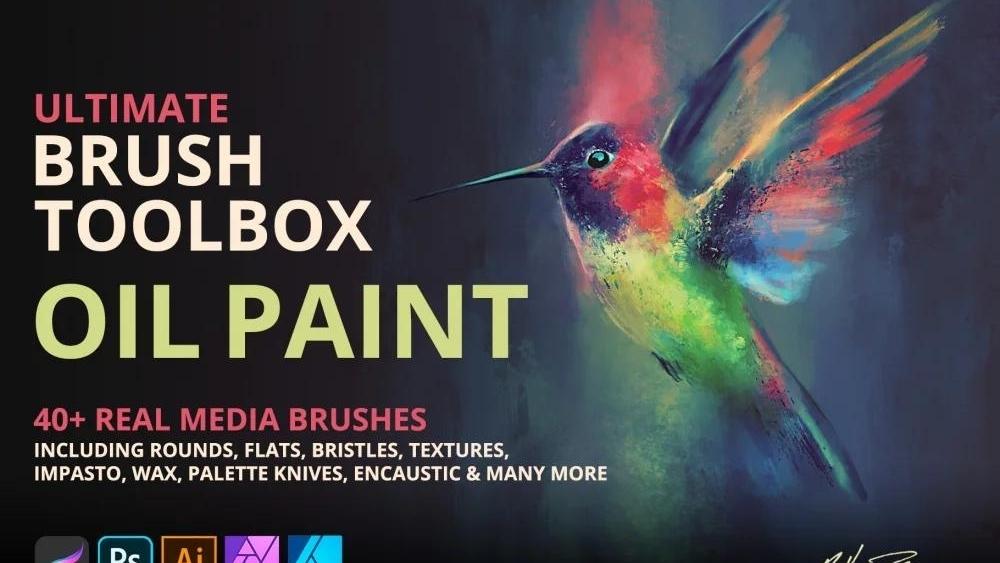 This set is a great option if you are a fan of authenticity. The designer tried hard to craft every single brush from a real oil paint sample. The final result is captivating! 40 different oil brushes for Procreate tested by professional artists before release. Apart from the variety of 40 brushes, 12 texture brushes for Procreate are included in the set.
This Procreate oil brush set includes:
40 authentic oil brushes
Tested by professional artists
12 high-resolution surface textures in JPG form
Realistic results, resembling original, real oil paint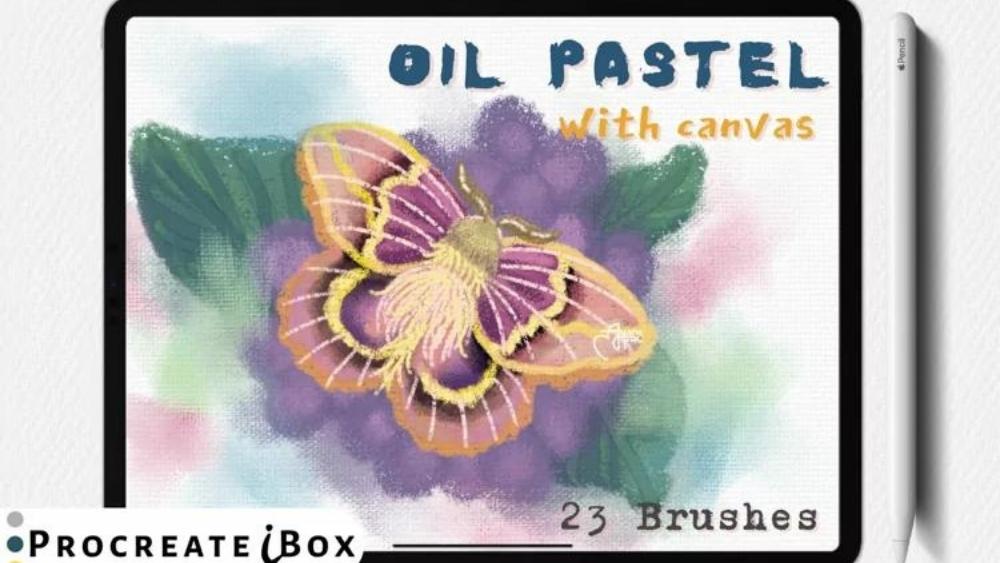 This one is among my favorite sets of oil pastel brushes! The set includes 15 realistic oil pastel brushes for Procreate, 3 blender brushes, and 2 overlay brushes. Each brush creates a unique effect, and the final result is perfect when blended together. Ayamehoon oil brushes have a creamy texture, and apart from illustration, they are perfect for highlighting and shading.
This Procreate oil brush set includes:
23 unique oil pastel brushes
Original creamy texture
Ideal for shading and highlighting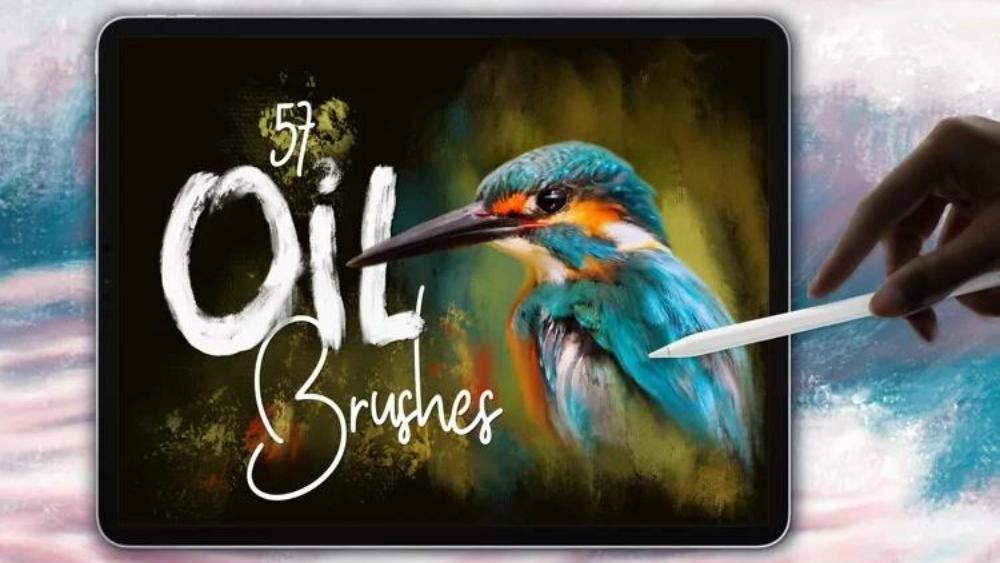 This is a set packed with 57 dynamic oil brushes for Procreate. Every brush is unique and offers a specific oil painting experience. This is the best set if you are a fan of trying different painting techniques! You can try several traditional techniques, like blending, glazing, stumbling, and impasto. A file containing helpful tips and a color palette are also included. This Procreate oil brush set includes:
57 versatile Procreate oil brushes
Suitable for different oil painting techniques
Perfect for painting realistic objects, figures, and animals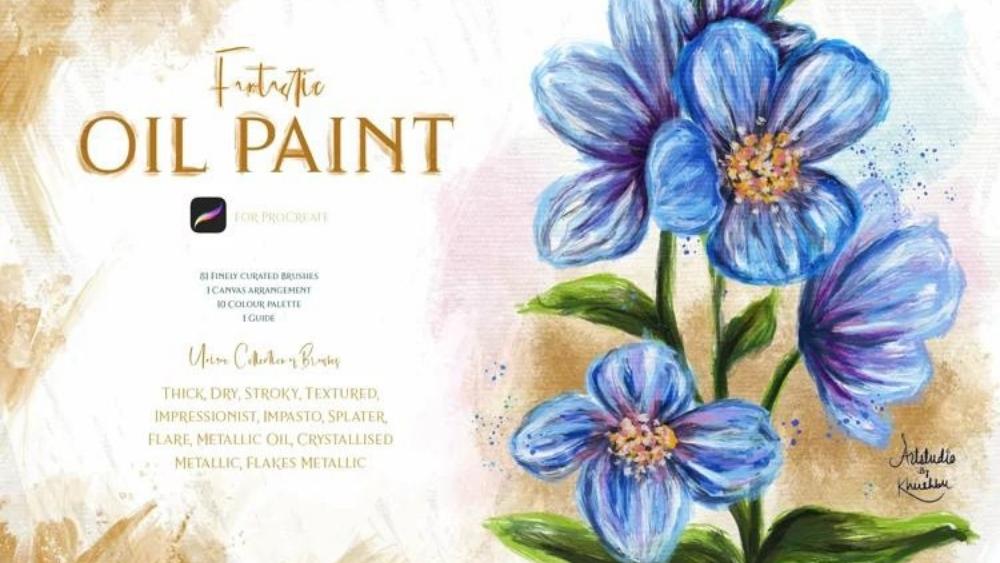 A set that has it all! 81 oil brushes, a 10-color palette, and 1 canvas are all included in this set. It is perfect for Procreate hobbyists wishing to experiment with different oil brushes. The set includes every imaginable type of brush. Are you a fan of creating a natural scene with Procreate? Or do you prefer to draw and color realistic objects? With those Procreate oil brushes, you can do everything!
This Procreate oil brush set includes:
Large variety of oil brushes for Procreate
Bonus guide with great tips
Suitable for hobbyists wishing to try new things and Procreate techniques
Realistic object creation, 10-color palette included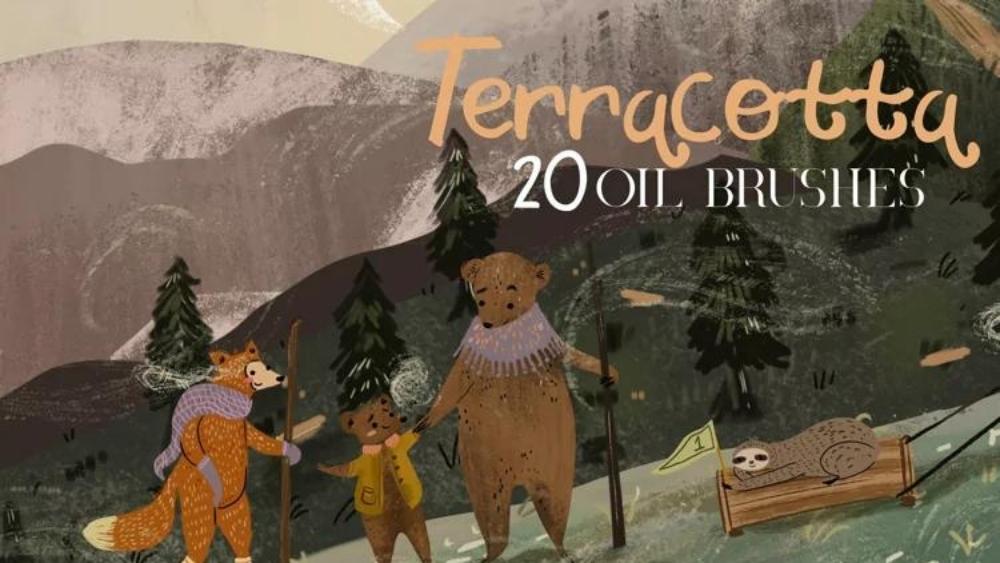 Eliza Moreno offers illustrators 20 fully customizable oil brushes for Procreate. This is the perfect set for everyone trying Procreate painting for the first time. The brushes are simple, easy to use, and very efficient. My favorite ones are the following: Candy, Alazan, Earth, and Bronze. This Procreate oil brush kit includes 2 canvas-style textures, as well.
This Procreate oil brush set includes:
20 customizable oil brushes
2 bonus canvas
Easy to use, perfect for new hobbyists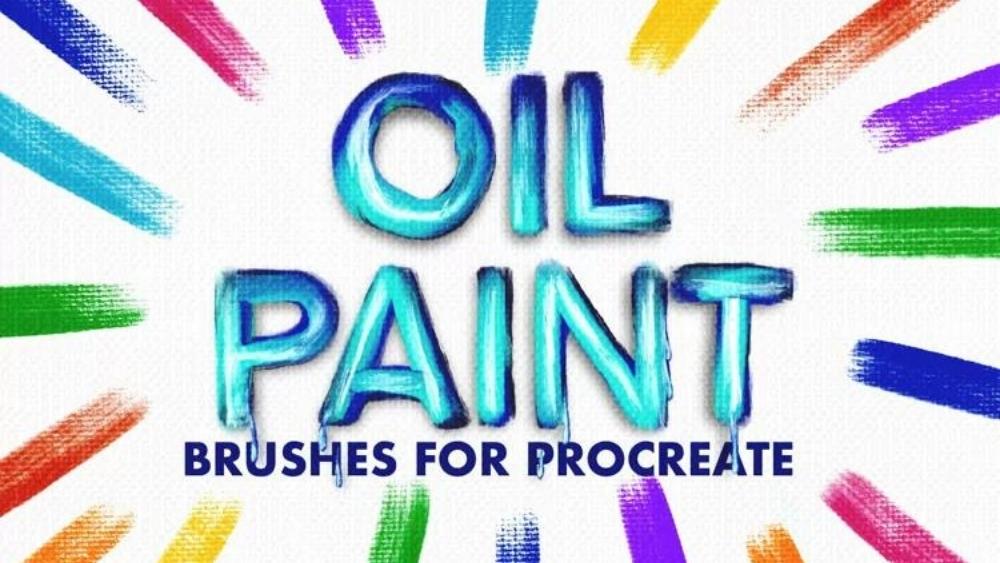 This is a relatively simple, yet highly efficient set. SeamlessTeam has created a set of 14 oil brushes, accompanied by a painter's canvas. The thing I like most about this set is its simplicity. Everyone can learn the art of using Procreate oil brushes with this set. They are fun to use, and you can obtain a gorgeous texture while keeping the look of a wet media brush.
This Procreate oil brush set includes:
14 different oil brushes for Procreate
Perfect pair with canvas texture
Wet paint effect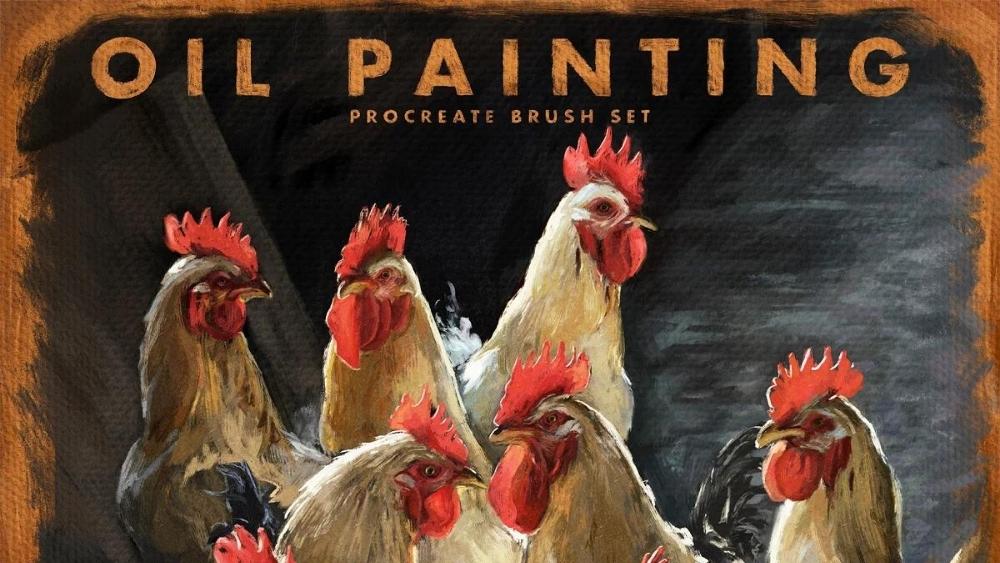 This set of brushes was made with love by a former professional oil painter. It is one of my favorite sets for newbies since it contains 3 instructional videos, as well. 40 painting brushes, 5 blenders, and 10 texture brushes are all part of this Procreate oil brush set. You also, get 7 real-life textured images to help you create your first illustrations.
This Procreate oil brush set includes:
Variety of brushes and blenders
Instructional videos, perfect for newbies and professionals
Additional textured images
Several painting techniques, including the wet-on-wet technique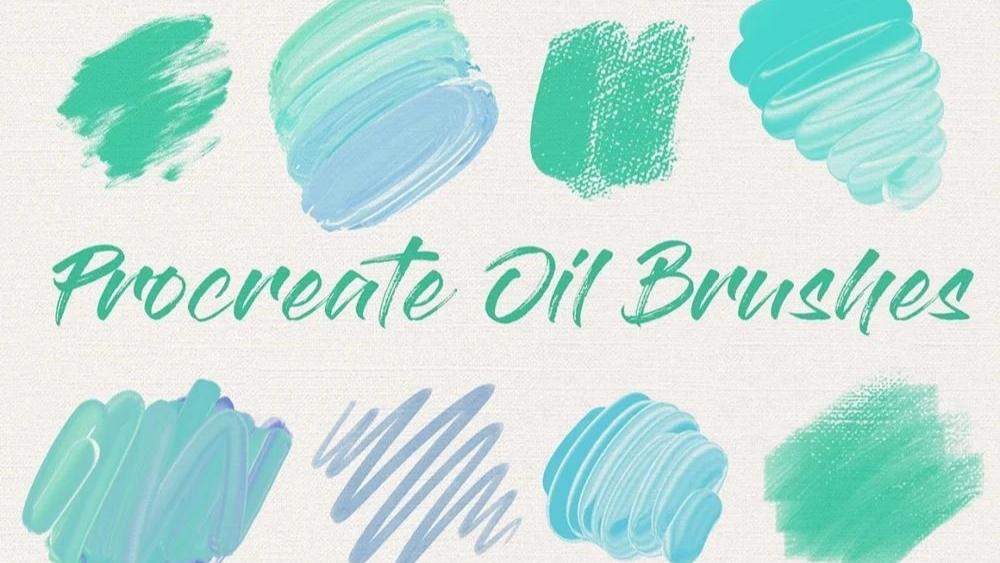 A simple, yet highly efficient set of oil brushes for Procreate, the Artwork by Gabrielle is great if you have just started using Procreate. The set includes 16 oil paint brushes that can help you create rich textures. There are also, 2 smudge brushes and 17 canvas textures to help bring your artwork to the next level.
This Procreate oil brush set includes:
16 custom Procreate oil paint brushes
Canvas textures to emulate the look of a real oil painting
Suitable for concept art and illustrations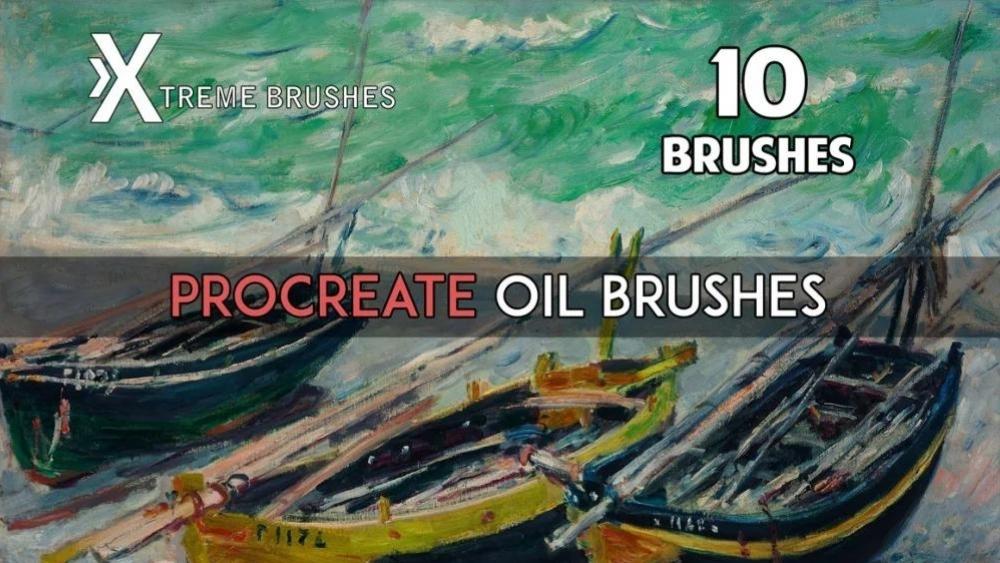 This set is another great option if you are a new Procreate hobbyist. This set of 10 finely tuned oil brushes is one of my favorites since it combines efficiency and affordability. Each brush offers a unique texture and cannot be found in other packs. If you have just started creating art with Procreate and do not wish to feel overwhelmed, this straightforward set of brushes is ideal!
This Procreate oil brush set includes:
Original, unique Procreate oil paint brushes
Affordable set, perfect for newbies
Premium quality brushes, captivating final result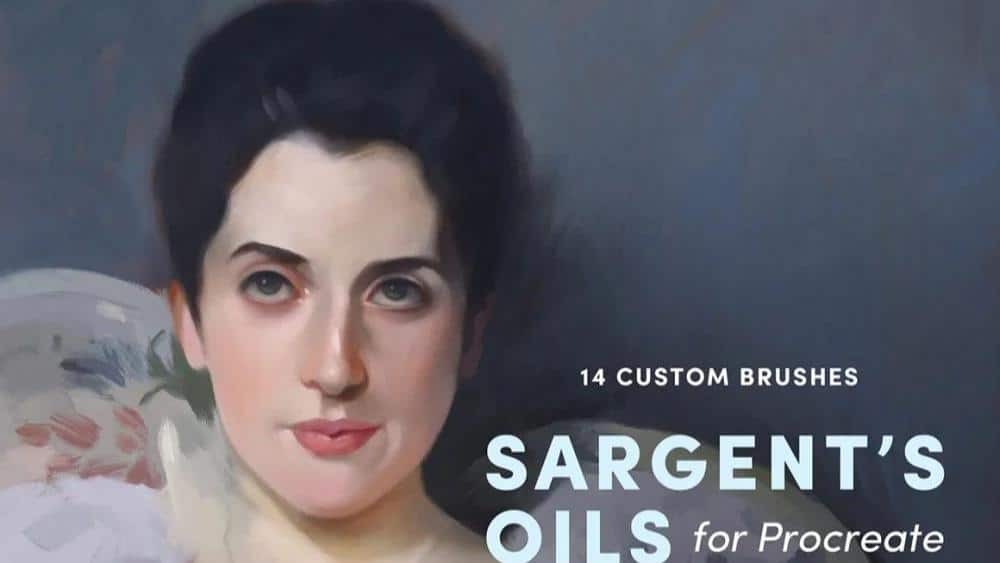 If you are a fan of realistic artwork, then you should definitely try this set created by Sadie Lew. The tip of each brush is created with an actual paintbrush. The result? Consistency and originality blended perfectly together with a realistic texture. This Procreate oil brush set also includes an image with a short description for every brush to help you choose.
This Procreate oil brush set includes:
12 custom oil brushes that emulate real oils
Consistency, efficiency, and originality
Short description for every brush to help choose the best
Brushes inspired by the work of Singer Sargent; a realist painter from the Impressionism era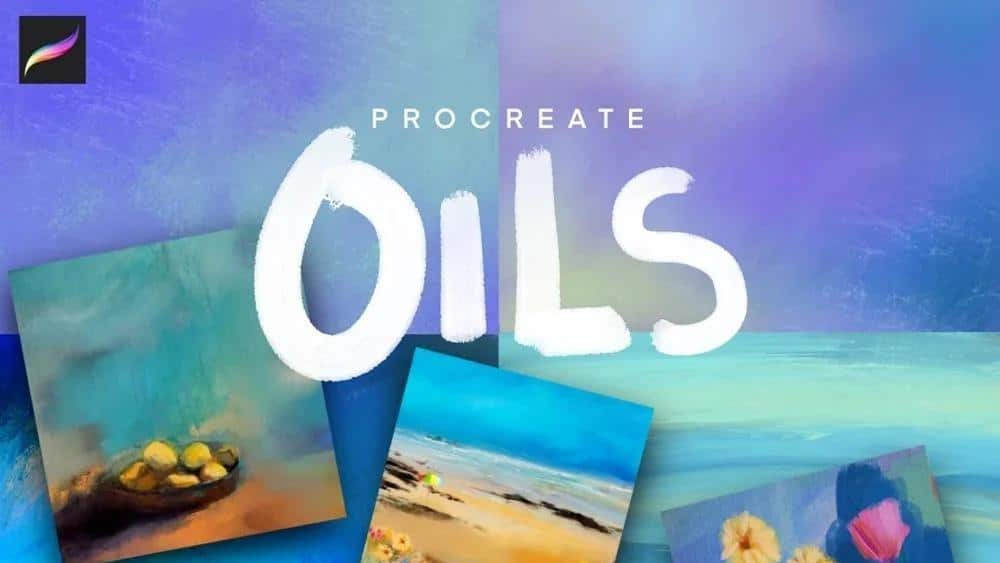 Another set inspired by the Impressionism era, Mels Brushes offer painters a subtle, and natural feel. Each Procreate oil brush is unique and easy to use even if you are a beginner. The thing I most love about this set is the subtle color dynamics of the brushes. The final result fully resembles a real oil painting and that makes this set ideal for creating bold impressionist works.
This Procreate oil brush set includes:
Different painting techniques, like impasto, glazing, and smearing
Natural and realistic feel
5 high-resolution canvas to complement your artwork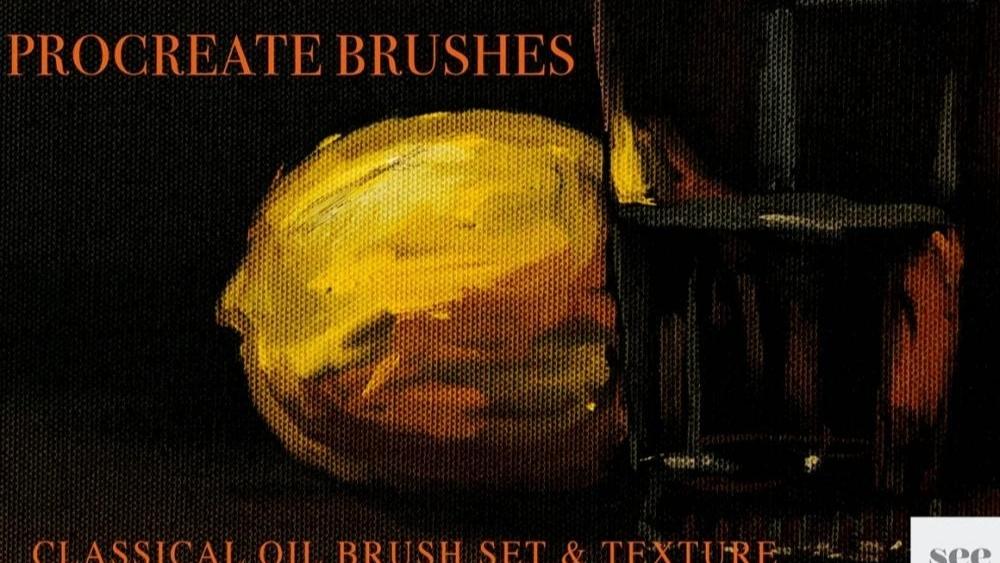 This is a classic oil brush set that every Procreate developer should have in his ownership. Apart from the main oil brushes for Procreate, the set also includes a canvas texture image to evoke the feeling of a real oil painting. That's not all, however! The set offers some brushes that give the illusion of the texture of bristles.
This Procreate oil brush set includes:
Classic set of high-quality oil paint brushes for Procreate
High-resolution canvas overlays
Color palettes for sampling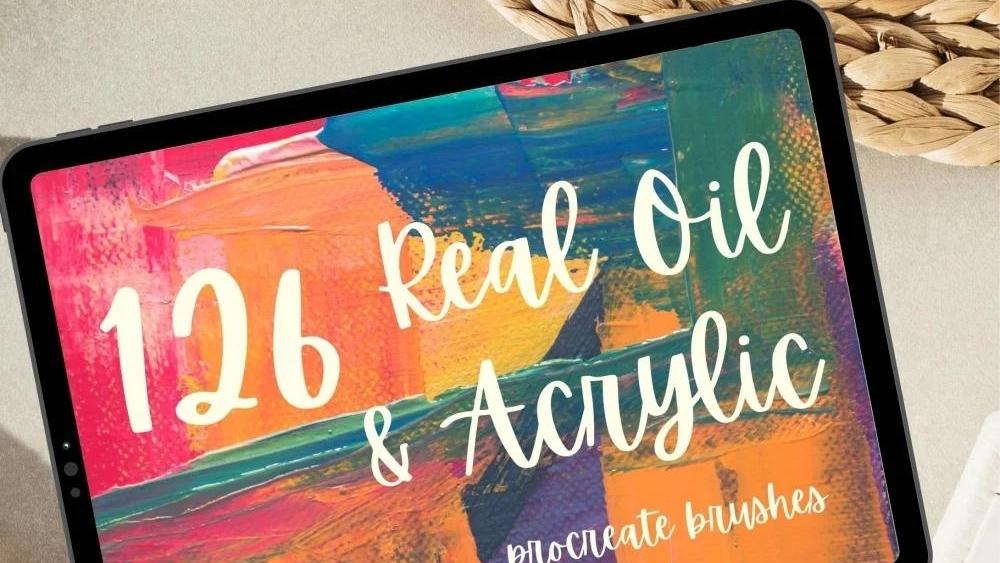 This set includes brushes suitable for oil and acrylic painting, alike. As you can well imagine, with 126 available options, the variety of brushes is unbeatable. You can achieve any type of look, and that makes this set perfect for professional Procreate developers, as well. My favorite choices are the wet on wet brushes and some special blender brushes, like metallic.
This Procreate oil brush set includes:
126 unique and efficient brushes
Can help create any type of painting look
Wet on wet or wet on dry look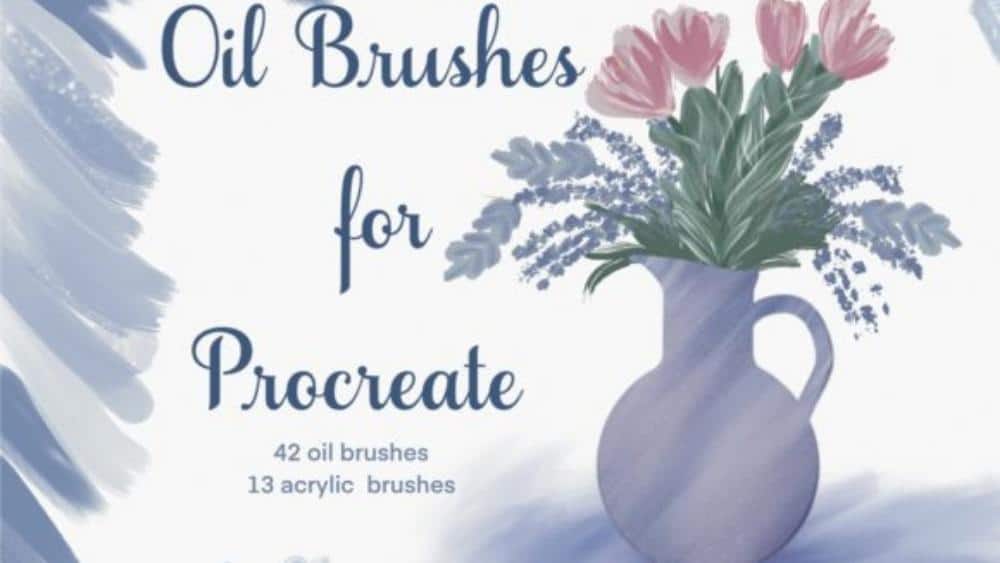 One of the most realistic oil collections you can find, this set features 55 brushes for Procreate. These Procreate oil brushes have been fully optimized for pressure sensitivity. If you want to create some fantastic illustrations with a glossy look, this set is a great option. By combining its variety of brushes you can create smooth transitions very easily.
This Procreate oil brush set includes:
Easy to use and efficient oil brushes
Realistic final results, full resembling original oil paintings
Affordable price and high-quality brushes
The Best Free Procreate Oil Brushes
Procreate oil brushes are a great way to add a lot of control and precision to your painting process. They come in a variety of shapes and qualities, so you can find one that suits you perfectly. Like other tools, they can make the difference between a good painting and a great one. Here are some of the best free oil brushes for Procreate.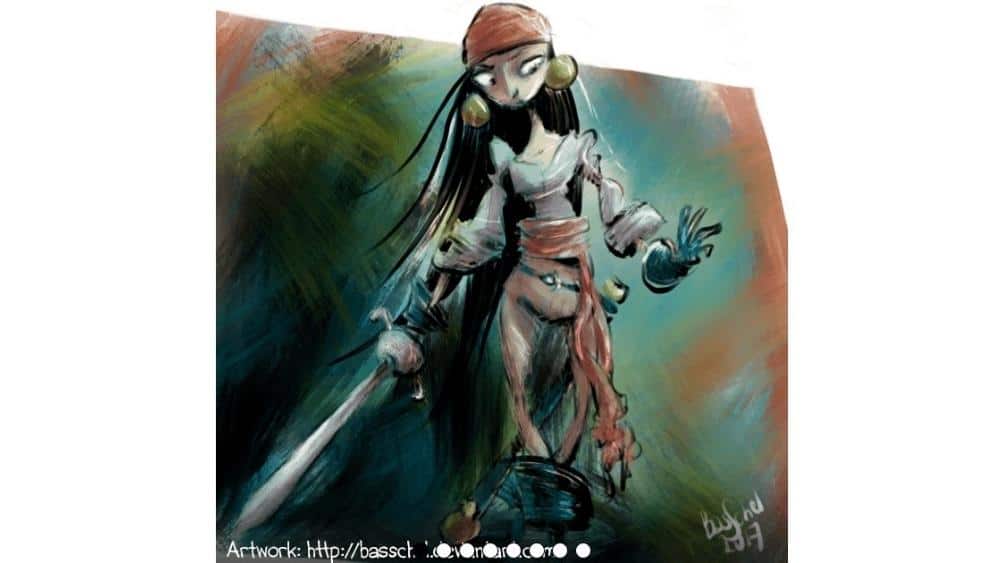 Are you still wondering if Procreate is just for you? You could first try some high-resolution free brushes to make your final decision. Some of my favorite brushes in this set are the blending sculptors, coarse markers, and the gleaming glitter brush.
This free Procreate oil brush set includes:
Free Procreate oil brush kit
Variety of options, including crude oil and blending sculptors
Perfect for beginners or people who have never tried Procreate oil in the past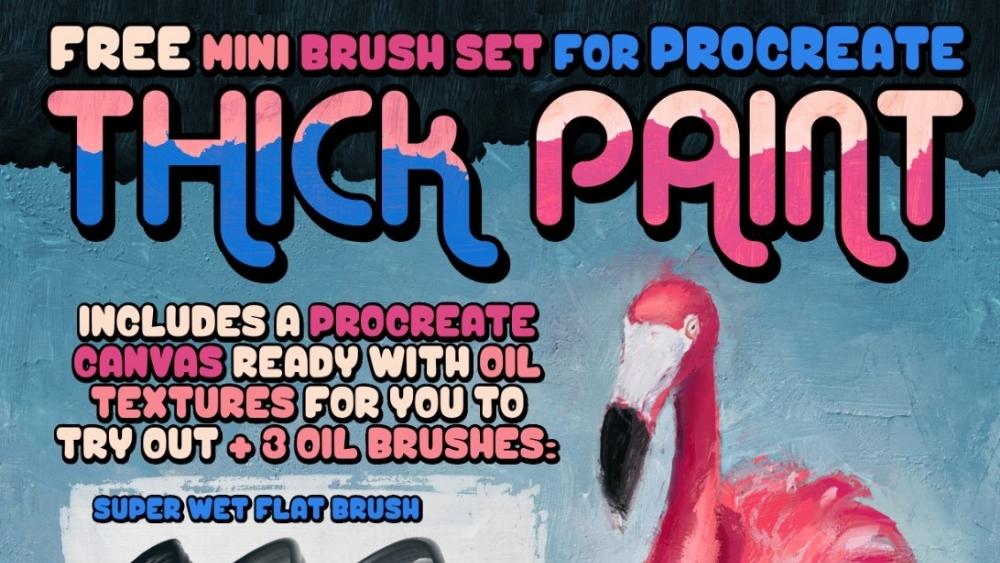 This product is made to help people experiment with oil painting. It includes several premium but still free oil brushes to choose from. The final result will amaze you for its clarity, boldness, and realism. The quality of this set is amazing, particularly if you consider that it is offered for free to everyone.
This free Procreate oil brush set includes:
Choosing The Best Oil Brush
Choosing the best brush for your design may be hard, especially if you are a beginner. In this case, you should consider the size of the brush before making a decision. The size of the brush will depend on what type of work you want to do. For example, you can use small brushes for sketching while large ones are better for full paintings and illustrations.
The second thing to consider is the type of oil brush. There are many types available in the market, but some of them may be more suitable for your needs than others. The main types include traditional brushes, blending sculptors, and coarse markers. Each type has its own advantages and disadvantages that make it more suitable for one purpose than another.
You can find this information on each individual oil brush product page. You can also read some reviews about them from other customers who have already tried them out in their projects in order to get a better idea about their capabilities and performance levels in real-life conditions.
The third thing to consider is the price. The price of an oil brush can vary from as little as $0 to more than $20, depending on the quality, size, and type of the brush. Therefore, you should have a clear idea about your budget before making any purchase.
Wrapping It Up
All of the oil brushes presented on this site are high-quality products that come at affordable prices. I have put a lot of effort into researching, testing, and reviewing these products in order to provide you with all the relevant information you may need when choosing the right brush for your needs.
Choosing the best oil brush for your Procreate artwork can have a huge impact on the final result. Although it may be difficult working with oil paint, this has nothing to do with digitally using oil paints. If you wish to experiment with different oil brushes, then this list is the perfect place for you to start!
Happy oil painting with these oil brushes for Procreate! And thanks for reading,
Lilly-Mai
Share with your Friends: