5 Best Gradient Brushes For Procreate (+ Free Brushes)
Having the best gradient brushes for Procreate is crucial for excellent art. How often are you stuck with only essential tools when creating artwork? These five brushes should be tried if you want to create beautiful paintings in Procreate. This article is about the best gradient brushes for Procreate.
Artists who enjoy creating graphics will find Procreate to be a helpful tool. The software has a simple interface but provides a lot of functionality. For example, you can use filters, textures, gradients, and more in addition to drawing, painting, and adding text.
In Procreate, there are over 100 different brush types to choose from. Brushes are available in a variety of shapes, sizes, and colors. They make it simple to change the appearance of your artwork. However, it becomes more difficult as you require more specific brushes.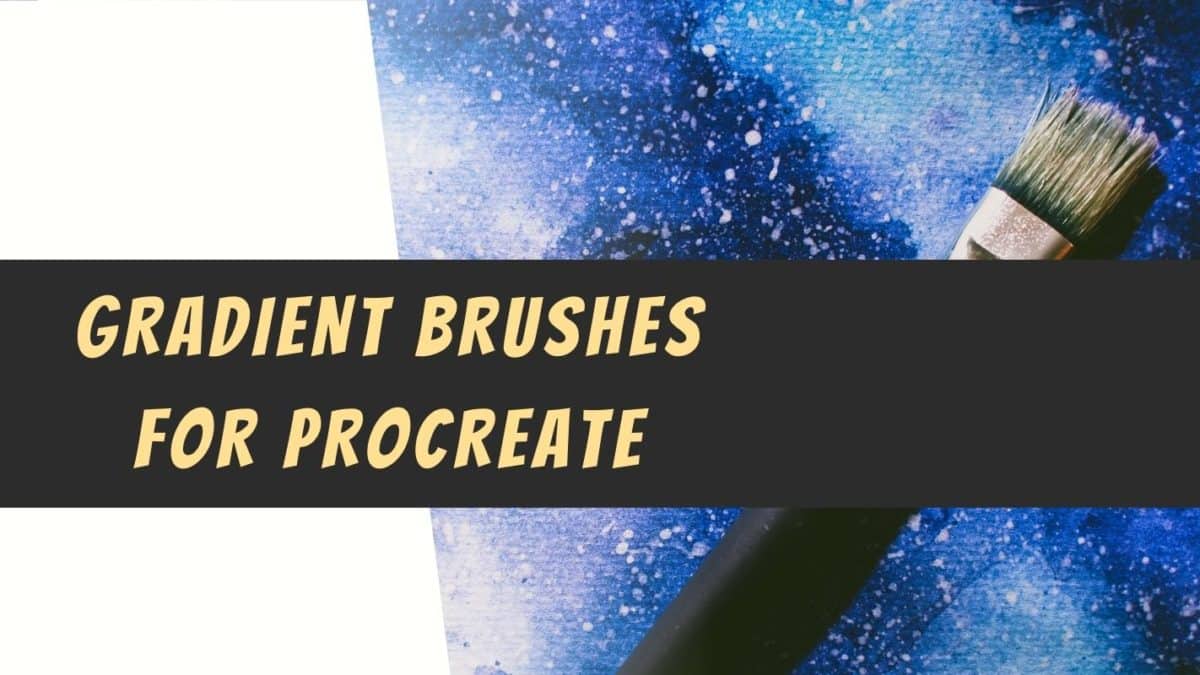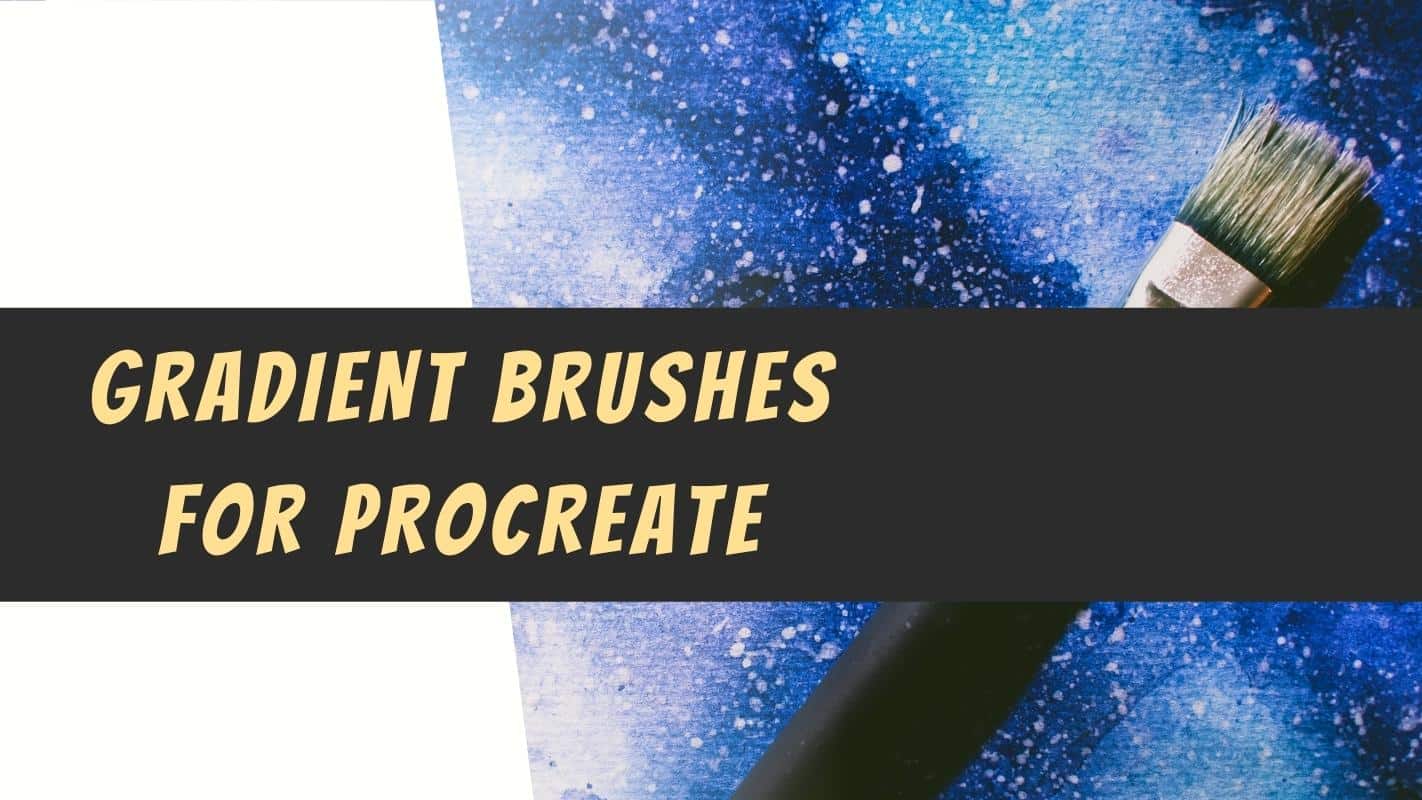 The Best Gradient Brushes For Procreate
In digital painting, color gradients have become very popular. They add depth to an image by adding shadows and highlights. They're ideal for beginners because they don't necessitate any technical knowledge. As a result, we've compiled a list of the top 5 Procreate gradient brushes. They'll make it simple for you to create stunning images!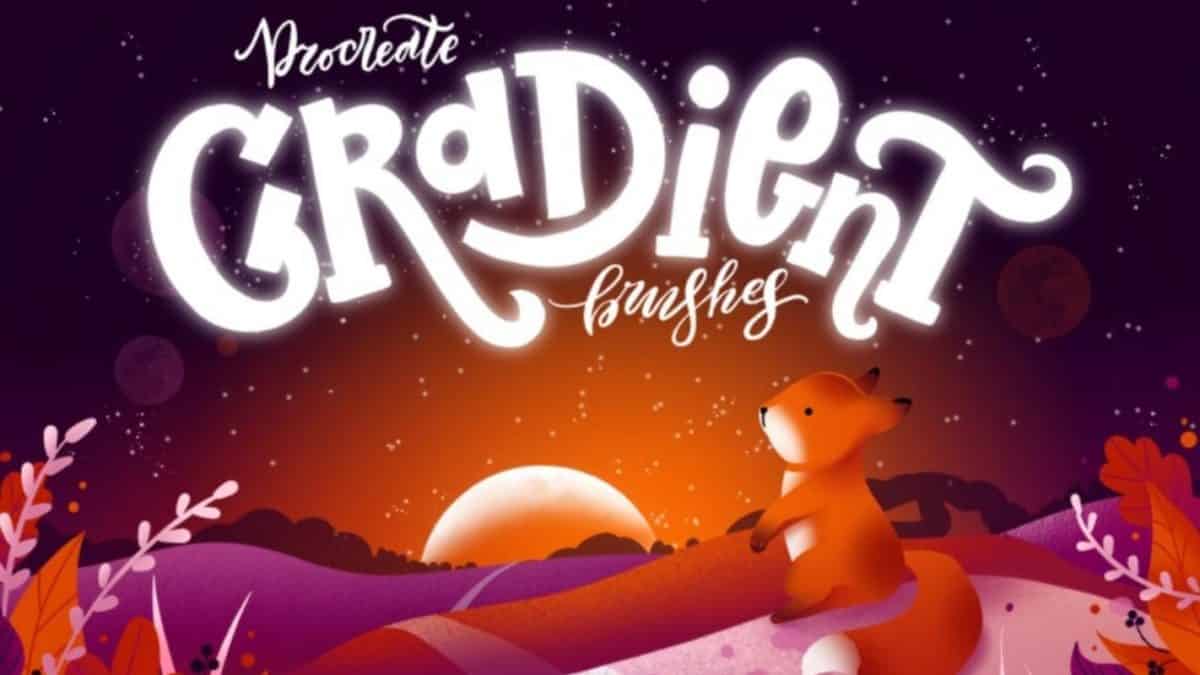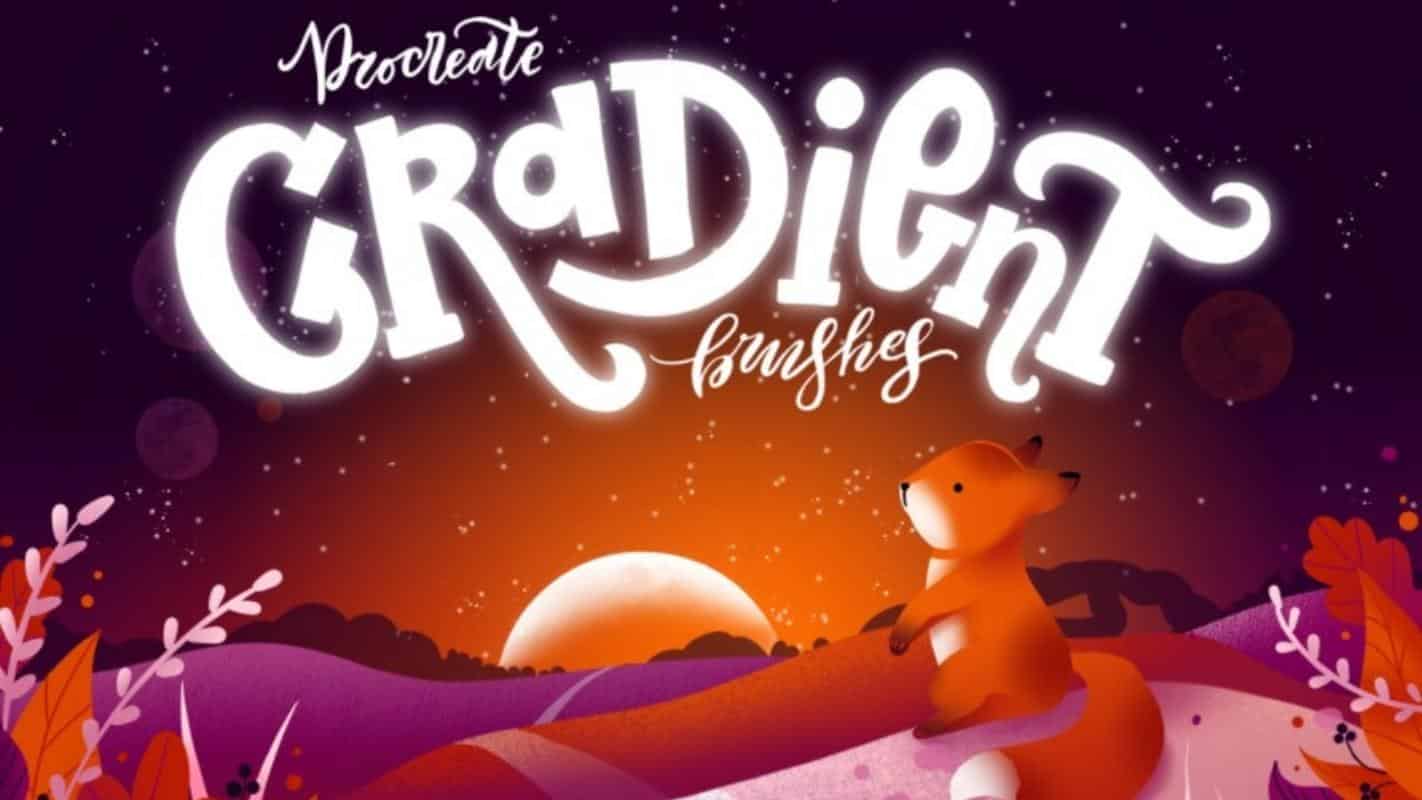 This Procreate gradient brush set is divided into several rounds. These gradient brushes for Procreate have everything you need to create perfect gradients, from half round to diagonal, linear, or blend. Choose which way you want your angle to go, and the brush library will take care of the rest! In addition, this brush set includes 15 gradient brushes for Procreate that you can use in your next digital painting.
This gradient brush set for Procreate contains the following items:
4 round brushes + 1 half-round
3 diagonal
4 linear
3 horizontal
3 vertical
2 blend diagonal
Blend invert
5 metal
Ray + radiation
background
Bonus .BRUSHSET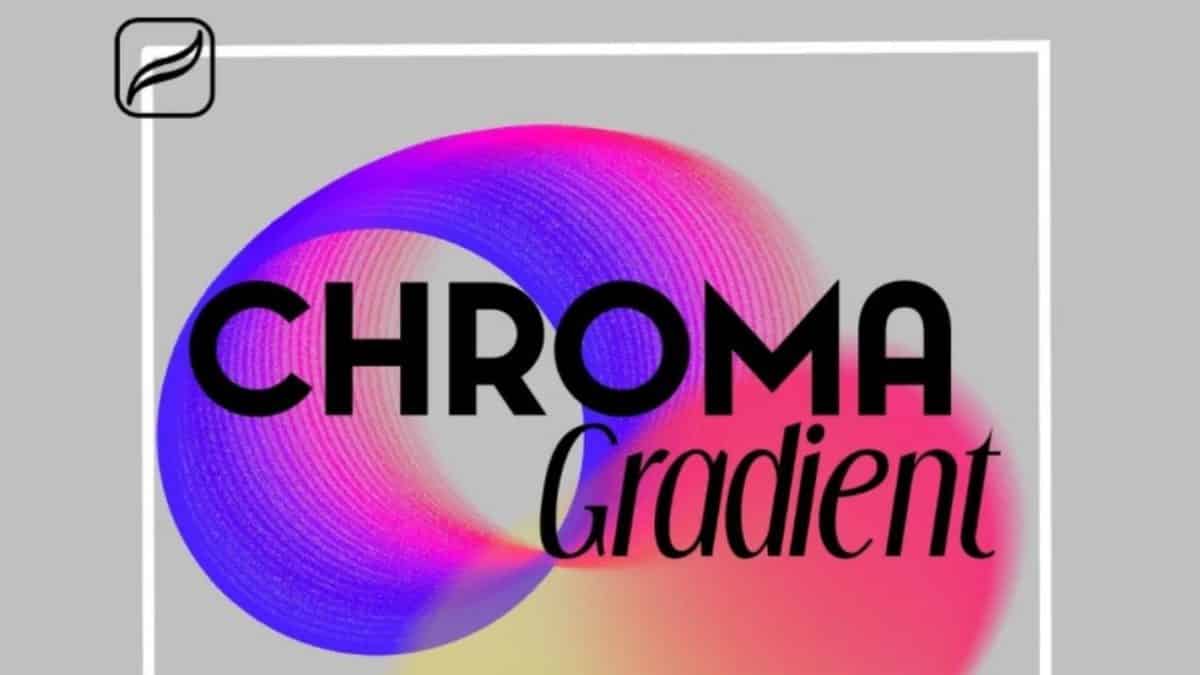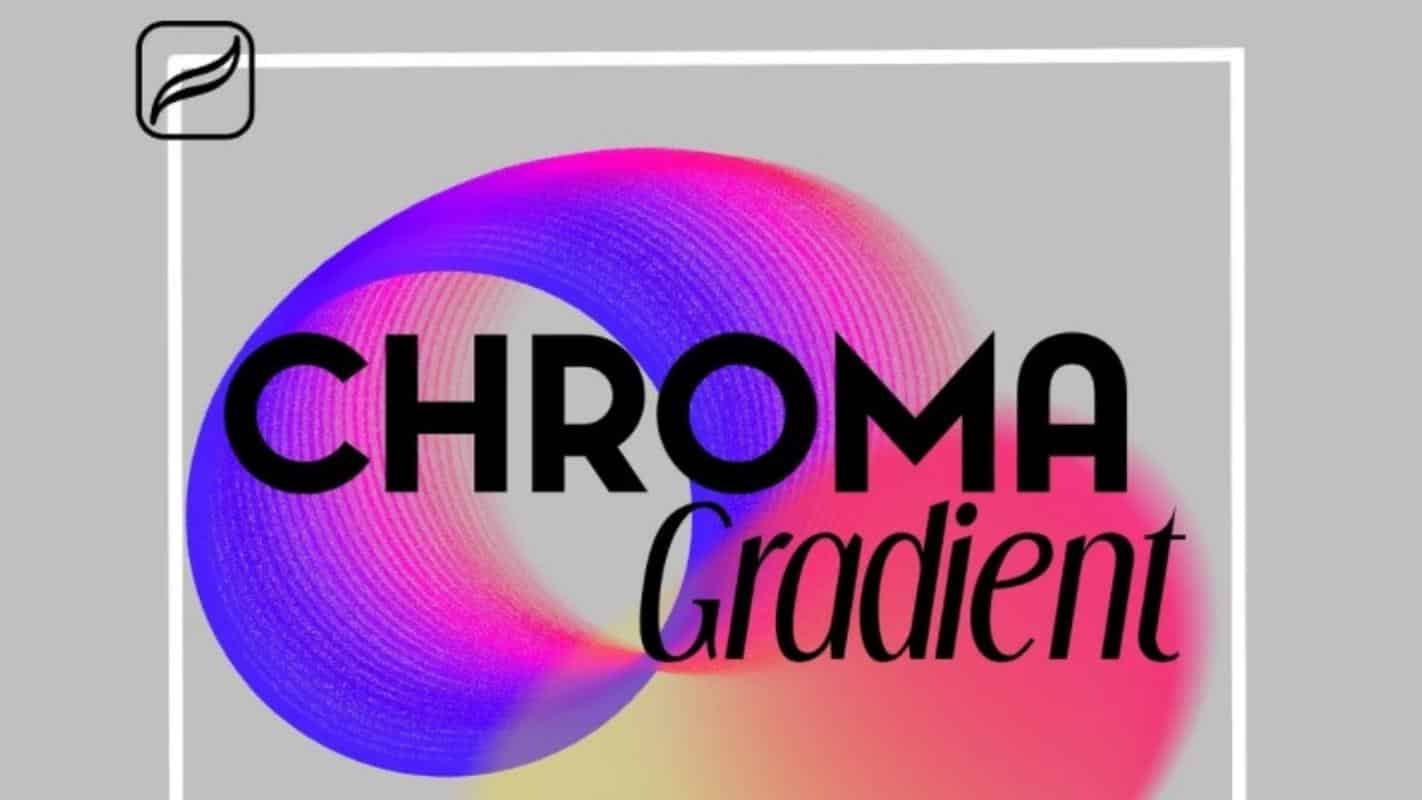 Gradient art is the latest in the world of art and design. Don't let this opportunity pass you by. This brush set contains 33 beautiful color-changing brushes that can be used to create a stunning gradient in seconds.
Gradients are a feature of our world that allows us to apply colors to logos, websites, and other places. So grab your Apple pencil and this lovely pack and experiment with gradient colors. A color palette is also included to help you get started with the most beautiful colors.
This gradient brush set for Procreate contains the following items:
33 beautiful selected gradient brushes for Procreate
1x Chroma color palette to get you started
Video instructions on how to improve your gradient skills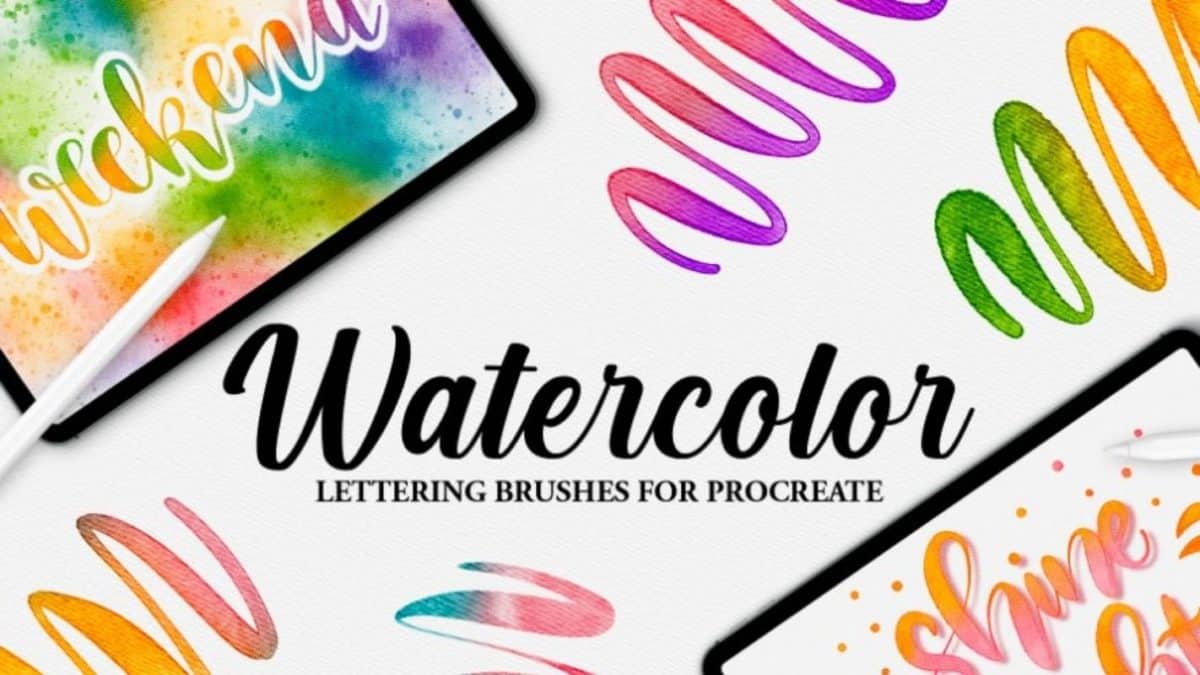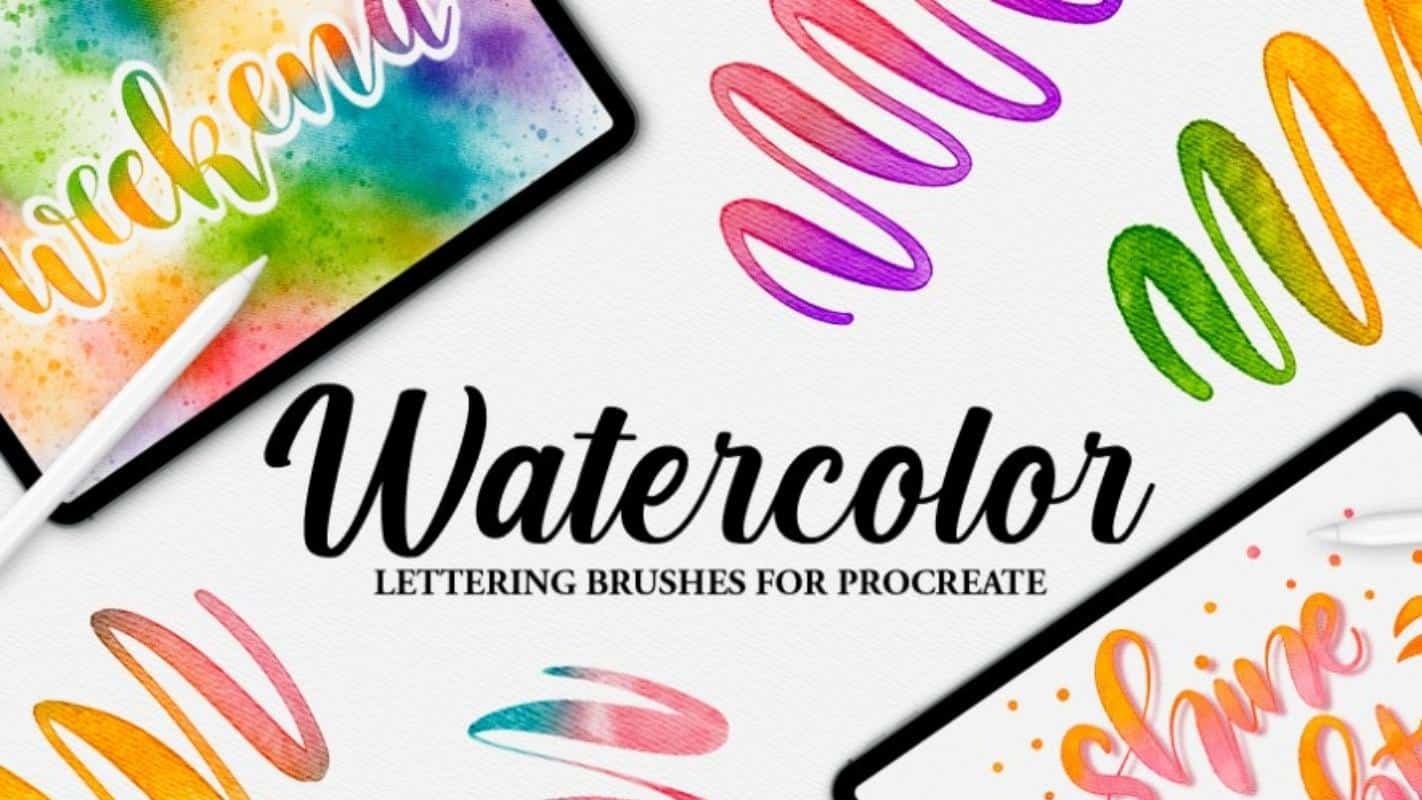 Despite the absence of the word "gradient" in the title, this set contains many gradient brushes for Procreate for you to experiment with. Watercolors are particularly good for creating nice, warm gradients in your artwork. What's great about this gradient Procreate brush set is that each brush also comes with a gradient version, bringing the total number of brushes to 36 with just one purchase.
This gradient brush set for Procreate contains the following items:
18×2 Brushes
Watercolor Paper Canvas
Watercolor Paper Brush
Water Blender Brush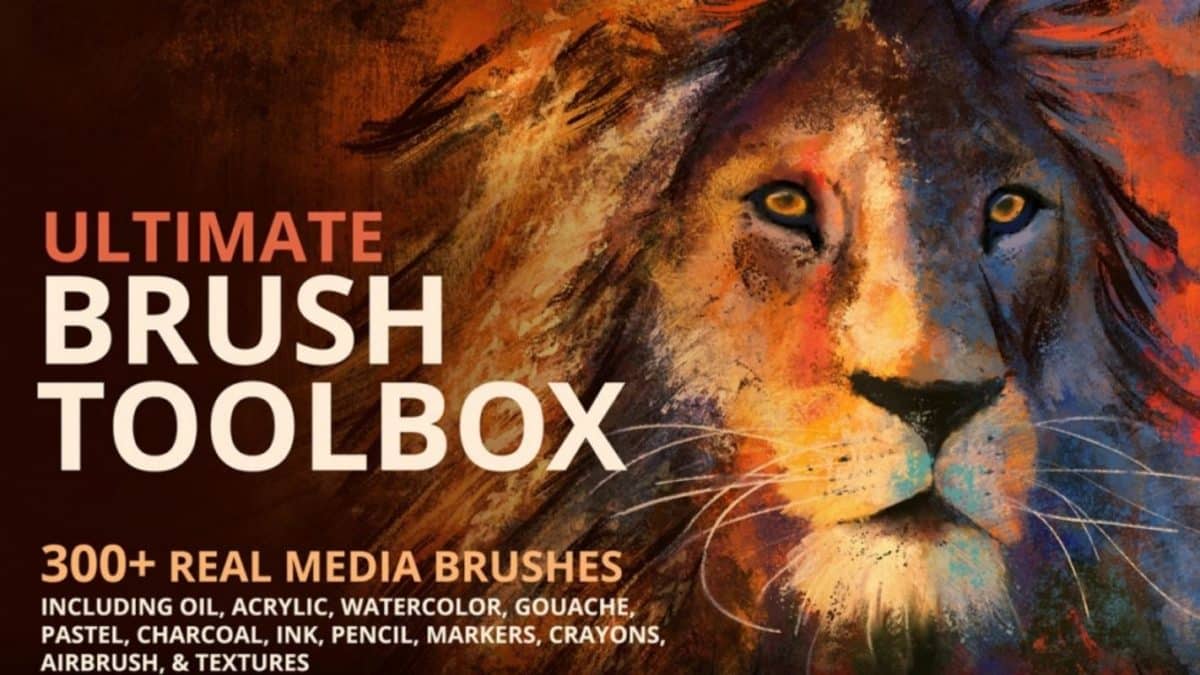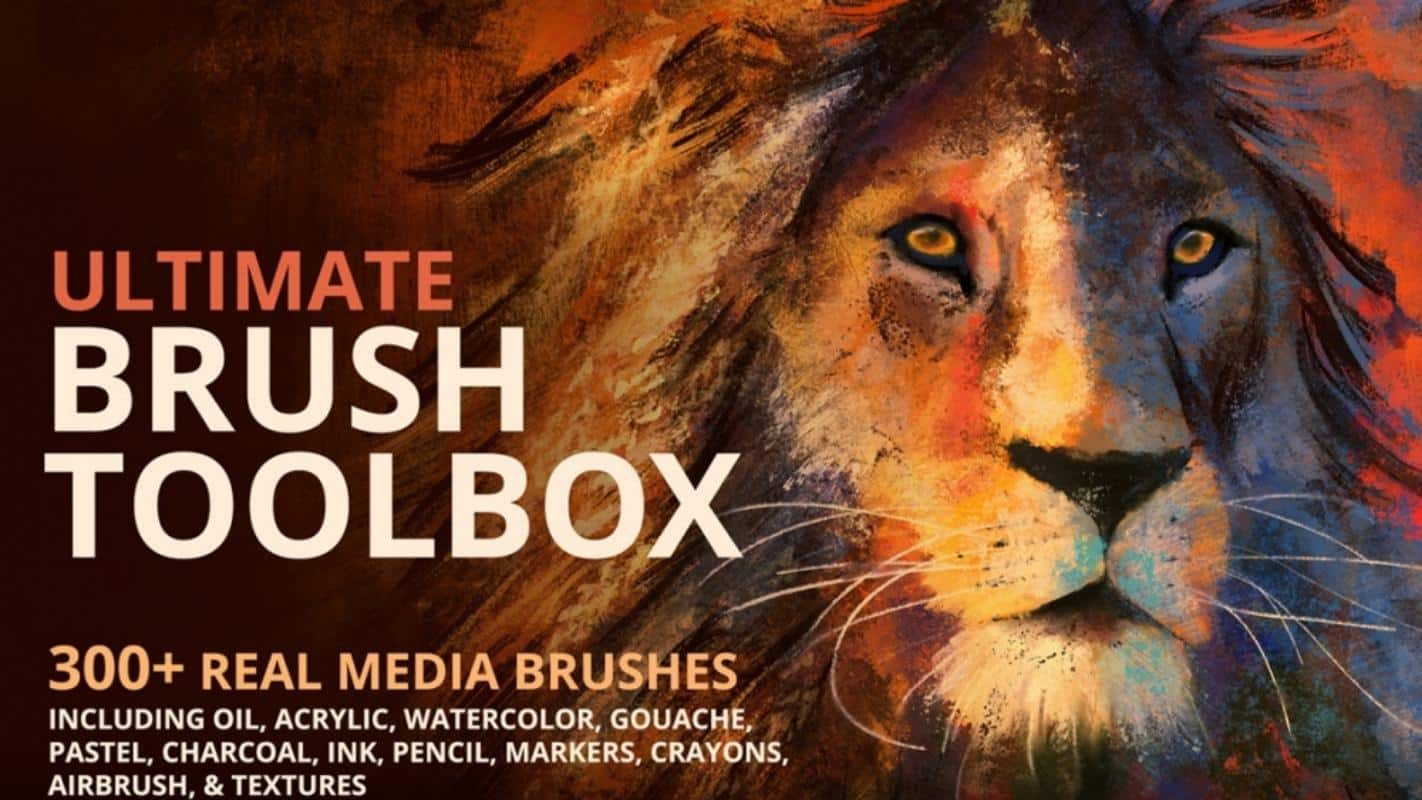 This brush toolbox in Procreate isn't explicitly designed for creating gradients. However, this package is enormous. Every brush was handcrafted from actual samples on 12 different mediums over 5 months. There are over 300 brushes to choose from. Every single one of them is made by hand. Using this brush set, you'll never have to worry about finding the right brush again.
This gradient brush set for Procreate contains the following items:
300 Real Media Brushes for Procreate, Photoshop, Illustrator and Affinity.
38 Acrylic Brushes – Sampled from real acrylic paint.
16 Airbrushes – Sampled from actual airbrush sprays and splatters.
16 Charcoal Brushes – Made from real charcoal marks and strokes.
22 Crayon Brushes – Created from old waxy crayons.
30 Gouache Brushes – Made from real gouache paint strokes and washes.
24 Ink Brushes – Sampled from a variety of tech, ballpoints and brush pens.
18 Marker Brushes – Created from real broad and brush tip alcohol markers.
40 Oil Brushes – Made from real oil paint smears, strokes and textures.
30 Pastel Brushes – Crafted from real pastel dry strokes, dust and all.
20 Pencil Brushes – Created from various types of pencils and graphite sticks.
34 Watercolor Brushes – Made from real watercolor strokes, washes and stains.
12 Texture Brushes – Created from actual canvases, papers and wood panels.
12 Surface Texture .JPG – Includes even more papers, canvas, ink washes and more!
The Best Free Gradient Brushes For Procreate
This free set of blending brushes for Procreate might be perfect for you if you only need a few basic blending brushes. These blending brushes are free to download, but they don't offer quite as much as the premium brushes mentioned above. Nonetheless, give them a shot!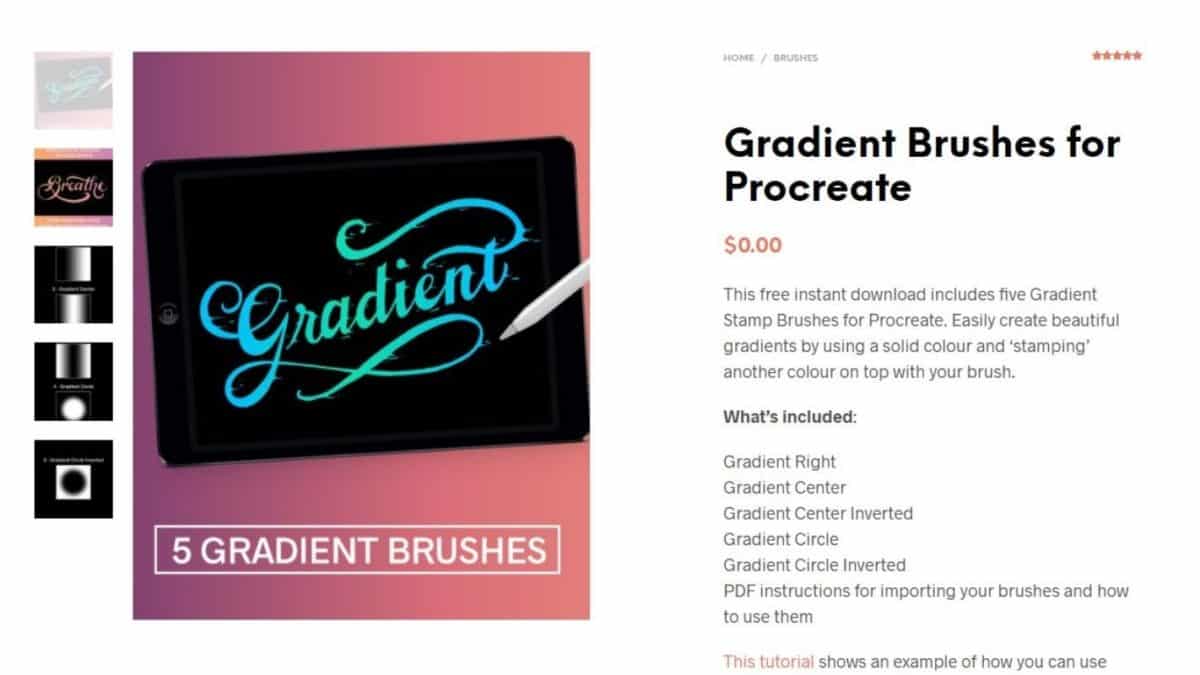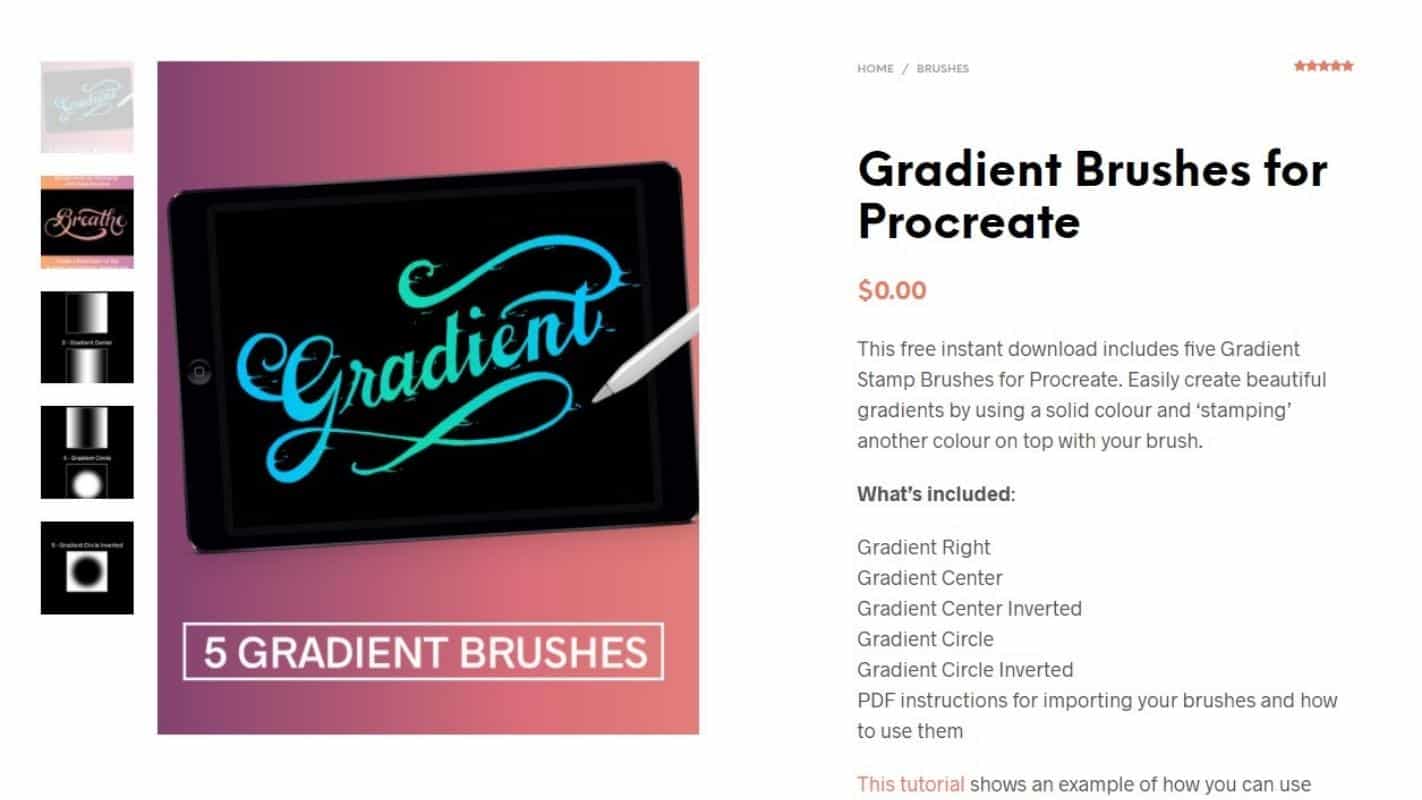 The last one we'd like to mention is a free Procreate gradient brush. It only has five brushes, but it should be enough to get you started in the world of gradients. So, why not spice up your artwork a little? Then you'll appreciate this free Procreate gradient brush bundle.
This free gradient brush set for Procreate contains the following items:
Gradient Right
Gradient Center
Gradient Center Inverted
Gradient Circle
Gradient Circle Inverted
PDF instructions for importing your brushes and how to use them
So there you have it: the top 5 gradient brushes for Procreate. You should be able to create stunning gradients in no time with these brushes. As an artistic style, color gradients are becoming increasingly popular. So we decided to compile a list of the best ones available because they are simply amazing.
Happy drawing with these Procreate gradient brushes! And thanks for reading,
Lilly-Mai
Share with your Friends: