11 Best Procreate Shape Brushes (+ Free Shape Brushes)
Procreate is an excellent tool that lets you create stunning artwork with the help of Procreate shape brushes. Procreate shape brushes are specially-designed shape tools that can be used to create a variety of neat designs. For example, you can create simple shapes like triangles, squares, circles, etc.
You can also create more complex shapes like hearts, flowers, etc. By using these shape tools, you can easily create unique artwork in no time. You can also create a variety of abstract shapes with ease and style. In addition, shape brushes are essential for creating a variety of geometric patterns.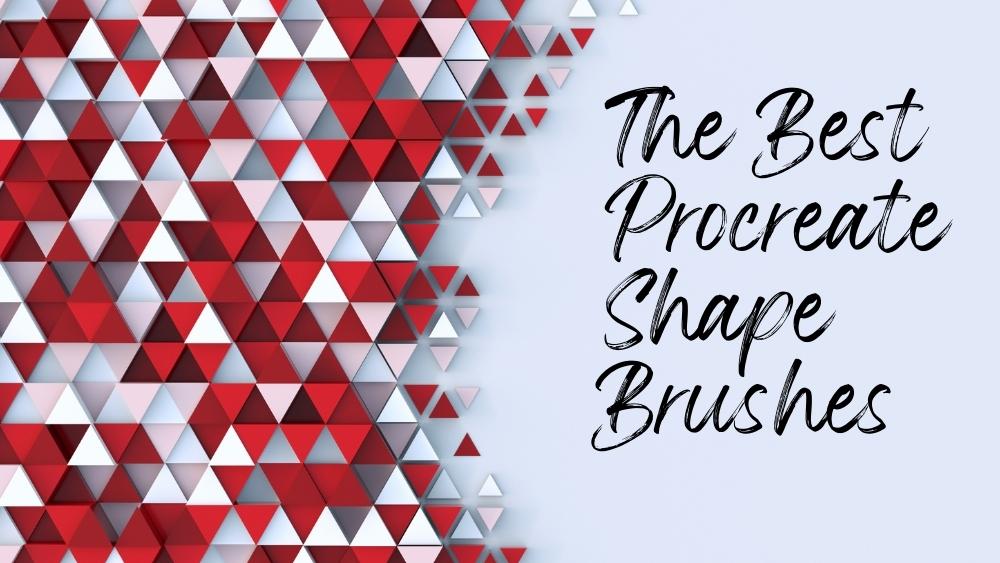 The Best Shape Brushes for Procreate
With that said, here are the eleven best Procreate shape brushes you can download and use for your upcoming projects. These kinds of brushes will help you create amazing artwork or designs. Let us get started with this amazing list!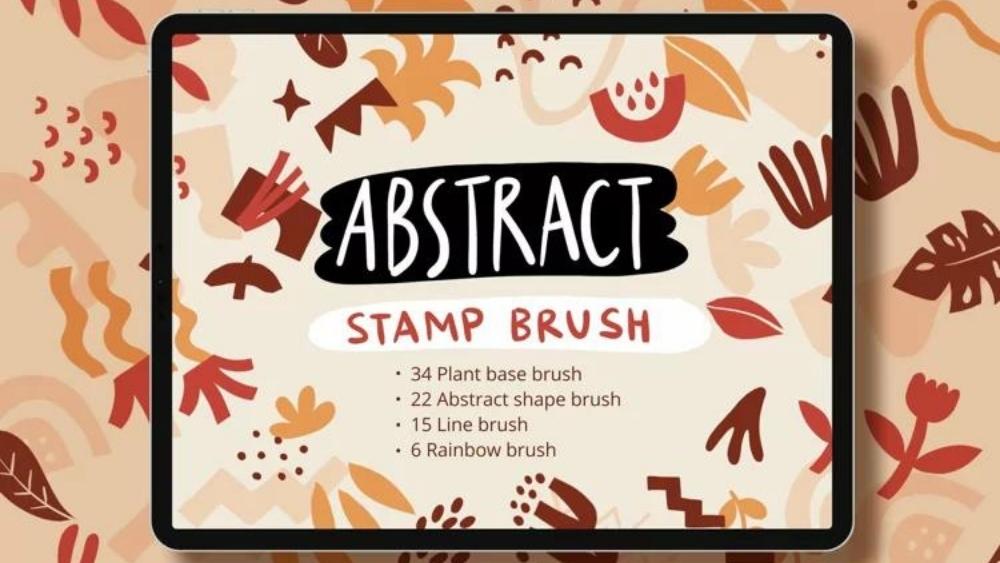 This Procreate shape brush set is great if you need to create tons of abstract artwork. Besides, it doesn't just include beautiful brushes for producing abstract shapes. It also has a lot of stamp brushes for creating plant bases, rainbows, and lines. With over 70 shape stamp brushes to choose from, you won't have to worry about not finding the best abstract brush!
Highlights of these Procreate shape brushes:
Includes a total of 77 stamp brushes
A mixture of Procreate shape stamp brushes for producing abstract shapes, plant bases, lines, and rainbows
Designs are hand-drawn
The Procreate shape brushes in this list are absolutely incredible. After all, many of the brushes in this set have transparent backgrounds. Thanks to that feature, you can easily add your preferred colors and textures with ease! I've tried doing this brush set myself, and I didn't struggle to create unique geometrical patterns.
Highlights of these Procreate shape brushes:
A total of 133 primary and mixed geometric Procreate shapes
Basic geometric shapes come in solid, dashed, and dotted outlines
Stamp brushes have transparent backgrounds for creating multiple patterns with ease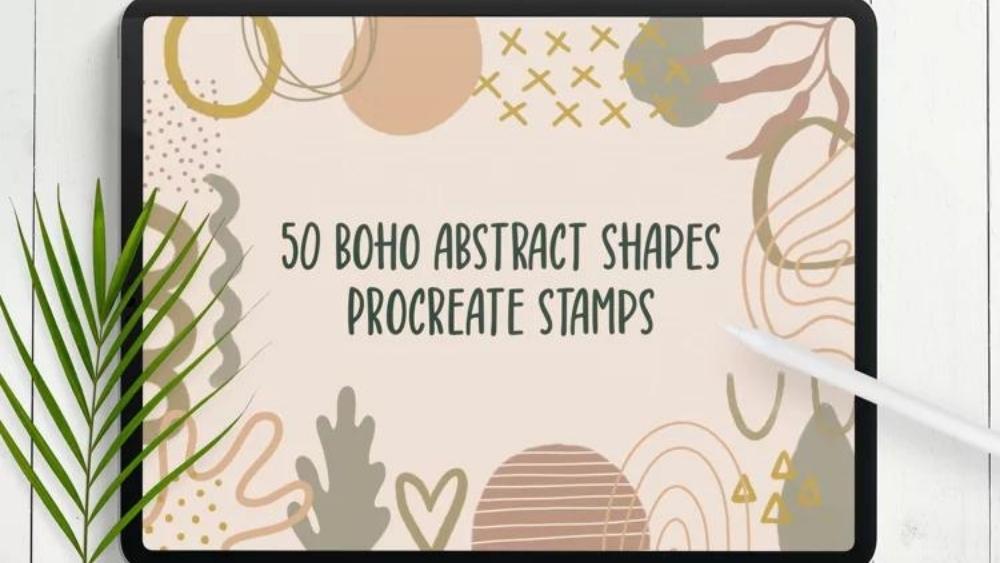 Do you need beautiful shape brushes for your dainty, floral graphics? This Boho Abstract Brush Set might be the one for you. Shape stamp Procreate brushes in this set feature a mixture of geometric, nature-related, and summer elements. Overall, this set is perfect for creating delicate, bohemian-inspired patterns.
Highlights of these Procreate shape brushes:
Includes a total of 50 Procreate shape brushes
Consists of a mixture of random doodles and shapes derived from geometric, summer, and nature
Designs are digitally hand-drawn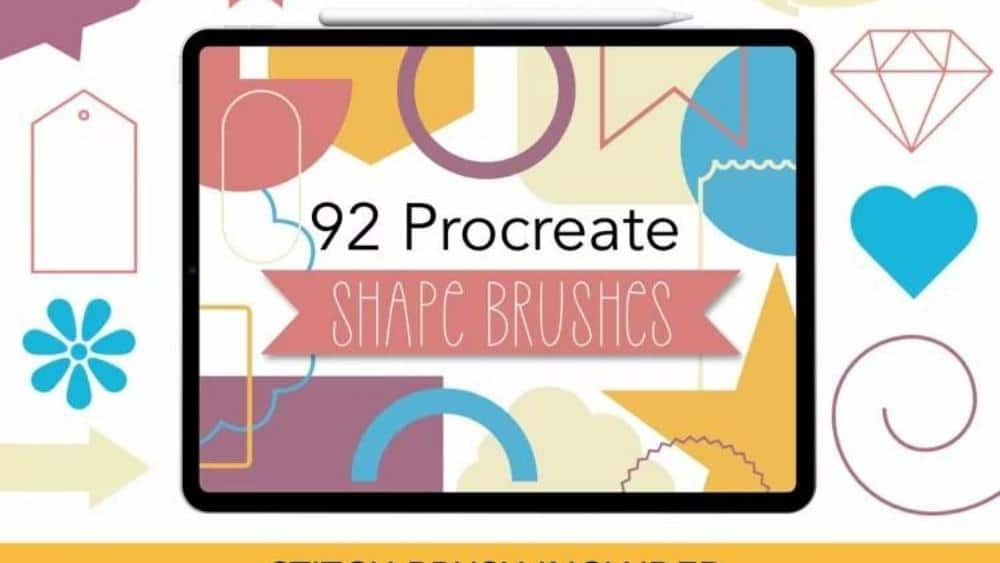 If you just need the basic shapes, this Procreate shape brush set provides you with all the essentials! It's surely the best brush set to download if you're starting out with digital art. And I love how I have a wide selection of geometric brushes for my digital crafts using this set.
Highlights of these Procreate shape brushes:
Choose from 91 stamp brushes for producing geometric shapes
Includes one stitch brush for creating stitch patterns
An ideal shape Procreate brush set for beginners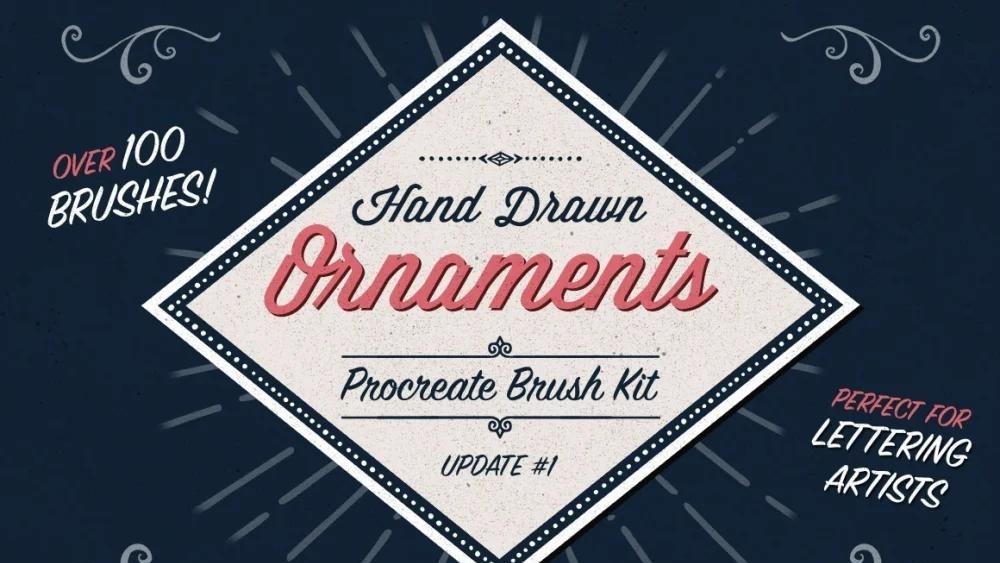 Your Procreate brush palette can't be complete without some gorgeous ornament shape brushes. And this set is here to offer you just that! I use these Procreate shape brushes to add exquisite motifs, borders, and patterns to my vintage artwork. Aside from those options, you can also choose between solid shapes or shape outlines. But what makes this set stand out for me is its unique catchword brushes.
Highlights of this shape brushes Procreate set:
Choose from 98 vintage-inspired brushes for borders, motifs, and shapes
Consists of 40 unique catchword stamp brushes
Also includes five bonus texture stamp brushes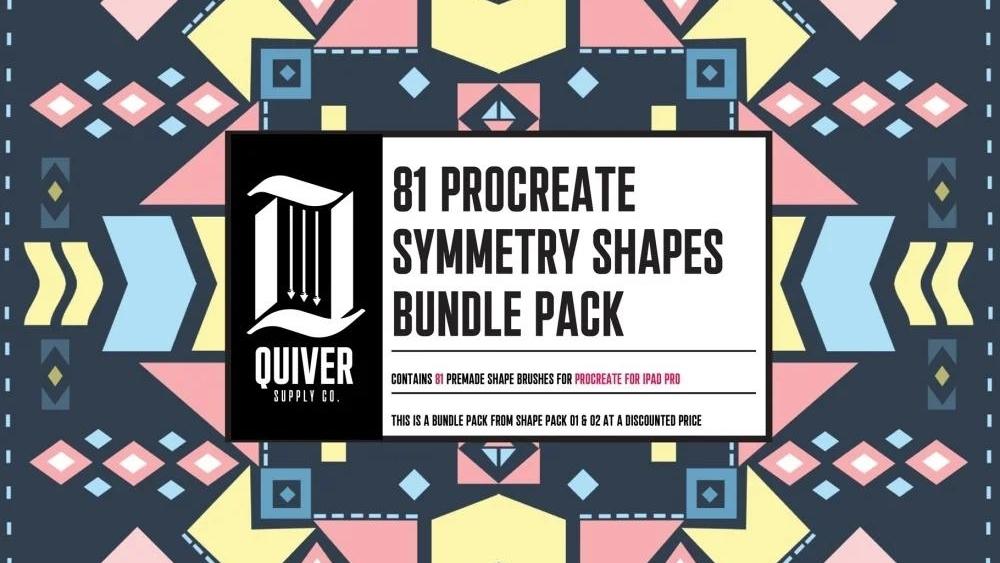 Symmetric shapes are highly pleasing to look at. But everyone knows (myself included) how hard it is to get the perfect size and alignment of those shapes. This is where these Procreate shape brushes come in handy! With this brush set, you can mix and match 81 fun shapes to create the ultimate symmetric patterns.
Highlights of this shape brushes Procreate set:
Choose from 81 shape brushes for Procreate
Includes pre-made, high-quality shapes
Can be used alongside Procreate's symmetry tool to create symmetric patterns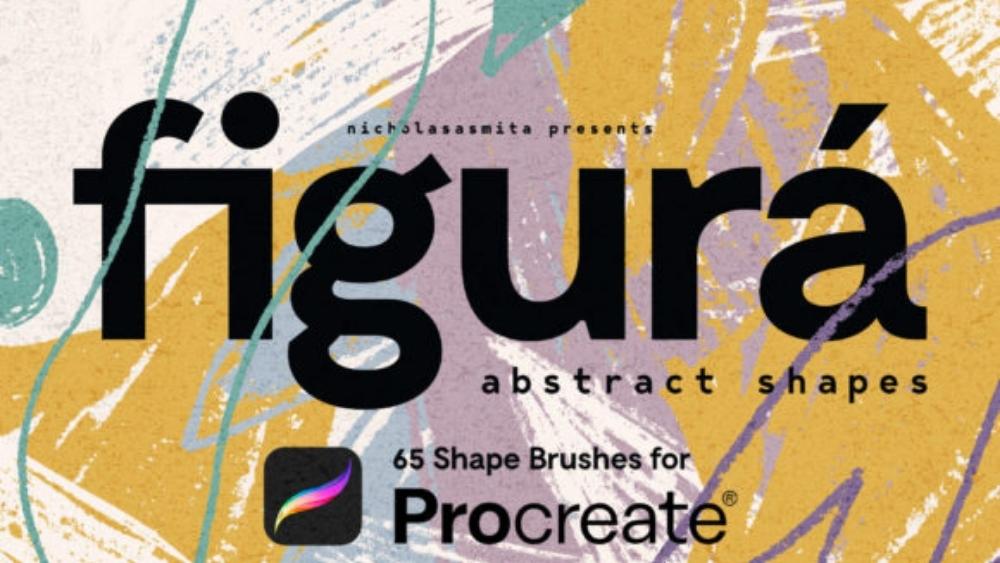 Don't seem to have enough abstract brush stamps in your brush palette? Here's another abstract brush set you can download. What's so neat about this set is that every shape is made using natural strokes. Therefore, it gives these brush shapes for Procreate a more authentic, playful feel.
Highlights of this shape brushes Procreate set:
Includes 65 abstract shape brush Procreate stamps
Shape brushes are made from natural strokes
Abstract shapes are produced using brush, ink, and pastel and are digitally scanned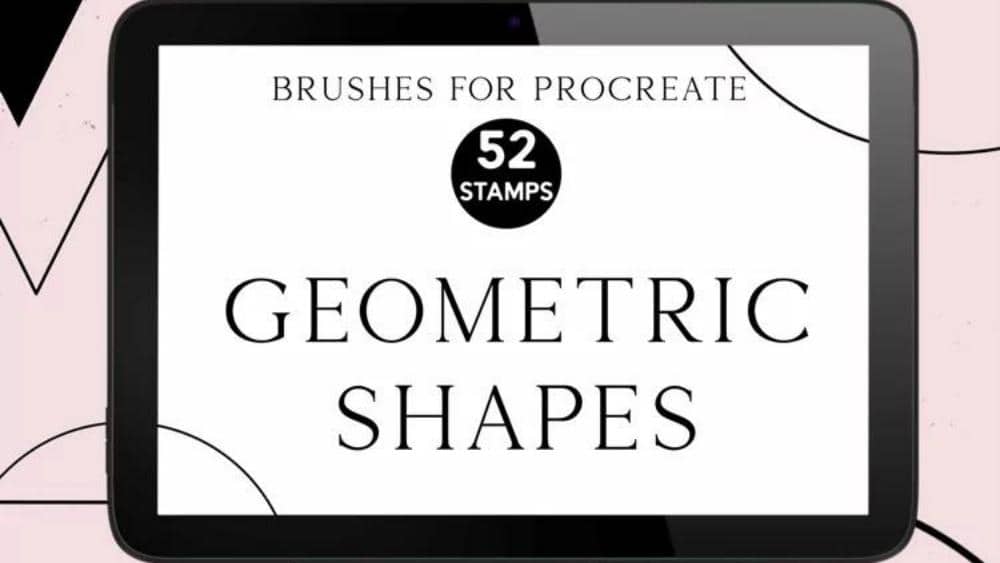 If you need a much smaller set of geometric Procreate shape brushes, this set will be more than enough for you. Unlike the previous geometric brush set in this list, this one only includes 52 brush stamps. It's definitely just the right amount of brushes for those who get overwhelmed with too many options!
Highlights of this shape brushes Procreate set:
Includes 52 geometric shape Procreate brushes
Can be easily used to incorporate modern, decorative designs
Can also be partnered for lettering and calligraphy illustrations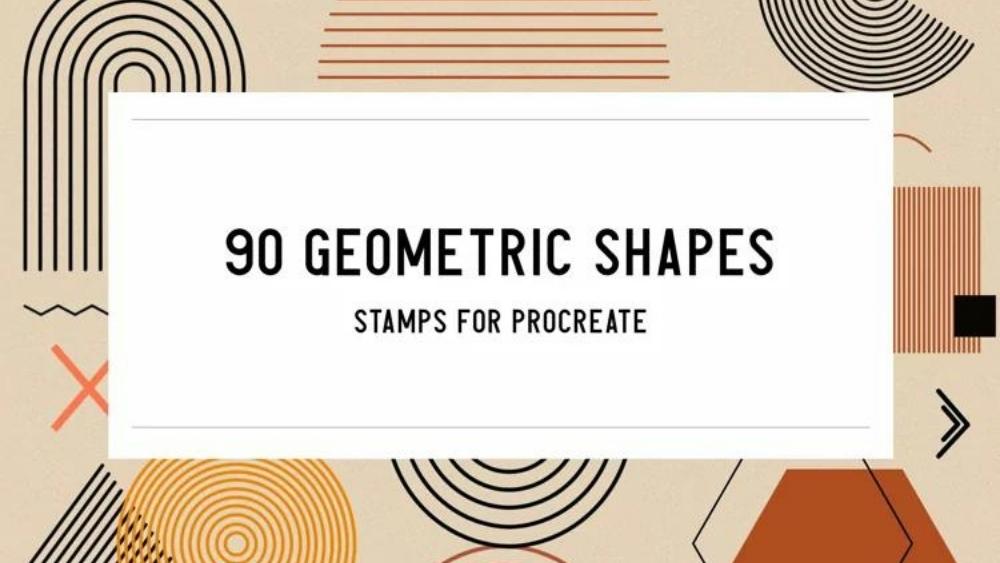 Having varied geometric shape brushes for Procreate is valuable when creating the best geometric patterns for your graphic. With that said, this geometric and frame brush set is one I'd highly recommend to add in your brush collection. Besides, it doesn't just have the basic clean-cut geometric shapes and frames. This set also consists of unique geometric patterns to make your works stand out.
Highlights of this shape brushes Procreate set:
Has 90 geometric and frame brush stamps
Includes two-dimensional unique shape designs
Comes with an easy-to-follow installation guide
Are you looking for a brush set that doesn't just include geometric shapes? Look no further than this shape stamp brush set. Aside from the beloved geometric designs, this Procreate shape brush set also comprises a vast assortment of hearts, callouts, droplets, banners, and more hip patterns! This is undoubtedly a brush set that takes your digital projects to the next level.
Highlights of this shape brushes Procreate set:
Lets you choose from 100 brush stamps
Includes basic geometric and funky shapes
Ideal for projects related to fashion, accessories, invitations, and other similar projects
The Best Free Shape Brushes for Procreate
Free Shape brushes for Procreate are a great way to get started. They give you a feel of how different brushes can be used in different ways. These free Procreate shape brushes include some 2D and 3D shapes, and many other things to try out. Simply download these Procreate shape brushes for free and get started with drawing some nice shapes!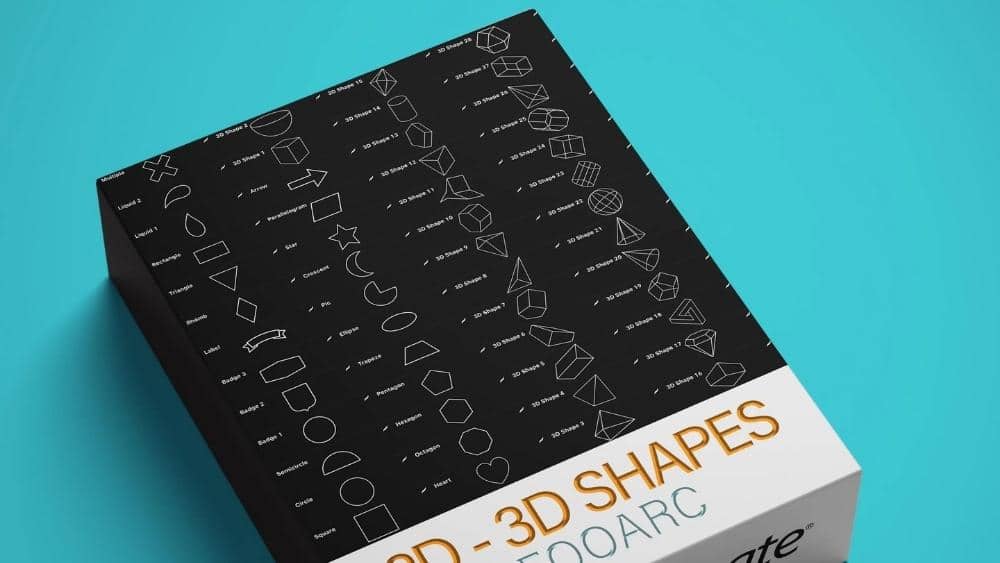 The Procreate shape brushes in this list are undeniably beautiful. Unfortunately, they all cost money. And I'm aware that not all starters may have the budget to invest in these valuable shape brushes. Well, the good news is that you can always look for free procreate shape brushes.
One set that includes a vast selection of shape stamp brushes is this set! Despite being offered for free, these brushes have premium quality and can be easily used by newbies.
Highlights of these free Procreate shape brushes:
A total of 52 free high-resolution shape brushes for Procreate
24 stamp brushes for two-dimensional shapes
28 stamp brushes for three-dimensional shapes
Conclusion
There you have it. These are just some of the best Procreate shape brushes you can download online. Although the majority of them cost money, their gorgeous designs are undoubtedly worth every penny. And if you can't afford these premium brush sets, you can always settle for free, high-quality brush sets in the meantime.
So, happy shape drawing with these Procreate shape brushes! And thanks for reading,
Lilly-Mai
Sources:
Share with your Friends: