11 Best Procreate Neon Brushes (Premium & Free)
Over the past few years, Procreate has been my go-to app for digital art, and I've made more appealing pieces with it than I ever thought possible. But one of my recent art epiphanies has been using Procreate neon brushes to add a unique touch of style to my work.
Most people enjoy making things and being creative, which usually comes from different kinds of art. Curating an art piece gets my creative juices flowing, and sometimes a little style and finesse kick it up a notch. What if you want to know how to draw a cyberpunk illustration? I'm here to help.
I've used a lot of Procreate neon brushes, pushing them to their limits and figuring out how they help me be more creative. And it makes sense that these brushes never let you down because they do what they say they will do. So, in this article, I will tell you about my top choices to help you make the artwork you want.
The Best Neon Brushes For Procreate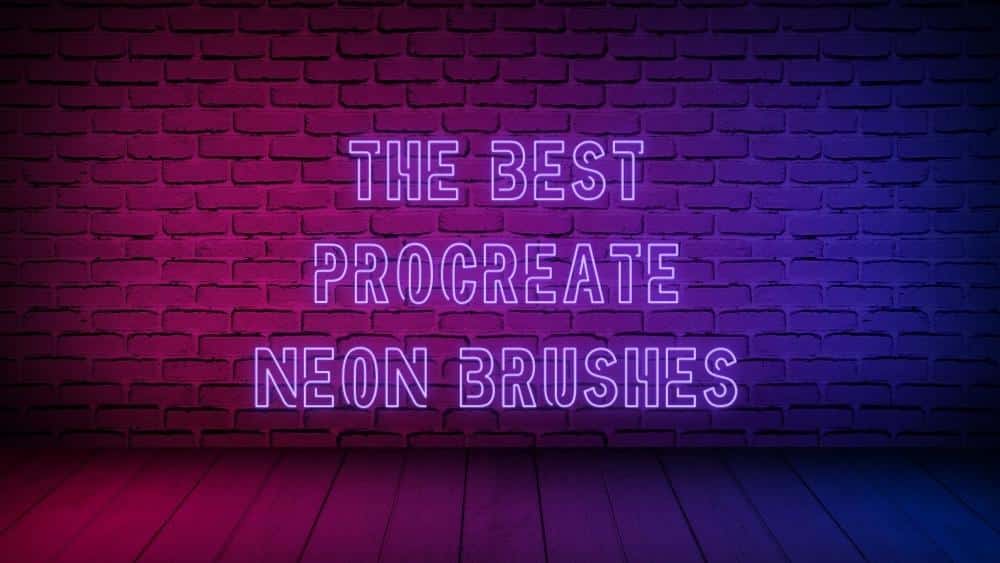 Procreate neon brush sets are perfect for creating eye-catching designs, adding a splash of color to your artwork, or simply giving your photos a dramatic look. In addition, the neon Procreate brush sets are easy to use, making them suitable for both beginners and seasoned artists.
You can experiment with different Procreate brush settings to achieve different results. For advanced painting techniques, you can combine these neon brushes with other Procreate brushes. Here are my top picks for the best Procreate neon brush sets: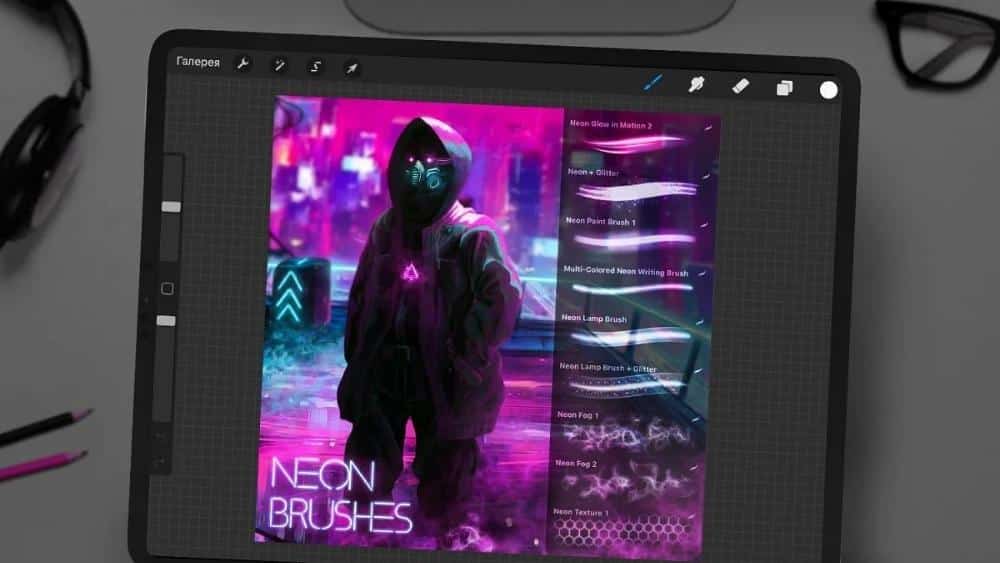 The first set of neon brushes for Procreate is also one of my all-time favorites. It has everything you need to learn how to do this unique art. When done right, this style gives art a sophisticated pop. During my tests, I noticed that this set always made the same amount of neon and fizziness, and anyone who likes neon cyberpunk art can agree that this set changes the game.
Essential Features:
20 Procreate neon brushes
Neon + glitter brushes
Neon lettering brushes
And many, many more!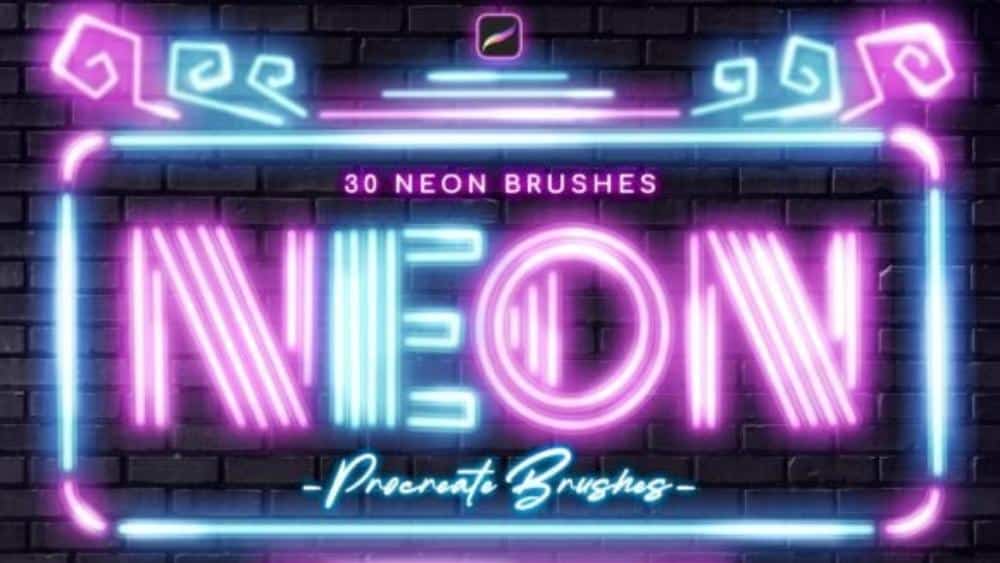 I like this set because it lets you make almost any shape on your art and give it a glow that's easy on the eyes. It also comes with unique color swatches and a brick wall background to make your creative process fun and interesting.
Essential Features:
30 Procreate brushes
Four tube sizes
25 neon lines
Special Procreate brush for glowing
Brick wall background
and much more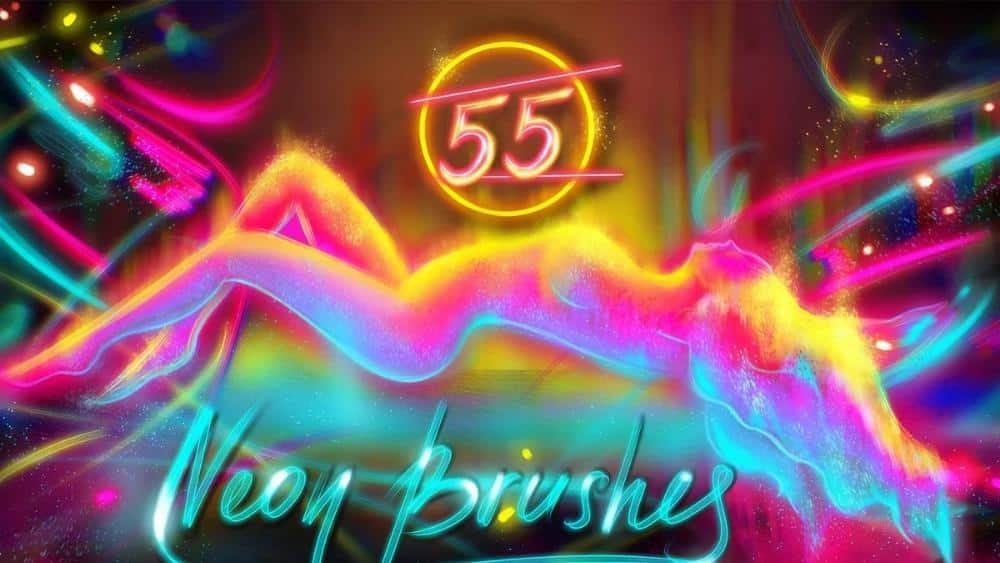 If you want to make more kinds of art than just drawing and painting with a neon effect, you should use other brushes, like the one just above. This neon Procreate brush set lets you use 3D neon lighting and paint in dark colors to show off your artistic skills. The 55 brushes are enough to help you make something amazing and add a patch to make the neon effect look more authentic.
Essential Features: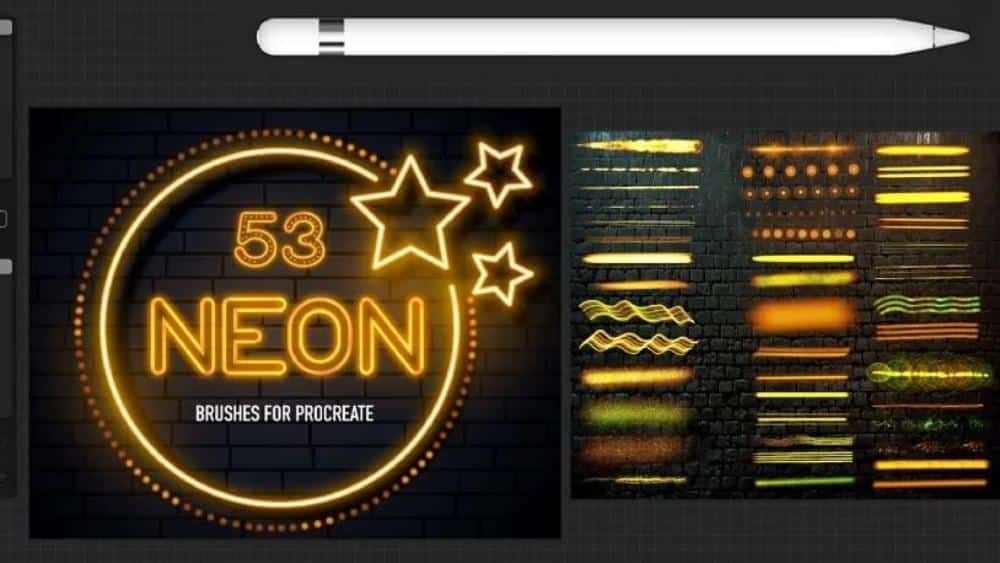 This set will be fun with more than 50 brushes, and the different brush patterns make amazing art. This digital package has all kinds of neon brush patterns, like dots, lines, glowy shapes, and star shapes.
Essential Features:
53 Procreate neon brushes
Neon lines
Neon dots
Neon star shapes
and much more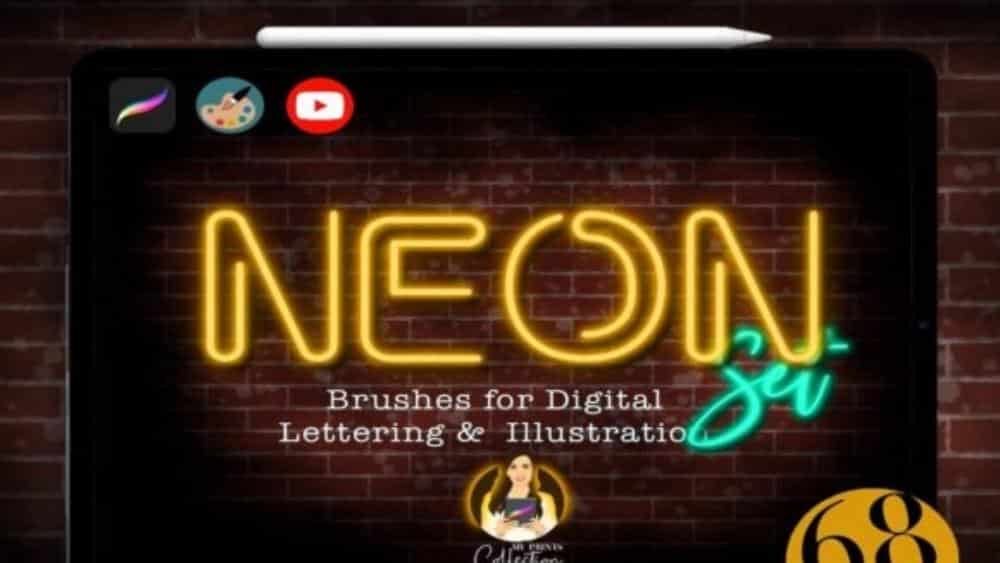 The many kinds of brushes that come with this digital Procreate brush collection give you much freedom with your art. The best thing about this digital brush package is that it's even better for people just starting as neon artists. It has a written and a video tutorial to help you change the settings and make more professional art.
Essential Features:
68 Neon Procreate brushes
Color palette included
Workbook in a PDF file
4 Video tutorials to get the most out of this neon brush set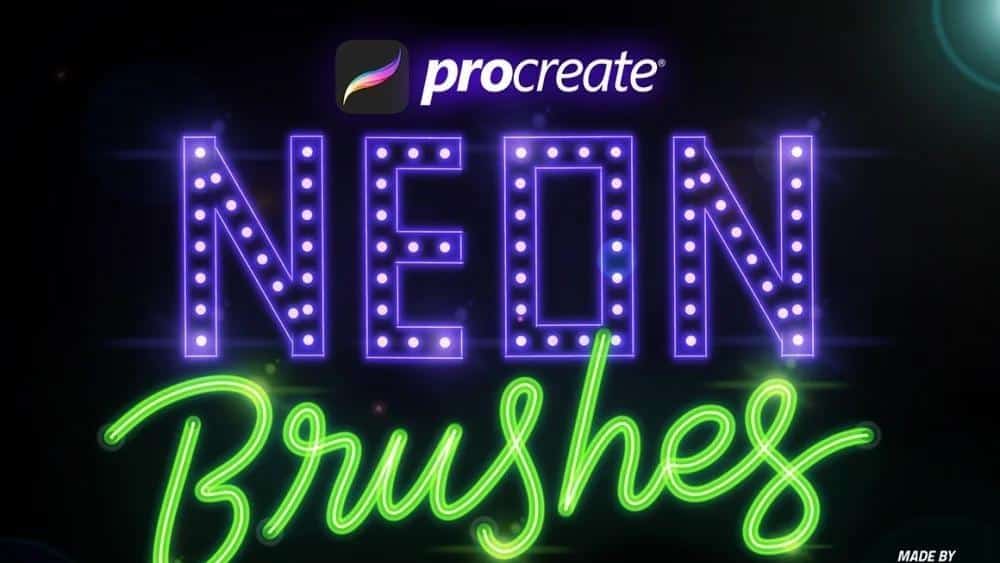 Not many brush sets can do what this one can since it has many different styles and shapes and adds a unique flare effect and grain lights. The collection has more than 30 brushes to get your creative juices flowing.
Essential Features:
30 Neon Procreate brushes
Neon triple
Neon sparks
Neon light effects
and much more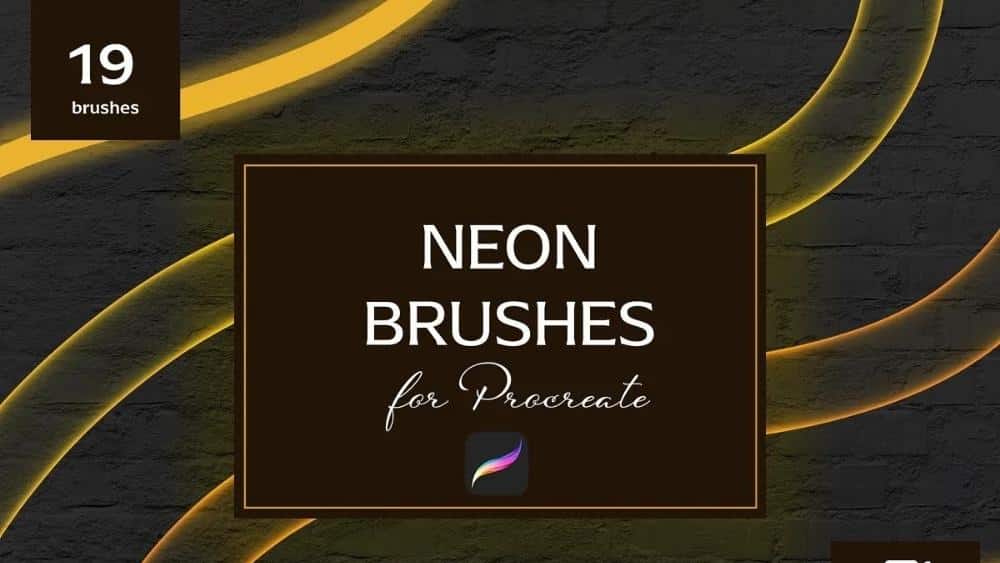 This brush isn't as well-equipped as the others I tested, but I'd still give it a higher score because it can make a broader range of brush marks. It also comes with a helpful installation guide that makes setting it up more accessible and faster.
Essential Features:
19 Neon brushes for Procreate
Soft light for a glowing effect
Neon shine brushes
and much more
Even though this Procreate brush set looks simple, it still has all the tools to impress you with its well-made brushes. It's a 5-star brush that gives you 12 seamless brushes to paint with and lets you use your creative genius to make neon art, no matter how good you are at it. This brush is for you if you want to make neon art for a website or any other art project.
Essential Features:
12 Procreate neon brushes
Star lightning brushes
Glowing neon brushes
and more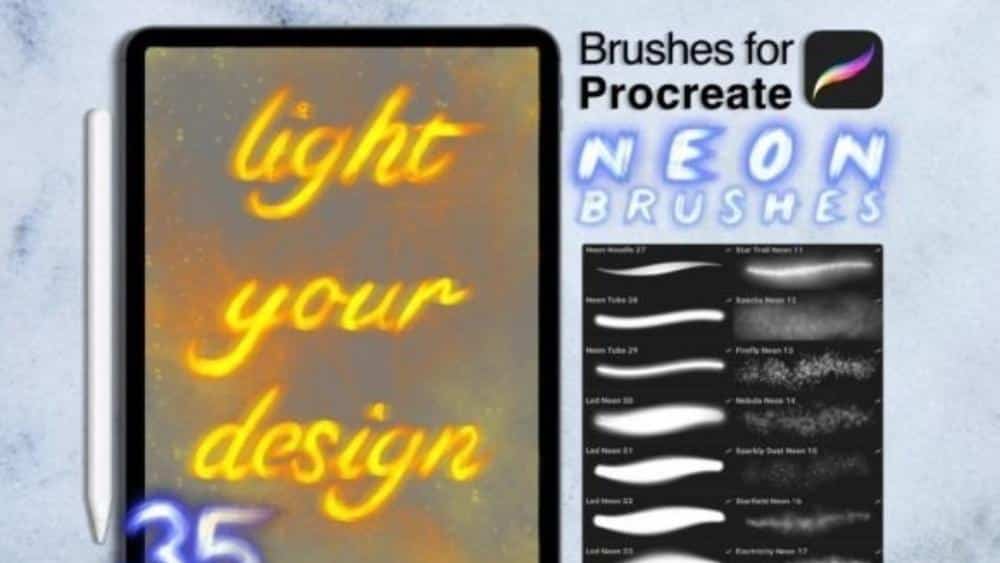 If you're a wizard trying out different brushes, you wouldn't want to be stuck with only one. This brush set has 35 neon brushes with all kinds of effects, as well as a lot of other brushes that will make your art look better. In addition, this set of neon brushes has all sorts of cool things, like a flame brush, an electricity brush, and more.
This gives a unique and fresh new touch to your art!
Essential Features:
35 Neon Procreate brush sets
Flame brushes
Star dusk brushes
Electricity brushes
and much more
The Best Free Neon Procreate Brushes
If you don't want to spend money on a Procreate brush set, then don't worry. We have you covered with a few awesome options that are entirely free. You don't have to spend a single cent to get these awesome Procreate neon brushes for free. They are available to download right now.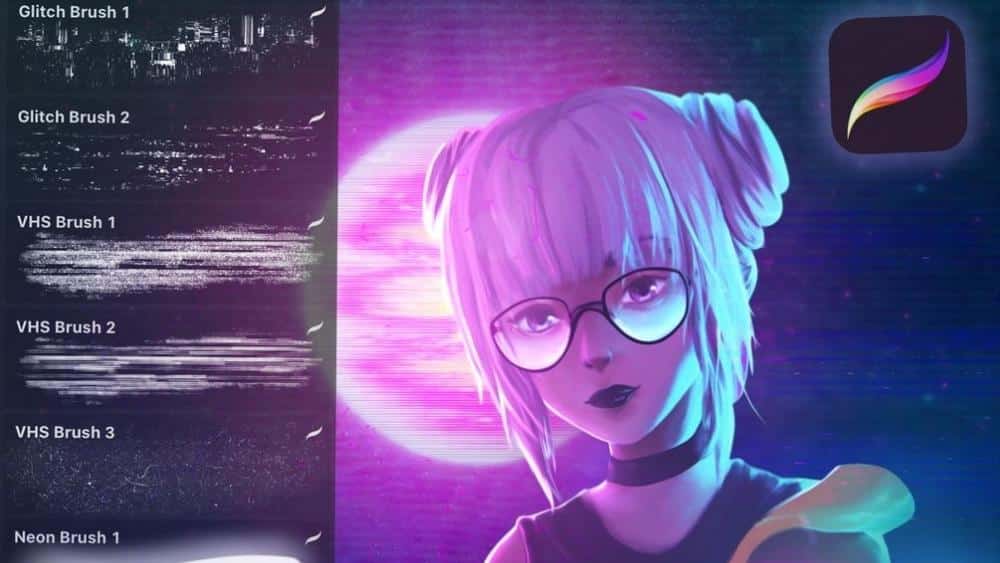 You don't want to miss the VHS, neon, and glitch effects that come with this highly rated free Procreate neon brush set. 14 neon Procreate brushes for free are ready to download instantly in this set. If you like the set and want to support the creator, you can upgrade to the full version to enjoy versatility with the 45 brushes it provides.
Essential features:
14 Free Procreate neon brushes
Neon brushes
Glitch brushes
Brushes for the VHS effect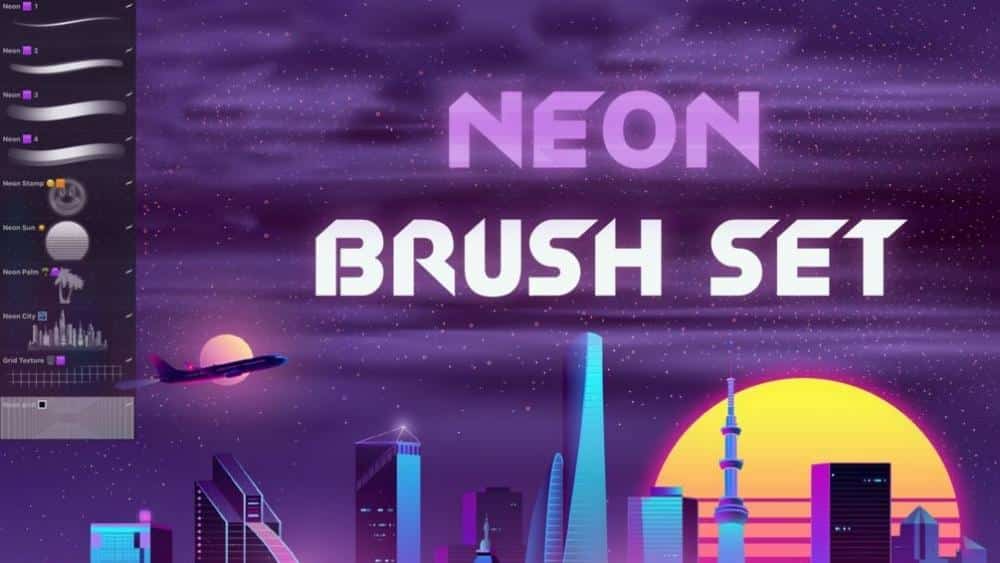 With its 12 free but well-equipped brushes, this brush is one of the best free neon brushes for Procreate that you can use to show off your creativity. However, you can still kick it a notch higher with the brush's full version providing you with 77 brushes and 23 PNG!
Essential Features:
12 Neon Procreate brushes
5 PNG to build a city
Grid textures included
Conclusion
These are the best brushes for creating neon art and vivid digital paintings. You can find various shapes, sizes, and styles that will fit any particular project you may have in mind. They are all high-quality and produce stunning results when used on your iPad combined with your Apple Pencil.
These cool and creative Procreate brushes allow you to add neon lights to your artwork and make it look even more stunning. With these brushes, you can create some stunning cyberpunk scenes, retro-style scenes, neon cityscapes, and much more.
So, have fun creating cyberpunk and retro art with these Procreate neon brushes! Thanks for reading,
Lilly-Mai
Share with your Friends: