11 Best Procreate Eyelash Brushes (Free & Premium)
Luckily for all those who want to make the perfect smoky eye, I've got an excellent list of the best Procreate eyelash brushes for you! Eyelashes are so delicate, so enchanting, and so important. But creating realistic eyelashes isn't just about skill and knowledge. It's also about having the right tools.
The lash brushes are specifically made for drawing eyelashes. You can get the most out of them and achieve the most natural-looking eyelashes with these best Procreate brushes. There's no need to spend hours researching the perfect Procreate brushes for eyelashes. I already did the hard work for you and tried them all! Everyone in the list below is just amazing for drawing eyelashes like a Pro.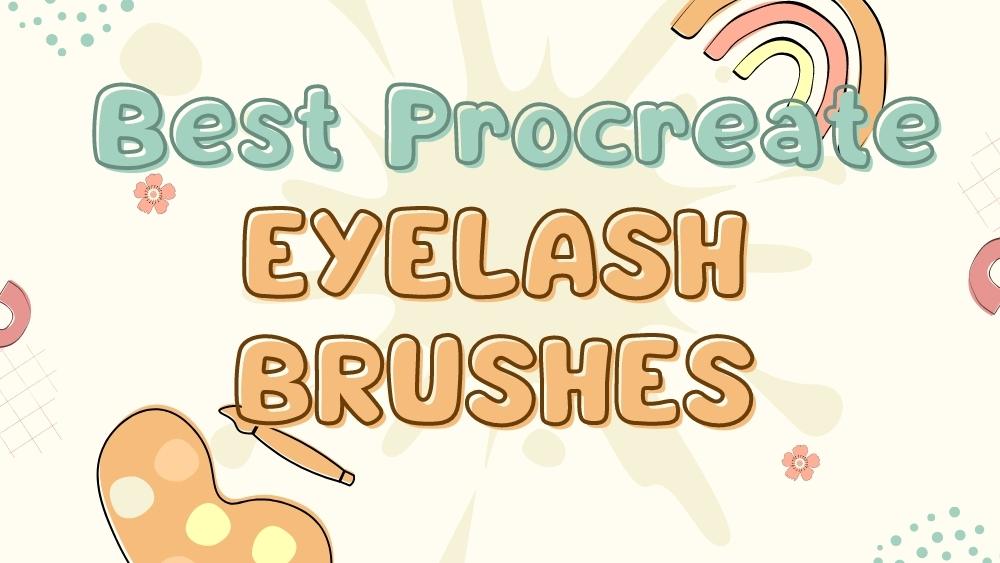 Just grab one of these eyelash brushes from the list and start drawing the perfect portrait with the help of these Procreate eyelash brushes! Let us start with the list!
The Best Eyelash Brush Sets For Procreate
So, you have your Apple Pencil and your iPad ready. You opened your Procreate App, so let us go! These brushes helped me a lot when I first started drawing portraits. And I sincerely hope these Procreate eyelash brush sets help you as well!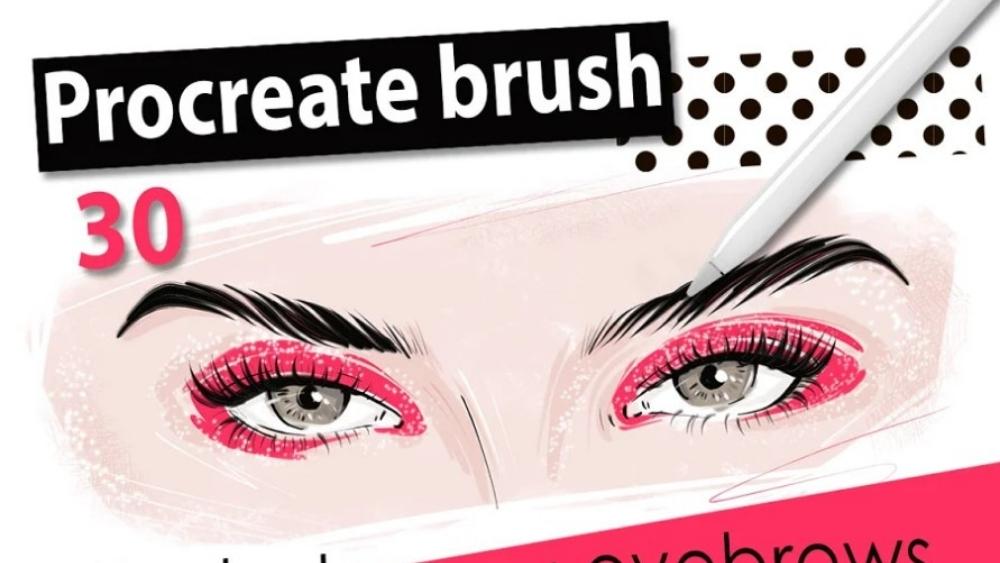 We start the list of the best Procreate eyelash brushes with my favorite eyelash brush pack. This pack includes 13 stamp brushes and 18 brushes for Procreate to draw amazing eyelashes. This is my favorite pack since it gives me a brush or a stamp for almost any eyes I draw in my digital artworks. It is easy to add more detail when using these brushes. All the eyelash brushes are made in a very realistic style.
Irina, the creator of this brush pack, is a very talented artist. She made these brushes for everyone to enjoy, so if you like what she does and want to support her, check the link below to learn more about this eyelash brush pack.
Features
Set of eyebrow and eyelash brushes
13 stamp brushes & 18 Procreate brushes
High-quality brushes made by a professional artist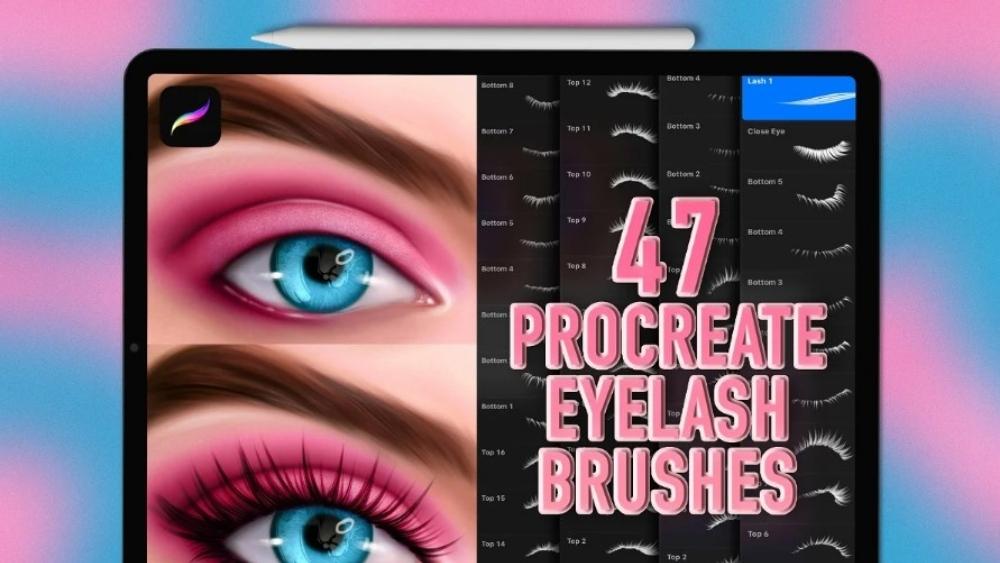 This eyelash Procreate brush pack comes with 47 Procreate brushes. Draw easy portraits with the Procreate eyelash brush set, which is especially suited for beginner artists who want to learn and improve their skills. However, if you are experienced artists who want to speed up the process of drawing portraits, try these Procreate brush lashes too!
Features
Three brush sets with 47 brushes in total
One Procreate brush set with 22 natural eyelash stamps
One Procreate eyelash brush
One set with 24 extended eyelash stamps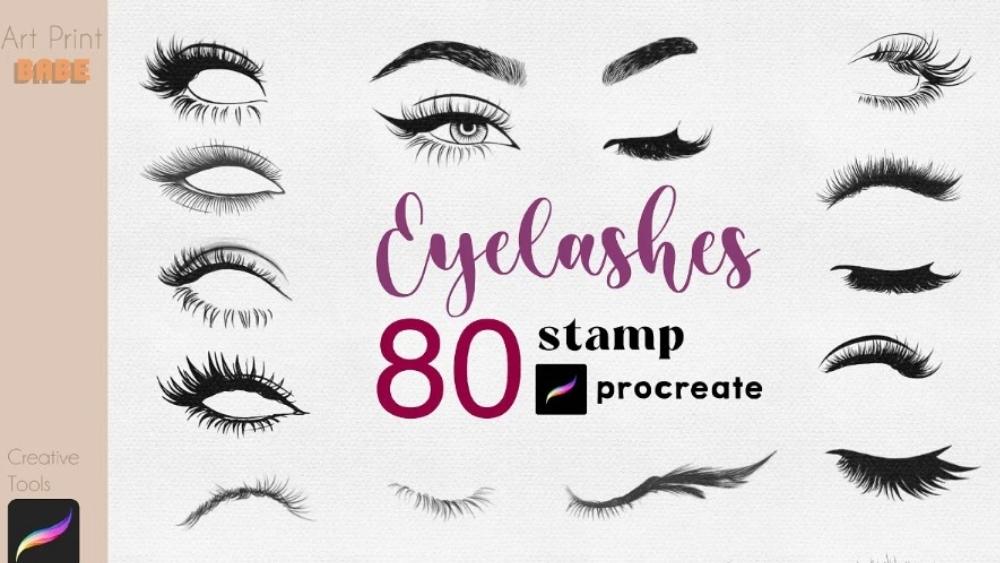 Stamp Portrait Makeup Brushes are professionally designed for makeup artists, beauty bloggers, and anyone who loves to draw faces. This set comes with 80 stamps in total and will help you create stunning eye makeup and lashes. The stamps are easy to use and look great on their own or with other stamp sets.
Features
80 Procreate eyelashes in total
Suits almost every portrait to make it look beautiful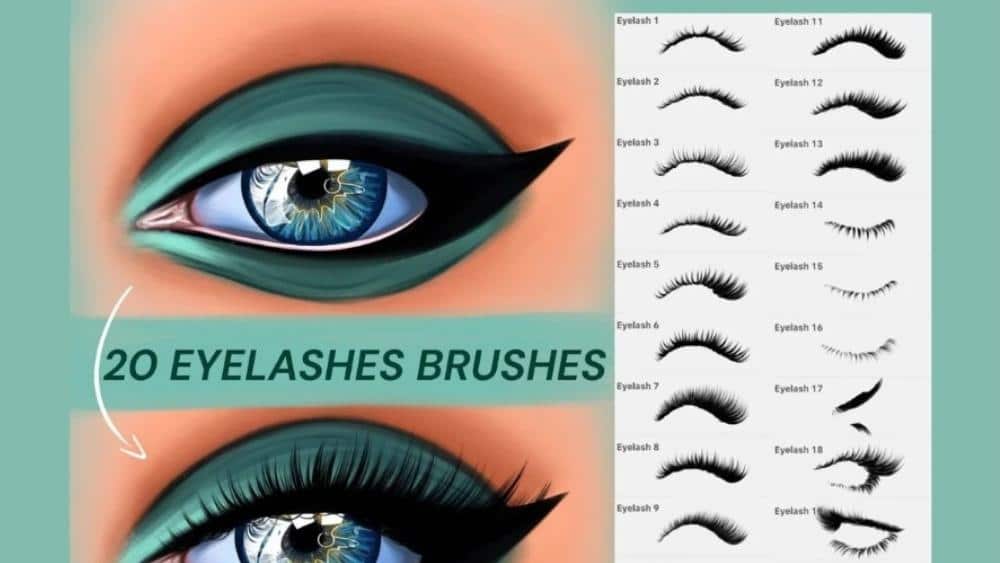 20 Procreate eyelashes brushes are a must-have for every artist. This lash brush set includes twenty different brushes to have various choices for various projects and styles. Speed up your workflow with these quality brushes and draw some beautiful and fantastic eyelashes!
Features
20 Procreate eyelashes brushes
Will work on almost all the portraits to make them look beautiful
Different brushes to give specific looks to eyes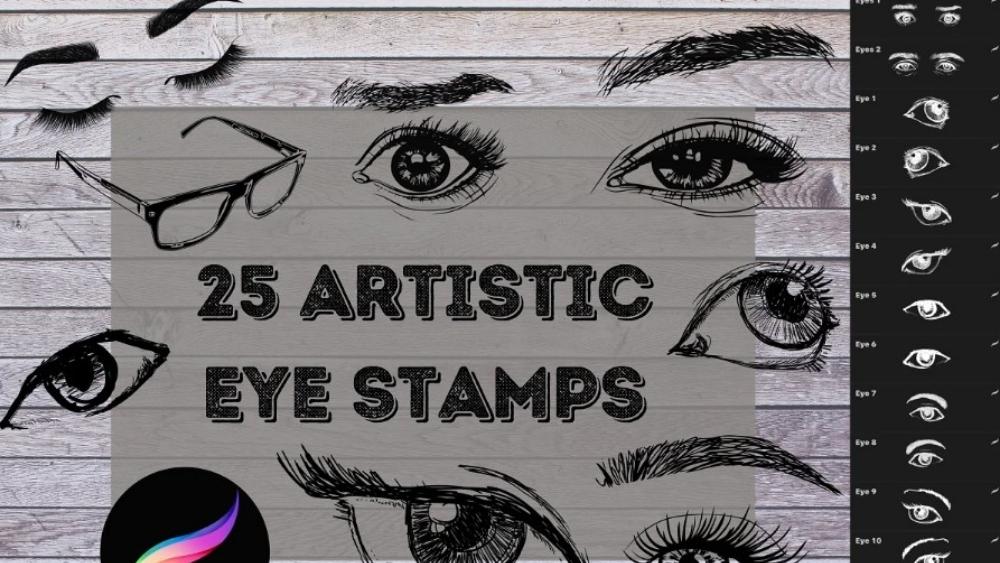 The Artistic Eye Brush Bundle has been created to help you draw the best possible eyes for your portraits. You'll be able to work faster and achieve better results with this set of 25 brushes. This bundle contains different categories to use when drawing a portrait. So, for example, you also have some stunning eyes or even glasses! If you want to know more about this Procreate eyelash pack, click the link below.
Features
Exceptional quality
Includes twenty-five Procreate eyelash brushes
Comes in different categories, like eyes, lashes, or even glasses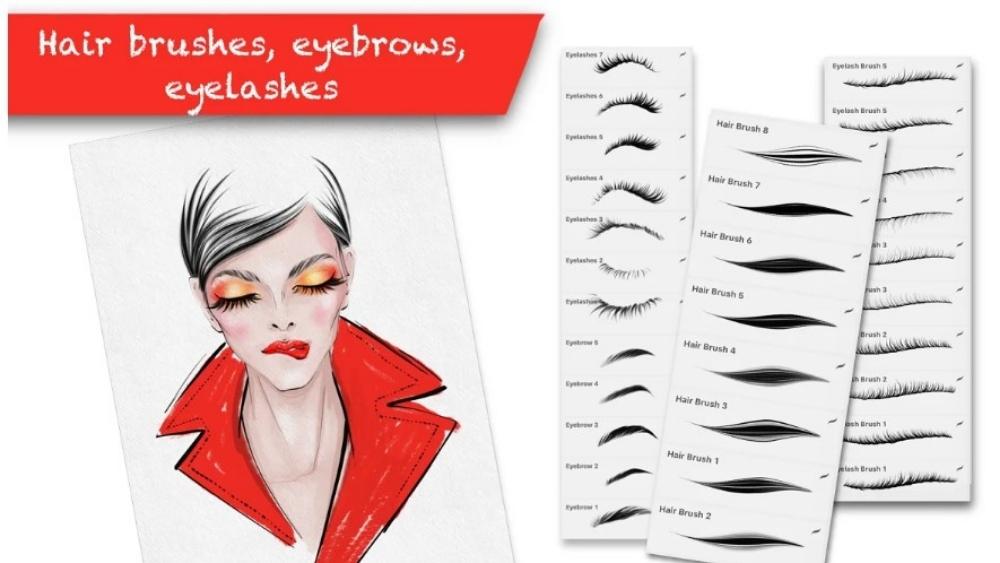 The Procreate Illustration set includes different types of brushes. If you love variations and experiment with different looks, make sure to try this pack! It's a bit different than other packs mentioned in this article. This set is a toolbox for experimenting with fashion. Included are brushes for drawing clothes, contour brushes, hairbrushes, and even glitter brushes to sparkle your digital artwork!
You can draw leather, lace, textiles, and fur with the additional clothes brushes. Also, the contour brushes can be perfect for illustrations. Included are pencils, ink, liner, and marker. Moreover, you will have eyelashes, eyebrows, and hairbrushes. As an added bonus, the pack includes stamp brushes for female figure templates.
Features
Fashion toolbox
A wide variety of brushes
All the required help to get perfection
Many unique eyelash brushes to complete a project
Give this set a chance if you like to discover something new and unique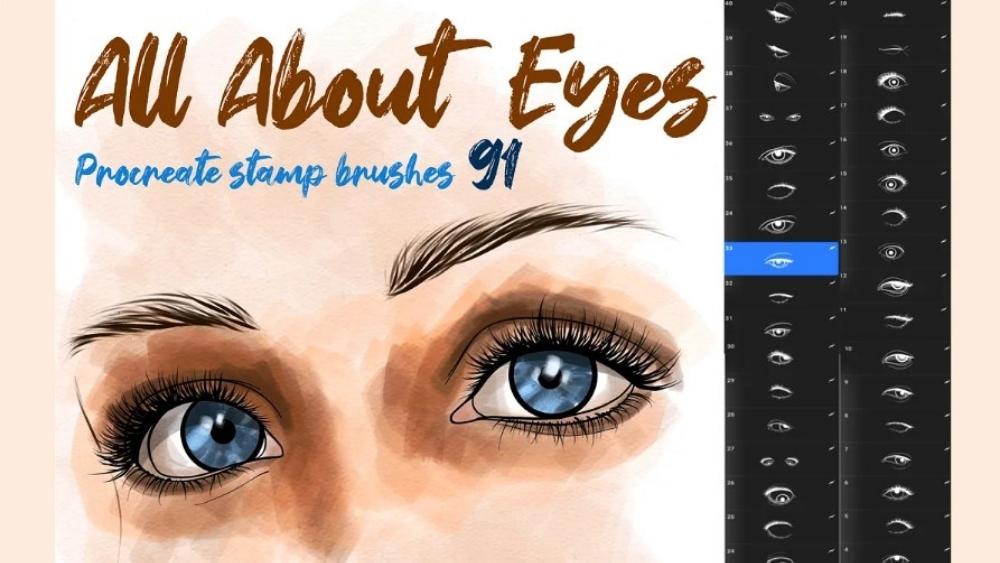 These Stamp Eye Brushes are versatile and indeed help you achieve perfection in many artworks. The pack comes with 91 different eyelash stamps and lash brushes for Procreate. As an additional bonus, HabitusDesigns, the author of this beautiful brush set, also included a drawing guide for you!
The Eyes and Lashes Stamp Brushes pack is a beautiful, incredible collection of stamp brushes that allows you to quickly and easily add character illustrations for eyes and lashes. With this set, there are no restrictions on your ability to be creative; simply experiment with the colors and opacity, and let your imagination run wild.
Features
Drawing guide included
A versatile pack to support different needs
Ninety-one different brushes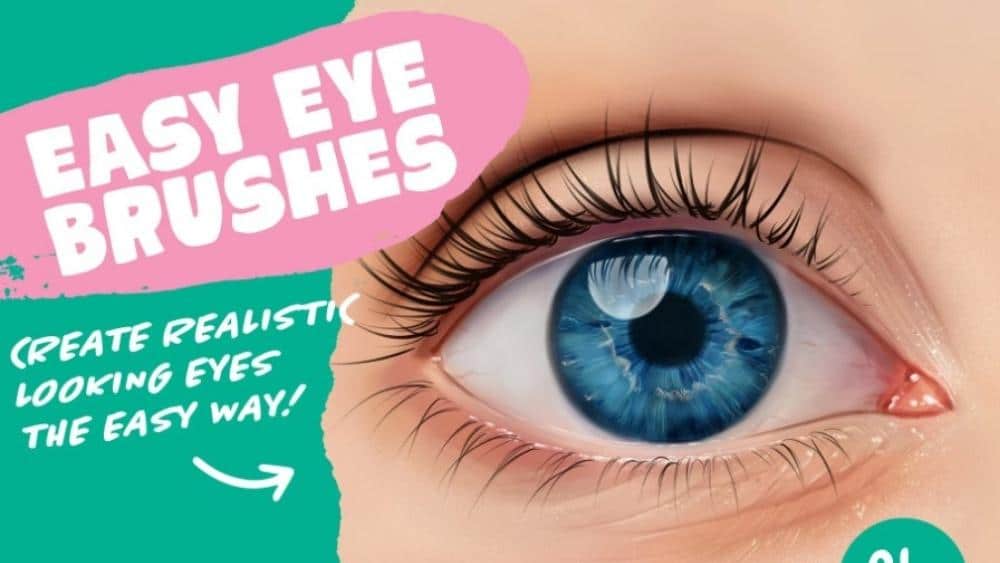 The Procreate Eye Brushes pack comes loaded with stuff. First, of course, you can draw beautiful eyelashes with this pack. Additionally, there are brushes for every part of the eye. Included are a pupil brush, a veins brush, an eye shadow brush, skin texture brushes, and more.
Draw the perfect eye with this eyelash Procreate brush pack!
Features
4 Iris brushes
Pupil brush
Veins brush
Eye shadow brush
2 Skin texture brushes
and more!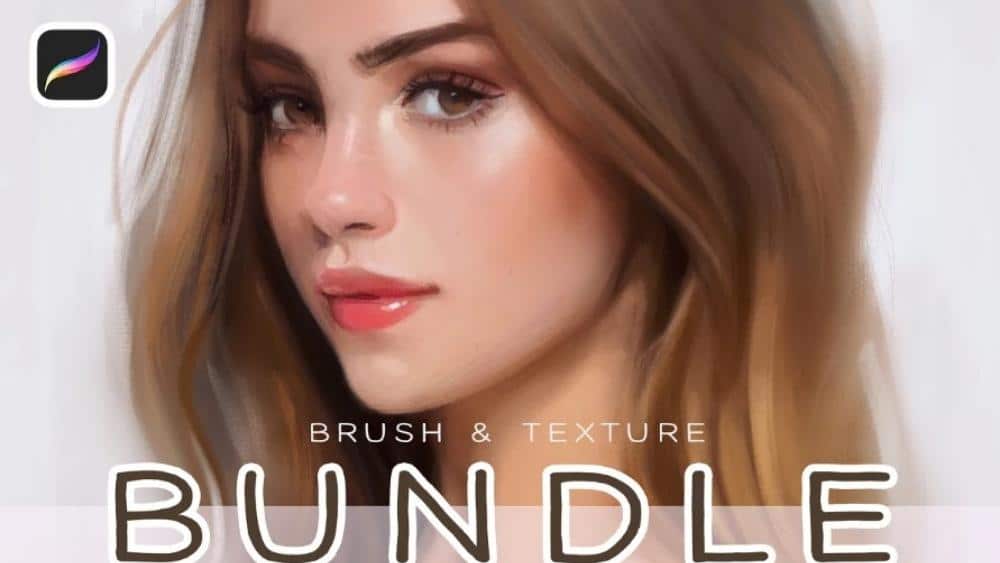 This Procreate Texture & Brush Bundle is a whole portrait toolbox. If you like oil painting, and if you like portraits, this set is for you. In this bundle, you get a total of twenty brushes for your portrait designs, like eyelash brushes, eye brushes, hairbrushes, and more. Additionally, this set comes with an oil paintbrush set to draw the face, hair, or even the background of your digital art.
But that's not all! Also included are charcoal brushes, 6 in total. So you have everything you need in this bundle to create incredible digital oil painting portraits.
Features
Portrait toolbox
Three brush sets included: portrait brush set, oil painting brush set, charcoal brush set
Perfect for oil painting portraits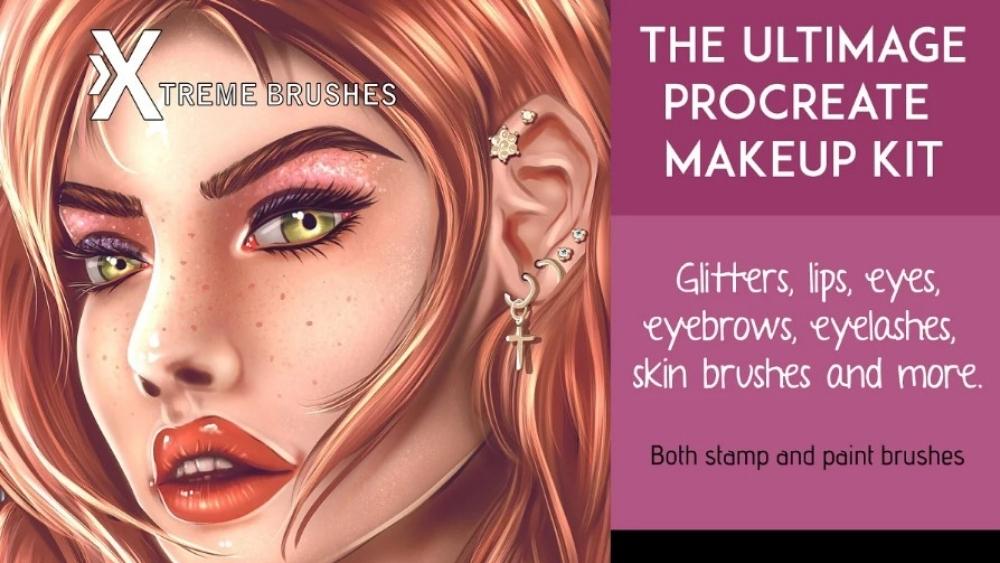 The Ultimate Makeup Kit is precisely what the title says: a whole kit for drawing faces in the Procreate App. This brush set is perfect for drawing makeup, eyes, lips, etc. The brushes are very easy to use, and you can create a whole face using this brush set, or you can use it to add some details to an existing design.
Features
Includes 32 brushes
Has both paint and stamp brushes
Whole kit for drawing faces
The Best Free Procreate Eyelash Brush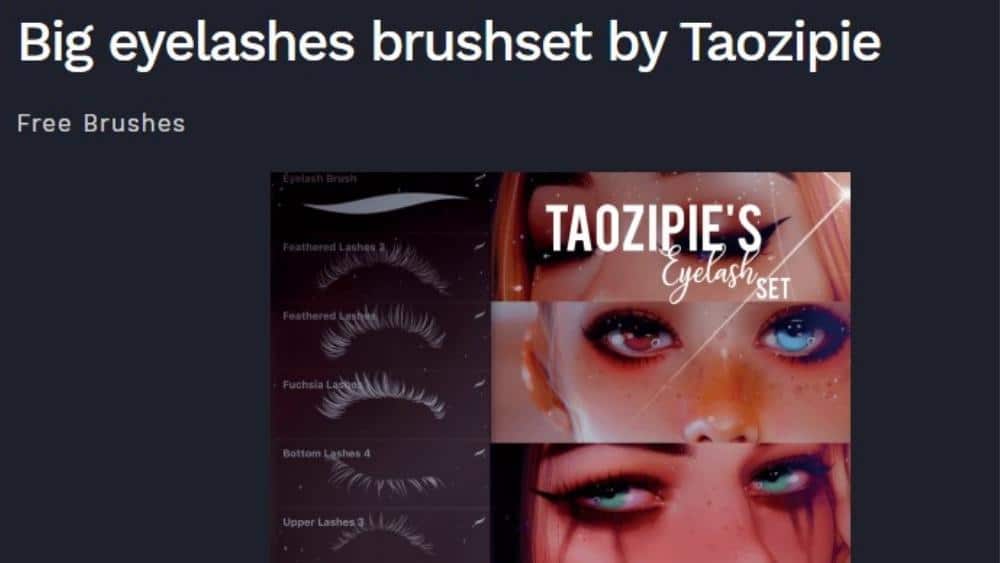 This Free Big Eyelashes Procreate brush set is incredible. First and most important, it's a brush set for Procreate with free eyelash brushes. Generally speaking, free Procreate brushes offer, in general, a bit less than the paid and premium ones. But this brush set with eyelash brushes for free is different. It's awesome!
Included 17 different eyelash brushes, and every brush is high quality. You find everything in this set, from bottom lashes to closed lashes, half-opened lashes, and thick bottom lashes.
Features
Free Procreate eyelash brushes
High-quality brushes
No signup or registration needed to download the free eyelash brushes
Tips For Making Better Eyelashes
Drawing eyelashes is an essential part of drawing a realistic eye. Make sure that your brush size is small enough to give you the precision you want. Another tip to remember is to start your line at the top of your iris. Where you begin, your eyelash line is just as important as where you end it. Finally, make sure that you are letting your line flow.
Even though you have the best tools at your disposal, you still need to practice if you want to get better at drawing eyelashes in Procreate. But it should also be very enjoyable! After all, it is a hobby, and hobbies are supposed to make you happy.
Drawing eyelashes is a great way to explore your creativity and have some fun. You can draw anything you want, from regular eyelashes to something more adventurous like eyeliner wings or a colorful gradient on the eyelids. When you do something you love, you don't even notice the time passing!
How To Draw Awesome Portraits
We have a lot of articles on our blog about how to draw awesome portraits. Ranging from the best Procreate hair brushes to braid brushes and curly hair brushes for drawing awesome hairs. Then go ahead and draw some fantastic eyelashes with the help of this article.
Add some texture to your portrait by adding freckles with Procreate freckle brushes, and add some glitter with glitter brushes for Procreate. Once this is done, choose the right skin brush for Procreate to finalize your Portrait.
Many of the brushes we recommend come with helpful tutorials on drawing portraits like a pro. You also find a lot of useful information on Youtube, Udemy, or Skillshare to improve your Procreate art skills further.
Conclusion
If you want to ensure that your eyelashes look natural, the best thing you can do is practice. Drawing eyelashes might seem difficult at first, but with time and patience, it gets easier. So, if you are afraid of drawing eyelashes, you no longer have to be! Just pick one from the brush sets above and start drawing.
Happy eyelash drawing with these Procreate eyelash brushes! And thanks for reading,
Lily-May
Share with your Friends: