17 Best Procreate Hair Brushes For Awesome Portraits
You are on the watch for Procreate hair brushes. Otherwise, you wouldn't have clicked on this blog. Good choice! You are at the right place. I have put together a list of 17 best Procreate hair brushes that can be used to create awesome portraits. This post will teach you a lot about these hair brushes, including their use and how to use them.
These brushes are designed to make the process of creating artwork with hair easier and more enjoyable. The list includes both free and paid brushes. You can check out the list below to find the best brush for your needs. If you like drawing curly hair or braids, we have a separate article about these kinds of hair brushes, but more on that later.
The Best Procreate Hair Brushes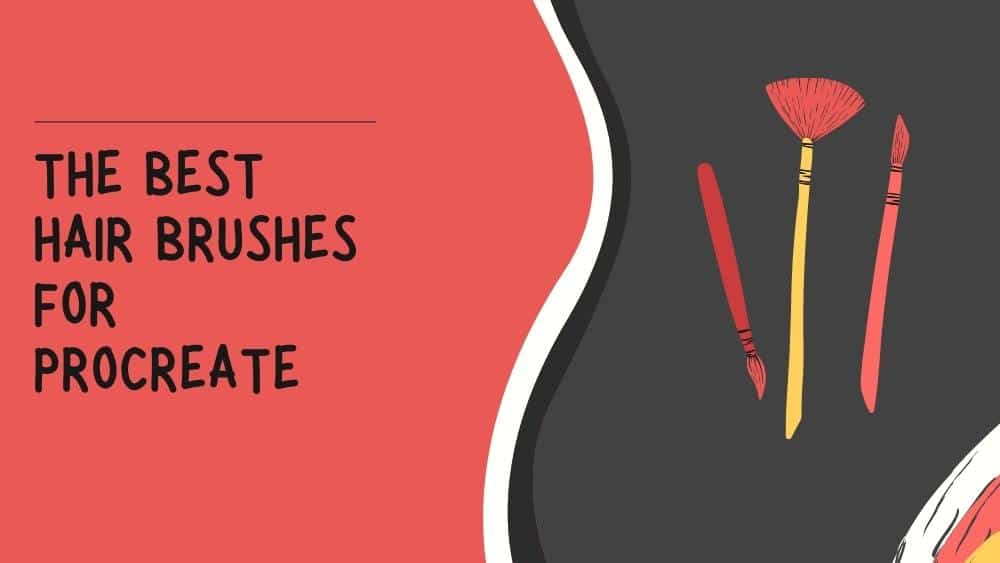 Procreate hair brushes are paintbrushes that create realistic-looking hair in your paintings. They allow you to control the length, density, and color of hair strands in your portraits. In short, they help you create natural-looking paintings. They are extremely helpful for artists who want to add life and depth to their paintings.
So, in this article, I will guide you through the 17 best Procreate brushes for hair that you can download right now. Grab your Apple Pencil and your iPad, open your Procreate App, and let us get started!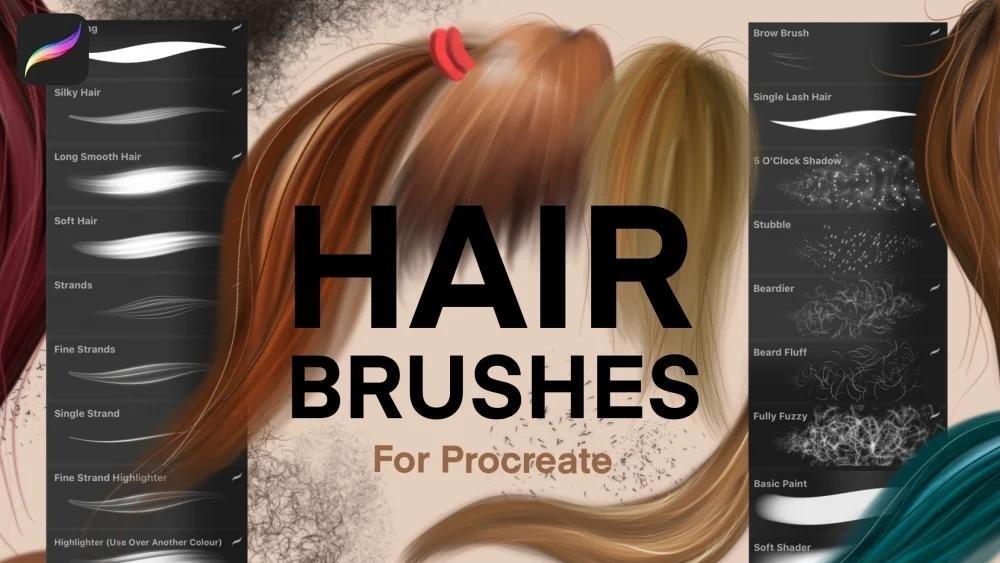 This collection allows for making gorgeous lifelike hairstyles with highlighted and lowlight ease. An eyebrow brush, a single eyelash brush, and a brush for forming a man's beard or human body hair are included. I love using these sets for creating detailed paintings of animals. The fundamental ground brushes are included as a plus, so you won't have to swap brush kits as you start designing your piece.
Features:
19 hair brushes for Procreate
Detailed hair threads to provide a lifelike appearance
Includes set of Brushes for goatee, chin stubble, and any body hair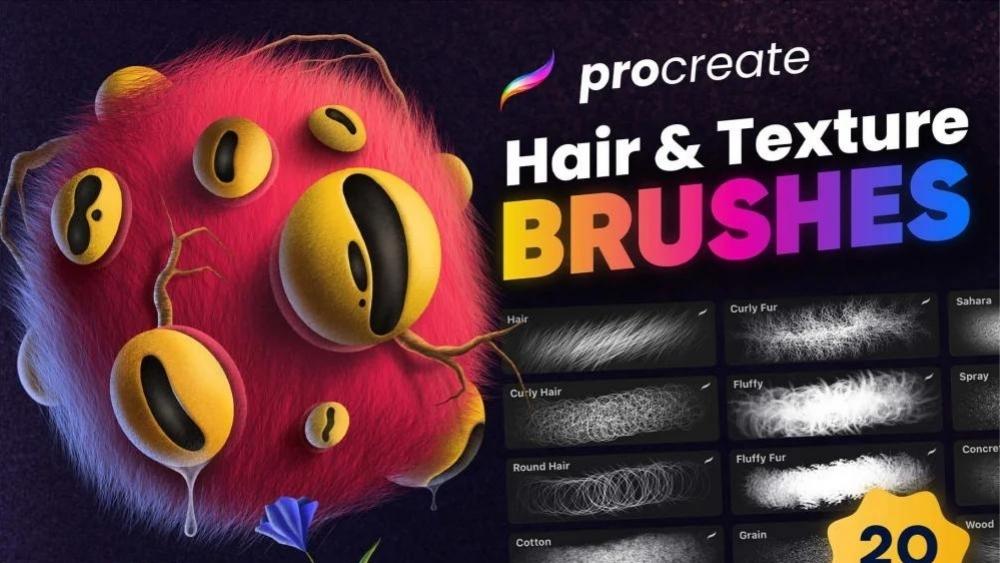 This set of brushes is fantastic for creating highly complex subjects. For example, I always use this set when I create character designs since they require a more detailed volume of hair strands to make them more realistic. Also, use this set to create realistic textures on objects like walls, grounds, etc. The Grafa Texture Brushes for Procreate can help you make your artwork real.
Features:
Natural hair and textures
Grain texture brushes
Textured paintbrush
Vivid detailing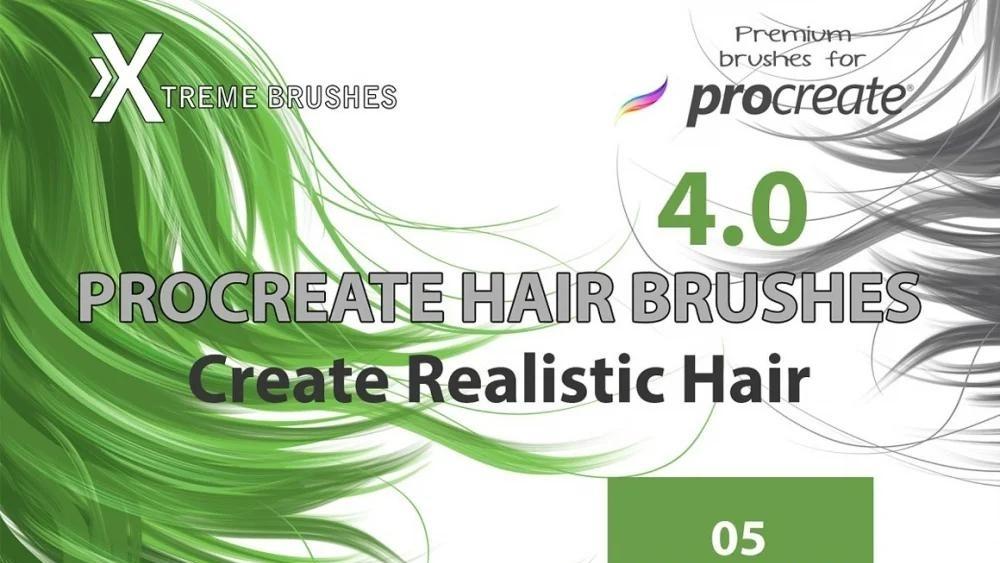 You'll love this brush set if you want to create flowy and high-volume hair while still being 2D animated. Have you seen digital art where the subject has luscious flowing hair? This brush is perfect for that! I have never felt more manageable to paint hair strands in Procreate than with Procreate Hair Brushes 4.0. Very easy to manage. Simply use your brushstrokes to establish free-flowing, lifelike hair!
Features:
5 Hair brushes for Procreate.
Premium Brushes for procreate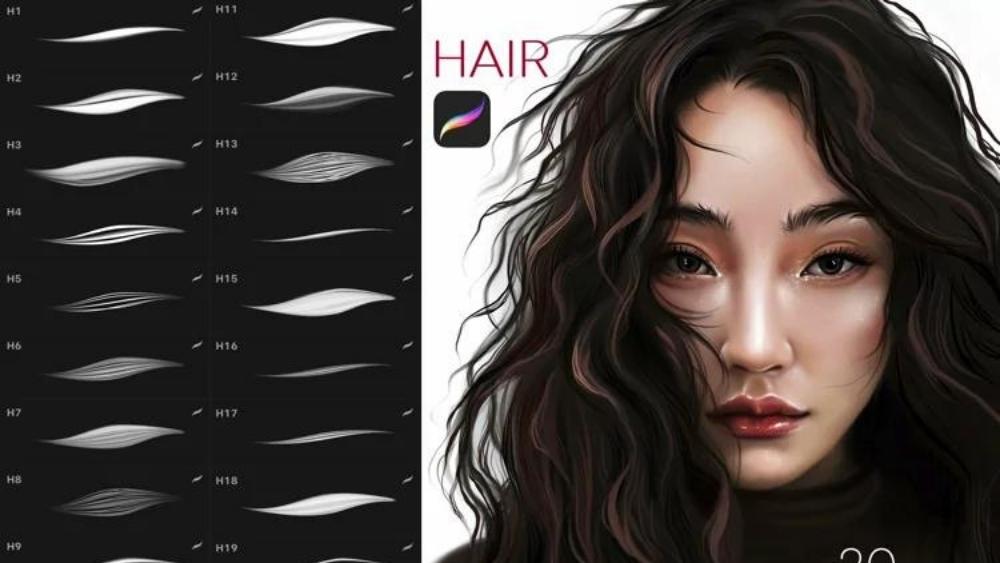 If your art piece is more heading towards a human portrait and you want to emphasize their beauty, I recommend this brush set. It includes a realistic hair brush collection perfect for human portraits or fashion sketches. If you want something that will make getting curls or wavy quality hair easier, this is the brush collection you should check out.
Features:
Brushes to effectively paint realistic curly and wavy hair
Smooth, straight-haired brushes for excellent mixing, adding depth, and separating fine strands.
20 Hair brushes for Procreate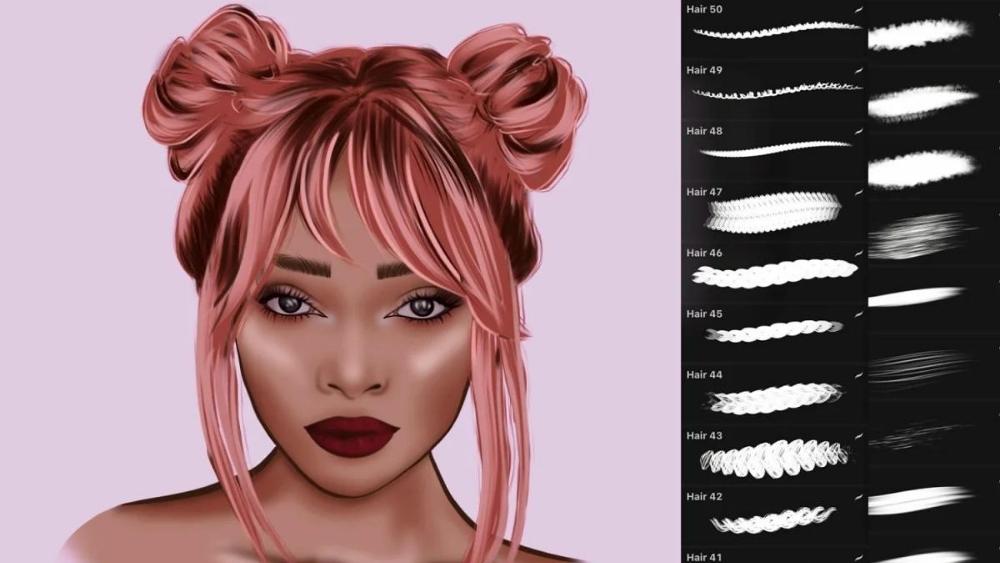 This hair brush collection caught my eye while I was searching for specialized brushes for drawing braided hairstyles with ease. This package is ideal for digital artists of many artistic genres due to the wide variety of braids and curls brushes. However, this hair brush set is more suited for painting natural hairstyles, and brushes are best fitted for "cartoon" aesthetics.
Features:
50 hair Procreate Brushes for creating realistic braids and curls
Recommendable for creating comic-style hair strands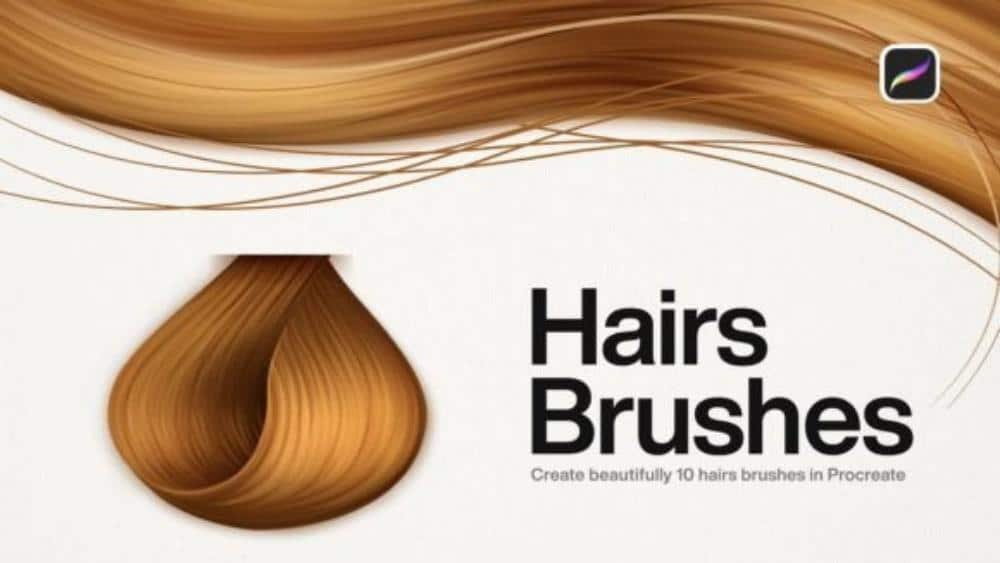 Unlike previous collections, this collection lacks brushes that let you make a twist or knot with a single brush stroke. This brush set is more suitable for digital artists who want more control and freedom when they paint hairstyles, but it can also create detailed hair.
Features:
10 Procreate hair rushes
Simple and beginner-friendly collection
perfect for artist who wants to have complete control of the hair settings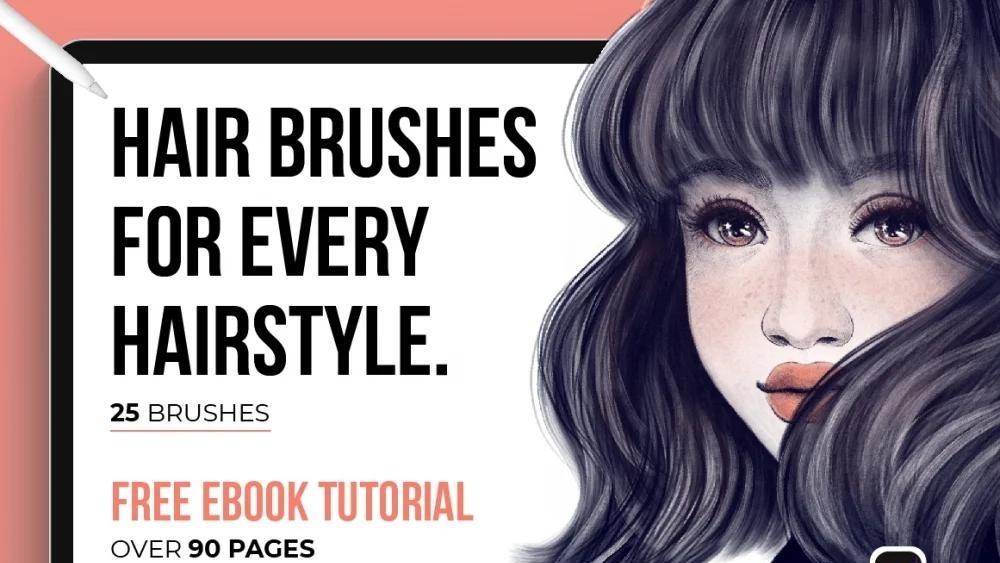 Don't worry if you're a newbie digital artist and want to make a smooth, long, sleek, curling, or short hairstyle. This collection is for you. There are around 25 Procreate brushes for hairs in this pack, classified into three categories:
Foundation layer paintbrushes for beginning a project
Paintbrush for creating threads, highlights, and lowlights
Paintbrushes for painting features like eyelashes, brows, stubble, or human body hair
More impressive is that this set includes a step-by-step eBook instruction titled "How to Paint Any Hairstyle."
Features:
25 high-quality Procreate hair brushes
Instructional Materials for hair painting are included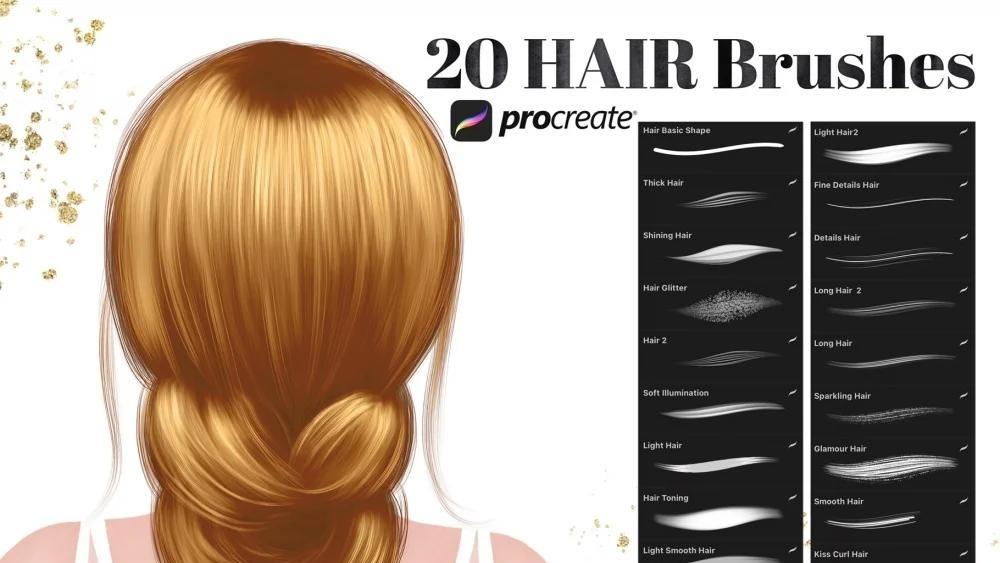 This one is a very beginners' friendly hairbrush collection. It includes simple hair brushes that can set your footing on digital painting. The density and clarity of the paint brushes vary. Curls aren't created automatically by any paintbrush, but they smoothly follow your pen's movement. There is a maximum of 20 quality Procreate hair brushes in this set. Check out this set if you're seeking hair brushes to produce silky hairdos, delicate, rich eyebrow threads, and glamorous hairstyles.
Features:
20 Procreate hair brushes
Beginner's friendly
Realistic Hair Brushes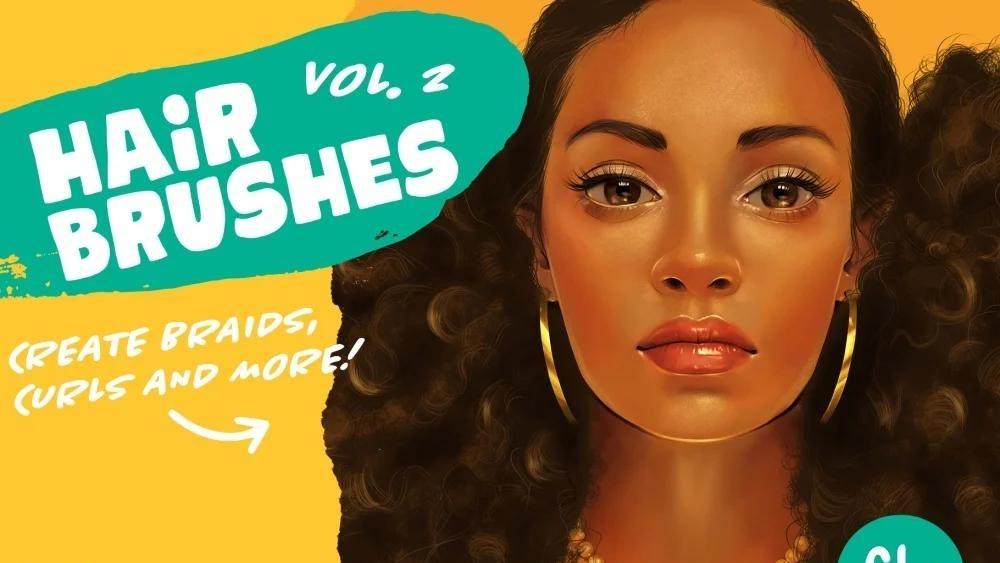 If you love the Hair Brushes for Procreate Vol. 1 by Flo, you will love this one much better because this collection includes a wide range of curly hair and braids brushes! Isn't it amazing? The Procreate brush Volume 2 is ideal for painting unique hairstyles! This Procreate paintbrush set includes 14 fantastic Procreate hair brushes for painting twists and wavy hair with ease.
These brushes make it simple to design hairstyles in Procreate. For example, if you want a tool that lets you paint knots and wavy hairstyles, you should consider this.
Features:
Six unique curly hair brushes that quickly produce natural curls
Mixing, adding depth, and even single strands can be done using smooth straight hair brushes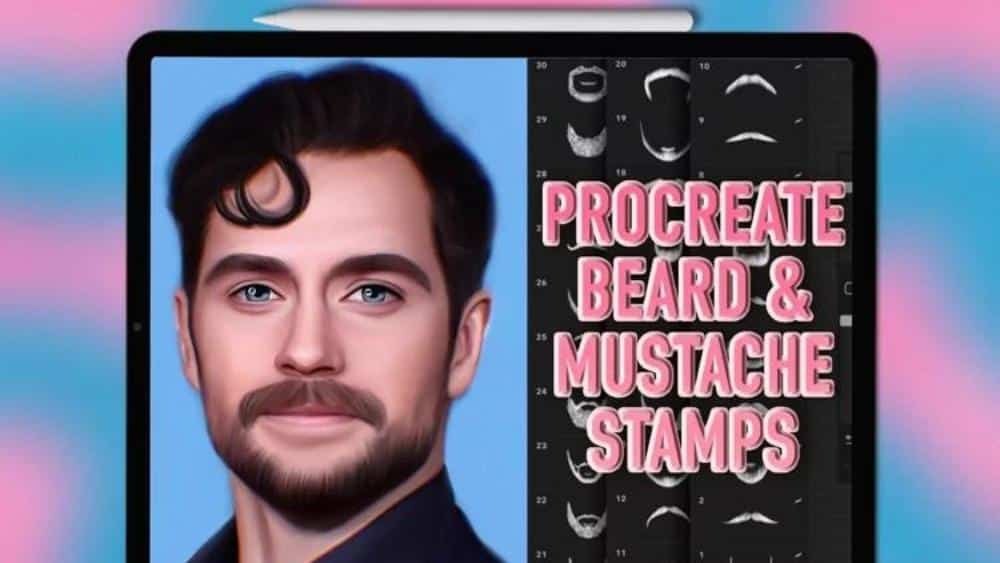 These Procreate brushes are designed to be easy to use and will help you create a perfect beard or mustache every time. The set comes with 30 different beard and mustache styles that let you experiment with different looks. You can also use these stamps to groom your current beard or stache to create a desired shape.
With the pro-level results you get from this set, you'll look like a professional each time you use it. The set comes with detailed video instructions that are easy to follow so you can start using it right away.
Features:
30 beard and mustache Procreate stamps
Easy to use and highly-professional results
Highly praised artist and creator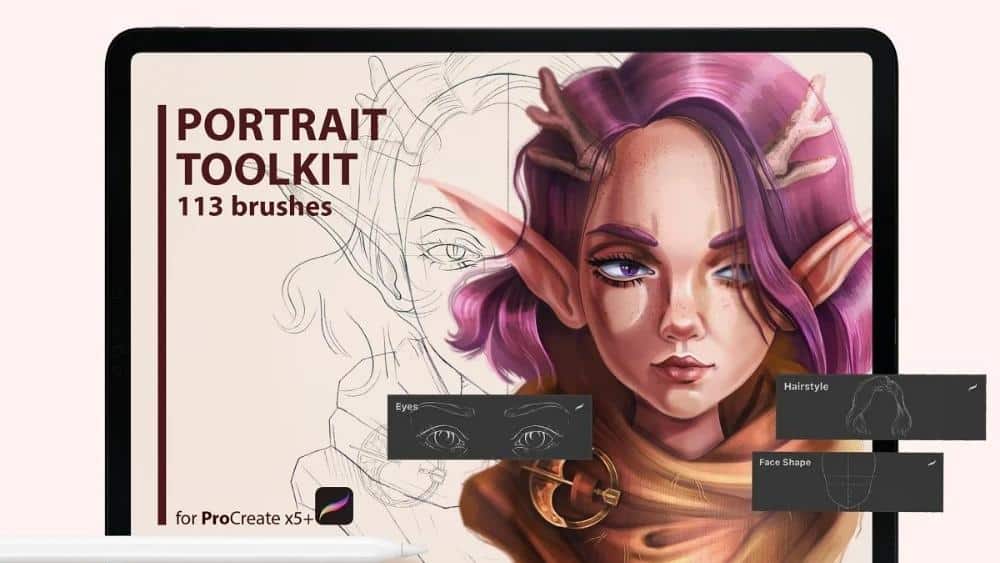 With Portrait Creator, you can create an amazing fantasy character in minutes by combining pre-made face shapes, hairstyles, eyes, noses, lips, ears, and accessories. You can adjust, change, combine, mix, and match all the elements to get the desired look. Create both male and female characters and let your imagination run wild.
This set includes over 113 Procreate stamps, divided into several categories: Hairs, horns, ears, lips, accessories, nose, eyes, and face stamps. You can draw more than fantasy characters with this set. You can also use it to create realistic portraits, cartoon characters, and more.
Features:
113 Procreate stamp brushes, ranging from different hairstyles, to nose, ears, lips, and more
Perfect for creating fantasy characters
16 hairstyles for Procreate included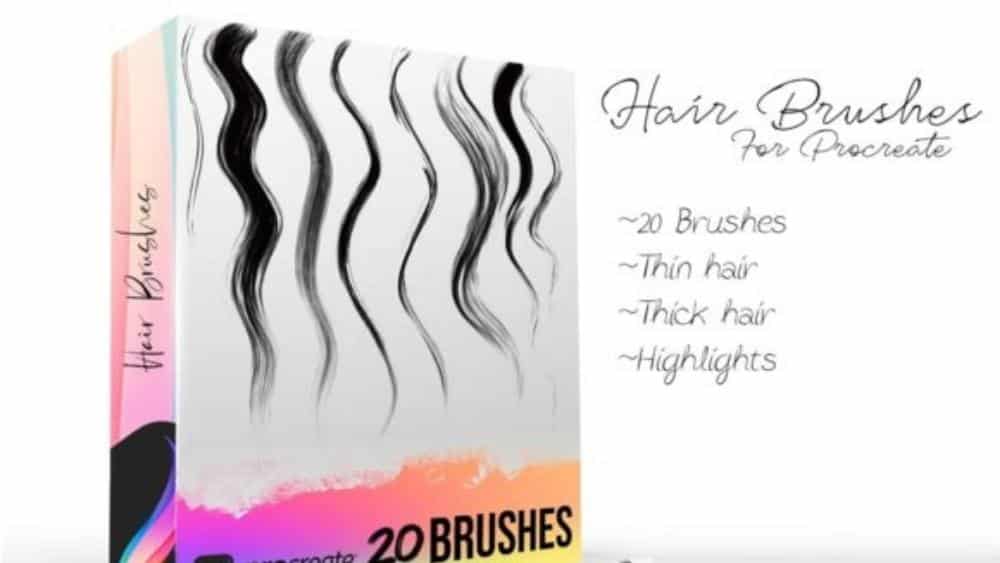 This set is for you if you prefer to use hair brushes instead of stamps in Procreate. Each of the 20 Procreate brushes in this set is designed to give you a unique look and hairstyle. With the help of these Procreate brushes, it's easy for you to draw a wide variety of hair types. Tackle your next portrait drawing with these hair brushes for Procreate and make your art look amazing!
Features:
20 Procreate hair brushes
For thin hair and thick hair
Simple but powerful brush set for Procreate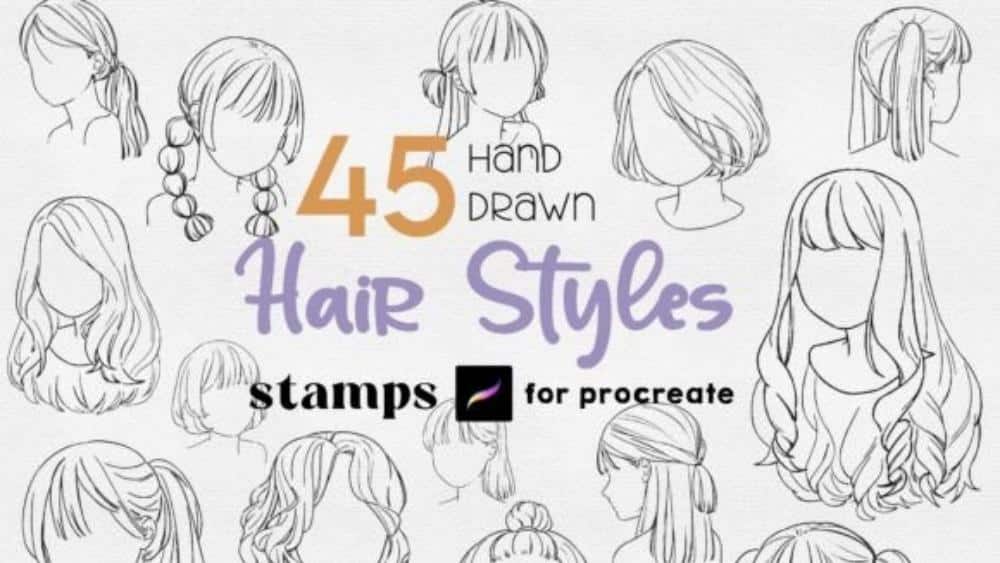 If you want to draw manga and anime, this is for you! 45 per-made Procreate stamps are included in this set, for fast and easy chibi drawings. The stamps can be resized, rotated, and adjusted to fit any scenario. They're perfect for quick sketches or detailed renderings. With 45 different options, you'll never run out of ways to draw some nice and cute Chibi Manga hairs.
If you want to know more about these types of art, check out our articles about Procreate manga brushes and Procreate anime brushes for more inspiration!
Features:
45 hair Procreate stampes
Fast and easy option to draw cute chibi manga hairs
Ideal for drafting and laying the groundwork for your next artistic creation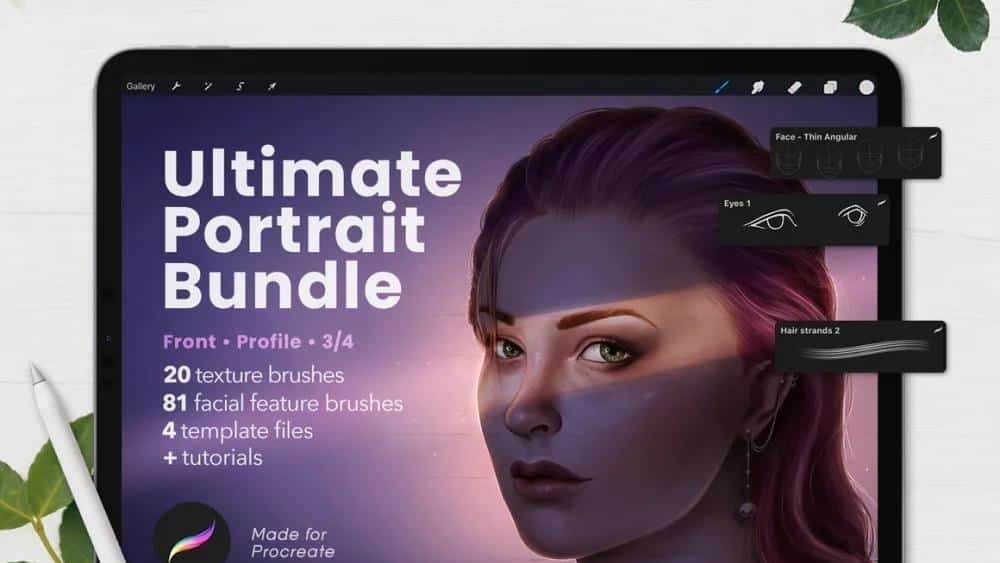 This incredible portrait brush set package, which I believe I have already discussed in earlier posts, needs to be noted here as well because it is such a massive bundle. The best thing about this bundle is that it is totally worth the price for what you get: a total of over 100 premium brushes for a single price.
You will not only have the best brushes for your hair, but you will be able to create stunning portraits with these. Each brush has its own function, and each is high quality, so you will not have to worry about spending time selecting the best brushes. You can focus more on your creative process while having the best available tools.
Features:
81 facial feature brushes
20 texture brushes
4 template files (front, profile, 3/4, colors)
3 comprehensive tutorials (1h+)
4 bonus color palettes
Free Procreate Hair Brushes
What if you don't know which brush to choose? What if you don't like to spend any money? I have you covered. Some free Procreate hair brushes to get you started drawing portraits! Just download the brush, grab your iPad and Apple Pencil and draw your first hair and portraits.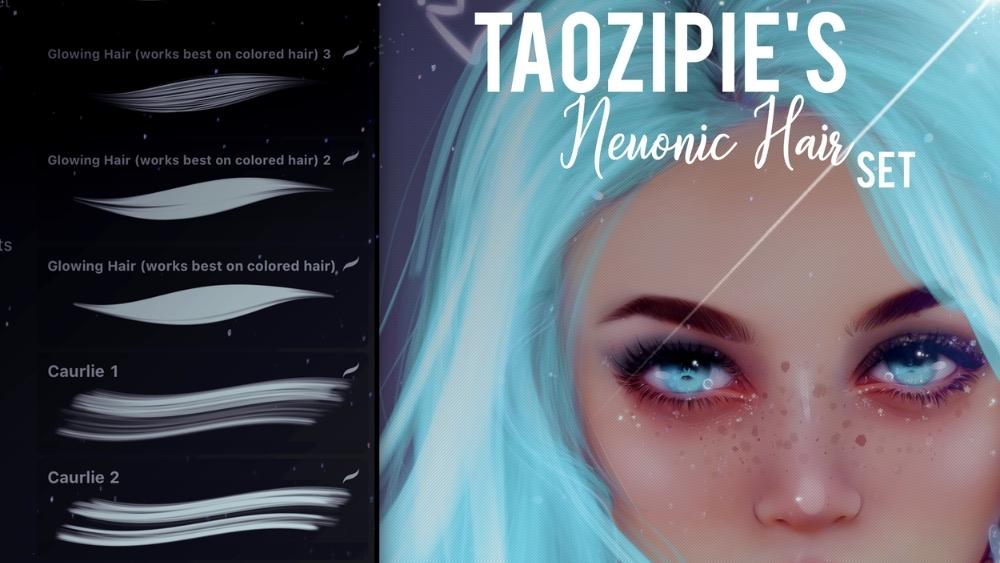 Taozipie's Neuonic Hairstyle Brush Collection for Procreate is included in this kit for creative tasks. They are Procreate free hair brushes for you to try instantly. You'll enjoy using these hair brushes on various digital projects, including children's pictures, edgy paintings, comedy, and hyper-realistic artwork. These Procreate hair brushes for free enable you to draw realistic anime hairs in no time.
I suggest using a shade lighter than your hair base color and perhaps even lighter if you want to achieve a more dramatic bloom!
Features of this free Procreate hair brush set:
Easy to use
Beginner's friendly Procreate brushes for hairs
Realistic painting results
Free Procreate hair brushes
It is a set of brushes that will help you create different hairstyles. You can use these Procreate brushes to create curls or waves in your hair, add highlights or lowlights, or even make your hair look like it is blowing in the wind.
These brushes are very easy to use, and you can adjust the settings to create various looks. You can use these brushes for Procreate to turn your photos into paintings. And this is all for free!
Features of this free Procreate hair brush set:
Free hair brushes for Procreate
10 custom hair brushes
Instant free download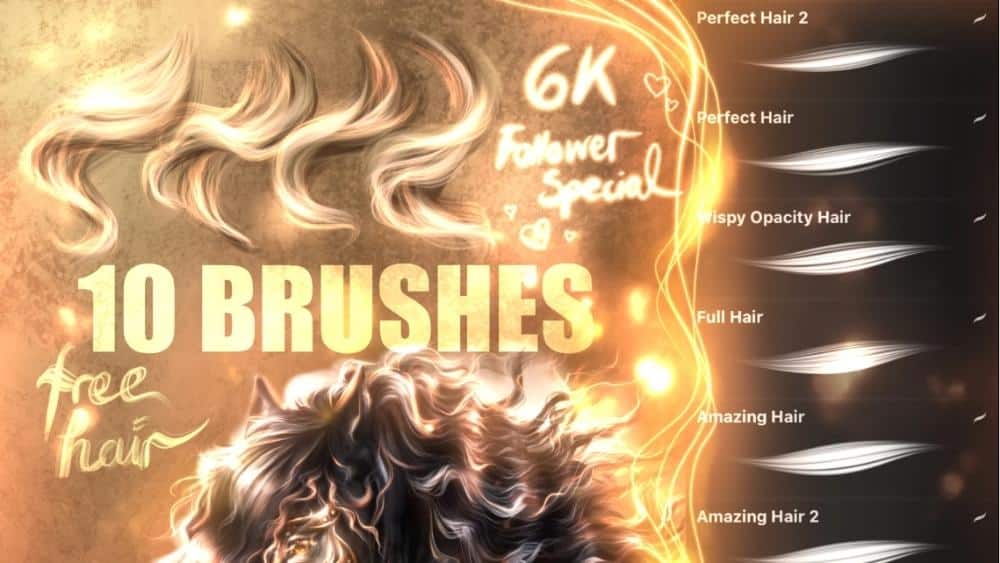 Draw gorgeous hairs for free using this set of 10 brushes from the hair trial brush collection. After trying them out, if you like these brushes, you may help the creator by purchasing the entire set. The brushes are very versatile, and you can use them to create different styles for all hair types. They are easy to use, and the results are amazing.
Features of this free Procreate hair brush set:
Free hair brushes for Procreate
10 custom hair brushes
Instant free download
Dive Deeper Into Drawing Portraits
If you like drawing portraits, I have a lot more cool stuff. So, for example, we have an article about the best skin color palettes. Or about the best eyelash brushes to draw beautiful and soft eyelashes. Of course, drawing portraits is really challenging when sharpening your skills. Nevertheless, having the right brushes and the right tools can make a lot of difference! The brushes that I recommend are actually the same brushes I use when drawing portraits.
And as mentioned at the beginning of this article, we also have more related articles about the best hair brushes for Procreate. If you are looking for specific types of hair, we also have an article about curly hair brushes and braid brushes. Both articles focus on different categories of hair types to further help you enhance your skills.
Conclusion
The large number of hair brushes usable for Procreate is one of the greatest feelings for any digital artist. There will always be something available for everyone's taste. Moreover, a Procreate hair brush will affect your final work and inspire you to explore different things. So better to gather all the brushes you need and have fun exploring all these Procreate brushes for hairs mentioned above and express your creativity digitally.
So happy portrait drawing with these Procreate hair brushes! And thanks for reading,
Lilly-Mai
Share with your Friends: