Discover the Ultimate 50 Bullet Journal Ideas Today
Are you looking to elevate your organization, creativity, and personal growth? Dive into the world of bullet journaling – a customizable and efficient method for planning, goal-setting, and reflecting.
In this blog post, we'll provide 50 innovative bullet journal ideas that cater to beginners as well as seasoned enthusiasts. Whether you're a student seeking academic success or an adult pursuing minimalism in a hectic life, these ideas will inspire and empower you to take control of your daily tasks and long-term aspirations.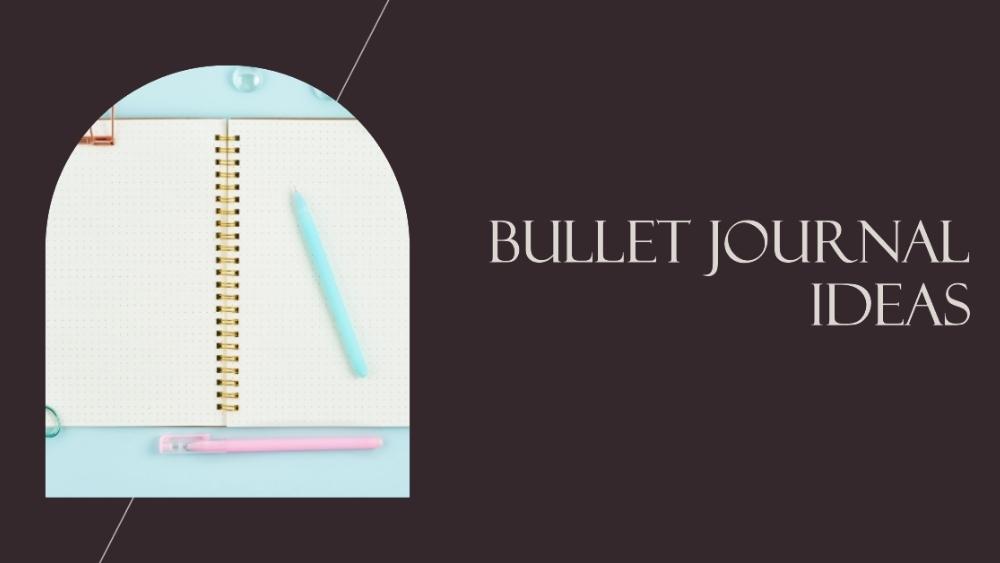 Why Bullet Journaling Is Beneficial
Bullet journaling is a beneficial tool for enhancing productivity and time management, boosting creativity, and reducing stress, as well as improving goal setting and progress tracking.
Enhanced Productivity And Time Management
One of the most notable benefits of bullet journaling is its potential to significantly enhance productivity and time management. By tracking daily, weekly, and monthly tasks through a carefully designed system, bullet journals provide an efficient way to prioritize goals and monitor progress.
For example, by creating specific lists for work projects or personal growth goals within your bullet journal, you can easily identify areas that may need more focus or adjustment.
Furthermore, the customizable nature of bullet journaling enables each individual to create the perfect setup tailored specifically to their needs. This means that whether you're juggling multiple roles at work or maintaining a demanding household schedule (or both), your personalized bullet journal acts as a powerful asset in achieving effective time management strategies.
Bullet journaling is a customizable and efficient method for planning, goal-setting, and reflecting that enhances productivity, creativity, and personal growth.
Boosted Creativity And Reduced Stress
Bullet journaling not only helps with organization and productivity but also plays a significant role in boosting creativity and reducing stress. As an adaptable tool, it allows you to express yourself through various layouts, illustrations, colors, and even calligraphy.
Additionally, bullet journals serve as an avenue for mindfulness by encouraging reflection on your daily experiences. By regularly documenting emotions or incorporating mood trackers into your bullet journal, you become more self-aware, which contributes to overall mental well-being.
Studies have shown that this creative outlet can decrease symptoms of depression and anxiety while fostering stress management skills. For instance, taking time out of each day to focus solely on planning and reflecting can induce a sense of calmness amidst hectic schedules or chaotic situations – ultimately leading to personal growth and the development of emotional resilience.
Improved Goal Setting And Progress Tracking
One of the greatest benefits of bullet journaling is its ability to vastly improve your goal-setting and progress tracking. By incorporating this system into your daily routine, you're able to establish clear objectives while breaking them down into smaller, manageable tasks.
Having these goals visually organized allows you to track how far along you are in achieving them at any given time. This level of customization not only boosts motivation but also fosters personal growth and development through regular self-assessment.
Bullet Journal Habit Trackers play a crucial role in assisting with developing healthy habits by allowing users the chance to monitor their successes and setbacks alike systematically.
50 Bullet Journal Ideas For Daily Use
Here are 50 bullet journal ideas you can use daily for a more organized and successful life:
Daily task list
Mood trackers
Events calendar
Meal planning
Morning routine checklist
Inspirational quotes
Weekly spreads
Shopping lists
Habit tracker
Period tracker
Gratitude log
Reading lists
Exercise routine tracker
Water intake tracker
Daily log or diary entry
Budget tracker
Monthly review page
Yearly goals spread
Expenses tracker
Password log
Quote of the day or week section
To-do list
Memory-keeping pages
Brain dump page
Sleep tracker
Favorite things list
Cleaning schedule
Daily affirmations
Savings goal trackers
Diet and exercise planner
Bill payment tracker
List of accomplishments
Packing list for trips
Food diary
Goal setting worksheet
Mindfulness practice log
Community events calendar
Personal development plan
Yoga or meditation practice
Workout progress journal
Wardrobe capsule planner
Hobby or interest tracking
Study notes
Grocery price comparison chart
Creative writing prompts
Examples of kindness shown
Flickr album wish-list
Car maintenance service record
Drawing, doodling, or sketching pages
Vision board spread
These are just some examples of bullet journal ideas for daily use that will help you stay on top of your game and achieve success in all areas of your life!
To make the most out of your bullet journaling experience, it's important to start with the basics, experiment with layouts and ideas until you find what works best for you, establish a routine that suits your needs, not worry about perfection but have fun being creative.
Tips For Creating And Maintaining An Effective Bullet Journal
To make the most out of your bullet journal, start with the basics, experiment with different layouts and ideas, find a routine that works for you, don't worry about perfection, and have fun being creative – these tips will help you create an effective and personalized bullet journal that enhances productivity and reduces stress.
Start With The Basics
Bullet journaling may seem overwhelming at first, but starting with the basics can help ease you into the system. Here are some key steps to follow:
Get a notebook and pen: While any notebook and pen will do, many bullet journal enthusiasts prefer a dotted notebook and quality pens like brush pens or fineliners.
Create an index page: This page will act as your reference guide, allowing you to easily find specific collections or pages in your journal.
Make a future log: This is where you can note important events or tasks coming up in the next six months or years.
Set up a monthly spread: Creating a monthly spread helps you plan out your goals, tasks, and events for the upcoming month.
Develop a daily routine: Whether it's creating a morning routine or an evening routine, setting aside time each day for your journal can help make it a regular habit.
Experiment with different layouts and ideas: The beauty of bullet journaling is that it's customizable to your style and needs. Don't be afraid to try out new layouts or ideas until you find what works best for you.
Keep it simple: While there are countless creative pages and collections to explore, starting with basic spreads like task lists or habit trackers can help keep things manageable as you get started.
By following these basic steps, you'll be on your way to creating an effective bullet journal that will help increase productivity, organization, and creativity in your life.
Experiment With Layouts And Ideas
If you want to take your bullet journal to the next level, experimenting with layouts and ideas is a great way to do it. Here are some tips on how to do it effectively:
Try different bullet journal spreads: Experiment with different ways of laying out your pages. Some people like using weekly spreads, while others prefer daily spreads or monthly views. Find what works best for you.
Use color and images: Adding color and images to your journal can help make it more visually appealing and enjoyable to use. Consider adding decorative headers or doodles in the margins.
Incorporate trackers: Trackers can be a useful addition to your bullet journal. They allow you to keep track of things like habits, mood, and sleep patterns. Experiment with different types of trackers to see what works best for you.
Add collections: Collections are pages dedicated to specific topics or themes. They can be used for things like meal planning, book lists, or travel planning. Try creating a few collections that interest you.
Keep it simple: Remember that the purpose of your bullet journal is not to be a work of art (unless that's what you enjoy). Focus on simplicity and functionality over complexity.
By experimenting with different layouts and ideas, you'll find what works best for you and create a personalized system that helps you achieve your goals.
Find A Routine That Works For You
Having a routine is crucial for keeping yourself accountable and productive when it comes to bullet journaling. Here are some tips to help you find a routine that works for you:
Start small: Don't try to do too much at once. Start with a simple daily spread or habit tracker and gradually add more as you get comfortable with the system.
Experiment: Try different layouts or trackers until you find what works best for your needs. Don't be afraid to make changes along the way.
Be flexible: A routine should be helpful, not restrictive. If something isn't working for you, don't hesitate to switch things up.
Set aside time: Schedule a specific time of day where you can sit down and work on your bullet journal uninterrupted.
Stay consistent: Make sure to use your bullet journal regularly and stick to the routine you've established. This will help ensure that it becomes an effective tool for productivity and personal growth.
Remember, finding the right routine is all about trial and error, so be patient with yourself and have fun experimenting with different layouts and ideas!
Don't Worry About Perfection
One of the biggest hurdles people face when starting a bullet journal is feeling like they need to make it perfect from the very beginning. But here's a secret: perfection is overrated! Your bullet journal will evolve and change with you, so it's okay if some pages are messy or imperfect.
Remember that your bullet journal is for you and no one else – so don't worry about what others might think or how "pretty" it looks. Use it as a tool to track your progress, stay organized, and express your creativity in whatever way feels authentic to you.
Have Fun And Be Creative
One thing I love about bullet journaling is how it allows me to tap into my creative side. There are no rigid rules or templates to follow, so your imagination can really run wild! From drawing doodles and adding colorful accents to experimenting with different layouts, the possibilities for customization are endless.
But remember that at its core, bullet journaling is about productivity and organization. So while having fun and being creative is important, make sure not to sacrifice functionality in the process.
Find a balance that works for you – simple minimalist spreads can be just as effective as intricate designs if they suit your needs better.
FAQs:
1. What exactly is a bullet journal, and how do I get started with it?
A bullet journal is essentially a planner, to-do list, and notebook, all rolled into one customizable system. To get started, you simply need a blank notebook and some pens or markers. From there, you can create your own layouts for tracking various aspects of your life, such as goals, habits, events, and more.
2. Can the ideas in this article be adapted for digital bullet journaling?
Absolutely! Many people prefer to use apps like GoodNotes or Notability on their tablets to create digital versions of their bullet journals. You can still use many of the same layout ideas and design elements from this article but adapt them for a digital format.
3. How do I come up with my own unique page layouts and themes?
The beauty of creating your own bullet journal is that you have complete creative control over everything from the colors you use to the types of pages you want to include. Don't be afraid to experiment with different styles until you find what works best for you!
Conclusion
Bullet journaling is an effective tool to boost productivity, creativity, and goal-setting. With 50 unique bullet journal ideas for daily use, readers can customize their journals based on their needs and personal preferences.
It's important to remember that there are no rules when it comes to bullet journaling – experiment with layouts, find a routine that works for you, and have fun with it! By following the tips provided in this article and incorporating these ideas into your daily routine, you'll be able to stay organized and motivated on a regular basis.
I wish you the best! Fabian.
Share with your Friends: