Master These 17 Emotional Intelligence Examples for Growth
Emotional intelligence is a powerful tool that significantly impacts various aspects of our lives, from personal relationships to professional success. In this blog post, we will explore 17 practical examples of emotional intelligence and delve into the ways you can enhance this crucial skill set for a more fulfilling life.
Understanding Emotional Intelligence
Emotional intelligence is the ability to understand and manage one's own emotions, as well as recognize and empathize with others' emotions.
Emotional intelligence is the ability to understand and manage one's own emotions, as well as recognize and empathize with others' emotions.
Definition And Importance Of Emotional Intelligence
You may have already heard about Emotional Intelligence or EQ, but what exactly does it entail? Simply put, Emotional Intelligence is your ability to recognize and manage not just your own emotions, but also the emotions of those around you.
EQ equips us with crucial skills for perceiving, interpreting, demonstrating, controlling, evaluating and using our emotions effectively in communication with others.
The importance of Emotional Intelligence cannot be overstated – possessing a high degree of emotional awareness sets you apart as an individual who can build strong relationships both personally and professionally.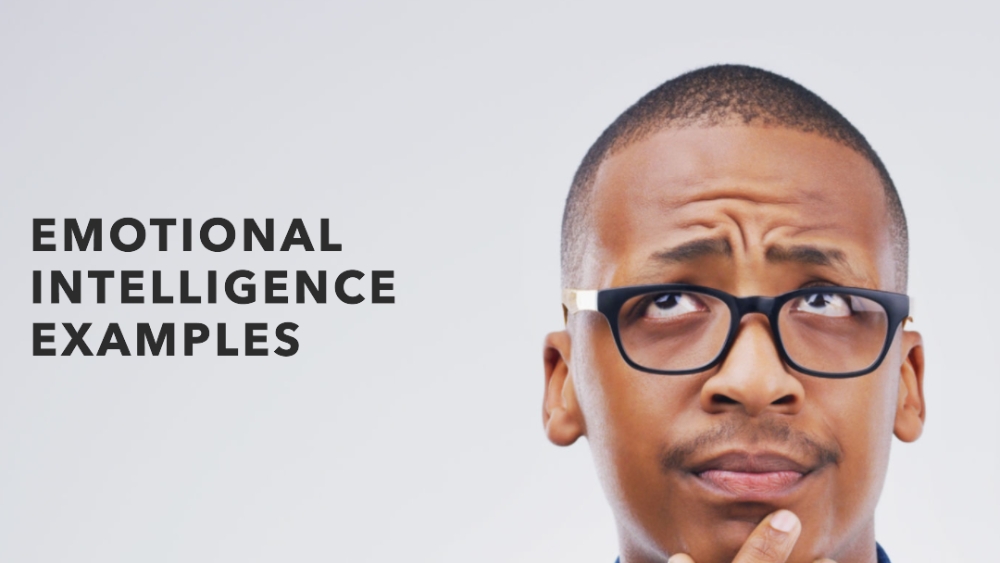 It enables us to navigate through difficult conversations gracefully and handle crises more efficiently. In fact, studies show that emotionally intelligent individuals are more successful at work compared to their less proficient counterparts when it comes to managing stress and resolving conflicts amicably.
Developing your EQ will make you equipped for success beyond just excelling academically with an impressive intelligence quotient (IQ).
The Four Main Components Of Emotional Intelligence
Emotional intelligence plays a crucial role in personal and professional success, allowing you to navigate complex situations with ease. To enhance your emotional intelligence skills, focus on these four main components:
Self-Awareness: This is the ability to recognize and understand your own emotions, strengths, weaknesses, and triggers. It involves paying close attention to your thoughts and feelings, allowing you to identify patterns and learn from them.
Self-Management: Also known as self-regulation, this component involves controlling impulsive actions and maintaining a positive outlook even during difficult times. Developing self-management skills enables you to handle stressful situations effectively and maintain control over your emotions.
Social Awareness: This domain encompasses empathy – the ability to understand and share the feelings of others – as well as recognizing social cues like nonverbal communication. Cultivating social awareness helps you build stronger relationships with those around you by fostering mutual respect and understanding.
Relationship Management: The final component of emotional intelligence focuses on communication skills, teamwork, leadership abilities, and collaboration. By honing these skills, you can better manage both personal and professional relationships while fostering a healthy environment for growth and success.
17 Practical Examples Of Emotional Intelligence
This section provides practical examples of emotional intelligence, including self-awareness, empathy, conflict resolution, and more – read on to learn how you can improve your emotional intelligence skills in various areas of life.
Self-Awareness
Embracing self-awareness is the first step in developing a high level of emotional intelligence, and it has a significant impact on your personal and professional life. It's all about understanding your own emotions, recognizing how they affect you, and being able to identify their triggers.
As an individual seeking self-improvement, take time to reflect on your thoughts, actions, and feelings regularly. Try journaling or meditating as ways to get in touch with your emotions.
Remember those times when strong positive or negative feelings surfaced? Think about what caused them and how you could have handled them differently for a better outcome.
By doing so, not only will you foster growth within yourself but also strengthen relationships by having healthier communication skills rooted in emotional awareness.
Active Listening
Active listening is a key component in developing emotional intelligence, and it's essential for improving our relationships and interactions with others. Let's take a look at the following table, which highlights some important aspects of active listening that can help you become a better listener and enhance your emotional intelligence.
| Aspect | Description |
| --- | --- |
| Pay Attention | Focus on the speaker, avoid distractions, and make eye contact to show you are engaged in the conversation. |
| Show Empathy | Put yourself in the speaker's shoes and try to understand their feelings, thoughts, and perspectives. |
| Ask Questions | Asking clarifying questions can help you better understand the speaker's message and show that you are genuinely interested in what they have to say. |
| Be Patient | Allow the speaker to finish their thoughts and express their feelings without interrupting or rushing them. |
| Reflect and Summarize | As the speaker shares information, periodically reflect on what you've heard and summarize it back to them. This can help validate their thoughts and feelings as well as show that you've been fully engaged in the conversation. |
| Offer Sound Advice | Use your emotional intelligence to provide thoughtful, empathetic guidance when appropriate. |
| Control Your Emotions | Manage your own emotions, reactions, and body language during the conversation in order to maintain a safe and comfortable environment for the speaker. |
Incorporating these active listening techniques will not only help you become a better listener but also assist you in developing your emotional intelligence skills, which are crucial for success in both personal and professional life.
Active listening is defined as the ability to focus on a speaker, understand their message, comprehend the information and respond thoughtfully.
Empathy
Empathy is a crucial aspect of emotional intelligence that involves understanding and recognizing the emotions of others. It requires being able to put yourself in someone else's shoes and truly experience their feelings, which allows for stronger relationships and effective communication.
For example, if a team member is going through a difficult time at work or experiencing stress, an empathetic leader can offer support and guidance, ultimately strengthening the trust between them.
Empathy benefits both personal and professional relationships by creating mutual respect and positive interactions. Additionally, practicing empathy can help individuals recognize their own emotions better since it entails paying attention to how they feel in response to other people's moods or actions.
This self-awareness can lead to more constructive feedback and healthier emotional regulation, contributing positively to mental health as well as physical health over time.
Conflict Resolution
One of the most important aspects of emotional intelligence is conflict resolution. In order to effectively resolve conflicts, individuals must possess a high level of self-awareness and empathy.
Some practical examples of emotional intelligence in conflict resolution include active listening, which involves truly hearing and considering the thoughts and feelings expressed by others; adapting to changing circumstances rather than reacting impulsively; using positive language and maintaining a positive attitude towards finding common ground; and seeking constructive feedback from all parties involved.
Positive Attitude
I've found that having a positive attitude is one of the most important emotional intelligence traits. It can help you handle stressful situations better and achieve your personal and professional goals. Here are some practical examples to help you cultivate a positive attitude:
Practice gratitude daily: Take time to appreciate the good things in your life every day, even if they seem small.
Focus on solutions, not problems: Instead of dwelling on negative aspects, focus on finding ways to solve problems and overcome obstacles.
Stay open-minded: Be willing to consider different perspectives and approaches to situations.
Surround yourself with positivity: Build relationships with people who inspire you and share your values.
Believe in yourself: Have confidence in your abilities, and don't let doubt or fear hold you back.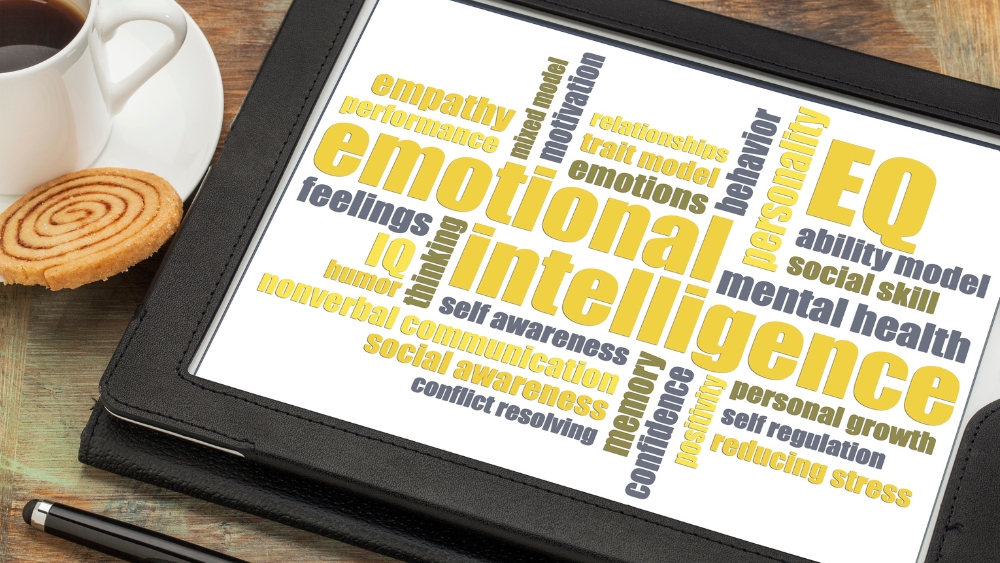 Remember that developing a positive attitude takes time and effort, but it's worth it for both personal growth and success in life.
Adaptability
Adaptability is a critical component of emotional intelligence that refers to one's ability to adjust and thrive in changing situations. A person with adaptability skills stays calm when encountering something new or unexpected and is quick to find solutions, rather than becoming overwhelmed or panicked.
Being adaptable allows you to be open-minded and flexible, which can help achieve your goals and build stronger relationships with others–both professionally and personally.
With practice, this crucial emotional intelligence skill helps people become better equipped for whatever life throws their way while reducing stress levels significantly.
Perseverance
Perseverance is a crucial aspect of emotional intelligence that can lead to personal and professional growth. To better understand the concept of perseverance, let's explore its various elements and associated practices in the table below:
| Elements of Perseverance | Description | Examples |
| --- | --- | --- |
| Goal-setting | Establishing specific, measurable, achievable, relevant, and time-bound (SMART) goals to work towards. | Setting a goal to complete a certification course within six months. |
| Resilience | The ability to bounce back from setbacks and maintain focus on the end goal. | Remaining optimistic and continuing to pursue a job after multiple rejections. |
| Self-discipline | Maintaining focus and controlling impulses that can hinder progress toward goals. | Resisting the urge to procrastinate and focusing on completing daily tasks. |
| Patience | Being able to wait calmly for results, while staying committed to the process. | Acknowledging that building a successful business might take years and consistently working towards it. |
| Adaptability | The ability to adjust strategies and plans in response to changing circumstances. | Switching from in-person to online marketing strategies due to the COVID-19 pandemic. |
To develop perseverance, it's essential to incorporate these elements into your daily life, helping you stay committed to your goals and overcome challenges. Remember, emotional intelligence plays a vital role in building resilience and adaptability, which are crucial for sustaining perseverance in the face of adversity.
Integrity
Integrity is a vital component of emotional intelligence that involves being honest, trustworthy, and having strong ethical principles. It means doing the right thing even when no one is watching.
Practicing integrity means staying true to your values and beliefs, sticking to your word, and following through on promises made.
Integrity is an essential quality for building lasting relationships in personal and professional lives. People who lack integrity often struggle to earn the trust of others or maintain long-term relationships based on mutual respect because they are perceived as unreliable or untrustworthy.
Motivation
Motivation is a crucial aspect of emotional intelligence as it plays a significant role in personal and professional growth. Developing motivation can help you push through tough times and remain focused on achieving your goals. Let's dive into some specific ways to foster a strong sense of motivation in yourself.
| Aspect | Description | Example |
| --- | --- | --- |
| Setting goals | Establish clear and realistic objectives to work towards. | Creating a list of short-term and long-term goals for personal and professional growth. |
| Tracking progress | Monitor your progress towards achieving your goals and celebrate milestones. | Using a journal or app to log accomplishments and milestones while working towards a goal. |
| Seeking inspiration | Find sources of inspiration that encourage and support your motivation. | Reading success stories, watching motivational videos, or engaging with mentors in your area of interest. |
| Staying positive | Maintain a positive attitude and focus on the potential benefits of accomplishing your goals. | Visualizing the desired outcome and using positive affirmations to maintain a constructive mindset. |
| Building resilience | Develop the ability to bounce back from setbacks and maintain motivation even when facing challenges. | Reframing failure as a learning opportunity and staying persistent despite obstacles. |
By actively working on these aspects, you can consistently nurture your motivation, ultimately enabling you to improve your emotional intelligence and overall well-being.
Social Awareness
As someone who wants to improve themselves, social awareness is an essential component of emotional intelligence that you should pay attention to. It involves being aware of and understanding interpersonal emotions, which means practicing empathy and being attuned to the feelings of others.
Social awareness plays a crucial role in personal and professional relationships as well as decision-making. Strong social skills help leaders communicate effectively with their team members, reducing turnover rates while increasing employee satisfaction.
Being socially aware also allows us to work constructively with others by providing constructive feedback that fosters mutual respect between parties.
Social awareness involves being aware of interpersonal emotions and practicing empathy, and emotionally intelligent people lead by example in turning things around.
Teamwork
As someone who wants to improve themselves, you may be interested in how emotional intelligence can help you become a better team player. Here are some examples of how emotional intelligence can improve teamwork:
Being able to understand and manage your emotions can help you stay calm and collected in difficult situations, allowing you to work better with others.
Practicing active listening can help you understand your teammates' perspectives and build stronger relationships with them.
Showing empathy towards your colleagues can help create a positive and supportive team environment.
Conflict resolution skills, such as finding compromises and understanding each other's needs, can prevent disagreements from escalating and negatively affecting the team.
Having a positive attitude towards your work and teammates can contribute to a more enjoyable and productive experience for everyone involved.
Being adaptable to different working styles and situations can create a more efficient workflow among team members.
Perseverance, or the ability to overcome setbacks and challenges, is essential for achieving team goals.
Demonstrating integrity by being honest, transparent, and trustworthy helps foster mutual respect among colleagues.
Being motivated to do your best work contributes to the success of the whole team.
Social awareness skills, like recognizing social norms and speaking respectfully, are crucial in creating an inclusive environment where every teammate feels valued.
Leadership skills like communication skills and clarity of vision might need demonstration while working with others
Collaboration often includes brainstorming ideas or problems solving.
Problem-solving skills allow teams to effectively identify problems and find solutions together.
These are just some of the ways that emotional intelligence can make you a more effective team player!
Leadership
As a leader, having strong emotional intelligence is key to success in both personal and professional relationships. By being self-aware and socially aware, emotionally intelligent leaders are able to effectively communicate with their teams and resolve conflicts in a constructive manner.
Emotionally intelligent leaders also prioritize relationship management, building mutual respect between parties, and fostering stronger connections within their team. This not only leads to higher job satisfaction for employees but can also result in lower turnover rates for the company overall.
It's important to note that emotional intelligence is not an innate trait but rather a learned skill that can be developed through practice and training programs like Emotional Intelligence EI or MayerSaloveyCaruso Emotional Intelligence Test.
Creativity
Creativity is an important aspect of emotional intelligence that can lead to solutions and ideas that are beyond the norm. When we tap into our creative side, we can approach challenges in unique and effective ways.
For example, when facing a difficult project at work, a creative person may brainstorm unconventional methods or come up with out-of-the-box ideas to solve it.
Incorporating creativity into your daily life not only enhances problem-solving abilities but also contributes to personal growth and satisfaction. Whether it's painting or writing poetry in your free time, finding ways to express yourself creatively can help you develop a deeper understanding of who you are as an individual.
Collaboration
One of the practical examples of emotional intelligence is collaboration, and there are several ways to improve this skill.
Through active communication and feedback, teams can use the collaboration table to work together more effectively, creating a positive work environment that benefits both individuals and the overall success of the project.
By utilizing tools like this in our personal lives as well as professional ones, we can continue improving our emotional intelligence skills and become more successful people overall.
Problem-Solving
One of the many benefits of having high emotional intelligence is the ability to solve problems effectively. When faced with a difficult situation, individuals with strong emotional intelligence tend to remain calm and rational, allowing them to think through solutions in a clear-headed manner.
For instance, let's say there's a conflict between two colleagues at work. Instead of approaching it with anger or frustration, an emotionally intelligent person would actively listen to both sides of the story before proposing a solution that addresses both parties' concerns.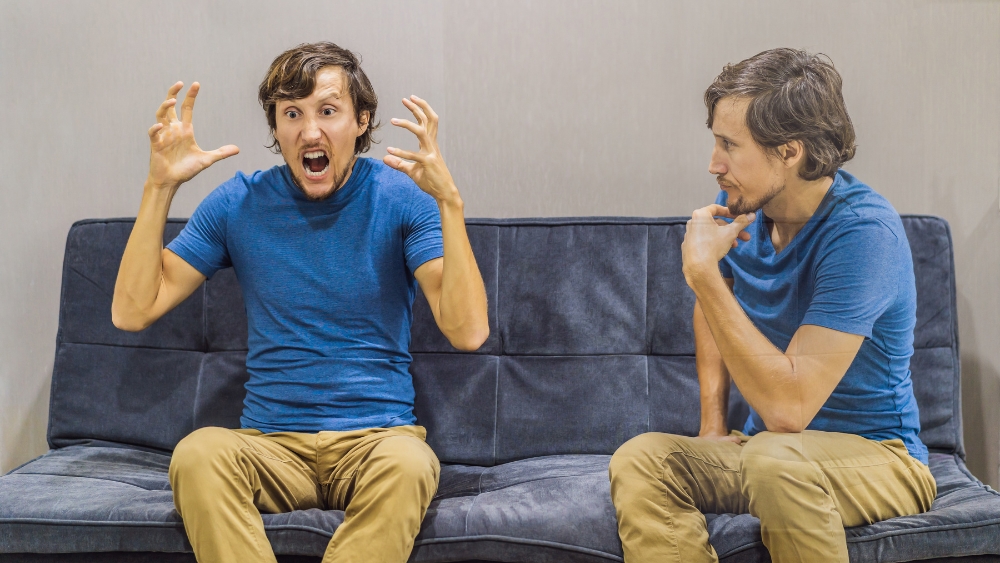 This not only helps resolve conflicts but also strengthens professional relationships in the long run.
Gratitude
When it comes to practicing emotional intelligence, one important aspect is gratitude. By cultivating a sense of gratitude in our daily lives, we can improve our overall well-being and become more emotionally intelligent individuals. Here are some practical examples of ways you can incorporate gratitude into your life:
Keep a gratitude journal and write down three things you are grateful for each day.
Express your appreciation to others by sending thank-you notes or telling them directly how much you value them.
Take time to appreciate the small things in life, such as the beauty of nature or the taste of your favorite meal.
Practice mindfulness meditation and focus on feelings of gratitude for all that you have.
Use difficult situations as opportunities for growth and learning, and be grateful for the lessons learned.
Count your blessings during moments of stress or anxiety to help shift your mindset towards positivity.
Show gratitude towards yourself by practicing self-care and acknowledging your own accomplishments.
Remember that cultivating a sense of gratitude takes practice, but it is well worth the effort as it can lead to increased happiness, improved relationships, and greater emotional intelligence overall.
Emotional Regulation
As part of the concept of emotional intelligence, emotional regulation refers to our ability to control our emotions in a healthy and constructive manner. It also involves being aware of how we express ourselves emotionally, especially in social situations where different cultural display rules must be taken into account.
Being able to regulate one's emotions is a crucial aspect of personal growth and development, as it allows us to manage challenging situations with greater ease and grace.
Examples include breathing techniques, mindfulness practices, physical exercise routines, or talking things through with a supportive friend or therapist.
In practical terms, then emotional regulation is about having conscious control over your mood and ways you handle negative feelings like stress or anger so you can maintain inner calm amid the chaos around you.
Self-regulation is a key component of emotional intelligence, referring to the ability to control harmful emotions, thoughts, and impulses.
FAQs:
1. What is emotional intelligence?
Emotional intelligence refers to the ability to identify, understand and manage one's own emotions as well as the emotions of others in a given situation.
2. Why is emotional intelligence important?
Emotional intelligence is essential for building strong relationships with coworkers, family members, and friends. It helps improve communication skills, increase empathy, and contributes to better decision-making abilities.
3. How can I develop my emotional intelligence?
You can develop your emotional intelligence by being mindful of your own feelings, learning to regulate your emotions effectively, practicing active listening when communicating with others, and seeking feedback from trusted sources on how you come across different situations.
4. Can anyone improve their emotional intelligence?
Yes! While some individuals may possess more natural tendencies towards certain aspects of emotional intelligence than others, it is possible for everyone to improve upon these skills with practice and dedication over time.
Conclusion
Incorporating emotional intelligence skills into our lives can have a significant impact on personal and professional success. From self-awareness to conflict resolution, the 17 emotional intelligence examples provided offer practical ways to improve our emotional intelligence quotient.
By understanding and managing our emotions in different situations, we can improve our relationships with others and achieve our goals. Don't forget to take advantage of free assessments and quizzes available online to measure your emotional intelligence level.
I wish you the best! Fabian.
Share with your Friends: