Ready to Conquer the World? Create a Goal-Setting Vision Board Now!
Do you ever find yourself struggling to stay focused on your goals and visualize the life you dream of? A goal-setting vision board might be just the tool you need to bring those aspirations to life!
Vision boards are powerful visual representations that can help clarify, concentrate, and maintain focus on your goals in various aspects of life, such as career, finances, relationships, personal growth, and more.
By displaying images and words that resonate with our deepest desires, we create a source of constant motivation right before our eyes. In this blog post, we will explore the benefits of using a vision board for goal setting, backed by scientific studies about visualization's effectiveness.
Furthermore, we will provide practical steps for creating your very own personalized board and tips for maximizing its potential.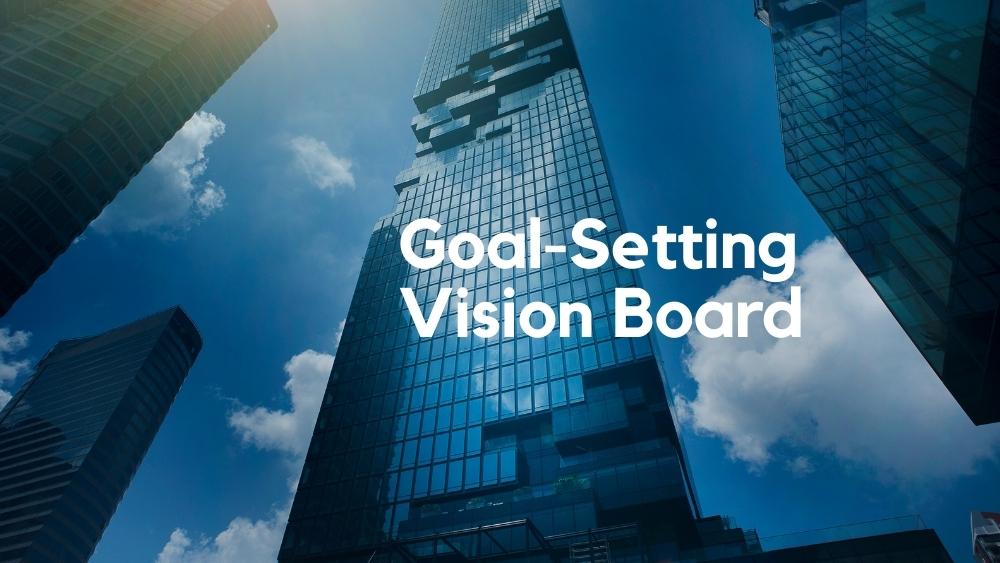 Understanding Goal-Setting Vision Boards
Goal-setting vision boards are visual representations of an individual's goals that use images, pictures, and quotes to provide a constant reminder of what they want to achieve in life.
A vision board is a collection of images that represent a person's goals, dreams, and aspirations.
Definition And Purpose
A vision board, by definition, is a visual representation of your goals and dreams that you create to motivate and inspire yourself. Its purpose lies in bringing clarity to what you truly desire in life – whether it's about improving your career, building relationships, or enhancing personal growth – so that these aspirations remain at the forefront of your mind.
For example, if one of your objectives is to own a house by the beach someday, placing pictures of stunning coastal properties or serene ocean views would represent this ambition perfectly.
Similarly, motivational quotes or affirmations can reinforce positive attitudes while pushing societal expectations aside.
Benefits Of Using A Vision Board For Goal Setting
Setting goals is an essential practice for personal and professional growth, and utilizing a vision board can maximize your success in achieving those goals. Here are some benefits of using a vision board for goal setting:
Clarity of Goals: Visual representations on your vision board help to define your objectives more clearly, ensuring you remain focused on what truly matters.
Constant Motivation: By displaying your vision board prominently, you'll receive daily reminders of the aspirations that drive you, boosting motivation and keeping you moving forward.
Increased Productivity: With a clear visual representation of your goals at hand, you're far more likely to take decisive action and prioritize activities that contribute directly to their achievement.
Enhanced Creativity: Designing your vision board encourages creative thinking, enabling fresh ideas and innovative solutions to help reach your targets.
Emotional Connection: Connecting emotionally to the images on your vision board creates a stronger desire to achieve those goals in life, ultimately improving commitment levels.
Visualization: Studies show that consistent visualization of success improves self-confidence and increases the likelihood of turning aspirations into reality.
Stress Reduction: Reflecting on inspiring quotes or calming images from your vision board during moments of stress offers solace and reassurance, helping maintain mental well-being throughout goal pursuit.
Fun Factor: Creating a personal vision board is enjoyable – it allows self-expression while exploring various aspects of our dreams and desires in a playful manner.
Collaboration Opportunities: Sharing your vision board with others invites feedback and support from friends or mentors who can help keep you accountable as you pursue these significant milestones in both career- and life-specific boards
Flexibility & Adaptability: Vision boards are easily updated as new opportunities arise or priorities shift – this ensures continued alignment with evolving objectives, values, and aspirations throughout life's journey.
Incorporating a goal-setting vision board into your daily routine can undoubtedly enhance focus, motivation, and self-awareness, ultimately leading to greater personal and professional fulfillment.
The Science Behind Visualization
The science behind visualization is fascinating and powerful. It lies in the concept that our brains often cannot distinguish between real events and vividly imagined ones.
When you consistently visualize yourself achieving your goals, your brain registers it as if it's already part of your reality.
When you consistently visualize yourself achieving your goals, your brain registers it as if it's already part of your reality.
For example, numerous studies have shown how athletes who practice mental imagery along with physical training significantly improve their performance compared to those who solely focus on traditional physical practices.
This demonstrates the power of combining visualization with action for optimal results in goal achievement.
By leveraging the neural pathways formed through consistent visualization, you're essentially training yourself to be more open to new perspectives, innovative problem-solving techniques, increased motivation, and resilience – all essential qualities required for effective goal setting and achievement!
And there's no better tool than a well-crafted vision board that serves as a constant reminder of what truly matters in life – the dreams we dare chase after relentlessly until they become our living realities!
How To Create A Powerful Goal-Setting Vision Board
To create a powerful goal-setting vision board, start by choosing a theme or focus and gathering inspiration and materials such as images, quotes, and affirmations that align with your goals in life; then organize and arrange them on a physical or digital board that you personalize with your unique style before displaying it prominently in a location where you will see it daily.
Choose A Theme Or Focus
When creating a goal-setting vision board, it's important to choose a theme or focus that resonates with you. This could be anything from your dream career to your health and fitness goals.
By focusing on a specific area of your life, you can create a more powerful and effective vision board.
For example, if your goal is to achieve financial success, choose images and quotes that represent wealth and abundance. Include pictures of luxury items or experiences that you hope to one day have.
Remember, the key to an effective vision board is to make it personalized and meaningful for you.
A well-designed theme for a vision board can help you visualize your success and be a powerful motivator.
Gather Inspiration And Materials
When creating a goal-setting vision board, it's important to gather inspiration and materials that will represent your goals and aspirations. Start by thinking about the different areas of your life that you want to focus on, such as relationships, career, health, or personal growth.
Next, scour through magazines, books, or even online resources to find images and quotes that resonate with you.
For instance, when I was creating my own vision board for my career goals, I found an image of a marathon runner crossing the finish line, which reminded me of how much dedication and hard work goes into achieving a long-term goal.
In addition to pictures, consider adding personalized affirmations or meaningful quotes that align with each specific goal.
Organize And Arrange Your Vision Board
Organizing and arranging your vision board is an important step to make sure that it effectively helps you achieve your goals. Here are the steps I take to set up my vision board:
Choose a theme or focus: Decide on the specific areas of your life where you want to set goals, such as career, health, or relationships.
Gather inspiration and materials: Collect images, pictures, and quotes that inspire you and represent your goals. You can find them in magazines, catalogs, or online.
Organize and arrange your vision board: Start by placing larger images in the center of the board with smaller ones around it. Use colors that harmonize with each other.
Personalize your board with affirmations: Write down motivational quotes or positive affirmations that align with your goals in life.
Display your vision board in a prominent location: Keep it somewhere visible such as the office, bedroom wall, or bathroom mirror, to remind yourself of your objectives every day.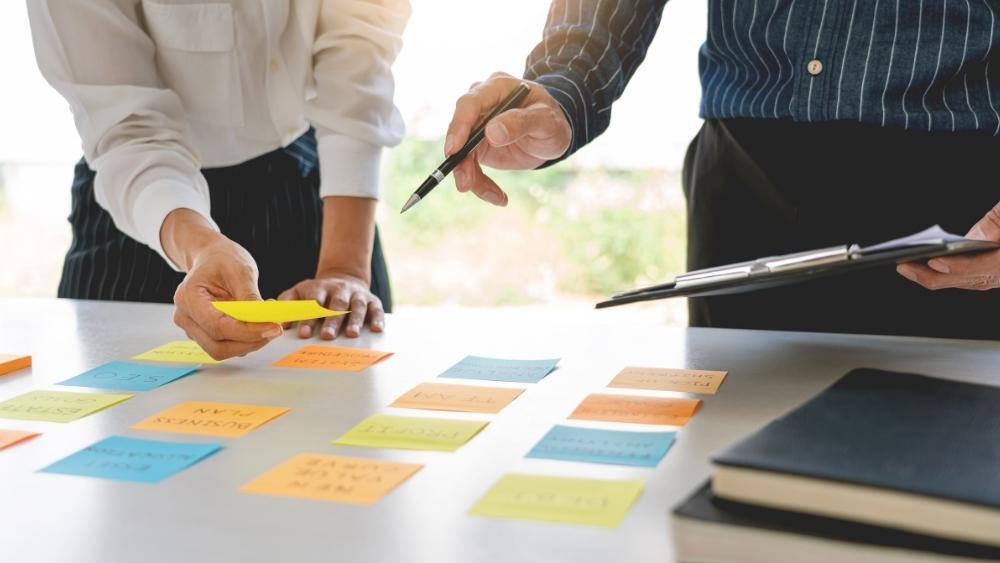 Remember to regularly review and update your goals as necessary, breaking down larger goals into smaller attainable steps. Also, try visualizing yourself achieving those objectives, which helps plant them deeper into your subconscious mind for better manifestation of desires and attract positive energy.
Personalize Your Board With Affirmations
When creating a vision board, it's important to include personalized affirmations that align with your goals. Affirmations are positive statements that reflect the mindset and beliefs needed to achieve your desired outcome.
Personalizing your vision board with affirmations can also provide a daily reminder of why you're working towards these specific goals. By visualizing yourself already having achieved what you desire through the use of affirmations, you create a powerful connection between the subconscious mind and conscious actions towards those desires.
When repeated often enough in conjunction with visualization exercises, it will become part of our default thought process, leading us directly closer to our goal without even consciously realizing it.
Display Your Vision Board In A Prominent Location
One of the most critical aspects of creating a vision board is displaying it in a prominent location. After all, your goals and aspirations should be seen every day as a constant reminder to stay motivated and focused.
Choose a space that you frequently visit or spend time in, such as your bedroom, office, or even bathroom mirror. Keep it visible by placing it at eye level so that you can see it multiple times throughout the day.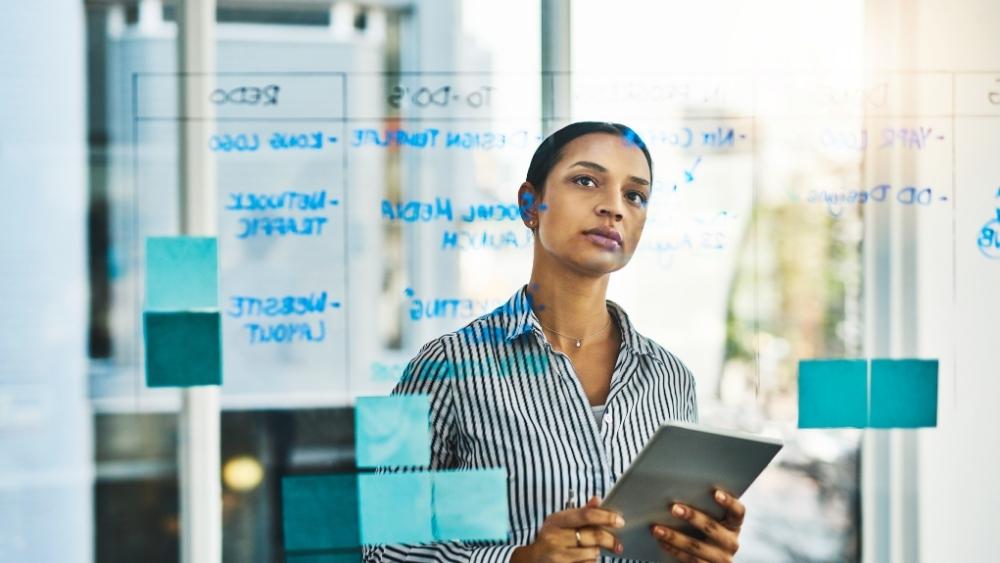 For instance, I once heard a story about someone who hung their vision board right next to their bed so they could wake up each morning, reminded of what they wanted to achieve for that day.
With consistent reminders like these, we begin to truly believe in ourselves and our ability to manifest our desires into reality.
Tips For Effective Use Of Your Vision Board
Stay positive and motivated by using inspirational quotes and imagery on your vision board, review and update your goals regularly to keep them top of mind, break down larger goals into smaller steps for a sense of accomplishment along the way, find an accountability partner to share your progress with, and visualize yourself achieving your goals every day to keep you focused on success.
Stay Positive And Motivated
One of the most important things to remember when using a goal-setting vision board is to stay positive and motivated. It's easy to get discouraged if you don't see immediate progress toward your goals, but by keeping a positive mindset, you can continue moving forward.
Visualize yourself achieving your goals and focus on the feeling of accomplishment that comes with it.
One example of staying positive is setting SMART (Specific, Measurable, Achievable, Relevant, Time-bound) goals that are challenging yet attainable. By breaking down larger goals into smaller, manageable steps and celebrating each achievement along the way, you'll feel more confident in reaching those bigger objectives.
Another strategy for staying motivated is sharing your vision board and goals with an accountability partner who can offer support and encouragement along the journey.
Review And Update Your Goals Regularly
Updating and reviewing your goals is essential to ensure you are on track to achieving them. Here are some simple steps to do this:
Schedule regular check-ins: Set aside time each month or quarter to review your progress and adjust your goals accordingly.
Reflect on your progress: Take the time to reflect on what actions you have taken towards achieving your goals and what has worked or not worked.
Celebrate small wins: Recognize any progress made towards your goal, no matter how small.
Adjust as needed: Sometimes circumstances change or priorities shift, so it's important to adjust your goals accordingly.
Break down larger goals: If you find yourself struggling with a larger goal, break it down into smaller achievable steps.
Seek support when needed: Don't be afraid to reach out for help if you need guidance or support in achieving your goals.
Regularly reviewing and updating your vision board is crucial for staying on track toward achieving your dreams and desires. By taking the time to reflect, celebrate small wins, and adjust as needed, you can ensure that you are making progress toward living the life of your dreams.
Break Down Larger Goals Into Smaller, Attainable Steps
When I first started using a vision board for goal setting, I found that breaking down larger goals into smaller, more attainable steps was key to my success. Here are some tips on how to do it:
Start by identifying the larger goal you want to achieve. This could be anything from starting your own business to losing weight or running a marathon.
Create a list of smaller tasks that will help you achieve your larger goal. For example, if your goal is to start your own business, some smaller tasks might include creating a business plan, researching potential customers, and securing funding.
Prioritize your tasks based on urgency and importance. This will help you stay focused and ensure that you're making progress toward your goals.
Set deadlines for each task and hold yourself accountable by tracking your progress daily or weekly.
Celebrate small milestones along the way to keep yourself motivated and encouraged.
Breaking down larger goals into smaller, more manageable steps is an effective way to make progress and achieve success with the help of a vision board.
By taking action consistently towards our goals using this technique combined with other tips mentioned in this article, such as visualizing our desires and staying positive, we can manifest success in our careers, health, relationships, or any areas of life we choose to work on!
Share Your Goals With An Accountability Partner
One of the most effective ways to achieve your goals is by sharing them with an accountability partner. Research shows that social accountability increases the chances of sticking to plans and forming new habits.
Sharing your goals with an accountability partner can provide support, encouragement, and a sense of responsibility. Your partner can be a friend, family member, mentor, or coach.
When choosing your accountability partner, it's important to find someone who has similar ambitions or experience in achieving the type of goal you have in mind.
By holding each other accountable for progress towards achieving shared goals or personal objectives, both individuals become accountable partners responsible for ensuring ongoing success beyond themselves alone but also through one another's achievements as well!
Research shows that social accountability increases the chances of sticking to plans and forming new habits.
Visualize Yourself Achieving Your Goals
One of the most powerful aspects of creating a goal-setting vision board is using it to visualize yourself achieving your goals. Visualization is a simple but effective tool used by many successful people, from professional athletes to business moguls.
As you look at your vision board daily, take the time to immerse yourself in each image or word associated with your dreams. Close your eyes and imagine what it would feel like to have reached those milestones.
See yourself enjoying the benefits and reaping the rewards for all of the hard work you put in towards achieving those goals.
Remember that how we talk about our goals internally translates into actions taken externally, so keep your thoughts positive and believe in yourself!
FAQs:
1. What is a goal-setting vision board?
A goal-setting vision board is a visual representation of your goals and aspirations that helps you stay focused on what you want to achieve in life. It can include images, quotes, affirmations, and anything else that inspires or motivates you.
2. How do I create a goal-setting vision board?
To create a goal-setting vision board, start by identifying your short-term and long-term goals. Then gather images and other materials that represent those goals for you. Arrange these pictures and other elements on a poster or bulletin board in an aesthetically pleasing way.
3. What are the benefits of creating a goal-setting vision board?
Creating a goal-setting vision board can help increase motivation, focus, and intentionality toward achieving your desired outcomes. By keeping your goals visible through this creative tool, it serves as an encouraging reminder while also helping reduce distractions from everyday stressors.
4. Can use a goal-setting vision board really help me achieve my dreams?
While creating just one visual aid may not be the only factor directly responsible for achieving success – being able to see daily reminders of our aspirations keeps us moving forward with purposeful intent, which ultimately propels us toward the realization of our personal triumphs.
Studies show that visualization techniques have been helpful in aiding individuals to make lasting lifestyle changes & reach any number of desired milestones, whether they're related to career development, school/work performance, or overall wellness goals, amongst others.
Conclusion
A goal-setting vision board is a powerful tool that can help you achieve your dreams and aspirations. By visualizing our goals regularly, we keep them fresh in our minds and ensure that we stay motivated throughout the journey toward achieving them.
An effective vision board should be personal, inspiring, and prominently displayed to remind us of what we want to accomplish.
I wish you the best! Fabian.
Share with your Friends: