10 Different Types of Journaling To Maximize Your Mindset
Are you looking to embark on a journey of self-discovery, personal growth, and inspiration? If so, journaling might be the perfect tool for you. With numerous types of journaling available, there's bound to be one that resonates with your interests and needs.
In this blog post, we'll explore 10 different types of journaling – from reflective journals that help you process emotions, gratitude journals that promote positivity in life to travel journals filled with memories from around the world.
Key Takeaways
Journaling is a powerful tool for personal growth and development that offers numerous benefits, including better emotional regulation, increased self-awareness, and enhanced creativity.
There are 10 different types of journaling to choose from based on your interests, goals, and strengths. These include pen-and-paper methods like reflective journaling and bullet journaling; digital options like audio journaling and video journaling; as well as photo journaling and art journaling.
Each type of journal has unique features that cater to different needs. For example, travel journals can help you document your adventures while improving mindfulness, while gratitude journals promote positivity by focusing on things we are grateful for in our lives. Ultimately it's about finding the method that resonates with you best!
Types Of Pen-and-Paper Journaling
Pen-and-paper journaling offers various ways to express yourself, including reflective journaling, gratitude journaling, bullet journaling lists, dream journals, travel journals and stream of consciousness journaling.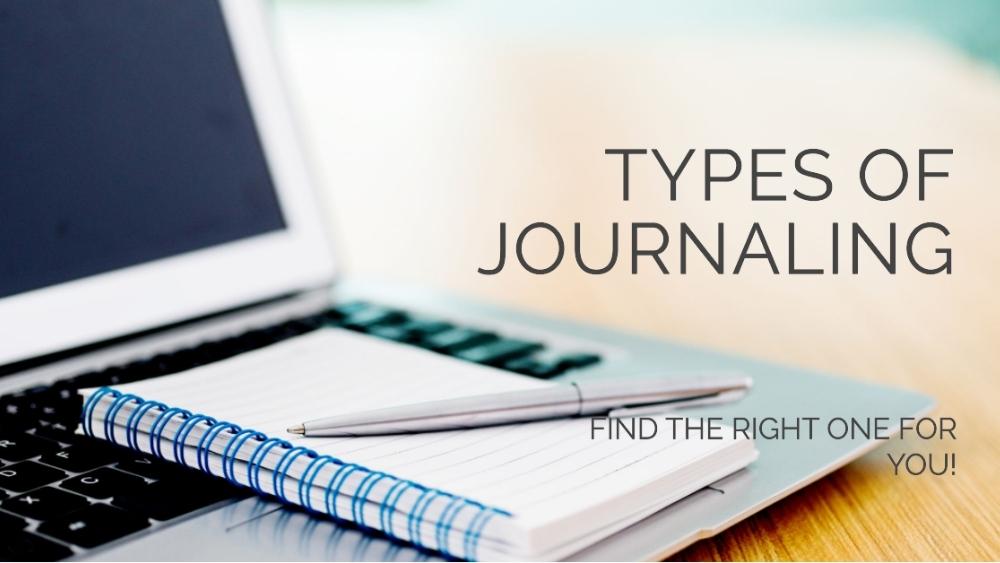 1. Reflective Journaling
Reflective journaling is a powerful tool for personal growth and development, offering a safe space to analyze thoughts, emotions, and experiences. This type of journaling encourages introspection by allowing you to ponder situations from different perspectives while promoting self-awareness and enhancing critical thinking skills.
For example, imagine you've had an argument with a friend or colleague – writing about the incident in a reflective journal can help uncover underlying issues or identify patterns of behavior that might be causing conflict.
As you write, consider how various aspects of the situation made you feel and think about potential solutions moving forward. Reflective journaling not only facilitates emotional healing but also fosters empathy towards others as well as ourselves – ultimately contributing positively toward our mental wellbeing.
2. Gratitude Journaling
Gratitude journaling is a powerful tool for personal growth and development that can have a profound impact on our mental wellbeing. By making it a daily practice to write down the happy moments, achievements, and things we are grateful for, we create an ongoing record of positivity that serves as an invaluable resource during tough times.
One way to begin your gratitude journaling journey is by setting aside just a few minutes each day – perhaps right before bedtime or alongside your morning coffee – to jot down 3-5 things you're grateful for in that moment.
These can be anything from small joys like finding the perfect parking spot or receiving an unexpected compliment from a stranger; to larger milestones such as celebrating an anniversary or achieving personal growth goals.
As time goes on, you'll start noticing patterns in what brings you happiness and fulfillment while also developing healthy habits within your daily routine.
3. Bullet Journaling
Bullet journaling is an incredibly versatile and productive method for personal growth and development. Developed by designer Ryder Carroll, this unique organizational system can be customized to suit individual needs and preferences. Let's explore some of the various lists you can include in your bullet journal, to help you stay organized and motivated:
Daily To-Do List: A basic but essential list that outlines your daily tasks, keeping you focused on your priorities.
Goal Tracker: Break down your goals into actionable steps, tracking your progress over time.
Habit Tracker: Develop healthy habits by monitoring daily activities such as exercise, water intake or meditation.
Gratitude Log: Cultivate a positive mindset by listing daily moments you are grateful for.
Inspirational Quotes List: Compile quotes that inspire and motivate you to refer back to when needed.
Reading List: Keep track of books you want to read or have read with brief reviews and recommendations.
Fitness Journal: Record exercise routines, personal bests, and measurements to measure progress over time.
Budget & Expense Logs: Track income, expenses, savings goals to maintain financial health.
Travel Plans & Memories Journal: Organize travel itineraries, bucket-list destinations and memories from past trips with photos or written reflections.
Meal Planner & Grocery List: Plan weekly meals to streamline grocery shopping while encouraging healthier eating habits.
Reflection & Personal Growth Logs: Regularly analyze achievements, challenges faced, lessons learned, and promoting self-awareness.
Dedicate sections in your bullet journal for these lists, or experiment with variations that resonate with your interests and goals, ultimately creating a personalized tool that supports motivation and inspiration in all aspects of life.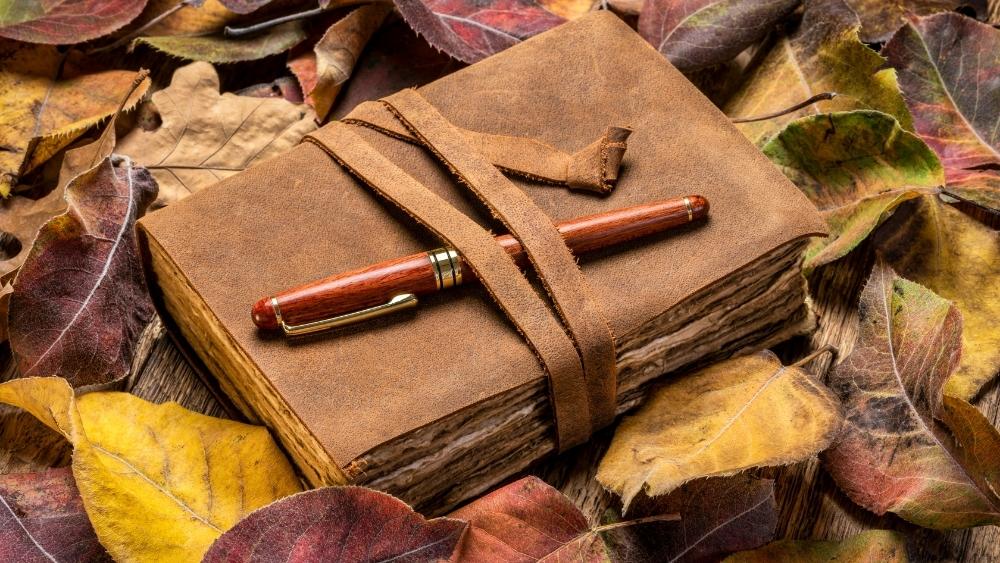 4. Dream Journaling
Dream journaling is a powerful tool for exploring the subconscious and unlocking hidden insights. Here are some tips to get started with dream journaling:
Keep a notebook by your bed: This allows you to record your dreams as soon as you wake up, while they are still fresh in your mind.
Write down everything you can remember: Even if it doesn't make sense or seems insignificant, write it down. Details may become important later on.
Use keywords: If whole sentences seem too cumbersome, use keywords that capture the essence of the dream.
Be descriptive: Use adjectives and sensory details to create a vivid picture of the dream world.
Don't worry about grammar or spelling: Dream journaling is about capturing raw ideas rather than crafting polished prose.
Look for patterns: Over time, you may notice recurring themes or symbols in your dreams that offer clues to your unconscious mind.
Reflect on your dreams: Consider what the dream might be trying to tell you about yourself, your relationships, or your goals.
Experiment with interpretation: Try different techniques for interpreting dream symbols, such as asking yourself "what does this remind me of?" or imagining yourself inside the symbol itself.
Share with others (optional): If you feel comfortable sharing your dreams with someone else, discussing them can offer new perspectives and insights.
Be patient and persistent: It may take time and practice to develop a consistent dream journaling habit and see results from it, but don't give up! Your dreaming mind has valuable wisdom to share if you listen closely enough.
5. Travel Journaling
Travel journaling is an excellent way to capture your travel experiences and preserve memories of all the exciting places you've visited. It's also a great tool to reduce packing anxiety by keeping all necessary information in one place, such as numbers, addresses, packing lists, and shopping lists.
In addition to these benefits, travel journaling can help boost creativity and increase mindfulness while on a journey. By incorporating sketches or photos into your writing, travel journals become more personal and visually appealing.
Journal prompts that inspire reflection on the experience or favorite moments from the trip provide a unique opportunity for introspection that will promote personal growth long after returning home.
6. Stream Of Consciousness Journaling
Stream-of-consciousness journaling is a type of pen-and-paper journaling that involves writing down one's thoughts and feelings without any filters or censorship. It involves jotting down whatever comes to mind in a free-flowing manner, without worrying about grammar or coherence.
With a stream of consciousness journaling, you'll be able to identify patterns in your thinking, find solutions to problems that have been troubling you, and gain clarity on your goals and desires.
Morning pages are one form of stream-of-consciousness writing that many people use as a daily practice. By setting aside time each day for this type of unstructured writing, you will create space for creative ideas and self-reflection- which could lead to personal growth in the long run.
Stream-of-consciousness journaling involves unfiltered, free-flowing writing to promote self-awareness, problem-solving, and personal growth.
Types Of Digital Journaling
Digital journaling has become increasingly popular, and there are various types to explore like audio journaling, video journaling, photo journaling, and art journaling.
7. Audio Journaling
Audio journaling is a unique way of keeping a journal by recording one's thoughts and ideas in their purest form with the help of a recording device. With audio journaling, you can capture your raw emotions and express your unfiltered thoughts without the constraints that may come from writing on paper.
Moreover, research has shown that journaling contributes immensely to improving physical and mental health, mood regulation, immune function, and cognitive performance over time.
8. Video Journaling
Video journaling is a type of digital journaling where individuals can record themselves on camera, sharing their thoughts, feelings, and experiences. This method of journaling is beneficial for people who prefer expressing themselves through speaking rather than writing.
Video journaling also provides a unique opportunity to capture visual cues like body language or tone that are often lost in written journals.
According to recent studies, electronic journaling has proved beneficial in enhancing interactivity in traditional and online courses, promoting successful learning through multimedia content, including videos.
9. Photo Journaling
Photo journaling is an excellent way to document your life and personal growth through visually capturing everyday moments, events, and experiences. This type of journaling can be especially inspiring for those who want to develop their creativity and find motivation in the world around them. For those interested in photo journaling, consider the following table, which explores various aspects, tools, and tips to get started on this fulfilling journey.
| Aspect | Description | Tools & Tips |
| --- | --- | --- |
| Subject Matter | Choose what you want to focus on while capturing photos for your journal. This can include anything from your daily life, specific events, or even certain themes like nature, self-portraits, or pets. | Carry your camera or smartphone with you at all times, so you never miss an opportunity to capture a meaningful photo. |
| Organization | Organize your photos in a way that tells a story or highlights the emotions and feelings associated with them. You can organize your photos chronologically, by theme, or any other structure that makes sense to you. | Utilize digital apps, such as one of the 13 best digital journal apps for 2023, to help you stay organized and easily access your photo journal entries. |
| Reflection | Take time to reflect on each photo and the memories, emotions, or thoughts it brings to mind. Photo journaling is not just about the images themselves but also about how they impact your personal growth and development. | Add captions, write a brief description, or record your thoughts and feelings about each photo to foster a deeper connection with your experiences. |
| Sharing | Decide whether you want to keep your photo journal private or share it with others as a means of motivation and inspiration. | For those who choose to share, consider creating a blog, Instagram account, or even a physical photo album to showcase your journey through pictures. |
| Experimentation | Experiment with different photography techniques, types of cameras, and angles to continuously improve your skills and find your unique creative style. | Attend photography workshops, take online courses, or join photo-sharing communities to learn from others and gain inspiration. |
Remember, the key to photo journaling is to make it a personal and fulfilling experience that allows you to express yourself, document your personal growth, and find inspiration in your surroundings. So, grab your camera and start capturing your world through your lens today!
10. Art Journaling
I absolutely love art journaling! It is a wonderful way to creatively express my thoughts, feelings, and emotions. Art journaling is essentially a form of visual diary where you use various artistic methods such as painting, drawing, and writing to document your experiences.
One benefit of art journaling is that it can be incredibly therapeutic. Through this creative outlet, you can explore different aspects of yourself and reflect on moments that have impacted your life.
Choosing The Right Type Of Journaling For You
To choose the right type of journaling for you, start by identifying your goals and intentions, considering your interests and strengths, experimenting with different types of journaling, and making sure that it becomes a personal and fulfilling experience.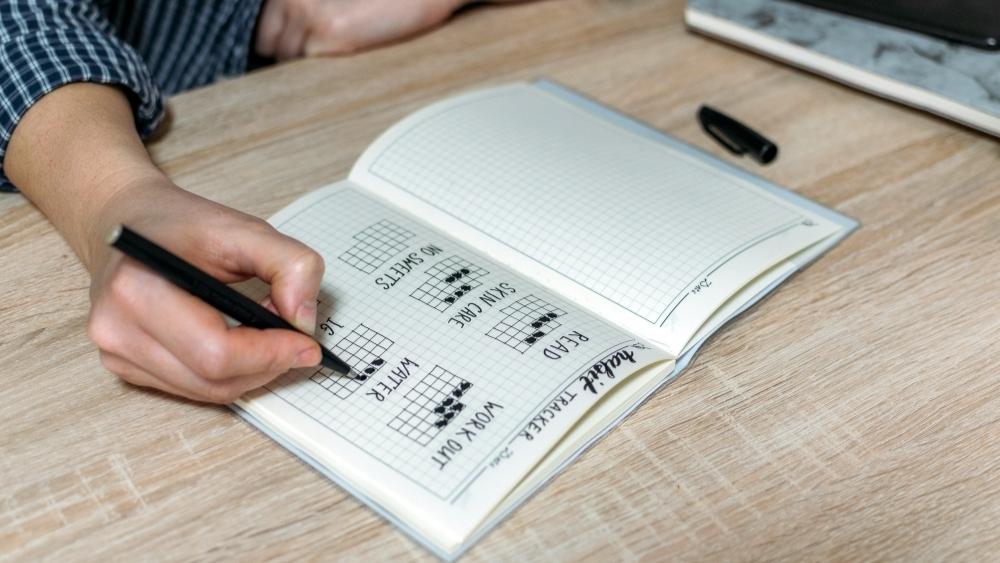 Identifying Your Goals And Intentions
Before diving into the different types of journaling, it is essential to identify your goals and intentions. Knowing why you want to journal will help you choose the right method for you. Here's a table that provides a quick overview of some common journaling goals and intentions, as well as which types of journaling might be most effective for each.
| Goal/Intention | Type(s) of Journaling |
| --- | --- |
| Improve mental health and emotional well-being | Reflective Journaling, Gratitude Journaling, Stream of Consciousness Journaling |
| Boost productivity and stay organized | Bullet Journaling, Digital Journaling (Audio, Video, Photo) |
| Enhance creativity and self-expression | Art Journaling, Travel Journaling, Dream Journaling |
| Record and preserve memories | Travel Journaling, Photo Journaling, Video Journaling |
| Track personal growth and development | Reflective Journaling, Goal-Setting Journaling, Audio Journaling |
| Explore thoughts and ideas | Stream of Consciousness Journaling, Dream Journaling, Audio Journaling |
Remember, these are just suggestions based on the general benefits of each type of journaling. Feel free to experiment with different styles to find the one that best suits your goals and intentions. The key is to be consistent and genuine in your journaling practice to make it a personal and fulfilling experience.
Identify your journaling goals and intentions to choose the right method, such as reflective journaling for mental health or bullet journaling.
Considering Your Interests And Strengths
When choosing a type of journaling, it's important to consider your interests and strengths. If you love photography, then photo journaling might be the perfect fit for you.
On the other hand, if you enjoy drawing or painting, an art journal could provide a creative outlet that also helps with personal growth and reflection.
Identifying what sparks joy or motivation will ensure that the type of journaling chosen is sustainable over time. Journaling doesn't have to feel like a chore; it should be enjoyable and fulfilling.
So take some time to think about what activities or hobbies excite you and see how they may align with different types of journals from the list above.
Experimenting With Different Types Of Journaling
When it comes to journaling, there's no one-size-fits-all approach. Trying out different types of journaling can help you find the style that best suits your needs and goals. Here are some types of journaling you can experiment with:
Reflective Journaling: This type of journaling involves reflecting on past experiences and emotions to gain insight and perspective.
Bullet Journaling: This method involves using bullet points and symbols to track daily tasks, goals, and habits.
Dream Journaling: This type of journaling is about recording your dreams upon waking up in the morning.
Travel Journaling: Keep a record of your travel experiences by writing about each day's activities, sights seen, and new people met.
Stream of Consciousness Journaling: Write down all your thoughts as they come without censoring or editing them.
Audio Journaling: Use an audio recorder to document your thoughts and feelings throughout the day.
Video Journaling: Record yourself talking about your day or thoughts using a video camera or smartphone.
Photo Journaling: Take pictures that represent different moments or events in your life.
Art Journaling: Combine writing with art by using sketches, drawings, and collages to express yourself.
Food Journaling: Track what you eat throughout the day to monitor your eating habits and make healthier choices.
Fitness Journaling: Keep a record of your workouts, progress, and fitness goals for motivation.
By experimenting with different types of journaling, you can find the format that works best for you while reaping the benefits that come with regular journal practice, including improved mental well-being and personal growth.
Making Journaling A Personal And Fulfilling Experience
Journaling can be a powerful tool for personal growth and development, but it's essential to find a style that resonates with you. Identifying your goals and intentions is crucial in determining the type of journal that will work best for you.
For instance, if you want to focus on gratitude and positivity, then starting a gratitude journal could be an excellent fit for you.
It's also important to consider your interests and strengths when choosing a journaling style. If you enjoy art or creative writing, trying out art or free-flowing thoughts, journaling might be ideal for you.
Another aspect of making journaling fulfilling is creating space where we feel comfortable sharing our innermost thoughts without fear of judgment or criticism from others.
Finding the right type of journal can help create authentic moments in our lives beyond real-life experiences that inspire new perspectives towards productivity levels while promoting physical health alongside mental well-being gains over time!
FAQs:
1. What are some of the different types of journaling mentioned in the article?
Some of the different types of journaling discussed in the article include gratitude journals, dream journals, bullet journals, art journals, and travel journals.
2. How can I decide which type of journaling is right for me?
To determine which type of journaling is best suited to your needs and interests, consider your personal goals for journaling as well as your preferences for writing style and creative expression.
3. Are there any particular benefits associated with certain types of journaling?
Yes – depending on what you hope to achieve through your journal practice (i.e., stress reduction or increased creativity), certain forms may be more beneficial than others; for example, gratitude & mood trackers help alter mindsets, whereas travel/food journals promote exploration & new experiences.
4. Do I need any special tools or supplies to start a new form of journaling?
While some forms may require specific items like colored pens or special paper stock – particularly those involving doodling/art – it's often less about what tools you possess than just making time daily / consistently carving out space where thoughts can flow freely on pages unencumbered by fear judgment etc.
Conclusion
Journaling is a powerful tool for personal growth and development. Whether you prefer pen-and-paper or digital methods, there are 10 different types of journaling to choose from based on your interests, goals, and strengths.
Reflective journaling, travel journaling, gratitude journaling, bullet journaling, dream journaling, and art journaling are just a few examples. Choosing the right type of journal can make all the difference in creating a fulfilling experience that helps you reflect on daily life moments and encourages creative ideas.
I wish you the best! Fabian.
Share with your Friends: