Atomic Habits: 1% Better Every Day Explained (With Examples)
James Clear's Atomic Habits: 1% better everyday theory is the idea of making small but consistent daily improvements that massively accumulate in the future. If you get better by 1% every day for a year, you are 37 times (!) better than a year before.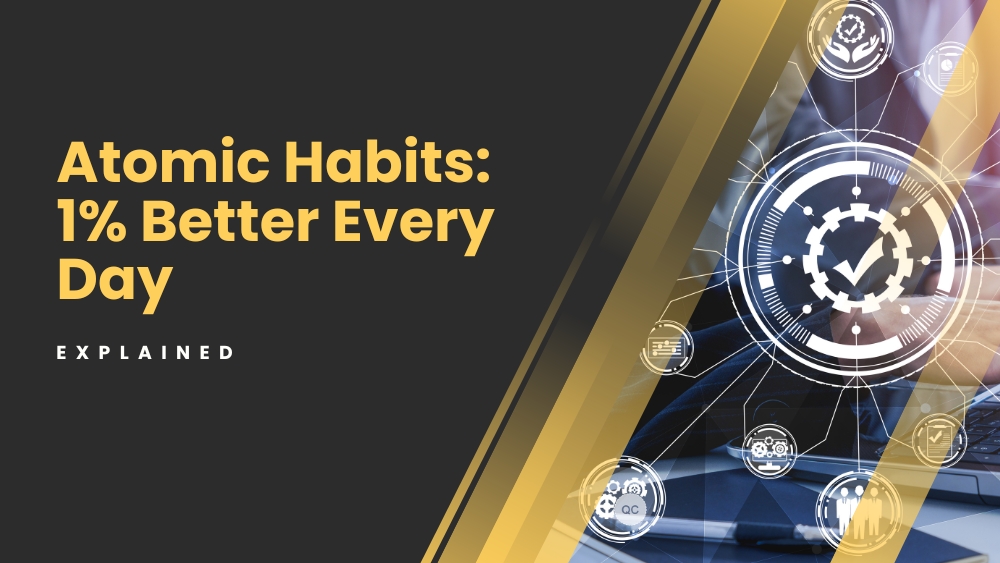 These 1% daily improvements are added to the value from yesterday. They are not calculated from the initial value. Let me explain with an example.
Let's invent a new word – Habit Consistency – short HC.
Imagine you have 100 HC in your personal self-improvement storage. Now, you increase this daily by 1%. After one day, the total amount of HC is 101.
1% more than yesterday. Of course.
On the second day, however, you get 1% of the total 101. You don't get the 1% on your second day from the initial 100, you get it from the 101.
So, on the second day, you don't have 102. Instead, you have 102.01. This seems only like a tiny bit more. But let us speed things up.
After ten days, you have 110.46. Still doesn't sound like a lot. Stick with me.
After 25 days, you have 128.24
After 50 days, you have 164.46.
After 100 days, you have 270.48. Now, things get interesting from here on.
After 150 days, you have 444.84
After 200 days, you have 731.60
After 250 days, you have 1203.22
After 300 days, you have 1978.85
After 364 days, you have 3740.93
After 365 days, you have 3778.34
On the last day, from the 364th to the 365th day, you have an increase of almost 40 in a single day! A third more in a single day than your initial starting value.
This is huge. Things scale like crazy if you constantly improve something.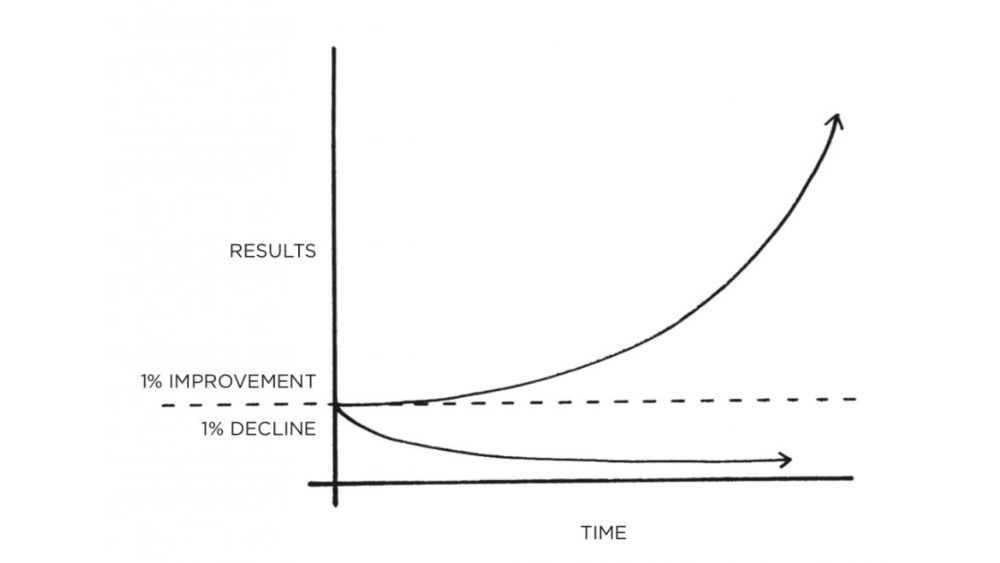 And this is what James Clear means with his Atomic Habits 1% better everyday theory.
Here are three examples from my Atomic Habits book summary:
Productivity Compounds:
Accomplishing one extra task is a small feat on any given day, but it counts for a lot over an entire career. The effect of automating an old task or mastering a new skill can be even greater. The more tasks you can handle without thinking, the more your brain is free to focus on other areas.
Knowledge Compounds:
Learning one new idea won't make you a genius, but a commitment to lifelong learning can be transformative. Furthermore, each book you read teaches you something new and opens up different ways of thinking about old ideas. As Warren Buffett says, "That's how knowledge works. It builds up, like compound interest"
Relationships Compounds:
People reflect your behavior back to you. The more you help others, the more others want to help you. Being a little bit nicer in each interaction can result in a network of broad and strong connections over time.
Atomic Habits: 1% Worse Every Day
This whole system or theory is possible in the opposite direction – by getting 1% worse every day.
Like the improvement in the first section, things scale crazy after a few weeks. When you start again with our 100 HC, you have the following calculation:
After ten days, you have 90.53.
After 25 days, you have 77.98.
After 50 days, you have 60.80.
After 70 days, you have 49.83. You lose half of your hard-earned improvements within 70 days if you lose every day 1%!
After 100 days, you have 36.97. You lose a third of your starting value by the 100th day when it consistently worsens.
After 200 days, you have 13.67.
After 300 days, you have 5.05.
After 365 days, you are at rock bottom. 2.65 is left of your 100 starting HC value.
Don't let that happen!
Here are some examples from the book when getting worse:
Stress Compounds:
The frustration of a traffic jam. The weight of parenting responsibilities. The worry of making ends meet. The strain of slightly high blood pressure. By themselves, these common causes of stress are manageable. But when they persist for years, little stresses compound into serious health issues.
Negative Thoughts Compound:
The more you think of yourself as worthless, stupid, or ugly, the more you condition yourself to interpret life that way. You get trapped in a thought loop. The same is true for how you think about others. Once you fall into the habit of seeing people as angry, unjust, or selfish, you see those kinds of people everywhere.
Outrage Compounds:
Riots, protests, and mass movements are rarely the results of a single event. Instead, a long series of microaggressions and daily aggravations slowly multiply until one event tips the scales and outrage spread like wildfire.
The British Cycling Team Example
An awe-inspiring example of the 1% Method in action is the British Cycling Team's meteoric rise to dominance. Just a few years ago, this team was struggling to make its mark on the world stage.
However, by embracing the philosophy of marginal gains and focusing on making small, incremental improvements in overlooked and unexpected areas, these previously ordinary athletes were able to transform themselves into unstoppable champions.
One of the key aspects of the British Cycling Team's success was their dedication to continuous improvement in all areas of their lives, both on and off the track. They overhauled their eating habits, optimized their learning habits, and even developed innovative strategies to maintain ideal muscle temperatures while competing.
This relentless pursuit of tiny gains enabled the British Cycling Team to become a force to be reckoned with, dominating track cycling events, setting seven world records, and producing the first British cyclist to win the Tour de France.
Let's take a page from the British Cycling Team's playbook and embrace the magic of marginal gains. Let's commit to seeking out the small wins, celebrating the tiny improvements, and harnessing the compound interest of our own lives.
Final Words
The 1% Method by James Clear, author of the bestselling book "Atomic Habits," presents a groundbreaking approach to self-improvement that has helped countless individuals reach their full potential. This captivating strategy is based on the simple yet powerful concept of compound interest, where small improvements accumulate over time to create exponential personal growth.
It's important to notice that most people don't improve everyday day by 1%, they don't get 1% worse every day either. In real life, this looks something like a roller coaster. Sometimes up, sometimes down. But the essential key is to improve overall.
Even if you only get 10% better in a whole year. This is much better than stagnating or even getting worse. This means you have worked on yourself, treated yourself with the respect you earned, and done something to improve yourself. You build a better future for yourself and the one you love.
I wish you the best, Fabian
Share with your Friends: