How to Focus On Schoolwork: 9 Proven Techniques for Students
Are you struggling to stay focused on your schoolwork? You're not alone. With the countless distractions surrounding us, it's no wonder that students are finding it more challenging than ever to concentrate and excel academically.
But fear not! We've got nine simple yet effective tips that can help turn things around and keep you laser-focused on your studies in a hectic world. From creating an ideal study environment to incorporating self-care practices, we'll cover all aspects of maintaining focus while enhancing productivity.
Why Is Focusing On Schoolwork Important?
Focusing on schoolwork is crucial as it leads to improved academic performance and personal and professional development.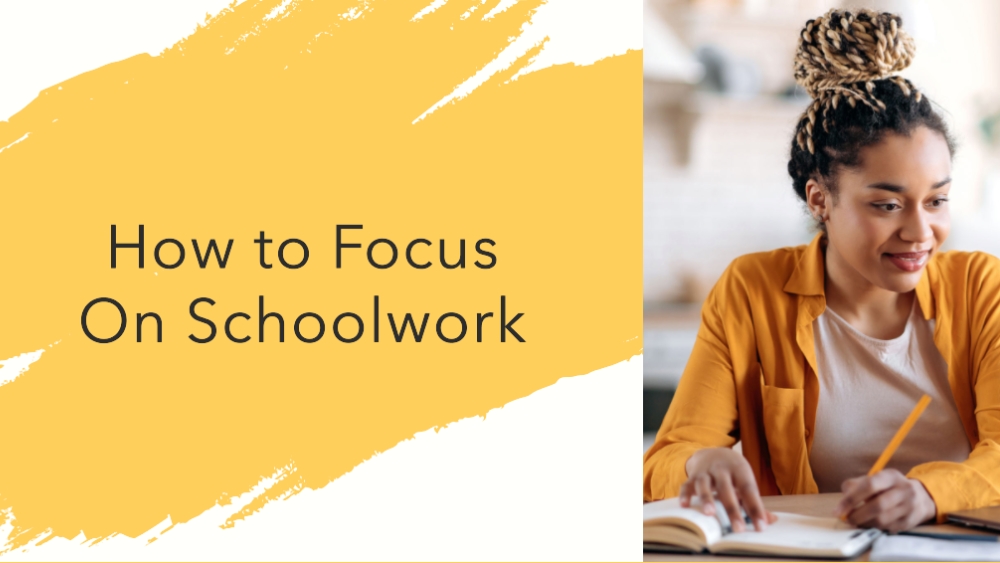 Improved Academic Performance
One of the most significant benefits you'll notice in your academic journey is improved performance when you start focusing on your schoolwork. By setting aside a dedicated amount of time each day to concentrate on assignments, readings, and studying for exams, you will be better prepared for class discussions and assessments.
For instance, remember that math homework that seemed impossible last semester? Imagine how much easier it would have been if you had allocated more time and energy toward truly understanding the concepts being taught.
Your grades would undoubtedly improve, boosting your overall GPA and potentially leading to scholarships or other opportunities down the line.
Personal And Professional Development
Focusing on schoolwork not only benefits your academic performance but also plays a critical role in shaping your personal and professional development.
For example, imagine you have a complex math homework assignment due tomorrow. Tackling it with full attention requires breaking down the task into smaller parts or chunks while utilizing effective learning strategies.
By doing so, you're honing skills like analytical thinking and strategic planning that will serve you well in any future career path.
In short, dedicating yourself to schoolwork pays off exponentially by fostering invaluable life skills that pave the way for long-term achievements across various aspects of your personal and professional journey.
Top 9 Tips On How To Stay Focused On Schoolwork
In this section, we will discuss nine practical tips that you can implement to stay focused on your schoolwork and achieve academic success. From creating a study plan to using effective study aids, these tips will help you develop better learning habits and improve your focus.
1. Develop A Clear Study Plan
Creating a well-structured study plan is essential for staying focused on your schoolwork. This table will help you organize your study sessions, allocate time for each subject, and track your progress effectively. Remember, this study plan is just a starting point; feel free to customize it according to your needs and learning style.
| Day of the Week | Subject | Study Time | Goals | Progress |
| --- | --- | --- | --- | --- |
| Monday | Math | 1 hour | Complete Chapter 3 Exercises | 75% |
| Tuesday | Science | 1.5 hours | Review Chemistry Notes | 60% |
| Wednesday | English | 1 hour | Write Essay Draft | 40% |
| Thursday | History | 1 hour | Read Chapter 7 | 20% |
| Friday | Foreign Language | 1 hour | Practice Vocabulary | 50% |
| Saturday | Review and Catch-up | 2 hours | Address Incomplete Goals | — |
| Sunday | Rest and Recharge | — | — | — |
By following this study plan and updating it regularly, you'll notice an improvement in your focus and academic performance. Keep in mind that consistency is key, and don't hesitate to adjust your plan as needed. Happy studying!
Short and long-term goal setting can help students improve their time management skills and academic performance.
2. Create A Distraction-free Study Environment
Creating a distraction-free study environment is crucial for staying focused on schoolwork. This means finding a quiet and comfortable place to work, free from noise and other distractions like social media or video games.
Clearing clutter from the workspace can also help promote concentration, as well as keep the room at a comfortable temperature. It's also important to minimize visual distractions by closing extra browser tabs or turning off notifications on your phone or computer.
For those who struggle with ambient noise, consider using white noise or classical music to create a peaceful background sound that promotes focus.
Setting up a distraction-free environment is essential to focus on homework.
3. Practice Self-care And Take Breaks
One of the most important things you can do to stay focused on schoolwork is to practice self-care and take breaks. It may seem counterintuitive, but taking a break from studying can actually improve your ability to learn and retain information.
When you feel burned out or overwhelmed, it's essential to step away from your work and do something that makes you feel relaxed and rejuvenated.
To practice self-care, consider giving yourself a few minutes each day for activities like meditation, yoga, or deep breathing exercises. Take frequent breaks throughout the day and give yourself permission to indulge in small treats like a piece of chocolate or your favorite snack.
Make sure you're getting enough sleep at night and drinking plenty of water throughout the day.
4. Eliminate Social Media And Technology Distractions
As a student, I know how tempting it can be to check social media or text messages while studying. However, research shows that these distractions negatively impact academic performance.
To eliminate the temptation, I suggest setting specific times for checking social media and turning off notifications on your phone or laptop. You can even try using a website blocker to prevent access to distracting websites during study sessions.
Additionally, listening to music without lyrics or white noise can help you concentrate and block out other sounds around you.
Recent research shows that studying while distracted by technology has negative effects on academic performance.
5. Seek Help And Collaborate When Needed List
Collaboration is the key to success. When it comes to schoolwork, sometimes we need a little help and support from others. Here are some tips on how to seek help and collaborate when needed:
Connect with your classmates: Join study groups or clubs related to your interests. You can share ideas and notes or even divide tasks.
Reach out to tutors or academic advisors: They can help you with specific questions, learning strategies, or career advice.
Ask for guidance from professors: Use office hours to get personalized feedback on assignments or ask for clarification on class material.
Involve your family and friends: Explain your goals and challenges so they can support you in creating a conducive environment for studying or give you a pep talk when needed.
Utilize online resources: Online forums, educational videos, and websites such as "Wolfram Alpha" can be helpful for complex problems.
Seek professional help: If you're struggling with mental health issues, do not hesitate to reach out to counselors or therapists for support.
Attend workshops or seminars: These can provide valuable insights to improve study habits, time management skills or enhance learning processes.
Collaborating with others helps develop communication skills while enhancing comprehension of materials discussed in class sessions.
6. Prioritize Tasks And Organize Your Workload
Organizing your workload and prioritizing tasks are essential steps to staying focused on your schoolwork. By having a clear understanding of what needs to be done and when you can effectively manage your time and reduce stress. Let's take a look at a simple table to help you prioritize tasks and organize your workload efficiently.
| Task | Deadline | Priority Level (A, B, or C) | Estimated Time to Complete | Notes |
| --- | --- | --- | --- | --- |
| Math assignment | Monday | A | 2 hours | Focus on problem-solving techniques |
| English essay | Wednesday | B | 4 hours | Utilize resources and examples from class |
| History project | Friday | C | 6 hours | Collaborate with group members; delegate tasks |
To prioritize tasks, use methods like the Eisenhower Decision Matrix or the ABCDE method. These approaches can help you classify tasks based on their importance and urgency, allowing you to manage your time effectively.
Remember, efficient organization and prioritization will support your focus on schoolwork, leading to growth and success in your personal and professional life.
7. Get Enough Sleep And Exercise
I know it can be tempting to stay up late binge-watching your favorite TV shows or scrolling through social media, but getting enough sleep is crucial for staying focused on schoolwork.
Lack of sleep can cause fatigue, difficulty concentrating, and low academic performance.
Similarly, exercise is important for both physical and mental health. Engaging in regular physical activity improves cognitive function and reduces stress levels. Try incorporating a quick workout routine or even just a short walk into your daily schedule to improve focus and reduce anxiety while tackling those tough assignments.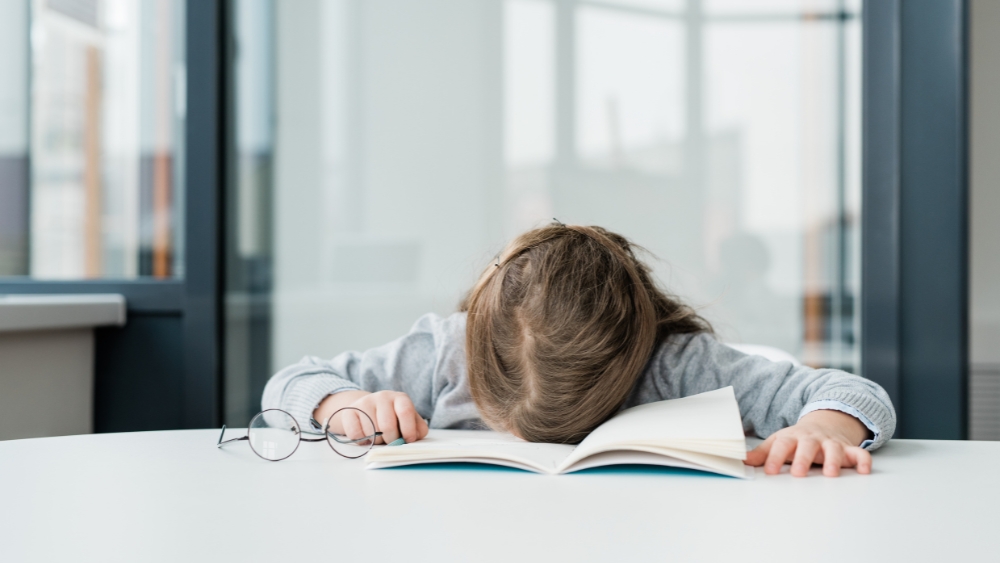 8. Use Effective Study Aids
I've found that using effective study aids can greatly improve my focus and retention of information. Here are some study aids that have worked for me:
Flashcards: Writing important facts or terms on flashcards and reviewing them regularly helps me commit the information to memory.
Mnemonics: Coming up with fun acronyms or sayings to remember information has been a useful tool for me.
Study apps: There are many apps available that offer quizzes, flashcards, and other interactive study tools.
White noise: Using a white noise machine or app can help drown out distracting background noise while studying.
Highlighters: Highlighting key points in textbooks or notes helps me visually identify important information.
Study groups: Collaborating with classmates and discussing material is a great way to reinforce concepts and get different perspectives on topics.
Pomodoro technique: This technique involves breaking up study sessions into 25-minute intervals with short breaks in between, helping to boost productivity and focus.
Exercise balls: Sitting on an exercise ball instead of a chair can improve posture and engage core muscles while studying.
Water bottles: Keeping a water bottle nearby during long study sessions helps me stay hydrated and alert.
Using these study aids may not work for everyone, but incorporating new techniques into your routine can help keep things interesting and ultimately lead to a more productive learning experience.
9. Stay Motivated And Positive
Staying motivated and positive is crucial to achieving academic success. It can be easy to get discouraged when faced with challenging assignments or exams, but maintaining a positive attitude can make all the difference.
One way to stay motivated is by setting realistic goals and focusing on progress rather than perfection.
Another helpful tip is to surround yourself with uplifting sources of motivation, such as inspirational quotes or podcasts. Additionally, taking breaks when feeling overwhelmed can prevent burnout and increase productivity in the long run.
Benefits Of Focusing On Schoolwork
Focusing on schoolwork has numerous benefits, including improved academic performance and time management skills, reduced stress and anxiety, and preparation for future success; read on to discover how focusing on your schooling can help you achieve your goals!
Improved Grades And Knowledge Retention
As a student who wants to succeed, one of the most important goals should be improving grades and retaining knowledge. Studies have shown that consistent effort and focus on schoolwork can lead to these outcomes.
In addition to better academic performance, focusing on schoolwork can also improve overall understanding of subjects and increase long-term retention of information. This means that not only will improved grades be achievable in the short term but also set students up for success in future courses or career opportunities.
It's essential to keep this long-term perspective in mind while working hard daily toward academic goals.
Reduced Stress And Anxiety
Focusing on schoolwork helps to reduce stress and anxiety, allowing you to feel more in control of your academic life. By managing your time effectively and eliminating distractions, you can minimize feelings of overwhelm and create a sense of accomplishment. Incorporating some of these strategies will ultimately lead to a healthier, happier, and more balanced life:
| Strategy | Description | Benefits |
| --- | --- | --- |
| Organizing Schoolwork | Use a planner or digital tool to keep track of assignments, deadlines, and exam dates. | Prevents stress from forgotten tasks or last-minute cramming. |
| Preparing for Tests | Start studying well in advance, break down material into manageable chunks, and use effective study techniques. | Reduces anxiety associated with test-taking and improves retention of information. |
| Self-soothing Behaviors | Incorporate relaxation techniques such as deep breathing, meditation, or mindfulness exercises into your daily routine. | Decreases stress levels, improves mental focus, and fosters overall well-being. |
| Seeking Help | Reach out to instructors or peers for support if you're struggling with a particular concept or assignment. | Lessens feelings of isolation and helps to diminish anxiety related to academic performance. |
| Recognizing Anxiety Disorders | If you're experiencing severe anxiety, consult a mental health professional to explore appropriate treatment options. | Addresses the root cause of anxiety, promoting a healthier mindset and improved academic success. |
By implementing these strategies, you'll not only reduce stress and anxiety but also cultivate a more positive, productive academic experience that lays the foundation for future success.
Improved Time Management Skills
One of the most important aspects of focusing on schoolwork is developing effective time management skills. This involves prioritizing tasks and organizing your workload, so you can make the most efficient use of your time.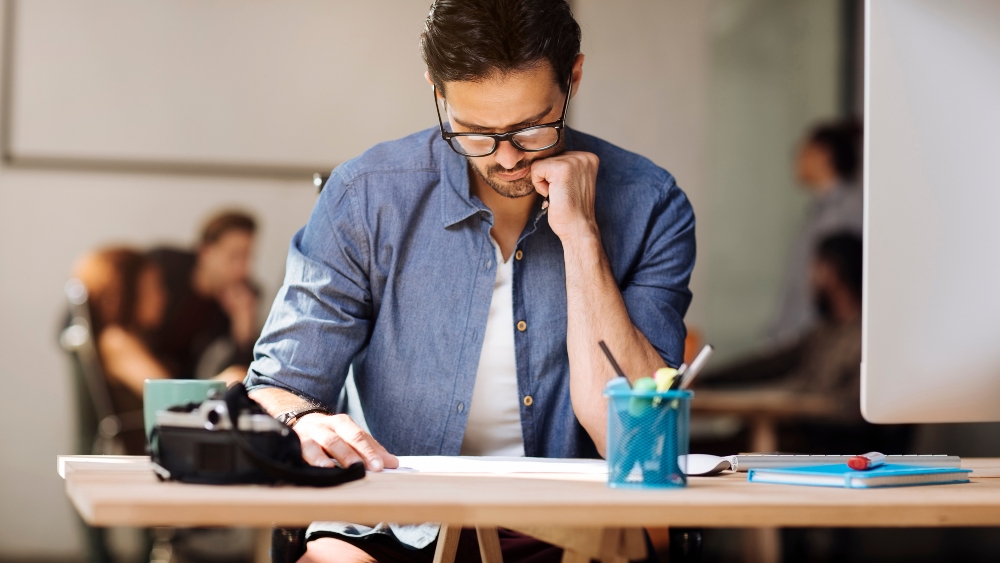 One tip for improving your time management skills is to create a study plan or schedule that outlines specific times for studying, breaks, and other activities. Another helpful strategy is to break down larger assignments into smaller, more manageable tasks.
It's also important to remember that effective time management isn't just about cramming in as much studying as possible; it's about achieving a balance between schoolwork, social life, self-care and personal interests.
Taking frequent breaks to rest or engage in physical exercise can enhance focus and productivity when you return to your studies.
Effective time management involves achieving a balance between schoolwork, university/college life, and free time.
Preparation For Future Success
Preparing for future success is a critical aspect of focusing on schoolwork. By dedicating your time and effort to your studies, you are building valuable skills that will help you achieve your goals later in life.
For instance, if you develop strong organizational skills by creating clear study plans and monitoring deadlines, these abilities will translate seamlessly into planning projects and meeting work goals.
Similarly, by practicing good self-care habits like getting enough sleep and exercise, you are training yourself to prioritize health and wellness throughout all aspects of life – which is essential for long-term success.
FAQs:
1. How do I eliminate distractions while studying?
To eliminate distractions, find a quiet and comfortable space where you can concentrate without interruptions or disturbances. Turn off your phone, mute notifications from email or social media accounts, and remove any other potentially distracting items from your workspace.
2. Can taking breaks help me focus better on schoolwork?
Yes! It's important to take short breaks in between study sessions to recharge your brain and avoid burnout. Taking a 5-10 minute break every hour or so can help you stay motivated throughout the day.
3. What are some tips for staying organized with my schoolwork?
Keeping an updated calendar or planner is a great way to stay on top of assignments and deadlines. Make sure to prioritize tasks based on their level of importance and set realistic goals for yourself each day.
4. How can I improve my time management skills when it comes to studying?
Creating a schedule that outlines specific times dedicated to studying as well as leisure activities is key to managing your time effectively. Utilize tools such as timers or apps that track productivity levels during study sessions to help you streamline workloads efficiently throughout the week.
Key Takeaways
Focusing on schoolwork is crucial for academic success and personal development. Here is a quick summary of how to focus on schoolwork:
Develop a clear study plan
Create a distraction-free environment
Practice self-care and take breaks
Eliminate social media and technology distractions
Seek help and collaborate when needed
Prioritize tasks and organize your workload
Get enough sleep and exercise
Use effective study aids
Stay motivated and positive
By implementing these strategies, you can improve your grades, reduce stress, develop time management skills, and prepare for future success! Keep in mind that everyone's learning process is different, so experiment with these tips to find what works best for you!
I wish you the best! Fabian.
Share with your Friends: