12 Notes On Life And Creativity Summary: Quincy Jones' Timeless Wisdom
Quincy Jones has remained one of the most influential figures in music for decades. Now, he's sharing stories about his life and career with the world through his book. Jones talks about everything from his childhood to working with Michael Jackson, and readers can learn more about him and his ideas.
12 Notes On Life And Creativity is a self-development guide affirming that creativity is a calling that can be answered, regardless of age or experience. It includes sections on transforming grief into power, setting goals, and articulating intentions through affirmations. It also contains stories of Jones' creative process and the importance of honesty, hard work, and good relationships.
This is the summary from Quincy Jones' Book 12 Notes On Life And Creativity. His book contains 12 Notes, starting with Note A and then going up to G#, an analogy to his lifelong experience as a musician.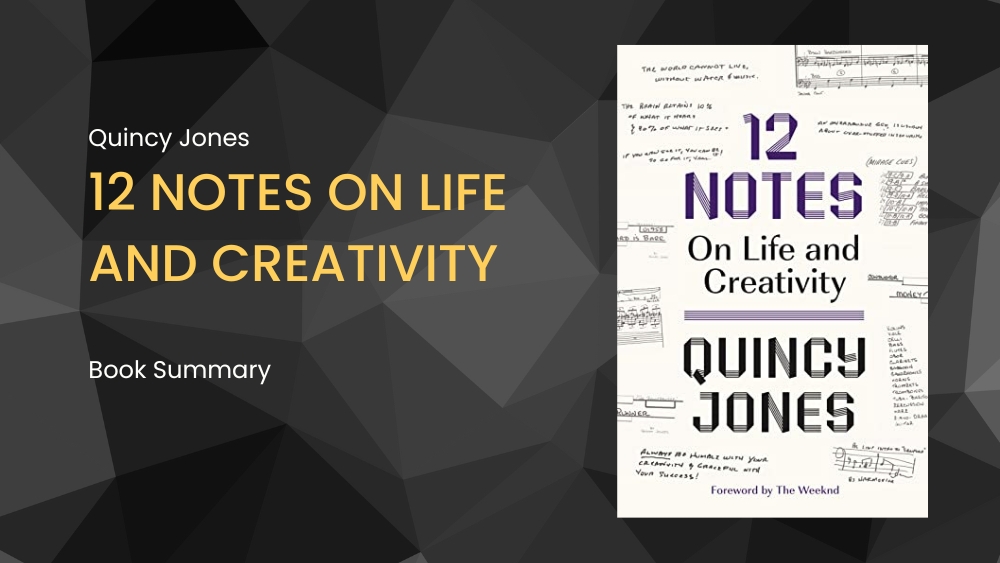 In "12 Notes on Life and Creativity," the legendary Quincy Jones graciously presents readers with a heartwarming glimpse into his own creative process, revealing the invaluable lessons he's gathered throughout his extraordinary journey.
This self-development guide is not merely a recollection of Quincy's life experiences; rather, it serves as a gentle reminder to all of us that there is a creative being within, just waiting to be unleashed.
With his wisdom, passion, and unique approach to creativity, Quincy lovingly encourages each of us to explore our artistic potential and fully embrace our personal paths toward self-discovery and growth. So let us begin with this book summary!
Note A: Use Your Pain To Get Stronger
His first note is about pain and how it can strengthen you. It's difficult to improve at anything if you've never felt pain. Next, he mentions visiting his mother at the psychological institute. Jones's mother has severe dementia. His mother changed so much he doesn't recognize her. Quincy was nine years old at the time.
He talks about how anger and bitterness will destroy you. You can hold on to your rage, but it will consume you. And he consciously decided that he no longer wanted to be bitter, instead channeling his pain and anger to grow stronger. He writes in his book:
When we are focused on and stuck in the past, we can't fully live in and enjoy the present. So, it is essential to let go of the anger. Sometimes it's hard, but it's the best thing we can do for ourselves.
Note A#: Work On Your Dreams
Quincy had a difficult childhood, but he never stopped playing his musical instruments. Unfortunately, his family couldn't afford to buy him one, so he broke into the rec center and played there. Mrs. Ayres, the owner of this center, knew Quincy and noticed him breaking in. So he left the room open for him.
Despite having no money and a difficult childhood, Quincy never gave up on his dreams and did what he loved. And he encourages everyone to do the same, no matter how difficult. It always pays off in the end.
Note B: Step Our Of Your Comfort Zone
Next, this summary of 12 Notes on Life and Creativity by Quincy Jones is about stepping outside of one's comfort zone. Experiences inspire creativity. Quincy had a lot of experiences in his life, and whether they were good or bad, he learned from them all and improved and expanded his creativity.
He encourages everyone to go beyond what they already know. Only in this way can we learn new things, grow, and improve.
Note C: Be True To Yourself
Determine your personal guideposts and establish them early. The earlier you start, the better, so you stay aware of the game. It's difficult for unexpected circumstances to cause you to lose your way if you know exactly where and what you want to be.
He stresses the significance of affirmations. Jones Quincy is still his daily affirmation to keep him on track, even at 88. He refers to it as the "ultimate navigation system." Numerous websites can help you get started with affirmations. So take your time and write down some thoughts about your true self so you can stay on track no matter what happens.
Note C#: Be Prepared For Great Opportunities
Opportunities can arise anytime, so it is critical to be prepared. Unfortunately, many people are afraid and are feared of great opportunities. But fear is a bad word because it implies helplessness. However, you have control over the current situation. Therefore, you should also accept responsibility and be prepared.
Fear cannot stop you from achieving your goals and dreams if you truly want to. The desire to achieve your goals outweighs the fear of the unknown and the fear of failure. It would be best if you were prepared for opportunities, or you will never achieve your goals and dreams. In his book, Quincy writes:
This Note C# is related to the previous one. You will always be ready for great opportunities if you truly understand who you are and where you want to go. Because you know what you want, nothing can stop you from getting it.
Note D: Sharpen Your Left Brain
The right side of our brain is in charge of emotions and creativity. And the left side of our brain is in charge of intellect and analytics. However, our experiences and instincts shape and guide the right side of our brains. Science, analytics, and technical skills shape and guide the left side of our brains. And these abilities must be honed through practice.
Hundreds of studies have been conducted to demonstrate how, for example, playing a musical instrument strengthens our brains. It improves our memory, fine motor skills, verbal and nonverbal reasoning, and other abilities. This is what Quincy means when he says, "sharpen your left brain." If you don't use it, you'll lose it.
Note D#: Don't Fixate On Rules
In the words of Quincy Jones, "paralysis from analysis." That is to say, you should avoid putting yourself in a box and blindly follow the rules. Otherwise, there is no room for innovation or creativity. It has to be natural. Quincy recommends:
You should trust your instincts and act on them. They exist for a reason and can assist you in avoiding many mistakes in life, particularly in your professional life. But, on the other hand, they can provide you with many beautiful moments and wondrous things that you would not have done without listening to your gut feelings.
Test for goosebumps: Quincy still performs the "Goosebump Test" to this day. If the music he makes gives him goosebumps, chances are it also gives someone else on the planet goosebumps. That is a sure sign of great music.
Note E: The Power Of Being Underestimated
The following Note in Quincy Jone's summary, 12 Notes on Life and Creativity is about what others see in you. In his career, he was frequently underestimated, which he views positively. You will feel much less pressure if you are not required to deliver something exceptional. This is the issue with one-hit wonders.
They created a perfect song, but the likelihood that they will nail it again is low because the expectations for these wonders are so high that they are challenging to come by. So being underestimated is a good thing. As a result, you relieve yourself of stress. Nonetheless, demonstrate your abilities. "Focus on your goals and what you know you are capable of, and that's all the vengeance you need to take," Quincy writes.
Note F: Do What's Never Been Done Before
If you're involved in the self-help community, you've probably heard that running a mile in under four minutes is impossible. For many years, scientists and doctors claimed that running a mile in under four minutes was impossible. The entire body would crumble. But, on the other hand, Roger Banister ran the four-minute mile in 1954. And this altered the course of history.
Following that, an increasing number of people began to achieve the accomplishment of running a mile in under four minutes. The illusion that it couldn't be done has been quashed. Just because someone tells you something isn't possible doesn't mean it is. Of course, you will make mistakes and fall short. However, these events will strengthen you and help you achieve your goals in the long run. But don't give up hope.
Note F#: The Importance Of Relationships
Quincy is a master at making new friends and maintaining good relationships. Give your heart to others, and it will be returned to you full of love. Allow yourself to be open to receiving love, and let go of any resentment or pain holding you back. You receive others' love when you open your heart to them. The more love you give, the more love you have.
Having excellent relationships is an essential part of who we are as people. Don't treat others well to get something from them. This is not how you build solid and long-lasting relationships. Instead, create a relationship because you genuinely care about the other person.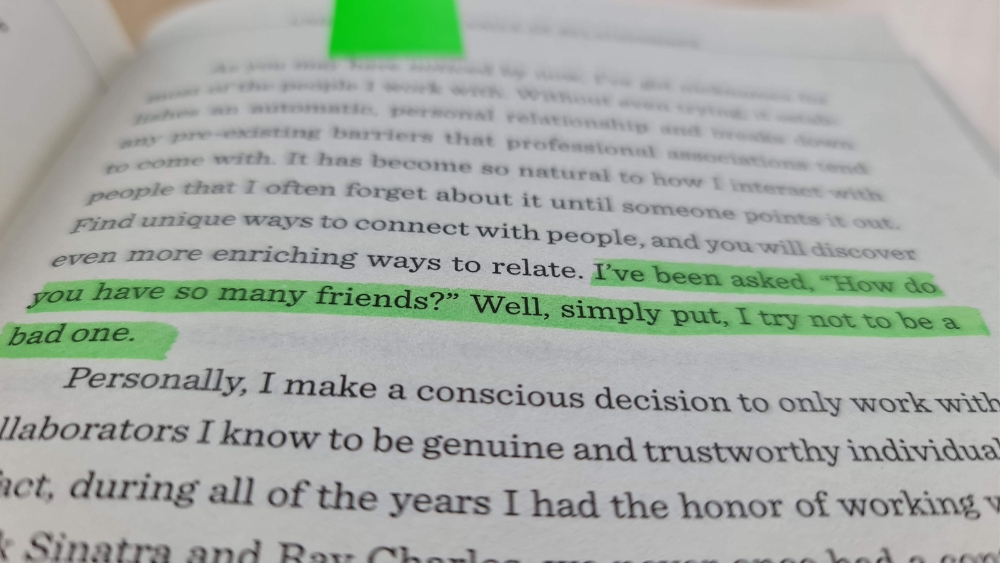 Note G: Share What You Know
The following chapter in this summary of 12 notes on life and creativity is about having the courage to ask people what they know and share what you already know. Quincy asked the famous trumpet player Clark Terry to teach him how to play. He also says he had other great teachers willing to help him improve as a musician.
If you can learn from the best, you will undoubtedly learn much faster than starting from scratch. So teach what you know. Assist others in getting better. "We go faster alone, but we go further together," as the saying goes. You don't have to repeat the same mistakes others have made thousands of times. You will learn faster if you learn from masters.
Note G#: Be Grateful Everyday
The final point in this book summary is that we should be thankful for our lives. Everyday. Every day of your life, be present and enjoy it. It is impossible to enjoy life if you are consumed by your sorrows and worries. Be thankful.
But this is sometimes harder said than done. So you have to work on yourself. Constantly.
Staying present and living every day of your life has a beautiful quality. Many well-known self-help authors emphasize the importance of being present and grateful. And Quincy writes the following:
Gratitude is a proven way to improve mental health. It helps us see the good in our lives and improves our overall well-being. We feel less stress and anxiety and are happier when we are grateful.
Conclusion
Quincy Jones's book 12 Notes on Life and Creativity is a great way to learn more about the man behind the music. Although he has an extensive career in music, he is also very committed to self-improvement. And he shares everything he learned in his eighty-nine years of life experience and wisdom.
12 Notes on Life and Creativity is full of useful advice for improving your life and achieving more in all aspects. At the same time, reading is effortless, requires no specialized knowledge, and is suitable for people of all ages and social groups.
What sets this book apart from the rest is its focus on how we can change our lives for the better, regardless of our circumstances. This is it for this 12 Notes On Life And Creativity summary.
Best, Fabian
Share with your Friends: