Awaken The Giant Within Summary: Unlock Your Full Potential
In Awaken The Giant Within, which has more than 500 pages, Anthony Robbins talks about many different things. Anthony Robbins teaches about decision-making, beliefs, and how we can change anything in our lives by taking a different look at it.
Anthony Robbins has spent more than half his life helping others find and develop their own great qualities. He started and ran the Anthony Robbins Companies, aiming to help people master their personal and professional lives.
When he published this book, he was only 31 years old. So it's impressive that he's so young and has done so well. Additionally, Awaken The Giant Within is only one book out of 9 he has written.
This Awaken the Giant Within Summary by Tony Robbins is a powerful guide for personal growth, helping us understand the importance of life values and the impact of positive and negative emotions.
According to Robbins, there are only a few ways to link massive pain to our emotional patterns, and by doing so, we can create a quality life. Through the teachings of "Awaken the Giant Within," we learn to associate massive pain with our limiting beliefs and consistently act in ways that gain pleasure and promote growth.
By expressing negative emotions constructively and asking ourselves quality questions that create emotional intensity, we can redefine our own rules and find inspiration from stories like World War II's heroes. In this transformative journey, we can avoid pain, embrace positive emotions, and ultimately, awaken the giant within.
Let us start with this book summary:
Awaken The Giant Within Summary
The book provides a lot to think about, and it's even better. There are several exercises to keep you engaged. Instead of simply reading a book, you actively sit down and take time for yourself. This helps you better understand your values and what you enjoy. But let's look at this summary of the book Awaken the Giant Within by Anthony Robbins: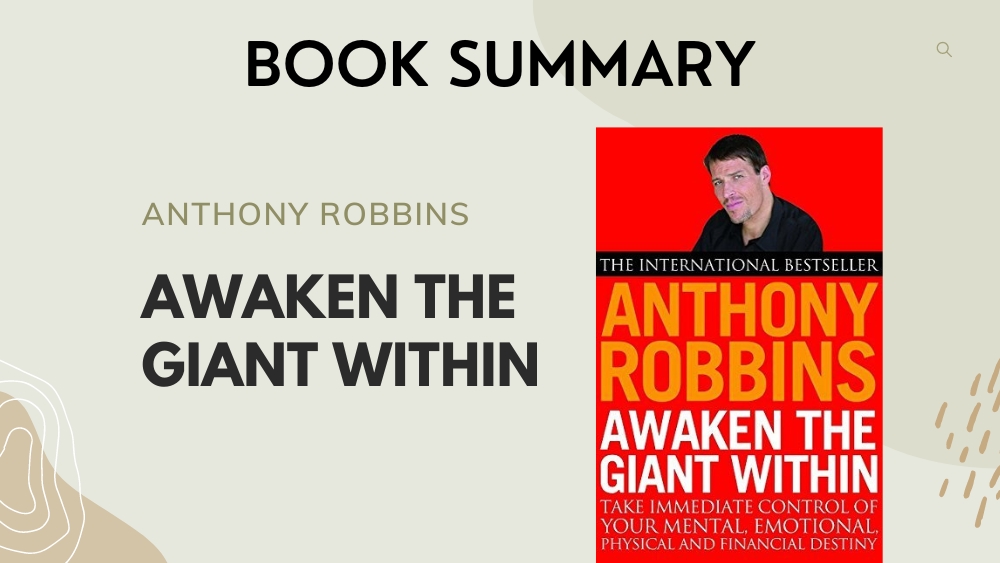 Breaking Limiting Patterns of Feeling And Pain
Anthony Robbins is a master at knowing how other people feel. So, for example, we can break out of a limiting pattern by doing something new or unexpected. Breaking a pattern will get us out of the state we are trapped.
Tony wrote about a time when he was on a boat, and a man had a panic attack while he was there. The man kept shouting, "I have a blackout! I have a blackout!" Tony went up to him and yelled, "Then white it out! White it out!" The man who was having a panic attack was so confused that it was over in a few seconds. That's the power of breaking limiting patterns.
Of course, it doesn't always have to be this severe. You can change your limiting patterns about things that annoy and upset you. Tony has some valuable advice for this:
See the situation that is bothering you in your mind
Take the same experience and, in your mind, make a cartoon out of it. Pitch the voices up, make the cartoon black and white, or add some laughter in the background. Until you can't take this problem seriously any longer.
Play around with it, have some fun, and you'll be amazed at what it can do with some of your negative life experiences.
Show Love And You Will Get Rewarded
Imagine you always have to call your friend, your children, or your boyfriend/girlfriend first. She rarely calls you first. When they finally call, you pick up the phone and say: "Oh, you are finally calling? Will miracles never end? Why do I always have to be the one to make the first call?
Consider what's going on on the other end of the phone. Your boyfriend or children only wanted to do the right thing. But you make them feel guilty. You make them feel pain. Pain will be linked to calling you. If they call, they get pain. If they don't call, they get pain. It's a never-ending cycle of agony. What are your options?
Regardless of whether you are waiting for a call from them, do not tell them that they should call more frequently or that you are upset with them because they do not call. Instead, tell them you love them, appreciate their calls, and love that they care about how you're doing. And they will link pleasure and fun to calling you. And they will call more because of that, and without any bad feelings, they even enjoy calling you.
The Power Of Movement
If you've read any Anthony Robbins books, you'll know how important moving is. Of course, Tony isn't the only one who emphasizes the importance of keeping your body active. However, you can try it on your own with the following experiment:
Pretend you're a bored and humorless symphony conductor swinging your arms in and out rhythmically. Do it very s-l-o-w-l-y. Don't get too excited. Just do it as a matter of r-o-u-t-i-n-e. Make sure your face reflects your bored state, and pay attention to how it feels.
Now, take your hands, clap them together explosively, and snap them back out as quickly as you can while smiling silly. Intensify this clap movement with an underlining vocal that sounds like a loud and large explosion. That motion and speed you've created will immediately alter your mood. You can test it for yourself if you like. And don't worry if you feel stupid doing it. I felt stupid, too, as I tried it the first time.
The Vocabulary Of Ultimate Success
A few simple changes in your vocabulary can significantly impact how you feel about a situation. Replace a typical, good word with an even greater word that empowers you. So, for example, the next time someone asks you, "How are you?", instead of your standard response of "I'm fine", raise your shoulders and confidently say: "I'm feeling absolutely fantastic today!". And observe how this affects your actual state of being. It's a huge game-changer.
You can experiment with various words and sentences. Here are some examples of how to empower your vocabulary:
| Old common, good word | New greater word |
| --- | --- |
| I'm feeling fortunate | I'm feeling unbelievably blessed |
| I'm feeling great | I'm feeling phenomenal |
| I'm feeling quick | I'm feeling explosive |
| I'm feeling fast | I'm feeling ballistic |
| I'm feeling good | I'm feeling better than excellent |
| I'm feeling powerful | I'm feeling invincible |
This method also works when you replace negative and disempowering words. Every person has a specific image that they associate with a word, and simply changing the word replaces an entire image and point of view in their heads. This is an astonishing phenomenon. So, for example, when someone upsets you, and you are about to get angry, instead of saying: "I'm getting angry", say: "I'm about to get a smidge cranky."
Simply by saying that and changing one word, you break the cycle of becoming angry, and you may even laugh. Here are some examples of replacing negative and disempowering words with positive and empowering words:
| Old negative, disempowering word | New empowering word |
| --- | --- |
| I'm feeling pissed off | I'm feeling tinkled |
| I'm feeling failure | I'm feeling learning |
| I'm feeling depressed | I'm feeling on the road to a turn-around |
| I'm feeling hurt | I'm feeling dinged |
| I'm feeling overwhelmed | I'm feeling challenged |
| I'm feeling sick | I'm feeling cleansing |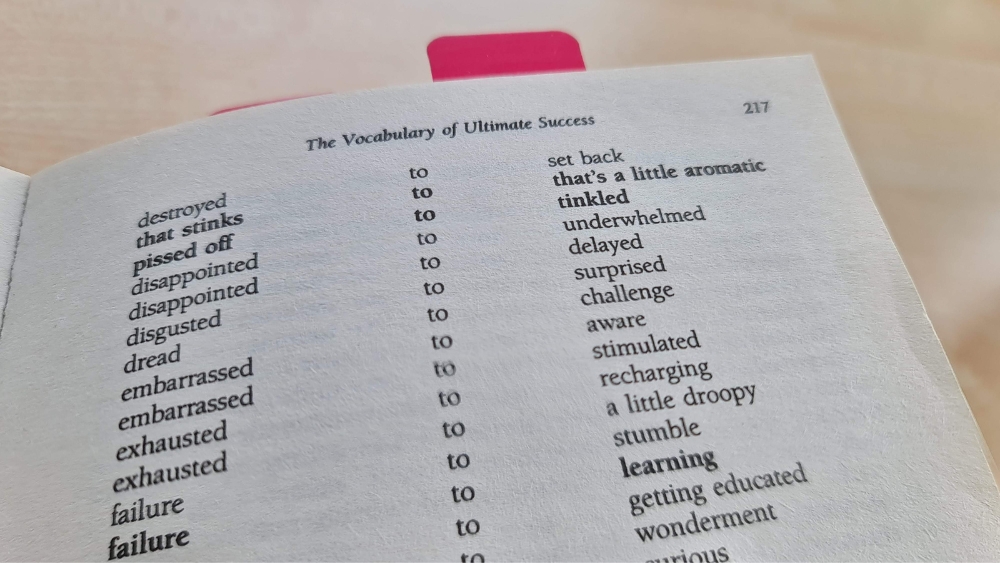 Global Metaphors
Tony has already coached many people and enjoys it. When someone says to him in his session: "I feel like the weight of the world is on my back," he responds with: "set the world down and move on."
Words, or metaphors, in this case, significantly impact how we think about a problem. If you have the weight of the world on your shoulders, you will feel overwhelmed and powerless. However, if you can change this image, you will regain control over how you feel in certain situations.
Another example is: "I can't make progress, I keep hitting a wall." Then, instead of hitting a wall, get a drill and make a hole in it. Climb over the wall or dig a tunnel to go underneath it. Replace the image you have when you say you've hit a wall with solutions to that problem, and you'll be back in control of your problems.
Your Personal Values
If you ever find yourself in a situation where you can't decide what to do, it's because you don't know what you value the most. Can't decide is completely normal and happens to everyone. Here's a quick quiz for you. Arrange the following ten words from 1 to 10, with 1 being the most important value to you:
Love
Success
Freedom
Intimacy
Security
Adventure
Power
Passion
Comfort
Health
Now try to rearrange these ten words from 1, most important, to 10, not so important:
______________________
______________________
______________________
______________________
______________________
______________________
______________________
______________________
______________________
______________________
The arrangement of these words has a significant impact on the decisions you make in your life. So if you want to change your decision, try changing the importance of these values. For example, if you want to lead a big company, success must be at the top of your list. And you can't pay equal attention to each value.
The same is true for values that hold you back, such as rejection, fear, guilt, anger, and so on. The fear of these feelings plays a significant role in your decision.
Happiness Comes From Within
If you've read any self-improvement books, you've probably heard the phrase "Happiness comes from within" several times. Great speakers and authors like Jordan Peterson and Eckart Tolle frequently discuss this. Stoicism is a philosophy school that teaches this extensively, and Tony has also dedicated an entire chapter to the phrase "Happiness comes from within." And, whether you've read ten books on the subject or not, I believe it's a topic worth revisiting.
The main principle is that whenever you seek happiness from outside circumstances or something you cannot control, there is a risk that it will be taken away from you. And if you rely on this single thing for happiness, and it is taken away from you, you are no longer happy.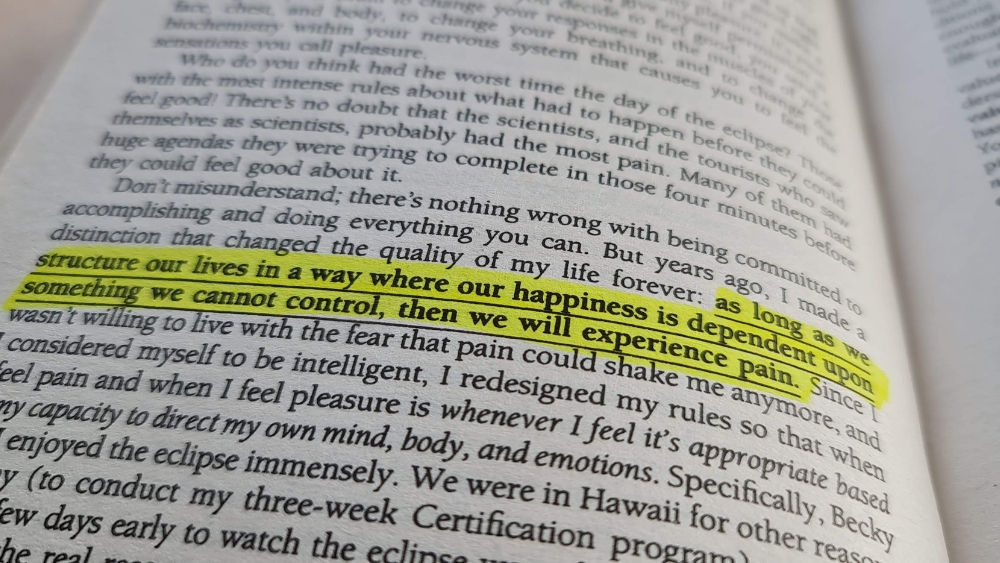 You have no guarantee that this outer circumstance will last because you have no control over it; therefore, it is critical to seek happiness from within, from things you can control.
The easiest way to do this is to change the way you think. For example, someone offends you, and you are about to get upset. Stop for a moment and ask these questions for yourself: "Why does this person has to offend me? Is the other person unhappy? Is the other person having a bad day? Has something bad happened to this person?".
You are in control of how you think about it, but you are not in control of how the opposite person reacts and responds to you. You are no longer reliant on what the other person says. You are no longer reliant on external circumstances.
Conclusion
Anthony Robbins did an excellent job combining many topics into one massive book. Even if you read quickly, it will take some time to get through all 500 pages, but I guarantee that after reading this book, you will better understand yourself.
Awaken the Giant Within teaches us that emotional mastery is the key to unlocking our ultimate destiny.
By learning to act with emotional intensity and express negative emotions constructively consistently, we can avoid actual pain and gain pleasure in our personal and professional lives. Successful people recognize and overcome their limiting beliefs, using the ultimate success formula to create long-term happiness.
By describing our emotions and understanding our emotional states, we can gain control over our lives and achieve an intense emotional state that fuels our journey toward emotional mastery and our ultimate destiny.
When uncomfortable situations arise in your life in the future, remember the lessons in this book, and you will master the situation like never before. You're also learning a lot about how other people think and why they do what they do. It allows you to understand why they do this and respond accordingly.
No products found.
I hope you learned something from Awaken The Giant Within Summary by Anthony Robbins. Till next time!
Best, Fabian
Share with your Friends: