Unlimited Power Summary: A Roadmap to Success by Tony Robbins
Tony Robbins' first book was titled Unlimited Power. It was released in 1986, which is a long time ago. But everything he wrote back then is still relevant today. As a result, regardless of the year, this book is an excellent choice to read. Here are the essential takeaways: the Tony Robbins Unlimited Power summary.
Robbin's passion is to make the world a better place to live by assisting individuals in captaining their destinies. In 1991 he formed a non-profit foundation to aid underprivileged children, homeless individuals, senior citizens, and the prison population. Until today in 2022, this is still one of the most significant tasks in the Anthony Robbins Companies. Additionally, he is the author of 9 books.
Tony Robbins is a life coach and a powerhouse of a human being. When reading his books, you can be certain to reach personal achievement and unlock the tools that all successful people have. Author Antony Robbins covers everything vom physical communication, body language, personal development, limiting beliefs, and other great tools to boost energy levels to live a successful life.
Unlimited Power Book Summary
Tony Robbins' book Unlimited Power contains over 500 pages of his knowledge. He discusses how to be more productive, what makes successful people successful, how to speak and connect with others more effectively, and much more.
Even though Tony writes about a wide range of topics, he explains each point clearly and understandably. Even better, he includes plenty of exercise in his book. These tasks help you better understand yourself, your friends and partner, and your own life in general.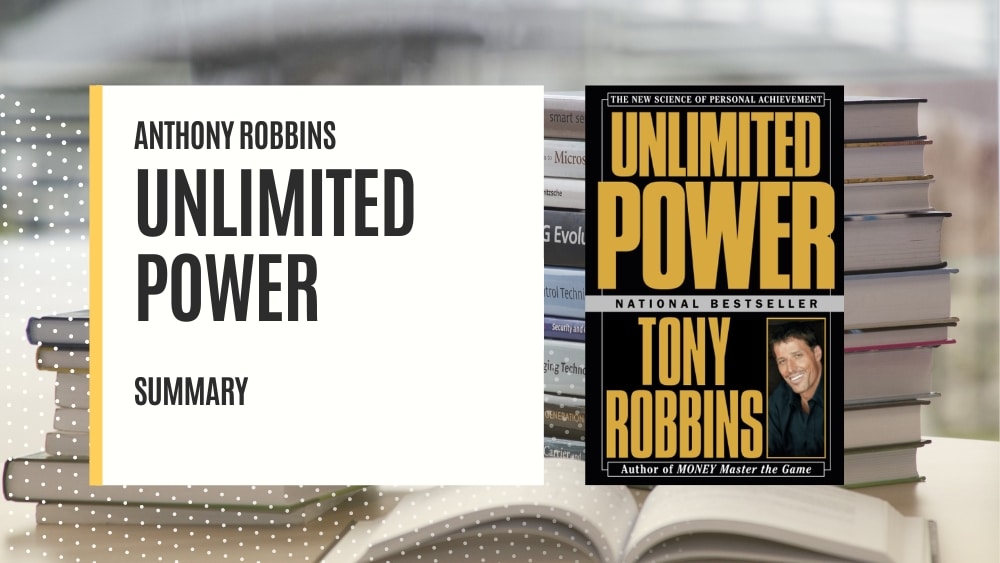 The Power Of A Resourceful State
If you've seen Tony live or read his books, you'll understand how important it is in his teachings. When you are not in an uprising or powerful state, you cannot give your best or make the best decisions.
Assume you have an important decision to make. You are lying in bed, and your girlfriend or boyfriend has just broken up.
Of course, you can't make the best decisions in this state. But there are several ways to enter a powerful state. Some of these techniques are also heavily used by professional athletes:
Sit down, take a few deep breaths, and try to relax. Once you've reached a calm state, visualize the situation you want to master. Take your time and be as precise as possible. For example, as a baseball player, imagine how the ball flies toward you, how you hit the ball, and how the ball flies away. The more details you add, the stronger your imagination and the better your state of mind when you finish this little meditation.
Another method is to move your body, which actively awakens it. Anthony Robbins recommends trampolining every day for a few minutes, which shakes your body and makes it awake and powerful.
Another option is to simply dance: when you're at home and before you leave, listen to some music you like, make some funny movements, just enjoy the rhythm, and don't worry about what others think. Moving your body wakes up your body and shows your mind that you're active and engaged.
If you've seen the Netflix documentary about one of Robbins' Date with Destiny seminars, you'll notice that every time he enters the stage, he jumps five to ten times on the trampoline, then claps loudly with his hands, makes a 360° turnaround, and then points with extended arms to the top. It's like an instant trigger to be powerful. You can create a small ritual in which your mind instantly connects to a powerful state. So, when you're feeling down, just perform your little ritual, and you'll be instantly in a powerful state.
Change The Picture In Your Brain
Try playing with the image in your mind the next time you anticipate an unpleasant situation or have a past experience with something that upsets or saddens you. We have a specific image or video in our minds for a specific past experience or a future event. You can also experiment with these images and videos to enhance, improve, or dampen the effect.
Try it for yourself:
Think of a very pleasant memory. Close your eyes and relax. The memory can be recent or distant.
Now take that image and make it brighter and bright.
Next, bring the image closer to you. Now stop and make it bigger.
What happens when you manipulate the image? It changes the intensity of the experience.
For the majority of people, making a pleasant memory brighter and closer creates an even more powerful memory.
You can try this with anything; for example, if you had a bad experience, try this:
Think of the bad experience you had. Close your eyes and relax.
Now, make the image black and white. Observe how the feeling changes when you think of this image.
Try now to make to image zoom away more. Or put it on the bottom right, very small. Again, observe how your feelings change.
Here are some other modalities you can play with:
Color
Brightness
Size of the picture
Self in or out of the picture
Distance of picture from self
Focus
Angle viewed from
You can also play with the auditory part. Try changing these things and observe how your feelings change:
Volume
Rhythm
Tonality
Timbre
You can also experiment with the kinesthetic aspects of memory. These are the feelings of the memories.
Experiment with the following:
Temperature
Vibration
Pressure
Intensity
Have you ever been in a situation where your mind wouldn't stop talking? If this happens to you, simply reduce the volume. Make your inner voice softer, farther away, and weaker until it disappears entirely.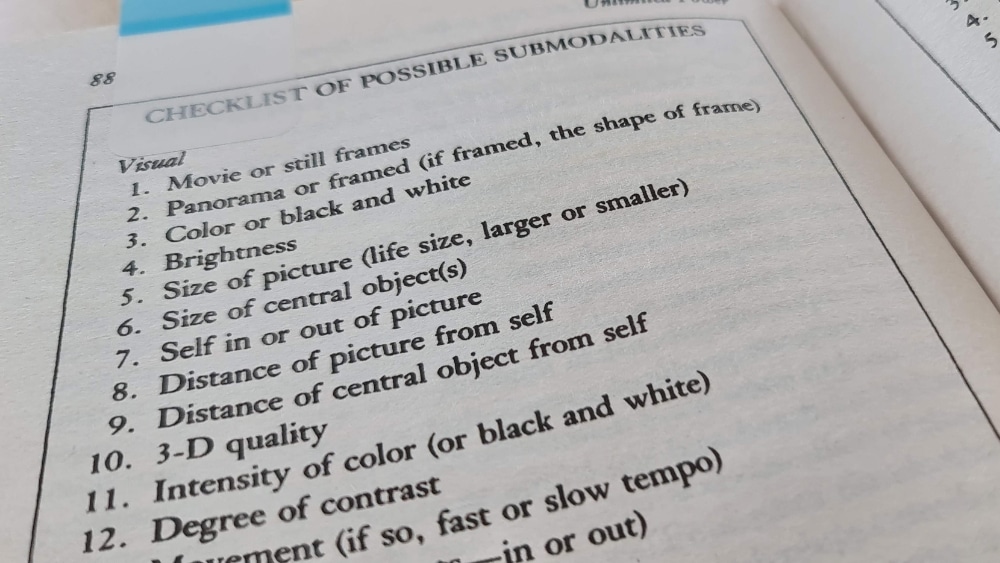 How You Recall Things
We remember information in three ways: visually, auditorily, and kinesthetically (feelings). And we store and access them in a variety of ways. To recall a visual experience, for example, we turn our eyes up and left or right.
To recall auditory memories, we move our eyes to the right or left while remaining aligned in the middle. Finally, we can recall kinesthetic memory by looking down, right, or left. To help you understand this further, here is an image from the book: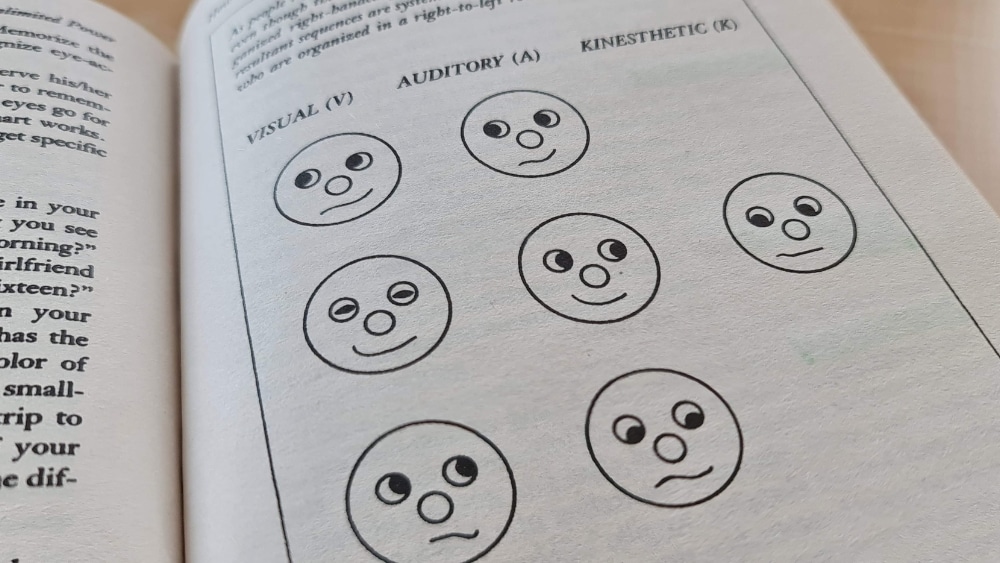 But give it a shot for yourself! Better yet, try it with your spouse or a close friend. Ask the following questions and observe their responses. However, in order for this to work, they must provide a truthful answer and recall a memory.
Question for accessing a visual memory:

How many windows are there in your house?
Which of your friends has the shortest hair?
What was the color of your first teacher's hair?

Question for accessing an auditory memory:

What was the first thing you said today?
Name one of your favorite songs from when you were younger.
What sounds of nature do you like best?

Questions for accessing a kinesthetic memory:

Imagine the feeling of ice melting in your hand.
How cold was the ocean the last time you tested it?
Imagine settling down for a nice hot bath.
Ask these questions and watch closely how the other recall these memories. It's a fun experiment!
Start Trampolining
Much research has been done on how trampolining can help you strengthen your body and become more agile.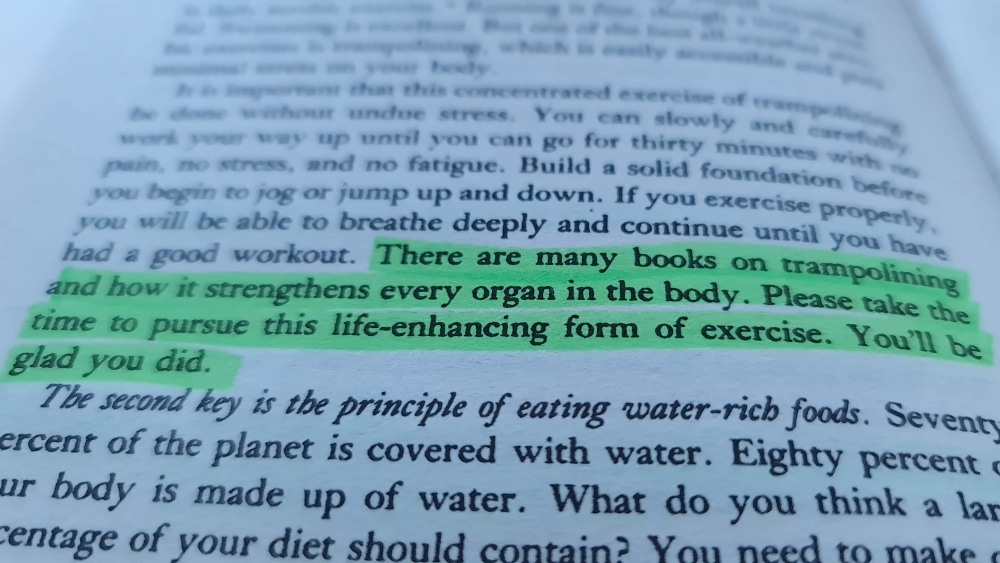 Physical exercises have been proven over and over again to improve overall mood and even overcome depression. Additionally, if you stick to your habits and remove the bad habits, you are more likely to reach personal achievement and have more success in general.
The Magic Of Rapport
Rapport is a feeling of understanding and acceptance that occurs between people. Empathy, shared values, or goals can help build rapport. It's easier to understand what someone is saying and why they're saying it when you have rapport with them. It also implies that you can connect with them on an emotional level and gradually gain their trust.
When it comes to how to build rapport, you could probably fill an apartment with books on the subject. Tony gives some examples of how to build rapport in his book Unlimited Power. Mirroring other people can help you learn how to build rapport. Begin with his voice. Mirror his tonality and phrasing, as well as his pitch and volume. Repeat favorite phrases or words. Maintain the same posture and breathing patterns.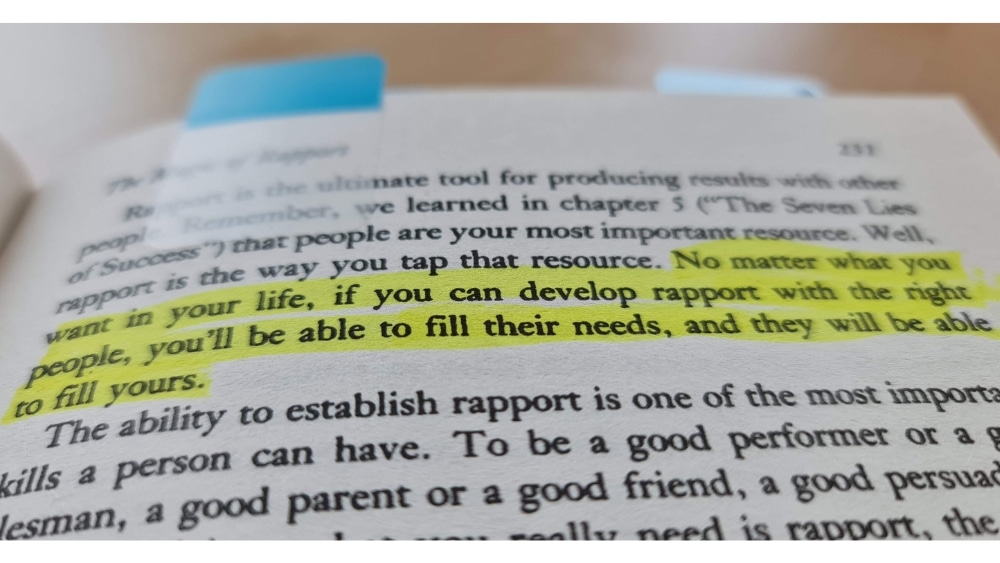 When mirroring and rapport building are done correctly, the other person feels as if they've found their soulmate, someone who completely understands and can read their innermost thoughts.
It is critical to understand the other person while building rapport. You must understand how they react and what they like. You accomplish this by paying close attention to every word he says and every gesture he makes, and the facial expression your opposite makes. For the phrase "I understand you," for example, you have several options.
I see your point (communicates visually)
I hear that you are saying (communicates auditorial)
I feel that I am in touch with what you're saying (communicates kinesthetically)
Of course, these are only a few examples, but depending on how the other person communicates, you have to mirror the communication style. Here's another example of the phrase "I'm not sure about that":
Visual: That is pretty hazy to me
Auditory: That doesn't really ring a bell.
Kinesthetic: I am not sure I'm following you
To deeply connect to a people, you must speak in his own language. It's a trait of successful people. If done right, you can reach new heights of personal achievement.
Metaprograms
Metaprograms represent both our deepest fears and our greatest joy. They influence our decisions or cause us to avoid certain situations. This is mostly unintentional. Everyone tends to lean toward certain things and away from others.
Some people are energetic, curious risk-takers. They are most comfortable when they are moving toward something. Others are cautious, wary, and protective. They tend to move away from harmful or threatening things rather than toward them.
To reach people, you must first activate the correct metaprogram in others. When someone seeks risks and likes to move toward things, you must show him what he can achieve rather than telling him what he will lose if he does not. As an example:
You can reach out to a potential buyer in two ways as a salesperson. You can try to sell cars by emphasizing their speed, elegance, and sexiness, or you can emphasize how efficient they are on gas, how inexpensive they are to maintain, and how safe they are in crashes. Depending on the other person's metaprograms, you will reach him with one or the other.
The Power Of Perspective
The meaning of any experience in life depends on the frame we put around it. If we change the frame, the context and meaning change instantly. The process of changing the frame is called reframing. Here is an excellent example of the power of perspective: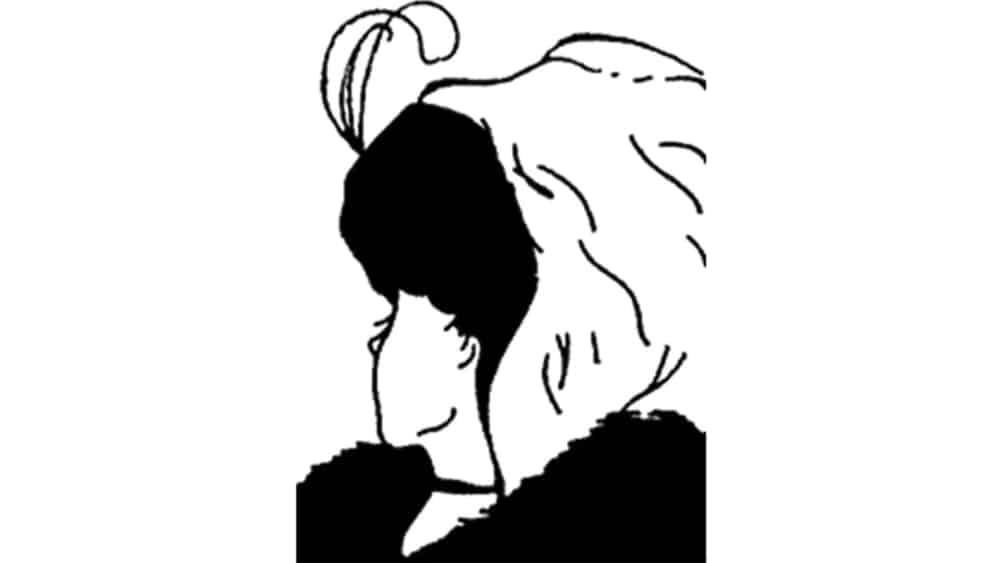 Changing your mind once you've decided what you see is challenging. I had to look at the young girl in a separate image for myself. Only then did I notice the young woman in the illusion. There are three of them here: the young, the old, and the illusion. With these visual cues, you should now be able to alternate between the old and young women in the above image.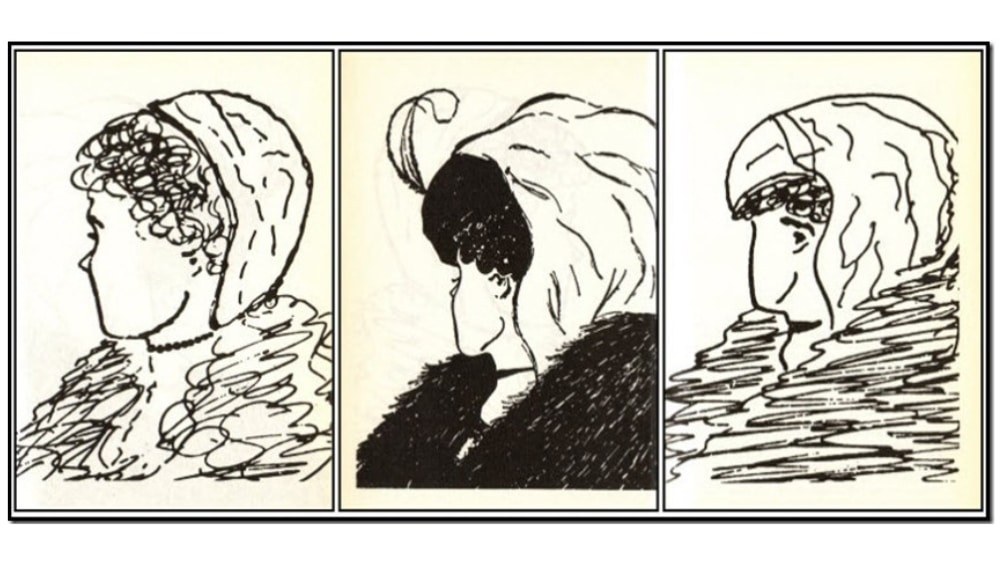 You can learn to do reframing exercises for images and experiences that bother you. Tony talks about one of the most effective techniques for reframing:
Picture yourself in a theater, and see the experience that's troubling you as a movie up on the screen
First, you might want to play it in fast-forward, like a cartoon.
Play around with the sound, and put funny circus music in the background.
Then try to play it backward, and notice how the movie becomes more and more absurd.
Soon your negative experience loses its negative power.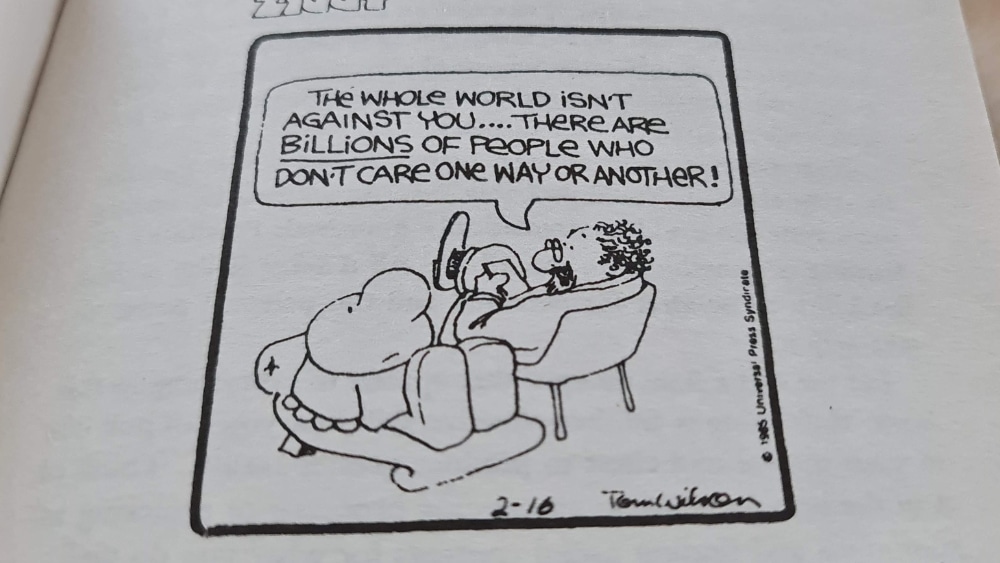 Anchoring Yourself To Success
In his book, Tony describes "anchoring" as the act of going into a state of relaxation, concentrating on a particular sensation or memory, and "anchoring to" this experience. This can have several benefits, including reducing stress and improving performance. The key is to relax your mind and body as you anchor by focusing on the specific experience that you want to take away with you.
To anchor effectively, it's essential to be mindful of your surroundings and aware of your body's sensations. This will help you feel more grounded in the moment while also giving you a better understanding of what's going on inside yourself.
Once you've settled in with your anchor, remember how it feels inside yourself. Are you more tense or relaxed? Does your heart rate speed up or slow down? Are there any other physical sensations that are prominent? Once you've identified these things, try to bring them into awareness as much as possible so they can become part of your anchor.
Once you are fully aware of your anchor, make the anchor stick as you are doing a specific movement, give pressure on the specific part of your body, or make a particular noise or anything else that you can later repeat to live this experience again.
The main goal is that after that, every time you hear this exact noise or give this pressure to the part of your body, you are anchored. This can be a feeling of personal power, relaxation, concentration, or anything else you can imagine. Anchoring done right can be powerful.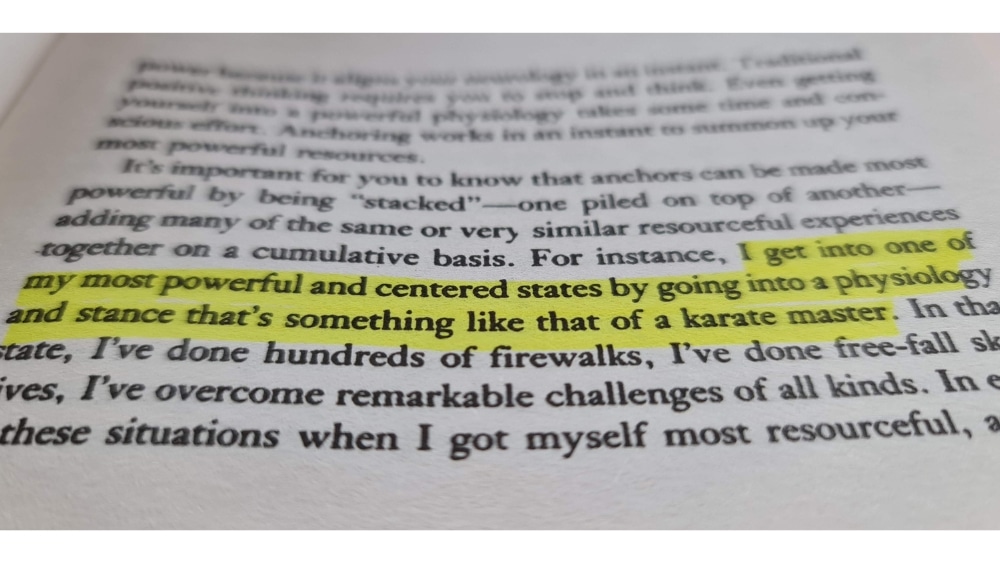 Conclusion
Unlimited Power gives you all the tools you need to improve your life and for your personal achievement. From simple tricks like reframing a negative experience in your life to powerful and more complicated topics like anchoring, Tony Robbins covers a whole range of self-improvement topics.
Don't wait until tomorrow to start living your best life today! Start by taking small steps toward your goals. Each step is progress, and each step counts! When you're ready to take another step, keep taking one step at a time. It's not about how quickly you can get there; it's about how far you get along the way! Remember, the goal is the way.
By implementing these steps, you build self-confidence and boost energy to reach your desired outcome. But this is an ongoing process, not a one-time event.
So, with this said, this is the end of this Unlimited Power summary. I hope you can learn something today. Unlock your greatest resource with the help of this practical advice, and don't stop your process of personal growth! You are the creator of your own life and your own business. I wish you great success!
Best, Fabian
Share with your Friends: