How To Start A Work Journal: Supercharge Your Productivity
Are you looking to level up your career and take control of your professional development? If so, starting a work journal might be the missing piece in your success strategy.
A work journal is a powerful tool that can help increase productivity, enhance time management, foster self-reflection, and keep you on track towards achieving your goals.
In this blog post, we'll explore how to start a work journal by choosing the right format and tools, setting goals effectively, staying consistent with entries, and leveraging it for career growth – all while providing tips from experts who swear by the benefits of journaling.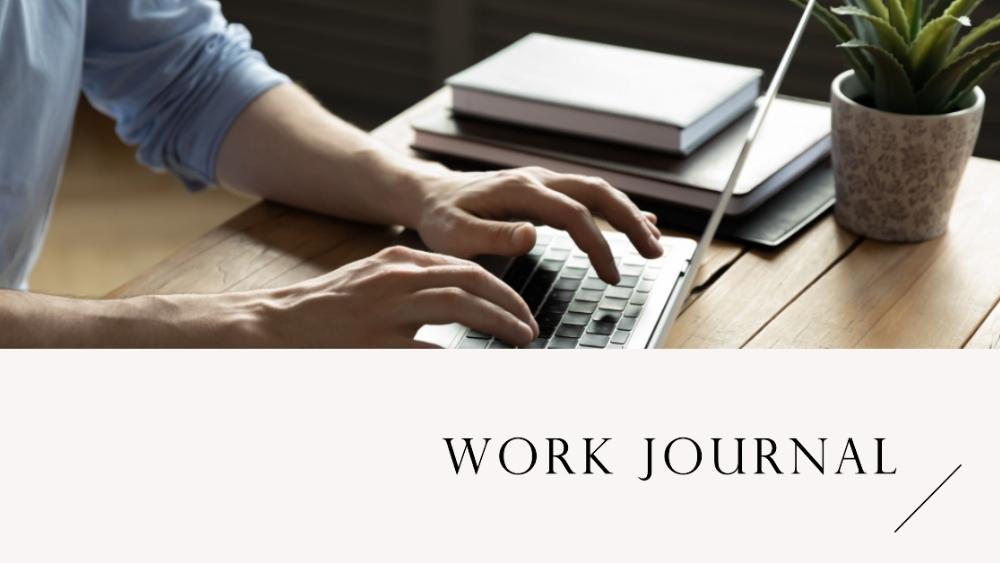 What Is A Work Journal And Why Should You Start One?
A work journal is a tool for documenting your thoughts, plans, actions, and goals related to your work that can increase productivity and organization, provide a record of accomplishments and progress, encourage self-reflection and growth, as well as help track and prioritize tasks and goals.
Increases Productivity And Organization
Keeping a work journal can significantly increase productivity and organization in both your personal and professional life. As you consistently document your daily tasks, achievements, and challenges, you'll develop a greater awareness and understanding of your work habits.
For example, I started keeping track of my most time-consuming tasks in my work journal. After analyzing the entries over a few weeks, I realized that checking emails was eating up too much of my day.
Thanks to this insight from my journaling habit, I decided to limit email-checking times within specific hours throughout the day – which resulted in increased efficiency at completing other important assignments on time.
Provides A Record Of Accomplishments And Progress
One significant benefit of maintaining a work journal is that it serves as an ongoing record of your accomplishments and progress. By regularly documenting your completed tasks, successful projects, and milestones achieved, you create a tangible representation of your growth over time.
Having this organized record at your disposal not only boosts your self-esteem but also serves as valuable material when preparing for performance reviews or discussing potential career advancement opportunities with management.
Additionally, tracking your accomplishments and progress enables you to identify patterns and areas where you excel or need improvement.
work journal documents your accomplishments and progress, boosting self-esteem, aiding in performance reviews, and highlighting areas for improvement.
Encourages Self-reflection And Growth
One of the most significant benefits of maintaining a work journal is that it encourages self-reflection and personal growth. By consistently writing down your thoughts, experiences, and feelings related to your job, you create an opportunity for introspection.
This intentional practice allows you to recognize patterns in your behavior, identify areas where improvement is needed, and celebrate accomplishments that might otherwise go unnoticed.
Moreover, as research shows that journaling can boost self-discovery by awakening intuition and promoting emotional intelligence, keeping a work journal creates an invaluable tool not only for professional development but also for personal enhancement.
Helps Track And Prioritize Tasks And Goals
Keeping track of tasks and goal-setting is an essential component of a successful work routine. However, with numerous activities competing for our attention at any given time, it can be challenging to stay focused on what matters most.
A work journal provides you with the necessary tools to prioritize your tasks effectively while keeping you accountable for meeting deadlines. Through regular entries in your journal, you can create a prioritized list of manageable tasks that need to be completed daily or weekly based on their level of importance.
Types Of Work Journals Table
There are different types of work journals, including task-based, time-based, and project-based.
Task-based
Task-based journaling is a technique that involves recording your goals and daily tasks in a structured format. This approach to journaling can help you stay organized, prioritize your time effectively, and achieve more in less time.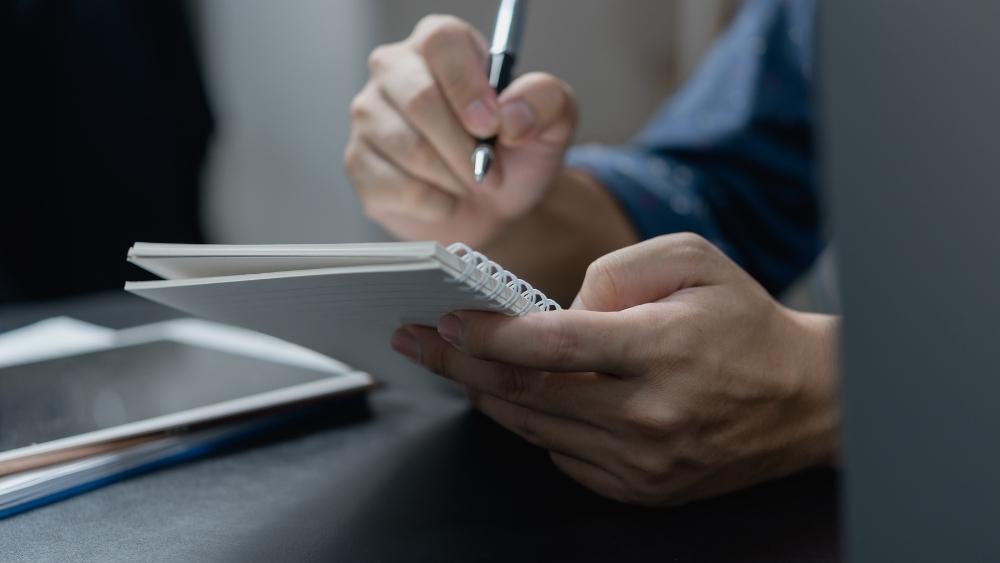 Task-based journals can come in different forms, such as digital or physical notebooks or apps.
To get started with task-based journaling, first, identify your goals and objectives for each day or week, then create lists of specific tasks to accomplish them. Use prompts and templates as needed for guidance on how to structure your entries.
Time-based
One type of work journal is the time-based journal, which focuses on tracking how time is spent throughout the day. This type of journal can be especially helpful for individuals who struggle with managing their time effectively and often feel overwhelmed by their workload.
By keeping a record of daily activities and how much time is spent on each task, it becomes easier to identify areas where productivity could be improved. For instance, someone might notice that they tend to spend too much time checking emails or scrolling through social media instead of focusing on important tasks.
With this awareness, they can make intentional changes to improve their habits and use their time more efficiently.
Project-based
One effective way to structure your work journal is through the project-based approach. This involves organizing your entries by projects, which allows you to track the progress of each task and see how it contributes to the overall goal.
This method encourages collaboration as it requires multiple stakeholders' input, making sure everyone is on task and accomplishing something meaningful. Additionally, research shows that PBL improves student learning in higher education because it enhances personal ownership of learning, creativity, and critical thinking skills while providing opportunities for immediate application of knowledge in real-world situations.
Setting Up Your Work Journal
When setting up your work journal, consider choosing a format that works best for you, selecting the right tools like a notebook or app, and creating an organized system.
Choosing A Format (digital Or Physical)
When it comes to setting up a work journal, one of the first decisions you need to make is whether you want to go with a physical notebook or a digital tool. Both options have their advantages and disadvantages, so it ultimately comes down to your personal preference.
For those who prefer the tactile experience of writing by hand, a paper notebook might be the way to go.
On the other hand, digital journals offer plenty of benefits for those who prefer electronic tools. They're easy to set up on smartphones, computers or web browsers allowing flexibility if you don't have access to pen and paper at certain times; they come bundled with many useful features such as reminders, templates for entries that streamline inputting data regularly & advanced encryption ensuring security,and can even connect with personal assistants like Siri or Alexa.
Additionally, posts within these journals can be easily tagged using hashtags which create linked categories for easier searching later when necessary aiding organization efforts.
Choosing between a physical notebook and a digital tool for work journaling depends on personal preference, with the former offering a tactile experience and the latter providing flexibility, advanced features, and organization.
Selecting The Right Tools (notebook, App, Etc.)
When it comes to setting up your work journal, selecting the right tools is crucial. There are several options available, from traditional paper notebooks to various apps designed specifically for note-taking and organization.
It's important to consider what will work best for you based on your personal preferences and needs.
For those who enjoy using technology, there are many journaling apps available that offer features such as reminders, templates, and advanced encryption for added privacy.
For example, Grid Diary is an app that provides users with a grid of boxes to fill in with different prompts and questions each day.
Ultimately, the choice between using a paper notebook versus an app depends on what works best for you personally when it comes to productivity and organization.
Creating A System For Organization And Labeling
When it comes to organizing your work journal, having a system in place is crucial for staying on top of tasks and goals. One effective method is using labels and tags to categorize entries.
Another useful approach is color-coding entries based on their priority or category. This helps visually distinguish urgent tasks from less pressing ones and gives an overall view of the entire scope of your projects at a glance.
Overall, developing an organizational system that works best for you will help optimize the benefits a work journal has to offer by enhancing productivity, prioritization skills, and overall efficiency.
Getting Started With Your Work Journal
When getting started with your work journal, it's important to set clear goals and decide on frequency and consistency for entries.
Setting Goals And Objectives
Setting goals and objectives is a vital part of using a work journal to achieve personal growth and development. Here are some tips for setting effective goals and objectives:
Start with long-term goals: Set long-term goals that align with your overall career or personal aspirations.
Break down into short-term goals: Break down your long-term goals into smaller, achievable short-term ones.
Prioritize goals: Prioritize your short-term goals based on their importance and the time you have to complete them.
Make SMART goals: Make sure your goals are Specific, Measurable, Attainable, Relevant, and Time-bound (SMART) to give you more focus on the direction of where you want to be.
Write it down: Write down each goal in detail in your work journal so that it's concrete and measurable.
Create action steps: Create specific action steps for achieving each goal.
Monitor progress regularly: Track your progress regularly by reflecting on your journal entries to see what works and what doesn't work.
Re-evaluate as needed: Re-evaluate your goals as needed based on changing circumstances or shifting priorities.
Remember that setting SMART goals is essential for success in achieving personal growth and development through a work journal.
Deciding On Frequency And Consistency
When starting a work journal, it's important to decide on the frequency and consistency of your entries. Some people prefer to make daily entries, while others find weekly or even monthly entries more manageable.
Consider what works best for you based on your schedule and availability. Consistency is also key in developing a journaling habit. Try setting aside a specific time each day or week to write in your journal, and stick to that routine as much as possible.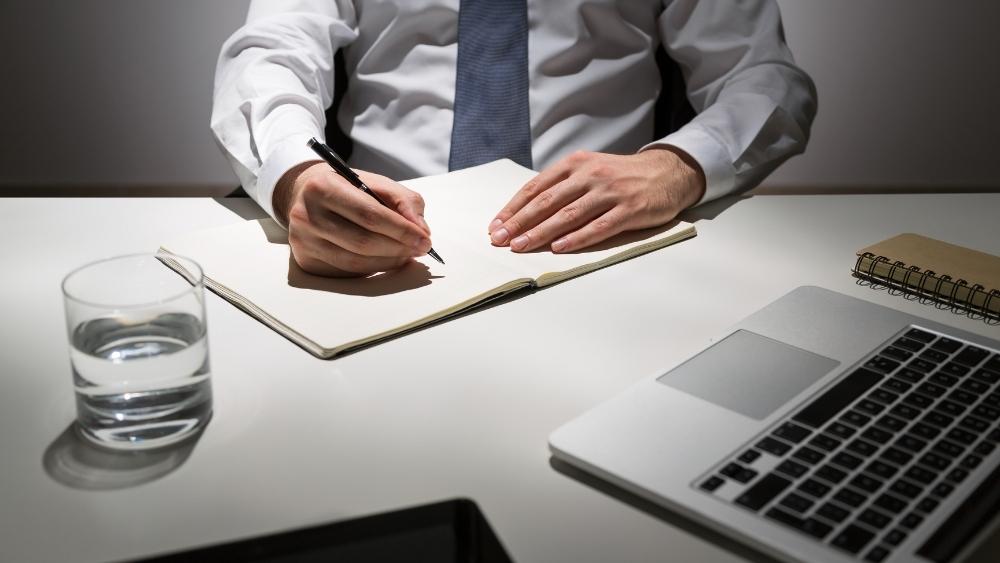 Identifying What To Include And How To Structure Your Entries
One of the keys to successful work journaling is knowing what to include in your entries and how to structure them. Your entries should be focused on capturing important information related to your tasks, projects, and goals.
When it comes to structuring your entries, there are a few different approaches you can take. Some people prefer a more free-form approach where they simply write down whatever comes to mind in the moment.
Whatever approach you choose, remember that consistency is key when it comes to maintaining a useful work journal. Try setting aside time each day (or at least several times per week) for journaling so that it becomes a regular habit.
Using Prompts And Templates To Guide Your Entries
To keep your work journal organized and focused, it can be helpful to use prompts and templates. These tools provide structure for your entries and help you stay on track with your goals.
For example, you might start each entry with a question prompt that encourages reflection or goal-setting.
By using prompts and templates, you can take the guesswork out of journaling and create a more efficient process for tracking your progress. Some popular options include Daily Work Journal, Grid Diary, Anxiety Journal, Therapy Journal, Career Journal & Self Discovery Journal – all available in digital or physical formats.
Tips For Maintaining A Successful Work Journal
To maintain a successful work journal, it is important to set aside a specific time for journaling, stay consistent with entries, regularly review and reflect on your entries, use your journal as a tool for self-improvement and growth, explore different prompts and templates to guide your entries and avoid being too hard on yourself if you miss an entry or forget to fill in details.
Setting Aside A Specific Time For Journaling
One essential thing to keep in mind when starting a work journal is setting aside enough time for it. Journaling can take up some of your precious energy, and if you don't plan ahead, you risk neglecting this important activity.
One effective way to make sure you're consistent with your entries is by scheduling journaling into your daily routine. Whether it's early in the morning or before going to bed at night, creating a designated time slot for journaling can help develop this helpful habit as part of your self-care routine.
Research has shown that writing down what we are grateful for every day can lead to improved mental health and productivity.
Another vital tip is ensuring that the environment around you supports your journaling practice. Suppose using electronic methods like apps or computer software suits best due to lack of space.
In that case, several apps like Grid Diary® App let users create templates for various types of journals while also providing the flexibility of working offline or online, depending on preferences.
Staying Consistent With Entries
One of the key factors in maintaining a successful work journal is staying consistent with your entries. This means making it a daily habit and sticking to the same time and place each day.
Consistency not only helps you stay organized, but it can also help make journaling feel less daunting over time. When you write regularly, it becomes easier to capture important details without feeling overwhelmed.
Additionally, keeping your entries short and sweet can also contribute to consistency by allowing you to make writing part of your routine without taxing your precious energy reserves.
Using Your Journal As A Tool For Self-improvement And Growth
Your work journal can be an incredibly useful tool for personal growth and self-improvement. By reflecting on your entries regularly, you can identify patterns in your behavior and thought processes that may be hindering your progress.
For example, if you notice that you frequently procrastinate on certain tasks or struggle with imposter syndrome, jotting down these observations in your journal can help you develop a plan for overcoming them.
With the help of reflective prompts or templates, such as those found in productivity journals like Grid Diary or Anxiety Journal Digital,you can start to make meaningful changes in both your work and personal life.
A work journal facilitates personal growth and self-improvement by identifying behavioral patterns and using reflective prompts or templates to overcome challenges.
How To Leverage Your Work Journal For Career Development
Learn how to use your work journal as a powerful tool for career development by identifying areas of professional growth, tracking progress toward goals, and showcasing accomplishments to supervisors.
Using It To Communicate Accomplishments And Progress To Supervisors
One of the key benefits of keeping a work journal is being able to communicate your accomplishments and progress to your supervisors. Your journal serves as concrete evidence of the hard work you've put in, highlighting specific tasks and projects that you've completed successfully.
This can be particularly useful during performance reviews or when discussing promotion opportunities with your manager. By providing specific examples from your journal entries, you can demonstrate how you have grown, what areas you excel at, and what goals you've achieved over time.
Identifying Areas For Professional Development And Growth
To achieve professional growth, it is essential to identify areas for development and improvement. This can involve assessing your strengths and weaknesses, seeking feedback from coworkers or supervisors, and identifying skills that are important in your field.
For example, if you work in a rapidly changing industry such as technology or healthcare, staying up-to-date with the latest developments can be critical to career success.
Once you have identified areas for professional development and growth, it is essential to create concrete goals for improvement. This could include taking classes or workshops related to your field or seeking out a mentor who can provide guidance and support along the way.
Tracking Progress Towards Career Goals
As I mentioned earlier, setting and tracking career goals is one of the primary reasons to start a work journal. Here are some ways to track progress toward those goals:
Create a list of short-term, mid-term, and long-term career goals.
Break each goal down into specific tasks or action steps that need to be taken.
Identify measurable metrics that will indicate progress towards each goal (e.g., revenue generated, clients acquired, skills learned).
Regularly review your progress towards each goal and make adjustments as needed.
Celebrate small victories along the way and use them as motivation to keep moving forward.
By using your work journal to track progress towards your career goals, you'll have a clear record of your achievements and be able to more easily identify areas where you need to focus your efforts for continued growth and success.
FAQs:
1. What are the benefits of keeping a work journal?
Keeping a work journal can help you stay organized, track progress on tasks and projects, identify areas for improvement or growth, and reflect on accomplishments or challenges faced in your job.
2. How do I choose what to include in my work journal?
Decide which details are most relevant to your job and goals. You may want to record tasks completed, meetings attended, significant accomplishments, deadlines met or missed, personal insights related to your job performance, and any other items that will help you improve productivity.
3. Should I keep a physical or digital work journal?
The choice between a physical or digital journal depends on personal preference. Digital journals offer searchability and accessibility from multiple devices, while handwritten notes in a notebook can be more tactile and easier to quickly jot down urgent thoughts during busy times.
4. How often should I update my work journal?
It's best not to let too much time pass before updating your logbook, so write something every day, even if it's just a few notes about what happened at the office that day, but weekly summaries also capture enough information for inclusion in the working logbook as regular logging ensures accuracy of data captured over time.
Conclusion
Starting a work journal can have numerous benefits for your personal and professional growth. With the right tools, mindset, and consistency, you can increase productivity, stay organized, track your progress, and reflect on your accomplishments.
Whether you choose to use a physical notebook or digital app, there are various types of work journals that can help you document tasks or projects. By setting goals and prioritizing entries regularly, you can leverage your work journal to communicate achievements to supervisors or identify areas for development.
Remember that it's important to maintain a consistent journaling habit and review entries regularly for optimal results.
I wish you the best! Fabian.
Share with your Friends: