Book Summary: Essentialism by Greg McKeown
Are you in need of some help getting organized and productive while still having enough time to enjoy life? If so, then Essentialism by Greg McKeown is a great book for you!
Greg McKeown is an expert in helping people achieve clarity and focus on creating meaningful lives. His best-selling book about productivity, "Essentialism: The Disciplined Pursuit of Less," provides actionable advice on how to make the most out of life by doing less but better.
He's also a highly sought-after leadership consultant who has worked with individuals and organizations worldwide to improve their performance while developing strong leaders – providing guidance to help you take your journey toward success one step further!
In this comprehensive Essentialism summary, I will cover the main ideas and principles behind the book, proving that is possible to achieve success without sacrificing your values. You don't have to become overwhelmed or burn out if you practice Essentialism – which brings balance through eliminating non-essentials.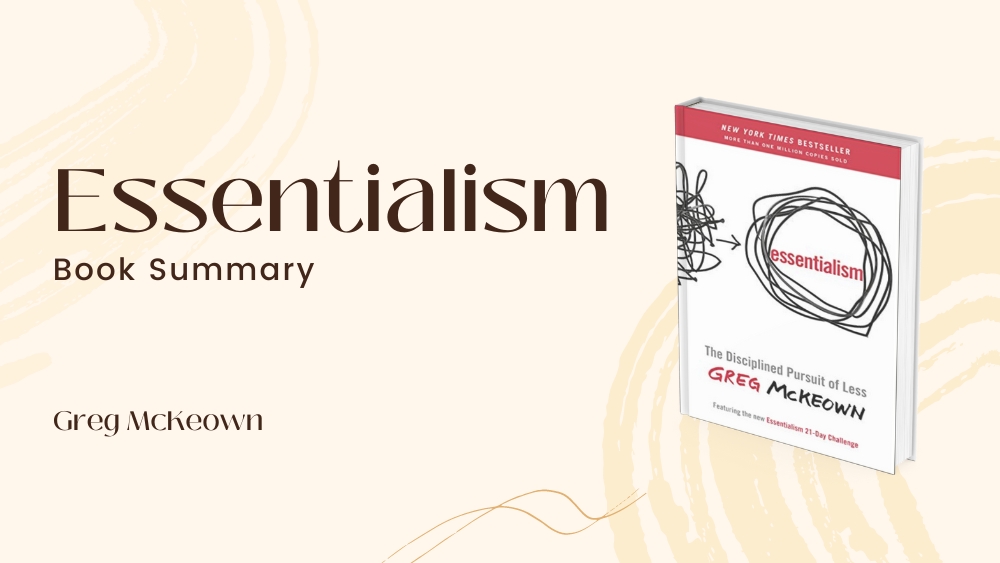 By learning to prioritize what matters, appreciate yourself more fully, and focus on doing fewer things better, you'll be able to savor every moment of your life instead of feeling exhausted all the time.
Let us get started with this Essentialism: The Disciplined Pursuit of Less summary:
Part I: Essence
The most accurate description of an Essentialism is "less but better." It doesn't mean occasionally giving a nod to the principle. It means pursuing it in a disciplined way.
Essentialism is not about how to get more things done; it's about how to get the right things done.
Unfortunately, we have lost our ability to filter what's important and what isn't.
The word priority came into the English language in the 1400s. At this time, there was only a singular form of this world. Only in the 1900s did we start to pluralize the term into priorities.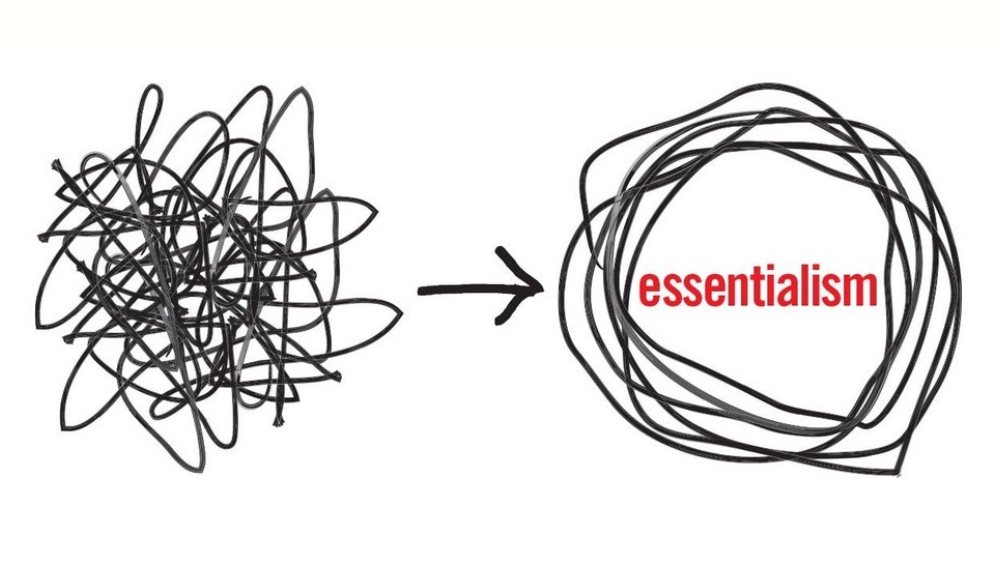 And this is illogical because there can only always be one priority. And we must regain our ability to choose the right essential things.
Choose
Have you ever felt stuck because he believed you had no choice? Have you used sentences like "I can't do this" or "I have to do this."? Unfortunately, these are common problems.
Becoming an Essentialist requires a heightened awareness of our ability to choose. We learn to be helpless when we forget our ability to choose.
And the first step in the right direction is rephrasing the sentence "I have to" into "I choose to."
Discern
Working hard is important, but more effort does not necessarily yield more results. "Less but better" does. We can start by asking the right questions: "What is the most valuable result I could achieve in this job?"
To chase only your most important goals, you must learn to say NO to requests and things of lesser value to us.
We can only achieve the most valuable results when we can say NO to good opportunities and say YES to truly great ones.
Trade-Off
Every time you say yes to any opportunity, by definition, you say no to several authors. The Non-essentialist thinks he can do both and ask himself how he can do it all.
And the Essentialists focus only on the most enormous opportunity with questions like "What is the trade-off I want to make?"
Of course, you don't have to decide between your family and your health or work. But the next time you face a decision where several priorities arise, prepare to ask, "Which problem do I want?"
Part II: Explore
We need space to think, time to look and listen, permission to play, wisdom to sleep, and the discipline to apply highly selective criteria to our choices.
These are the required steps to discern what is truly essential.
Space, listening, playing, sleeping, and selecting are crucial factors for discovering what's essential. They are not trivial distractions. We need to refill our energy to play our A game.
Escape
To have the best focus and concentration, we need to set aside distraction-free time in a distraction-free space to do nothing other than think.
But this is more difficult in our overstimulated words today. It doesn't happen anymore that we get bored. Yet it is crucial for an uninterrupted focus.
Bill Gates takes a regular week off from his stately duties at Microsoft to think and read. Twice a year, Bill Gates creates time and space to seclude himself for a week and do nothing but read articles and books and to think about the bigger picture.
Look
We have to see the big picture to see what's most important. A Non-essentialist pays attention to the loudest voice, hears everything being said, and is overwhelmed by all the information.
And then Essentialist pays attention to the signal in the noise and scans to find the essence of the information. And the best way to do this is by keeping a journal.
We are shockingly forgetful. Think of a journal as a storage device for backing up your brain's faulty hard drive, where you keep your most essential data.
As you write, focus on the broader patterns or trends. Don't be overly focused on the details, like the budget meeting or last Thursday's pasta dinner.
And a good practice is to read your journal entries once every 90 days. So you get the sense of what happened and can relieve your past 90 days.
Play
Play is essential in many ways. Stuart Brown, the founder of the National Institute for Play, has concluded that play has the power to significantly improve everything from personal health to relationships to education to an organization's ability to innovate.
Play leads to brain plasticity, adaptability, and creativity. In Stuart Brown's words: "Nothing fires up the brain like play." Additionally, playing melts the stress away.
So, for example, in the halls of Google, you're likely to stumble upon a large dinosaur covered in pink flamingos.
At Pixar studios, the artists' offices are decorated like anything from an old-time western saloon to a wooden hut.
What did you do as a child that excited you? How can you recreate that today?
Sleep
Sleep is necessary for operating at high levels of contribution. One hour of work is not equal to one hour of productive work.
In K. Anders Ericsson's famous study of violinists, the best violin ist's slept an average of 8.6 hours every 24 hours. They also spend an average of 2.8 hours napping in the afternoon. Sleep allowed these top performers to regenerate to practice with greater concentration.
They got more out of those hours of practice because they were better rested.
Bill Clinton said that every major mistake he had made in his life had happened due to sleep deprivation.
Sleep allows us to operate at our highest contribution level to achieve more in less time. In addition, sleep will enhance our ability to explore our connections and do less but better throughout our waking hours.
Select
To focus on the biggest, essential areas of our lives, we have to select what's important and what's not. Greg writes about the 90% rule in his book.
The 90% rule can be applied to every decision or dilemma. As you evaluate an option, consider the most important criterion for that decision and give the option a score between 0 and 100.
If you rate it lower than 90, give it a zero and reject it.
This way, you avoid getting caught up in indecision or, worse, getting stuck with the 60s or 70s. Think about how you would feel when you scored 65 on a test. Why would you choose to feel this way about an important choice in your life?
Part III: Eliminate
The third part of this Essentialism summary is about eliminating unnecessary tasks and jobs.
Studies have found that we tend to value things we already own more highly than they are worth and thus find them more challenging to eliminate.
If you're not quite ready to eliminate the item, ask the killer question:
If I didn't already own this, how much would I spend to buy it?
If I didn't have this opportunity, what would I be willing to do to acquire it?
Usually, that settles it. If you are not willing to rebuy it, you should throw it away or stop doing it (in the case of an opportunity).
Clarify
People thrive when there is a high level of clarity about what the team stands for and its goals and roles. On the other hand, when there is a serious lack of clarity, people experience confusion, stress, and frustration.
When we are unclear about our real purpose in life, we make up our own social games. We waste time and energy trying to look good compared to other people. We overvalue non-essential skills like a nicer car or house.
In short, we neglect truly essential activities.
To focus on what matters most, we need a statement of purpose for ourselves, our teams, and our careers. Start by asking:
If we could truly excellent at only one thing, what would it be?
How will we know when we have succeeded?
The question "How will we know when we have succeeded?" gives a clear, measurable goal, which is highly important for having a clear purpose statement.
For example, the mission statement "eliminate hunger in the world" with an organization of five people feels like little more than empty words.
However, a mission statement like "To build 150 affordable, green, storm resistant homes for families living in the lower 9th Ward" makes it more real because of its concreteness.
It has a clear, measurable goal included. It is evident when the goal is achieved.
Dare
Have you ever felt the tension between what you felt was right and what someone pressured you to do?
Mastering these moments with courage and grace is one of the most important skills to master in becoming an Essentialist – and one of the hardest.
Maybe we say yes because we are unclear about what is truly essential. Or we are scared to reject an invitation or request from a boss or a good friend.
However, Greg writes: "Since becoming an Essentialist, I have found it almost universally true that people respect and admire those with the courage of conviction to say no."
Non-essential say yes because of feelings of social awkwardness and pressures. They say yes automatically, without thinking. However, we have to say no to the non-essential things to say yes to the things that matter.
Here are three tips to say more no:
Count the tree before delivering your verdict when the request comes to you.
Say, "Let me check my calendar and get back to you."
When your manager approaches you with a new task, say: "Yes, what should I deprioritize?"
Saying no in a graceful manner leaves an impression on other people. They know exactly what you stand for and what you believe in. Moreover, your no sends a clear signal that you will not compromise your values, which can be very empowering.
Uncommit
Sunk-cost bias is the tendency to continue to invest time, money, or energy into something we know is a losing proposition simply because we have already incurred or sunk a cost that cannot be recouped.
And this is something that happened to everybody.
However, an Essentialist has the courage and confidence to admit their mistakes and uncommit no matter what's already being invested.
To find out if you should leave the sinking ship or further invest, ask yourself the following questions:
If I did not own this item, how much would I pay to obtain it?
If I did not have this opportunity, how much would I be willing to sacrifice to obtain it?
If I wasn't already involved in this project, how hard would I work to get on it?
Abandoning a project we've already invested in feels like we've wasted everything. And waste is something we're told to avoid.
However, there should be no shame in admitting to a mistake. After all, we really are only admitting that we are now wiser than we once were.
If you are unsure whether to abandon the project or eliminate the item after the questions above, get a second neutral opinion. We often get emotionally hung up, and a second neutral opinion can help us to decide.
Edit
The Latin root of the word decision – cis or cid – literally means "to cut" or "to kill".
We must be disciplined to eliminate options or activities that may be good or even really good but get in the way. Choosing to eliminate something good can be painful, but every cut produces joy. Maybe not in the moment, but afterward, when we realize that every additional moment we have gained can be spent on something better.
Becoming an Essentialist means cutting, condensing, and correcting a natural part of our daily routine. This way, we can ensure we are following the most important things that matter the most.
Limit
We have to set limits and boundaries to focus on the most important. Or else we drift away by non-essential things.
For a Non-essentialist, setting boundaries is evidence of weakness. They think if they are strong enough, they don't need boundaries. They can cope with all. But without limits, getting anything done becomes virtually impossible.
Essentialists, on the other hand, see boundaries as empowering. They recognize that limits protect their time from being hijacked. They know that clear boundaries allow them to proactively eliminate the demands and encumbrances from others that distract them from the true essentials.
There are people out there who make their problem our problem. They distract us from our purpose. They care only about their own agendas. But we don't have to let them intervene in our goal of making our highest level of contribution.
Part IV: Execute
Once you've figured out which activities and efforts to keep in your life, you must have a system for executing them. And it all starts with a…
Buffer
The Non-essentialist tends to always assume the best-case scenario. They chronically underestimate how long something will really take. Yet inevitably, these things take longer. Something unexpected comes up, or the task ends up being more involved than a sit anticipated.
The way of the Essentialist is different. The Essentialist looks ahead. They plan. They prepare for different contingencies. They create a buffer to prepare for the unforeseen.
It's really common to underestimate how long a task will take. This phenomenon is called the planning fallacy.
But there is an easy way to protect against planning fallacy.
Simply add a 50% buffer to the amount of time you estimate.
Adding these 50% relieves a lot of stress.
Subtract
What is the obstacle that is keeping you back from achieving what really matters to you?
By systematically identifying and removing this constraint, you can greatly reduce the friction keeping you from executing what is essential. There could be multiple obstacles to achieving any essential intent. However, at any one time, there is only ever one priority. Focus on your priority, and you will find what's keeping you back.
Progress
We must celebrate progress to keep us motivated when steering toward our goals. Instead of going for the big, flashy wins that don't matter, the Essentialist pursues small and simple wins in essential areas.
The two primary internal motivators for people are accomplishment and recognition for achievements. Doing meaningful work can boost emotions, motivation, and perceptions during a workday.
We need to start small and build momentum to get essential things done. Then we can use that momentum to work towards the next win, the next one, and so on, until we have a significant breakthrough.
This breakthrough will seem like an overnight success.
We should start early on to approach an important goal or deadline. For example, if you have a big presentation over the next few weeks or months, open a file right now and spend four minutes starting to put down any ideas. Then close the file. No more than 4 minutes. Just start it.
Flow
A solid routine is one of the most powerful tools for removing obstacles. By having powerful habits, we won't have to expend precious energy daily prioritizing everything.
Our ability to execute the essential improves with practice, like any other ability. When we try something new, it feels awkward and unsure at first. But once we do it repeatedly, we gain confidence, and we get better at it.
We have more mental space to concentrate on something new when we have habits and routines. This allows us to autopilot execution of one essential activity while simultaneously actively engaging in another.
Focus
The way of the Essentialist is the tune into the present. To focus on the truly important things, not yesterday or tomorrow, but right now.
It is mind-bending to consider that, in practical terms, we only ever have now. We can't control the future in a literal sense, just the now. Of course, we learn from the past and can imagine the future. Yet only in the here and now can we execute the things that matter.
If you don't know where to go or what to do, ask, "What's important right now?"
An excellent way to attain more focus is to get the future sorrows out of your head and write them down. This ensures you wouldn't forget those ideas that might be helpful later. And it alleviates that stressful and distracted feeling that arises.
Essentialism Book Summary Key Takeaways
To end this summary of the book Essentialism, here are some actionable key takeaways from Greg McKeown:
Replace the phrase "I have to" with "I choose to."
Give yourself time to recharge your batteries.
Add 50% more time for everything you are planning.
Learn to play again.
Take a twenty-minute nap.
When something isn't a clear yes, it's a clear no.
Learn to say no. Stop for 3 seconds before answering when someone approaches you with a request.
Ask, "If I did not own this item, how much would I pay to obtain it?"
Set measurable goals that answer the question, "How will I know when I have succeeded
Focus on the small steps when progressing toward your goals and dreams.
Taking control of your life and focusing on what truly matters can be challenging. Drawing from his experience, Greg McKeown provides the tools to help you do just that in Essentialism: The Disciplined Pursuit of Less.
With this summary, you can learn how to set clear priorities, say no more often while still getting things done, and create space for deep work and reflection, resulting in meaningful personal and professional successes.
No products found.
So let Essentialism guide you towards living an intentional lifestyle today!
Wish you the best, Fabian
Share with your Friends: