The 4-Hour Work Week Summary: Break the 9-5 Grind with Tim Ferriss
This 4-Hour Work Week summary covers creating a balance between work and life through lifestyle design, outsourcing, and automation. The 4-Hour Work Week by Tim Ferriss is a revolutionary book that has inspired and empowered people worldwide to take control of their lives and design a career that works for them.
This book is divided into four different sections with the acronym DEAL: "Definition," "Elimination," "Automation," and "Liberation." It discusses topics ranging from automation to goal-setting and lifestyle design to entrepreneurship.
By adhering to the notions of the 4-Hour Work Week, you can retake control of your life, become your own boss, gain more time for important matters, and enjoy life more by doing things you love.
Buckle up as we dive into Tim Ferris' game-changing book, "The 4-Hour Work Week Summary," a treasure trove of business ideas and practice environment free productivity tips that will help you create luxury lifestyles, automate your income stream, and unlock oodles of free time to truly live life on your terms!
The Acronym DEAL
In the first section, "Definition," Ferriss introduces the concept of lifestyle design and the idea that most people are selling their time for money in a traditional 9-to-5 job.
He argues that this approach to work is outdated and that the new paradigm is one of "mini-retirements," in which people work for shorter periods and take frequent breaks to recharge and pursue other interests. Tim Ferriss calls this the New Rich (NR).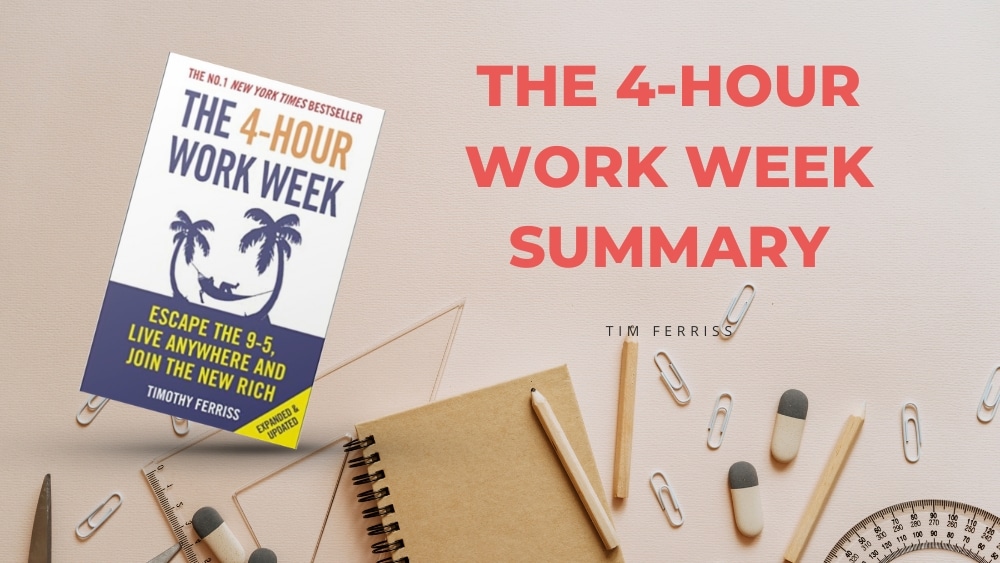 In the second section, "Elimination," Ferriss discusses the importance of identifying and eliminating unimportant tasks, setting priorities, and focusing on what truly matters. With the help of the Pareto Principle or the 80/20 principle, you should be able to recognize the task that doesn't bring you any value and remove these to achieve your goals faster and easier.
In the third section, "Automation," Ferriss talks about outsourcing, automating, and delegating tasks to achieve a lifestyle of leisure and freedom. He shares various tools and tips for automating tasks and building a virtual team. He also clears up some of the most known fears when delegating and automating processes.
In the fourth part of the book, "Liberation," Ferriss provides guidance and advice on following one's own wishes. He offers various tips on how to be independent and make money from anywhere.
Generally, Tim Ferriss encourages everybody to work more from home or remotely to have more time for things they love. He covers topics and gives valuable information on ideas on how to make money, like drop shipping or even creating your own product and selling it.
D Is For Definition
Tim Ferris starts this chapter by explaining how the New Rich (NR) are different from the traditional people seeking richness. What separates the New Rich (NR), characterized by options, from the Deferrers (D), those who save it all for the end only to find that life has passed them by? Tim Ferris has some examples of how they are separate:
D: To work for yourself.
NR: To have others work for you.
D: To be the boss instead of the employee. To be in charge.
NR: To be neither the boss nor the employee, but the owner. To own the trains and have someone else ensure they run on time.
D: To work when you want.
NR: To prevent work for work's sake and to do the minimum necessary for maximum effect (minimum effective load).
If you can free your time and location, your money is automatically worth 3 to 10 times as much. Money is relative. So if you earn $200,000 but work 80 hours a week, compared to working 10 hours a week and earning $50,000, you gain much more when you consider all the time you have more.
The options are limitless for living a life in the New Rich's style. But each path begins with the same first step, replacing assumptions.
Challenge The Status Quo
Tim talks about his time working in data storage sales. He realized that most of his cold calls didn't get to the intended person because of the gatekeepers.
So Tim Ferriss changed his calls from 8:00 to 8:30 AM. and from 6:00 to 6:30 PM. for a total of 1 hour. He avoided secretaries and booked more than twice as many meetings as the senior sales, who called from 9 to 5.
But in our modern world, we assume we have to work from 9 to 5, even if we are not really productive and could do more in less time. We never questioned if it's possible to only work one hour and earn the same amount of money if you worked 8 hours a day. Most people are scared of the thought and are not ready to challenge to status quo.
Defining The Nightmare
The first step is to specify your fear. What's holding you back? By identifying your fear, you conquer your fear. By defining the nightmare, the worst-case scenario, you suddenly start thinking of simple steps you could do to get back on track. You could always take a temporary bartending job to pay the rent. You could sell some furniture and cut back on eating out. The options are many.
What steps could you take to repair the damage or the things back on the upswing, even if temporarily? What are the outcomes or benefits of taking the courage to change things? What is it costing you financially, emotionally, and physically to postpone action? What are you waiting for?
Defining Your Goals
Most people never know what they want. So when people suggest following your passion or bliss, Tim Ferris proposes that they refer to the same singular concept: excitement. So instead of asking what I want, start asking: "What would excite me?"
Living like a millionaire requires doing interesting things rather than just owning expensive items. Start yourself with questions like:
What would you do if there were no way you could fail?
What are the four dreams that would change at all?
What does it cost to chase these dreams? Determine the cost and calculate your target monthly income.
We assume that most things we like to experience cost more than we expect. So calculating the actual cost of these things takes away a lot of fear and uncertainty in chasing your dreams. So then, after you calculate your dreams' cost, start defining your target monthly income plus a 30% buffer for unexpected expenses. And this is how much you should earn to live the life you want.
E Is For Elimination
Tim Ferris starts the next chapter with "Just a few words and time management. Forget all about it." Earning the most possible money in the least amount of time is doing the most important thing, not simply working 9 to 5. Most people merely work so that they are busy.
The goal is to decrease the amount of work you perform while increasing revenue. Only because a task requires a lot of time doesn't make it meaningful. Don't work because you feel you should be doing something from 9 to 5.
Being busy is a form of laziness. The real challenge is recognizing the most essential tasks and working on them. Identify the few critical tasks with the help of the Pareto Law that contribute most to income and schedule them with very short and clear deadlines. The Pareto Law can be summarized as follows: 80% of the outputs result from 20% of the inputs.
Focus On The Important
Doing the important and ignoring the trivial is hard because so much of the world seems to conspire to force crap on you. Here are some tips to remove the time wasters:
Never check e-mail first thing in the morning.
Don't encourage people to chit-chat. Get them to the point immediately.
Nine times out of 10, a meeting is unnecessary, and you can answer the questions via e-mail.
Batch your work. For example, check your e-mails only at 12 and 3:00 PM.
Do not multitask.
Don't work harder when the solution is working smarter.
A Is For Automation
The next chapter is about outsourcing work and life. In his book, the 4-Hour Work Week, Tim Ferriss talks about hiring people from the other side of the globe to help manage tasks. He recommends Brickwork and YMII (Your Man In India).
You can achieve all sorts of things faster and better with the help of these people. Need graphic design? Covered. Need database management? Covered. Both websites mentioned above are places where you can find help to do everything for you.
Tim Ferris recommends hiring an assistant in if you don't need one. It's crucial to develop the comfort of commanding or not being commanded.
Income Autopilot
People can't believe that most highly successful companies worldwide do not manufacture their own products. Tim Ferriss gives some tips to earn money on autopilot in this chapter. His first tip is selling, licensing, or inventing a new product.
However, the first step is to pick an affordably reachable niche market. Step two is to brainstorm products. Step three is to either resell, license, or invent a new product and bring it to the market.
Reselling a product is one of the most straightforward but also least profitable routes. On the other hand, licensing a product can be time-consuming and complicated but profitable. Finally, creating a product is the least complex and most beneficial option.
For example, suppose you find a generic or stock product from a contract manufacturer. In that case, that can be repurposed or positioned for a unique market is even easier. Have them manufacture it and stick a custom label on it for you. This is also known as private labeling.
The second tip is selling information. Information products are low-cost, fast to manufacture, and time-consuming for competitors to duplicate. Selling information doesn't require you to be an expert. It is not necessary to be the best, just better than a small target number of your customers.
After you have your product or the information you want to sell, test it thoroughly. You can save money by not making mistakes and spending too much on advertisements.
L Is For Liberation
This chapter is all about freeing yourself from your workplace and working remotely. Unfortunately, employees get stuck on liberation because they fear taking control. It's challenging to change your current situation if you are not happy. People often say, "But you don't understand my situation. It's complicated!" But is it really? Don't confuse the complex with the difficult. Most situations are simple; they are just emotionally difficult to act upon.
Here are some of the phobias that prevent people from quitting their jobs and chasing their dreams:
Quitting is permanent.
I won't be able to pay the bills.
Health insurance and retirement accounts disappear if I quit.
It will ruin my resume.
Mini Retirements
If you quit and sit on your ass, Tim Ferris wouldn't hire you either. Nobody would, probably. But if you do something exciting and experience new things after you quit is something completely different. You don't stop growing this way.
Tim Ferris recommends doing Mini Retirements. Instead of working 50 years and having all the fun in your life when you are 65 years old, take a year off from time to time and experience and learn new things.
Tim Ferris demonstrates that it is possible to try a significant number of new activities with a relatively low investment of money. Here are some excellent practices before you plan your next trip:
Purchase your plane tickets far in advance or last minute.
Before going on a long international journey with your children for the first time, take a trial run for a few weeks.
Arrange a week of language classes for each stop that begin upon arrival.
Leave your laptop at home and instead use remote access tools like GoToMyPC.
Tim Ferris highly recommends learning the language in the country you are in. You can meet new people and have fun in this foreign country if you do this. In addition, it's almost impossible to understand the culture without understanding its language.
Success Stories
Here are four stories that implemented Tim Ferriss' tips and tricks and achieved tremendous success:
Brian Scudamore: Brian is the founder of 1-800-GOT-JUNK?, a junk removal company. He started the company with just a pickup truck and built it into a multimillion-dollar business. He was able to create a scalable business model by outsourcing and delegating tasks, focusing on marketing, and developing systems for hiring and training.
Alicia Dunams: Alicia left her corporate job and started a company that teaches entrepreneurs how to write and self-publish books. She automated her business by hiring a team of virtual assistants and creating online courses. This allowed her to work fewer hours, travel the world, and spend more time with her family.
Phil Town: A former river guide, Phil became a successful investor and author after learning about value investing. He was able to achieve financial independence by focusing on a small number of high-quality investments, spending just a few hours per week managing his portfolio.
Steve Pavlina: Steve is a personal development blogger and author who monetized his website through various income streams, such as affiliate marketing, digital products, and advertising. He prioritized creating high-quality content and used automation tools to manage his business, allowing him to work fewer hours while still generating significant income.
The 4-Hour Work Week Summary Conclusion
If you want to improve your work-life balance and create a more fulfilling lifestyle, or even if you want to start a new business, the 4-Hour Work Week is a valuable read for you.
In conclusion, dear reader, your journey into "The 4-Hour Work Week" is just the beginning of an exciting adventure in lifestyle design. As you embark on this transformative experience, be prepared to challenge your personal life, redefine your perception of absolute income, and embrace a low information diet.
By following Tim Ferris' step-by-step process, you'll delve into as much detail as needed to create a life filled with mini retirements and unshackled from the conventional 9-to-5. With this newfound knowledge, I hope you feel inspired and motivated to take control of your destiny, fully realizing the potential of a well-designed life that brings joy, freedom, and abundance.
Tim Ferriss is an American entrepreneur, author, and podcaster whose best-selling book "The 4-Hour Work Week" has significantly impacted the personal development and productivity industries. Additionally, he is well-known for his podcast, "The Tim Ferriss Show," in which he interviews successful individuals from various sectors.
No products found.
He is regarded as a thought leader and an authority on personal development and productivity, having produced several other works. His books and podcast have attracted a broad audience.
In addition, he is a sought-after lecturer and counselor in his industry. So, this is it for this 4-Hour Work Week summary. Keep exploring and experimenting because, after all, your life is your greatest masterpiece!
Best, Fabian
Share with your Friends: