Why Self Accountability is the Key to Success and Happiness
Self accountability is the foundation of personal growth and success. It is the ability to take ownership of your actions, decisions, and consequences. You become more self-aware, intentional, and empowered when you practice self accountability.
However, it can be challenging to hold yourself accountable. And this article will explore some ways and methods how to improve your personal accountability.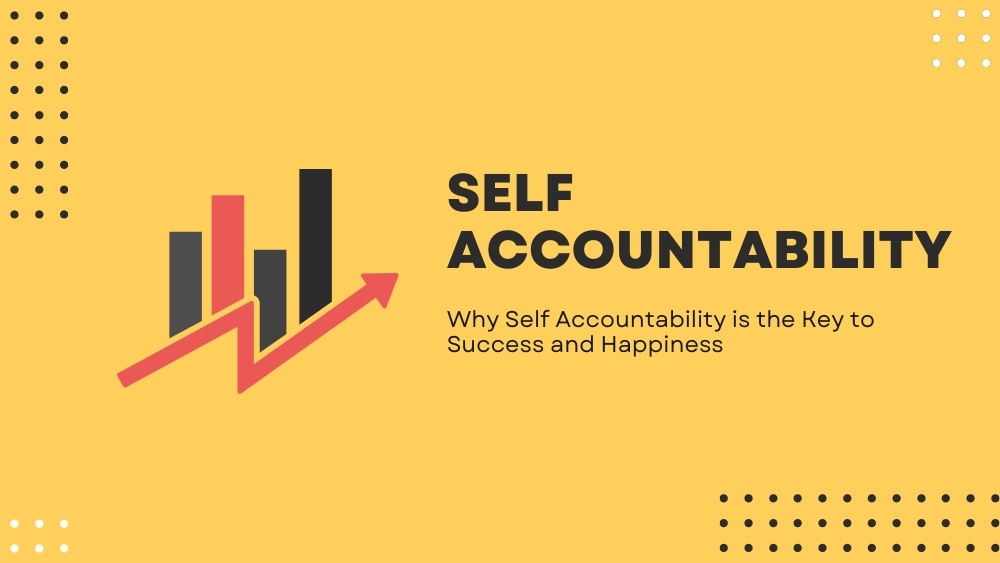 Self Accountability Definition
Self accountability is defined as the act of taking responsibility for one's own thoughts, behaviors, and actions. It involves being aware of your own role in the outcomes of your life and recognizing that you alone are responsible for the choices you make. It is the opposite of blaming others or external circumstances for your problems and requires a willingness, to be honest with yourself and take action to improve your situation.
How To Improve Your Personal Accountability
Personal accountability is a crucial element of success in both professional and personal life. It's the ability to take ownership of one's actions, decisions, and results. Self accountability is a skill that can be learned and developed like any other skill. Below are four key elements on how to improve your personal accountability:
Act with Integrity
The first step to improving your personal accountability is to act with integrity. Acting with integrity means consistently aligning your actions and decisions with your values, principles, and beliefs. It involves having a strong mindset of being honest to yourself, honest to others, and transparent. Acting with integrity develops a strong sense of self-respect and self-worth. Additionally, integrity helps you build trust and credibility with orders.
A good example of acting with integrity is you are in a situation where you have totally underestimated and made some mistakes. If you act with integrity, you are honest with yourself and know you made a mistake. You look for answers and solutions to solve the current situation, even when it is uncomfortable to do so. Your actions align with your beliefs and values, and you strive to do the right thing to follow them.
On the other hand, if you act without integrity in the same situation, you wouldn't recognize the mistakes you made. Instead, you probably blame others for the mistakes you made. Maybe you don't have a clear image of your values and beliefs. But even if you have clear values and beliefs, the most critical aspect is to align your actions with your values and take ownership of your outcomes.
Not acting with integrity is possible in every area of your life. For example, maybe you're working a job you don't like. But you don't quit. Or you are in a toxic relationship and know you should leave, but you don't. Or you committed yourself repeatedly to go to the gym, but you quit every time after a week.
A good practice to act more with integrity is to sit down and write down your core values and beliefs. This can be something like "I want to be honest with others," "I want to eat healthier," or "I want to listen more than I talk." Then, make sure you stick to your core values and beliefs after you have defined them. This also includes that you regularly reflect on your behavior and make adjustments.
Be Proactive
The second point on improving your personal accountability is to be proactive. Being proactive means taking the initiative and actively seeking opportunities to get things done. Almost all people react to things that happen in life. This means something happens, and they respond to this situation. On the other hand, proactive people take steps to address the problem before the problem becomes a major issue.
Generally, we react to things because we are too lazy to take the first step. However, being proactive requires you to engage actively. One accountability example of being proactive is preparing for the future. This could include creating a budget, setting up emergency savings, or planning for retirement. Taking the time to plan ahead can help to ensure that you are prepared for any potential bumps in the road. It can also help to reduce stress and anxiety about the future.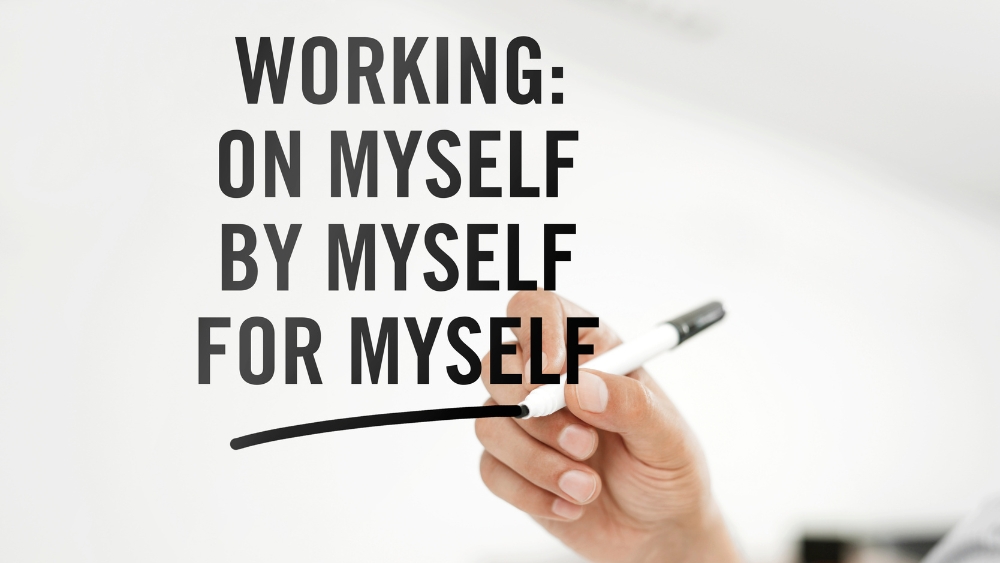 A good practice to be more proactive is to take action right now. For almost everything, there is something you can do right now. So, for example, if you want to eat healthier, read some blogs or watch videos about healthy habits right now. Or, if you want to work out twice a week, make an appointment in your calendar. Block this time, and whatever comes, you must stick to this appointment and go to the gym.
Make Your Word Count
The third element to improve your self accountability is to make your word count. Making your word count means sticking to commitments and promises you made to yourself and others. To improve your personal accountability, you have to trust yourself. You have to know that when you promise something, you will do it. Whether you promise it to yourself or to others doesn't matter. Make no excuses.
Your self-respect and self-worth increase significantly if you stick to your commitments and promises. It's the most giant step towards improving your self accountability when you know you stick to your commitments and promises. On the other hand, people who constantly give up on their goals lose the ability to trust in themselves. Losing trust and respect in oneself is a dangerous downward spiral.
Nobody will believe in you if you are known as the guy who always gives up. Contrary, if you are known to stick to promises and commitments, people will trust you.
A good practice for keeping your word is making appointments in your calendar and sticking to it. Treat this appointment like a holy grail. For example, if you have planned on Wednesday evening from 6:00 PM to 7:00 PM to go one hour to the gym, you have to stick to it whatever happens.
If a friend calls you asking you out for a beer, you can't go at 6:00 PM. You can go later, but you must first go to the gym. If you do this consistently, you will learn to trust yourself, which is crucial for improving personal accountability.
Don't Blame Others
The fourth key to improving your self accountability is not to blame others. When you blame others, you give away the power to change the situation and improve your outcomes. When you blame others, you avoid taking responsibility for your own behavior and decisions. It can lead to a feeling of victimization, as you may feel that you have no control over your own situations and outcomes.
By taking personal accountability, you don't blame others. Of course, you're making mistakes and will always make them, but it is essential to accept them and learn from them. You know this mistake happened because you collected the wrong information or underestimated a specific situation. Knowing this mistake occurred because of you gives you the power to avoid this mistake in the future.
Suppose you're late for a necessary appointment and are stuck in heavy traffic. In that case, it's easy to blame the traffic or the weather. But the real mistake is made by you. You should have driven off 10 minutes earlier to be right on time. And by reflecting on what you did wrong, you're avoiding the same mistake in the future.
So in this example, you're too late for this necessary appointment. Still, you know you will have to calculate heavy traffic or weather situations in the future. And the next time you go 10 minutes earlier and arrive on time.
By searching for your mistakes and reflecting on what you did wrong, you give yourself tremendous power to improve in the future.
Examples of Self Accountability
Here are some real-life examples of self accountability. These examples should give you a clearer sense of how personal accountability looks in a real-life environment:
Example: Self Accountability In The Workplace
You're working on a project with a team, and your part of the project is falling behind schedule. Instead of blaming external factors or other team members, you take ownership of the situation and hold yourself accountable. You recognize that you didn't manage your time effectively and failed to meet your deadlines, and you take action to make things right.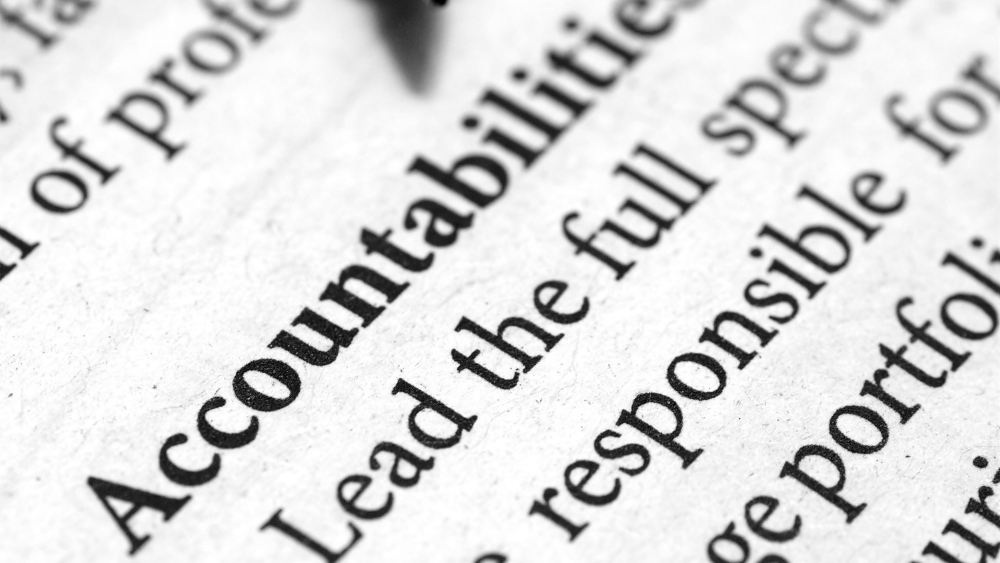 You communicate with the team and take responsibility for the delay, and work to develop a plan to get back on track. You take steps to improve your time management skills, seek assistance from other team members where appropriate, and put in extra effort to ensure that your part of the project is completed successfully and on time. By demonstrating self accountability, you show your team that you are reliable and committed to your work and set a positive example for others.
Example: Self Accountability In A Relationship
You have been having frequent arguments with your partner, and you realize that you have quickly blamed them for the issues in your relationship. Instead of continuing to place blame, you can take ownership of your own actions and work to improve the situation.
One way to demonstrate self accountability in this situation is to practice active listening and open communication. Rather than assuming that your partner is solely responsible for the problems in your relationship, you can take the time to hear their perspective and share your own feelings calmly and respectfully.
You can also take responsibility for your own actions and emotions. For example, suppose you have acted defensively or lashed out during arguments. In that case, you can acknowledge this behavior and work to change it. This might involve seeking help from a therapist, practicing mindfulness or relaxation techniques, or simply being more aware of your own triggers and reactions.
By holding yourself accountable and taking ownership of your role in the relationship, you can build greater trust, respect, and intimacy with your partner. This approach can also help you build vital communication skills, resolve conflicts more effectively, and ultimately create a healthier and more fulfilling relationship.
Self Accountability Summarized
Here are the four key elements for personal accountability is short, memorable, actionable steps:
Act with integrity: Define your core values and beliefs and align your actions with these beliefs.
Be proactive: Take action right now and take control of your future.
Make your word count: Stick to your commitments and promises towards yourself and others.
Don't blame others: Recognize your mistakes, reflect on what you could do better next time, and improve your future.
In conclusion, self accountability is essential for success, happiness, and healthy relationships. With a strong mindset, we can build greater self-discipline, self-confidence, and self-respect by holding ourselves accountable for our actions, taking ownership of our mistakes, and making changes to improve our behavior.
Till next time! Fabian
Books I Recommend About Self Accountability
If you want to dive deeper into personal accountability or if you want to improve yourself in general, I can highly recommend reading books. Here are my all-time favorite books about accountability:
No products found.
Share with your Friends: