10 Best Shopify CRM To Grow Your Business
In this age of fierce competition, it is important to have a systematic approach in all aspects of your business. As customers turn to online and mobile channels in droves, your shop's success depends on how well you can engage with them.
So Shopify CRM integrations become increasingly essential to improve engagement with your Shopify customers and maximize conversion rates. Do you want to know which CRM platform for Shopify is the best? Which is the cheapest CRM for Shopify, which one is the easiest CRM to use, and which one is the most popular CRM for Shopify? We discuss the best CRM solutions and how to choose the best Shopify CRM apps.
What Is A CRM System?
CRM stands for Customer Relationship Management. It is a way to manage your relationship with your customers by having an organized, concrete action plan. In relation to eCommerce shop owners, you will have a system to record your interactions with customers and set goals and tasks related to those interactions.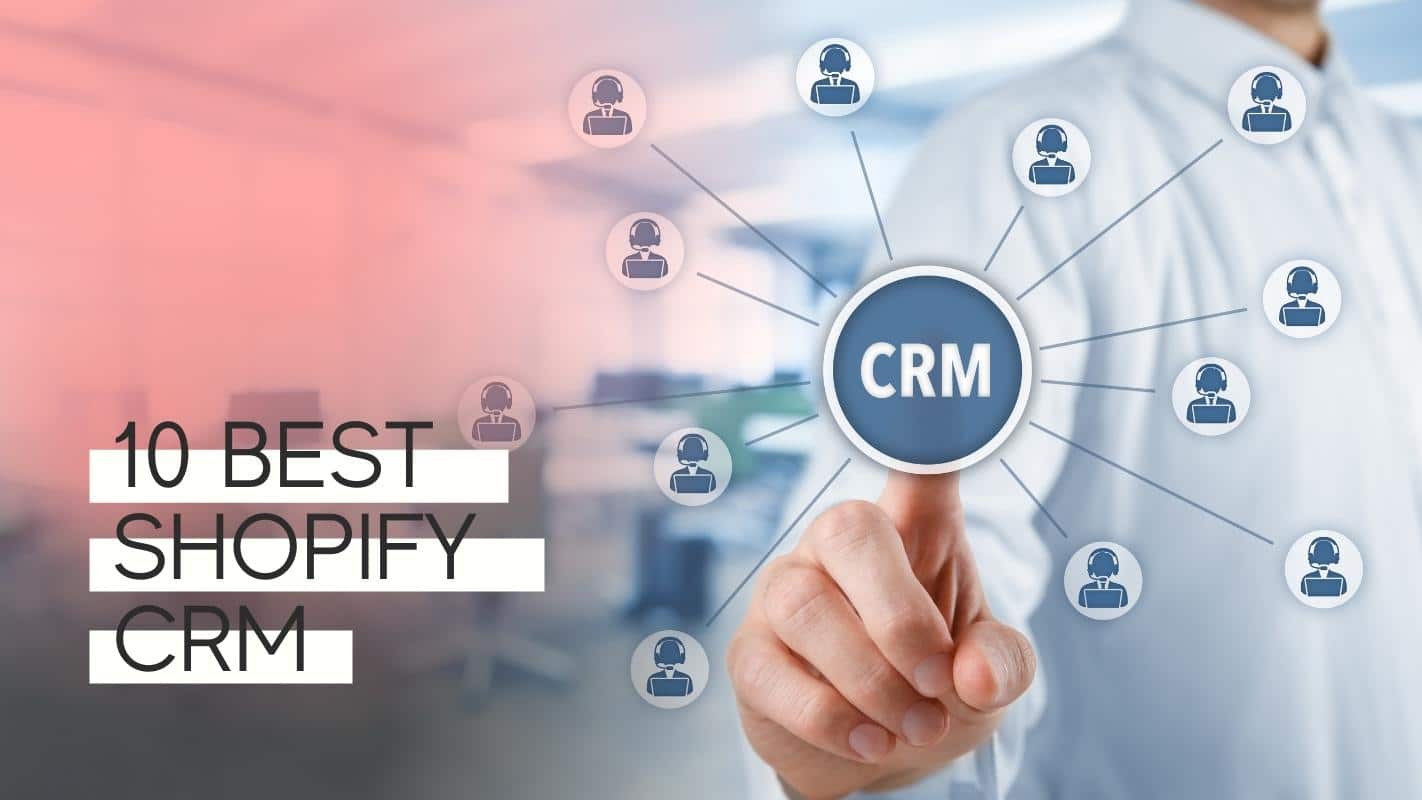 In short, CRM software streamlines the process of managing client relations. There are many Shopify CRM systems available today. However, some are better than others. This article discusses the best CRM apps for your Shopify eCommerce store.
All of the CRM platforms below CRMs that integrate with Shopify with a few clicks or a 3rd party connector. Let's kick off this overview of the best CRM systems for Shopify out there!
10 Best Shopify CRM Apps To Use in Your Ecommerce Business
Agile CRM is a complete cloud-based customer relationship management platform with full sales, marketing, and support functions. It can be used for your Shopify Store to optimize every aspect of the business. Agile CRM counts as one of the best CRM platforms and is used by many big companies.
The Agile Connector brings all your store information into one place. As a result, you can manage and track every aspect of your customer relationships. As a result, you can create personalized experiences that help you grow profitable long-term relationships.
With Agile CRM, you can easily manage all your customers, leads, and users with a complete software solution. It has everything you need for sales, marketing, and support in one place.
Agile CRM Shopify Integration
Agile CRM does not have a direct Shopify app available in the app store. However, there are a number of connectors available to help you integrate Agile with your Shopify store. As an example, consider the Tray.io connector.
Tray.io Connector – Agile CRM Shopify Integration: https://tray.io/connectors/agile-crm-shopify-integrations
Agile CRM Pricing
Agile CRM is free for up to ten users and includes up to 50,000 contacts, unlimited deals, appointment scheduling, and other features. If you require a little more, a Starter plan for $9 per month is available, including an email marketing solution, mobile marketing, and other features.
There is an Enterprise plan for $48 per month per user to use all of Agile CRM's features.
Agile CRM Features
Sell & Market Like the Fortune 500

Contact management

Free forever plan for up to 10 users (free Shopify CRM)

Fully included email marketing solution with branded emails

Helpdesk with views, groups, labels, and more

Over 500+ plugins to connect

Reports, chrome extensions, and onboarding coach

Lead scoring

Custom deal milestones

Call recording and automated voicemails

Web engagement like landing pages, web forms, and pop-ups

Mobile integration

Best eCommerce CRM
Zoho CRM is the second on our list with the best Shopify CRM integration. Zoho, as your CRM app for Shopify, is a cloud-based CRM and customer relationship management tool and one of the most popular and affordable tools in its category.
Zoho has over 35+ available applications that help boost your business through lead generation activities, sales pipeline management, contact database management, support ticketing, project management, and more!
One of the main reasons Zoho CRM is considered one of the best CRM software is how smooth it is to integrate with Shopify. You can directly connect your Zoho CRM account to your store using the ShopSync integration, which makes importing customers and leads information incredibly easy.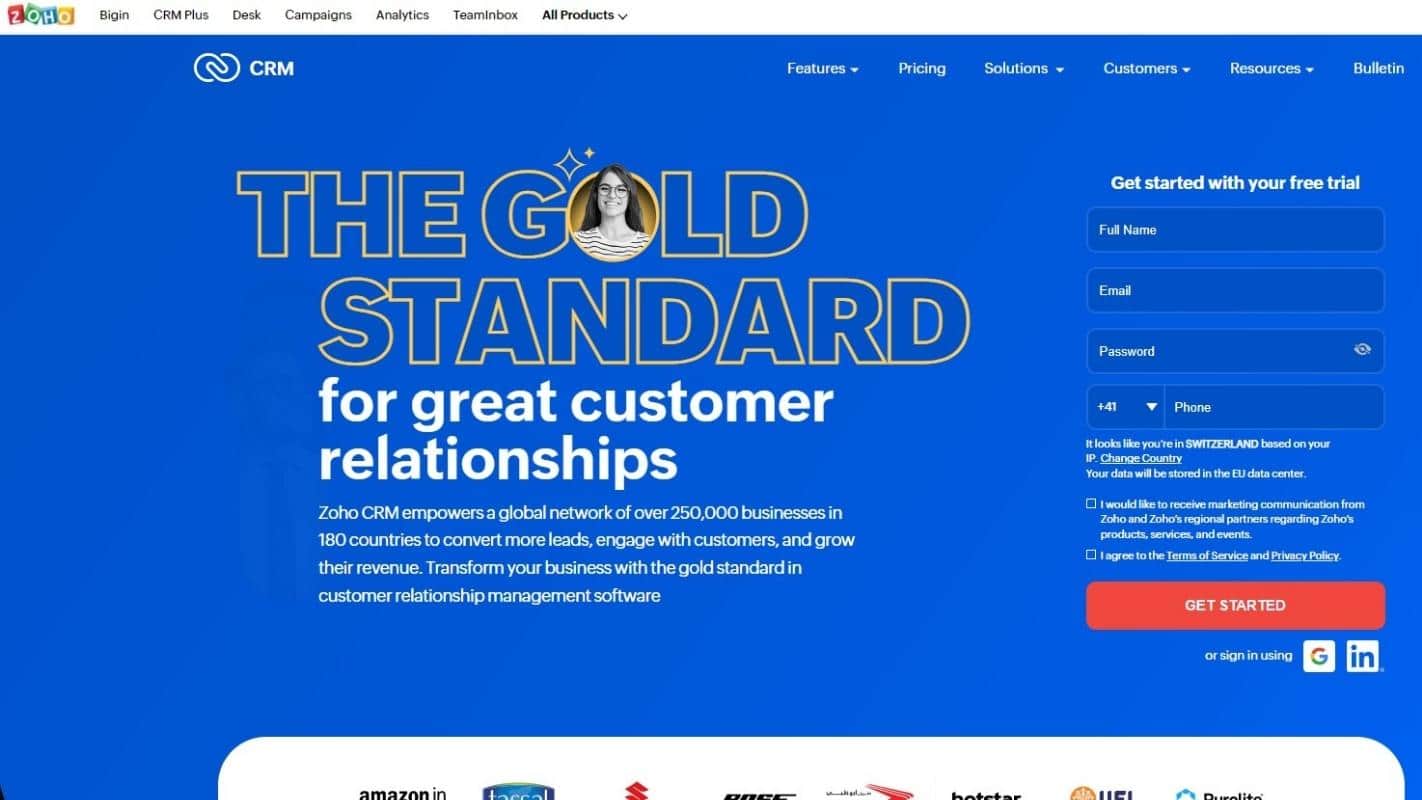 Zoho Shopify Integration
The Shopify Zoho integration is simple to set up because it includes a Shopify app that connects your store and all of its data to the Zoho CRM system. As a result, contacts, leads, orders, and inventory can all be managed from a single location.
The integration between Shopify and Zoho CRM is easy and fast – it takes only a few minutes! Two integration apps are available directly from the Shopify app store:
Skylio Connector – Zoho CRM and Shopify integration: https://apps.shopify.com/skylio-crm-connector
AquaAPI Connector – Zoho CRM integration with Shopify: https://apps.shopify.com/crm-connector-1
Zoho Pricing
Zoho CRM has four different paid plans. Each plan is available for a 15-day free trial. In which you can put everything to the test. Zoho CRM also provides a lifetime free version for up to three users. However, there are some restrictions. However, for a free version, it offers a lot.
So, if you want all of the features, choose an Enterprise or Ultimate plan, which starts at 40 Euros per user.
Zoho Features
Lifetime free plan available (free Shopify CRM)

Sales Force Automation, from leads, contacts, accounts, deals, and more

Automation and process management

Schedule your process, create workflow automation with an automated approval and review process

Use the power of the Zoho artificial intelligence ZIA

ZIA gives you access to macro suggestions, conversational AI, prediction builder, workflow suggestions, and more

Analytics and measurement reports from funnels, web form analytics, workflow reports, and custom dashboards

Automated lead generation from social media

Email marketing automation – create email templates, marketing campaigns, customer segmentation, and more

Collaborate with your team with calendar booking and sync, direct messages, follow up rules, and tagging

Zoho CRM has hundreds of features. Read it here if you like: 

https://www.zoho.com/crm/comparison.html?src=crmpricing-middle
Hubspot CRM is one of the top Shopify CRM integrations out there. Hubspot has over 16 years of expertise in lead generation software, so all their products are made with solid marketing principles focused on lead generation and customer retention. The single CRM system provides resources to manage your leads, contacts, social media messages, and calls.
You can use Hubspot's CRM to store your business information such as contacts, lead intelligence, activities, and notes about them. It also holds emails for you, so they will be saved in the CRM system if you contact a customer through email. You won't have to repeat yourself again – it's one of the most efficient CRM systems out there!
Hubspot is more than only a CRM platform. It is a complete marketing suite. Hubspot has landing page tools, sales automation tools, social media management tools, and more!
Shopify Hubspot Integration
With Hubspot as your CRM app for Shopify, you can directly integrate Hubspot via the Shopify app store with the official Shopify Hubspot app: https://apps.shopify.com/hubspot.
Another option is to use external connector plugins.
AquaAPI Cloud connector – Shopify and Hubspot integration: https://apps.shopify.com/crm-connector-1
It's also possible to connect Hubspot CRM for Shopify through Zapier or other connector plugins.
Hubspot CRM Pricing
Hubspot CRM is a paid CRM application and has a solid plan for free too. It's a good CRM that many companies use to improve their sales and marketing efforts. You can use Hubspot CRM for free right away, with no restrictions on contacts or users. The free Hubspot version includes contact management, live chat, meeting scheduling, and other features.
If you require more features, you must upgrade to a paid plan, starting at $45 per month. This grants access to features such as automation, goals, conversion routing, and others.
Hubspot Features
Manage your leads from one place

Automate your email marketing and lead nurturing activities.

Create a personalized experience for all visitors of your website by using forms, pop-ups, live chat, or emails

Analyze the performance of your visitors with custom reports and analytics

Stay in touch with clients through phone calls, mobile apps, SMS messages, and email

Plan your sales activities automatically with the use of automated workflows and customizable email templates

Free Shopify CRM

Hubspot has tons of features. Check the features out here: 

https://legal.hubspot.com/hubspot-product-and-services-catalog
Gorgias is an eCommerce CRM software for your online business. Gorgias is mainly built to help you send messages from your Shopify store. Still, it also enables you to track the customer journey throughout their purchase process. Gorgias CRM is officially available in the Shopify App Store, so you don't have to go through extra steps to integrate with your Shopify store.
Gorgias CRM has features for marketing with email followups, SMS, and social media posts. It also helps you track your customers' journey through lead management. You can also monitor the customer's sentiment with Gorgias Insights feature.
Gorgias offers a full-featured ticketing system for your Shopify store, autoresponder, live chat, cart recovery, and the Gorgias App Marketplace for extra integrations with other apps.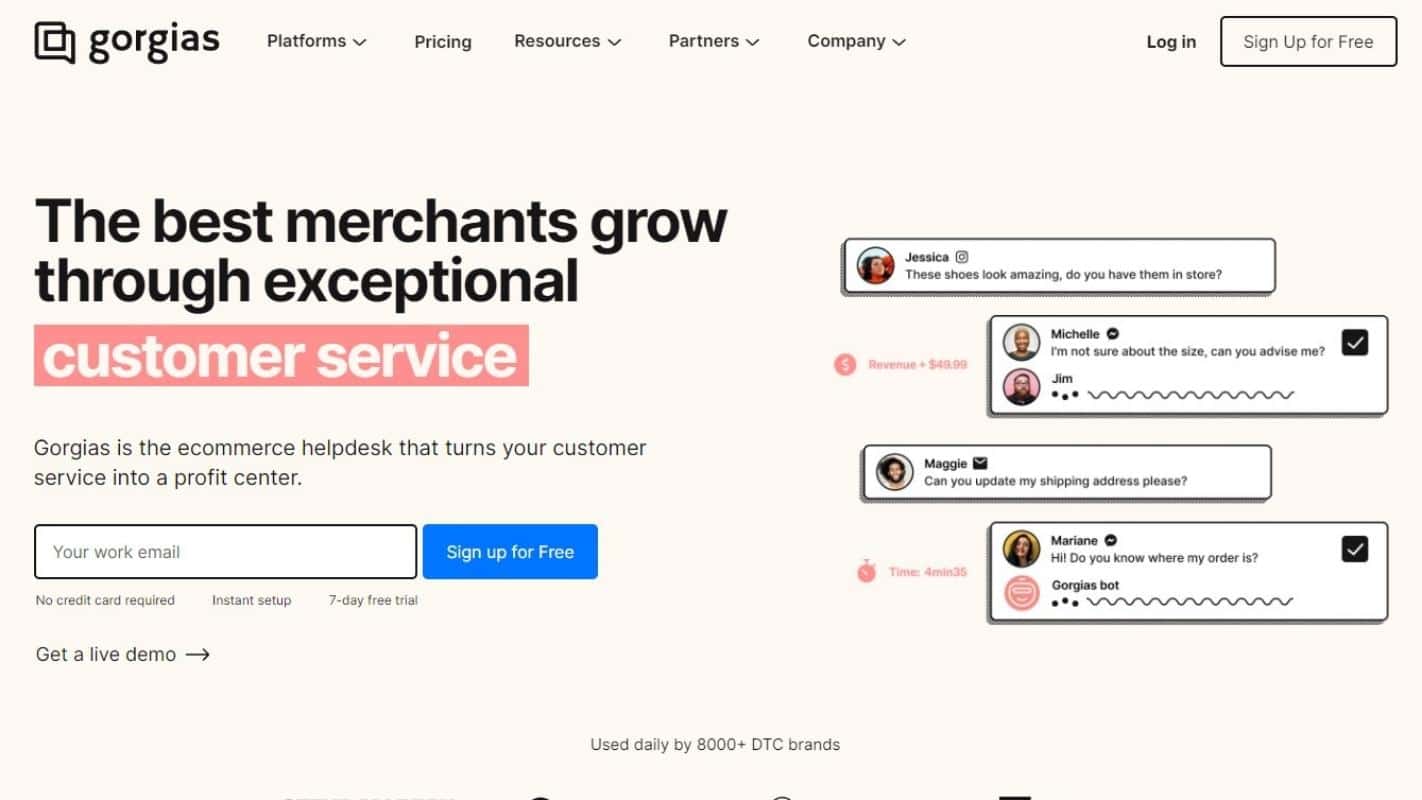 Gorgias Integration
Gorgias is a CRM system for Shopify and is officially available in the Shopify App Store, so there is no need for additional connectors or 3rd party plugins. Gorgias is a CRM that integrates with Shopify easily.
Gorgias Pricing
In comparison to their competitors, Gorgias provides unlimited users in all of their plans and a seamless official integration via the Shopify App Store. However, it costs $60 per month for up to 350 tickets per month.
This price rises as the number of monthly tickets increases, with a maximum of $750 per month for up to 5000 monthly tickets. Gorgias offers a custom plan to meet your needs if you have more than 5000.
Gorgias Features
Official integration through the Shopify App Store

Unlimited users in all their plans

Live chat & chat campaigns

Over 150+ integrations with other tools, like Facebook or Instagram

Satisfaction surveys

Revenue statistics

Ticketing System

Automate your most common tasks

Detect the intent of what your customers are asking

Multi-store connection

Shopify CRM App
Salesforce is one of the most popular CRMs used in our time. This Shopify CRM tool has over 100,000 customers, including companies like Adobe, eBay, HP, and Cisco, to name a few. SalesForce is not only suitable for small businesses but large organizations as well.
Whether you need basic CRM functions for your team or have to run a large-scale business, SalesForce has got it all.
The app has an extensive list of features. You can use it for lead management, pipeline management, opportunity tracking, customer support, invoice generation, and even billing. SalesForce also offers marketing features like email marketing, social media marketing, A/B testing, and personalized campaigns.
With SalesForce, you can manage multiple users with different roles like Administrator or Manager. In addition, you can assign tasks to the right person either manually or automatically (you can also use workflow rules) depending on their position in your company.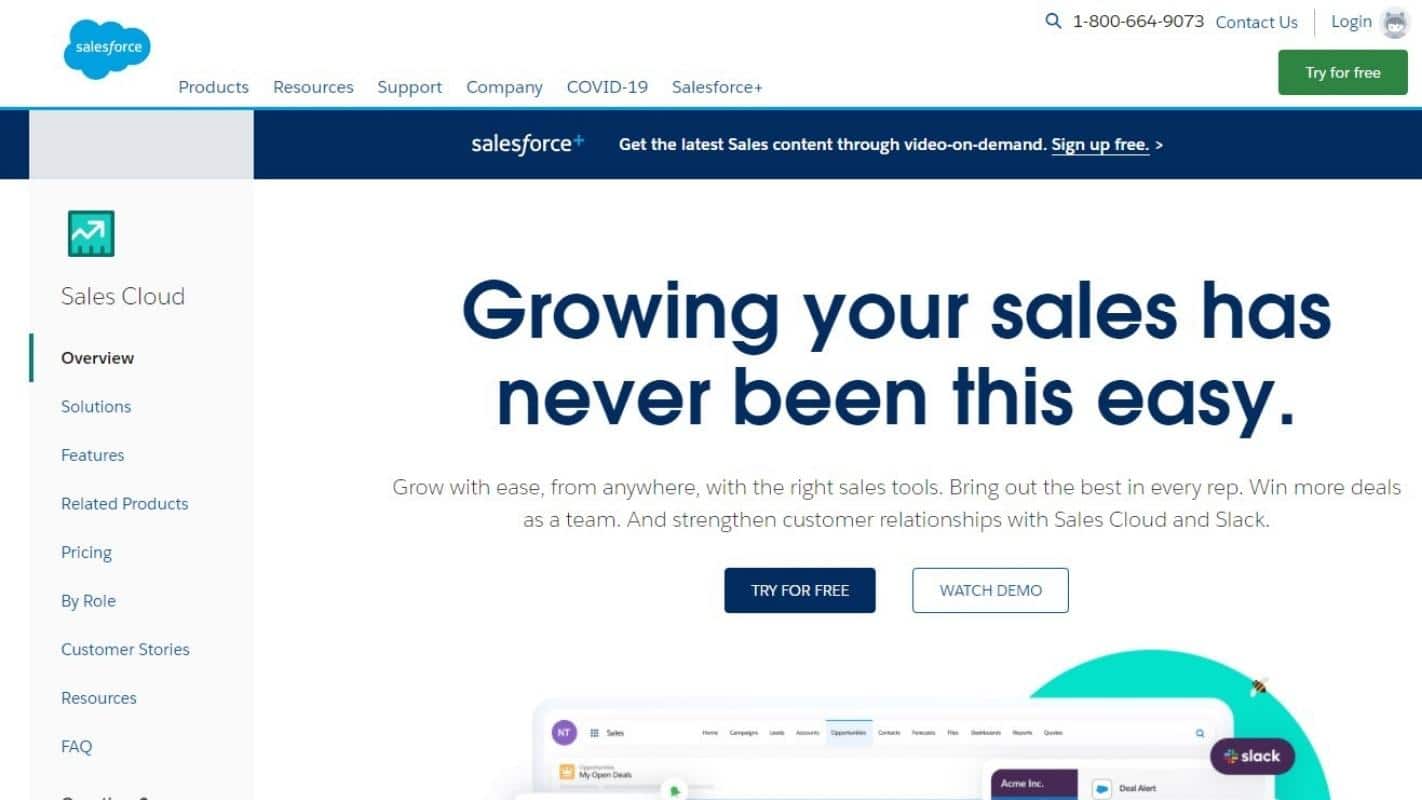 SalesForce Integration With Shopify
There are several options in the Shopify app store for connecting your SalesForce CRM with your Shopify store.
CRM Perks – SalesForce Sync: https://apps.shopify.com/salesforce-sync
Skylio – SalesForce Shopify Integration: https://apps.shopify.com/skylio-crm-connector
AquaAPI SalesForce To Shopify: https://apps.shopify.com/crm-connector-1
SalesForce Pricing
SalesForce provides a 30-day trial to test all of the different subscription tiers. Starting at Euro 25 per month per user, the most affordable option is available. This plan has some limitations compared to the others. Still, it is ideal for small businesses with up to ten employees.
If you want to take advantage of the full power of the SalesForce CRM, opt for the professional plan, which starts at Euro 75 per month per user.
SalesForce Features
Account, contact, lead, and opportunity management

Email integration with Gmail with Outlook

SalesForce mobile app

Rule-based lead scoring and lead registration

Workflow automation and approval automation

24/7 Support per chat and email

Sales forecast

Customize and automate processes

Full sandbox mode

Google Apps integrations

Counts to the most popular Shopify CRM tools
Pipedrive is a cloud-based CRM solution built for sales teams who need to close more deals. The app helps you gain transparency over your pipeline and focuses on what really matters: reaching your revenue goals. In addition, it enables you to follow up on all opportunities from 1 central location as it has a clean and user-friendly interface.
In Pipedrive, you can manage your customers' contacts, leads, sales opportunities, calendars, and activities in an easy-to-use format. The app is built around a clean and intuitive UI that can be accessed from any web browser or mobile device. Pipedrive also integrates with several other apps, including Salesforce, Mailchimp, Google Apps, Zendesk, Slack, Prosperworks, etc., to name a few.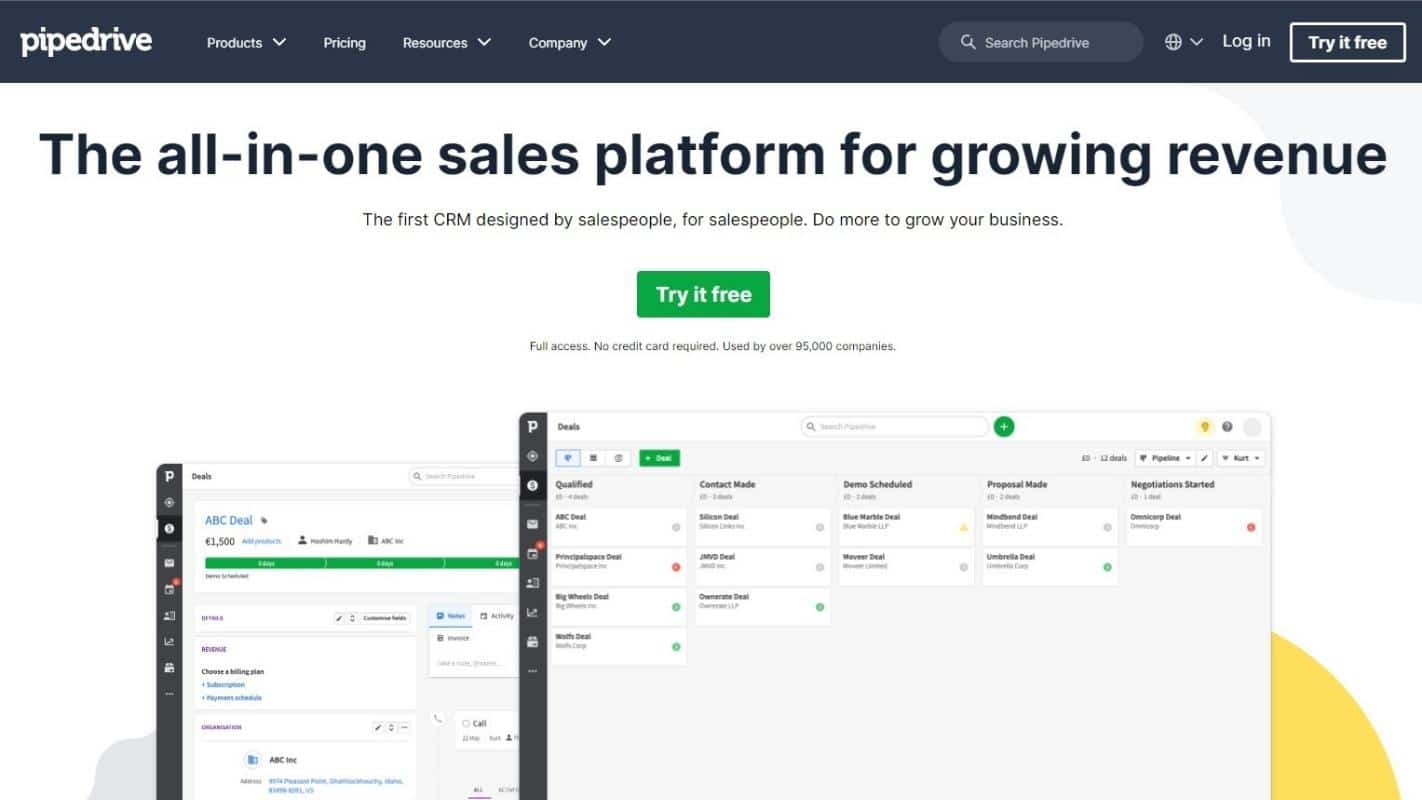 Pipedrive Shopify Integration
Pipedrive has to be connected over a connector plugin. Unfortunately, there is no connector app available in the Shopify app store.
The most popular connector plugins for Pipedrive to Shopify are:
Automate.io – Pipedrive and Shopify Integration: https://automate.io/integration/pipedrive/shopify
Integromat – Shopify Pipedrive CRM Integration: https://www.integromat.com/en/integrations/pipedrive/shopify
Glances – Integrate Shopify with Pipedrive: https://glances.com/integrate-shopify-with-pipedrive
Pipedrive Pricing
Pipedrive has four subscription levels, starting with the most basic at Euro 18 per month. Every Pipedrive plan includes a full 14-day trial to test everything you need for your Shopify store.
Pipedrive offers a Professional plan for Euro 59 per month per user to gain access to the most features. If you choose an annual subscription, you can save up to 25% on each plan.
Pipedrive Features
Data import and customization

Lead, deal, calendar, and pipeline management

24/7 support

275+ integrations with other software tools

full email sync with templates and scheduling

create, manage, and e-sign documents and contracts

workflow builder with triggered automation

revenue projections with forecast and enhanced custom reports

Webhooks, API access, and workflow automation

Mobile app for Android and iOS
Zendesk is a cloud-based customer service software company that provides software as a service (SaaS) for companies to manage their customer support. It also has features for marketing, sales, and IT. The company has more than 125,000 customers, including Airbnb, Disney, and Uber.
Zendesk Sell is a complete eCommerce solution through Zendesk. The app helps you handle all sales and marketing channels from your Shopify store. Zendesk Sell has got everything you need in just one place: CRM, email marketing, order management and fulfillment, and inventory and shipping.
Zendesk Sell has features for lead management, tracking leads across emails and websites. It can also help you keep track of your customers' customer lifetime value to optimize time spent on each customer or sale.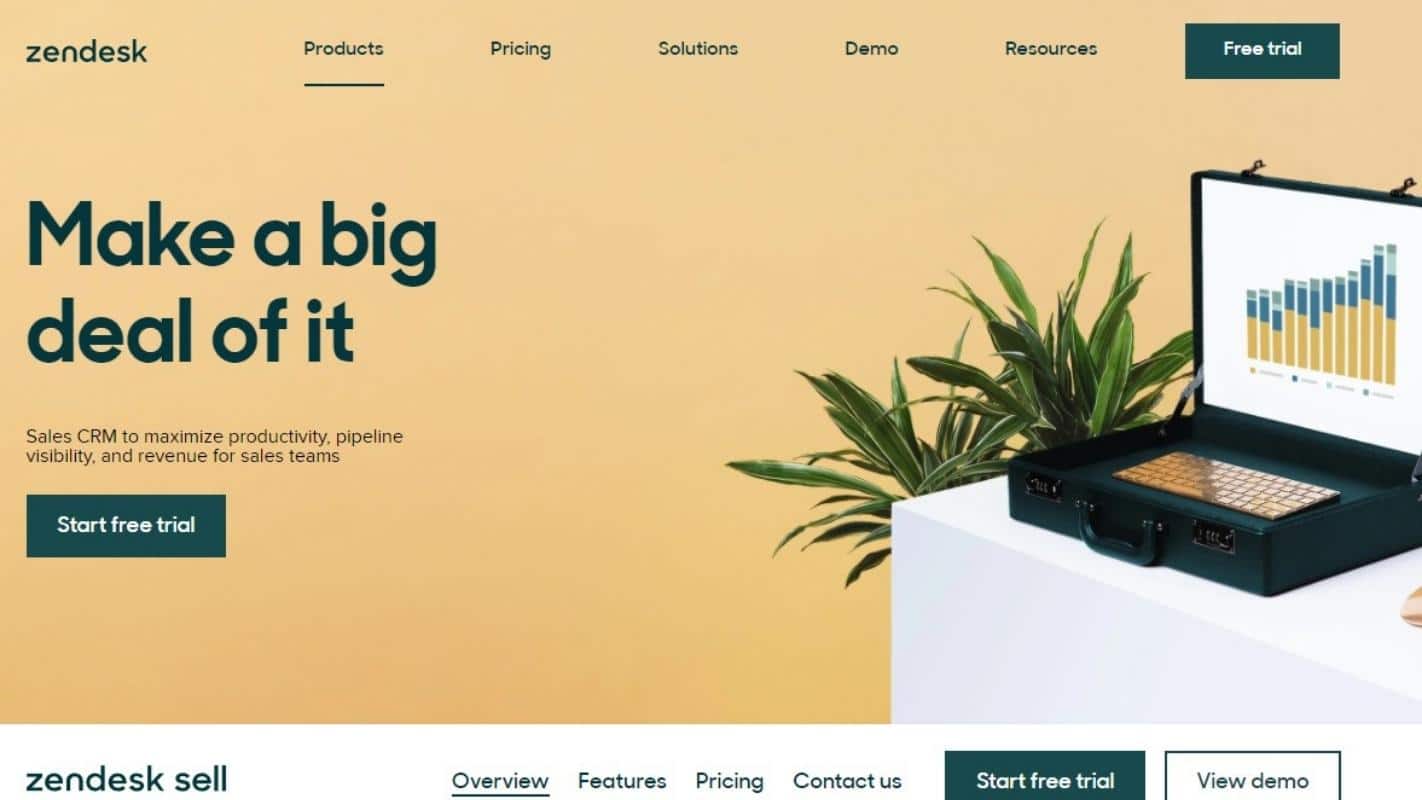 Zendesk Integration With Shopify
Zendesk has a Shopify app in the store that allows you to connect your Zendesk account to your Shopify store. Zendesk can also be integrated with your Shopify store using the automate.io connector.
Zendesk Official Integration Plugin: https://apps.shopify.com/zendesk
Automate.io Connector – Zendesk Shopify integration: https://automate.io/integration/shopify/zendesk
Zendesk Pricing
Zendesk provides a 14-day trial period to test all three of their plans. Zendesk offers fully featured mobile CRM, apps & integrations, and email integration starting at $19 per month with the "Sell Team" plan.
If you require more features, you can pay as much as $99 per month per user to use all of the incredible features Zendesk offers for your business.
Zendesk Features
Customizable sales pipeline

Calendar integrations and task and appointment settings

Assign collaborators

Email integration with bulk emailing and unlimited templates

SMS marketing, call tracking, and recording

Customizable sales dashboards

A lot of different integrations

Data and team management

up to 25GB document storage per user
Netsuite is a leading cloud-based business management solution that offers all the necessary modules to manage your e-commerce spread across different platforms. Netsuite CRM counts as one of the best Shopify CRM software globally, with many big companies using this CRM solution.
Netsuite CRM has a built-in Shopify app to ease the integration between your e-commerce and the NetSuite platform. It helps you manage all your interactions with current, potential customers and partners in a single place.
The Shopify app brings all of your customer information and interactions directly into NetSuite, so you can track the entire journey of each individual. In addition, the "Opportunity" module offers a sales pipeline that can be created in just seconds according to your business criteria and goals.
Netsuite Shopify Integration
Netsuite has an official connector available in the Shopify App Store. However, other connectors are available.
Netsuite Official Integration Plugin: https://apps.shopify.com/oracle-netsuite
Netsuite Pricing
Netsuite provides four different types of plans based on your requirements. To sync everything with Oracle Netsuite, you must use the Premium+ Connector, which costs $333 per month.
If you only need the most basic Sync processes, such as fulfillment Sync and Order Sync, the Starter Connector is $83 per month.
Netsuite Features
Order Sync – Orders are exported from Shopify into NetSuite every 20 minutes.

Coupon Sync – Coupons are included in the order sync.

Gift Certificate Sync – Gift certificates are included in the order sync.

Fulfillment Sync – Order fulfillment data is exported from NetSuite into Shopify every 90 minutes.

Price & Qty Sync – Product price and quantity are exported from NetSuite into Shopify every 60 minutes.

Full Product Sync – All product information is exported from NetSuite into Shopify every 60 minutes.

Real-time Price & Qty Sync – Product price and quantity are synced every minute.

Real-time Order Sync – Orders are synced every minute.

Refund Sync – Refunds are exported from Shopify into NetSuite.
vTiger CRM is a feature-rich cloud business management platform that gives your company the edge with social selling and marketing automation. vTiger is a Shopify CRM system with many features to offer you the best way to manage your customers.
The vTiger Connector brings all of your store information into one place where you can manage and track every aspect of your customer relationships. As a result, you can create personalized experiences that help you grow profitable long-term relationships with the right customers.
Accelerate collaboration with your team by bringing all your business information together. And increasing sales through social selling, marketing automation, and advanced reporting. Vtiger is an All-in-one CRM tool for your Shopify Store.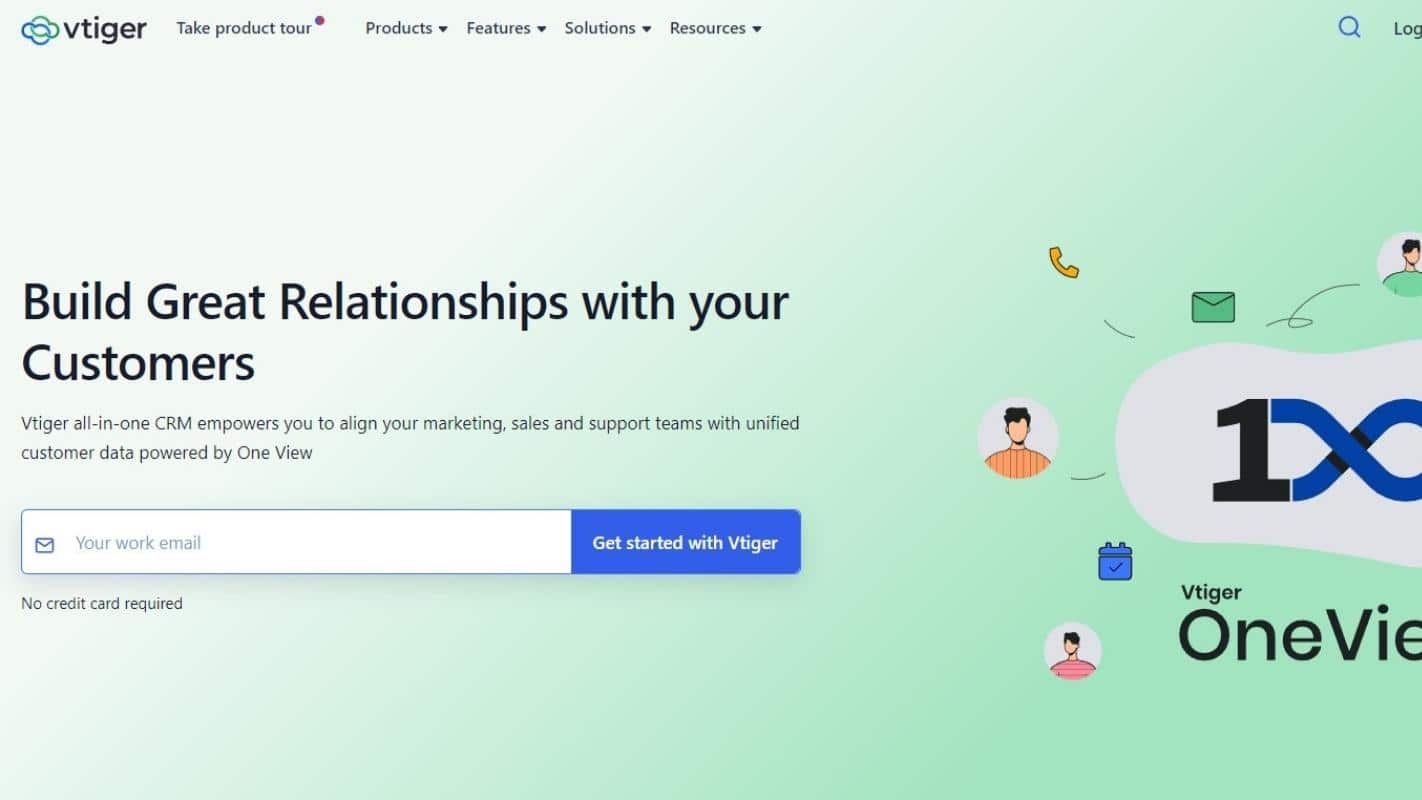 vTiger Shopify Integration
vTiger does not provide direct App Store integration. However, various connectors are available to seamlessly integrate vTiger into your store.
Integromat Connector – Integrate vTiger with Shopify: https://www.integromat.com/en/integrations/shopify/vtiger
vTiger Pricing
For companies that are just getting started, vTiger provides a free forever plan. The free forever plan also includes an email marketing solution that allows you to send up to 1000 emails per month.
If your company is medium to large, consider the Enterprise One plan, which starts at $58 per month per user.
vTiger Features
Contact management

Free Shopify CRM

Internal collaborations, leave comments for your colleagues

Email marketing solution with email template builders, lists, and segments

Project management – add a task, subtask, and Gantt view

Sales Pipeline with customizable sales stages

Full features help desk

Mobile App

Inventory management with payment tracking and sales order

work order management (in the Enterprise One plan)

Profile & engagement scoring
FreshsalesCRM is a CRM by Freshdesk, one of the leading cloud-based customer support software companies. If you use Freshsales CRM, you can rest assured that it will integrate easily with your existing business tools and provide efficient and high-quality service because that is what they do!
Set different triggers to automate the process of getting updated information about your clients. You can also use Freshsales with your existing email software to make updating contact details much faster.
Freshsales also offers you an easy-to-use, highly intuitive interface. The free plan includes an automated lead assignment, case management, email marketing, customer satisfaction surveys, and many other features!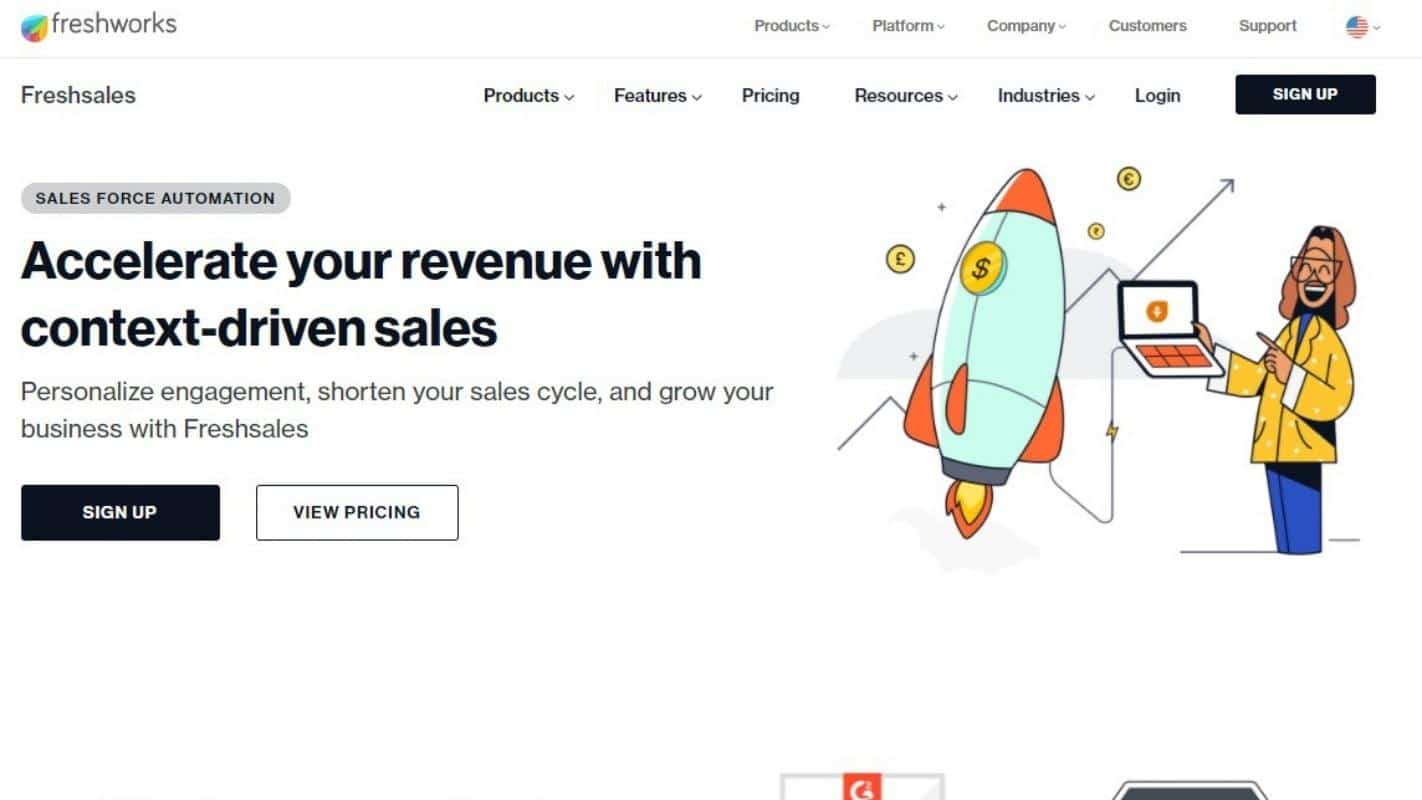 Freshsales Shopify Integration
You can set up Freshsales through Zapier integration. However, you might need help when it is the first time you are using a CRM system in your business. But worry not! Their customer support team is available 24/7 through live chat or email.
Freshsales Pricing
Freshsales can be used as a free CRM for Shopify with a database of up to 100 contacts. This cost rises in proportion to the number of marketing contacts you have and the features you require.
The option to create a workflow, for example, is available in the "Growth" plan, which costs $15 per month. In addition, the "Enterprise" plan, which costs $69 per month, includes the ability to create custom modules and a personal dedicated account manager.
Freshsales CRM Features
Create your own lifecycle in which your new customer goes through

Create custom fields, custom sales activities or add custom modules

Grow with your team! Fully implement a task management system to get the most out of Freshsales

Free CRM for Shopify

Create sales sequences, workflows, and internal notifications

Connect your Email box with Freshsales Suite

Reach your customers through email, SMS, WhatsApp, or live chat

Builder marketing lists, segments, web forms and customize your every detail

Set up a lead generation bot to collect information about visitors automatically

Set up a product catalog, set sales goals, or add sales forecasting

Get every analytics details you need in your business: conversion reports, win-loss analysis, custom reports, and much more

Full access to the Freshworks API lets you integrate almost any imaginable app to Freshsales
How To Choose the Best Shopify CRM?
If you are new to eCommerce or business in general, it can be challenging to know where to start. What is the best CRM? Many aspects of your business require attention if you want to succeed. Choosing an effective Shopify CRM is often one of these aspects. Below we will cover the essential features to look for in an eCommerce CRM system.
Integrations into your Shopify Store
If you are a Shopify store owner, I think this is probably the most important part. You will be using this service daily if you are trying to manage multiple clients. So it is important that it integrates well with the rest of your business tools. All of the tools we recommend in this article provide seamless integration to your Shopify Store.
Price
Price is important but not the only factor in choosing a CRM system for your Shopify store. As long as you are aware of what you need and how it should interact with the rest of your tools, then you can determine if the price will be an issue or not.
Ease of use
Ease of use is key in many aspects of life, business included. Suppose you constantly have to attend training on the CRM system to make sure everyone understands it. In that case, you are defeating the purpose entirely. A good Shopify CRM should be simple and easy enough for anyone in your business to use.
Customer Service
Customer service is another key area of importance when choosing a Shopify CRM system. You will be using this tool continuously, so it has to work the way you want it to. If there are any problems with it, those problems need to be solved quickly and efficiently by knowledgeable support staff.
Happy CRM testing! And thanks for reading,
Zaid
Sources:
Share with your Friends: